Family Tour of Ireland
(9 Days)
Dublin, Killarney, Adare or Co. Clare, Ashford Castle
Family Tour of Greece
(9 days)
Athens, Santorini, Crete
Family Tour of Italy
(13 Days)
Rome, Florence & Tuscany, Venice, Lake Como
Family Tour of Japan
(10 Days)
Tokyo, Hakone, Kyoto, Tokyo
Family Tour of Egypt
(8 Days)
Cairo & the Pyramids, luxury Nile River cruise
Family Tour of Germany
(10 Days)
Berlin & Potsdam, Munich & Neuschwanstein, Baden-Baden & Alsace
Family Tour of Argentina
(10 Days)
Buenos Aires, Iguazu Falls, Bariloche
Family Tour of Australia
(10 Days)
Sydney, Daintree Rainforest, Great Barrier Reef
Family Tour of Bali
(8 Days)
Nusa Dua or Jimbaran Bay, Ubud
Family Tour of China
(12 Days)
Beijing & Great Wall, Xian, Shanghai, Hong Kong
Family Tour of Dubai & the Emirates
(9 Days)
Dubai & Arabian Desert, Abu Dhabi
Family Tour of England
(7 Days)
London & environs
Family Tour of France
(12 Days)
Normandy, Paris & Versailles, Provence, Cote d'Azur
Family Tour of India
(11 Days)
Delhi, Agra, Ranthambore, Jaipur, Mumbai
Family Tour of Israel
(10 Days)
Jerusalem & Dead Sea, Negev Desert, Tel Aviv
Family Tour of Kenya
(9 days)
Nairobi, Maasai Mara, Mount Kenya
Family Tour of Mexico: Best of the Riviera Maya
(7 Days)
Riviera Maya with Tulum & Chichen Itza
Family Tour of Morocco
(8 Days)
Marrakesh, Atlas Mountains
Luxury Family Tour of New Zealand
(11 Days)
Auckland, Taupo & Rotorua, Hawke's Bay, Queenstown & Milford Sound
Family Tour of Peru
(8 Days)
Lima, Sacred Valley, Machu Picchu, Cusco
Family Tour of Russia
(8 Days)
St. Petersburg, Moscow
Active Family Tour of Sicily
(11 Days)
Palermo with Monreale, Segesta & Erice, Sciacca & Agrigento, Noto with Modica, Ragusa & Syracuse, Taormina & Mount Etna
Family Tour of South Africa & Victoria Falls
(10 days)
Cape Town, Victoria Falls, Sabi Sand Reserve
Family Tour of South Korea
(7 Days)
Seoul, Jeju Island
Family Tour of Spain
(10 Days)
Barcelona, Madrid & Toledo, Seville & Cordoba, Marbella
Family Tour of Switzerland
(9 Days)
Zurich, Lucerne, Interlaken, Lausanne
Family Tour of Tanzania
(8 Days)
Arusha, Ngorongoro & Lake Manyara, Serengeti
Thailand for Families
(10 Days)
Bangkok, Chiang Mai, Koh Samui
Vietnam for Families
(10 Days)
Hanoi, Halong Bay, Hoi An, Saigon
Family Tour of Iceland
(9 Days)
Reykjavik & environs, South Iceland, Jokulsarlon Glacier Lagoon
MULTI-COUNTRY TOURS
Family Tour of Belgium & the Netherlands
(8 days)
Brussels with Bruges & Ghent, Amsterdam with The Hague & Delft
Christmas Markets of Europe
(15 Days)
Munich & Nuremberg, Salzburg, Vienna, Prague & Dresden, Berlin
Family Tour of England & Scotland
(11 Days)
London, Edinburgh, Fort William & Highlands, Perthshire (Gleneagles)
Family Tour of London, Paris & Rome
(10 Days)
London, Paris, Rome
Family Tour of Kenya & Tanzania
(11 Days)
Nairobi, Maasai Mara, Ngorongoro Crater, Serengeti
Family Tour of Southeast Asia
(13 Days)
Bangkok, Chiang Mai, Siem Reap, Hong Kong
Family Tour of Ireland
(9 Days - Departs Daily on a Private Basis)
Dublin, Killarney, Adare or Co. Clare, Ashford Castle
This the ultimate luxury family tour of Ireland, featuring beautiful landscapes, luxurious castle hotels, and a variety of activities that will appeal to family members of all ages.
Begin in Dublin, the capital of Ireland and the perfect starting point for an overview of the country's long and storied history. During private touring that is customized based on your family's interests, experience the best of Dublin. Marvel at the iconic Book of Kells and the Long Room in the Old Library at Trinity College, and tour St. Patrick's Cathedral, one of the most important churches in Ireland. Walk in the footsteps of Irish literary giants such as James Joyce and Oscar Wilde in Georgian Dublin, a neighborhood of well-preserved architecture set around leafy St. Stephen's Green. Also tour the Guinness Storehouse and stroll through the Creative District and Temple Bar. Other options include the National Museum of Ireland – Archaeology, visiting specialty shops and markets selling Irish crafts, touring the Chester Beatty Library, visiting Dublinia or the Leprechaun Museum, or touring Kilmainham Gaol.
Continue to Killarney, and stay just outside town in a luxury hotel overlooking the water. During private touring, see the highlights of the renowned Ring of Kerry and Killarney National Park, including stunning vistas, a waterfall and ancient stone houses. Also visit Muckross House and its farm, or visit the charming town of Kenmare to explore the craft shops, traditional restaurants and to see the ancient stone circle.
Next, enjoy a private day tour of the spectacular Dingle Peninsula, taking in awe-inspiring views of the coastline and mountains. Explore ancient ring forts and other prehistoric sites, wander through quaint seaside towns, and perhaps have a traditional fish-and-chips lunch in the town of Dingle. Spend the night at a beautiful manor hotel near Adare, a postcard-perfect village of thatched-roof houses and shops, at historic Dromoland Castle, or on the coast in Doonbeg.
Next, see the dramatic Cliffs of Moher, which rise hundreds of feet above the sea. Also explore the fascinating Burren, a rocky landscape covered in wildflowers and punctuated by ancient archaeological sites such as Poulnabrone Dolmen, a neolithic tomb. If desired, enjoy hiking or a visit to a local artisanal perfumery. Time permitting, also stop in Galway.
Continue to renowned Ashford Castle, a grand lakefront castle hotel. One day, enjoy a private excursion to Connemara National Park to see quintessential Irish landscapes, watch a sheepdog demonstration, and visit Kylemore Abbey to see its beautiful Victorian walled garden. One afternoon, enjoy a "hawk walk" falconry experience at Ashford Castle. There will also be time to enjoy the facilities and activities at the hotel and on its estate, including spa treatments, golf, boat rides, fishing, horseback riding, tennis, archery, kayaking and fine dining.
Upon request, Artisans of Leisure can arrange additional experiences in Ireland, including family activities, genealogical research, hiking, golf, visits to whiskey distilleries, garden tours, decorative arts tours, religious heritage tours, and culinary and crafts lessons.
Itinerary Overview
Day 1

Arrive Dublin
Private arrival transfer to hotel for 2 nights

Day 2

Dublin
Full-day private tour

Day 3

Dublin – Killarney
Private transfer to hotel for 2 nights with touring en route

Day 4

Killarney, Ring of Kerry & Kenmare

Full-day private tour of the highlights of the Ring of Kerry and Kenmare

Day 5

Killarney – Adare or Co. Clare
Private transfer to hotel for 1 night with touring of the Dingle Peninsula en route

Day 6

Adare or Co. Clare – Ashford Castle

Private transfer to resort for 3 nights with touring of the Cliffs of Moher, the Burren and Galway en route

Day 7

Ashford Castle & Connemara
Private scenic tour including sheep dog demonstration and Kylemore Abbey

Day 8

Ashford Castle
Morning at leisure to enjoy activities at the hotel. Afternoon hawk walk experience

Day 9

Depart Ashford Castle

Private airport transfer
Hotels
| | |
| --- | --- |
| Dublin: | The Merrion |
| Killarney: | The Europe |
| Adare or Co. Clare: | Adare Manor, The Lodge at Doonbeg or Dromoland Castle |
| Co. Mayo: | Ashford Castle |
Cost
| | |
| --- | --- |
| $11,565 | Per person (based on double occupancy) |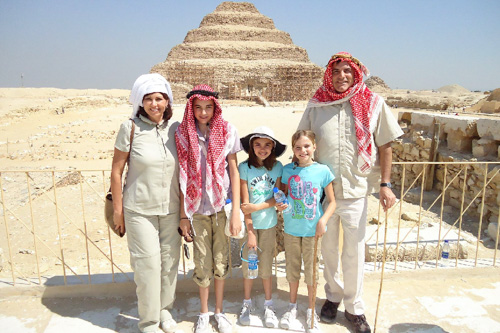 Family Tour of Ireland
(9 Days)
Dublin, Killarney, Adare or Co. Clare, Ashford Castle
Family Tour of Greece
(9 days)
Athens, Santorini, Crete
Family Tour of Italy
(13 Days)
Rome, Florence & Tuscany, Venice, Lake Como
Family Tour of Japan
(10 Days)
Tokyo, Hakone, Kyoto, Tokyo
Family Tour of Egypt
(8 Days)
Cairo & the Pyramids, luxury Nile River cruise
Family Tour of Germany
(10 Days)
Berlin & Potsdam, Munich & Neuschwanstein, Baden-Baden & Alsace
Family Tour of Argentina
(10 Days)
Buenos Aires, Iguazu Falls, Bariloche
Family Tour of Australia
(10 Days)
Sydney, Daintree Rainforest, Great Barrier Reef
Family Tour of Bali
(8 Days)
Nusa Dua or Jimbaran Bay, Ubud
Family Tour of China
(12 Days)
Beijing & Great Wall, Xian, Shanghai, Hong Kong
Family Tour of Dubai & the Emirates
(9 Days)
Dubai & Arabian Desert, Abu Dhabi
Family Tour of England
(7 Days)
London & environs
Family Tour of France
(12 Days)
Normandy, Paris & Versailles, Provence, Cote d'Azur
Family Tour of India
(11 Days)
Delhi, Agra, Ranthambore, Jaipur, Mumbai
Family Tour of Israel
(10 Days)
Jerusalem & Dead Sea, Negev Desert, Tel Aviv
Family Tour of Kenya
(9 days)
Nairobi, Maasai Mara, Mount Kenya
Family Tour of Mexico: Best of the Riviera Maya
(7 Days)
Riviera Maya with Tulum & Chichen Itza
Family Tour of Morocco
(8 Days)
Marrakesh, Atlas Mountains
Luxury Family Tour of New Zealand
(11 Days)
Auckland, Taupo & Rotorua, Hawke's Bay, Queenstown & Milford Sound
Family Tour of Peru
(8 Days)
Lima, Sacred Valley, Machu Picchu, Cusco
Family Tour of Russia
(8 Days)
St. Petersburg, Moscow
Active Family Tour of Sicily
(11 Days)
Palermo with Monreale, Segesta & Erice, Sciacca & Agrigento, Noto with Modica, Ragusa & Syracuse, Taormina & Mount Etna
Family Tour of South Africa & Victoria Falls
(10 days)
Cape Town, Victoria Falls, Sabi Sand Reserve
Family Tour of South Korea
(7 Days)
Seoul, Jeju Island
Family Tour of Spain
(10 Days)
Barcelona, Madrid & Toledo, Seville & Cordoba, Marbella
Family Tour of Switzerland
(9 Days)
Zurich, Lucerne, Interlaken, Lausanne
Family Tour of Tanzania
(8 Days)
Arusha, Ngorongoro & Lake Manyara, Serengeti
Thailand for Families
(10 Days)
Bangkok, Chiang Mai, Koh Samui
Vietnam for Families
(10 Days)
Hanoi, Halong Bay, Hoi An, Saigon
Family Tour of Iceland
(9 Days)
Reykjavik & environs, South Iceland, Jokulsarlon Glacier Lagoon
MULTI-COUNTRY TOURS
Family Tour of Belgium & the Netherlands
(8 days)
Brussels with Bruges & Ghent, Amsterdam with The Hague & Delft
Christmas Markets of Europe
(15 Days)
Munich & Nuremberg, Salzburg, Vienna, Prague & Dresden, Berlin
Family Tour of England & Scotland
(11 Days)
London, Edinburgh, Fort William & Highlands, Perthshire (Gleneagles)
Family Tour of London, Paris & Rome
(10 Days)
London, Paris, Rome
Family Tour of Kenya & Tanzania
(11 Days)
Nairobi, Maasai Mara, Ngorongoro Crater, Serengeti
Family Tour of Southeast Asia
(13 Days)
Bangkok, Chiang Mai, Siem Reap, Hong Kong
Thank you for organizing such a wonderful trip to Italy for our family! Artisans of Leisure makes traveling as a family fun and hassle-free. We can just enjoy our time together creating special memories. We look forward to our next trip with you!
~ P.R., Laguna Niguel, CA
Thank you for scheduling such an amazing trip to London for me and my family. It was more than I expected. Your guides were amazing and the hotel was spectacular. The trip couldn't have been better.
~ B.S., Weston, CT
We had a wonderful trip to Egypt and Jordan. We were well-cared for at every stop…We were impressed with how knowledgeable the guides are and how accommodating they were to the needs of our three-generation group.
~ L.V. & T.V., New York, NY
Recommended by:
Departures
Conde Nast Traveler
The New York Times
Wall Street Journal
Travel + Leisure
Town & Country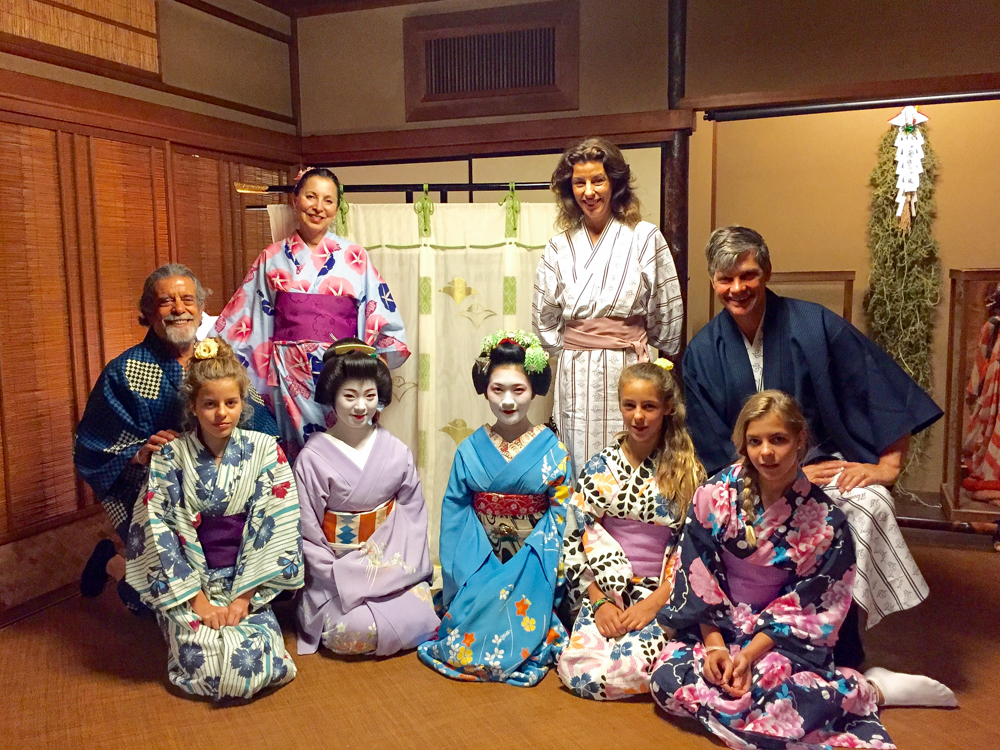 Special Luxury Trips for Grandparents Traveling with Grandchildren
Just Back: A Luxurious Family Tour of Scotland
Favorite Family Activities in Japan
Family Travel in Egypt: Top 10 Favorite Experiences
A Unique Insider's Perspective on Family Travel in Asia
Just Back: A Luxurious Family Tour of Switzerland
From Our Travelers: A Kenya & Tanzania Family Safari Tour
Three of Our Favorite Luxury Resorts in Thailand
Traveling with Friends and Family: Luxury Villas at Castiglion del Bosco in Tuscany
Tips for Family Travel with Older and Adult Children
Culture and Family Fun in Thailand
A Family Tour of Greece & Turkey
An Interview with Ashley Isaacs Ganz on Family Travel in Iceland
Exclusive Harry Potter Touring in England and Scotland
Private Family Heritage, Ancestry & Genealogical Tours
Letter from a Mother: Don't Wait to Travel with Your Children
Inspiration for Amazing Family Trips
A Family Tour of Paris, Versailles & the Loire Valley in France
A Private Family Tour of China: Artisans of Leisure Travelers Share Their Photos