June 23, 2023
Just Back: A Family Tour of the Highlights of Normandy, France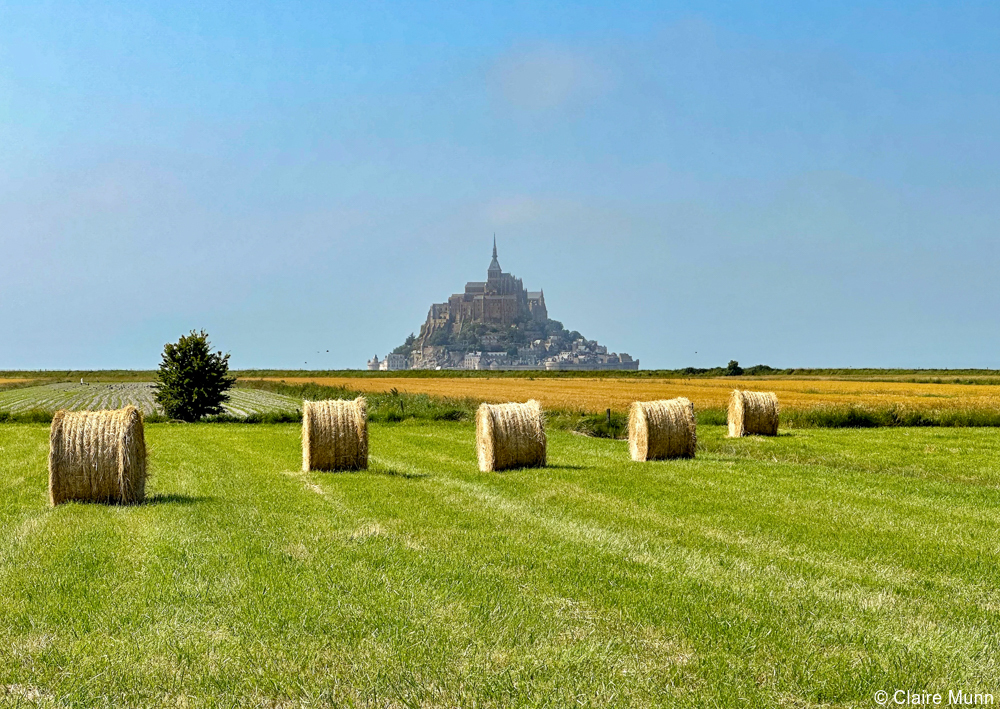 Artisans of Leisure travel specialist Claire Munn just returned from a private family tour of France that focused on the iconic highlights of Normandy, including Mont Saint-Michel, Monet's house and garden in Giverny, D-Day landing beaches, Rouen, cheese tastings and more. Read more about her trip and favorite places and experiences that can be incorporated into any Artisans of Leisure private luxury France tour.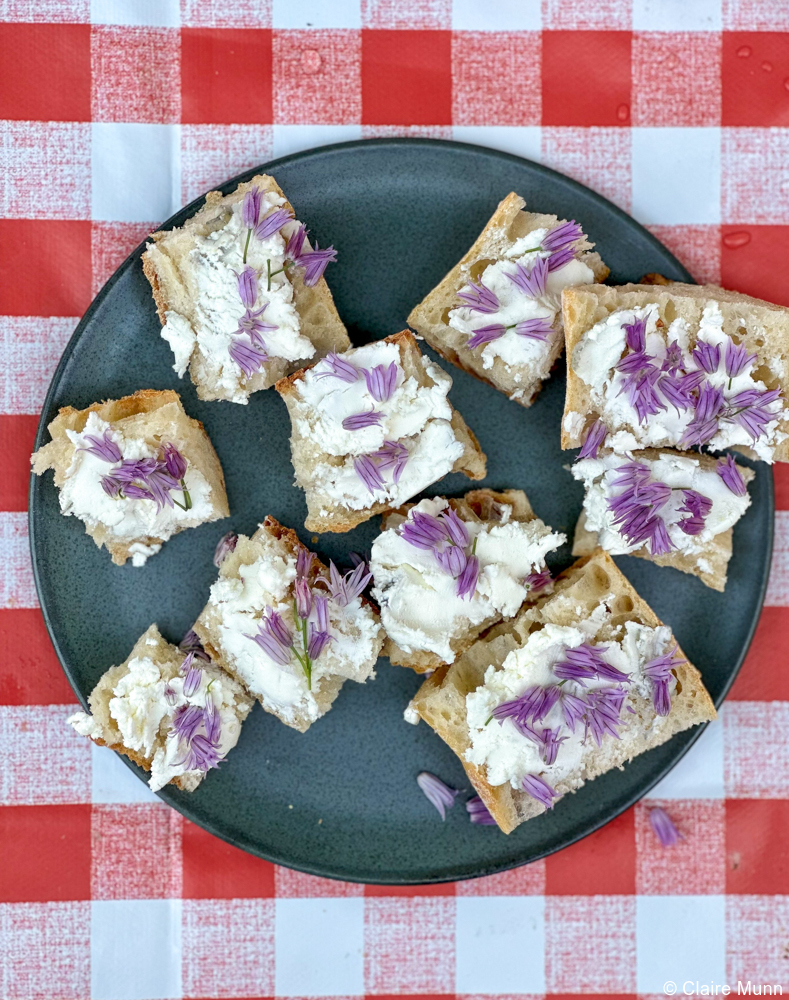 Q: How did you decide on Normandy for this multigenerational family trip?
A: Normandy is such a fantastic destination with a wealth of iconic sites. From the Middle Ages to World War II, there is truly something for every age and interest. Aside from the incredible cultural touring, the region has amazing food and is so picturesque, with beautiful beaches, half-timbered buildings and climbing roses that seem to be everywhere.
Q: Did you have a favorite hotel?
A: Chateau La Cheneviere. Ideally located near iconic D-Day sites as well as the town of Bayeux, Chateau La Cheneviere is the definitive French country manor.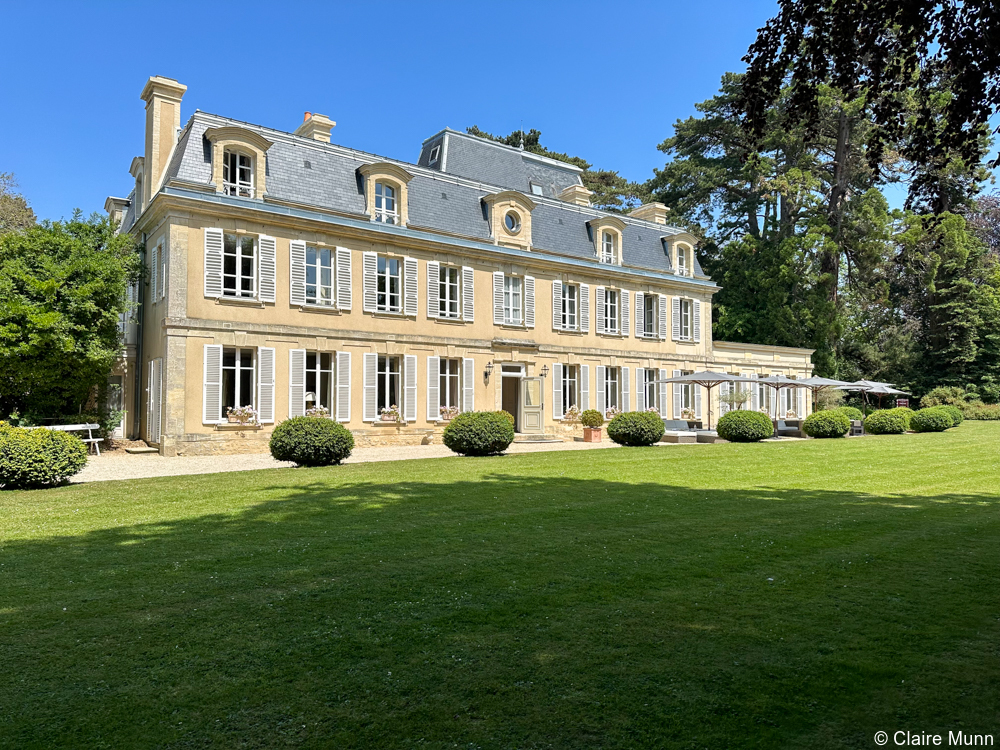 Set on a tranquil country estate with beautiful gardens, La Cheneviere is an elegant base for private touring in Normandy.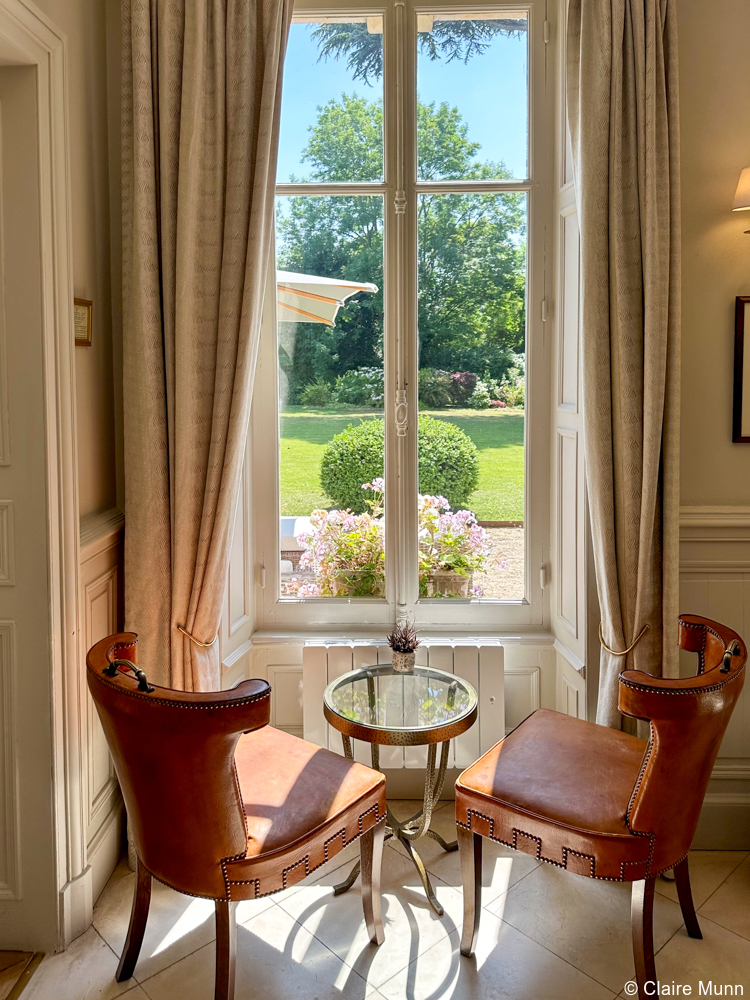 Meals here are especially memorable, as is the flawless service.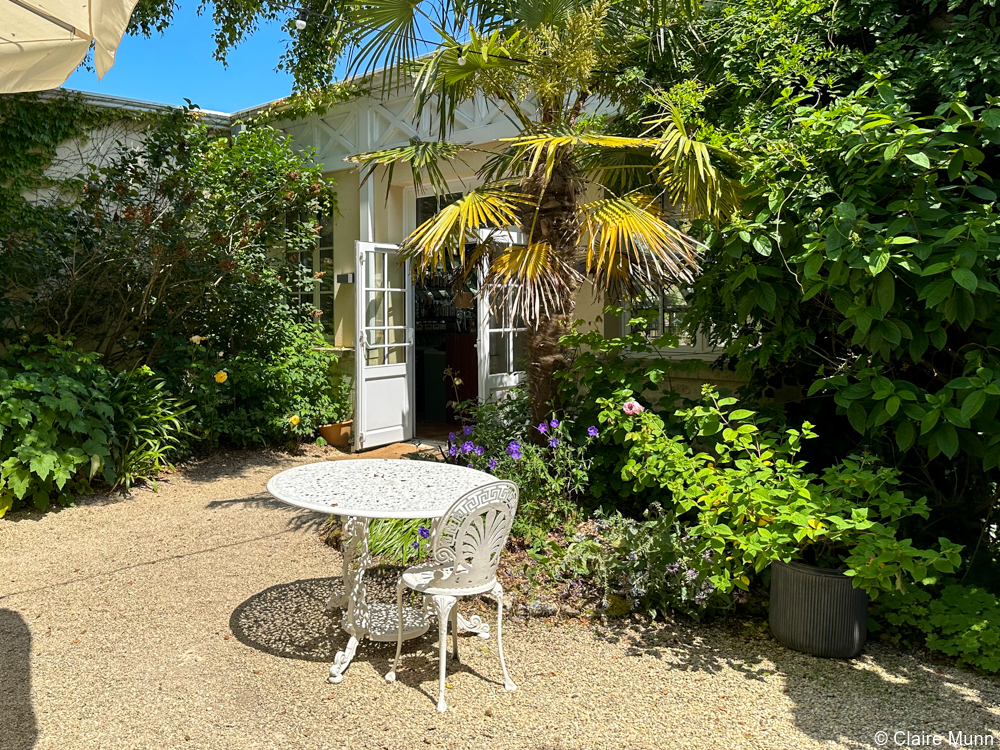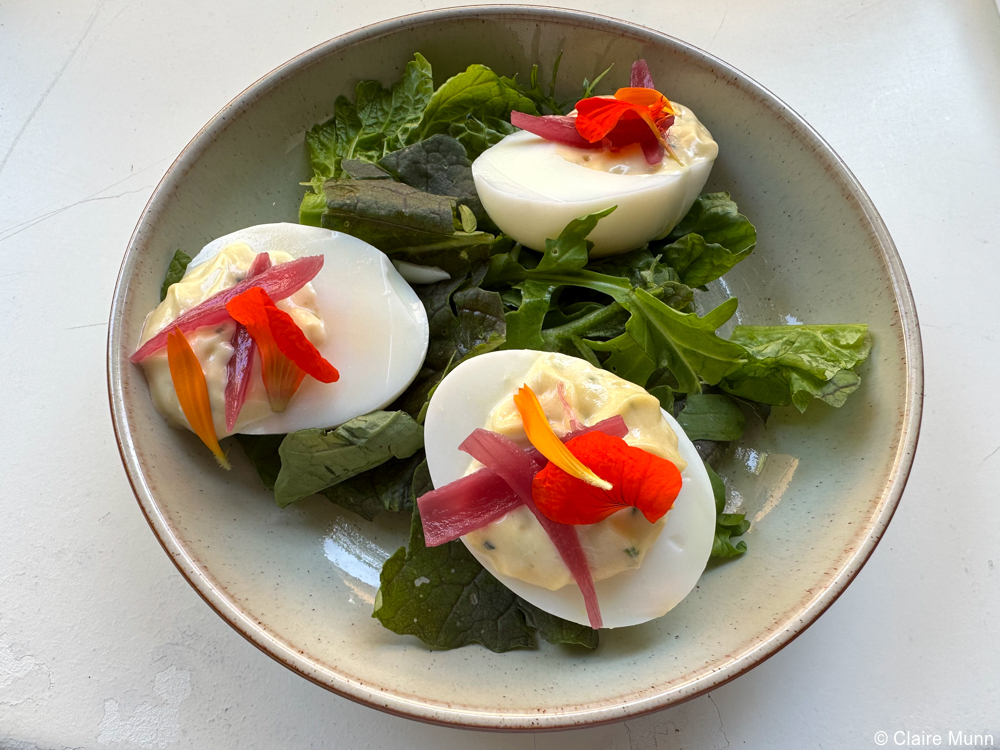 Q: What are the must-see highlights of Normandy?
A: Mont Saint-Michel, one of the most iconic sites in France, is a mind-blowing must-see.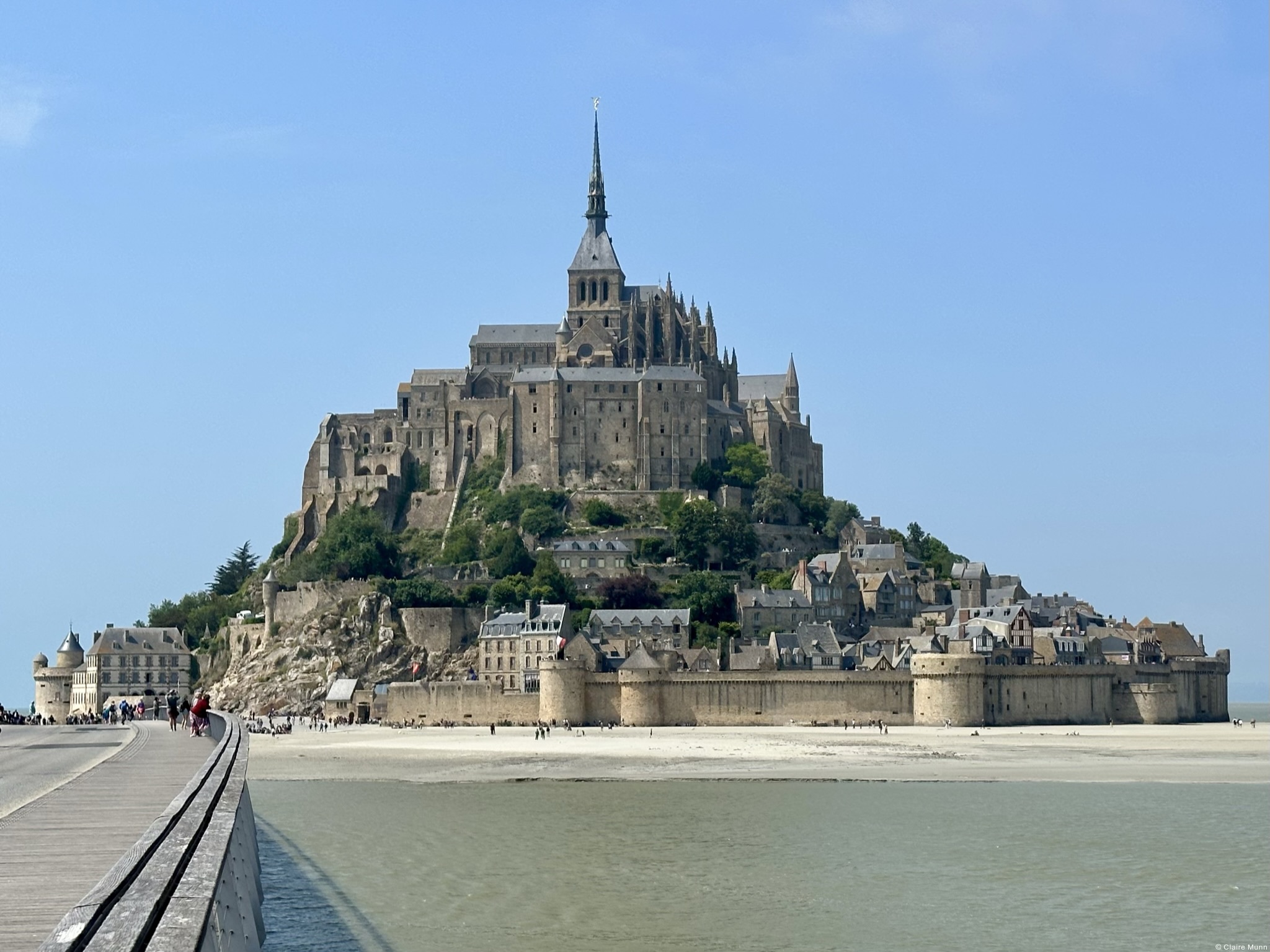 Located in a bay between Normandy and Brittany, Mont Saint-Michel is a tidal island with a fortified village and a majestic, gravity-defying abbey. The island and the surrounding bay are a UNESCO World Heritage Site in recognition of its rich history and incredible architecture.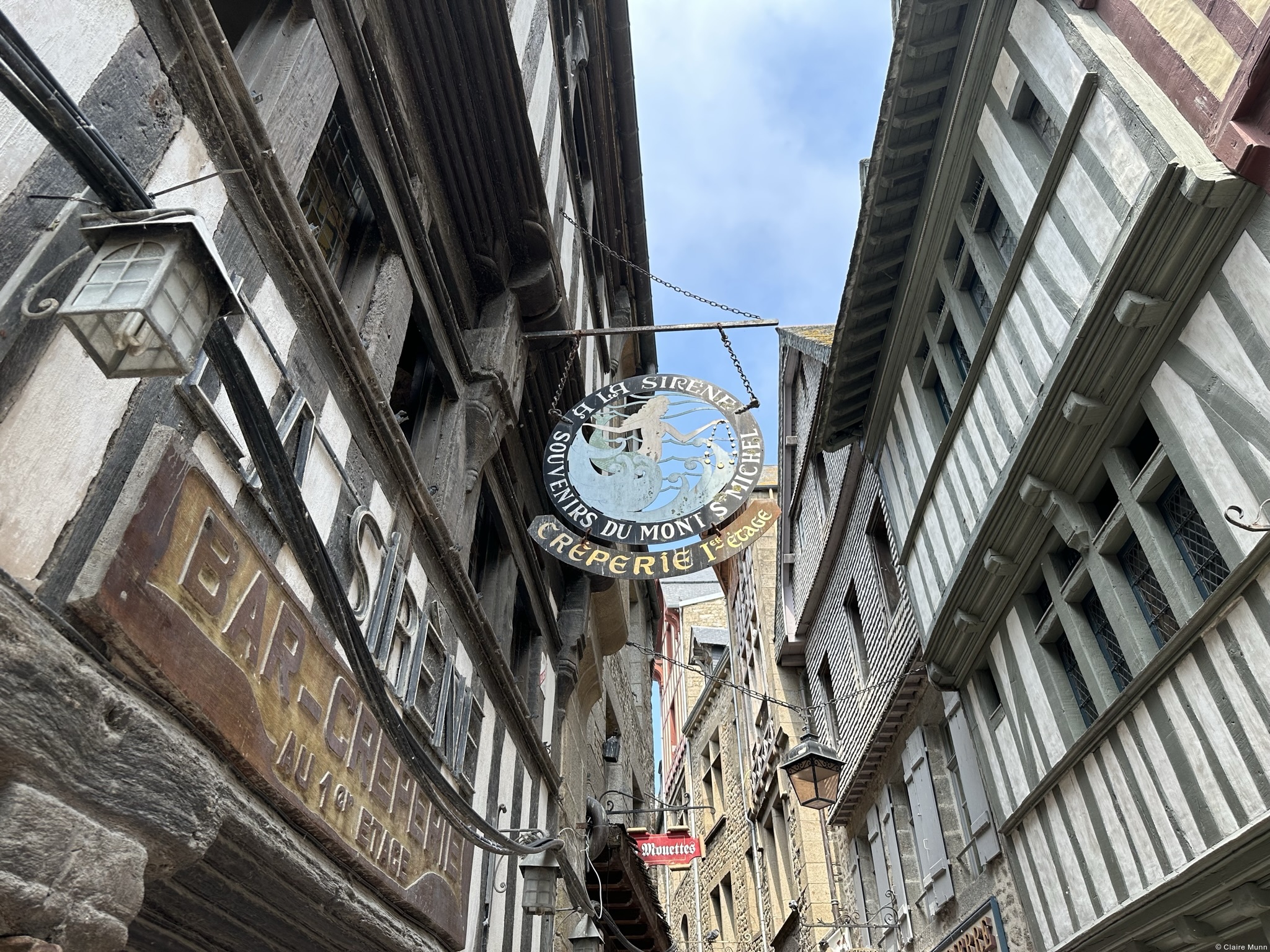 Dedicated to the archangel Saint Michael, the abbey we see today was constructed between the 11th and 18th centuries, but there has been a Benedictine monastery on the spot since the eighth century. During the Middle Ages, Mont Saint-Michel was one of Europe's most important pilgrimage destinations. According to Christian tradition, Saint Michael weighs souls on Judgement Day, making him an important figure for medieval pilgrims.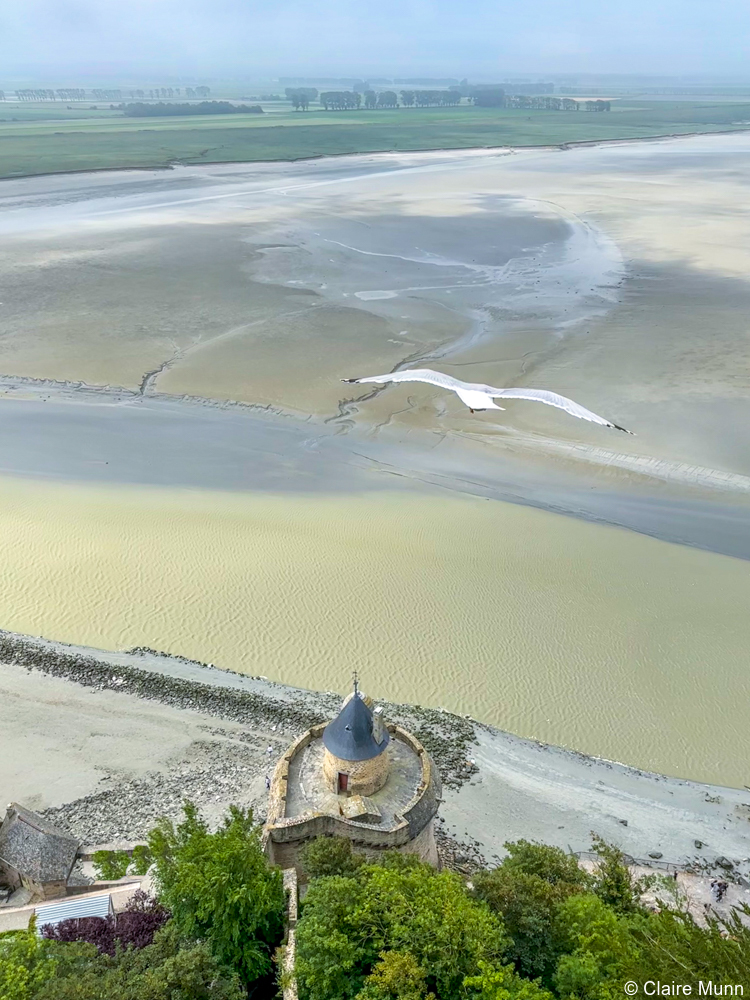 Highlights of visiting the abbey included the panoramic views from the top, the soaring nave, the beautiful cloister and the scriptorium.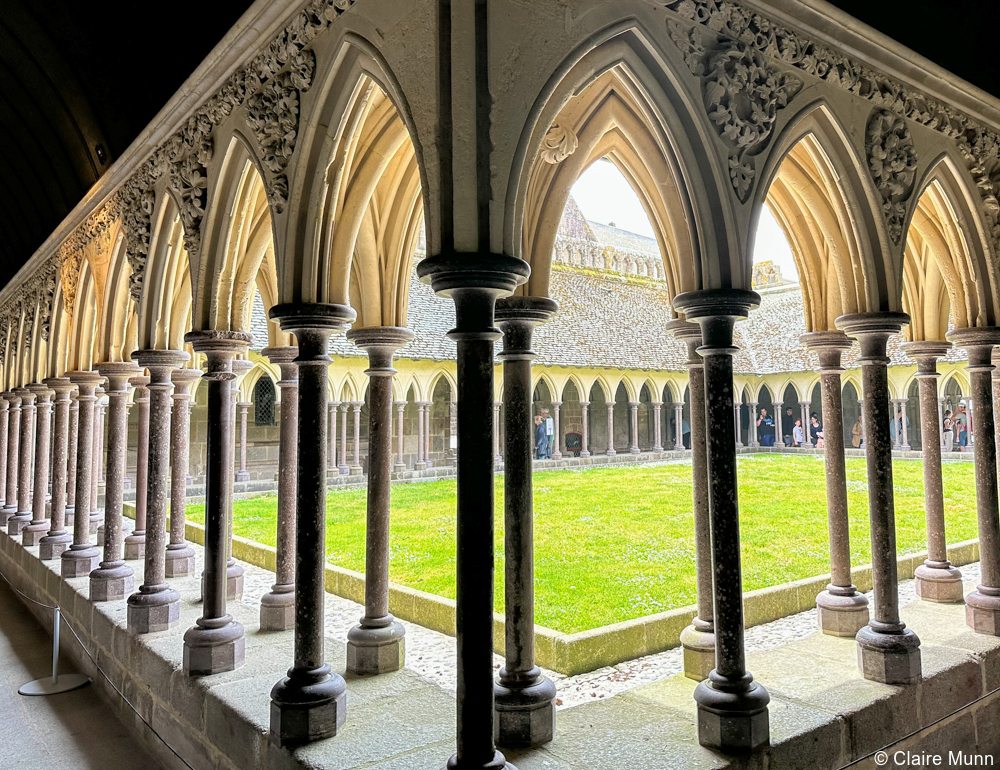 Nicknamed "the City of Books" for its renowned library, the abbey was a center of learning in the Middle Ages. Notably, resident monks translated Aristotle from ancient Greek to Latin for the first time (among other literary projects).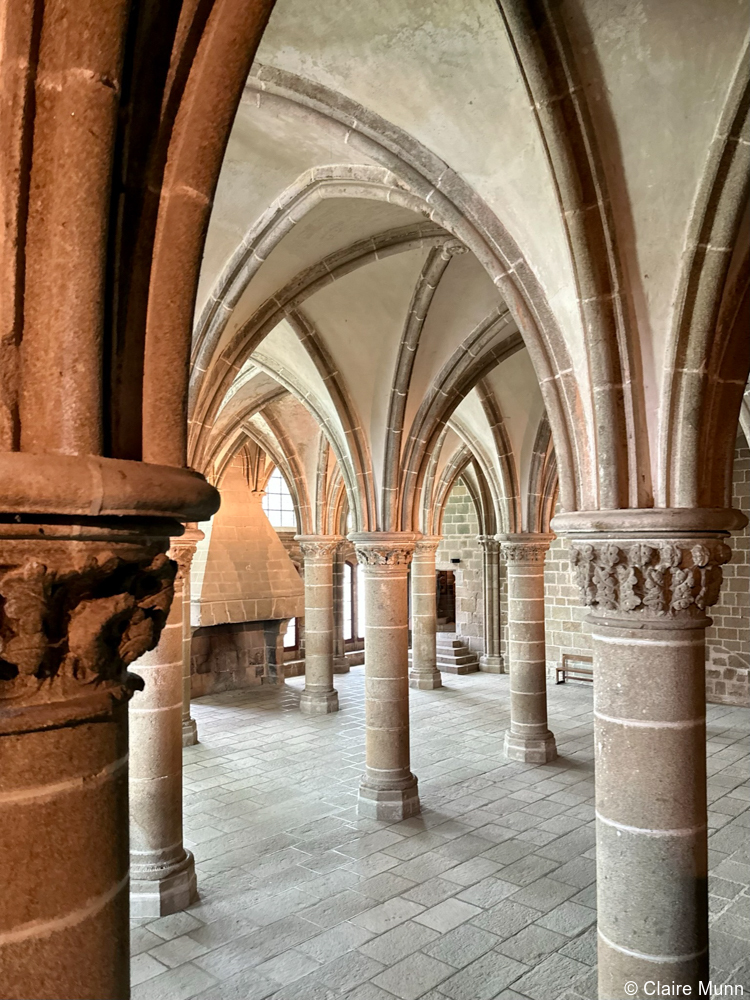 Monet's House & Garden in Giverny
Visiting Monet's house and garden in Giverny was also a top highlight everyone in the family enjoyed. The gardens, immortalized in hundreds of Monet's paintings (notably the water garden with the lilypond), are stunning.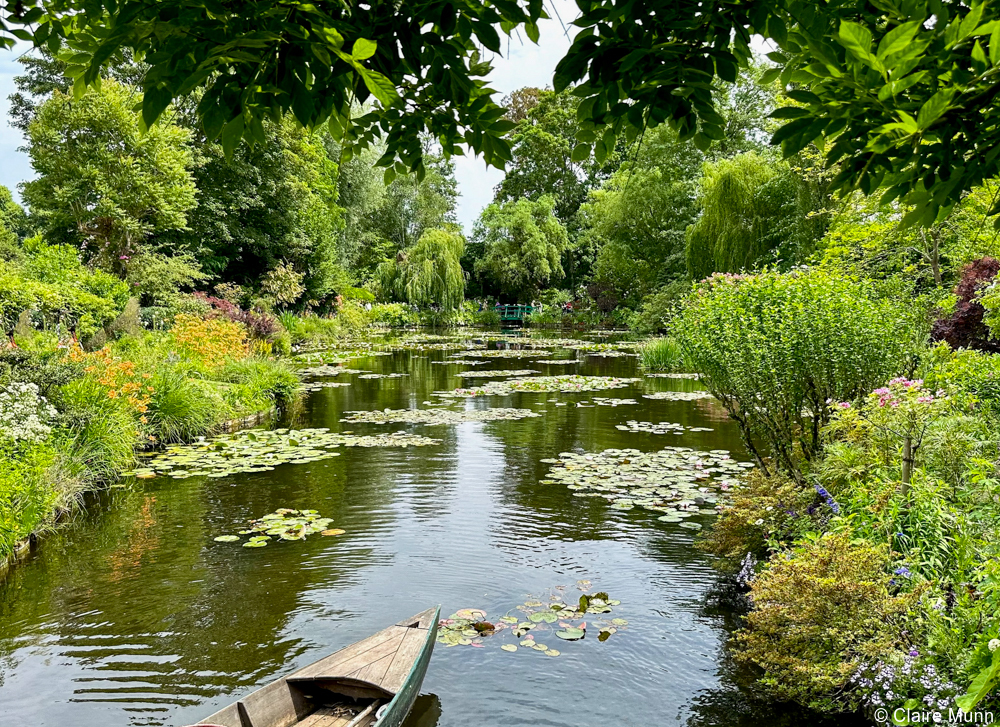 Monet approached garden design as he did his paintings. He arranged the plantings based on colors, textures and sizes he personally liked seeing together rather than follow conventional groupings.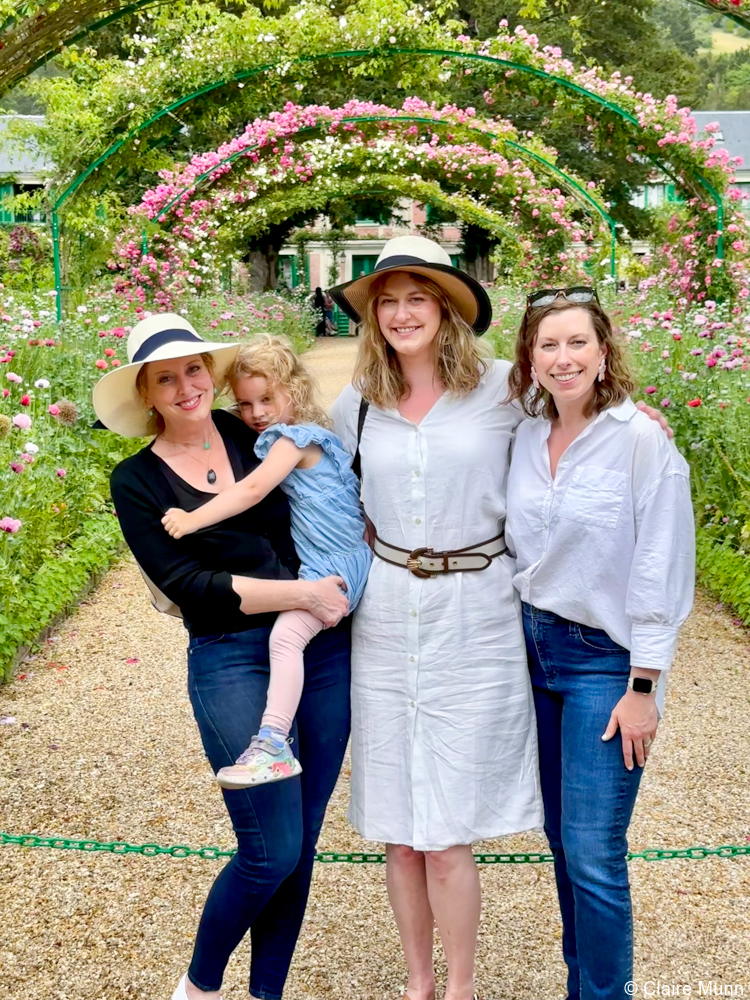 The result is a riot of colors in rows, alleys and arbors.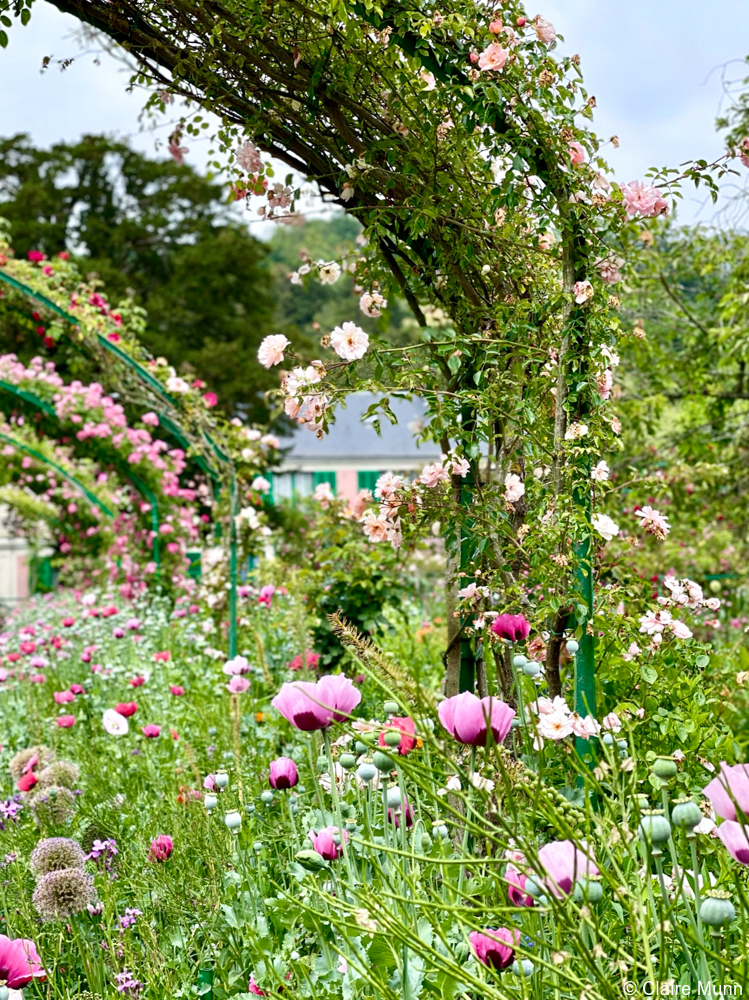 The house's interior has been restored to look as though Monet has just stepped out.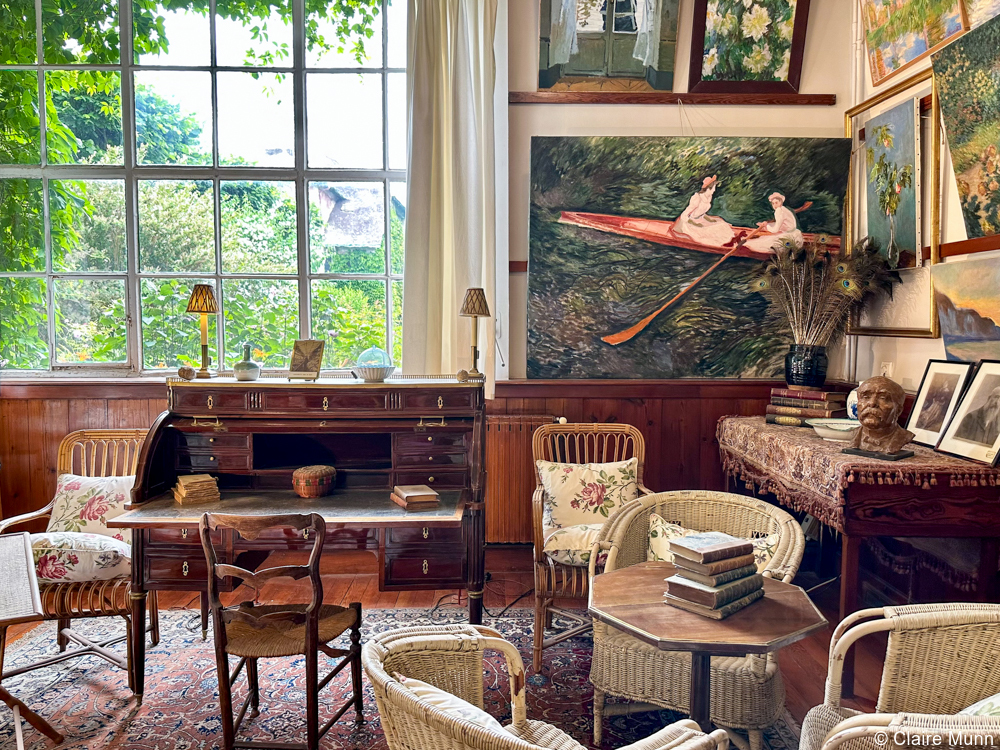 I especially loved the blue-and-white kitchen.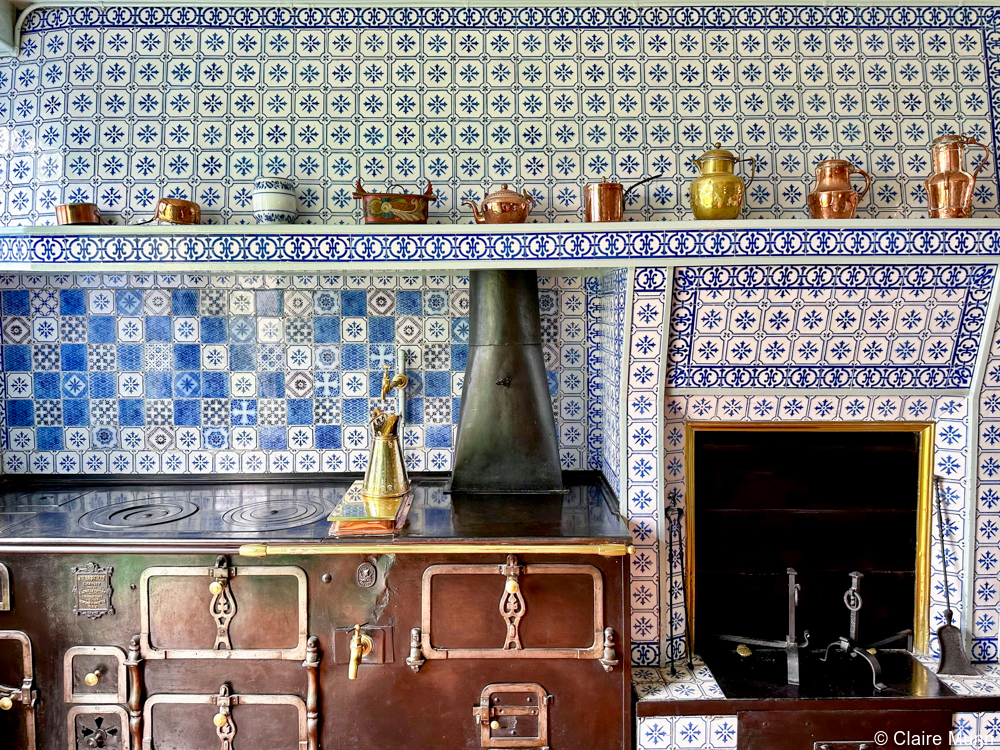 The village of Giverny is charming, and we enjoyed exploring quiet streets and stopping in shops.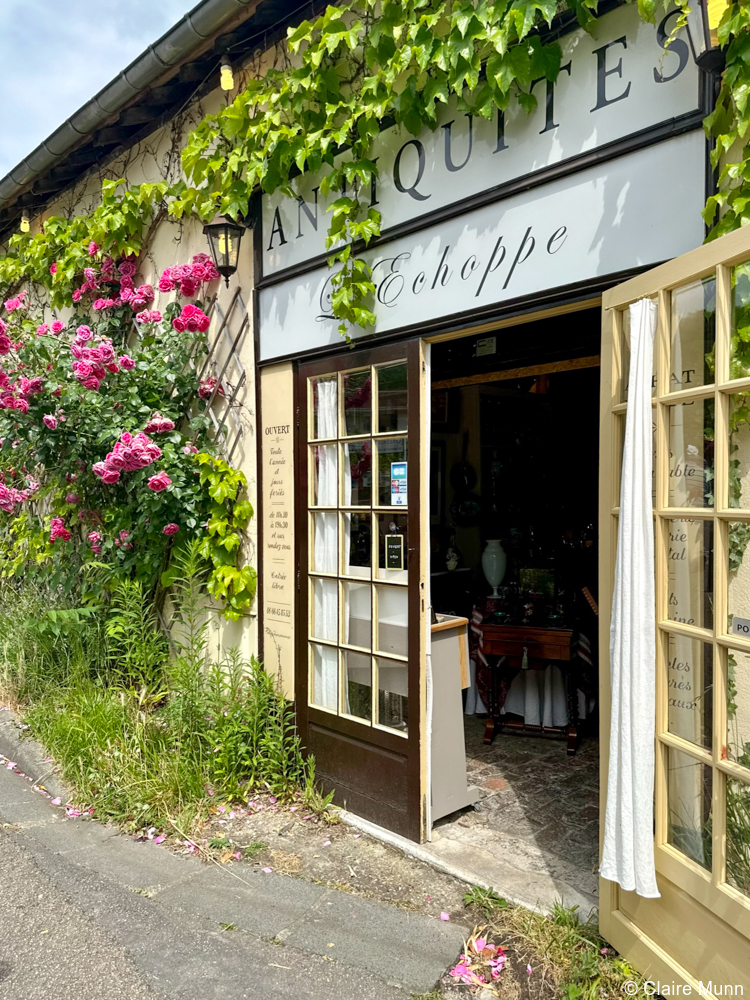 Omaha Beach & the Normandy American Cemetery
Normandy is a must for anyone interested in World War II. We visited Omaha Beach, one of the five D-Day landing beaches, for the Allied invasion on June 6, 1944. Tens of thousands of U.S. soldiers landed at Omaha in an assault known for the loss of life in the face of German resistance.
Les Braves, the stainless-steel sculpture on the beach by French artist Anilore Banon, is a memorial dedicated to the Allied forces.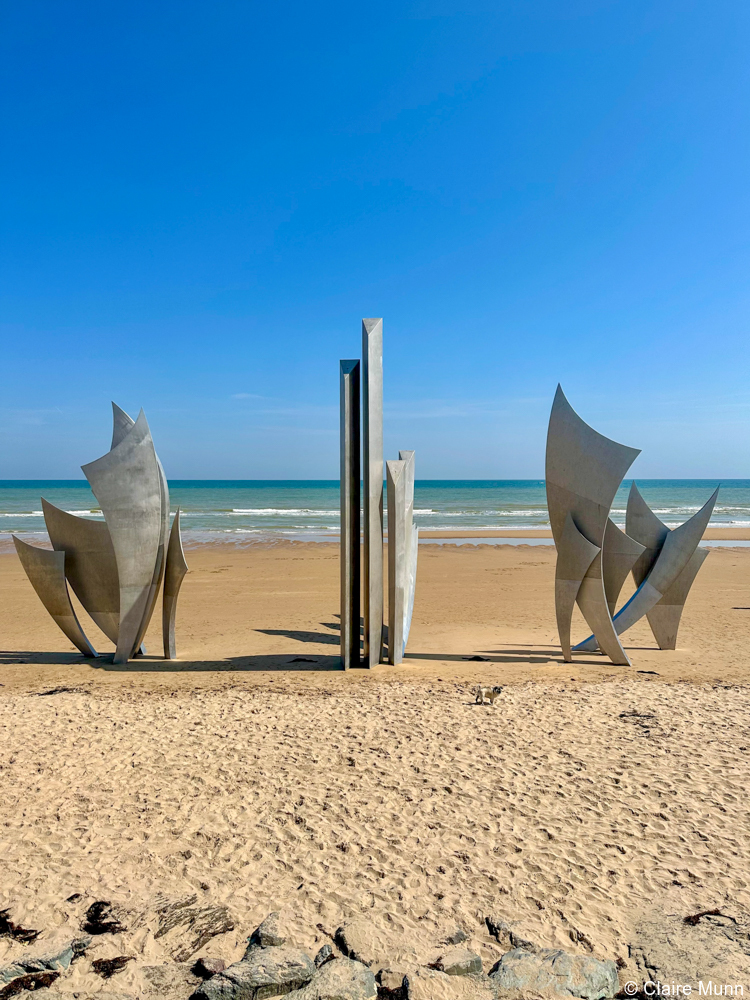 We also visited the Normandy American Cemetery and Memorial, an incredibly moving military cemetery on clifftops overlooking Omaha Beach.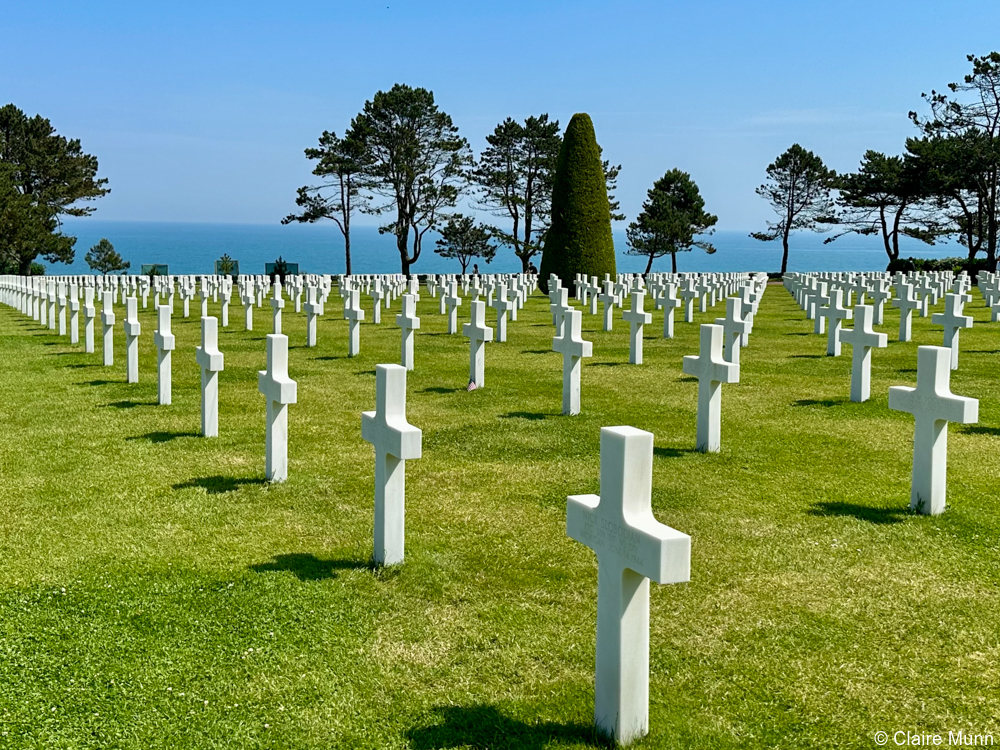 Over 9,000 Americans who died during the Allied landings and ensuing battles are buried here.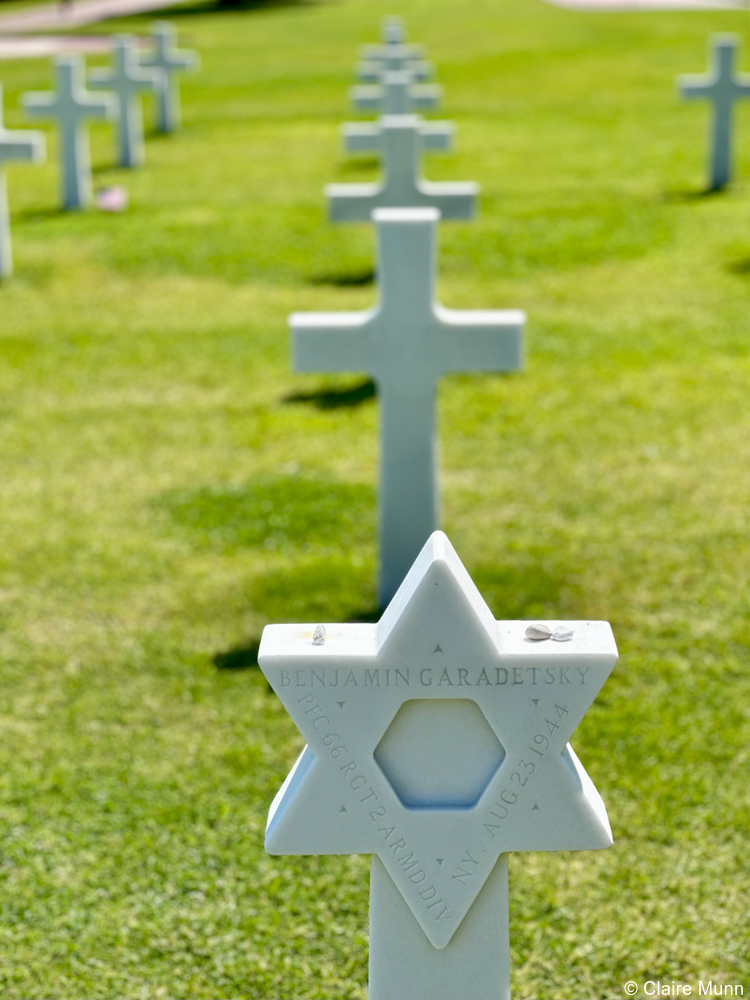 Our private guide was a wealth of knowledge about the war and individual soldiers buried or commemorated in the cemetery.
Artisans of Leisure can arrange in-depth touring of World War II sites in Normandy, including the landing beaches, concrete bunkers, museums, memorials and more.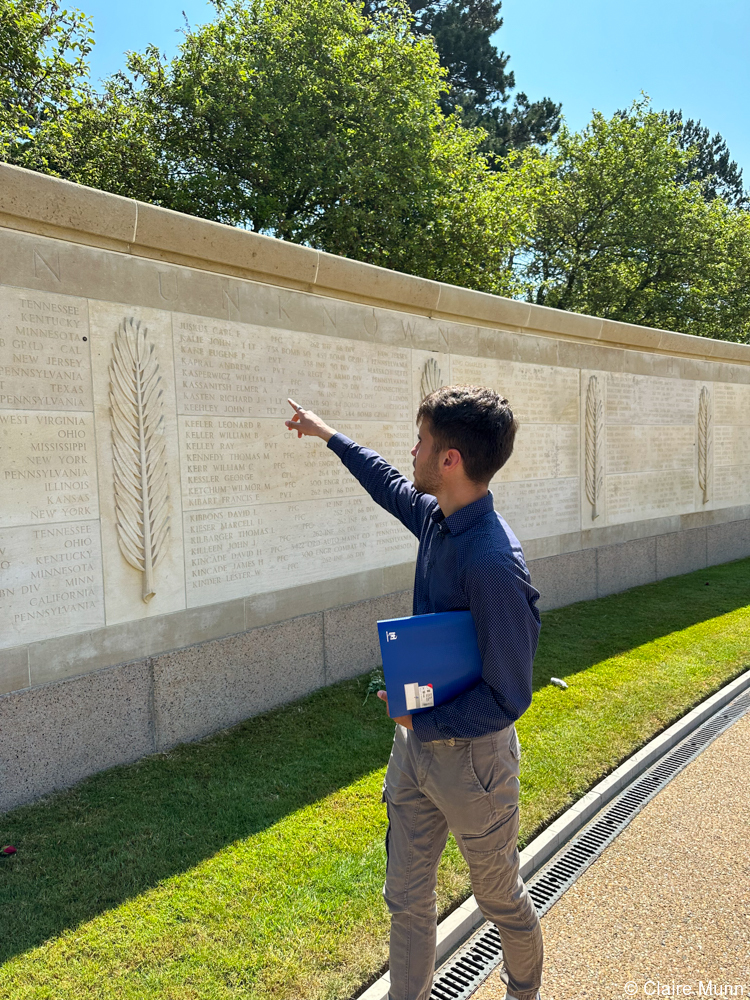 Bayeux Tapestry
Near Omaha Beach is the picturesque medieval town of Bayeux, where the renowned Bayeux Tapestry is exhibited. Over 200 feet long and 20 inches wide, the embroidered cloth (not actually a tapestry!) created in the 11th century narrates the Norman conquest of England led by William the Conqueror in 1066.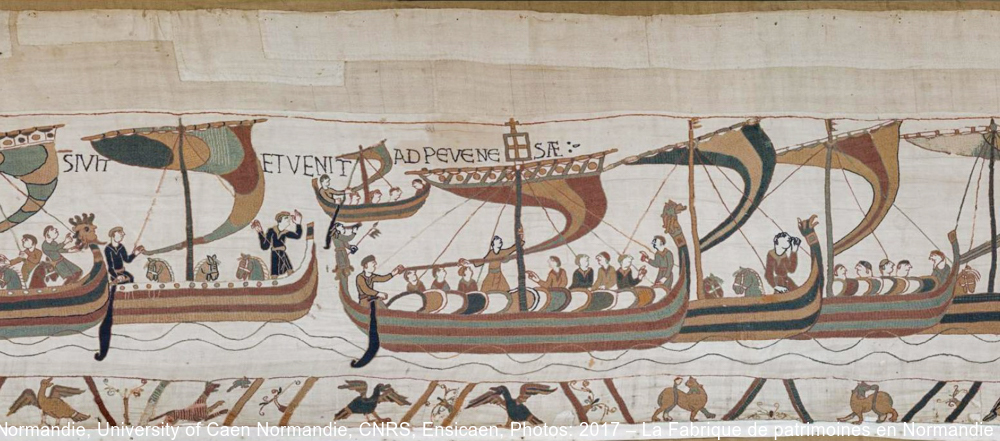 We all thought it was fascinating to see artifacts and learn about two iconic invasions—D-Day and the Norman Conquest—that took place close to each other geographically but nearly a thousand years apart.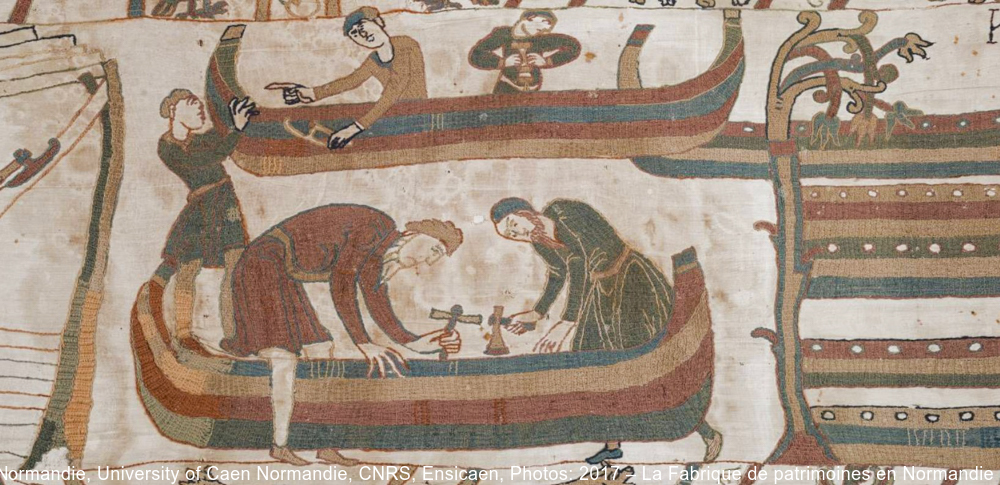 The Bayeux Tapestry contains astonishing details of life in the 11th century. It is incredibly unique for this, as most works of art from the time are devoted to spiritual subjects. We all loved seeing details like the depiction of Mont Saint-Michel, which shows how the Romanesque abbey looked in the 1060s…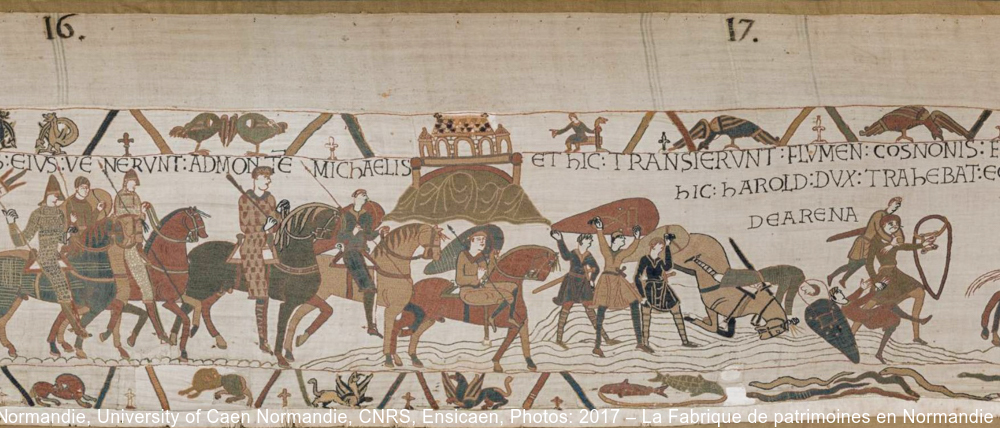 …shipbuilders at work, horses galloping into battle and even the mustaches on the Anglo-Saxons.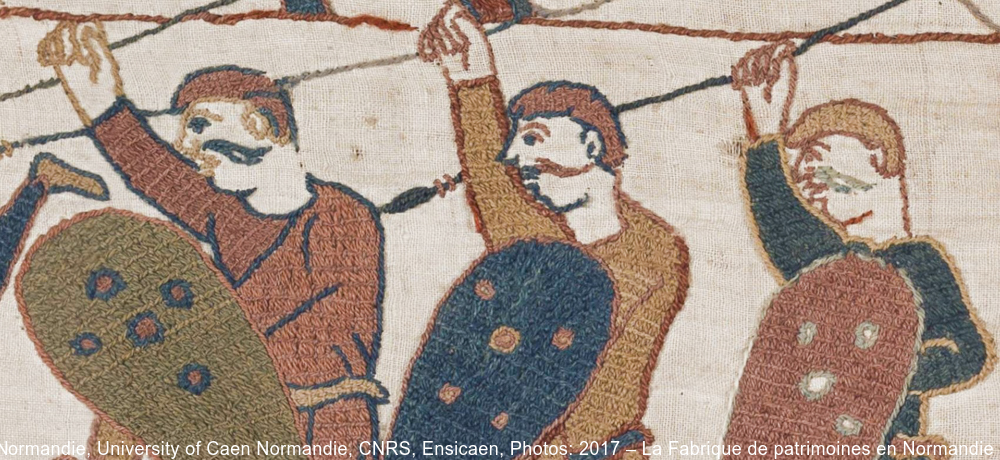 Q: For travelers with time for extended, in-depth touring in Normandy, what else do you suggest they add to the above highlights?
A: Picnicking in the idyllic Pays d'Auge countryside; visiting a Calvados distillery for a private tasting of the region's famous apple brandy…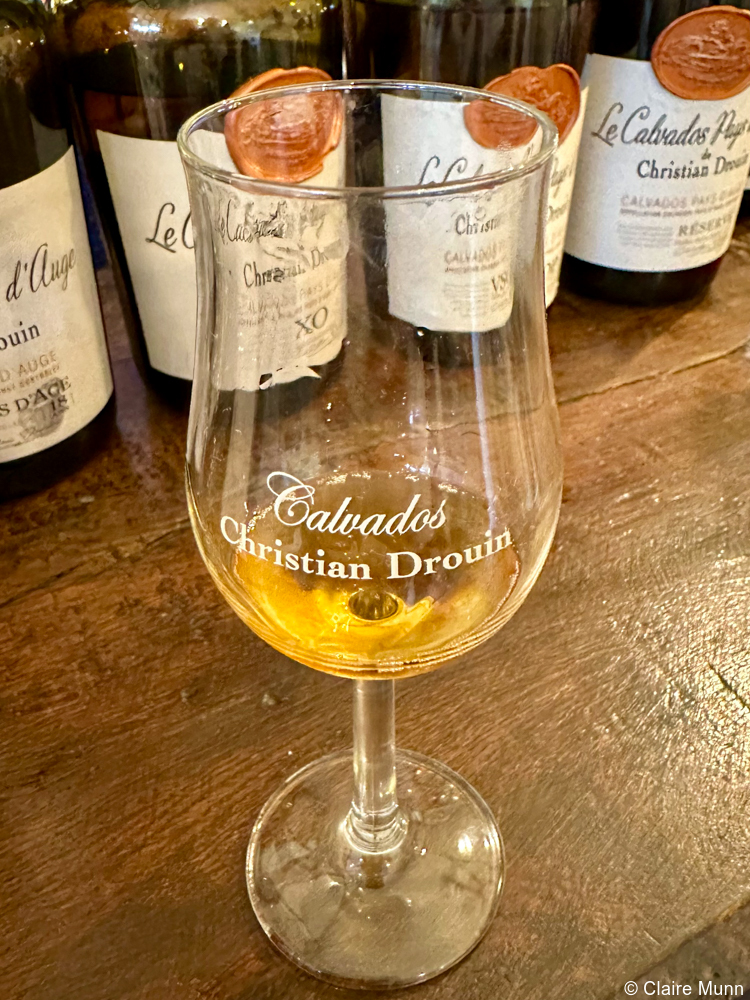 …and sampling local cheese.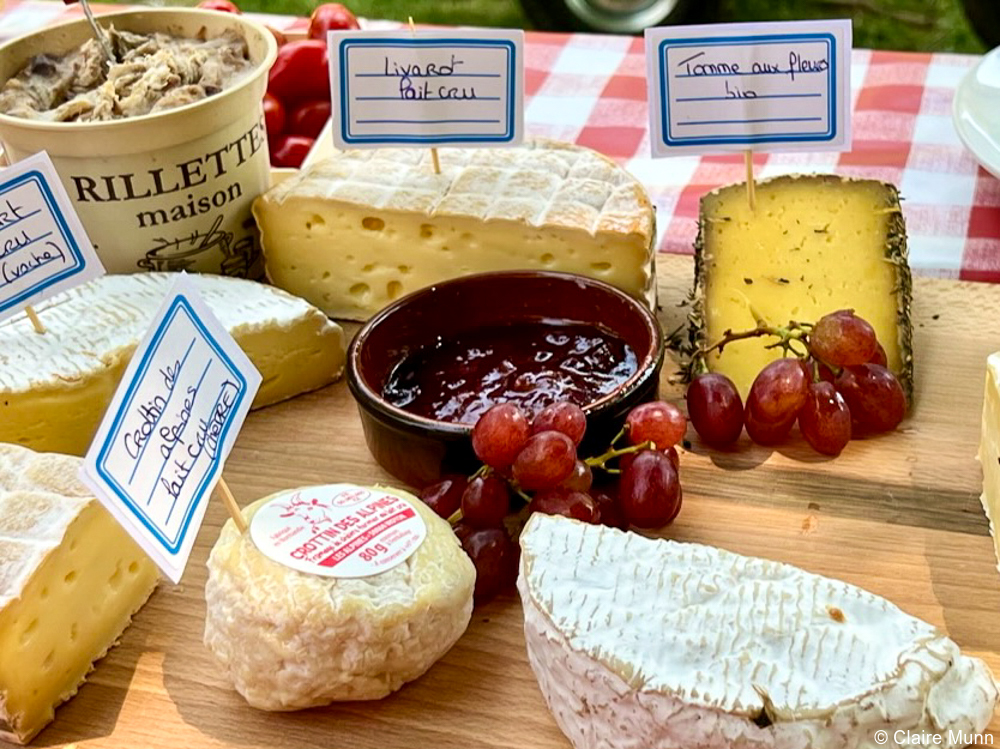 We also enjoyed visiting Honfleur, a charming port town…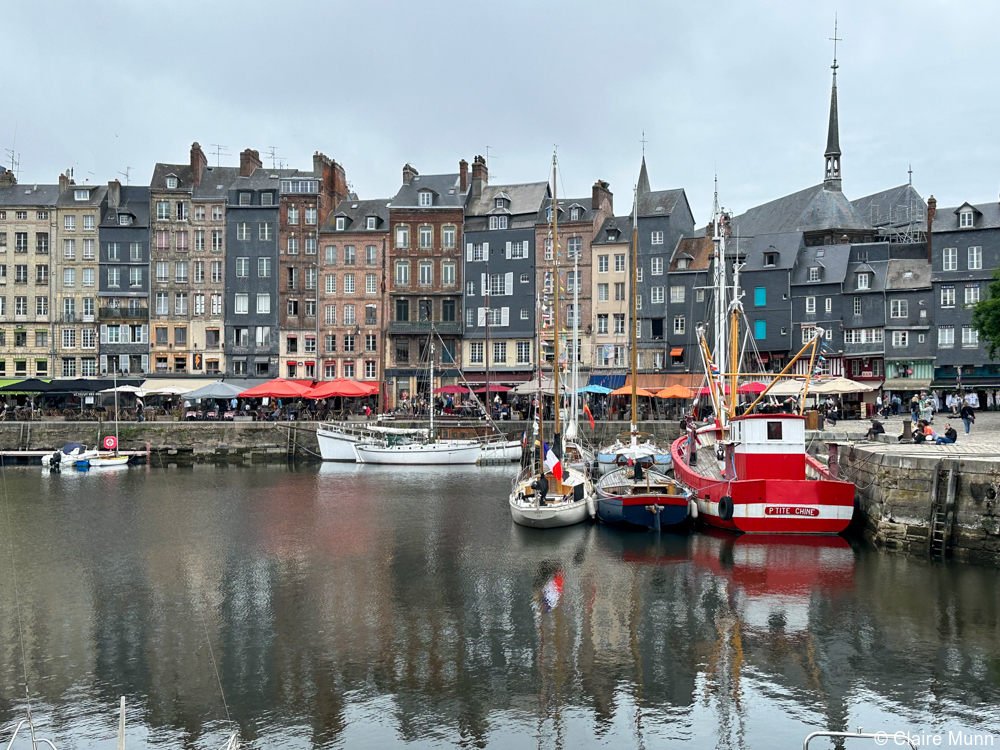 …and walking the iconic clifftops at Etretat, a favorite location for the Impressionist painters.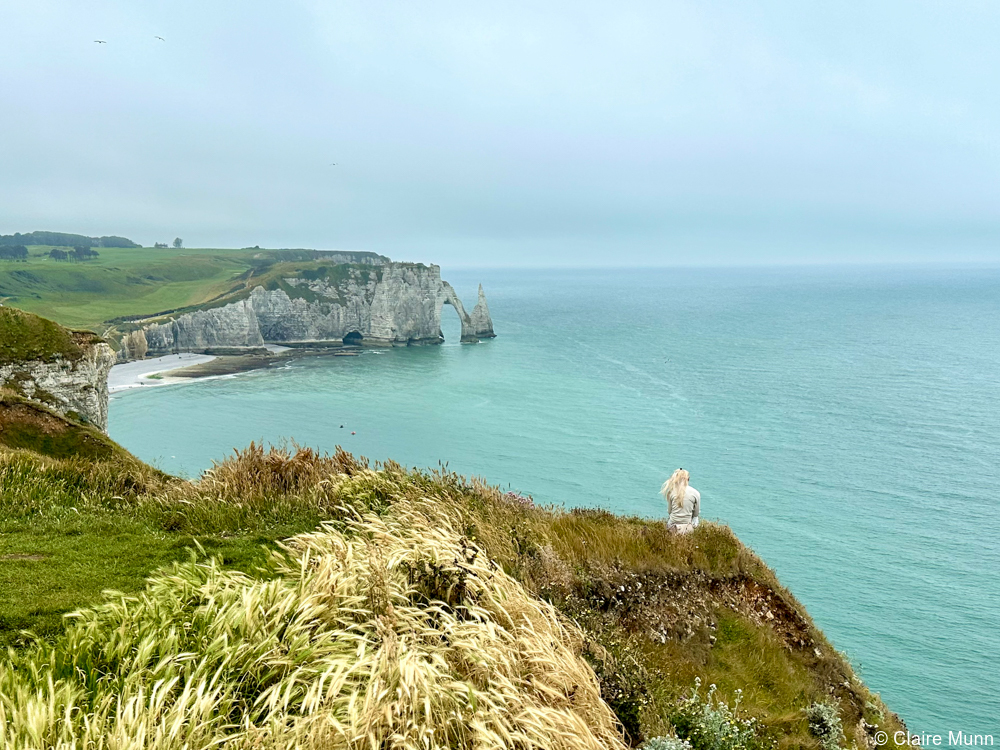 Rouen, the capital of Normandy, is a great stop en route to or from Paris. Rouen's medieval quarter is especially known for its spectacular Gothic cathedral, painted by Monet many times in the 1890s.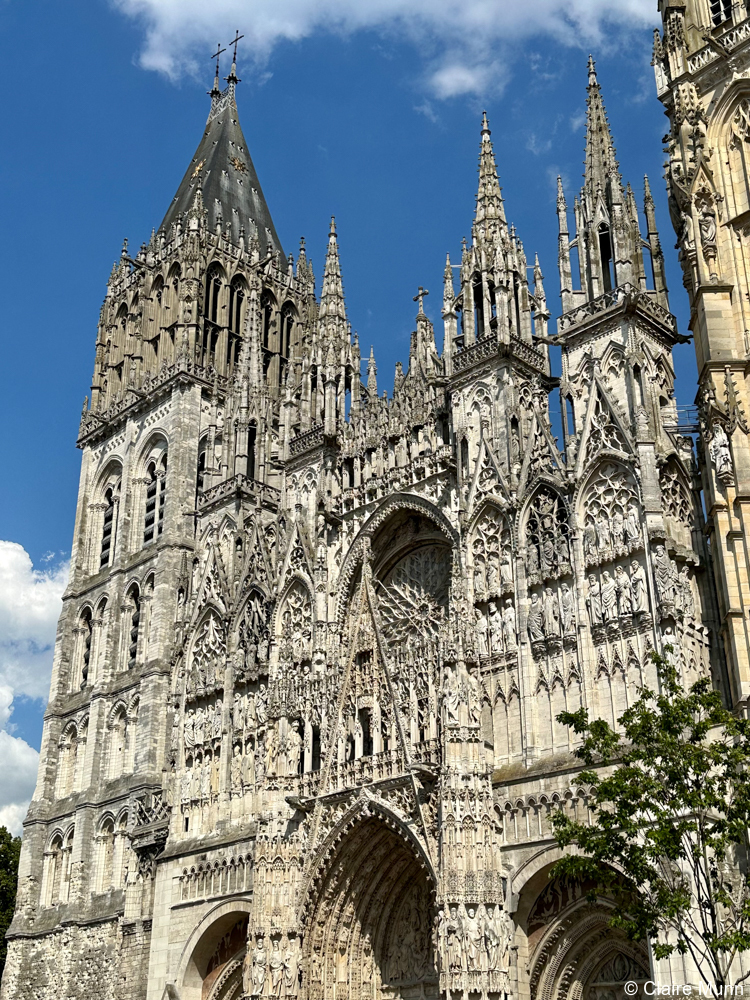 Intriguingly, the heart of Richard the Lionheart is buried in Rouen Cathedral.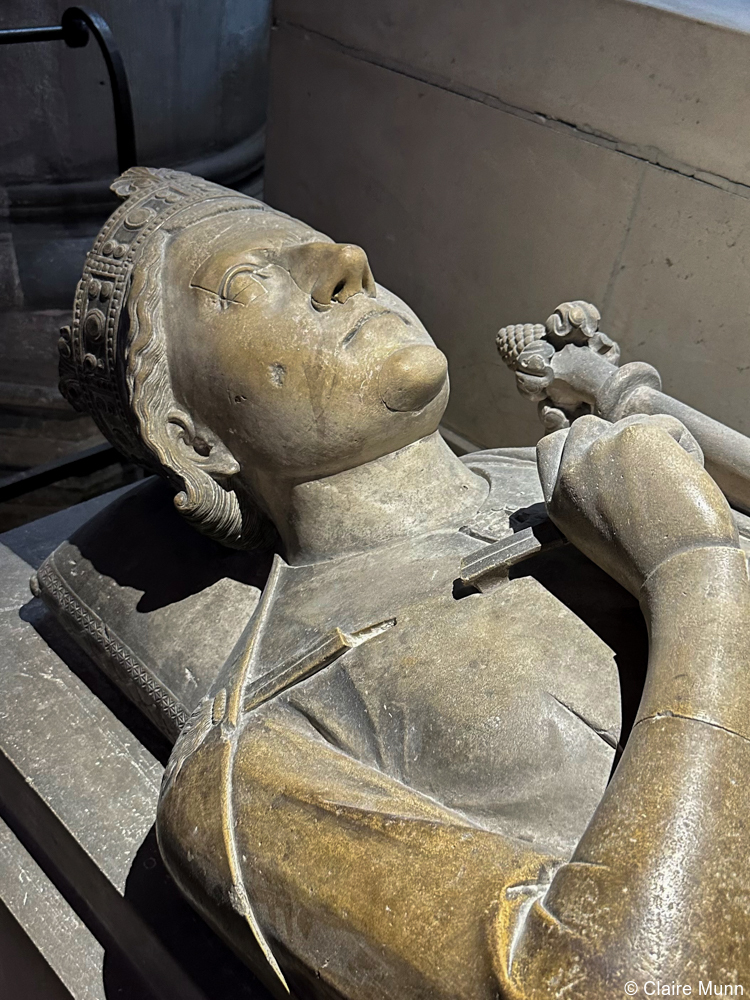 A memorial cross commemorates the spot in Rouen's market square where Joan of Arc was burned at the stake. Nearby is a modern church dedicated to her memory. For interested travelers, there is also a state-of-the-art museum dedicated to her life.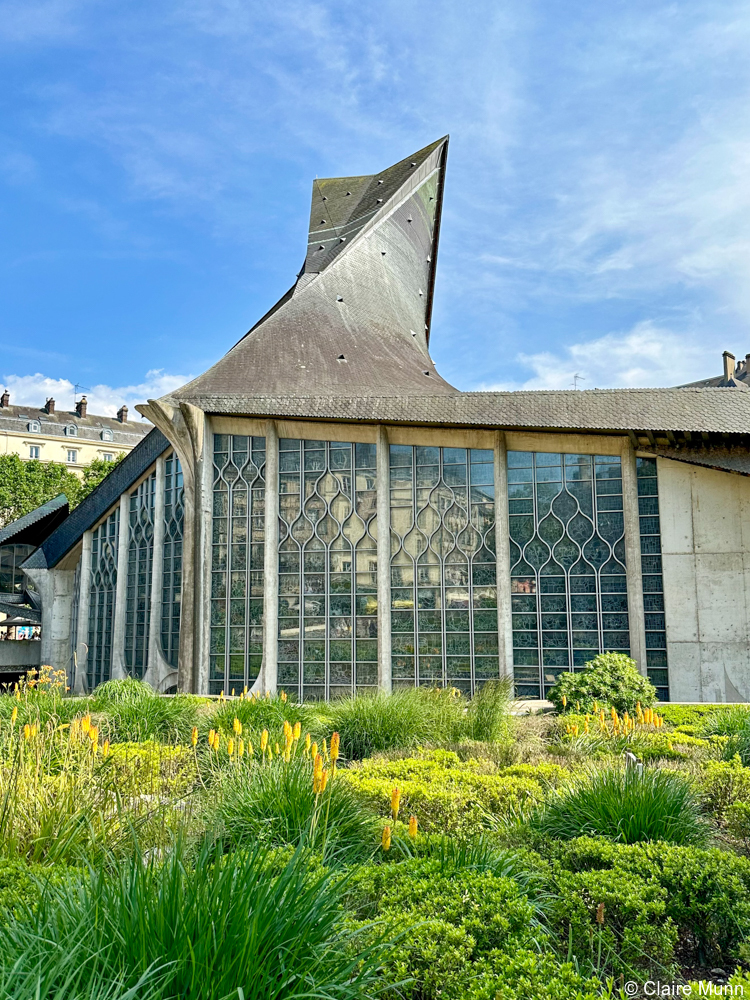 Other highlights include the landmark Gros-Horloge, a 14th-century astronomical clock; excellent museums such as the Fine Arts Museum and the Ceramics Museum; and Maison Sublime, a Romanesque building closely associated with Rouen's medieval Jewish community.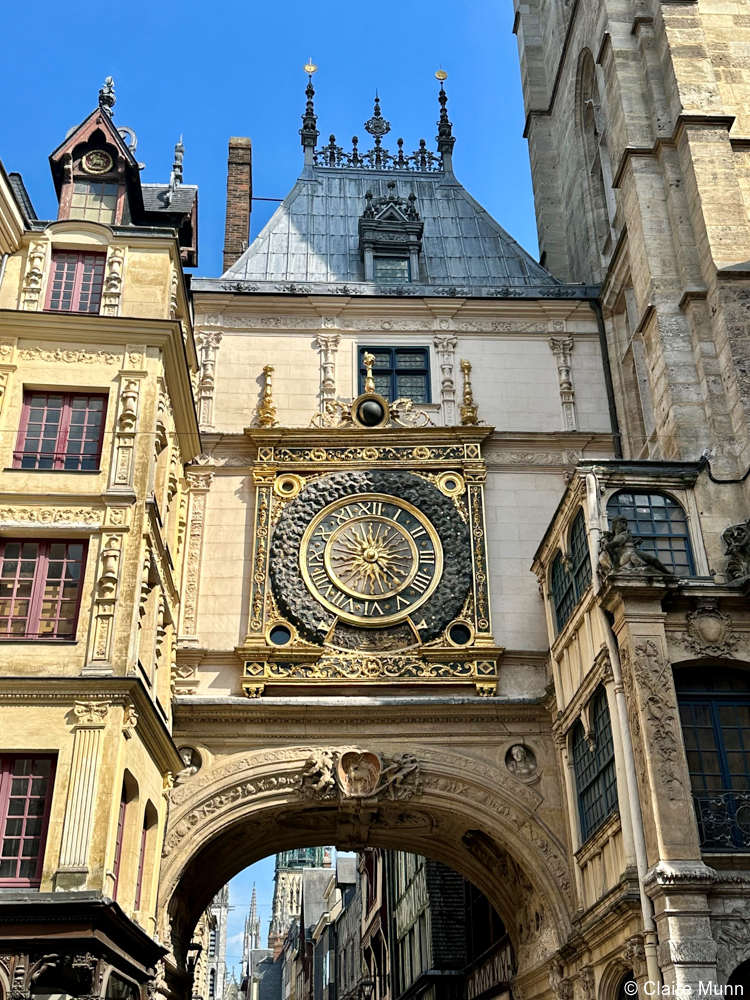 Q: What activities and experiences did the children especially enjoy?
A: The top highlights in Normandy for the children included exploring Monet's garden, clambering around Mont Saint-Michel, visiting a farm to see baby animals and riding horses on the beach.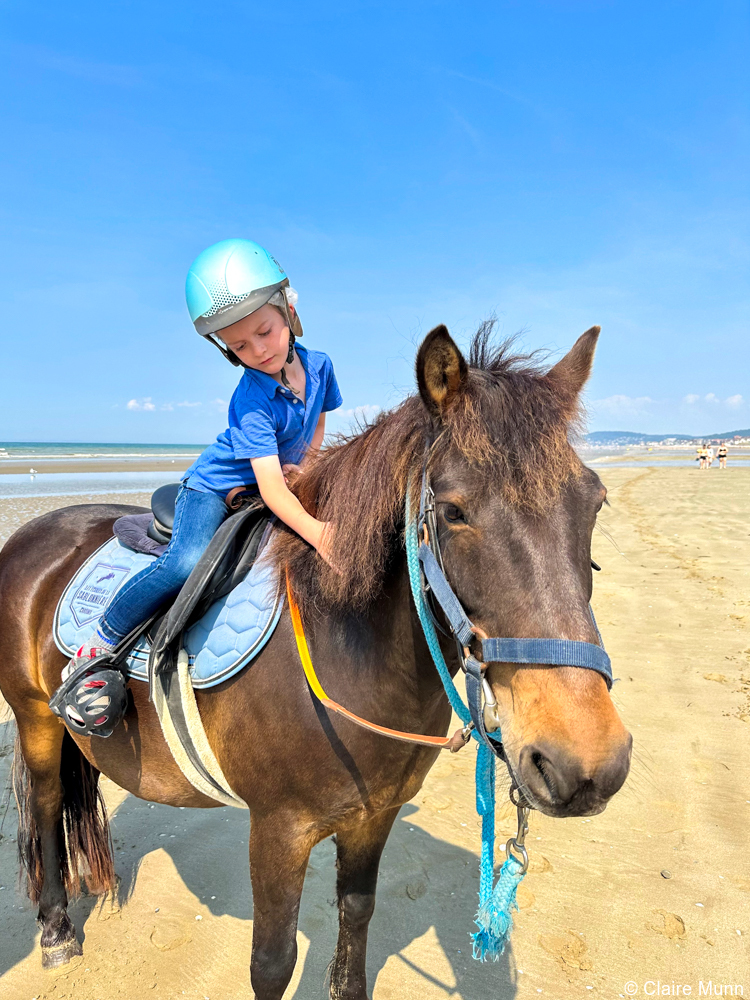 Q: Tell us about the food.
A: The food was incredible. The butter is reason enough to visit! Pictured here is butter made by a local 75-year-old farmer that was scooped out like ice cream and served alongside freshly baked bread.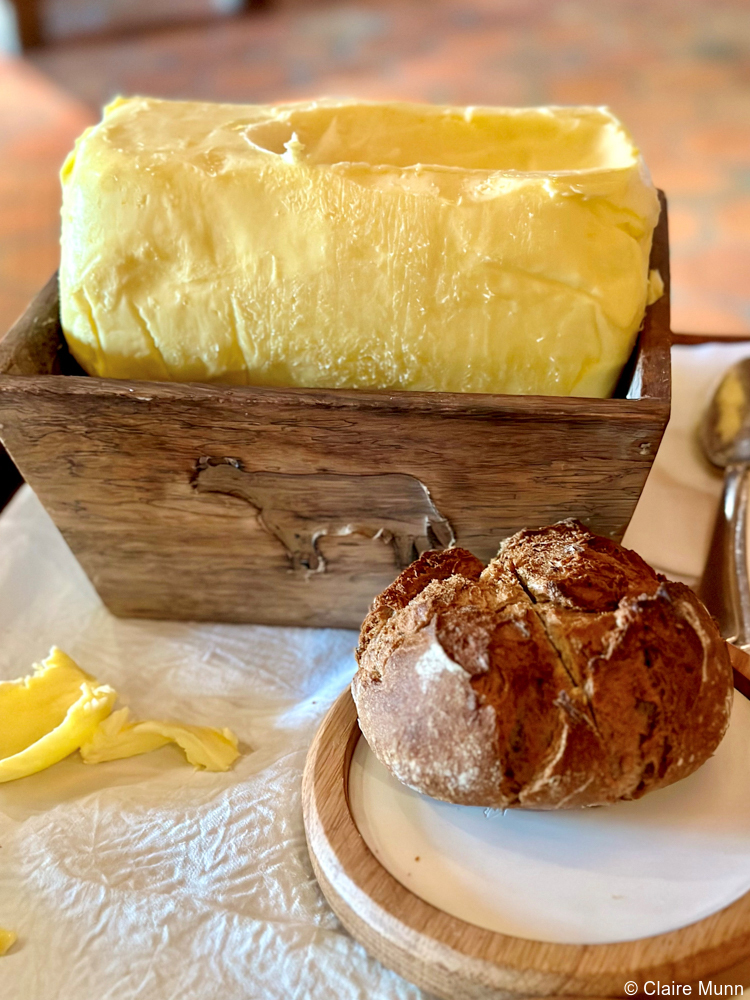 The cheese we kept sampling all week was a highlight, and there were a lot of stops in local boulangeries for sustenance. From picnics arranged by Artisans of Leisure…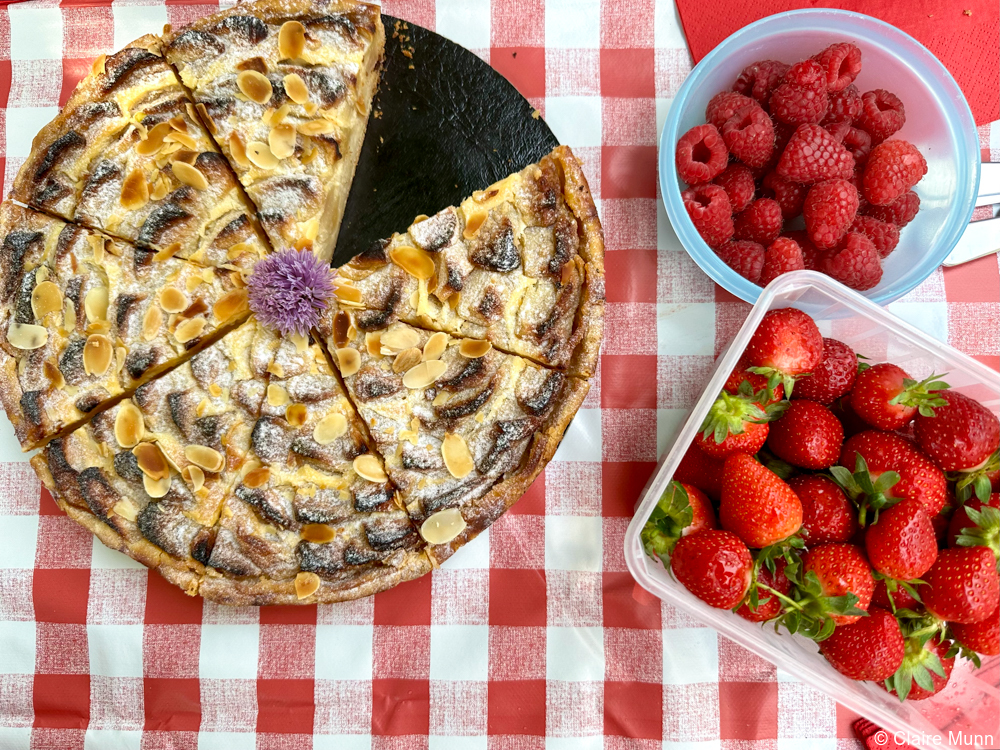 …to fine dining in chateau restaurants, the cuisine in Normandy is outstanding.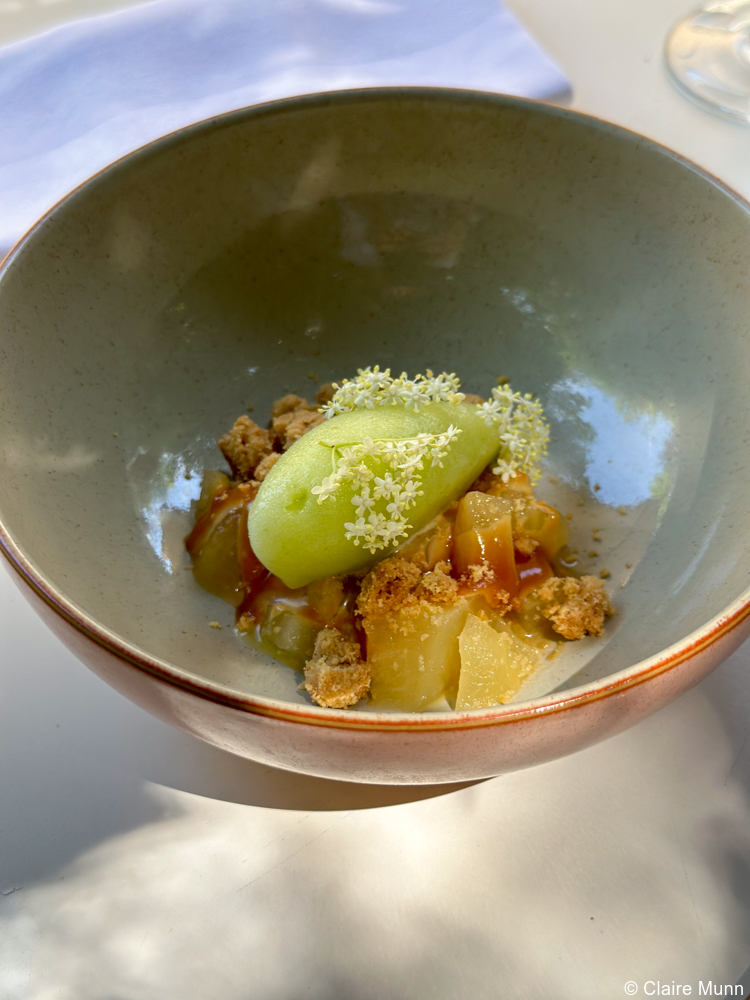 Q: Did you buy any local products to bring home?
A: We all bought sweaters and shirts from Saint James, the heritage clothing brand that is over 100 years old and originated near Mont Saint-Michel. Their signature striped Breton sweaters, originally made for fishermen and sailors, became a fashion garment in the 20th century when popularized by notable figures like Coco Chanel.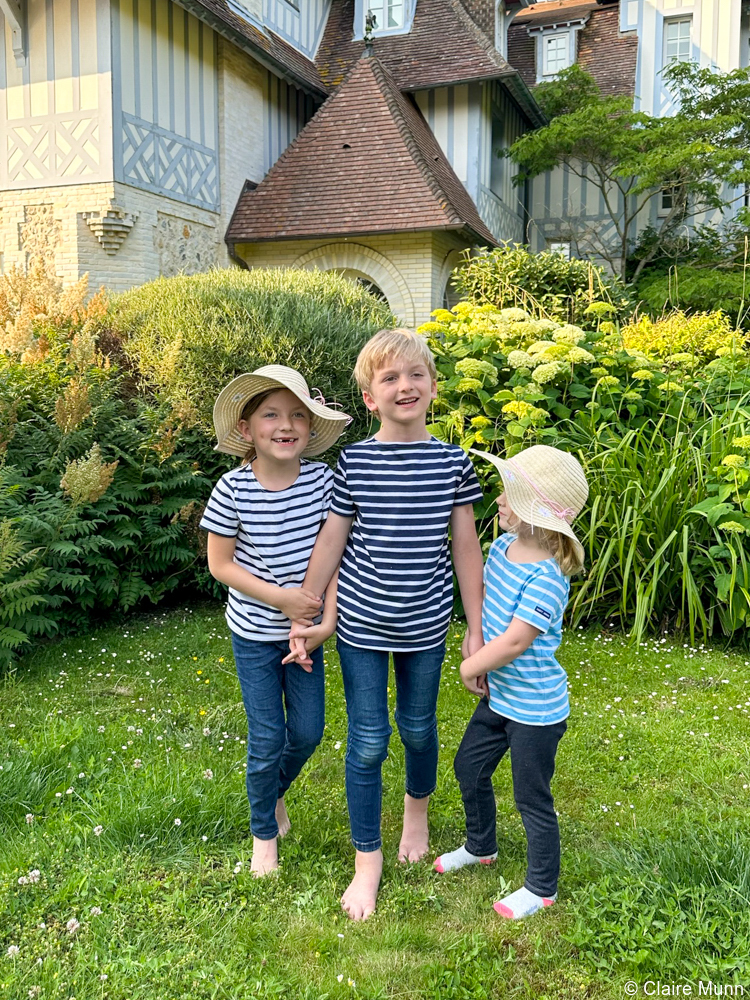 We also took home several bottles of Calvados and purchases from boutiques in the upscale seaside resort town of Deauville. Unfortunately, we couldn't transport suitcases full of cheese.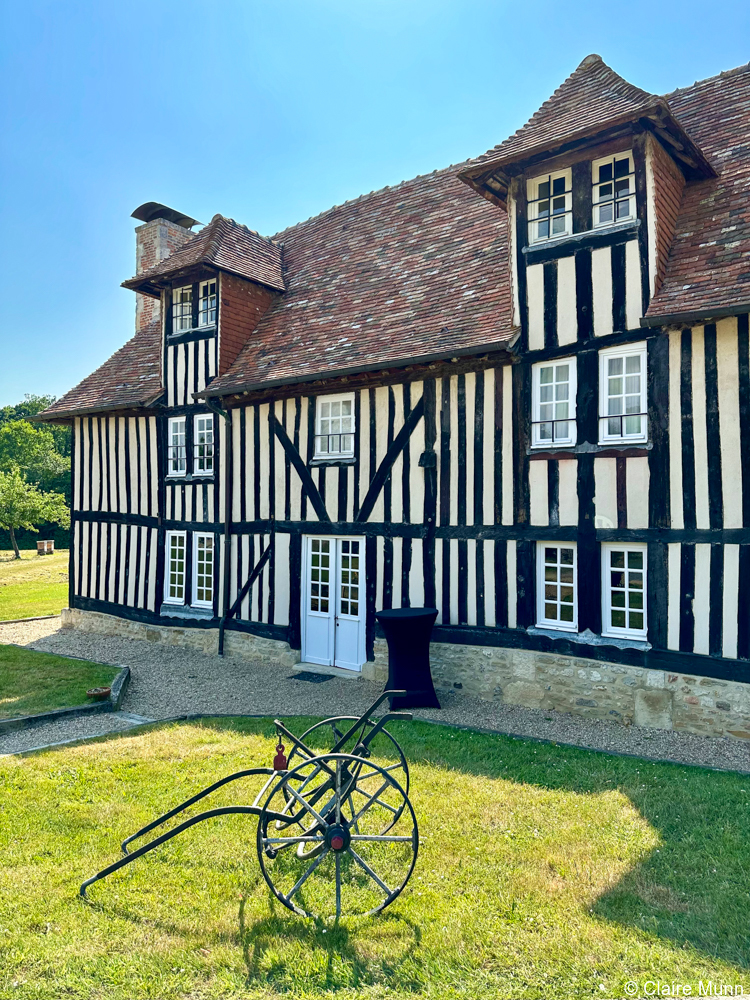 Normandy is an incredible stand-alone destination, but it also combines well with time in Paris and the Loire Valley. Contact Artisans of Leisure to begin planning a private France tour featuring the iconic highlights of Normandy.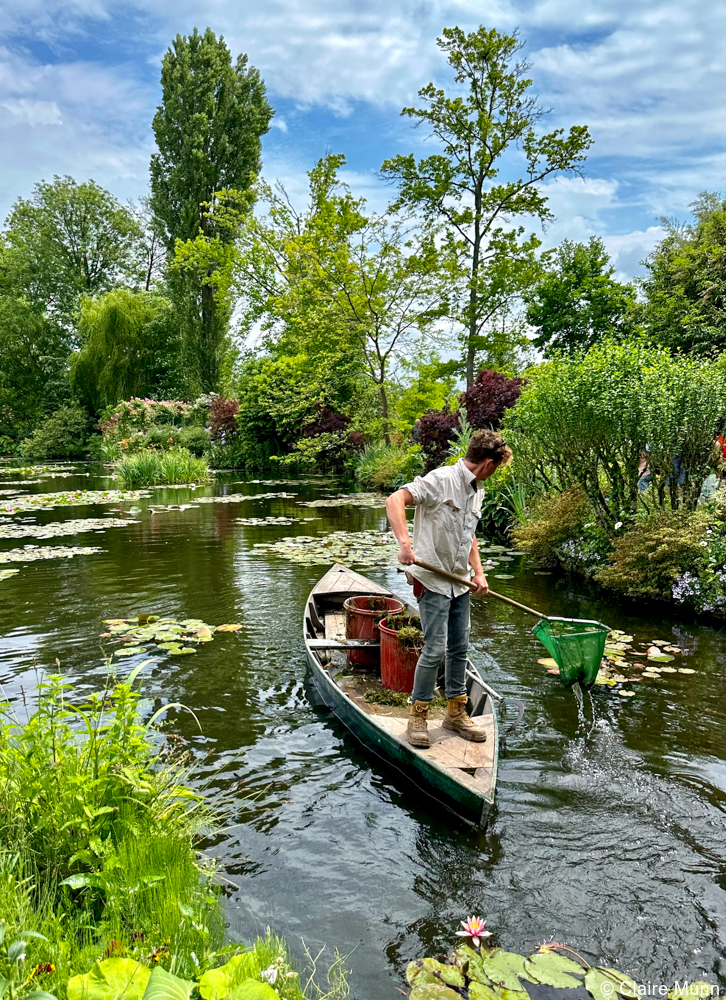 Tags: art history, art touring, Bayeux, Calvados, cheese, cheese tours, cider, cider and cheese, copper pots, culinary experiences, D-Day beaches, Etretat, family tours, family travel, family travel France, France, France luxury tours, French history, garden tours, Giverny, history tours, Honfleur, medieval architecture, medieval history, Monet, Mont Saint-Michel, multi-generational, Normandy, Normandy food tours, Normandy tours, Pays d'Auge, private France tours, Rouen, World War II tours, WWII tours