April 26, 2021
Family Travel in Egypt: Top 10 Favorite Experiences
Egypt is one of our most popular destinations for family travel. Accompanied by our incomparable private Egyptologist guides, travelers of all ages can discover the splendors of Egypt with incredible ease, access and insight.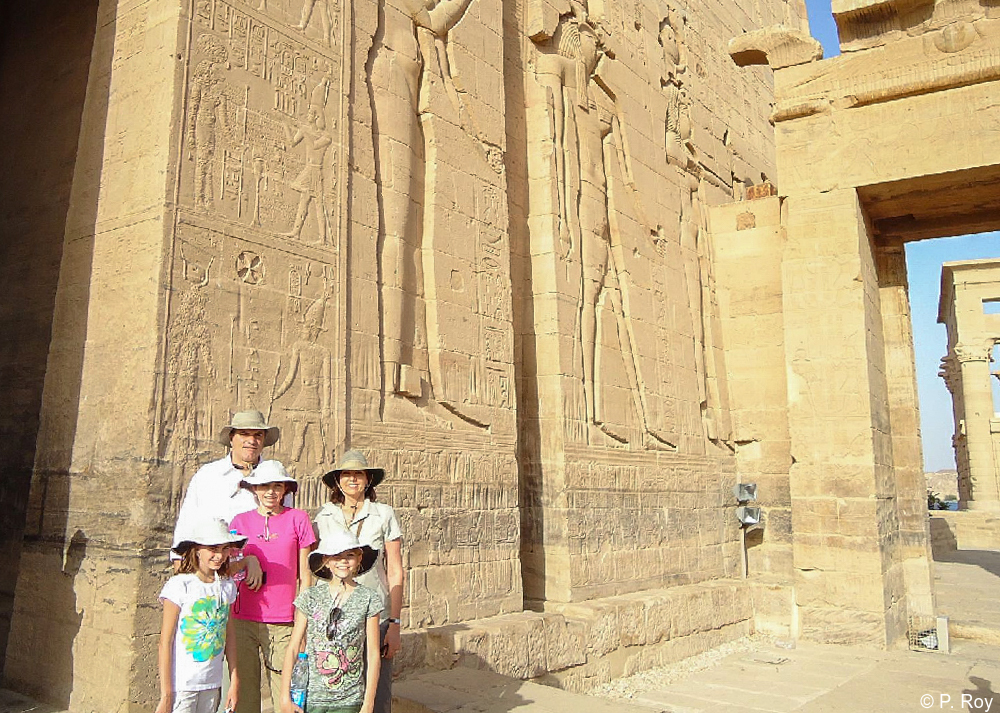 Many children have learned about ancient Egypt in school and are thrilled to experience firsthand the Pyramids, mummies, Nile River and other highlights. We can customize any of our private Egypt tours according to the ages and interests of the travelers.
Here are our top 10 favorite family-friendly activities during a private tour in Egypt:
1. Private touring of the Pyramids of Giza and the Great Sphinx
Families love seeing and learning about the Pyramids and the Sphinx, which form one of the most famous archaeological sites in the world.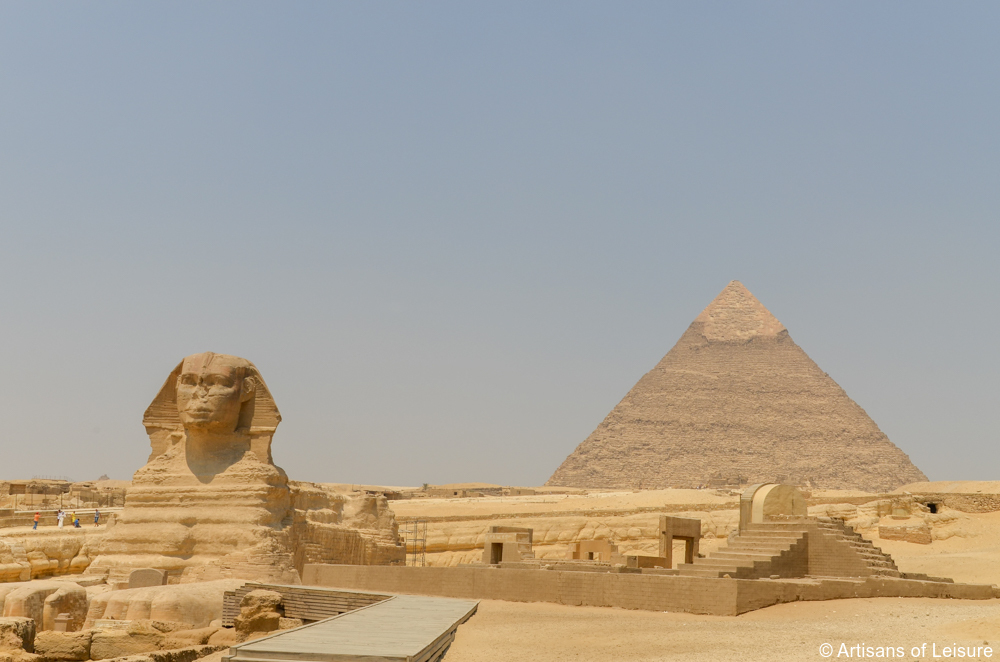 We can arrange many interesting activities around the vast site, such as a camel or horseback ride near the Pyramids (a great family photo opportunity)…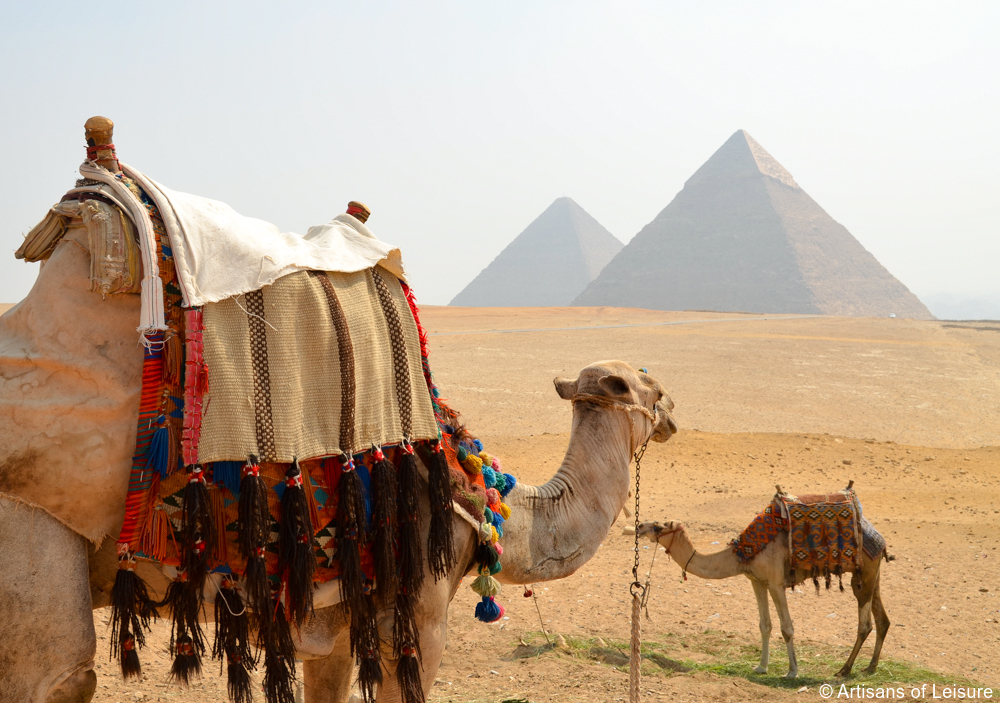 …the option to enter the main chamber of the Pyramid of Khufu (also known as the Great Pyramid of Giza), the largest of the Pyramids…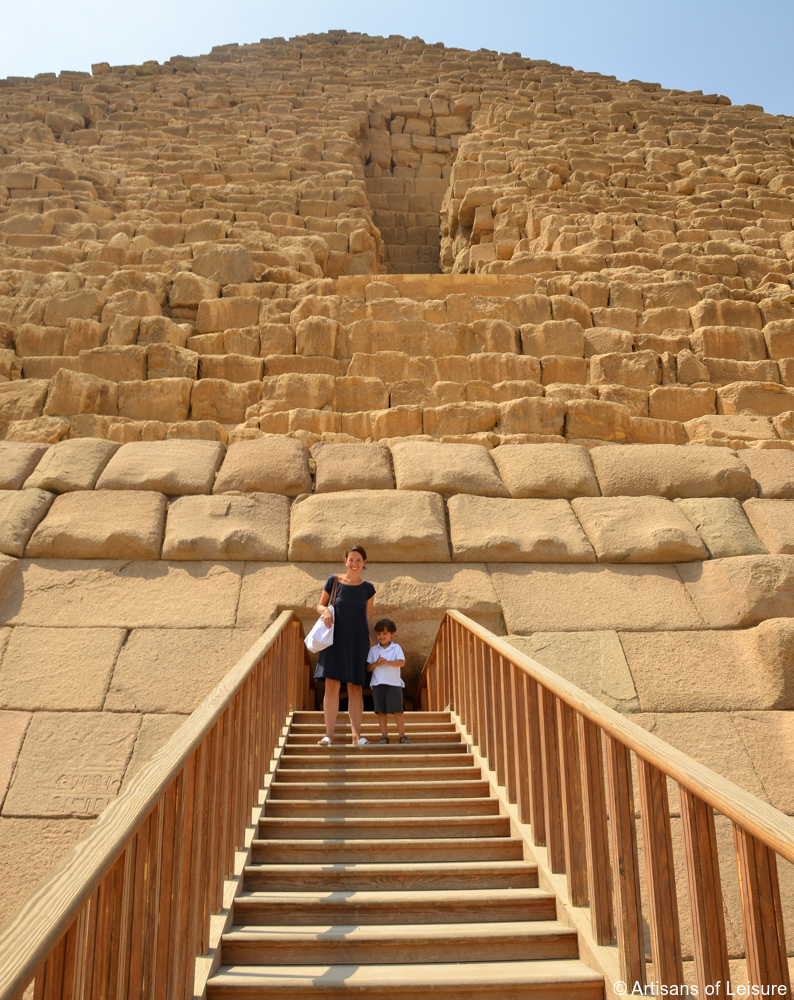 …and special access to the Great Sphinx, where families have the opportunity to take a photograph while standing between the sculpture's colossal front legs; a visit to the Solar Boat Museum, which displays a royal funerary boat from around 2500 B.C. that was built and buried with the pharaoh to transport him in the afterlife…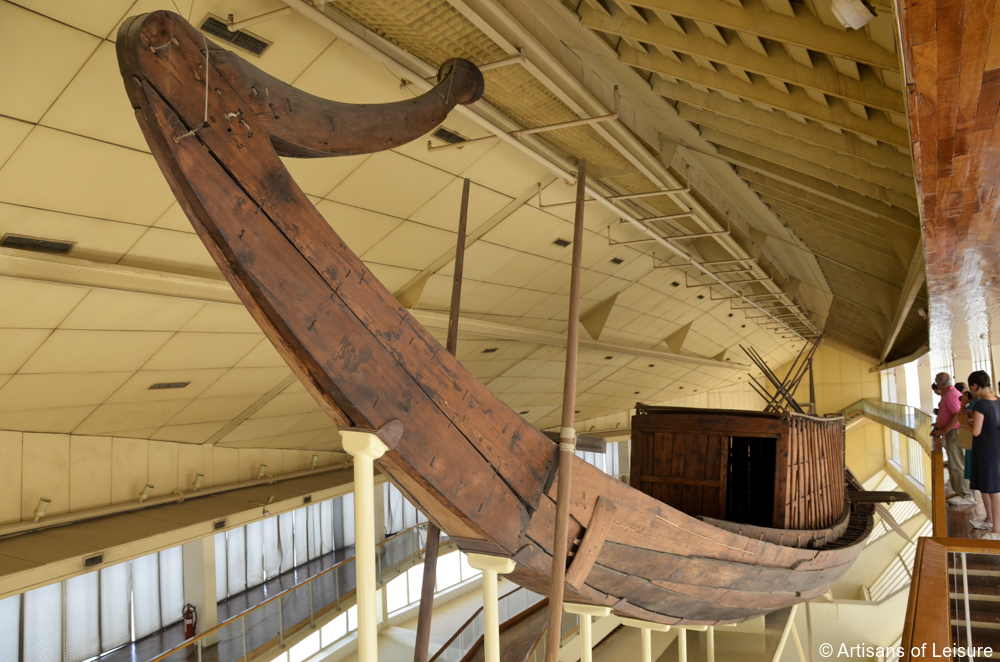 …and transfers and tickets to the Pyramids Sound & Light Show one evening.
Many of our travelers also enjoy seeing the older pyramids in Saqqara and Dahshur (including the Step Pyramid of Djoser, the Red Pyramid and the Bent Pyramid). Upon request, we can arrange entrance into the Red Pyramid—the inclines and stairs deep inside will have kids feeling like real archaeologists!
2. Learning hieroglyphics, making papyrus and other hands-on lessons
Hands-on lessons are a great way to learn about traditional Egyptian culture during a private Egypt tour. For families with young children, we can arrange crafts demonstrations and lessons in how to make papyrus and write hieroglyphics.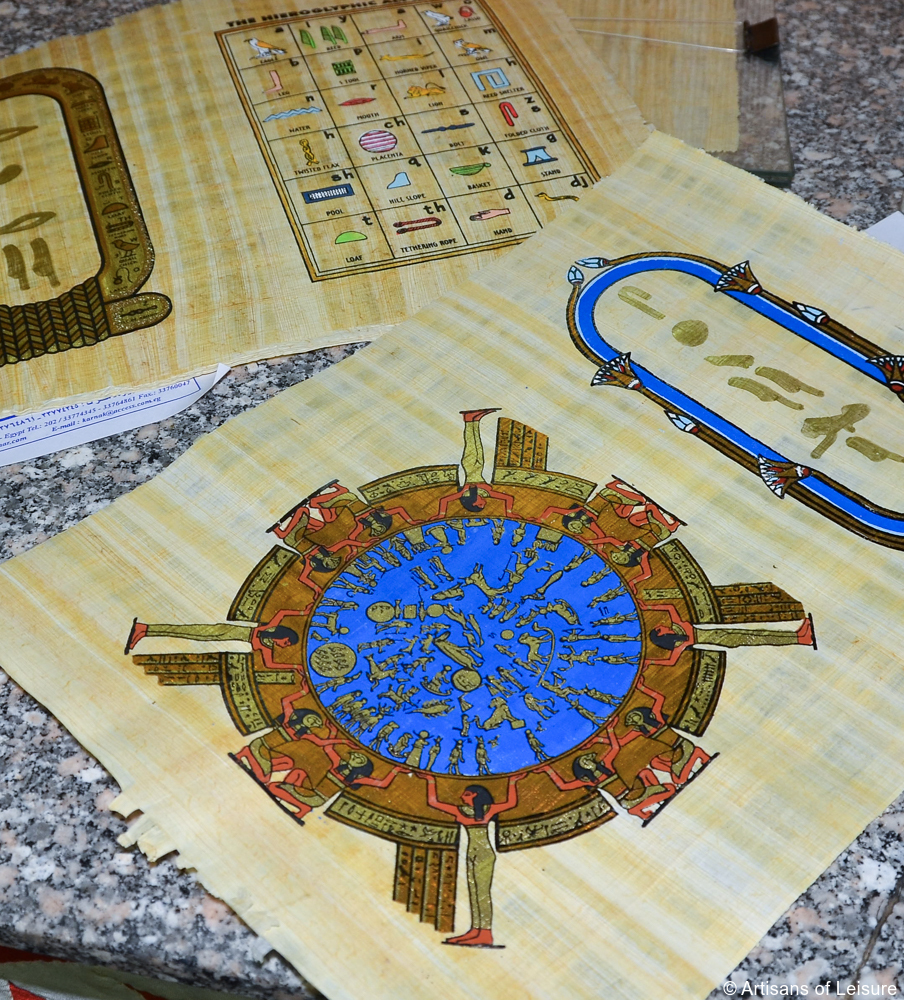 3. A luxury cruise on the legendary Nile River
A luxury cruise on the Nile River is an absolute must for families visiting Egypt. It's one of the best ways to see the most important sites outside Cairo and observe rural life along the river. We arrange private shore excursions at each stop, which gives families maximum flexibility to tour at their own pace and to focus on their family's interests each day.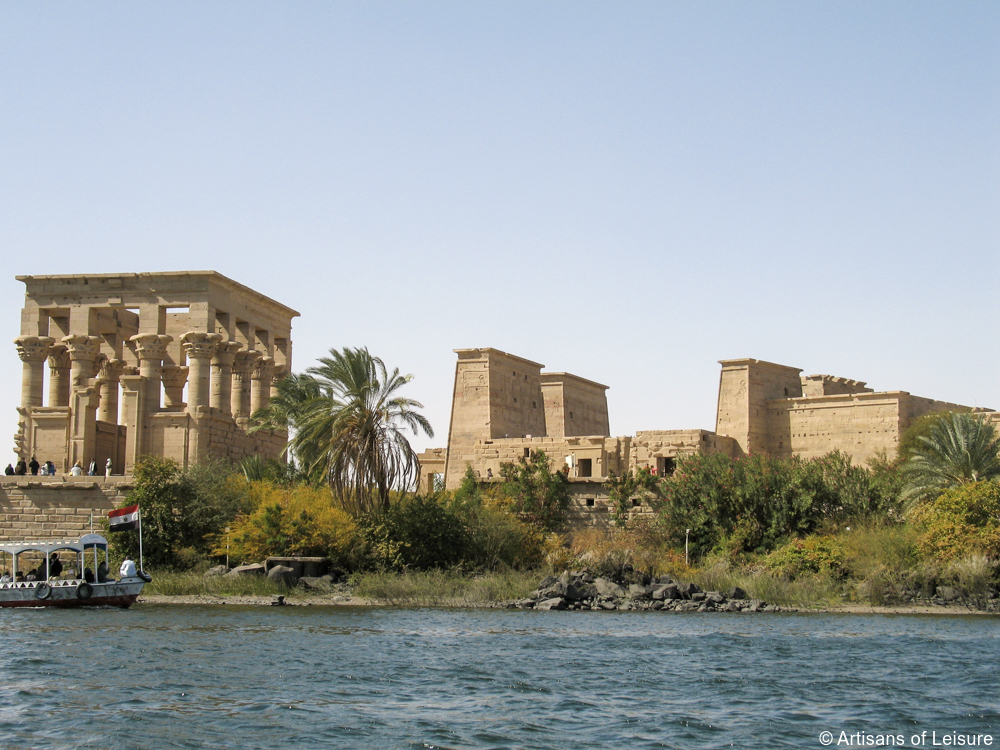 Our preferred Nile River cruises offer our travelers the most luxurious Nile cruise experience available, including beautiful and spacious cabins, great dining options, swimming pools, libraries, spas, salons, fitness centers and state-of-the-art communications. They also offer fun activities and lectures on board, and the highest level of service and ease of travel.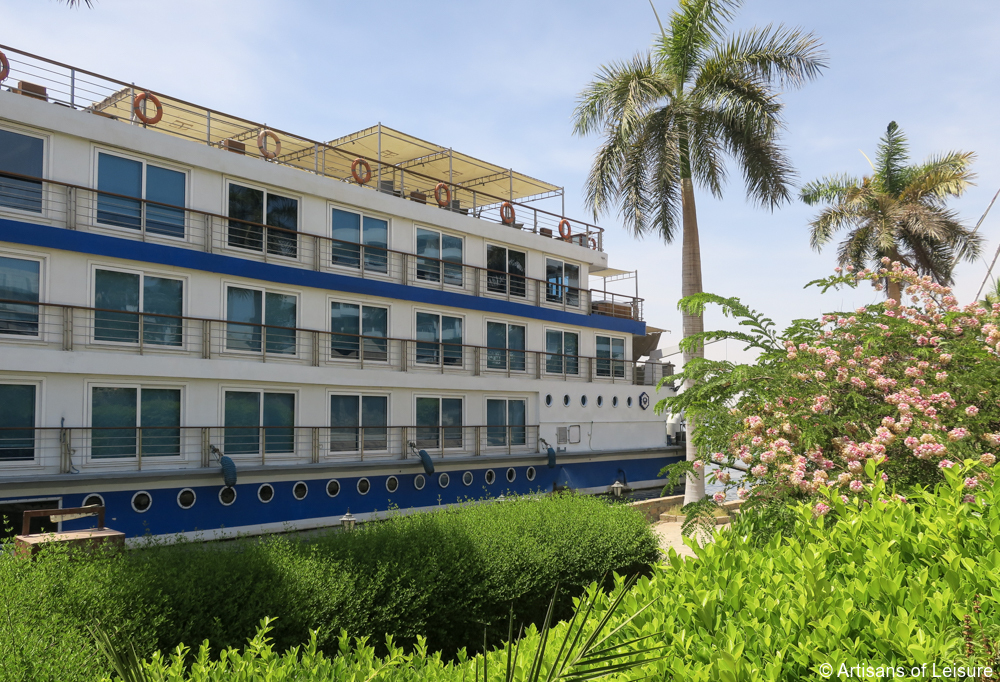 For families wanting a more traditional Nile River cruise, we can book a dahabiya (a traditional Egyptian shallow-bottomed sailboat). The slower pace of a dahabiya allows for quality family time and more flexible visits to historical sites en route. Family-friendly experiences include visiting the homes of local families, going for a swim in the Nile River, enjoying riverside picnics, taking a walk in the desert, stargazing and maybe even an impromptu soccer game.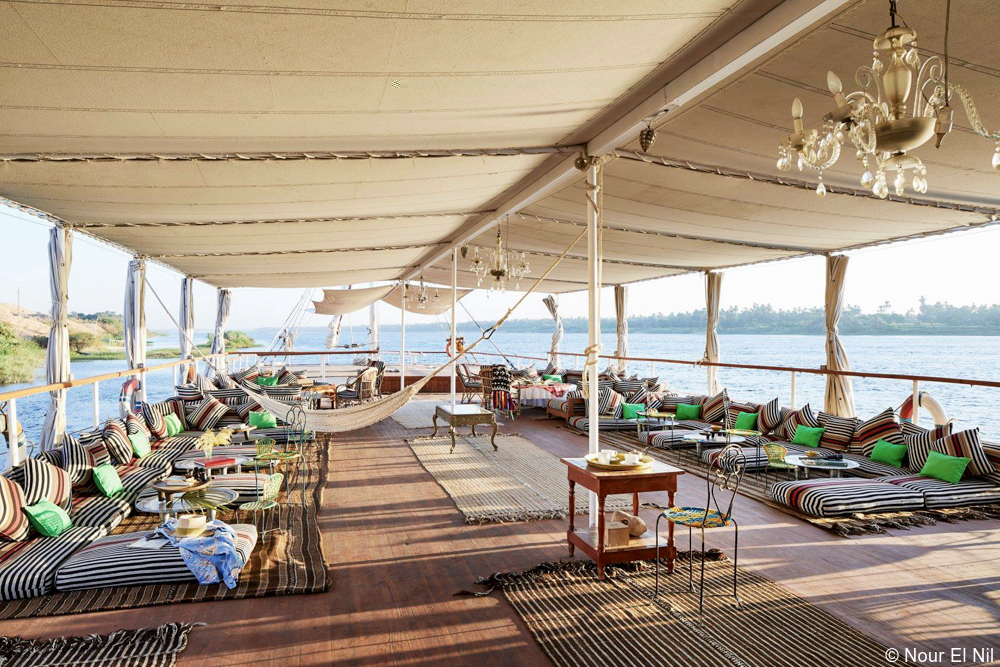 4. Shopping in local souks (markets) with an expert guide
A highlight of visiting Cairo is shopping and bartering in the city's fascinating markets, especially the renowned Khan al-Khalili bazaar. Our private Egyptologist guides assist our travelers in finding the best quality local wares and good-natured haggling to get the fairest price. The souks are a great place to see traditional items that are part of daily life in Cairo, experience the city's unique energy, and learn about Egyptian culture, traditions, architecture and cuisine.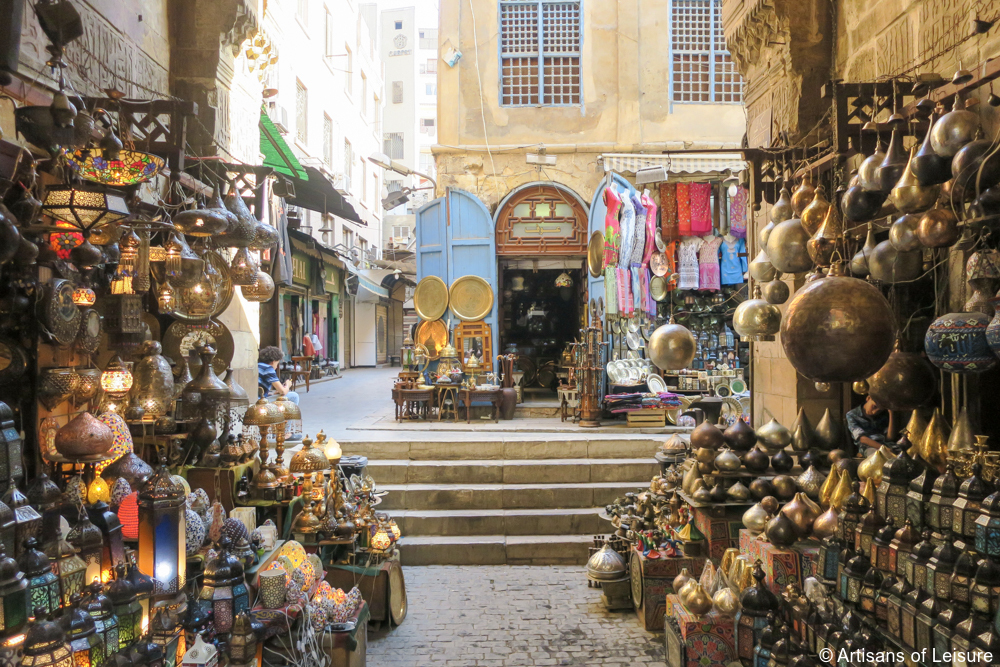 Many of the Nile cruises host a galabiya party onboard one night, and the markets in Cairo are a great place to purchase a galabiya (a traditional Egyptian garment).
For interested travelers, we can also include visits to markets and souks outside of Cairo.
Upon request, we can also arrange private appointments with artisans who make and sell beautiful pottery, jewelry, wood carvings, rugs and other items. One of our favorite places to take travelers is an upscale alabaster shop in Luxor that is owned and operated by a 20th-generation alabaster artisan.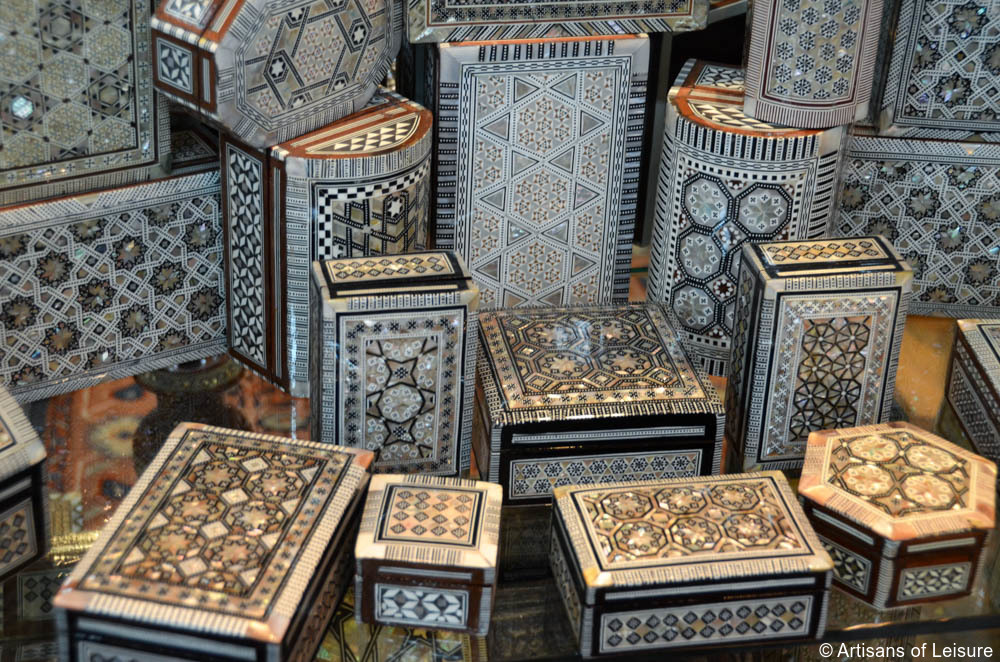 Artisans of Leisure also makes dining reservations at our favorite hidden locations in the souks—these restaurants are typically housed in beautiful traditional buildings and serve a wonderful variety of local culinary specialties.
5. Getting to know our amazing Egyptologist guides
Our private Egypt tours include the very best private Egyptologist guides. Many of our guides have families of their own, and they are experts at making the sites, history and country come alive for children of all ages. We often hear from our travelers that they felt their Egyptologist guide had become a friend, or even a part of the family!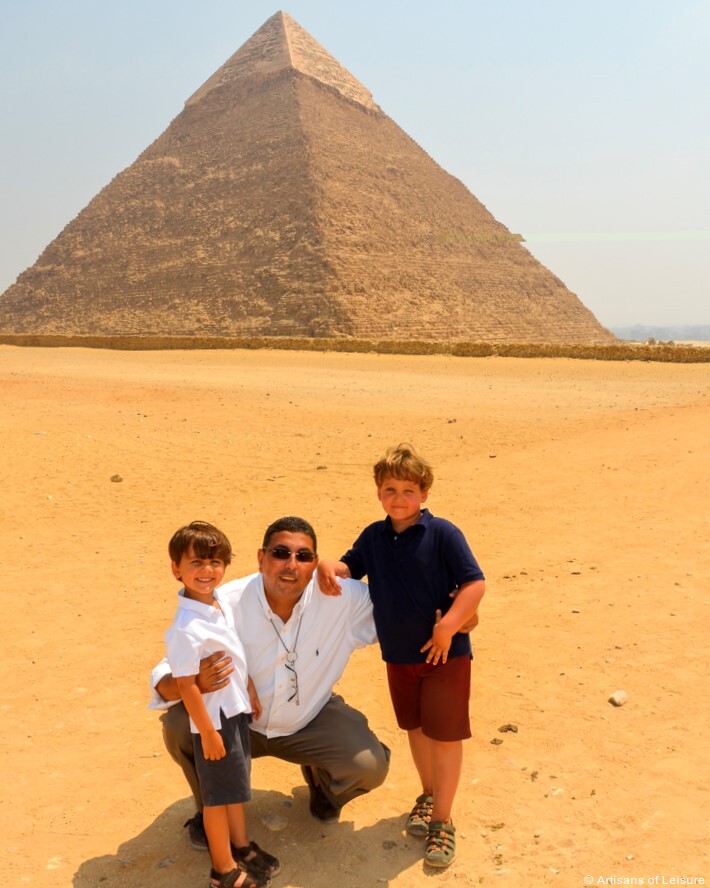 Our private guides are extremely well-connected throughout Egypt and provide travelers with opportunities to interact with local people while touring. Artisans of Leisure travelers can also look forward to last-minute additions or impromptu special activities because our guides are so knowledgeable and adept at personalizing private touring for our travelers.
6. Behind-the-scenes tours of ancient tombs, the Egyptian Museum and other attractions
Nothing beats having an iconic and world-renowned ancient site entirely to yourself. Upon request, Artisans of Leisure can arrange once-in-a-lifetime, truly exclusive experiences and behind-the-scenes visits at some of Egypt's most important and most incredible sites.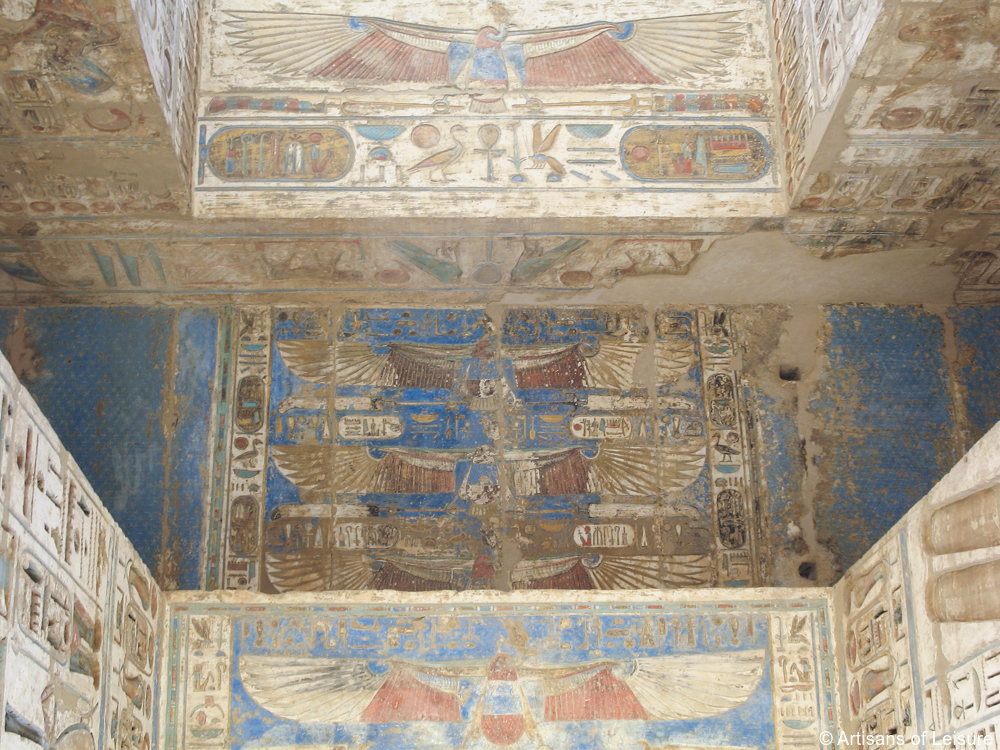 We can arrange exclusive access to famous tombs and little-known yet equally spectacular recently discovered tombs that are not open to the public.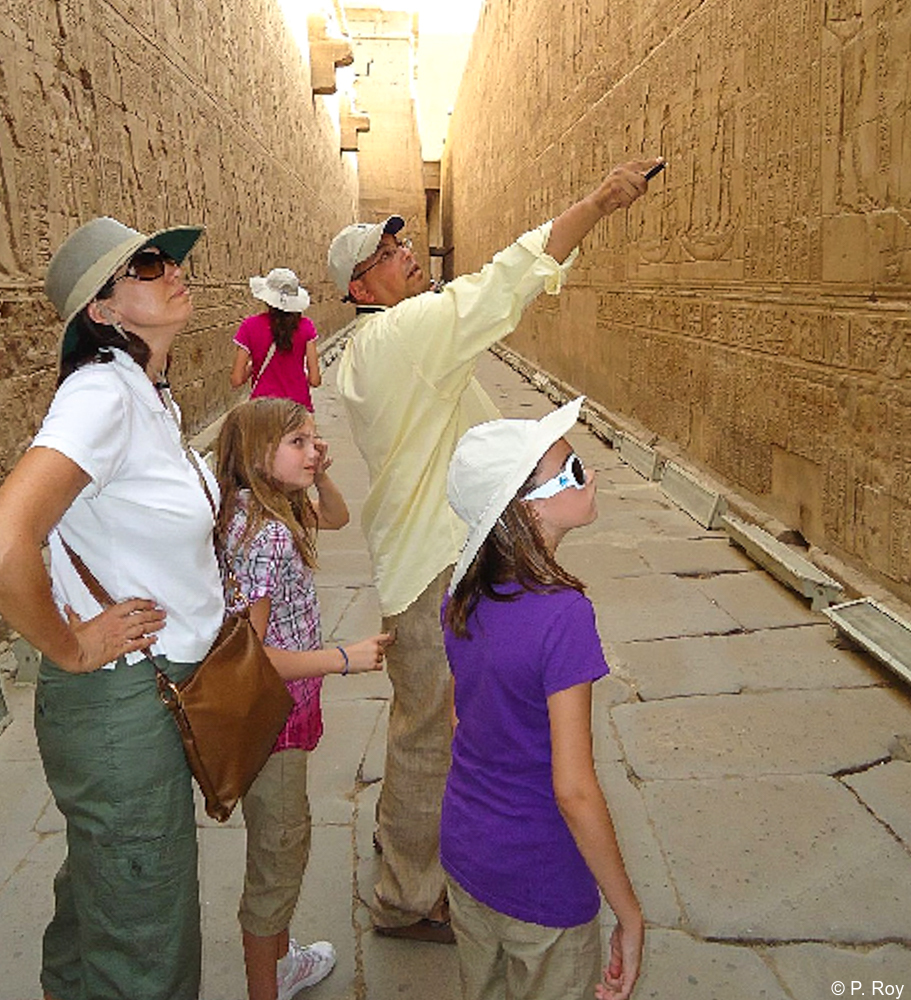 We can also arrange after-hours private tours of major sites such as the Pyramids of Giza and the Egyptian Museum. Kids will feel like they've stepped into the film Night at the Museum!
7. Private touring in Aswan—visiting a local home, getting a henna tattoo, enjoying a private felucca ride
Aswan is considered Egypt's most beautiful city, and we love sending families here as there is so much to see and do. A private cruise on a felucca (traditional wooden sailboat) is an intimate and perfect way to enjoy the sunset with your family.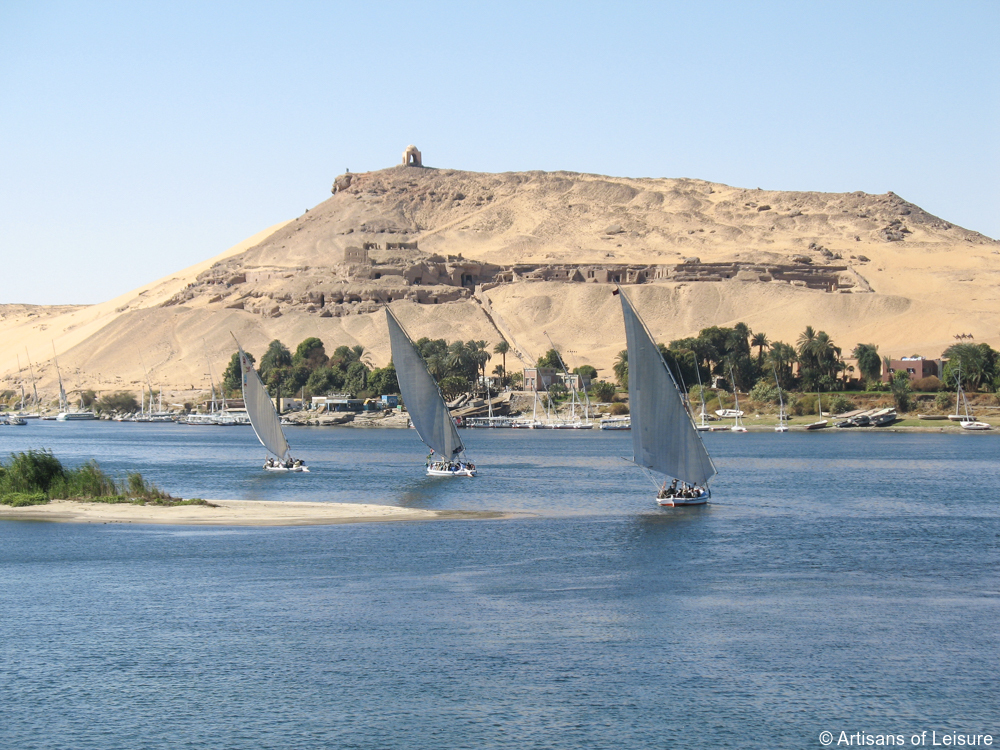 We can also arrange a visit to a local Nubian village. Kids love meeting the local children, getting a henna tattoo or having tea in a local home.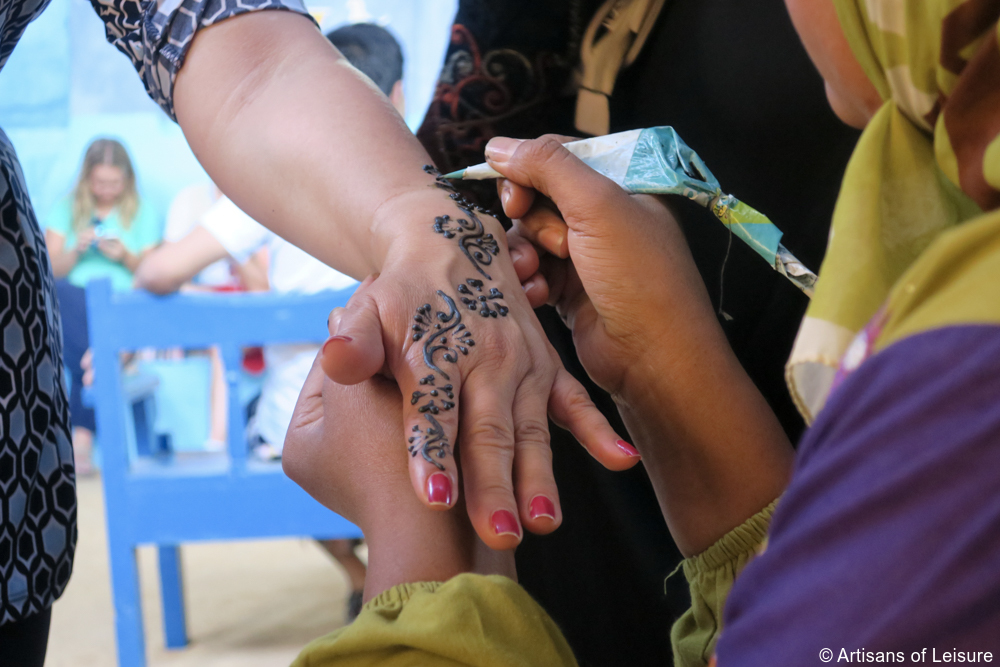 Families also enjoy visiting the atmospheric Hotel Sofitel Legend Old Cataract Aswan for a drink, a snack or a meal. According to local legend, Agatha Christie wrote part of her novel Death on the Nile in the hotel.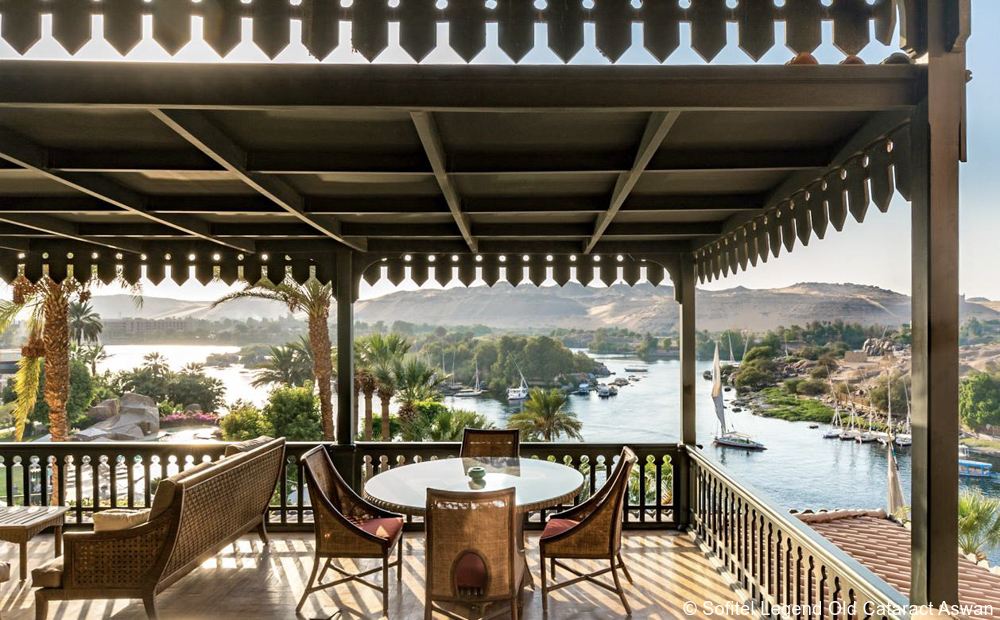 Upon request, we can arrange attendance at the Temple of Philae Sound & Light Show, a fun evening activity for families with young children.
8. Special meals and favorite restaurants
We love arranging special dining experiences for our travelers. Some of our favorites for families are lunches at an open-air restaurant with unobstructed views of the Pyramids of Giza…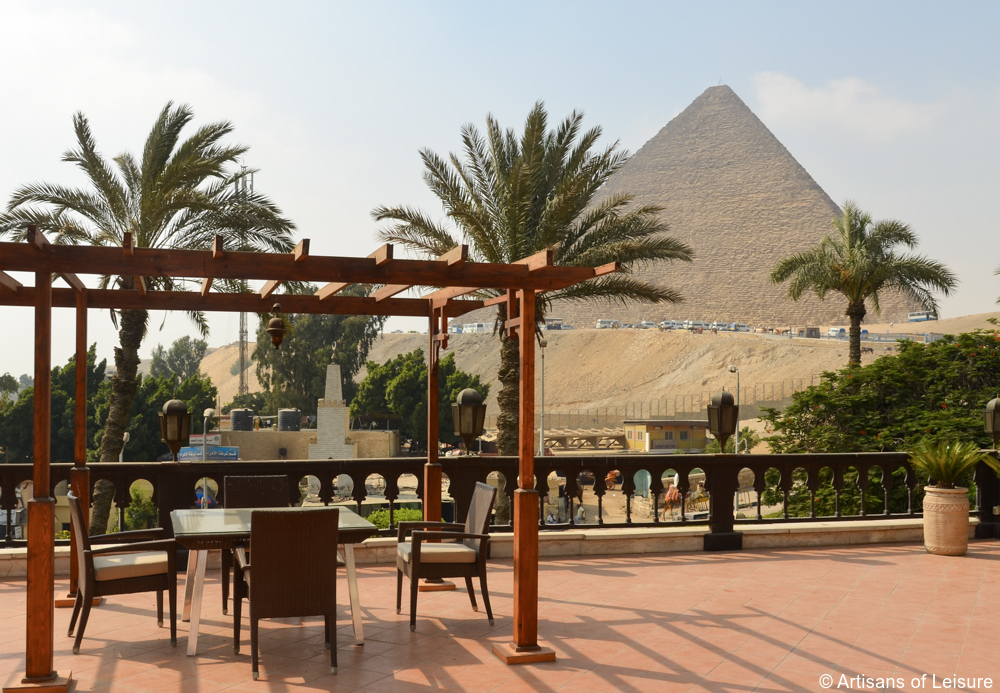 …lunches at an atmospheric local cafe in the middle of Khan el-Khalili bazaar in Cairo and dinners at the best upscale restaurants in Cairo that are also popular with locals.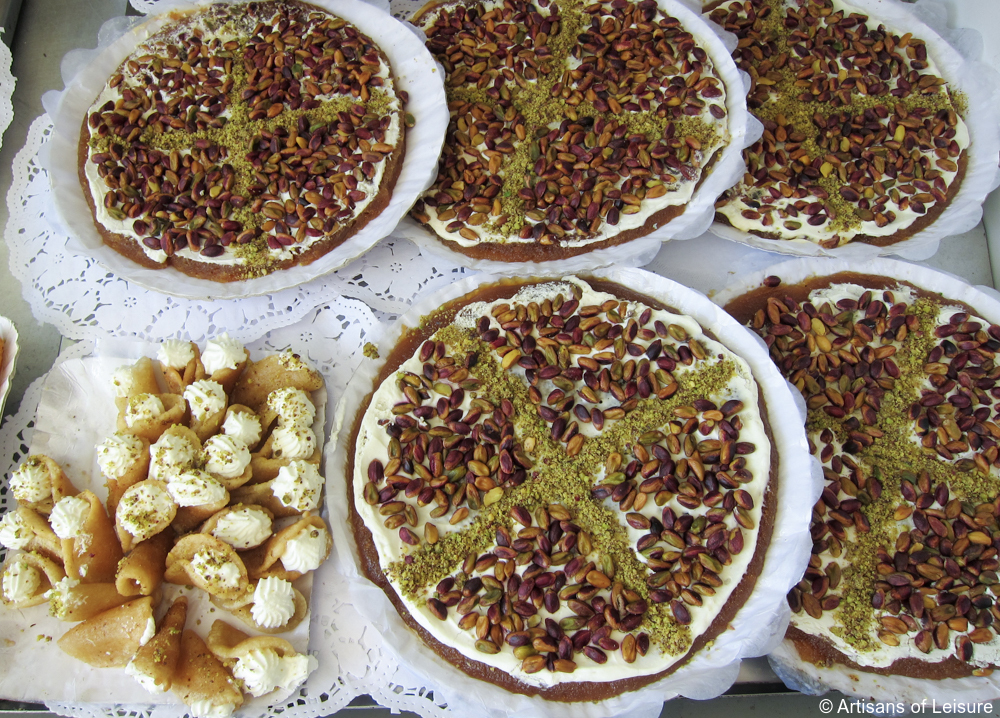 We can also book short dinner cruises on the Nile River in Cairo, a great way to enjoy Egyptian cuisine with views of the city lights.
To celebrate a special occasion such as a graduation or a birthday, we can arrange a very exclusive private dinner at the extraordinary Luxor Temple.
9. A private hot-air balloon ride over the Valley of the Kings
For families with older children, a private hot-air balloon ride at sunrise is a unique way to see the spectacular ruins in Luxor and the Valley of the Kings. The photos will no doubt be displayed in your family's home for years to come!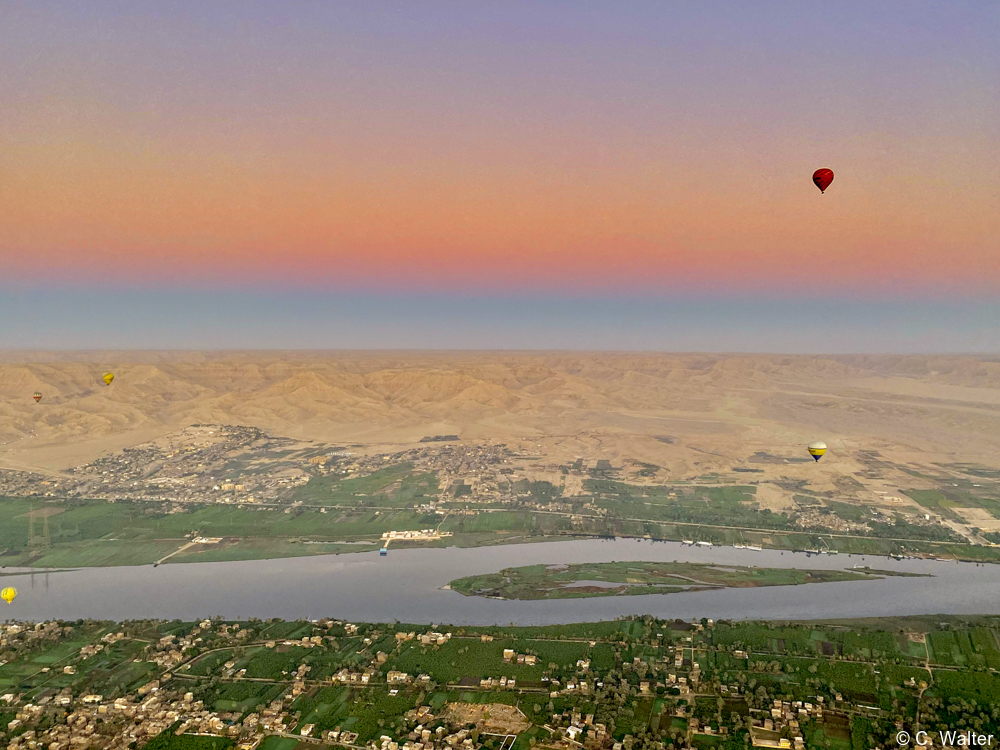 10. Visiting a luxury beach resort destination such as Sharm El-Sheikh
A luxury beach resort, such as the Four Seasons Resort Sharm El Sheikh, is the perfect place to end an in-depth private tour of Egypt with your family. We always include ample leisure time to relax by the resort's swimming pool or on the beach. Upon request, we can arrange private yacht charters and snorkeling or diving excursions to explore the Red Sea's coral reefs and marine life.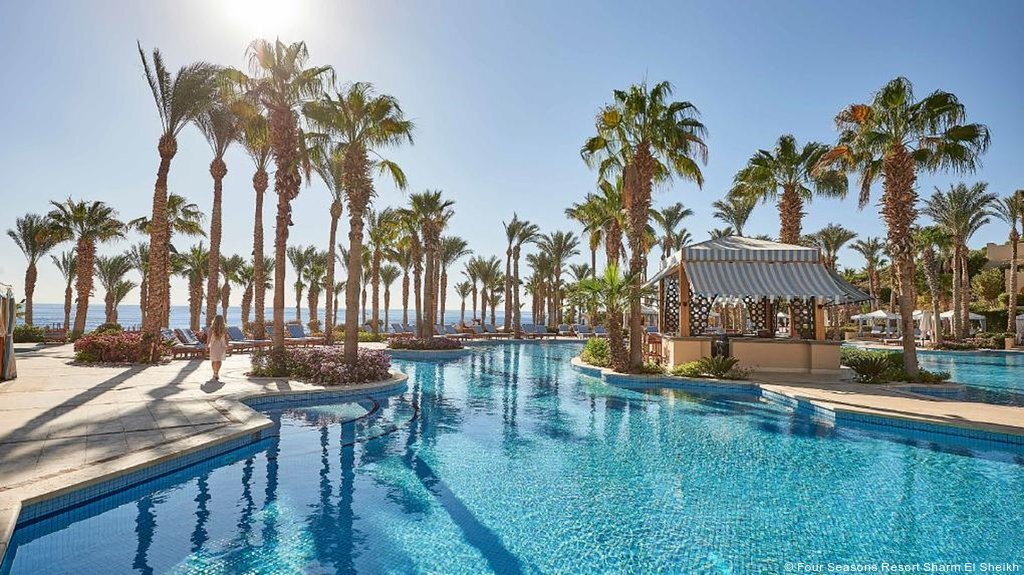 Contact Artisans of Leisure to begin planning a customized private tour of Egypt.
Destinations: Africa, Egypt, Middle East
Tags: ancient Egypt tours, ancient ruins, Cairo, Cairo shopping, Cairo tours, crafts, Egypt, Egypt family tours, Egypt tours, Egyptologist guide, family activities, family tour, family travel, Great Sphinx, history, insider experiences, Luxor, luxury cruises, luxury Nile Cruises, luxury Nile River cruises, Nile River cruise, private lessons, private tours, pyramids, Pyramids of Giza, souks, Valley of the Kings