Family Tour of Ireland
(9 Days)
Dublin, Killarney, Adare or Co. Clare, Ashford Castle
Family Tour of Greece
(9 days)
Athens, Santorini, Crete
Family Tour of Italy
(13 Days)
Rome, Florence & Tuscany, Venice, Lake Como
Family Tour of Japan
(10 Days)
Tokyo, Hakone, Kyoto, Tokyo
Family Tour of Egypt
(8 Days)
Cairo & the Pyramids, luxury Nile River cruise
Family Tour of Germany
(10 Days)
Berlin & Potsdam, Munich & Neuschwanstein, Baden-Baden & Alsace
Family Tour of Argentina
(10 Days)
Buenos Aires, Iguazu Falls, Bariloche
Family Tour of Australia
(10 Days)
Sydney, Daintree Rainforest, Great Barrier Reef
Family Tour of Bali
(8 Days)
Nusa Dua or Jimbaran Bay, Ubud
Family Tour of China
(12 Days)
Beijing & Great Wall, Xian, Shanghai, Hong Kong
Family Tour of Dubai & the Emirates
(9 Days)
Dubai & Arabian Desert, Abu Dhabi
Family Tour of England
(7 Days)
London & environs
Family Tour of France
(12 Days)
Normandy, Paris & Versailles, Provence, Cote d'Azur
Family Tour of India
(11 Days)
Delhi, Agra, Ranthambore, Jaipur, Mumbai
Family Tour of Israel
(10 Days)
Jerusalem & Dead Sea, Negev Desert, Tel Aviv
Family Tour of Kenya
(9 days)
Nairobi, Maasai Mara, Mount Kenya
Family Tour of Mexico: Best of the Riviera Maya
(7 Days)
Riviera Maya with Tulum & Chichen Itza
Family Tour of Morocco
(8 Days)
Marrakesh, Atlas Mountains
Luxury Family Tour of New Zealand
(11 Days)
Auckland, Taupo & Rotorua, Hawke's Bay, Queenstown & Milford Sound
Family Tour of Peru
(8 Days)
Lima, Sacred Valley, Machu Picchu, Cusco
Family Tour of Russia
(8 Days)
St. Petersburg, Moscow
Active Family Tour of Sicily
(11 Days)
Palermo with Monreale, Segesta & Erice, Sciacca & Agrigento, Noto with Modica, Ragusa & Syracuse, Taormina & Mount Etna
Family Tour of South Africa & Victoria Falls
(10 days)
Cape Town, Victoria Falls, Sabi Sand Reserve
Family Tour of South Korea
(7 Days)
Seoul, Jeju Island
Family Tour of Spain
(10 Days)
Barcelona, Madrid & Toledo, Seville & Cordoba, Marbella
Family Tour of Switzerland
(9 Days)
Zurich, Lucerne, Interlaken, Lausanne
Family Tour of Tanzania
(8 Days)
Arusha, Ngorongoro & Lake Manyara, Serengeti
Thailand for Families
(10 Days)
Bangkok, Chiang Mai, Koh Samui
Vietnam for Families
(10 Days)
Hanoi, Halong Bay, Hoi An, Saigon
Family Tour of Iceland
(9 Days)
Reykjavik & environs, South Iceland, Jokulsarlon Glacier Lagoon
MULTI-COUNTRY TOURS
Family Tour of Belgium & the Netherlands
(8 days)
Brussels with Bruges & Ghent, Amsterdam with The Hague & Delft
Christmas Markets of Europe
(15 Days)
Munich & Nuremberg, Salzburg, Vienna, Prague & Dresden, Berlin
Family Tour of England & Scotland
(11 Days)
London, Edinburgh, Fort William & Highlands, Perthshire (Gleneagles)
Family Tour of London, Paris & Rome
(10 Days)
London, Paris, Rome
Family Tour of Kenya & Tanzania
(11 Days)
Nairobi, Maasai Mara, Ngorongoro Crater, Serengeti
Family Tour of Southeast Asia
(13 Days)
Bangkok, Chiang Mai, Siem Reap, Hong Kong
Family Tour of Japan
(10 Days - Departs Daily on a Private Basis)
Tokyo, Hakone & Mount Fuji, Kyoto & Hiroshima
Japan is family-friendly and endlessly fascinating for children and adults alike. This private family tour of Japan is the perfect combination of traditional Japanese culture and contemporary Japanese pop style. It includes flexible private touring with your own expert guide, family-friendly activities, accommodation at some of Japan's top luxury hotels and much more.
Begin in Tokyo, the capital of contemporary culture and style in Japan. Stay at one of the city's best luxury hotels, and enjoy comprehensive city touring with your private guide and driver. Visit Tokyo's most interesting neighborhoods, such as Ginza, Asakusa, Shibuya, Harajuku, Shinjuku, Roppongi and Aoyama. See striking contemporary architecture, and tour important historical sites such as Meiji Jingu Shrine and Sensoji Temple. Experience the best of Japanese pop culture during visits to trendy districts, specialty shops, quirky cafes and popular sites such as Yoyogi Park. Visit Tokyo's best museums, such as the Mori Art Museum, Edo-Tokyo Museum and Tokyo National Museum, according to your interests. Enjoy favorite family activities such as visiting an owl cafe and a teamLab Borderless immersive video installation. Experience Tokyo's exciting culinary scene at the Tsukiji Outer Market or Toyosu Market, the Kappabashi kitchenware district, and our favorite specialty food shops and department store food halls. We also make reservations for our travelers at our favorite restaurants in Tokyo, which range from local noodle shops, sushi bars and izakaya (pubs) to some of the most acclaimed restaurants in the world. 
Upon request, Artisans of Leisure can arrange additional experiences in Tokyo, such as watching sumo wrestlers practice at a sumo stable, a private sushi-making lesson, shopping for the latest Japanese gadgets, meetings with culinary and sake experts, private martial arts lessons, seeing a Japanese baseball game, attending a kabuki performance and visiting the Ghibli Museum. We can also arrange touring to include Japanese seasonal events such as ohanami (cherry blossom viewing) parties in the spring, fireworks festivals in the summer and viewing koyo (fall foliage) in the autumn.
Continue to Hakone, a volcanic national park renowned for hot springs and views of nearby Mount Fuji. Stay at one of Japan's most luxurious and renowned ryokan (traditional inns), where you can soak in outdoor onsen (hot spring bath) and enjoy a gourmet kaiseki ryori (seasonal tasting menu) dinner. During private touring, explore Hakone's geothermal areas and historical sites. Also enjoy a boat ride on Lake Ashi for views of Mount Fuji. Perhaps also visit one of Hakone's best art museums or a studio dedicated to yosegi (inlaid wood), a local craft. Upon request, Artisans of Leisure can incorporate hiking or a drive up the base of Mount Fuji.
Next, travel to enchanting Kyoto, the heart of Japanese culture and tradition. Stay at one of Kyoto's best luxury hotels or ryokan, and enjoy flexible private touring of the best of this elegant city with your private guide and driver. Visit the city's most important historic attractions and temples and shrines such as Kinkakuji (Temple of the Golden Pavilion), Ryoanji and its famous Zen rock garden, Kiyomizudera Temple, Nijo Castle, Ginkakuji, Saihoji (Moss Temple) and Fushimi Inari, famous for its tunnel of red torii gates. Take a private excursion to Arashiyama, a beautiful mountainside district, to see its enormous bamboo forest, historic gardens and sites, and to have a vegetarian lunch at a Zen temple. Enjoy a private tour of Gion, Kyoto's traditional geisha district, walk on the Philosopher's Path, and see traditional architecture in our favorite neighborhoods. Also browse Nishiki Market, antiques districts, specialty museums and historic shops that have been selling traditional goods for centuries. One day, enjoy a cultural activity according to your family's interests, such as a private Japanese cooking class, a martial arts lesson, a manga drawing lesson, private Zen meditation in a local Buddhist temple or a private ikebana (flower arranging) lesson. Upon request, we can arrange access to imperial villas and private gardens such as Katsura Rikyu and other less-visited attractions. Artisans of Leisure will also arrange an exclusive private Japanese tea ceremony in a tea villa and reservations at Kyoto's best restaurants.
One day, enjoy a private excursion from Kyoto. Options include the I.M. Pei-designed Miho Museum; ancient Nara, the eighth-century capital of Japan; Hiroshima for an educational and moving visit to the Peace Park and Museum and nearby Miyajima Island with its iconic torii(Shinto gate) that seems to float on the water; Osaka for food and pop culture touring; Uji to visit tea plantations and Byodoin Temple; and Himeji Castle, the most impressive medieval castle in Japan.
Upon request, other activities that can be arranged around Kyoto include an exclusive private dinner with geisha entertainment, meetings with local craftspeople, visiting a master swordsmith, meetings with ceramics experts, tea tastings, visits to sake breweries and tofu factories, a visit to a private machiya (traditional merchant house), hiking to temples in the hills, attending local festivals, and visiting the best places around Kyoto to view cherry blossoms and fall foliage.
Return to Tokyo for additional touring or activities customized to your interests.
Itinerary Overview
Day 1

Arrive Tokyo

Private arrival transfer to hotel for 2 nights

Day 2

Tokyo

Full-day private city tour

Day 3

Tokyo – Hakone

Private transfer to station for first-class shinkansen (bullet train) to Hakone. Full-day private tour on arrival. Private transfer to luxury hot springs ryokan for 1 night, including kaiseki ryori dinner

Day 4

Hakone – Kyoto

Private transfer to station for first-class shinkansen to Kyoto. Private arrival transfer to hotel for 4 nights. Afternoon private tour

Day 5

Kyoto

Full-day private city tour, including private tea ceremony and vegetarian lunch at a temple

Day 6

Kyoto & environs

Full-day private excursion

Day 7

Kyoto

Half-day private city tour, including cultural activity or lesson

Day 8

Kyoto – Tokyo

Private transfer to station for first-class shinkansen to Tokyo. Private arrival transfer to hotel for 2 nights

Day 9

Tokyo

Half-day private city tour or option for cultural activity or lesson

Day 10

Depart Tokyo

Private airport transfer
Hotels
Tokyo:

Aman Tokyo, Peninsula Tokyo and/or Park Hyatt Tokyo

Hakone:
Gora Kadan
Kyoto:

The Ritz-Carlton Kyoto or Four Seasons Hotel Kyoto

*Aman Kyoto, Tawaraya Ryokan or Hiiragiya Ryokan can be booked for a supplement
Cost
| | |
| --- | --- |
| $15,640 | Per person (four travelers, double occupancy) |
| $19,510 | Per person (two travelers, double occupancy) |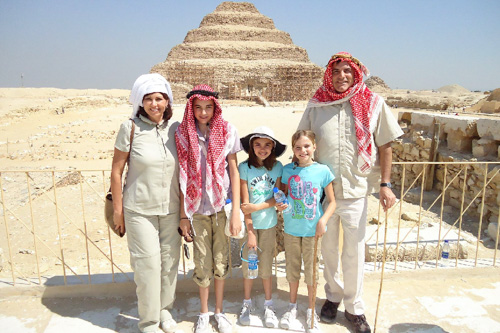 Thank you for organizing such a wonderful trip to Italy for our family! Artisans of Leisure makes traveling as a family fun and hassle-free. We can just enjoy our time together creating special memories. We look forward to our next trip with you!
~ P.R., Laguna Niguel, CA
Thank you for scheduling such an amazing trip to London for me and my family. It was more than I expected. Your guides were amazing and the hotel was spectacular. The trip couldn't have been better.
~ B.S., Weston, CT
We had a wonderful trip to Egypt and Jordan. We were well-cared for at every stop…We were impressed with how knowledgeable the guides are and how accommodating they were to the needs of our three-generation group.
~ L.V. & T.V., New York, NY
Recommended by:
Departures
Conde Nast Traveler
The New York Times
Wall Street Journal
Travel + Leisure
Town & Country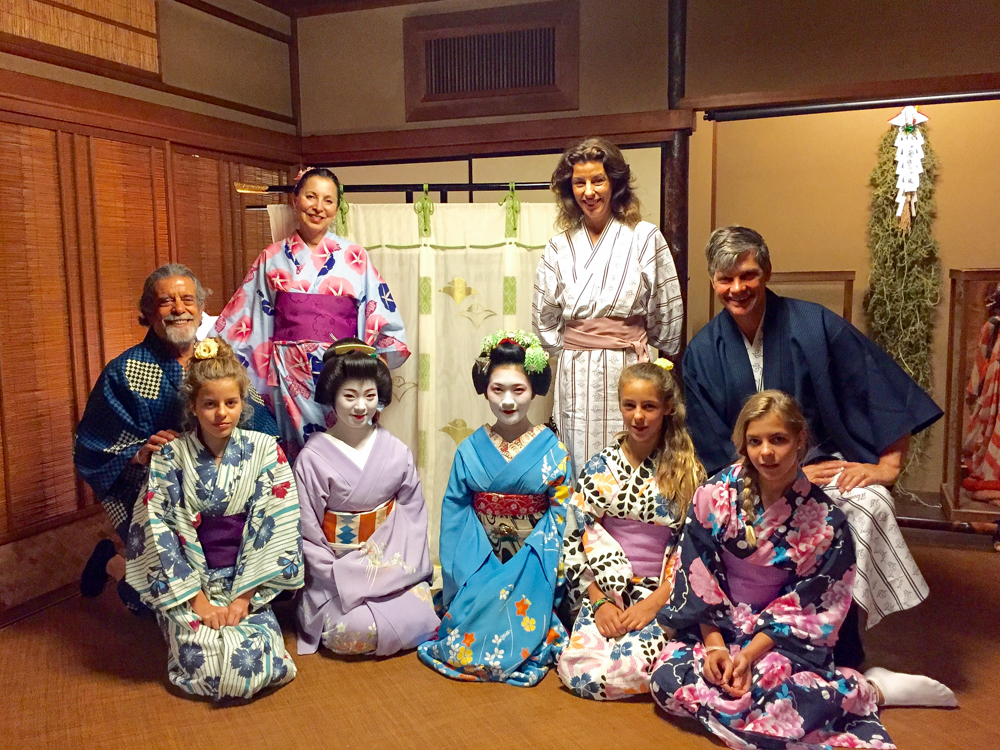 Special Luxury Trips for Grandparents Traveling with Grandchildren
Just Back: A Luxurious Family Tour of Scotland
Favorite Family Activities in Japan
Family Travel in Egypt: Top 10 Favorite Experiences
A Unique Insider's Perspective on Family Travel in Asia
Just Back: A Luxurious Family Tour of Switzerland
From Our Travelers: A Kenya & Tanzania Family Safari Tour
Three of Our Favorite Luxury Resorts in Thailand
Traveling with Friends and Family: Luxury Villas at Castiglion del Bosco in Tuscany
Tips for Family Travel with Older and Adult Children
Culture and Family Fun in Thailand
A Family Tour of Greece & Turkey
An Interview with Ashley Isaacs Ganz on Family Travel in Iceland
Exclusive Harry Potter Touring in England and Scotland
Private Family Heritage, Ancestry & Genealogical Tours
Letter from a Mother: Don't Wait to Travel with Your Children
Inspiration for Amazing Family Trips
A Family Tour of Paris, Versailles & the Loire Valley in France
A Private Family Tour of China: Artisans of Leisure Travelers Share Their Photos