Introduction to India
(10 Days)
Delhi, Agra, Jaipur, Udaipur
Essence of India
(13 Days)
Delhi, Agra, Jaipur, Udaipur, Mumbai
India's Golden Triangle
(7 Days)
Delhi, Agra, Jaipur
Exclusive India
(15 Days)
Delhi, Agra, Ranthambore, Amanbagh, Jaipur, Udaipur, Mumbai
Family Tour of India
(11 Days)
Delhi, Agra, Ranthambore, Jaipur, Mumbai
Highlights of India
(13 Days)
Delhi, Varanasi, Agra, Jaipur, Udaipur, Mumbai
India in Style
(17 Days)
Delhi, Agra, Jaipur, Udaipur, Mumbai, Hyderabad
Introduction to Southern India
(8 Days)
Mumbai, Kochi (Cochin), Backwaters of Kerala
Journey Through India
(21 Days)
Delhi, Varanasi, Agra, Ranthambore safari, Jaipur, Udaipur, Mumbai, Chennai, Hyderabad
Romantic India
(15 Days)
Delhi, Agra, Jaipur, Udaipur, Goa, Mumbai
Best of Rajasthan & Beyond
(16 Days)
Delhi, Agra, Jaipur, Jaisalmer, Jodhpur, Udaipur, Mumbai
Best of Southern India
(13 Days)
Chennai, Kochi (Cochin), Backwaters of Kerala, Hyderabad, Mumbai
Ayurveda Highlights of India
(8 Days)
Delhi, Himalayas & Rishikesh
Art & Temples of India
(18 Days)
Delhi, Varanasi, Khajuraho & Panna National Park, Agra, Jaipur, Udaipur, Ajanta & Ellora Caves, Mumbai
Culinary Tour of India
(13 Days)
Delhi, Udaipur, Mumbai, Chennai
Multi-country Tours
Best of Bhutan & India
(18 Days)
Delhi, Thimphu, Punakha, Paro, Agra, Jaipur, Udaipur, Mumbai
Highlights of India & Nepal
(13 Days)
Delhi, Varanasi, Kathmandu & Kathmandu Valley, Agra, Jaipur
Southern India & Sri Lanka
(12 Days)
Mumbai, Cochin, Backwaters of Kerala, Colombo, Cultural Triangle, Galle
Best of India & the Maldives
(15 Days)
Delhi, Agra, Jaipur, Udaipur, Mumbai, Maldives
Hiking and Wellness Tour of Bhutan & India
(14 Days)
Delhi, Thimphu, Punakha, Paro, Himalayas & Rishikesh
Highlights of India
(13 Days - Departs Daily on a Private Basis)
Delhi, Varanasi, Agra, Jaipur, Udaipur, Mumbai
This tour is an overview of India's diverse regions and local cultures.
Begin in Delhi, the bustling capital of India. During private touring, experience highlights such as the UNESCO-listed Humayun's Tomb and Qutb Minar, the Red Fort, Lodi Gardens, and a rickshaw ride through the colorful bazaars of Old Delhi, as well as upscale shopping districts.
Next, visit Varanasi (Benares), one of the oldest cities in the world and, as the spiritual center of the Hindu world, a major Indian pilgrimage site. Watch as believers congregate on the ghats (stone steps) along the banks of the holy Ganges River to perform ritual ablutions. Visit local villages and explore Varanasi's old town, with its ancient universities and renowned silk shops. Also take an excursion to Sarnath, believed to be the site of the Buddha's first sermon. If desired, visit master silk weavers and enjoy a private recital in the home of a local musician.
Continue to Agra for a spellbinding visit to the Taj Mahal, the world's greatest monument to love. Also explore Agra Fort and local markets. Stay in the lavish Oberoi Amarvilas in a room with an uninterrupted view of the Taj.
Next, transfer to Jaipur, Rajasthan's great "Pink City," visiting the centuries-old ruins at Fatehpur Sikri en route. See the rich architectural legacy of Jaipur's merchants and maharajas—hill forts, palaces, the observatory, gardens, temples and havelis (courtyard mansions)—surrounded by stark desert. Marvel at the luminous saris of indigenous tribal women and the bright turbans of Rajasthani men. Explore medieval backstreets and browse bazaars selling textiles, leatherwork, woodblock prints, perfume, jewelry and Jaipur's traditional blue pottery.
Spend three nights in Udaipur, India's most romantic city, at the beautiful Oberoi Udaivilas. Cruise Lake Pichola and walk through picturesque backstreets, shop for local folk art, tour the City Palace, Jagdish Temple, the Saheliyon Ki Bari Garden, and browse the local bazaars. On a day excursion outside the city, perhaps tour the spectacular Jain temples of Ranakpur, where relief carvings cover every surface, including over 1,400 pillars.
The tour concludes with two nights in exciting Mumbai (Bombay), India's economic capital and the home of the Bollywood film industry. Tour the city's cultural attractions, bazaars and most interesting neighborhoods, and take a private boat ride to the Elephanta Island Caves—inside are extensive Hindu stone sculptures linked to the cult of Shiva.
Itinerary Overview
Day 1
Arrive Delhi
Private transfer to hotel for 2 night stay
Day 2
Delhi
Full-day private tour of Old & New Delhi
Day 3
Delhi - Varanasi
Private transfer and flight to Varanasi for overnight stay. Private city touring and visit to Sarnath
Day 4
Varanasi - Agra
Morning private boat ride on the Ganges and city touring. Transfer and flight to Delhi; overland drive to Agra for 2 nights
Day 5
Agra
Private touring including Taj Mahal, Agra Fort, and other attractions in Agra
Day 6
Agra - Jaipur
Private tour of Fatehpur Sikri en route to Jaipur for 2 nights
Day 7
Jaipur
Private Jaipur city touring and shopping
Day 8
Jaipur - Udaipur
Private transfer to Udaipur for 3 nights with touring en route
Day 9
Udaipur
Private touring, including meal at private home and cruise on Lake Pichola
Day 10
Udaipur
Private excursion to Jain Temples at Ranakpur or visit local temples and gourmet lunch at a palace
Day 11
Udaipur - Mumbai
Private transfer and flight to Mumbai (Bombay). Private city touring this afternoon
Day 12
Mumbai
Private city tour including boat ride to Elephanta Island
Day 13
Depart Mumbai
Private airport transfer
Hotels
| | |
| --- | --- |
| Delhi: | The Imperial New Delhi, The Lodhi, or The Leela Palace |
| Varanasi: | Nadesar Palace |
| Agra: | The Oberoi Amarvilas |
| Jaipur: | Rambagh Palace or The Oberoi Rajvilas |
| Udaipur: | The Oberoi Udaivilas |
| Bombay: | The Taj Mahal Palace or The Oberoi Mumbai |
Cost
| | |
| --- | --- |
| $17,560 | Per person (double occupancy) |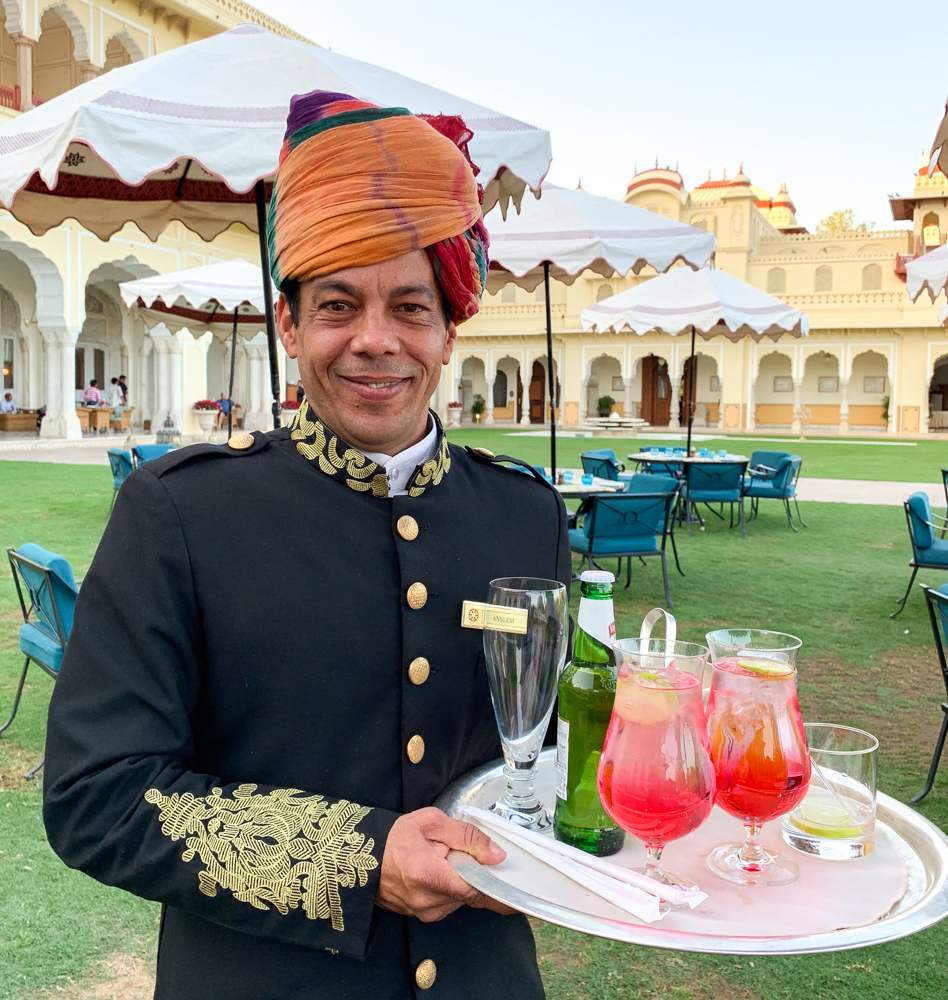 Introduction to India
(10 Days)
Delhi, Agra, Jaipur, Udaipur
Essence of India
(13 Days)
Delhi, Agra, Jaipur, Udaipur, Mumbai
India's Golden Triangle
(7 Days)
Delhi, Agra, Jaipur
Exclusive India
(15 Days)
Delhi, Agra, Ranthambore, Amanbagh, Jaipur, Udaipur, Mumbai
Family Tour of India
(11 Days)
Delhi, Agra, Ranthambore, Jaipur, Mumbai
Highlights of India
(13 Days)
Delhi, Varanasi, Agra, Jaipur, Udaipur, Mumbai
India in Style
(17 Days)
Delhi, Agra, Jaipur, Udaipur, Mumbai, Hyderabad
Introduction to Southern India
(8 Days)
Mumbai, Kochi (Cochin), Backwaters of Kerala
Journey Through India
(21 Days)
Delhi, Varanasi, Agra, Ranthambore safari, Jaipur, Udaipur, Mumbai, Chennai, Hyderabad
Romantic India
(15 Days)
Delhi, Agra, Jaipur, Udaipur, Goa, Mumbai
Best of Rajasthan & Beyond
(16 Days)
Delhi, Agra, Jaipur, Jaisalmer, Jodhpur, Udaipur, Mumbai
Best of Southern India
(13 Days)
Chennai, Kochi (Cochin), Backwaters of Kerala, Hyderabad, Mumbai
Ayurveda Highlights of India
(8 Days)
Delhi, Himalayas & Rishikesh
Art & Temples of India
(18 Days)
Delhi, Varanasi, Khajuraho & Panna National Park, Agra, Jaipur, Udaipur, Ajanta & Ellora Caves, Mumbai
Culinary Tour of India
(13 Days)
Delhi, Udaipur, Mumbai, Chennai
Multi-country Tours
Best of Bhutan & India
(18 Days)
Delhi, Thimphu, Punakha, Paro, Agra, Jaipur, Udaipur, Mumbai
Highlights of India & Nepal
(13 Days)
Delhi, Varanasi, Kathmandu & Kathmandu Valley, Agra, Jaipur
Southern India & Sri Lanka
(12 Days)
Mumbai, Cochin, Backwaters of Kerala, Colombo, Cultural Triangle, Galle
Best of India & the Maldives
(15 Days)
Delhi, Agra, Jaipur, Udaipur, Mumbai, Maldives
Hiking and Wellness Tour of Bhutan & India
(14 Days)
Delhi, Thimphu, Punakha, Paro, Himalayas & Rishikesh
Another extraordinary trip with exciting surprises, brilliant accommodations, terrific guides, excellent drivers…and the wonderful, well-planned itinerary. Your India expertise shines through.
~ M.G., Rancho Mirage, CA
India was a journey of a lifetime — our best trip ever. Everything exceeded our very high expectations. As Artisans of Leisure travelers, we were treated like royalty at each hotel. A perfect trip. A+++++++
~ P.F., Hatfield, PA
The India trip was outstanding, exquisite, and perfect. Artisans of Leisure is simply the best on the planet. 
~ C.M., San Antonio, TX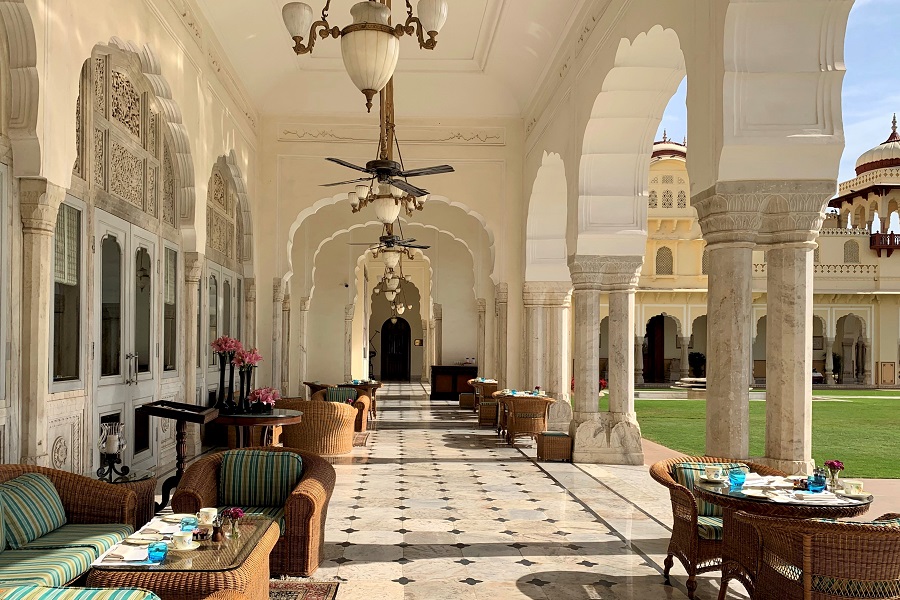 Recommended by:
Departures
Conde Nast Traveler
The New York Times
Wall Street Journal
Travel + Leisure
Town & Country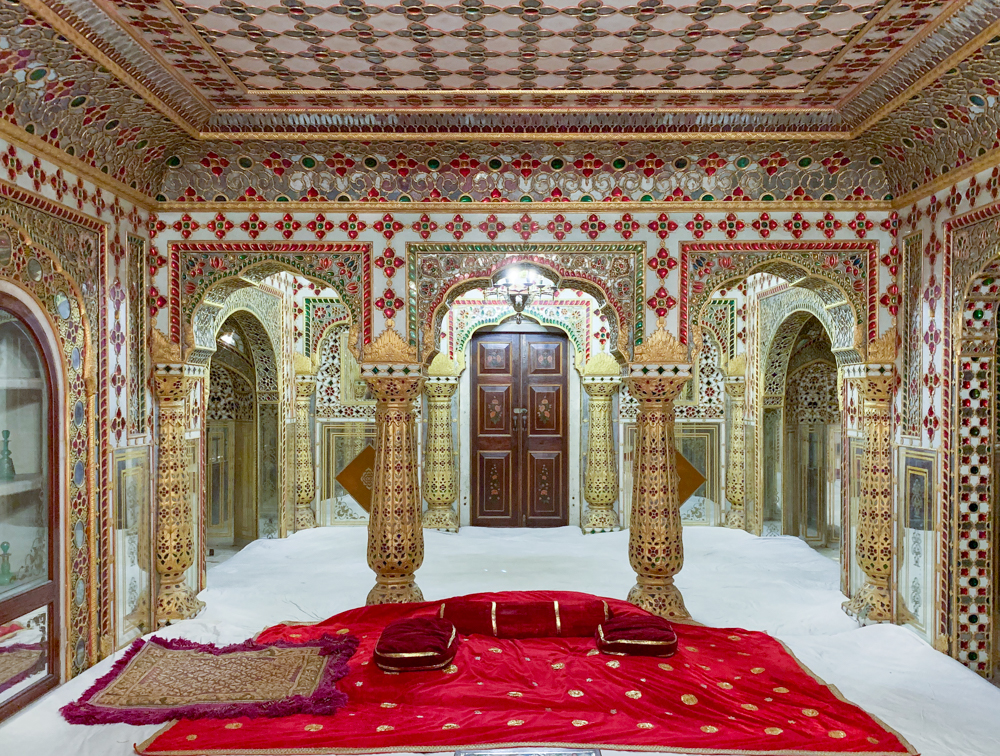 Hawa Mahal (Palace of Winds) in Jaipur
Must Stay: The Oberoi Amarvilas in Agra
Decorative Arts in the City Palace of Udaipur, India
A Private Cooking Class in Chennai, India
A Day with Dabbawallas in Mumbai, India
A Private India & Bhutan Tour: Our Travelers Share Their Photos
Luxury Tented Camps in Remote Northern India
Varanasi: One of India's Most Spiritual Destinations
Art Deco at Umaid Bhawan Palace in Jodhpur