November 2, 2015
A Private Cooking Class in Chennai, India
Artisans of Leisure's new Culinary Tour of India features private cooking classes in locations throughout India. These hands-on classes are a fun and delicious introduction to Indian cooking, and a great way to learn about Indian food culture and culinary history. Artisans of Leisure travel specialist Stephanie Dosch recently experienced a cooking lesson in Chennai that is included in our culinary tour.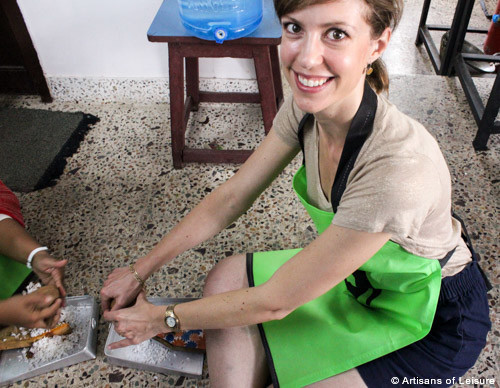 The cooking class began with a walk through the nearby market. We visited a vegetable seller to learn about local ingredients, and also stopped by a dosa batter-fermenter and spice grinder and saw how the shops also serve as social gathering places.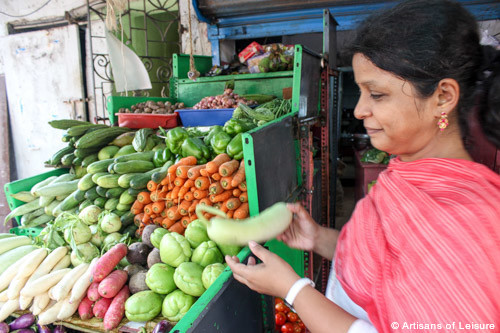 The instructor talked about how food is integrated into every part of Indian life. For example, many homes in southern India have a kolam in front. Traditionally made by sprinkling rice powder on the ground, the kolam is a symbol of welcome to all beings, including the ants and birds that eat the powder. It's also an invitation to Lakshmi, the Hindu goddess of prosperity, to enter the house. Today, most kolams are painted or made with chalk or marble powder.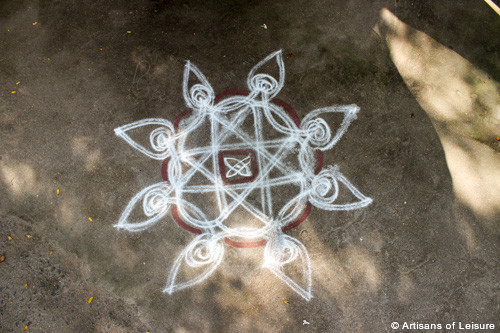 Back in the kitchen, we learned about the differences between south Indian and north Indian cuisine. A typical spice mix for a southern Indian masala includes rai (black mustard seeds), turmeric, dried red chiles and gram (yellow lentils).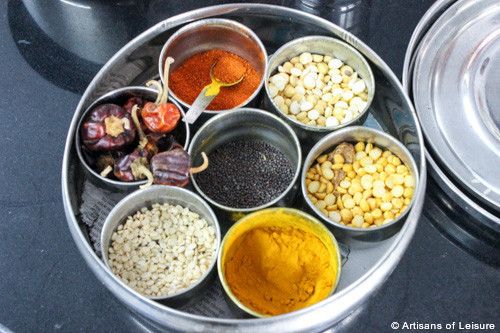 Northern Indian masalas have more black pepper, anise seed, star anise, and cardamom.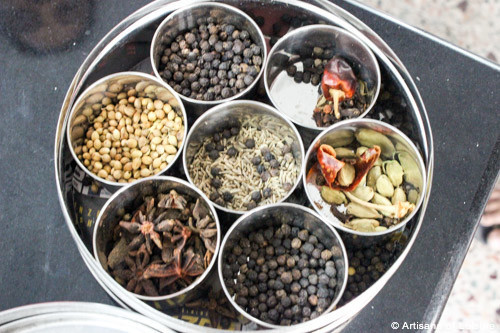 We started with a refreshing yogurt drink seasoned with green chiles, ginger, mustard seeds and curry and coriander leaves.
We also discovered how important coconuts are in south Indian cuisine, and learned the traditional way to shred coconut. It's hard work! Once the meat has been removed, the shell and husk can be used around the house.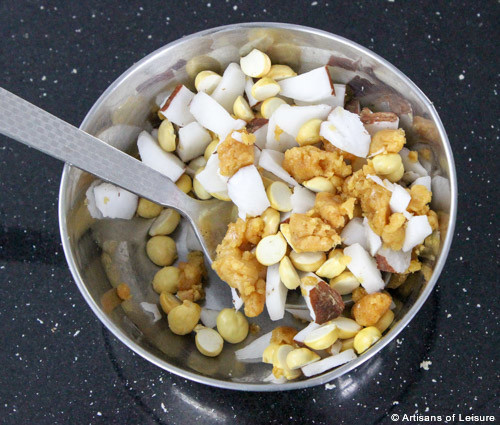 This delicious snack is made of chopped fresh coconut, jaggery (solid molasses), and gram.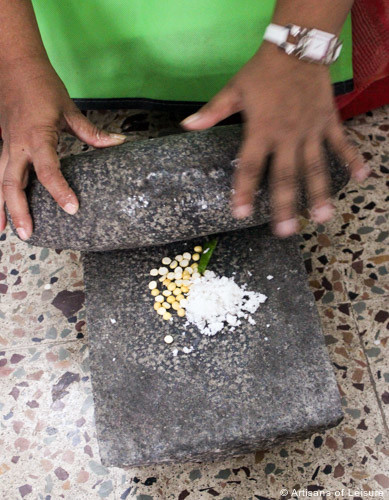 We ground the shredded  coconut with green chiles and gram…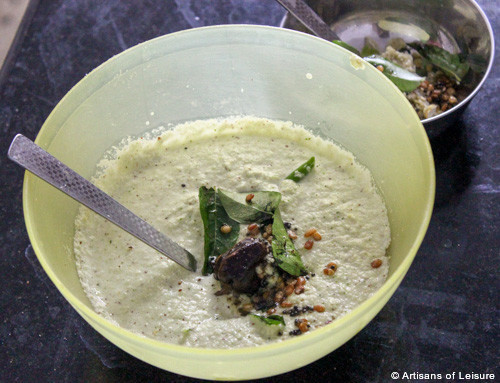 …to create a delicious chutney.
We made two kinds of dosas, the crispy crepes made from a fermented batter of rice and black lentil.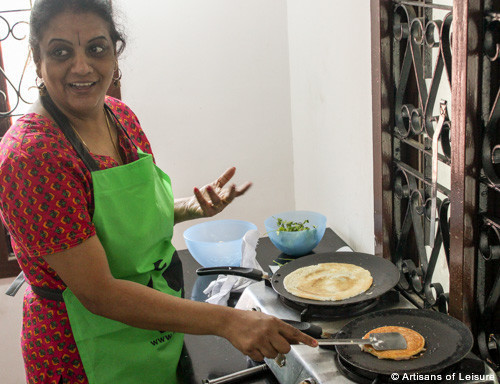 In southern India, meals are often served on banana leaves, making for easy cleanup! We made fresh paneer cheese by adding lemon to boiling whole milk…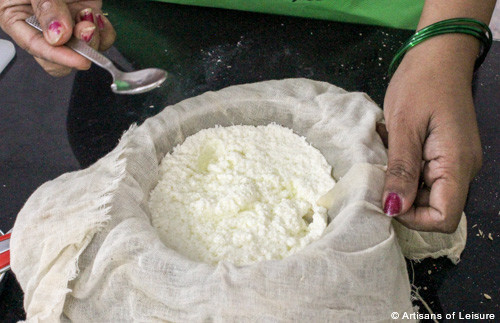 …then used it, mixed with herbs and spices, to create paneer paratha—flatbreads stuffed with cheese.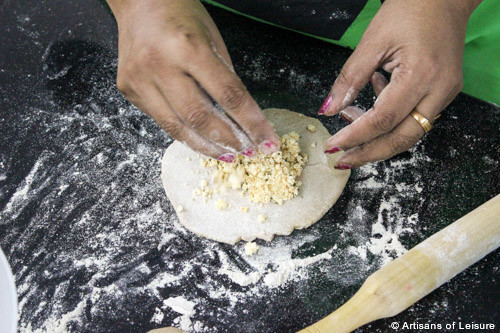 We also made chapathi by spreading lots of ghee (clarified butter) on roti dough, creating layers, and rolling it out into a flatbread.
We fried the flatbreads on hot pans and puffed up the plain roti over an open flame.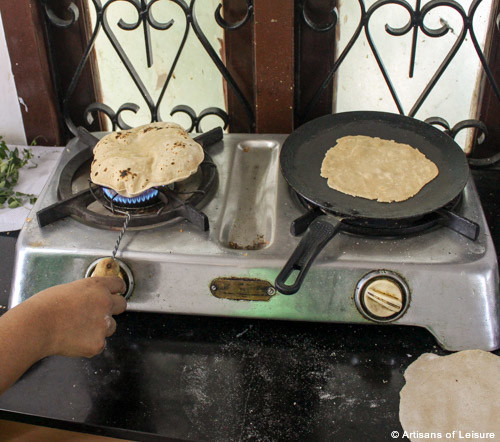 Many south Indian dishes, such as pudina rice, begin with tadka: tempering whole herbs and spices in hot oil to bring out their flavor before adding the other ingredients.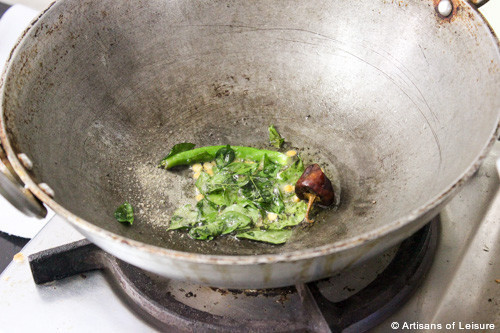 After all our hard work, we feasted!
Artisans of Leisure arranges private cooking lessons and culinary tours in many destinations in India, including Chennai, Mumbai, Delhi, Udaipur and Jaipur.
View our private India tours or contact us to start planning.
Tags:  Asia, cooking classes, cooking lessons, cooking tours, cuisine, culinary tours, culinary travel, food, India, India tours, Indian food, learning, markets
Tags: Asia, cooking classes, cooking lessons, cooking tours, cuisine, culinary tours, culinary travel, food, India, India tours, Indian food, learning, markets