November 6, 2015
Exclusive New Culinary Tours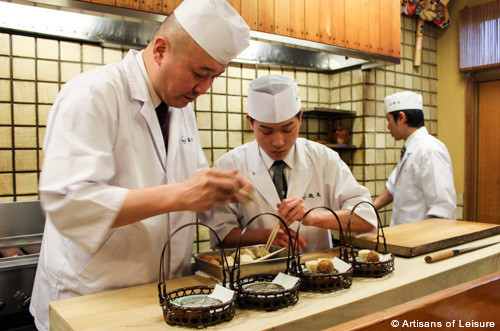 Artisans of Leisure has been on the cutting edge of culinary travel for over a decade. Staffed by a group of in-house foodies, food writers, cooks and culinary travel experts, we continue to expand our culinary tours around the world. With an international network of culinary experts, acclaimed chefs, food historians and writers, Artisans of Leisure arranges tours featuring unrivaled access, customization and luxury.
We are excited to announce 12 new private culinary tours. All tours operate on a private basis, can be taken at any time throughout the year, and can be booked immediately.
From spice gardens in Chennai to kitchens in Kyoto, our new culinary tours provide travelers with top gastronomic experiences and incredible culinary access and insight.
NEW CULINARY TOURS:
Culinary Tour of Japan (12 days)
• Culinary highlights: Food-focused touring in Tokyo and Kyoto; cooking lessons in Kanazawa and Kyoto; a soba-making lesson in Yamanaka Onsen; touring a sake brewery, miso factory and sea salt producer; participating in a private tea ceremony; kaiseki (seasonal menu) meals at Japan's most renowned luxury ryokan (traditional inns); a tour of Tokyo's legendary Tsukiji Fish Market
Culinary Tour of India (13 days)
• Culinary highlights: Learning the secrets of Rajasthani cooking with an aristocratic family in Udaipur; private cooking lessons in Delhi and Mumbai; a gourmet lunch in a historic palace near Udaipur; learning to cook South Indian dishes in Chennai; learning about India's food culture during a market tour of Chennai; a visit to Mumbai's fish auction and wholesale vegetable market at dawn; helping dabbawalas (delivery men) sort and deliver lunch tiffins in Mumbai; a tour of Delhi's fragrant spice market
Food & Wine Tour of Italy (11 days)
• Culinary highlights: Hunting for truffles in Piedmont and Tuscany; tasting prized vintages at top vineyards; meeting producers of Parmesan cheese, prosciutto and balsamic vinegar in Emilia-Romagna; culinary touring of markets and specialty shops in Florence; visiting the Alba International White Truffle Fair; private wine tasting and winery tour at luxury resort Castiglion del Bosco; olive oil tour and tasting in Tuscany; cheese tastings in Tuscany; visiting the Antinori wine estates and other top wineries in Tuscany and the Bolgheri wine region
Culinary Tour of Sicily (8 days)
• Culinary highlights: A chef-led tour through Palermo's vibrant markets, followed by a private cooking class; learning about Modica's chocolate history; tasting tours of local olive oil, gelato, granita, chocolate and pastries; winery tours and wine tastings, including a winery on the scenic slopes of Mount Etna; lunch in Kolymbetra Garden; wine tasting at Planeta Winery near Sciacca
Food & Wine of Portugal (9 days)
• Culinary highlights: Cooking with a private chef at a seaside manor house in Cascais; Port wine tasting in Porto; pastry tastings (pasteis de Belem and queijadas) in Lisbon and Sintra; touring a cheese-making farm in Setubal; private winery tours and wine tastings at top wineries in the Douro Valley; reservations for wine-based spa treatments at a luxury resort; touring olive oil farms in the Alentejo region
Food & Wine of Austria (7 days)
• Culinary highlights: Touring the best wineries in the Wachau and Burgenland regions; visiting a traditional heuriger (wine tavern) in the hills of Vienna; a private cooking class focusing on Austrian specialties; visiting top food stalls in Vienna's Naschmarkt to try local cheeses and regional favorites such as mohnzelten (poppy seed cake); sampling coffee and pastries at the best Viennese cafes
Flavors of Southeast Asia (16 days)
• Culinary highlights: Street food tours in cities throughout Southeast Asia; learning to prepare authentic Thai dishes at a leading cooking school in Bangkok; discovering Peranakan and other local cuisines in the diverse neighborhoods of Singapore; finding the perfect pho in Hanoi and the best banh mi in Saigon; private cooking lessons in Hoi An and Hanoi; a chef-led market tour in Hanoi; reservations for a chef's table dinner in Chiang Mai
Culinary Tour of Mexico (11 days)
• Culinary highlights: Learning the secrets of mole with a cooking instructor in Puebla; dining at top restaurants in Mexico City; touring a mezcal distillery and tasting top bottles; market tours in Oaxaca; Aztec chocolate tastings in Oaxaca; a private cooking lesson in Oaxaca
France for Foodies (12 days)
• Culinary highlights: A tour of Lyon with a culinary insider; experiencing the epicurean highlights of Paris, including cookware shops, patisseries and Michelin-starred restaurants; visiting the best daily village markets throughout Provence; winery tours in Beaujolais and Provence; culinary touring in Nice and along the Cote d'Azur
Culinary Tour of Greece & Turkey (10 days)
• Culinary highlights: Visiting olive oil producers on Crete and learning about the island's famously healthy diet; private cooking classes in Athens, Crete and Istanbul; a tasting tour in Istanbul, including learning about Turkish ingredients at Istanbul's famed Spice Bazaar; reservations at top restaurants overlooking the Bosphorus in Istanbul
Culinary Tour of Israel (9 days)
• Culinary highlights: Visiting Machane Yehuda Market and taking a hummus crawl in Jerusalem; lunch with a Druze family and learning their traditional recipes; a tour of a spice mill in Nazareth; market tours in Tel Aviv with a culinary expert; braiding challah with a family in Jerusalem; visits to an arak distillery and goat cheese producer in the Galilee; a private cooking class in Jerusalem; visiting the fish market in Acre; staying at a luxury resort in the Galilee that has its own organic farm; touring top wineries in the beautiful Golan Heights region
Morocco for Foodies (10 days)
• Culinary highlights: Learning to prepare under-the-radar Moroccan dishes such as zaalouk (eggplant salad) and rfissa (chicken and lentil stew over torn flatbread) during private cooking classes; a tasting tour of the Djemaa el-Fna in Marrakesh with an expert private guide; sipping mint tea in the kasbah in Rabat; wine and olive oil touring around Meknes; visiting the spice souk in Marrakesh; a Moroccan sweets cooking class in Marrakesh; a tasting tour of seaside seafood stalls in Essaouira; visiting a Berber market in the High Atlas Mountains, then enjoying lunch at an ultra-luxury resort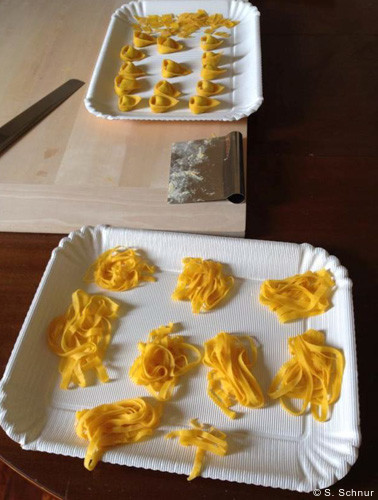 Click here to view all of Artisans of Leisure's private culinary tours, which also include:
• Food & Wine Tour: Bordeaux to Rioja
• Culinary Tour of Peru
• Vietnam for Foodies
• Culinary & Art Tour of Spain
• Culinary Tour of China
• Food & Wine of Australia
• Thailand for Foodies
• Culture, Crafts & Cuisine of Ireland
• Food & Wine of France & Switzerland
• Wine Tour of Hungary
Artisans of Leisure can also customize culinary tours in more than 60 countries.
Contact one of our culinary travel experts to start planning.
Destinations: Asia, Europe, Latin America, Middle East, South America
Tags: cooking, cooking classes, cuisine, culinary tours, culinary travel, food, food tours, food travel, travel