June 6, 2012
Just Back: Nepal & India
On this journey, we visited the highlights of Nepal: Kathmandu, the Kathmandu Valley, Pokhara and Chitwan National Park. In India, we toured Delhi, as well as Varanasi and Panna National Park, which are ideal for repeat visitors to the country.
Bhaktapur is one of the most beautiful and best preserved medieval towns in the Kathmandu Valley of Nepal. Our guide suggested we go in the afternoon, when a festival was taking place. While we ate lunch, we watched locals gather for the festivities.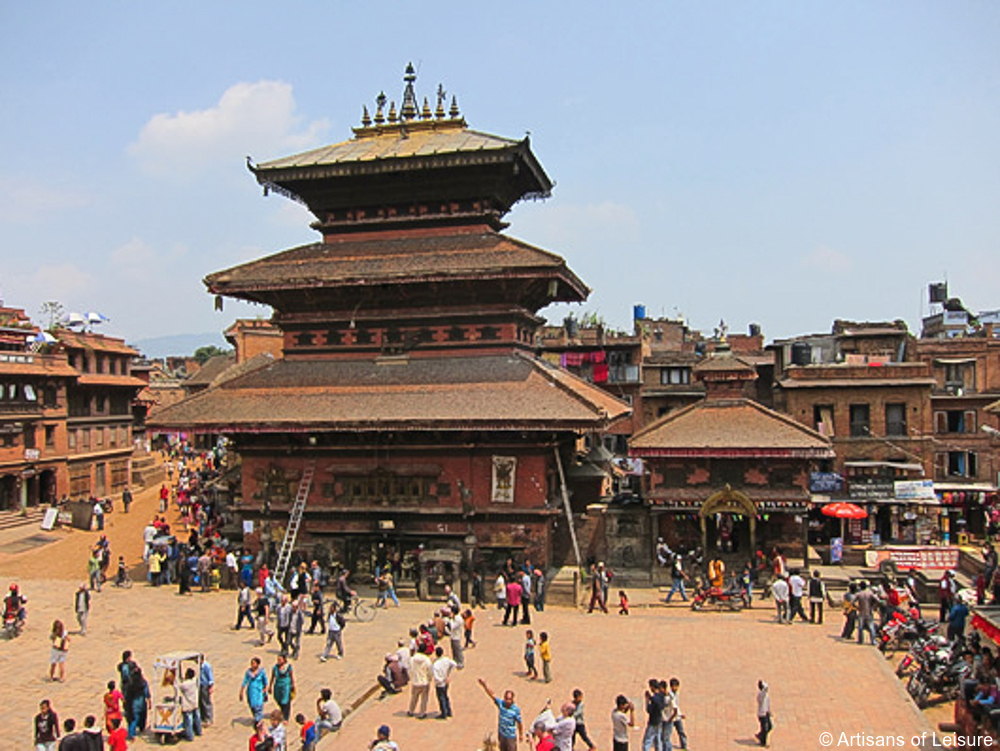 During the festival, local children pulled a chariot through the narrow streets with a thick rope, gleefully and loudly announcing their arrival to the neighbors.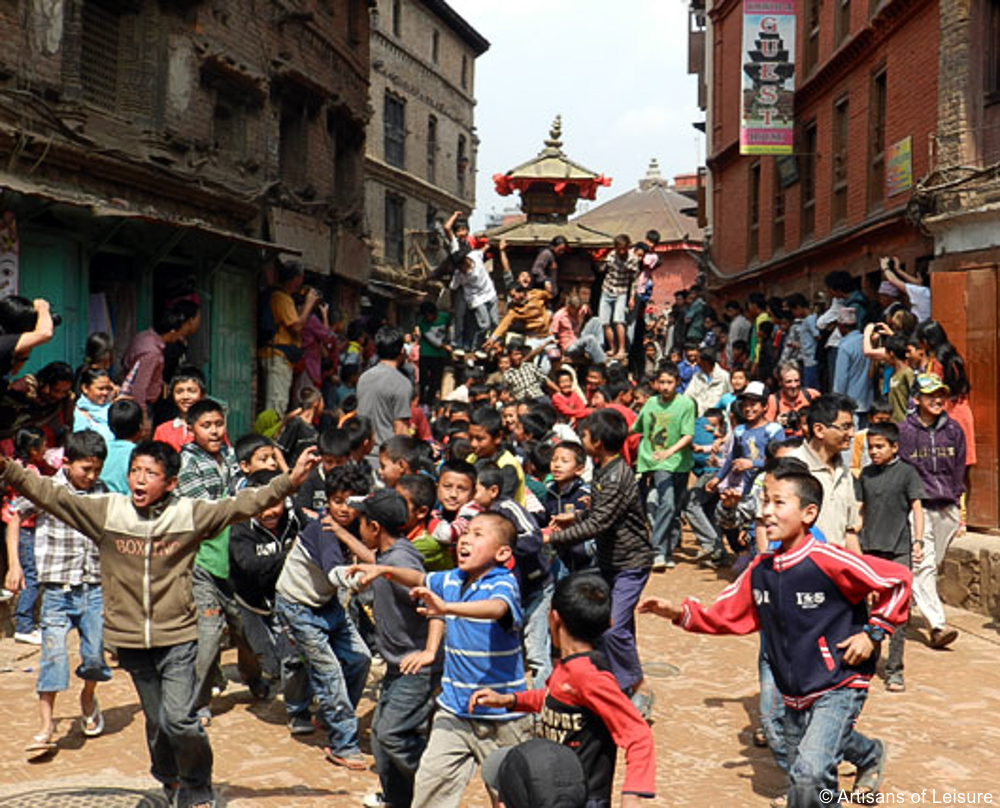 Even the roosters seemed to enjoy the festival.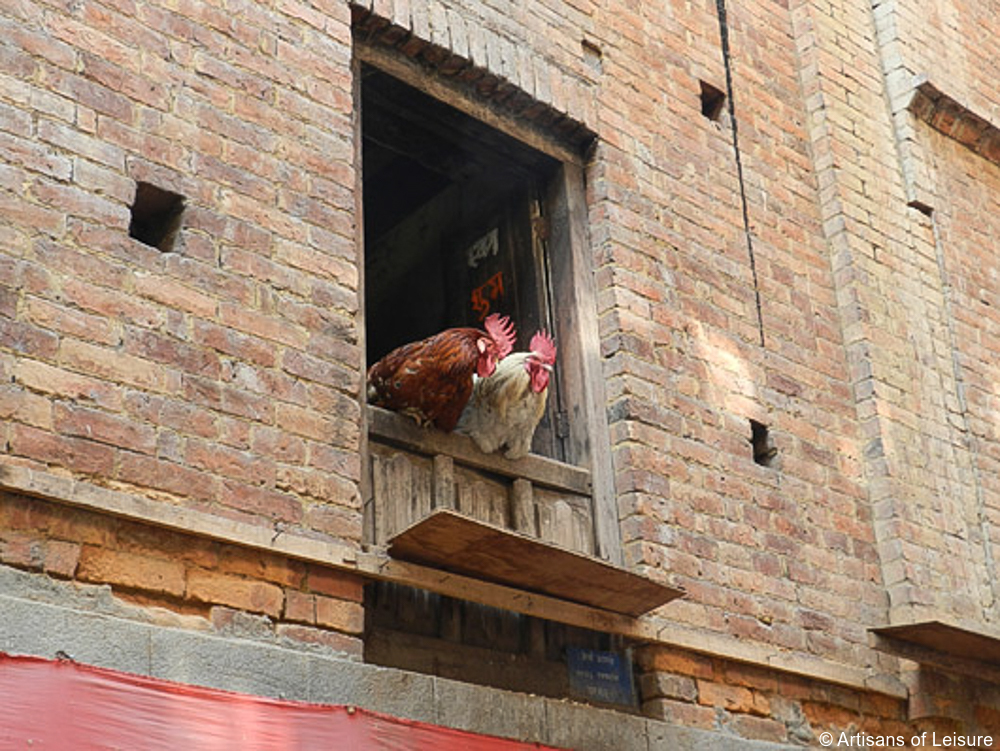 Members of the Potters Community Association make their own ceramics in this communal area. It's interesting to see and learn about the unique firing process.
Another festival, in the nearby Kathmandu Valley village of Patan.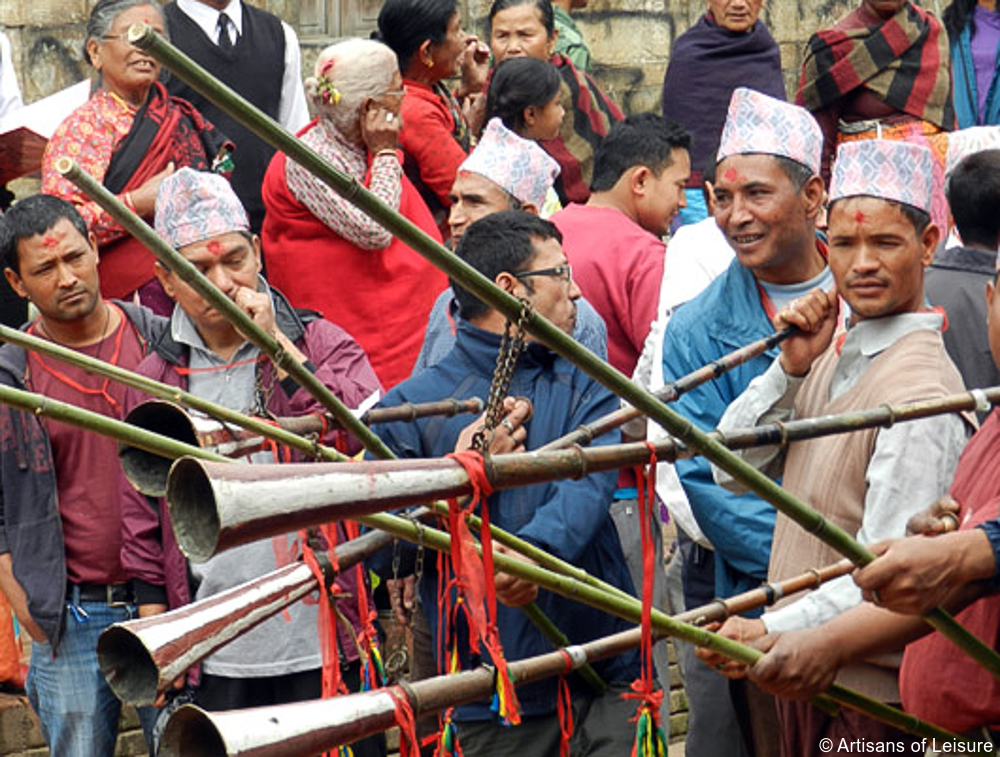 Patan is famous for its high-quality metalwork. It's a great place to buy bronze bowls, bells and statues at fair prices.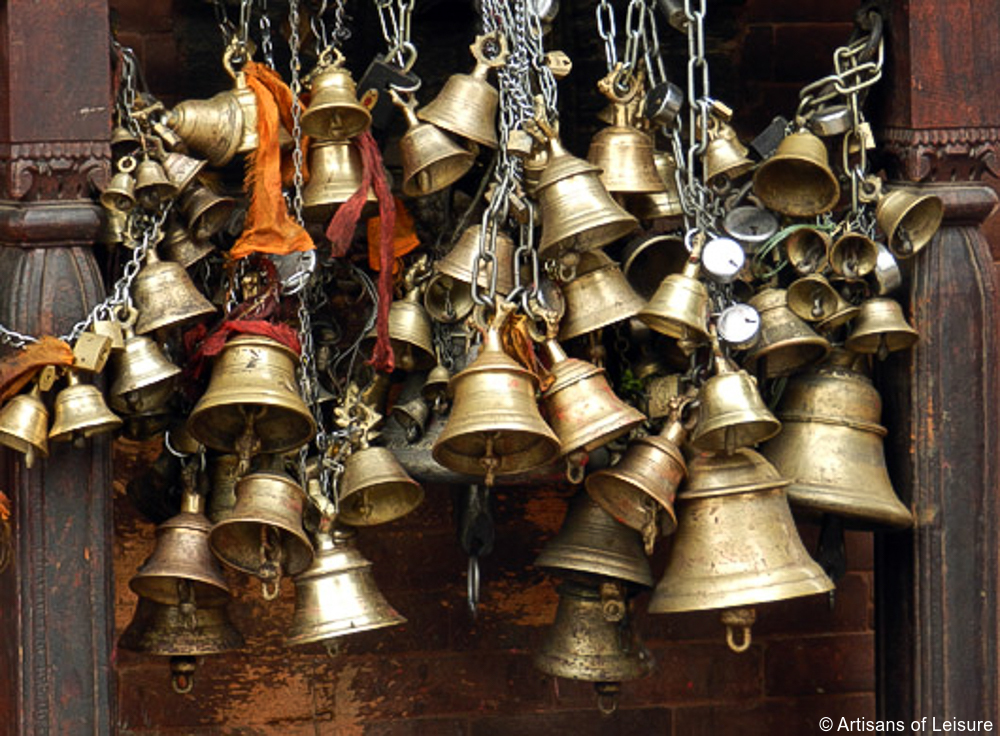 Singing bowl therapy is said to cure migraines, backaches and other ailments when done on a regular basis. It's a fascinating experience, if only to hear the bowl "sing." You can feel the vibrations throughout your entire body.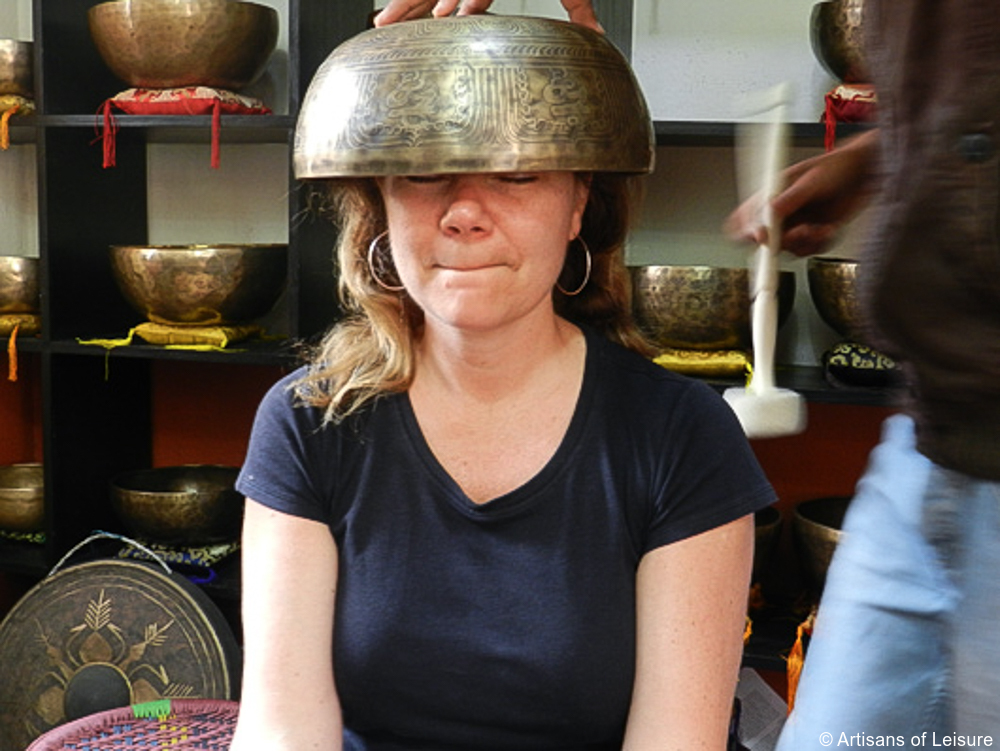 Tiger Mountain Lodge, near Pokhara, is especially romantic after dark, when all you hear are chirping birds and buzzing cicadas. The lodge is in an idyllic mountaintop location with views of the valley and the Annapurna range of the Himalayas beyond. Great hiking opportunities abound in the area.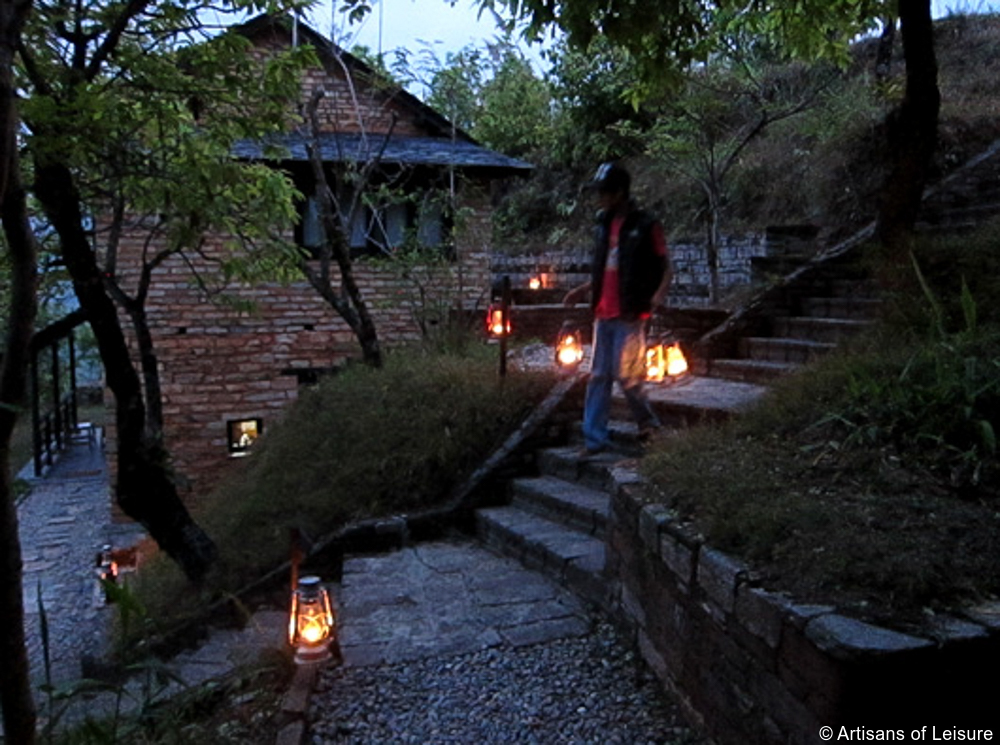 The town of Pokhara is a relaxing, colorful place to visit.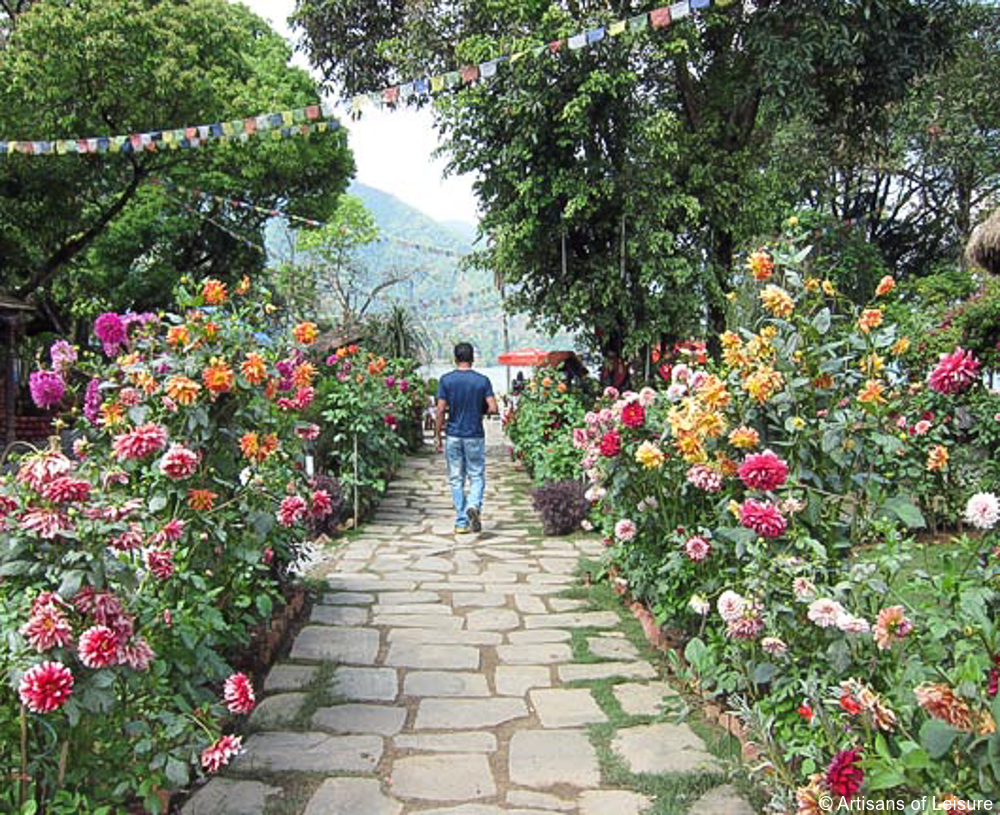 The highly scenic drive from Pokhara to Chitwan National Park passes mountains, fields, rivers, tiny villages and verdant rice paddies.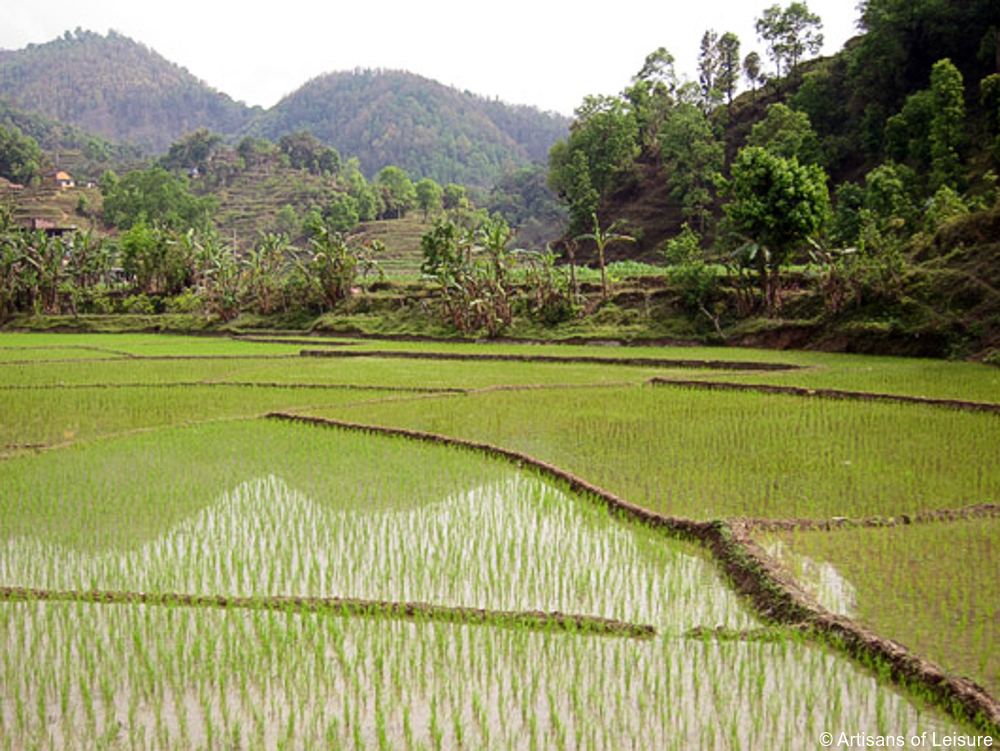 Local women carrying wood in the rural countryside near Chitwan National Park.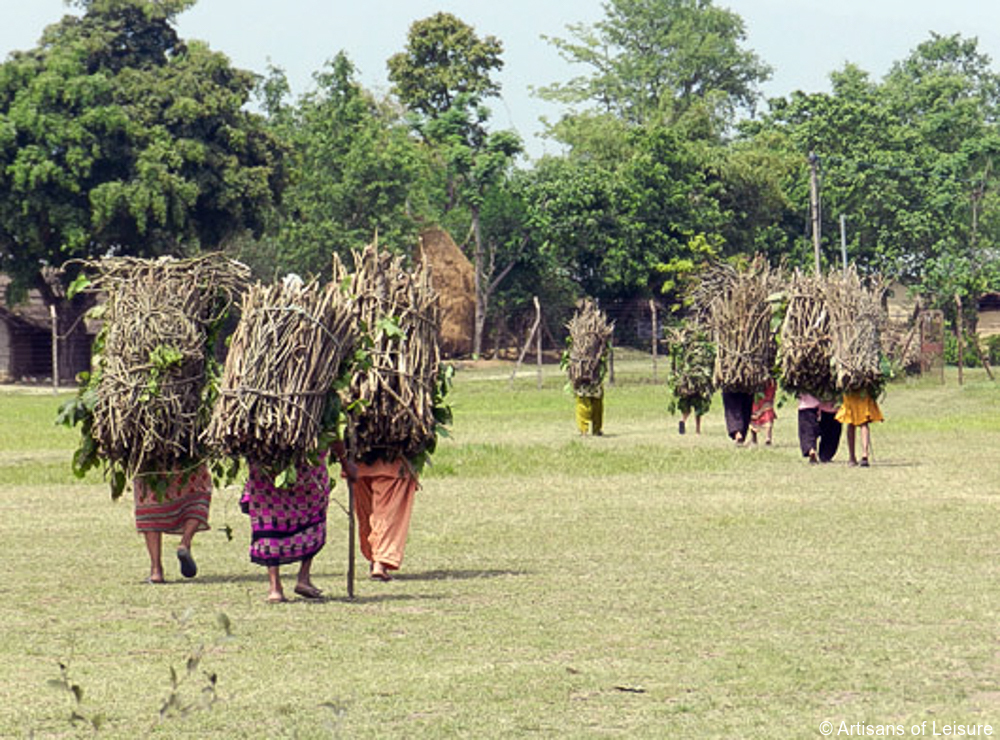 Chitwan National Park supports a large number of one-horned rhinoceroses, and sightings are very common during safaris.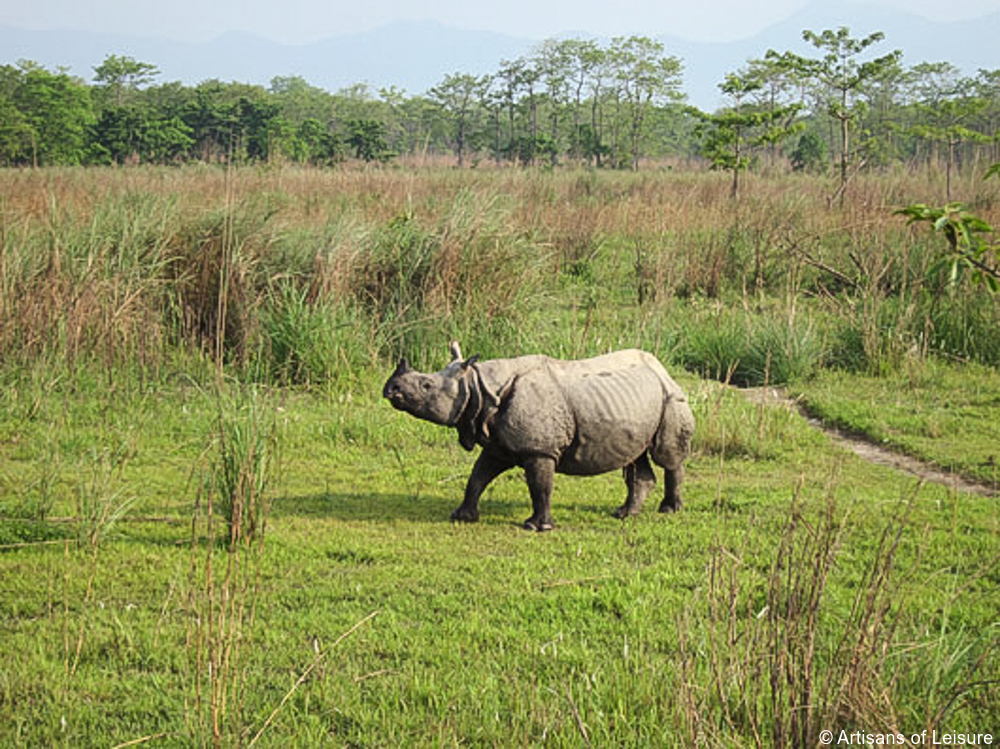 Another highlight: learning how the mahouts care for the elephants, and then helping to bathe them! (Or you can just watch from the riverbank, if you prefer.)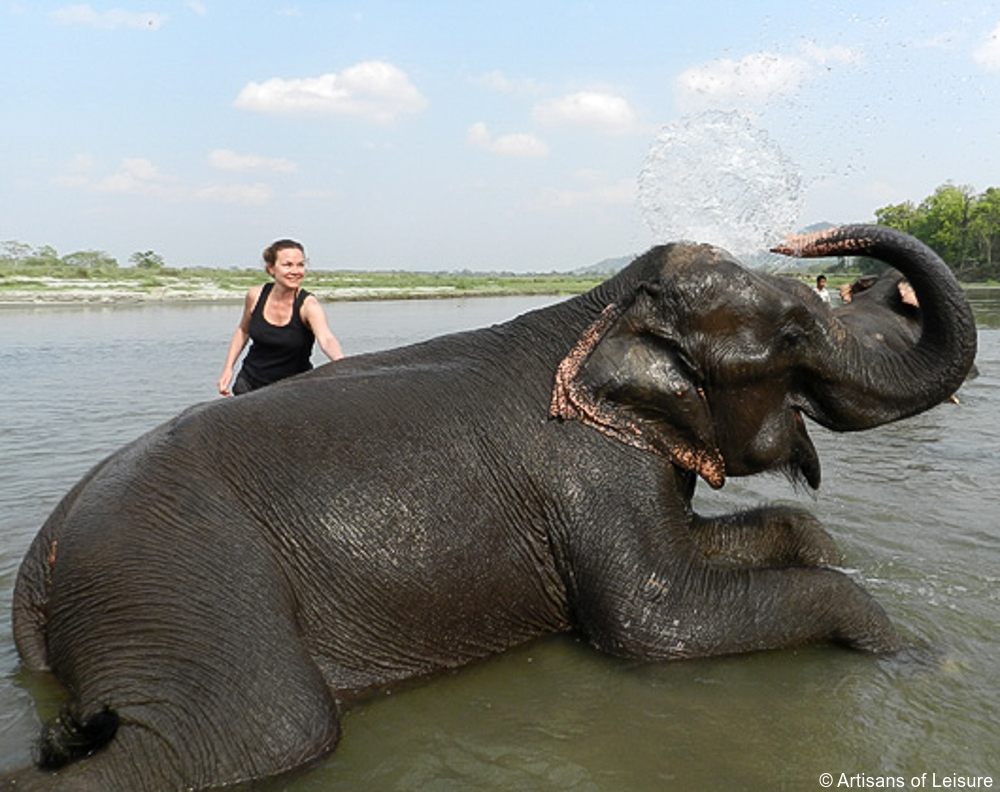 The city of Kathmandu has many charms. Colorful architecture and decoration abound. For example, "all-seeing eyes" that symbolize the omniscience of the Buddhas are common on stupas and some other buildings.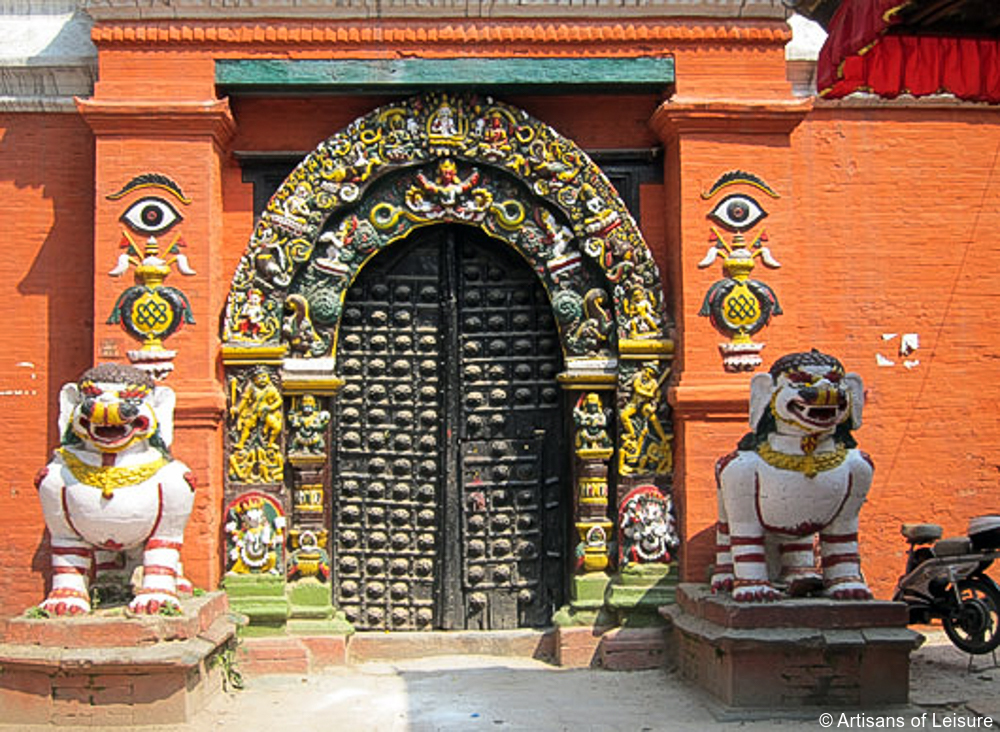 Dried chilies, fish, mushrooms and garlic from a temple-side vendor in Kathmandu.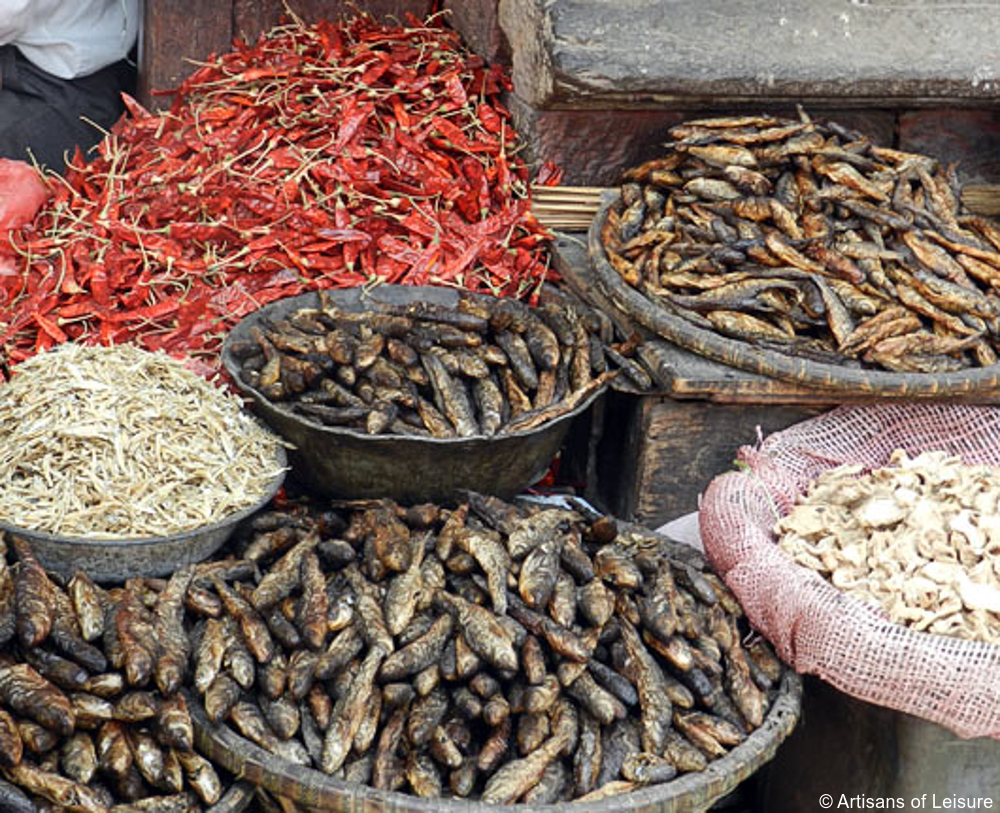 Strands of fresh flowers are sold for religious and ceremonial purposes.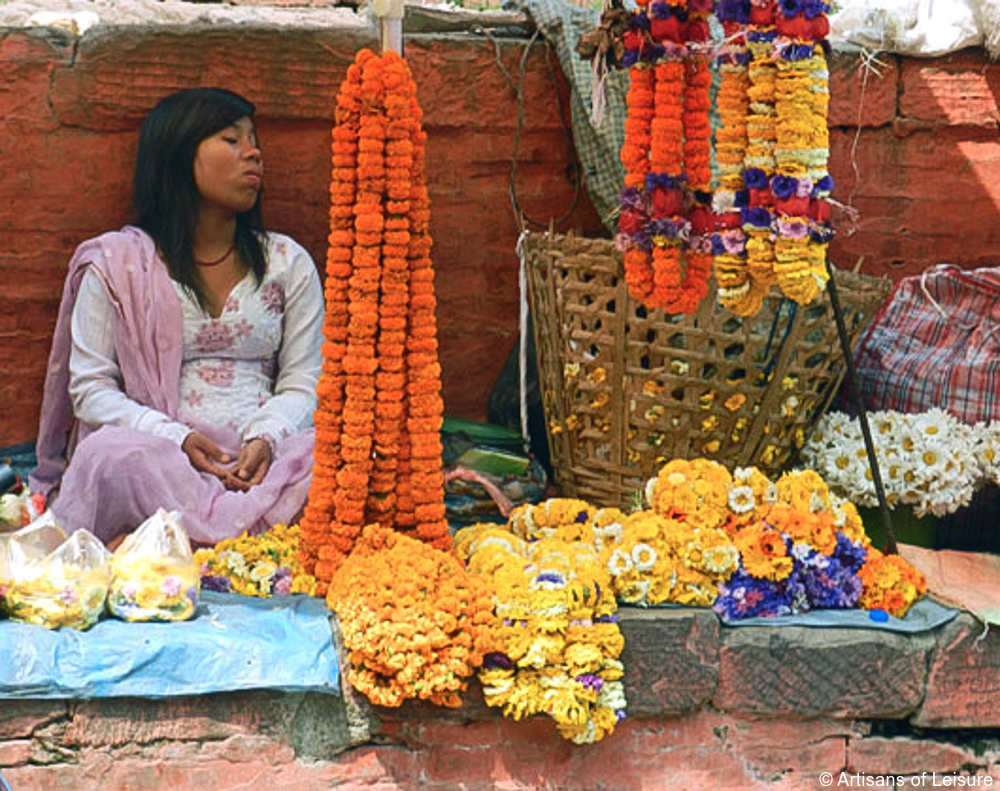 Devotees adorn religious statues with fresh flowers.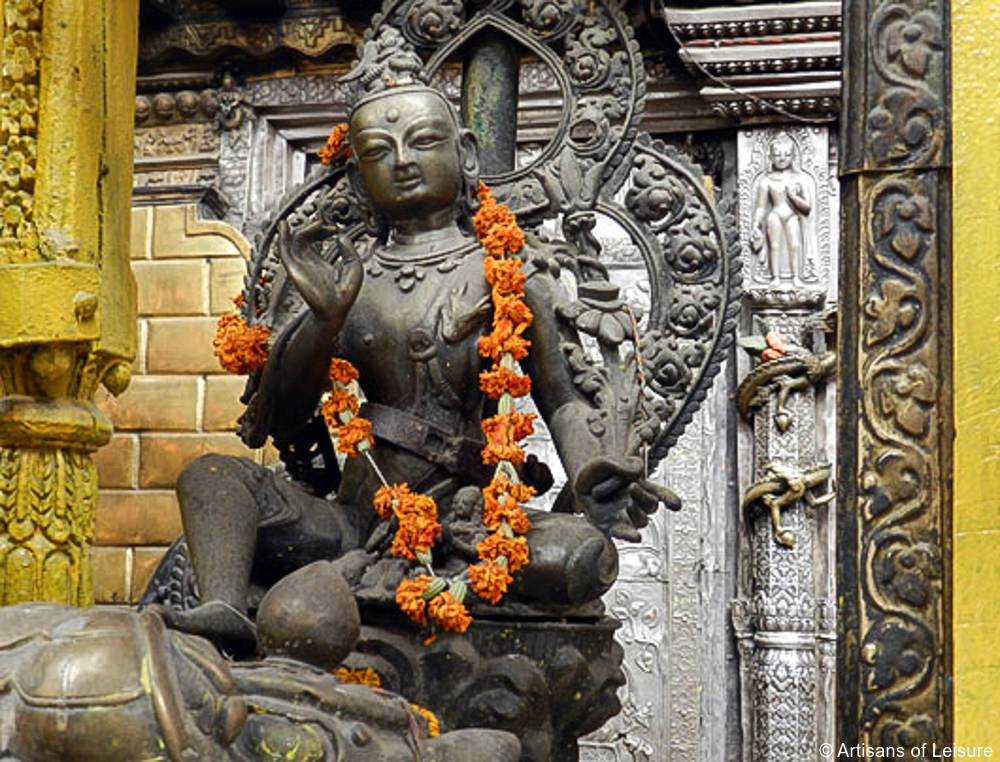 Tika, which are applied to the forehead, represent the third-eye, also known as the mind's-eye.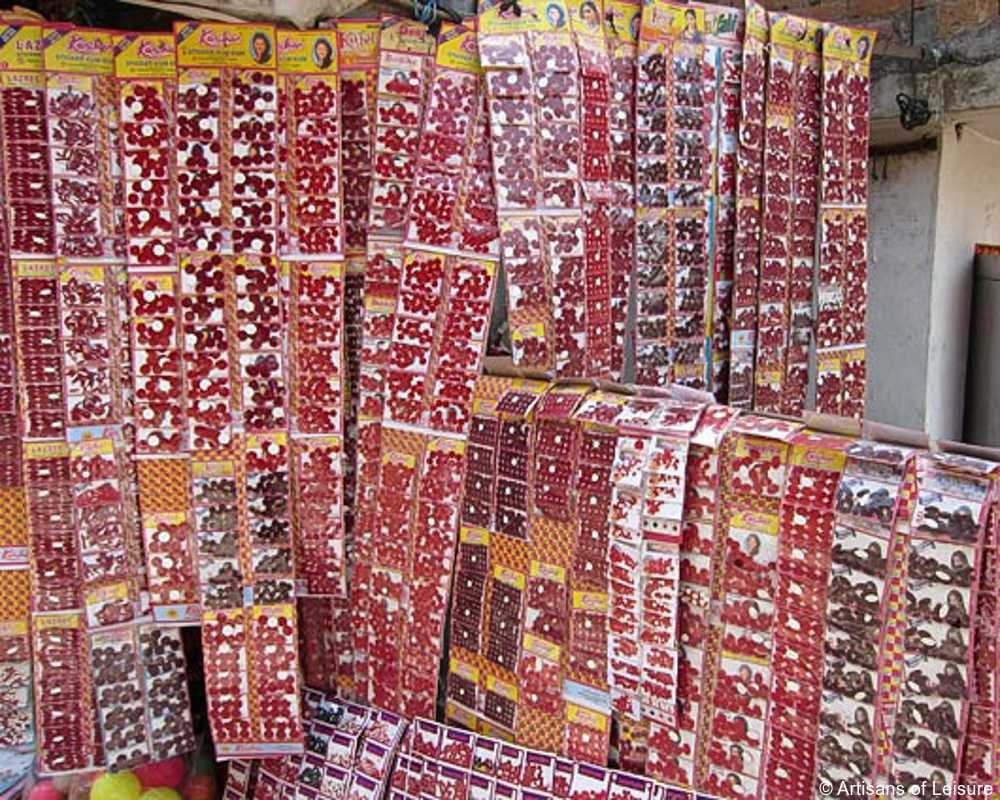 Tika may also be made by smearing a bit of red powder on the forehead.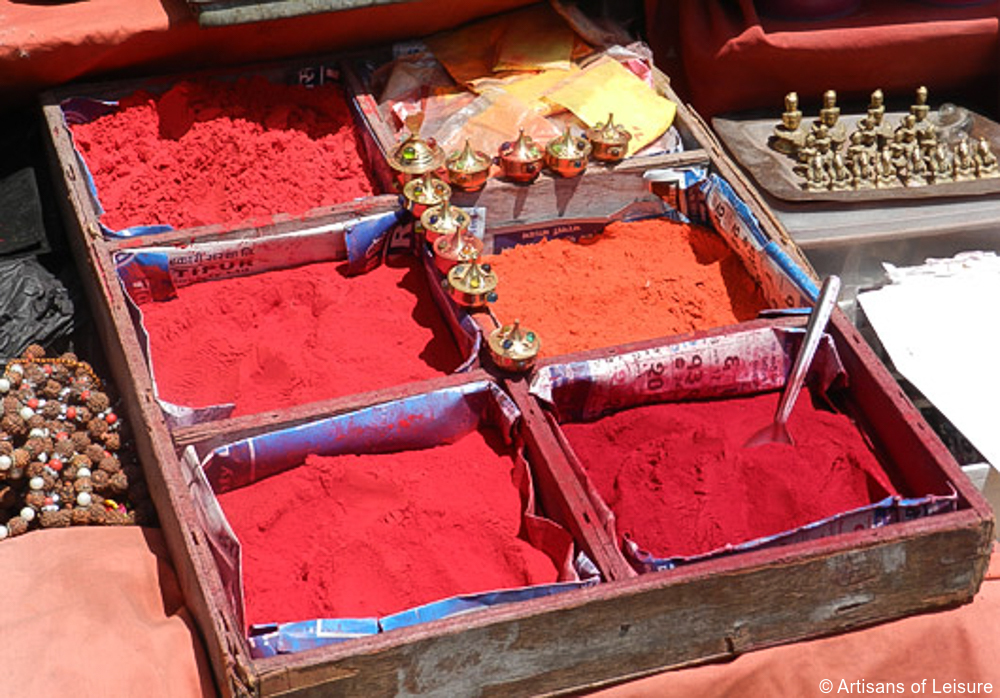 Women outside Pashupatinath, Nepal's most important Hindu temple.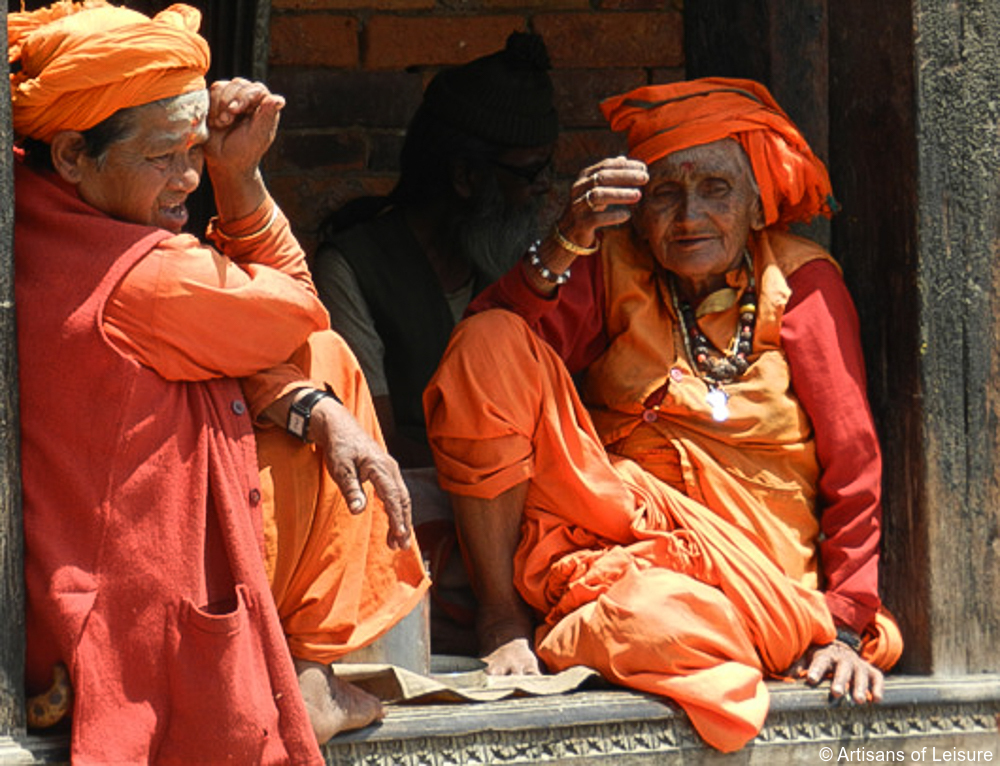 Boudhanath is one of the most impressive stupas in the Kathmandu area. Many Tibetans live in the area, making it a great place to experience authentic Tibetan Buddhist culture.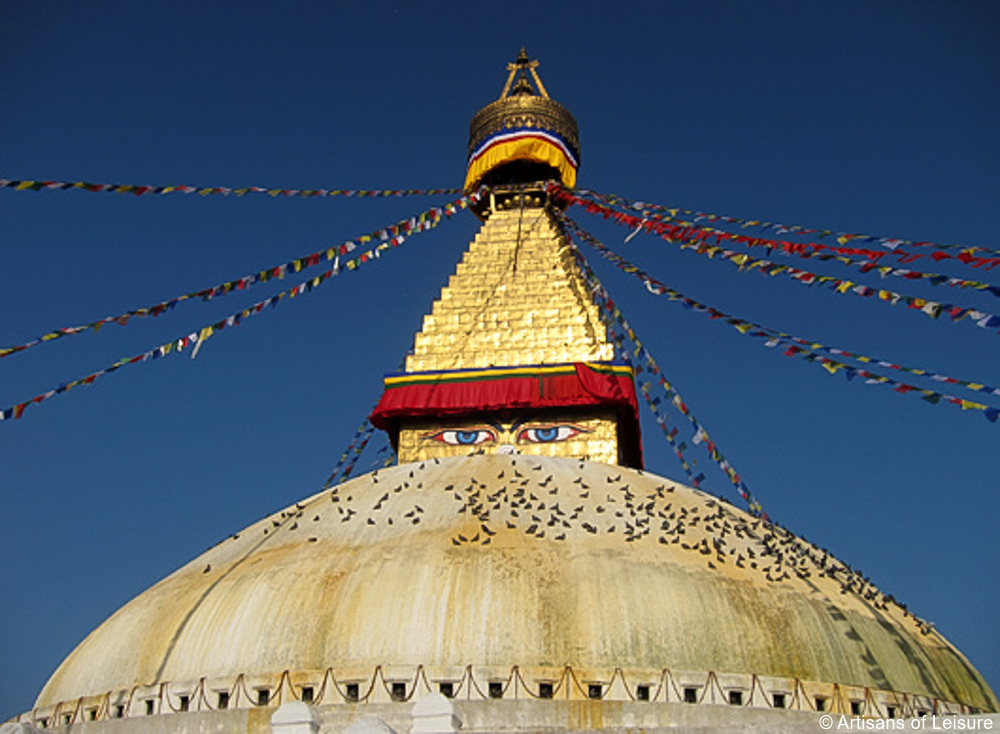 Quite a few gompas (Tibetan monasteries) can be found on the lanes around Boudhanath. Decorated with vibrant colors, the interiors are worth a visit.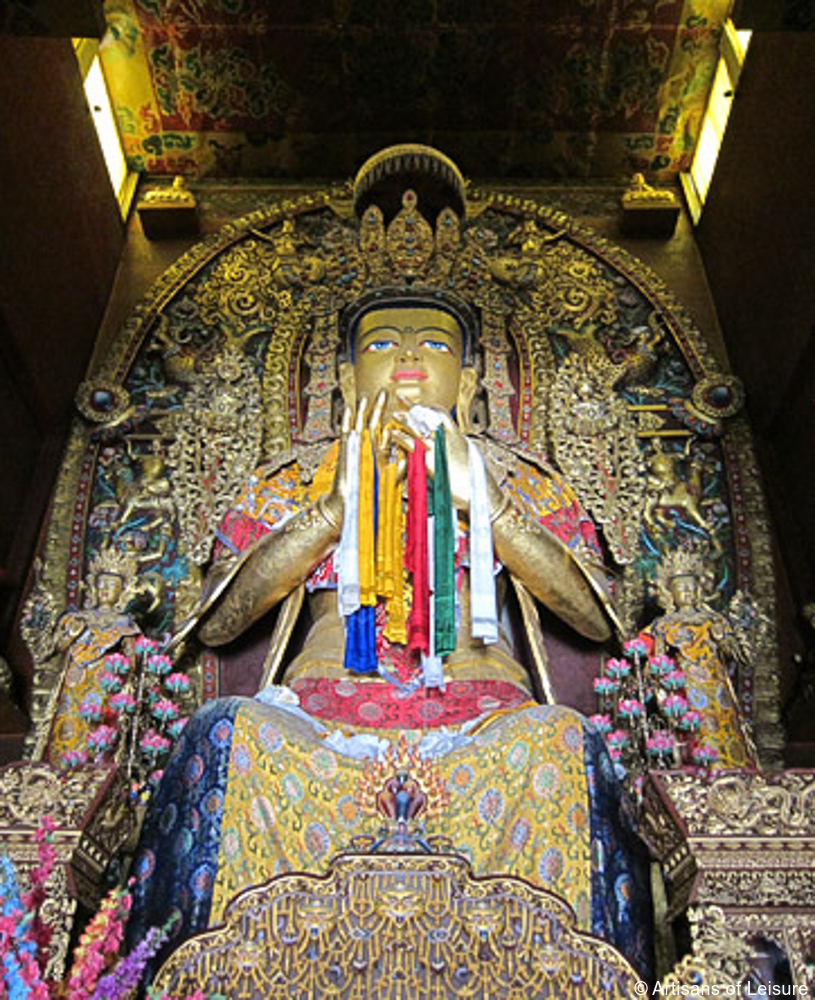 This garden flourishes in a tiny plot at Boudhanath.
Workshops and boutiques around Boudhanath produce and sell Buddhist paraphernalia and Tibetan clothing items, such as these traditional women's aprons. According to Tibetan custom, these are to be worn by married women only.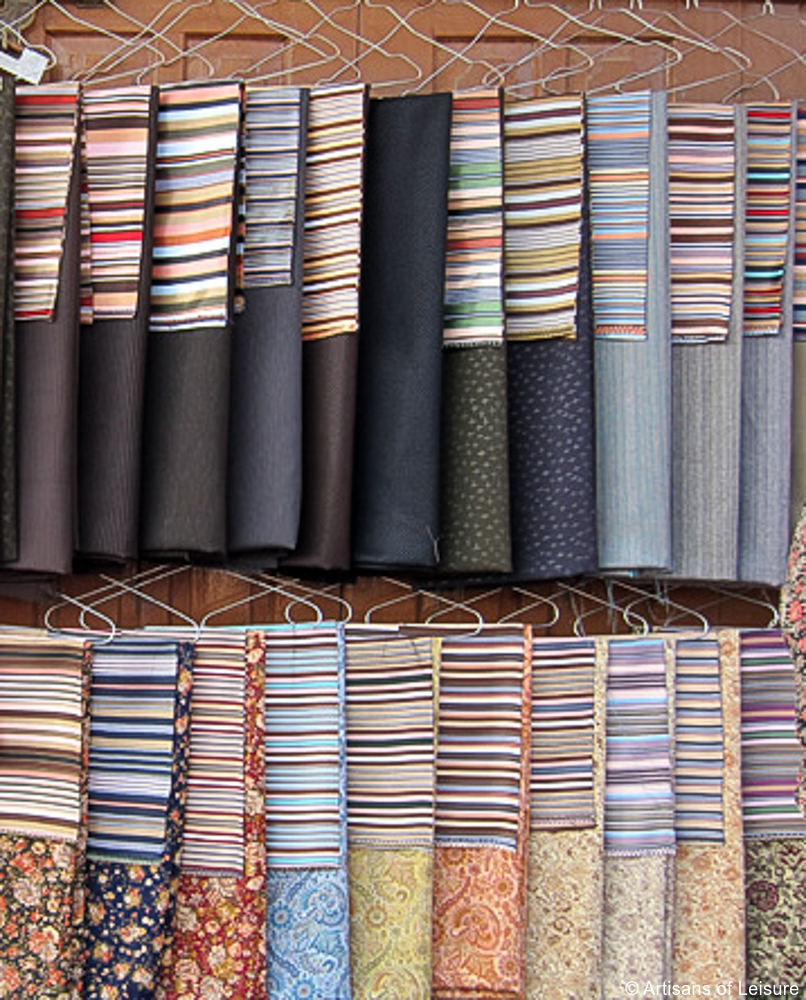 Devotees complete the ritual clockwise circuit of the stupa as they chant mantras.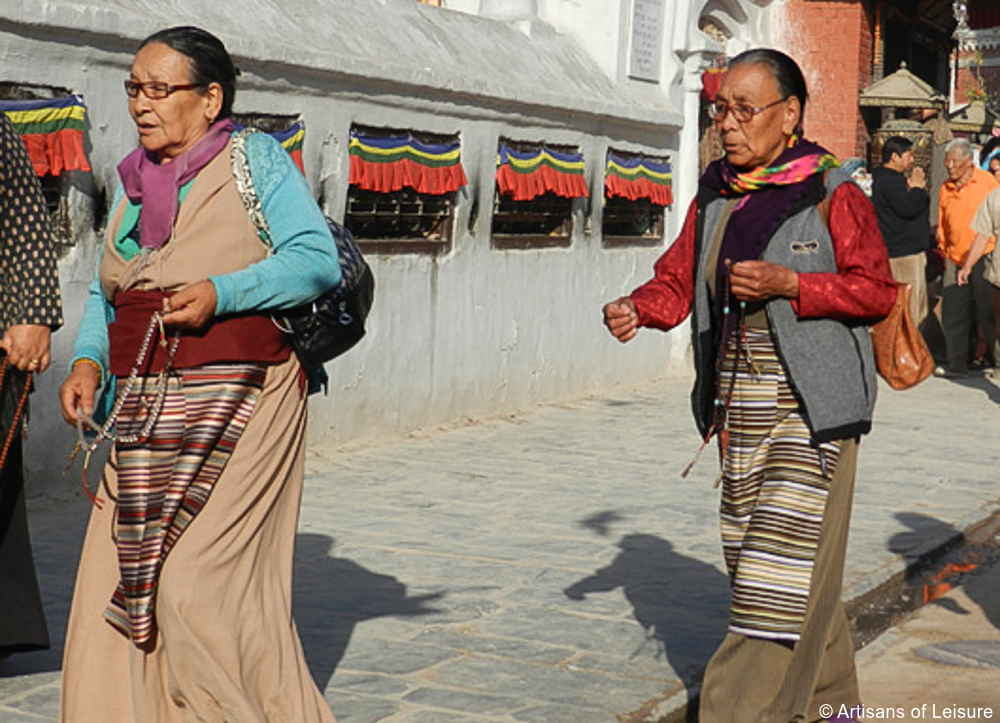 While in Kathmandu, we recommend taking an early morning "mountain flight," which affords fantastic views of the Himalayas, including Mount Everest.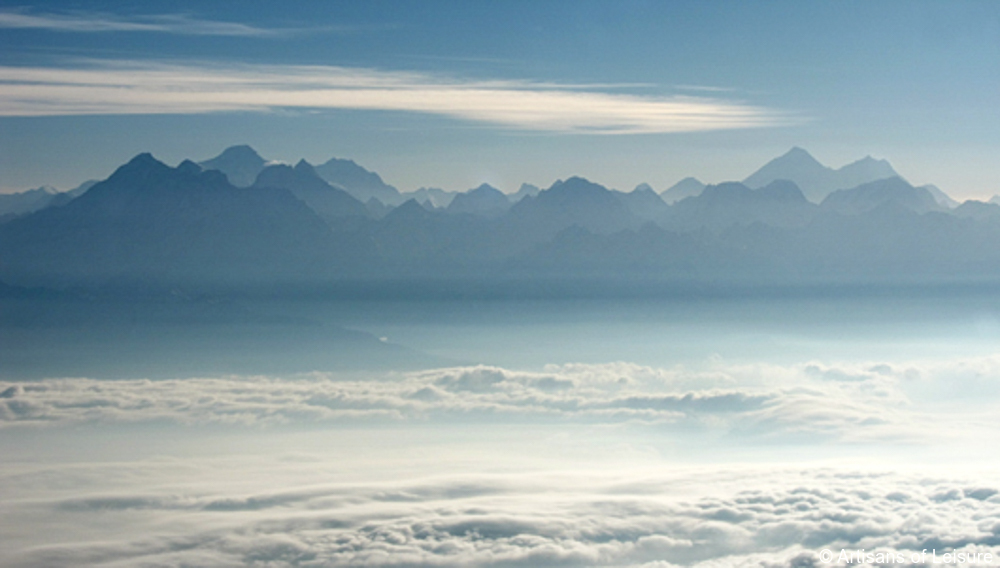 Many flights to Nepal connect through Delhi, making India an excellent complement to a Nepal tour. The Oberoi Gurgaon, located near the Delhi airport, is a wonderful choice if you need an overnight stopover between Kathmandu and other cities in India (or international destinations).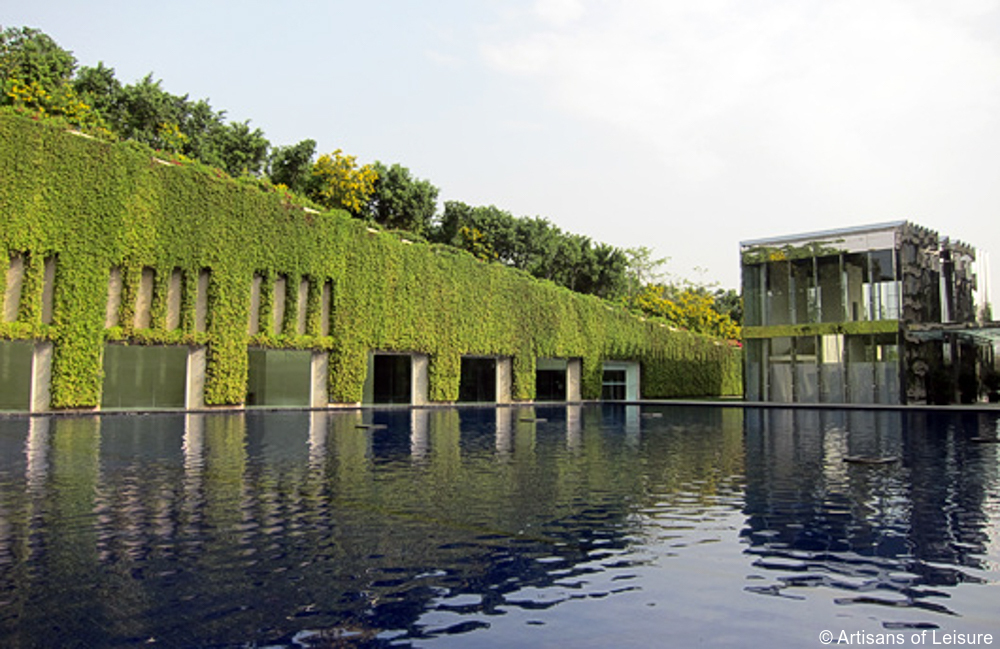 Varanasi is one of India's most spiritual destinations and a major pilgrimage site. Along the Ganges River at dawn, people gather to bathe, pray and do laundry.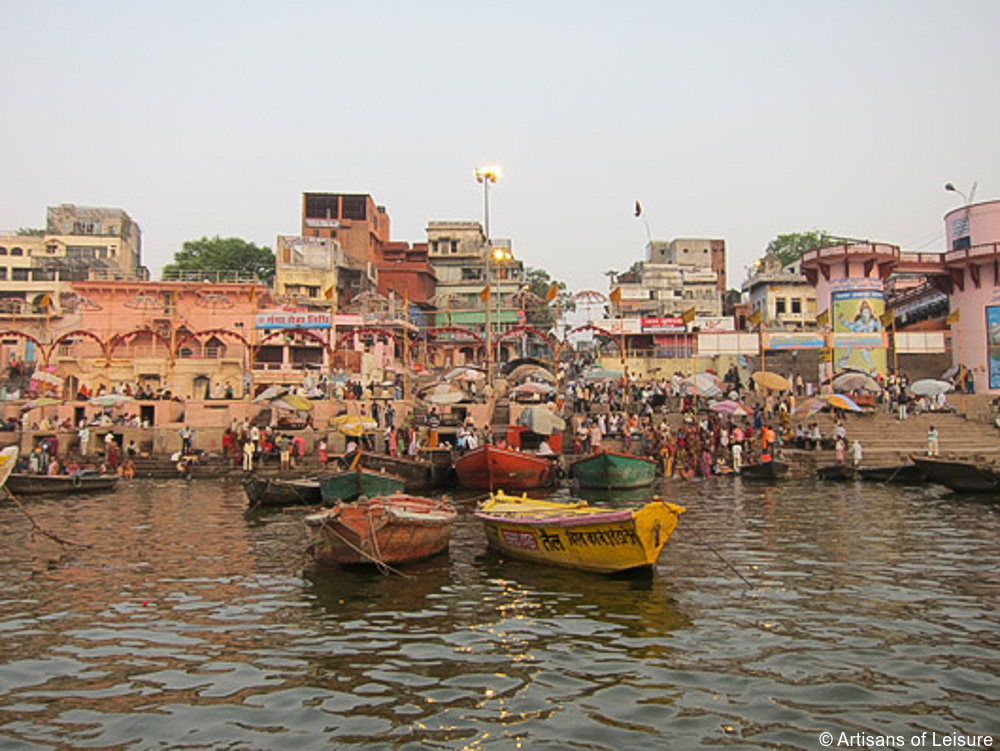 These women were performing ablutions in the Ganges.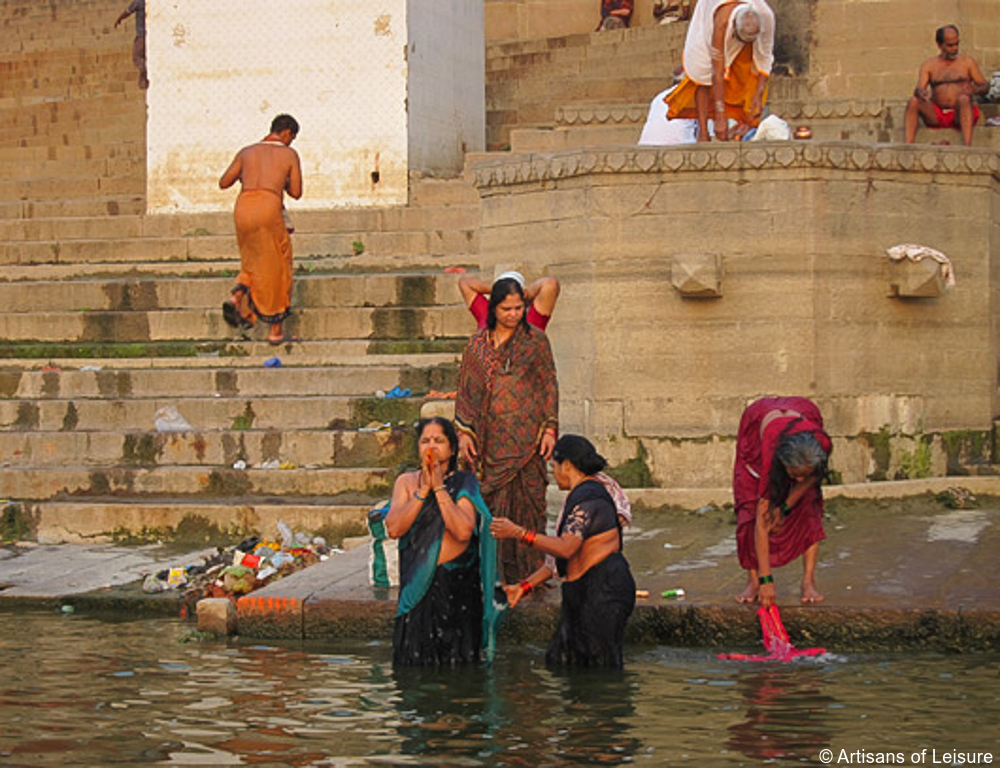 The luxurious Nadesar Palace is the premier hotel in Varanasi. Each of the hotel's 10 suites is unique and decorated with period furniture and works of art from the collection of the local maharaja.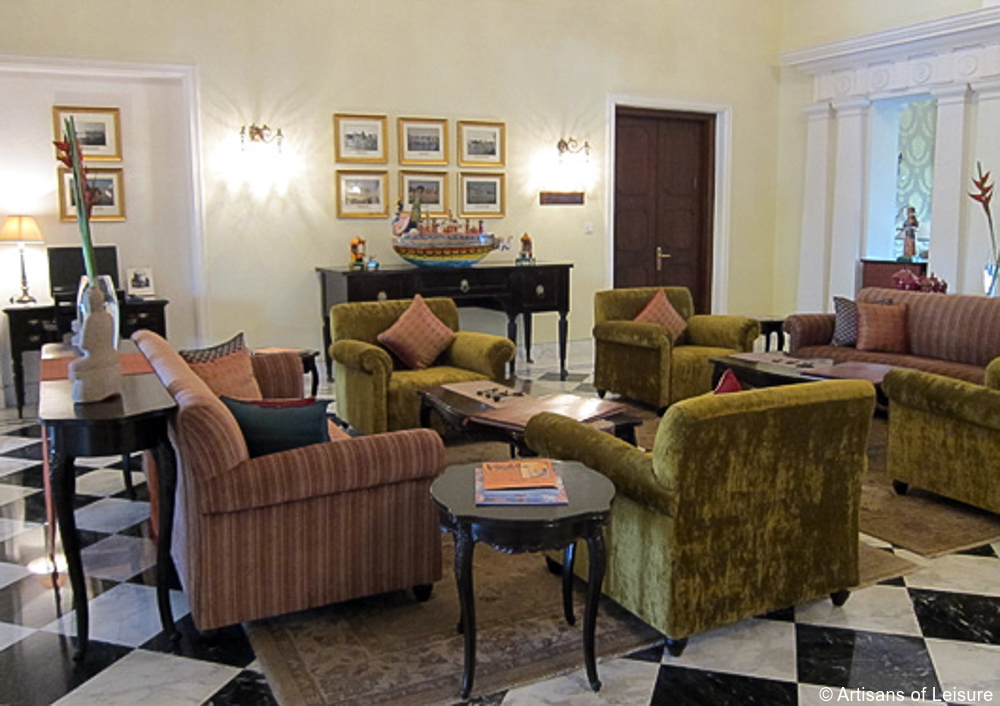 Lakshmana is one of the most important Hindu temples in Khajuraho, a UNESCO World Heritage Site. A short flight from Varanasi, Khajuraho is a great addition for travelers interested in art and architecture.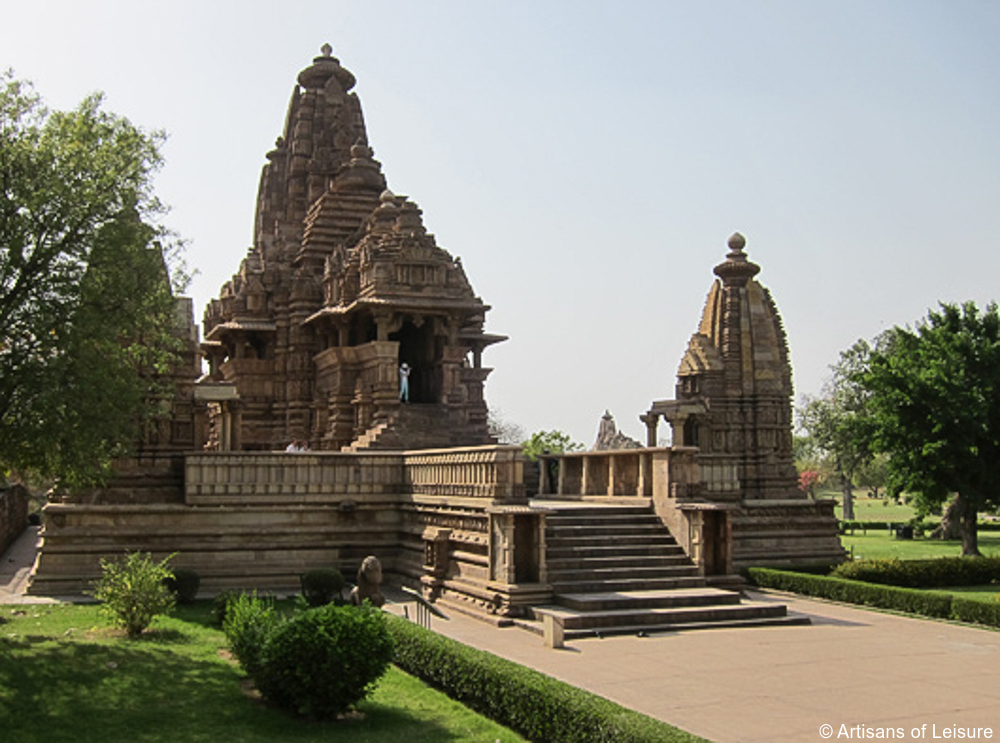 Detail of the sculptures adorning Lakshmana temple, which is famous for erotic imagery. The craftsmanship of the Khajuraho temples is remarkable.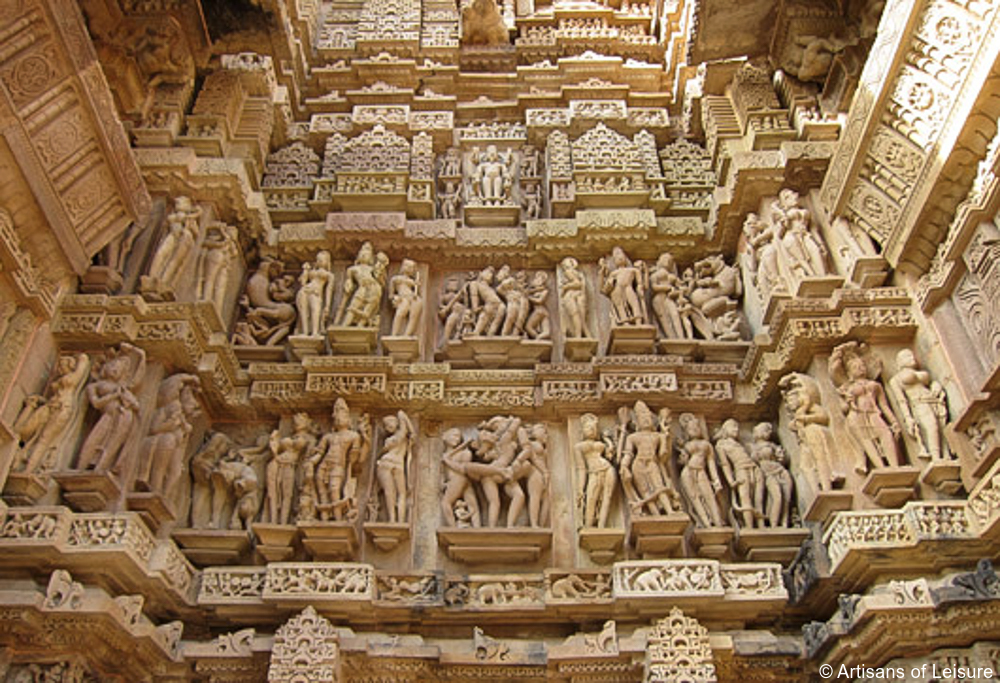 Hundreds of species of birds, such as this brilliantly colored kingfisher, can be seen in nearby Panna National Park.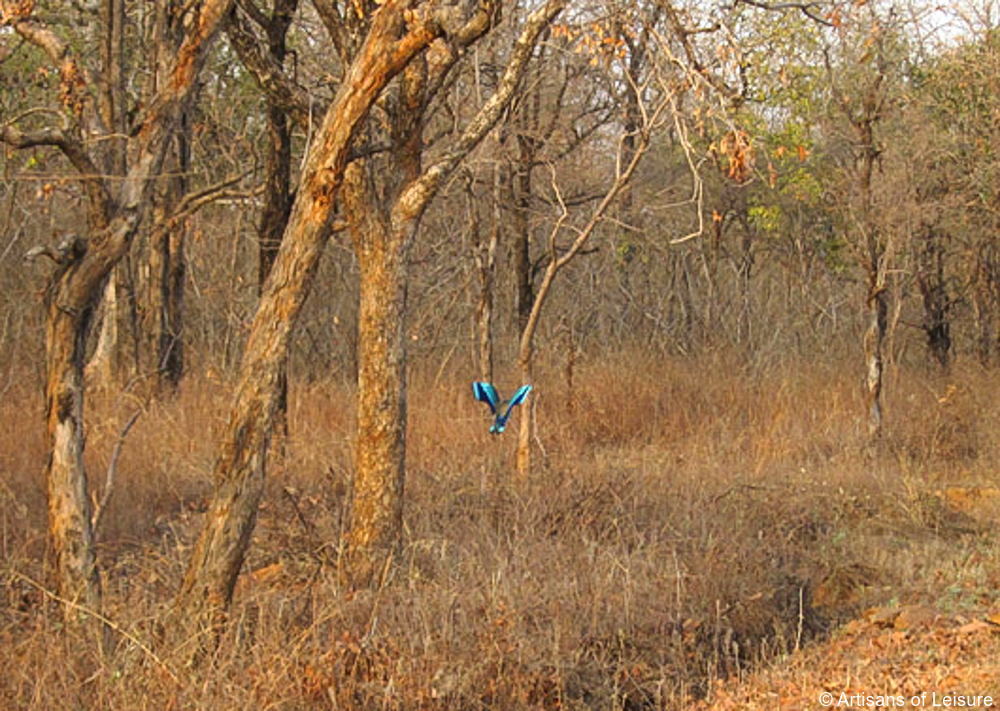 A gray langur seen during a safari in Panna National Park.
Beautiful photographs of local wildlife hang on the walls of each cottage in Pashan Garh safari lodge. The most luxurious accommodation near Khajuraho and Panna National Park, it's our recommended property for travelers interested in visiting the region.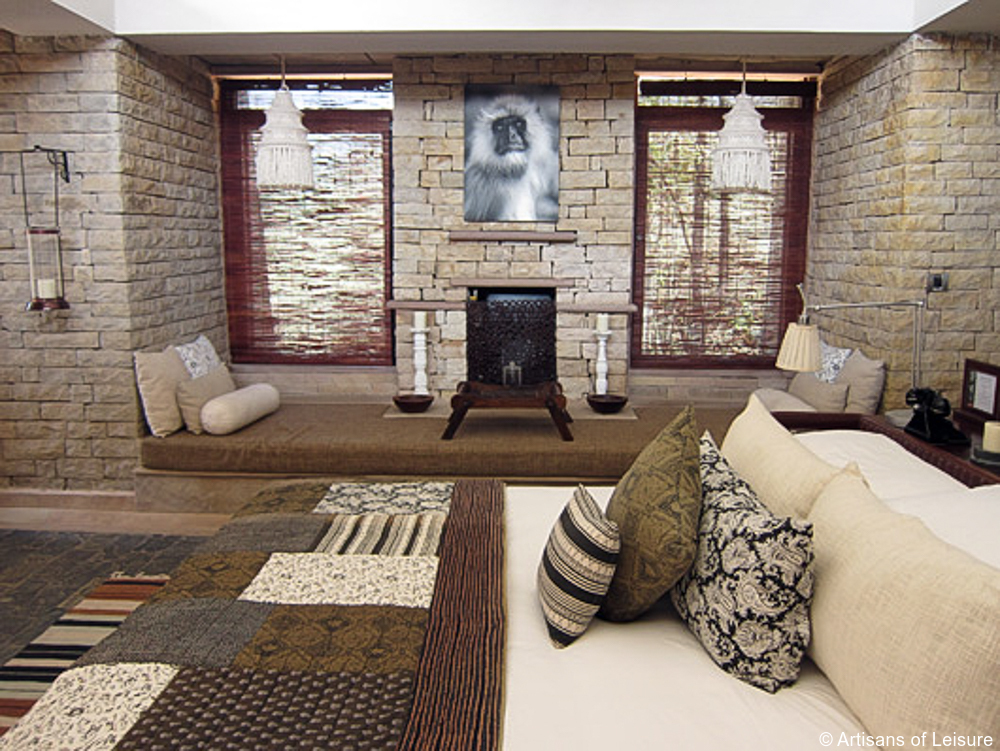 Contact us to start planning a private tour of Nepal or India.
Destinations: Asia, India, Nepal
Tags: architecture, art, Asia tours, Buddhism, Chitwan National Park, Hinduism, India, India tours, Kathmandu, Kathmandu Valley, Khajuraho, Nepal, Nepal tours, Patan, Pokhara, safari, spiritual, temple, UNESCO, Varanasi, wildlife