Wellness Tour of Bali
(10 Days)
Ubud, Candidasa
Spa & Wellness Tour of China
(10 Days)
Shanghai & environs, Suzhou, Hangzhou
Resorts of Southern France
(10 Days)
Provence, Cote d'Azur (Saint-Tropez & Saint-Jean-Cap-Ferrat)
Greece In Style
(11 Days)
Santorini, Athens, Porto Heli
Geothermal Spas of Iceland
(7 Days)
Blue Lagoon, Husafell, South Iceland, Reykjavik
Ayurveda Highlights of India
(8 Days)
Delhi, Himalayas & Rishikesh
Ultimate Spirituality & Wellness Tour of Indonesia
(11 Days)
Java, Bali, Sumba Island
Indulgent Tuscany
(9 Days)
Florence, Tuscan hills, Tuscan coast
Culture & Wellness Tour of Mexico
(11 Days)
Mexico City, Merida, Riviera Maya (Maroma, Playa del Carmen or Tulum)
Traditional Culture & Wellness of Nepal
(6 Days)
Kathmandu & Kathmandu Valley, Dhulikhel
Wellness Tour of Thailand
(11 Days)
Chiang Mai, Bangkok, Phuket or Koh Samui
Exclusive Japan: Amans, Art & Onsen
(15 Days)
Tokyo, Naoshima, Kyoto, Ise-Shima region
Multi-country Tours
Hiking & Wellness Tour of Bhutan & India
(14 Days)
Delhi, Thimphu, Punakha, Paro, Himalayas & Rishikesh
Spa & Wellness Tour of Germany & Switzerland
(10 Days)
Munich, Baden-Baden & Alsace, Lake Geneva
Active & Wellness Tour of Iceland & Norway
(12 Days)
Blue Lagoon, Husafell & Langjokull Glacier, South Iceland, Reykjavik , Oslo, Bergen & Sognefjord
Greece In Style
(11 Days - Departs Daily on a Private Basis)
Santorini, Athens, Porto Heli
This private tour of Greece features spectacular resort hotels, private cultural touring, stunning landscapes, and time to enjoy a wellness immersion program or spa treatments. It's ideal for anyone interested in the country's most exclusive, insightful and relaxing experiences.
Begin on unforgettable Santorini, a beautiful volcanic island with dramatic landscapes, and stay in a luxury resort overlooking the caldera. During private touring, visit the photogenic clifftop village of Oia, enjoy a wine tasting of Santorini's refreshing white and rose wines, and tour the fascinating ruins of the ancient city of Akrotiri. Also enjoy time at leisure to relax at your resort. Upon request, Artisans of Leisure can arrange additional touring and activities, such as hiking or biking along the wine routes. One afternoon, enjoy a private boat excursion in the caldera with opportunities for swimming and stopping at the island's distinctive black- and red-sand beaches.
Continue to Athens, the capital of Greece and a showcase of ancient civilization. During private touring with your expert guide, visit the city's top sights such as the breathtaking Acropolis, a UNESCO World Heritage Site of ancient ruins (including the Parthenon), and the wonderful Acropolis Museum. Also explore the Agora, local markets, and the charming, taverna-lined Plaka neighborhood. Depending on your interests, other options include riding the funicular up Mount Lycabettus or visiting specialty museums such as the Benaki Museum, Museum of Cycladic Art, National Museum of Contemporary Art and Stavros Niarchos Foundation Cultural Center. One day, if desired, enjoy an excursion along the beautiful coast to Cape Sounion to watch the sunset at the ancient Temple of Poseidon. There will also be time to relax along the Athens Riviera at the Four Seasons Hotel Astir Palace Hotel Athens to enjoy the resort's facilities and spa.
Next, see the ruins of ancient Corinth, the gateway to the Peloponnesian Peninsula, en route to the exclusive Amanzoe resort, the most luxurious property in Greece, along the unspoiled coastline outside the town of Porto Heli. One day, take a private excursion to Mycenae, the UNESCO-inscribed ruins of an ancient fortified city, and Epidaurus, the UNESCO-inscribed remains of an important ancient healing center, including a well-preserved theater. During leisure time, enjoy the serene surroundings, relax by one of the pools or at the beach club, dine on superb Greek cuisine, browse the library and take in the spectacular view from the yoga pavilion. In the light-filled spa, traditional medicine and the healing properties of local products inspire the wellness ethos. The extensive menu of spa services features a range of holistic therapies drawn from Ayurveda, ancient Geek and Traditional Chinese medicine, expert-led yoga and pilates sessions and Watsu aquatic therapy. Amanzoe is one of a few select Aman properties in the world to offer bespoke immersive wellness programs tailored to each guest. Upon request, Artisans of Leisure can also arrange romantic sunset boat trips, a private boat charter to explore the nearby islands of Spetses or Hydra, and other activities.
Itinerary Overview
Day 1
Arrive Santorini
Private arrival transfer to hotel for 4 nights
Day 2
Santorini


Half-day private island tour, including ruins or option for hiking

Day 3
Santorini


Morning at leisure to enjoy resort and spa. Late afternoon private charter cruise

Day 4
Santorini


Half-day private island tour, including wine tasting and visits to beaches

Day 5
Santorini – Athens
Private transfer to airport for flight to Athens. Private arrival transfer to resort for 2 nights. Optional sunset excursion to Temple of Poseidon
Day 6
Athens
Private city tour and time to enjoy resort
Day 7
Athens ­– Porto Heli


Private transfer to luxury resort for 4 nights with touring en route

Day 8
Porto Heli
At leisure at resort, with option for wellness immersion program or spa treatments
Day 9
Porto Heli & environs
Private excursion to ruins of Mycenae and Epidaurus
Day 10
Porto Heli


At leisure at resort, with option for wellness immersion program or spa treatments

Day 11
Porto Heli – Depart Athens
Private airport transfer
Hotels
| | |
| --- | --- |
| Santorini: | Canaves Suites, Grace Santorini or Andronis Arcadia Hotel |
| Athens: | Four Seasons Astir Palace or Hotel Grande Bretagne |
| Porto Heli: | Amanzoe |
Cost
| | |
| --- | --- |
| $18,910 | Per person (based on four travelers/two rooms) |
| $22,315 | Per person (based on two travelers/double occupancy) |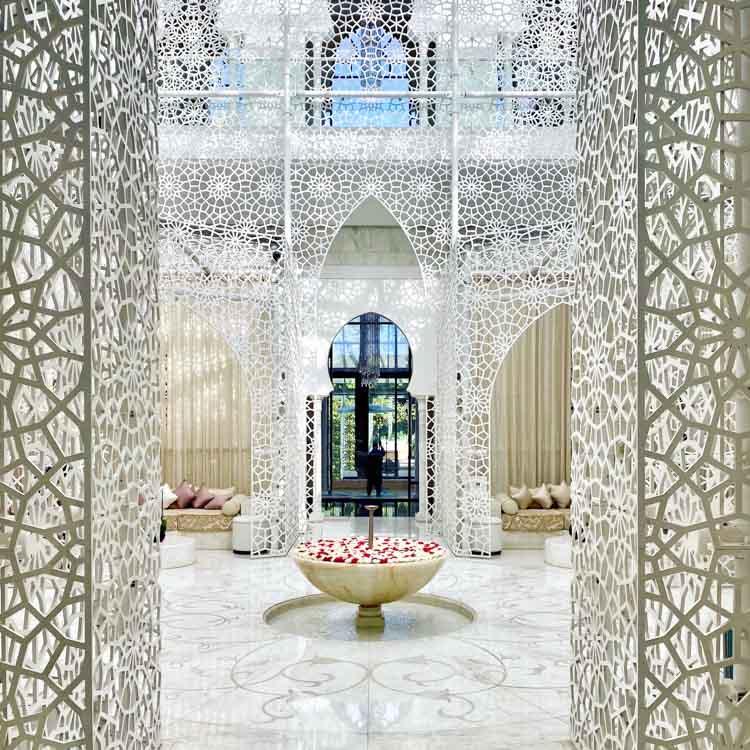 Wellness Tour of Bali
(10 Days)
Ubud, Candidasa
Spa & Wellness Tour of China
(10 Days)
Shanghai & environs, Suzhou, Hangzhou
Resorts of Southern France
(10 Days)
Provence, Cote d'Azur (Saint-Tropez & Saint-Jean-Cap-Ferrat)
Greece In Style
(11 Days)
Santorini, Athens, Porto Heli
Geothermal Spas of Iceland
(7 Days)
Blue Lagoon, Husafell, South Iceland, Reykjavik
Ayurveda Highlights of India
(8 Days)
Delhi, Himalayas & Rishikesh
Ultimate Spirituality & Wellness Tour of Indonesia
(11 Days)
Java, Bali, Sumba Island
Indulgent Tuscany
(9 Days)
Florence, Tuscan hills, Tuscan coast
Culture & Wellness Tour of Mexico
(11 Days)
Mexico City, Merida, Riviera Maya (Maroma, Playa del Carmen or Tulum)
Traditional Culture & Wellness of Nepal
(6 Days)
Kathmandu & Kathmandu Valley, Dhulikhel
Wellness Tour of Thailand
(11 Days)
Chiang Mai, Bangkok, Phuket or Koh Samui
Exclusive Japan: Amans, Art & Onsen
(15 Days)
Tokyo, Naoshima, Kyoto, Ise-Shima region
Multi-country Tours
Hiking & Wellness Tour of Bhutan & India
(14 Days)
Delhi, Thimphu, Punakha, Paro, Himalayas & Rishikesh
Spa & Wellness Tour of Germany & Switzerland
(10 Days)
Munich, Baden-Baden & Alsace, Lake Geneva
Active & Wellness Tour of Iceland & Norway
(12 Days)
Blue Lagoon, Husafell & Langjokull Glacier, South Iceland, Reykjavik , Oslo, Bergen & Sognefjord
We have a long list of rave reviews from our travelers.
Recommended by:
Departures
Conde Nast Traveler
The New York Times
Wall Street Journal
Travel + Leisure
Town & Country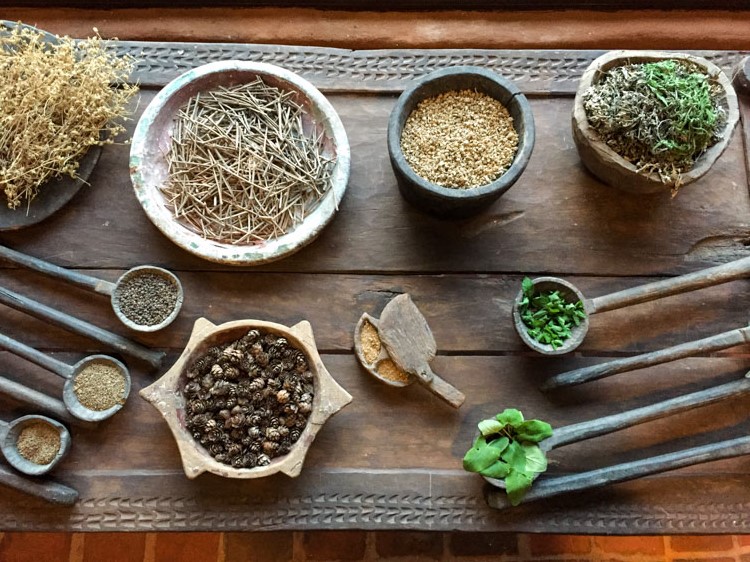 Hot Springs, Culture & Luxury in Baden-Baden, Germany
Experiencing K-Beauty in Seoul, South Korea
Three of Our Favorite Luxury Resorts in Thailand
Private Luxury Spa Tours & Wellness Tours Around the World
Just Back: The Guntu and Other Inland Sea Highlights in Japan
Bali & Indonesia: An Ideal Summer Destination
Soaking in Budapest's Thermal Baths
Must Experience: The Blue Lagoon in Iceland