Wellness Tour of Bali
(10 Days)
Ubud, Candidasa
Spa & Wellness Tour of China
(10 Days)
Shanghai & environs, Suzhou, Hangzhou
Resorts of Southern France
(10 Days)
Provence, Cote d'Azur (Saint-Tropez & Saint-Jean-Cap-Ferrat)
Greece In Style
(11 Days)
Santorini, Athens, Porto Heli
Geothermal Spas of Iceland
(6 Days)
Reykjavik & Langjokull Glacier, Husafell, Blue Lagoon
Ayurveda Highlights of India
(8 Days)
Delhi, Himalayas & Rishikesh
Ultimate Spirituality & Wellness Tour of Indonesia
(11 Days)
Java, Bali, Sumba Island
Indulgent Tuscany
(9 Days)
Florence, Tuscan hills, Tuscan coast
Spa, Nature & Spirituality Tour of Japan
(14 Days)
Tokyo, Hakone & Kamakura, Koya-san, Kyoto, Yakushima
Culture & Wellness Tour of Mexico
(11 Days)
Mexico City, Merida, Riviera Maya (Maroma, Playa del Carmen or Tulum)
Traditional Culture & Wellness of Nepal
(6 Days)
Kathmandu & Kathmandu Valley, Dhulikhel
Wellness Tour of Thailand
(11 Days)
Chiang Mai, Bangkok, Phuket or Koh Samui
Multi-country Tours
Hiking & Wellness Tour of Bhutan & India
(14 Days)
Delhi, Thimphu, Punakha, Paro, Himalayas & Rishikesh
Spa & Wellness Tour of Germany & Switzerland
(10 Days)
Munich, Baden-Baden & Alsace, Lake Geneva
Active & Wellness Tour of Iceland & Norway
(11 Days)
Reykjavik & Langjokull Glacier, Husafell, Blue Lagoon, Oslo, Bergen, Sognefjord
Geothermal Spas of Iceland
(6 Days - Departs Daily on a Private Basis)
Reykjavik & Langjokull Glacier, Husafell, Blue Lagoon
This private luxury tour combines active and cultural touring in stunning landscapes in Iceland with ample time at leisure to enjoy geothermal baths and spa appointments.
Upon arrival in Iceland, enjoy insider touring of the highlights of Reykjavik, the capital of Iceland. Tour cultural highlights such as the National Museum of Iceland or Reykjavik Art Museum to gain further insight into Iceland's history and contemporary culture. See the iconic architecture of Hallgrimskirkja Church. Artisans of Leisure will also arrange visits to Harpa, the concert hall designed in conjunction with renowned artist Olafur Eliasson, and FlyOver Iceland to enjoy a simulated flight ride over Iceland's spectacular scenery. Also explore the colorful backstreets of the town, and walk along the harbor. If desired, browse top boutiques for Icelandic crafts such as hand-knit sweaters and blankets. Other options include visiting the Arbaer Open Air Museum, Viking Village or the Imagine Peace Tower. Artisans of Leisure can also arrange tickets to performances and reservations at top restaurants, such as a lunch reservation at a restaurant inside a hilltop building with incredible views over the city.
Continue to Husafell for the "Into the Glacier" tour of Langjokull Glacier, including driving across a glacier and venturing into a tunnel in the blue ice. During private touring, also see Hraunfossar Waterfall, which streams through a lava field. Also enjoy time to relax in open-air geothermal baths at your hotel.
Next, enjoy scenic touring along the Reykjanes Peninsula, a diverse landscape of lava fields, hot springs and mountains, en route to the luxurious Retreat Hotel at Blue Lagoon Iceland. Enjoy access to the Retreat Spa, the most exclusive section of the Blue Lagoon. Spend the day soaking in the mineral-rich water, and perhaps luxuriate in spa treatments such as the skin-revitalizing Blue Lagoon Ritual.
Itinerary Overview
Day 1
Arrive Reykjavik, Iceland
Private arrival transfer to hotel for 1 night. Private city touring and time for lunch
Day 2
Reykjavik – Langjokull Glacier – Husafell
Full-day excursion including "Into the Glacier" tour and Hraunfossar Waterfall en route to hotel for 2 nights
Day 3
Husafell
Full-day private scenic touring, including time to relax in open-air geothermal baths
Day 4
Husafell – Reykjanes Peninsula – Blue Lagoon
Private excursion along the Reykjanes Peninsula and ATV or horseback riding activity en route to spa resort for 2 nights
Day 5
Blue Lagoon
Day at leisure to enjoy resort and spa
Day 6

Depart Iceland
Private airport transfer
Hotels
| | |
| --- | --- |
| Reykjavik: | The EDITION, Konsulat Hotel, Canopy by Hilton or Hotel Borg |
| Husafell: | Hotel Husafell |
| Blue Lagoon: | Retreat Hotel at Blue Lagoon Iceland |
Cost
| | |
| --- | --- |
| $9,125 | Per person (based on four travelers/two rooms) |
| $11,995 | Per person (based on two travelers/double occupancy) |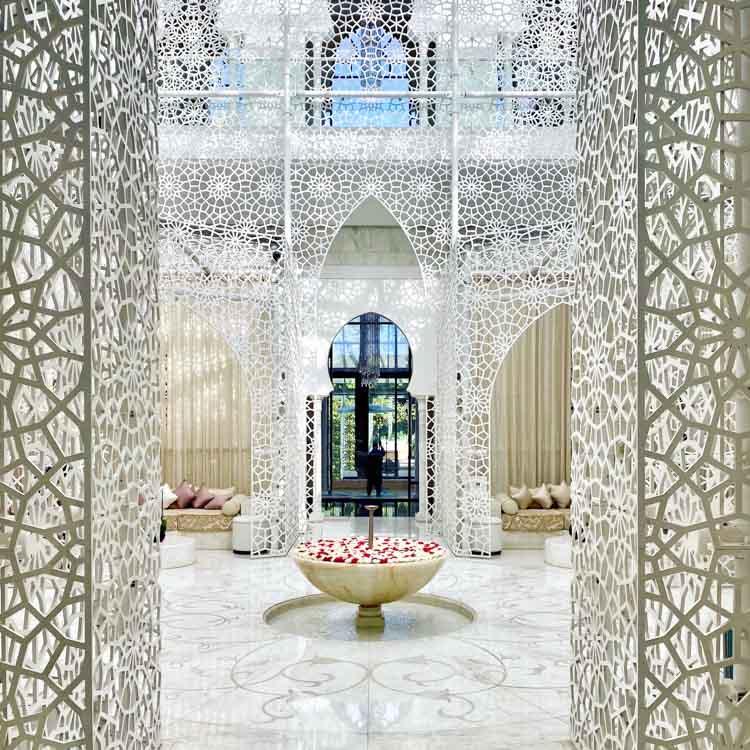 Wellness Tour of Bali
(10 Days)
Ubud, Candidasa
Spa & Wellness Tour of China
(10 Days)
Shanghai & environs, Suzhou, Hangzhou
Resorts of Southern France
(10 Days)
Provence, Cote d'Azur (Saint-Tropez & Saint-Jean-Cap-Ferrat)
Greece In Style
(11 Days)
Santorini, Athens, Porto Heli
Geothermal Spas of Iceland
(6 Days)
Reykjavik & Langjokull Glacier, Husafell, Blue Lagoon
Ayurveda Highlights of India
(8 Days)
Delhi, Himalayas & Rishikesh
Ultimate Spirituality & Wellness Tour of Indonesia
(11 Days)
Java, Bali, Sumba Island
Indulgent Tuscany
(9 Days)
Florence, Tuscan hills, Tuscan coast
Spa, Nature & Spirituality Tour of Japan
(14 Days)
Tokyo, Hakone & Kamakura, Koya-san, Kyoto, Yakushima
Culture & Wellness Tour of Mexico
(11 Days)
Mexico City, Merida, Riviera Maya (Maroma, Playa del Carmen or Tulum)
Traditional Culture & Wellness of Nepal
(6 Days)
Kathmandu & Kathmandu Valley, Dhulikhel
Wellness Tour of Thailand
(11 Days)
Chiang Mai, Bangkok, Phuket or Koh Samui
Multi-country Tours
Hiking & Wellness Tour of Bhutan & India
(14 Days)
Delhi, Thimphu, Punakha, Paro, Himalayas & Rishikesh
Spa & Wellness Tour of Germany & Switzerland
(10 Days)
Munich, Baden-Baden & Alsace, Lake Geneva
Active & Wellness Tour of Iceland & Norway
(11 Days)
Reykjavik & Langjokull Glacier, Husafell, Blue Lagoon, Oslo, Bergen, Sognefjord
We have a long list of rave reviews from our travelers.
Recommended by:
Departures
Conde Nast Traveler
The New York Times
Wall Street Journal
Travel + Leisure
Town & Country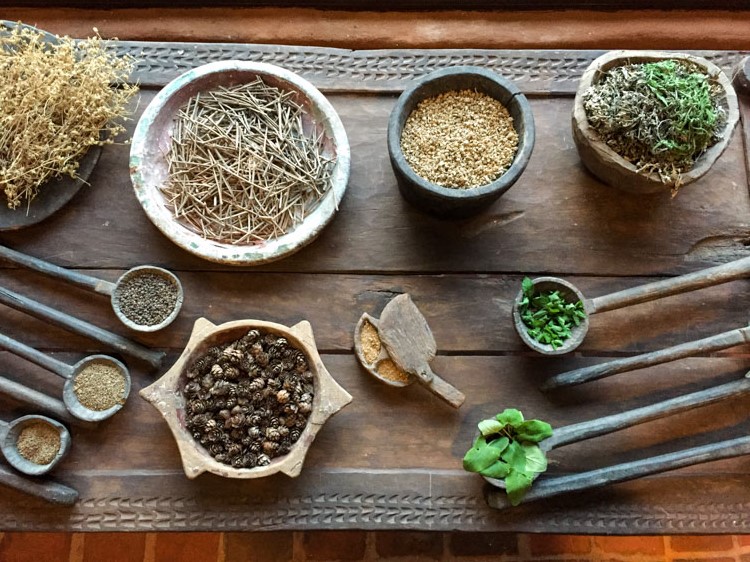 Experiencing K-Beauty in Seoul, South Korea
Three of Our Favorite Luxury Resorts in Thailand
Private Luxury Spa Tours & Wellness Tours Around the World
Just Back: The Guntu and Other Inland Sea Highlights in Japan
Bali & Indonesia: An Ideal Summer Destination
Soaking in Budapest's Thermal Baths
Must Experience: The Blue Lagoon in Iceland