February 6, 2009
The art of Thai massage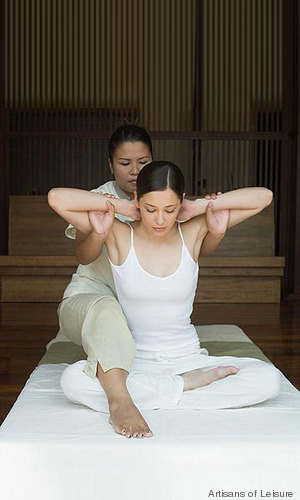 The first thing I want to do whenever I arrive in Thailand is to have a traditional Thai massage. There is no better way to work out the kinks and re-energize the body after a long international flight. Nad pan borarn, as it is called in Thailand, has been practiced by monks for over 2,500 years and has been a huge part of Thai culture and medicine ever since. It's no wonder many of the top spas around the world train their massage therapists in Thailand—they must be doing something right!
A traditional Thai massage differs from typical European-style massages. There are no oils used and you are fully clothed. The therapist applies pressure along the energy lines of the body while performing a series of gentle stretches. Some call it "Thai yoga without the work." In a word, it's amazing.
Our Thailand tours include accommodation at Thailand's best luxury spas resorts such as the Amanpuri in Phuket, the Four Seasons Resort in Chiang Mai, and the Mandarin Oriental in Bangkok. Most Artisans of Leisure travelers have us make advance spa appointments on their behalf since these spas generally book out far in advance.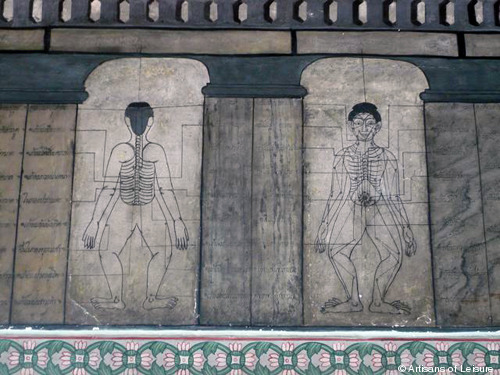 For travelers interested in learning more in-depth about the art of Thai massage, we can arrange private lessons to learn the technique. We also can arrange for our private Bangkok day tours to include a visit to the Wat Po Thai Traditional Medical and Massage School (see above ancient medical illustrations from the temple), where travelers can have a Thai massage or foot massage from one of the trainees at this prestigious institute.
-S.S.
Destinations: Asia, Southeast Asia, Thailand
Tags: Bangkok, Chiang Mai, luxury spas, massage, Phuket, spa, spa tours, Thai massage, Thailand tours, tours, traditional healing, Wat Po