Introduction to Myanmar
(7 Days)
Yangon, Bagan, Mandalay, Inle Lake
Highlights of Myanmar
(9 Days)
Yangon, Bagan, Mandalay, Inle Lake
The Beauty of Bagan
(6 Days)
Yangon, Bagan
Essence of Myanmar
(9 Days)
Mandalay, Bagan, Inle Lake, Yangon
Treasures of Myanmar
(7 Days)
Yangon, Bagan, Inle Lake
Cultural Highlights of Myanmar
(10 Days)
Yangon, Kyaiktiyo, Bago, Bagan, Pindaya, Inle Lake
Luxuries of Myanmar
(9 Days)
Yangon, Mandalay, Ayeyarwady River Cruise, Bagan, Inle Lake
Arts & Crafts of Myanmar
(9 Days)
Yangon & Twante, Bagan & Mount Popa, Mandalay
Journey Through Myanmar
(13 Days)
Yangon, Bagan, Mandalay, Inle Lake, Ngapali Beach
Multi-Country Tours
Highlights of Thailand & Myanmar
(14 Days)
Bangkok, Yangon, Bagan, Mandalay, Inle Lake, Chiang Mai
Journey Through Southeast Asia
(26 days)
Saigon, Hoi An, Hanoi, Siem Reap, Bangkok, Yangon, Bagan, Inle Lake, Luang Prabang, Chiang Mai
Journey Through Myanmar & Bhutan
(14 Days)
Yangon, Bagan, Inle Lake, Bangkok, Thimphu, Punakha, Paro
Luxuries of Myanmar
(9 Days)
Yangon, Mandalay, Ayeyarwady River Cruise, Bagan, Inle Lake
This tour combines the cultural treasures of Myanmar with several days on a luxury cruise on the Ayeyarwady River. All touring (including on the river cruise) is with your own expert escort guide and private drivers.
Begin in Yangon, the largest city in Myanmar. See atmospheric British-colonial architecture, the spectacular golden stupa of Shwedagon Pagoda and the enormous reclining Buddha at Chaukhtatgyi Temple while touring with your private guide and driver. Browse sprawling Bogyoke (Scott) Market for traditional Burmese crafts such as lacquerware, baskets and longyis. Visit Little India, Chinatown and other dynamic neighborhoods that reflect Yangon's diverse cultural influences.
Next, fly to fabled Mandalay, the cultural heart of Myanmar, and board a three-night cruise on the luxurious Belmond Road to Mandalay. During your cruise, enjoy glimpses of typical rural life along the Ayeyarwady (Irrawaddy) River, learn about local culture and customs during lectures, and perhaps book spa treatments or join a sunrise yoga session on the top deck. Artisans of Leisure will provide a private guide and driver for your shore excursions during the cruise. During private touring, visit local workshops around Mandalay to watch artisans create traditional crafts such as silk weavings, wood carvings, gold leaf, marble carvings and alms bowls. Visit the central market to learn about local ingredients and goods used in daily life, and perhaps enjoy a meal of Mandalay's famous noodles in a tea shop. Also see additional cultural and historical highlights in ancient former capitals surrounding the city such as Amarapura, Ava, Mingun and Sagaing.
Disembark in awe-inspiring Bagan, a UNESCO World Heritage Site where thousands of pagodas and temples cover arid plains along the banks of the Ayeyarwady River. During private touring, learn about Bagan's history as a major Buddhist center between the 11th and 13th centuries, and see the most interesting temple ruins and their Buddhist frescoes and sculptures. Also meet with local artisans who produce Bagan's revered traditional lacquerware. One evening, enjoy sundowner cocktails during a relaxing private sunset cruise on the river. Upon request, Artisans of Leisure can arrange additional activities such as a spectacular hot-air balloon ride over the temples of Bagan at sunrise; a visit to a local Buddhist monastery; and a private excursion to other local villages or Mount Popa, an important pilgrimage site.
Continue to beautiful Inle Lake and the surrounding countryside. Enjoy a private traditional boat ride on the lake and through canals to visit villages built on stilts over the water and floating gardens that the local Intha people use for growing crops. Also visit a local winery in the hills, the ancient pagodas of In Dein and active monasteries. Meet locals who produce lotus silk weavings, woodwork, cheroot cigars and other distinctive Inle Lake crafts. With a local fisherman, try the traditional fishing method using distinctive conical baskets. Upon request, Artisans of Leisure can also arrange a private cooking class, biking and other activities and excursions in this fascinating region.
Return to Yangon for a night and continue private touring. Depending on your interests, other touring options include visiting art galleries, the National Museum, Myanmar's only synagogue, or other architectural, cultural and culinary highlights.
Itinerary Overview
Day 1
Arrive Yangon
Private arrival transfer to the hotel for 1 night. Afternoon private city tour
Day 2
Yangon – Mandalay
Private airport transfer and flight to Mandalay. Private touring en route to luxury cruise for 3 nights
Day 3
Mandalay & environs – Bagan
Optional morning yoga and/or almsgiving ceremony. Sail to Ava for shore excursion. Cruise activities onboard en route to Bagan for overnight
Day 4
Bagan
Optional morning meditation. Private touring of ruins
Day 5
Bagan
Optional morning hot-air balloon flight. Disembark ship in Bagan for full-day private touring of ruins and private transfer to hotel for 1 night. Horse-drawn carriage ride at sunset
Day 6
Bagan – Inle Lake
Private transfer to airport for flight to Inle Lake. Private arrival transfer to hotel for 2 nights
Day 7
Inle Lake
Full-day private touring in Inle Lake region
Day 8
Inle Lake – Yangon
Transfer and flight to Yangon for overnight stay. Afternoon private city touring
Day 9
Depart Yangon
Private airport transfer
Hotels
| | |
| --- | --- |
| Yangon: | Rosewood Yangon or The Governor's Residence |
| Ayeyarwady River Cruise: | Belmond Road to Mandalay |
| Bagan: | Aureum Palace or Bagan Lodge |
| Inle Lake: | Sofitel Inle Lake Myat Min or Villa Inle |
Cost
$10,570
Per person (double occupancy)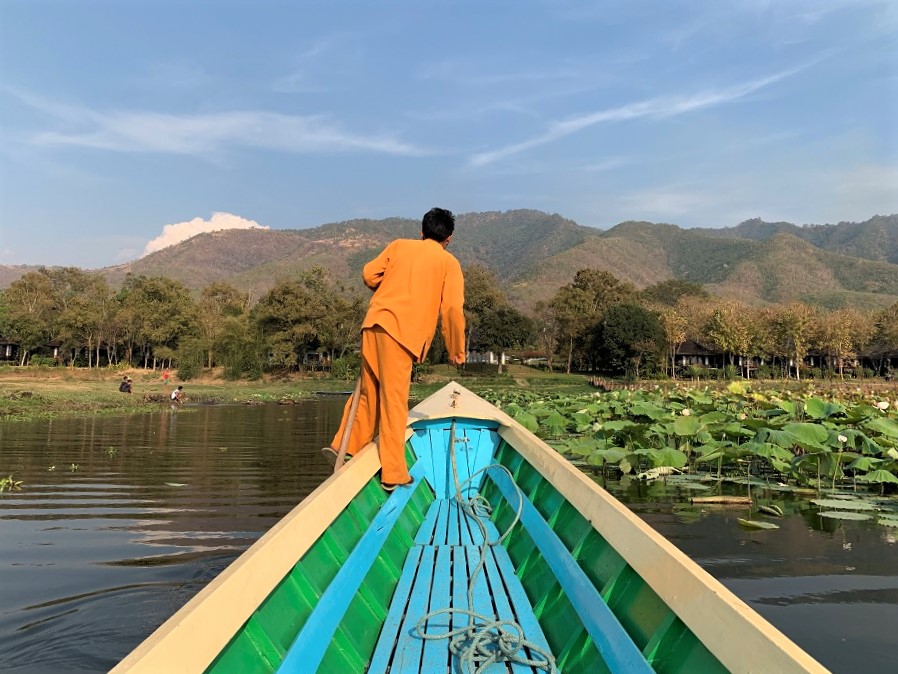 We had an AMAZING time in Myanmar. Our guide was incredibly knowledgeable. We felt perfectly safe and secure at all times…our drivers were extremely polite and professional. The trip was a really lovely experience and we enjoyed ourselves completely.
~ J.B., Dallas, TX
We enjoyed our trip to Myanmar very much. Everything was just perfect…we got the best tables in the restaurants and the best villas in the hotels. We felt like VIPs each day. 
~ S.T., Moscow, Russia
We had a fantastic time in Burma. The accommodations were superb and all general logistics were impeccable. Thanks so much for organizing our tour and allowing us to have a close look at this wonderful country and its people.
~ M.E., Washington D.C.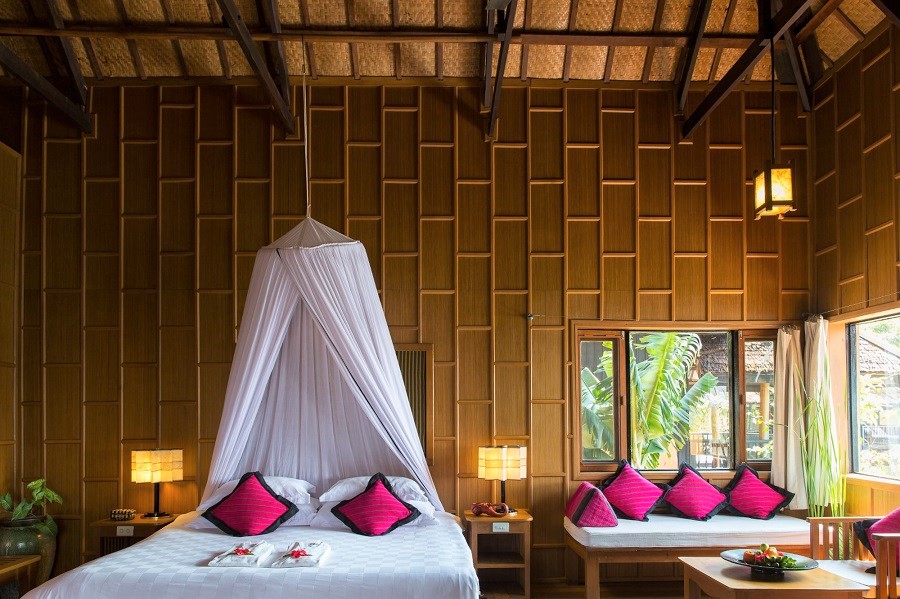 Recommended by:
Departures
Conde Nast Traveler
The New York Times
Wall Street Journal
Travel + Leisure
Town & Country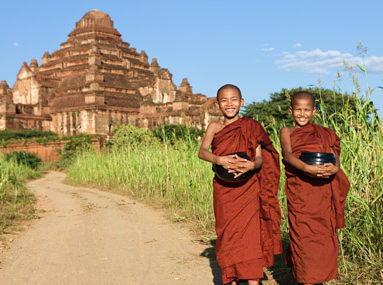 Just Back: Yangon, Bagan, Inle Lake and Ngapali Beach in Myanmar
The Temples of Myanmar (Burma)
Must Buy: Lacquer in Myanmar (Burma)
Orchids, Food and Friends in Inle Lake, Myanmar (Burma)