January 17, 2012
Must Buy: Lacquer in Myanmar (Burma)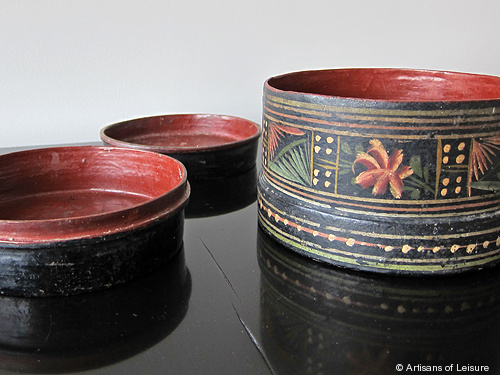 Many travelers on Artisans of Leisure tours like to shop for items that are unique to the destinations they are visiting. Myanmar, a.k.a. Burma, is one of the best places in Southeast Asia to find high-quality crafts, decorative items, and traditional objects that are used for everyday use. We are particularly fond of Burmese lacquerware, and over the years we have found gorgeous pieces both old and new.
For centuries, Burmese have used lacquer to create a wide range of beautiful objects with glossy, highly decorated surfaces: containers for storing and serving food, musical instruments, religious objects, furniture and more.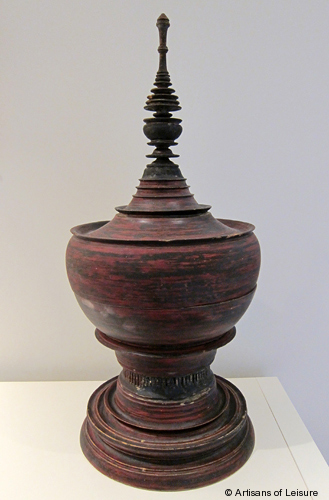 One of the iconic Burmese lacquer objects is the Buddhist monk's alms bowl. On our private Burma tours, we arrange for travelers to watch saffron-robed monks walk through the streets collecting their daily donations of rice in their large lacquer alms bowls. We also arrange for travelers to visit monasteries to meet monks, learn about Buddhism in Burma and monks' lifestyle, and to participate in local ceremonies and daily activities.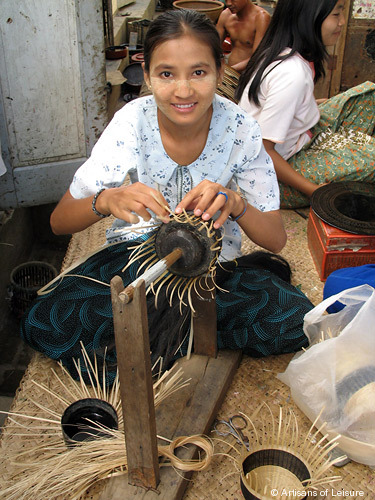 Lacquer is the sap of an indigenous tree that hardens into a natural resin. It is typically applied as a varnish to a core made of woven bamboo, wood and/or horsehair, creating a smooth, water-resistant surface. Lacquer can also be mixed with ash or sawdust to create a malleable putty that's used to smooth surfaces and form decorative embellishments.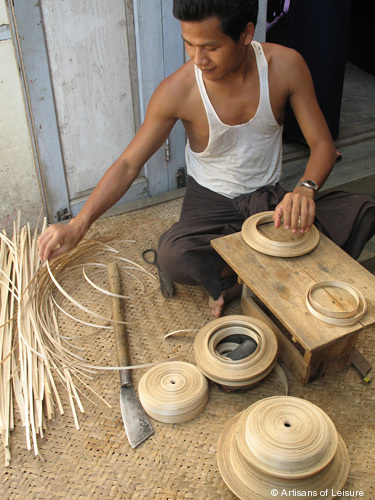 Today, most Burmese lacquerware is made in Bagan and nearby locations, including the religious center of Salay. Our Myanmar tours include visits to our favorite local studios and workshops to see lacquer being made by some of Burma's finest artisans. Producing lacquer is a collaborative process, with different artisans applying their expertise at steps along the way.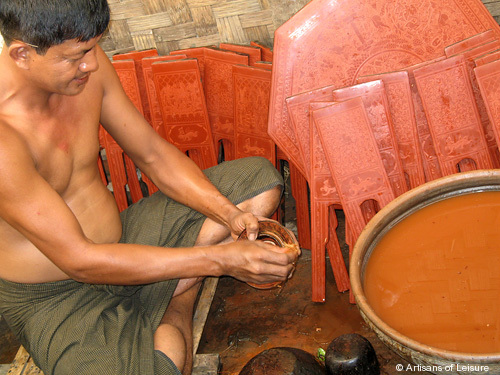 One of the final stages is adding decoration to the surfaces of the lacquer object. Artisans engrave lines into the surface of the lacquer, which is typically red or black. Then, colored lacquer is applied to the lines, creating detailed decorations such as flowers, figures, patterns, astrological calendars, and scenes of daily life. Gold leaf may be added as a final, glittering touch.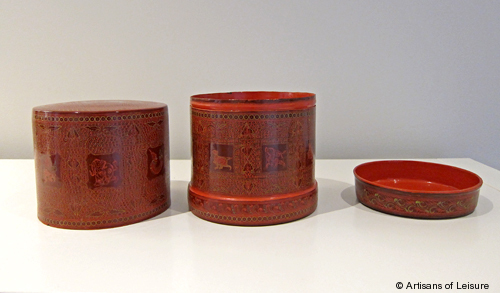 Contact us or visit the Burma luxury tours page of our website for more information.
Destinations: Asia, Myanmar, Southeast Asia
Tags: antiques, art, Bagan, Buddhism, Buddhist alms, Burma tours, crafts, culture, design, lacquer, lacquerware, luxury tours, luxury travel, Myanmar tours, private, shopping, tours