June 6, 2016
The Temples of Myanmar (Burma)
No matter how many temples you've seen in Asia, nothing prepares you for the startling, gilded majesty of the temples of Myanmar.
Starting in the intricate, immense complex of Shwedagon Pagoda in Yangon, the country's most sacred place of worship dating back 2,500 years, you're surrounded by hundreds of statues and stupas.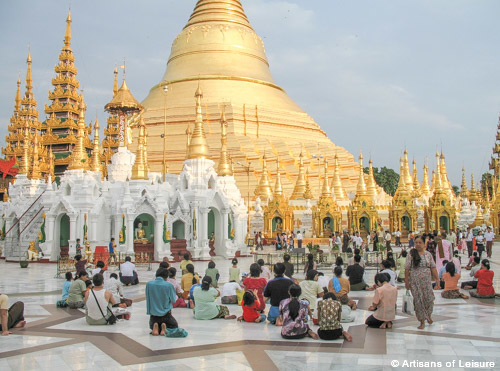 Inside the various temples at Shwedagon are dozens of Buddha statues.
For a more personal experience, Artisans of Leisure can arrange for you to receive a monk's blessing or to be guided through another blessing ceremony in which you wash the statue that corresponds to the day of the week on which you were born.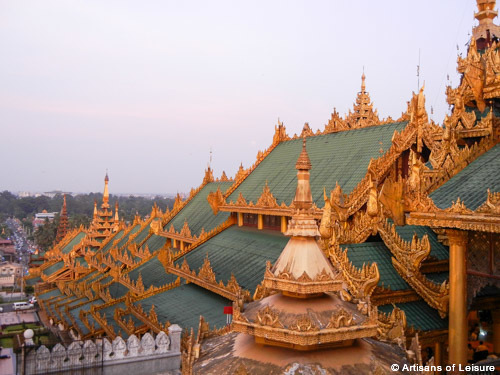 Looming over all is the 326-foot-tall main pagoda, which is covered in 27 tons of gold and has 4,531 diamonds at the top, including one weighing 72 carats. Within the stupa is the treasure that this devoutly Buddhist population considers the most precious: eight hairs belonging to Buddha.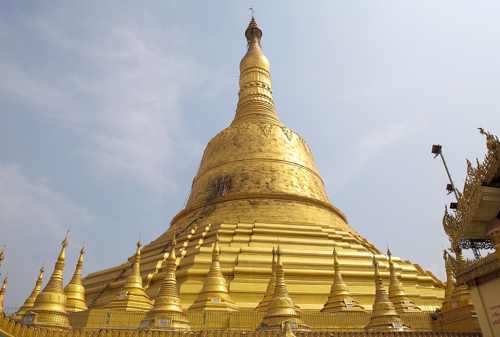 Shwedagon may be the most imposing and revered of the temples, but it's hardly alone in the Myanmar landscape. For example, in Bago is Shwemawdaw Pagoda, which has a golden stupa that's even taller than Shwedagon and also contains a selection of sacred treasures: two hairs and two teeth of Buddha.

Farther north, Inle Lake is a destination of serene, pristine beauty where exploration is done by boat, either motorized or rowed with one leg as the local fishermen do.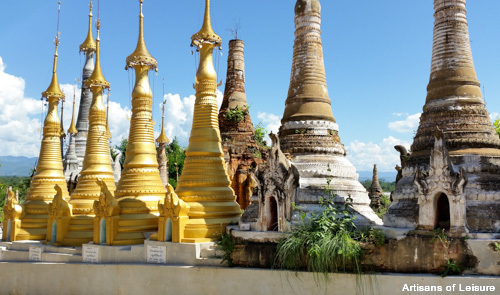 As you skim by villages with wooden houses built on stilts and floating markets selling vegetables and crafts, you'll see dozens of temples, many with golden stupas, at the water's edge. And if you dock and walk a few steps to Indein village on the western bank of the lake, you'll see hundreds of ancient stupas, some in ruins, some restored and blindingly gold.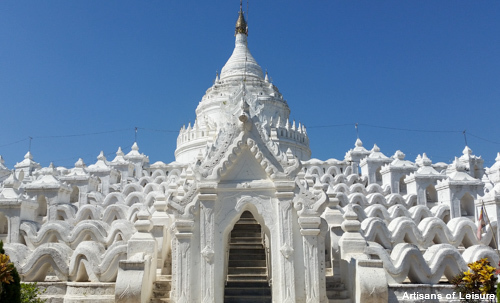 Near Mandalay in Mingun is a very different type of temple, often referred to as Myanmar's Taj Mahal. The intricate, multi-terraced, carved white plaster Hsinbyume Pagoda, also known as the Myatheindan Pagoda, was built by Crown Prince Bagyidaw in 1816 as a testament of his devotion to his wife, who died in childbirth.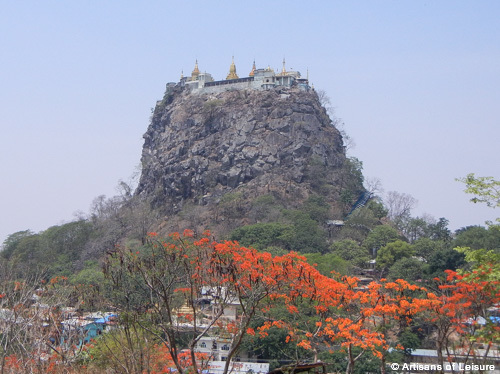 Thousands of pilgrims journey each year to Taung Kalat, a monastery perched dramatically atop Mount Popa in central Myanmar. After climbing 777 steps, travelers are rewarded with a view of golden stupas and panoramic vistas of the surrounding countryside, including Bagan 30 miles away. Visitors are warned, though, not to wear the colors green, red and black or to carry any meat products, particularly pork, because they offend the spirits known as nats. Also, beware of the resident macaque monkeys who love to snatch items from visitors.
The Golden Rock is a unique Buddhist temple: a large boulder covered in gold leaf that perches precariously on the edge of a cliff high atop a mountain. Pilgrims travel from across Myanmar to see the rock and the golden stupa on top, which contains a hair of the Buddha.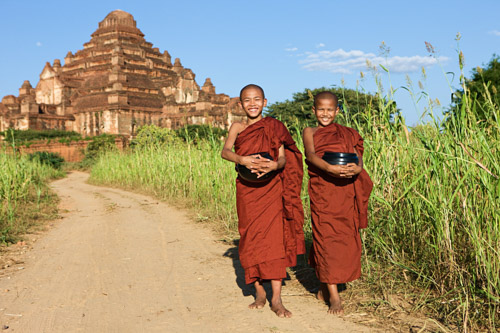 As impressive as the individual temples are, however, for sheer scope, nothing compares to Bagan, where 2,200 temples, stupas and pagodas are spread across a plain punctuated by clusters of trees and bordered by the Ayeyarwady (Irrawaddy) River. One of the most revered temples is the stately, gilded Ananda.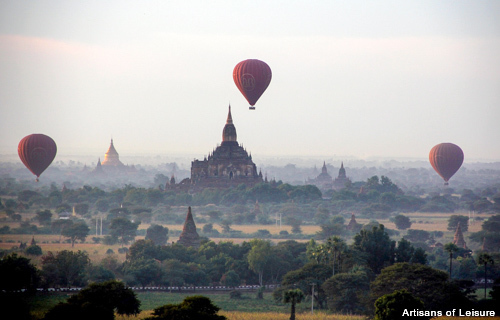 To really appreciate the scale of these archaeological treasures, Artisans of Leisure can arrange a hot air balloon ride at daybreak over Bagan.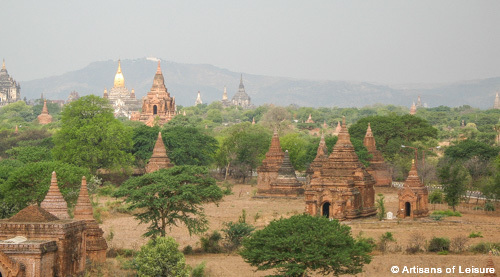 Or if the weather precludes flying that morning, another option is to thread between the pagodas in silence in a horse-drawn cart as the mist begins to recede and the sun comes up. It's an experience you won't soon forget.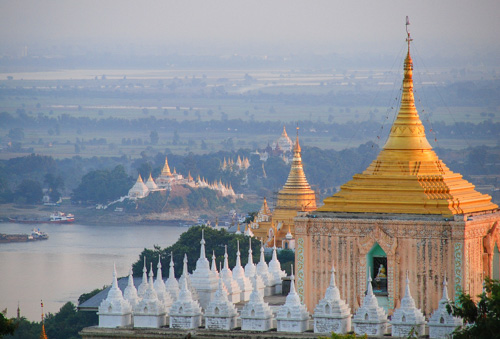 Contact an Artisans of Leisure Asia specialist to start planning a private, customized tour featuring the most impressive temples in Myanmar.