April 19, 2016
Just Back: Amalfi Coast & Capri, Italy
Whenever we're in southern Italy, we always spend time in Ravello, a town perched in the hills high above the Amalfi Coast. The entire region is a UNESCO World Heritage Site famed for beautiful landscapes, ancient villages and wonderful resorts.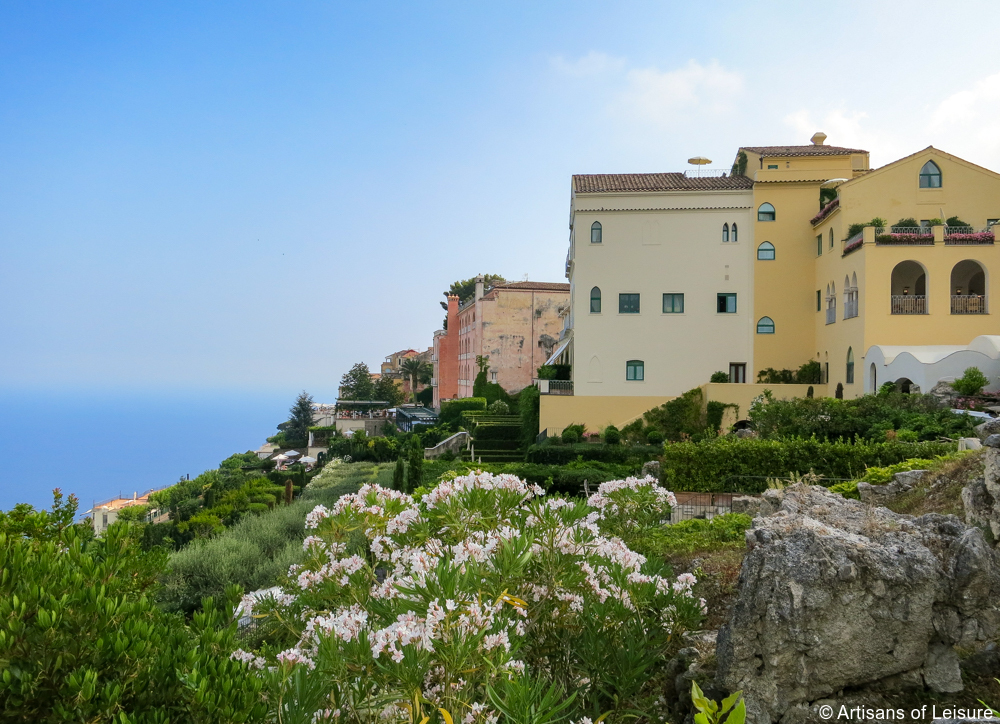 Belmond Hotel Caruso, located in the heart of Ravello, is one of the best luxury hotels in Italy. Occupying a restored 11th-century palace, the gorgeous hotel has spectacular views, cliffside gardens, excellent cuisine, a great spa, beautiful rooms and an ideal location near Ravello's best shops and restaurants.
Belmond Hotel Caruso also has a stunning infinity pool that is a great place to relax after busy days of private touring along the Amalfi Coast.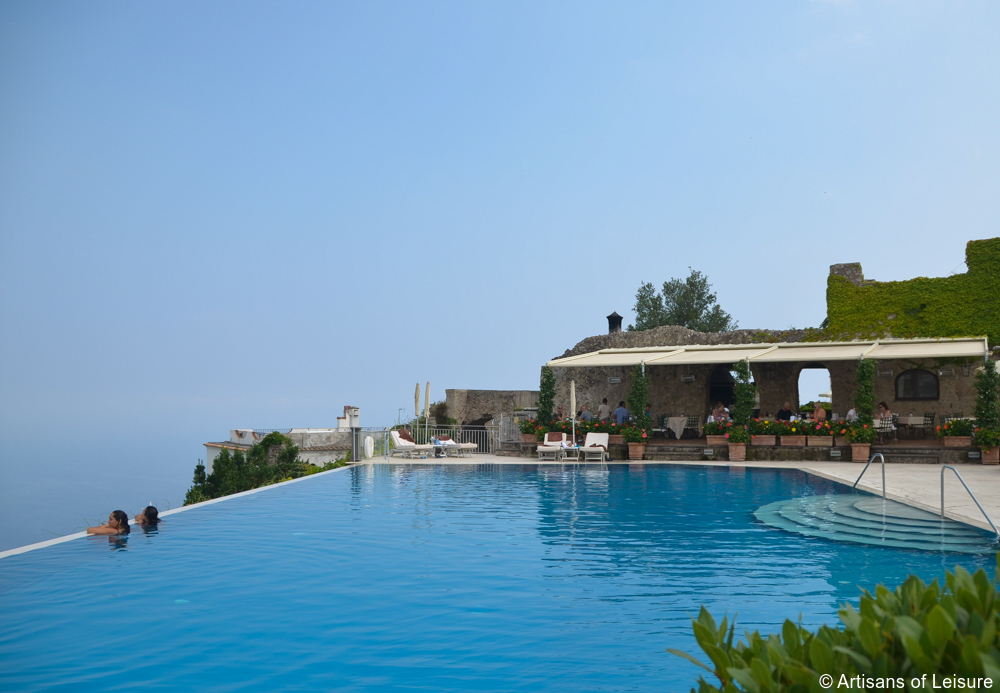 An alfresco lunch by the pool is a must on a summer day. The menu features fresh seafood…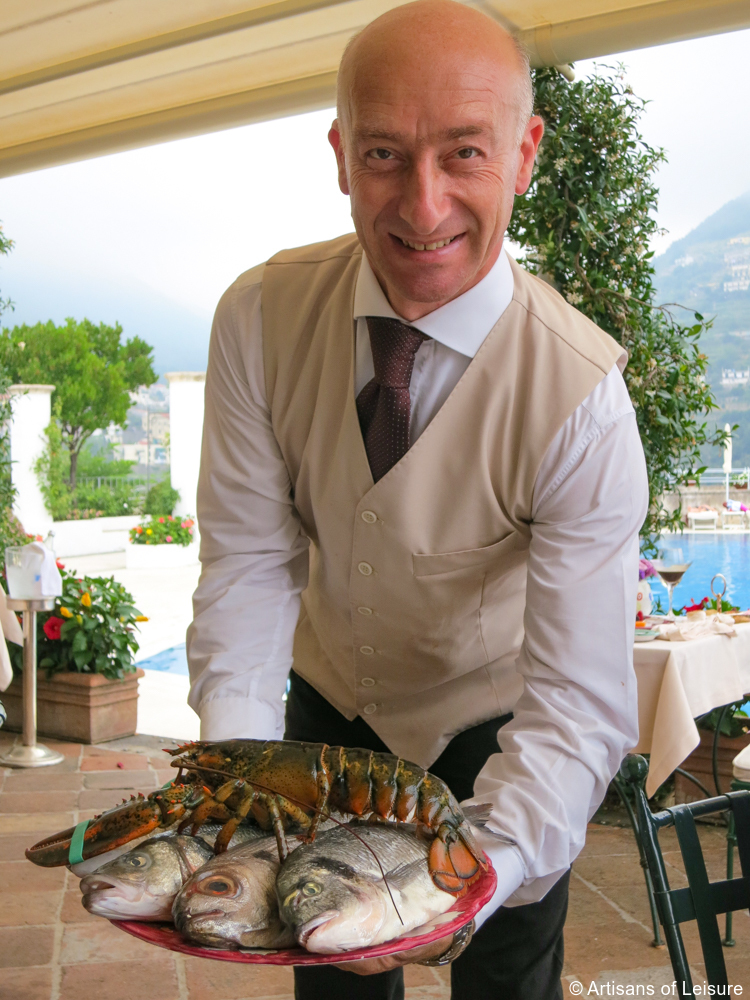 …which is made into excellent fritto misto (fried seafood) and other dishes.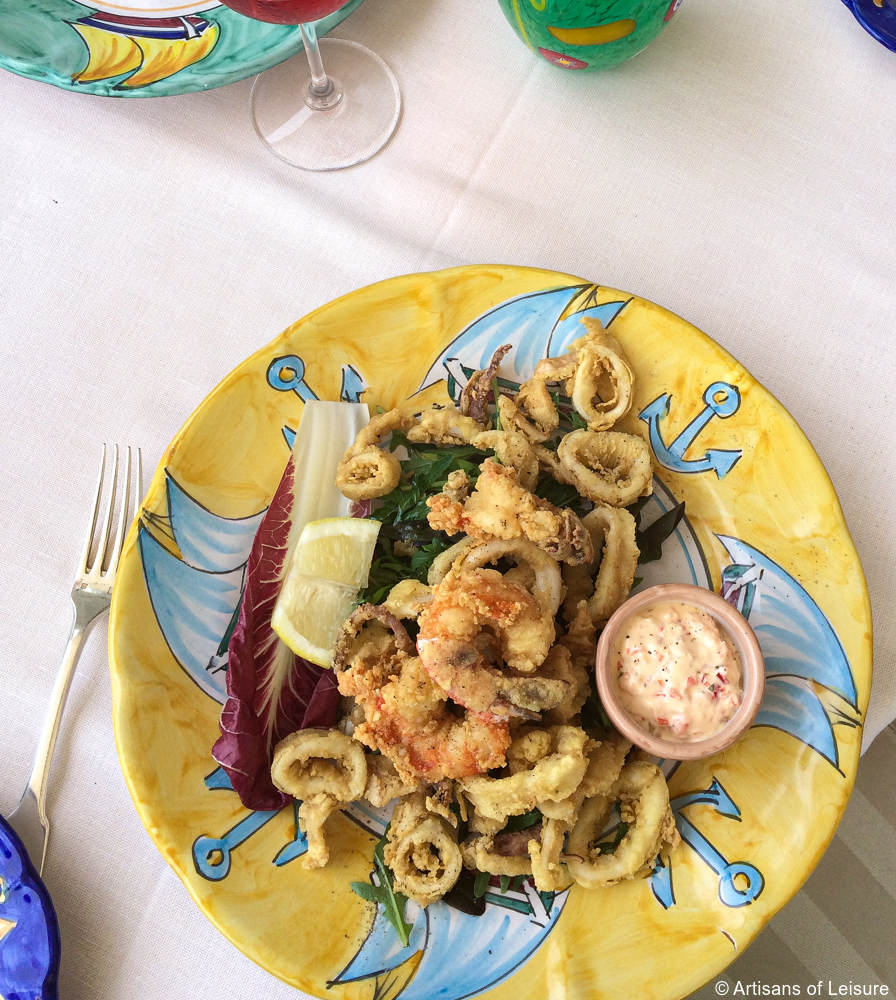 Ravello is one of the best places for shopping in southern Italy.
The gift shop at the Hotel Caruso has an excellent and stylish selection of Italian accessories and resort wear.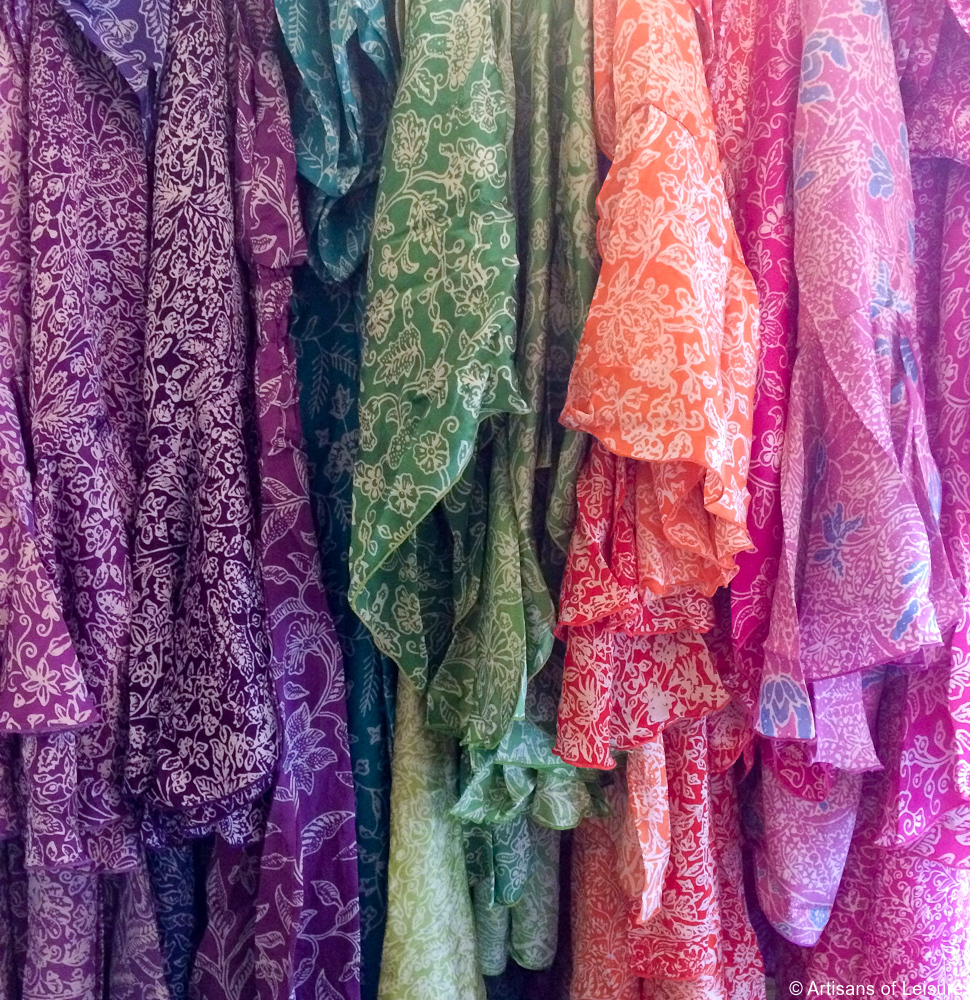 Ravello also has beautiful historic gardens, including Villa Rufolo. Concerts are often held on the grounds in the evenings during the summer.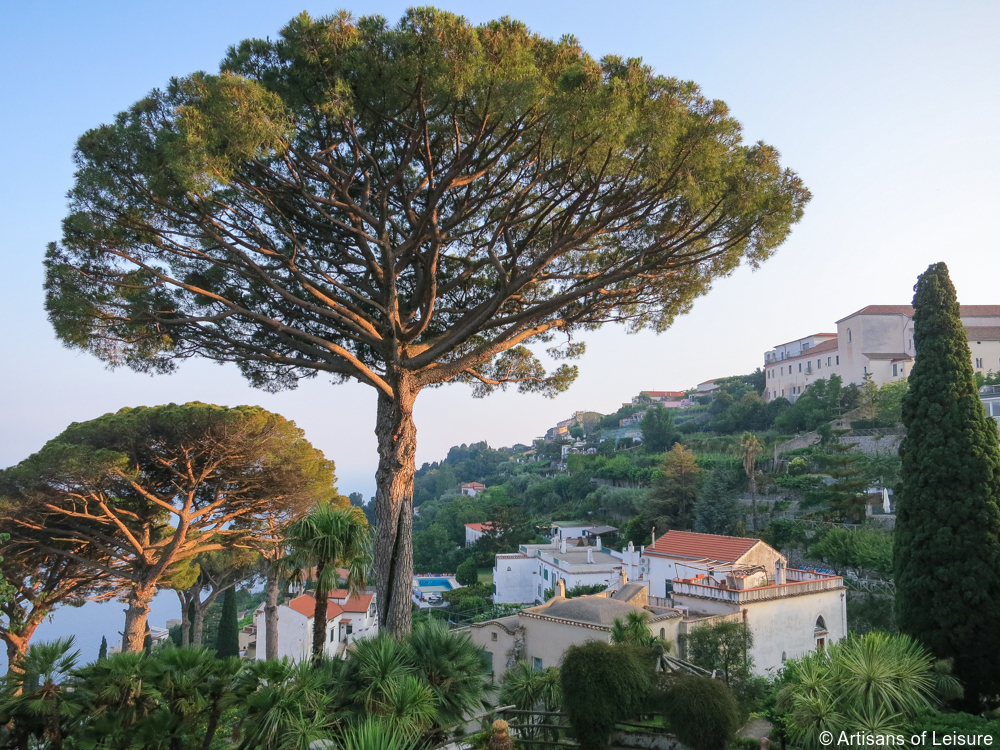 Many of the gardens, churches and buildings in Ravello feature Moorish design and architecture.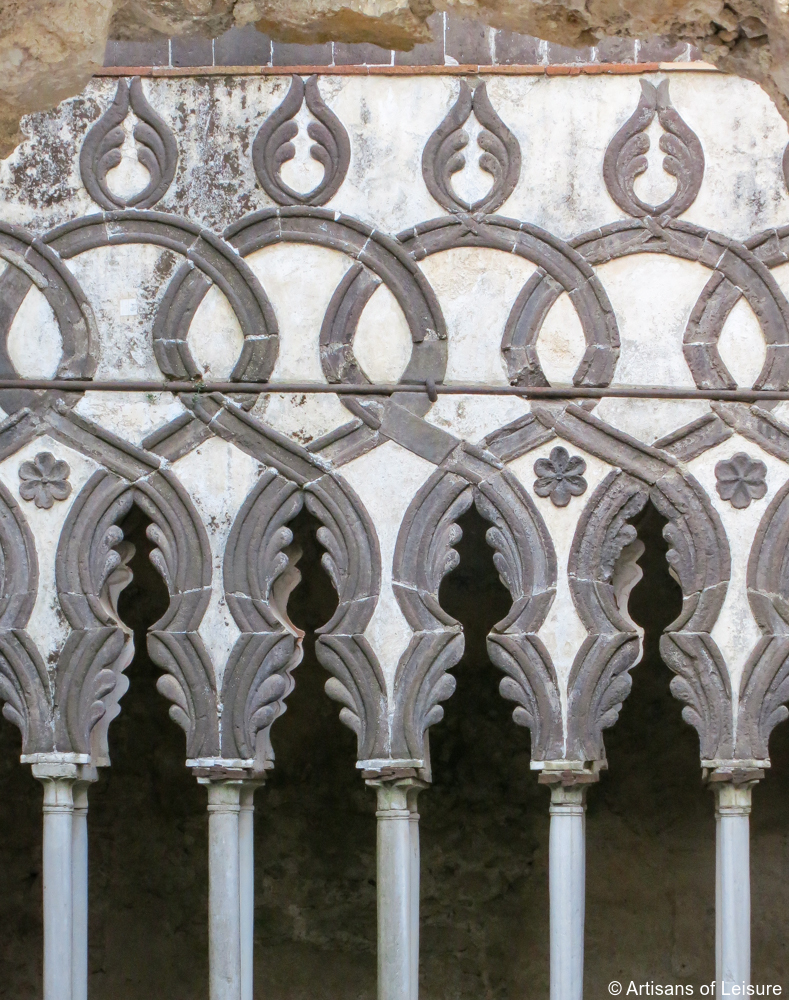 The small historic church across the street from Hotel Caruso has been conserved to reveal exquisite mosaics…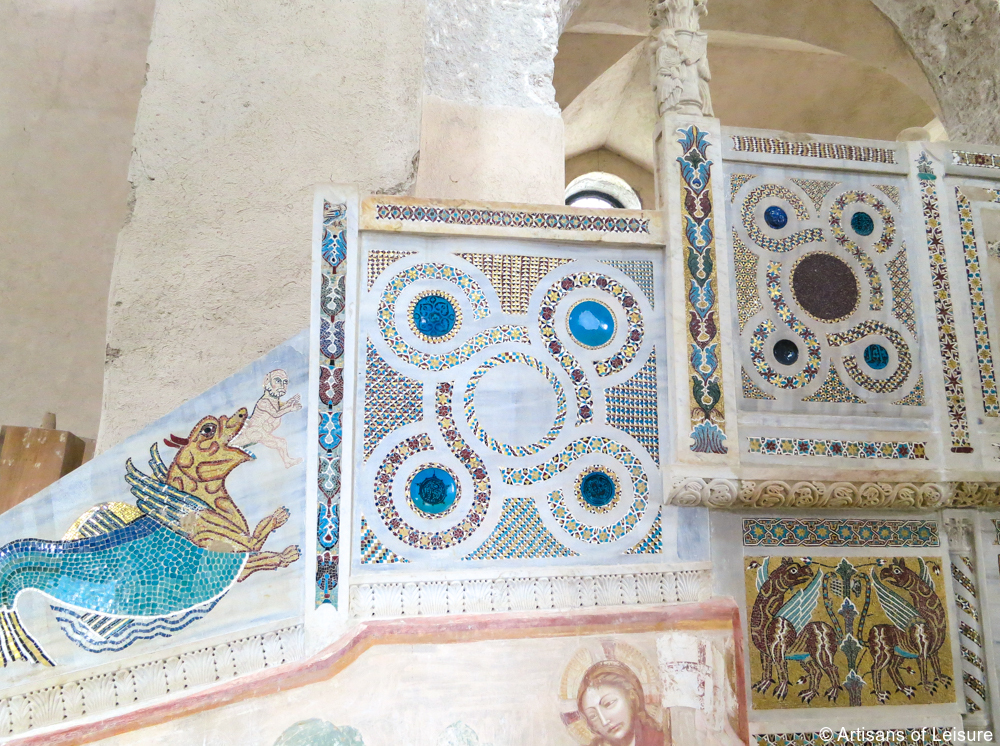 …frescoes and underground ruins showing the layers of history.
Ravello is filled with charming side streets.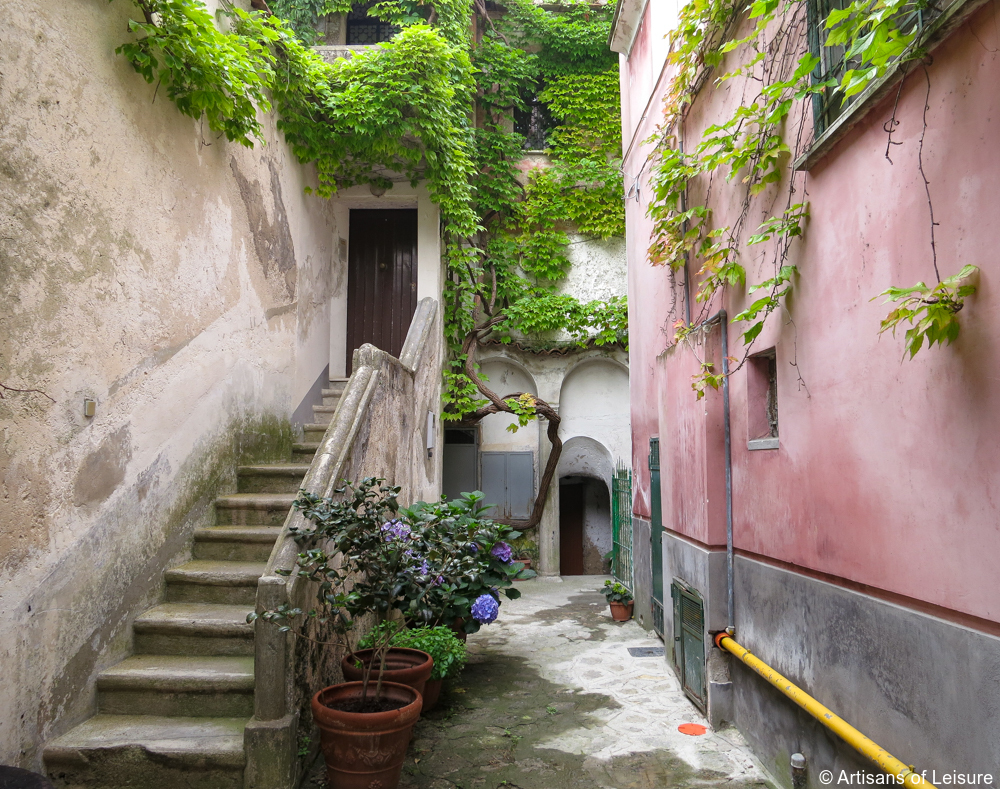 The cocktail bar at Belmond Hotel Caruso is a great place to enjoy pre-dinner snacks, live piano music…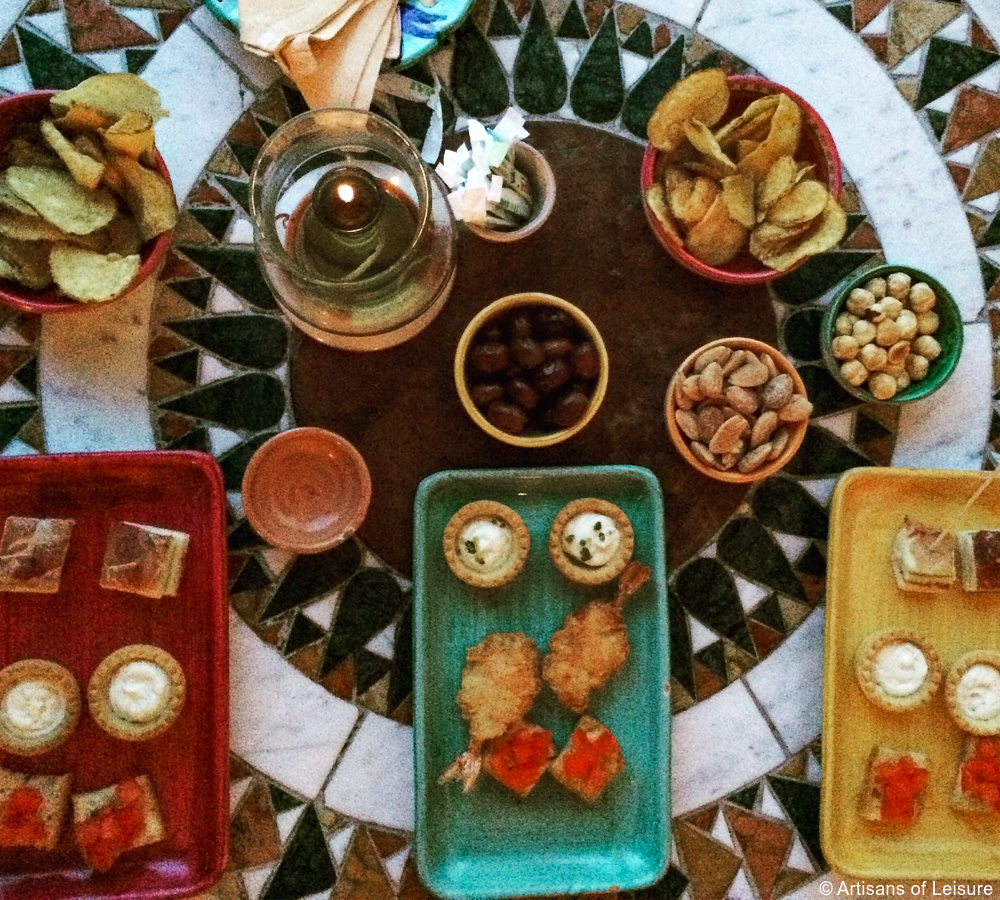 …and Bellinis.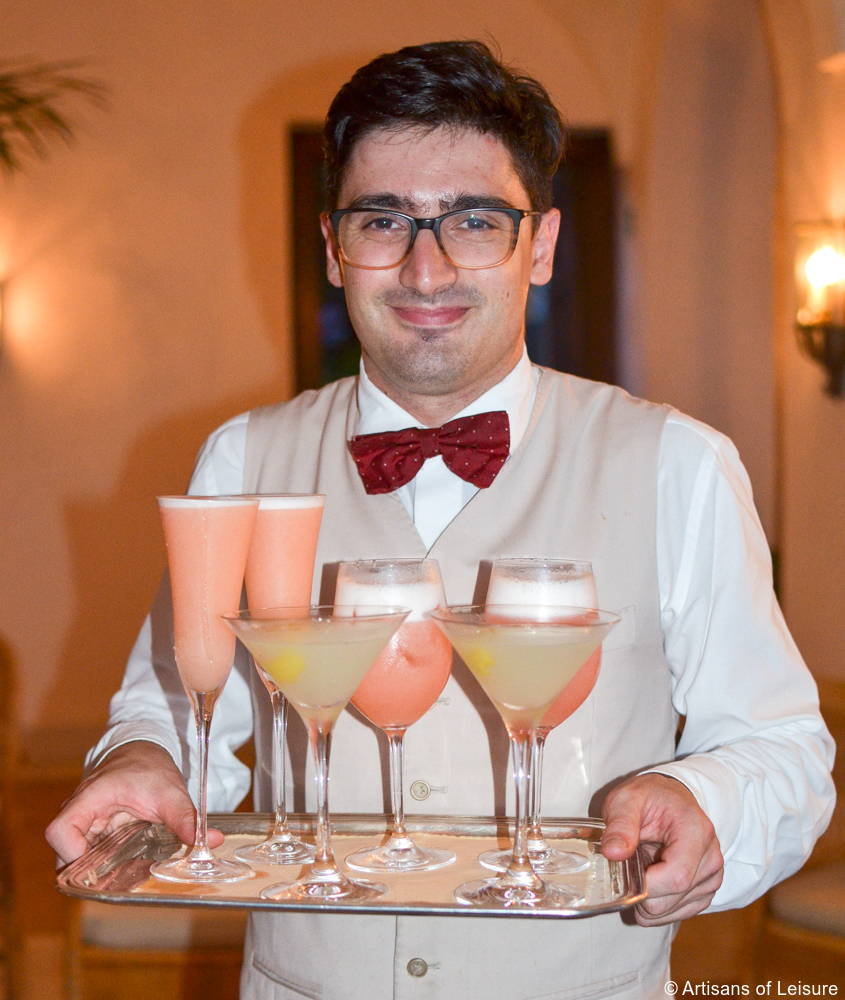 At night, the views over the Amalfi Coast are unforgettable.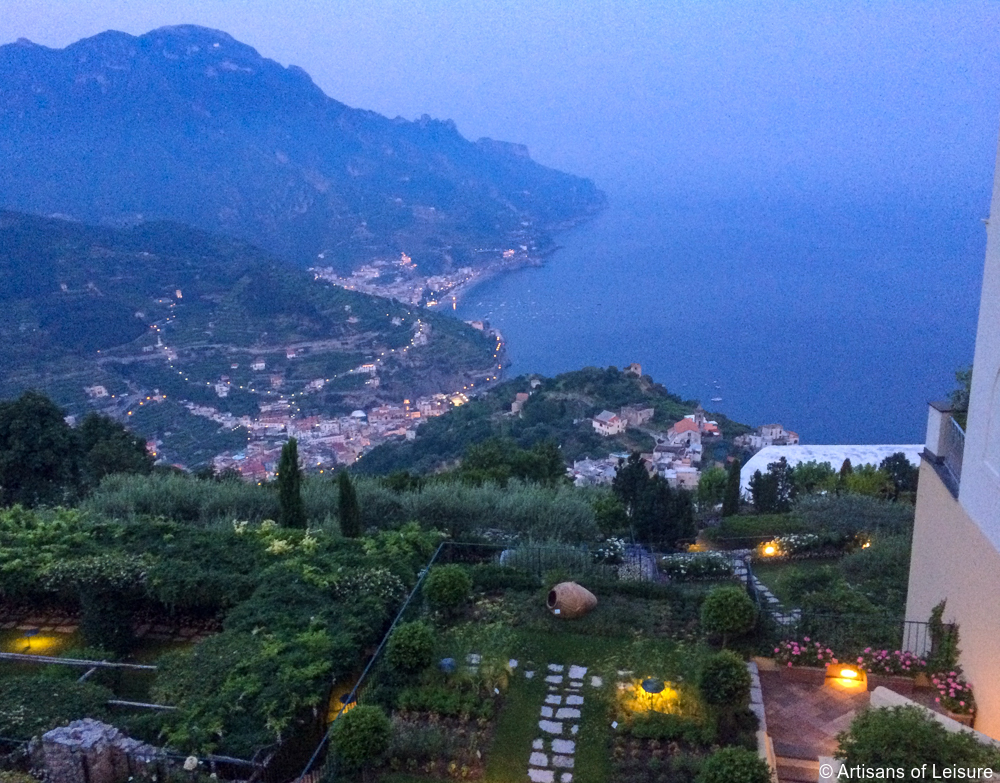 We had a superb vegetarian soup at the Hotel Caruso's fine-dining restaurant.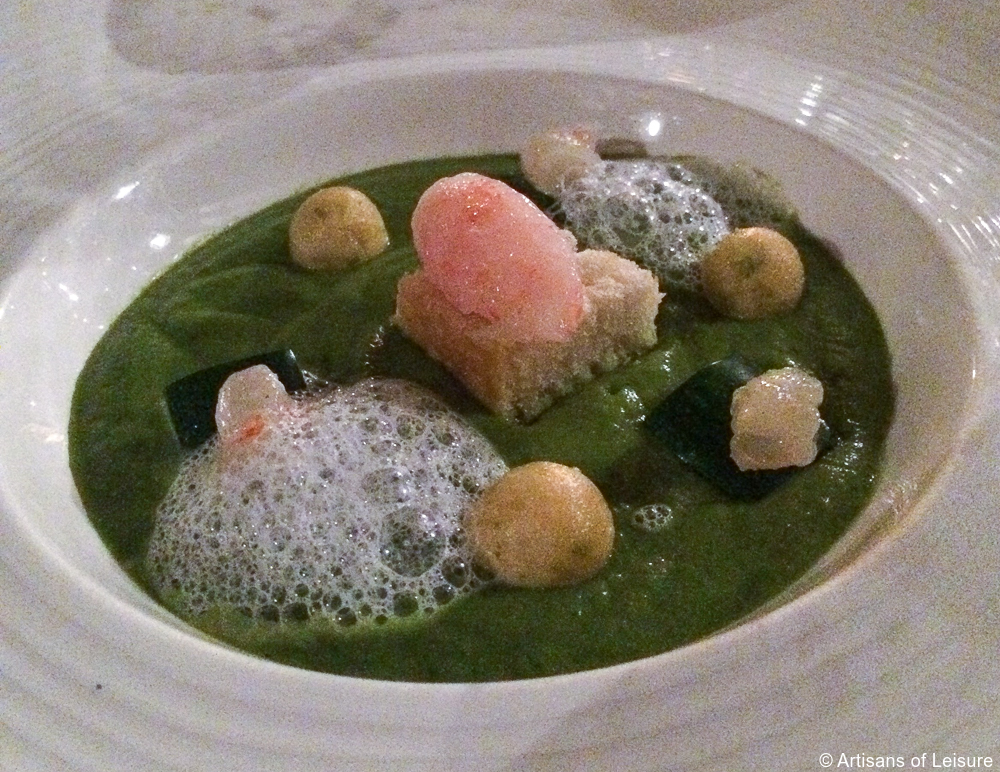 One of the charms of staying in Ravello is the opportunity to explore flower-lined streets filled with shops, churches and historic attractions.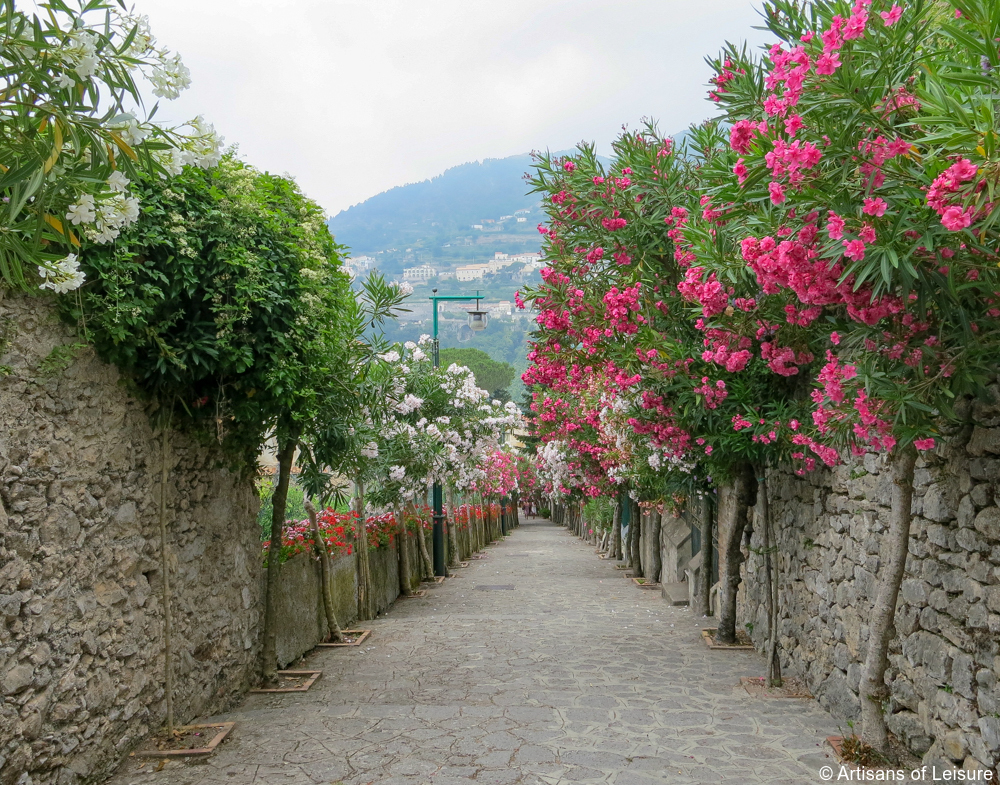 Ravello has far fewer crowds than most towns on the Amalfi Coast due to its location.
Pascal is one of our favorite ceramics shops in Ravello.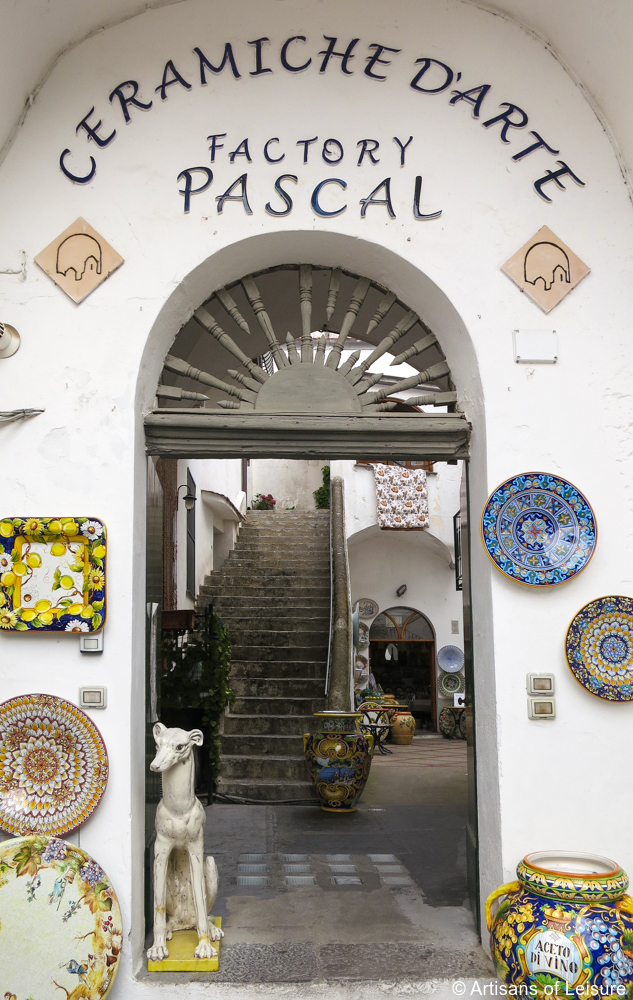 It offers gorgeous local ceramics in the traditional styles and colors of the region.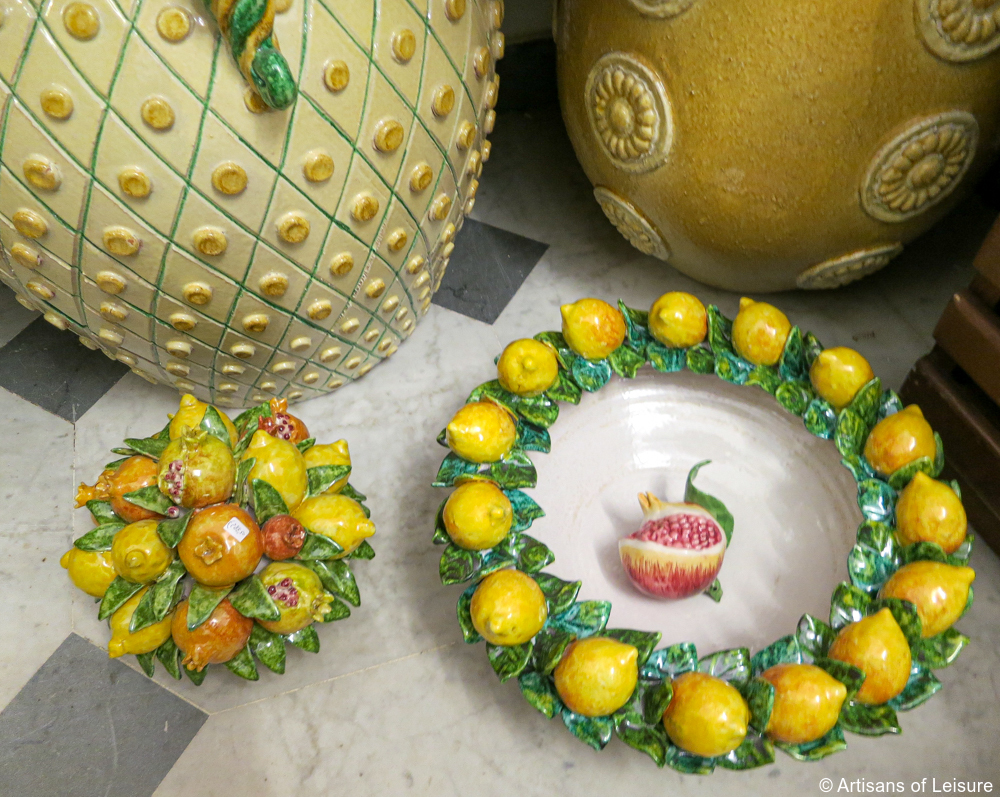 Ravello also has shops dedicated to the local style of woodwork…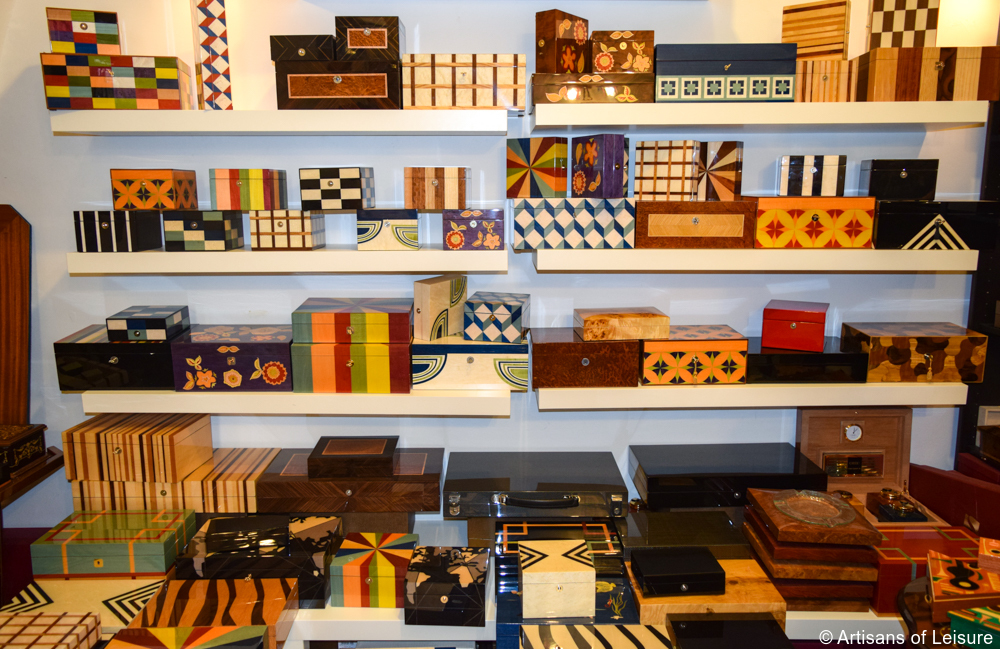 …and a museum of coral art.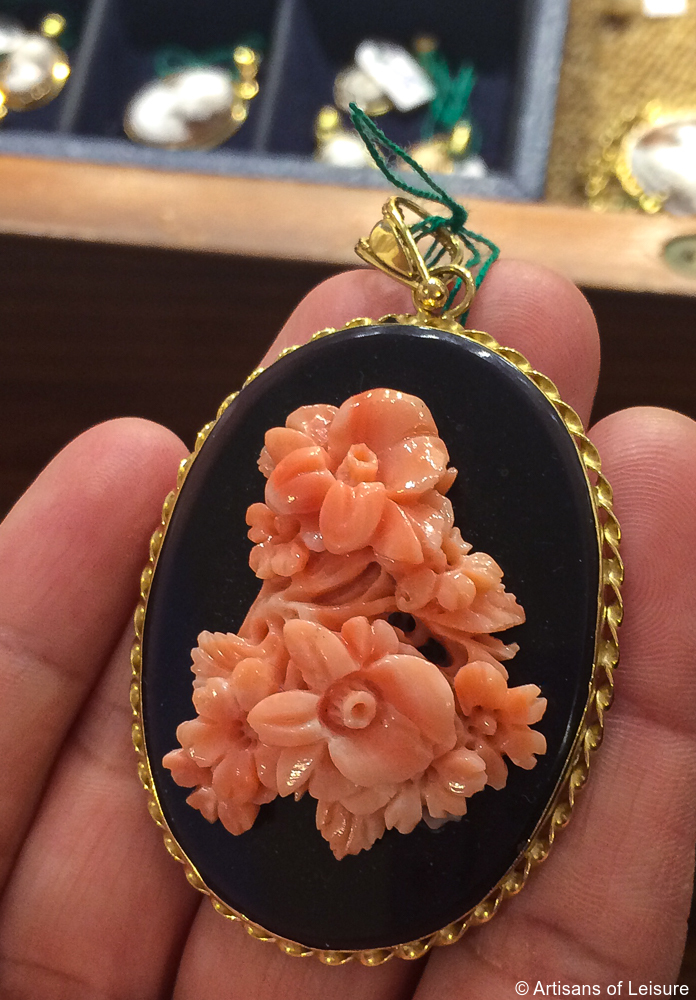 Rossellinis, a restaurant at Palazzo Avino hotel in Ravello, is renowned for its cuisine.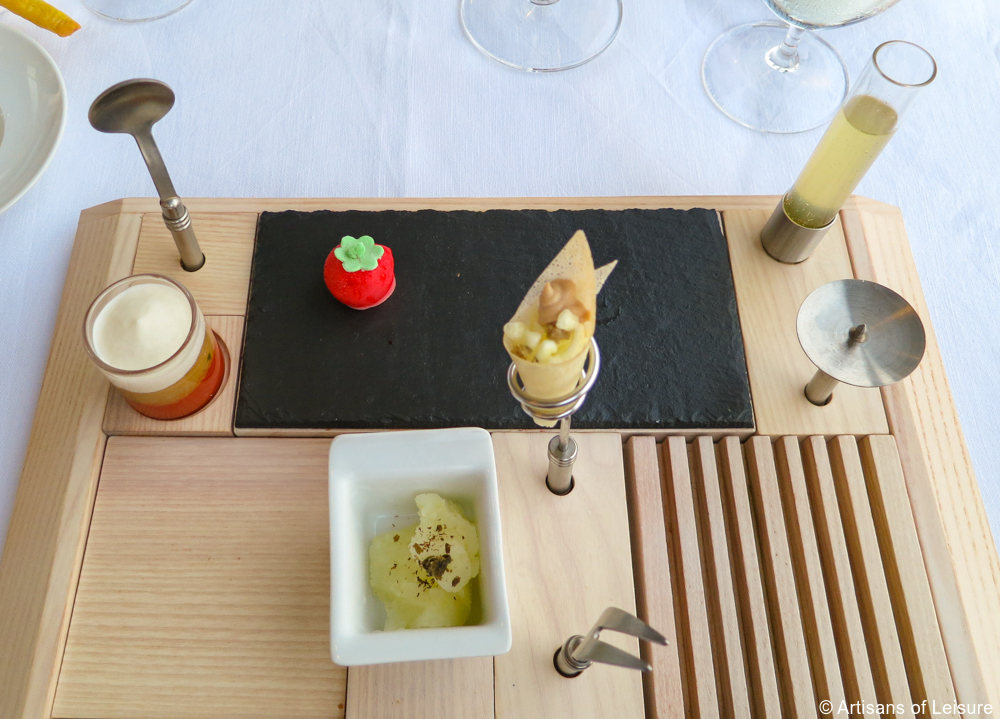 The roads to and from Ravello are still used by local farmers and herders, so travelers may need to be patient.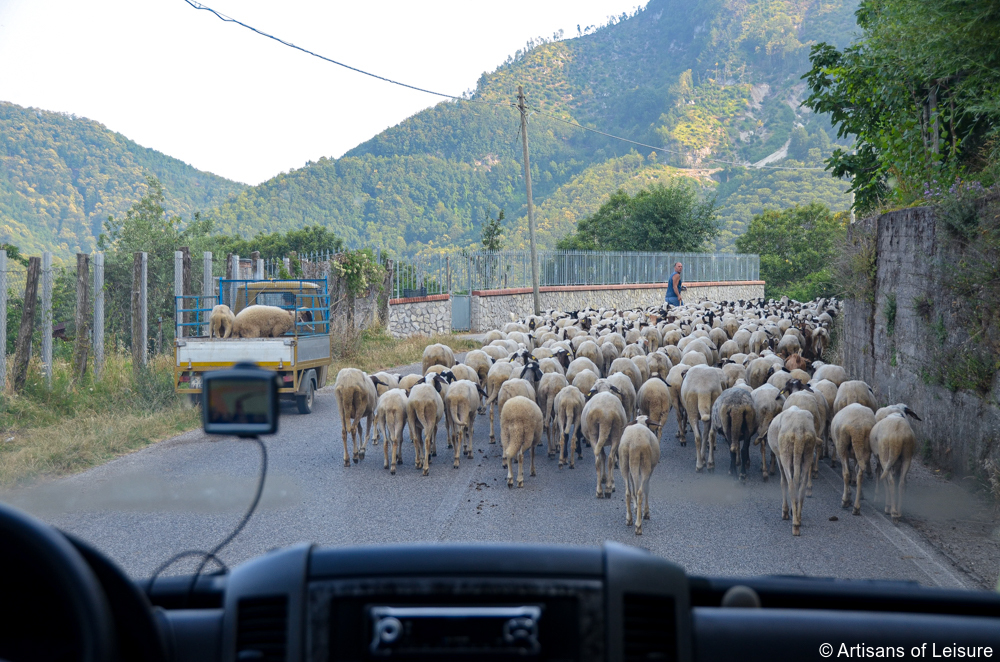 Locals place devotional objects along the winding roads as religious appeals for safety and protection.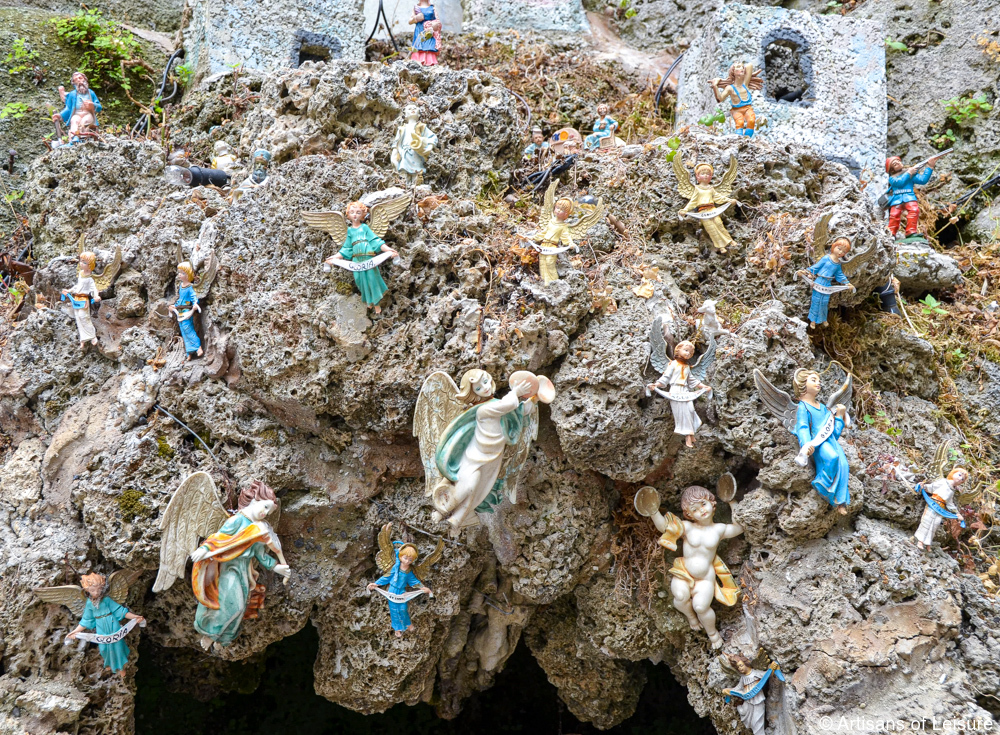 In the interesting nearby town of Amalfi, our tours include a visit to the spectacular Amalfi Cathedral…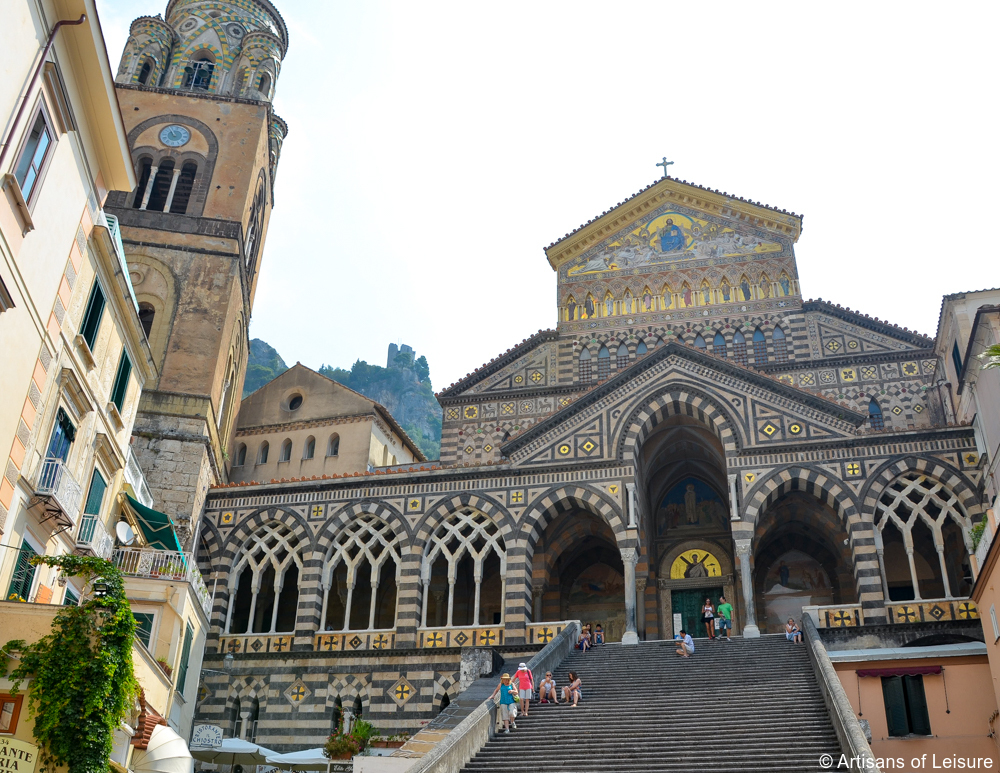 …to tour the cloisters…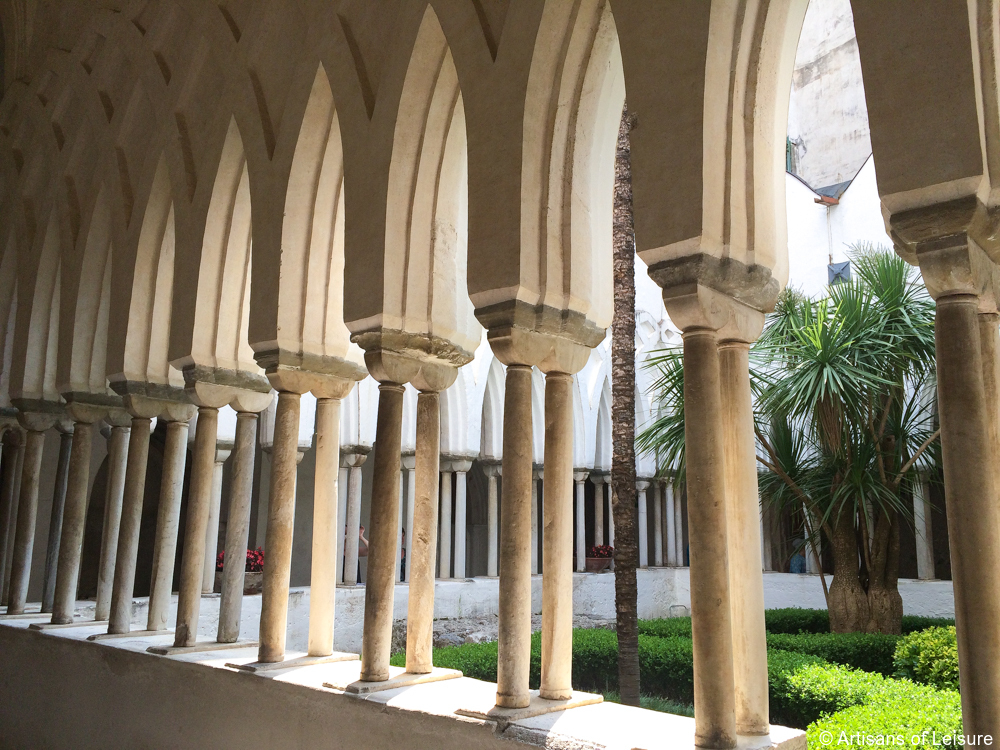 …historic interiors and crypt.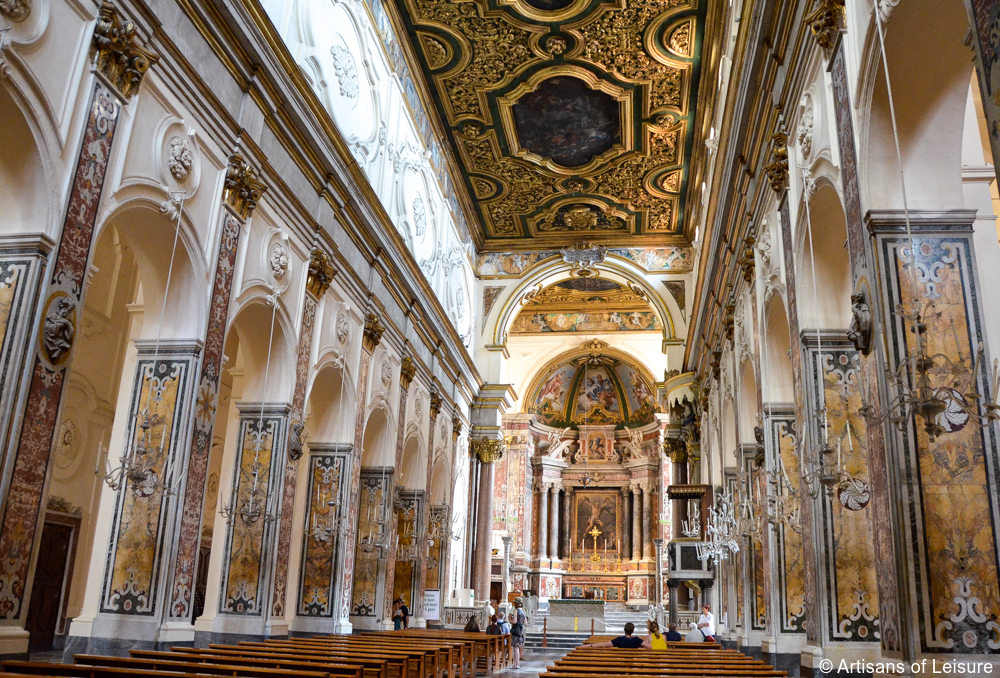 We also include other highlights in Amalfi, such as the historic paper mills, local markets and renowned pastry shops.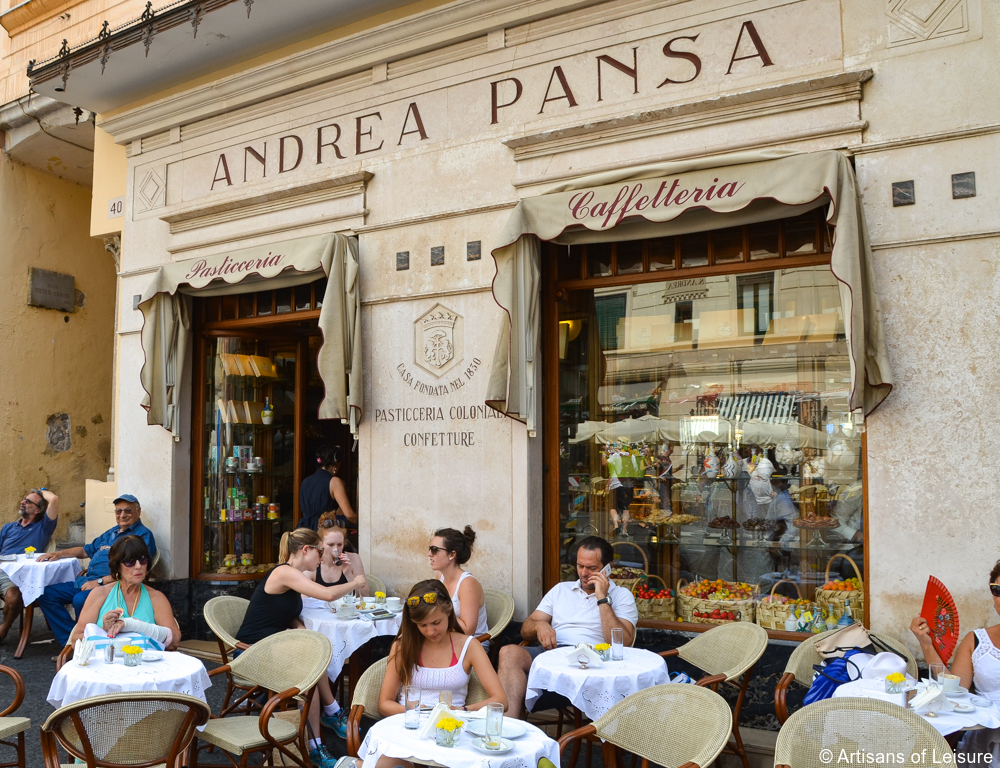 Farther along the coast, we highly recommend having lunch at Hotel Santa Caterina.
The hotel's casual restaurant is one of our favorite spots for local specialties such as fried vegetables…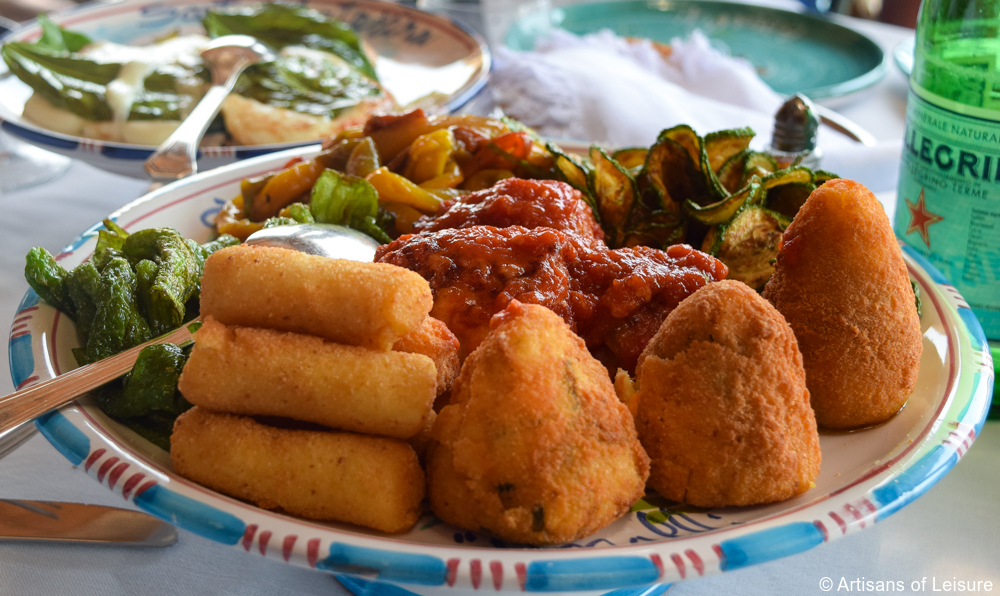 …and mozzarella grilled with lemon leaves.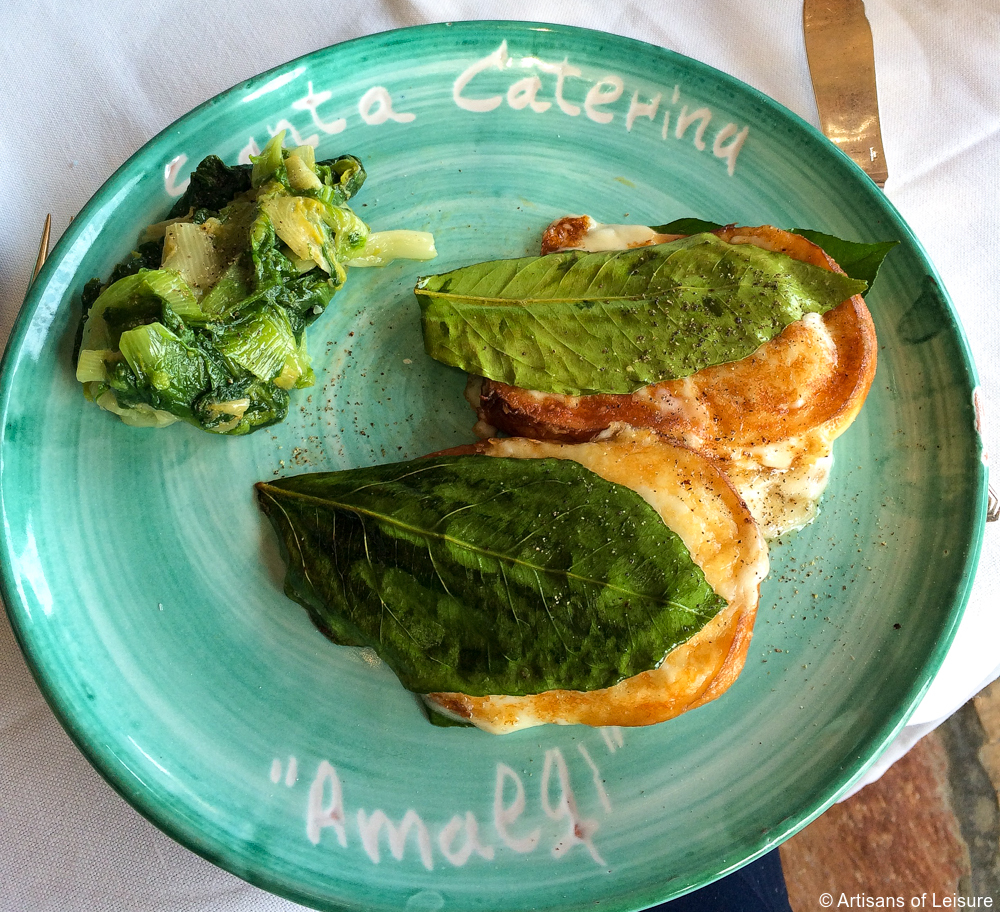 We also always try to stay at Le Sirenuse, a glamorous family-run hotel in Positano.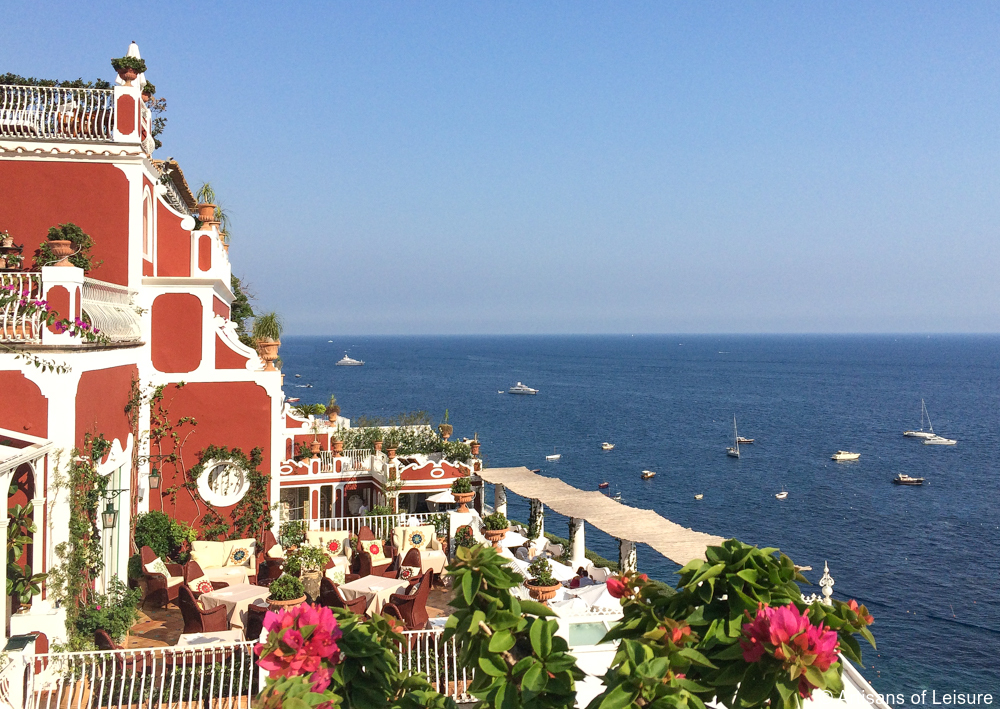 The rooms have recently been renovated and are stylish and fresh yet classic.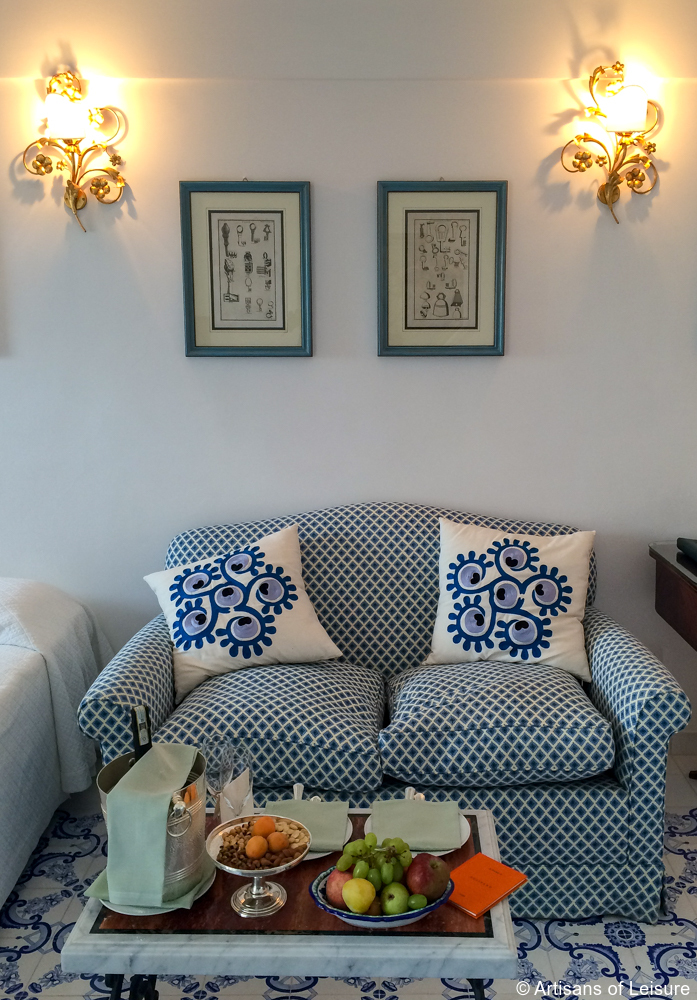 The boutique at the hotel sells beautiful Italian clothing, jewelry, glassware and accessories.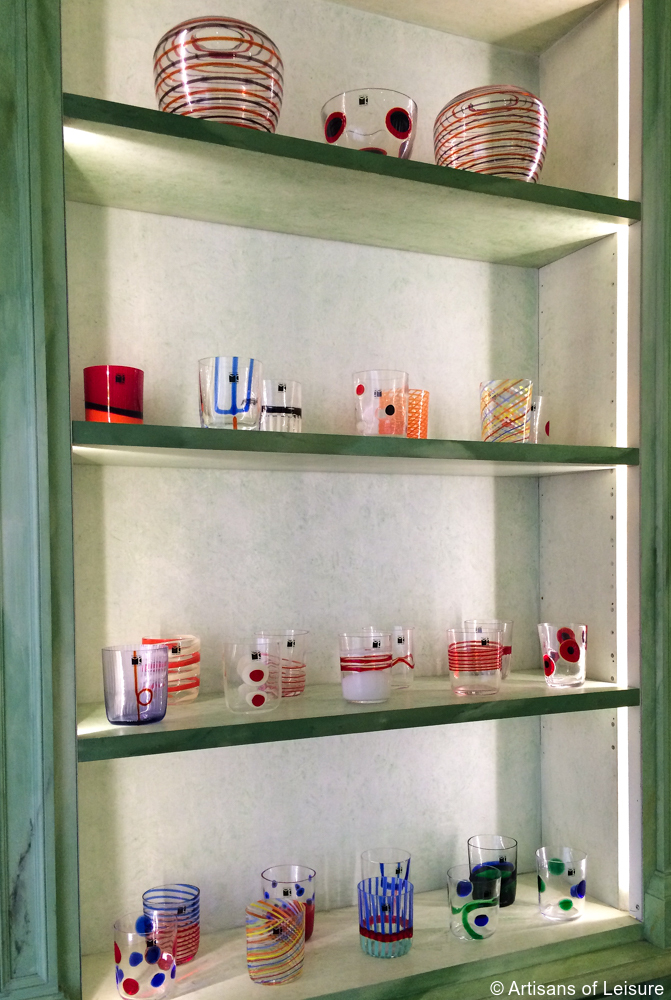 Le Sirenuse offers unrivaled views over Positano…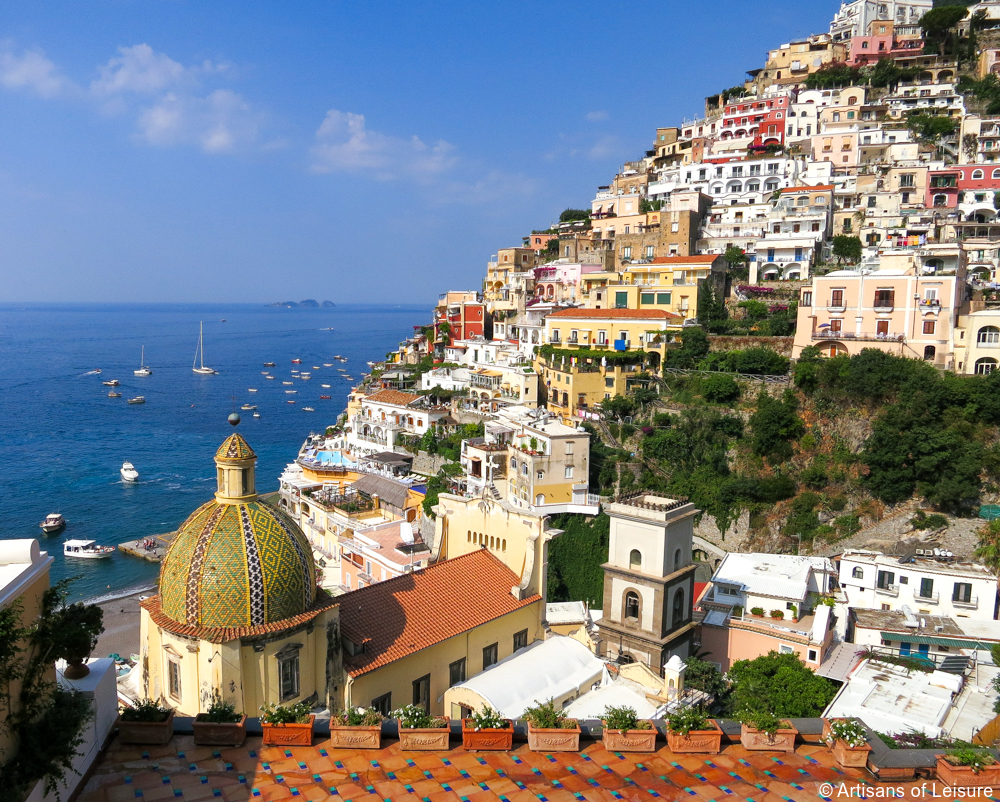 …and its beaches.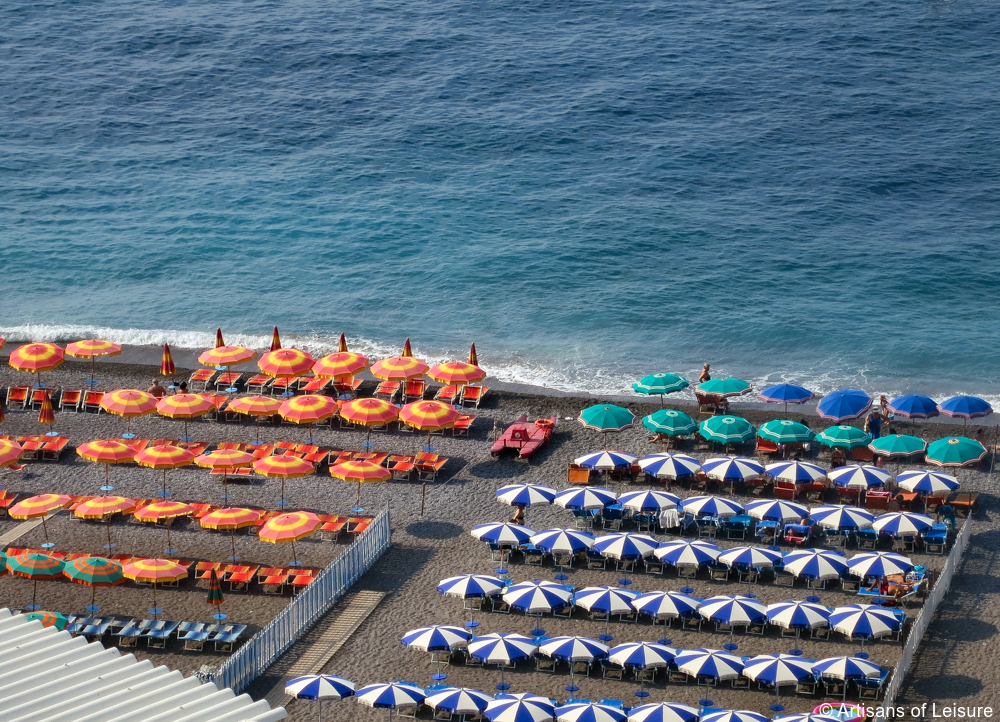 The hotel recently opened a new bar that has become very popular at night.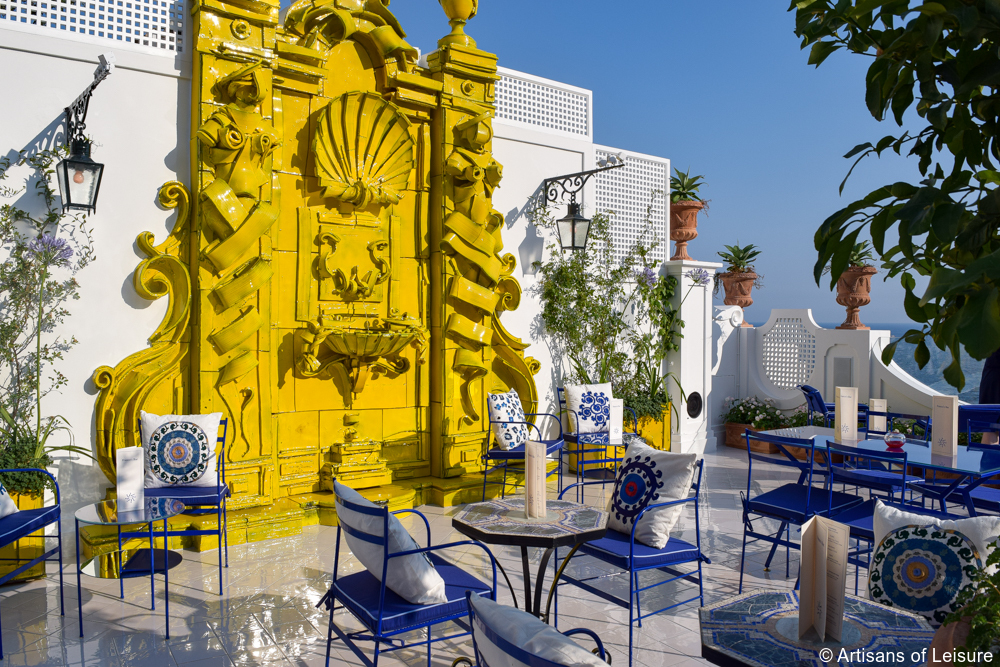 The restaurants at Le Sirenuse are also excellent. Breakfast features a delicious assortment of pastries and fresh fruit. The adjoining terrace is an ideal spot to enjoy a meal overlooking Positano.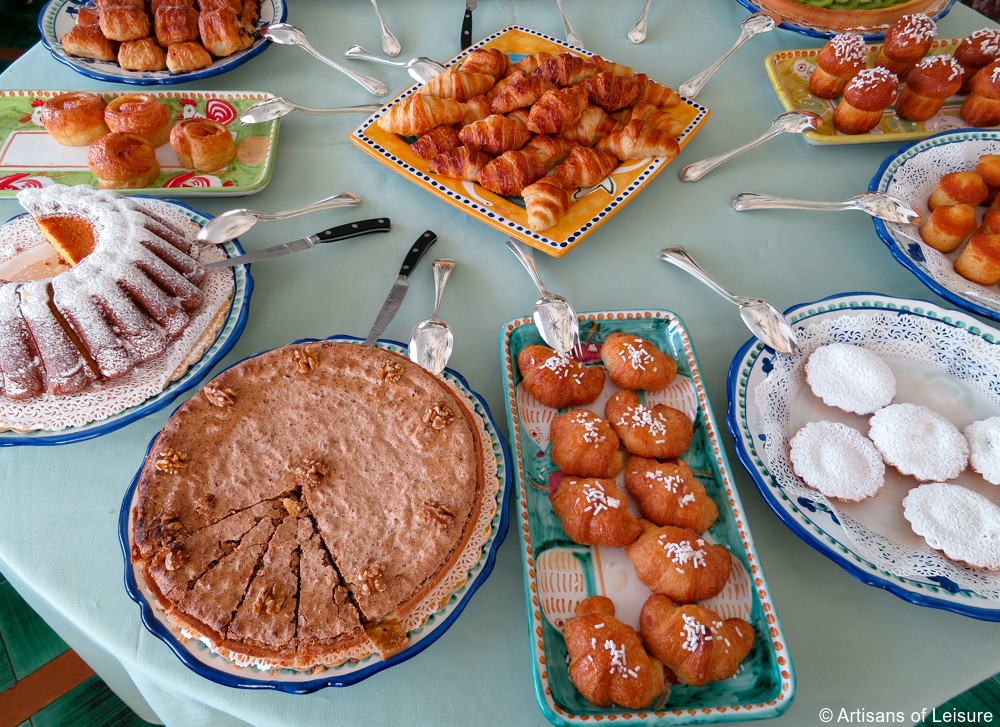 From the port in Positano, it's easy to take a boat to local beach clubs for a meal or to the nearby island of Capri.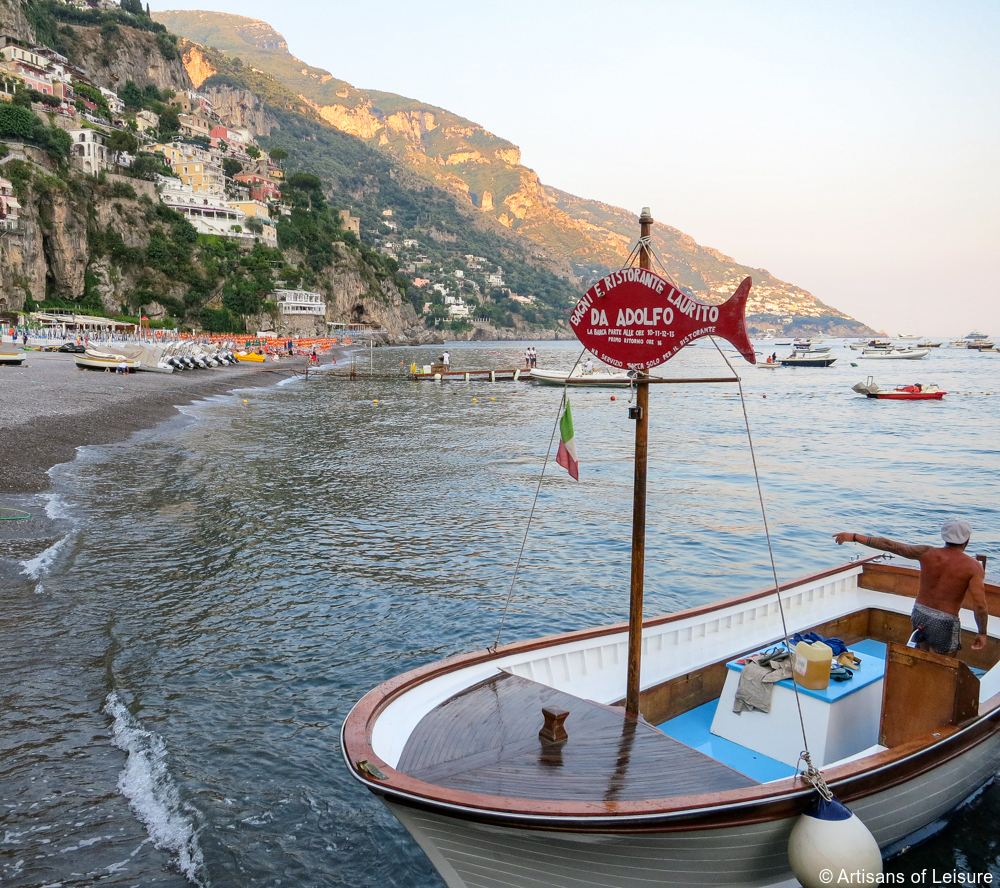 Arriving in Capri by private boat is always impressive.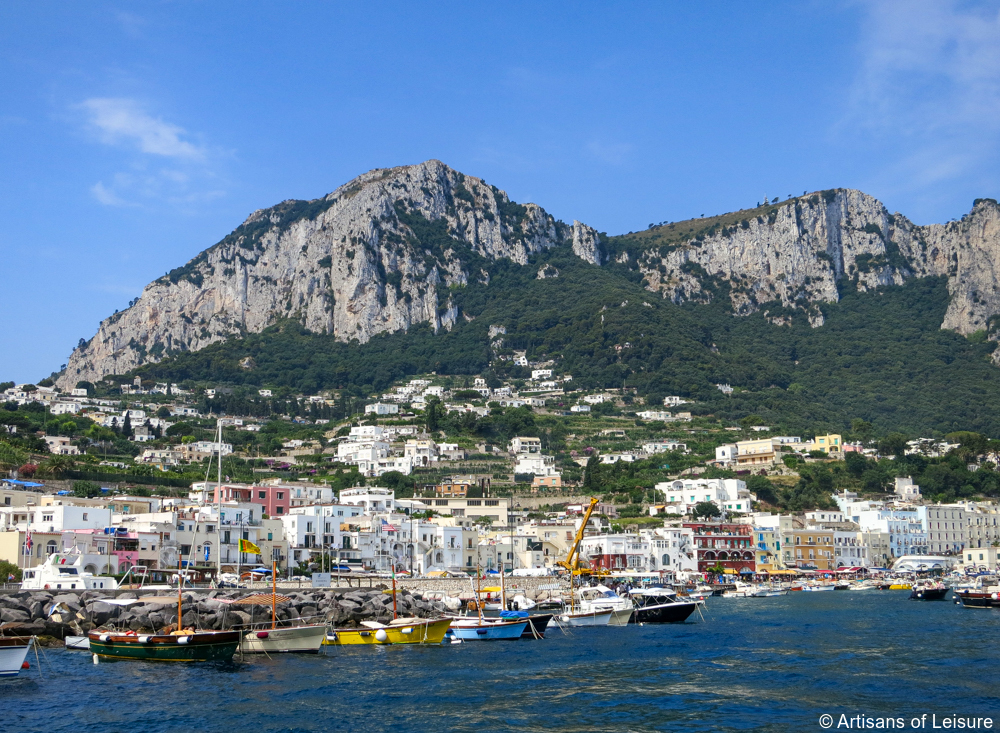 We usually head straight to Anacapri, a town at the top of the island, for shopping and dining. Lunch at the restaurant inside the Caesar Augustus, a Relais & Chateaux hotel, is highly recommended.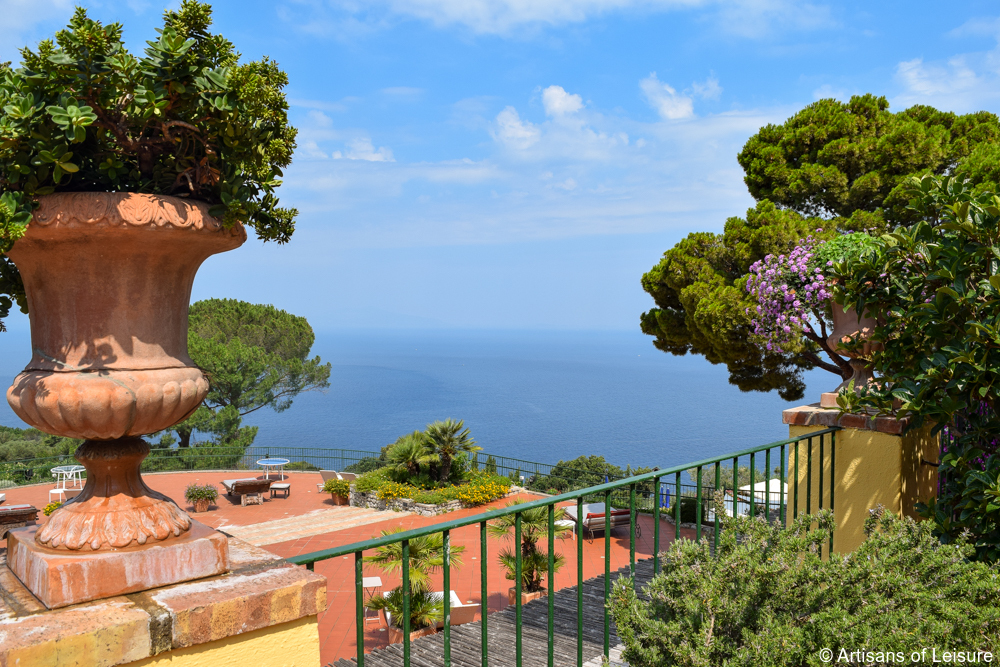 Anacapri has many upscale boutiques.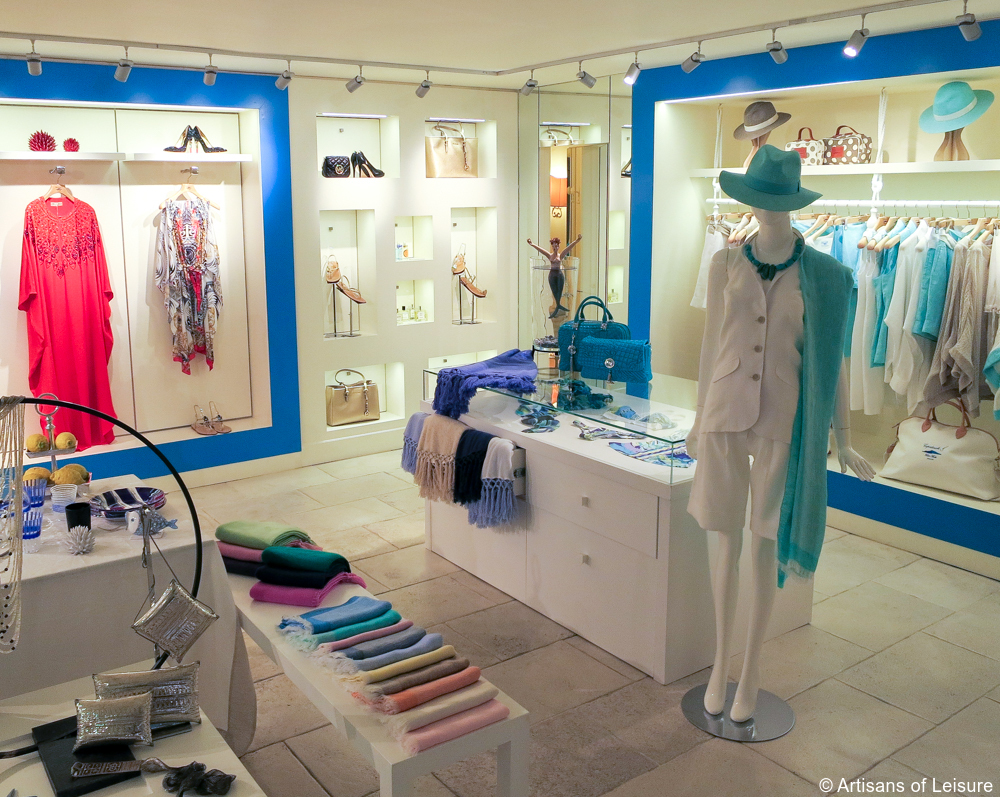 Visitors should be sure to allow time to have a pair of Capri sandals custom-made.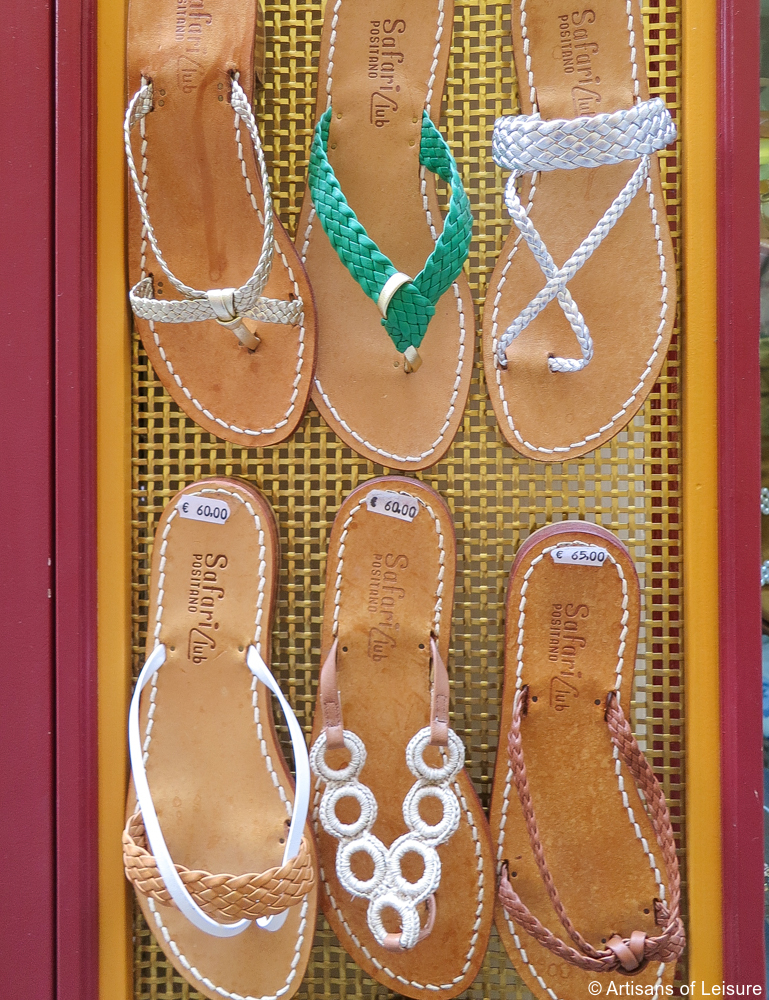 Capri Palace Hotel & Spa in Anacapri is our preferred luxury hotel on Capri.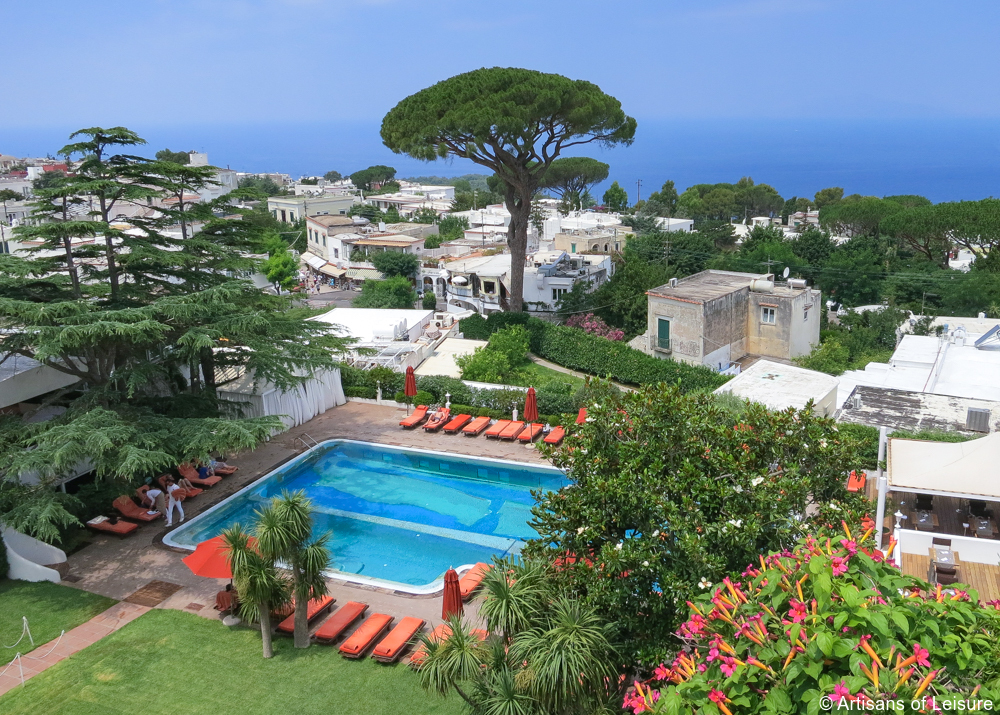 The hotel is just down the road from Villa San Michele, an estate built by Swedish physician Axel Munthe in the late 19th and early 20th centuries. It's now a museum with historic gardens, art and ruins.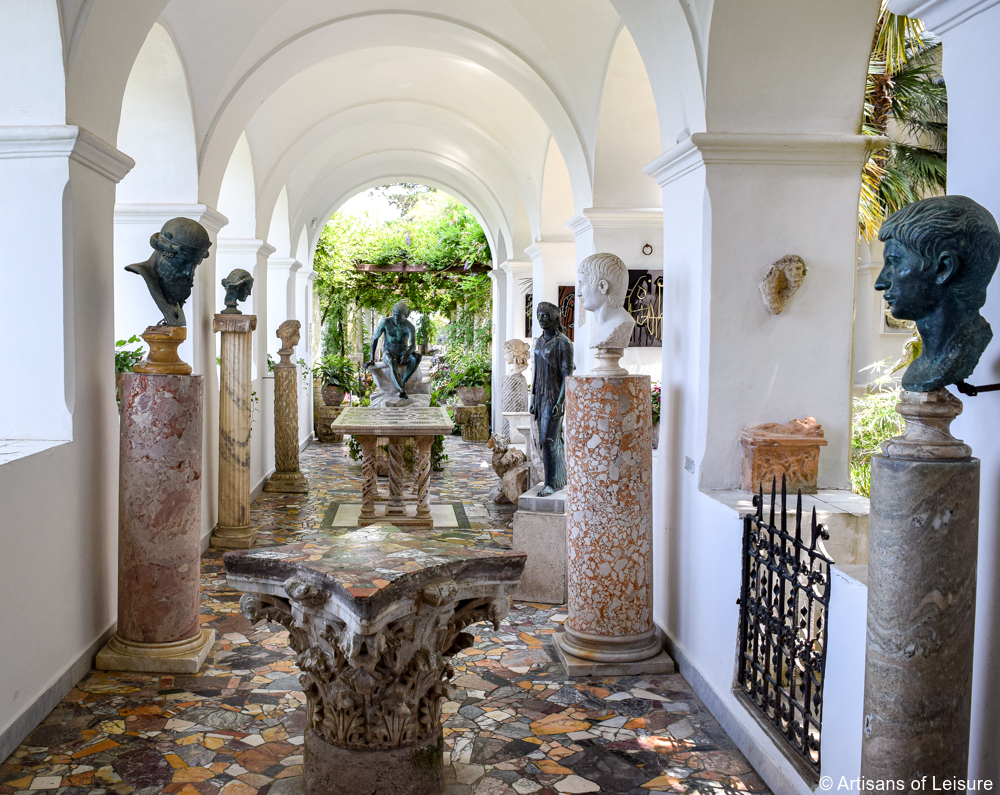 In the town of Capri, we like to have lunch at Aurora. The wonderful floors in the restaurant are a hodge-podge of different tiles.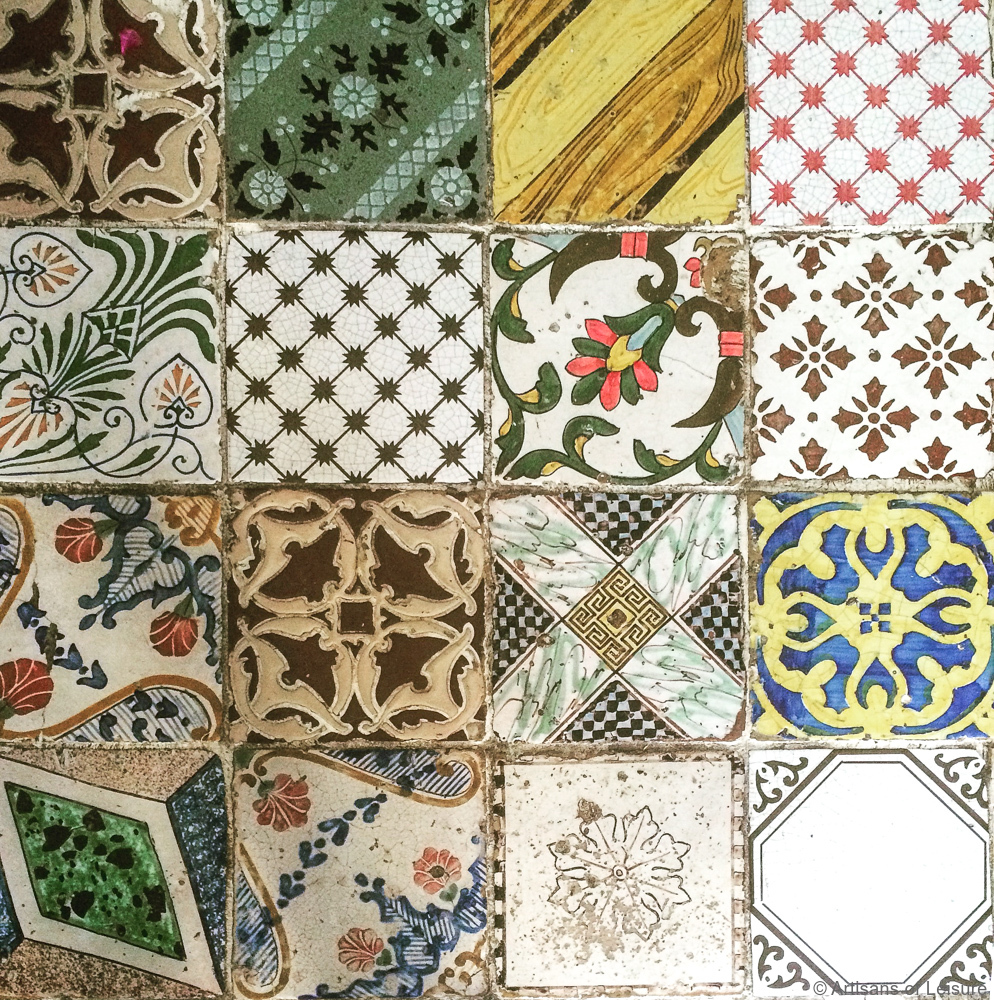 We always order the restaurant's specialty pizza, which is a thin-crust white pizza topped with mozzarella, olive oil and hot pepper flakes. It's even available gluten-free.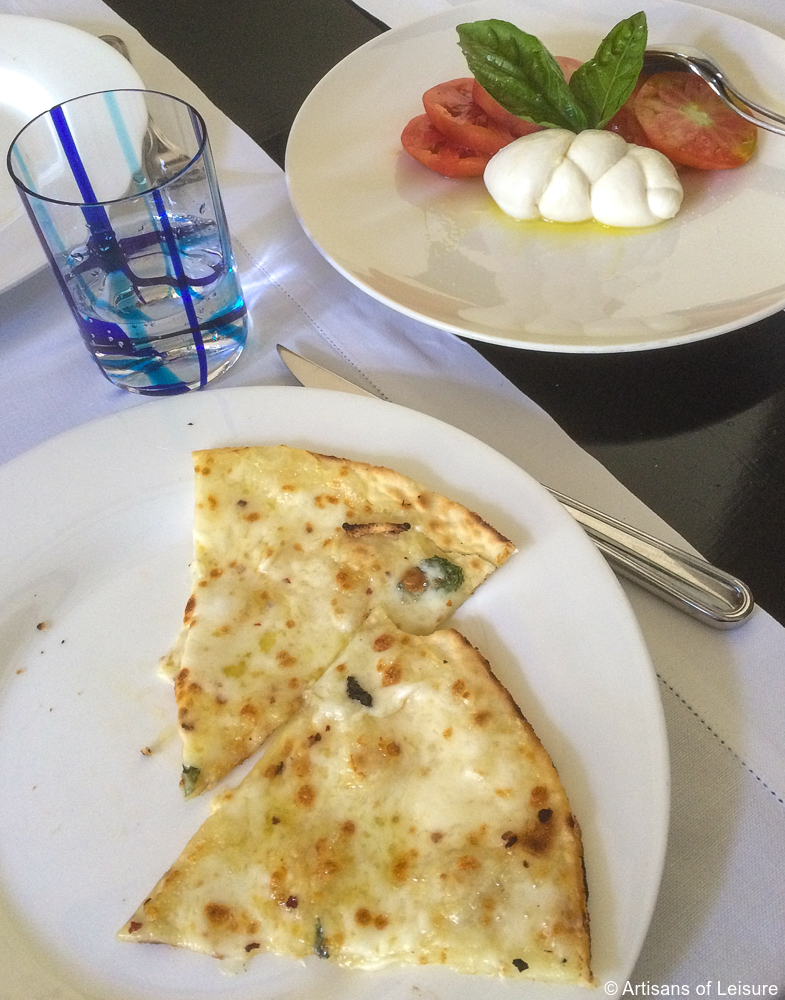 Diners should be sure to leave room for a torta Caprese, the island's famed chocolate-and-nut cake (which is also gluten-free).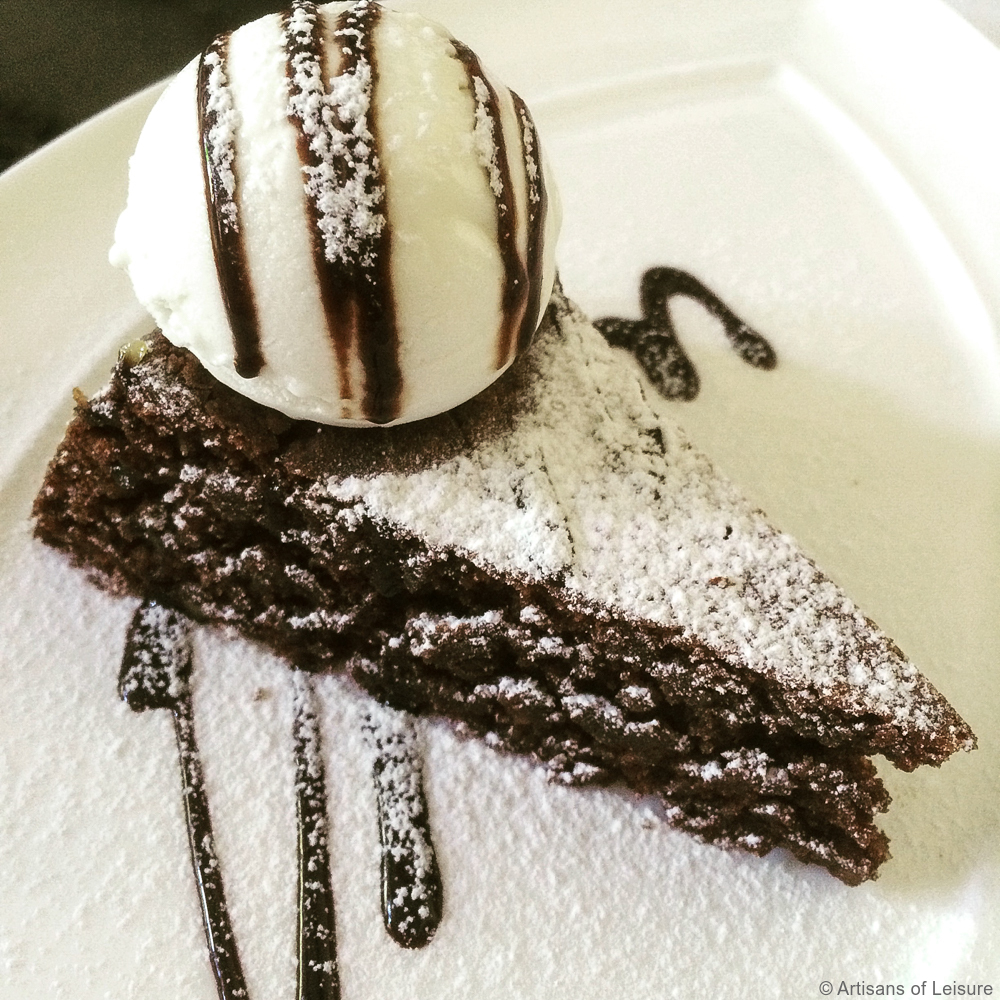 Next, we visited the original Carthusia perfume factory…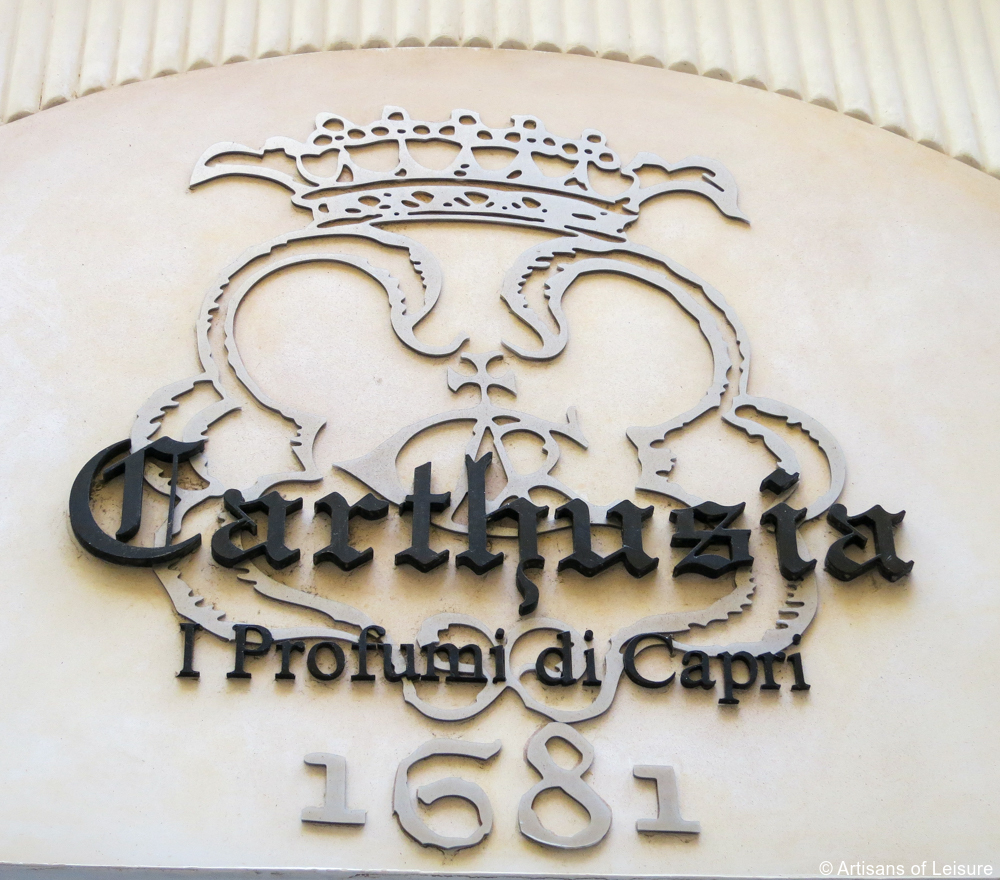 …and then stopped for a refreshing citrus juice at a popular local stand.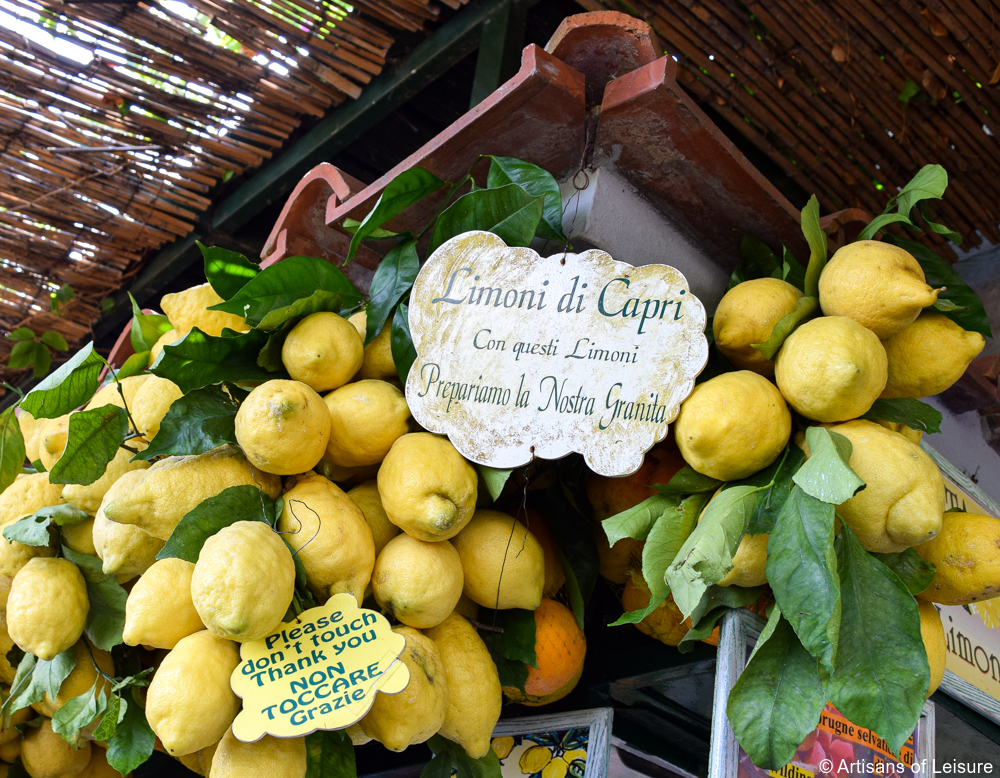 Late in the afternoon, there's nothing better than spending a few hours on a private yacht for swimming, cruising the coast of Capri…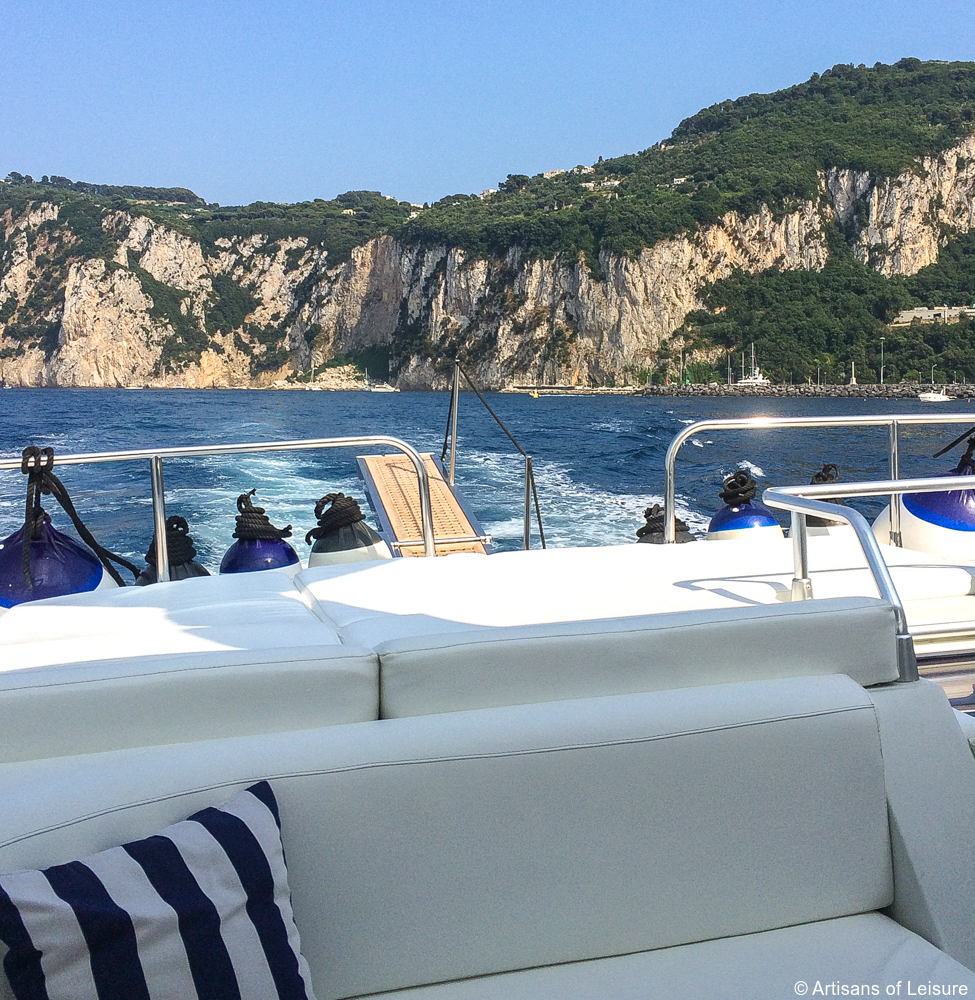 …and enjoying the island's beautiful scenery.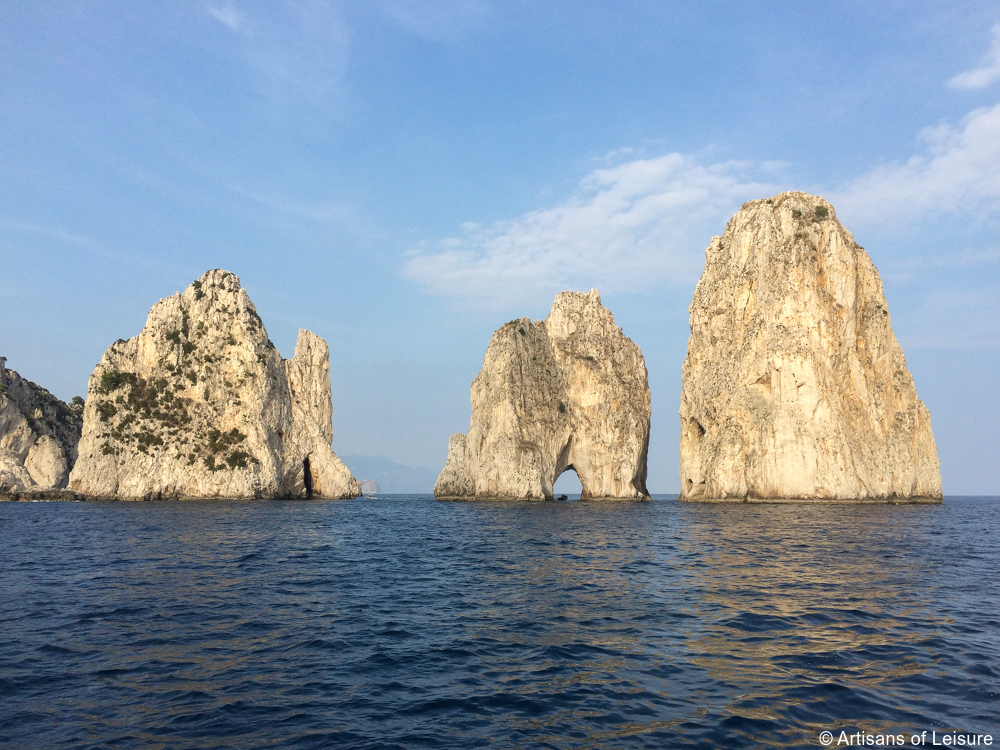 After the Amalfi Coast, we headed north, stopping to tour Pompeii.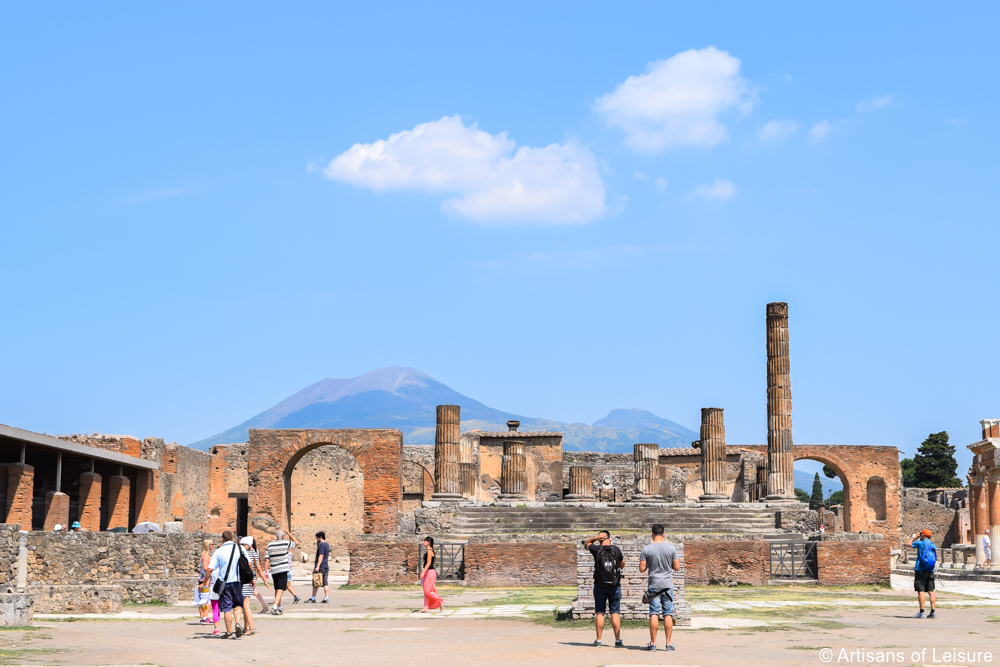 The ancient city was buried by the A.D. 79 volcanic eruption of nearby Mount Vesuvius.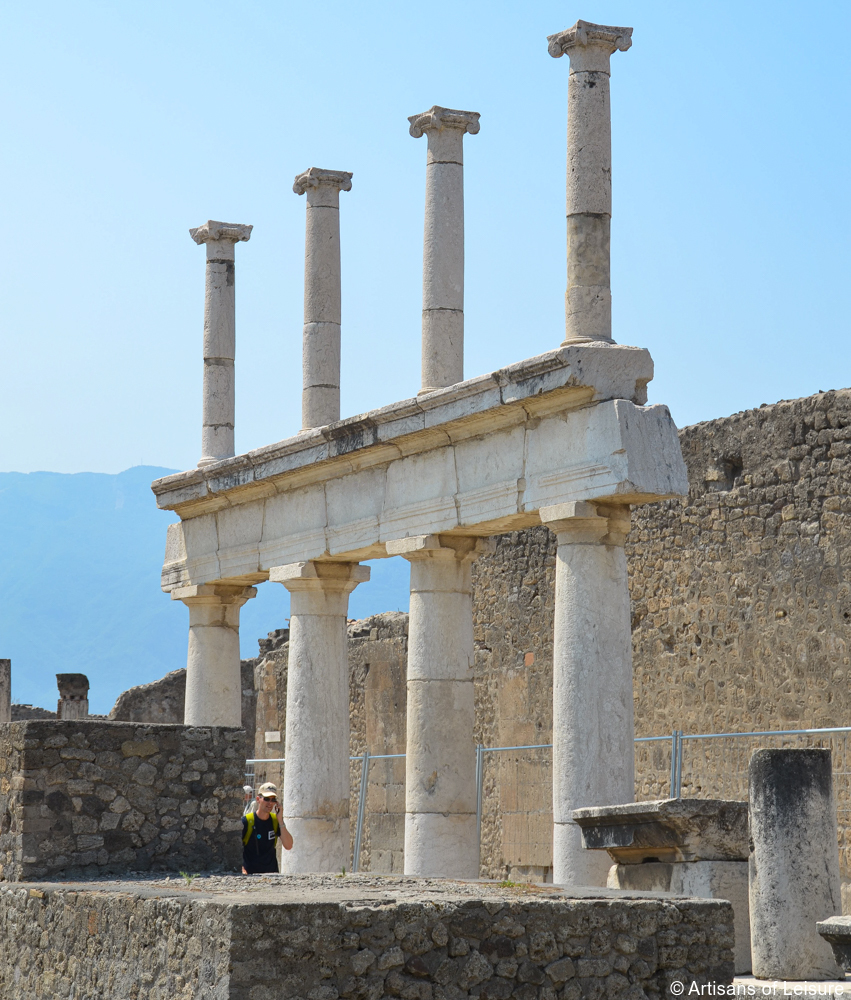 We saw some artifacts that were recently unearthed at the archaeological site.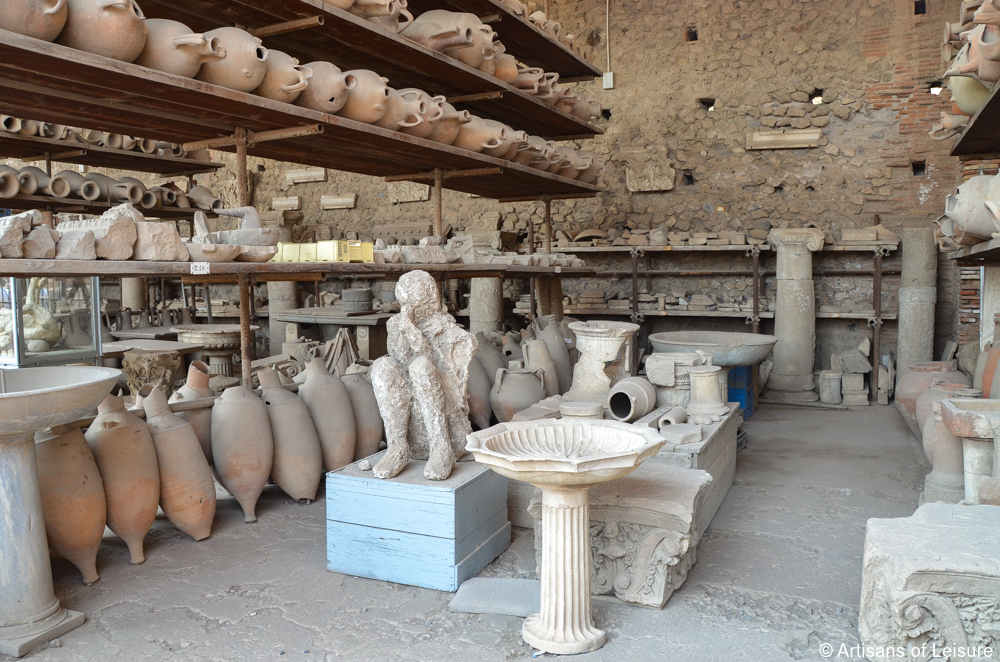 We also stopped at a winery at the base of Mount Vesuvius…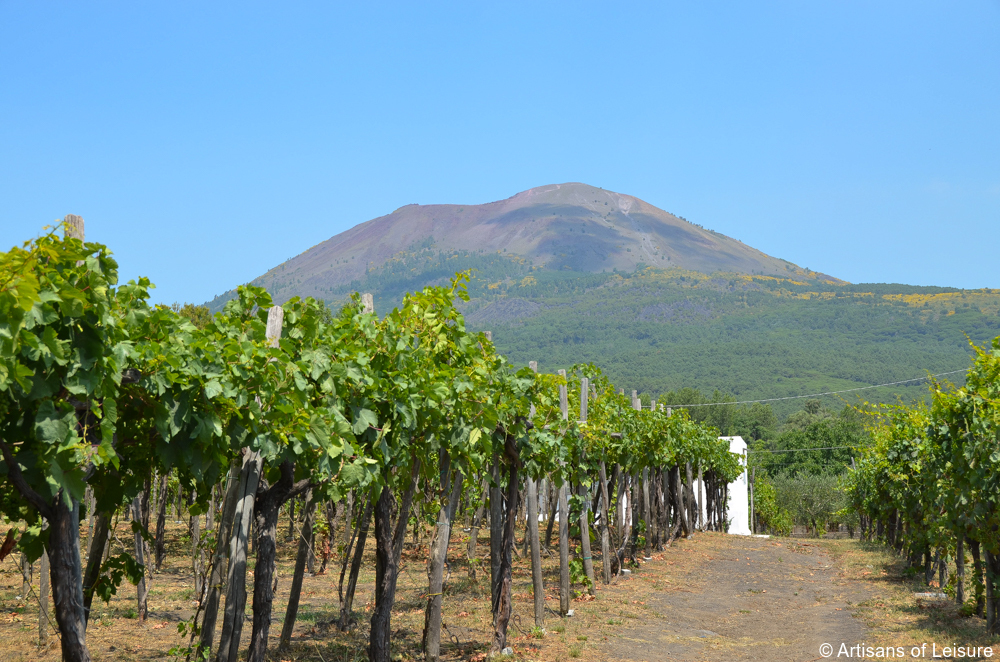 …to spend time with the owners…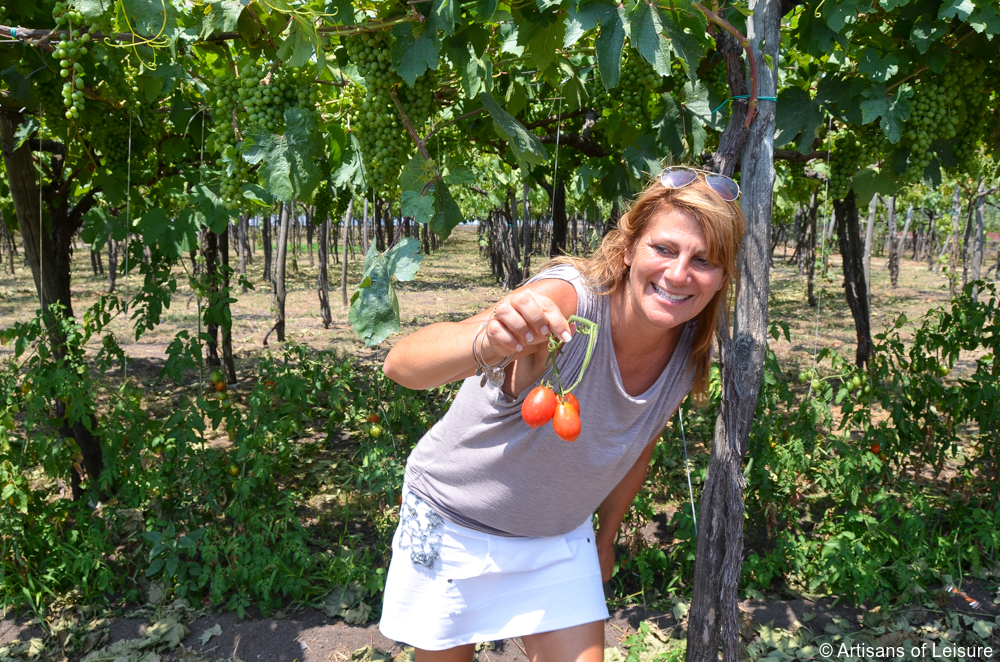 …and have a simple meal of fresh pasta, bruschetta and wine.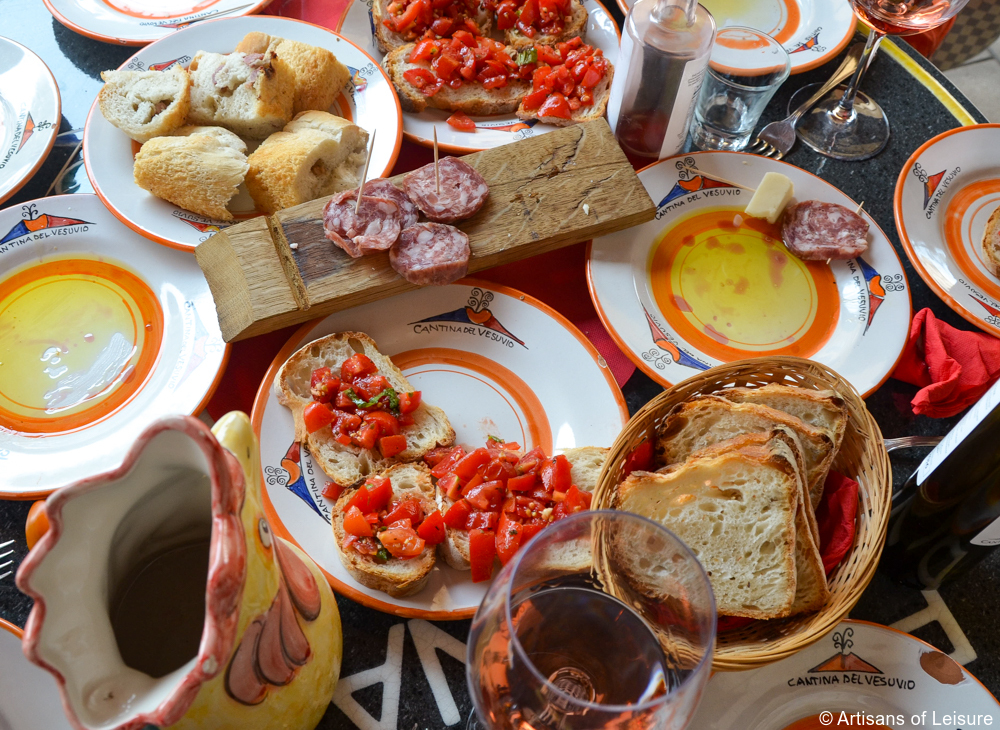 We continued to Oplontis, our favorite ruins in the region. This little-visited town was buried in the same eruption of Mount Vesuvius as Pompeii.
The highlight of Oplontis is Villa A (also known as Villa Oplontis or Villa di Poppaea).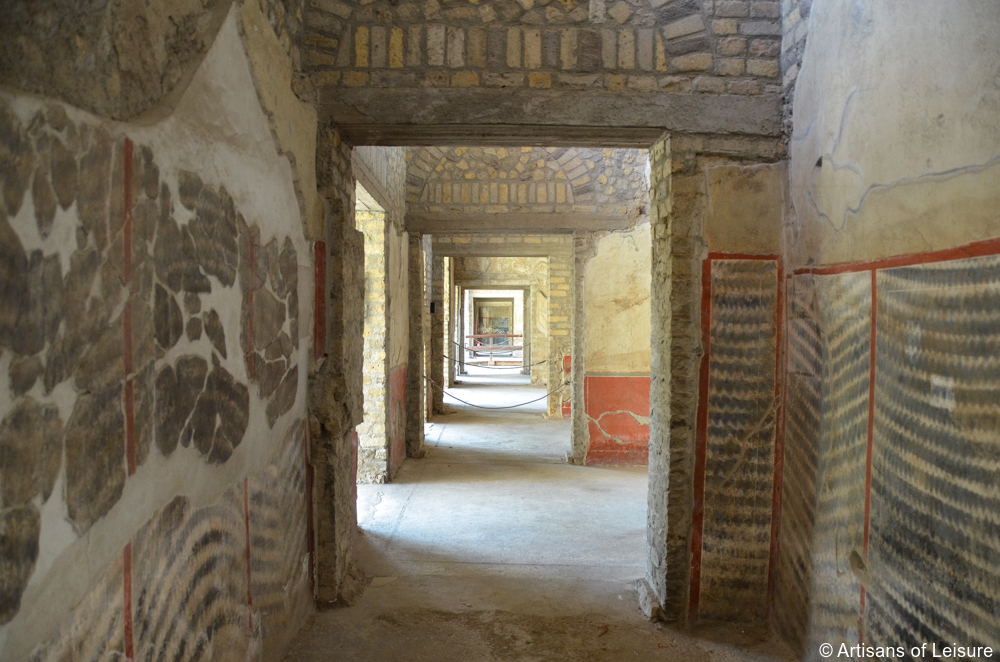 It's decorated with incredible frescoes and offers a view of how the affluent lived during the early years of the Roman Empire.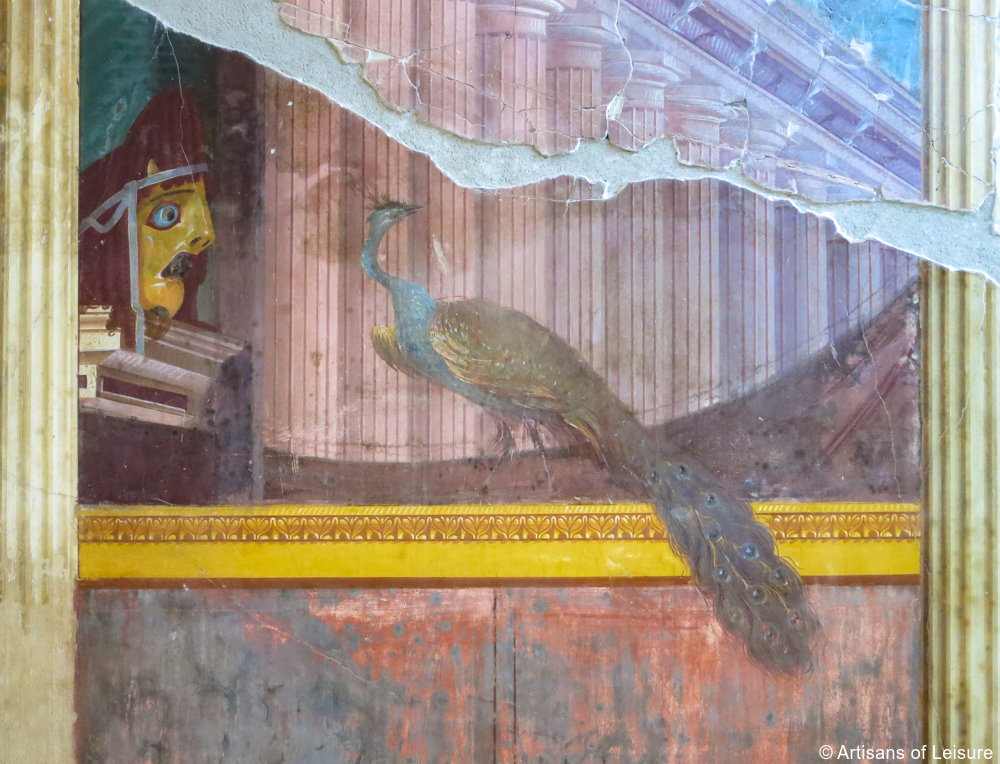 The ruins of Herculaneum—another town buried by Vesuvius—are also nearby. Pompeii, Oplontis and Herculaneum together constitute a UNESCO World Heritage Site.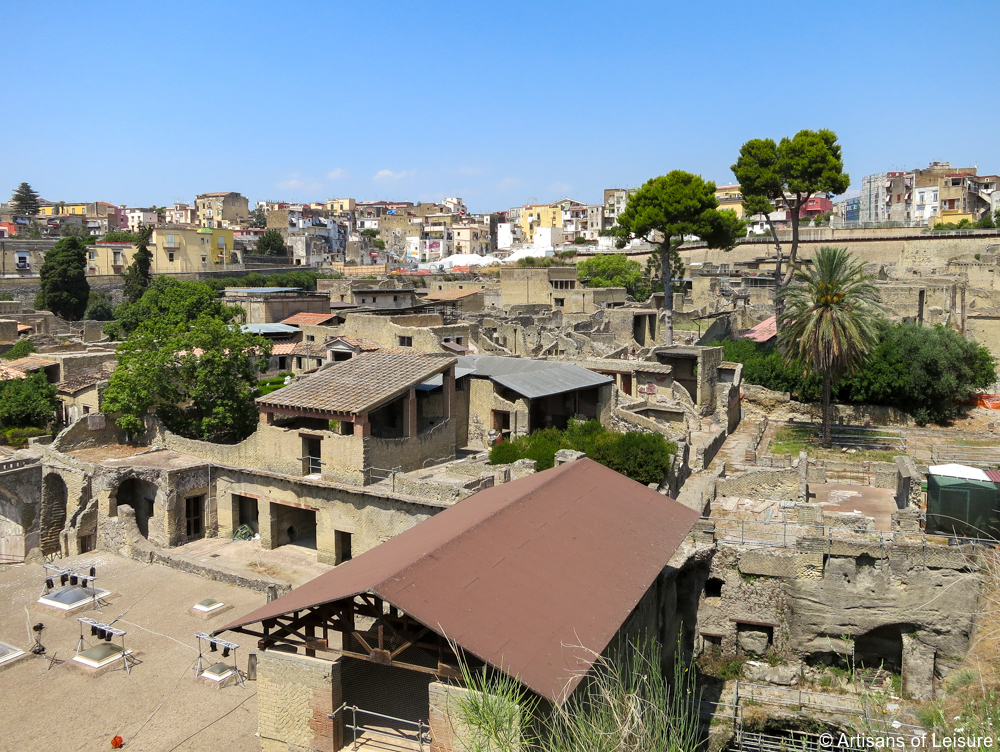 We also spent time in Naples, a bustling historic city with incredible energy, architecture and food.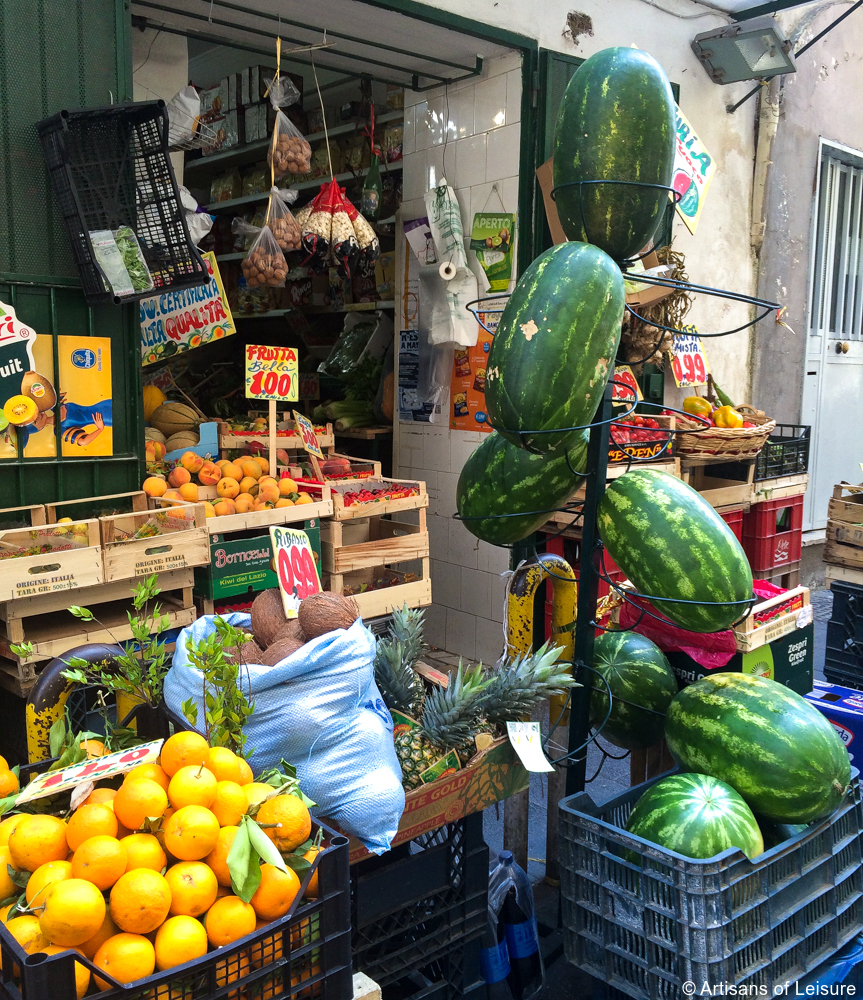 We had a quick lunch of fried vegetables…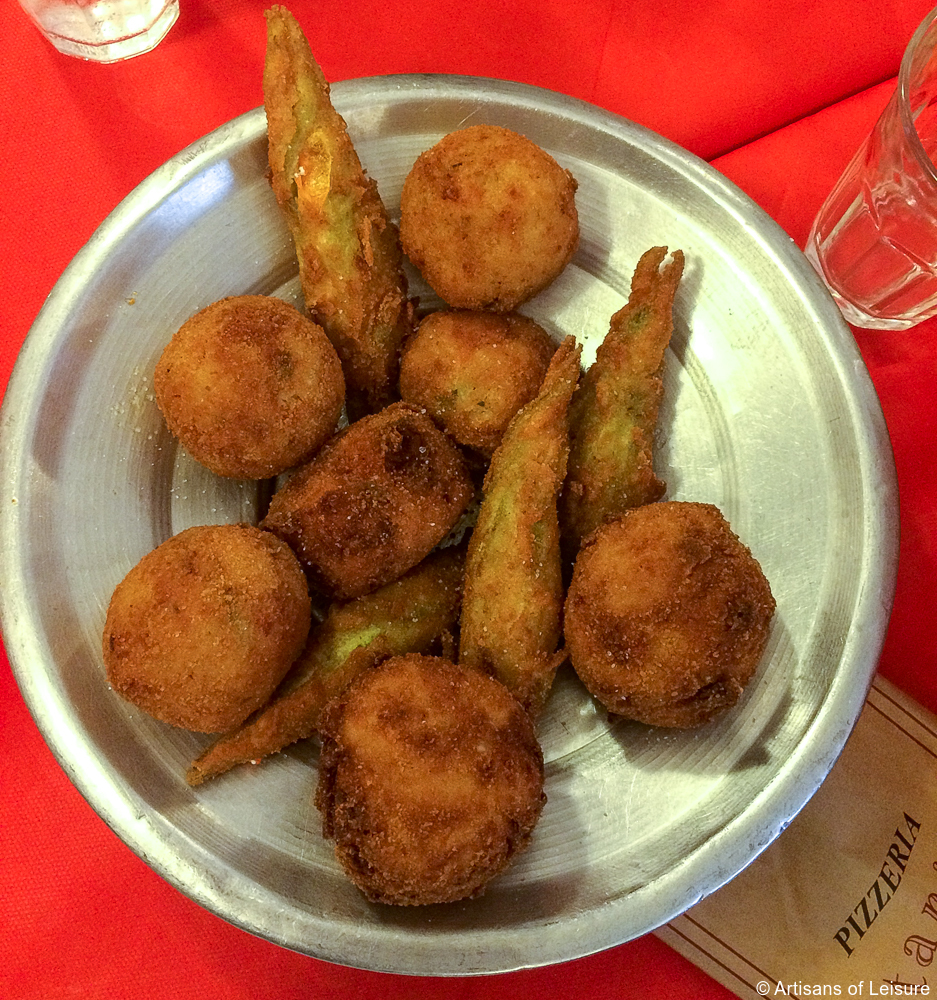 …and, of course, Neapolitan pizza.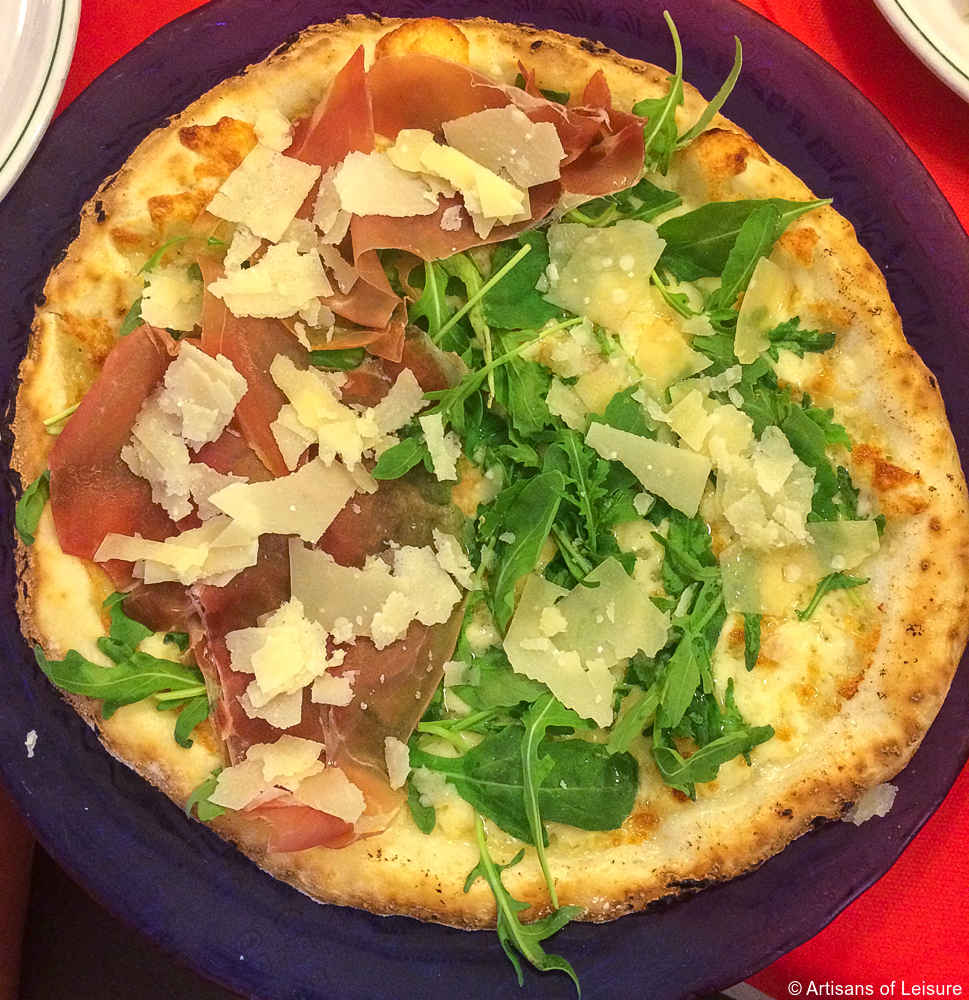 Then, we shopped for silk ties and scarves at the showroom of renowned Naples tie-maker E. Marinella.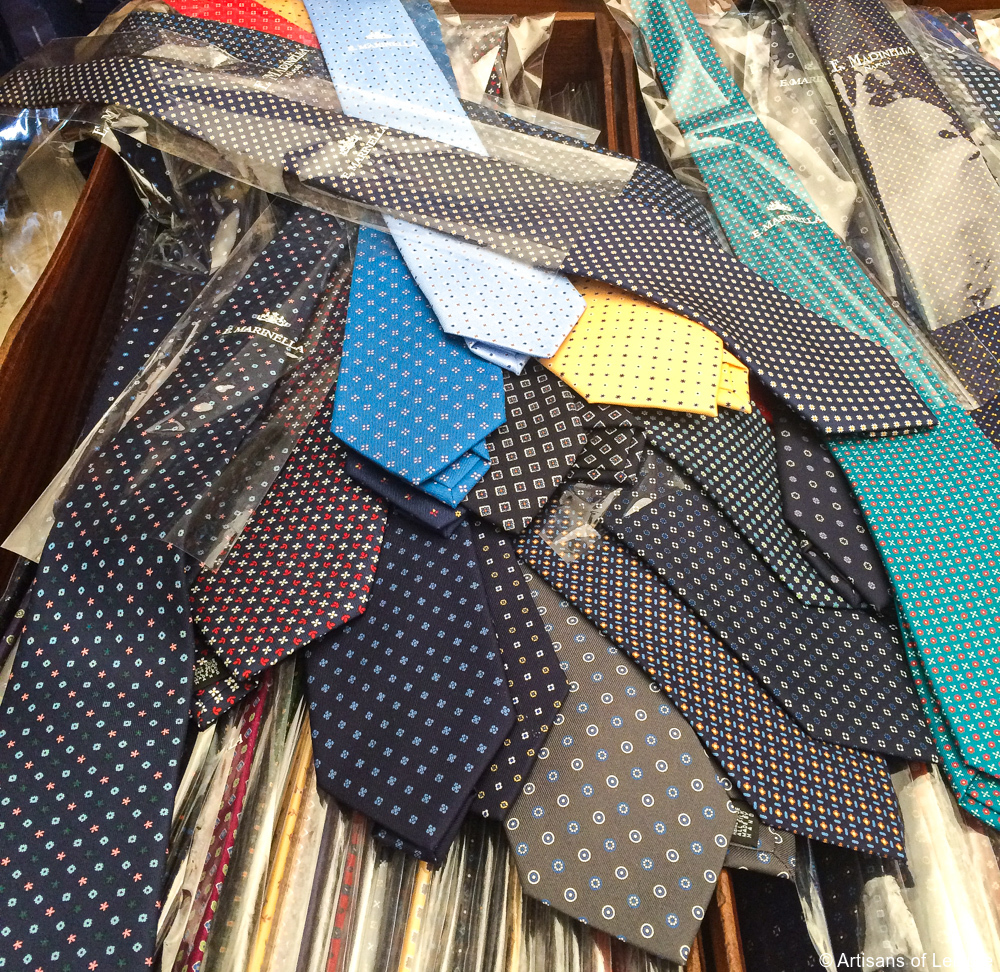 Whenever we're in Naples, we love exploring the squares, backstreets and architecture of the historic center, another UNESCO World Heritage Site.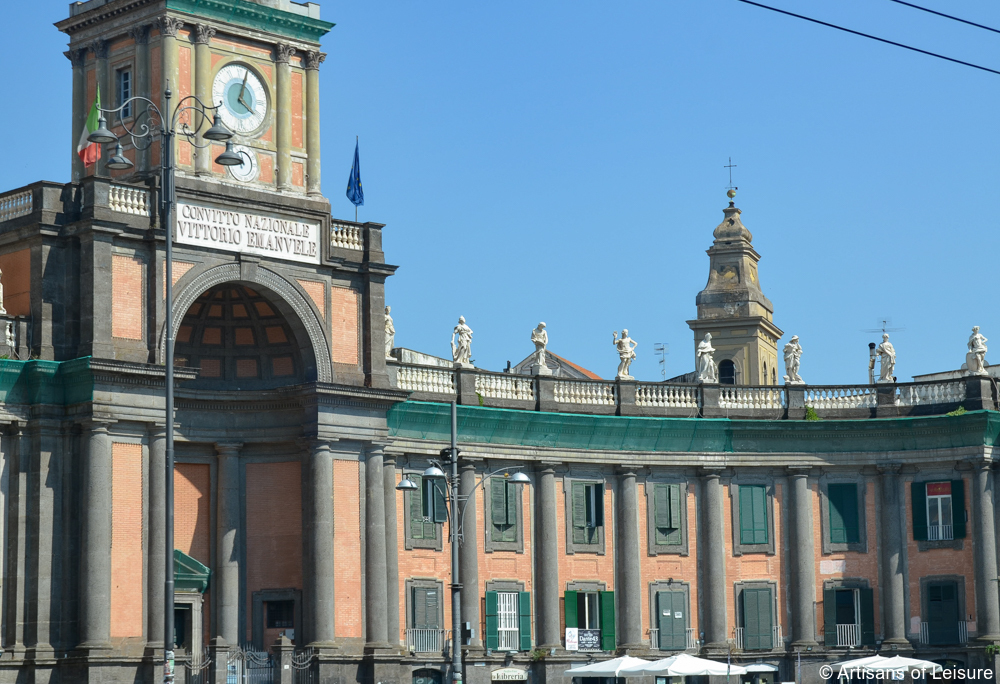 The Castel dell'Ovo is a Naples landmark.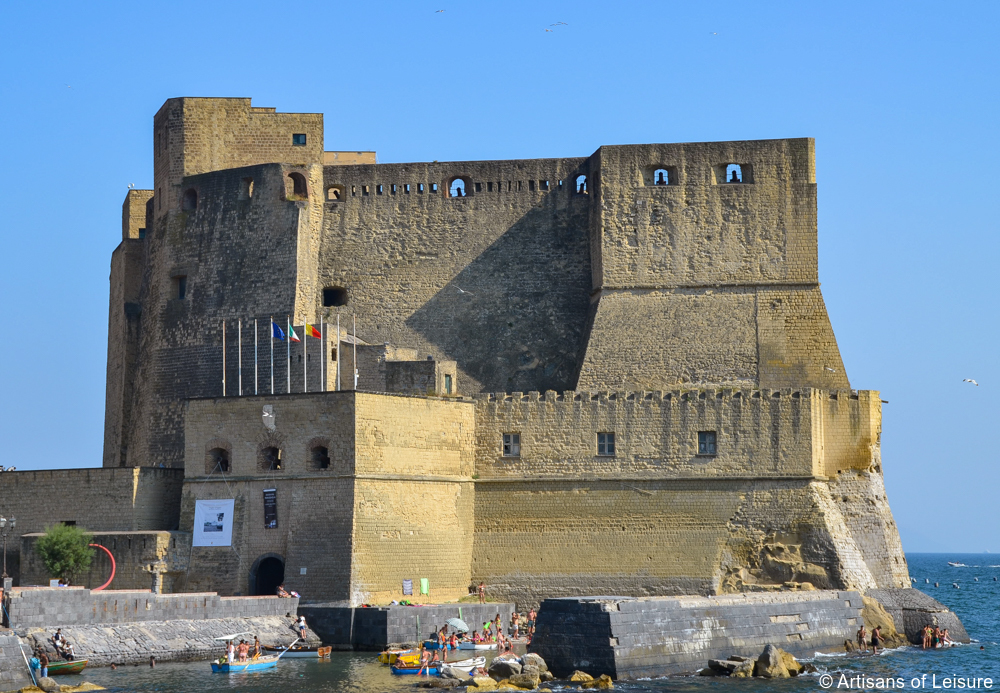 We always make time to enjoy the superb—and deservedly famous—pastry shops in Naples.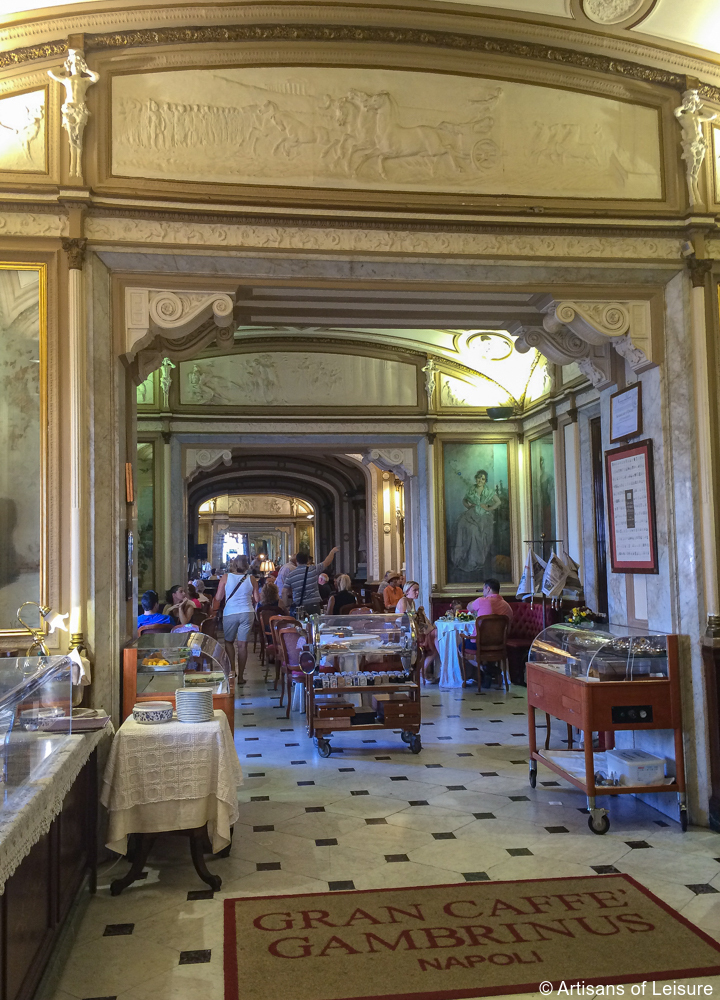 We had a final treat before heading to Rome.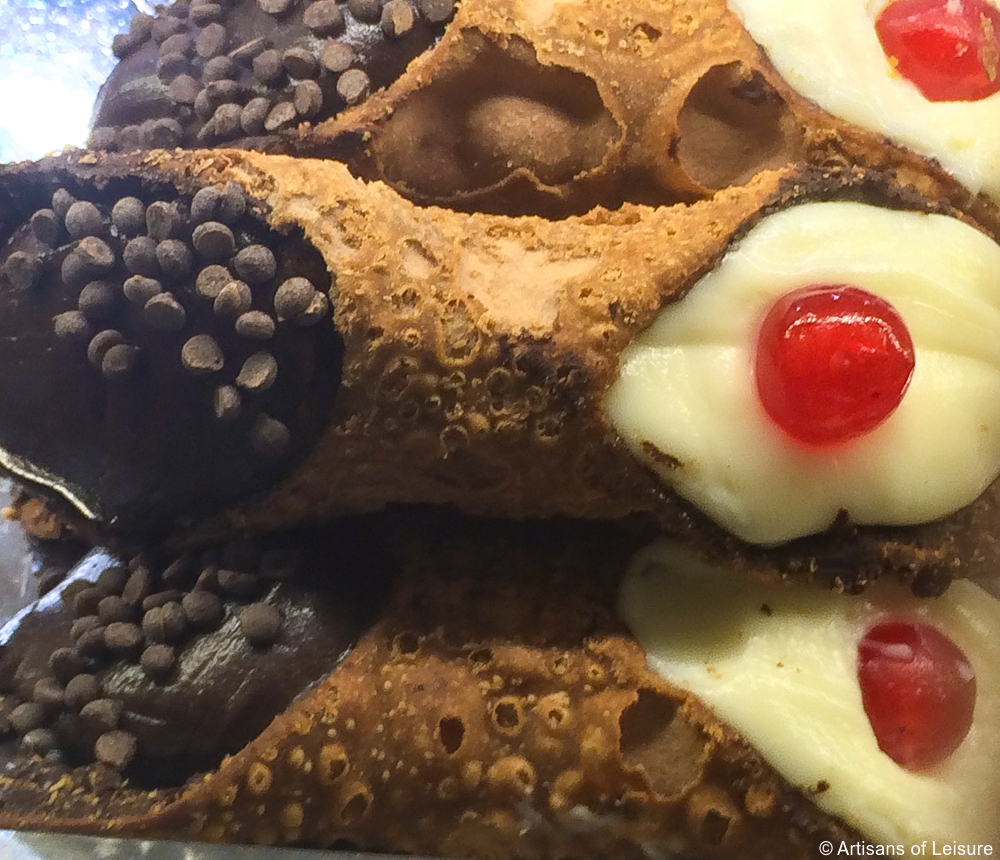 Contact Artisans of Leisure to begin planning a private, customized tour of Italy.
Tags: Amalfi Coast, Amalfi Coast tours, ancient ruins, architecture, Artisans of Leisure, Capri, Capri tours, culinary tours, family travel, food, gardens, Italy, luxury hotels, luxury Italy tours, Naples, Naples tours, Oplontis, Pompeii, Ravello, shopping, UNESCO, wine tours, yacht