April 19, 2016
The Best of Bali & Java, Indonesia
We recently returned from an incredible trip to Bali and Java, Indonesia, one of our favorite countries for relaxation, culture and luxury.
We began in eastern Bali with a stay at Amankila, our preferred luxury resort in the area and a highlight of any visit to Indonesia. The iconic three-tiered pool is designed to look like the rice terraces found throughout the Balinese countryside.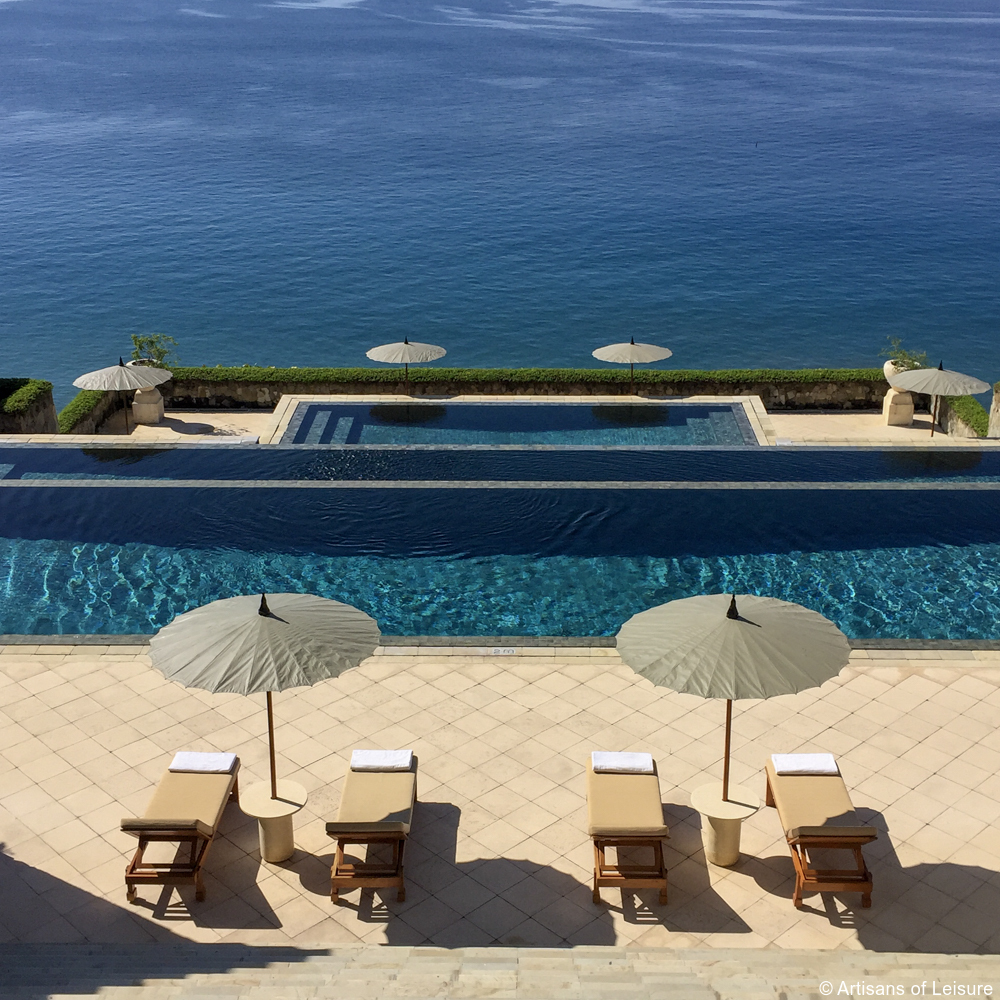 Villas at Amankila are architecturally stunning, with airy rooms, canopied beds and large terraces.
Amankila is also a very romantic destination and a favorite spot for couples and honeymooners. Artisans of Leisure can arrange many romantic activities, such as private dining in special settings, a private ocean cruise or side-by-side couples' massages.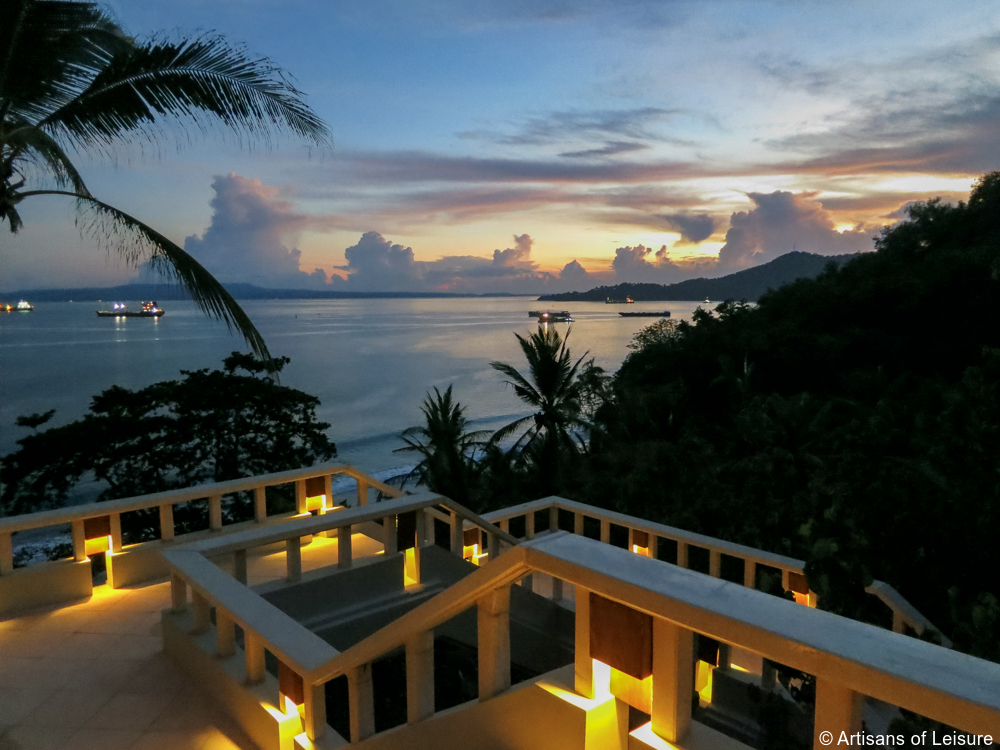 Amankila's top suites offer private pools and sweeping ocean views.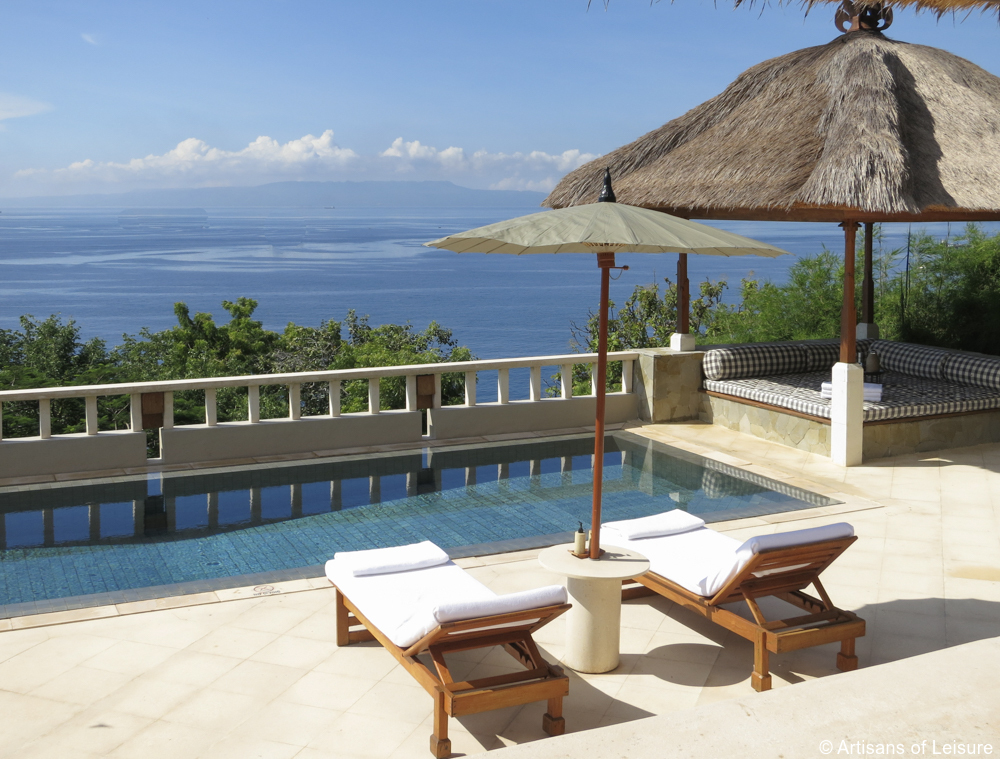 The countryside near Amankila is covered in vibrant green rice terraces that produce the staple food of Balinese cuisine. Artisans of Leisure arranges privately guided tours to local villages that are surrounded by terraced rice fields. We also can arrange private hikes through the paddies, where our travelers can see farmers at work and learn more about rice farming.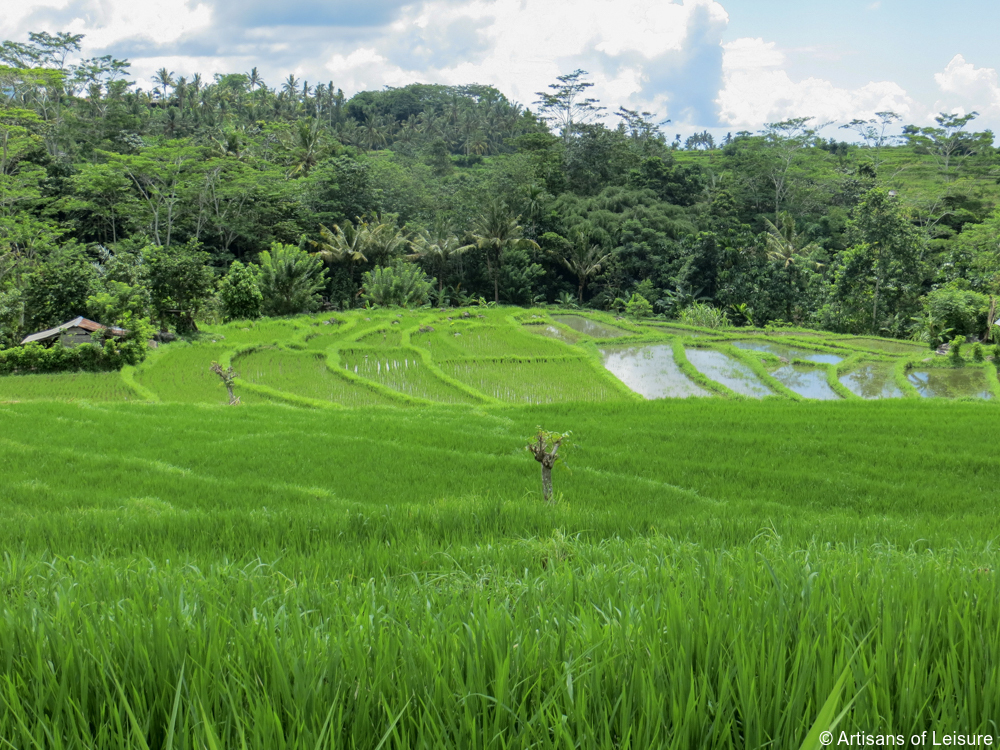 Bali is sometimes called the "Island of the Gods" or the "Island of a Thousand Temples" due to the numerous places of worship and the regular religious festivals and events. Balinese Hinduism, the main religion on the island, incorporates traditions and elements of other belief systems such as animism and Buddhism.
Our private Bali tours include the most important and beautiful temples on the island, as well as opportunities to watch colorful local religious ceremonies.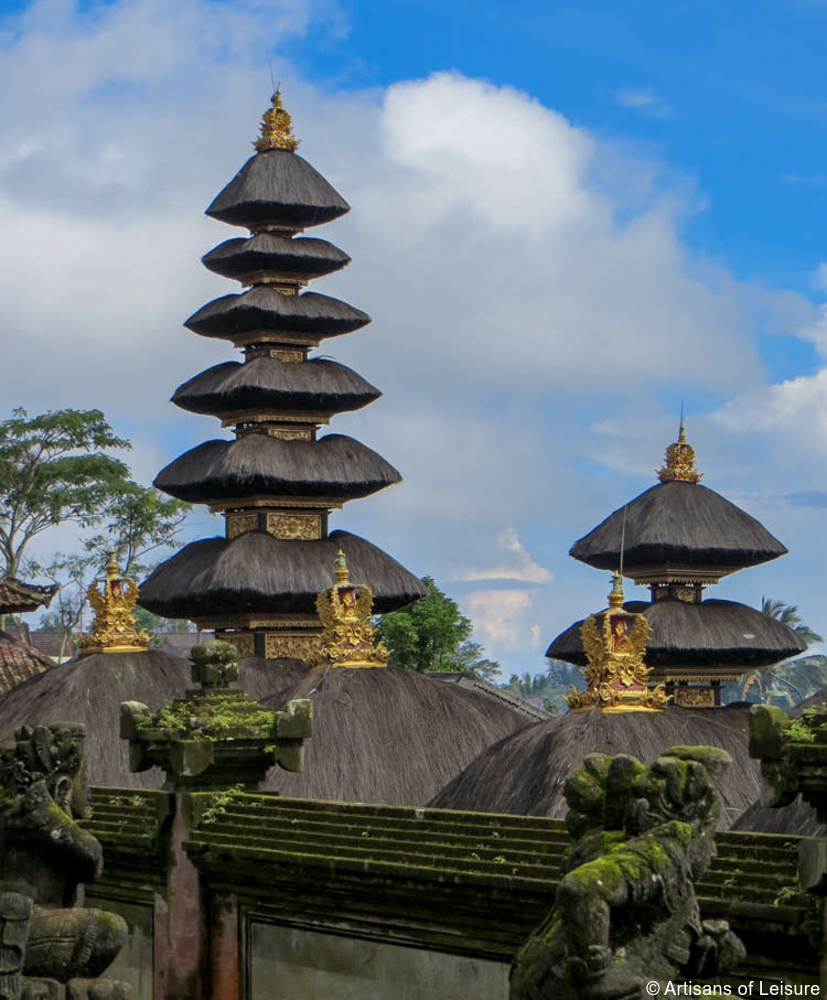 Pura Besakih, known as the Mother Temple, is a vast complex on the slopes of Mount Agung, a sacred volcano.
Artisans of Leisure arranges privately guided tours of the site.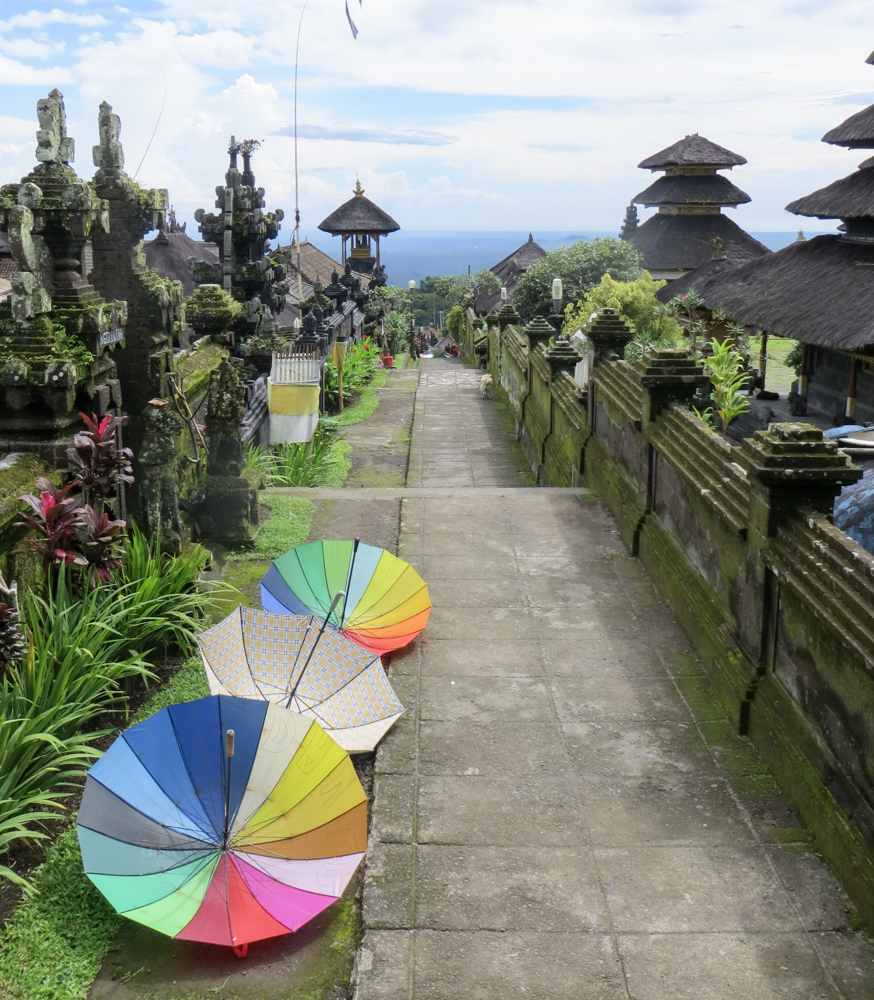 Also in eastern Bali is Kerta Gosa, a building where the royal court of Taman Gili palace gathered. During touring, our guides explain the symbolism and Balinese legends that are depicted in the intricate paintings that cover the ceiling of Kerta Gosa.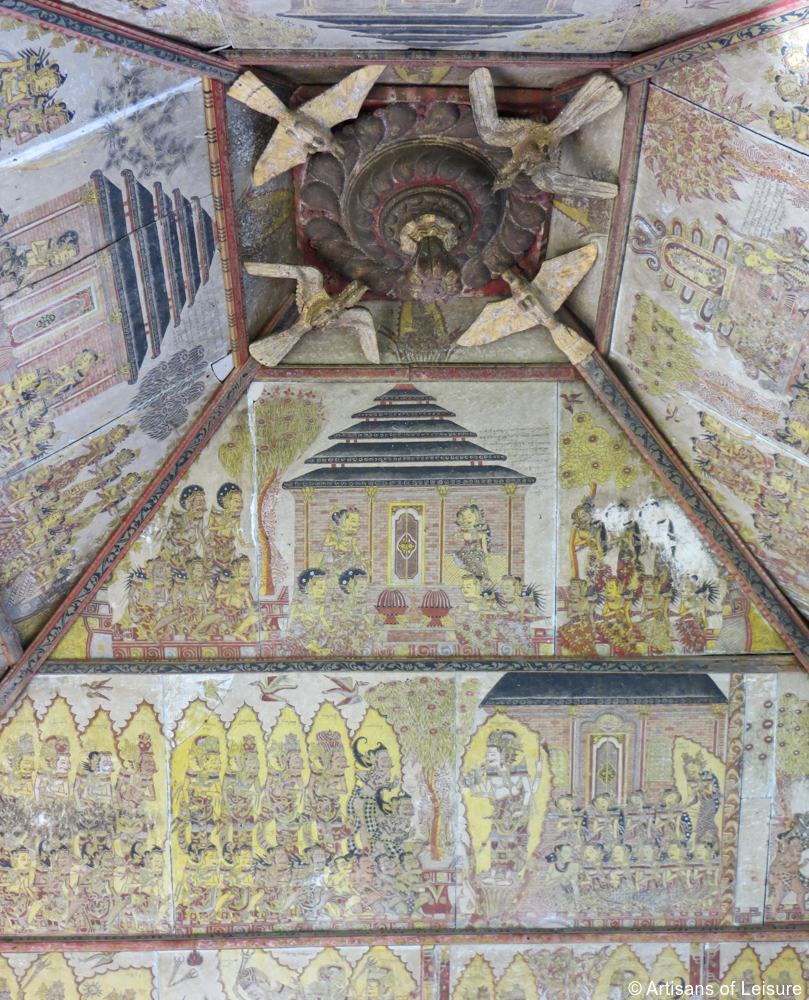 Nearby is the Klungkung fabric market. It's a great place to purchase high-quality local textiles.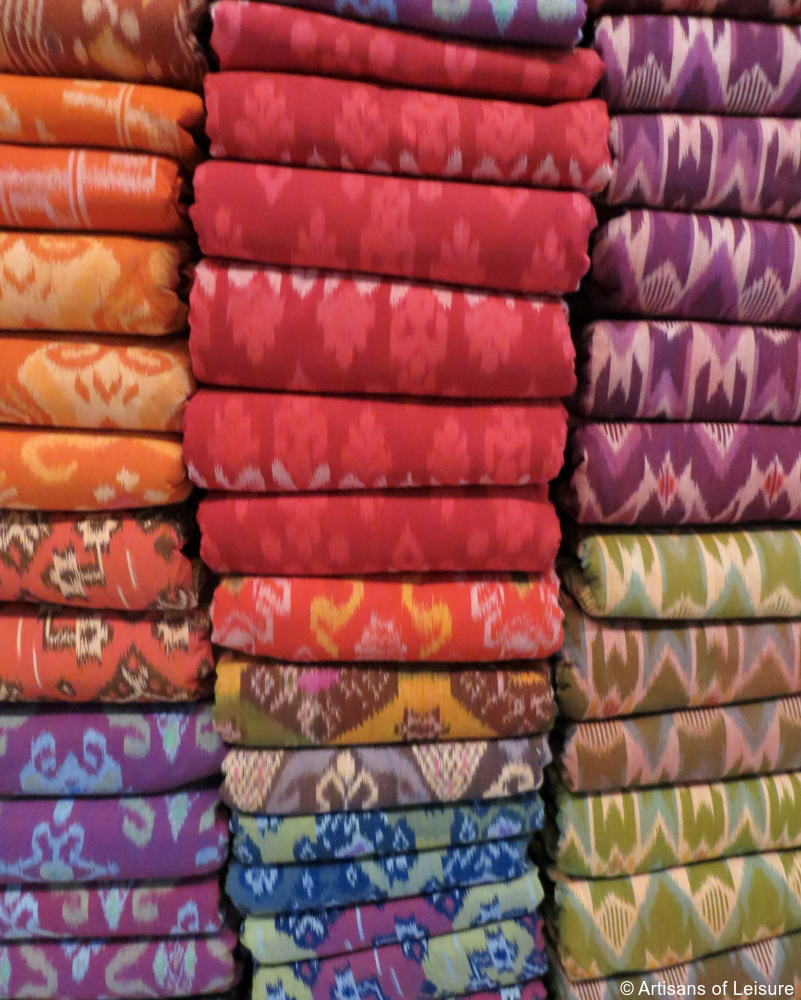 Artisans of Leisure tours include visits to crafts villages and the studios of local artisans to see Balinese styles of crafts such as batik, weaving, woodcarving, silverwork, painting and furniture.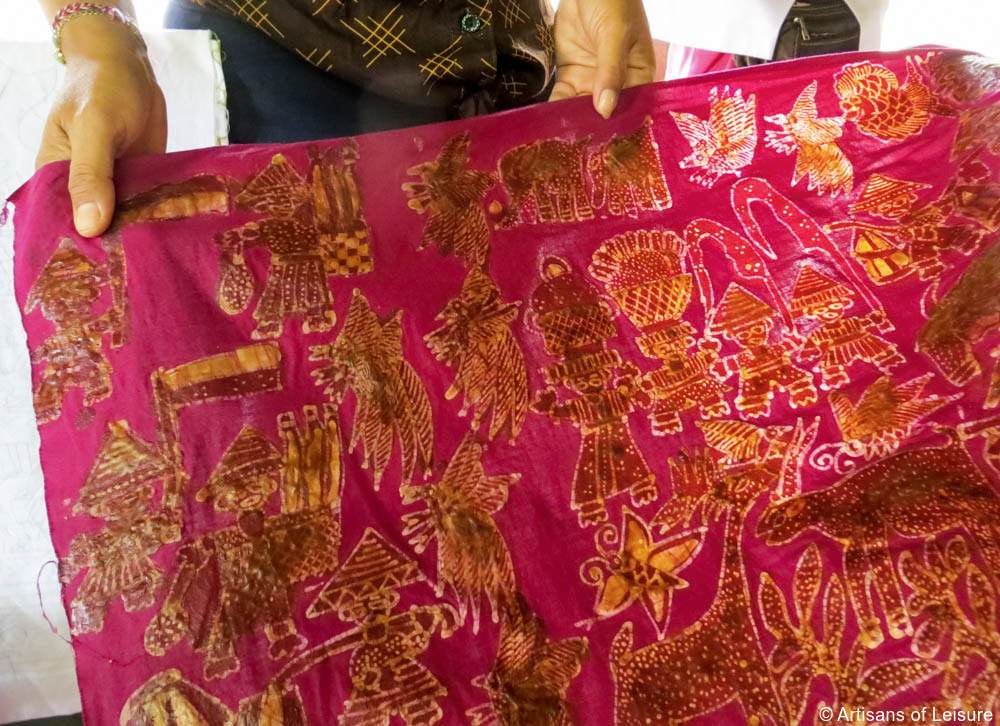 We returned to Amankila to a friendly greeting after a day of private touring.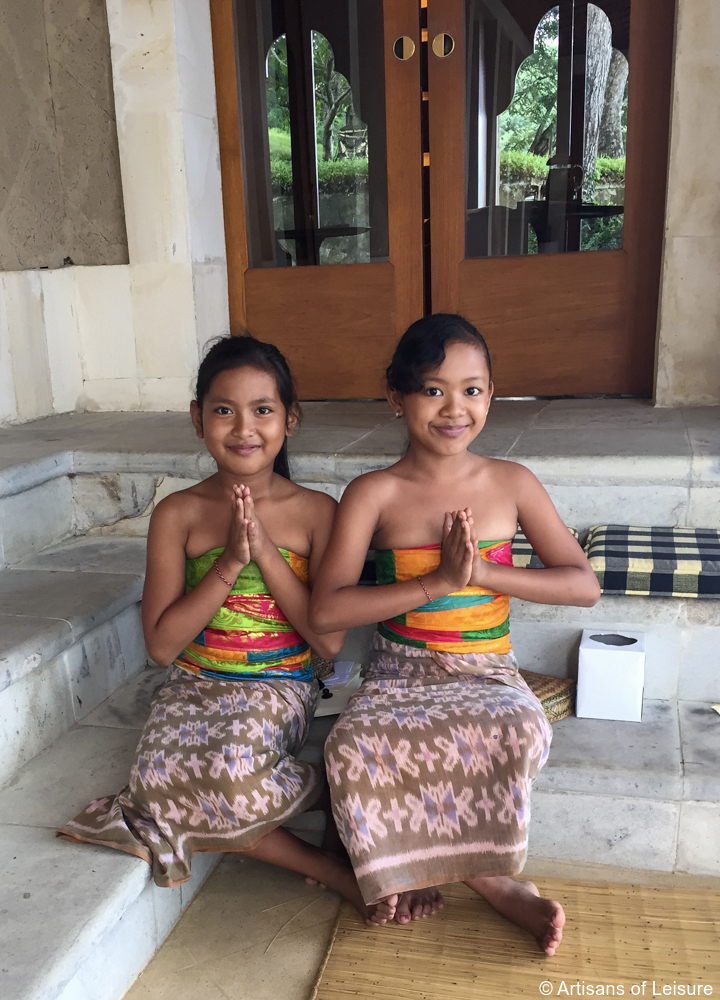 The bales (pavilions) near the pools at Amankila are perfect for sundowner cocktails.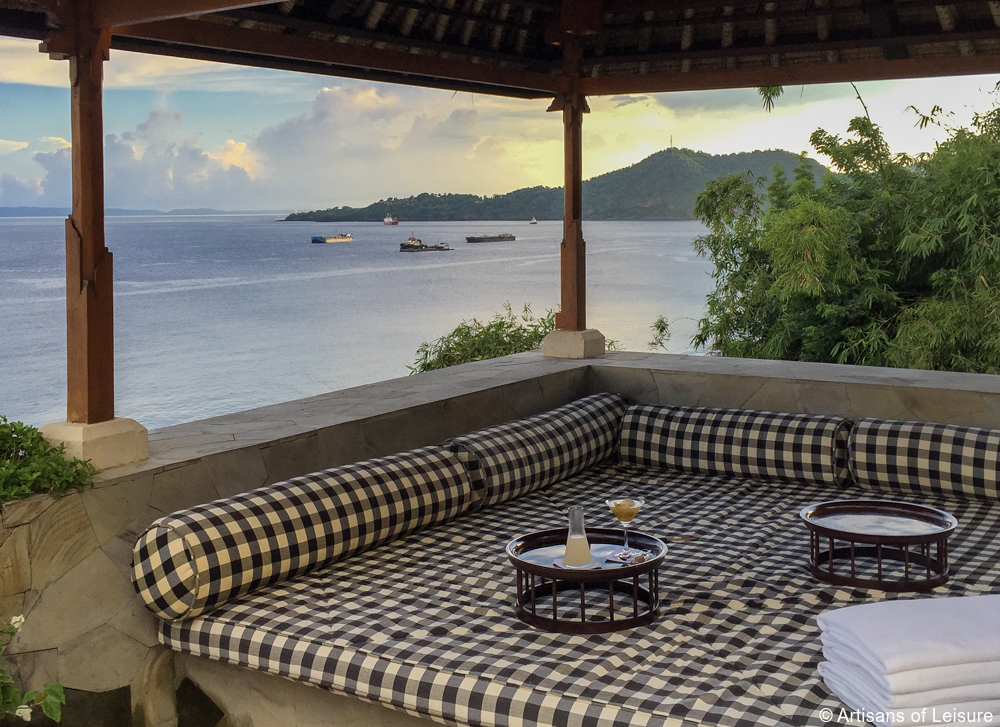 This was a delicious dish of eggplant with chili and garlic.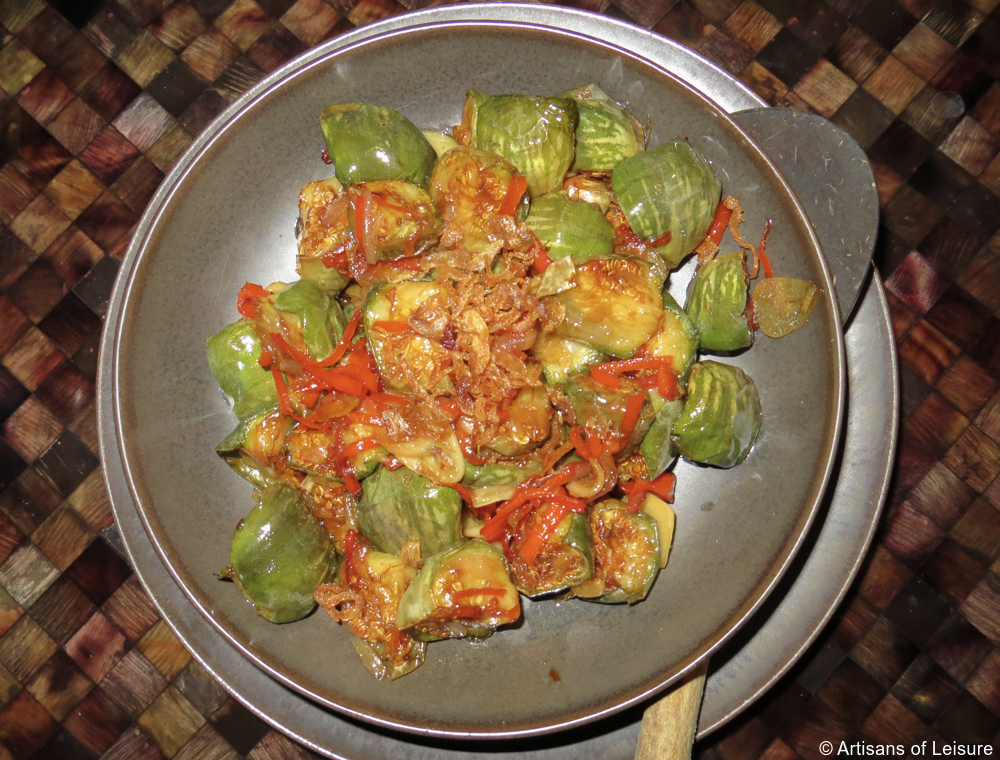 Tirtagangga, a royal water palace whose name means "holy water of the Ganges," is another favorite site in eastern Bali.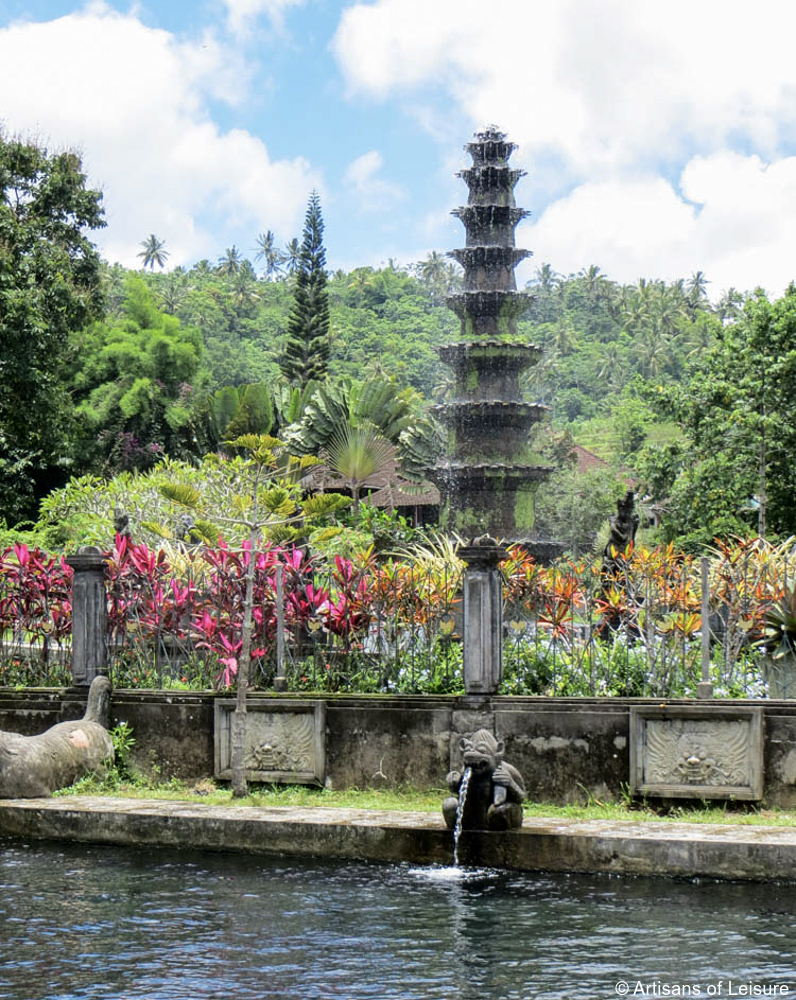 Nearby is Taman Ujung, a water palace that combines Balinese and European-style architecture.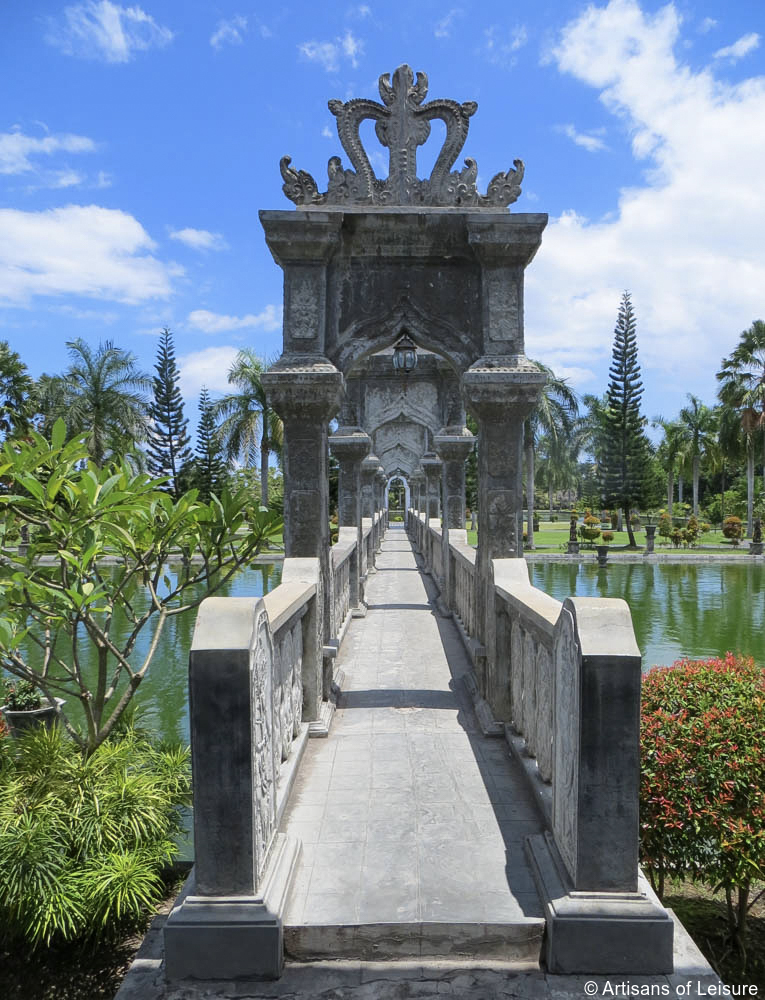 Lunch one afternoon included babi kecap—stewed pork with Balinese spices—served with a Bintang beer at a local restaurant overlooking the ocean in Candidasa.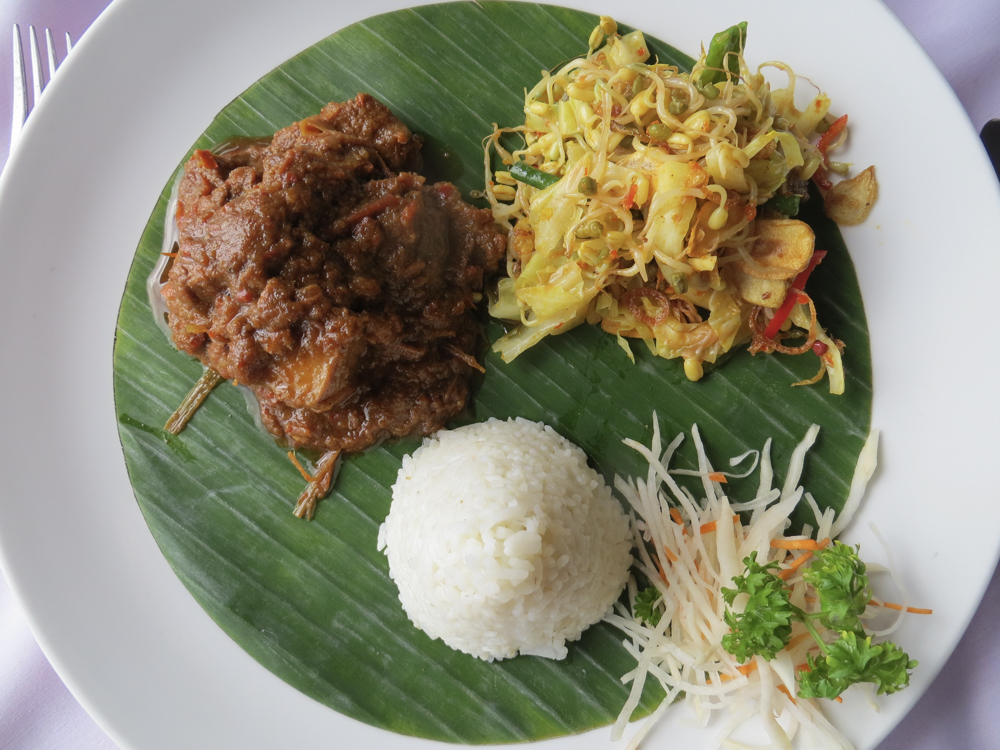 Tenganan Bali Aga village is home to descendants of the original inhabitants of Bali. The villagers here observe strict customs to preserve their traditions. They are also known for the distinctive double ikat textiles, which are produced by dyeing both the warp and weft threads before weaving them together.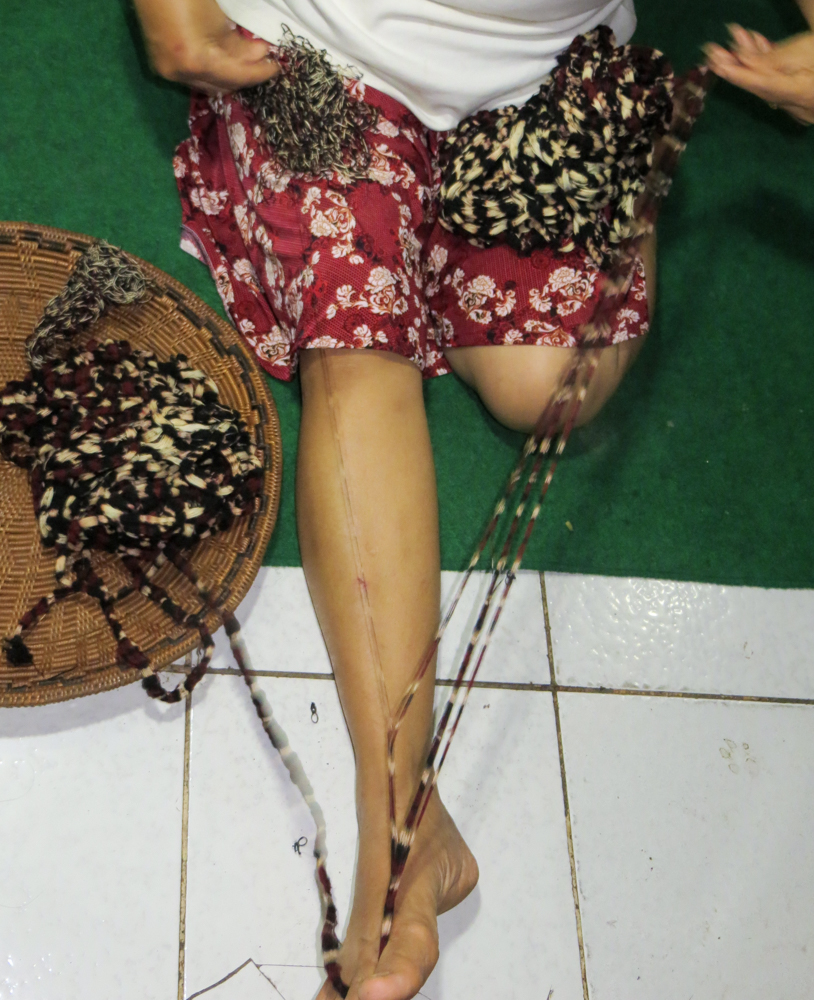 Artisans of Leisure tours include a visit to Tenganan, where travelers can learn more about the process of creating the rare double ikat fabric and then perhaps shop for some of the finished textiles.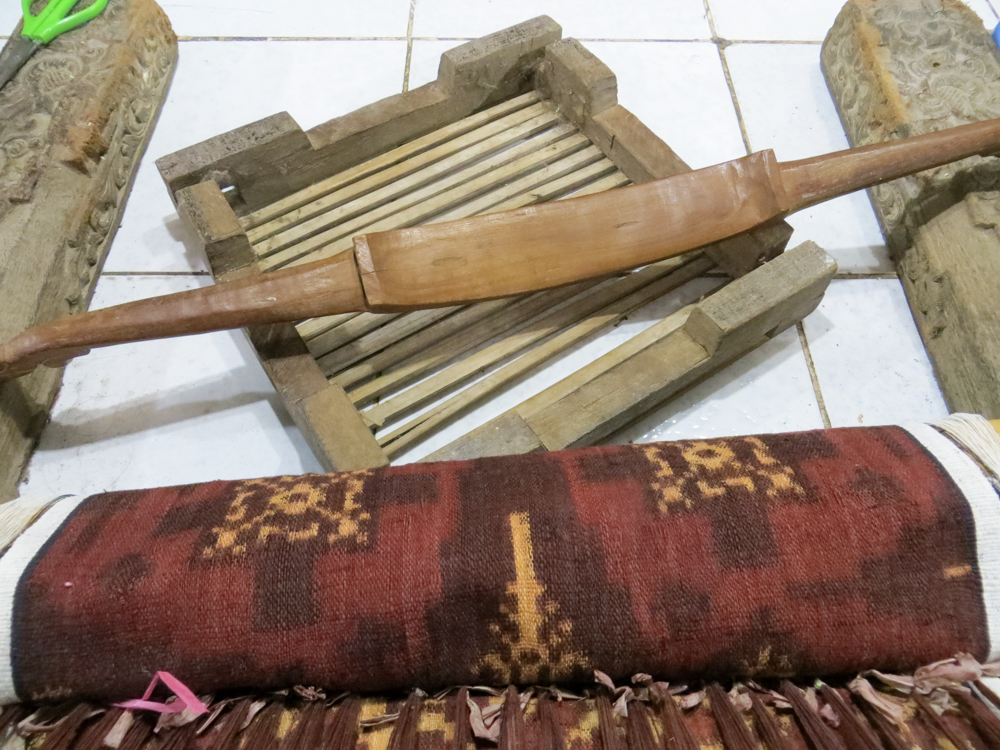 From eastern Bali, we continued to the center of the island and the town of Ubud. Considered the cultural heart of Bali, Ubud is a great base to explore the surrounding temples, artisan villages and countryside.
Four Seasons Resort Bali at Sayan—one of our preferred luxury resorts in central Bali—is located in the jungle-covered hills outside Ubud and overlooks the Ayung River. Villas at the resort have private pools.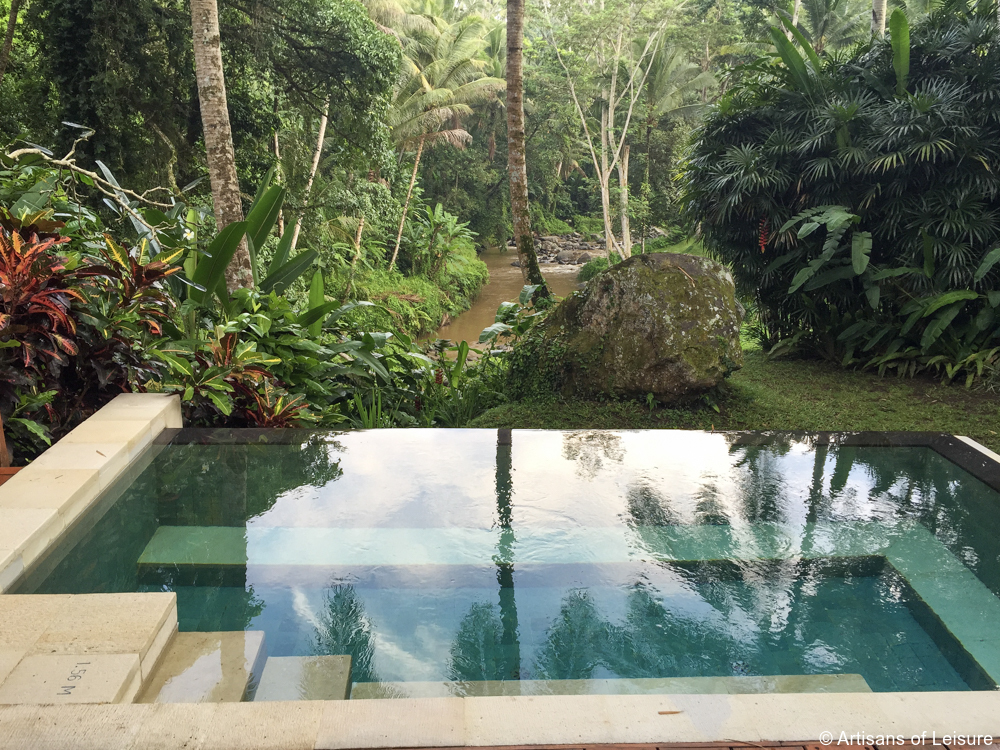 Breakfasts at the Four Seasons Resort Bali at Sayan are delicious, like this fresh fruit, rice porridge and noodle soup.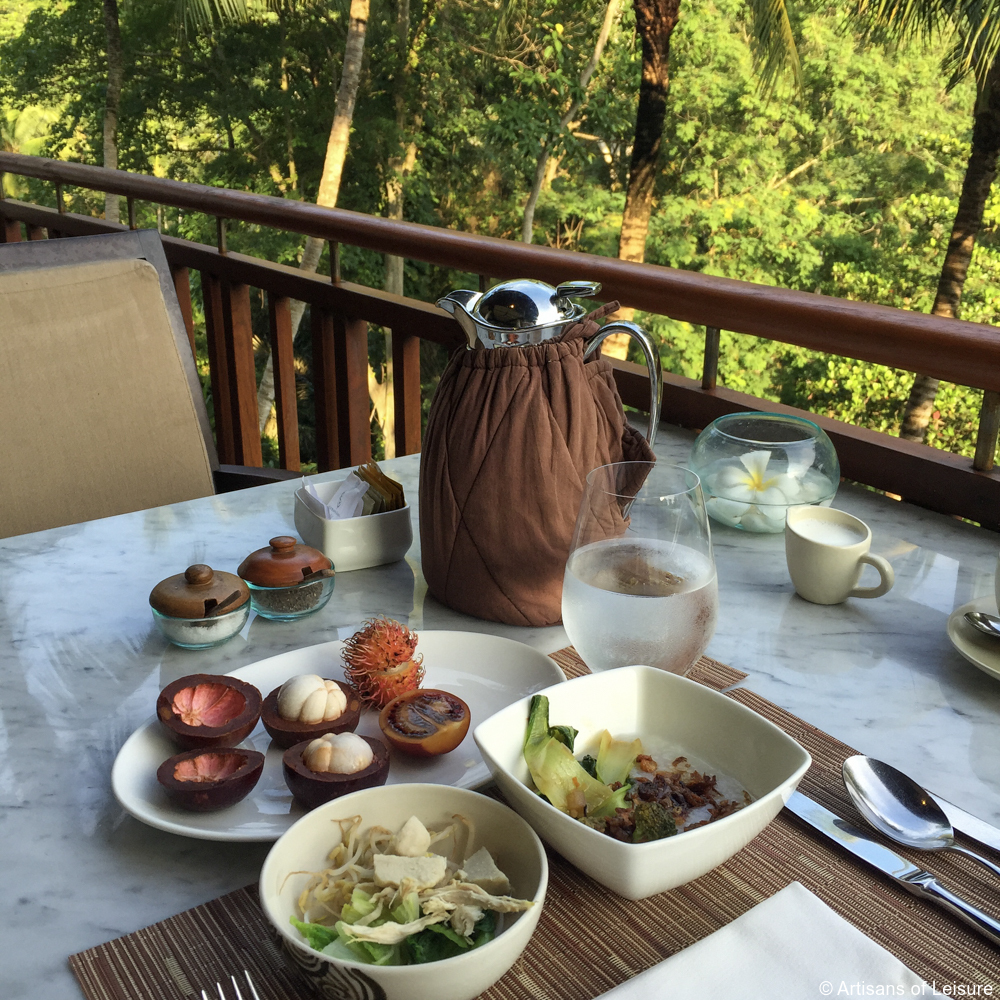 We can arrange for our travelers to experience planting rice with a local farmer.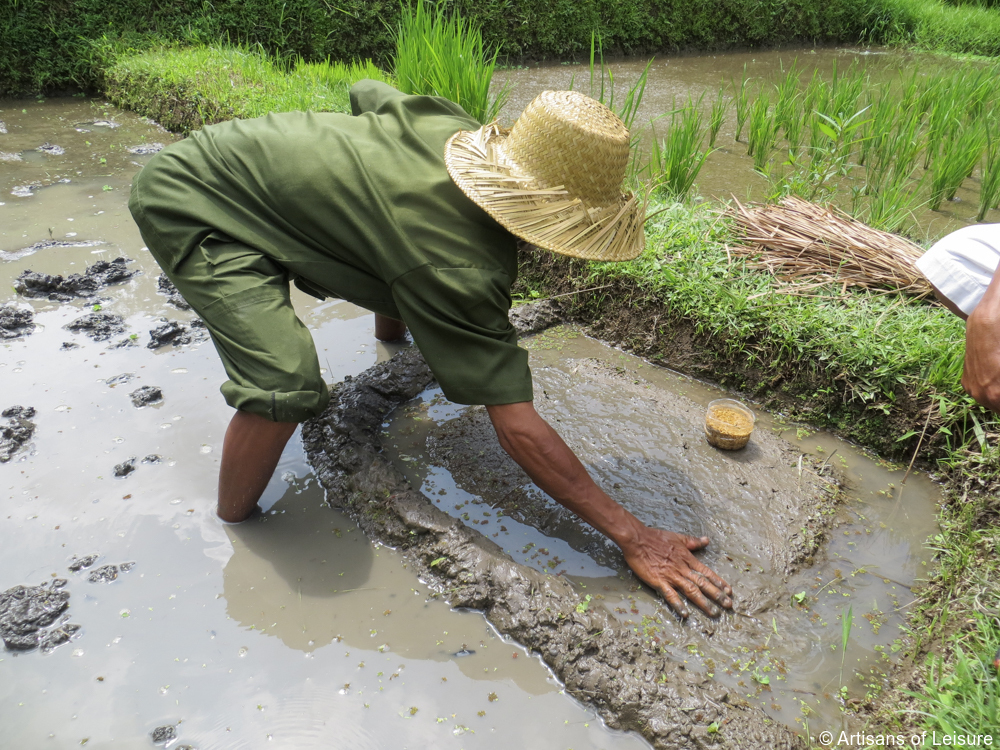 Coffee is also a popular crop in Bali. Artisans of Leisure's local guides can take travelers to a coffee plantation to learn about growing and roasting, as well as to taste a variety of types and flavors of coffee.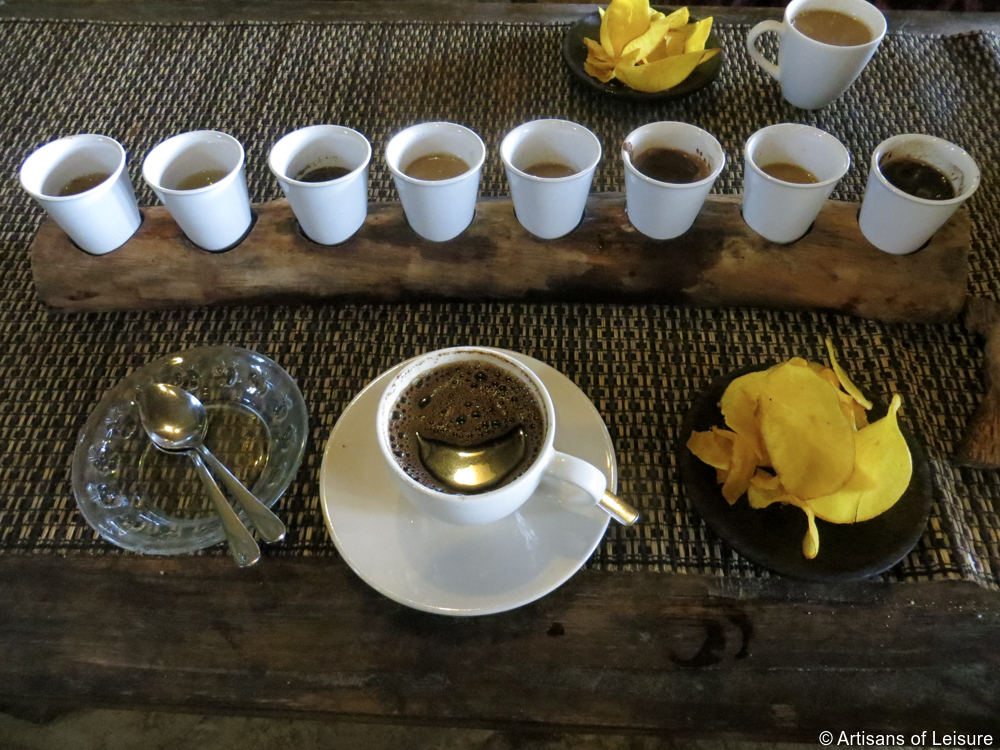 Upon request, Artisans of Leisure can book soft-adventure activities such as rafting, mountain biking and trekking.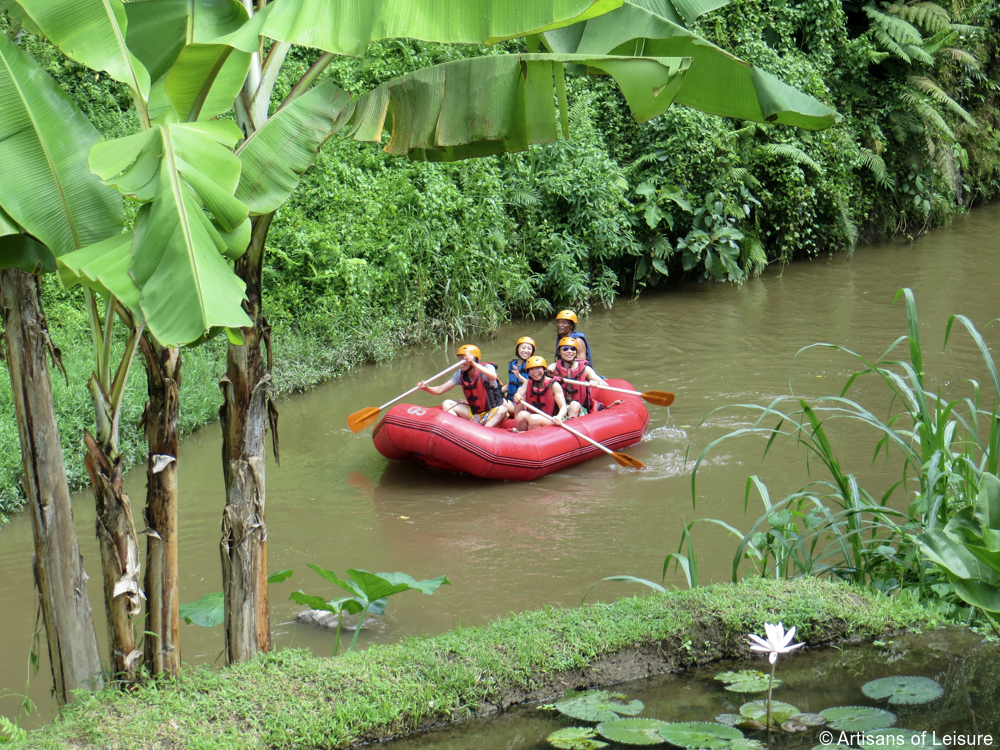 Bali has numerous volcanoes, including Batur, Beratan and Agung. Our tours include a visit to Kintamani, a village on the caldera rim of Mount Batur, to take in magnificent views of the surrounding landscapes.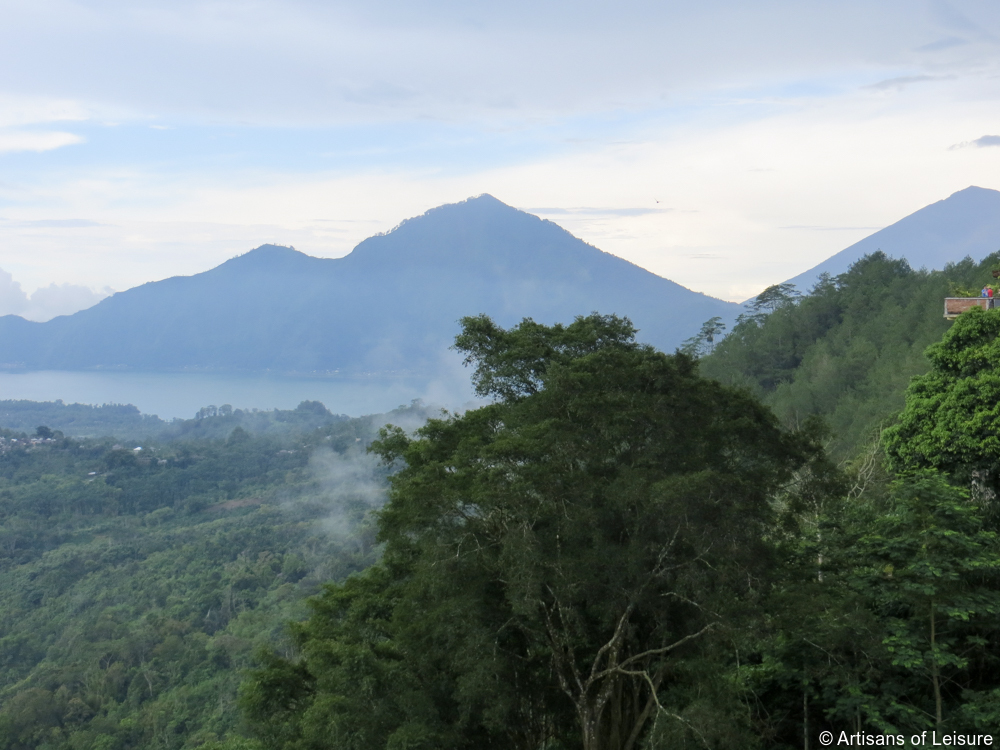 This shrine is at Pura Gunung Kawi Sebatu, one of our favorite temples in Bali.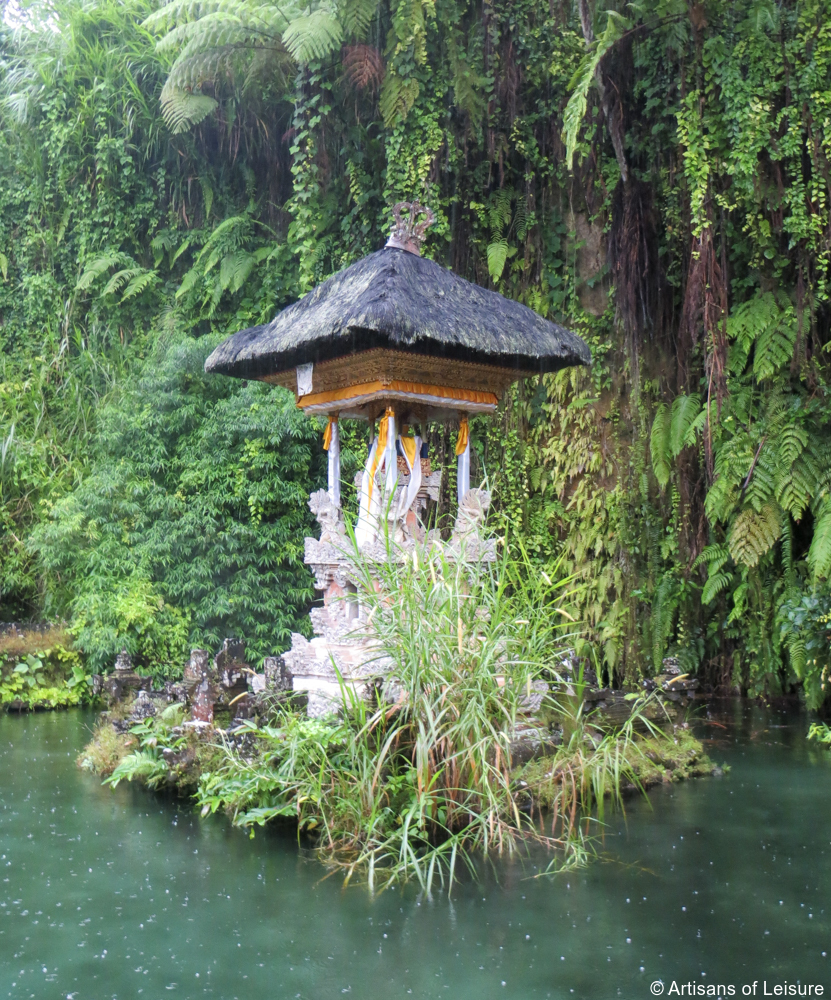 Goa Gajah (Elephant Cave), a cave temple believed to date to the 11th century, has an elaborately carved stone entrance.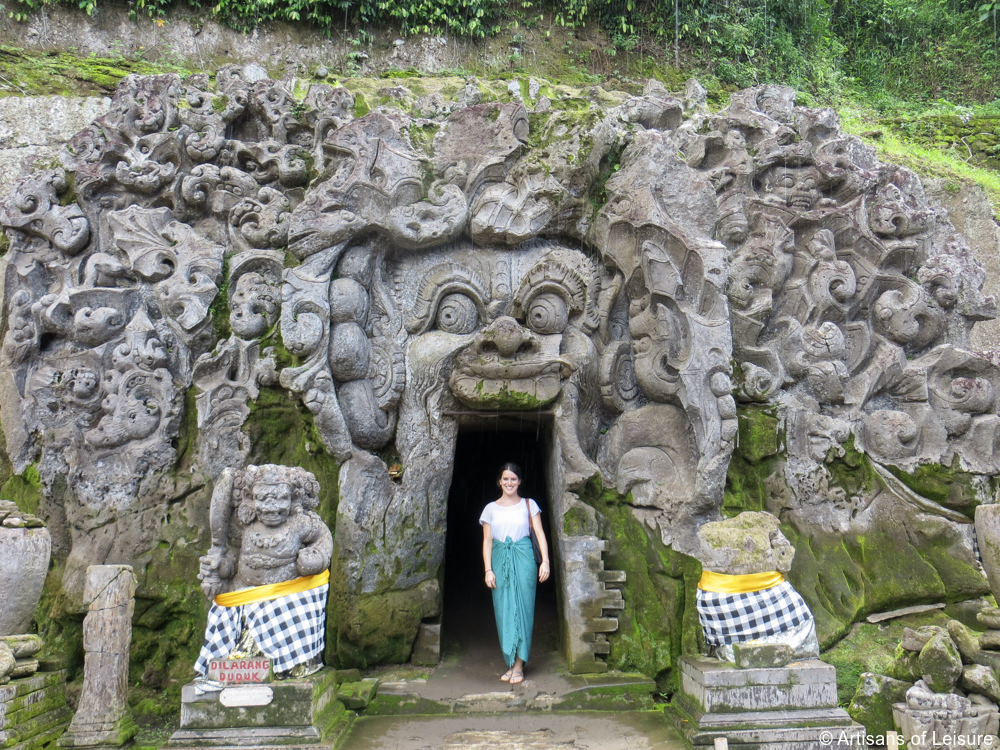 Central Ubud is full of shops and galleries offering traditional and modern Balinese art, home decor, clothing, jewelry and accessories made by local artisans.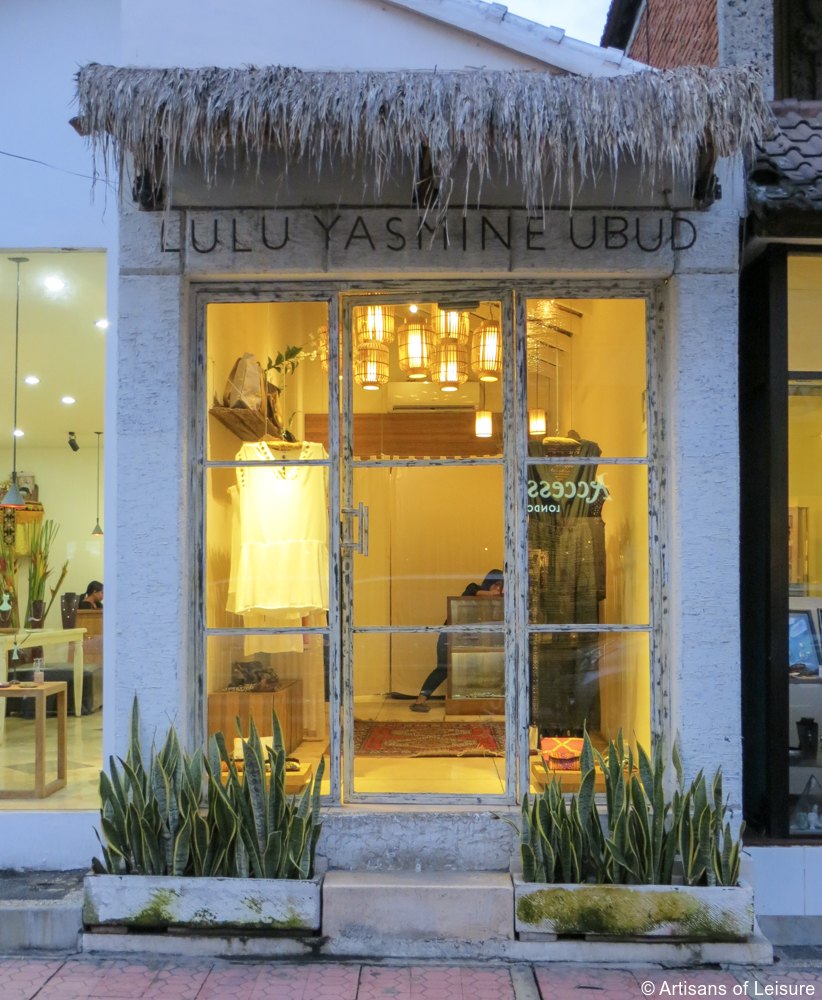 This boutique in Ubud had an assortment of colorful pillows.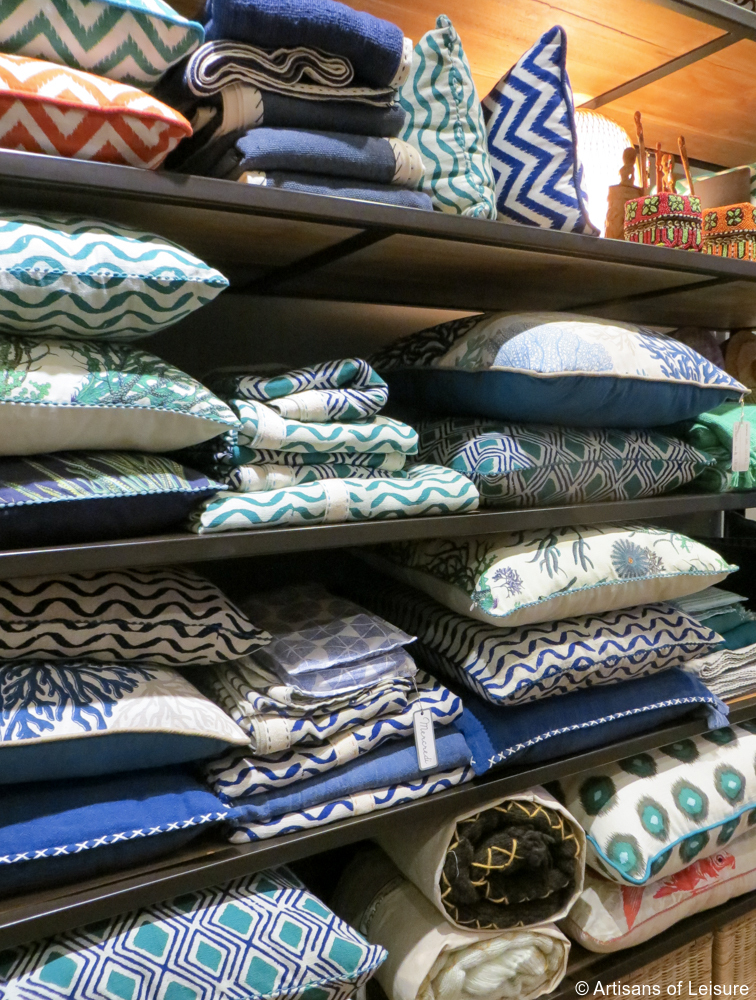 Puri Saren Ubud is the official palace of the local royal family. It features traditional Balinese architecture and decorative elements such as this image of Boma (a protective spirit), which was believed to guard the inhabitants of the palace.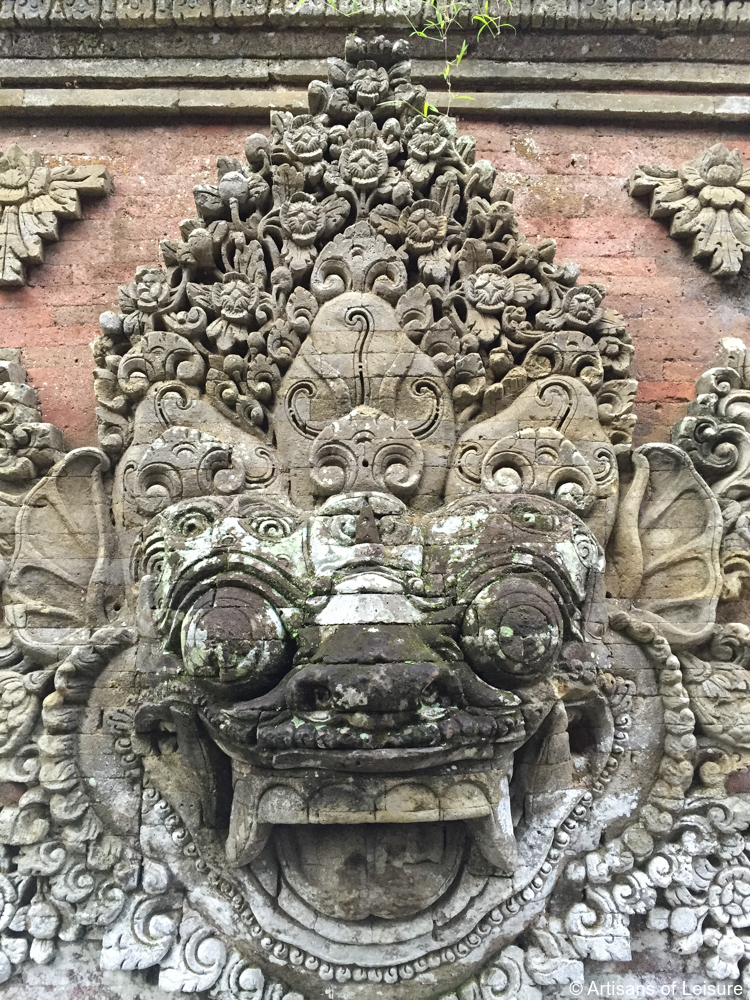 Traditional dance performances take place in the evening at the royal palace and are a highlight of a visit to Ubud. We make sure that our travelers have the best seats for performances.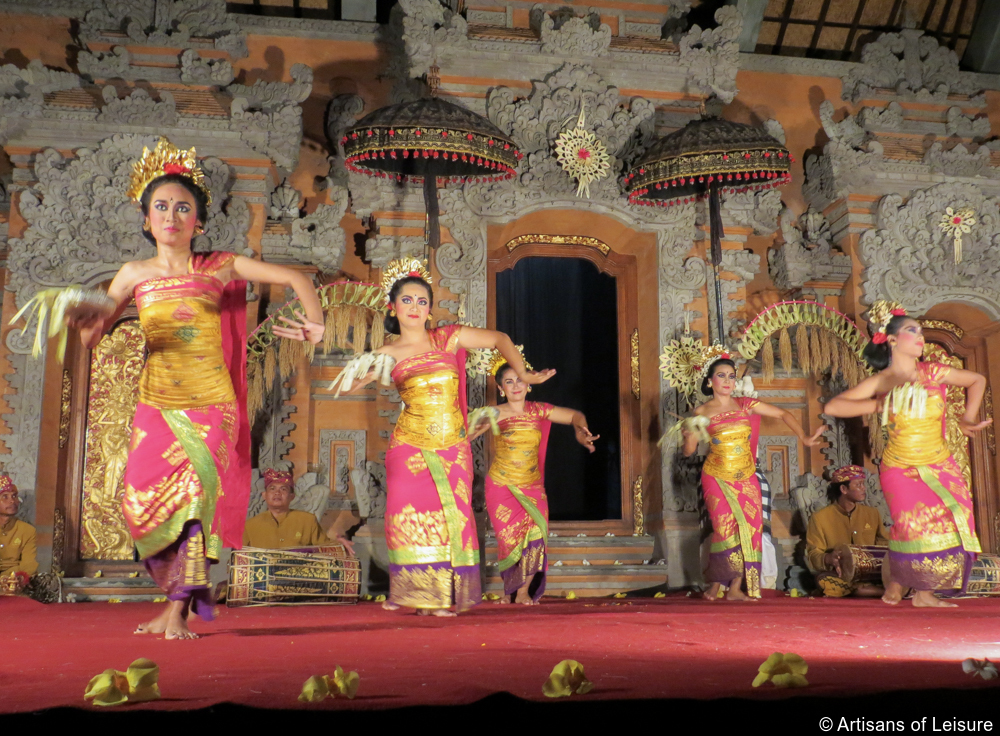 Another of our preferred Ubud properties is Amandari, which is designed in the style of a traditional Balinese village.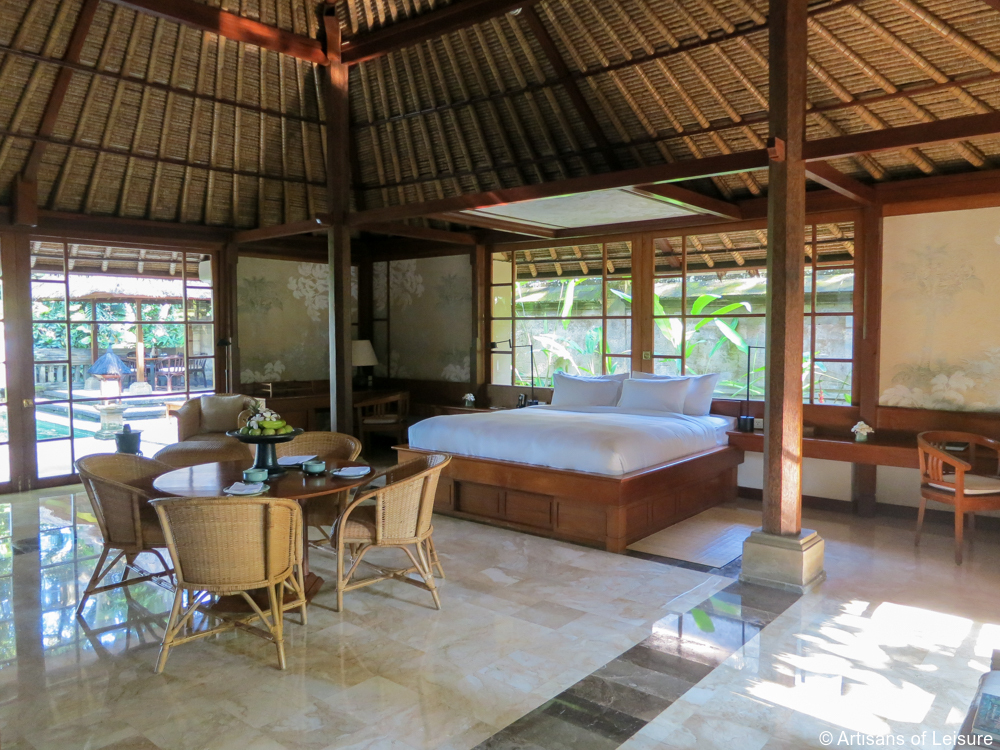 Beyond the Amandari pool are sweeping views of the valley below.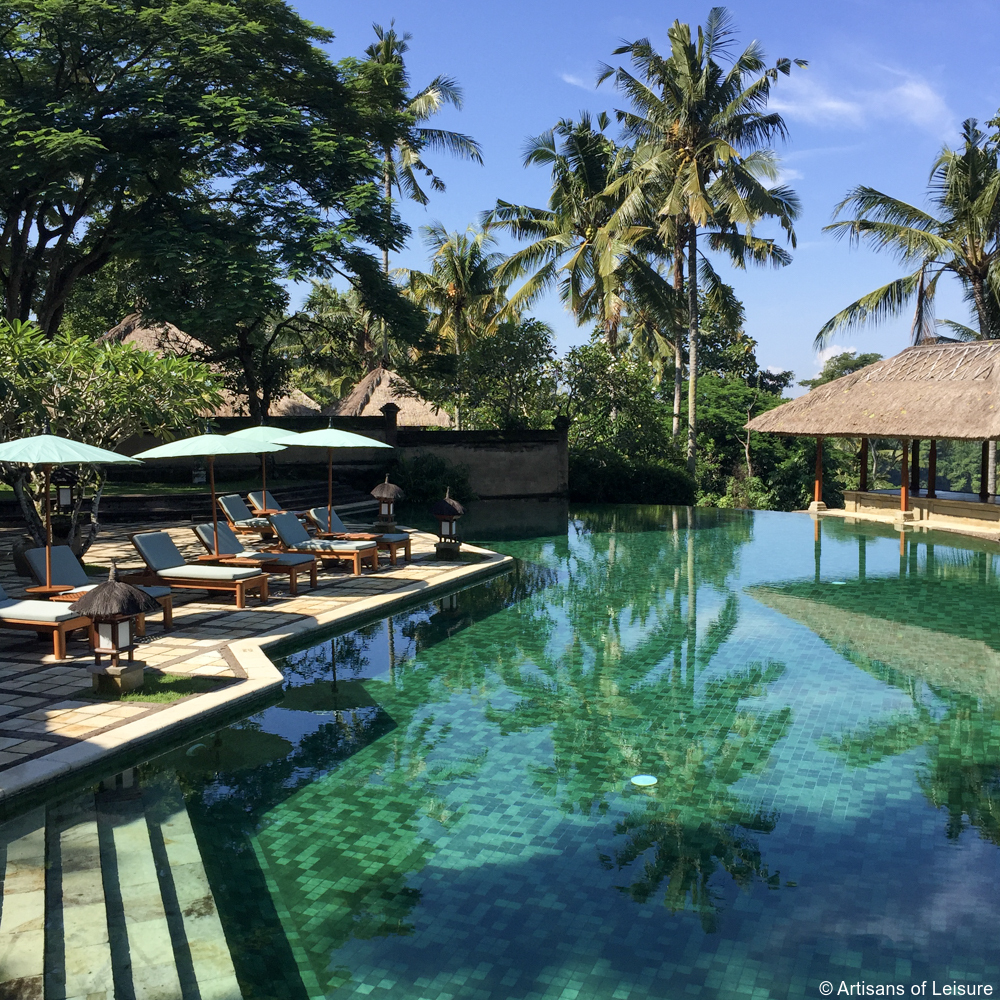 Nasi goreng–Balinese fried rice–is a great breakfast before a day of touring in the region.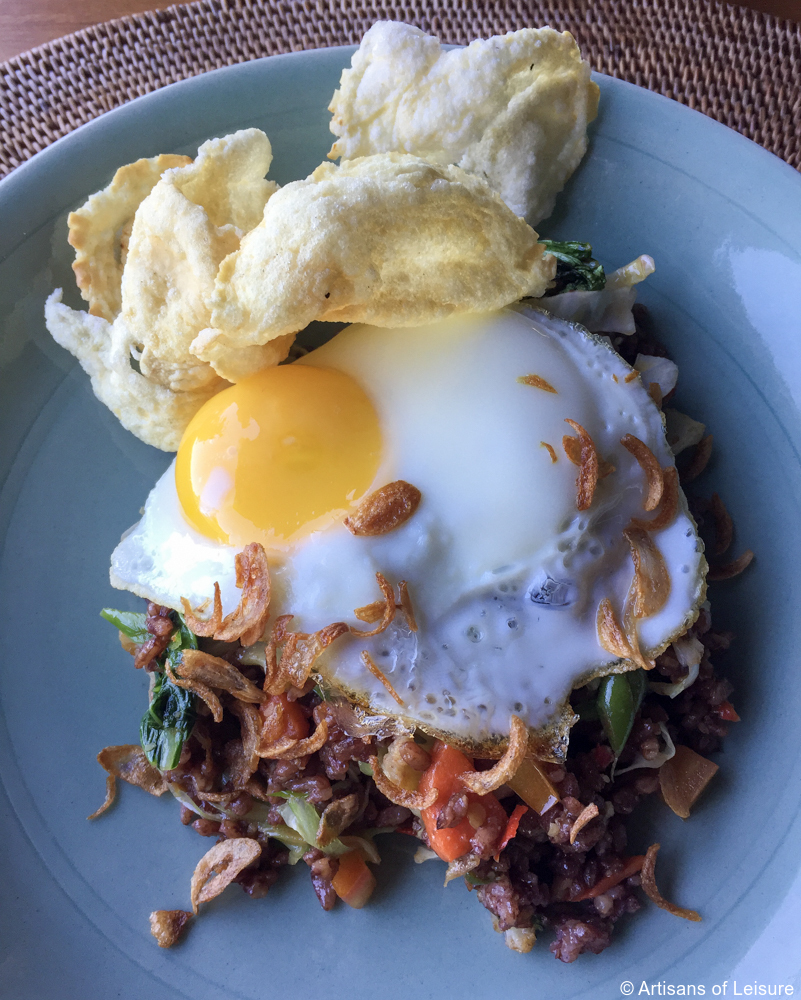 An early morning guided visit to a local market offers insight into the lives of nearby villagers.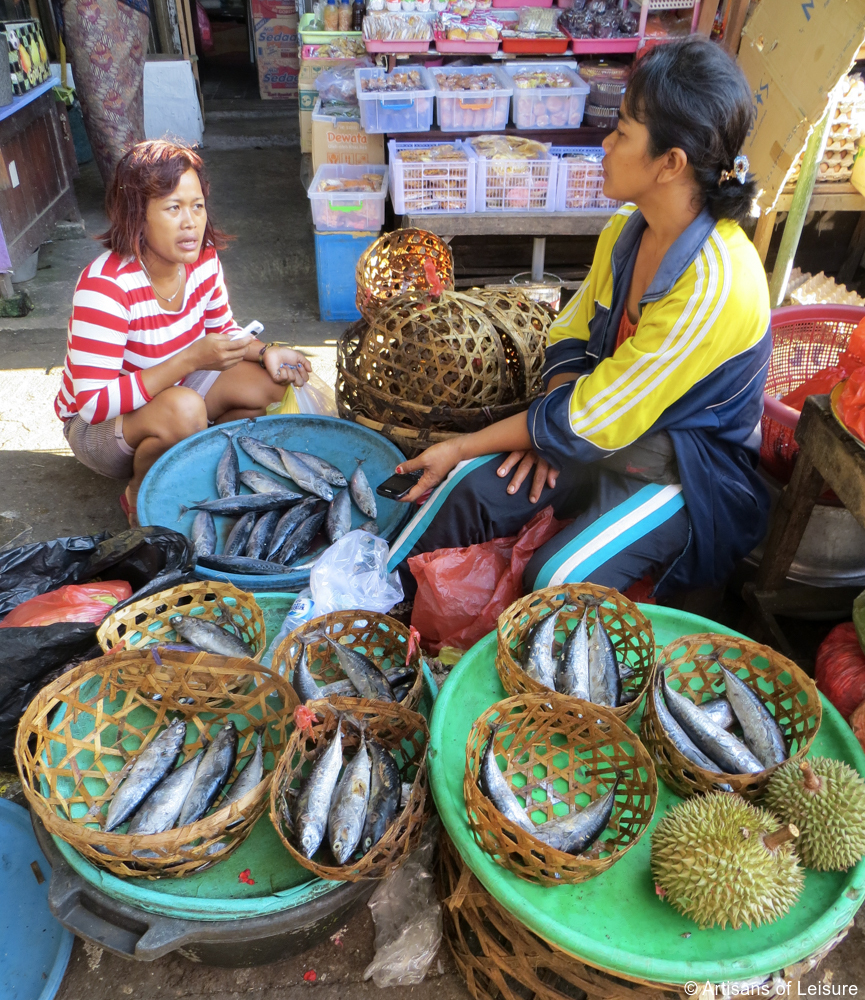 Market stalls are piled with fresh vegetables and tropical fruit, including mangoes, mangosteens and dragonfruit.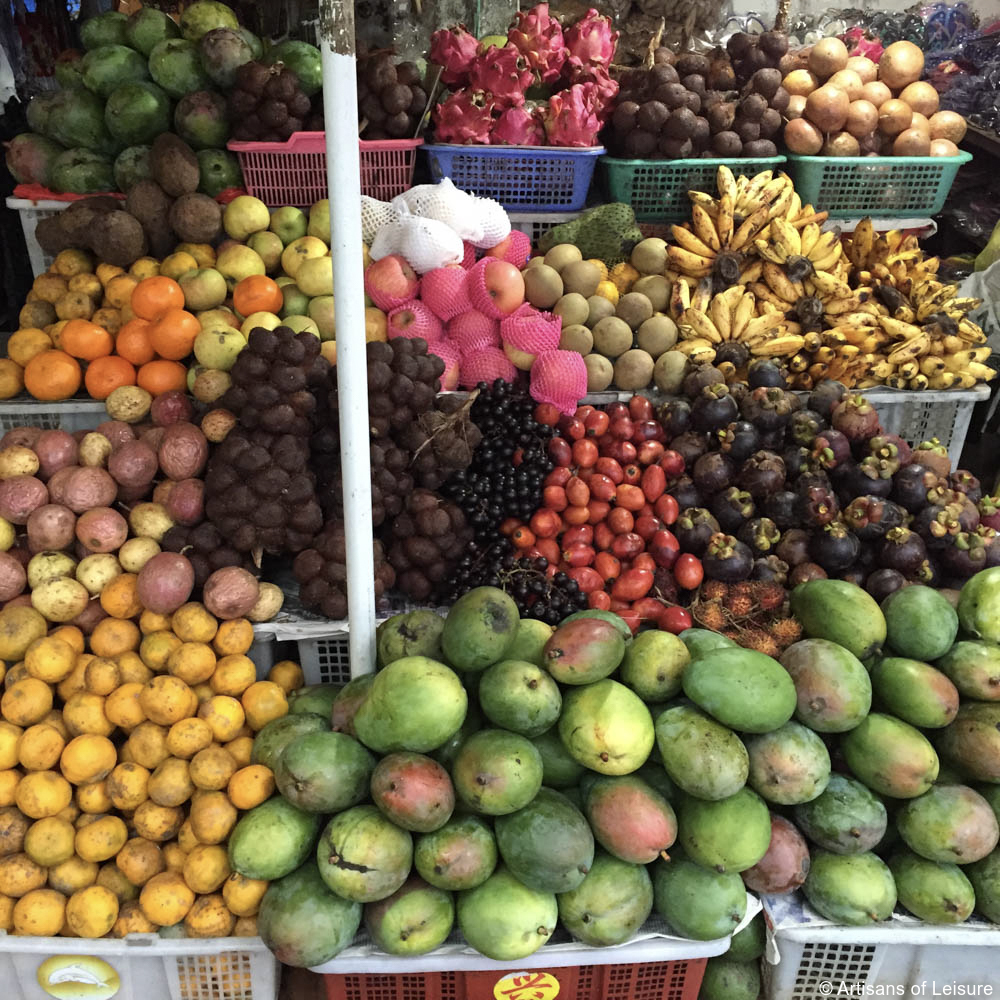 A drive through the backroads of Bali offers opportunities to see farmers at work and learn about the various stages of the rice-growing process…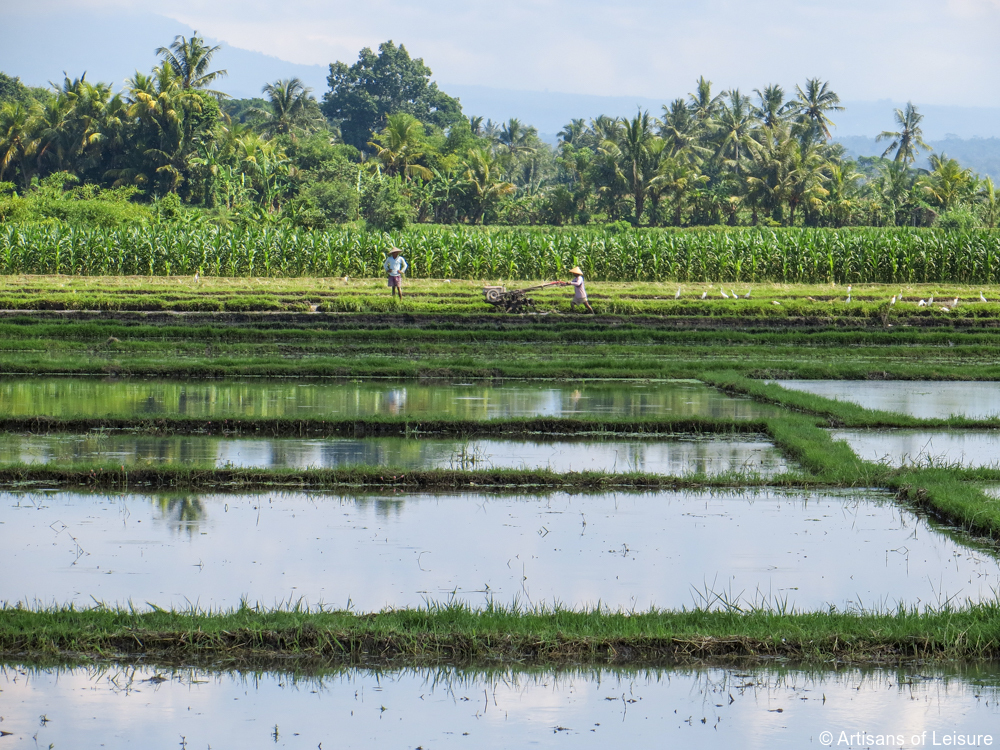 …which our guides are happy to explain.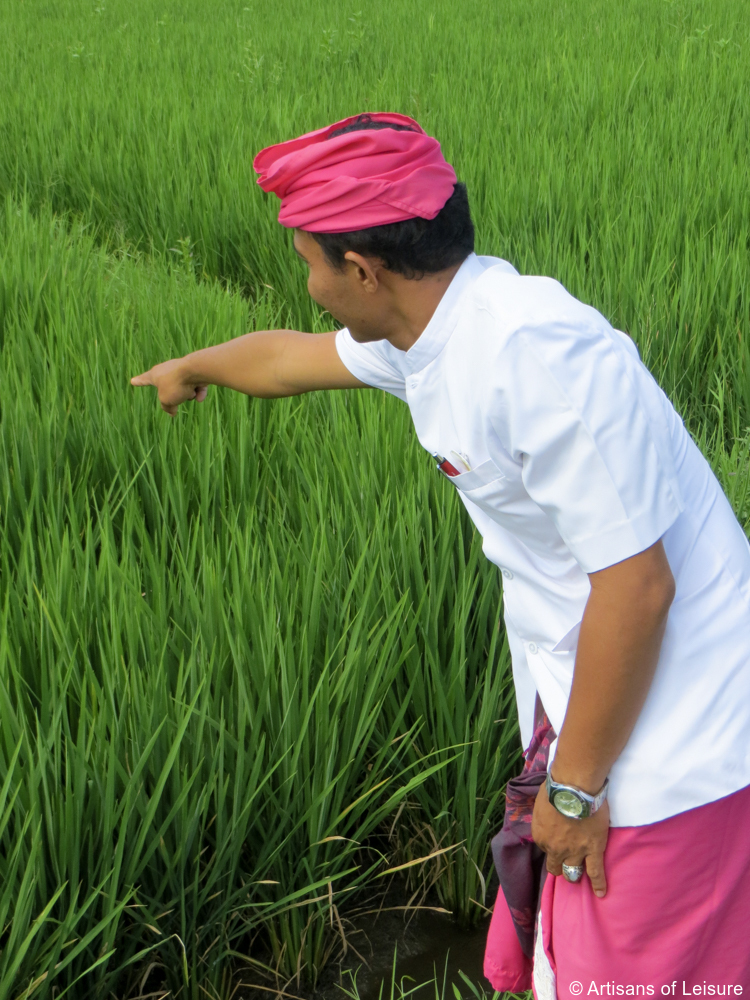 Our guides also help our travelers understand the traditions behind the numerous festivals that take place throughout Bali nearly every day.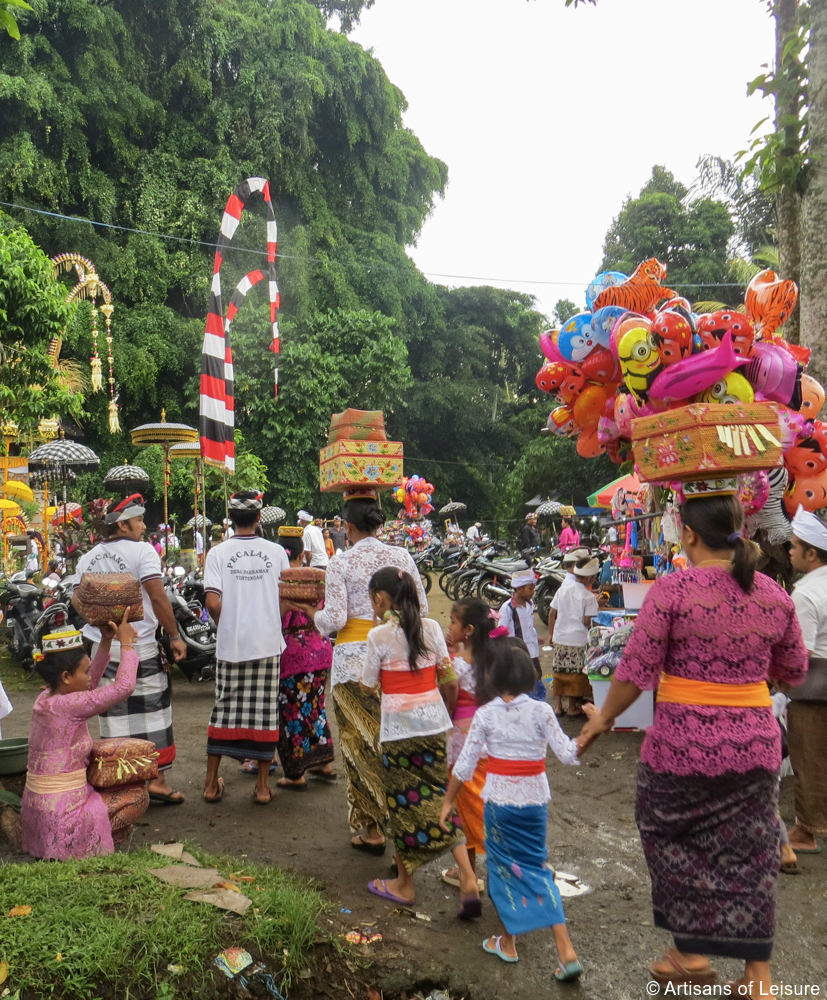 These large metal instruments are part of a gamelan, the traditional orchestra that often accompanies performances and special events in Bali and Java.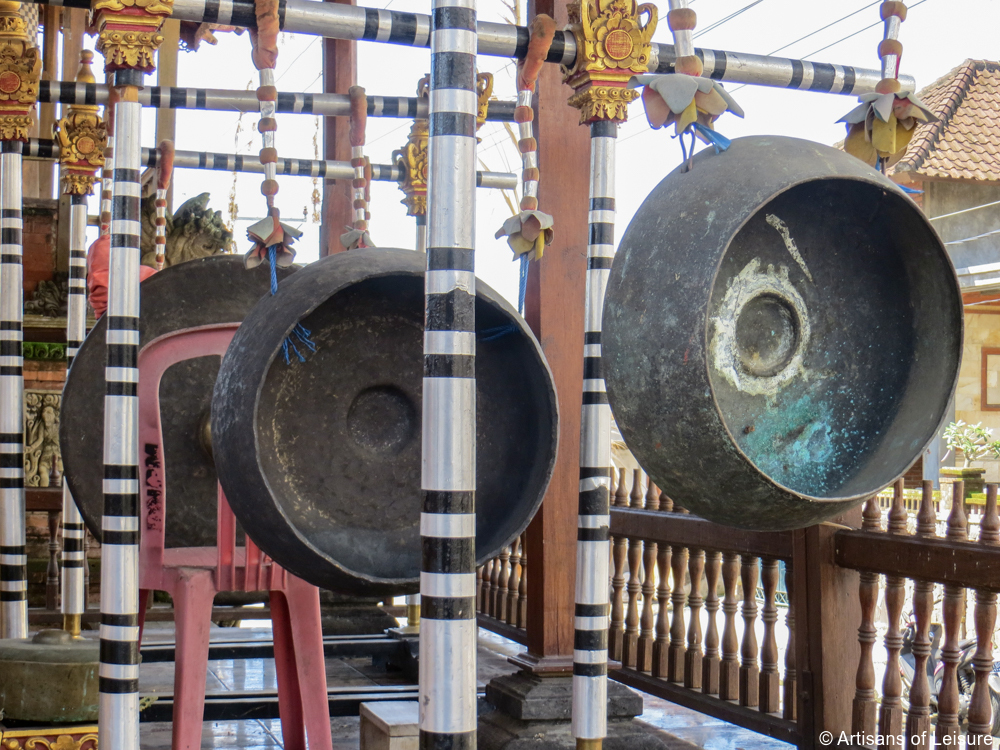 One of Bali's newest luxury resorts, Mandapa, a Ritz-Carlton Reserve, is built around rice paddies and overlooks the Ayung River. This luxurious resort combines Balinese and contemporary styles.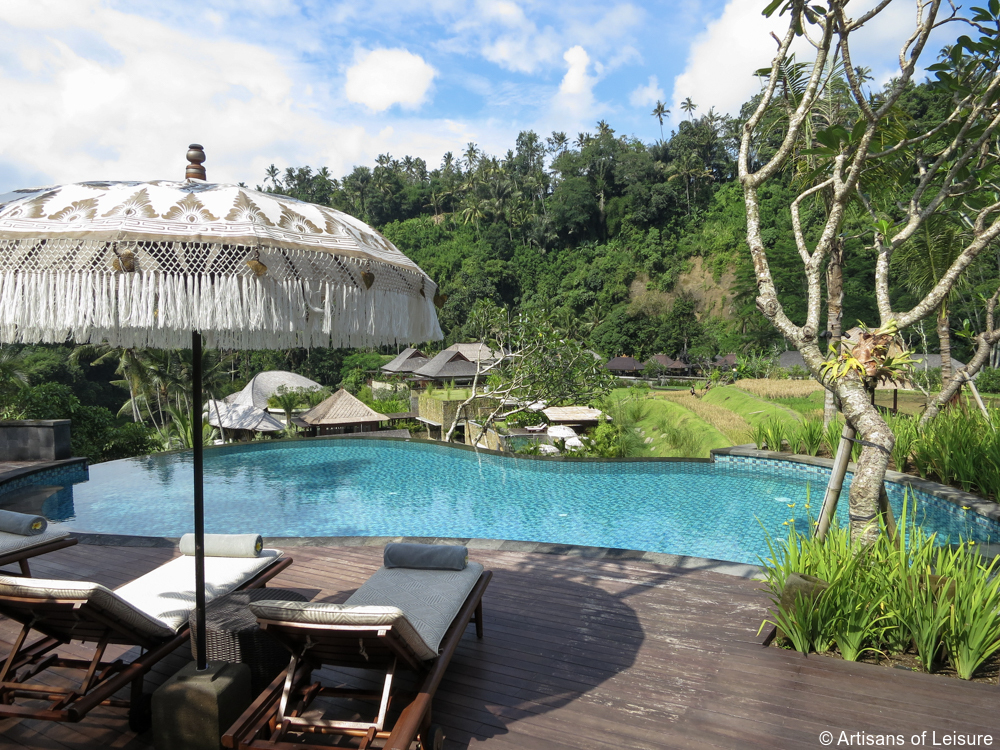 Artisans of Leisure can also arrange tours of the John Hardy workshop to learn about the design and production process of the famous jewelry brand and see artisans at work. The tour is also a good way to learn about the brand's commitment to minimizing their impact on the environment and to providing a stable and inclusive working environment for their employees.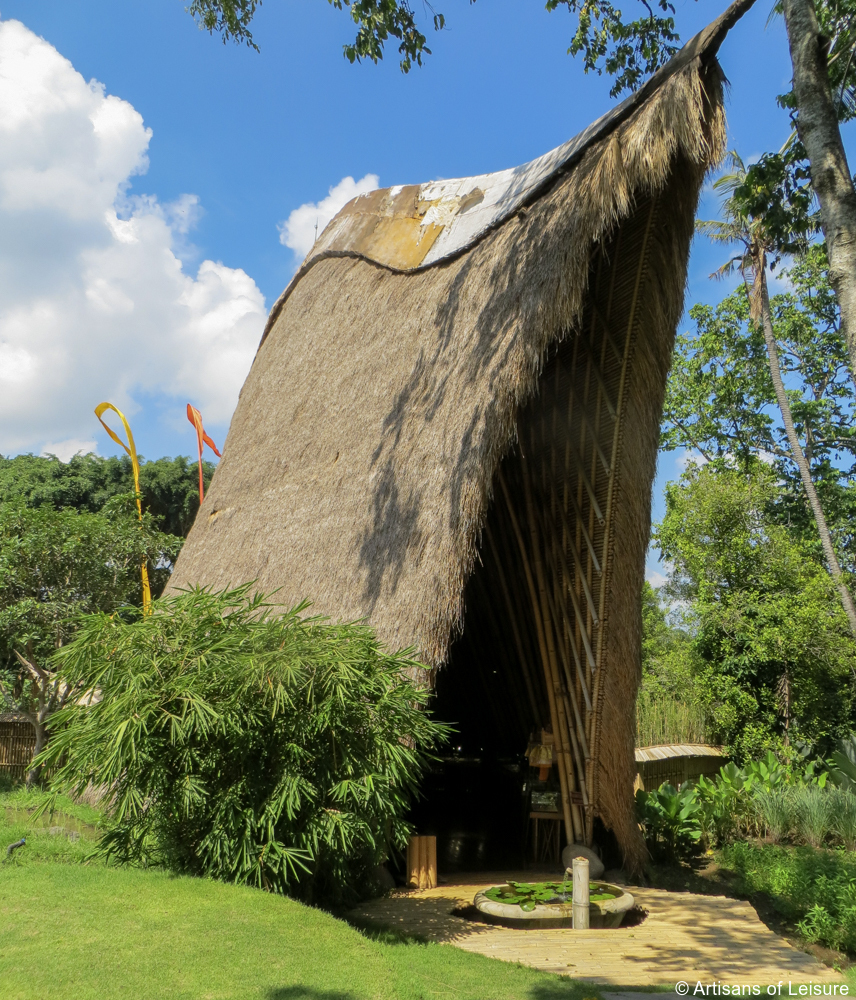 Pura Tanah Lot, one of the island's most famous temples, is only accessible on foot during low tide.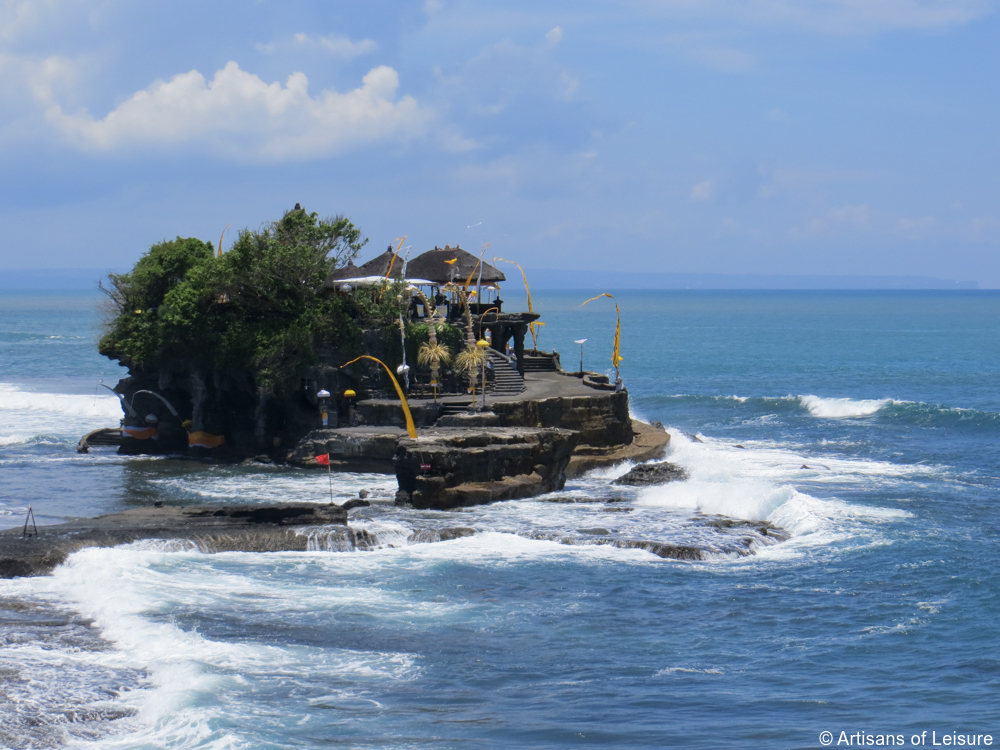 We were lucky to witness a blessing by a Hindu priest at the temple.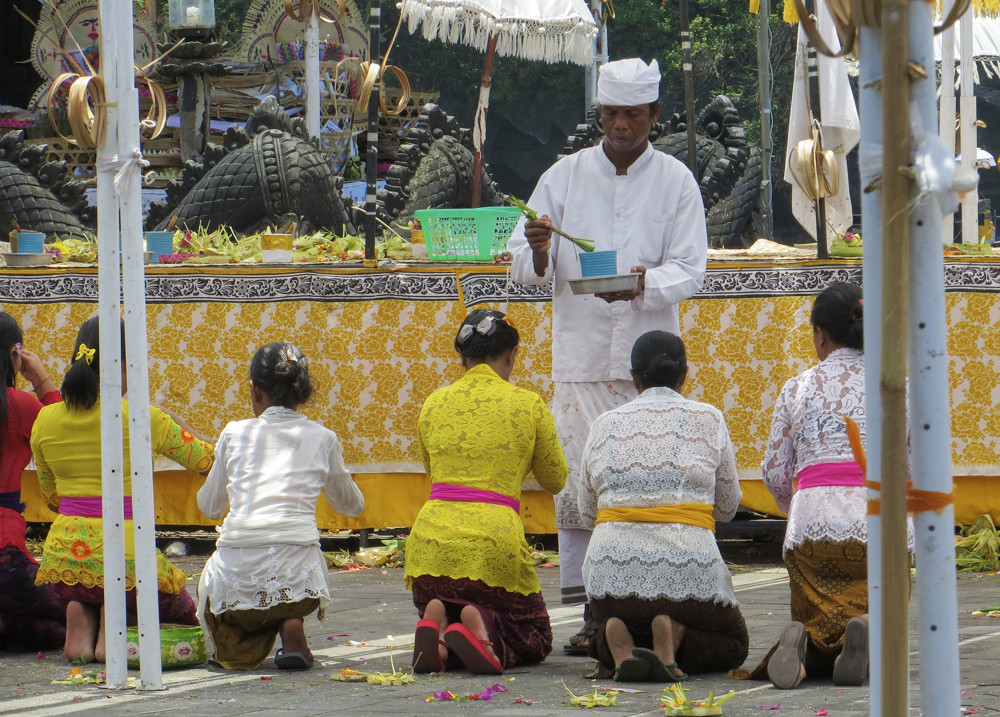 Artisans of Leisure can also include a visit to the Bedugul Botanical Garden to see orchids, cacti, bamboo and other plants.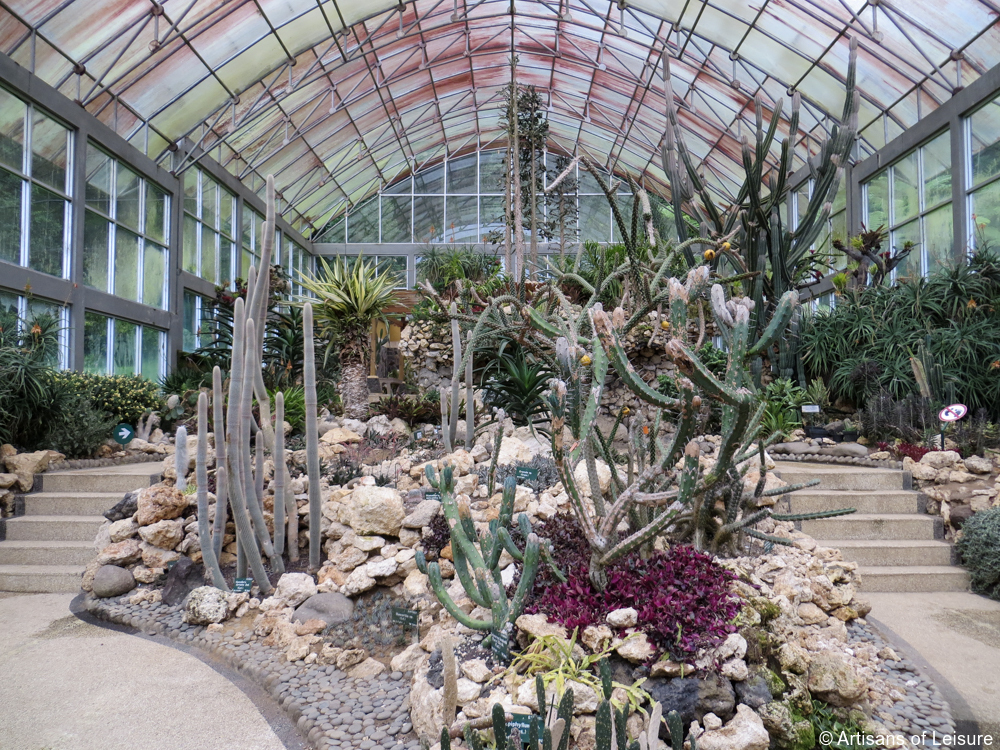 Our tours also visit the famous Pura Ulun Danu Beratan temple on Lake Beratan (also known as Lake Bratan).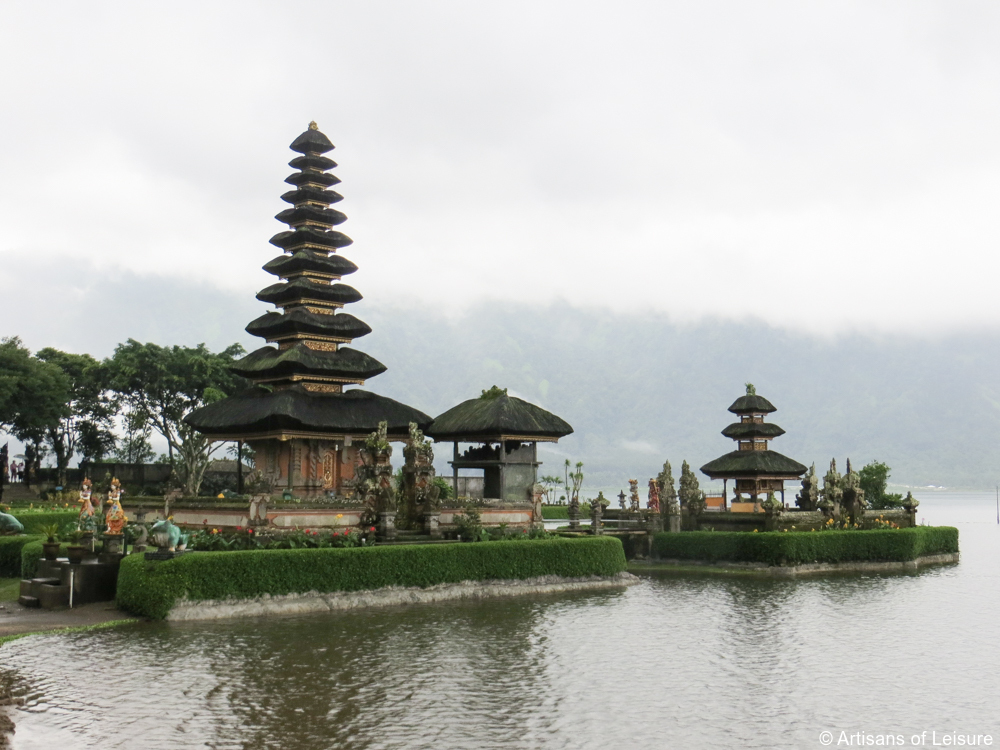 Intricate designs adorn the doors at a pavilion of Pura Ulun Danu Beratan.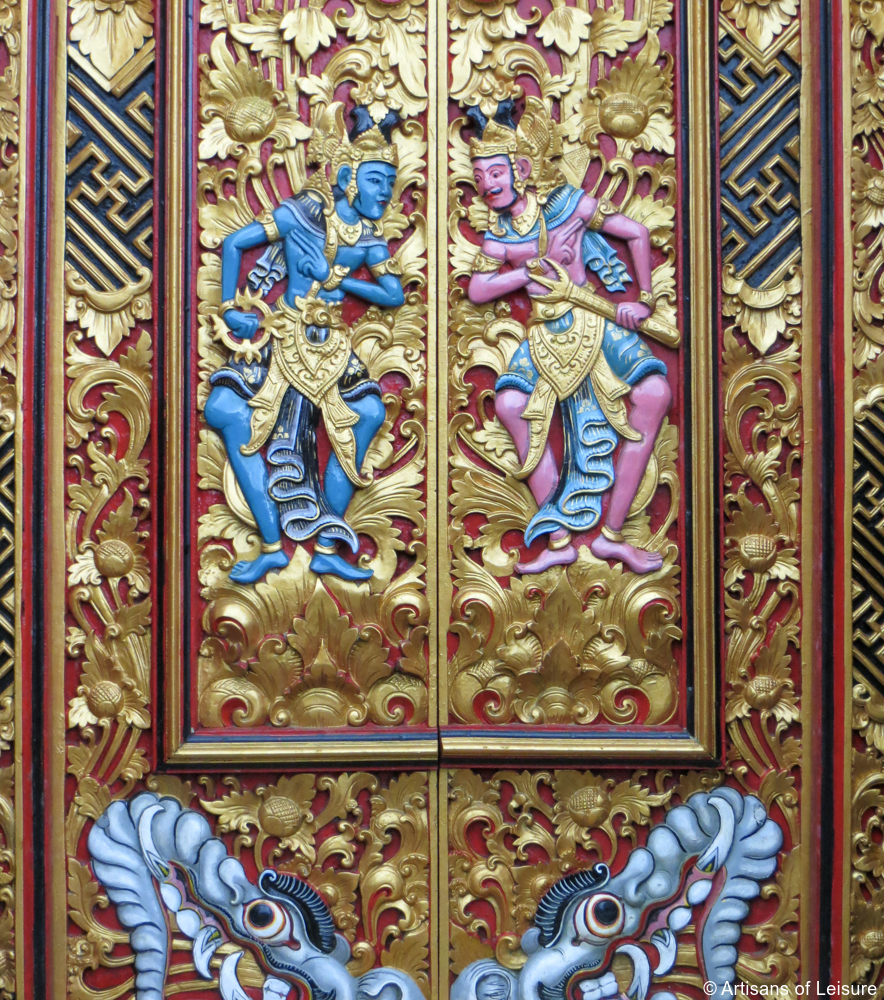 On the southern coast, the Four Seasons Resort Bali at Jimbaran Bay is one of our favorite places to relax and unwind.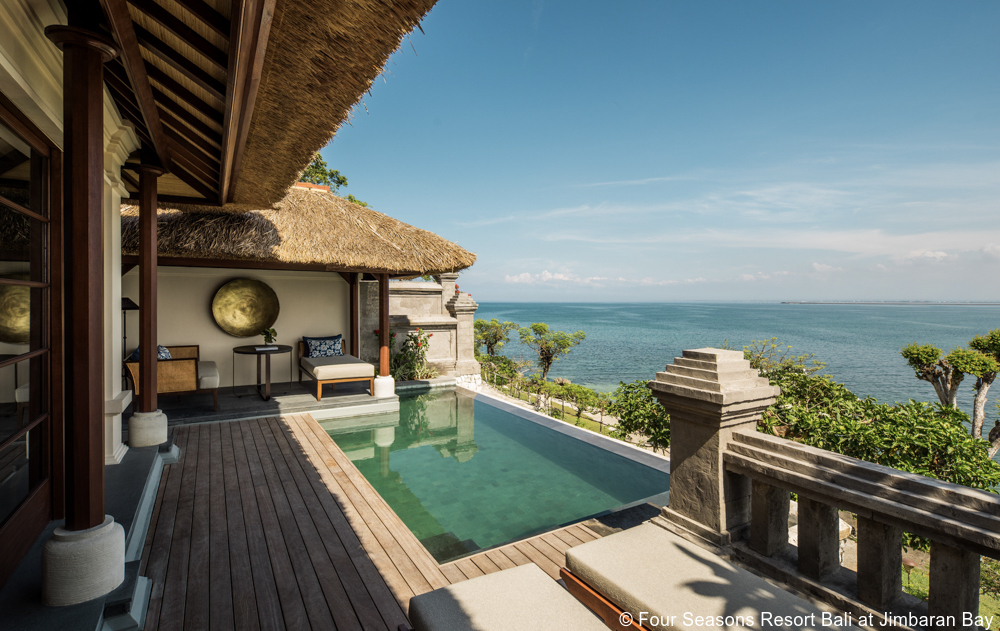 Upon arrival, guests receive a welcome blessing at the resort temple.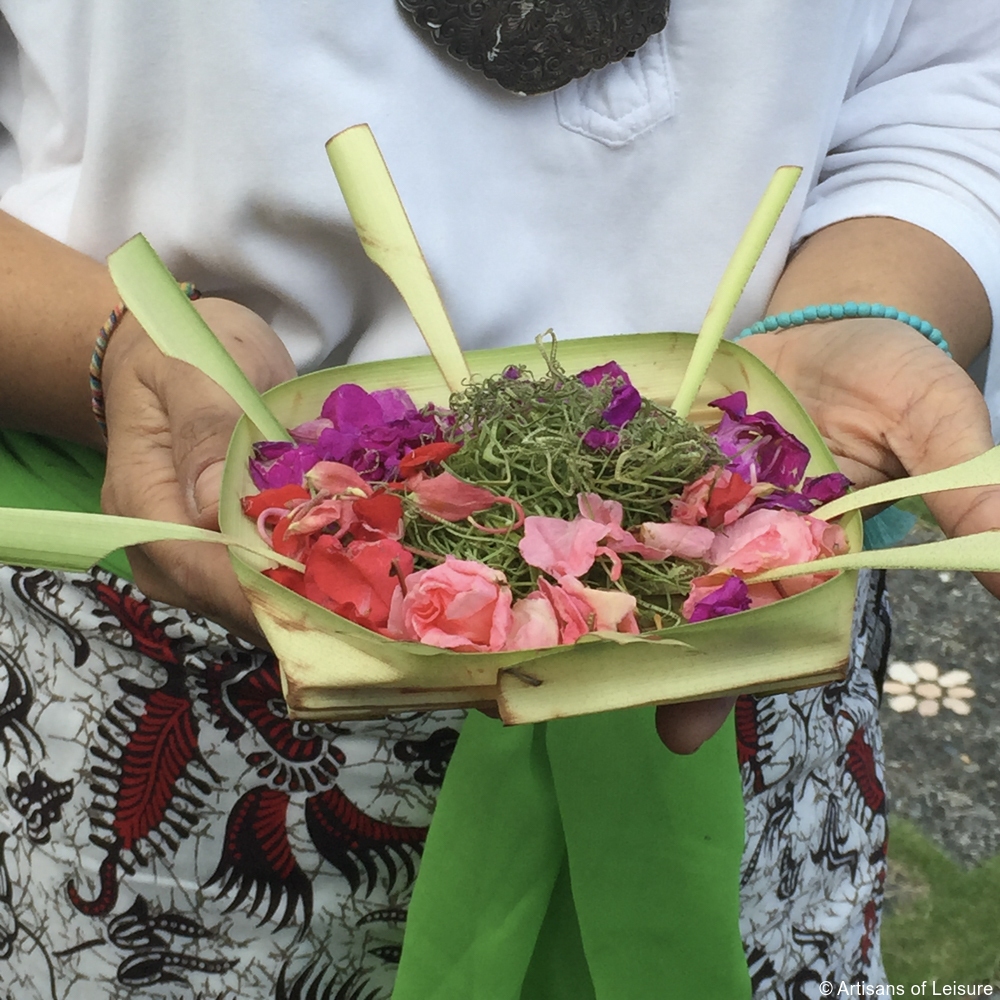 Nearby is Pura Luhur Uluwatu, an ancient temple perched atop cliffs hundreds of feet above the water.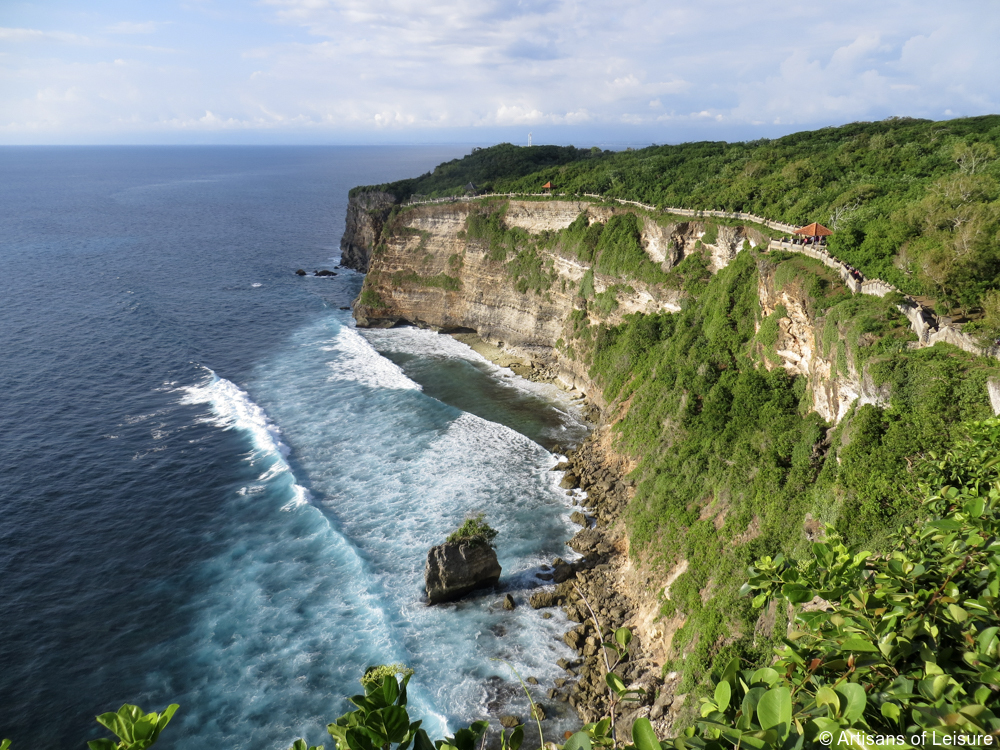 Kecak dance performances take place on the temple grounds as the sun sets over the ocean.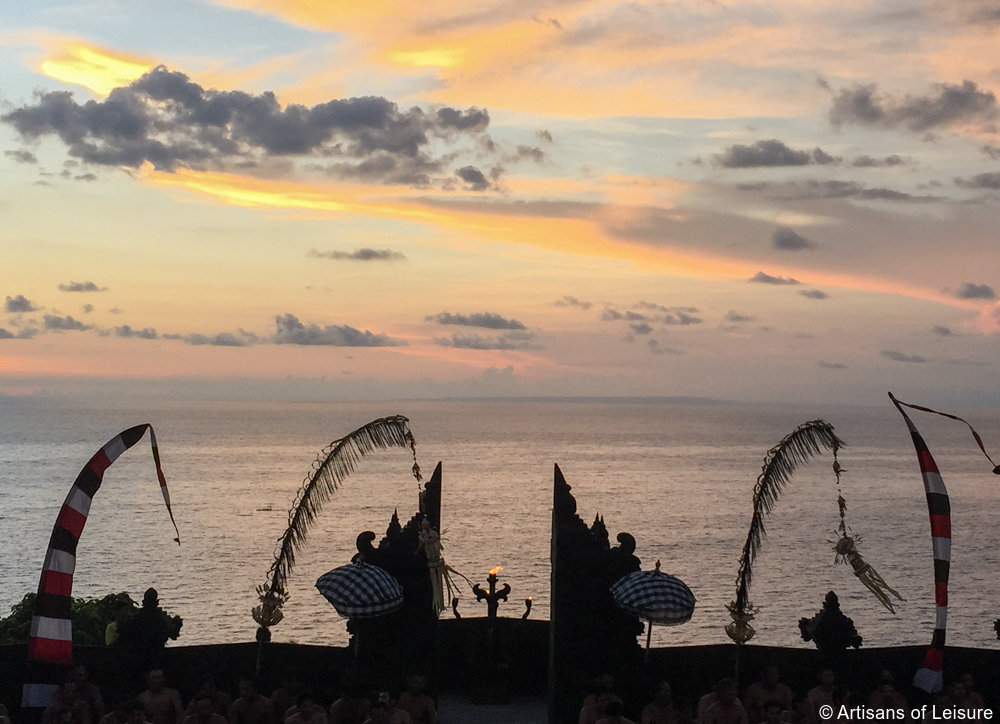 From Bali, we continued to the neighboring island of Java. Our first stop was Prambanan, a Hindu complex with more than 200 temples. It's the largest temple complex in Java and a UNESCO World Heritage Site.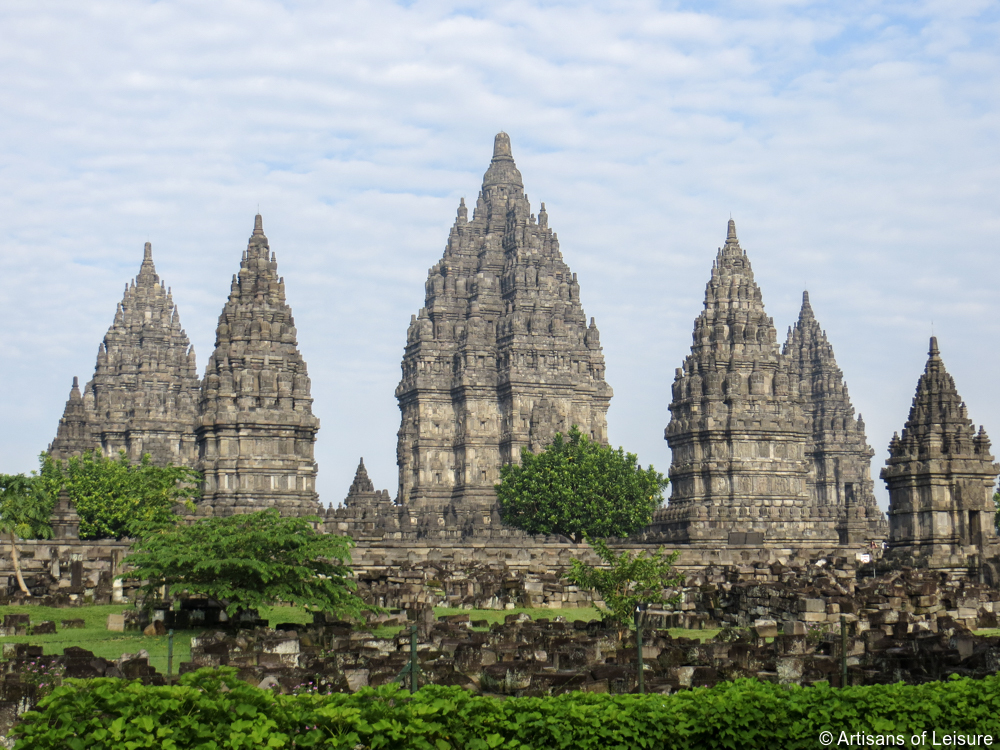 We then explored Yogyakarta, the intellectual and artistic heart of Java and one of our favorite cities in Indonesia. Volunteers at the Kraton (Sultan's Palace) participate in the weekly cleaning of the royal collection of shadow puppets.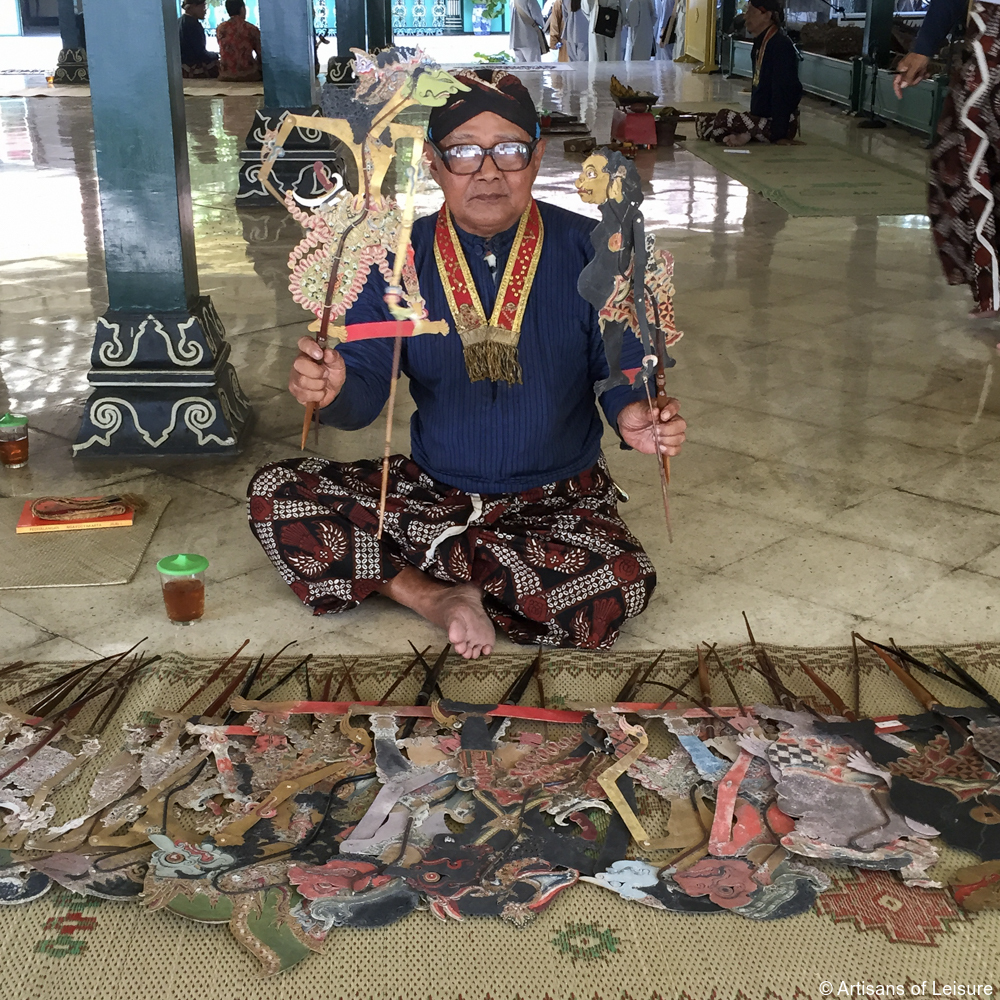 Nearby is Taman Sari, a former water palace that has Javanese and European architectural elements.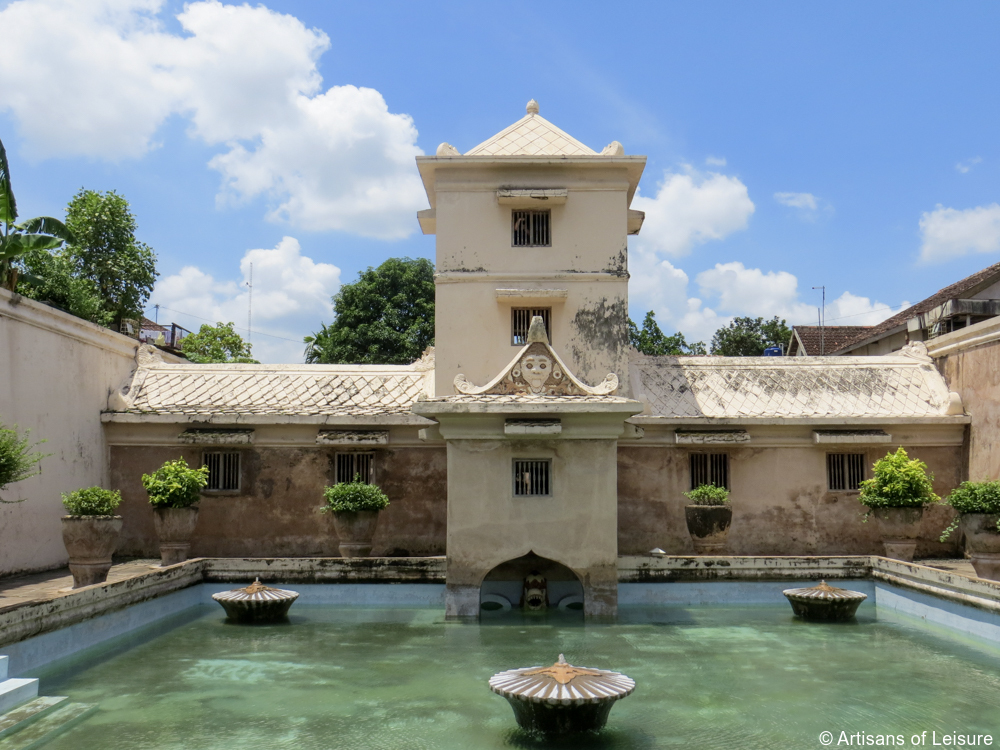 At Yogyakarta's Bird Market, locals shop for birds, bird cages, bird food and related items.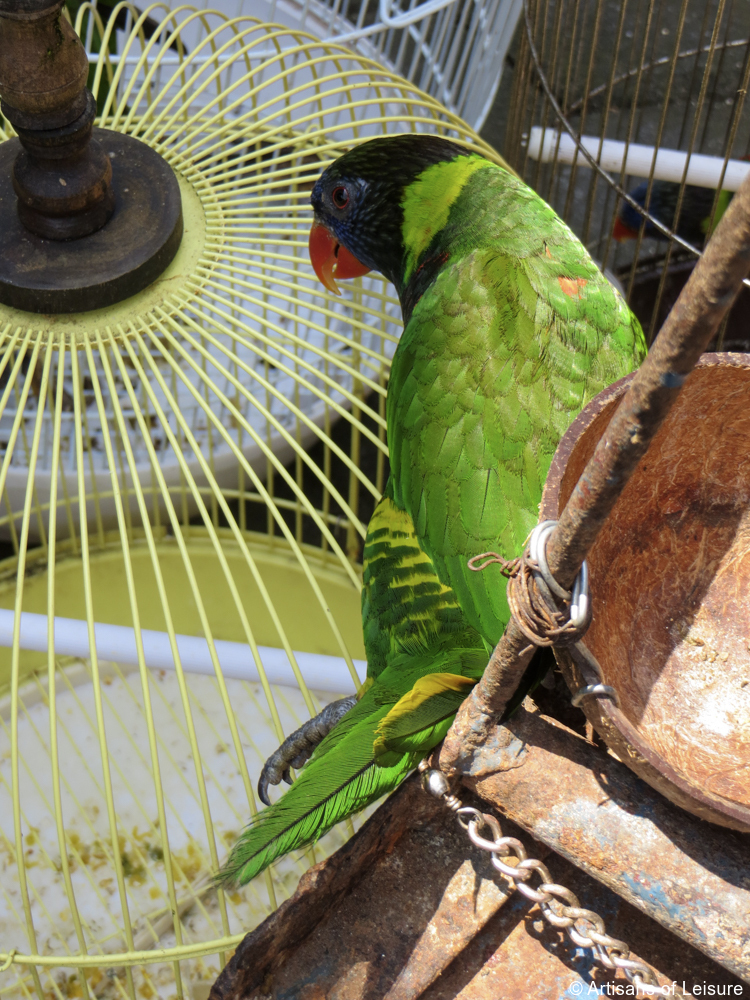 Another interesting stop is Kota Gede, a suburb of Yogyakarta known for silver crafts, to learn how silver thread is spun and turned into jewelry and decorative pieces.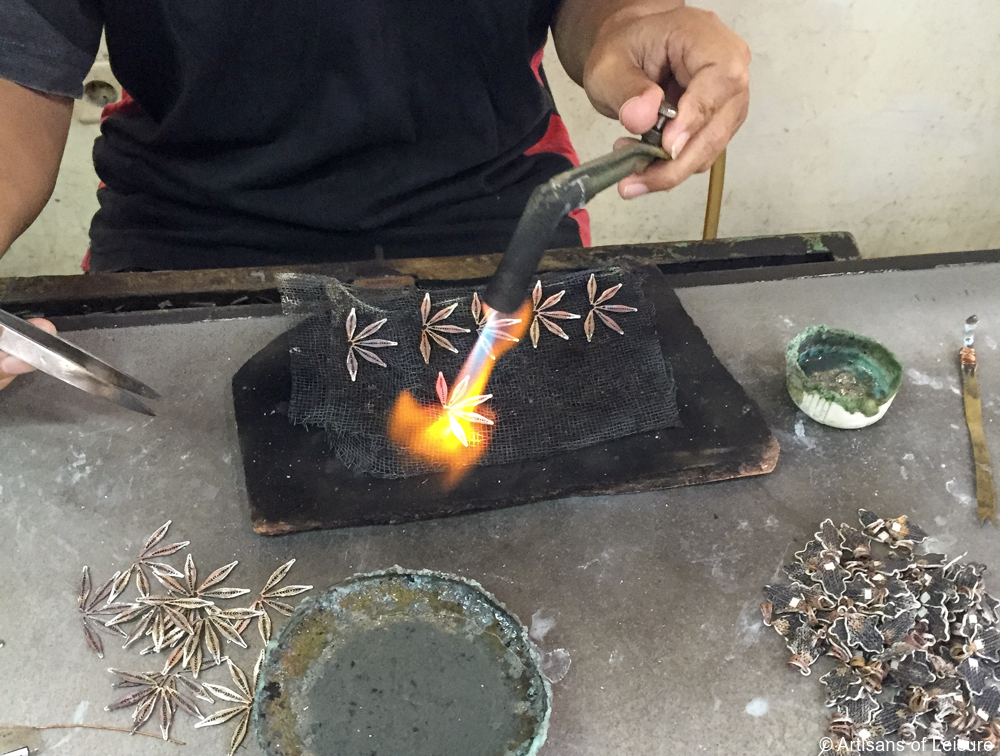 En route to the town of Borobudur, we visited the OHD Museum, a private collection of modern and contemporary Indonesian art.
Upon request, Artisans of Leisure can arrange private tours of local museums, galleries, antiques shops and upscale crafts boutiques.
The spectacular Amanjiwo resort is our preferred luxury resort on Java. It's architectural design is inspired by the nearby Borobudur, an ancient Buddhist temple and UNESCO World Heritage Site.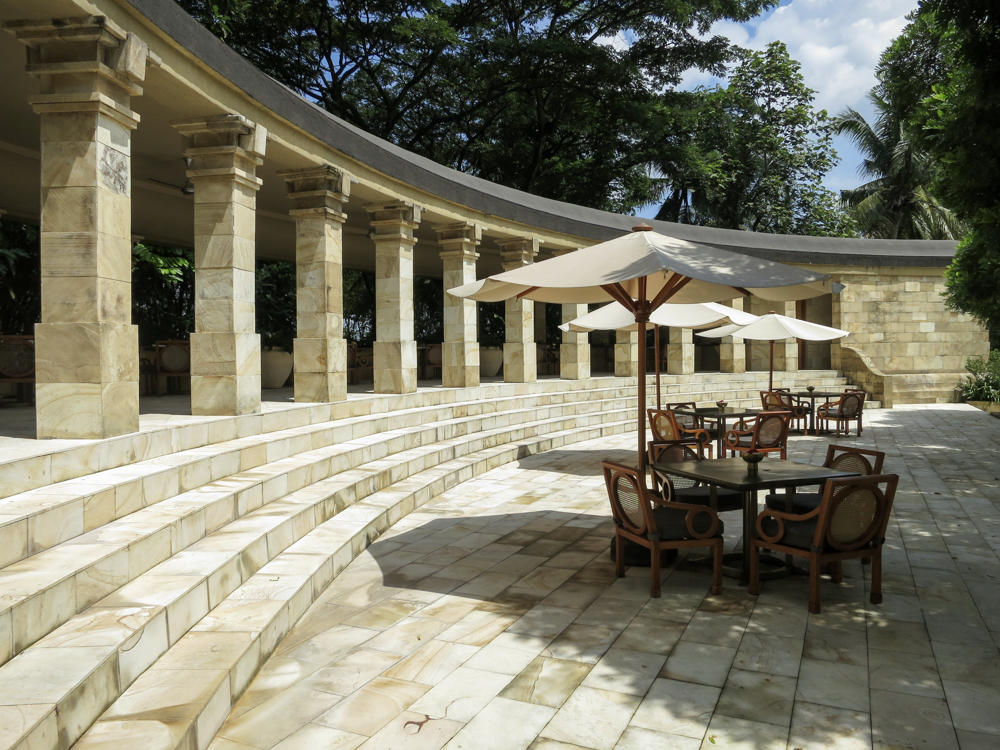 This pool at Amanjiwo overlooks rice paddies.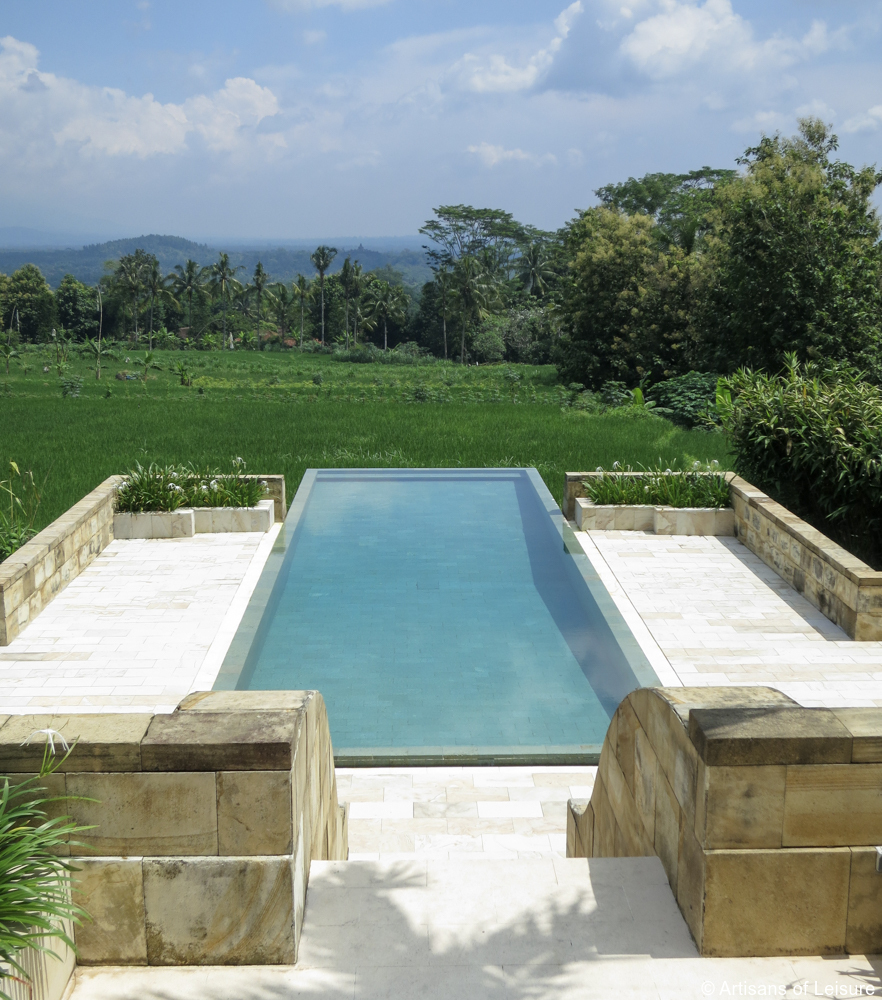 Suites at Amanjiwo feature vaulted ceilings and private courtyards, some with views of Borobudur.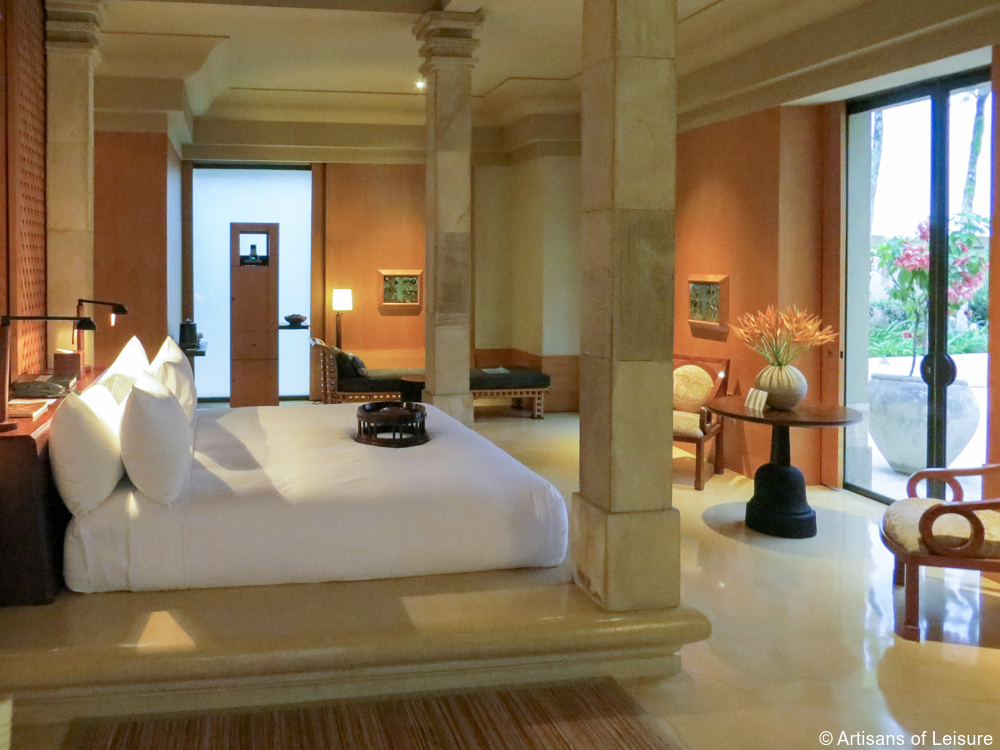 Sunrise is a great time to visit Borobudur to observe the changing light. Having a top private guide is essential to understanding the history and significance of the different elements of the temple.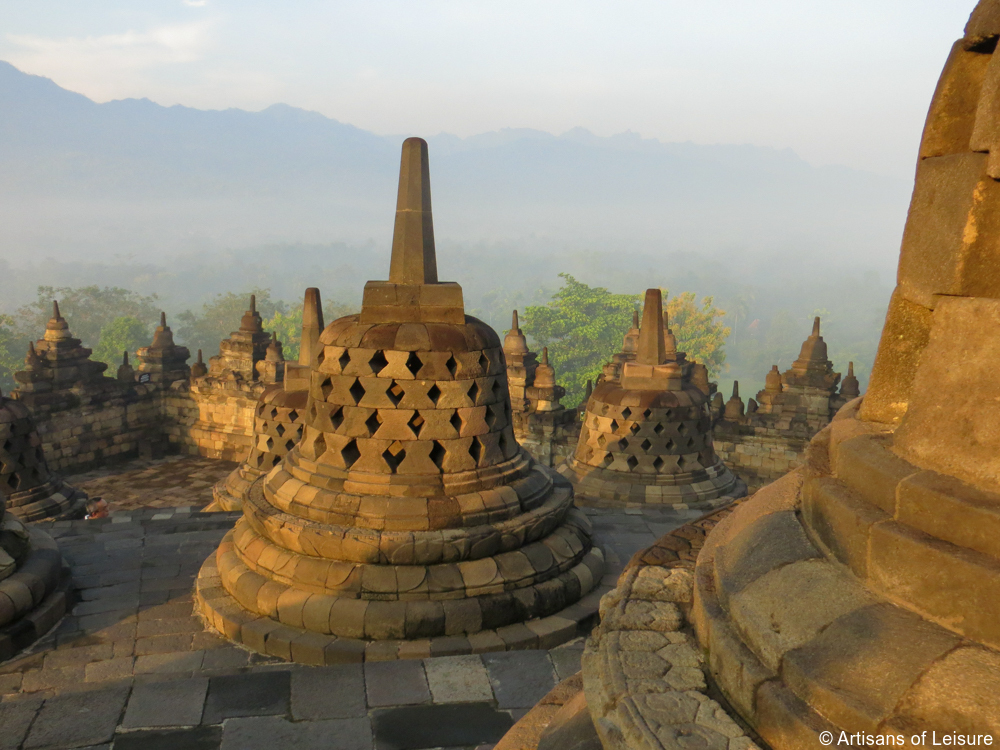 Buddhist monks like to meditate in the peaceful and spiritual surroundings…and also take photos!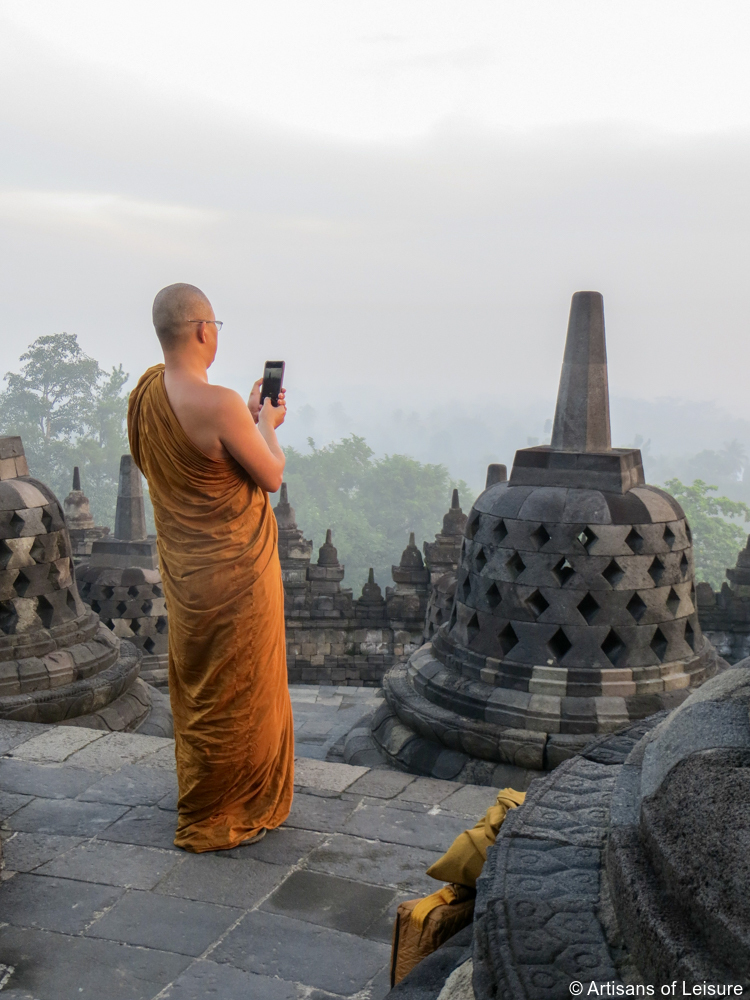 Our expert guides explain the stories behind the intricate Buddhist carvings that surround the base of Borobudur.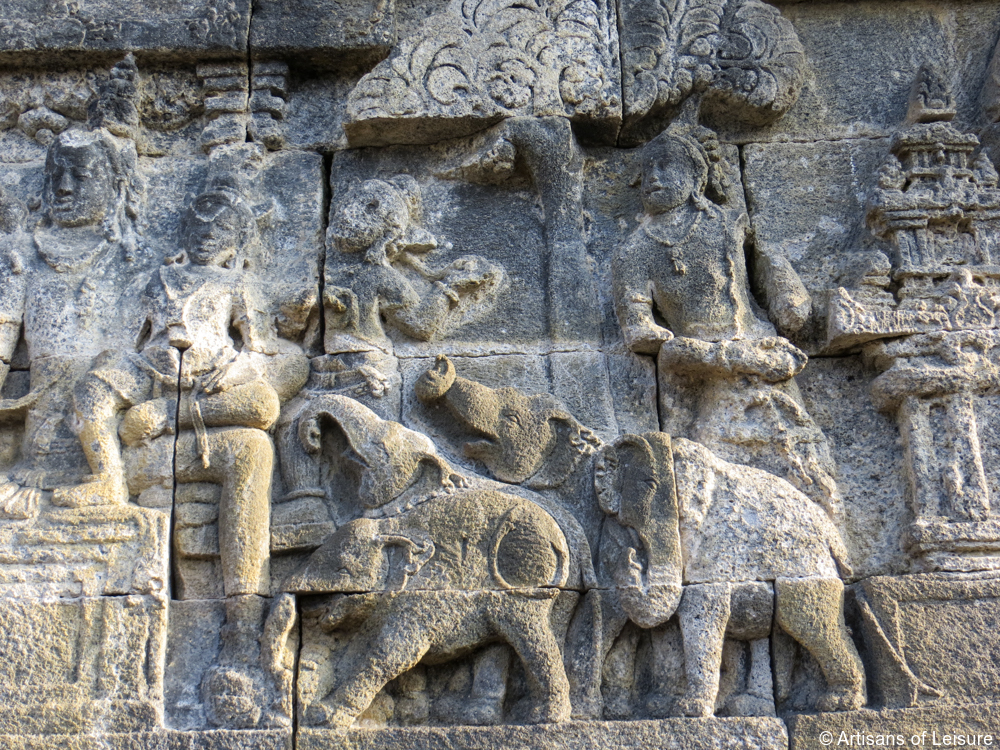 It's fun to ride in an andong (horse-pulled carriage) through local villages near the resort.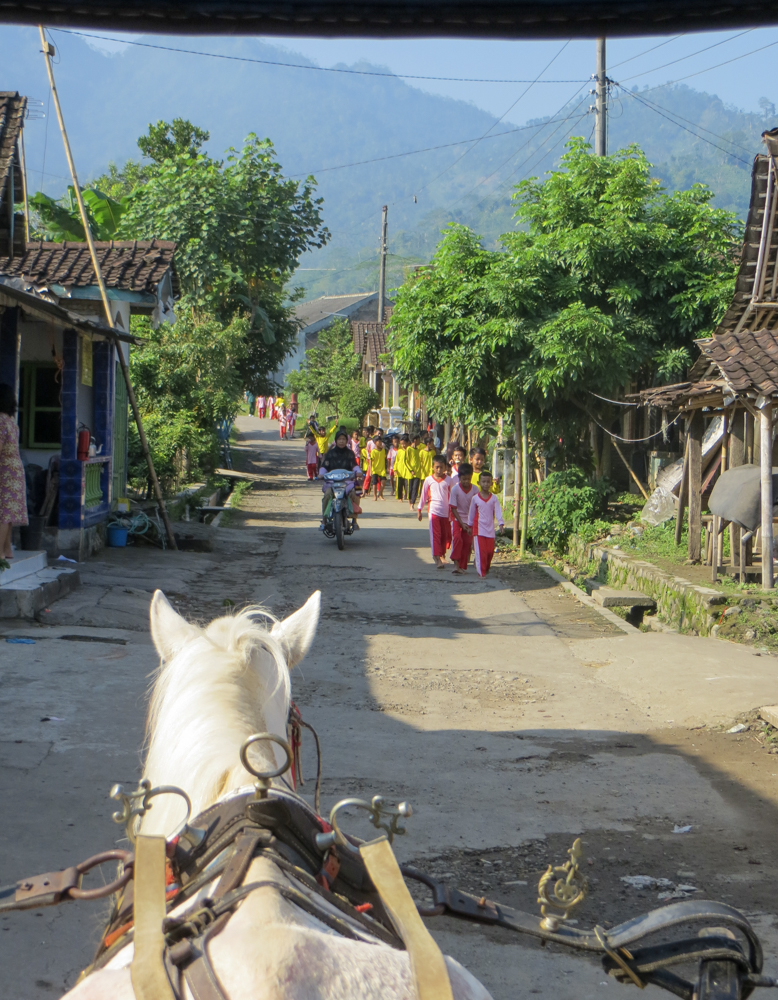 Many of the villages specialize in producing a particular craft or food, such as ceramics or tofu, and visitors can watch the local artisans at work.
The Amanjiwo gift shop is a great place to buy Indonesian art and crafts. We can also arrange visits to local shops and galleries in the Borobudur area and in central Yogyakarta.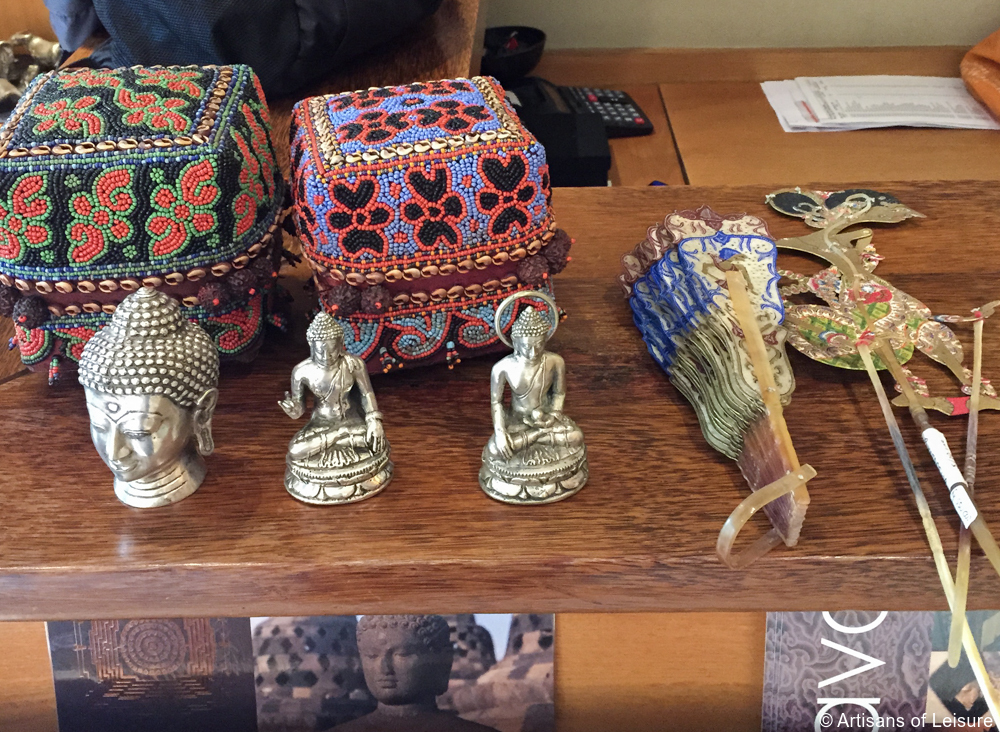 We highly recommend taking a guided morning hike to the top of Menorah Hill to enjoy the sweeping views of the surrounding area, including Amanjiwo, Borobudur and volcanoes in the distance.
View our private Indonesia tours, or contact an Artisans of Leisure Asia specialist to start planning a customized tour featuring the best of Bali and Java.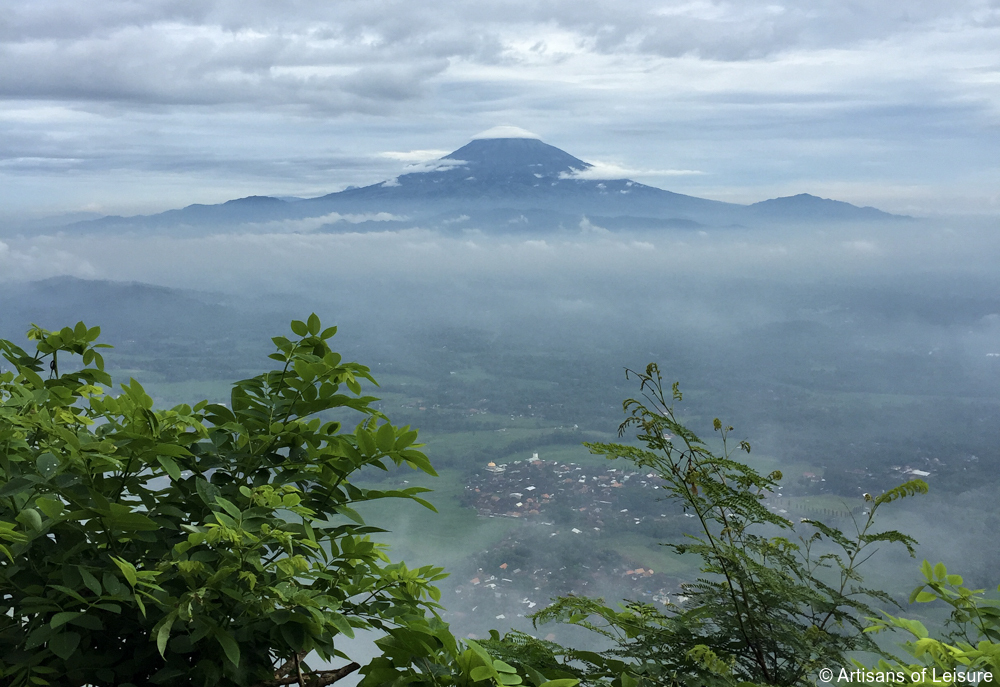 Destinations: Asia, Bali, Indonesia
Tags: active tours, Aman, Aman resorts, Amandari, Amanjiwo, Amankila, Bali, Bali honeymoon, Balinese, Balinese crafts, Borobudur, botanical, Buddhism, coffee tours, crafts, crafts villages, Four Seasons, gardens, hiking, honeymoon, ikat, Indonesia tours, Indonesian, Java, John Hardy, luxury Bali tours, luxury resorts, market tours, Pura Besakih, romantic, ruins, textiles, traditional dance, Ubud, UNESCO, weaving