Introduction to Uzbekistan
(8 Days)
Tashkent, Khiva, Bukhara, Samarkand
A Week in Uzbekistan
(7 Days)
Tashkent, Bukhara, Samarkand
Highlights of Uzbekistan
(10 Days)
Tashkent, Khiva, Bukhara, Samarkand
Best of Samarkand & Tashkent
(6 Days)
Tashkent, Samarkand & Shakhrisabz
Uzbekistan in Depth
(14 Days)
Tashkent, Fergana Valley, Samarkand, Bukhara, Khiva
Jewish Tour of Uzbekistan
(9 Days)
Tashkent, Khiva, Bukhara, Samarkand
Luxury Kazakhstan Tours
Introduction to Kazakhstan
(6 Days)
Nur-Sultan, Almaty with Charyn Canyon & Big Almaty Lake 
Highlights of Kazakhstan
(9 Days)
Nur-Sultan, Shymkent with Turkestan & Aksu Canyon, Almaty with Charyn Canyon & Big Almaty Lake 
Multi-Country Tours
Kyrgyzstan & Uzbekistan in Depth
(16 Days)
Bishkek, Karkara, Karakol, Kochkor, Tashkent, Khiva, Bukhara, Samarkand 
Introduction to Kyrgyzstan & Uzbekistan
(11 Days)
Bishkek, Karakol, Kochkor, Tashkent, Samarkand 
Cultural & Natural Highlights of Kyrgyzstan & Kazakhstan
(13 Days)
Bishkek & Ala Archa National Park, Karkara, Karakol, Kochkor, Almaty with Charyn Canyon & Big Almaty Lake, Shymkent with Turkestan & Aksu Canyon 
Highlights of Kazakhstan & Uzbekistan
(13 Days)
Almaty with Charyn Canyon & Big Almaty Lake, Shymkent with Turkestan & Aksu Canyon, Tashkent, Bukhara, Samarkand 
Ultimate Journey through Central Asia
(20 Days)
Turkmenistan, Uzbekistan, Tajikistan, Kyrgyzstan, Kazakhstan 
Introduction to Central Asia
(14 Days)
Uzbekistan, Tajikistan, Kyrgyzstan, Kazakhstan
Cultural & Natural Highlights of Kyrgyzstan & Kazakhstan
(13 days - Departs Daily on a Private Basis)
Bishkek & Ala Archa National Park, Karkara, Karakol, Kochkor, Almaty with Charyn Canyon & Big Almaty Lake, Shymkent with Turkestan & Aksu Canyon
On this private tour of Kyrgyzstan and Kazakhstan, visit beautiful natural regions, experience age-old local traditions and tour historical sites that reveal the fascinating cultural exchanges of the Silk Road.
Begin in Bishkek, the capital of Kyrgyzstan. During private touring, explore the city center and see highlights such as the White House, the Kyrgyz National Museum of Fine Arts and the Osh Bazaar, a lively produce and housewares market, to browse for traditional Kyrgyz crafts such as felt hats, embroidered slippers and handmade carpets.
Next, transfer along the coast of Issyk-Kul Lake to Karkara with touring en route. See the petroglyph-covered boulders of the Issyk-Kul Historical State Museum, and visit a local apiary to learn about beekeeping in Kyrgyzstan. In Karkara, stay in a yurt camp in a verdant river valley, and enjoy hiking and horseback riding in the beautiful grasslands and forested hills.
Continue through the Kyrgyzstan countryside to the town of Karakol. During private touring, visit the colorful Dungan Mosque and Holy Trinity Russian Orthodox Cathedral. Also enjoy a dinner of local dishes such as ashlan fu noodle soup at the home of a Dungan (Chinese Muslim) family.
Next, transfer to the rural village of Kochkor. En route, see the remarkable Jeti-Oguz (Seven Bulls) sandstone cliff formation, visit a traditional felt-making workshop and watch a demonstration of hunting with a golden eagle, a traditional method once common among the nomadic people in the region.
En route back to Bishkek, visit the Burana Tower, an 11th-century minaret and UNESCO World Heritage Site, and see a field of mysterious, centuries-old balbals (carved stone heads and figures). Also enjoy lunch at the home of a German-speaking Mennonite family, a minority population that has lived and farmed in the region for generations.
Next, cross the border to Kazakhstan and continue to Almaty, a cosmopolitan city (and former capital) in the shadow of the rugged Tian Shan Mountains. During private city touring, see highlights such as leafy Panfilov Park and the colorful wooden Ascension Cathedral, a Russian Orthodox church also known as Zenkov Cathedral that dates from 1907. Also visit the Green Market, a large indoor food hall. Learn about the history and culture of Kazakhstan in the Central State Museum, which has objects from the Bronze Age to today. See landmarks such as Republic Square and the Independence Monument with its sculpture of the Golden Man on top. Depending on your interests, perhaps also visit the Museum of Folk Music Instruments or see Soviet-era buildings, the subway, Arasan Baths and other places that make up the urban fabric of Almaty. Upon request, we can arrange tickets to performances at the Kazakh State (Abay) Opera and Ballet Theater.
One day, enjoy a private excursion to Big Almaty Lake, a turquoise lake in Ile-Alatau National Park, for beautiful views of the water and the Tian Shan Mountains. Also visit a local falcon farm and bird-of-prey sanctuary to learn how hawks, falcons and other hunting birds are still used by traditional nomadic hunters.
Another day, enjoy a full-day private excursion in the region. Options include touring Charyn Canyon and the famed Valley of the Castles, a dramatic landscape of eroded, rust-colored cliffs and towers formed by wind and water; visiting Tamgaly (Tanbaly), a UNESCO World Heritage Site of rocky hills with more than 5,000 petroglyphs created from the Bronze Age through the early 20th century; seeing Tamgaly-Tas, where monumental Buddhist images and texts were inscribed hundreds of years ago on large rock outcroppings along the Ili River; and hiking in other parts of Ile-Alatau National Park, such as Turgen Gorge, a diverse landscape of waterfalls, river valleys, foothills and forests.
Continue to Shymkent, a base for cultural and scenic touring in the region. If desired, take a private excursion to nearby Sayram, a traditional town that has been continuously occupied for more than 3,000 years and has numerous historical Muslim structures. One day, enjoy a private excursion to Turkestan, an ancient Silk Road caravan town, to see the Mausoleum of Khoja Ahmed Yasawi, a Timurid-era building covered in vibrant tile mosaics that's now a pilgrimage destination and UNESCO World Heritage Site. Also see other monuments that make up the historical complex, such as the Friday Mosque, Underground Mosque and Mausoleum of Rabigha-Sultan Begum. En route, visit the vast archaeological site of Otrar, the ruins of a Silk Road trading town and fortress destroyed by the Mongols in the 13th century. Another day, take a private excursion to Aksu Canyon, part of the oldest nature reserve in Kazakhstan. Look for native wildlife during privately guided hiking among the forests and grasslands.
Return to Almaty for a night.
Itinerary Overview
Day 1

Arrive Bishkek, Kyrgyzstan

Private arrival transfer to hotel for 1 night. Afternoon private city tour

Day 2

Bishkek – Karkara

Private cultural and scenic touring en route to yurt camp for 2 nights

Day 3

Karkara

Private touring and activities such as horseback riding, eagle hunting performance and hiking

Day 4

Karkara – Karakol

Private transfer to guest house for 1 night. Afternoon private tour

Day 5

Karakol – Kochkor

Private touring en route to guest house for 1 night

Day 6

Kochkor – Bishkek  

Private touring and lunch with a local family en route to hotel for 1 night

Day 7

Bishkek – Almaty, Kazakhstan

Private overland transfer to hotel for 3 nights. Afternoon private city tour

Day 8

Almaty & Big Almaty Lake

Full-day private excursion, including falcon farm

Day 9

Almaty & environs

Full-day private excursion to Charyn Canyon, Tamgaly UNESCO Site, Tamgaly-Tas or hiking

Day 10

Almaty – Shymkent

Private transfer to airport for morning flight to Shymkent. Private arrival transfer to hotel for 2 nights. Afternoon private tour or excursion to Sayram

Day 11

Shymkent & Turkestan

Full-day private excursion

Day 12

Shymkent – Almaty

Private city touring or Aksu canyon excursion before private transfer to airport for flight to Almaty. Private arrival transfer to hotel for 1 night

Day 13

Depart Almaty

Private airport transfer
Hotels
| | |
| --- | --- |
| Bishkek: | Hyatt Regency Bishkek |
| Karkara: | Ak-Sai Yurt Camp |
| Karakol: | Green Yard Guest House |
| Kochkor: | Nomad Lodge |
| Almaty: | The Ritz-Carlton, Almaty |
| Shymkent: | Rixos Khadisha Shymkent |
Cost
| | |
| --- | --- |
| $11,790 | Per Person (double occupancy) |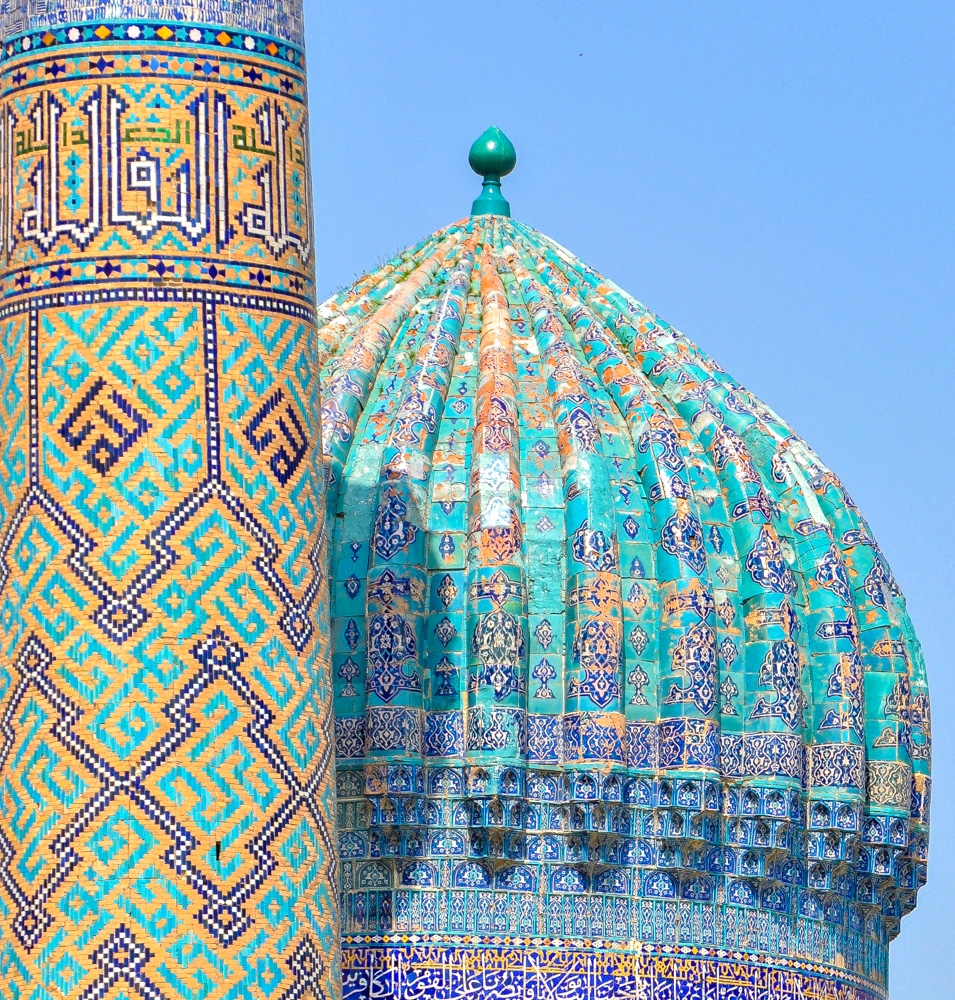 Introduction to Uzbekistan
(8 Days)
Tashkent, Khiva, Bukhara, Samarkand
A Week in Uzbekistan
(7 Days)
Tashkent, Bukhara, Samarkand
Highlights of Uzbekistan
(10 Days)
Tashkent, Khiva, Bukhara, Samarkand
Best of Samarkand & Tashkent
(6 Days)
Tashkent, Samarkand & Shakhrisabz
Uzbekistan in Depth
(14 Days)
Tashkent, Fergana Valley, Samarkand, Bukhara, Khiva
Jewish Tour of Uzbekistan
(9 Days)
Tashkent, Khiva, Bukhara, Samarkand
Luxury Kazakhstan Tours
Introduction to Kazakhstan
(6 Days)
Nur-Sultan, Almaty with Charyn Canyon & Big Almaty Lake 
Highlights of Kazakhstan
(9 Days)
Nur-Sultan, Shymkent with Turkestan & Aksu Canyon, Almaty with Charyn Canyon & Big Almaty Lake 
Multi-Country Tours
Kyrgyzstan & Uzbekistan in Depth
(16 Days)
Bishkek, Karkara, Karakol, Kochkor, Tashkent, Khiva, Bukhara, Samarkand 
Introduction to Kyrgyzstan & Uzbekistan
(11 Days)
Bishkek, Karakol, Kochkor, Tashkent, Samarkand 
Cultural & Natural Highlights of Kyrgyzstan & Kazakhstan
(13 Days)
Bishkek & Ala Archa National Park, Karkara, Karakol, Kochkor, Almaty with Charyn Canyon & Big Almaty Lake, Shymkent with Turkestan & Aksu Canyon 
Highlights of Kazakhstan & Uzbekistan
(13 Days)
Almaty with Charyn Canyon & Big Almaty Lake, Shymkent with Turkestan & Aksu Canyon, Tashkent, Bukhara, Samarkand 
Ultimate Journey through Central Asia
(20 Days)
Turkmenistan, Uzbekistan, Tajikistan, Kyrgyzstan, Kazakhstan 
Introduction to Central Asia
(14 Days)
Uzbekistan, Tajikistan, Kyrgyzstan, Kazakhstan
You all did a great job with my Uzbekistan, Kyrgyzstan & Georgia tour. The guides and local representatives were all terrific. 
~ J.P., Delray Beach, FL
We have had nothing but great success using Artisans of Leisure. Every trip, experience, hotel and people are better than perfect. Bravo to your team.
~ M.W., Vancouver, Canada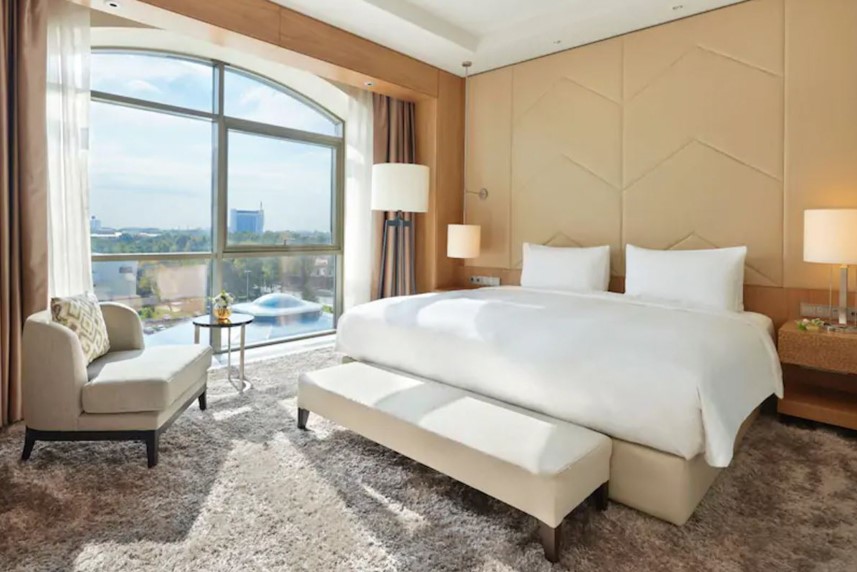 Recommended by:
Departures
Conde Nast Traveler
The New York Times
Wall Street Journal
Travel + Leisure
Town & Country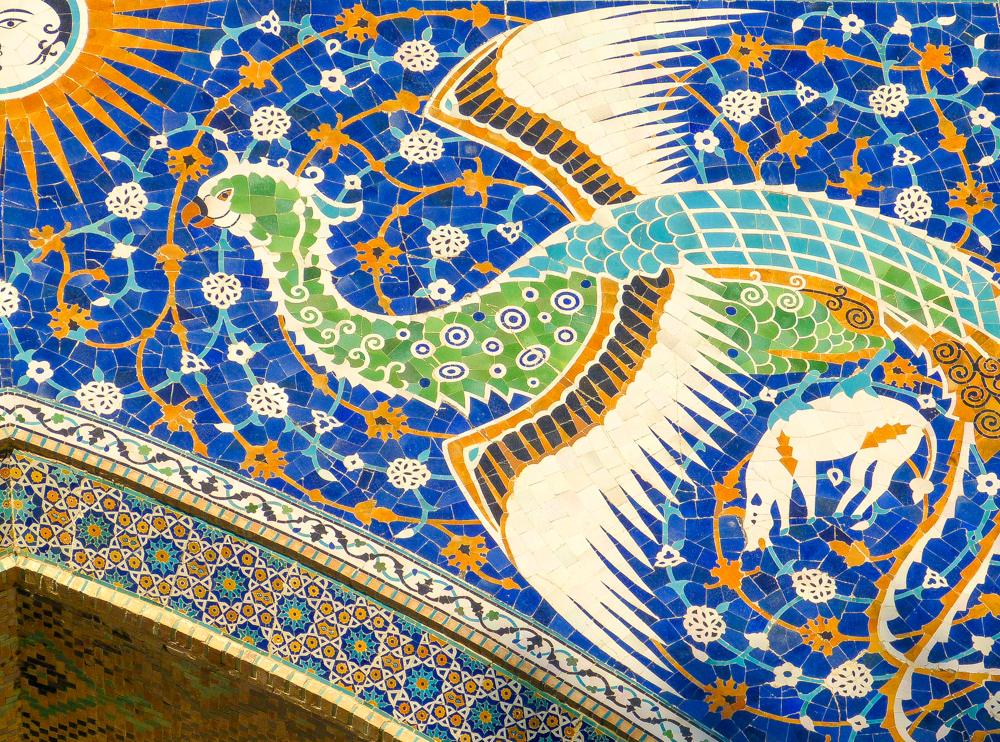 Postcard from Our Travelers: Samarkand, Uzbekistan
Stunning Tile Mosaics in Uzbekistan