December 19, 2022
The Best Historic & Specialty Shops in Lisbon, Portugal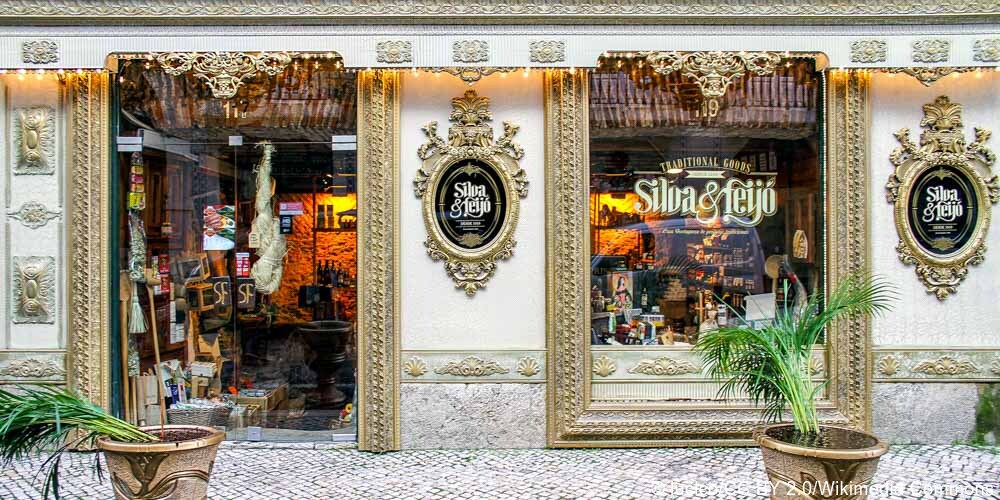 Lisbon, the vibrant capital of Portugal, is a great place to shop for unique specialty items that are integral to the country's rich cultural heritage. Artisans of Leisure arranges visits to Lisbon's best historic stores, workshops and cafes—many of which are protected due to their architectural and cultural significance—including private behind-the-scenes appointments upon request.
Some of our favorite shops and cafes in Lisbon include:
Caza das Vellas Loreto (candles)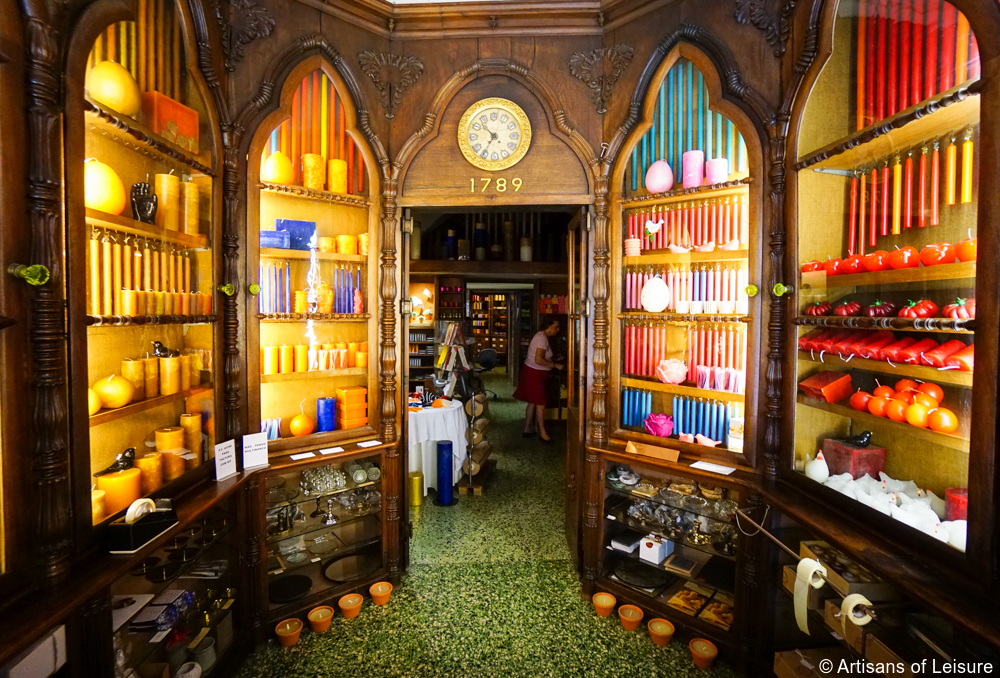 Caza das Vellas Loreto is a renowned candle shop that has been owned and operated by the same family since 1789. One of the oldest and most beautiful shops in the city, it has evocative wood-paneled interiors, gilded clock and wooden display cases filled with colorful candles.
Founded during a time that candles played a vital role in daily life, the company was known for bringing the beeswax candle-making technique from France as a superior alternative to the widely used tallow candles. Today, they continue to make candles, including unique decorative candles and custom commissions, by hand according to centuries-old techniques.
Bordallo Pinheiro (ceramics)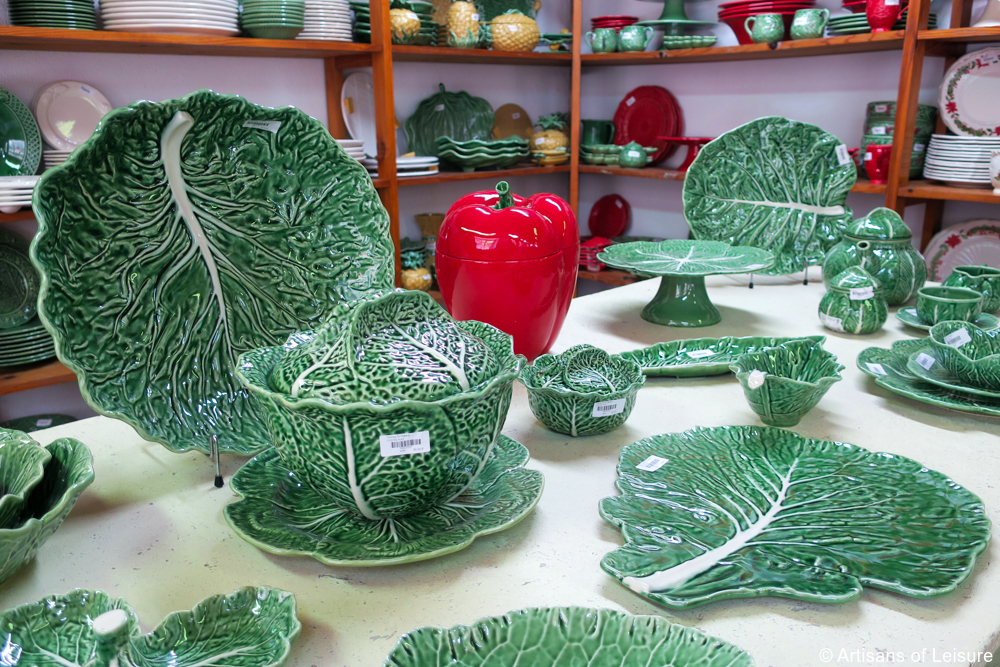 The Bordallo Pinheiro ceramics brand has been synonymous with high-end Portuguese design since its foundation in 1884. Particularly well-known are the whimsical creations shaped like fruits, vegetables and animals that take inspiration from folk art traditions.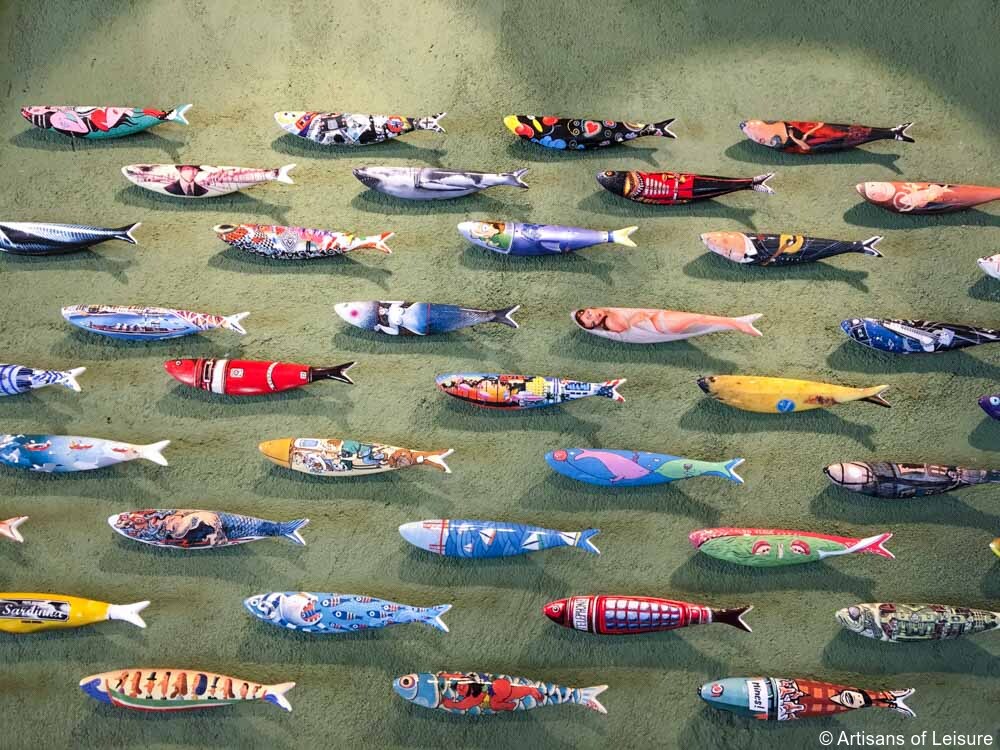 Named after the founder, the influential and prolific 19th-century artist Rafael Bordallo Pinheiro, the world-renowned factory and school is in Caldas Da Rainha (an hour north of Lisbon).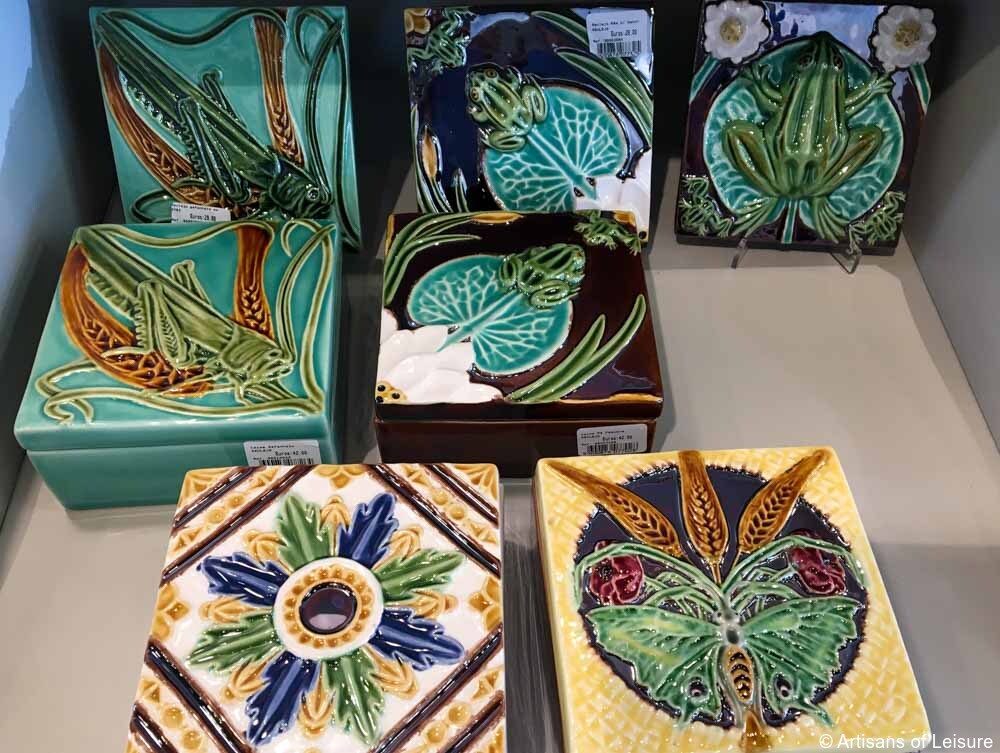 For interested travelers, we can arrange a private tour of the Bordallo Pinheiro Museum and a private day tour to the factory where Pinheiro's designs are still made by hand. We also take travelers to the best shops in Lisbon to buy Bordallo Pinheiro pieces.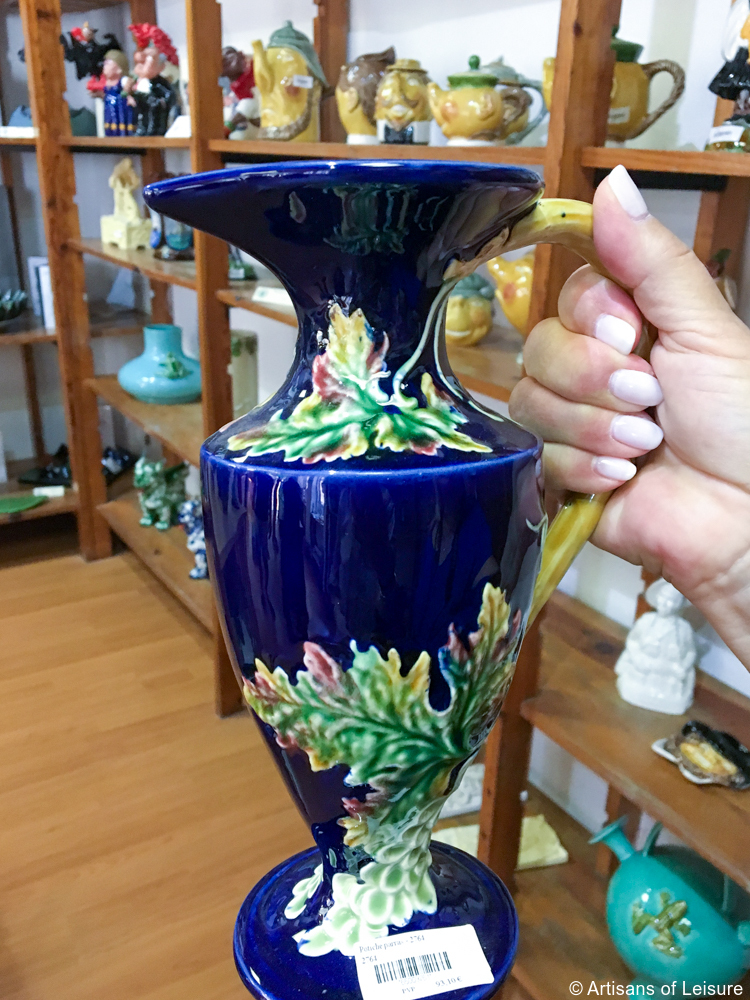 Luvaria Ulisses (gloves)
This tiny gem of a shop, whose wood-paneled interior has remained unchanged since it opened in 1925, is renowned as Portugal's last glove shop. Handcrafted from high-quality leather, these made-to-measure gloves have been beloved by Lisbon society for nearly a century.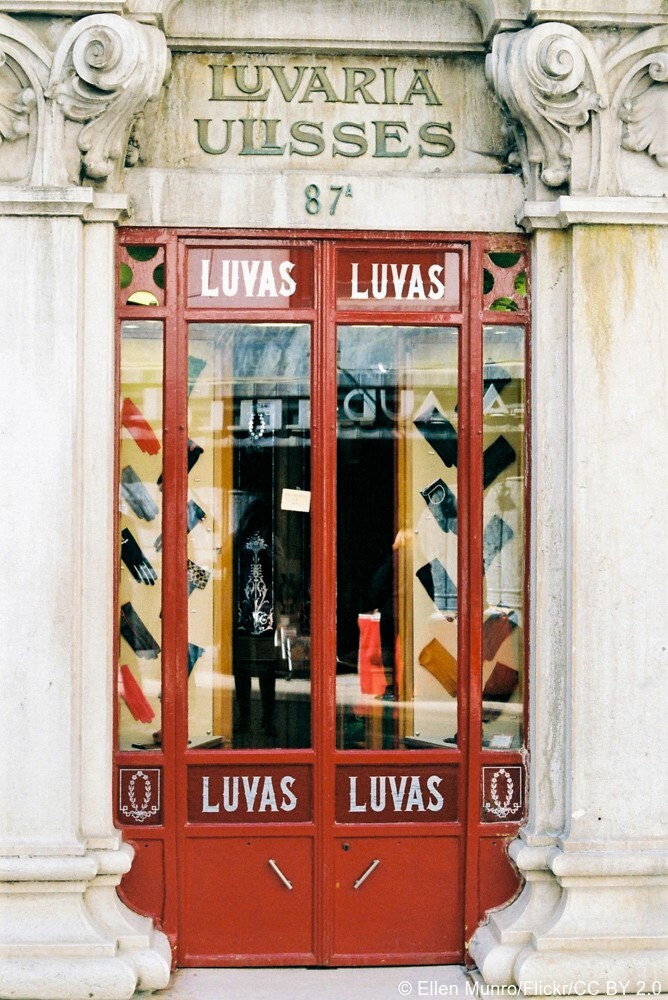 Personalized customization can include colors, buttons and embroidery and the tailored fitting appointment—including a cushioned wrist rest—hearkens back to 1920s Lisbon when gloves were de rigeur outside the home.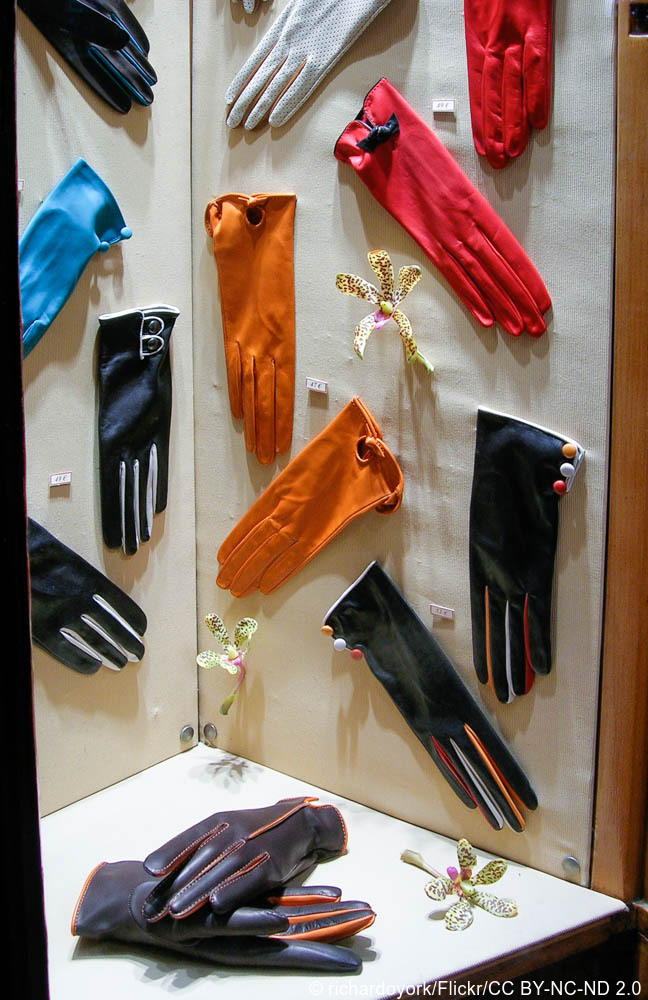 Lisbon's most renowned ceramics studios 
Colorful ceramics, particularly the iconic blue-and-white azulejo tiles, are a visual feast and a highlight of Portuguese cultural heritage. The tiles that adorn buildings inside and out are a prominent feature of Lisbon architecture and design and make a wonderful memento to bring home.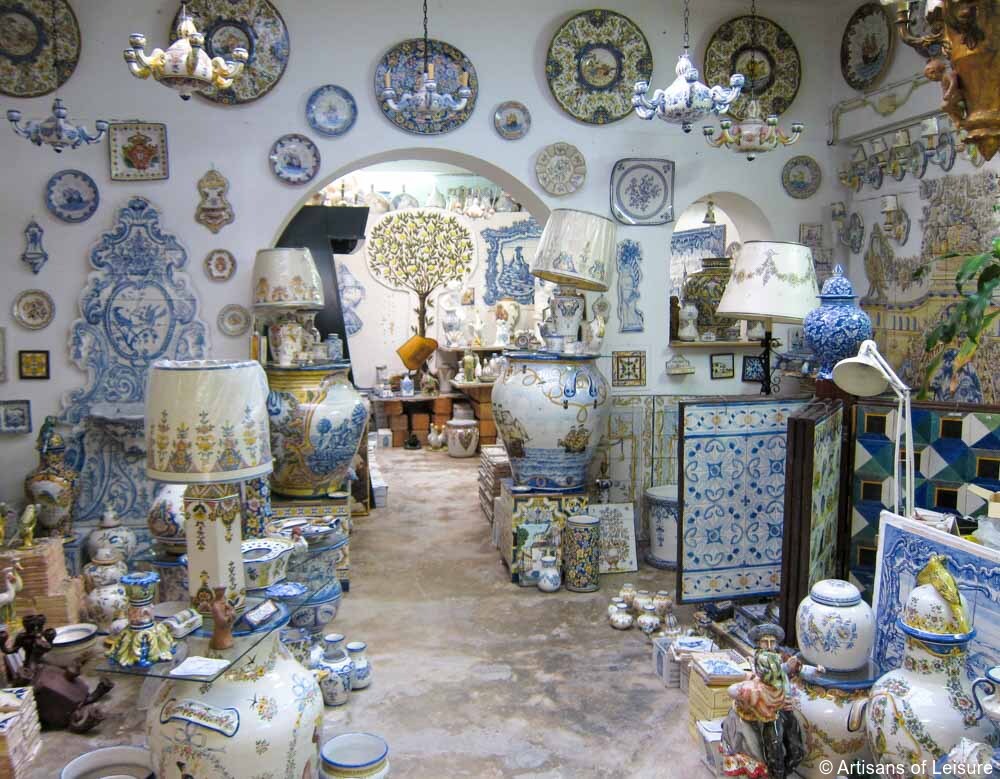 Artisans of Leisure can arrange private meetings with artisans and exclusive visits to renowned ceramics studios—some have been operating since the 1700s—that specialize in Portuguese blue-and-white ceramics and custom pieces such as tables, vases, chandeliers, sconces and more.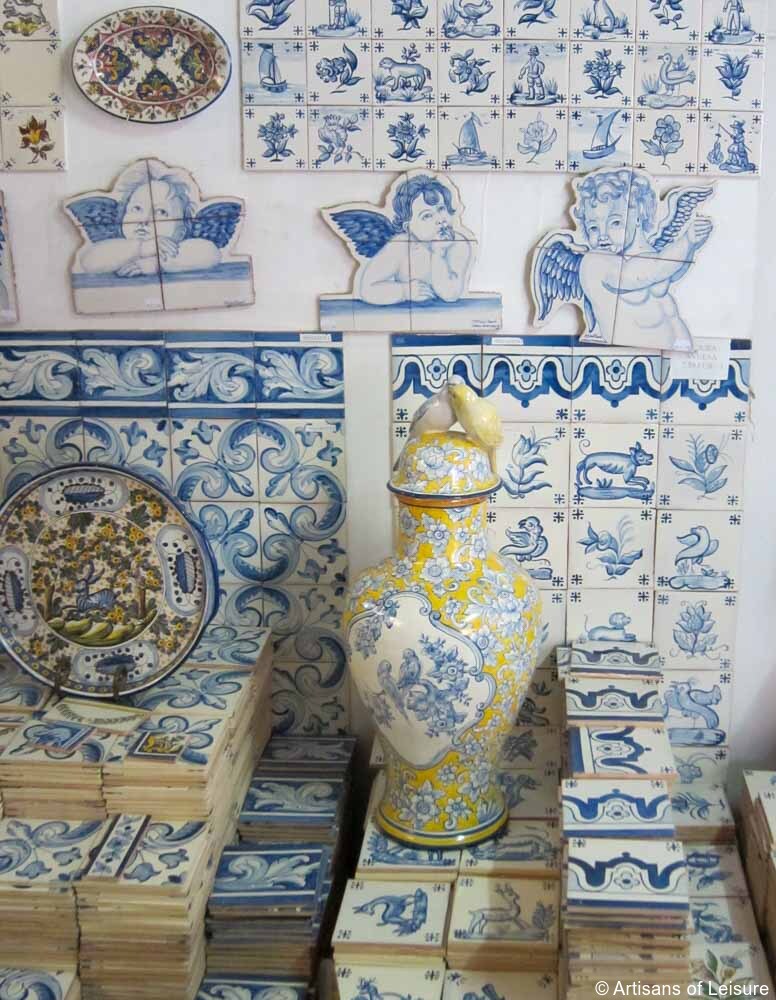 We take interested travelers for a behind-the-scenes VIP tour to see azulejos being made by hand and can arrange a private azulejo-making class for a hands-on experience in clay preparation, glazing and painting.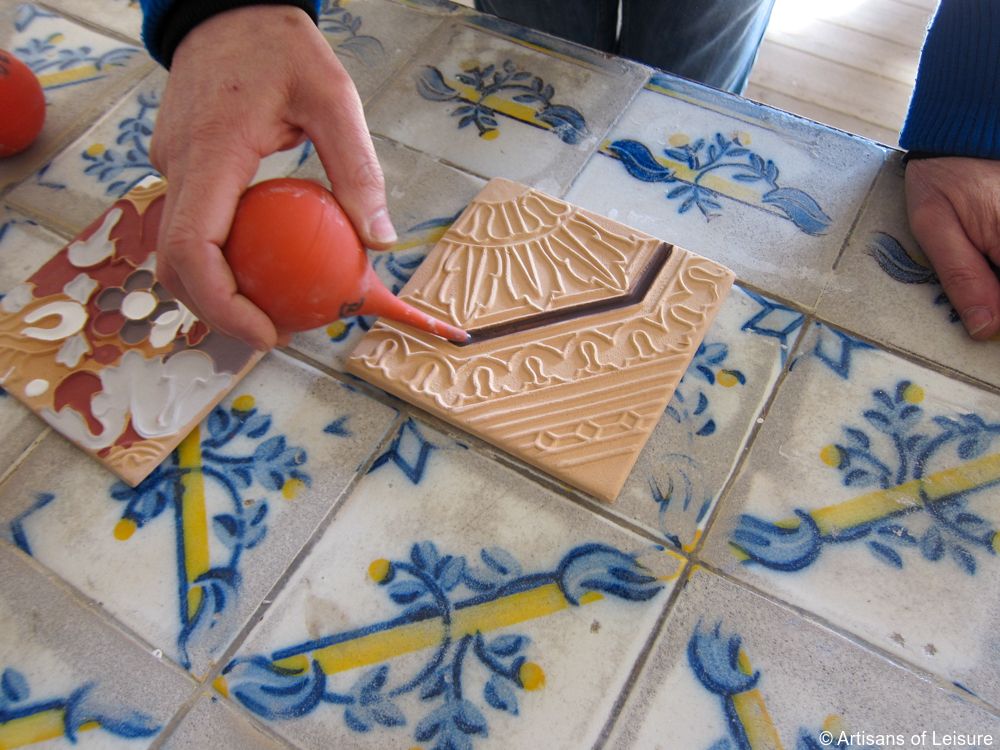 A Vida Portuguesa (traditional crafts & heritage brands)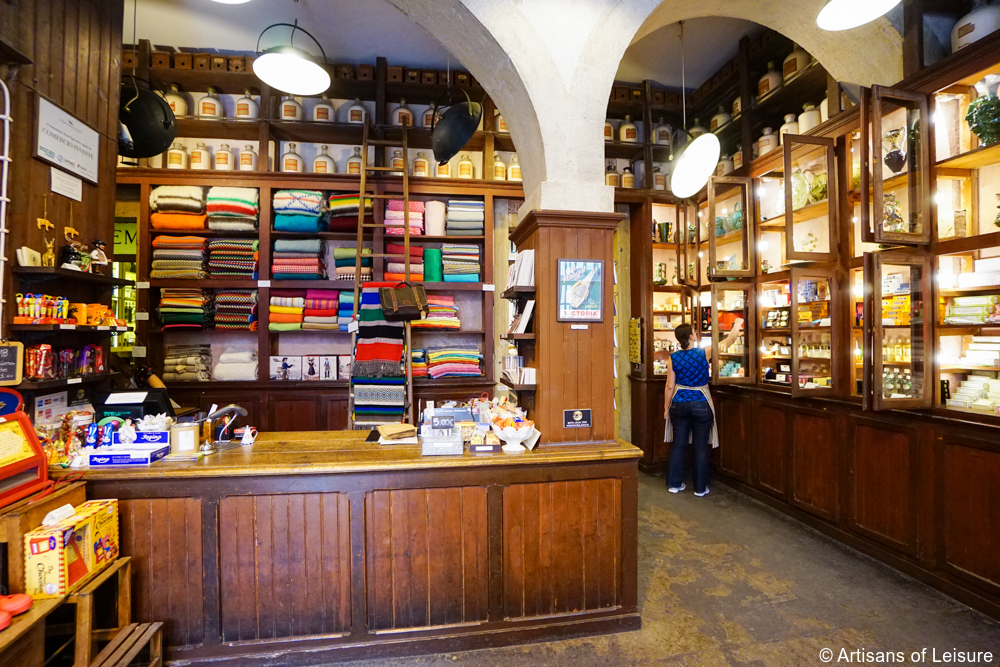 One of our favorite shops for high-quality artisanal wares from across the country, A Vida Portuguesa showcases traditional craftsmanship and historic Portuguese brands. The interiors of the Lisbon flagship, located in a historic perfume warehouse in the Chiado district, retain the original wooden display cases.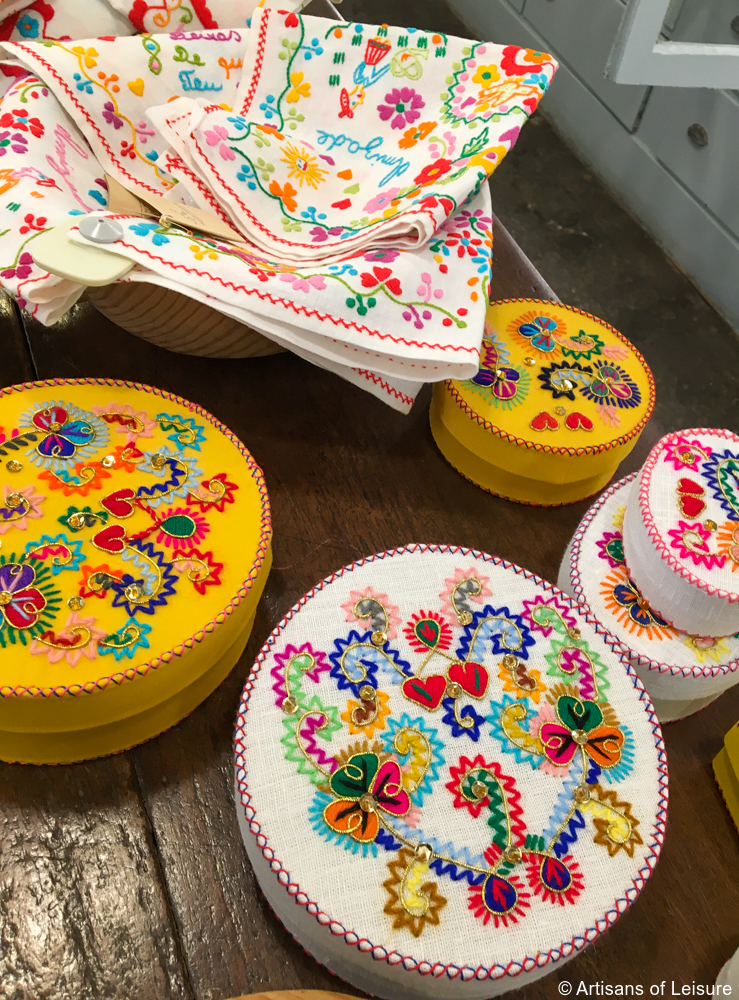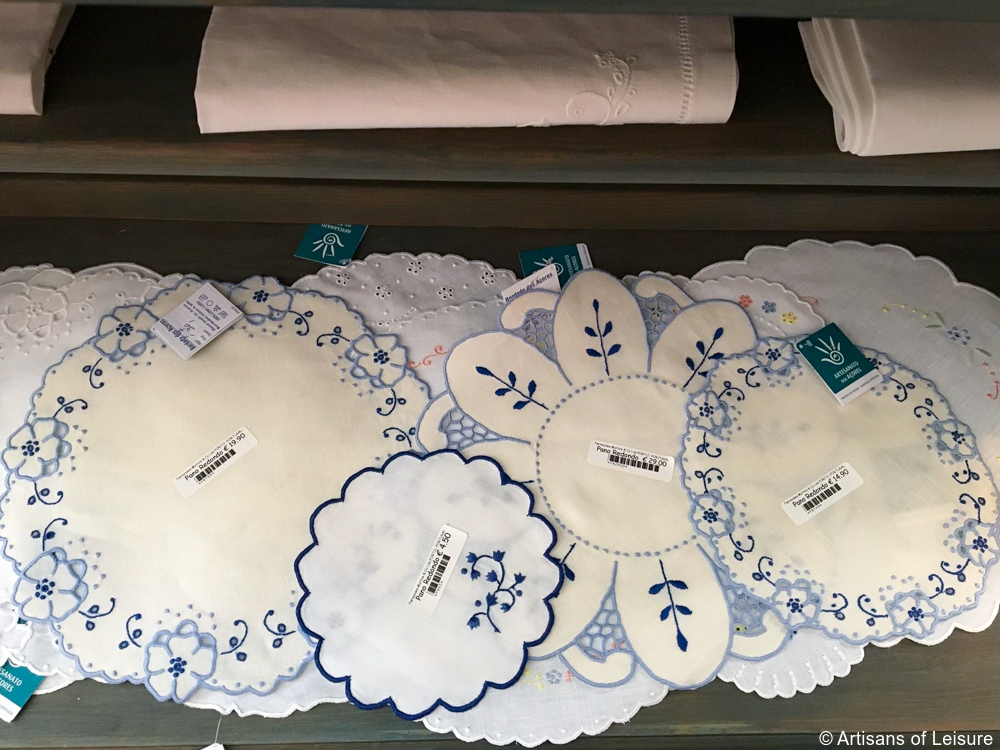 A Vida Portuguesa stocks a vast range of high-quality goods, including ceramics (including Bordallo Pinheiro), woolens, linens, stationery, jewelry, toys and soap in vintage packaging.
Principe Real Enxovais (fine linens)
Beginning with the cotton industry based in Lisbon in the 18th century and followed by linen production in northern towns in the 19th century, Portuguese textiles have been internationally renowned for their high quality and exquisite craftsmanship for centuries. Particularly notable are delicately embroidered linens and bobbin lace like the pieces sold at Principe Real Enxovais, a purveyor of fine textiles since 1938.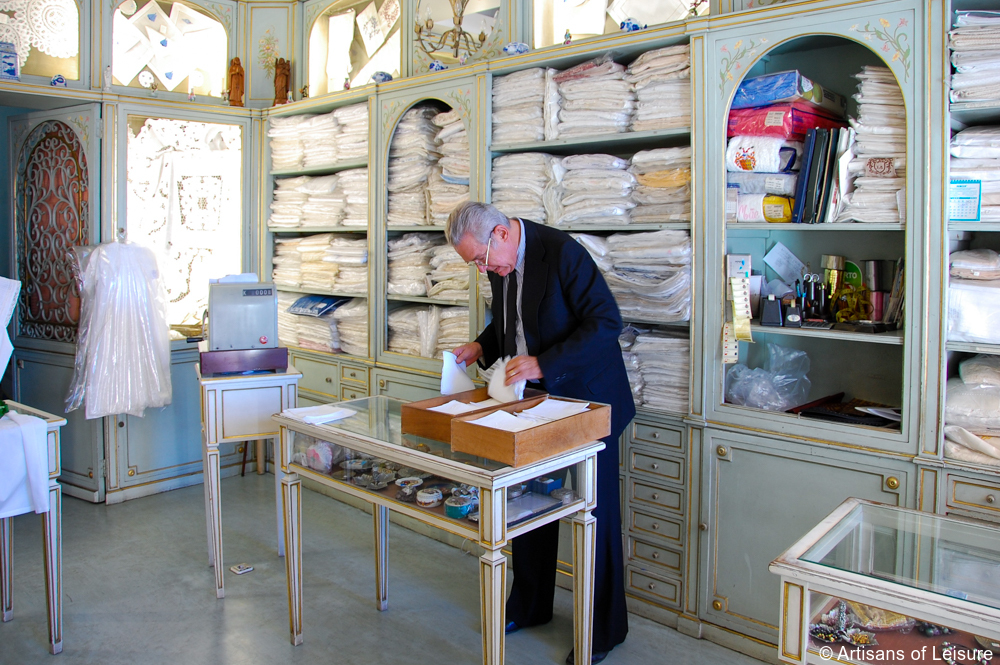 Known for its superb collection and bespoke creations, Principe Real Enxovais is a wonderful destination for fine bed linens, embroidered tablecloths, silk pajamas, cotton bath towels, christening gowns, handkerchiefs and more. We love their heirloom-worthy, hand-embroidered monograms to personalize pieces—an exquisite commission to take home from Portugal.
Other favorite shops in Lisbon for fine linens include Paris em Lisboa and Teresa Alecrim.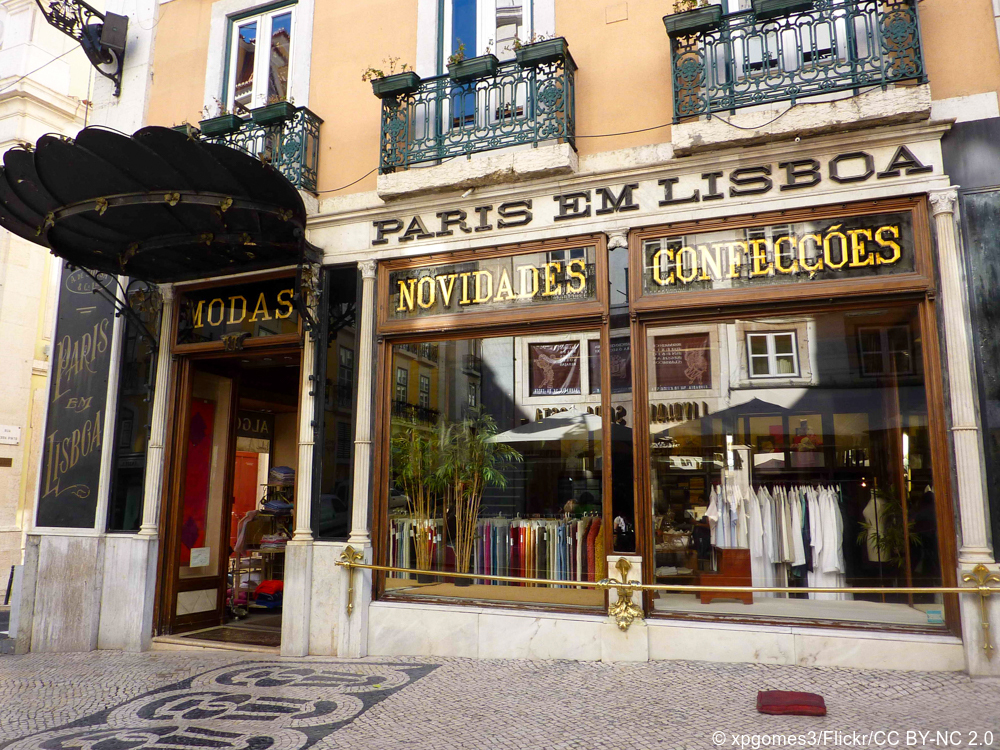 Conserveira de Lisboa (canned fish)
This historic food store, owned by the same family since the 1930s, specializes in canned fish in delightfully vintage packaging.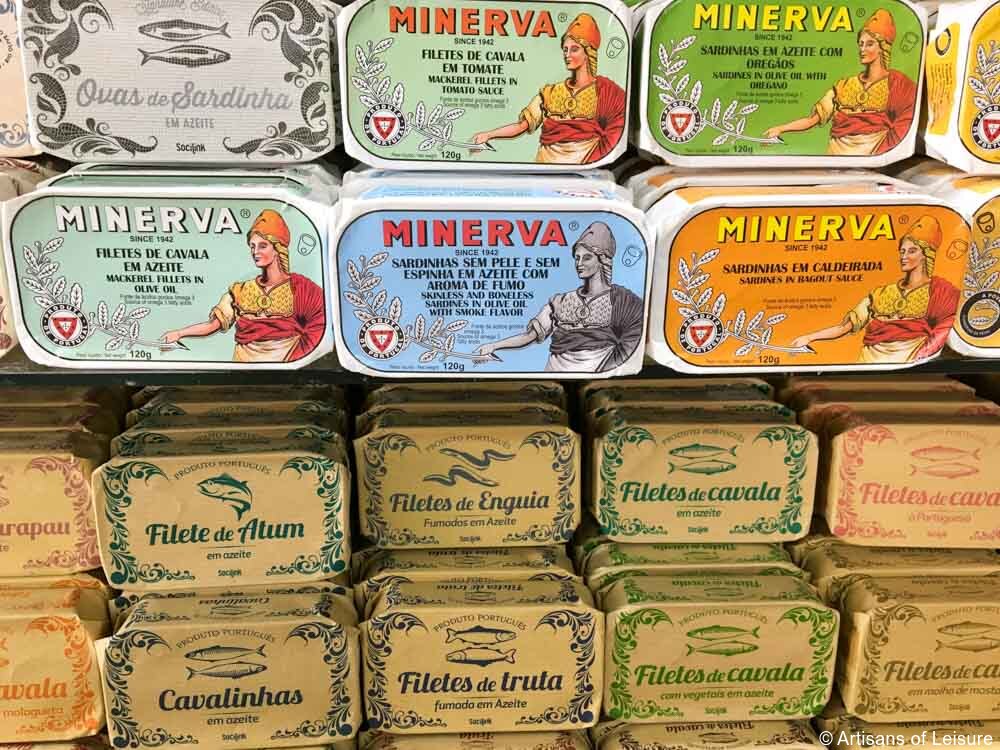 In a city with an abundance of fresh fish, the popularity of canned fish might seem unexpected. But it has been regarded as an affordable and convenient source of protein since the 19th century—particularly during the world wars—and is a mainstay in local dishes.
Conserveira de Lisboa's brightly colored, vintage-style cans of high-quality sardines, tuna, octopus, squid and other seafood are a favorite of both locals and visitors, who can easily transport them home as a fun, if unusual, souvenir.
Other great places for tinned seafood include Loja das Conservas, A Vida Portuguesa and Mundo Fantastico da Sardinha Portuguesa.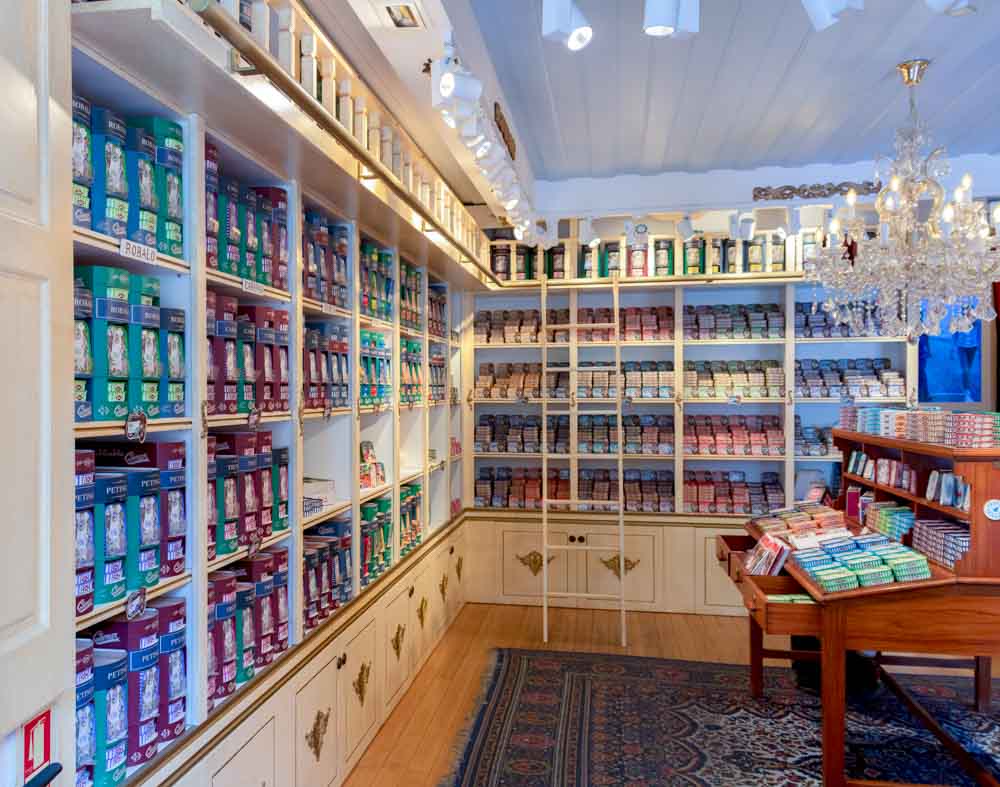 Pasteis de Belem (pastel de nata tarts)
A must-visit in the Belem neighborhood, Pasteis de Belem is the oldest specialist bakery in Lisbon and is renowned for its pastel de nata (egg custard tart). The tarts originated in the 18th century with the monks in the nearby Jeronimos Monastery. The monks made custard tarts from egg yolks leftover from starching their habits with egg whites and sold them to a nearby sugar refinery for extra revenue. When the monastery closed in 1834, they passed on the popular recipe to the owners of the sugar refinery, who subsequently opened Pasteis de Belem in 1837.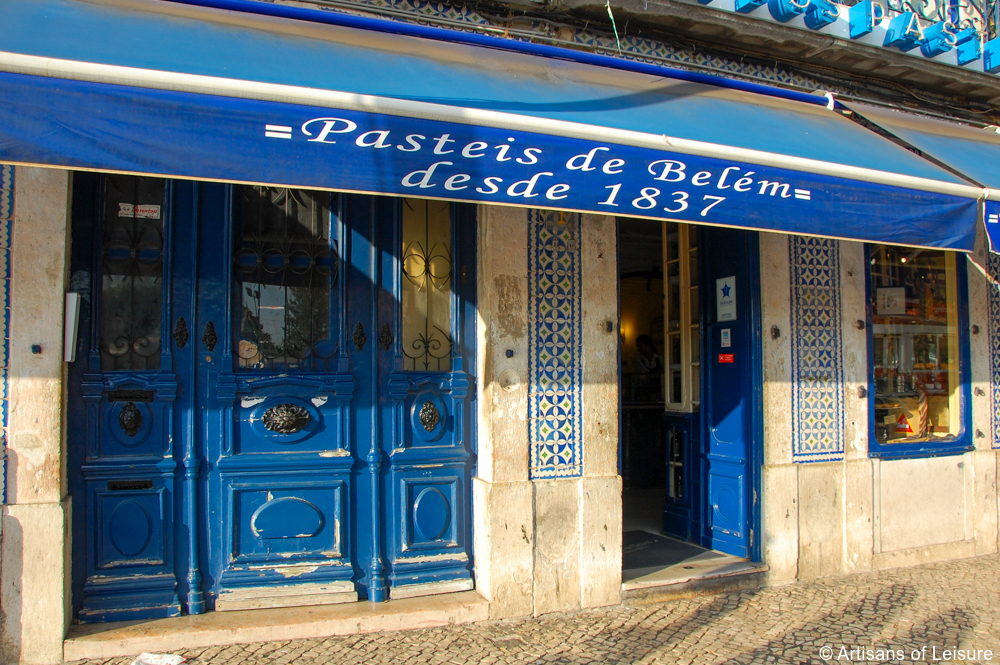 The pasteis de nata are still made to the original secret recipe, usually sprinkled with cinnamon and sugar and served warm. Locals often enjoy the tarts with bica (smooth, strong espresso). Although other cafes around the city make versions of the pastel de nata, this is the original and most famous.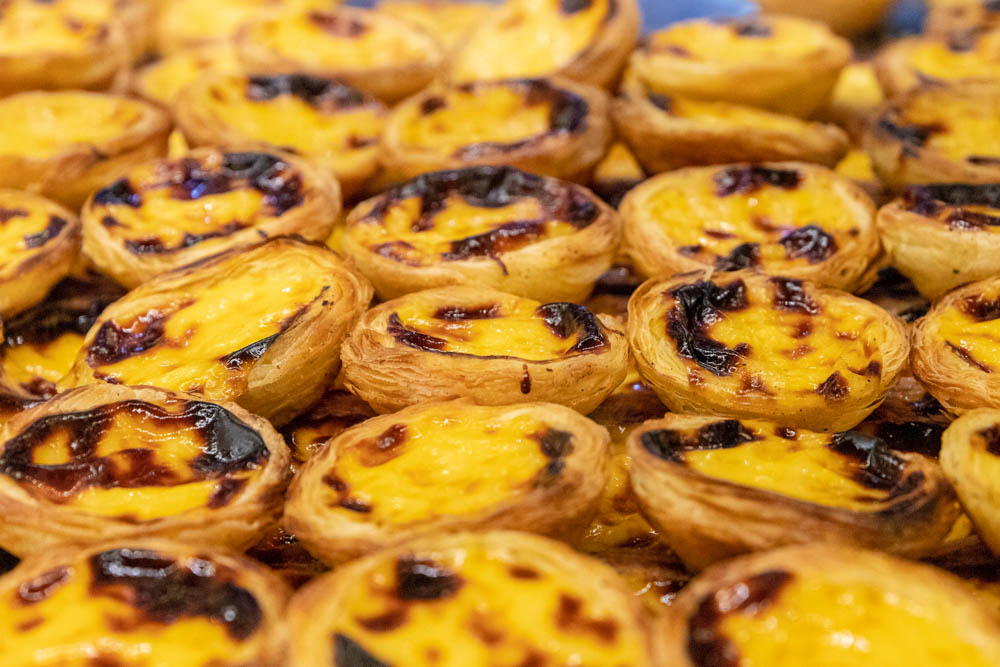 The historic cafe interior, decorated with blue-and-white tiles and filled with the scent of fresh pastries, is the perfect place to experience this icon of Portuguese culinary history.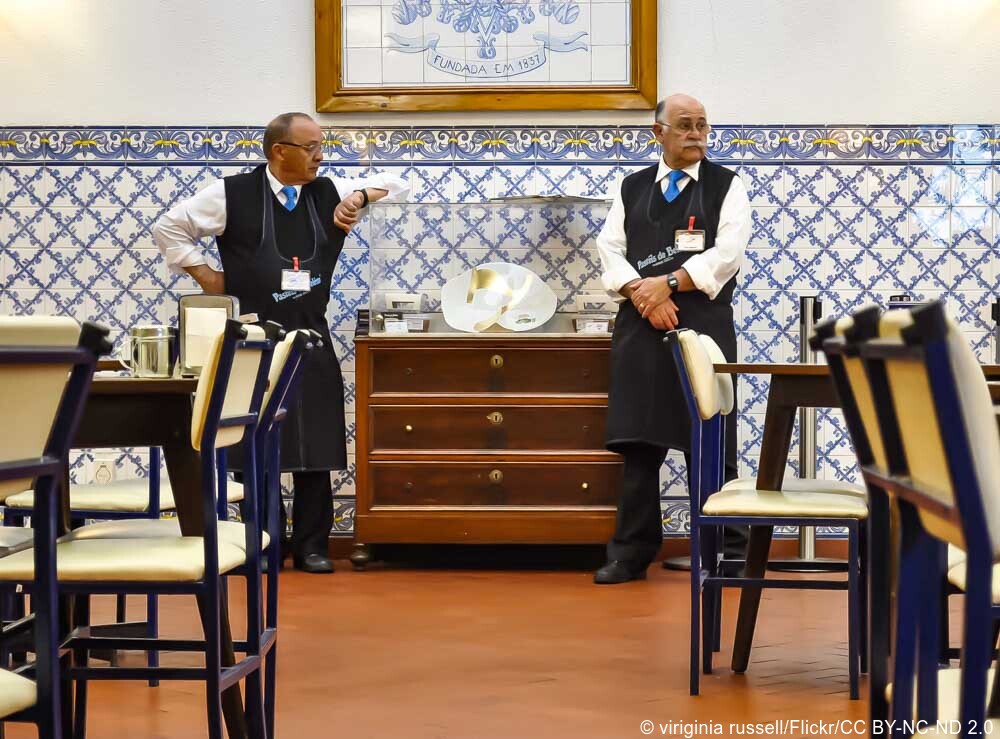 Casa Pereira da Conceicao (tea & coffee)
Beyond the historic shop windows of Casa Pereira da Conceicao, the 1930s interior with vintage coffee grinders and display cases filled with specialty goods in pastel packaging is worth a visit alone.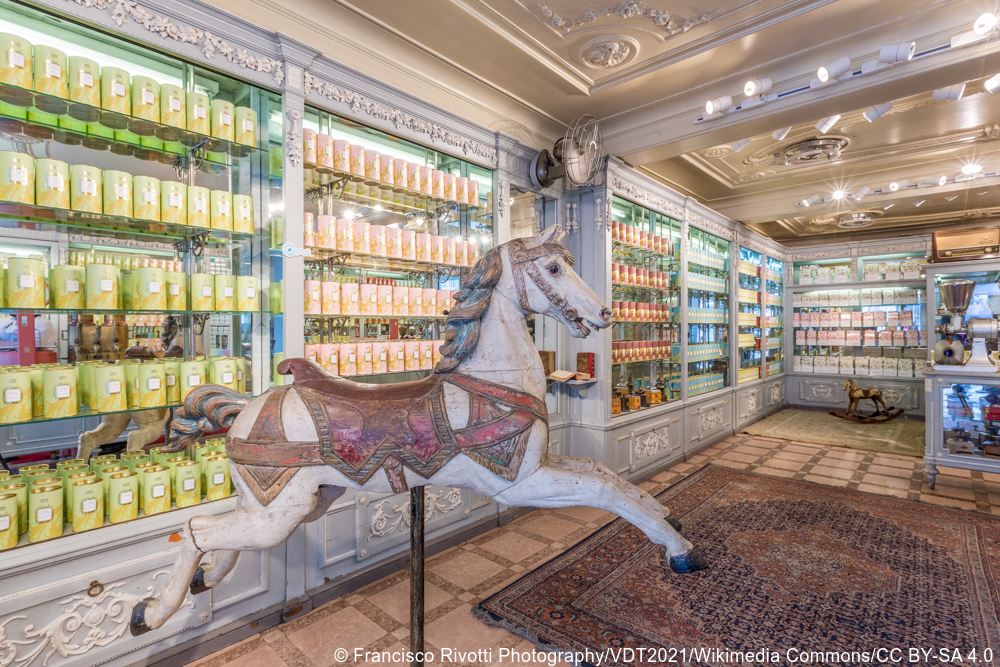 This specialty grocer has been selling a range of tea, coffee, chocolates and traditional cookies since 1933, a longtime favorite of locals and visitors to the capital where shop workers custom grind beans. Of note is the in-house custom coffee blend of beans from Sao Tome, Angola, Timor and Colombia.
Arcadia (chocolate)
Portugal's oldest chocolate brand, Arcadia has been owned by the same family since it opened in Porto in 1933. Favorite handcrafted chocolates from Arcadia include chocolate-covered lingua de gato ("cat's tongue" butter cookies), Port wine-filled bonbons and colorful decorative candies. The first Lisbon shop opened in 2010, soon followed by additional outposts around the city.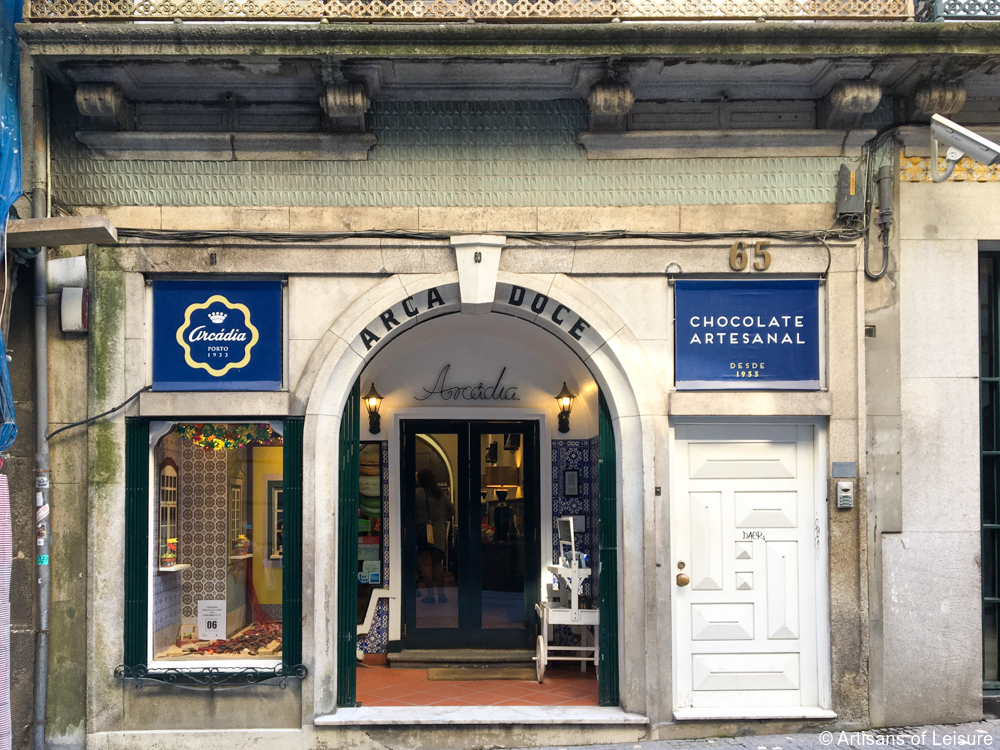 Although the Arcadia shops in Lisbon are more recently established, they all have delightfully old-fashioned interiors with decorative tiles and wooden cases where chocolates are artfully displayed.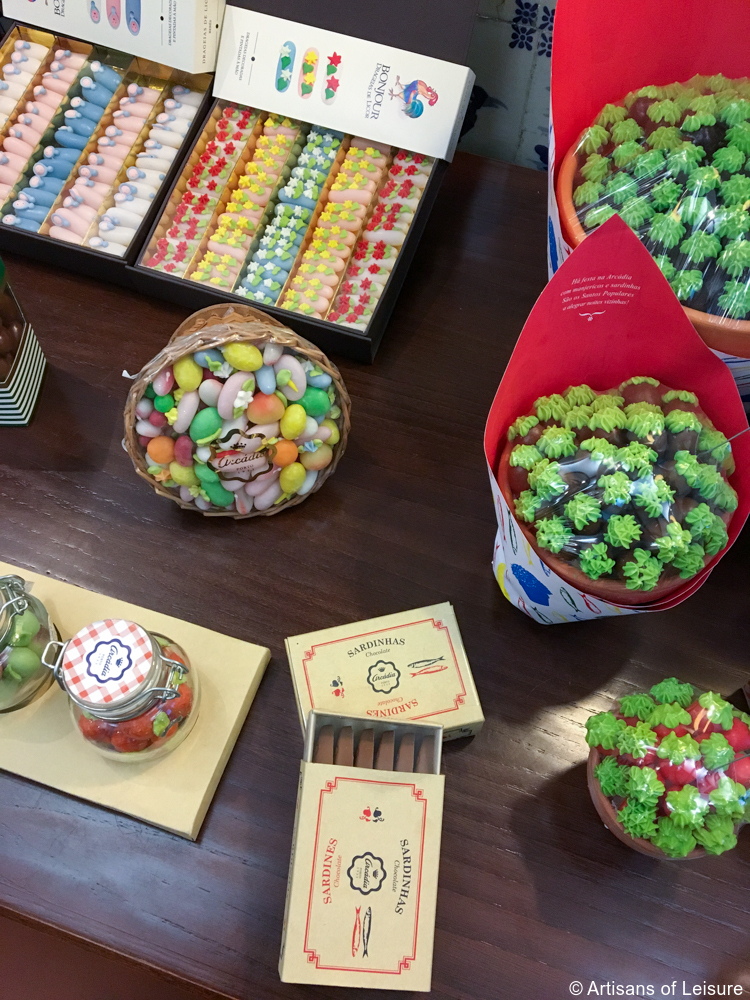 Tous (jewelry) 
Early 20th-century jeweler Ourivesaria Alianca once occupied this beautiful shop (now a branch of Spanish jewelry brand Tous). Behind the well-preserved facade are gilt interiors with paintings by Portuguese artist Artur Alves Cardoso.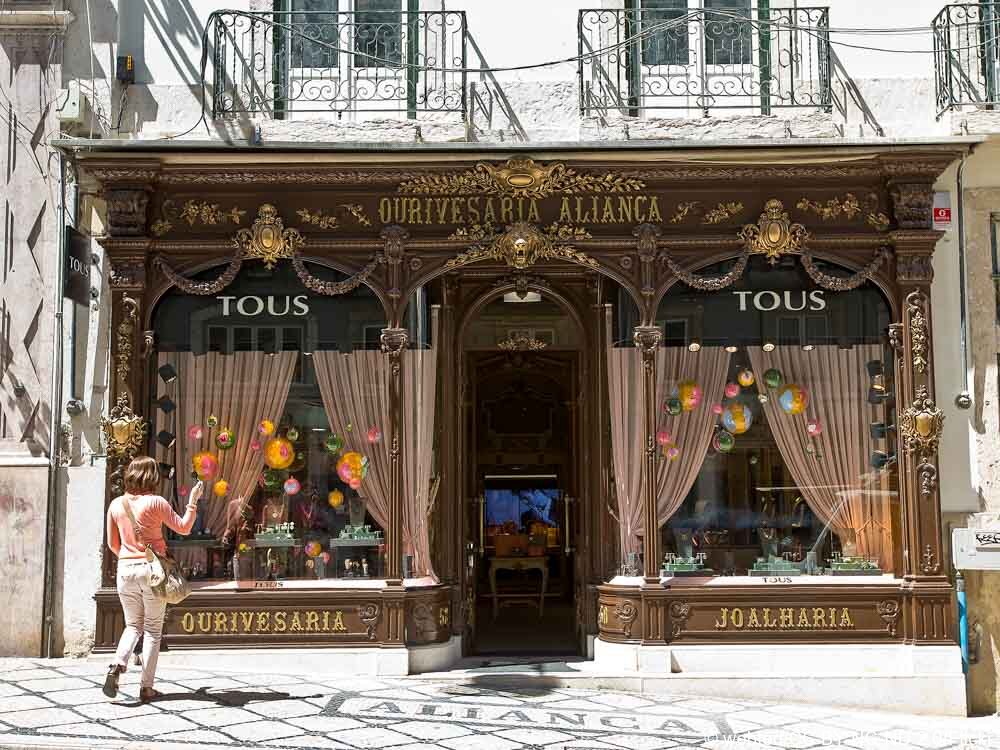 Other highly regarded destinations for jewelry, especially for Portuguese gold filigree pieces, include Joalharia Ferreira Marques and Joalharia do Carmo, located next door to Luvaria Ulisses.
Other historic bakeries & cafes 
We love taking our travelers to historic bakeries and cafes around Lisbon known for their resplendent, tile-adorned interiors and local specialties like the famous pasteis de nata, bolo rei (Portuguese Christmas cake) or Gorreana tea from a tea plantation in Azores.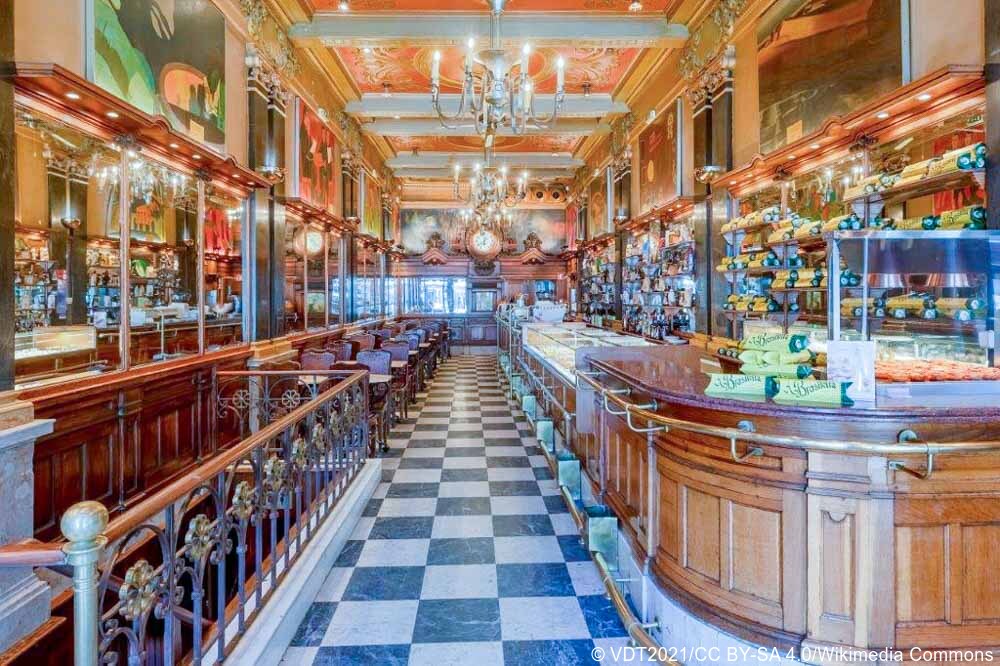 Some of our favorite iconic cafes and patisseries in Lisbon include A Brasileira, Pastelaria Versailles, Confeitaria Nacional, Cafe Nicola and Pastelaria Padaria Sao Roque.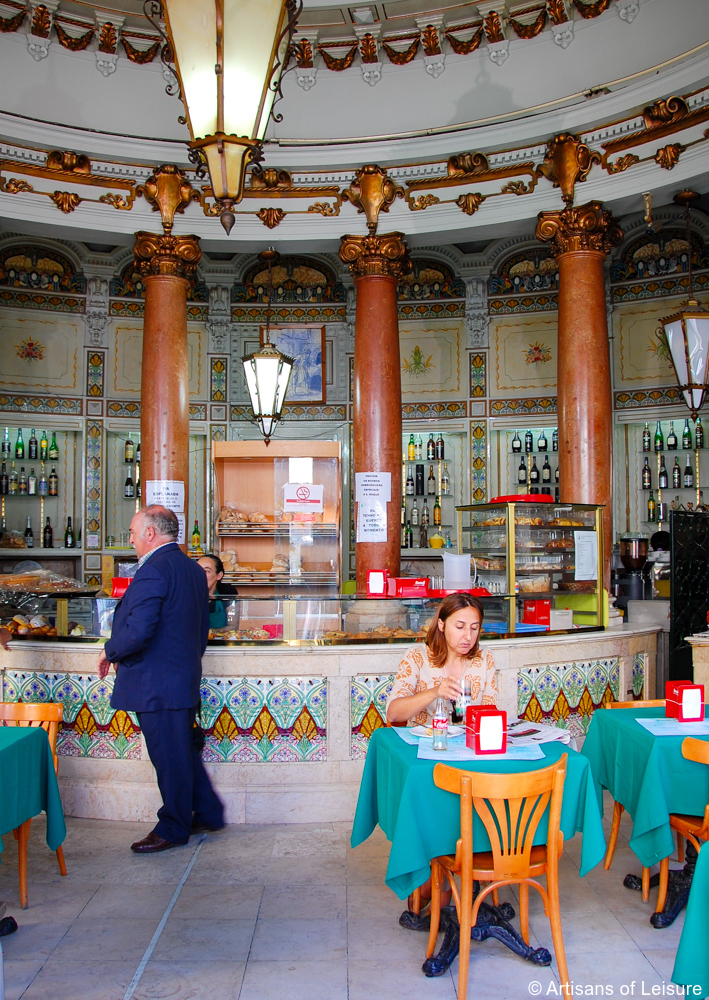 Contact Artisans of Leisure to begin planning a private luxury Portugal tour, including our favorite shops in Lisbon.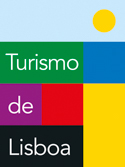 Destinations: Europe, Portugal
Tags: A Vida Portuguesa, artisan crafts, artisans, azulejo, blue-and-white tiles, Bordallo Pinheiro, cafes, decorative arts, embroidery, historic shops, insider Portugal, insider shopping, Lisbon, Lisbon private tours, Lisbon shops, Lisbon tours, Luvaria Ulisses, Pasteis de Belem, pastel de nata, Portugal, Portuguese ceramics, Portuguese crafts, Portuguese design, Portuguese linens, Portuguese tiles, private Portugal tours, shopping tours, textiles