June 25, 2013
Iconic Image: Machu Picchu, Peru
Travelers of ours who recently returned from an Artisans of Leisure Peru tour sent us this amazing photo of a kestrel in flight above Machu Picchu. The bright orange feathers make a bold contrast with the grass on the Inca terraces and the lush foliage of the Andes mountains surrounding the site.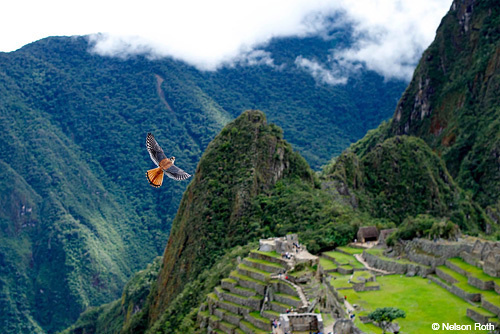 Here's what they had to say about their experience:
"We have traveled to many unusual and spectacular places (including on other trips arranged by Artisans of Leisure), and had seen pictures and videos of Machu Picchu, but we were still not prepared for the stunning impact of the site. The isolation of the location, dramatic scenery, and remarkable ancient Inca ruins create an otherworldly appearance unlike anything we had previously experienced. We climbed to a perch above the site and were sitting and taking in the view when we noticed a kestrel (a small falcon) sitting on a nearby tree. I quickly picked up my camera and luckily had it ready when the bird started to fly off. The picture perfectly captured the mood of the moment."
                                                                                      – Nelson Roth
Touring Machu Picchu with your own private guide is a highlight of all Artisans of Leisure tours in Peru. Our Peru tours also include a ride aboard the luxurious Hiram Bingham train and accommodation at Sanctuary Lodge, the only hotel at the site.
Contact Artisans of Leisure for more information about  luxury travel in Peru and elsewhere in South America.
Destinations: Peru, South America
Tags: Artisans of Leisure, birdwatching, clients, hiking, Hiram Bingham, hotels, luxury travel, Machu Picchu, Nelson Roth, Orient Express, Peru tours, private guides, ruins, South America, South America tours, trains, travel photos, UNESCO, wildlife