June 28, 2013
The Best of Morocco
Morocco is one of our favorite destinations for fascinating cultural touring, ultra-luxurious hotels and resorts, superb cuisine and great shopping. Some of our favorite places to visit in Morocco include Marrakesh, Fez, the Sahara Desert and the High Atlas Mountains.
Most of our private Morocco tours include Marrakesh, a beautiful ancient city and UNESCO World Heritage Site famous for its well-preserved medina (old city). Marrakesh known as the "Pink City" or the "Red City" after the rose-colored hues of the sandstone buildings in the medina.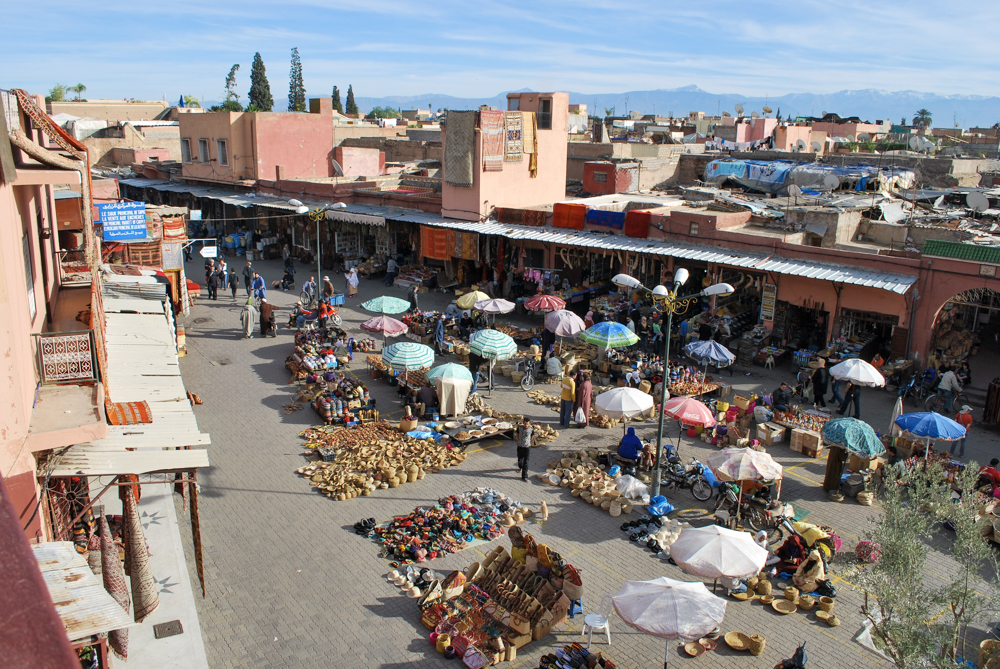 Amanjena in Marrakesh is one of our preferred luxury resorts in Morocco. Amanjena features a contemporary interpretation of historic Moorish architecture with private ryads (traditional Moroccan houses) in tranquil grounds with palm trees and reflecting pools.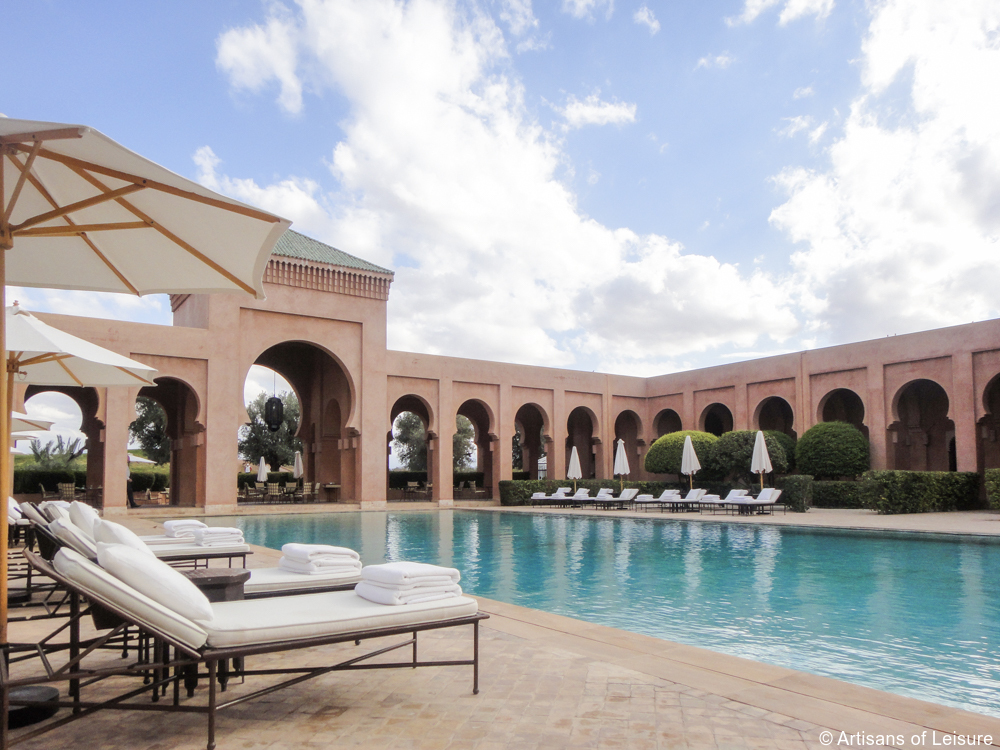 The legendary La Mamounia, known for its beautiful architecture and interiors, is another one of our preferred luxury hotels in Marrakesh. Pictured here is the hotel entrance adorned with traditional tile and plasterwork.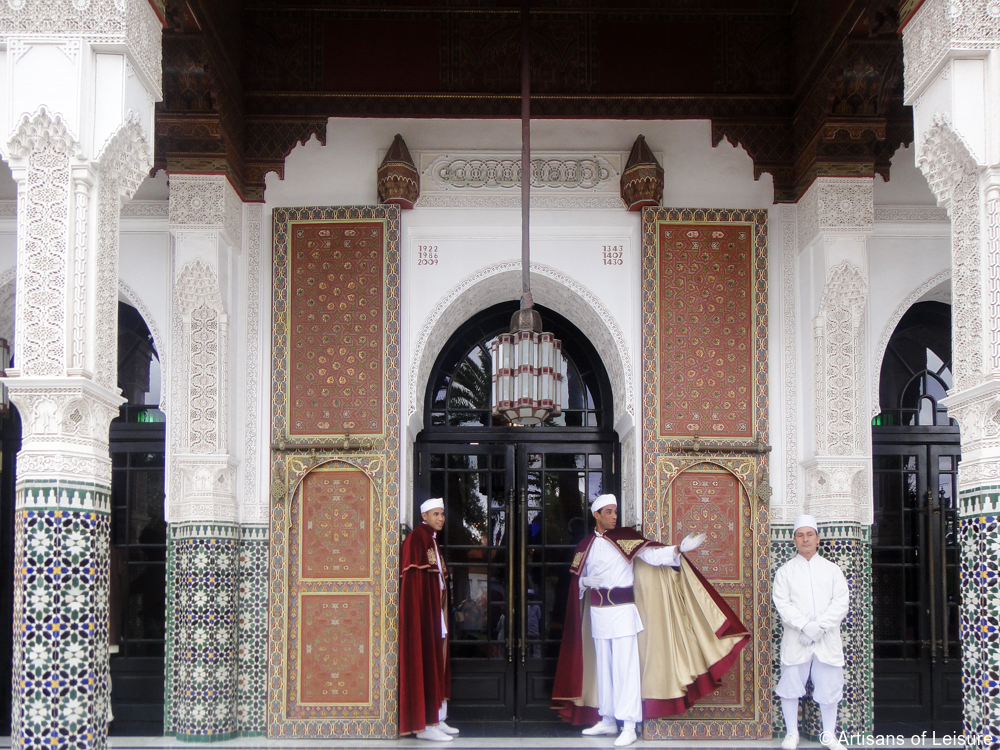 During private touring, we take our travelers to the beautiful Jardin Majorelle, a colorful garden retreat built in the 1920s by French painter Jacques Majorelle and later owned by fashion designer Yves Saint Laurent.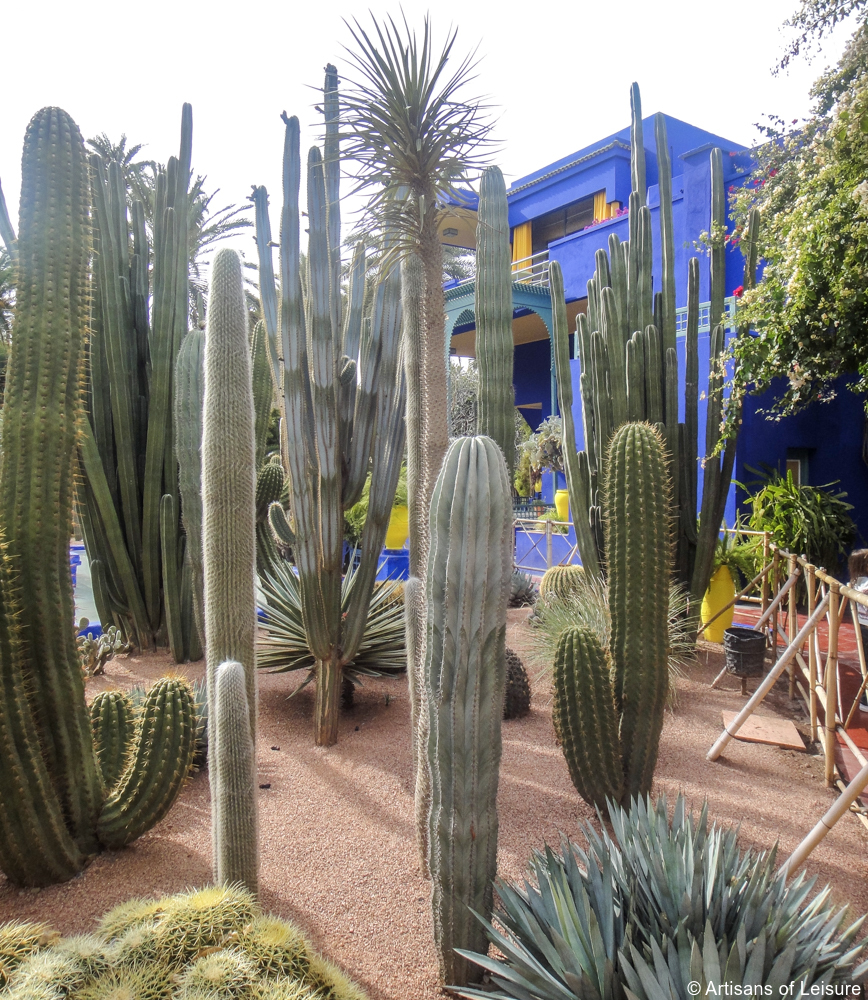 Our expert local guides help our travelers navigate the labyrinth of the medina and souks (markets), where spices, herbs and myriad other products are sold.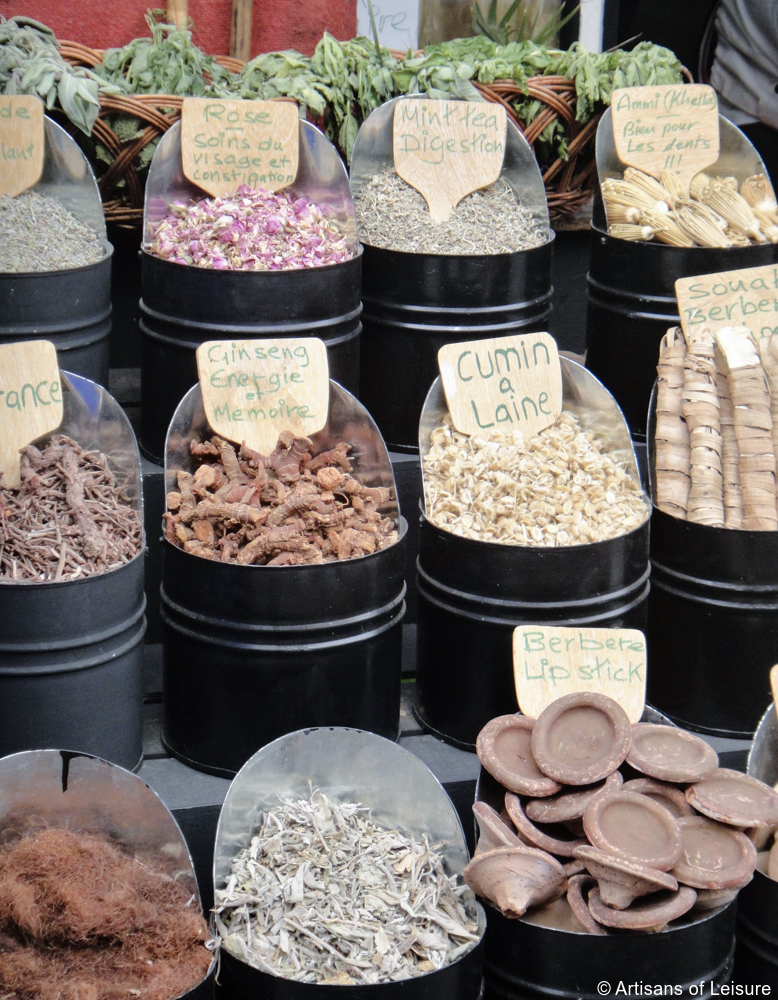 Visiting shops in the medina, such as this herb specialist, provides insight into Moroccan culture and traditions.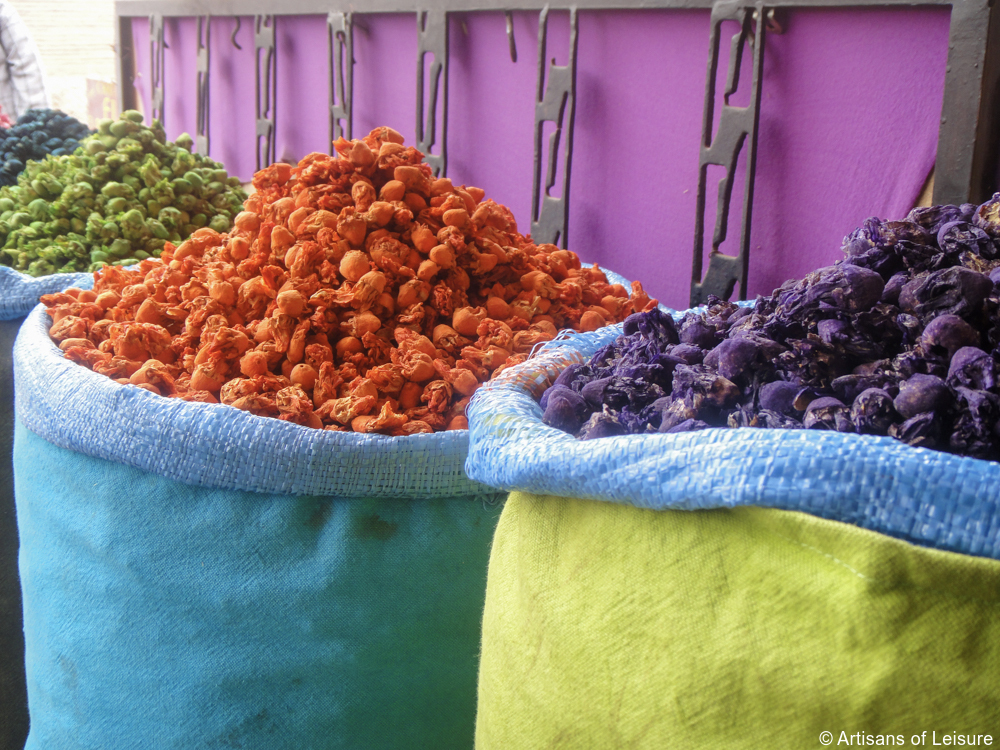 Marrakesh is a great destination for shopping for traditional crafts.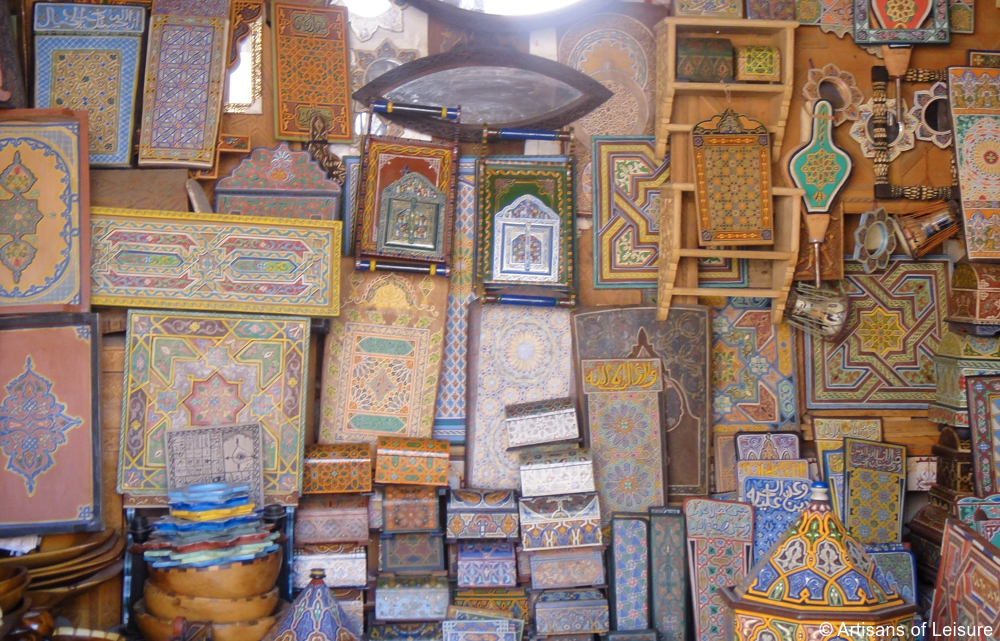 Unique frames for sale in Marrakesh.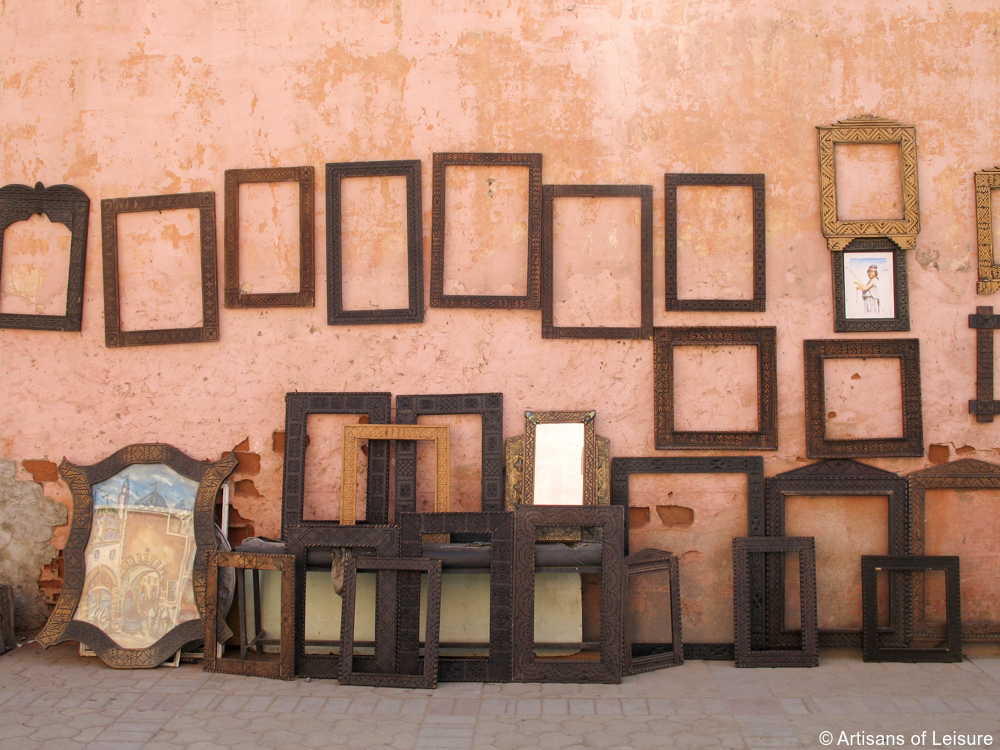 Kasbah Tamadot, another of our favorite properties in Morocco, is a spectacular luxury hotel in the foothills of the Atlas Mountains outside Marrakesh. The hotel architecture was inspired by Moroccan kasbahs (traditional forts).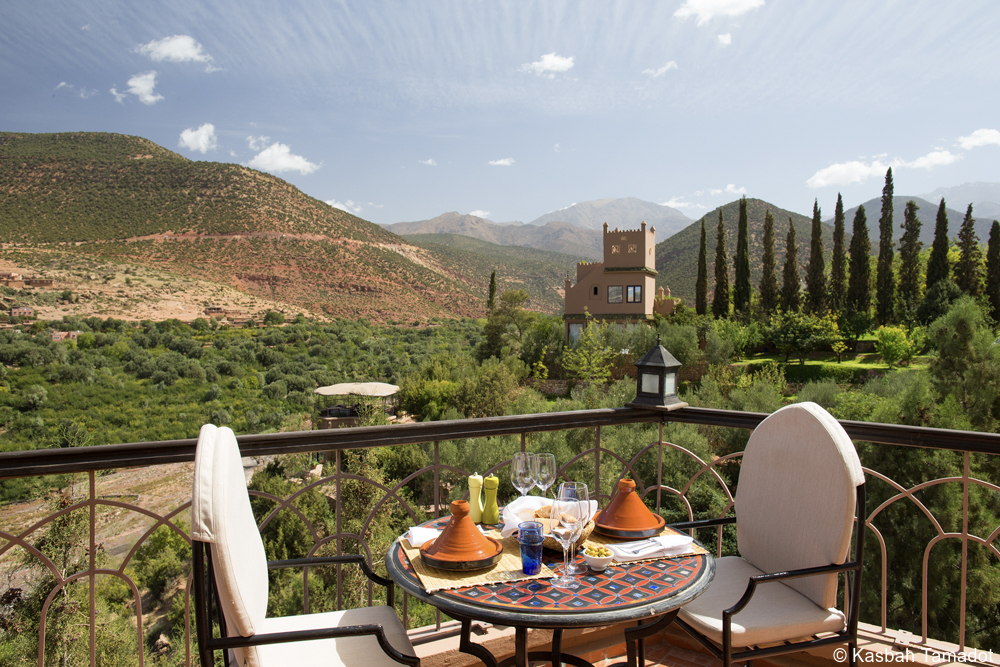 Some of the rooms at Kasbah Tamadot resemble luxurious Berber tents.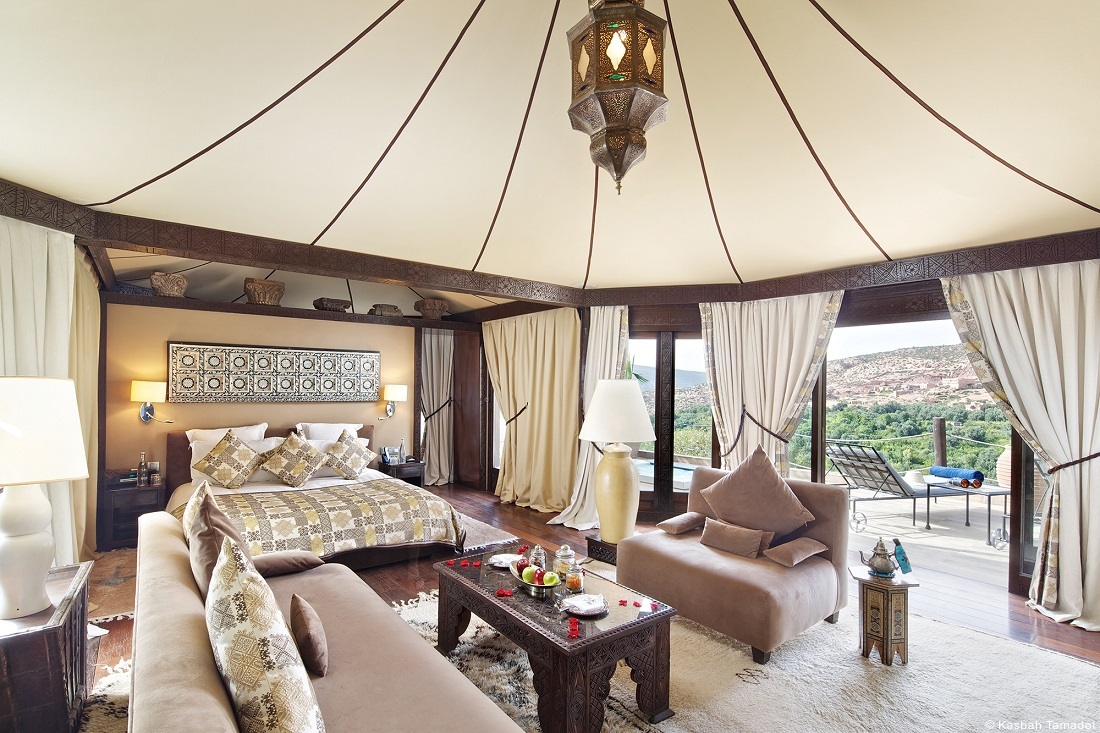 Moroccan hospitality is always elegant and indulgent.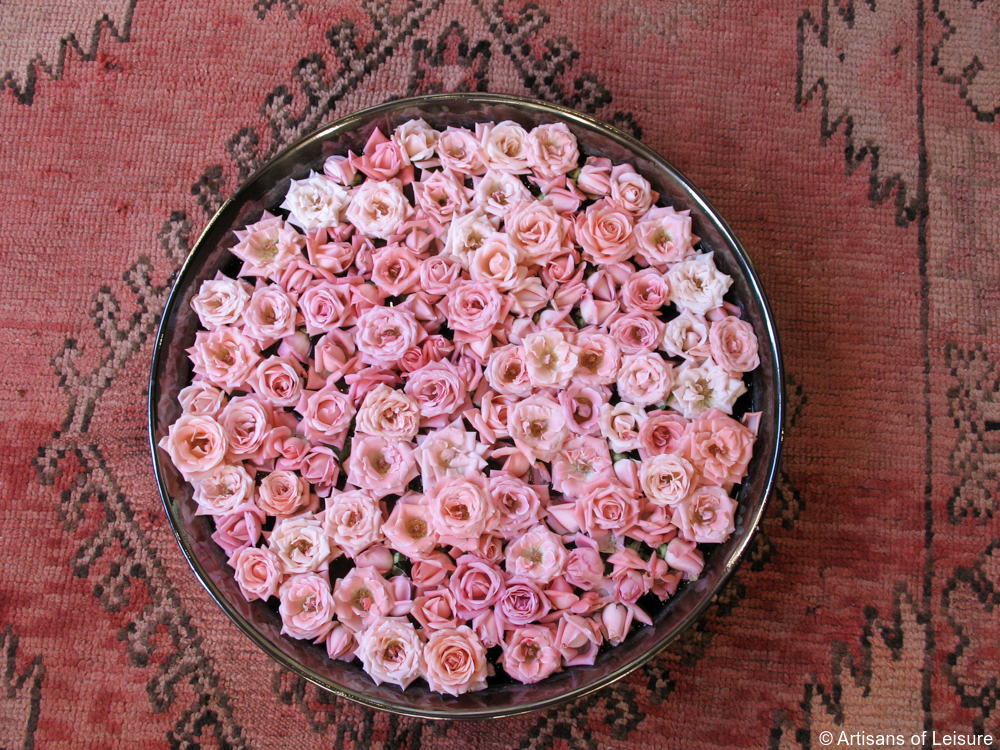 Many of our tours include a stay at Dar Ahlam, a Relais & Chateaux hotel in a restored kasbah in the countryside near a number of beautiful historic sites.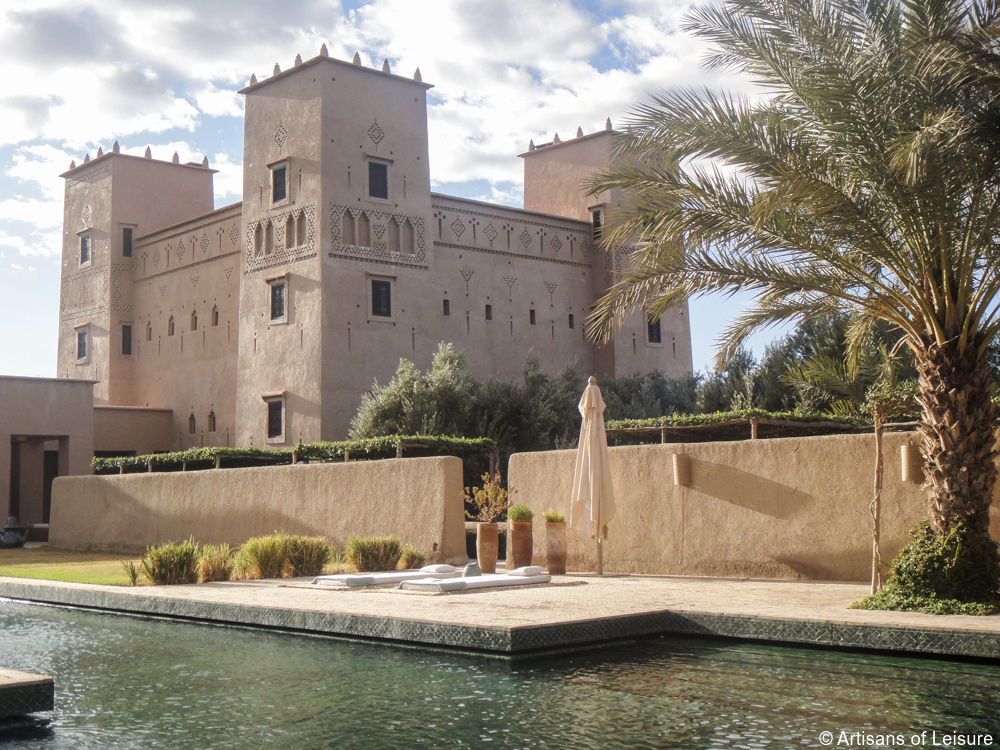 These are some of the welcome snacks and drinks at Dar Ahlam.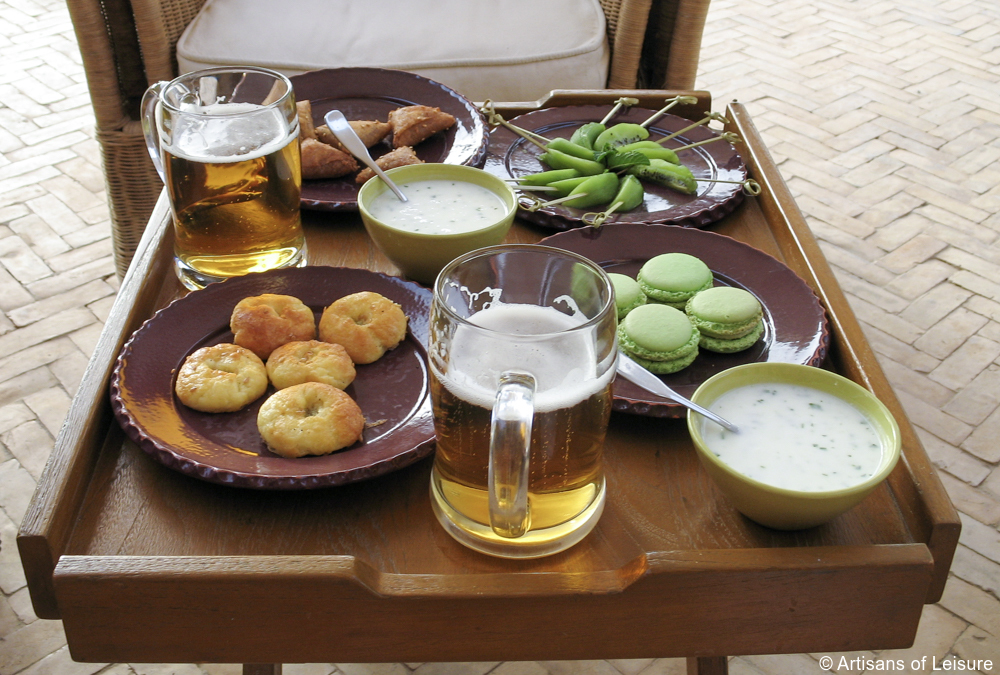 We take our travelers to the most interesting sites such as this fortified town in the desert near Dar Ahlam that appears to emerge from the rocks.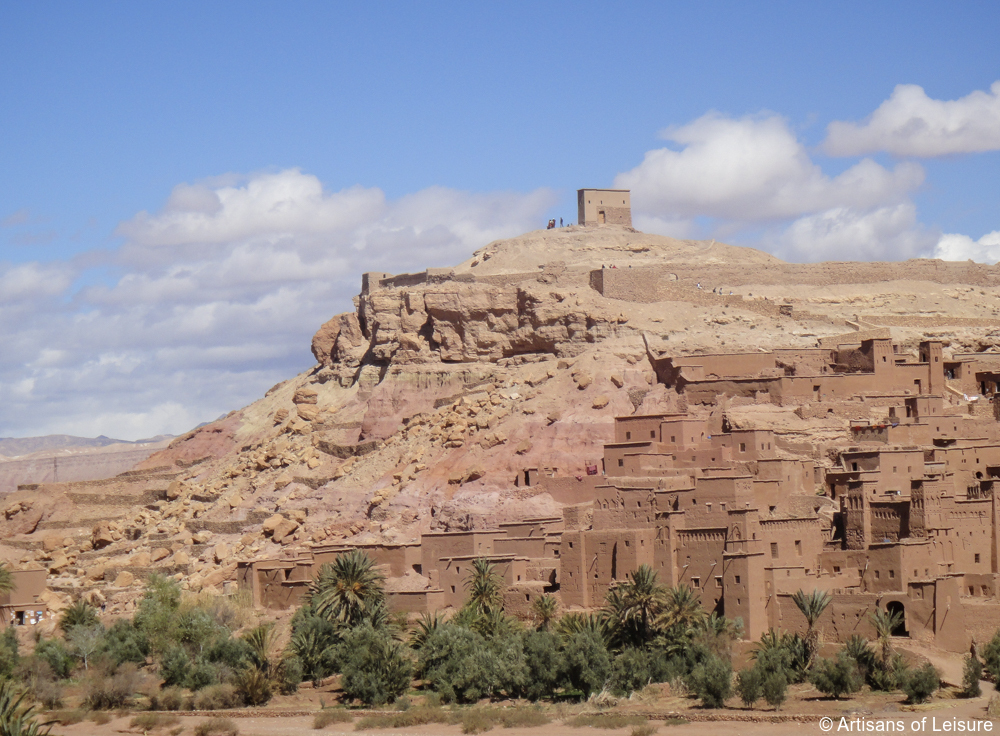 In the Sahara Desert, camels are the best way to navigate the sand dunes.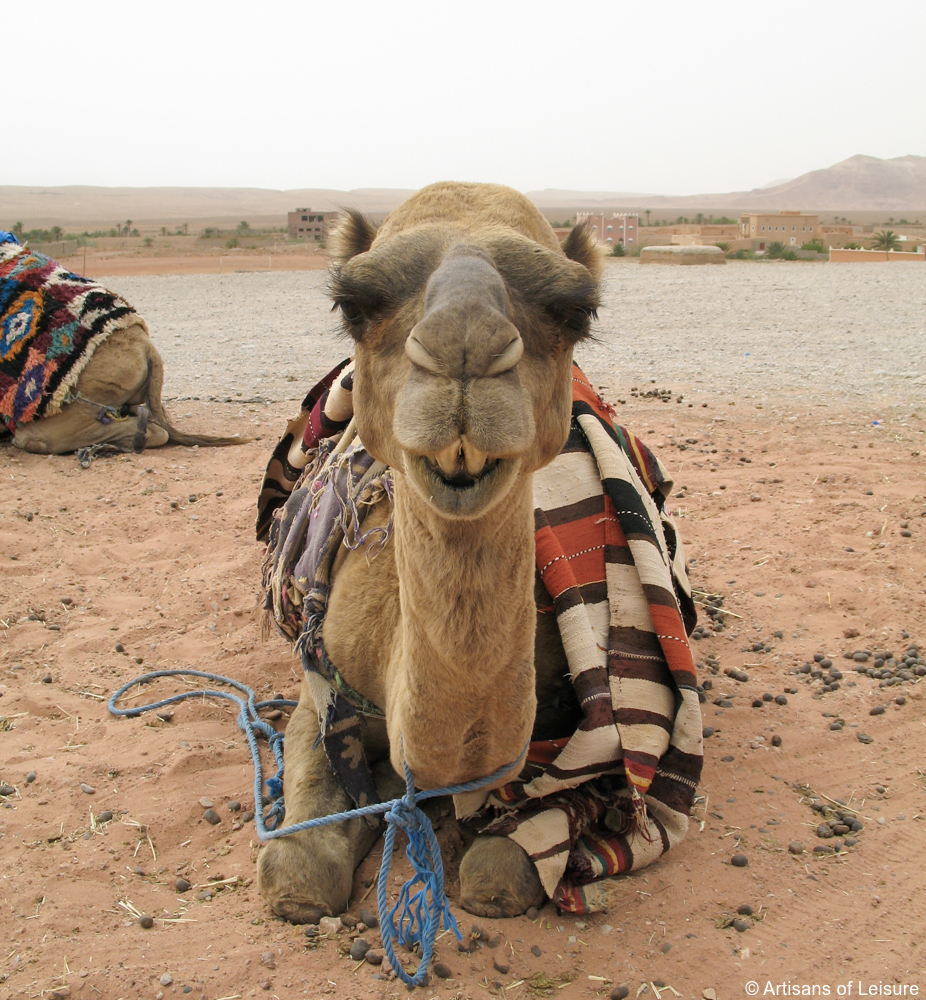 Our guides help our travelers learn the traditional way to wrap their faces to protect themselves from blowing sand during camel rides.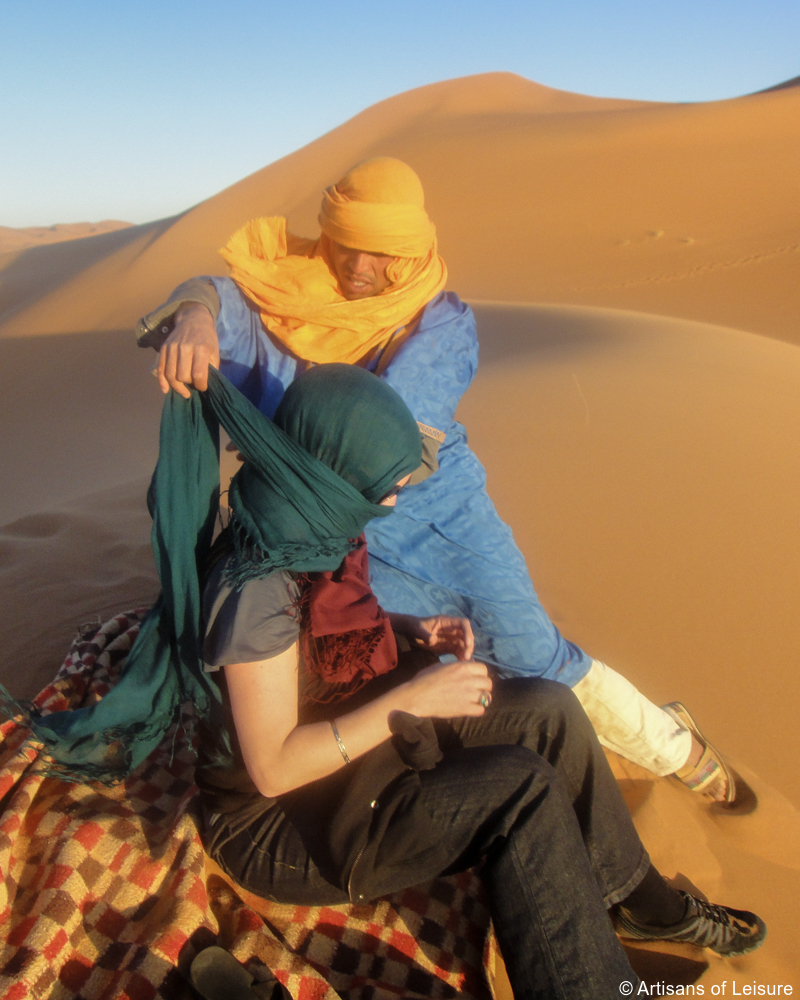 Our private overnight desert safaris include riding camels through the sand dunes of the Sahara Desert.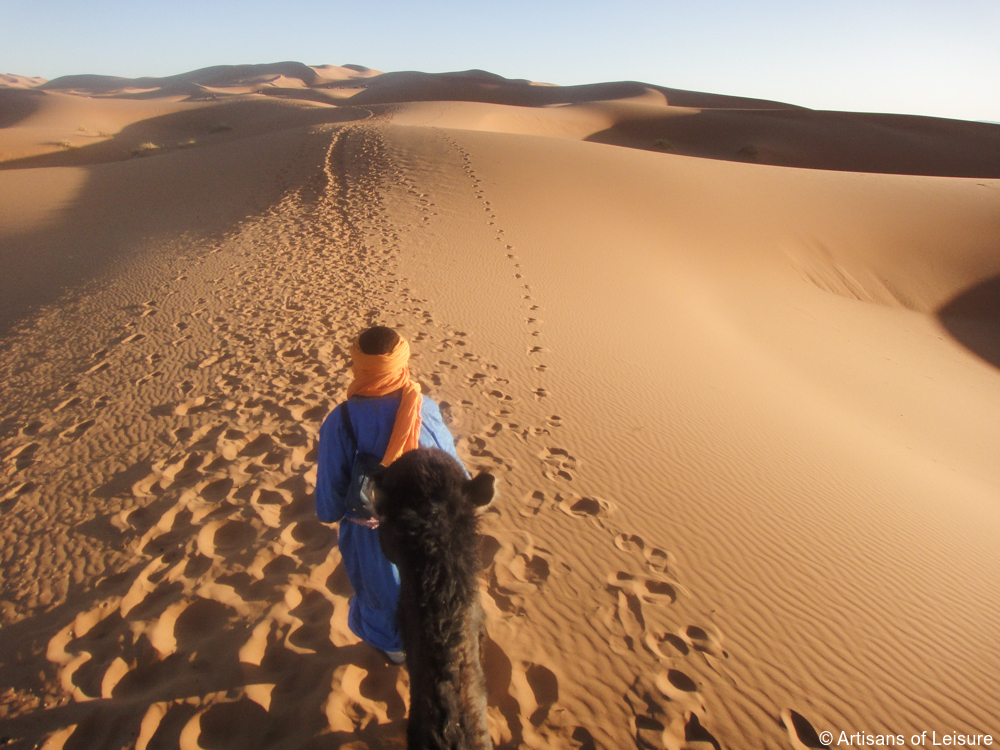 Many of our travelers enjoy learning about fossils that are found in Morocco. This fossil workshop is on the edge of the desert.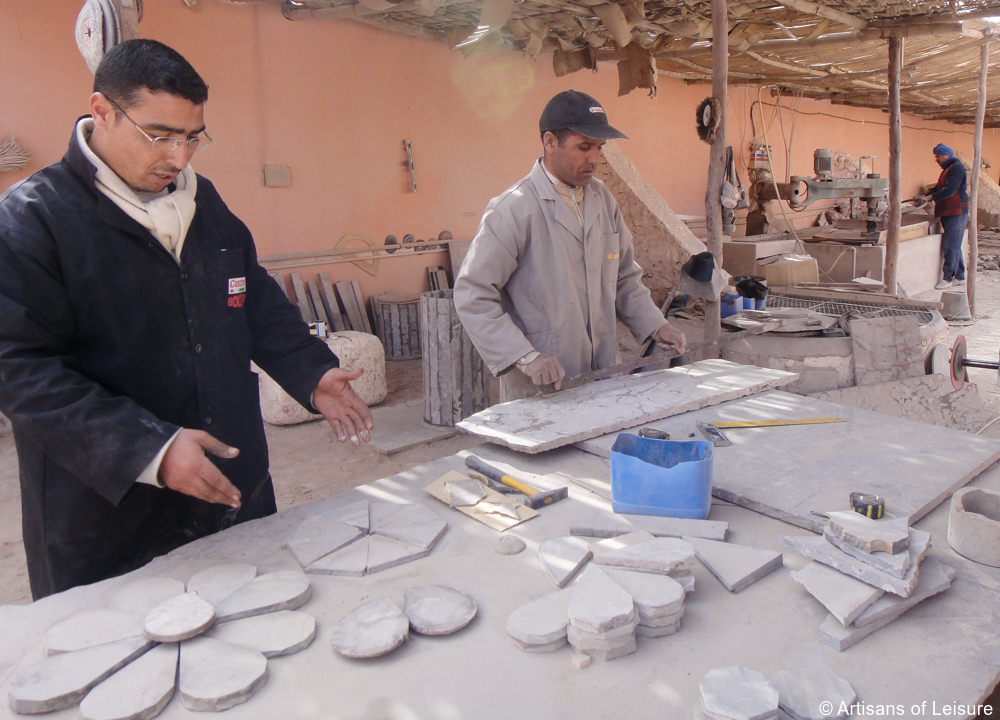 This was a particularly interesting fossil.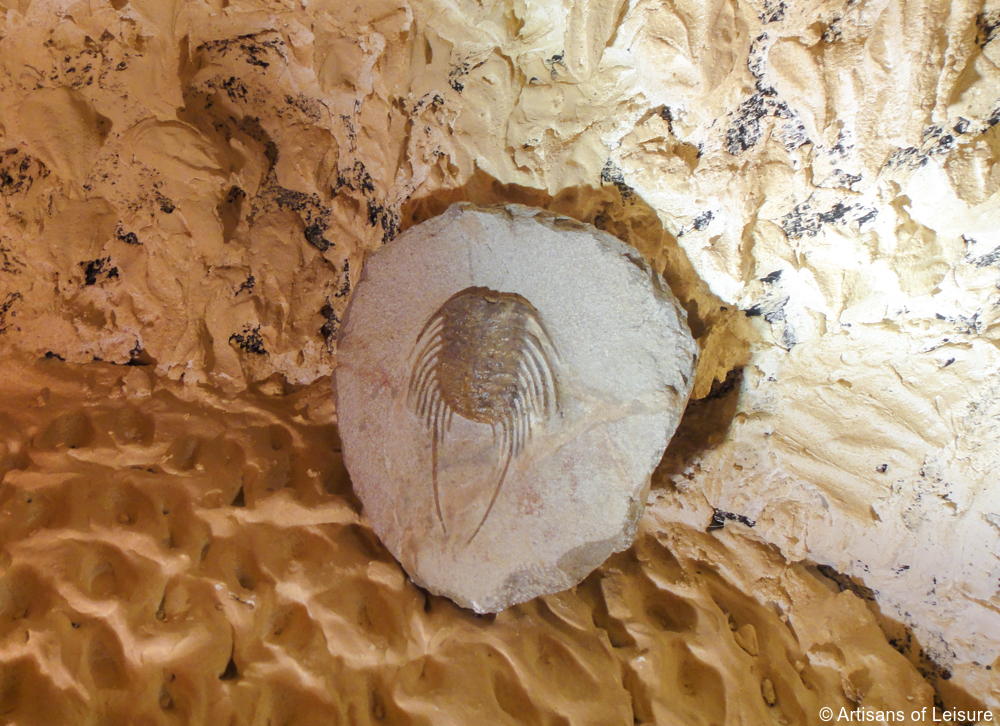 Many Moroccan cities and neighborhoods have grand entryways.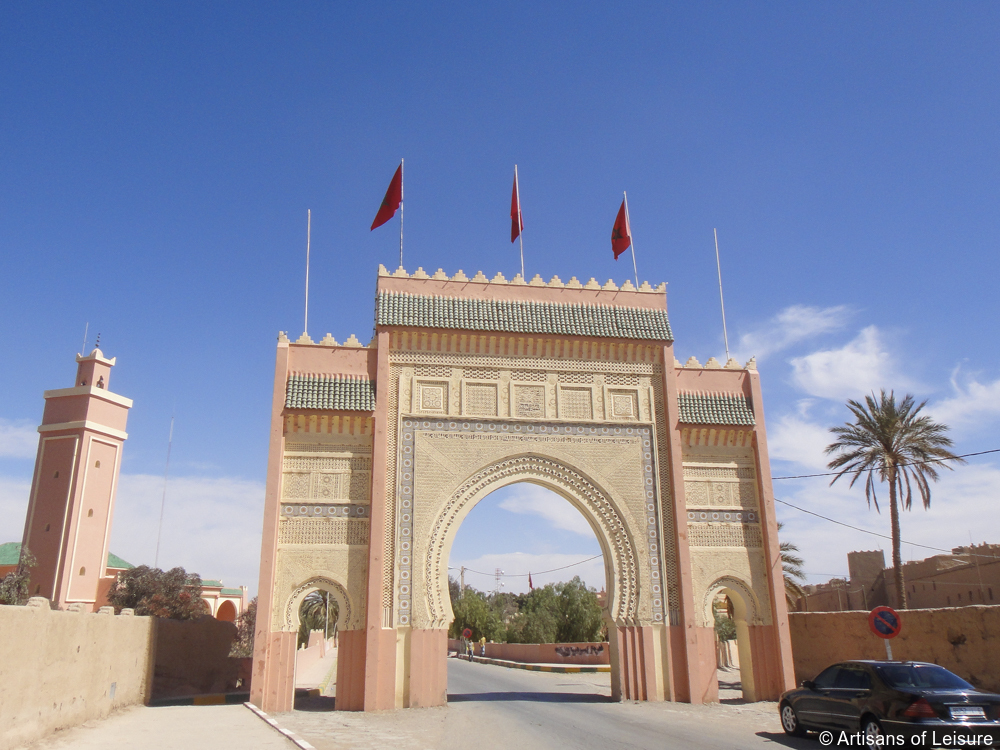 We use the best local expert guides on all of our private Morocco tours. Pictured here is one of our guides in Fez.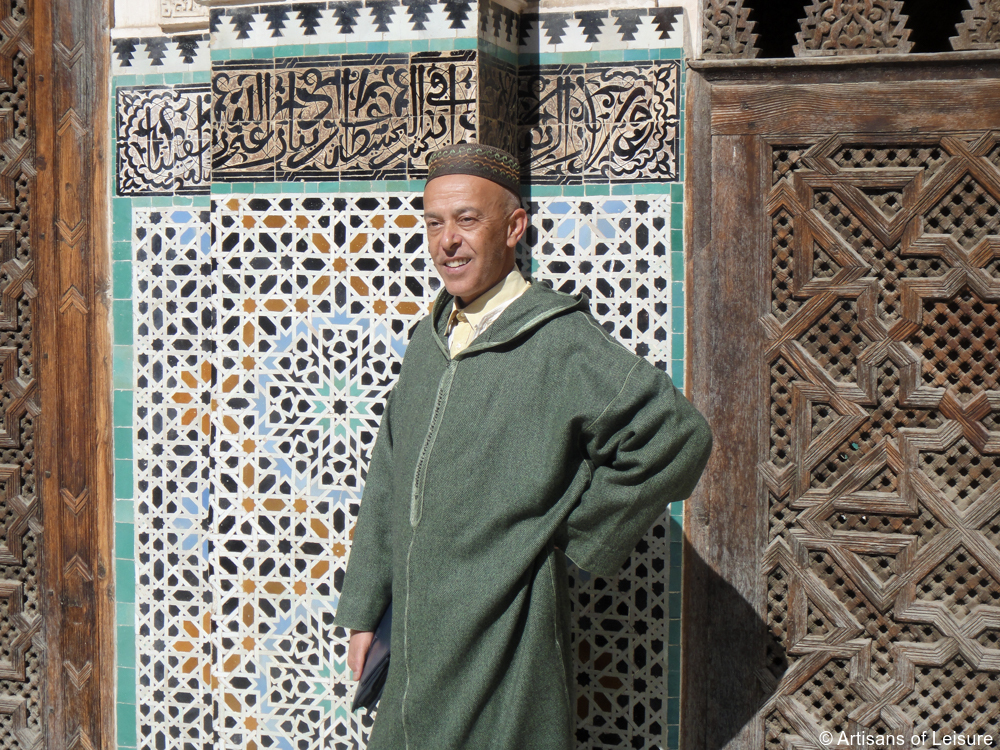 Zellij (intricate mosaic tile) is a common decorative element seen throughout Morocco.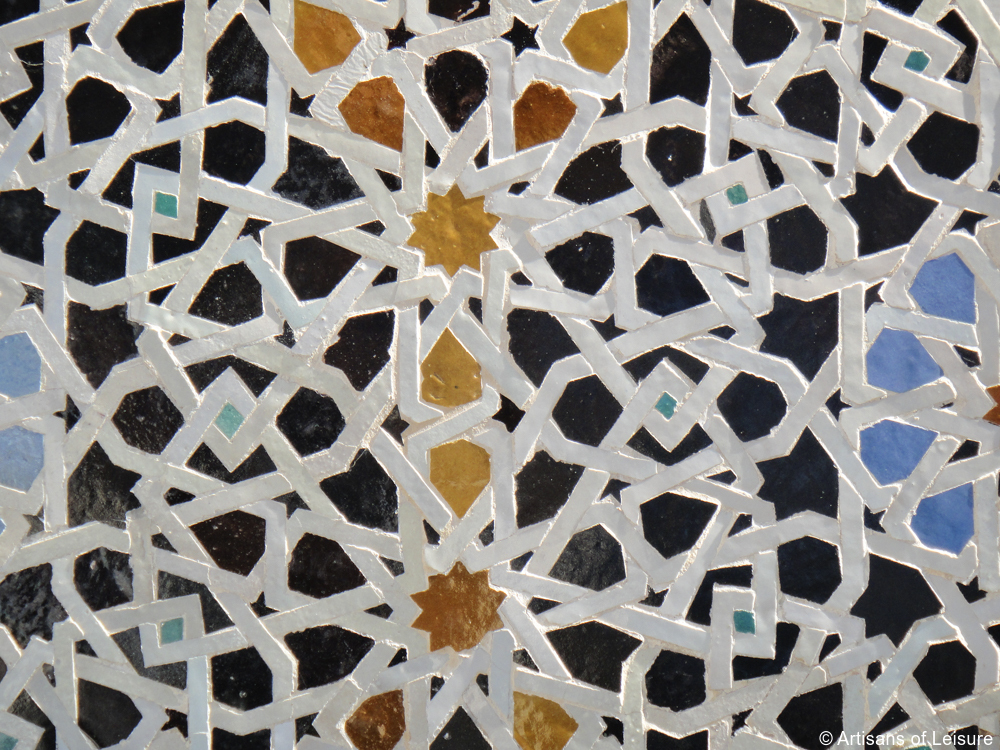 We take interested travelers to visit artisan workshops to see a master craftsmen at work.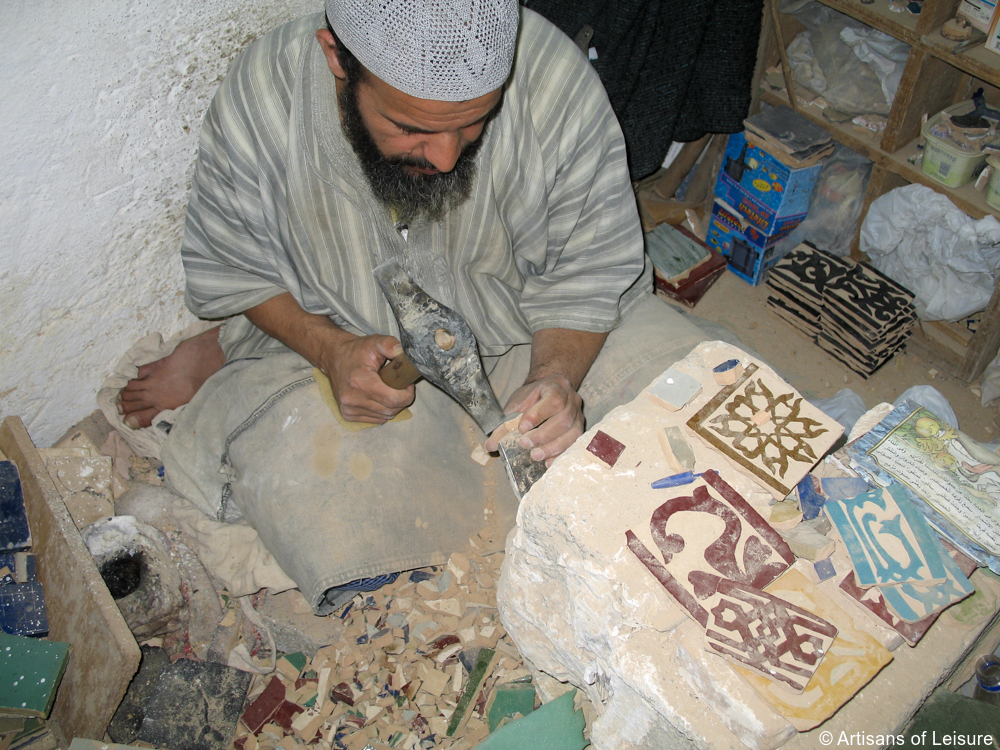 Here, an artisan assembles tiles.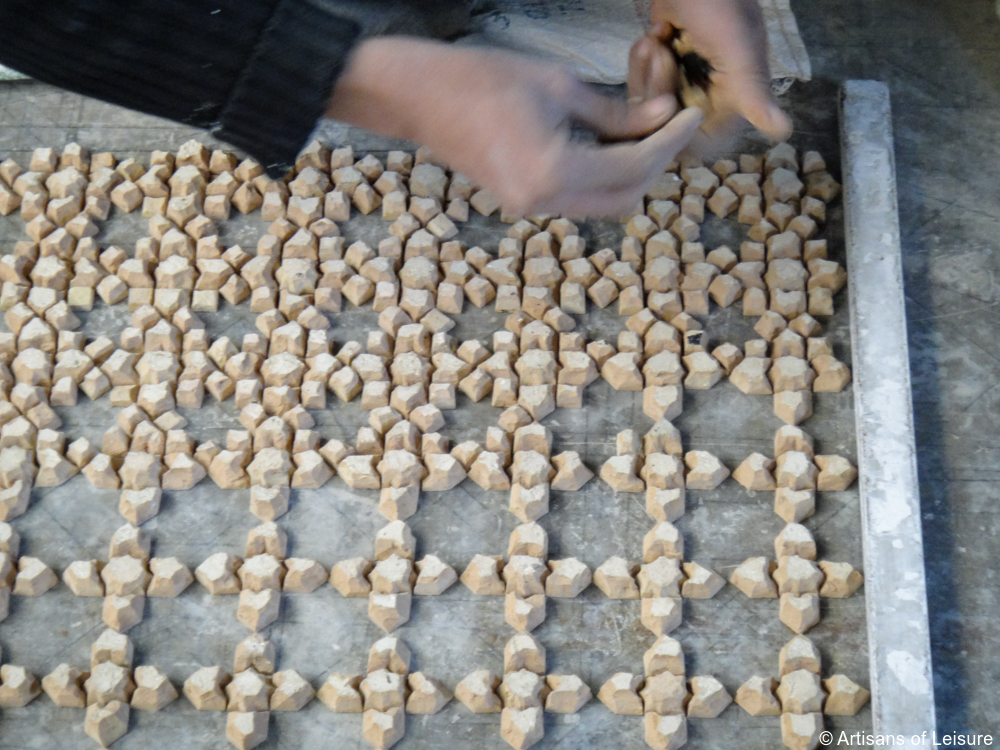 This shop in Fez sells a variety of fountains decorated with tiles.
Many of our travelers opt to have custom pieces made, including tabletops and decorative pieces for their homes.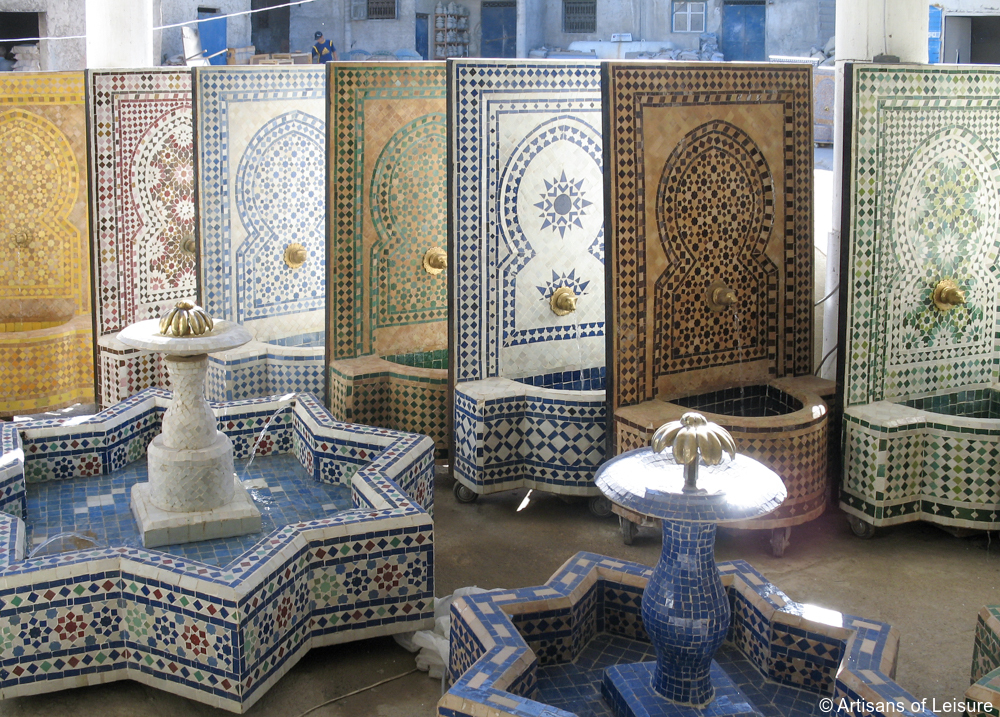 This ryad interior is an example of how tiles are typically used to decorate homes and places of worship.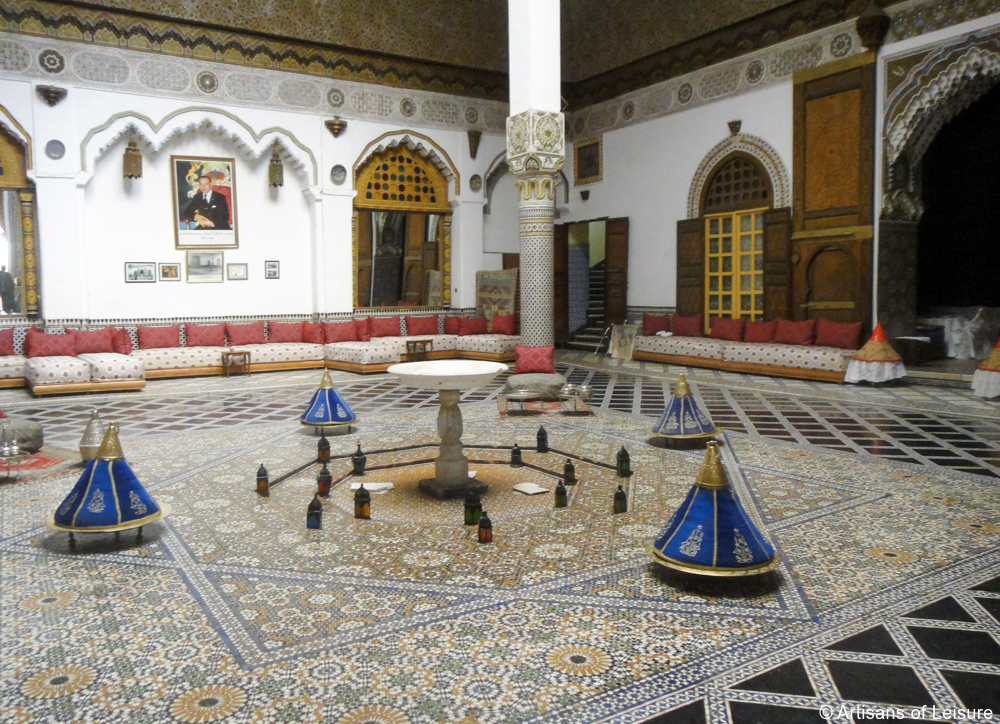 The famous leather tannery in Fez is always a highlight.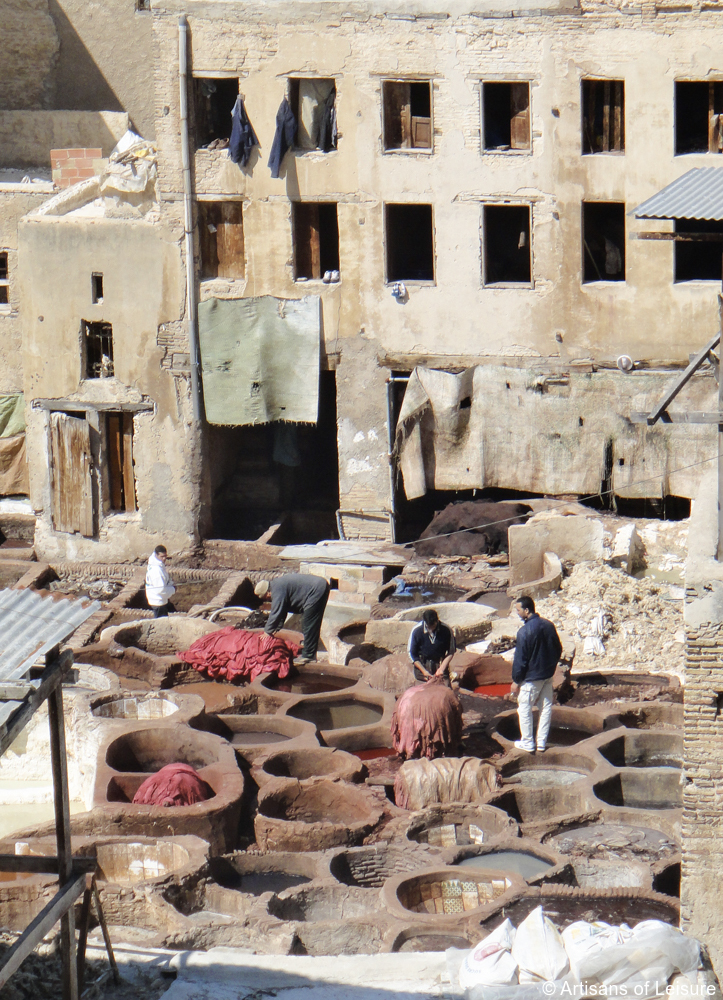 Leather is made into colorful sandals and many other items.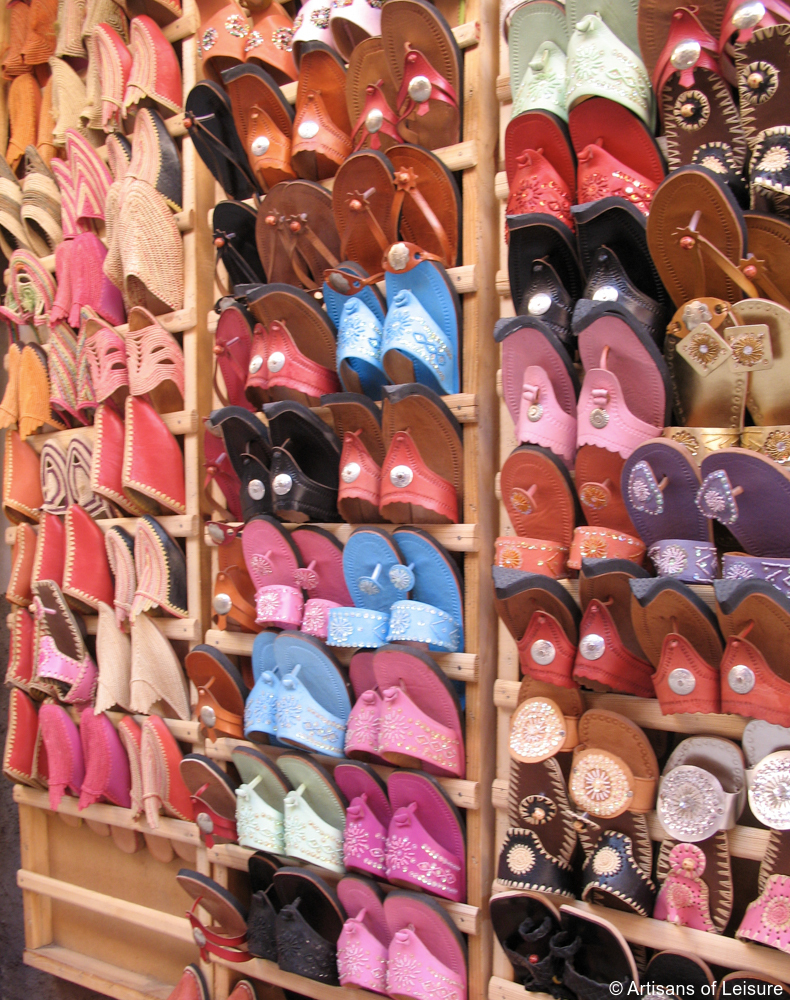 These Moroccan tajines were for sale in the market. The ceramic pots are used for slow cooking a meal of meat, vegetables, couscous and spices.
We take our travelers to the best places to browse for ceramics.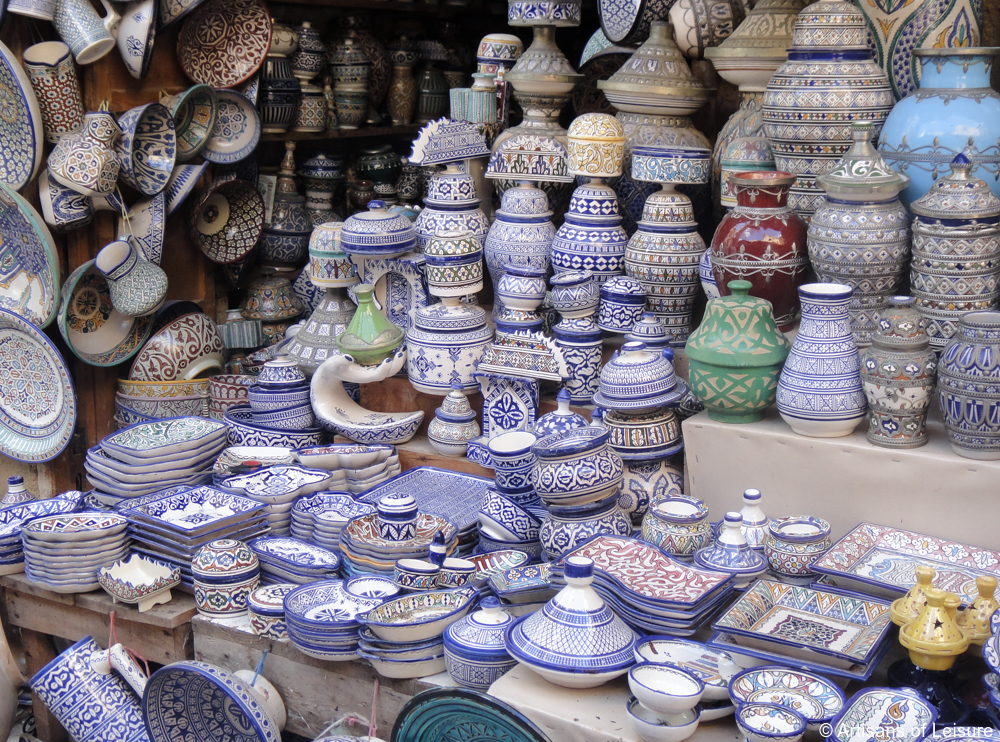 A typical Moroccan lunch has many small dishes.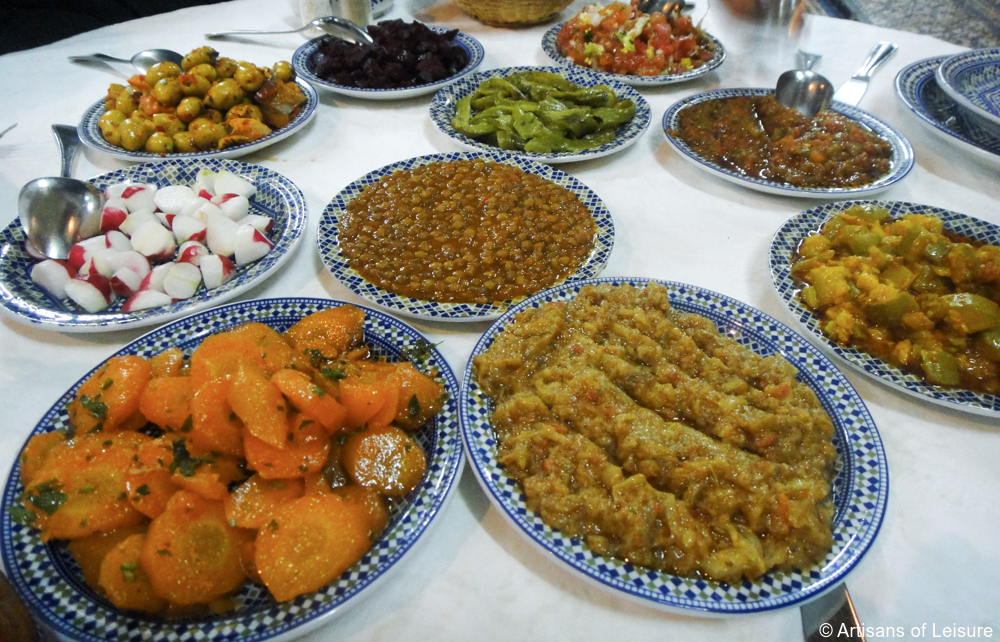 We can arrange day tours to or overnight stays in Essaouira, a whitewashed resort town on the Atlantic coast that's rich in Jewish history.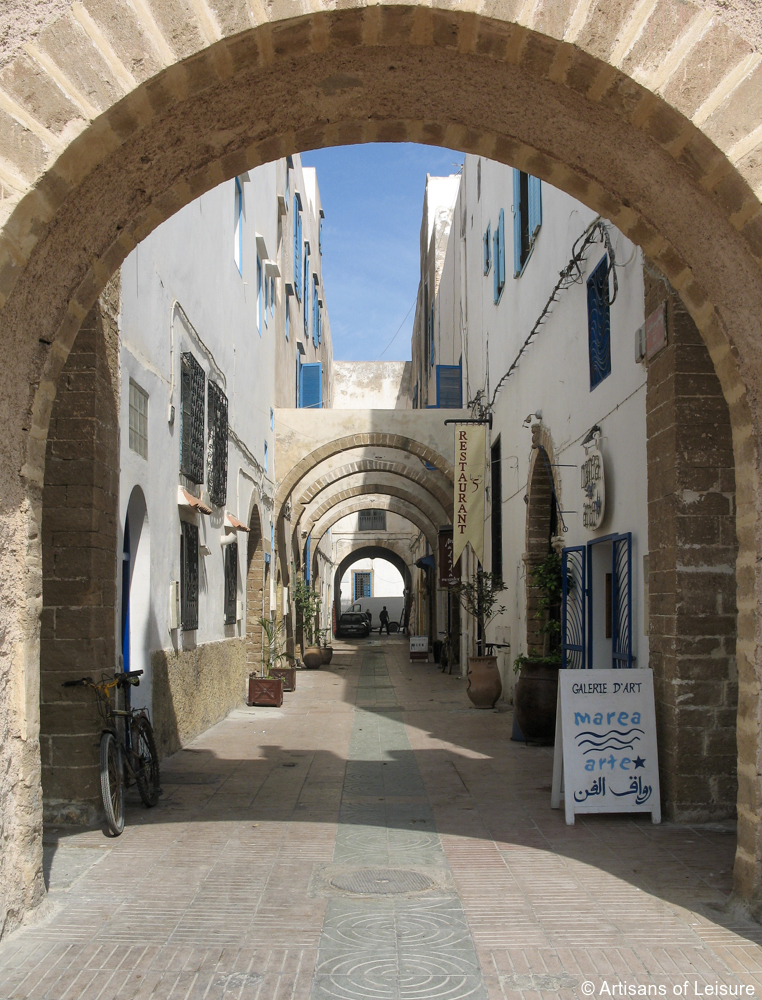 This was a beautiful sunset in Essaouira.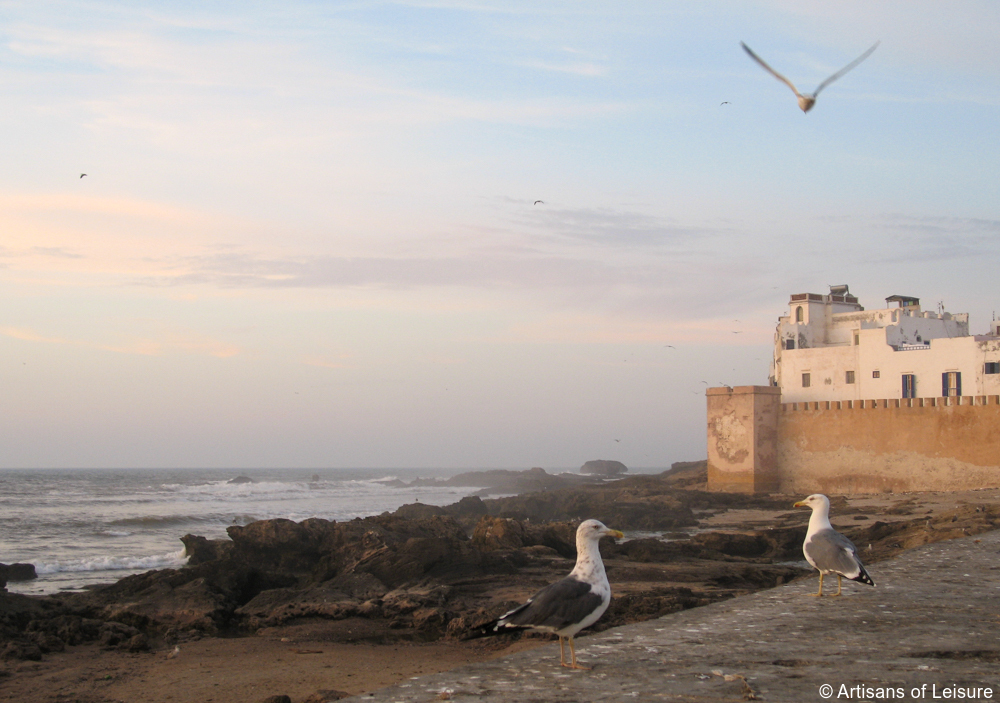 In Casablanca, we take travelers to the Hassan II Mosque, one of the largest mosques in the world.
Open to non-Muslims, the mosque is a showcase of traditional Moroccan arts and decoration, including elaborate tiles, carved wood, stucco ornament, fountains and gardens.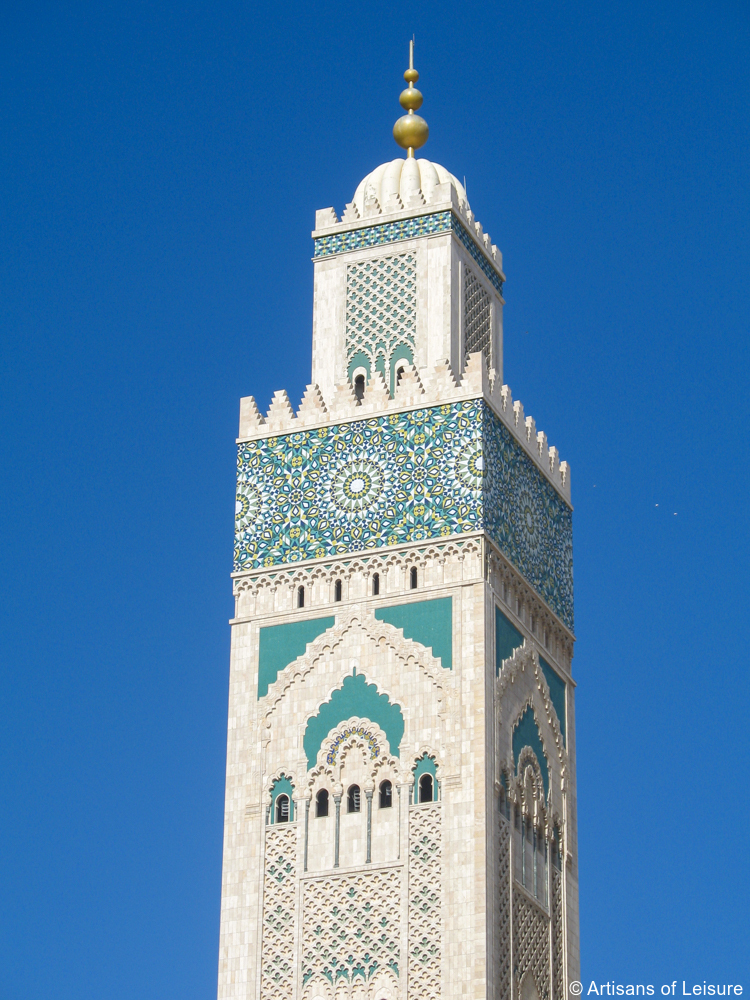 Contact Artisans of Leisure to begin planning a private luxury tour of Morocco featuring the top cultural, scenic and culinary highlights, luxurious hotels and resorts and insider experiences.
Tags: active Morocco tours, Amanjena, Atlas Mountains, Berber, camel ride, Casablanca, crafts, Dar Ahlam, desert tours, Essaouira, Fez, garden tours, insider Morocco, Jardin Majorelle, Kasbah Tamadot, La Mamounia, local markets, luxury Morocco tours, Marrakesh, Marrakesh tours, Moroccan, Moroccan crafts, Moroccan cuisine, Morocco, Morocco desert, Morocco desert safari, Sahara Desert, shopping, souks