February 12, 2009
An Interview with One of Our Honeymoon Specialists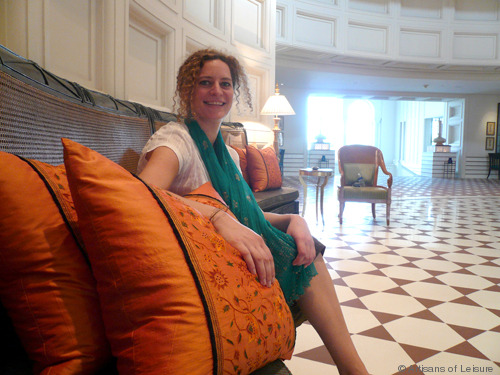 Artisans of Leisure has developed a real following with honeymooners who want our expertise when planning their unique, totally customized, once-in-a-lifetime honeymoons. We asked our travel specialists for their tips:
Q: What advice do you give honeymooners?
A: Don't try to do too much (or too little)! We find the best honeymoons have a perfect balance of activities and time at leisure. We always suggest itineraries with a relaxed pace, including a mixture of different locations, landscapes and experiences (beach, countryside, city, culture, adventure, relaxation, etc.) so couples can experience the culture of the country as well as having alone time to explore each place on their own and enjoy the amazing, romantic resorts we arrange.
Q: Which destinations are the most popular for honeymoons?
A: Southeast Asia is always a popular honeymoon destination. It's a great value and most honeymooners want to be able to combine cultural touring with beach time–places like Thailand, Vietnam and Bali & Indonesia are perfect for this. Australia is also, for many of the same reasons.
We often get a ton of requests for "exotic" cultural destinations such as Morocco, India, South Africa, Kenya and Tanzania.
Of course, there are countries like Italy and Spain that will never go out of style as favorite honeymoon destinations…great food, wine, sophisticated cities and stunning landscapes-it doesn't get much more romantic or relaxed than that.
Q: What kinds of services do you arrange that honeymooners say are extra special?
A: We always like to find out the interests of our honeymoon clients so we can suggest activities they would enjoy such as a private cooking class, a driver for private wine tasting excursions, side-by-side massages, a day of hiking or biking, specialty shopping, or dinner reservations at very memorable restaurants. Those special recommendations and arrangements tend to be what honeymooners appreciate the most–expert planning, a nice balance, and help arranging activities and services that they couldn't have easily arranged on their own.
Also, Artisans of Leisure has really strong relationships with the hotels that we use, so our honeymooners are always getting special treatment and VIP attention from the hotels. Our honeymooners are often upgraded and given complimentary massages, honeymoon amenities, and romantic meals. Those special "extras" are always appreciated.
Q: Why use a travel expert to plan a honeymoon?
A: Wedding planning is usually stressful, which makes the honeymoon all the more important. There are a lot of little details that go into the planning of a seamless trip. Honeymooners come to us so they can sit back and feel confident knowing that they will be in good hands and the trip will reflect their interests and requests.
Q: What are a few unusual requests you've gotten?
A: We once had a honeymooner who wanted to surprise his wife with a sunset hot air balloon ride with champagne followed by dinner at a romantic, candlelit kasbah in Morocco. We made the arrangements for the balloon ride, transfers, live Moroccan musicians, and an incredible menu of the wife's favorite types of food.
We once worked with honeymooners who were celebrating their wedding (the second marriage for both). After having a romantic two weeks alone, they had us arrange for their children to join them for their first family tour together as a new family. They had a fantastic time and we made a lot of very special arrangements for the celebration.
Q: Do many honeymooners use the honeymoon registry?
A: Our honeymoon travel registry is very popular. We usually create a personalized web page for each couple that gives the details about their honeymoon and how their friends can contribute to the registry. It's very easy and a lot of honeymooners love this service.
Q: Do you have clients who had you plan their tours when they were dating, then their honeymoon, then a babymoon or family vacation?
A: Most of our clients end up traveling with us multiple times. We have a client who traveled with Artisans of Leisure to Bhutan and India with her parents. A year after that tour, she booked a trip with us to Morocco–just her and her new boyfriend. They ended up getting married a year later and we planned their honeymoon to Singapore, Bali and Lombok. Recently, she became pregnant so we have a feeling we'll be planning a family vacation for them very soon!
Destinations: Africa, Asia, Europe, Latin America, Middle East, South Pacific, Southeast Asia
Tags: Artisans of Leisure, babymoon, beach, bespoke honeymoons, customized, destinations, honeymoon, honeymoon advice, honeymoon experts, honeymoon ideas, honeymoon registry, honeymoon specialists, honeymoons, Indonesia, international, luxury, registry, resorts, romantic, romantic getaways, surprise, tour, travel, wedding registry