June 25, 2021
The Portuguese Synagogue in Amsterdam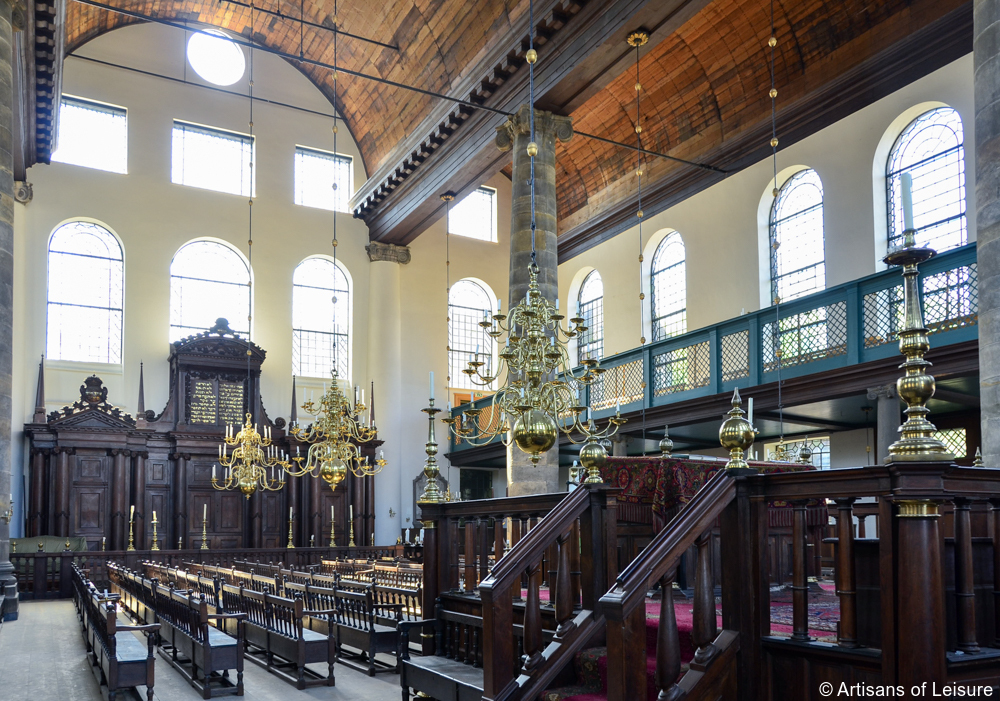 Amsterdam in the Netherlands had one of the largest Jewish populations in Europe during the Dutch Golden Age of the 17th century. Artisans of Leisure arranges private Amsterdam tours that focus in-depth on the history and sites related to the Jewish community from the 16th century through the Golden Age of the 17th century, World War II and beyond.
A highlight of Jewish touring in Amsterdam is the Portuguese Synagogue (Esnoga), a landmark building in the heart of the Jewish Cultural Quarter (Joods Cultureel Kwartier). Its impressive size and beautiful interiors reflect the prosperity and prominence of the Sephardic community in Amsterdam during the Dutch Golden Age.
When the building was completed in 1675, it was the largest synagogue in Europe. Its layout and design, part of a complex arranged around a courtyard, are an interesting stylistic combination inspired by the Temple of Solomon in Jerusalem and traditional Dutch Protestant churches—a visual record of Amsterdam's Jewish community.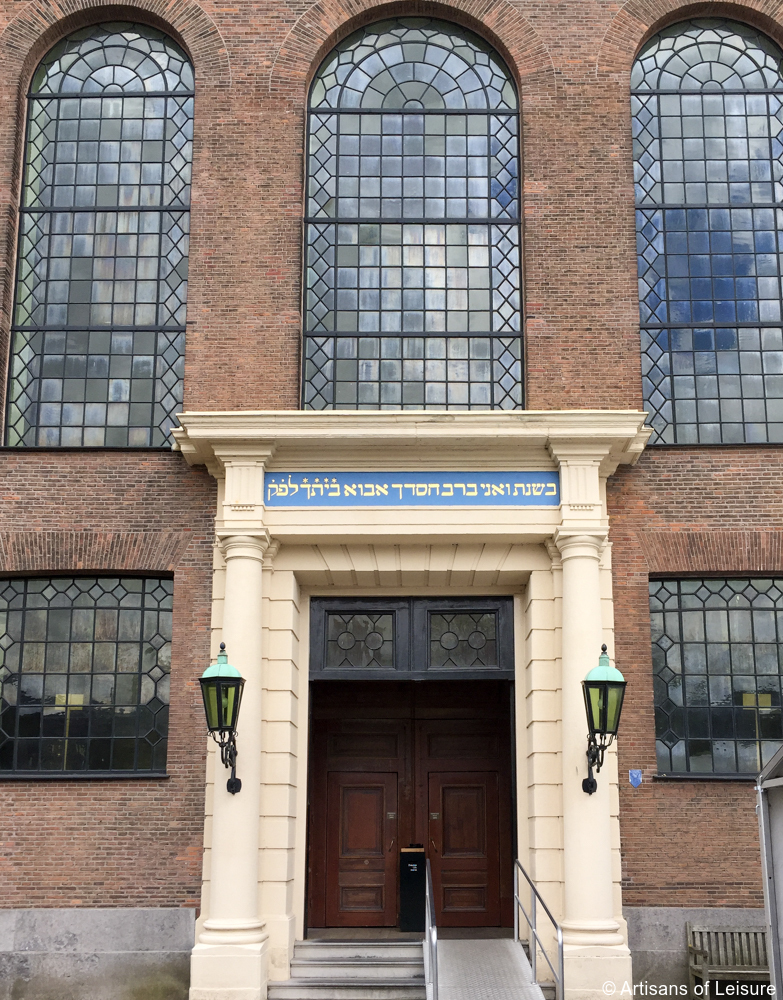 The "Portuguese" name refers to the Sephardic Jews who fled persecution on the Iberian Peninsula in the 17th century to settle in the more tolerant Amsterdam. They identified themselves as "Portuguese Jews" to avoid association with Spain, an enemy of the Dutch Republic during the Eighty Years' War (1568-1648).
Today, the synagogue is celebrated for its beautifully preserved 17th-century interior with wooden barrel-vaulted ceilings, original wooden benches and huge arched windows. It still does not have electricity, and relies on the light of a thousand candles in the large chandeliers for evening services.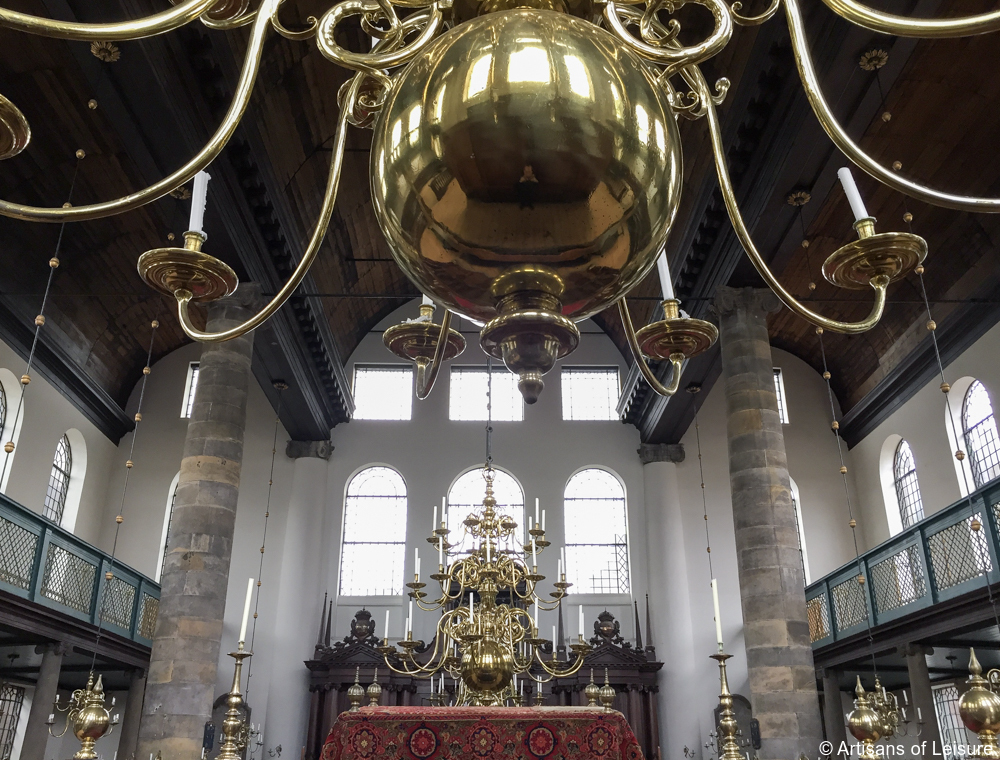 The synagogue complex includes the UNESCO-listed Ets Haim (Tree of Life) library, the oldest active Jewish library in the world (founded in 1616) and one of Europe's most significant collections of Jewish books and manuscripts. Also of note are the treasure chambers which display historical documents, beautiful tapestries and gold and silver ritual objects.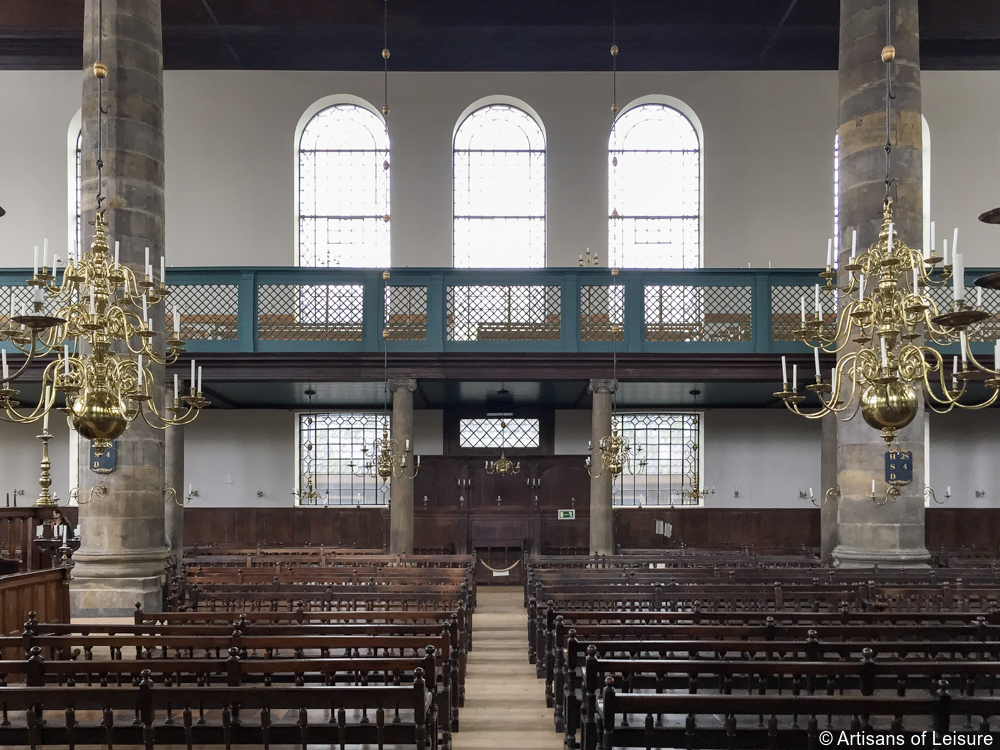 Artisans of Leisure includes visits to the Portuguese Synagogue in our private Amsterdam tours. The synagogue is still an active place of worship—upon request, we can arrange permission to attend Shabbat services at the Portuguese Synagogue or arrange tickets to a candlelight concert.
Time at the Portuguese Synagogue combines well with other significant Jewish sites in Amsterdam, including the nearby Jewish Historical Museum, the JHM Children's Museum, National Holocaust Memorial and Museum, the Hollandsche Schouwburg Theatre and the Anne Frank House.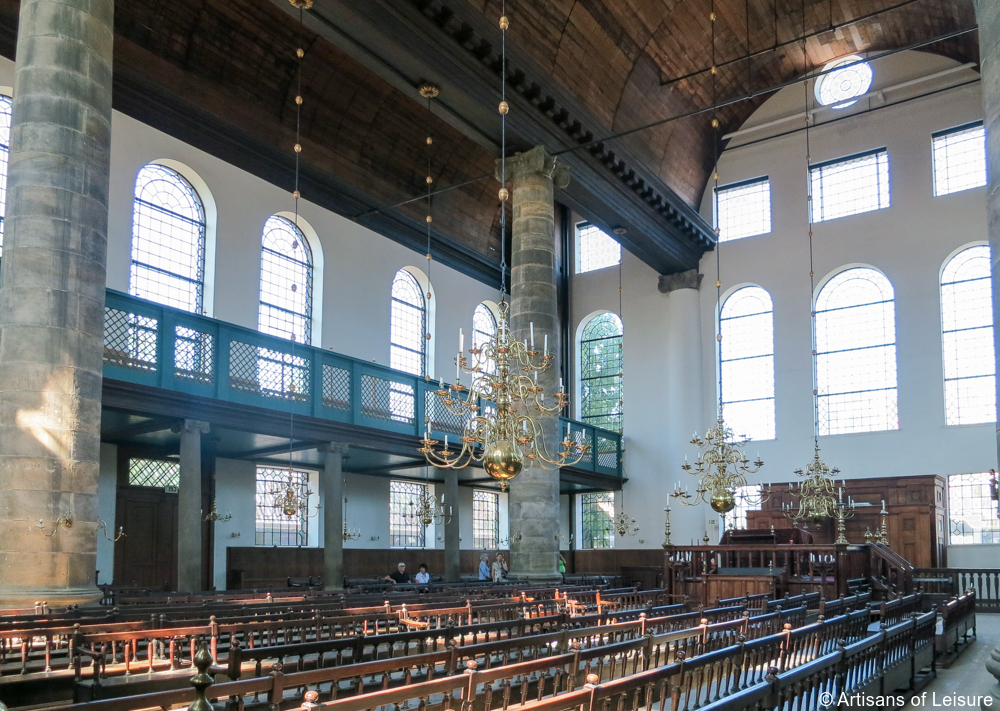 Contact Artisans of Leisure to begin planning a private Jewish history tour or private Holland tour customized to your interests.
Destinations: Europe, Holland, Netherlands
Tags: Amsterdam, Amsterdam tours, Artisans of Leisure, Europe tours, genealogical tours, Holland, Holland tours, Jewish Cultural Quarter, Jewish heritage, Jewish history, Jewish tour Amsterdam, Jewish tours, Netherlands, Portuguese Synagogue, Sephardic, synagogues