February 2, 2017
Favorite Luxury Safari Camps in Africa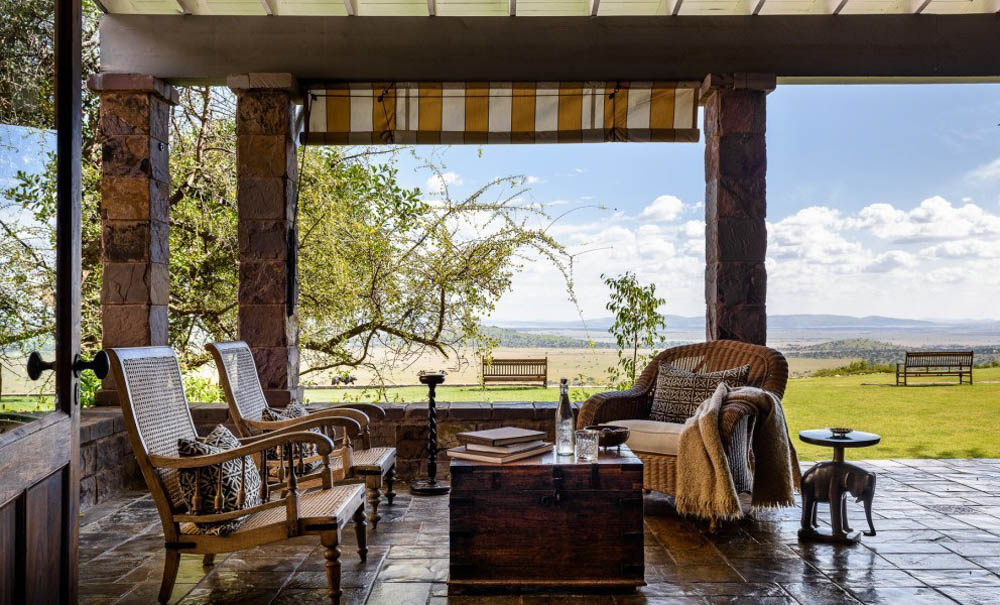 Few experiences are more sought after than the African safari, from once-in-a-lifetime wildlife sightings to picture-perfect sunsets over the savannah. Our luxury safari tours feature exclusive African safari camps and lodges that have the best locations for game viewing and give you the experience of being in the wild, all with five-star amenities. Artisans of Leisure travelers are given the top guides, rangers and trackers during their stays at these luxury safari lodges.
Here are a few of our favorite luxury safari properties: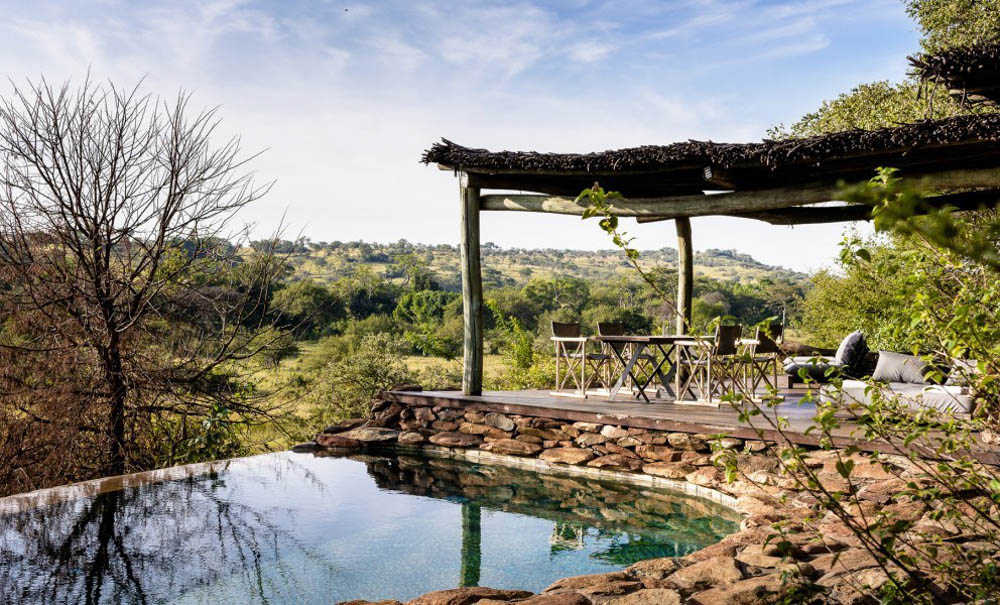 Singita Lodges in South Africa and Tanzania
From the classic, formal elegance of Sasakwa Lodge in Tanzania, to the more rustic African-inspired decor at Singita Boulders in Sabi Sands, South Africa, to the more minimalist contemporary aesthetic at Lebombo in Kruger National Park, South Africa, Singita Lodges offer some of Africa's premier safari camps. Private concessions in Kruger National Park and Sabi Sands offer Singita guests exclusive game viewing opportunities during their time in South Africa, while guests in Tanzania stay on Singita's privately run Grumeti Game Reserve. Singita Lodges are known for their superb food and extensive wine collections, and private tastings with a sommelier can be arranged after game drives. All in all, Singita properties offer the best in luxury, wildlife and expert rangers.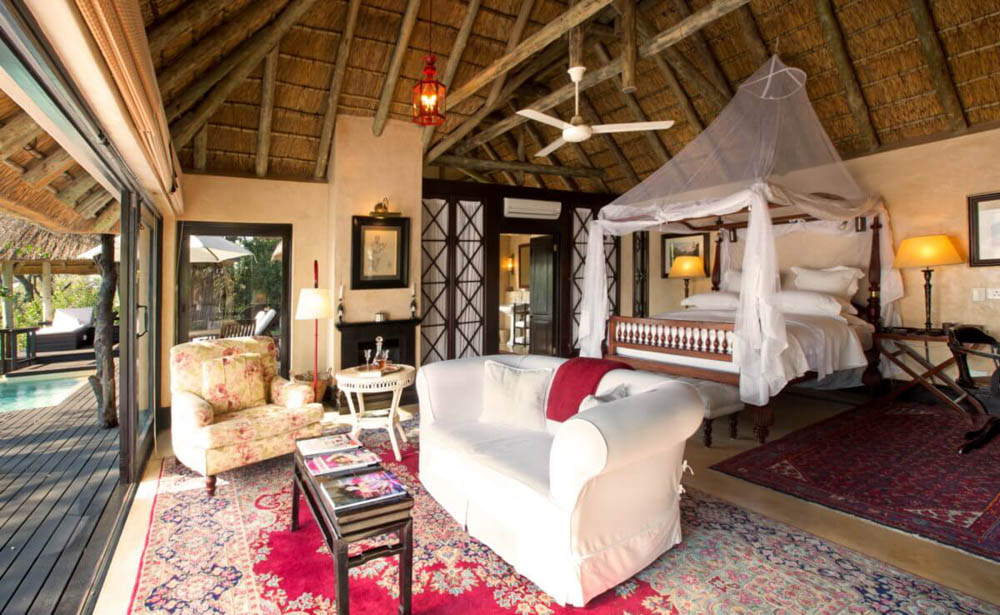 Royal Malewane, Thornybush Game Reserve, South Africa
The rooms at this gorgeous safari lodge were decorated by noted South African designer Liz Biden, who is known for her impeccable taste. With private swimming pools in all eight suites, and a level of service not often matched, Royal Malewane is one of Africa's most luxurious safari camps. The property is ideally located in a private concession within the Greater Kruger area, offering some of the best game viewing in South Africa even from the lodge's main patio, perched directly above a watering hole that's always teeming with animal life. From the food to the service, the spa treatments to the game viewing, Royal Malewane is an all-around unforgettable experience for extremely discerning travelers.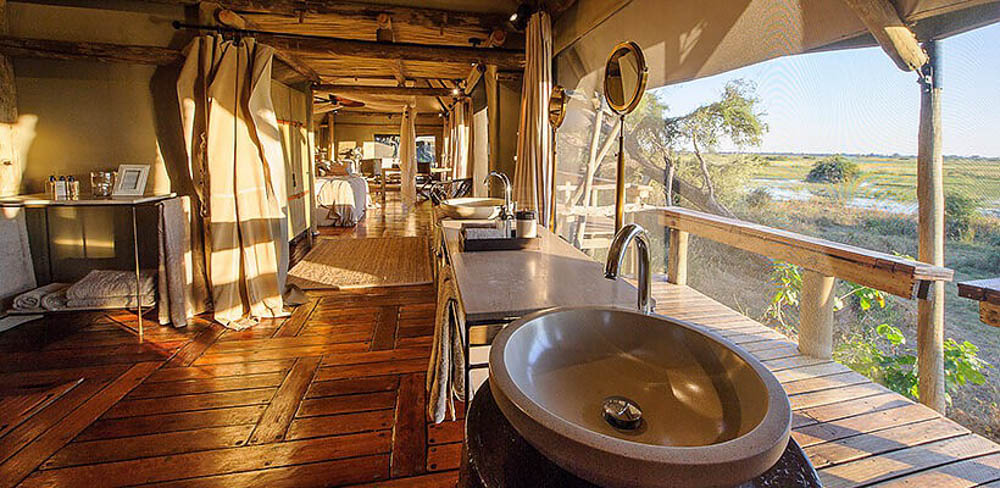 Mombo, Moremi Game Reserve, Botswana
Mombo, one of the top safari lodges in Botswana, is located in the Okavango Delta, an area known for its water-based safaris and abundance of wildlife. Each of the nine standalone tents sit on stilts on the edge of a floodplain, ideal for spotting animals while relaxing in your room or during dinner in the main lodge. Mombo is known for its fantastic service and understated, luxurious accommodation. Its location on Chiefs Island positions guests perfectly on the largest island with the highest concentration of animals in the Delta.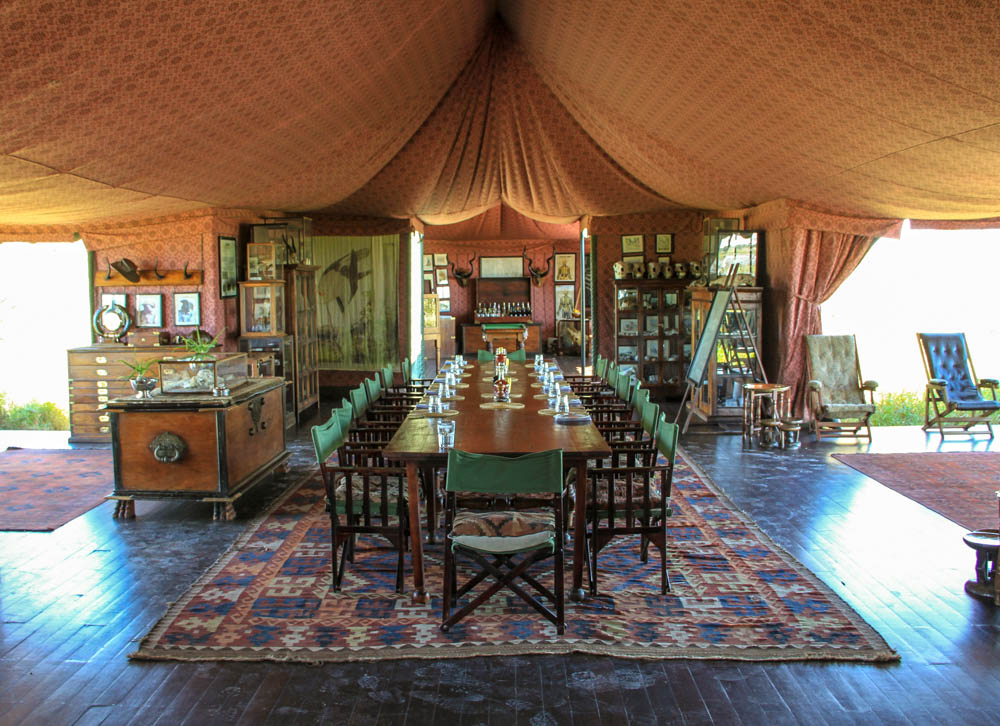 Jack's Camp, Kalahari Desert, Botswana
Tucked in an oasis in the middle of the vast Makgadikgadi Salt Pans, Jack's Camp is the quintessence of safari nostalgia in the heart of the Kalahari Desert in Botswana. The décor—featuring an antique pool table, oriental rugs and velvet curtains—is straight from the 1940s, with dinners served every night in the main dining tent packed with curios, fossils and artifacts from the area. We love Jack's Camp's meerkat habituation program, which provides a unique opportunity to get close to these fascinating and notoriously skittish animals. Artisans of Leisure also arranges cultural touring to local villages in the area.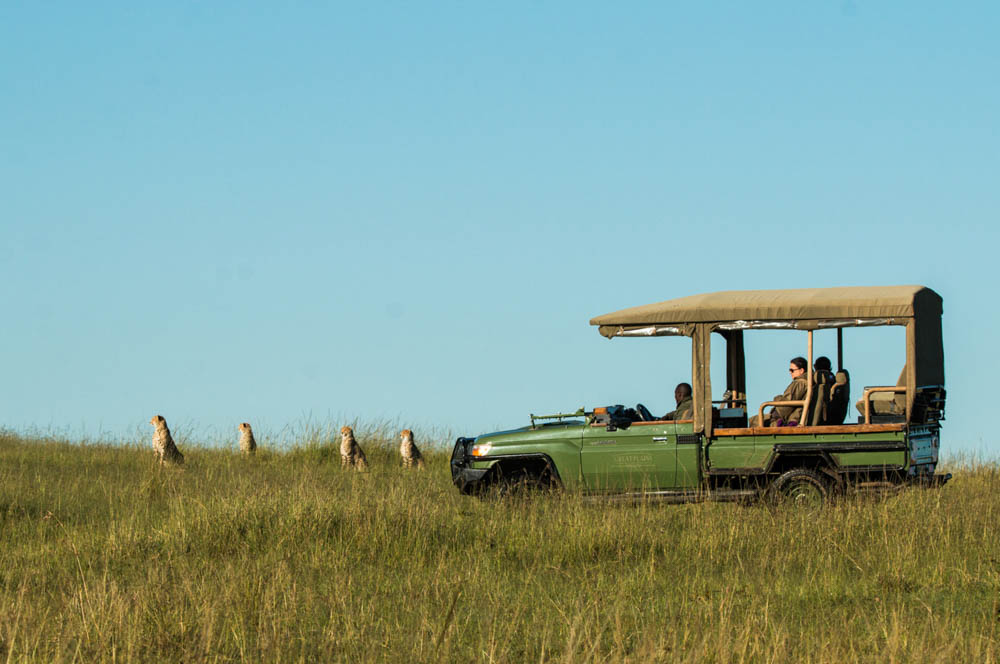 Mara Plains, Maasai Mara, Kenya
The Maasai Mara in Kenya is one of Africa's most legendary safari locations for game spotting, whether taking in the sights from the ground during game drives or observing the Great Migration from above during a hot air balloon ride. At Mara Plains, guests are treated to the quintessential East African tented camp experience. The luxury tents have a distinct early 20th-century, Out of Africa feel, with copper bathtubs and old-fashioned writing desks and oil lamps. Its location on the private Olare Motorogi Conservancy ensures an exclusive setting, and its proximity to the Ntiakitiak River makes it an ideal spot for witnessing the migration in season.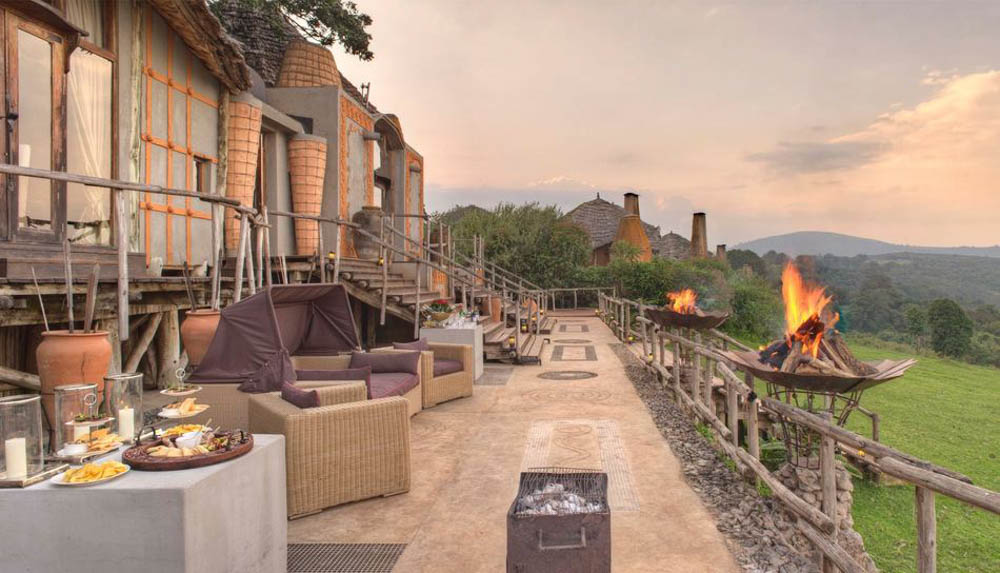 Ngorongoro Crater Lodge, Ngorongoro Conservation Area, Tanzania
Ngorongoro Crater Lodge offers unobstructed views into the Ngorongoro Crater in Tanzania. The location is hard to beat. Guests have the best access to game drives and Ngorongoro Crater tours, and the lodge is an ideal spot for afternoon walks near the lodge's hilltop vista and for excursions to visit local villages. Candlelit dinners are served on the outdoor terrace that seems to hover above the landscape.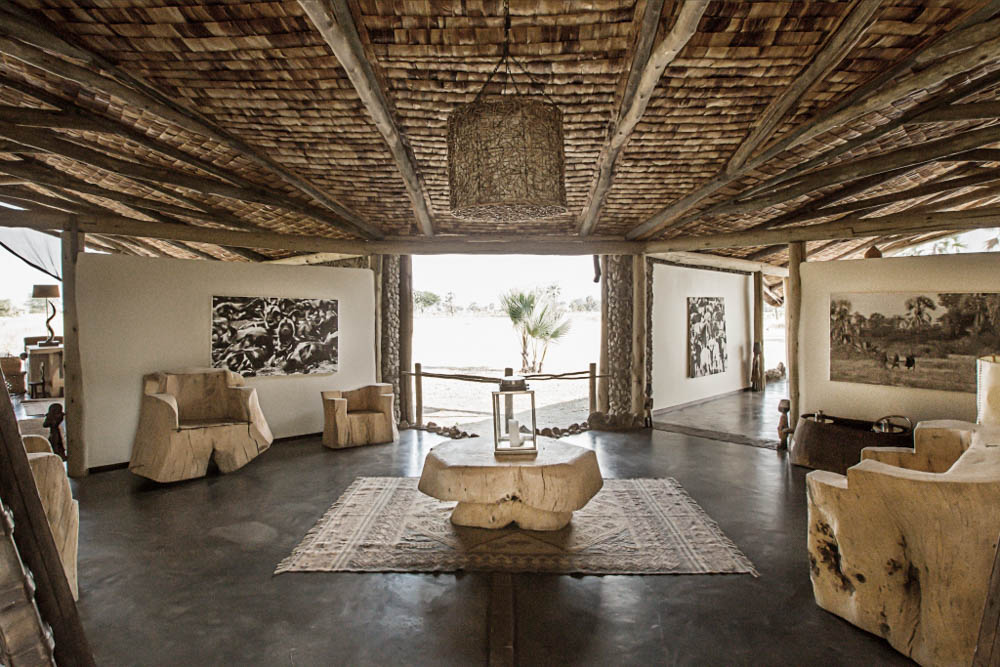 Chem Chem Lodge, Tarangire National Park, Tanzania
A stunning and untouched corner of Africa awaits visitors to Tarangire National Park in northern Tanzania, known for its huge herds of elephants, beautiful baobab trees, and occasional sightings of flocks of flamingos on Lake Manyara during migration season. Lava-stone, carved wooden furniture, worn leather armchairs, and muted colors all accent the spacious private tented suites at Chem Chem Lodge, each outfitted with outdoor showers and spacious patios.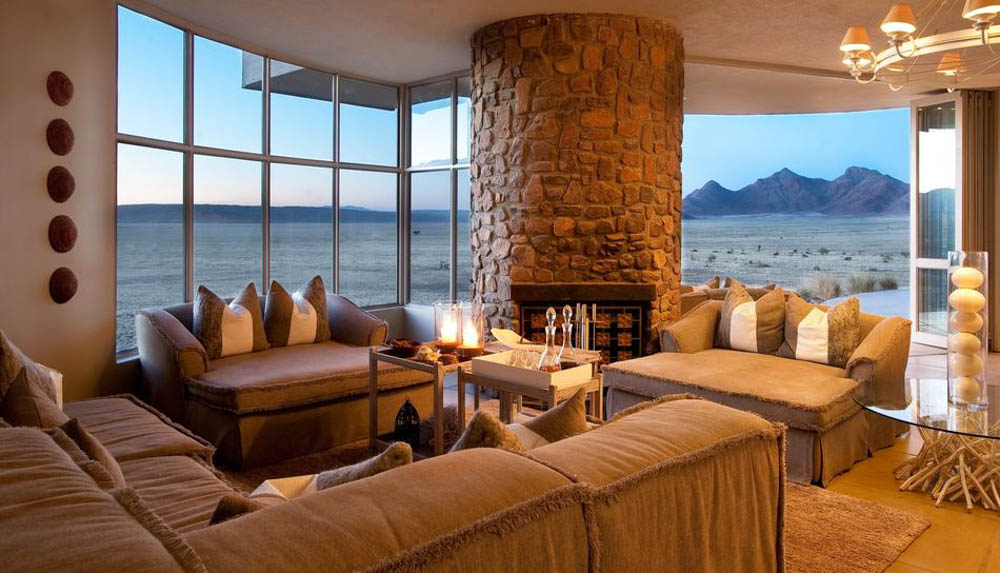 Sossusvlei Desert Lodge, Namib Desert, Namibia
Artisans of Leisure arranges private Namibia tours on request, and one of our favorite properties is &Beyond's Sossusvlei Desert Lodge in the Namib Desert, known for its fiery orange sand dunes and salt pans dotted with centuries-old charcoal-black dead trees. Despite its arid location, Sossusvlei still has abundant wildlife viewing, offering the chance to see springbok, Hartmann's mountain zebra, Cape foxes, aardwolf, porcupines and oryx. We love ending the day stargazing from bed through the overhead skylights in every room. Thanks to the lack of light pollution, the NamibRand Nature Reserve is one of the best stargazing spots in the world.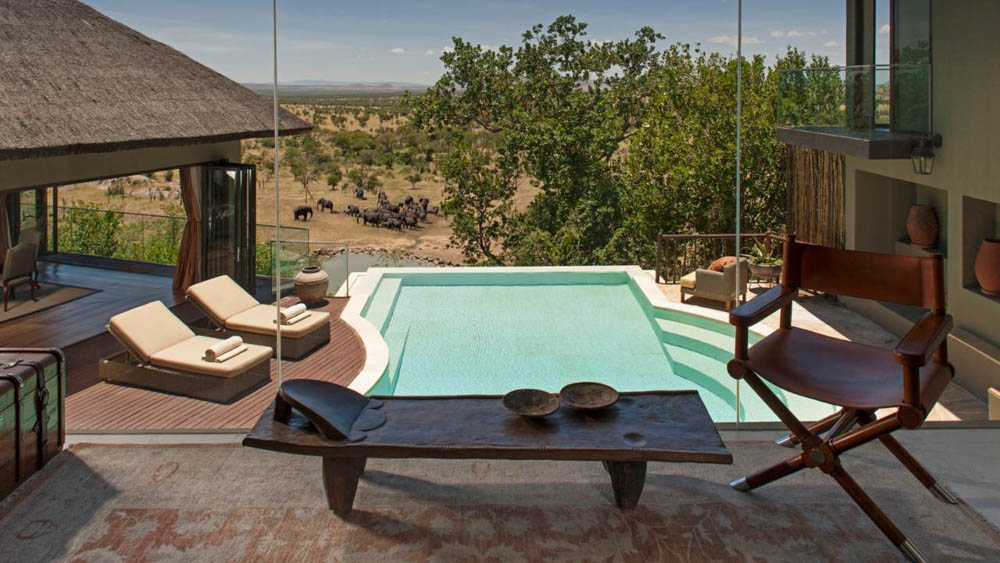 Four Seasons Serengeti, Tanzania
The Four Seasons' lone African safari lodge is a great option for families. It offers more of an enclosed resort feel than many of East Africa's other safari camps, yet it still gives guests the experience of being in the bush. The highly informative Discovery Centre is a great activity for adults and kids alike to learn more about the region in between game drives. In addition to the abundant local wildlife excursions, Artisans of Leisure can also arrange cultural tours and village visits.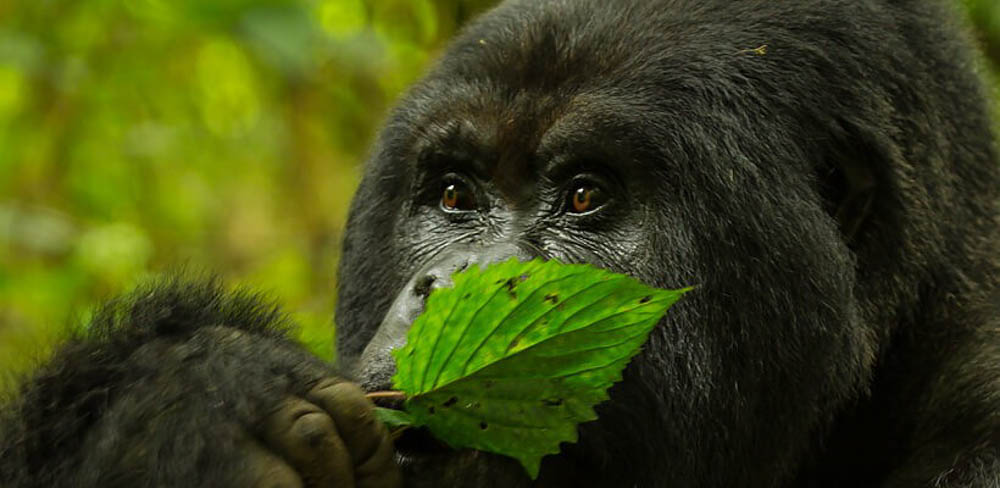 Bisate Lodge, Volcanoes National Park, Rwanda
We're excited about the soon-to-open Bisate Lodge, a safari lodge that will offer a new level of luxury in Rwanda. The lodge overlooks the volcanic peaks of Volcanoes National Park. During a stay at Bisate, guests will have the opportunity to track mountain and silverback gorillas, golden monkeys, and other animals, as well as the chance to plant a tree in Bisate's tree nursery as part of their reforestation program.  Bisate's forest villas are all outfitted with their own fireplaces and private viewing decks, housed in thatched cottages that blend seamlessly with the surrounding area.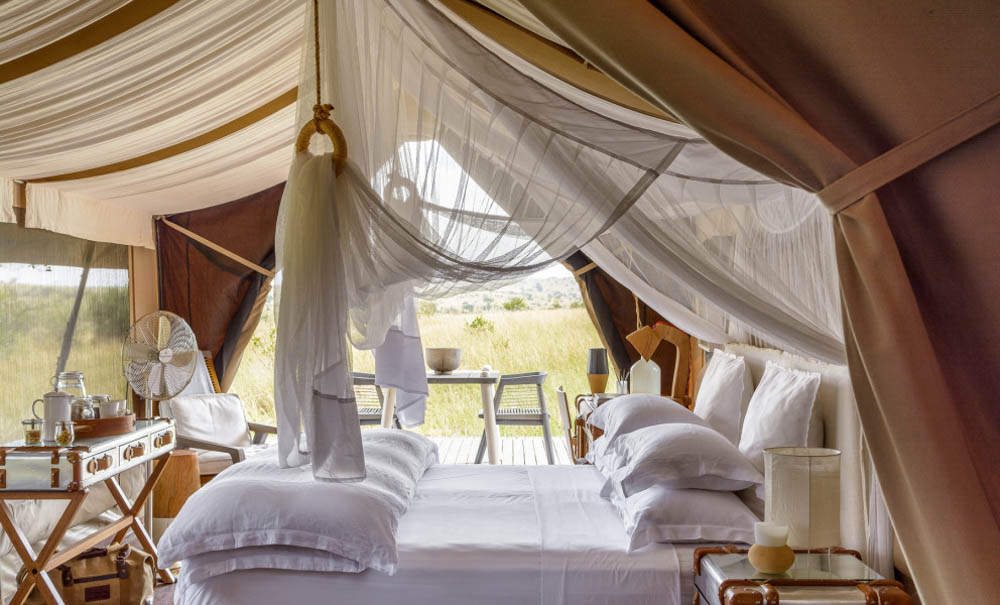 Contact Artisans of Leisure to start planning a custom Africa safari that features the best luxury safari lodges in South Africa, Botswana, Tanzania, Kenya, Rwanda and Namibia.
Destinations: Africa, Botswana, Kenya, South Africa, Tanzania
Tags: adventure, Africa, animals, Botswana, family travel, Kenya, luxury safaris, Maasai Mara, Namibia, Rwanda, safari lodges, safaris, Singita, South Africa, Tanzania, tented camps, wildlife