June 9, 2014
Exclusive New Sri Lanka Tours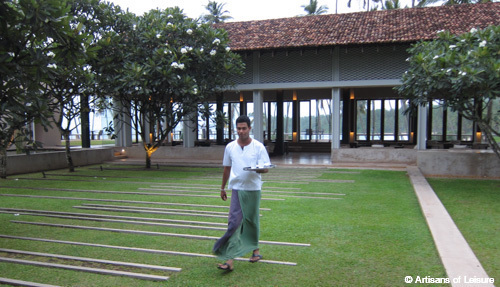 Our new private Sri Lanka tours are filled with authentic, hands-on experiences that capture the best of the beautiful island country, such as:
•    Touring a historic tea factory with the resident tea planter
•    Learning to prepare Sri Lankan curry during a private cooking lesson
•    Riding elephants at a private sanctuary
•    Visiting a spice plantation
•    Enjoying a private performance of Sri Lankan dance and fire walking
•    Exploring the monuments and ruins of ancient Buddhist cities
•    Wildlife touring and private game drives in national parks
•    Appointments at Ayurvedic spas
•    Touring the country estate of influential Sri Lankan architect Geoffrey Bawa
•    Staying at top luxury hotels and resorts that embrace the culture and history of Sri Lanka, including Amangalla and Tea Trails
The tours bring travelers close to Sri Lanka's incredible culture, wildlife and landscapes in full Artisans of Leisure style, including staying at luxury hotels and traveling with your own private guide and driver.
Artisans of Leisure's Sri Lanka tours feature the country's most interesting and beautiful regions: Colombo, the bustling capital of Sri Lanka; the Cultural Triangle, including Sigiriya (spectacular rock fortress), Anuradhapura and Polonnaruwa (ancient Buddhist cities filled with holy sites, monuments and ruins), and Dambulla (caves filled with Buddhist art); Kandy, the last royal capital of Sri Lanka and home of the Temple of the Tooth; the Hill Country, a mountainous area covered with tea plantations; Galle, an atmospheric, colonial-era fortified port; Tangalle, location of Amanwella beach resort; and Yala National Park, famous for wild leopards, elephants and more.
We can also customize private tours that combine Sri Lanka with India, the Maldives, the United Arab Emirates and other destinations in the region.
Tags: Asia, Asia tours, culinary tours, culture, dance, luxury tours, new tours, Sri Lanka, Sri Lanka tours, Sri Lanka trips, tea, wildlife