June 28, 2014
New Authentic Experiences in Southeast Asia: Food, Culture, Art and Style
We've recently introduced a number of exciting new activities in Southeast Asia. All of the experiences—including culinary, active and art options—can be incorporated into our private luxury tours.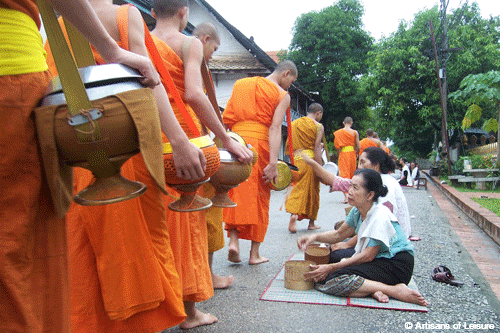 New Artisans of Leisure experiences in Southeast Asia include:
Culinary Touring
•    Learning to prepare pho (noodle soup) and banh mi (baguette sandwiches) in Vietnam
•   Taking a hands-on lesson with a dim sum master in Hong Kong
•   Private street food and night market tours in Saigon, Hong Kong and Bangkok
• Visiting local producers, including a tofu maker in Indonesia, a winery in Myanmar (Burma) and a noodle maker in Singapore
Special Access & Meetings with Experts
•    Tours of herbal markets and meetings with traditional health practitioners
•    A tour of a Buddhist monastery in Mandalay with a head monk
•    Behind-the-scenes tours of a water puppet theater in Hanoi
•    Private Thai massage lessons in Bangkok
•    A private gamelan lesson in Bali
Shopping Excursions
•    Private art-buying tours at up-and-coming galleries in Yangon, Hong Kong and other cities
•    An insider's tour of the latest shops in Bangkok, Hong Kong and Singapore
•    Visiting the best lacquerware studios in Myanmar (Burma)
•    Visiting the shop and studio of a renowned weaver in Laos
•    Appointments with renowned designers and artists in their studios, including jewelers in Bali and Hong Kong
Art, Architecture & Design Touring
•    Touring interiors with a feng shui expert in Vietnam or Hong Kong
•    Tours of Singapore's newest outdoor art, architecture and garden sites, such as Gardens by the Bay and Parkroyal on Pickering
•    A private decorative arts tour of Bangkok
•   Learning about the design and techniques of traditional weaving in Indonesia, Thailand and Laos
Family & Active Experiences
•    Meeting novice monks in Myanmar (Burma) and learning about their lifestyle
•    A family bicycle tour, including a picnic, in rural Cambodia
•    A rice-planting experience in Vietnam
•    Working at a private elephant conservation camp in Thailand
•    Surfing lessons in Bali
•  Bicycling among the rice terraces of Bali, on undeveloped islands in Singapore, or around scenic Inle Lake in Myanmar (Burma)
•    Learning to make shadow puppets in Indonesia
We've also added tours that feature new luxury resorts and cruises in the region, including Romantic Vietnam, which features the new Amanoi resort on a beautiful beach in Vietnam and Mekong Experience, which incorporates a cruise on the luxurious Aqua Mekong along the Mekong River in Vietnam and Cambodia.
Destinations: Asia, Bali, Cambodia, Indonesia, Laos, Myanmar, Singapore, Southeast Asia, Thailand, Vietnam
Tags: adventure, art, Asia, Bali, Burma, Cambodia, culinary travel, design, exclusive experiences, family travel, food, Hong Kong, Indonesia, Laos, luxury resorts, luxury tours, Myanmar, shopping, Singapore, Southeast Asia, Vietnam