January 24, 2023
Gaudi & More: Architectural Highlights of Barcelona, Spain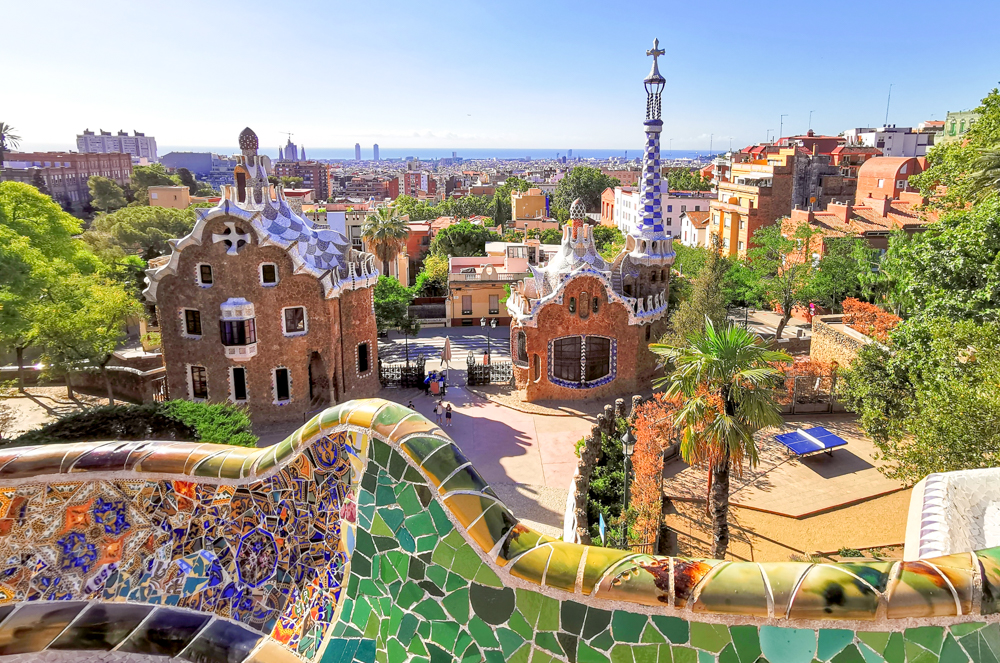 Barcelona, Spain, is an incredible destination for travelers interested in architecture, with modern landmarks ranging from the fantastical La Sagrada Familia by Antoni Gaudi to the minimalist Barcelona Pavilion by Mies van der Rohe.
Artisans of Leisure arranges customized private Barcelona touring that includes these and many other architectural highlights of the city.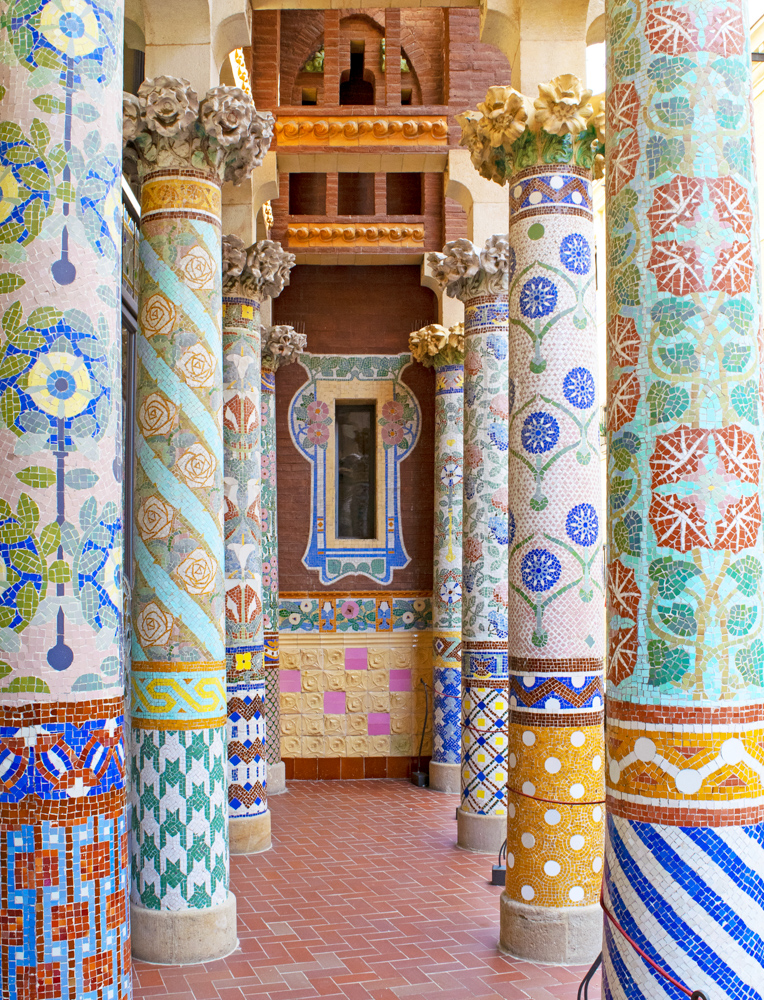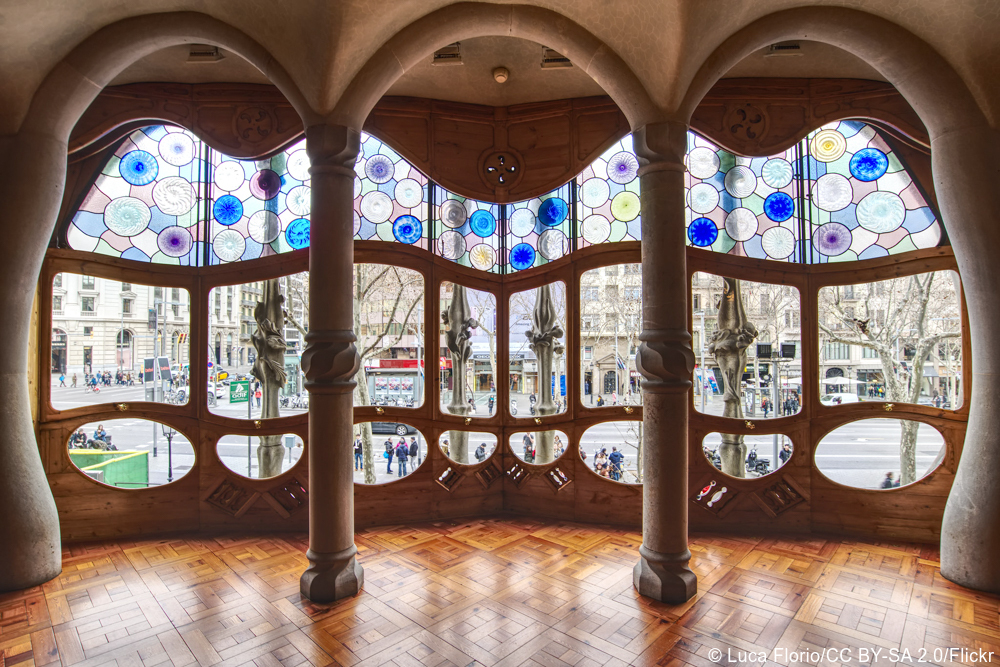 Some of our favorite Barcelona architectural sites include:
Temple Expiatori de Sagrada Familia
La Sagrada Familia, Barcelona's most famous landmark, is an extravagant Catholic basilica designed by Antoni Gaudi in the 1880s and still under construction.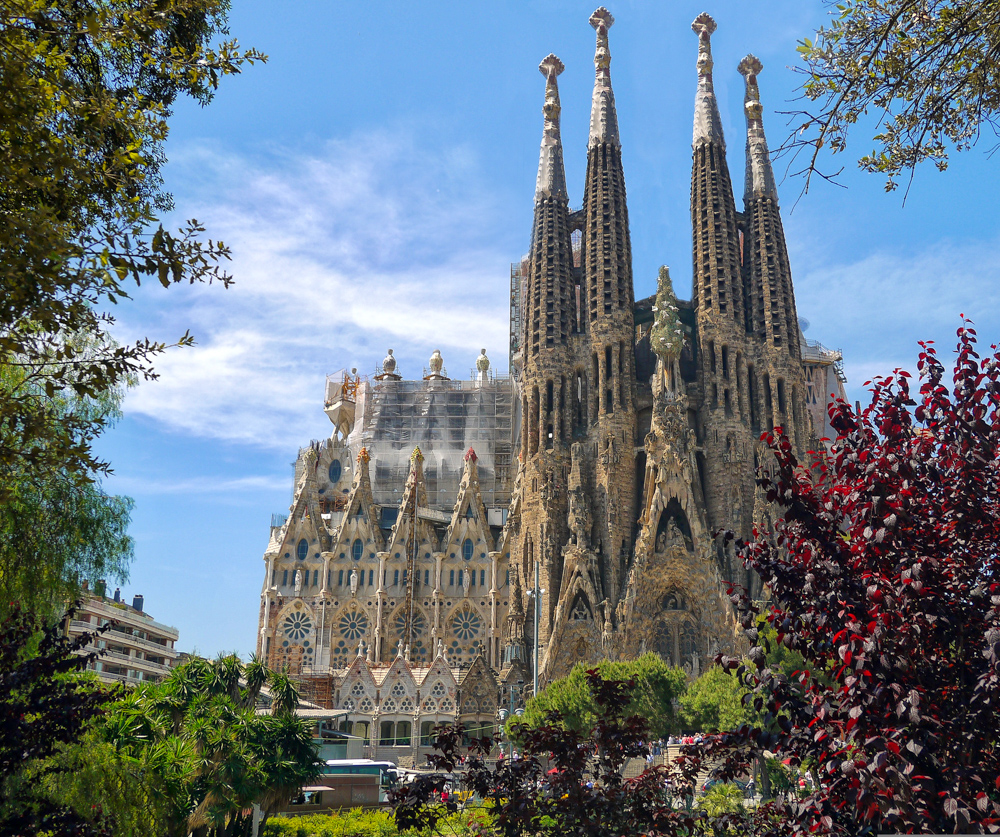 Gaudi was one of the founders of the Modernista (also known as Catalan Modernism or Modernisme) movement, which began in the late 19th century during a period of urbanization and Catalan nationalism. He and other Modernista architects such as Lluis Domenech i Montaner and Josep Puig i Cadafalch (see below) transformed Barcelona with their unusual structures. Modernista's sinuous forms and colorful decorations drew on natural motifs and organic structures in ways similar to the contemporaneous movements of Art Nouveau in Belgium and France, the Secession in Austria and Jugendstil in Germany.
The Sagrada Familia is an eclectic combination of Modernista and Gothic styles. It has five naves, multiple aisles and chapels, 18 bell towers and three facades, each dedicated to a different time in the life of Jesus.
Inside, Gaudi's sparkling stained-glass windows and innovative twisting columns create the impression of a forest reaching toward the heavens. The lack of straight lines and right angles expresses Gaudi's belief that the "straight line belongs to man, but the curved line belongs to God."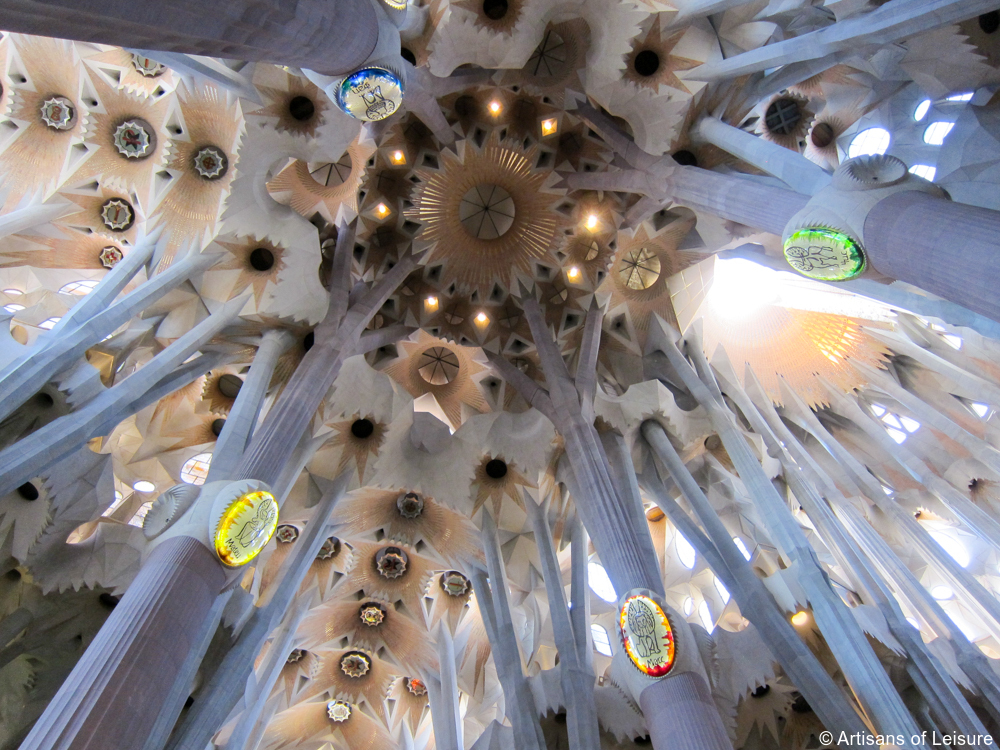 The Nativity Facade and the Crypt, where Gaudi is buried, along with six other buildings Gaudi designed in Barcelona, are together a UNESCO World Heritage Site.
Park Guell
A favorite with locals and visitors, the fairytale Park Guell is a rambling, terraced park filled with fountains, sculptures, colonnades, undulating pavilions and mosaic-covered benches. Designed by Gaudi at the turn of the 20th century, it is one of the finest works of Catalan Modernism and a UNESCO World Heritage Site.
Gaudi designed Park Guell as a residential development with dozens of houses, gardens, a market, an open-air theater, viaducts for carriages and rambling pathways with beautiful views.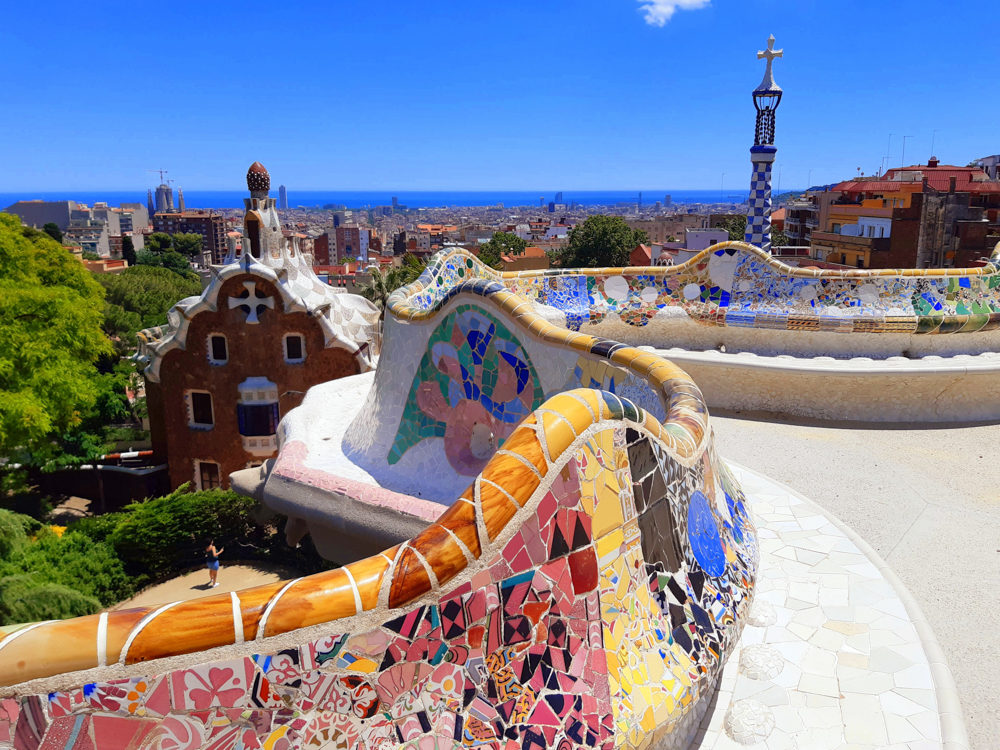 Ultimately, only two houses were built. Eusebi Guell, the project's patron, lived in one with his family, and Gaudi lived in the other. The Gaudi House Museum, Gaudi's home of almost 20 years, displays a collection of the architect's furniture, memorabilia and designs. The two buildings at the entrance that look like gingerbread houses topped with whipped cream are the Guard's House (where the porter lived) and the porter's office.
Gaudi used trencadis ("chopped" in Catalan)—colorful mosaics made from pieces of broken ceramics—to decorate surfaces in the park. He and other Modernista architects used trencadis extensively on other structures.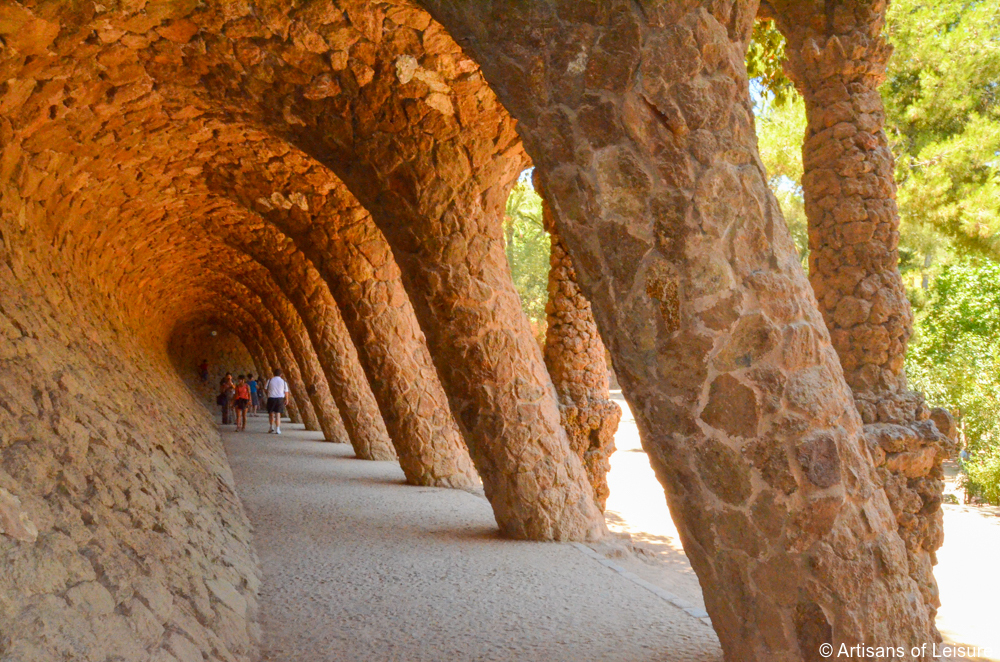 Block of Discord (Illa de la Discordia)
The Block of Discord is a series of apartment buildings on the stylish Passeig de Gracia boulevard. The name refers to the clashing styles that give the block its unique look. The three most famous buildings on the block are Casa Batllo, Casa Amatller and Casa Lleo Morera.
Completed in 1906, Gaudi's Casa Batllo is one of Barcelona's most iconic residential buildings. Gaudi reconfigured an existing historic building with fantastical shapes, rich colors, trencadis decoration and enigmatic motifs.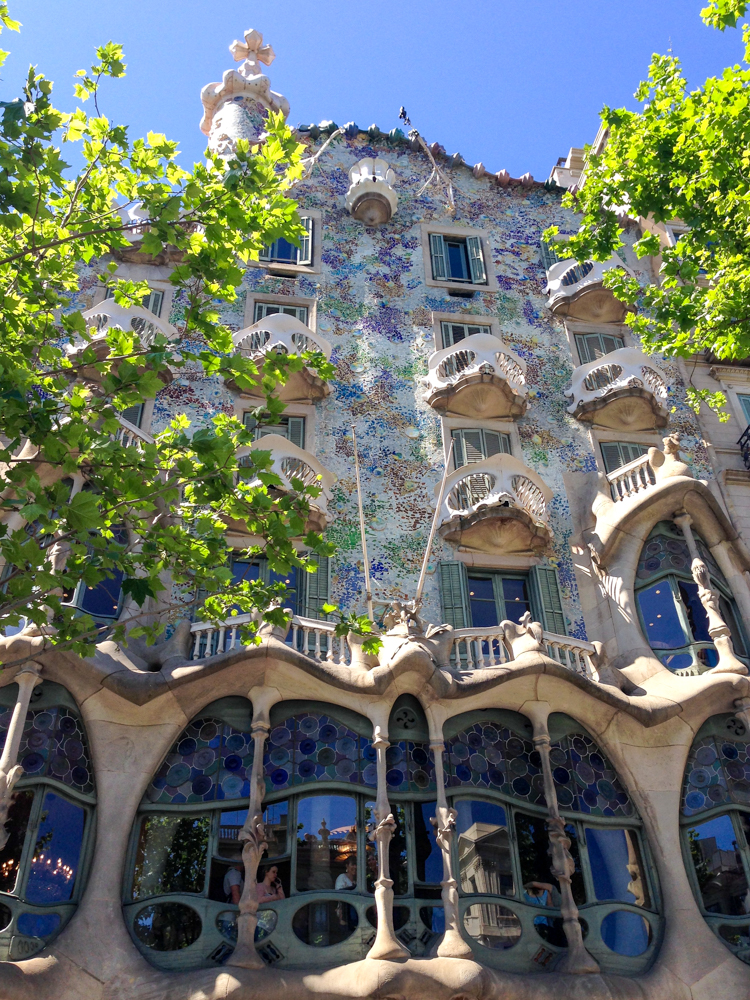 Highlights of touring the interior of Casa Batllo include the Patio of Lights (a brilliant blue-tiled lightwell and central atrium)…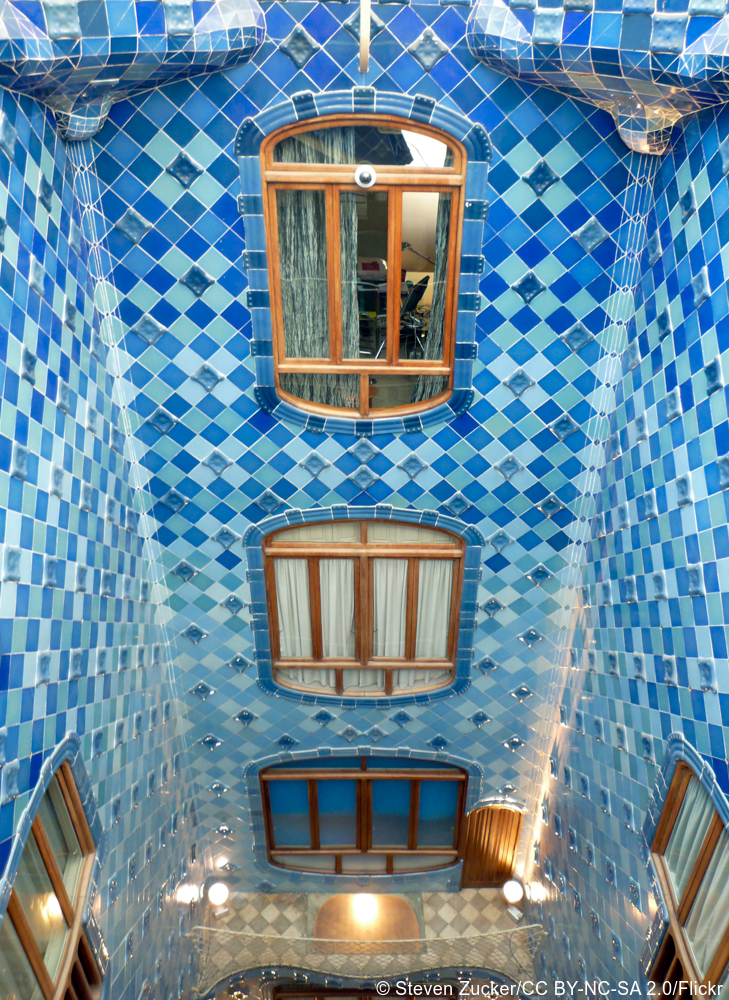 … and the Noble Floor, the Batllo family's primary living quarters.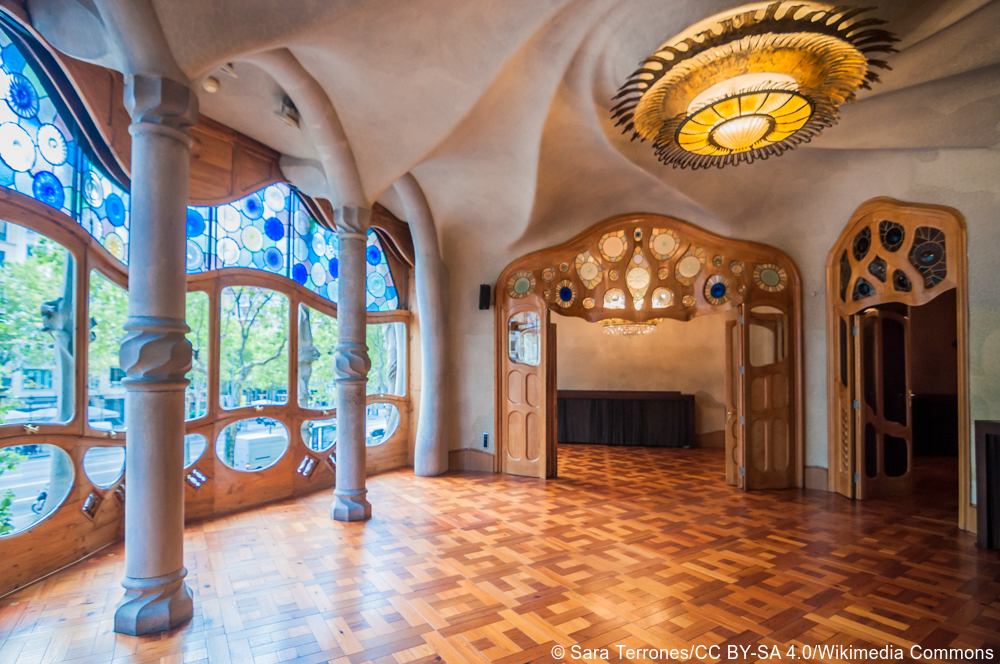 Josep Puig i Cadafalch designed the adjacent Casa Amatller in 1900 for the wealthy chocolatier Antoni Amatller. The facade is a combination of stylistic elements derived from Romanesque, Gothic and medieval Dutch architecture (seen in the stepped roof).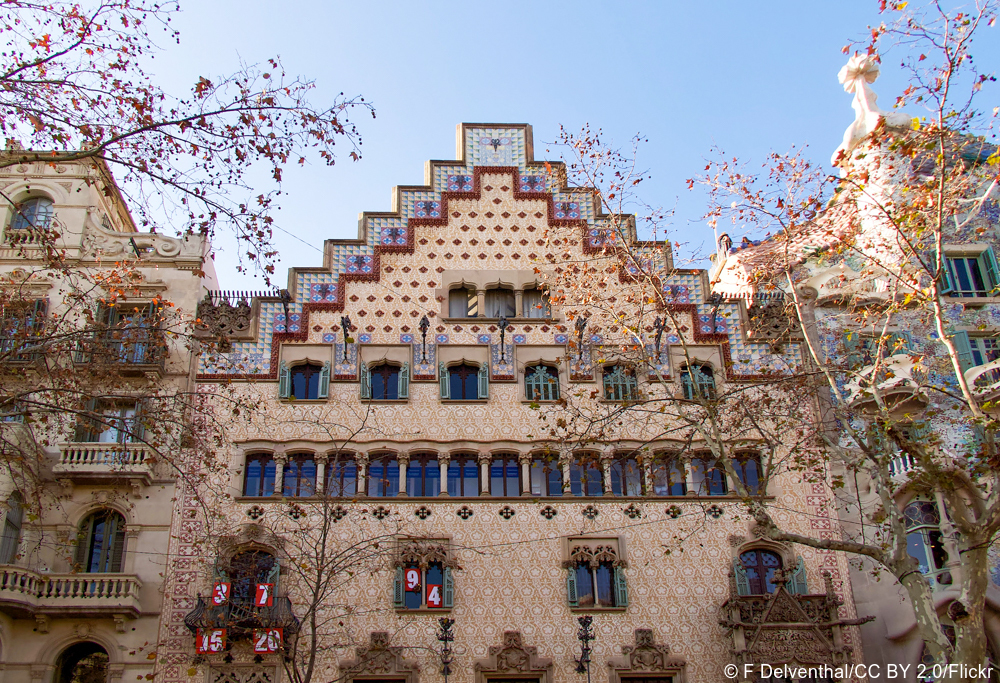 Casa Amatller is an elegant example of Modernisme, with symbolic ornamentation (references to chocolate appear throughout the house), twisting columns, stained glass and marble relief sculptures of knights, dragons and Catalan princesses. The overall impression is of a fairytale castle.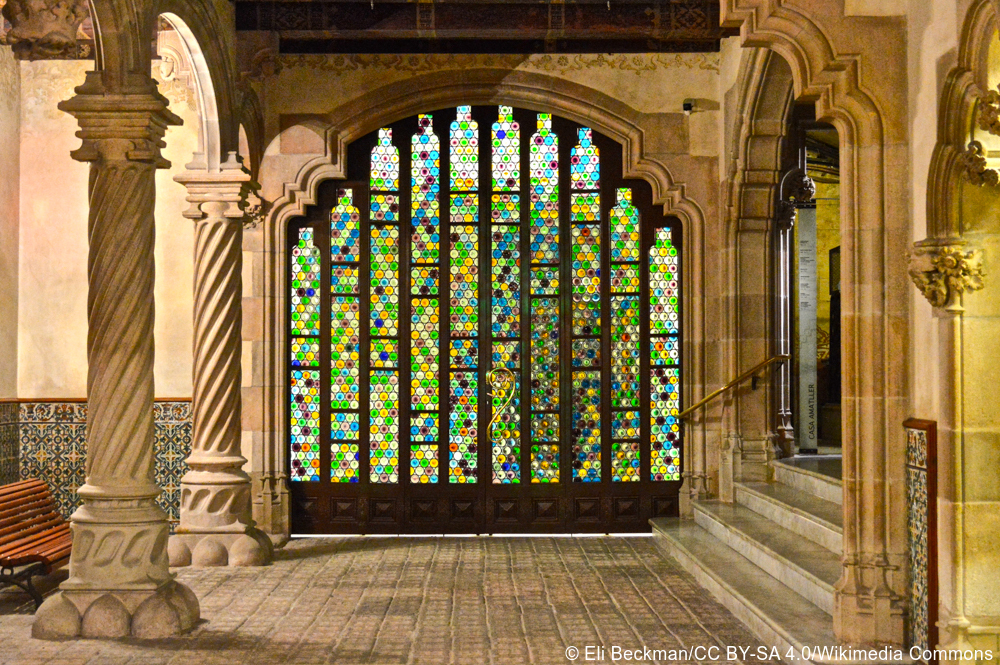 Today, the house-museum preserves the interiors as they were in Amatller's time, including his collection of glass and paintings. Also at Casa Amatller are the Amatller Institute of Hispanic Art, a cafe and a shop selling Amatller chocolates made according to the original recipes.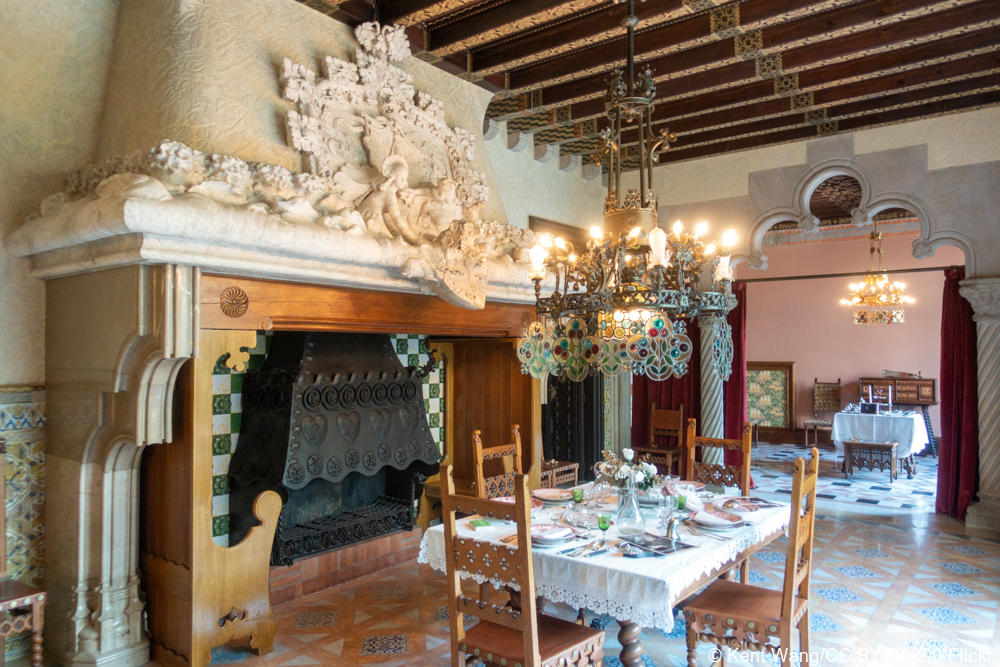 Lluis Domenech i Montaner designed Casa Lleo Morera between 1902 and 1906, transforming an existing 19th-century building with a combination of Gothic and Italian Renaissance architectural styles.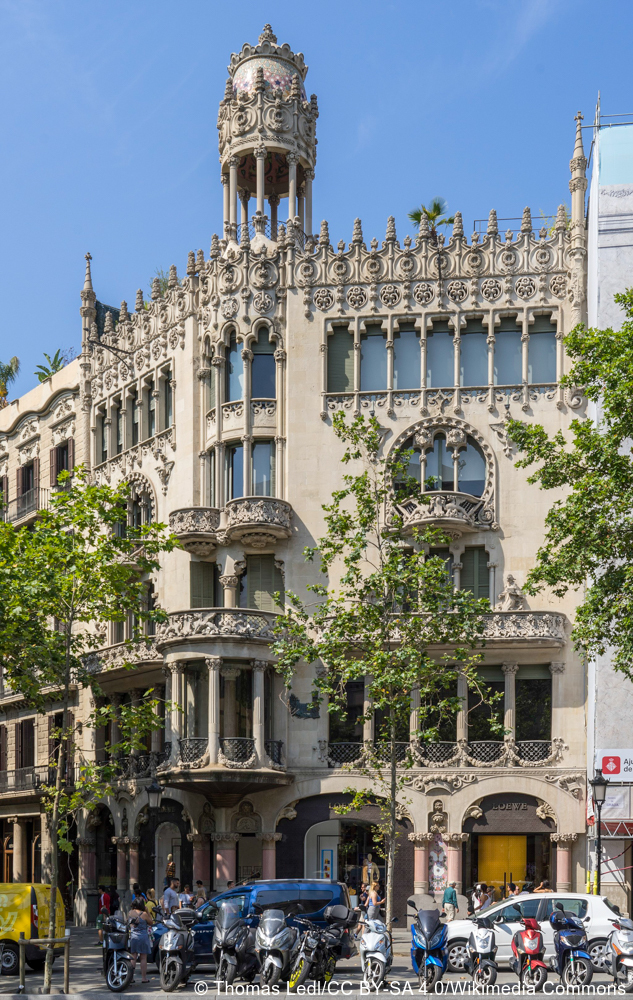 Inside, the rooms are resplendent with woodwork, marble, ceramic tiles, mosaics and stained glass.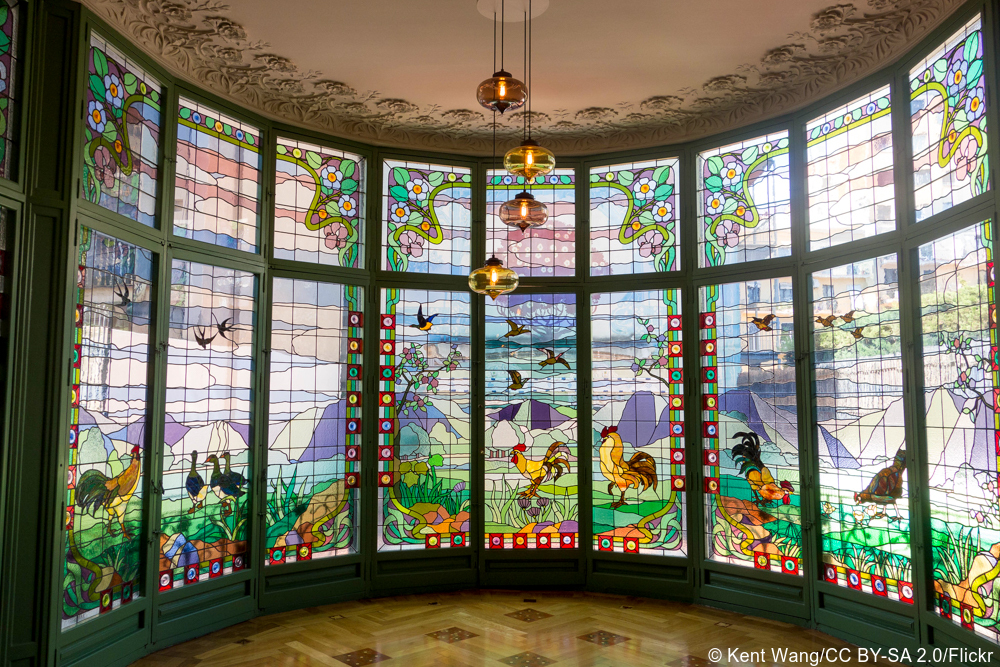 Artisans of Leisure can arrange entrance to all three of the outstanding Modernista houses in the Block of Discord.
Casa Mila (La Pedrera)

Down the street from the Block of Discord is Casa Mila (La Pedrera), a UNESCO-listed masterpiece by Gaudi. Completed in 1912, Casa Mila comprises two apartment buildings connected by an internal courtyard.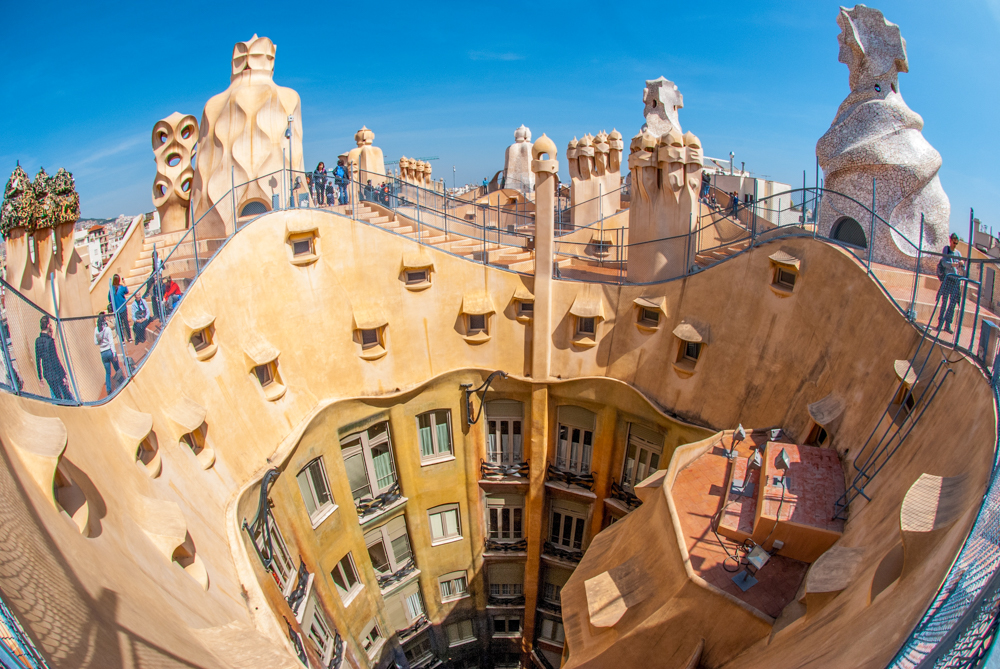 Casa Mila is also known as La Pedrera (stone quarry) because its undulating stone facade looks like a honeycombed rock face. The building also has elaborate wrought-iron balconies and a curvilinear roof with fantastical chimneys and ventilation towers.
For interested travelers, we arrange tours of Casa Mila that include visits to the rooftop, the attic, the courtyard and an apartment that recreates how a bourgeois family would have lived at the turn of the 20th century.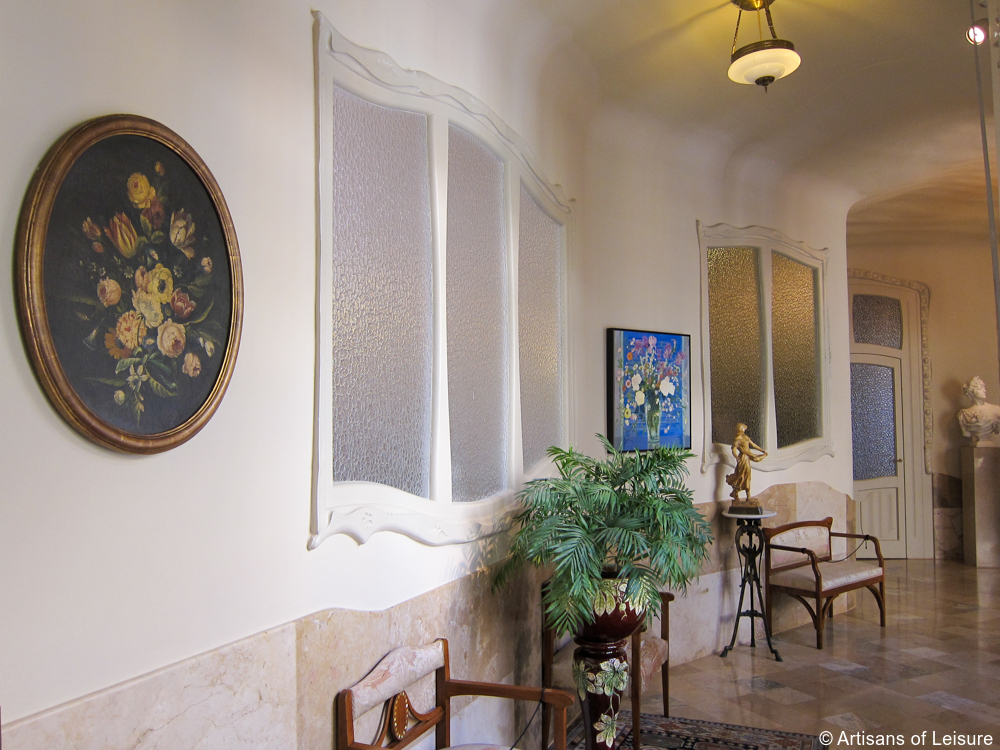 Palau de la Musica Catalana
Palau de la Musica Catalana (Palace of Catalan Music) is a renowned concert hall and UNESCO World Heritage Site designed by leading Modernista architect Domenech i Montaner.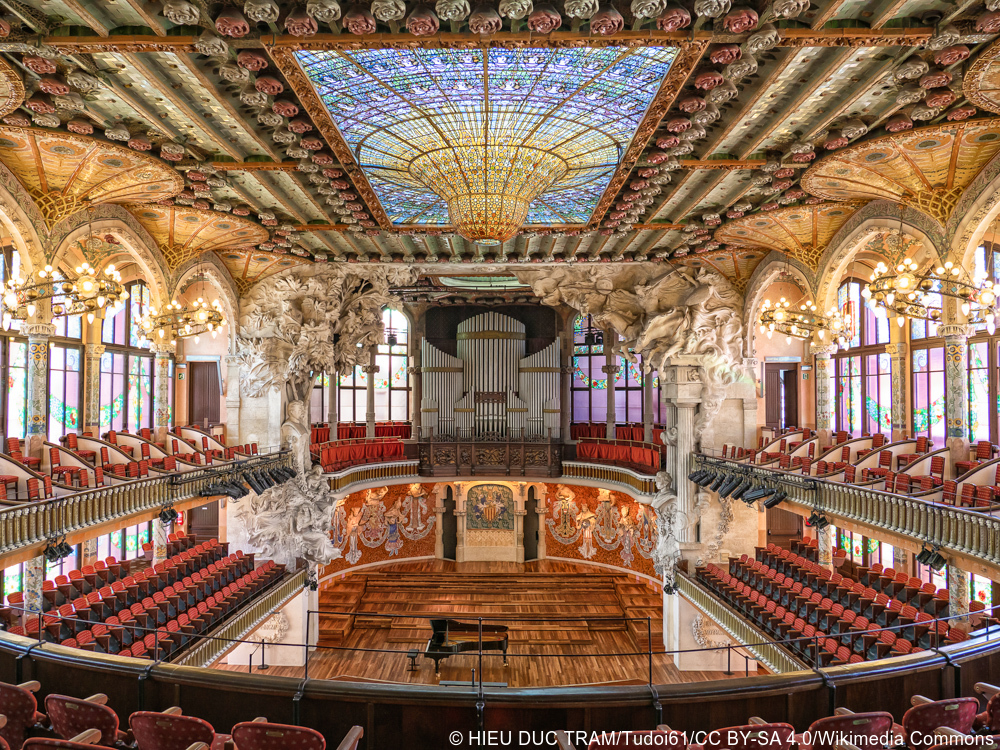 The breathtaking concert hall is topped by an enormous inverted stained-glass skylight that allows natural light to pour in during the day. Other parts of the palace combine traditional Spanish and Moorish elements with dynamic curves and a riot of ornamentation: vividly colored stained glass, murals, glazed tiles and sculptural forms.
Artisans of Leisure can arrange tours of the Palau de la Musica Catalana and tickets to performances for interested travelers on our private Spain tours.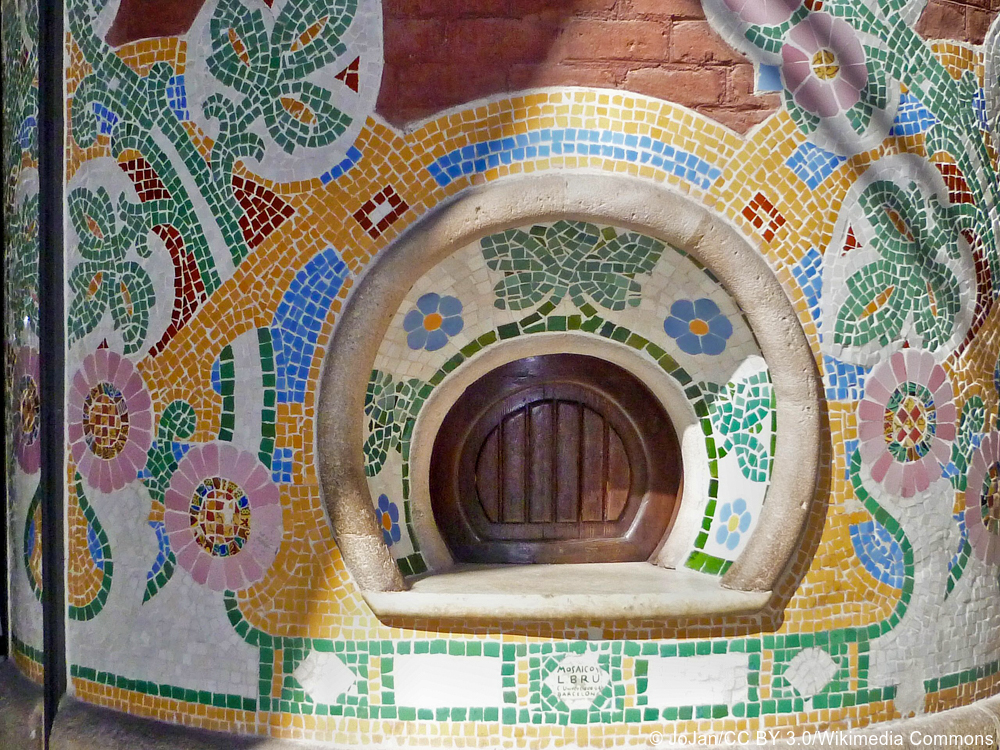 Hospital de la Santa Creu i Sant Pau
One of Domenech i Montaner's most notable building projects is the Hospital de la Santa Creu i Sant Pau (Hospital of the Holy Cross and Saint Paul). Built between 1901 and 1930, it was a working hospital until 2009. It is now a cultural and heritage center and a UNESCO World Heritage Site.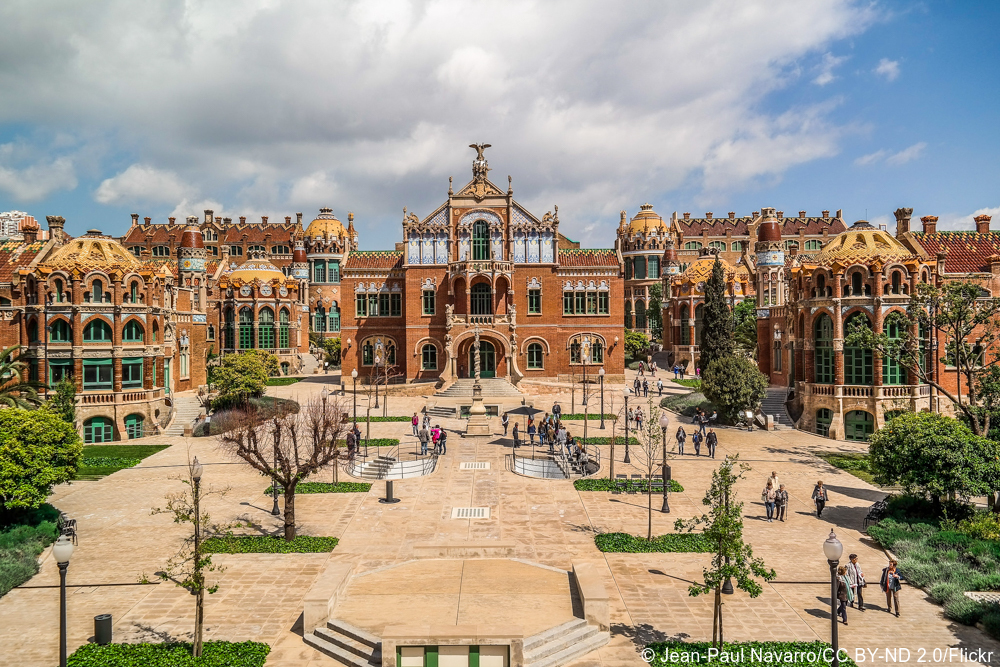 Comprised of a number of buildings and pavilions dotted around parkland, the hospital complex was innovative for its emphasis on the emotional well-being of patients.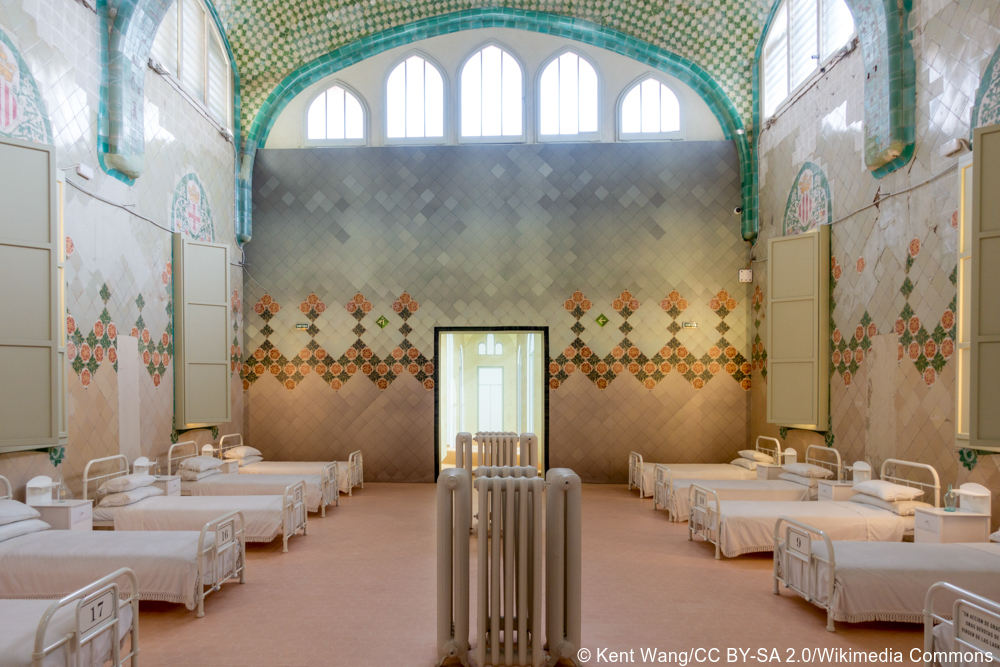 Modernista elements—tiles, swirling lines, mosaics, stained glass, gargoyles—create the sensation of being in an elaborate church or palace rather than a hospital.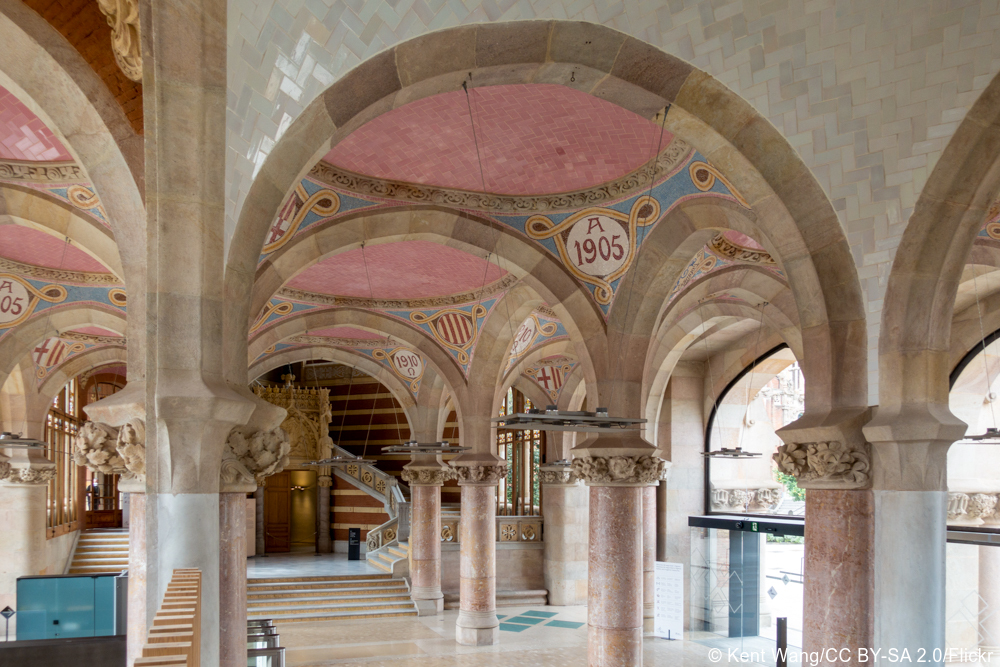 Barcelona Pavilion 
In contrast to the works of Catalan Modernism, the Barcelona Pavilion by German modernist architect Mies van der Rohe is a study in flat, unadorned planes.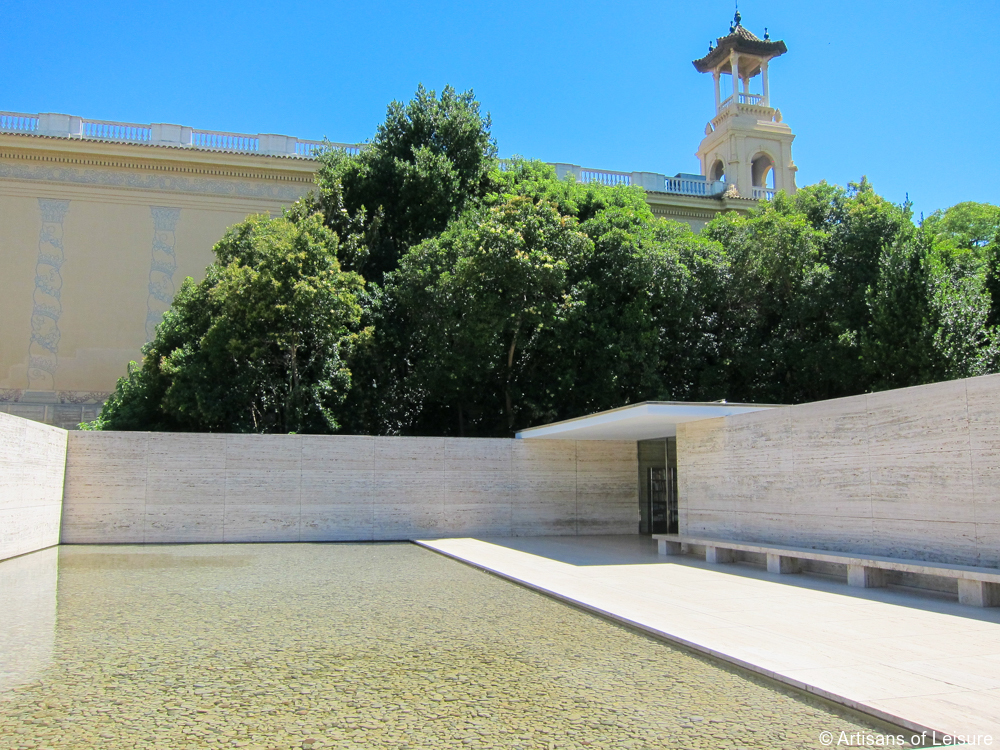 Designed as the German pavilion for the 1929 Barcelona International Exposition (World's Fair), the Barcelona Pavilion was conceived as a functional sculpture in which visitors could find tranquility and contemplation. It also reflected the ideals of modernist architecture—sleek lines, symmetry, minimalism and the use of glass, steel and stone.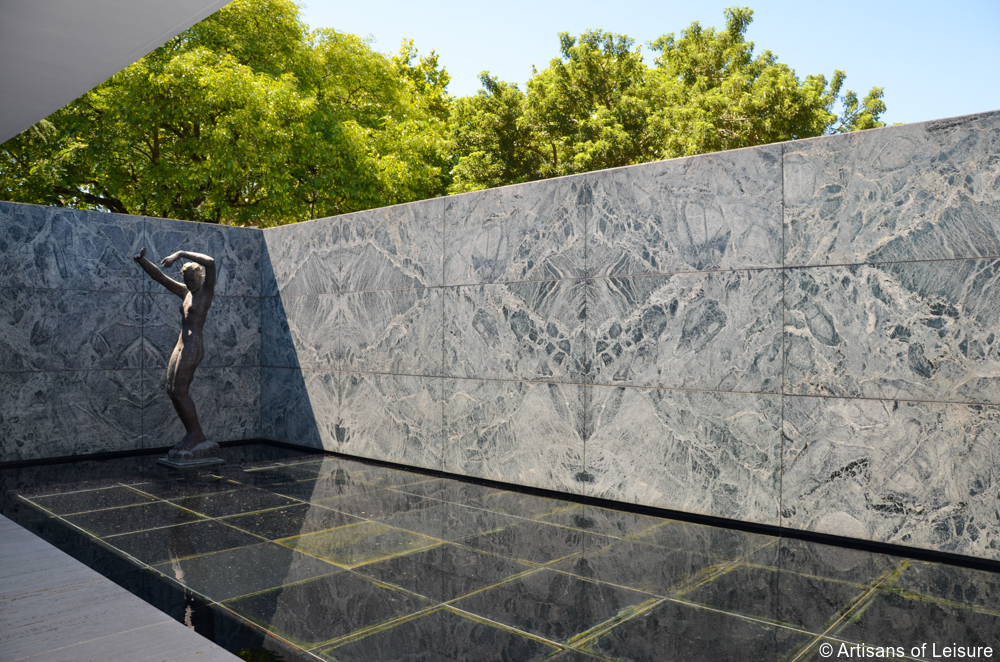 The original Barcelona Pavilion was dismantled after the International Exposition, but it reconstructed in the 1980s in recognition of its importance to the history of modern architecture.
Casa Vicens

Casa Vicens—the first house Gaudi designed—offers a fascinating look at his early style.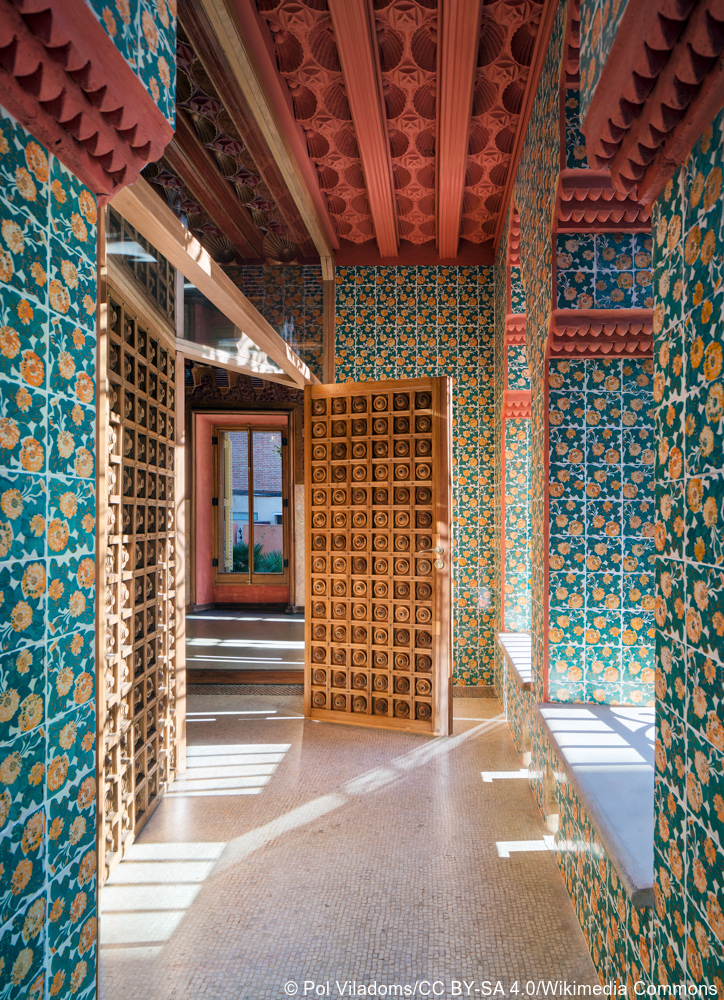 A lesser-known house-museum and UNESCO World Heritage Site, Casa Vicens was built in the 1880s as a summer house. It exhibits a strong Moorish influence and lacks the organic forms seen in later works like the Sagrada Familia or Casa Batllo. Elements that Gaudi would repeatedly use in the future project are present, however, such as the colorful ceramic tiles, plant motifs and elaborate surface decorations.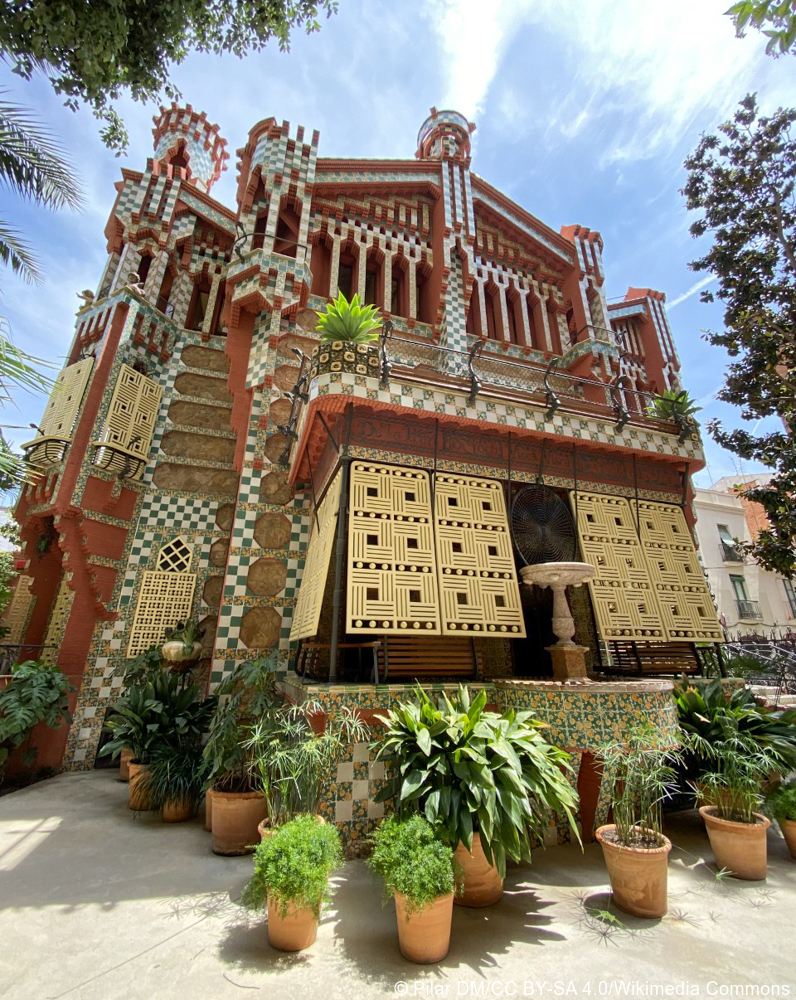 Highlights of touring the interiors of Casa Vicens include vibrant spaces like the smoking room with its cobalt honeycomb ceiling inspired by Islamic architecture, colorful papier-mache walls, tiles and painted flowers.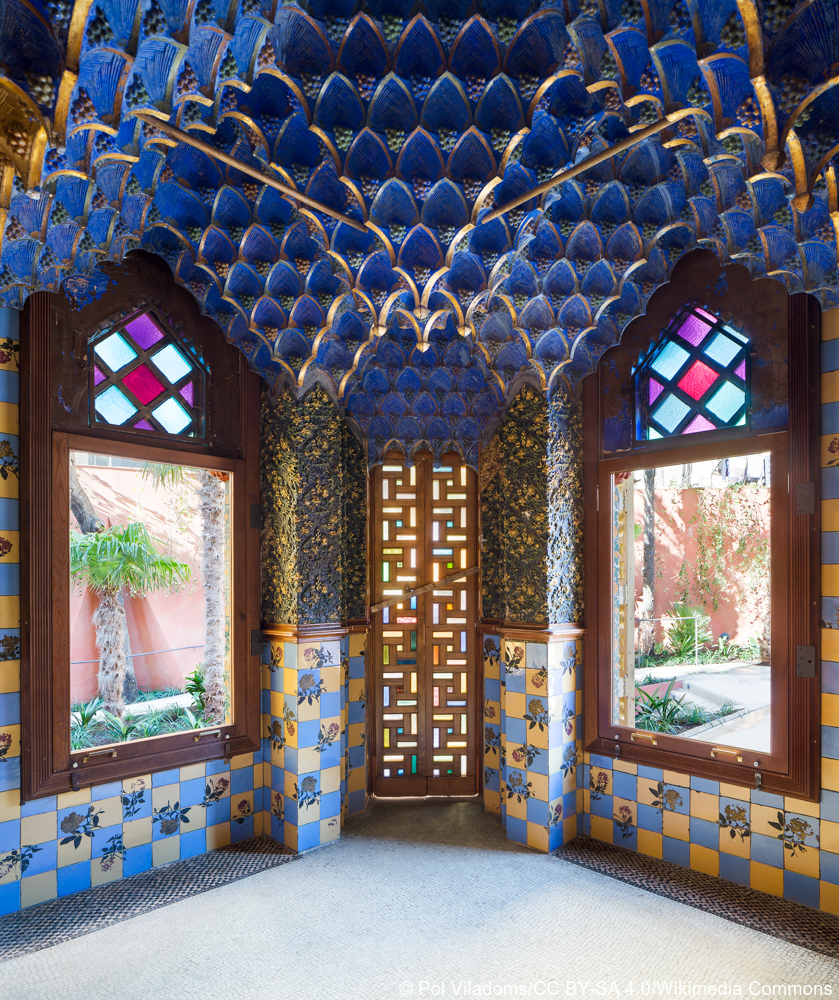 Santa Caterina Market
Santa Caterina Market is a historic market built in a neoclassical style in the 19th century in the city center. In 2005, the market got a colorful, undulating new roof designed by architects Enric Miralles and Benedetta Tagliabue.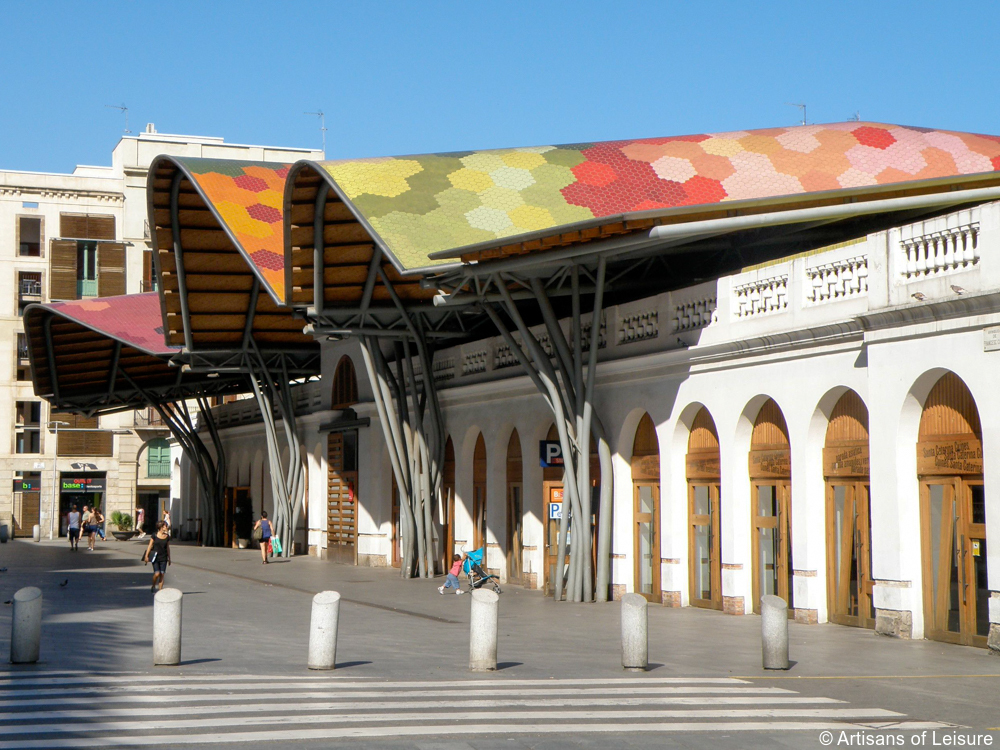 The vivid roof tiles recall both traditional awnings over market stalls and the Modernista tradition of trencadis decoration. Inside are stalls selling fruit, vegetables, flowers, meat and other daily goods.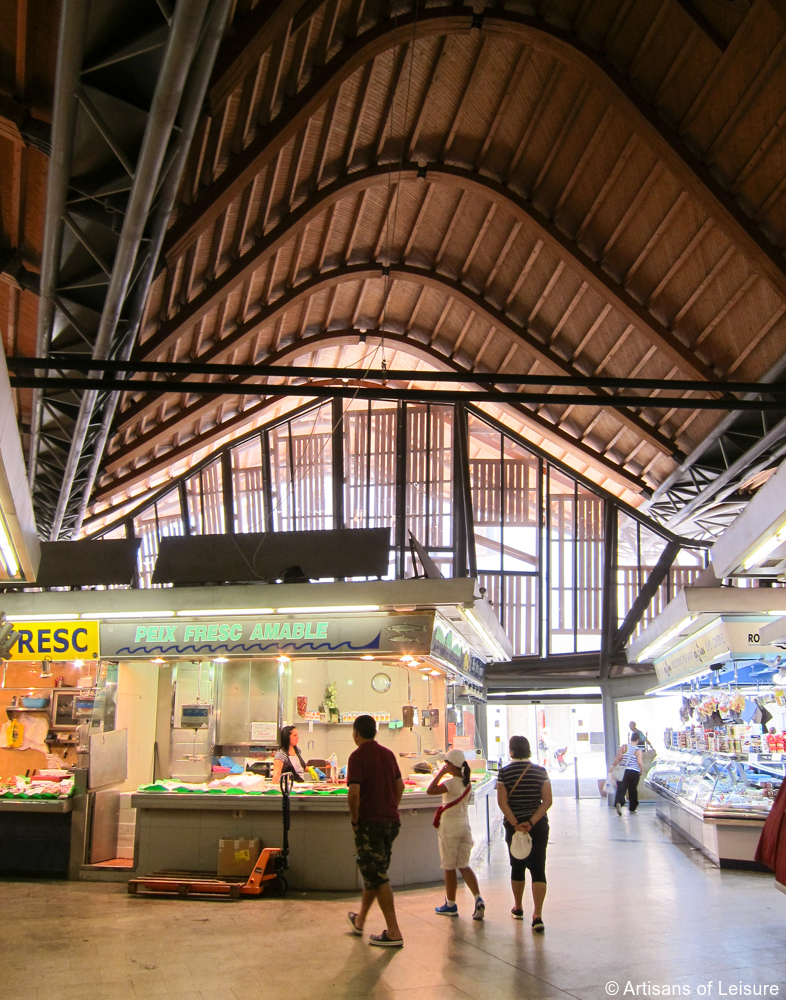 Other architectural sites in Barcelona that we recommend include Casa de les Punxes, a mansion designed by Josep Puig i Cadafalch…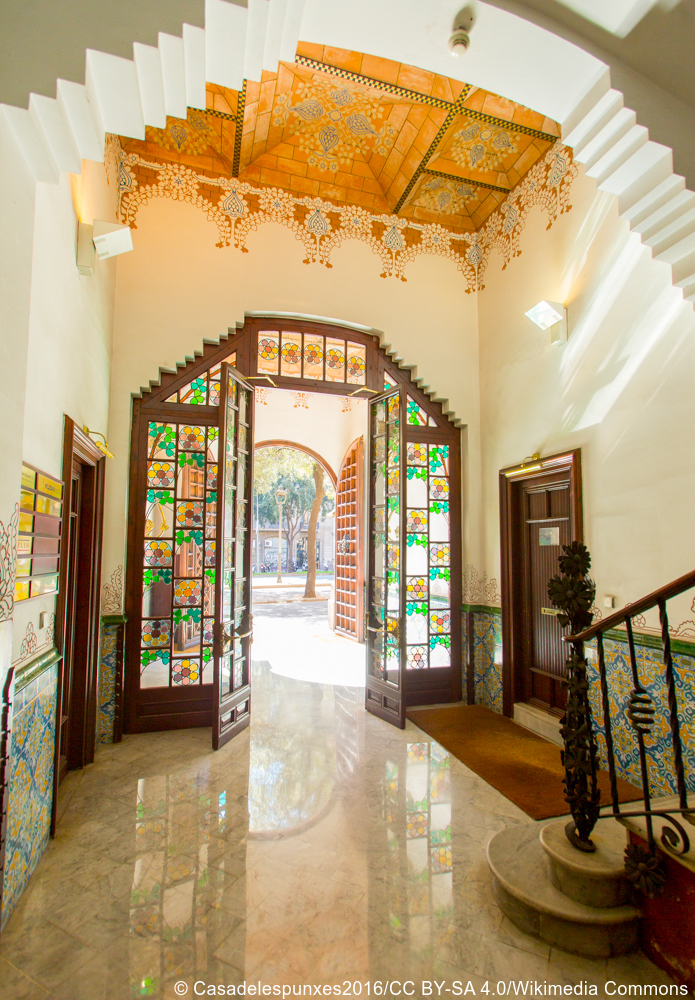 …Torre Bellesguard, a lesser-known house by Gaudi that looks like a Gothic castle with crenellated walls and a turret; and Palau Guell, one of Gaudi's sumptuous early residential projects and a UNESCO World Heritage Site.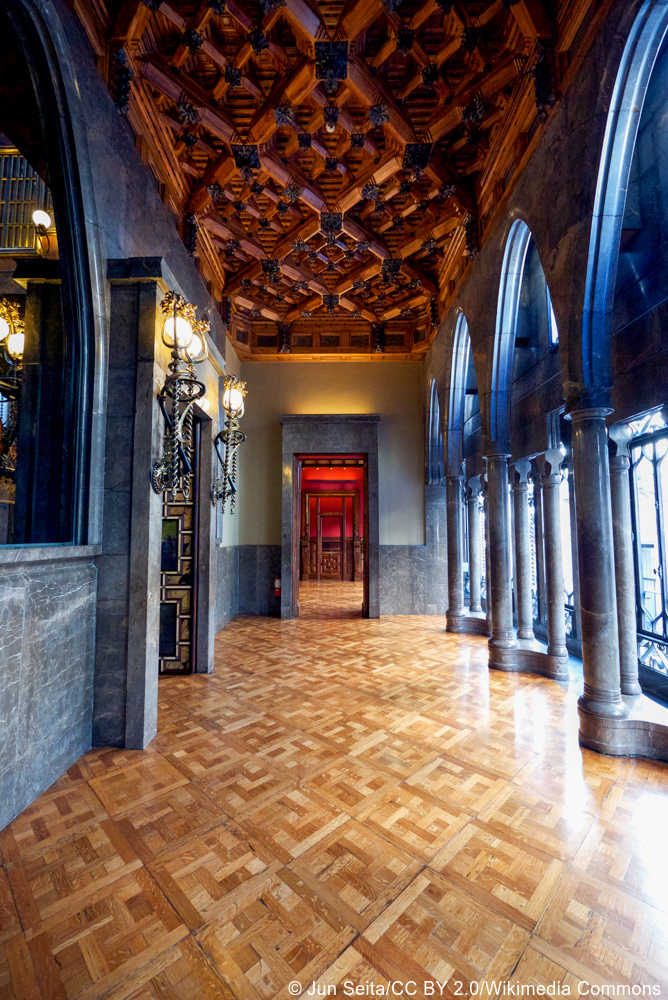 Barcelona also has incredible museums. Some of our favorites include the Picasso Museum, which exhibits an extensive collection of the artist's work across several medieval palaces, and the magnificent Museu Nacional d'Art de Catalunya (MNAC), which is dedicated to Catalan art from the medieval to modern.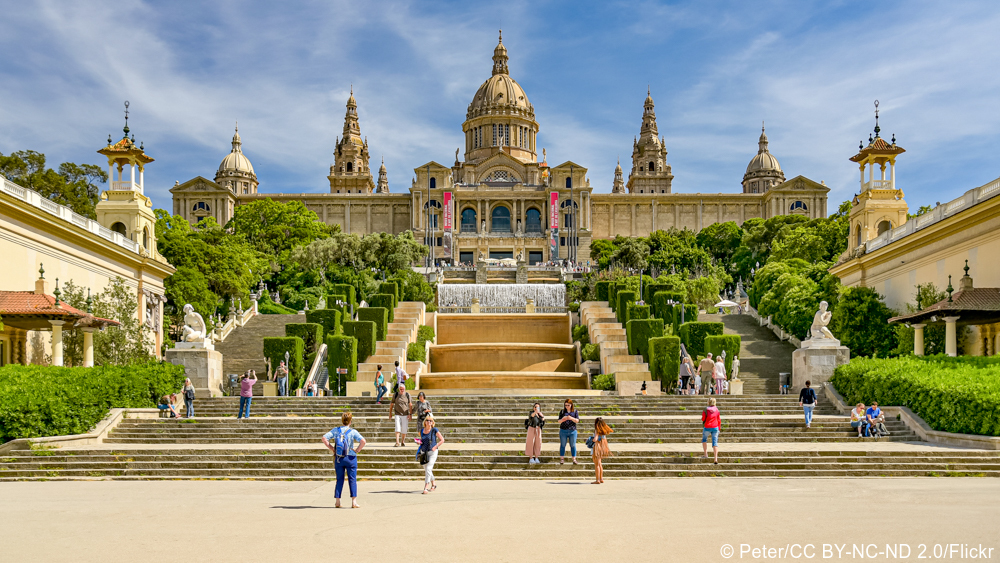 On Montjuic is the Joan Miro Foundation, the design of which was overseen by the artist himself. We also recommend the Museu del Modernisme de Barcelona (MMBCN), which is dedicated to Catalan Modernisme and has  furniture that Gaudi designed for Casa Batllo, Casa Mila and other projects.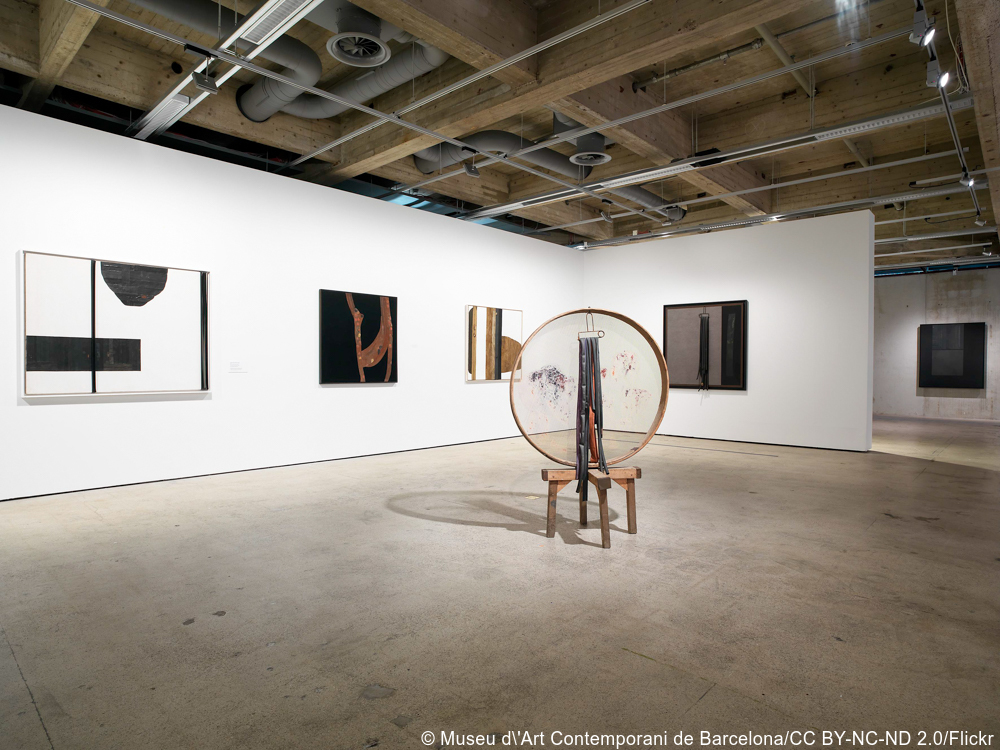 Contact Artisans of Leisure to begin planning a luxury Spain tour featuring the top art and architectural highlights of Barcelona.
Tags: architecture, architecture tours, art and design tours, art museums, Art Nouveau, Barcelona, Barcelona architecture, Barcelona architecture tours, Barcelona Gaudi, Barcelona tours, Block of Discord, Casa Amatller, Casa Batllo, Casa de les Punxes, Casa Lleo Morera, Casa Milia, Casa Vicens Gaudi, Catalan art, Catalan design, Catalan history, Catalan Modernism, Gaudi, Gaudi sites, Hospital de la Santa Creu i Sant Pau, Joan Miro Foundation, La Pedrera, La Sagrada Familia, luxury Barcelona tours, markets, Mies van der Rohe, Mies van der Rohe Barcelona Pavilion, Moderisme, mosaics, Palace of Catalan Music, Palau de la Musica Catalana, Park Guell, Picasso Museum, Santa Caterina Market, stained glass, tiles