March 10, 2021
Interview with Tal Tauber Gottesdiner, an Israeli Wine Expert
Tal Tauber Gottesdiner is an Israeli wine expert and educator based in Tel Aviv, Israel. She holds a Level 3 Award in Wines from the globally recognized Wine & Spirits Education Trust (WSET) and teaches at W, the leading wine school in Israel, training the sommeliers and wine connoisseurs of tomorrow. Tal also founded Hashizra (The Stem), the first professional community for Israel's women in wine.
We asked Tauber Gottesdiner to share her thoughts on the best of Israeli wines and where to experience them when visiting Israel.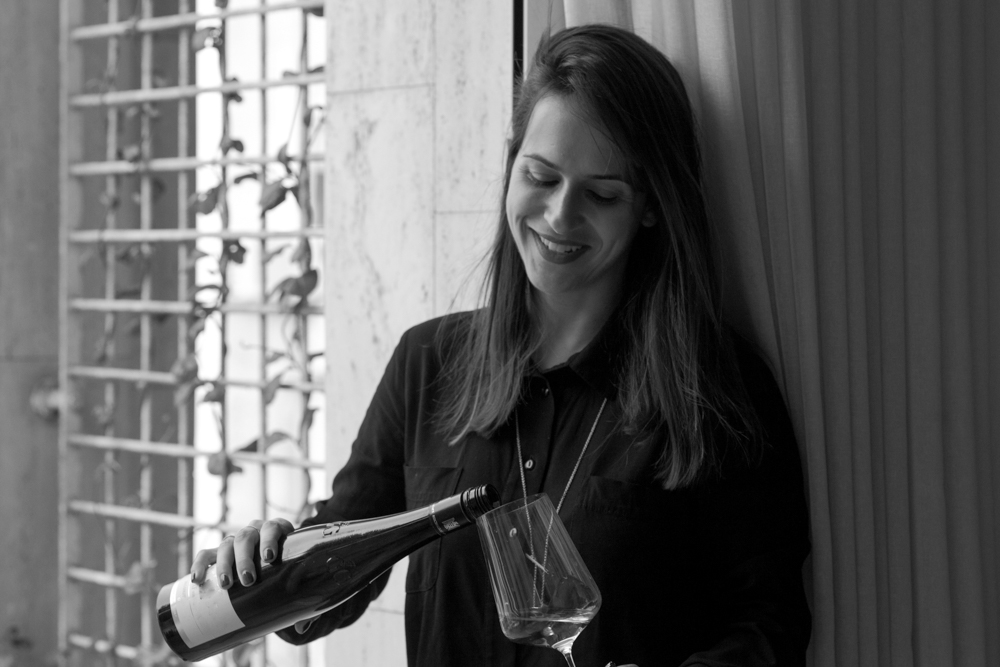 What types of wine does Israel produce?
The wine revolution in Israel started in the 1980s with the dominance of international grape varietals such as Cabernet Sauvignon, Merlot and Syrah for red wines, and Chardonnay and Sauvignon Blanc for whites. Some of the famous Israeli wines were, and still are, Bordeaux-style blends. In the last few years we have seen more and more winemakers who search for a distinct Israeli style, using indigenous ancient varietals, such as Marawi and Dabuki (both whites) and Argaman (red). These are still used in only a very small percentage of production, but I think it's an important step in Israel's quest for unique identity.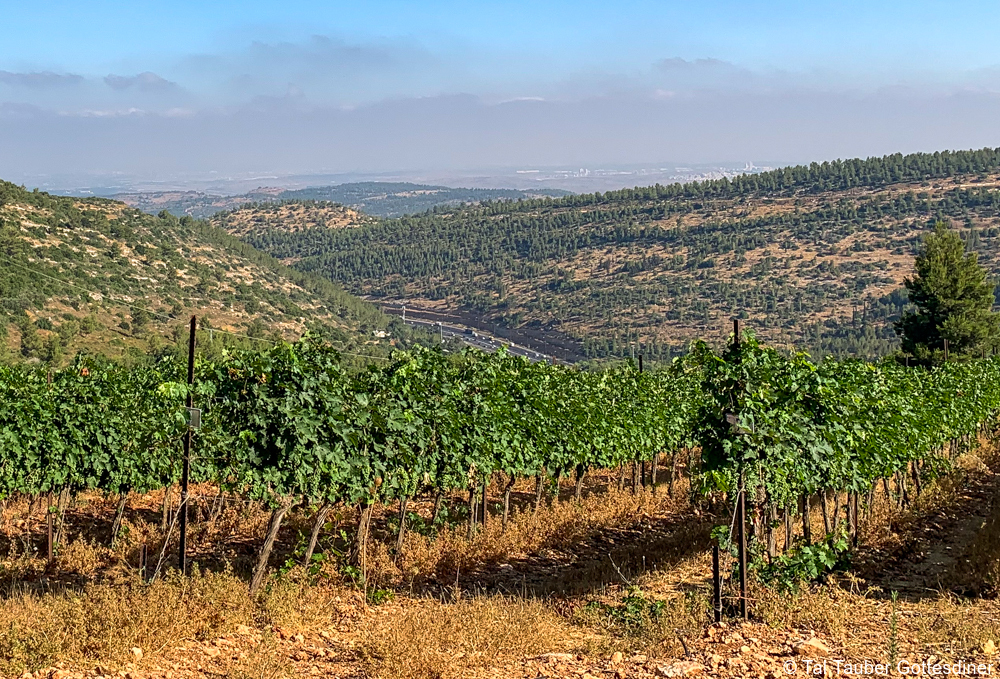 Which regions in Israel produce wine? How does Israel's regional diversity influence its wine production?
Wine is made from north to south in Israel. We can divide the winemaking map into six wine-growing regions: Golan Heights, Galilee, Coast and Carmel, Central Mountains, Judea and Negev.
Even though it's a small country, Israel has a diverse climate, and each region has a slightly different character. Some of the most famous wines are coming from the cooler vineyards in the north of the country and in the Judean Hills. In the last years some producers have taken up the challenge of growing vineyards in the Negev Desert.
What makes a wine kosher?
In kosher food, the focus is on the source of the food, whereas in kosher wine the emphasis is on the handler. To be considered kosher, Sabbath-observant Jews must supervise and handle the winemaking process, from the time the grapes are crushed until the wine is bottled.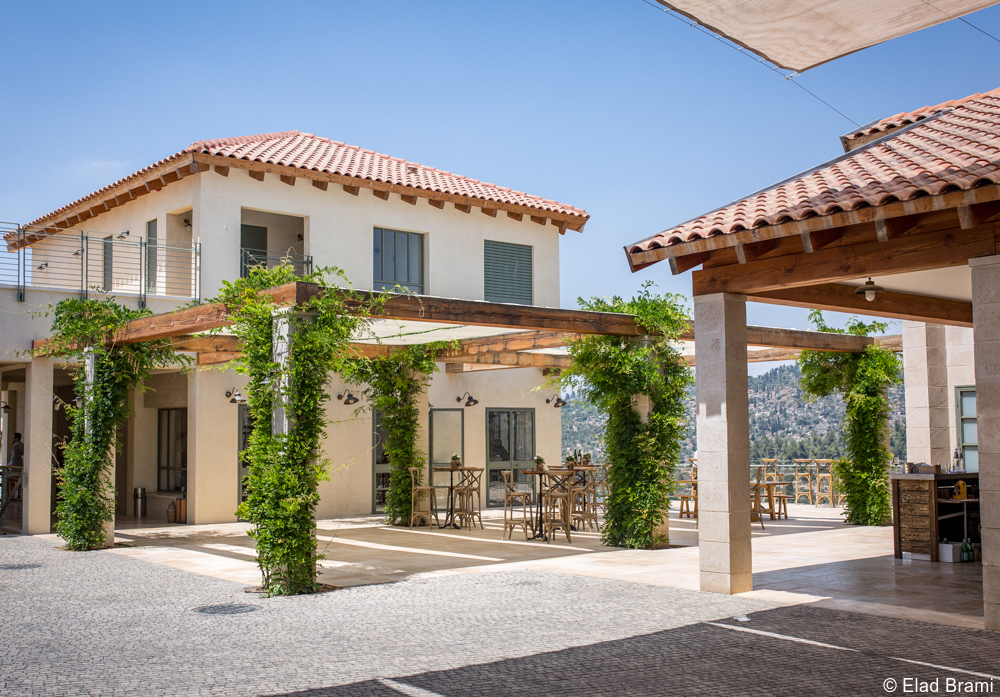 What is your favorite wine region to visit?
My favorite is the Judean Hills, where you can find exceptional quality and a beautiful view. "The Judean Hills Quartet" is a group of artisanal wineries from this region: Tzora Vineyards, Sphera, Domaine du Castel (pictured above and below) and Flam. All four are doing amazing work in leading Israel to new levels of quality.
How has the wine industry in Israel evolved in recent years?
The Israeli wine industry has come a long way in recent years. Not only has quality improved, but wine culture has taken off—more wine stores, more professional wine lists in restaurants and more wine tasting events.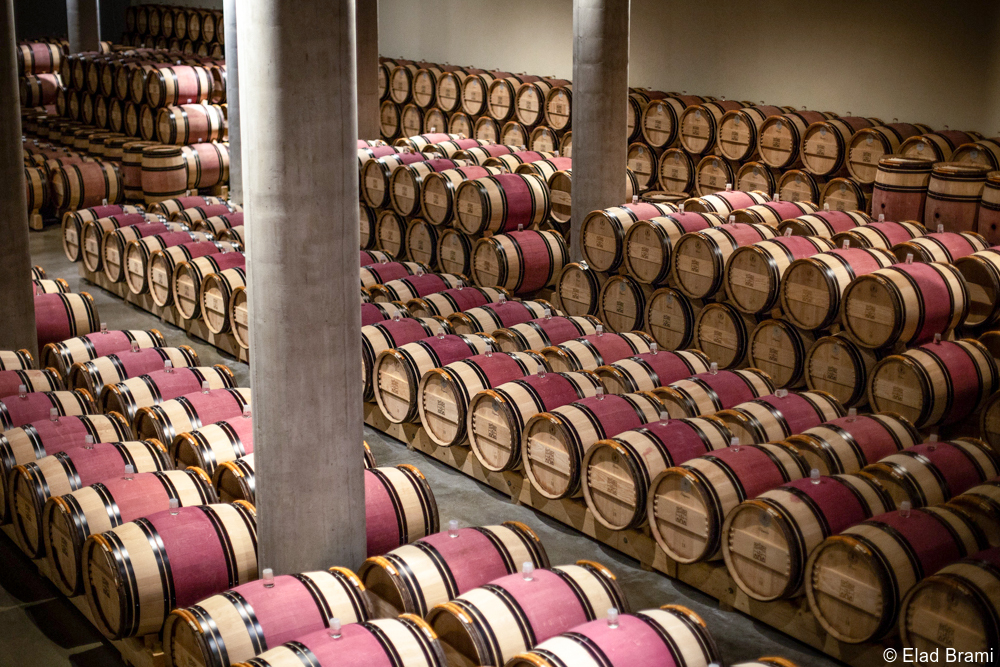 Are there any vineyards, wineries, or experiences that you highly recommend for travelers interested in Israeli wine?
Judean Hills:
• Domaine du Castel – A phenomenal experience in one of Israel's best wineries
• Tzora Vineyards – One of my favorite local producers. You can visit the winery, but the highlight is the beautiful vineyard tour.
Negev:
• Nana Estate Winery (pictured below) – A special visit in Mitzpe Ramon, hosted by a team that will tell you the story of their pioneer's vision to transform the desert into a unique terroir
Carmel:
• Tulip Winery – Located in a kibbutz-style community for residents with special needs, this winery combines the love of wine and love of people, and successfully produces high quality wines while contributing to the community.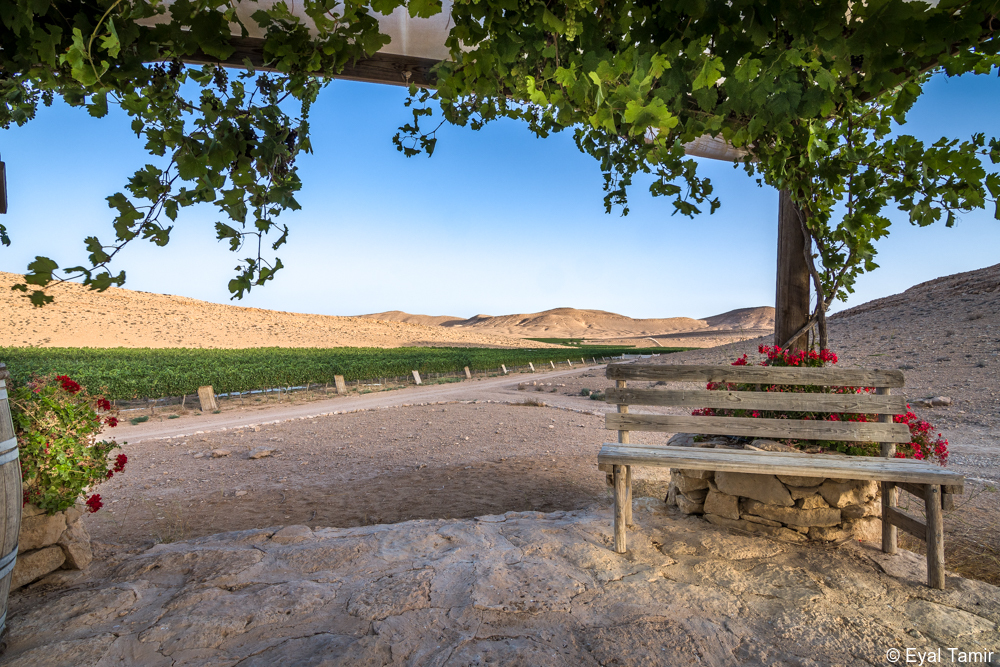 Do you have any favorite wine bars, wine shops or restaurants that you would recommend to travelers?
Tel Aviv:
• Basta restaurant in the Carmel Market and Alena restaurant in The Norman Hotel have won Israel's best wine lists for the past few years. Amazing wines and great food.
• Bosser (pictured below): A hot wine shop in Tel Aviv
• Giaconda Wine Library (pictured at bottom): The two owners are winemakers that import unique bottles, mostly natural wines and all very delicious. It is a wine shop that becomes a wine bar in a central Tel Aviv spot between Rabin Square and Masarik Square.
• Brut Wine Bar: The closest to Paris it gets in Israel
Jerusalem:
• Mona restaurant is one of my favorites. It's an elegant bistro.
• Machneyuda by Chef Assaf Granit, who won a Michelin star for his restaurant in Paris
Galilee region:
• Rutenberg restaurant. In the Valley of Springs, Yizhar and Hilah Ronen Sahar have created a unique seasonal, local restaurant with a great wine list.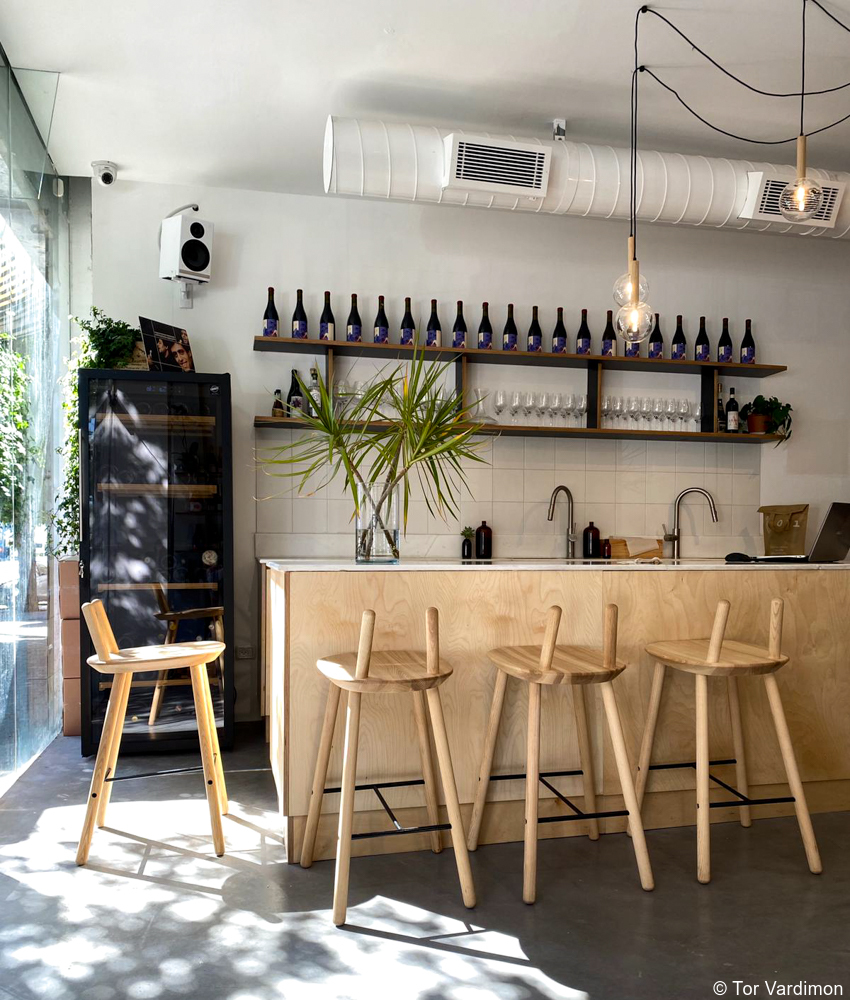 What are your favorite things to do in Tel Aviv? Where do you take visiting friends?
One of my favorite places to hang with friends is Shenkin Street, which is actually where I live. I had an article published about the rise of Shenkin in Time Out Tel Aviv magazine. The street, which began as a street of craftsmen and developed into the symbol of young Tel Aviv culture, has today become a hot spot for foodies. In the last year, the street has experienced a surprising culinary bloom: delicatessens, bakeries, butchers, fresh fish shops, chocolates shops, ice cream parlors and more. One of my favorites is Adina Deli, where you can find excellent cheese and wine.
What is a great hotel known for its food and wine selection?
I recommend The Norman in Tel Aviv and the beautiful Scots Hotel in Tiberias. When you're at The Norman, make sure to grab a glass of wine or a cocktail at their Library Bar. In The Scots, check out Saint Urban Wine Cellar & Bar, the hotel's wine bar, which offers a great selection from Israeli wineries.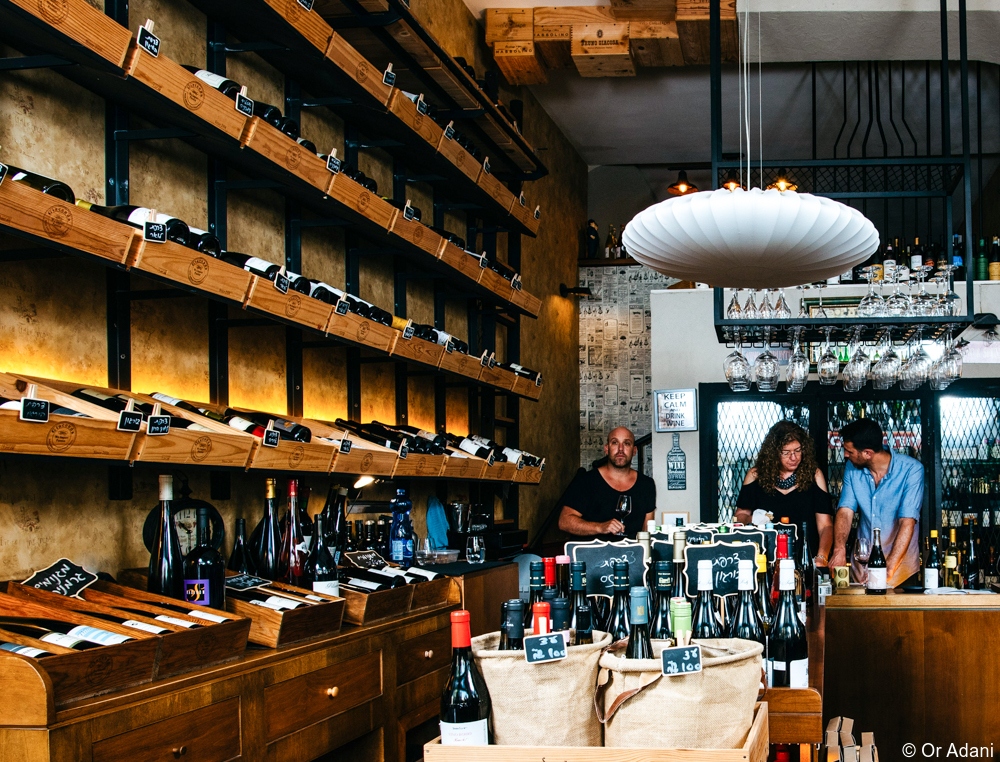 Where outside Israel do you like to travel and where do you want to travel next?
There are so many places I love and so many I still want to see! I often like to base my travels around wine touring. Some of my favorite destinations that I've visited are Piedmont, Burgundy, Bordeaux and the U.S. (Oregon, Washington, Napa). I also enjoy new cultural experiences. For example, I had an unforgettable trip to Japan. I want my next trip to be to Copenhagen.
Lastly, tell us about Hashizra (The Stem), the community you founded for women working in Israel's wine industry.
It's something I'm extremely excited and passionate about. As wine culture develops in Israel, more and more women are becoming involved in the industry: women winemakers, importers, sommeliers, managers, etc. Many women in the field reached remarkable achievements, and with their work became role models for other women entering the industry. However, women are still a minority in a male-dominated industry. In order to reduce this gap, to make the Israeli wine industry gender-equal and to allow every woman to go as far as she desires in the wine world, I decided to establish a community that will promote the women of the industry, and thereby the entire Israeli wine culture. The community will provide professional tools, networking, mentoring and opportunities to women in the industry and to those who aspire to join it.
…
Read more about Israeli women in wine in a recent article Tauber Gottesdiner wrote for Al HaShulchan (The Table) magazine (in Hebrew only).
Contact Artisans of Leisure for further details about private wine touring in Israel or to start planning your private Israel tour.
Destinations: Israel, Middle East
Tags: culture, food and wine tours, Israel, Israel tours, Jerusalem, landscapes, markets, restaurants, Tal Tauber Gottesdiner, Tel Aviv, The Stem, vineyards, wine, wine tasting, wine tours, winery