January 21, 2021
Visiting the Louvre Abu Dhabi while in Abu Dhabi or Dubai
Extraordinary art and architecture make the Louvre Abu Dhabi a cultural highlight of the United Arab Emirates (UAE). A collaboration between France and the UAE, the art museum displays works from its own collection as well as pieces on loan from the Musee du Louvre, Centre Pompidou, Musee Rodin and other French institutions.
French architect Jean Nouvel designed the unusual Louvre Abu Dhabi complex as a grouping of 55 structures surrounded by the pale blue waters of a lagoon.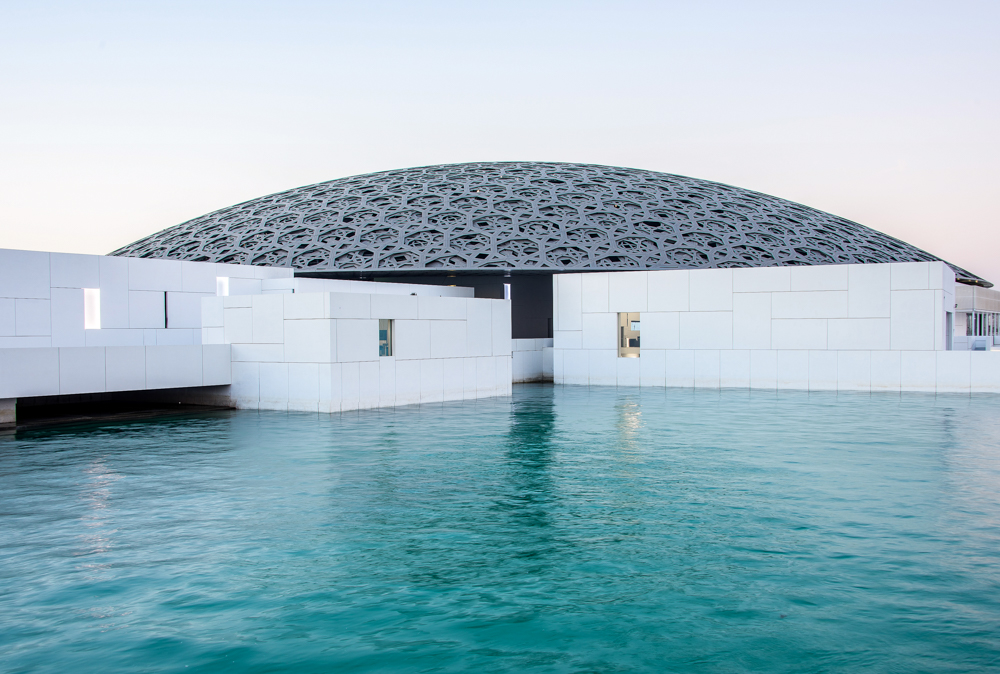 He incorporated traditional Arab design features such as water channels, reflecting pools and the cubic shapes of the buildings.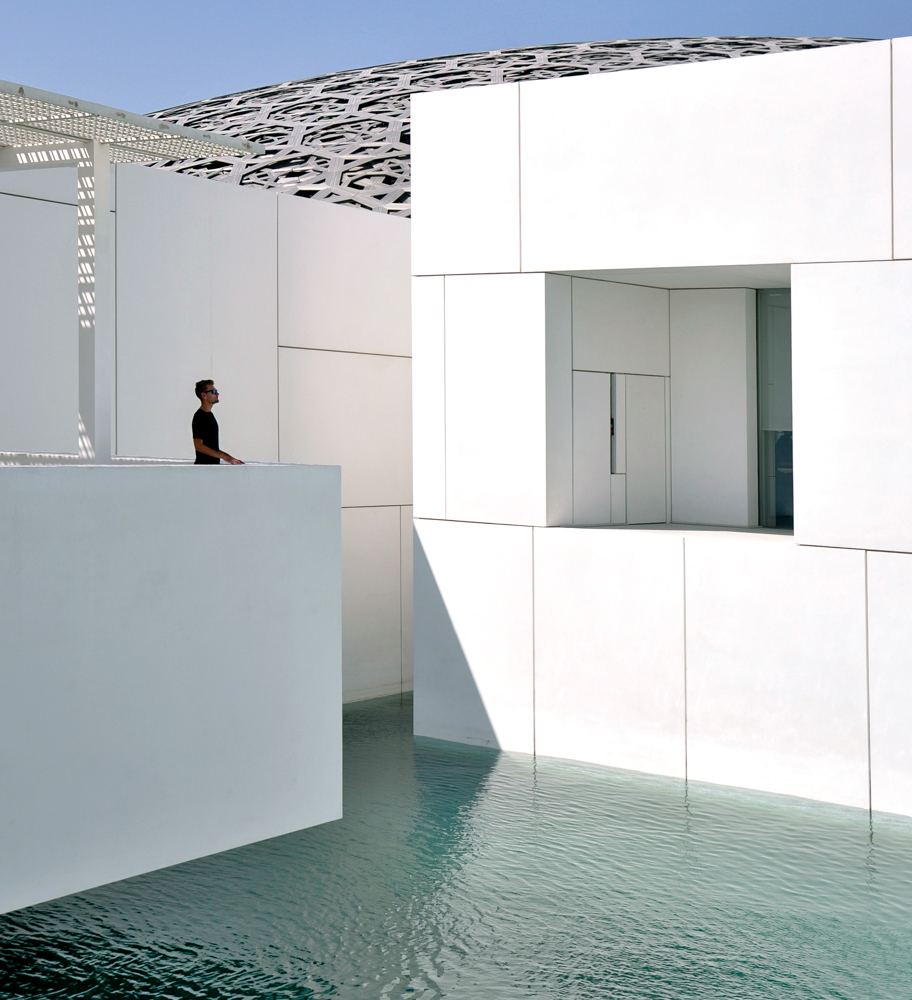 The museum's most distinctive feature, however, is its enormous domed roof. The elaborate grid of overlapping steel and aluminum polyhedrons create an ornate lattice that references abstract Islamic patterns.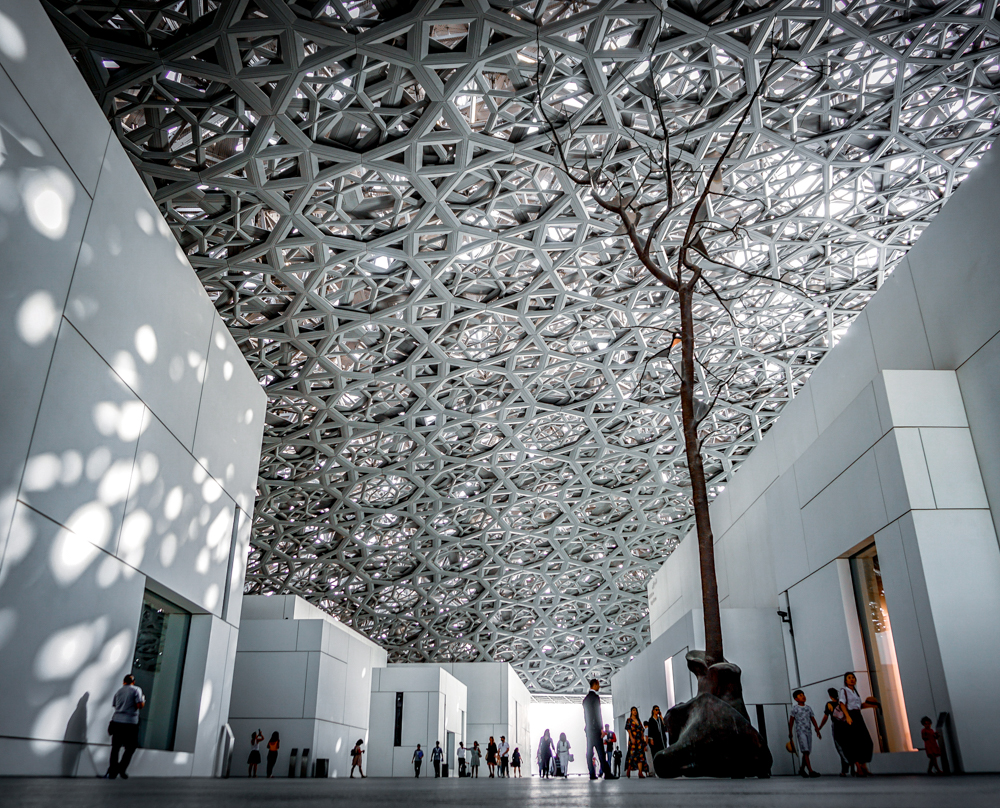 The roof filters and fragments sunlight, creating what the museum calls a "rain of light" on the white buildings, plazas and waterways. The effect has been likened to the way palm trees in an oasis break up sunlight. By providing shade and venting heat, the roof also helps cool the whole complex.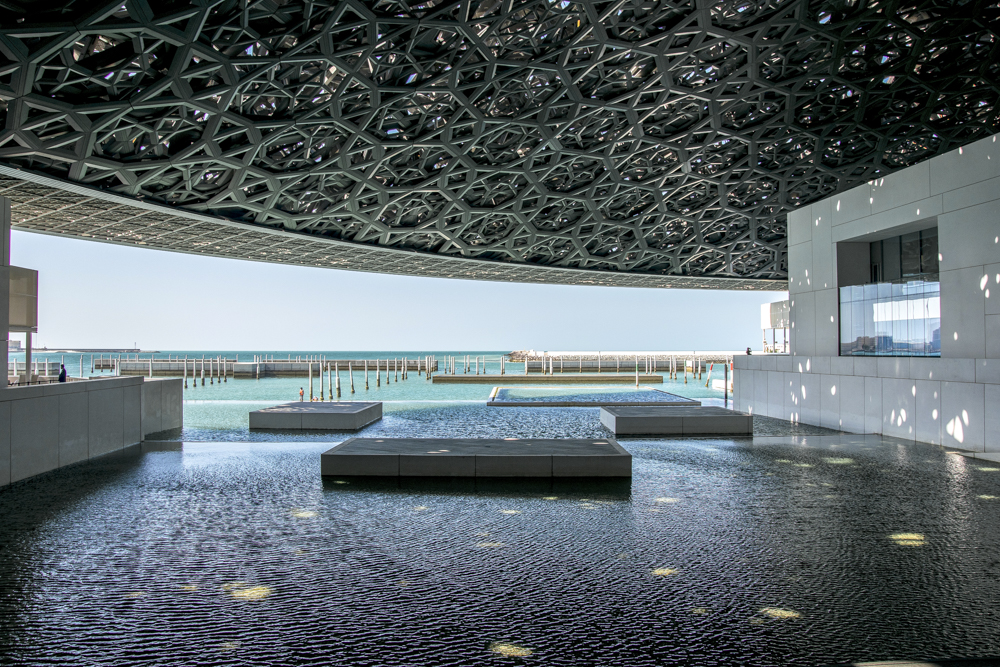 Inside, the galleries display artworks from countries all around the world. They range from prehistory to today and are displayed chronologically rather than by medium or culture. The resulting multicultural mixes reveal shared influences and the stages of cultural development in different parts of the world around the same time.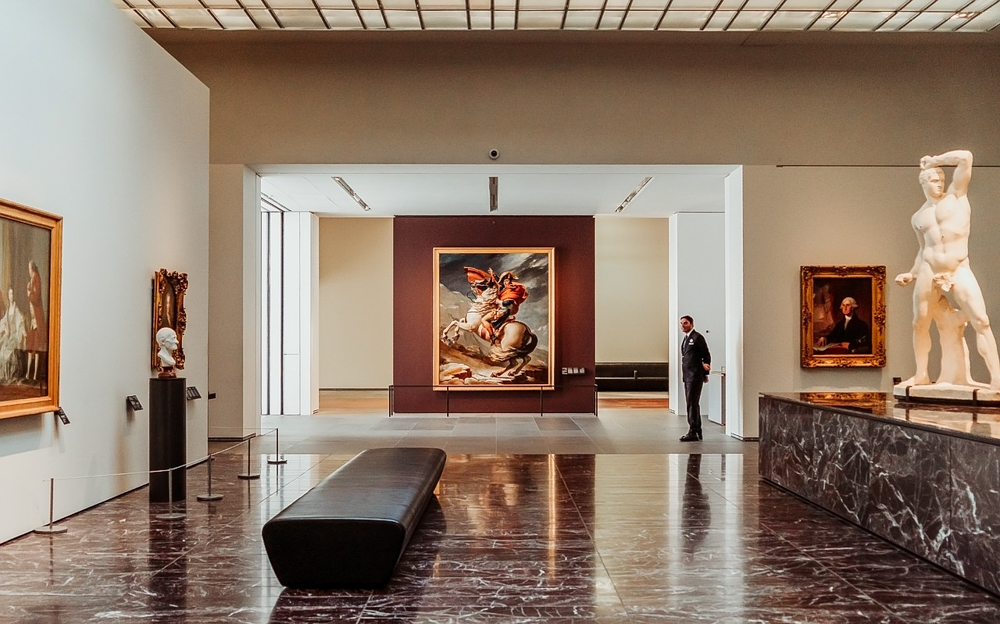 Among the many highlights are Greek amphorae, an African wooden ancestor sculpture, Japanese Buddhist paintings, an Indian sandstone frieze carved with Koranic verses, an ancient Egyptian sarcophagus, Leonardo da Vinci's La Belle Ferronniere and Claude Monet's Gare Saint-Lazare.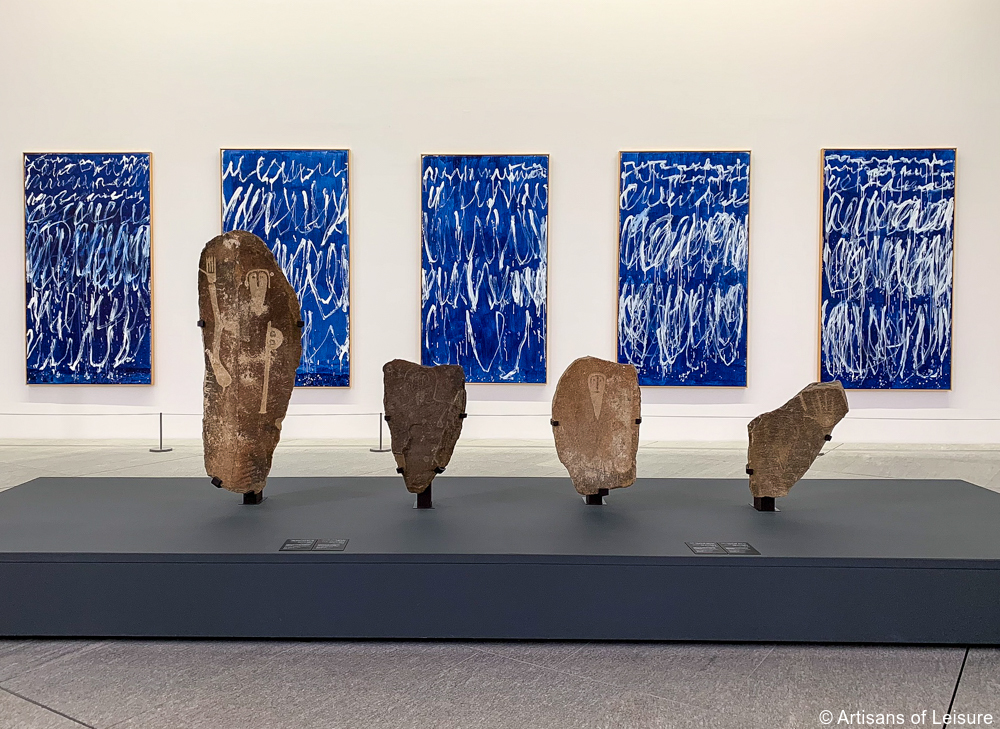 The Louvre Abu Dhabi also organizes temporary exhibitions and has a family-friendly children's museum.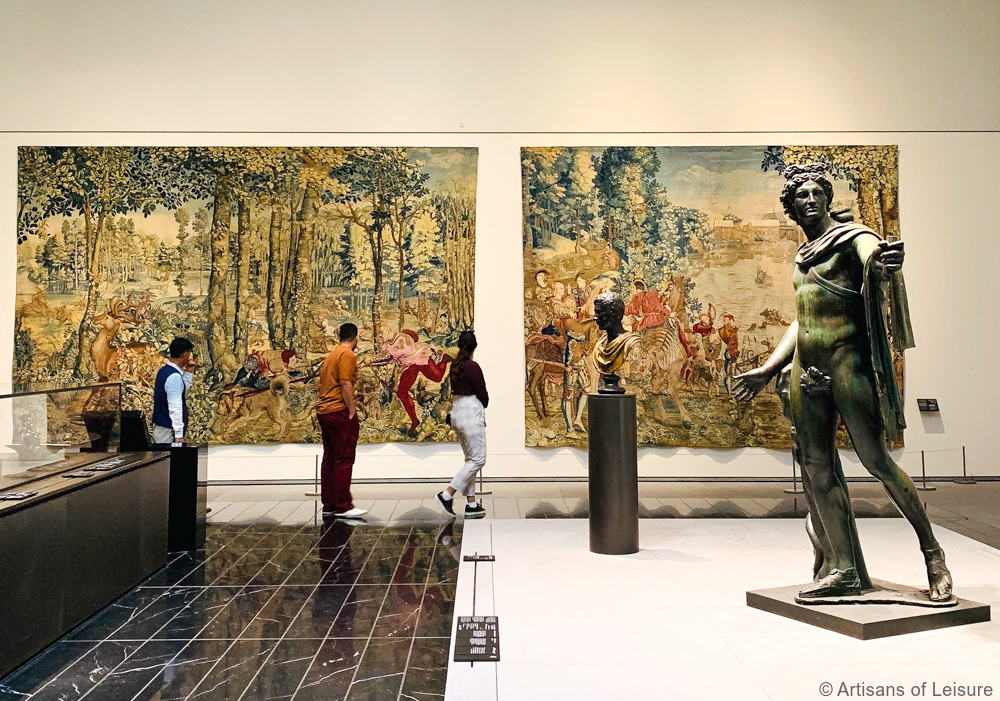 The Louvre Abu Dhabi is a part of the Cultural District on Saadiyat Island, an area outside downtown Abu Dhabi that is undergoing major urban development. Over coming years, housing and additional cultural institutions such as the Guggenheim Abu Dhabi are slated for completion.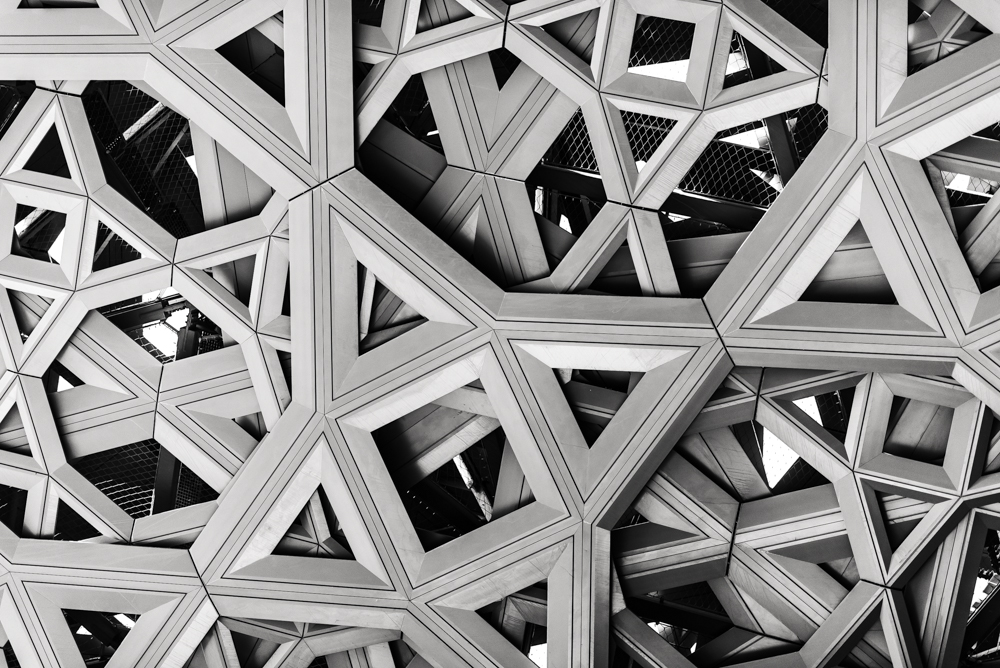 Artisans of Leisure includes the Louvre in all of our Abu Dhabi tours and all of our Dubai tours can include a day excursion to Abu Dhabi. Contact an Artisans of Leisure expert to start planning a private tour of Abu Dhabi and the UAE.
Destinations: Abu Dhabi, Dubai, UAE
Tags: Abu Dhabi, Abu Dhabi tours, architecture, art, art tours, culture, design, Dubai, Dubai excursions, Louvre, Louvre Abu Dhabi, museums