April 16, 2018
Just Back: An Incredible Tour of France, Spain & Portugal
Artisans of Leisure founder and CEO Ashley Ganz recently enjoyed a wonderful journey through the Basque Country of northern Spain and southern France, as well as the highlights of Portugal from north to south.
The trip began in Bilbao, Spain, one of the major cities of the Basque Country.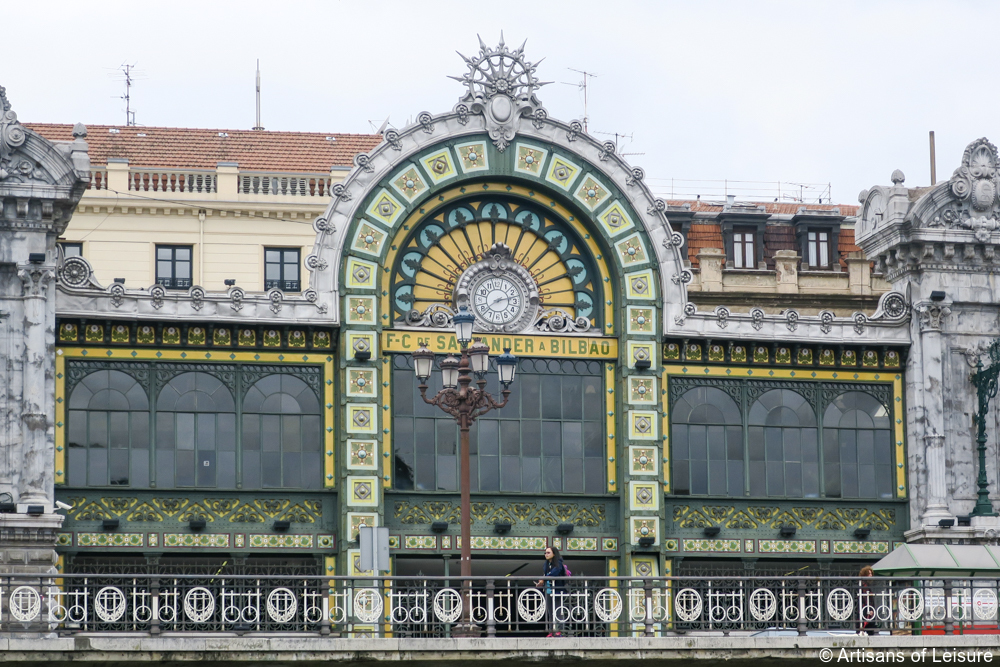 A highlight of Bilbao is seeing architecture such as the spectacular Guggenheim Museum Bilbao, designed by architect Frank Gehry.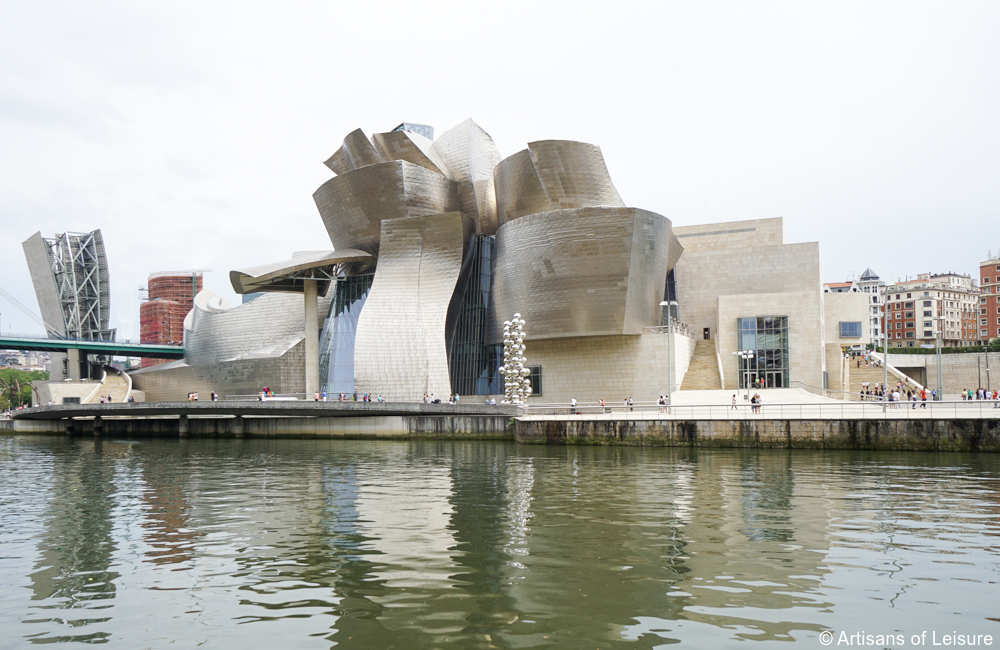 Puppy, a giant topiary sculpture by Jeff Koons, welcomes visitors to the Guggenheim.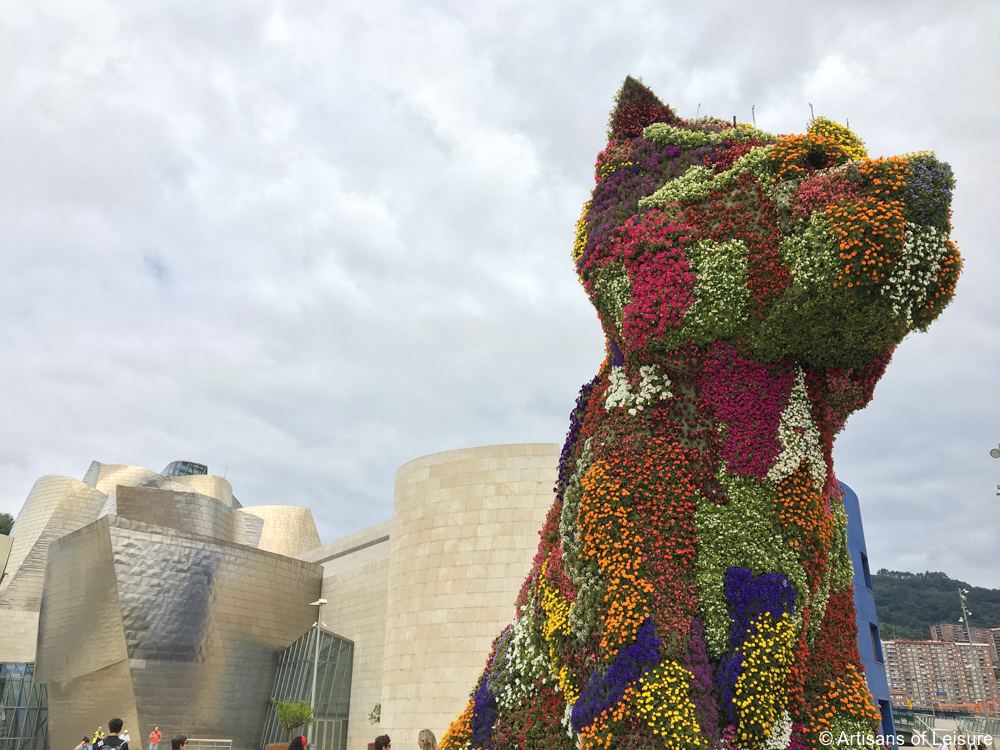 Tulips, another sculpture by Jeff Koons, is installed on the terrace of the museum.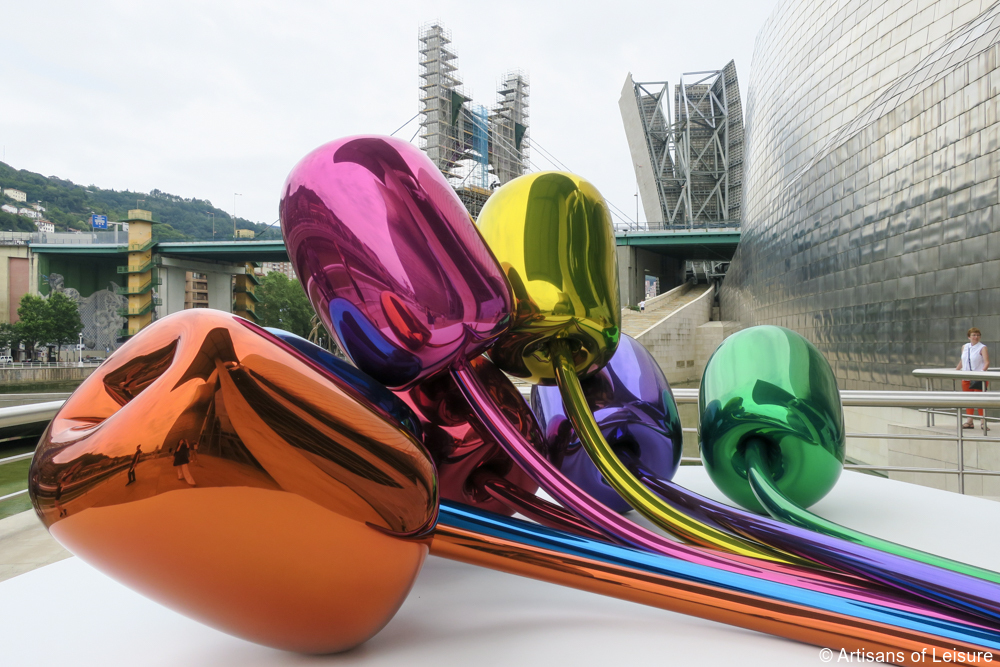 Bilbao is in Spain's Basque Country, which is known for its wonderful cuisine. This is a pintxo (Basque tapa) of cheese, walnuts and honey.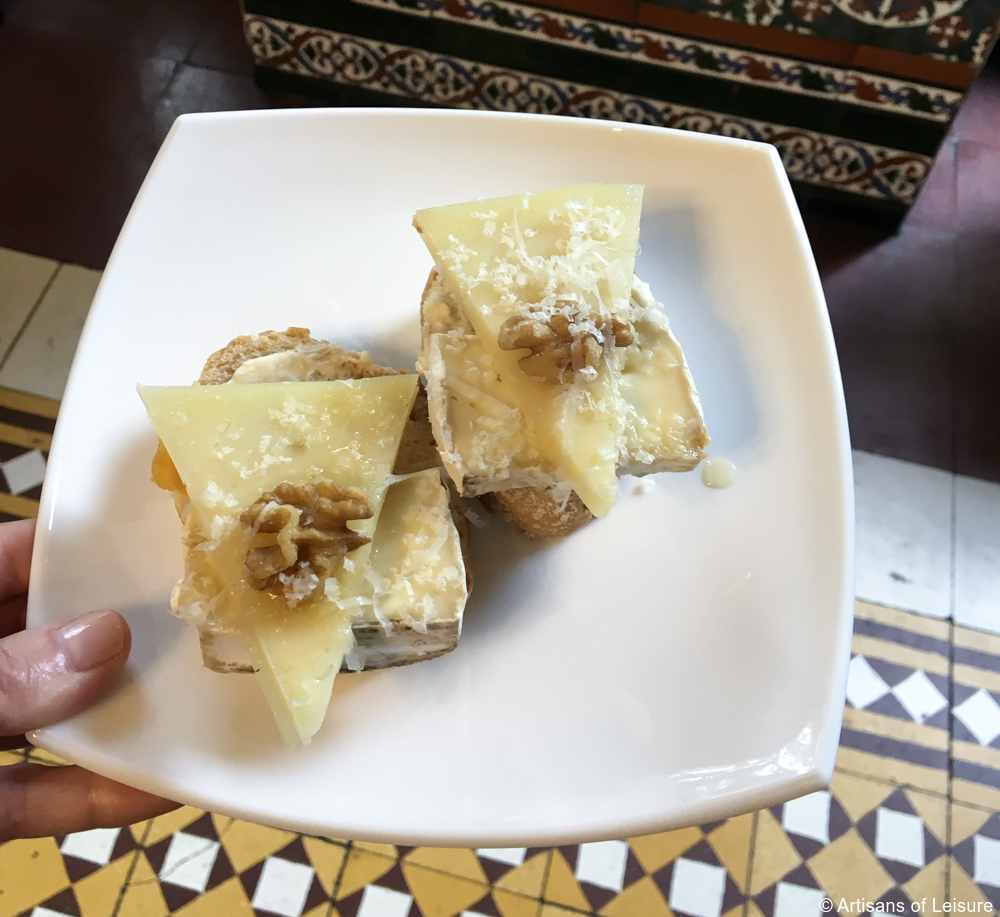 We love the interior of Cafe Iruna, one of Bilbao's most cherished pintxos bars.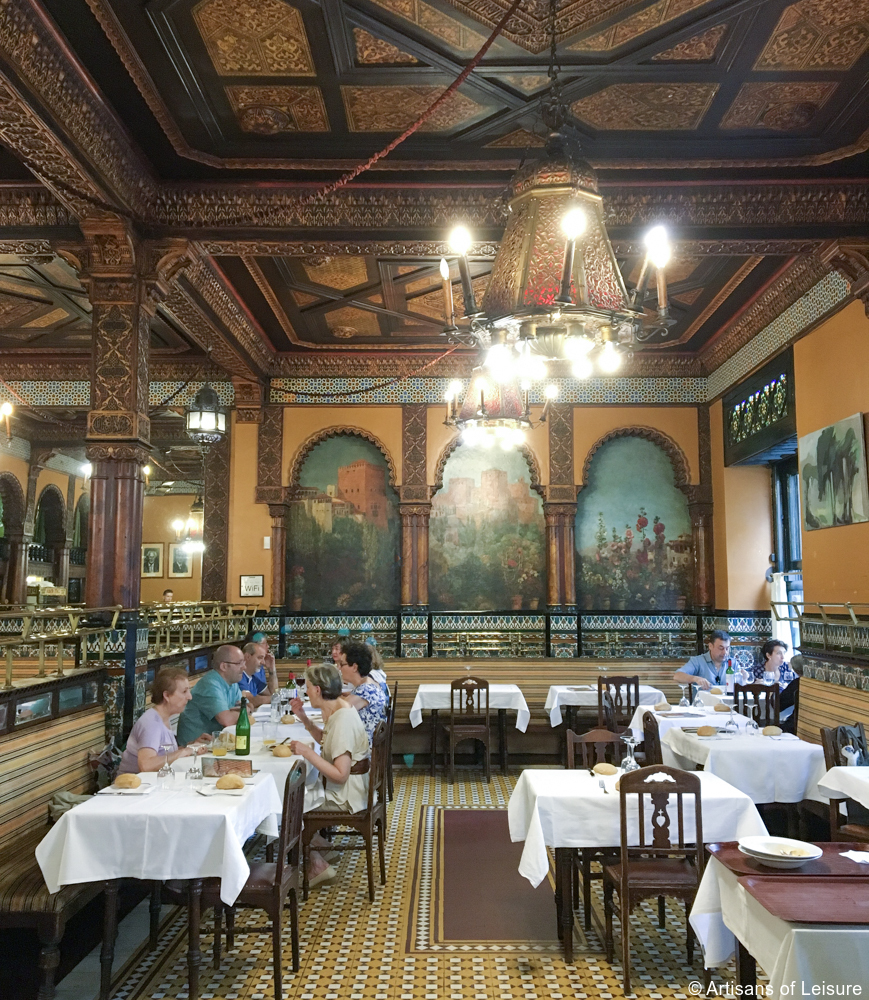 Our tours visit the most interesting Basque towns just across the border in the Pays Basque region of southern France, such as Saint-Jean-de-Luz and its landmark market hall.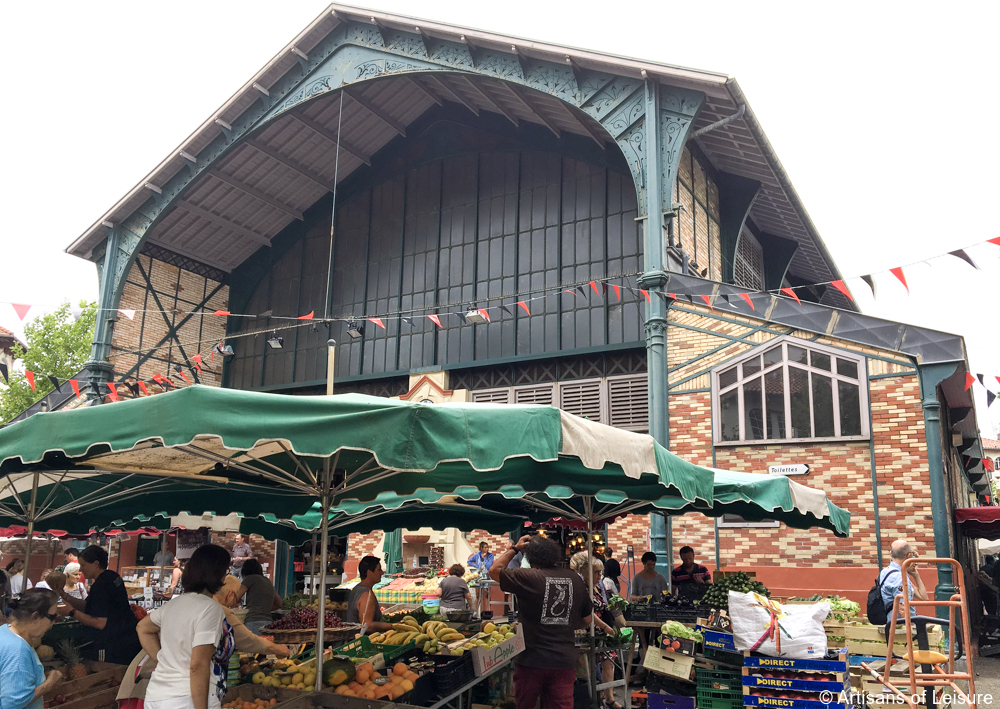 One of the best hotels in the region is the luxurious Hotel du Palais in Biarritz, France.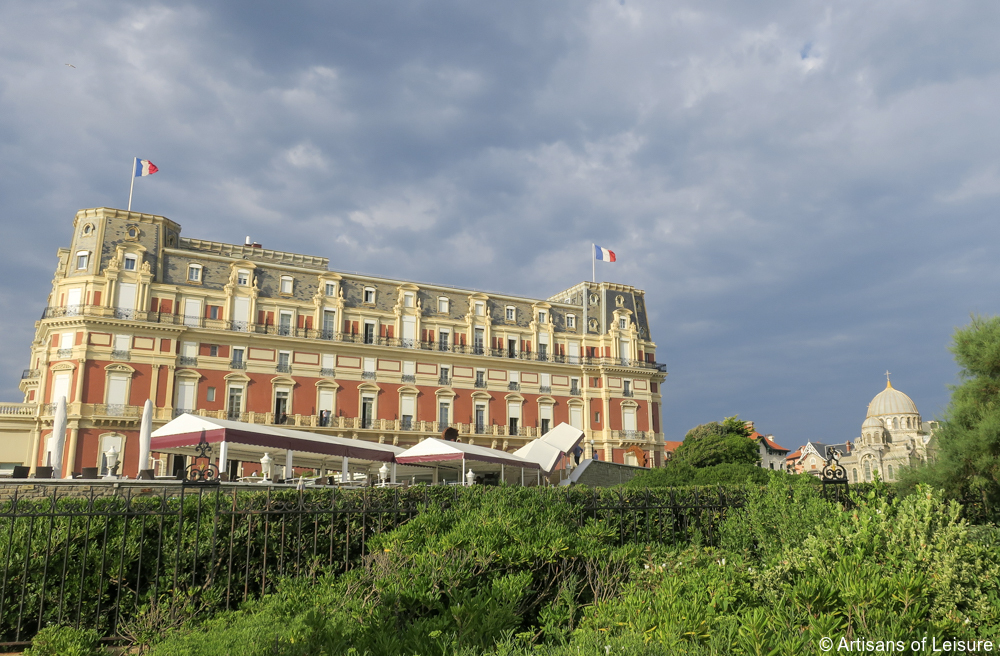 The Hotel du Palais has an ideal location in the heart of Biarritz, an elegant town with coastal paths, beautiful gardens, upscale shops and great restaurants.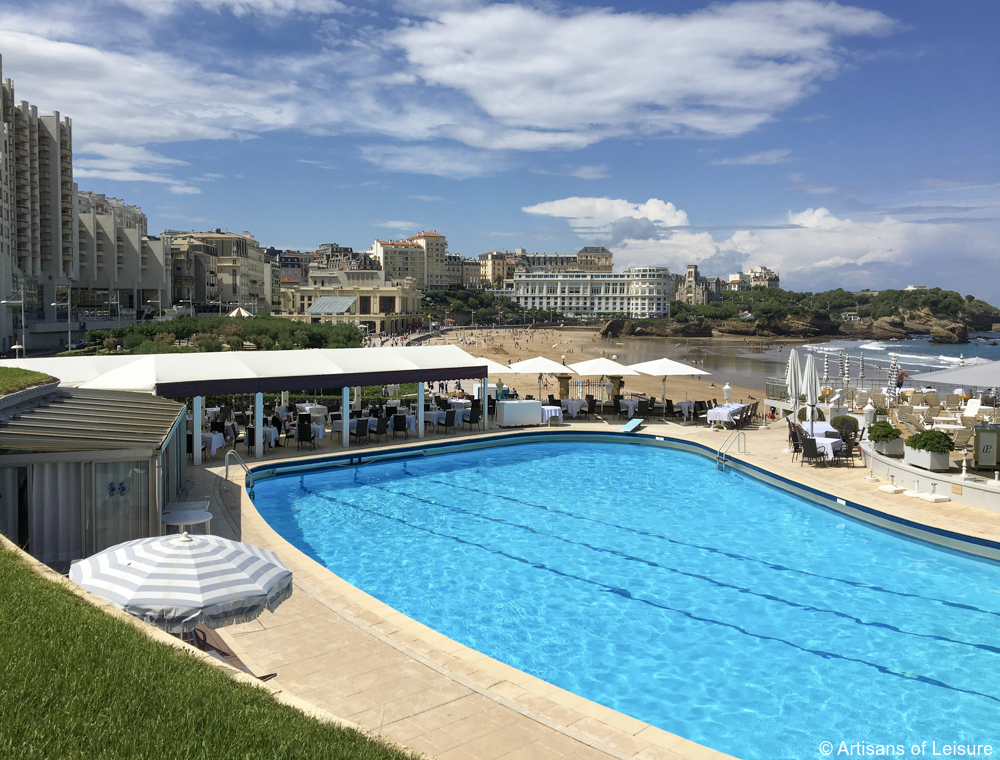 Biarritz and other nearby towns are known for sweets such as almond macaroons…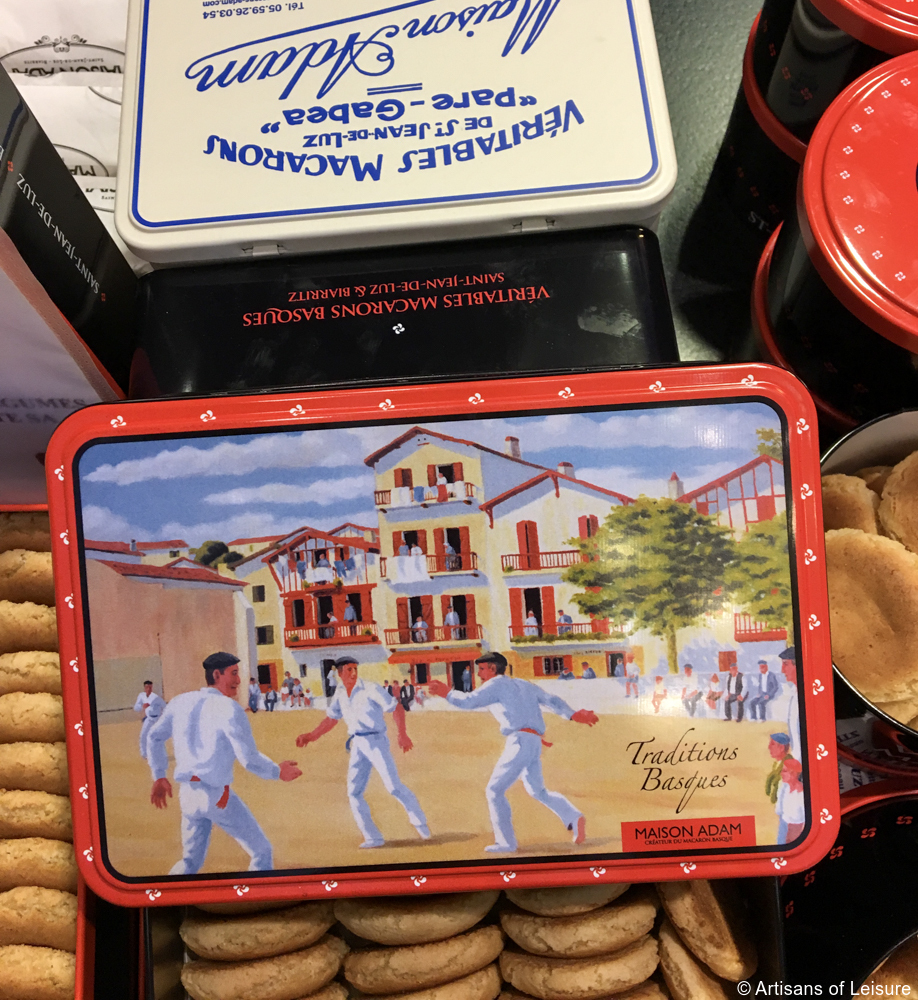 …and chocolate.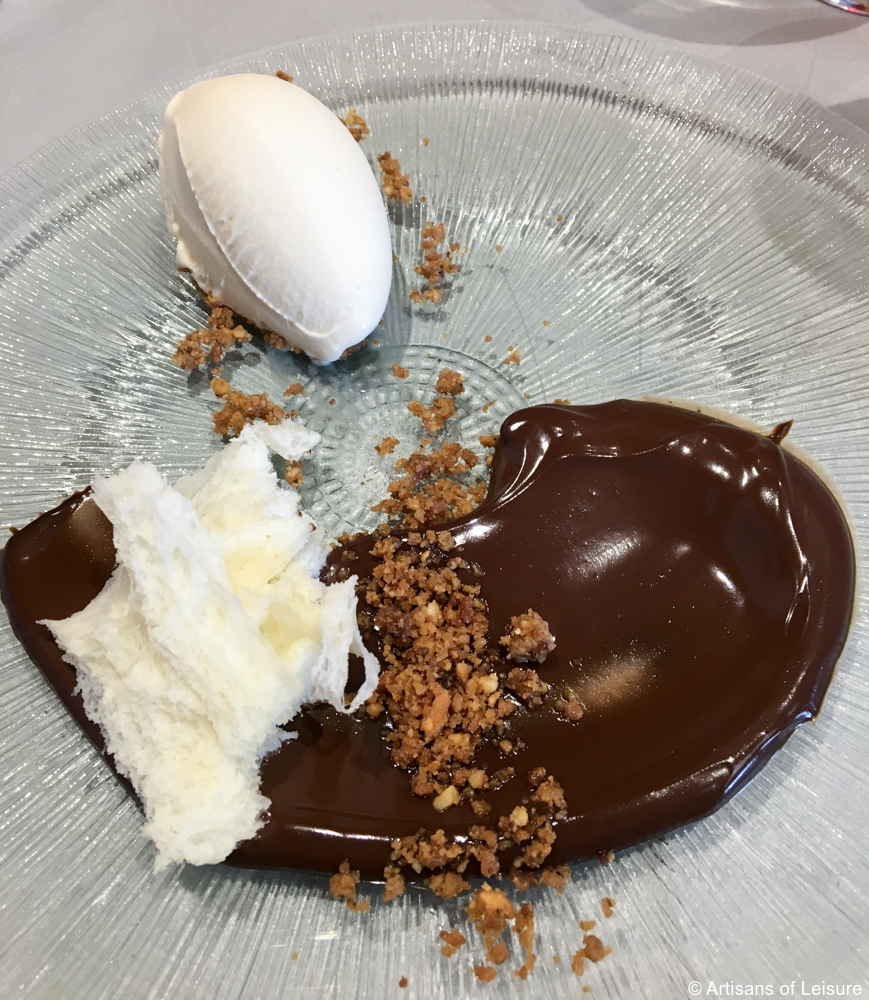 Biarritz is filled with wonderful boutiques selling colorful French espadrilles, bags, linens and cloth.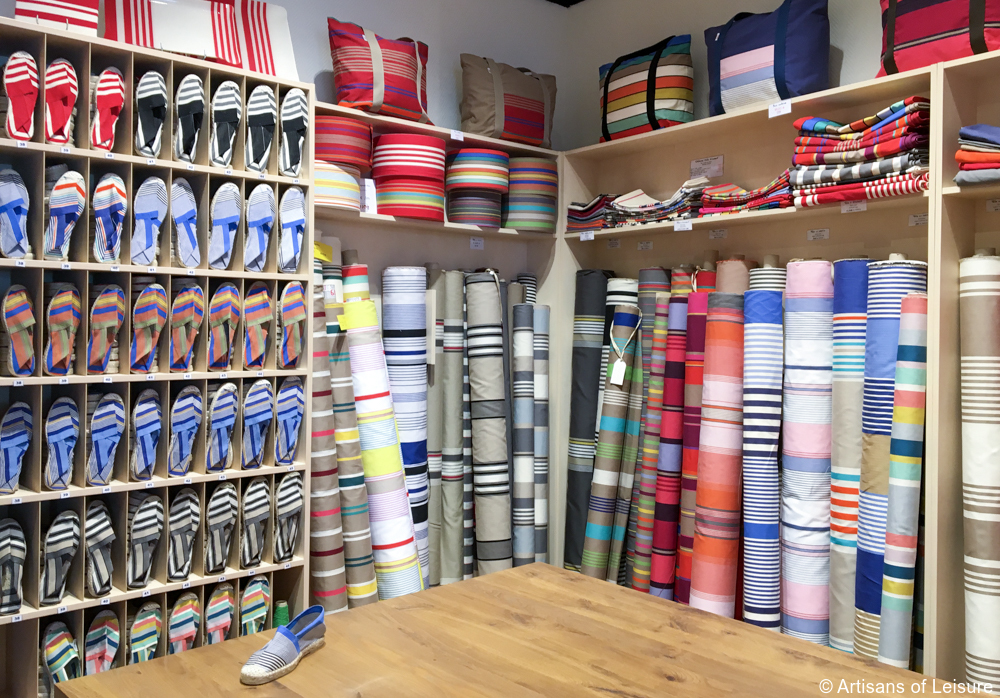 We returned across the border to the legendary Hotel Maria Cristina in San Sebastian, an attractive seaside city in Spain's Basque Country.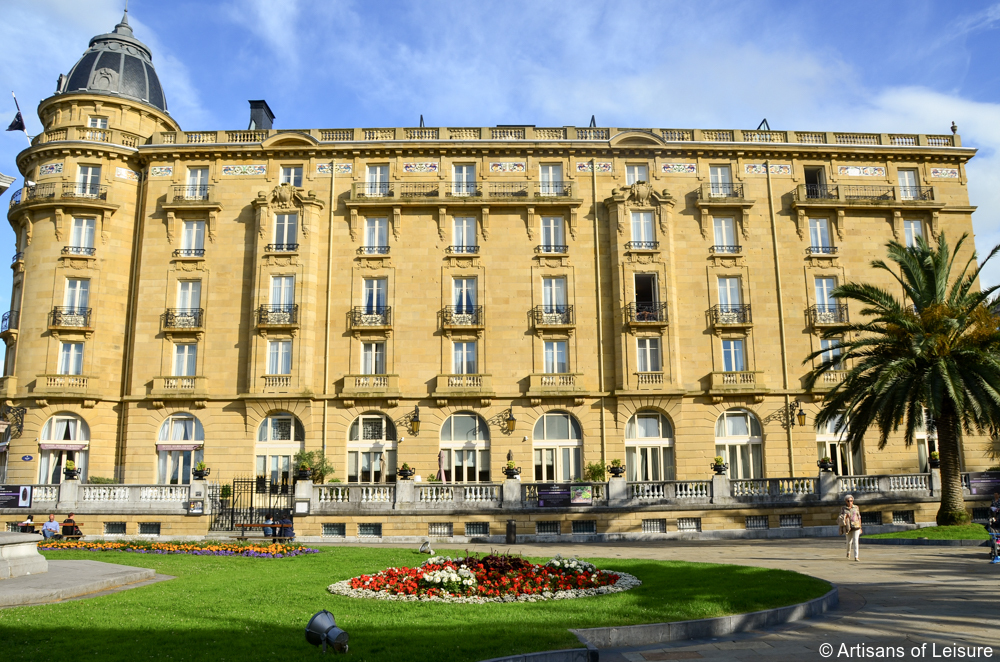 Artisans of Leisure arranges private culinary tours in San Sebastian, considered the gourmet capital of northern Spain. Our private touring typically starts with an insider tour of the city's best local market.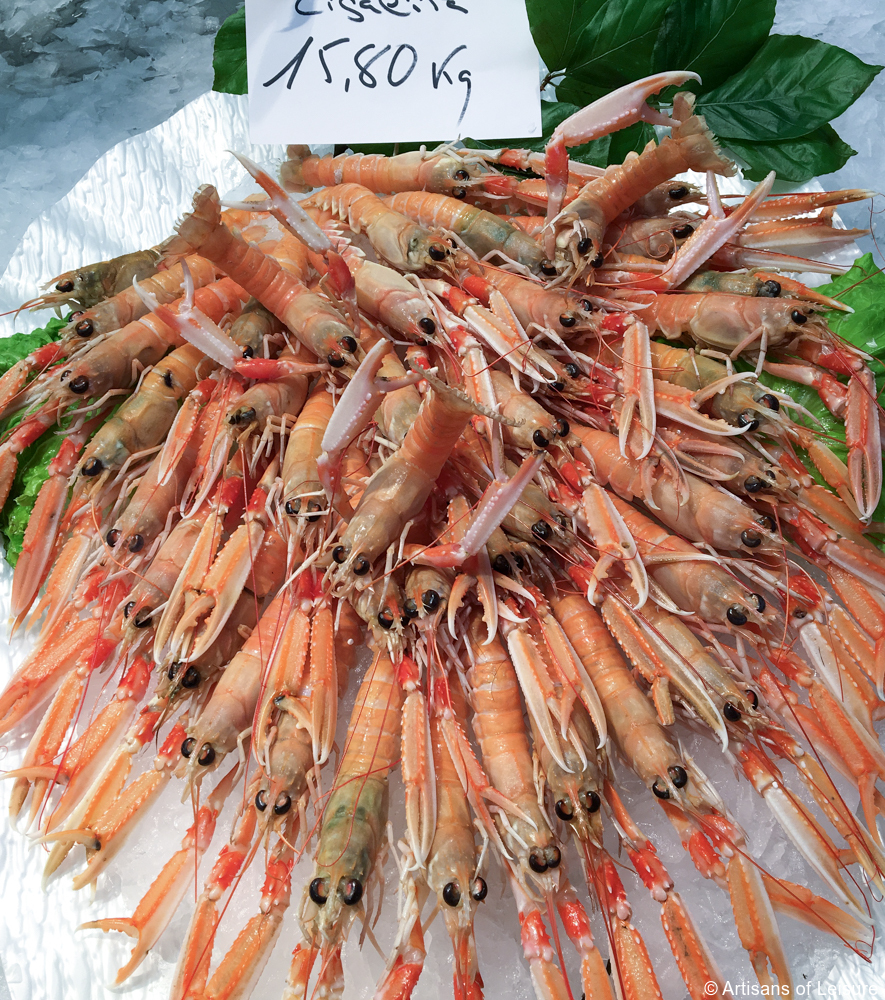 We then take our travelers to a private, members-only gastronomic society (such clubs have a long history in San Sebastian) for a private cooking lesson with an expert chef.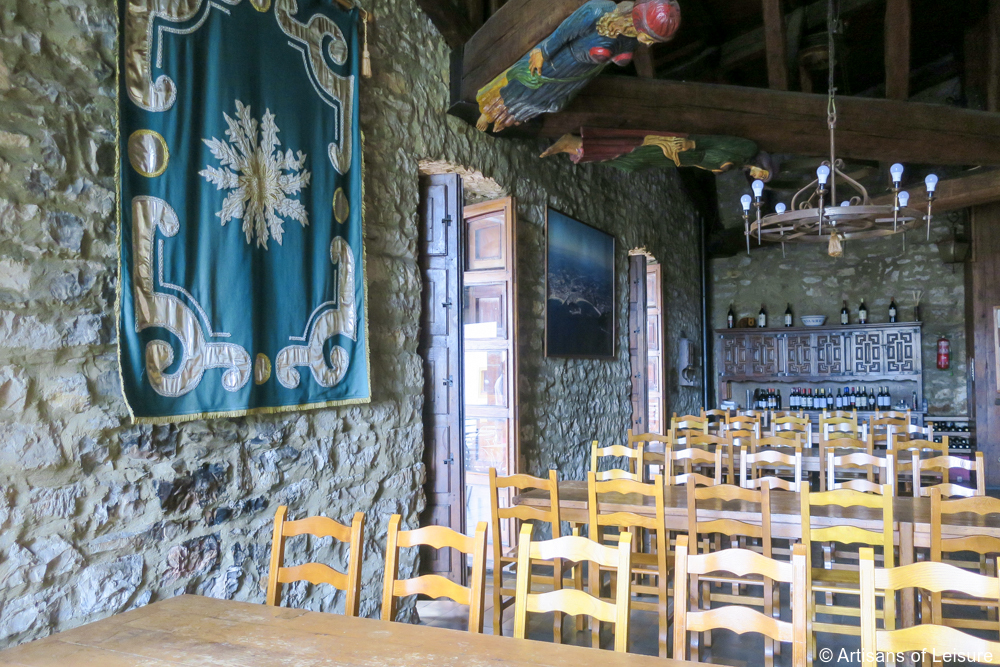 The private cooking classes can be customized according to individual dietary preferences. Our cooking class was vegetarian and gluten-free. We learned to prepare local specialties such as Spanish tortilla…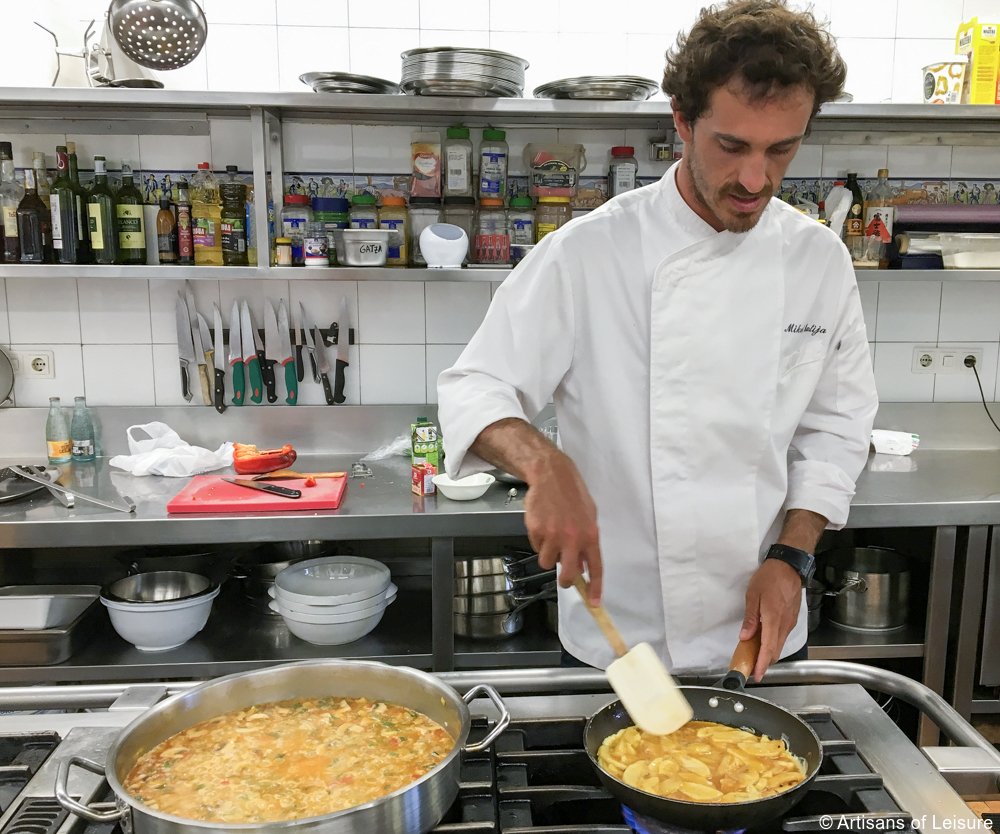 …fried peppers and more. After the lesson, we feasted on our creations. Delicious!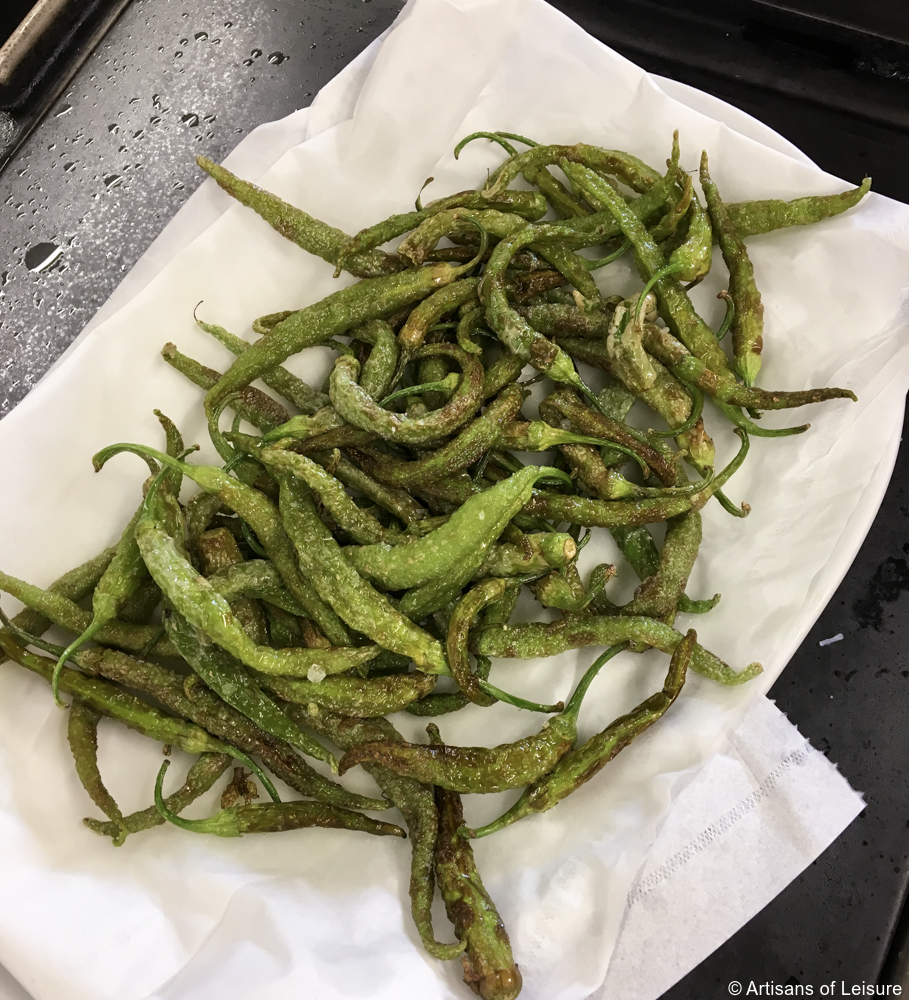 Artisans of Leisure also takes travelers on a private evening pintxos tasting tour at the best bars in San Sebastian's historic center.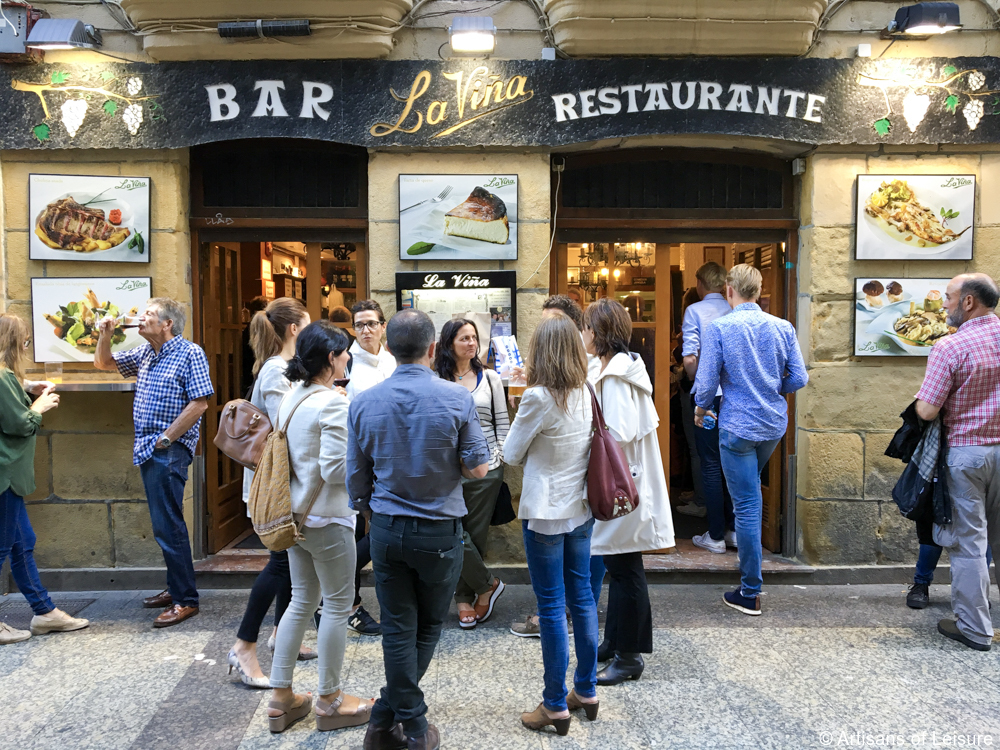 We continued into the La Rioja wine region to see incredible wineries designed by world-renowned architects. This region appeals to wine lovers, architecture fans and anyone who appreciates spectacular landscapes.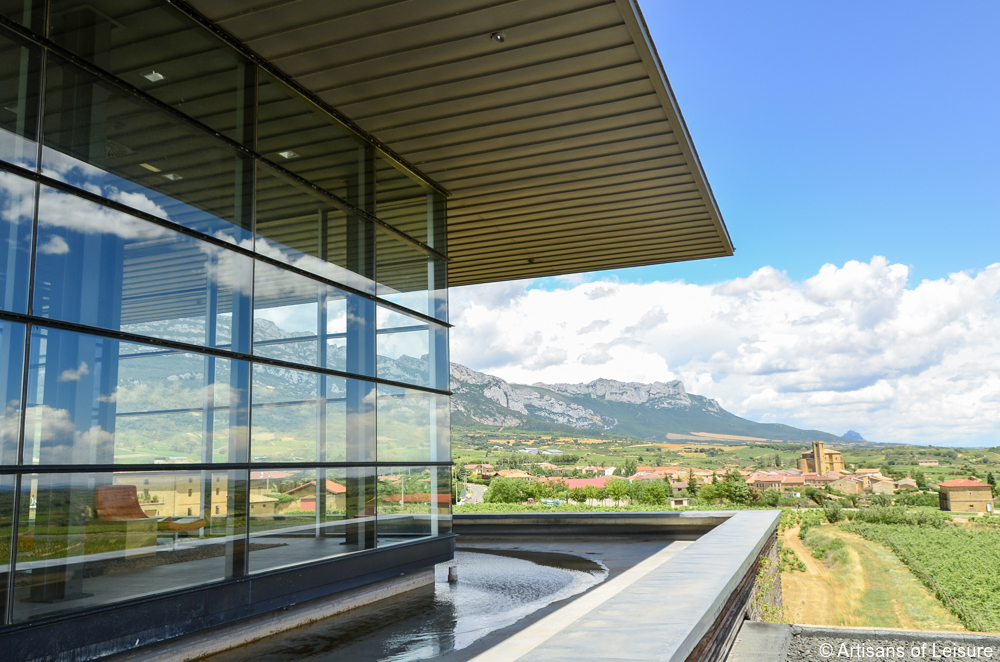 Artisans of Leisure arranges tours of the top local wineries…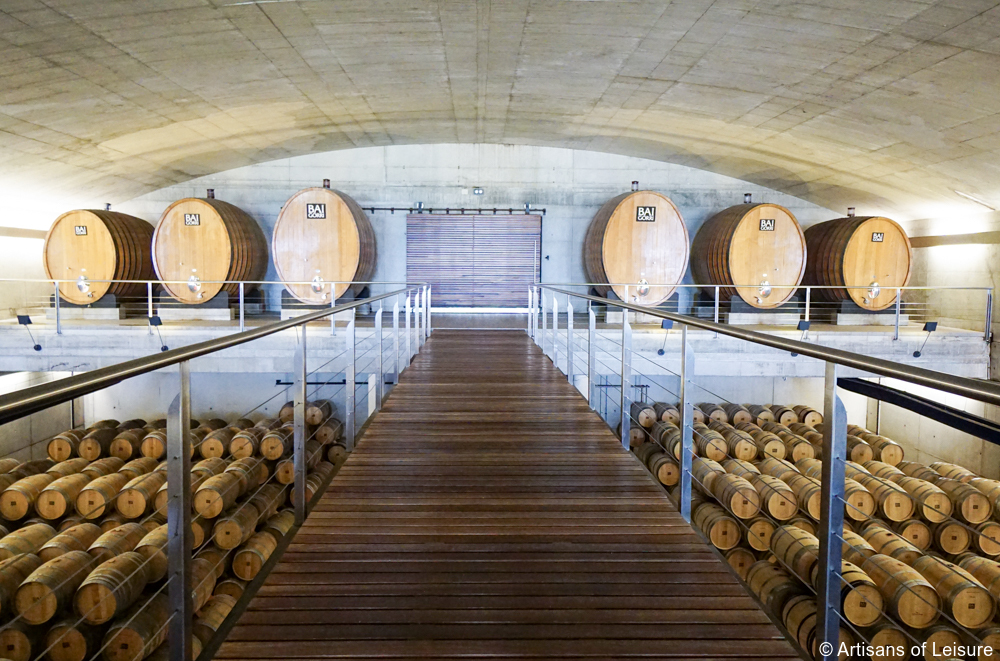 …including wine tasting at the source.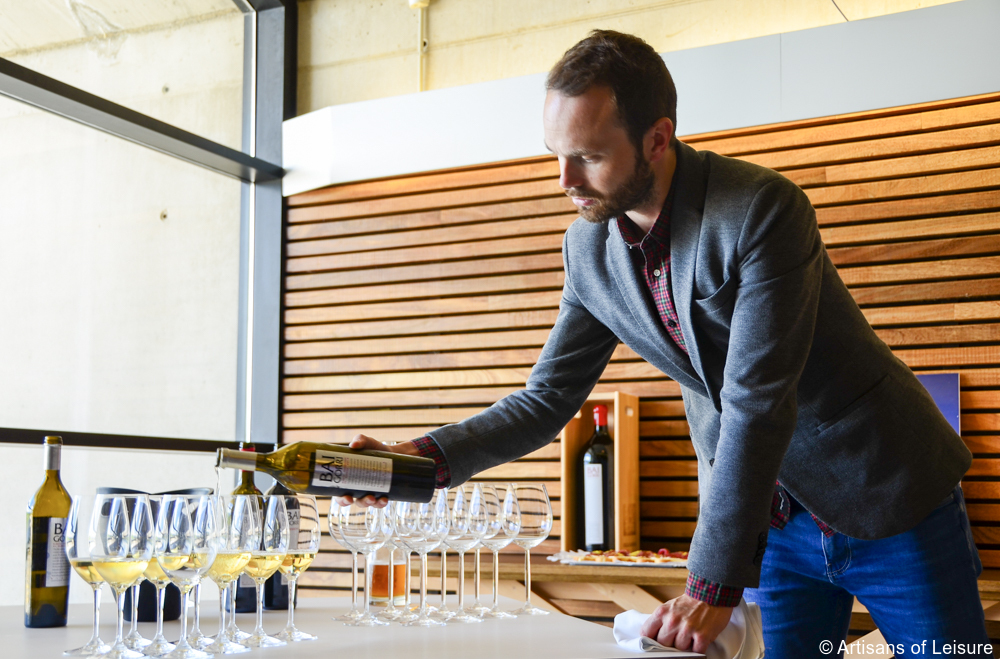 The spectacular Ysios Winery is a masterpiece by architect Santiago Calatrava.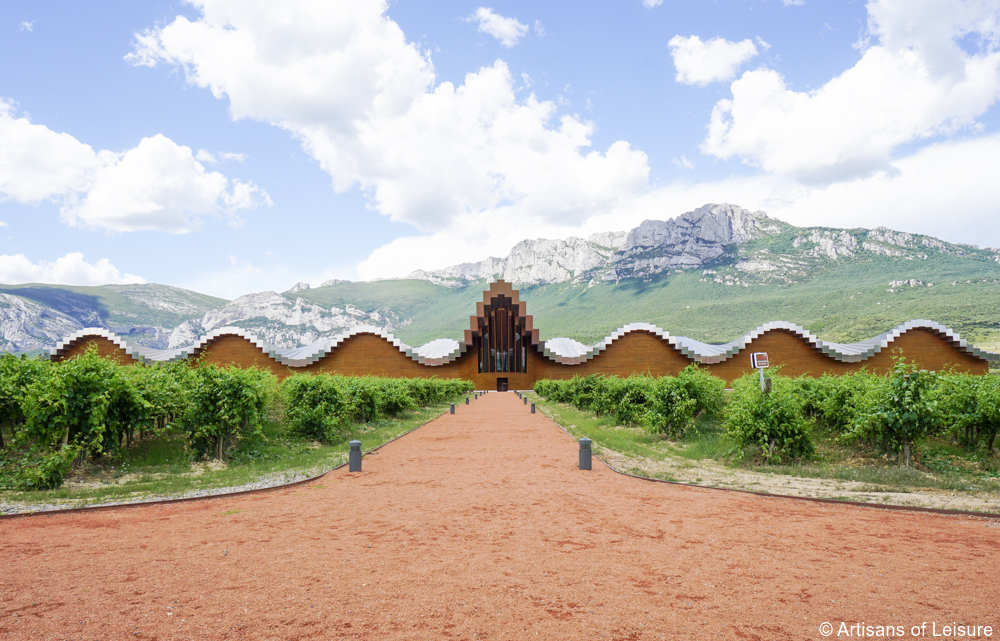 We enjoyed tortilla at a local pintxos bar in between private touring and wine tasting.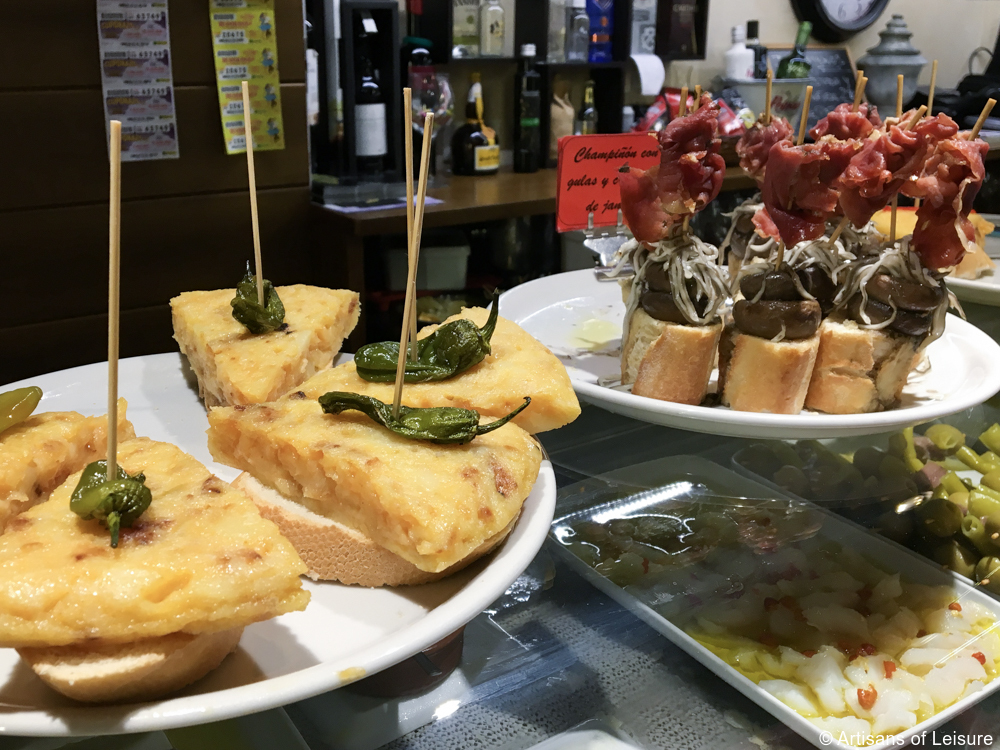 One of the most unusual hotels in Spain is Hotel Marques de Riscal, designed by Frank Gehry. This luxury hotel is set among the vineyards and historic villages of the La Rioja wine region.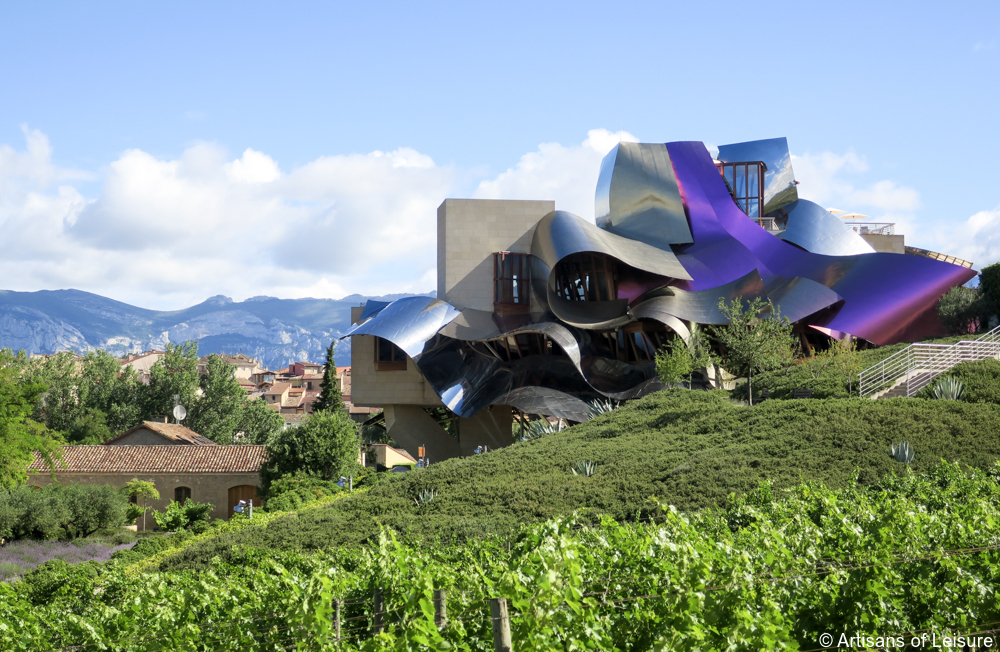 Artisans of Leisure books the best rooms and suites at the hotel.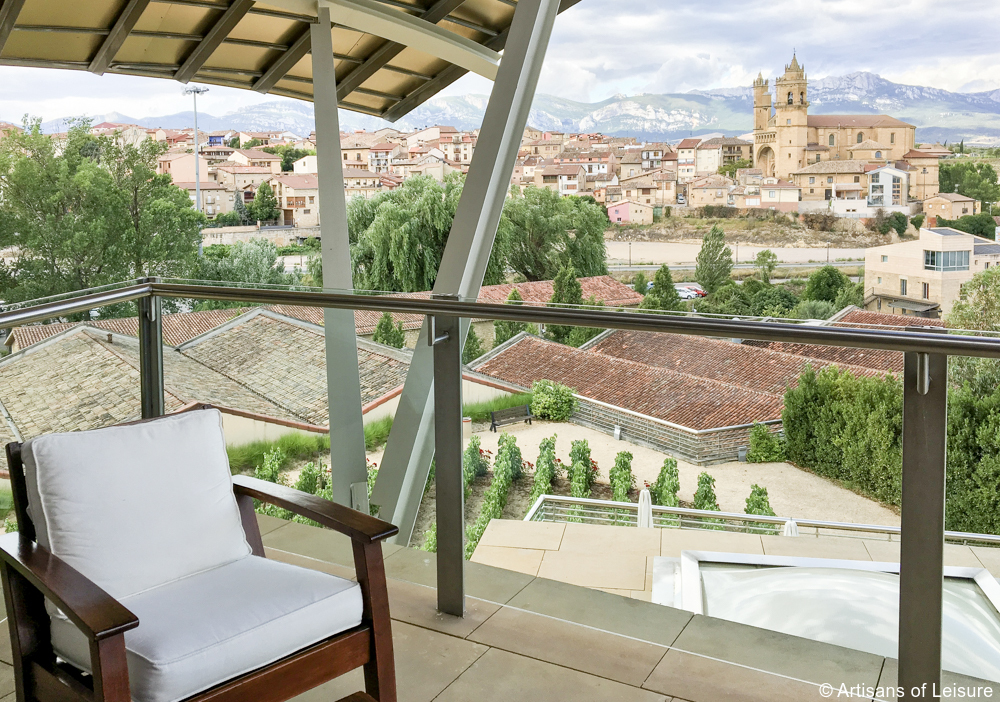 The hotel has a renowned vineyard and restaurant, and the food and wine experience is a highlight of staying at the property.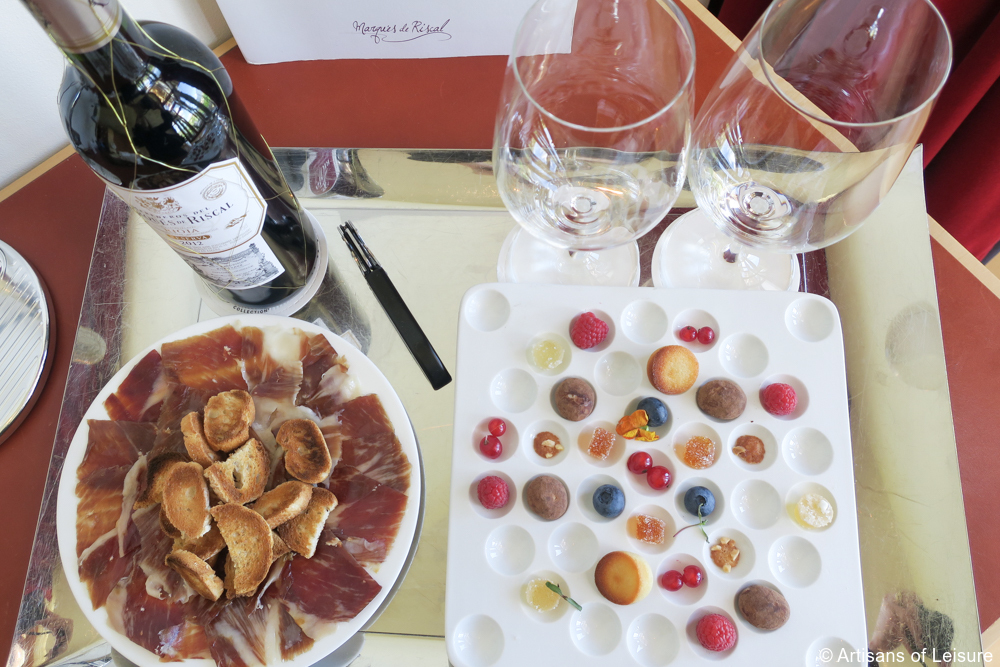 We highly recommend a degustation dinner at the hotel's celebrated gourmet restaurant.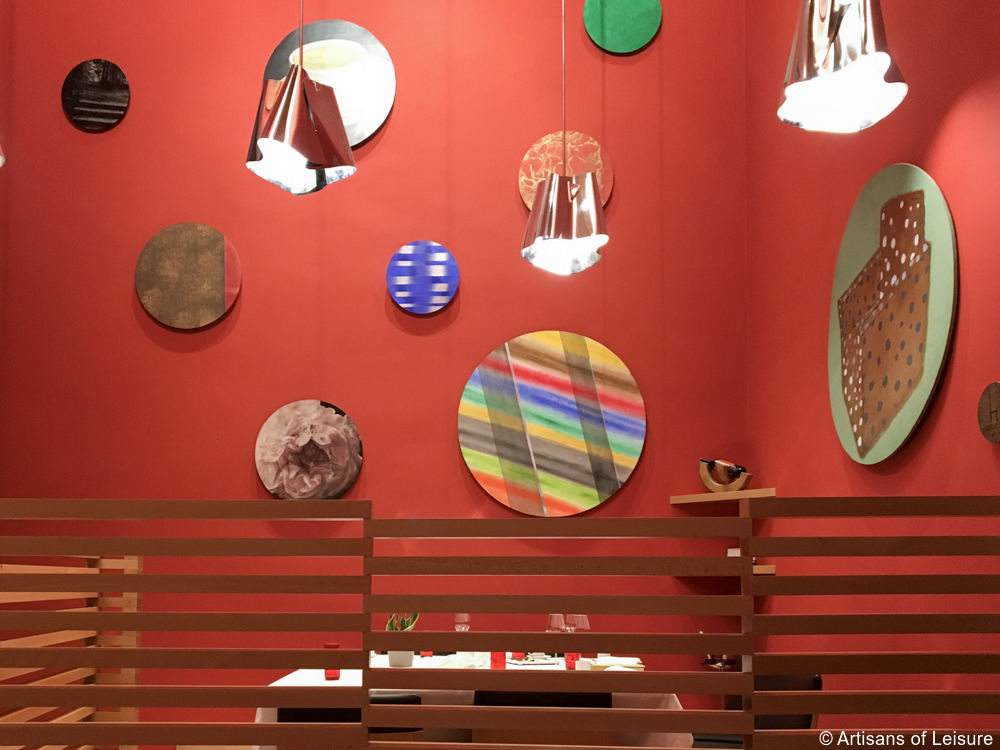 We continued our tour in the Spanish countryside, stopping at a historic inn for a lunch of typical Basque specialties.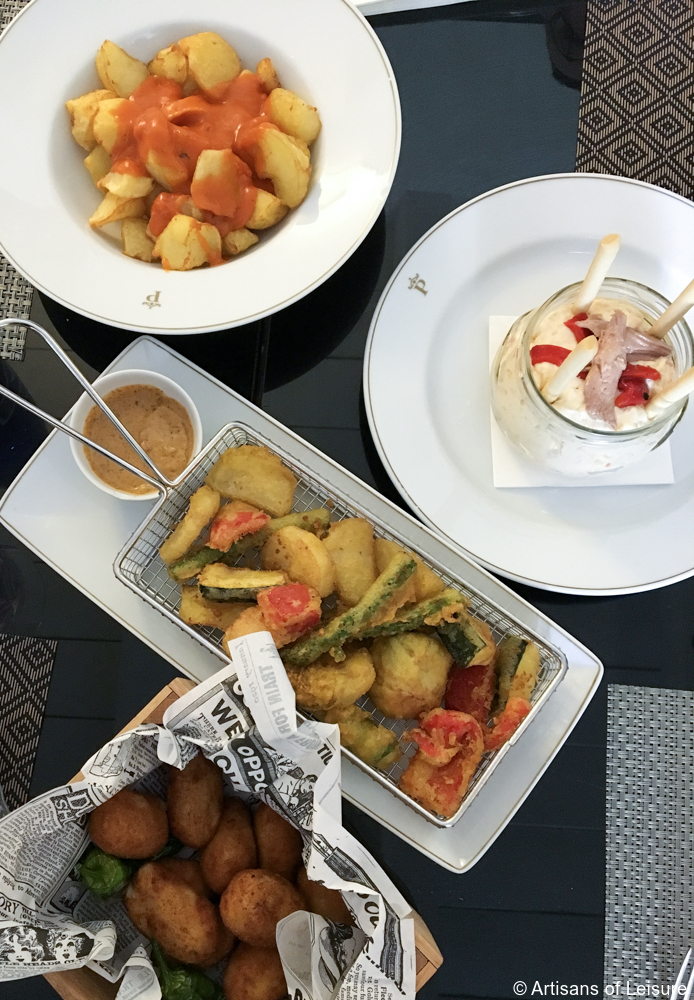 Our next destination was Abadia Retuerta LeDomaine, a beautiful and exclusive luxury hotel in the top Spanish wine region of Ribera del Duero. The hotel is consistently voted one of the best luxury hotels in Spain. The hotel also has a great winery and excellent restaurants.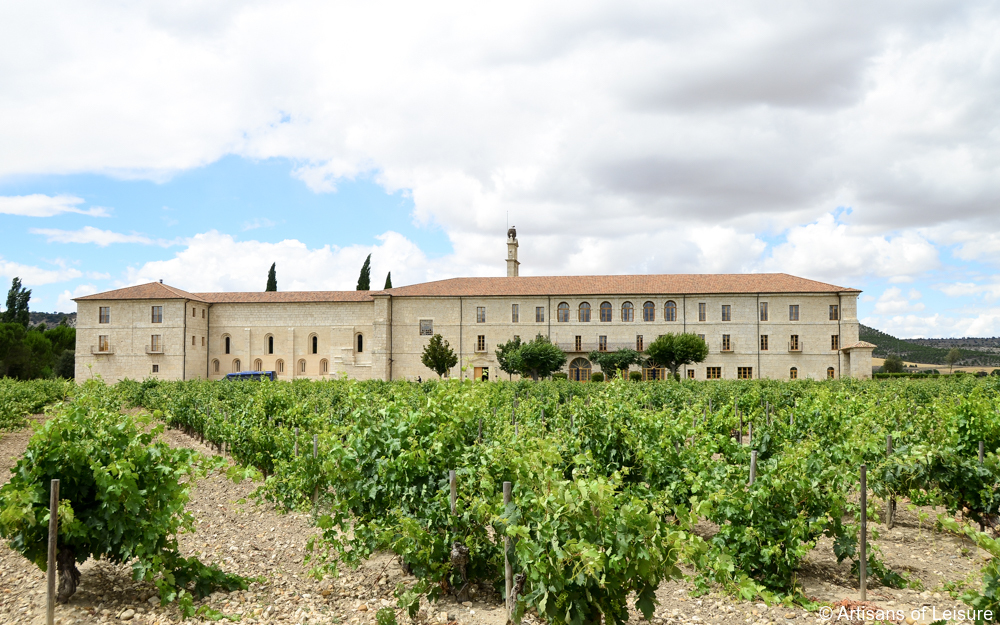 Artisans of Leisure arranges private tours of the estate for our travelers. The hotel used to be an abbey, and it's fascinating to learn about its history.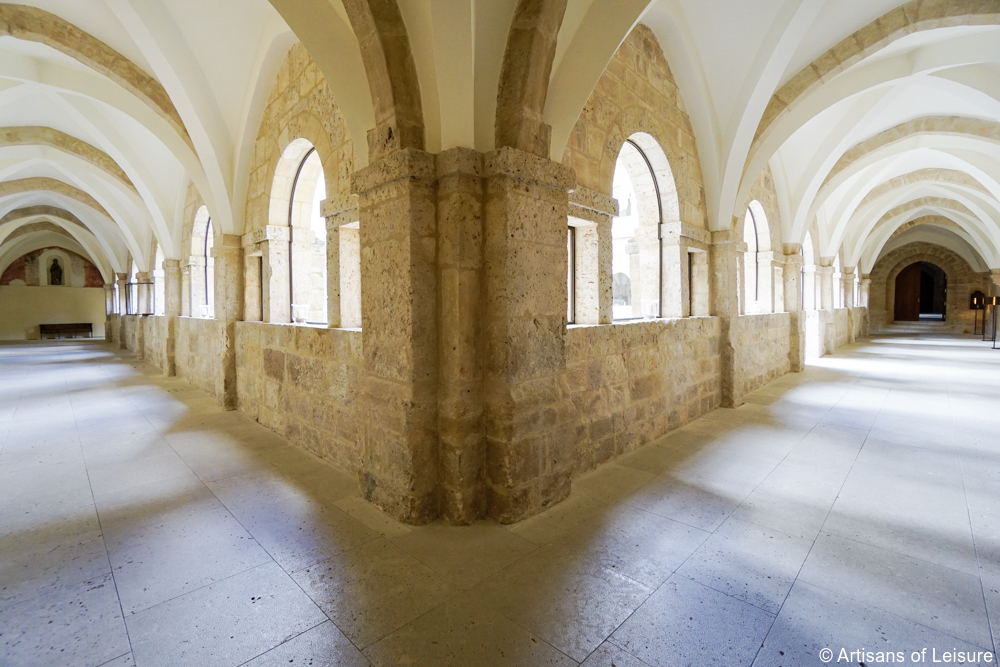 Next, we continued to the nearby Douro Valley, one of Portugal's best wine regions.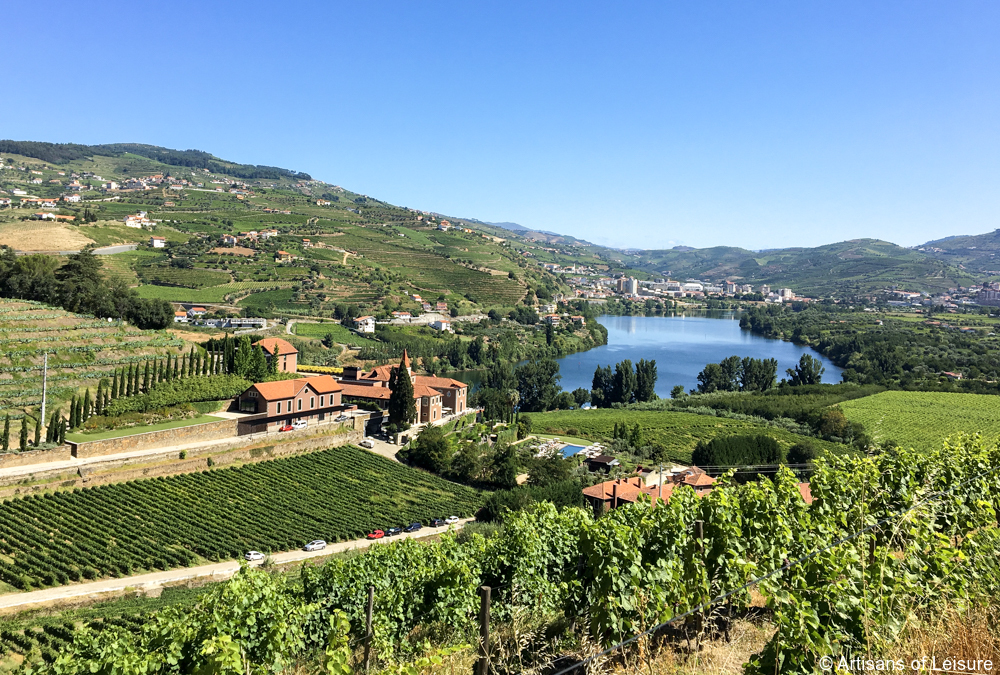 Our tours include accommodation at the Six Senses Douro Valley, a luxury resort in the middle of the region's famous terraced vineyards.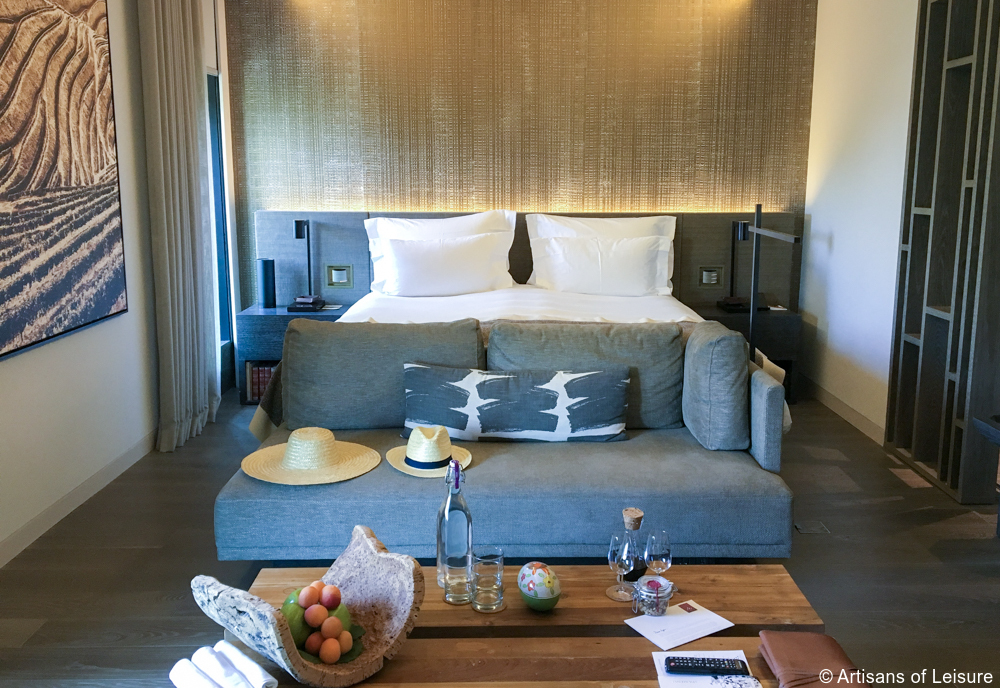 The breakfast buffet featured local cheese, meat, quince paste and other specialties.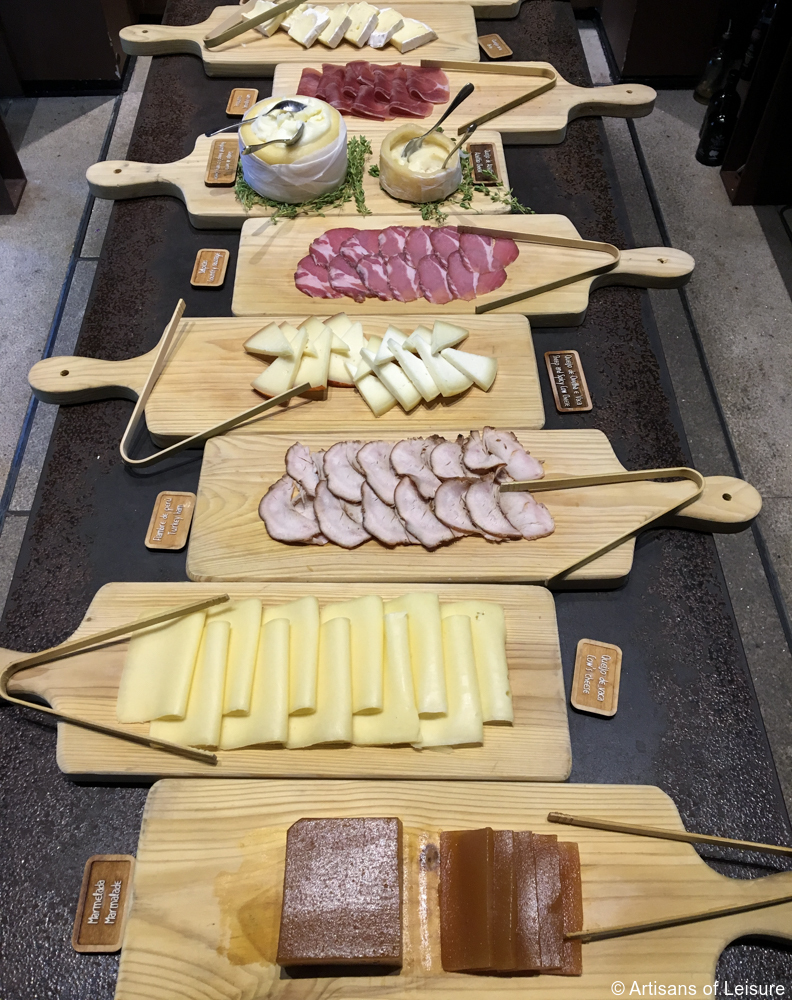 Artisans of Leisure arranges private, traditional boat cruises on the scenic Douro River with views of the vineyard-covered hills.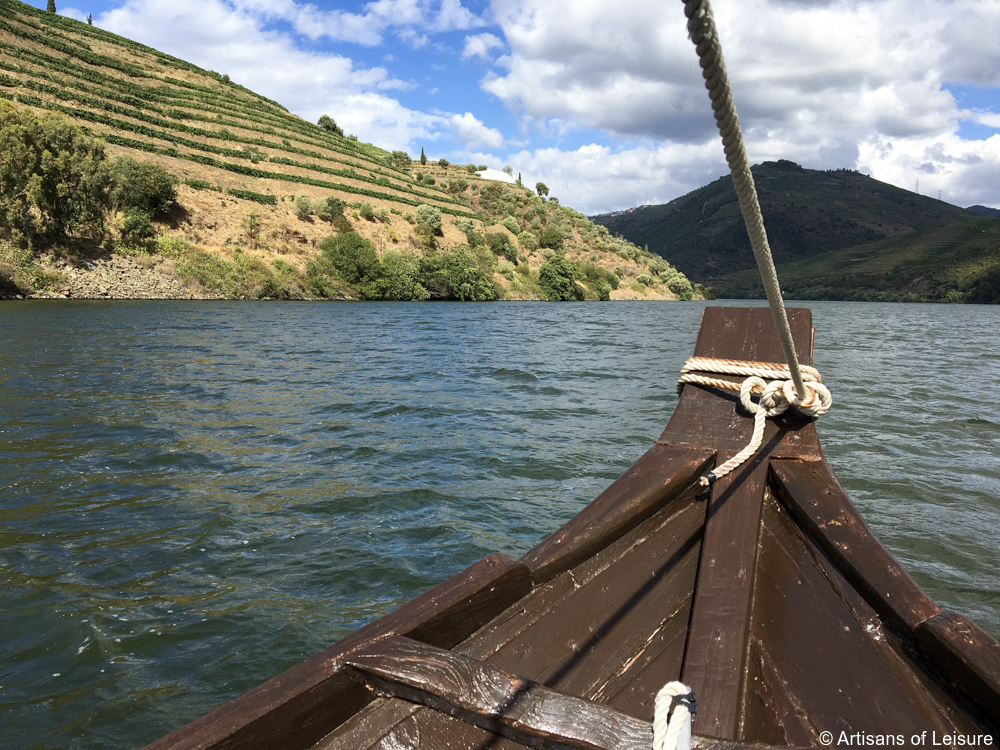 We also book private winery tours and dining reservations at top local restaurants…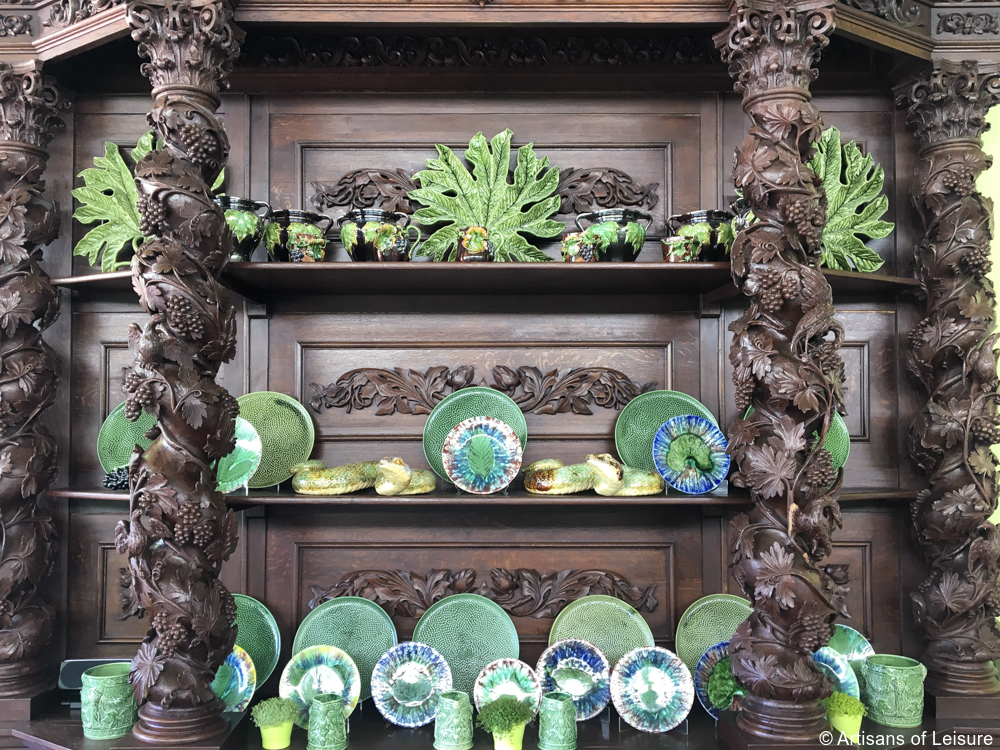 …such as DOC, an acclaimed restaurant along the Douro River.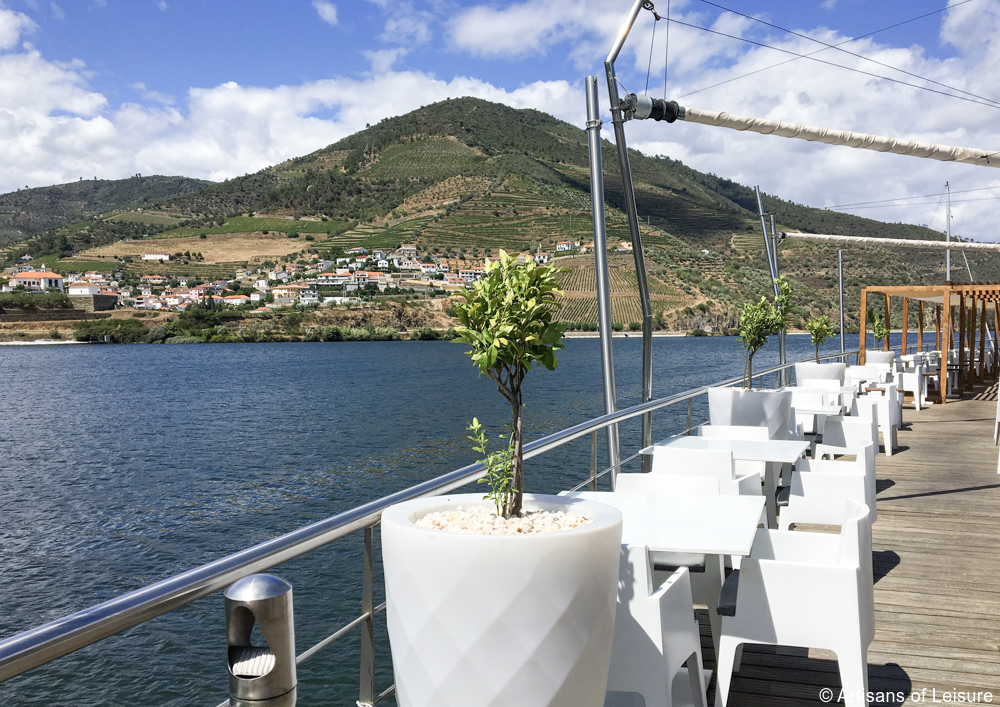 One of our delicious lunch items at DOC was a tofu and vegetable entree with bright flavors to match the beautiful colors.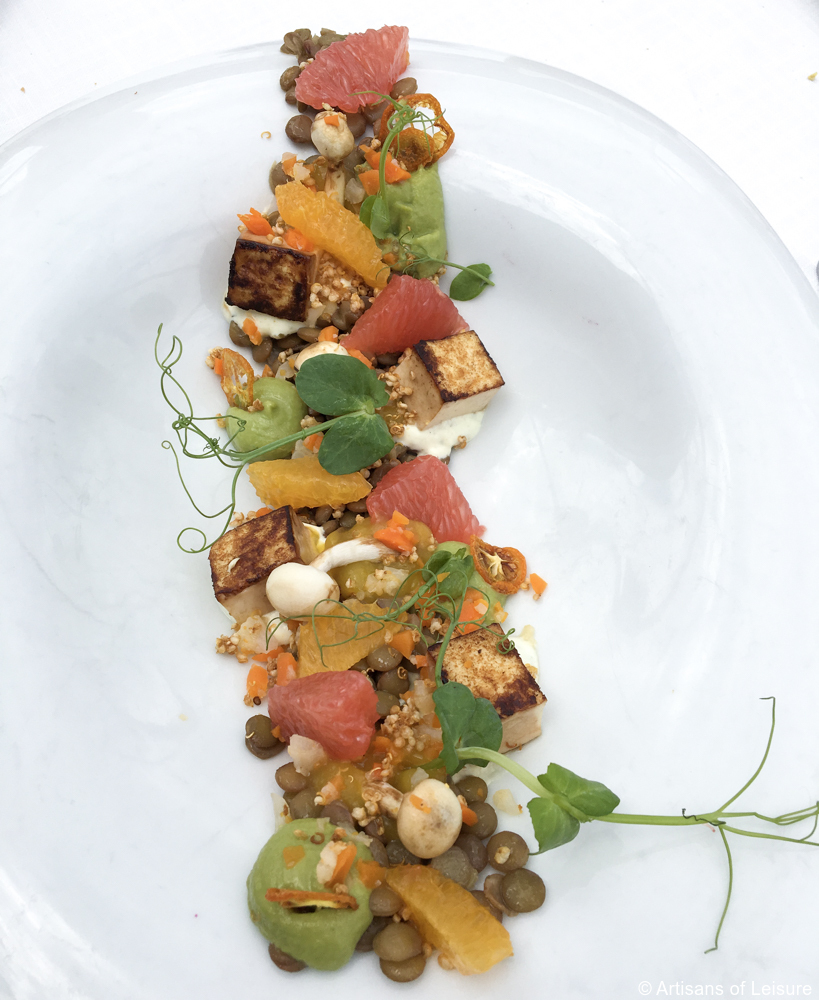 Next, we traveled to Porto, one of our favorite cities in Europe. Our preferred hotel in Porto is The Yeatman, which has incredible views over the Douro River and city.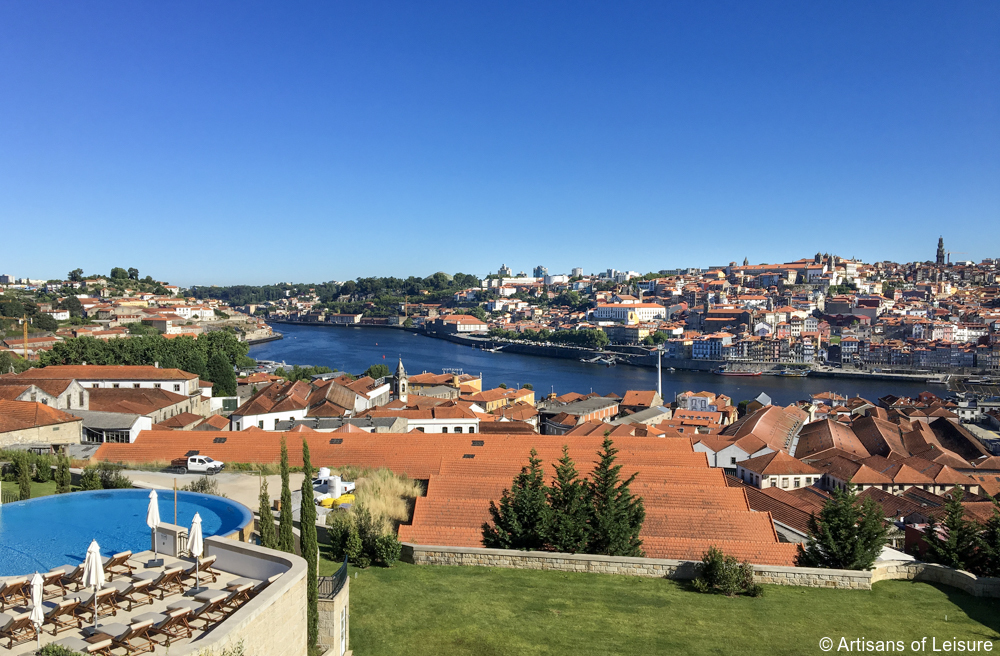 The Yeatman's gourmet restaurant is considered one of the best restaurants in Portugal. We had a superb meal including an excellent wine pairing.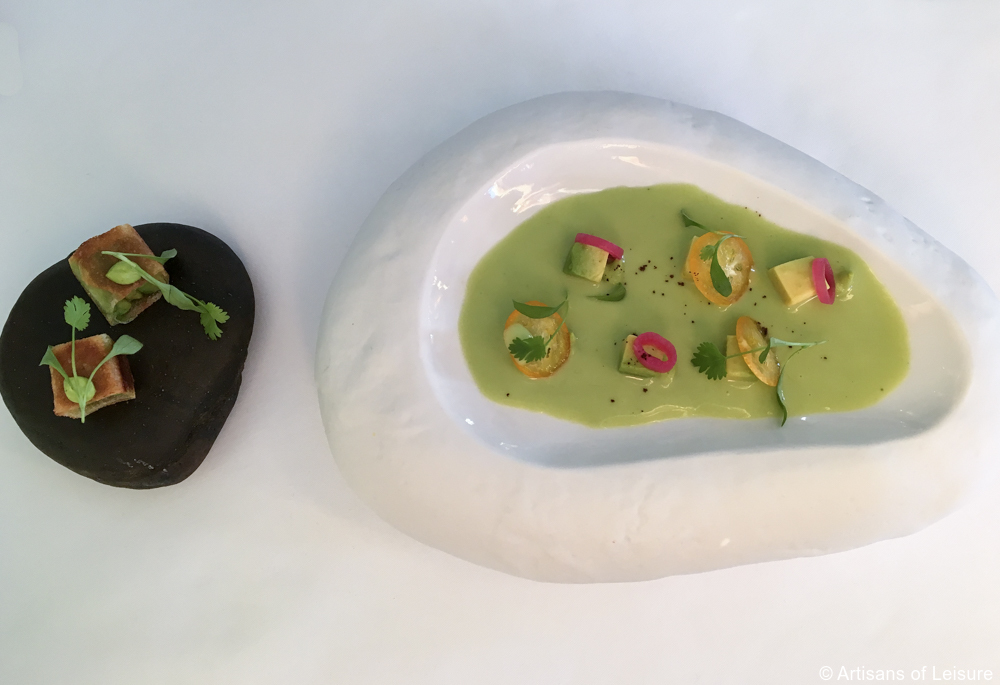 We also enjoyed private tastings at various Port wine houses in Porto.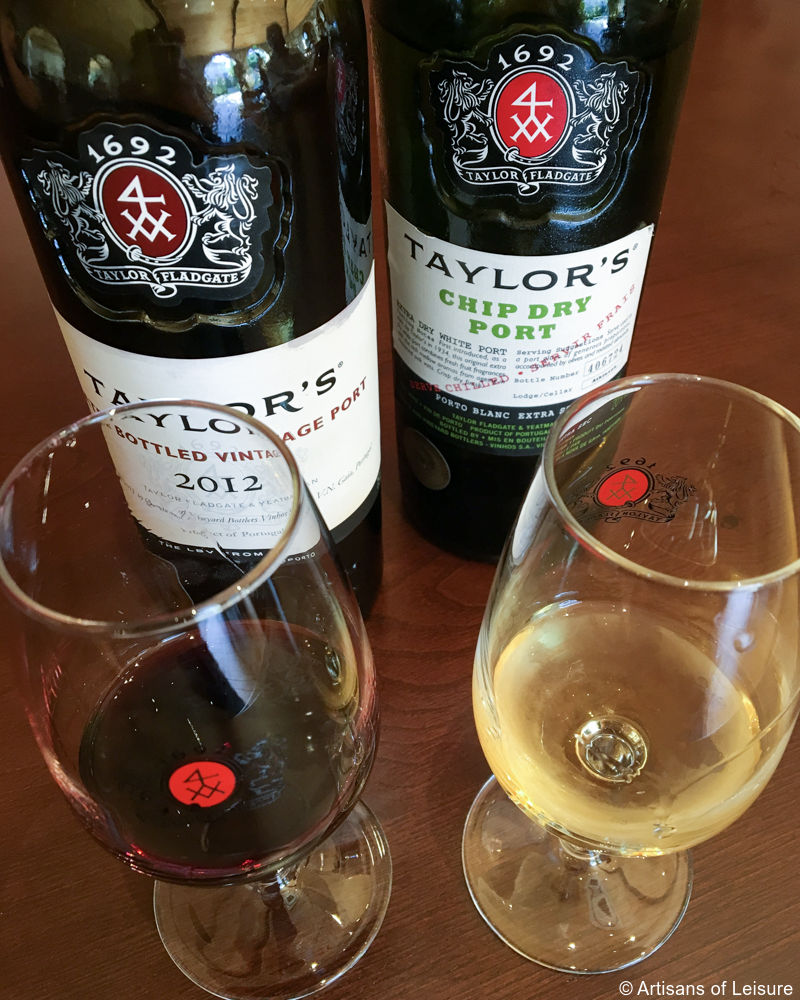 Artisans of Leisure arranges behind-the-scenes tours of the best Port wine cellars, including private tasting experiences with master sommeliers.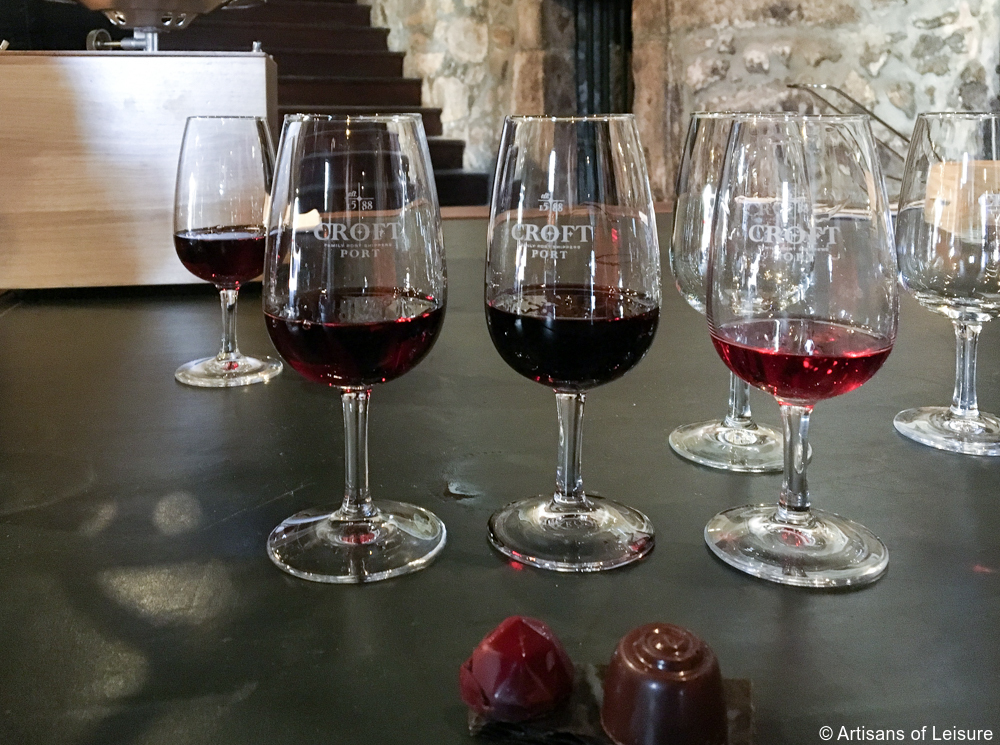 Our private Porto tours take travelers to the city's most interesting neighborhoods and attractions.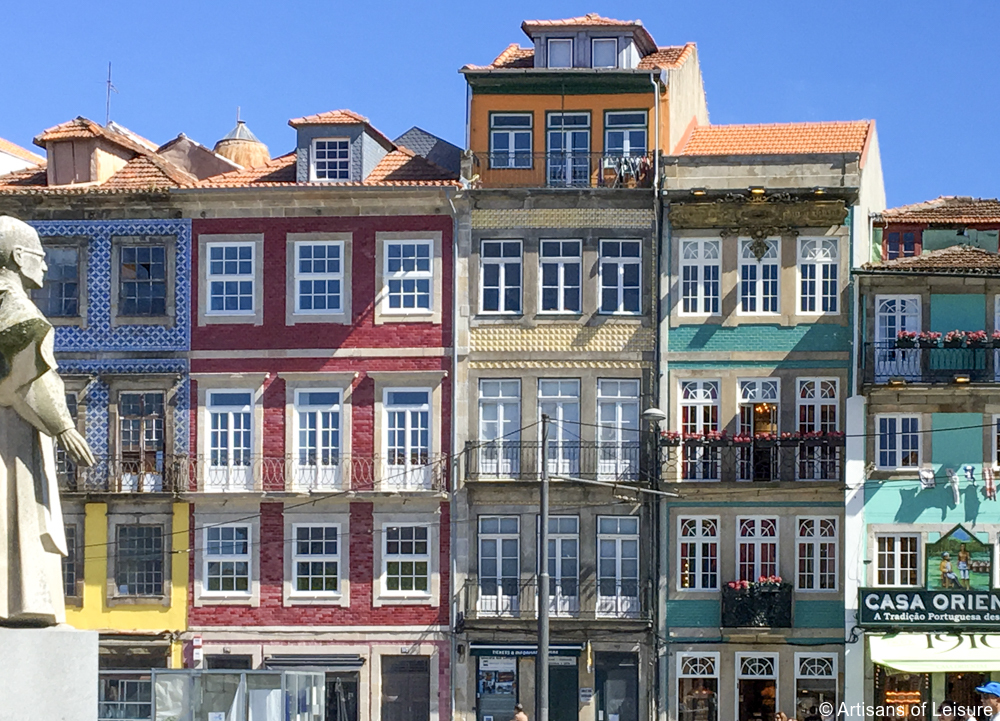 Many churches and other buildings in Porto are decorated with beautiful blue-and-white tiles.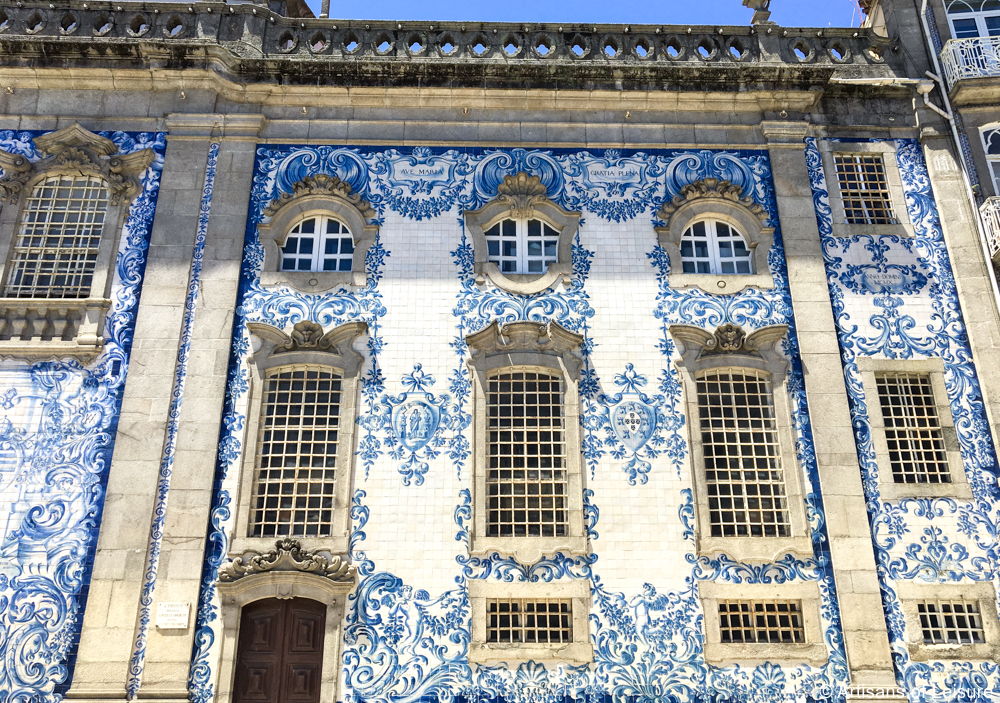 This famous bookstore inspired J.K. Rowling, author of the Harry Potter series, while she was living in Porto.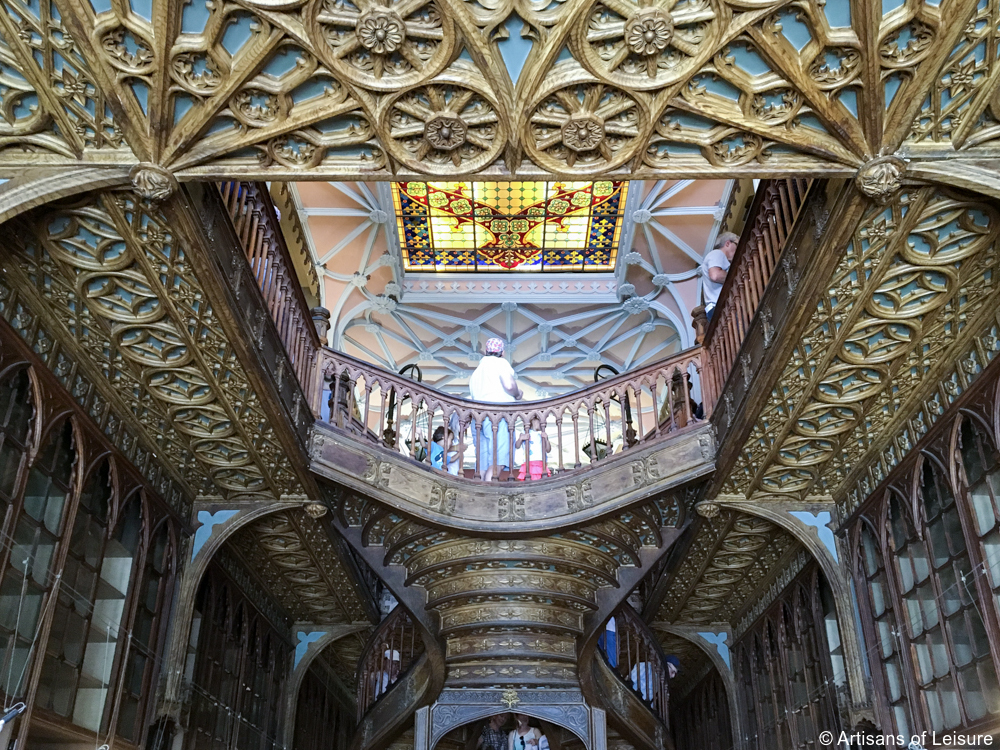 Covered in tiles, the Sao Bento Railway Station in Porto is truly one of the world's most beautiful train stations!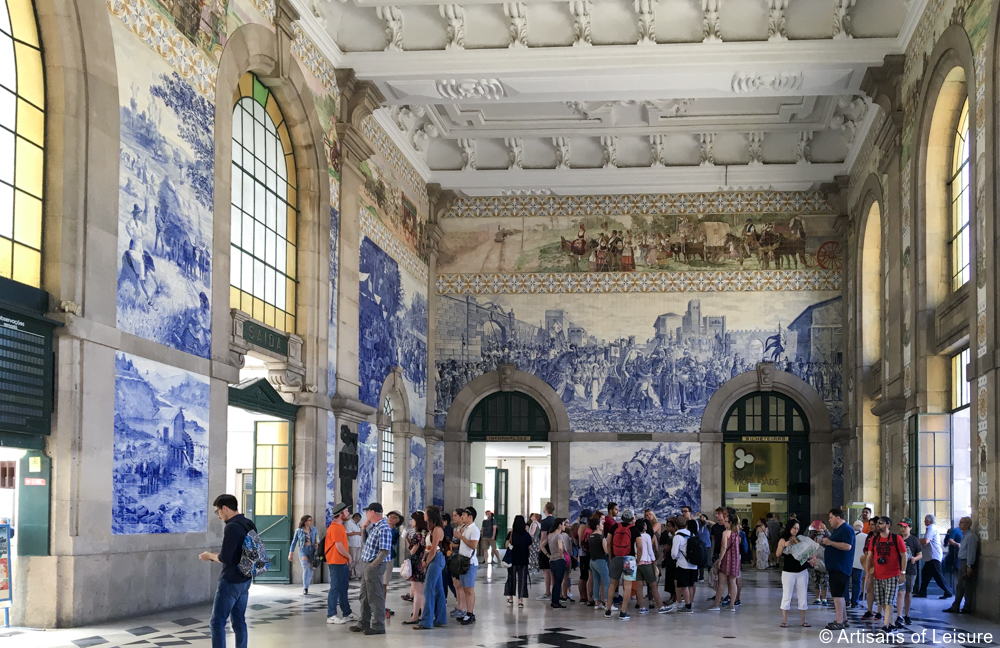 Artisans of Leisure arranges private tours of Porto's Palacio da Bolsa (Stock Exchange) to learn about its fascinating history and see its gorgeous interiors.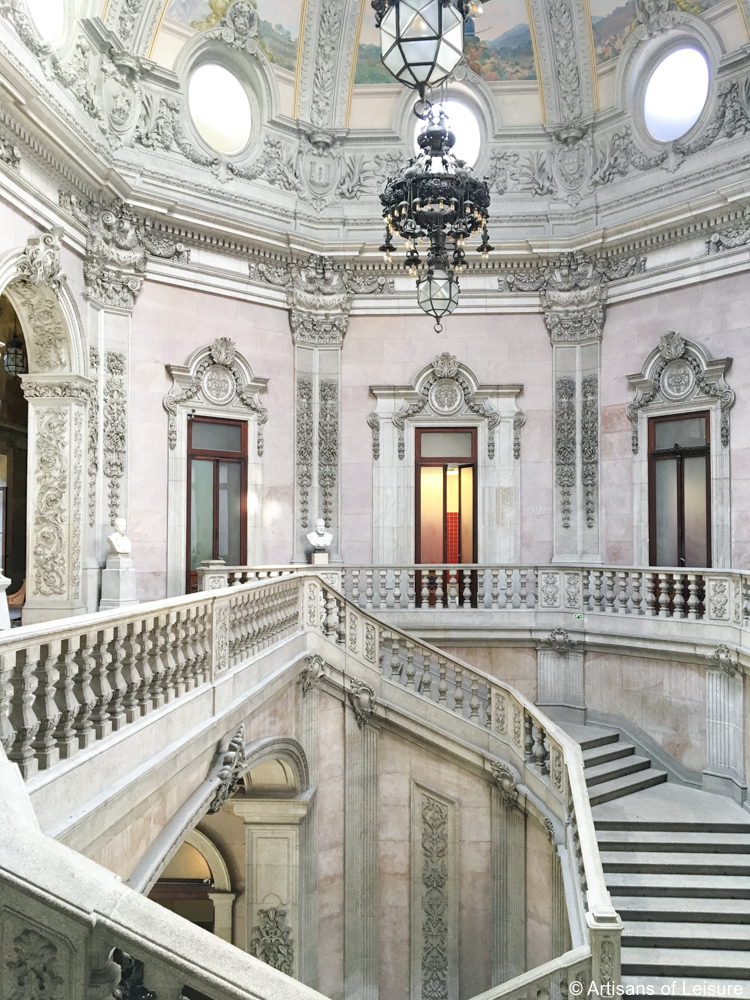 We also arrange tours of other iconic buildings such as the Casa da Musica, designed by Rem Koolhaas.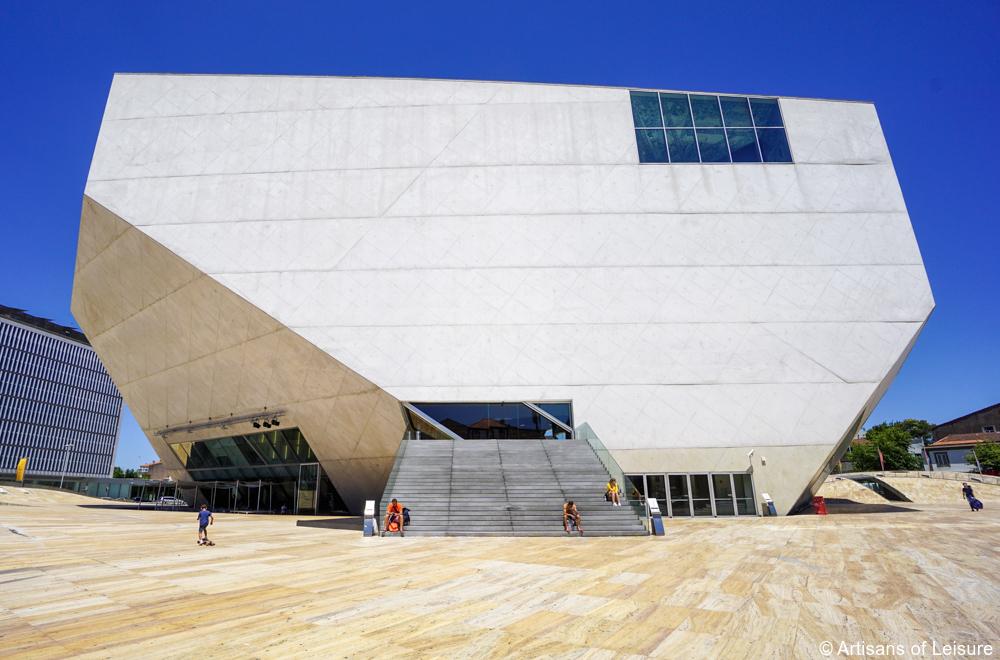 Another option is Villa Serralves…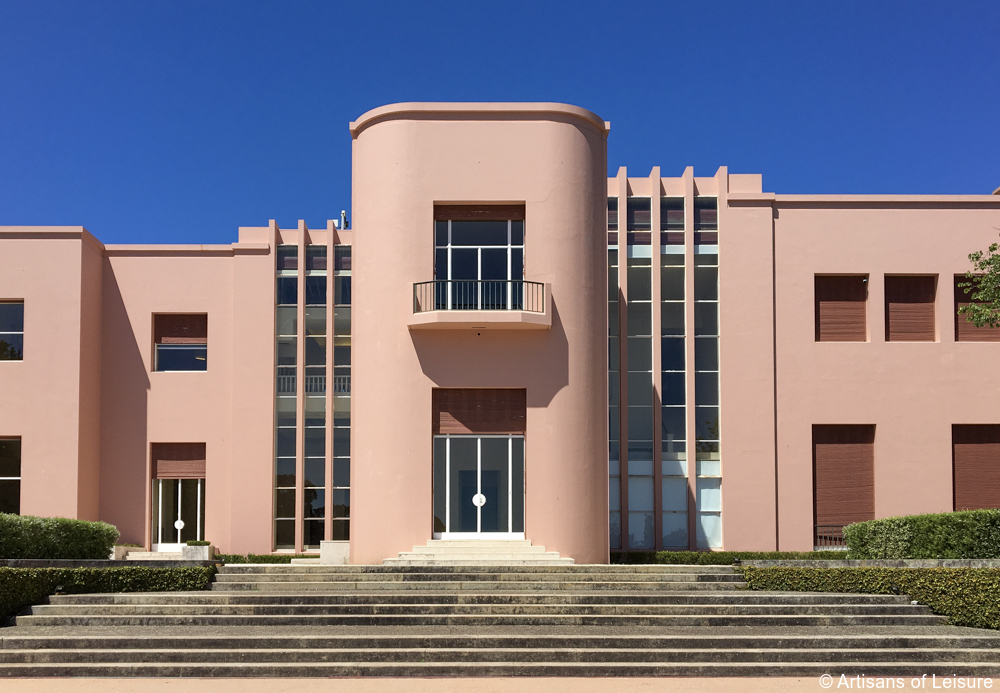 …which has a beautiful, tiered garden.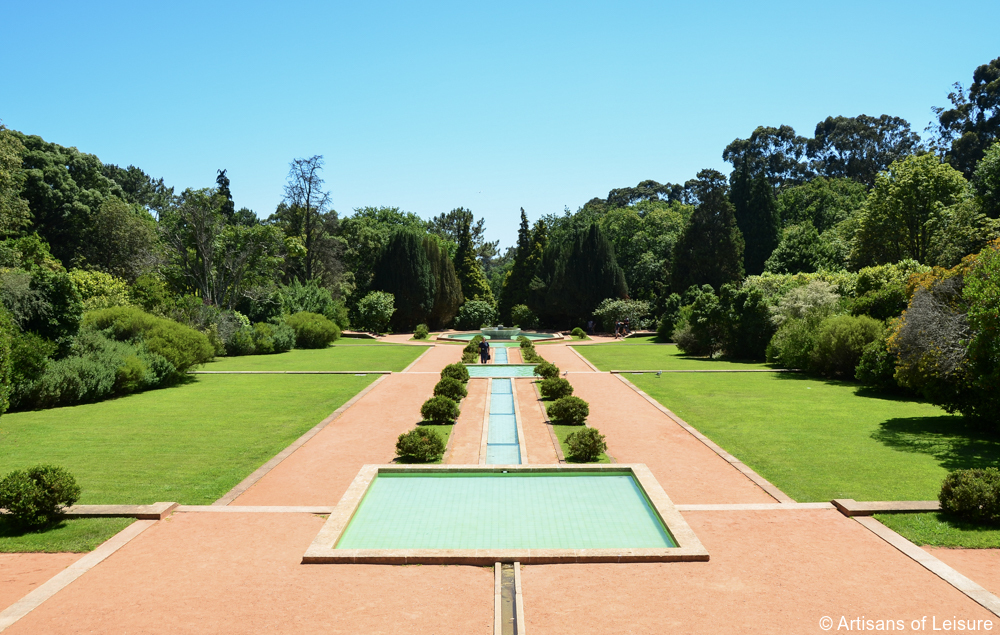 We also take interested travelers to the Serralves Museum to see its collections of contemporary art.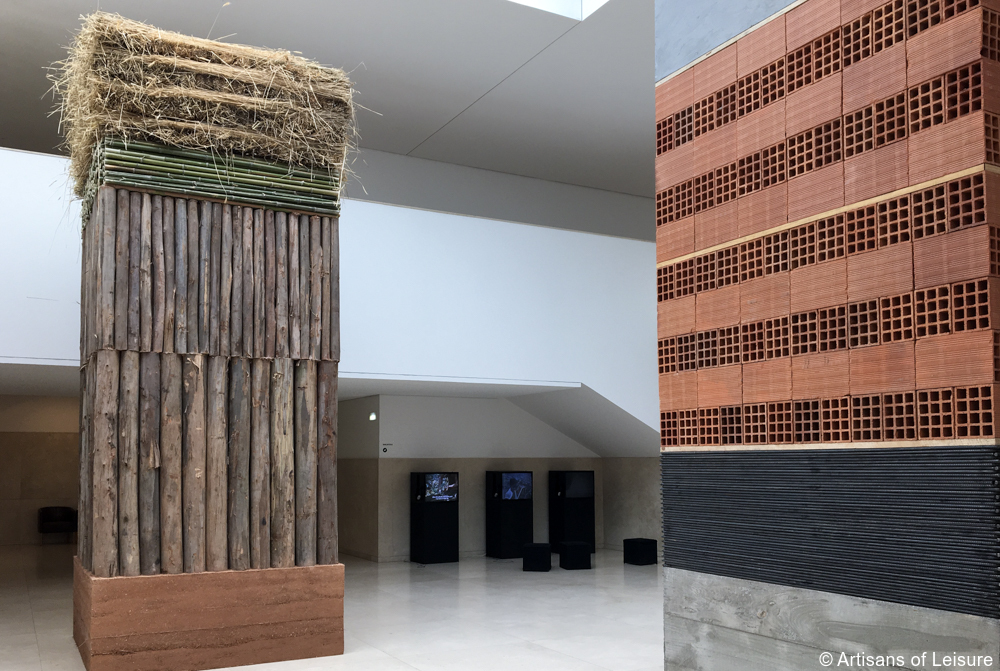 Food is a highlight of traveling in Portugal. We are still thinking about this delicious dish of melted cheese with cherries.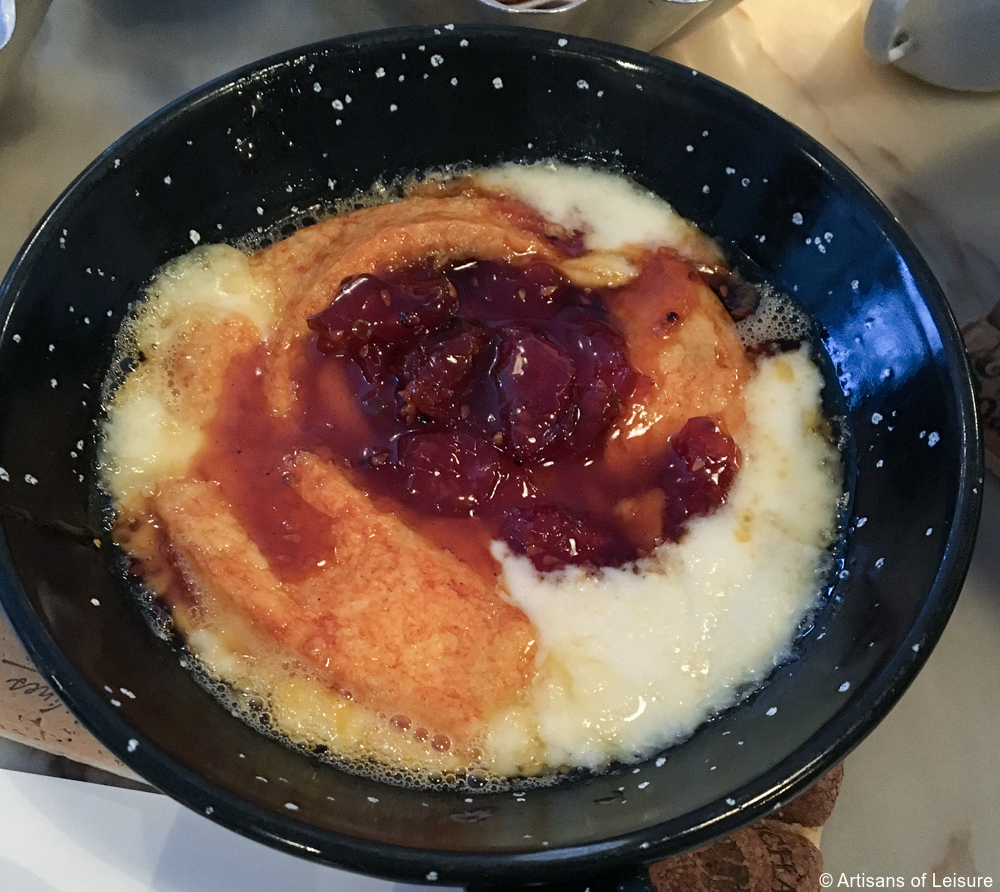 We often take our travelers to local culinary shops and markets to purchase favorite local items such as colorful cans of sardines.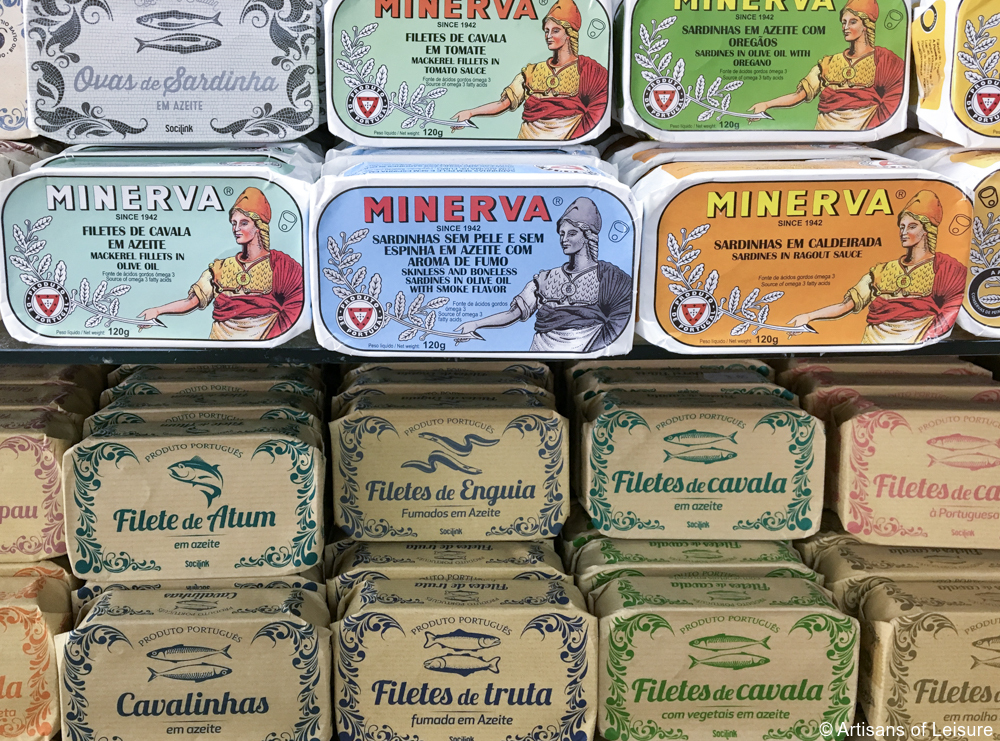 The breakfast buffets at the hotels in Portugal are particularly delicious. The custards and rice pudding varieties are a favorite!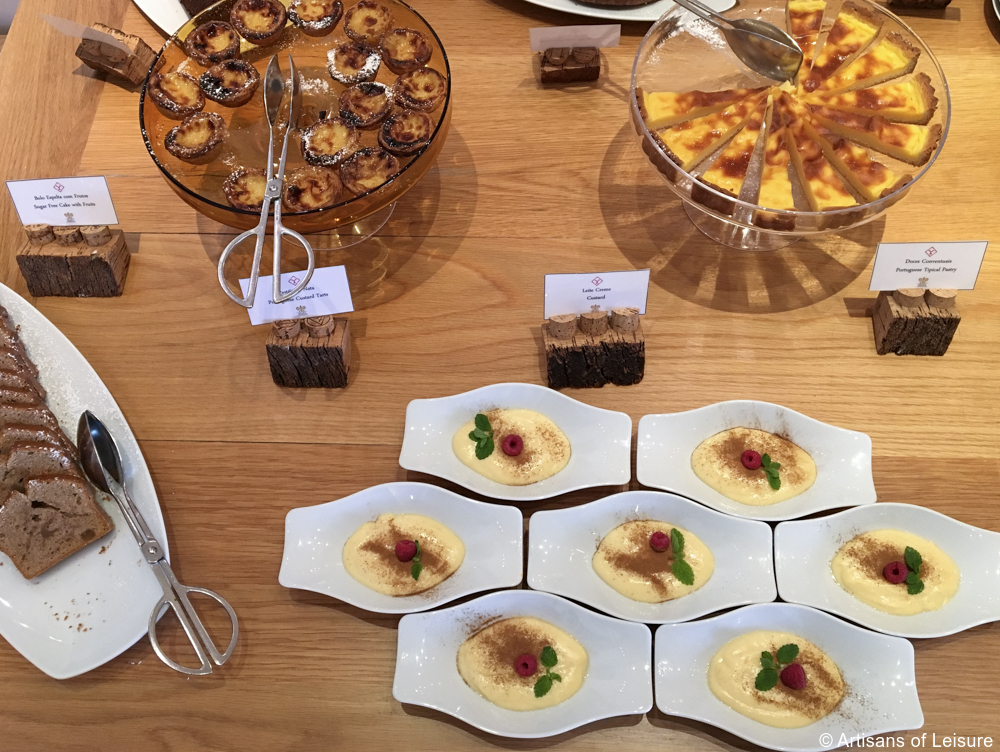 We arrange private transfers between Porto and Lisbon, taking our travelers to some of our favorite off-the-beaten-track locations en route.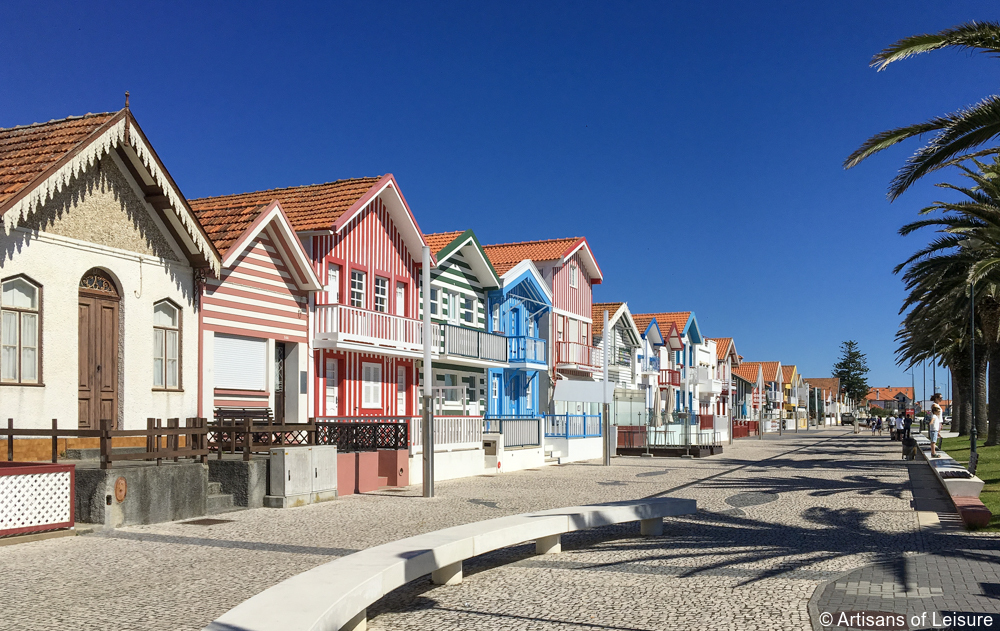 A favorite stop is a small town with tile-covered buildings, canals and quaint backstreets.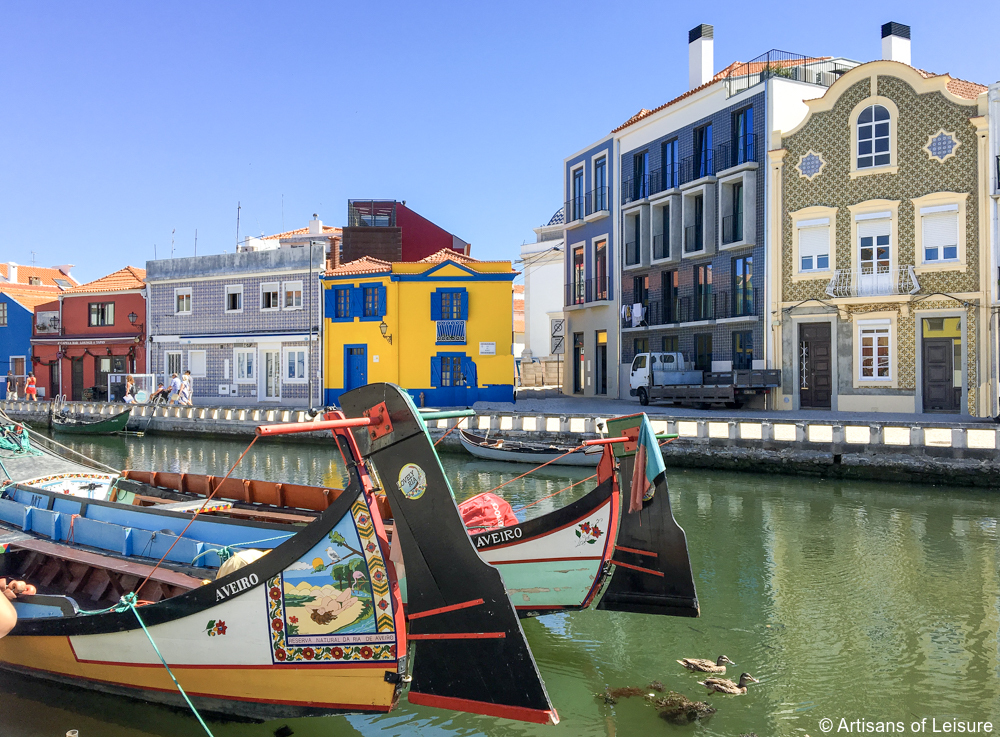 We loved the historic tile-covered buildings along the Porcelain Route in central Portugal.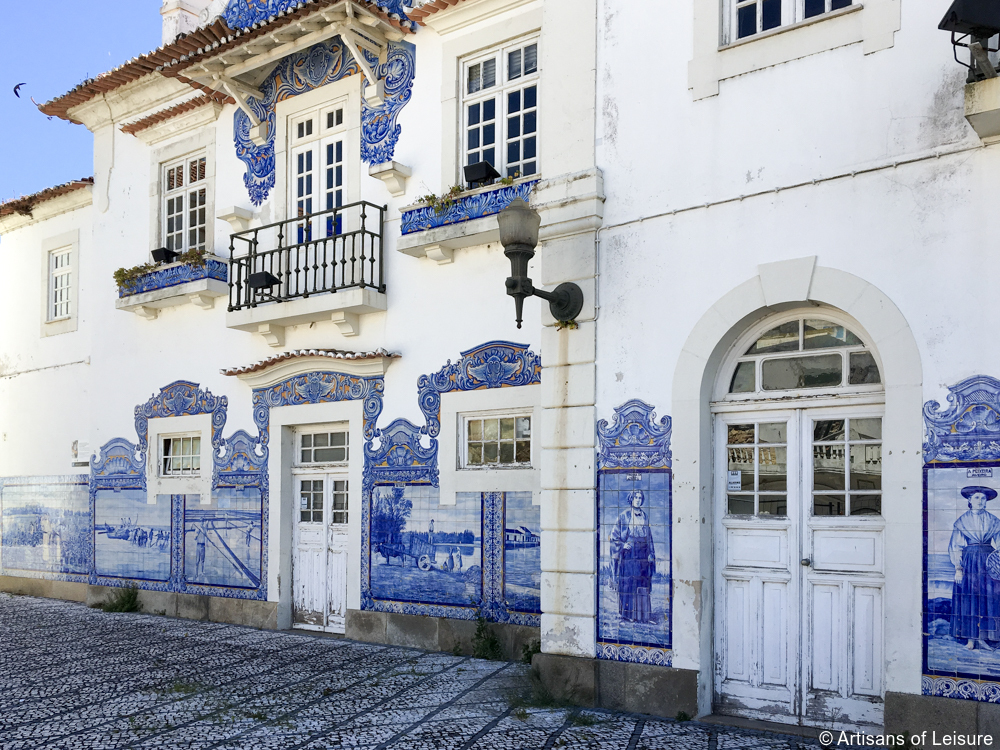 For interested travelers, we can arrange a behind-the-scenes tour of the Bordallo Pinheiro museum and factory to learn more about Portuguese majolica and the history of this world-renowned ceramics company.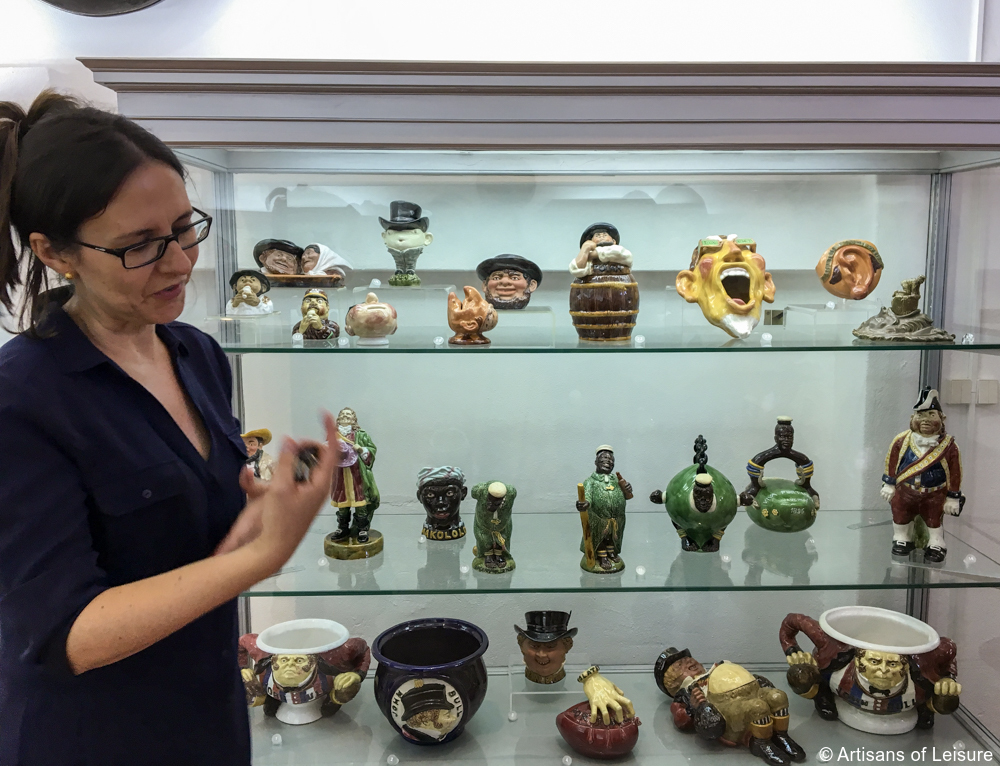 We can also take travelers to Bordallo Pinheiro shops in Lisbon and elsewhere.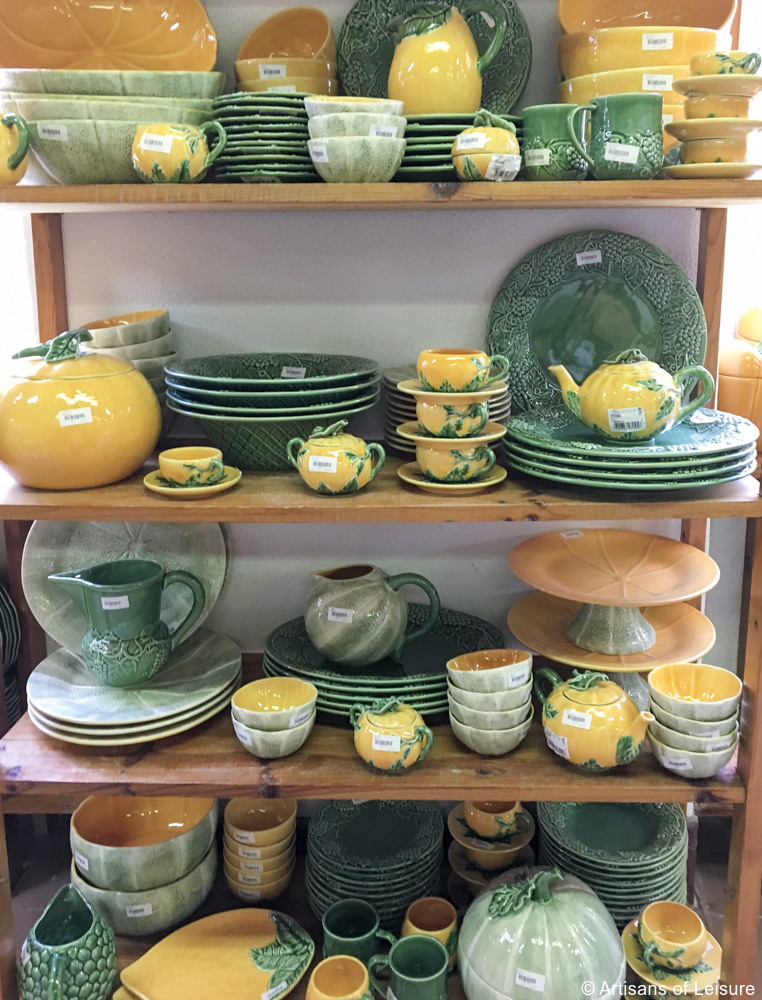 Lisbon is known for its stunning views, and our local guides take travelers to the most impressive vista points.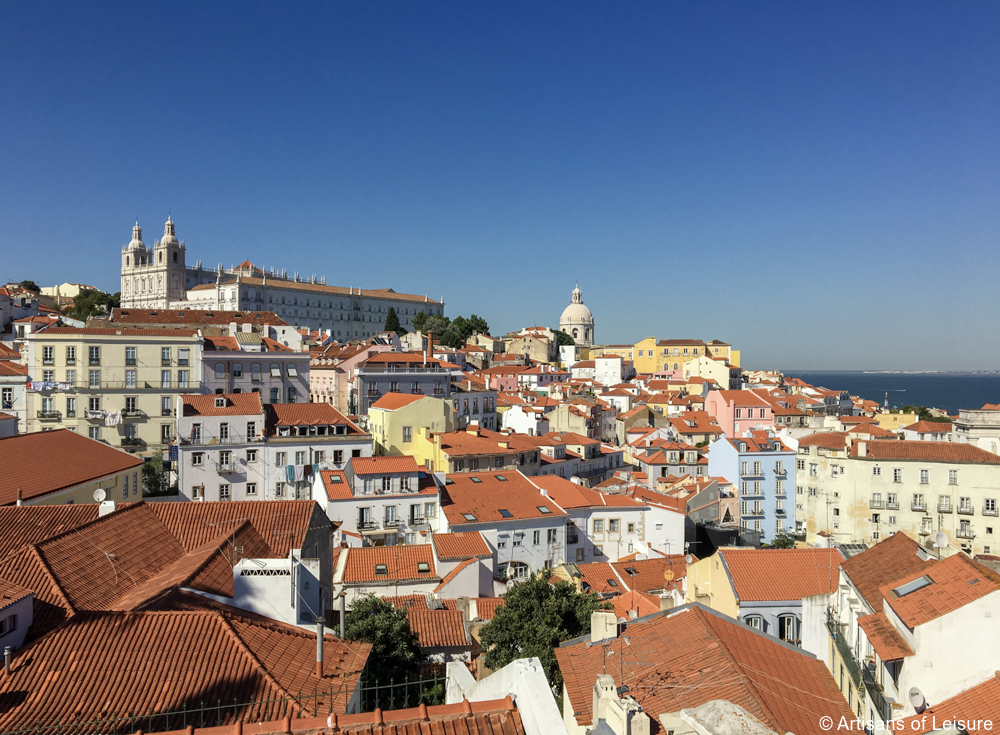 If desired, we can arrange a ride on one of Lisbon's iconic trams.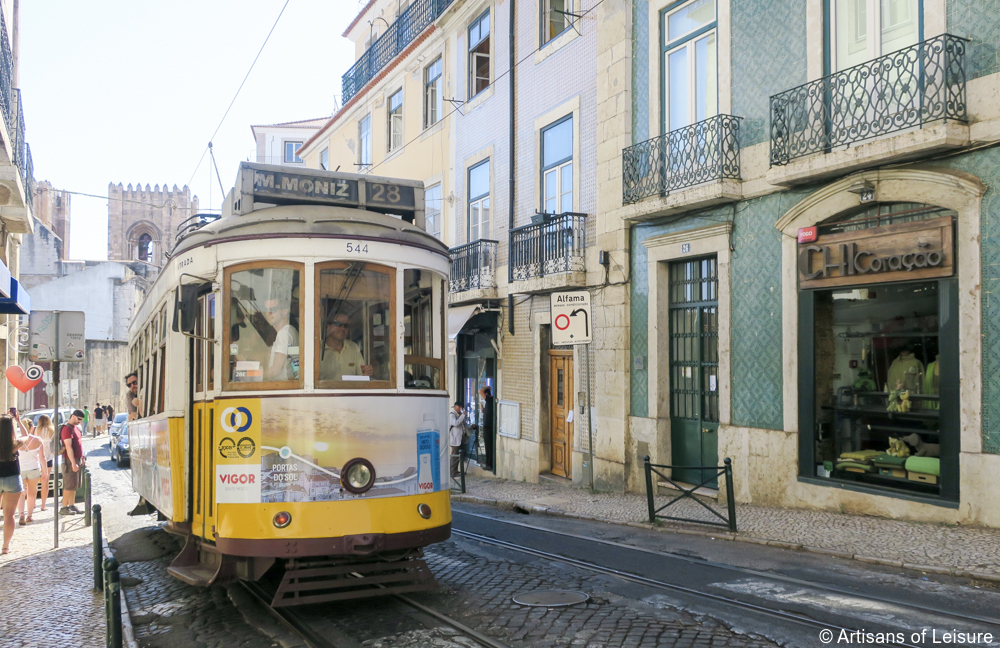 We book the best luxury hotels in Lisbon, such as the Bairro Alto Hotel…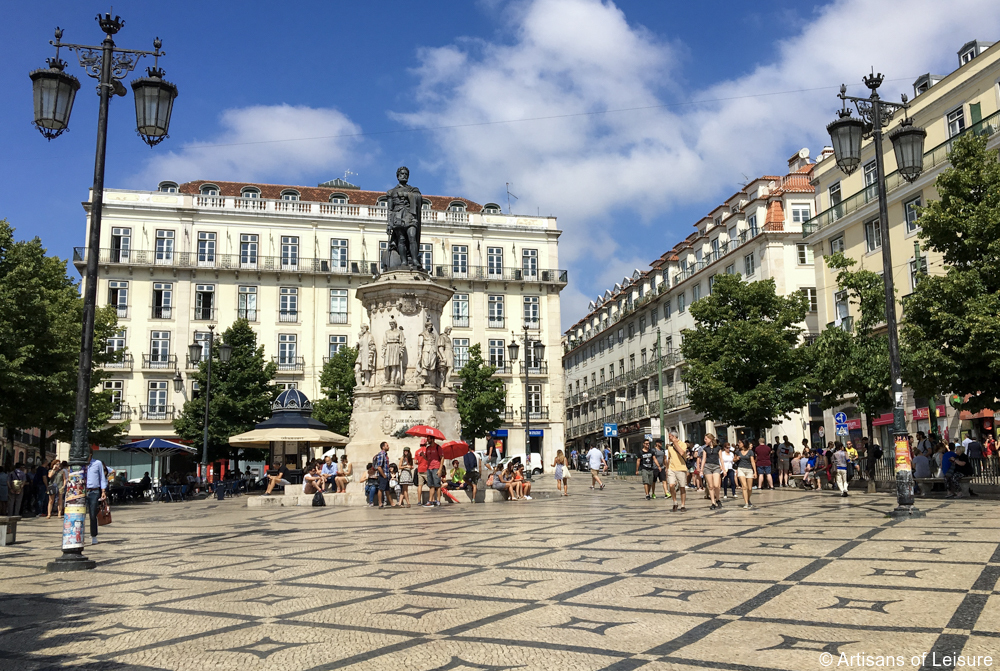 …the Olissippo Lapa Palace…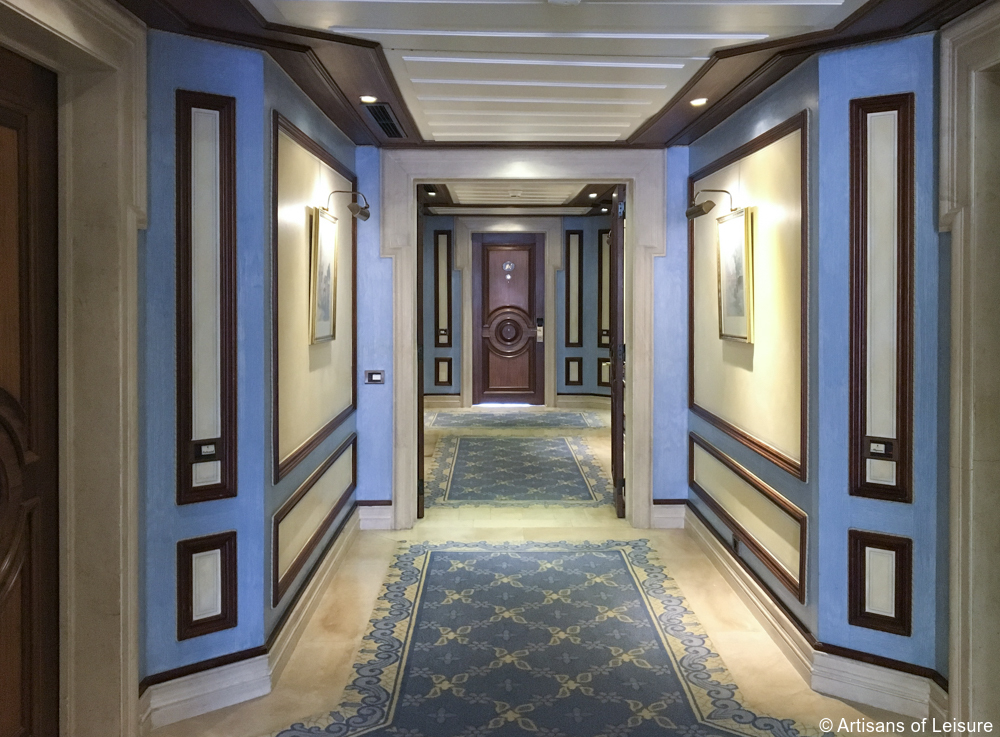 …and the Four Seasons Hotel Ritz Lisbon.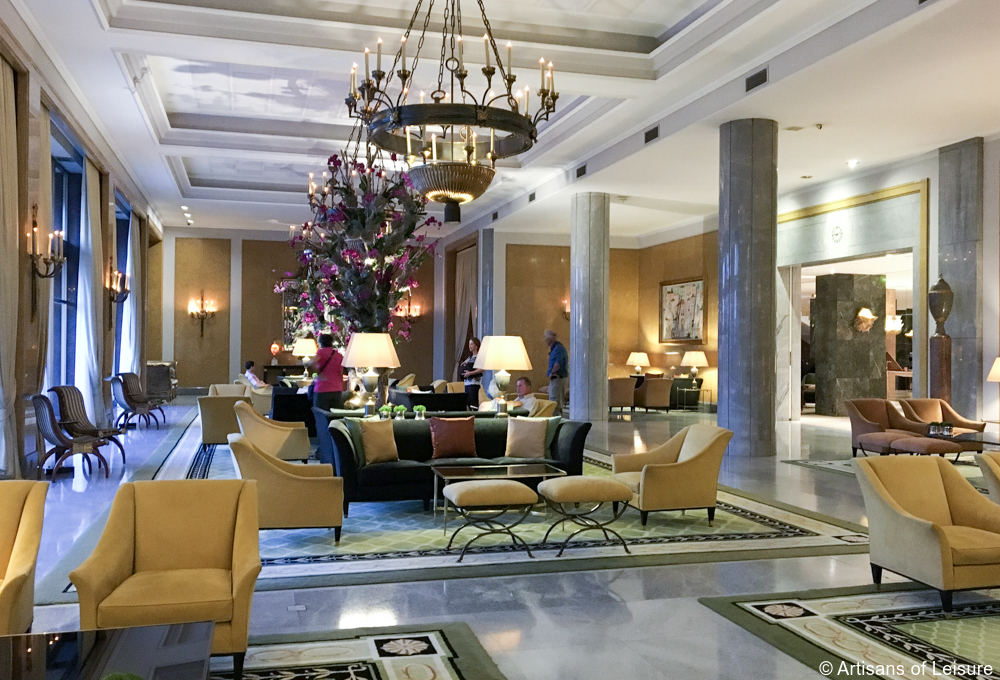 Pasteis de nata are delicious Portuguese custard tarts and a must-try.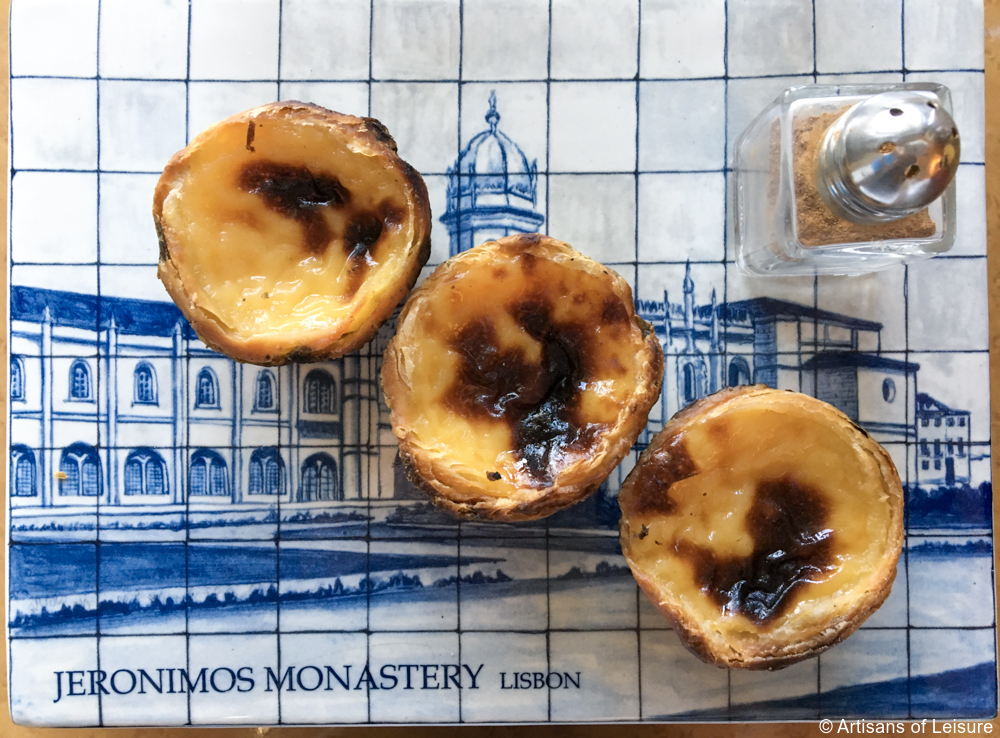 We also take travelers to some of Lisbon's most historic shops, such as this candle shop that has been in operation since 1789…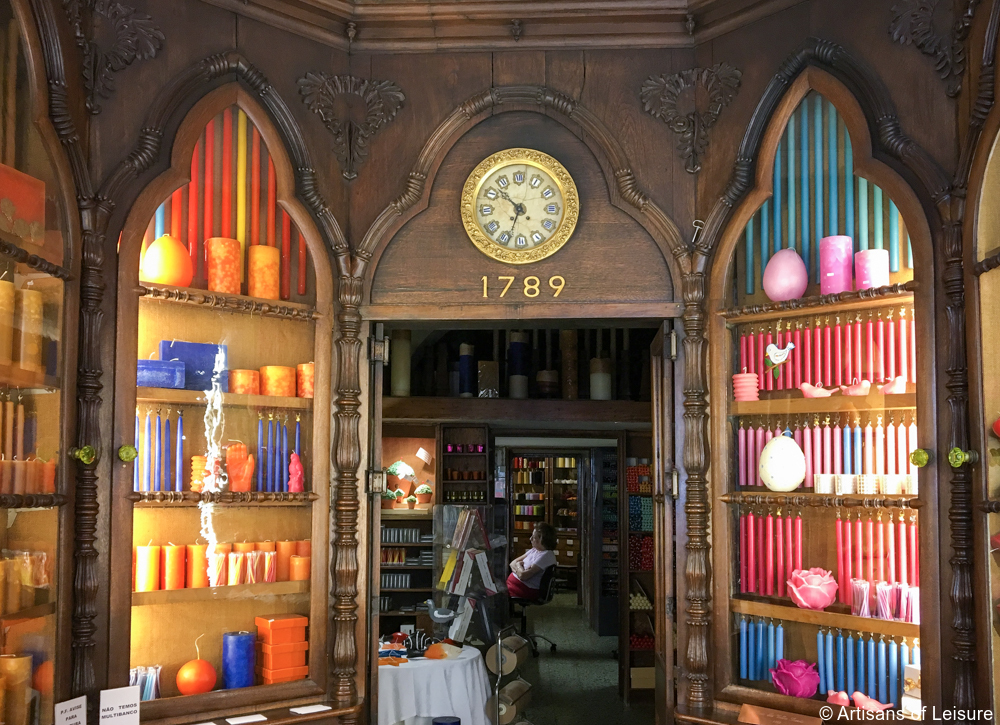 …and more contemporary locations such as the popular Time Out Market Lisboa, a food market inside the historic Mercado da Ribeira.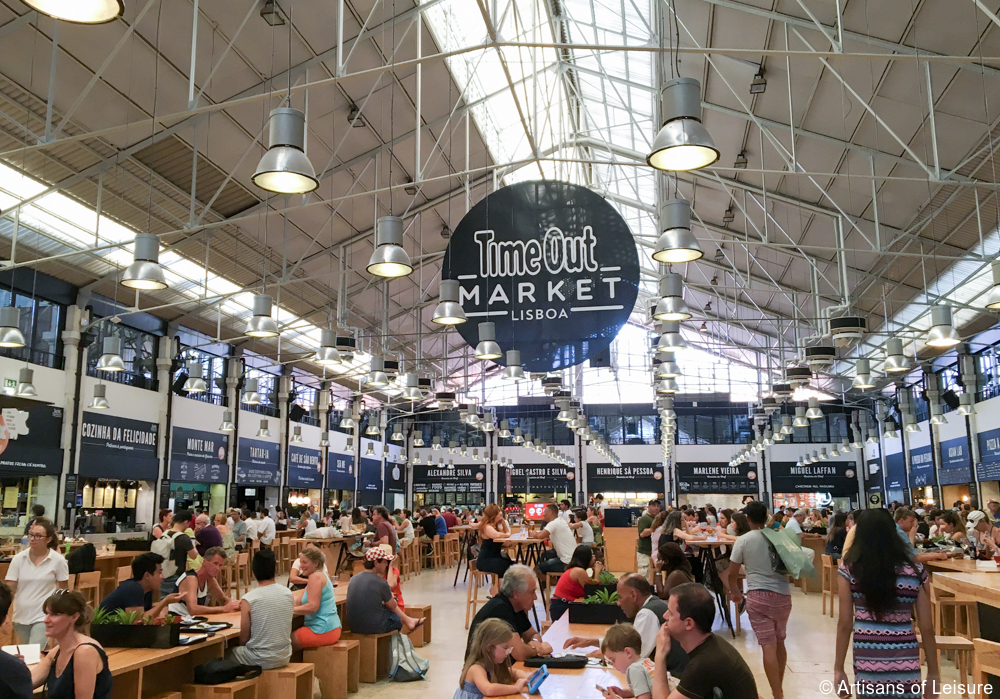 Lisbon has a great dining scene. We makes reservations at the city's top restaurants so our travelers can enjoy the culinary highlights.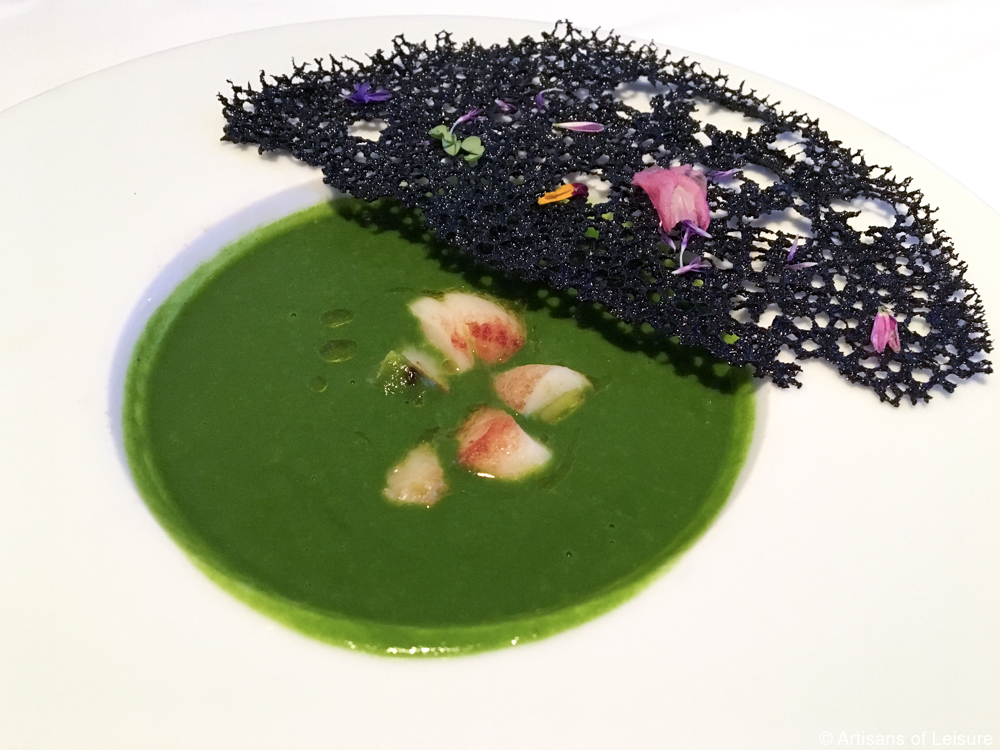 Buildings in Portugal are often decorated with azulejo tiles. The Moors introduced tile mosaics to the Iberian Peninsula in the eighth century, but azulejos didn't gain widespread popularity in Portugal until the 16th century.
Upon request, we can arrange behind-the-scenes visits to some of Portugal's most historic and prestigious tile manufacturers. These factories sell beautiful porcelain tableware, fountains, tables, chandeliers and other items. They also accept commissions.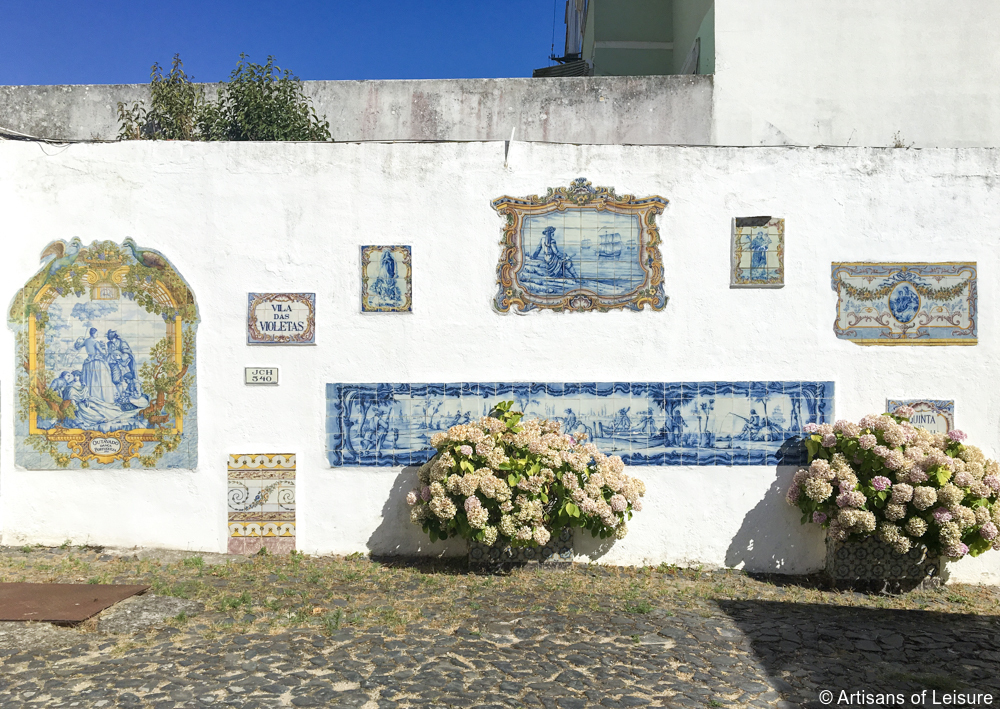 One of our favorite places in Portugal is Sintra.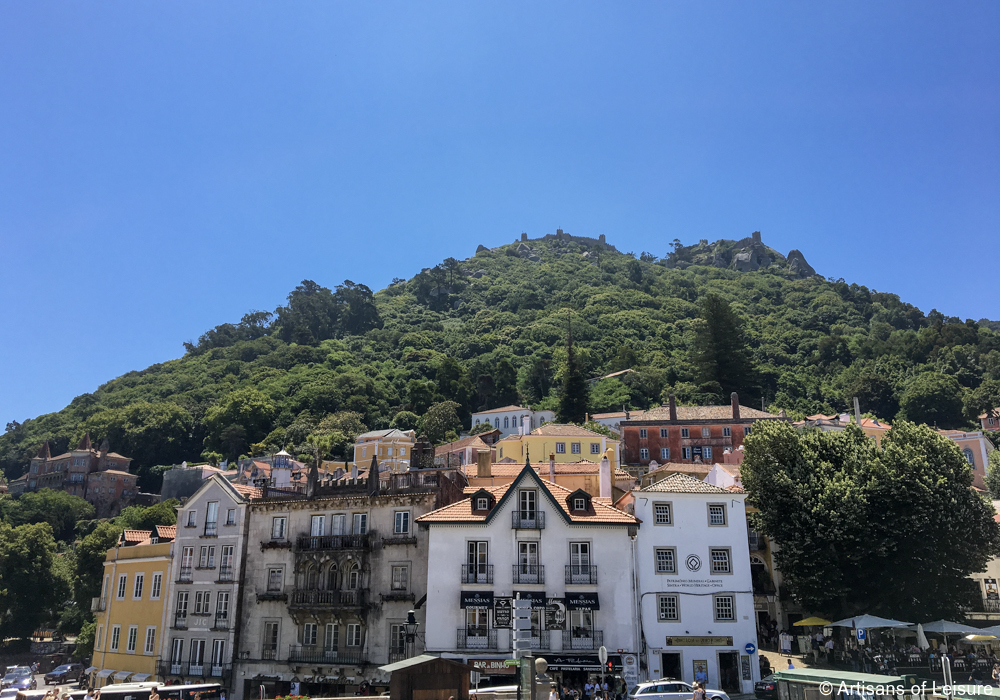 Beautiful gardens and palaces fill the historic town—a UNESCO World Heritage Site—and surrounding region. The palaces in Sintra have exquisite interiors.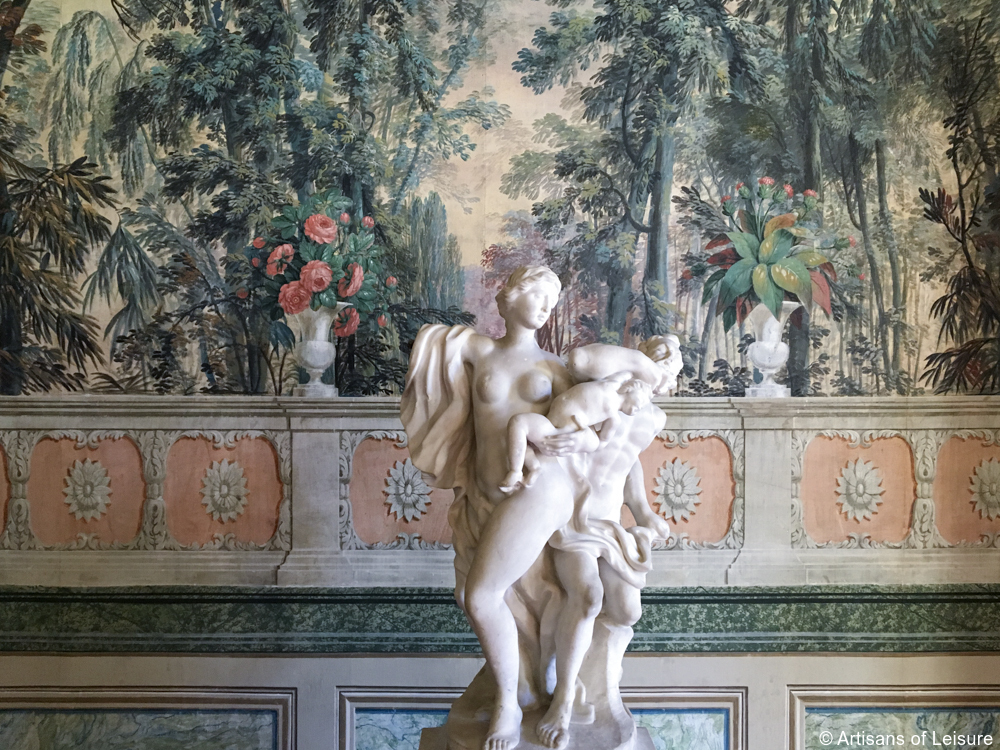 Multicolored tiles adorn the walls of the spectacular National Palace of Sintra.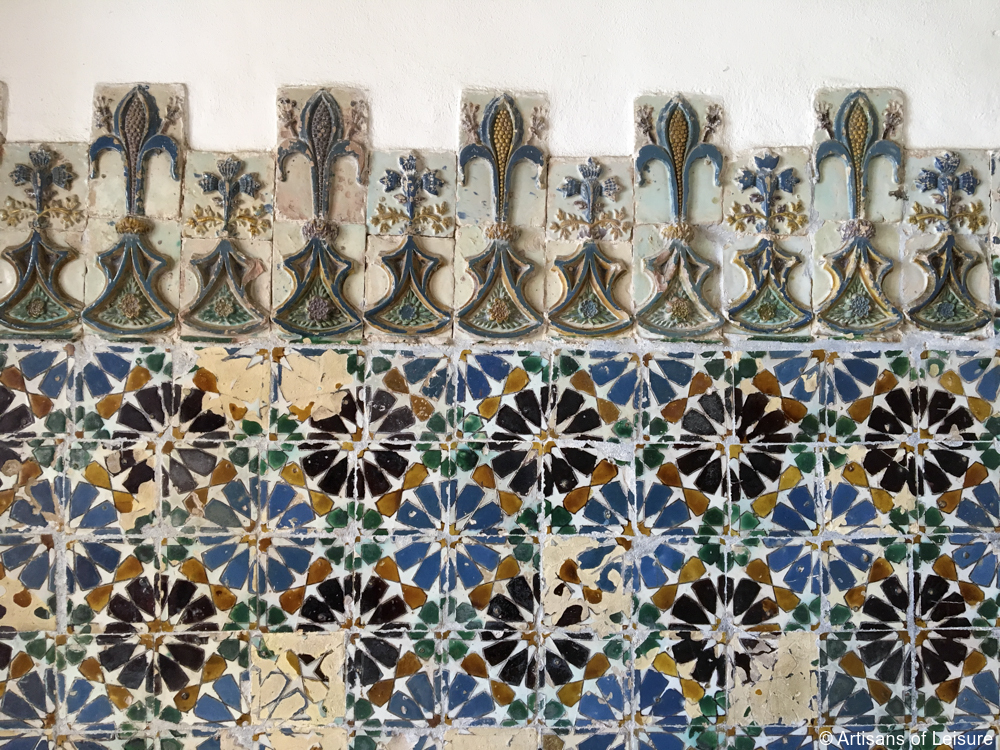 The palace kitchen is decorated in historic blue-and-white tiles.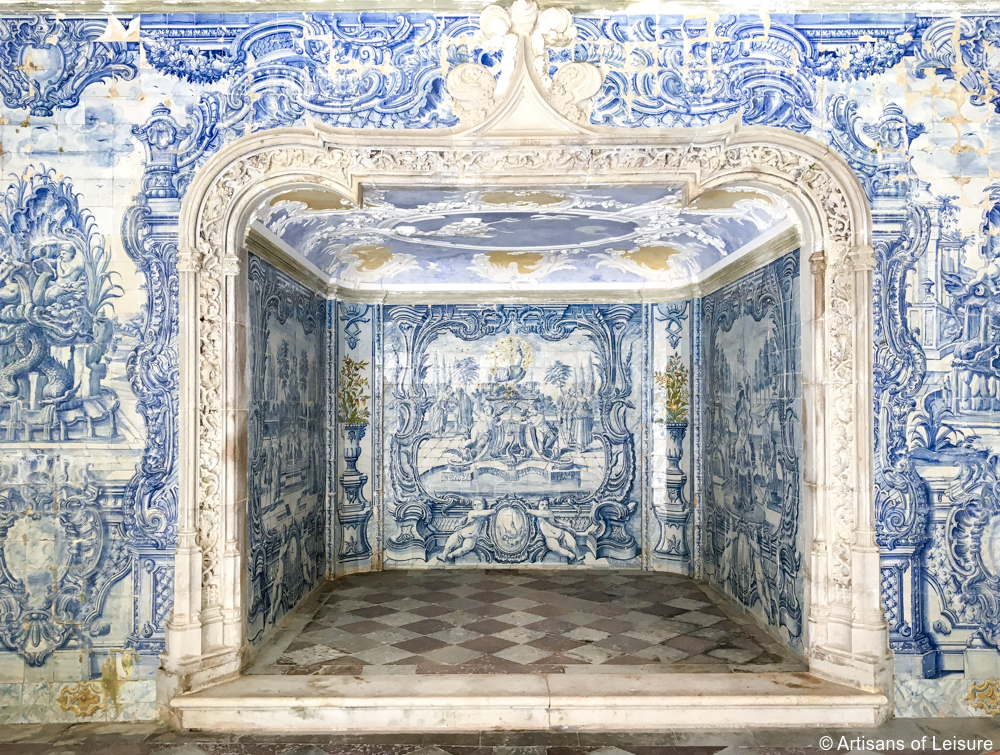 We also love Cascais, an exclusive seaside resort near Lisbon and Sintra. The town offers great backstreets, renowned restaurants, pristine swimming coves and elegant villas.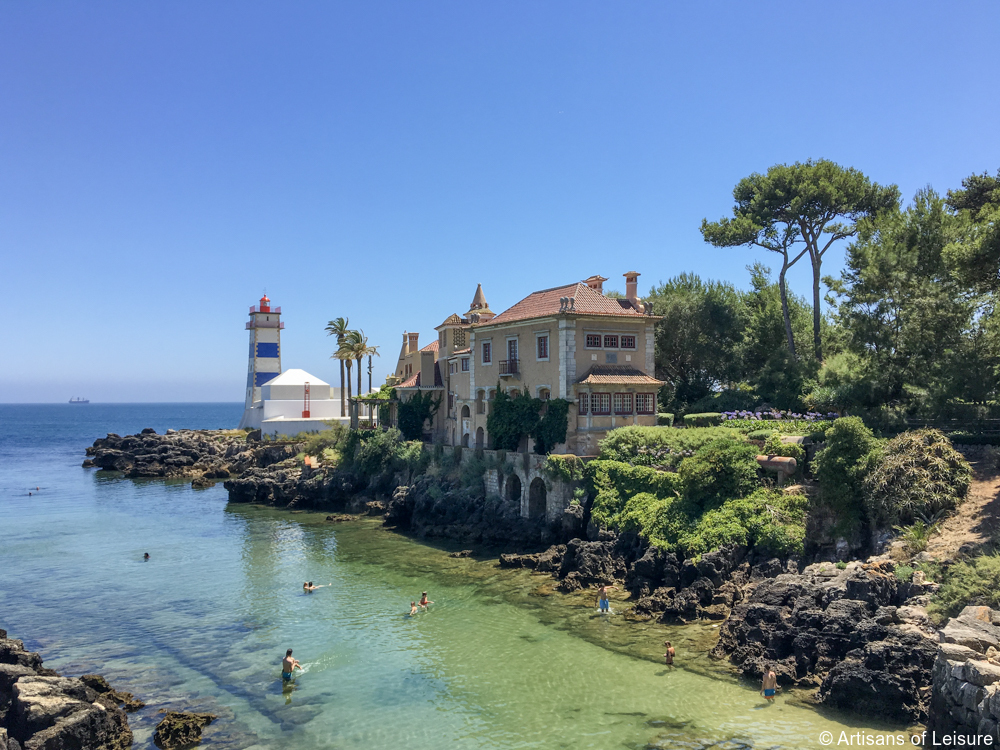 The charming center of Cascais is right next to the beach.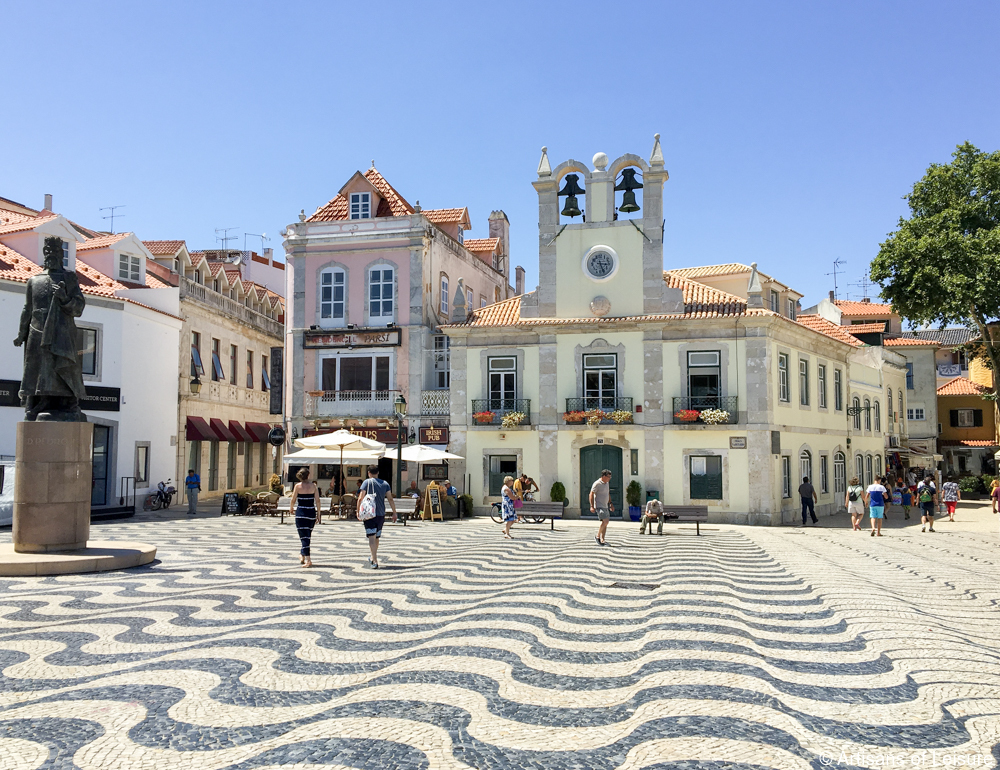 We continued to the Algarve, a resort region on the south coast of Portugal.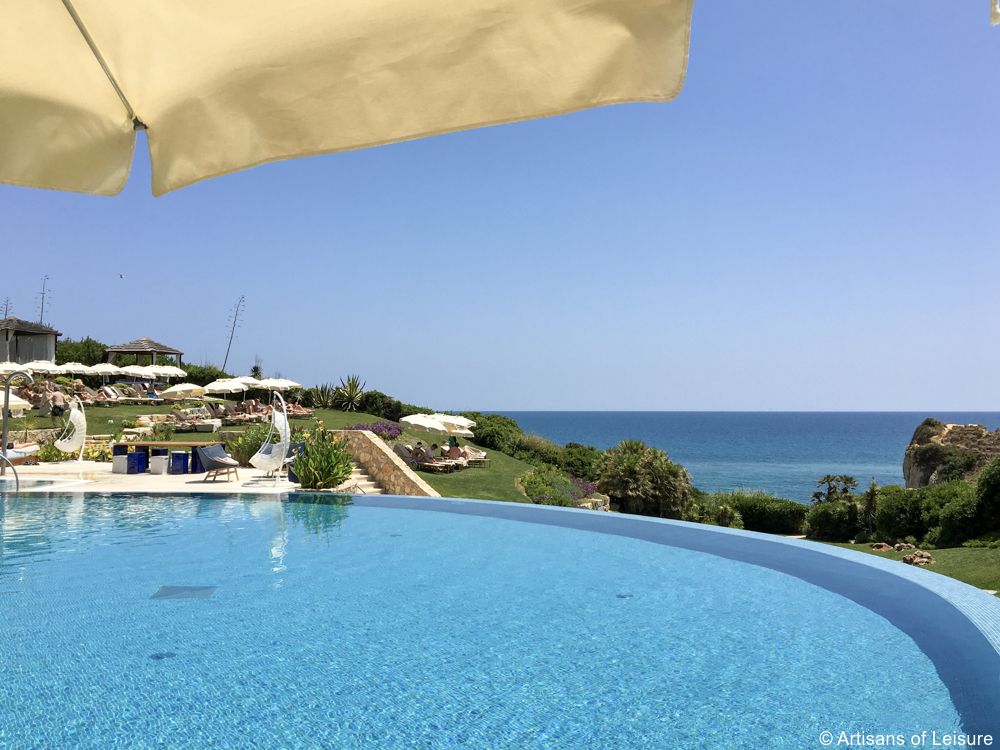 Artisans of Leisure books the best luxury beach resorts in the region, such as Vila Joya.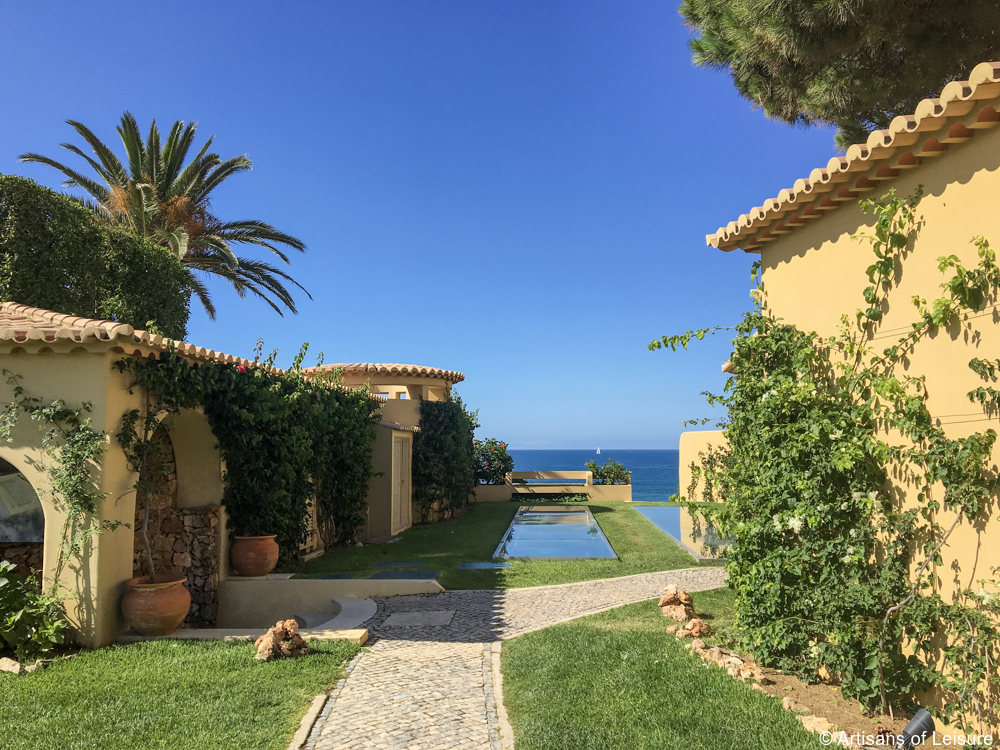 Dinner at the hotel's acclaimed restaurant is a must when in the Algarve. Our meal there was exceptional.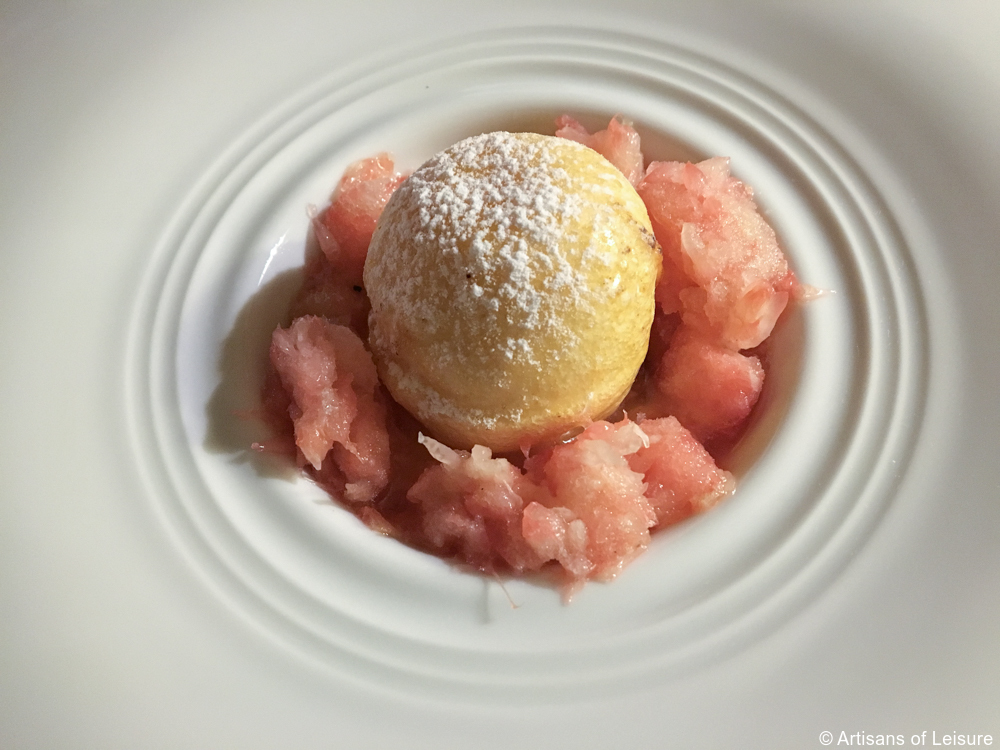 The seashells and beach glass we collected on the nearby beach reflect the colors of the Algarve.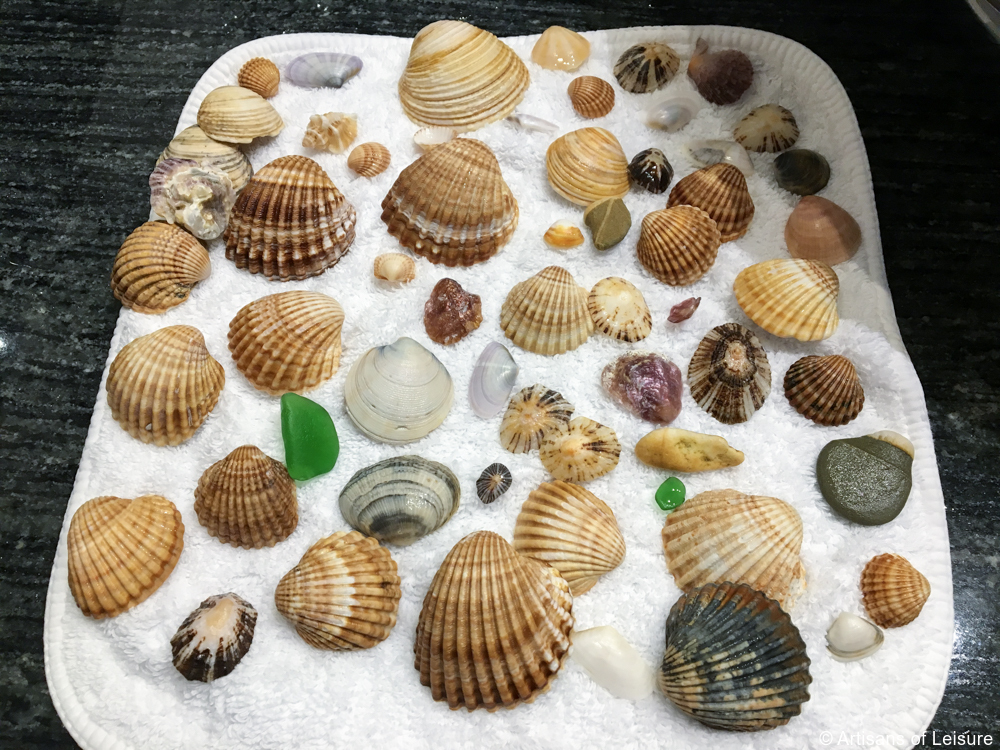 Time to relax on the beautiful beach at Vila Joya made for an ideal end to our trip.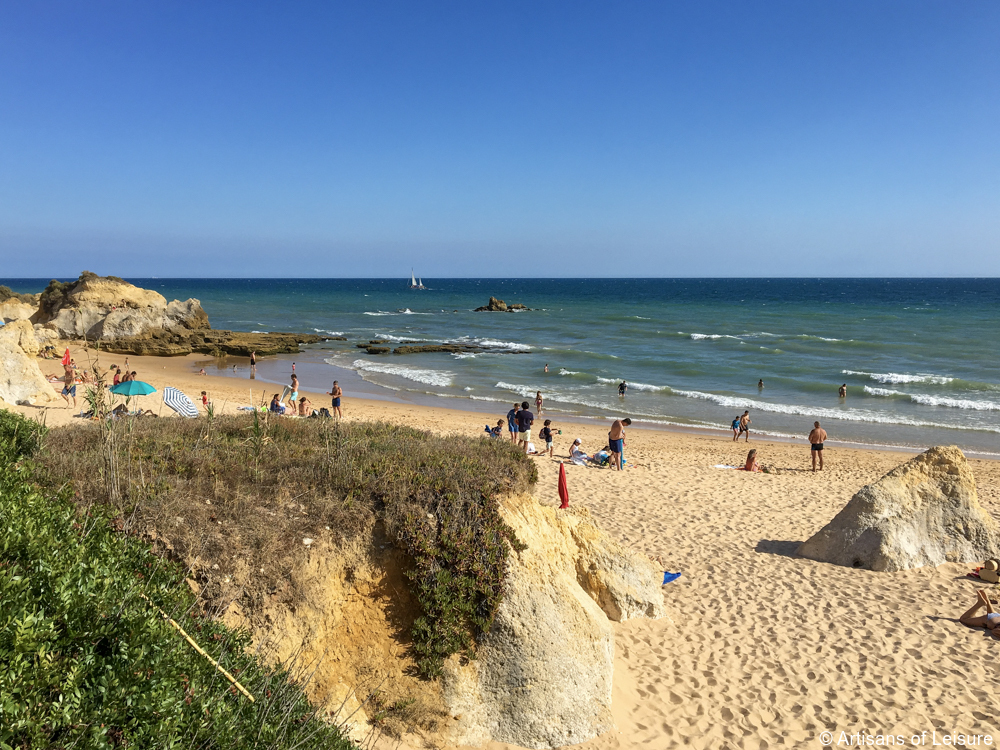 View our tours in Portugal, Spain and France for inspiration, and contact one of our Europe specialists to start planning a customized tour.
Destinations: Europe, France, Portugal, Spain
Tags: architecture, art, Ashley Ganz, Ashley Isaacs Ganz, azulejos, Basque Country, Biarritz, cooking class, culinary, culinary tours, Douro Valley, Europe tours, food, food tours, France, France tours, Guggenheim, La Rioja, Lisbon, museums, port, Porto, Portugal, Portugal tours, restaurants, Rioja, San Sebastian, shopping, Sintra, Spain, Spain tours, tapas, tiles, wine, wine tour, wineries