December 8, 2015
A Memorable Meal at Cetli in Tulum, Mexico
On a recent trip to Tulum on the Yucatan Peninsula's Riviera Maya, we enjoyed a fabulous meal at Cetli, a casual yet refined restaurant.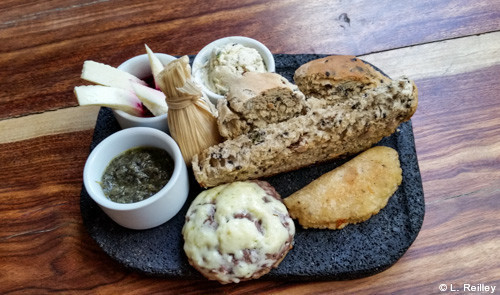 The bread service, which began the meal, included a nut-and-seed bread, a cheese-filled empanada and a bean-and-cheese-topped torta. Requeson (a ricotta-like cheese), queso fresco in beet sauce, a mild green salsa, and garlic-herb butter presented in the form of a tamale rounded out the platter.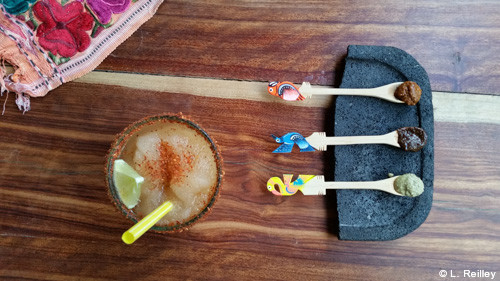 To drink, we enjoyed a tamarind margarita. Wild tamarind trees grow around the Yucatan, and the fruit is used commonly in local cuisine.  To the side, three spoons hold tasters of different moles—peanut, green almond and mole negro—that are offered on the menu. Diners can sample the variations before deciding on a dish.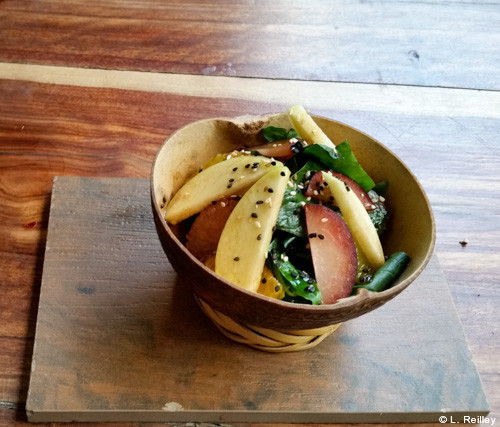 This bright and healthy salad combined citrus fruits (grapefruit, tangerine and orange) with plum, apple and sesame seeds over spinach leaves.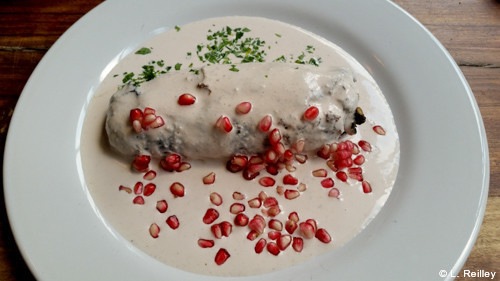 We had to try the house specialty, chile en nogada. This dish—often associated with Puebla—included a minced beef-, raisin- and pineapple-stuffed poblano chile in a nut-, cheese- and cream-based sauce, topped with cilantro and pomegranate seeds. The white, red and green presentation is meant to evoke the Mexican flag.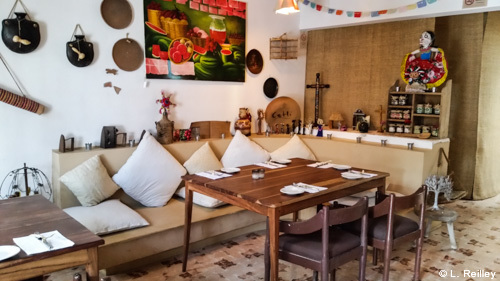 Several of Artisans of Leisure's Mexico tours include stays on the Riviera Maya. Contact an Artisans of Leisure Mexico specialist to start planning.
Destinations: Latin America, Mexico
Tags: Cetli, culinary tours, food, Mexican food, Mexico, Mexico tours, restaurants, Riviera Maya, Tulum, Yucatan Peninsula