May 10, 2015
Insider Rabat: Morocco's Peaceful Coastal Capital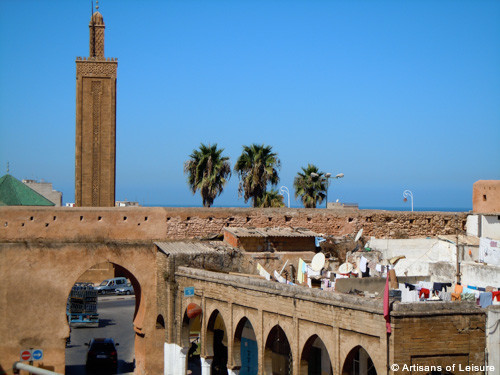 Situated on the northern Atlantic coast of Morocco, Rabat is a refined capital city that blends the modern and historic in its attractive and well-planned ville nouvelle, relaxed medina and distinctive seaside kasbah.
In 2012, Rabat received UNESCO World Heritage status as a "modern capital and historic city." Yet it remains off the beaten track for most visitors, which means few crowds and a chance to experience authentic daily life in a major Moroccan city.
Artisans of Leisure travel specialist Luke Pyenson has spent time living in Rabat. Here are some of his top insider picks: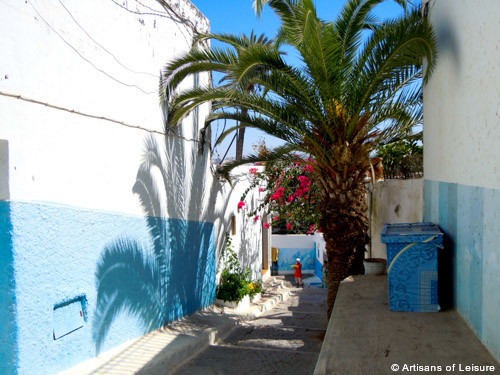 Kasbah of the Udayas
One of Morocco's best-kept secrets, Rabat's 12th-century kasbah is a beautiful district of blue-and-white-walled buildings and narrow streets that's perched above an estuary where the Bou Regreg River flows into the Atlantic Ocean.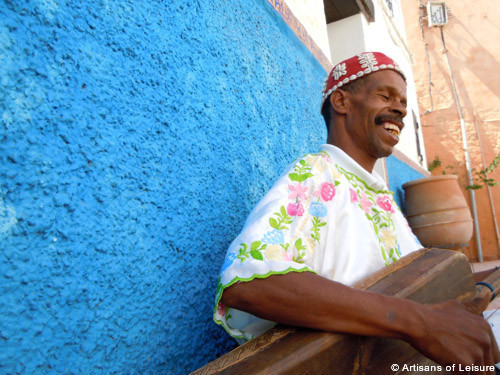 Turn a corner, and you may encounter a traditional gnawa musician playing the guembri, a bass-like instrument with three strings.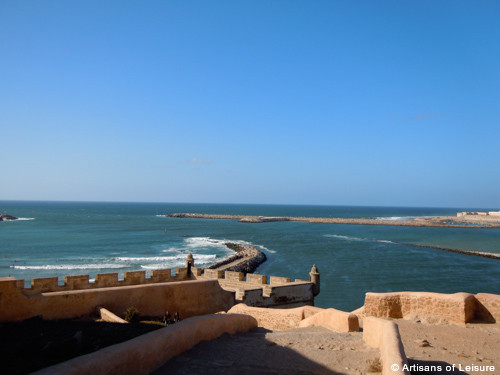 Strolling through the kasbah eventually leads to a platform atop medieval ramparts, which offers fantastic views of the picturesque estuary and across the river to Rabat's sister city, Sale.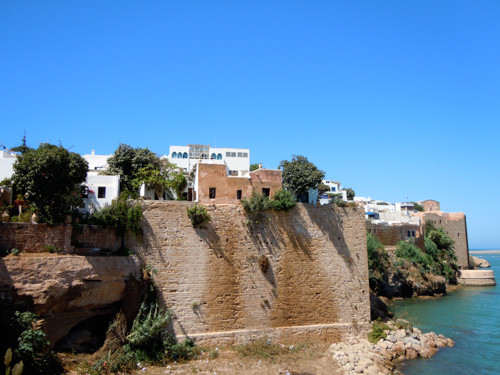 Another path through the kasbah leads to a cafe offering scenic views of the estuary and fortifications from a different perspective. The above left view is sometimes depicted in vintage Moroccan travel posters from the colonial period.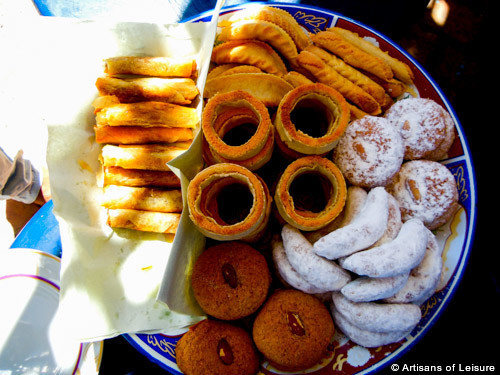 At the cafe, servers offer mint tea and trays of cookies that include favorites such as kaab el ghazal (gazelle's horns) filled with almond paste, and ghriba, a type of shortbread cookie sometimes flavored with coconut and/or almond.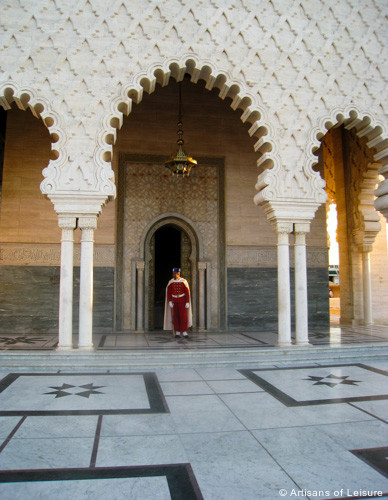 Mausoleum of Mohammed V and Tour Hassan
One of the few major monuments in Rabat, the Mausoleum of Mohammed V commemorates the Sultan of Morocco who helped the country achieve independence from France in 1956 and ruled as king from 1957 until his death in 1961.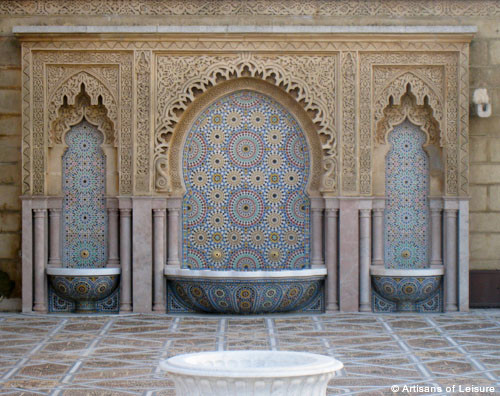 The mausoleum complex contains wonderful examples of traditional Moroccan architecture and design, such as the geometric zellij tilework adorning this decorative fountain.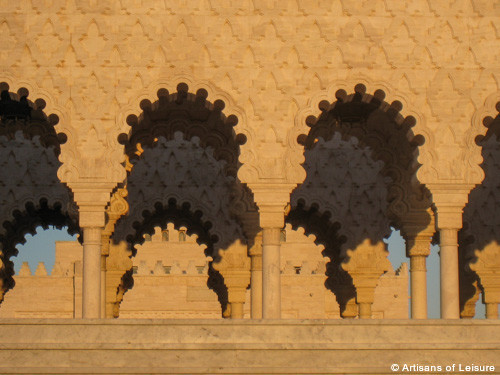 The best time of day to visit is late afternoon, when the light is at its most dramatic and most visitors have left.
Across from the mausoleum is the Tour Hassan, the unfinished minaret of an ambitious mosque planned in the 12th century under Sultan Yaqub al-Mansur. When Mansur died, construction stopped and never resumed. The minaret would have evoked the tower of the contemporaneous Koutoubia Mosque in Marrakesh, which was also the inspiration for La Giralda, a tower begun around the same time in Seville, Spain when that town was controlled by the Moors.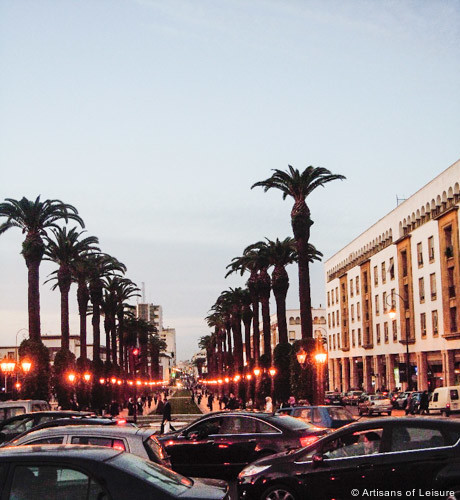 The ville nouvelle and medina
Rabat's "new city" is a showpiece of French colonial architecture and urban planning. Art Deco hotels and cafes line the capital's grand, palm tree-lined Avenue Mohammed V, where locals go for an evening stroll or a glass of mint tea.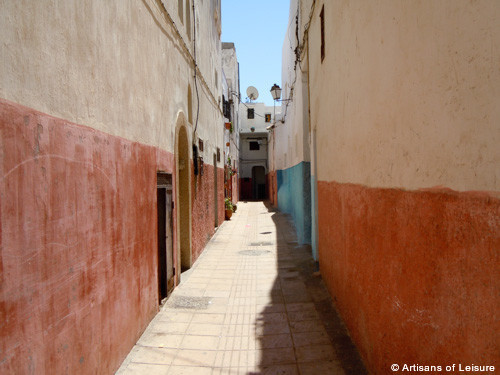 The medina, or old city, is clean, serene and perhaps more charming than others around Morocco.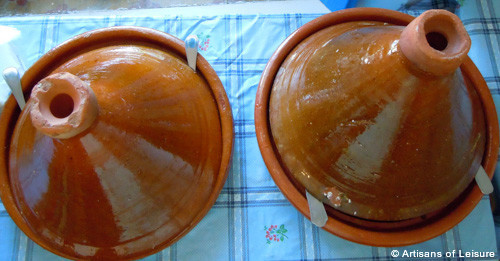 Pottery from Sale
Most Rabatis will tell you that the best ceramics—and specifically, tagines—come from neighboring Sale. Unglazed tagines, which are the most traditional, often must be used in conjunction with a diffuser and are difficult to maintain. However, glazed tagines can sometimes contain traces of lead. If you're going to buy one, ask your guide to confirm that it's safe (and have it packed in bubble wrap).
Many Artisans of Leisure tours in Morocco incorporate stops in Rabat en route between Fez and Marrakesh or the High Atlas Mountains.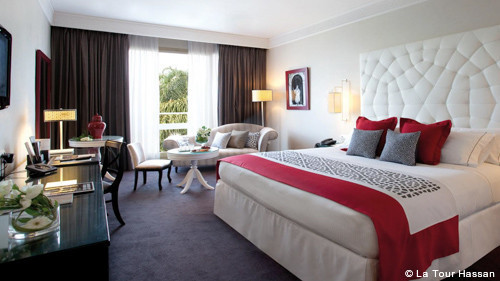 If you want to spend more time discovering the city, consider our Morocco In Depth tour, which includes an overnight in Rabat. Extra time in the Moroccan capital can also be added to most of our Morocco itineraries.
View Artisans of Leisure's private Morocco tours, or contact one of our Morocco experts to start planning.