January 6, 2015
Behind-the-Scenes Culinary and Crafts Touring in Japan
We recently returned from another wonderful trip through Ishikawa Prefecture, Japan, a veritable storehouse of traditional Japanese culture, fantastic food, high-quality crafts, historic architecture and beautiful gardens.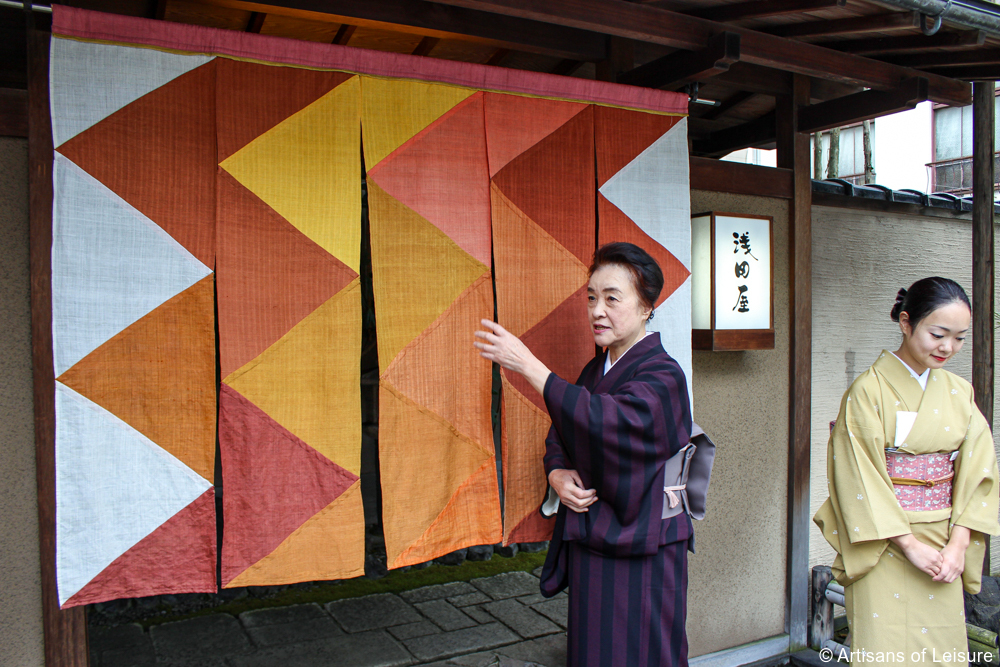 Kenrokuen Garden in Kanazawa, Ishikawa's capital and largest city, is considered one of the top three gardens in Japan. It's especially glorious in fall.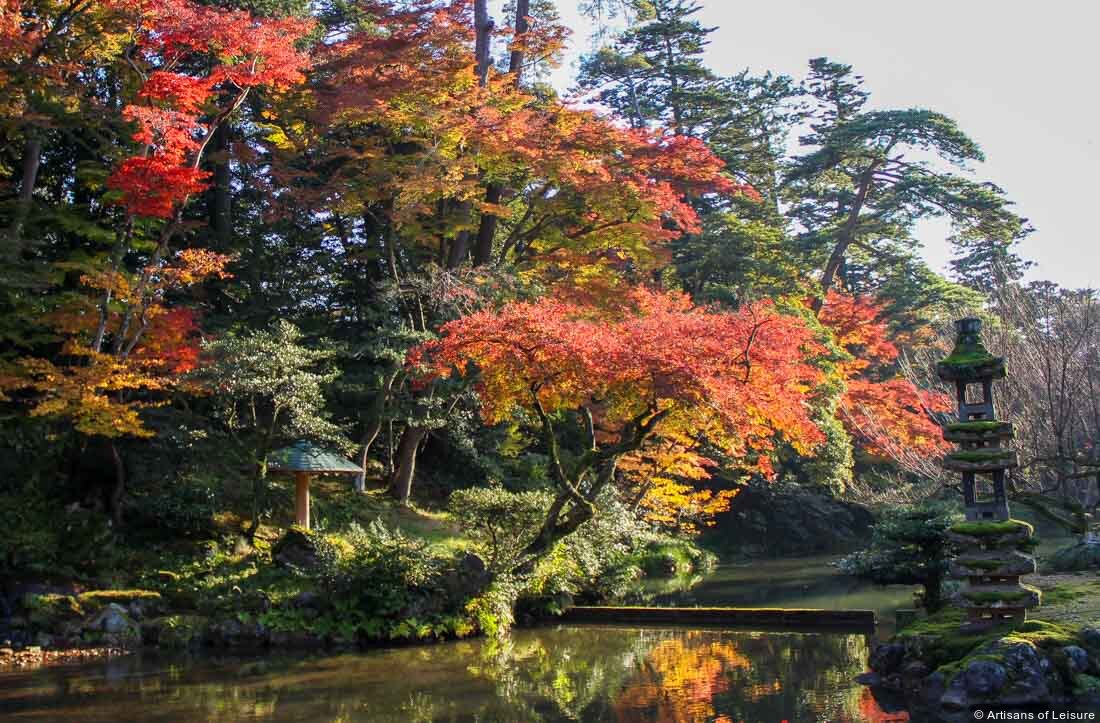 The garden is a popular spot for wedding photos.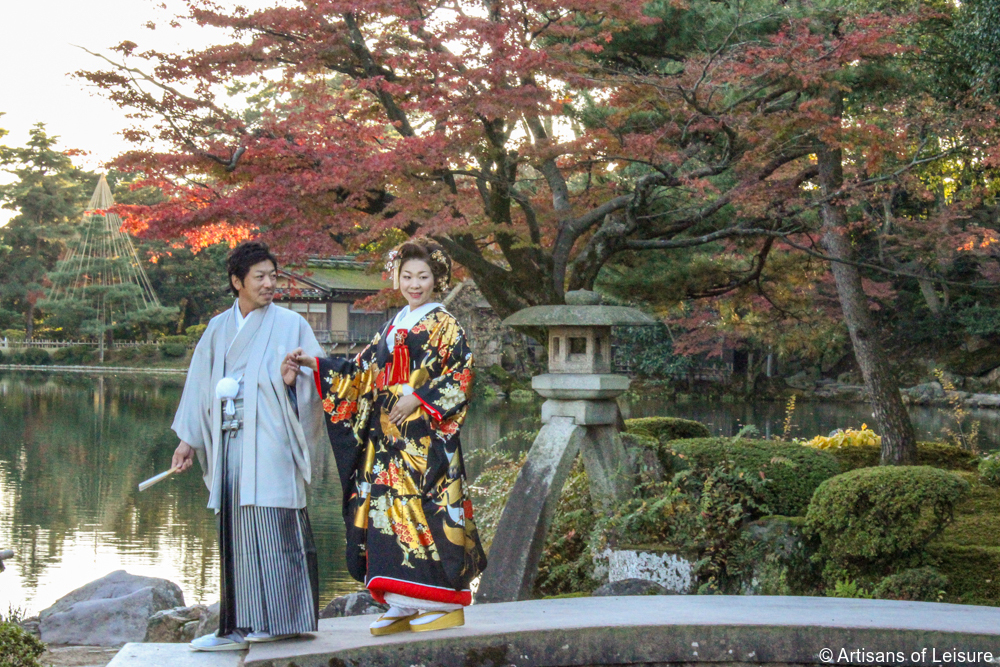 Nearby is Kanazawa Castle, home of the powerful Maeda clan for centuries. The Maedas made the Ishikawa region wealthy, helping to foster fine local crafts.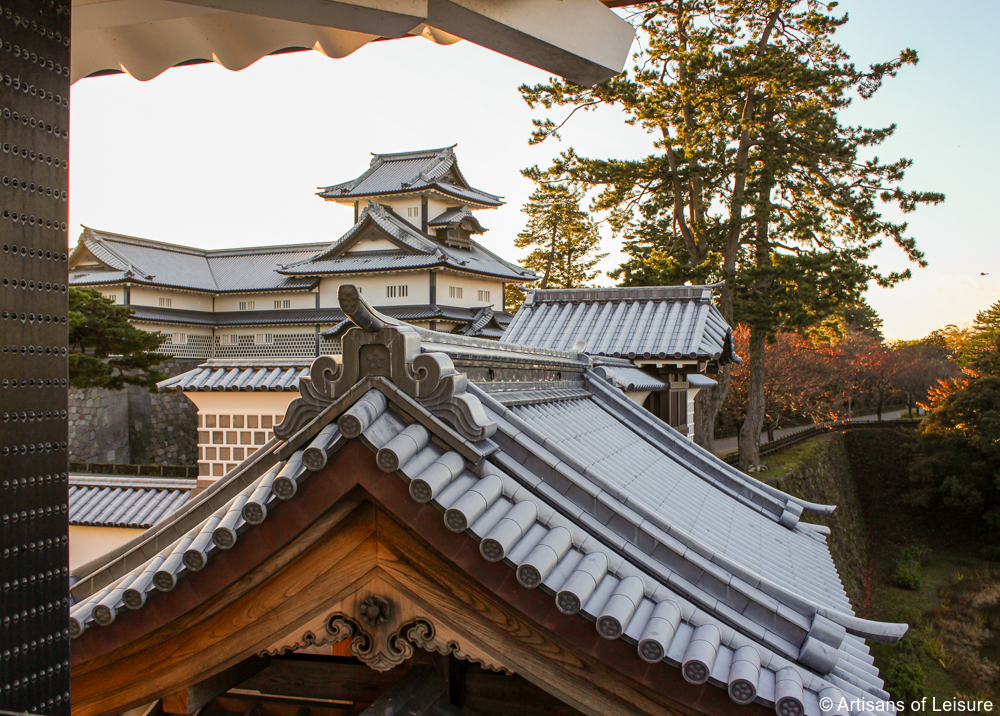 Kanazawa has several well-preserved geisha districts, including Higashi Chaya. Artisans of Leisure can arrange a private geisha dinner in a teahouse here.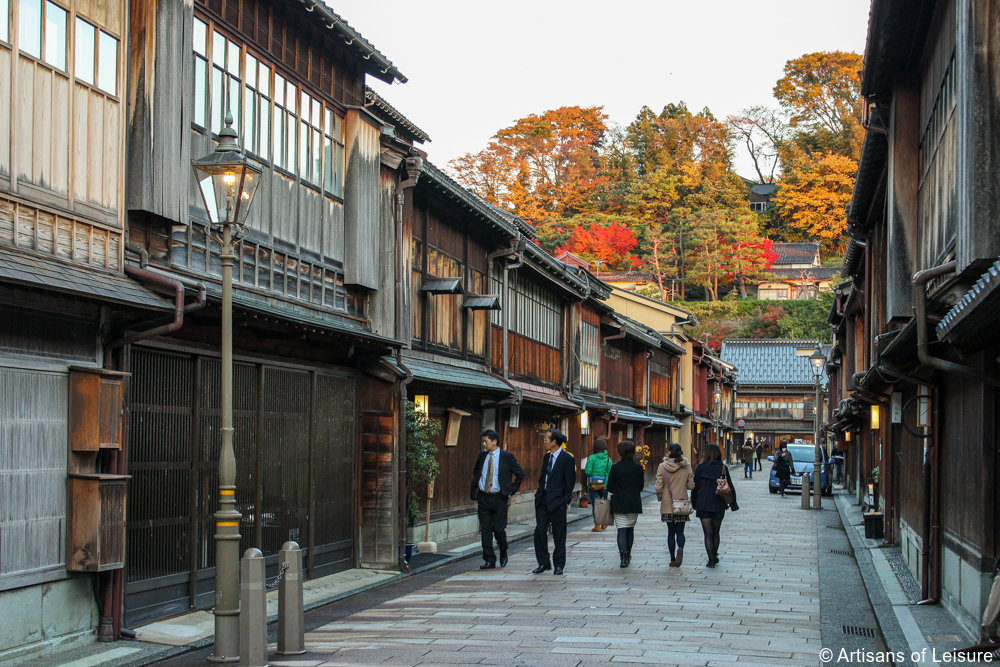 In addition to geisha teahouses, Higashi Chaya has beautiful shops, many of which sell crafts made with gold leaf, a Kanazawa specialty.
At this studio, visitors can see how gold is pounded into thin sheets and then cut into standard-size squares.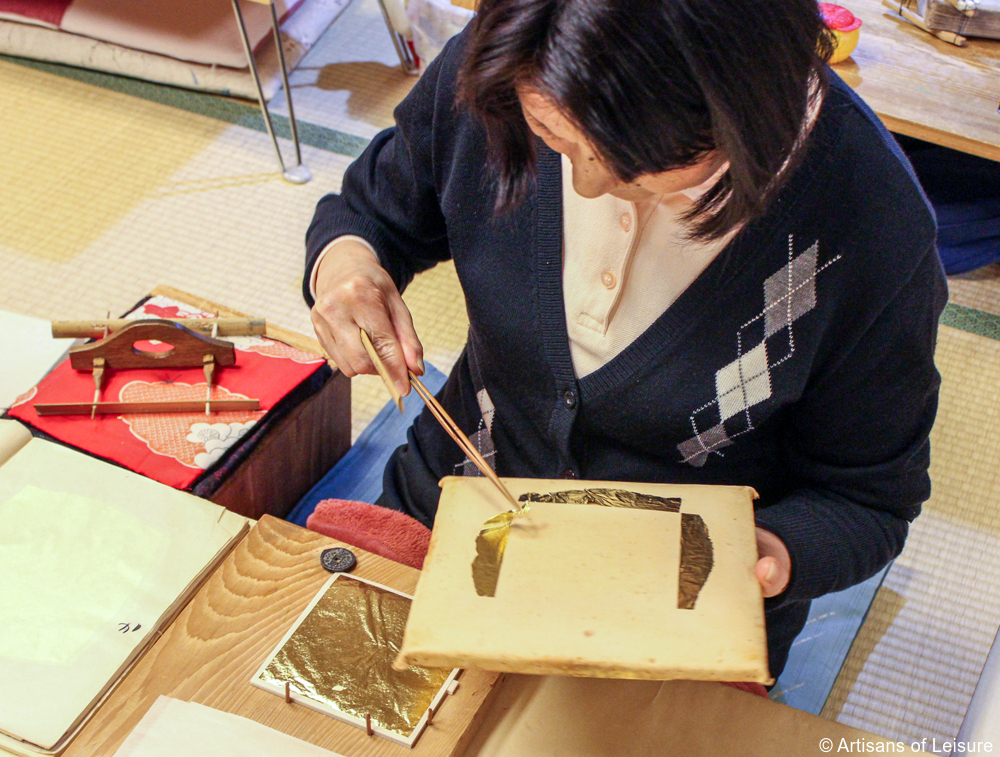 Gold leaf scraps are collected for use in cosmetics and food decoration.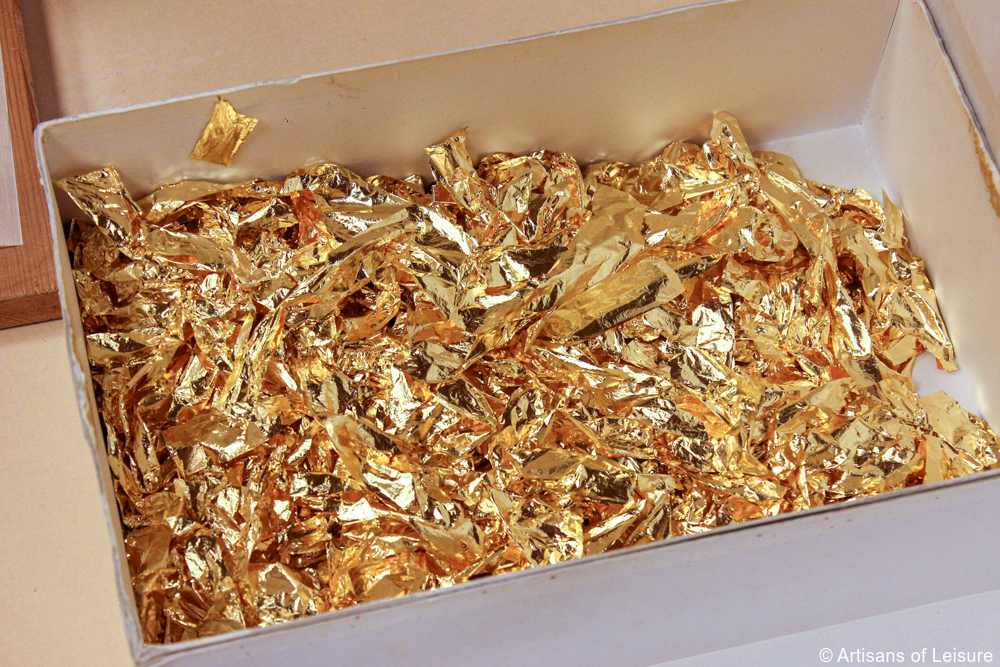 Kanazawa also has a historic samurai district. One of the traditional houses is open to visitors, who can enjoy its peaceful garden.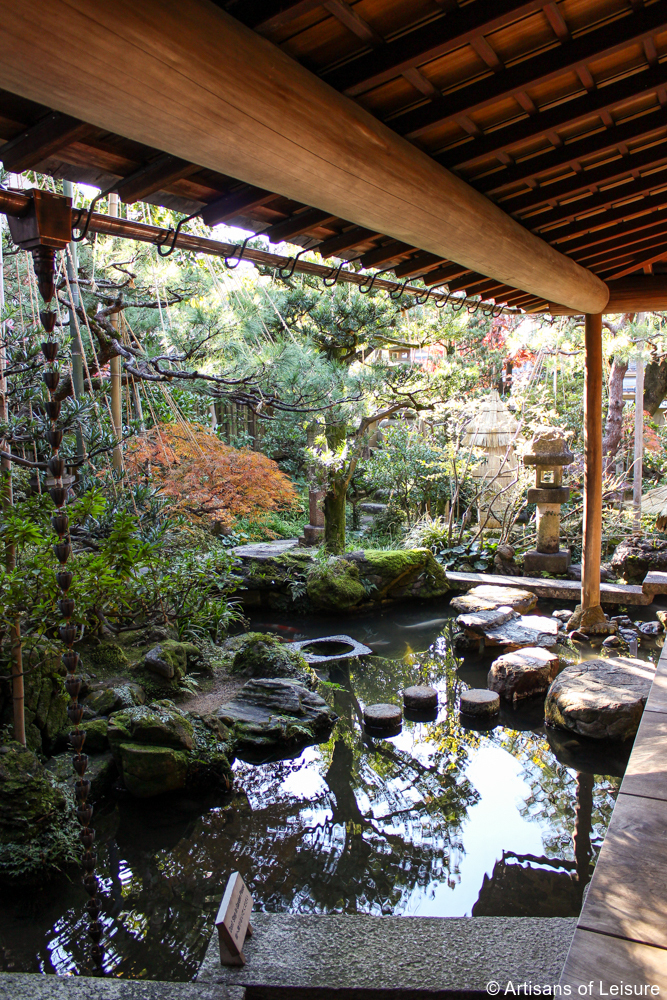 Just outside the samurai district, chef Shinichiro Takagi creates kaiseki ryori (seasonal tasting menu) meals at Zeniya, one of the best restaurants in Kanazawa. Patrons sitting at the counter can chat with Takagi-san while he works.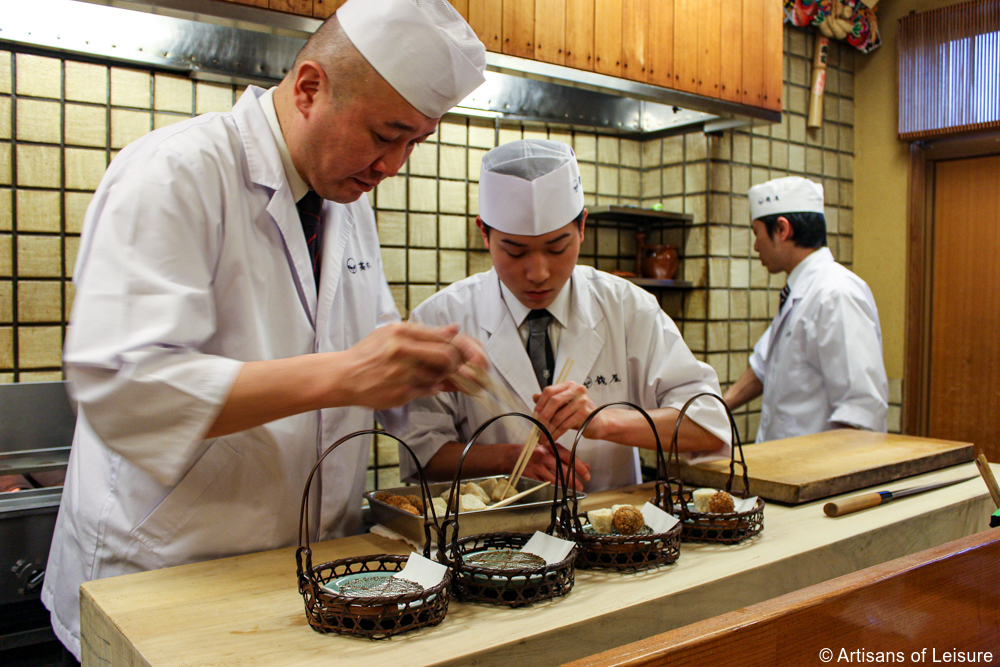 A ripe persimmon filled with slightly savory ice cream and garnished with pomegranate seeds and a pine needle at Zeniya.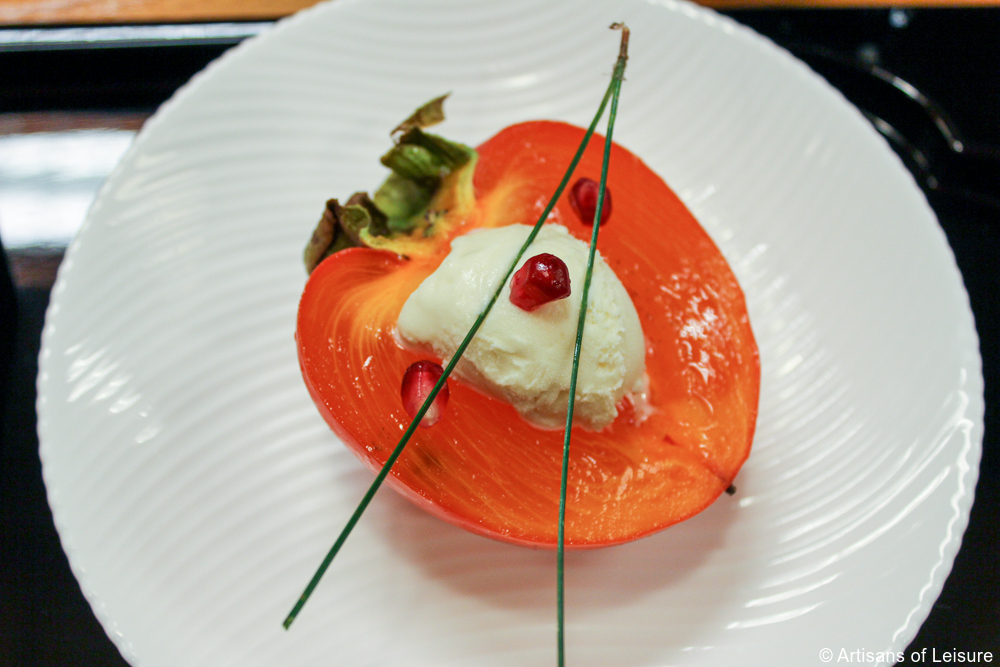 Ono is Kanazawa's traditional soy sauce- and miso-producing neighborhood. At one time there were around 150 factories here, but now only a few dozen remain.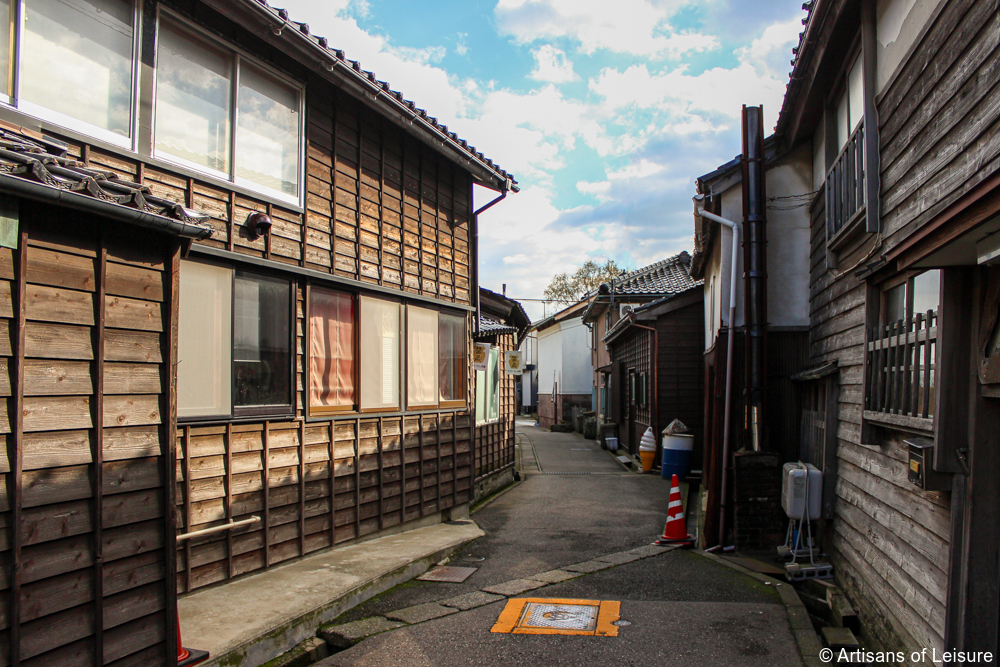 Artisans of Leisure can arrange tours of one of the miso factories, including learning how to make miso soup and other dishes.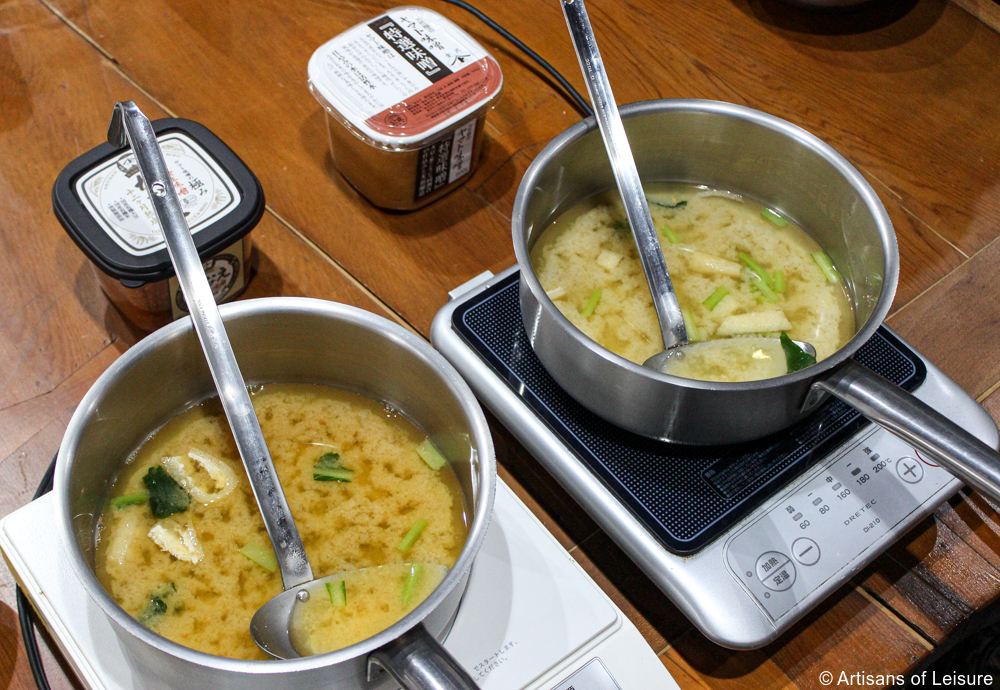 Travelers may also want to try shojin ryori (Buddhist vegetarian cuisine) at a local restaurant. In shojin ryori cooking, vegetables are transformed to resemble many different types of food, even non-vegetarian dishes such as sashimi and grilled fish.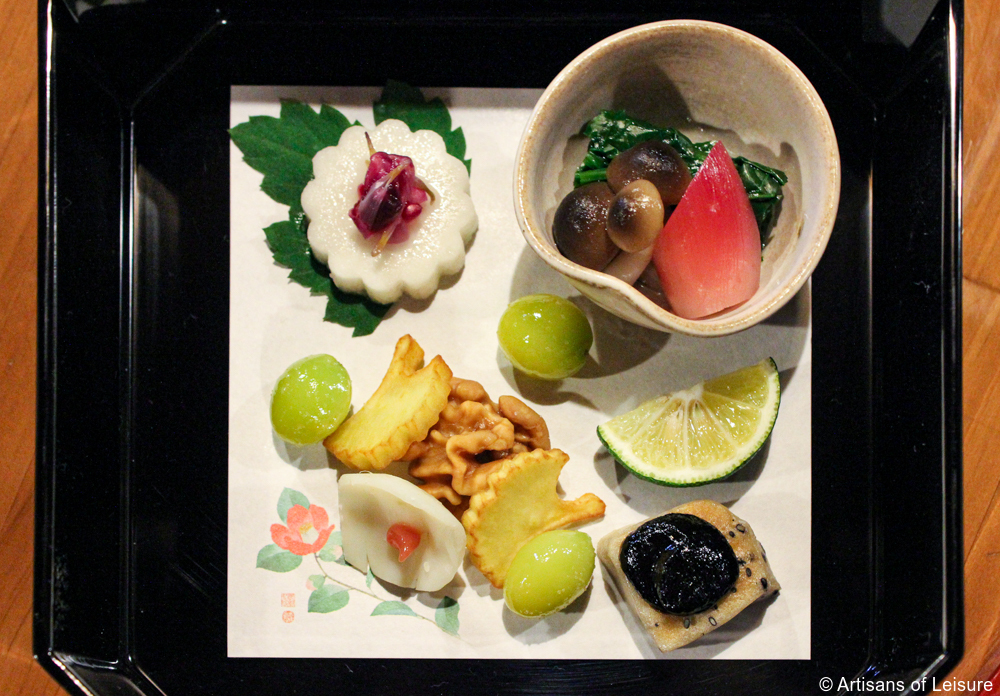 Ishikawa Prefecture is known for its fresh local ingredients, especially seafood from the nearby Japan Sea. In winter, crab is very popular, as seen here at the bustling Omicho Market in the heart of Kanazawa.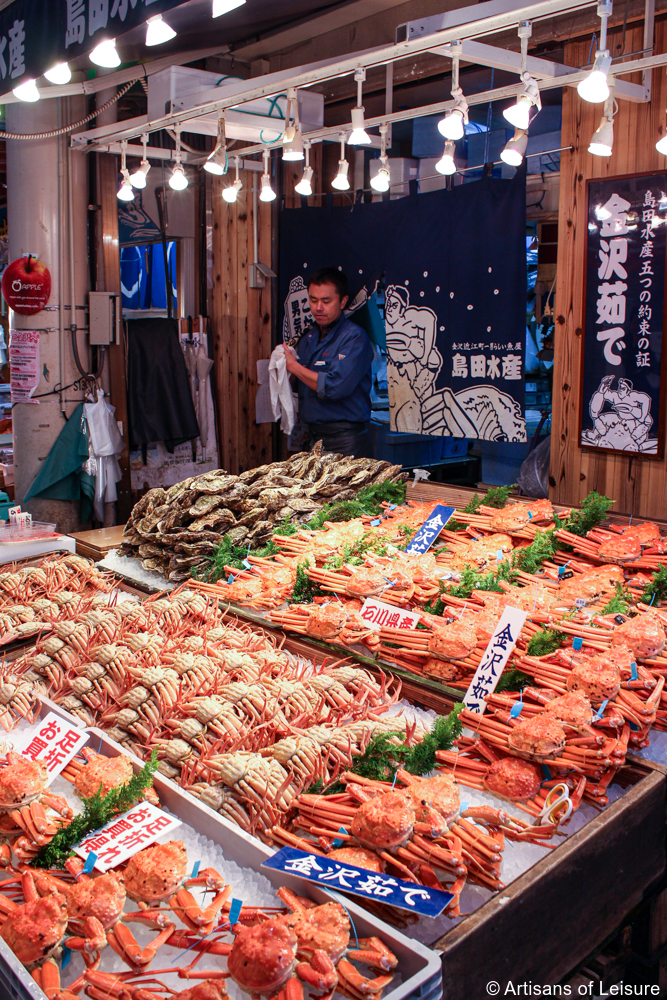 Just across the street is Asadaya, one of our preferred ryokan, or traditional inns. Once inside, guests can easily forget that they're in the city center. Guests at ryokan enjoy kaiseki meals and lavish breakfasts like this one.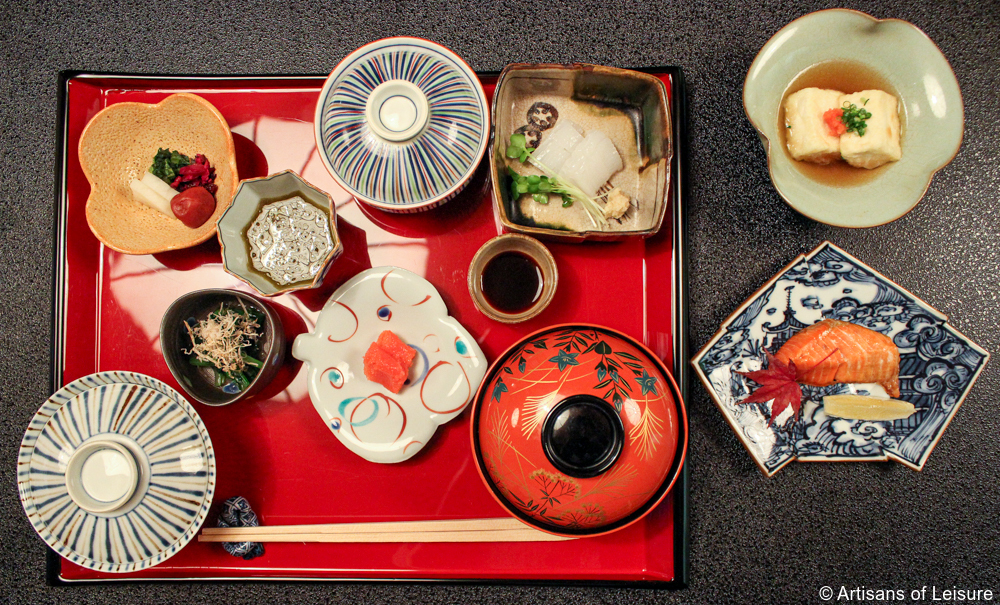 Kanazawa is also home to many studios that are keeping the traditional arts and crafts of the region alive.
Kaga yuzen is the local style of silk dyeing. Artisans of Leisure can arrange a behind-the-scenes visit to a Kaga yuzen studio to learn about the dyeing process.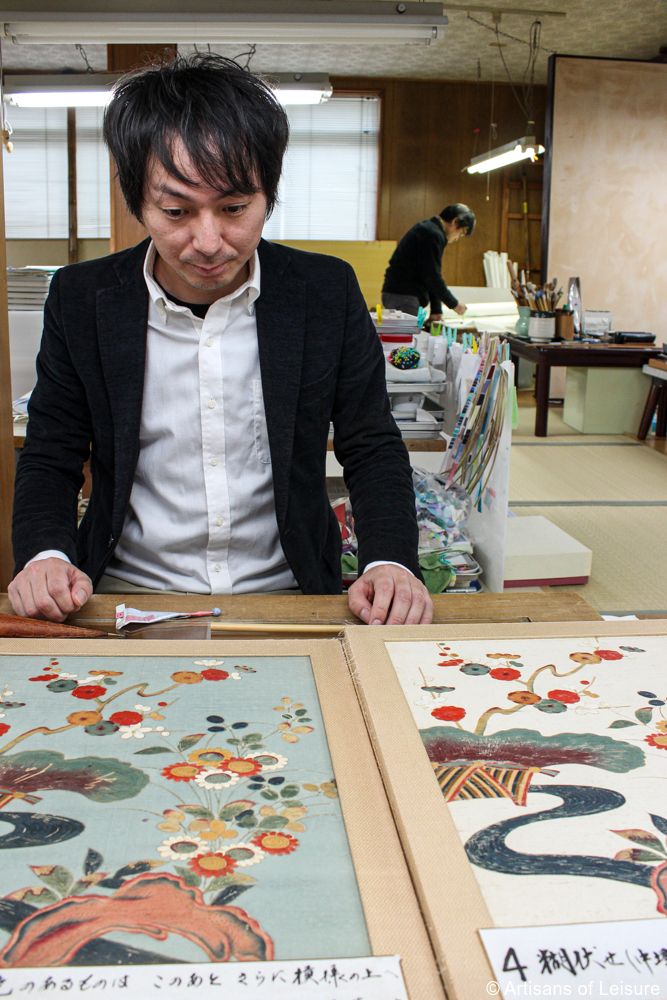 Master artisans painstakingly paint floral designs by hand.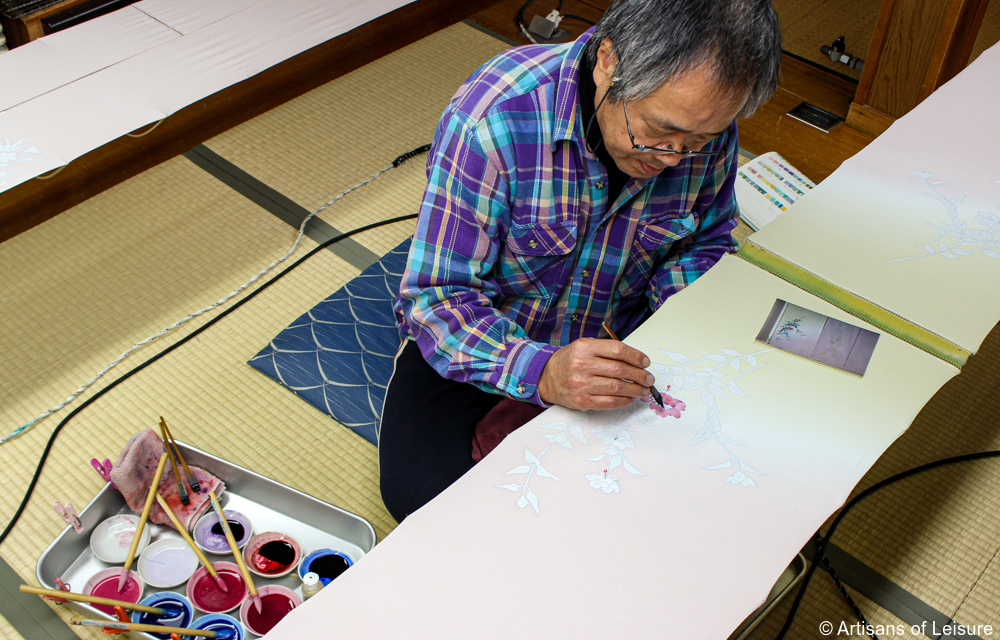 The finished product is a stunning silk kimono that sells for tens of thousands of dollars. The studio only produces about 30 kimono each year.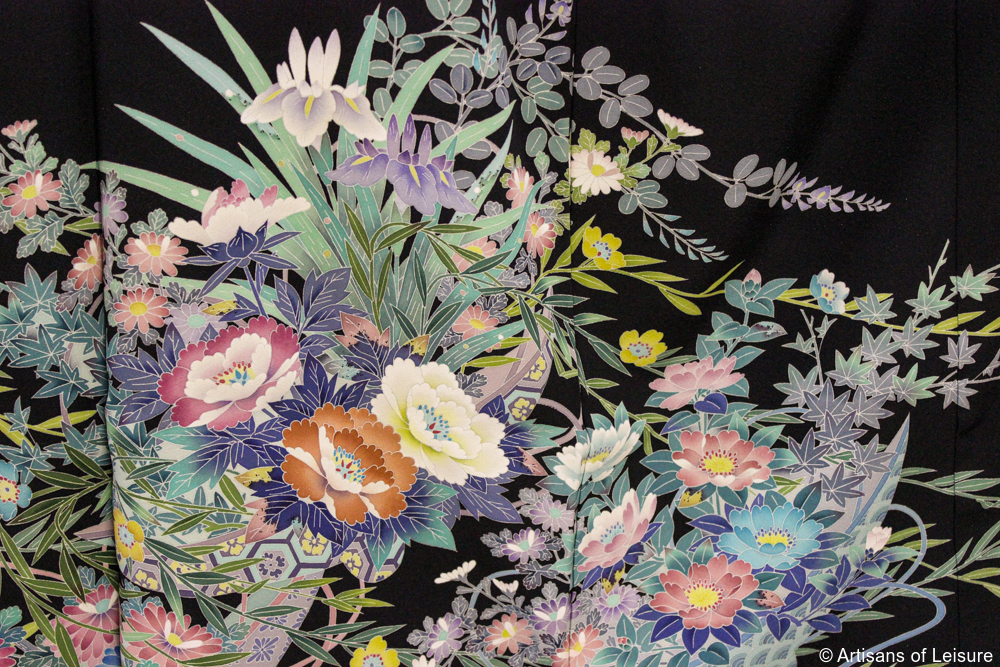 Ishikawa is also well-known for ceramics, including Ohi, which is the name of both a style of pottery and the family that makes it. Artisans of Leisure can organize a tour of the Ohi Pottery Museum with Toshio Ohi, an 11th-generation potter, followed by a tea ceremony using pieces crafted by him and his father.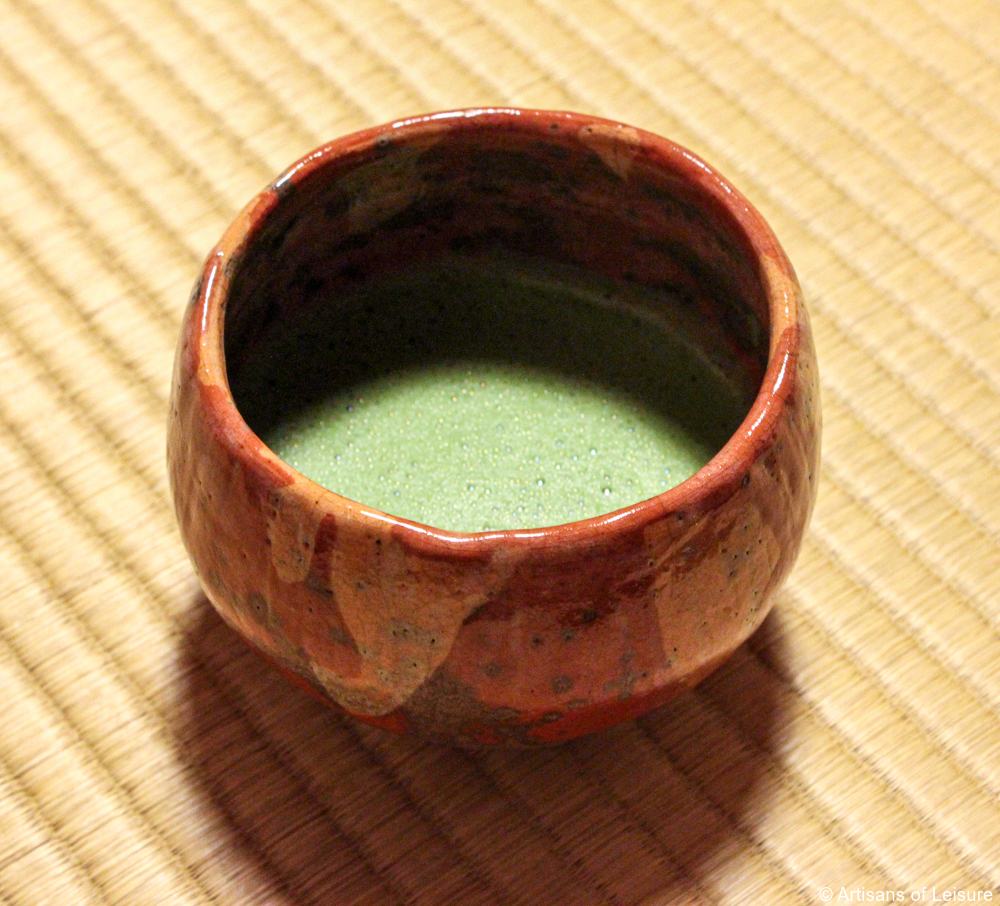 While Kanazawa is especially known for traditional culture, it is also home to some very modern museums. The Kanazawa 21st Century Museum of Contemporary Art is considered one of the best contemporary art museums in Japan.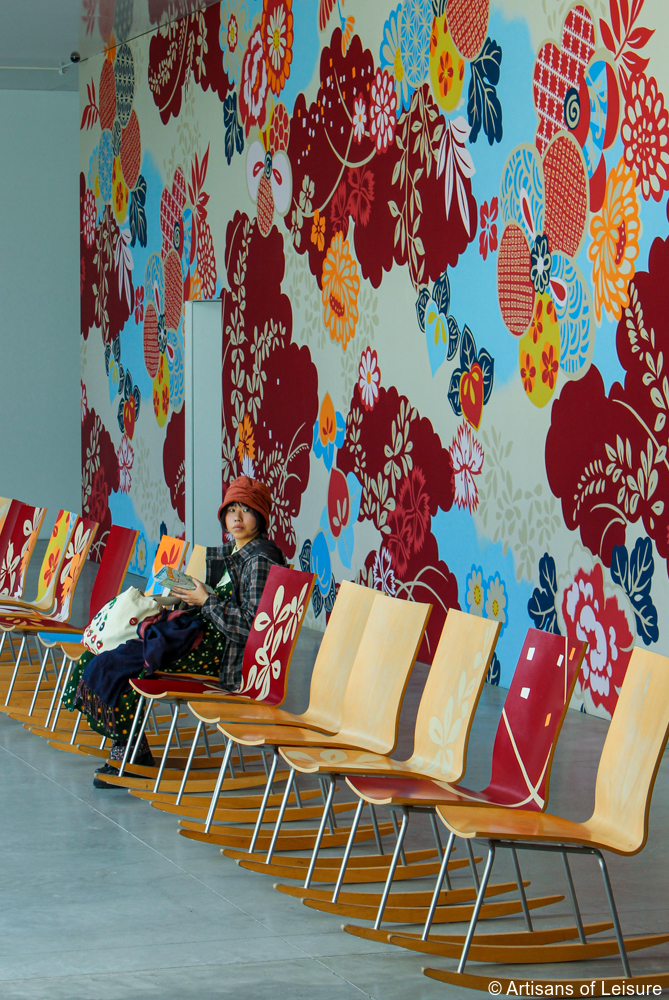 Another is the D.T. Suzuki Museum, which is dedicated to Daisetsu Suzuki, the philosopher and professor who helped popularize Zen Buddhism in the West. Visitors can contemplate the serene gardens, including this water garden, and architecture by Yoshio Taniguchi.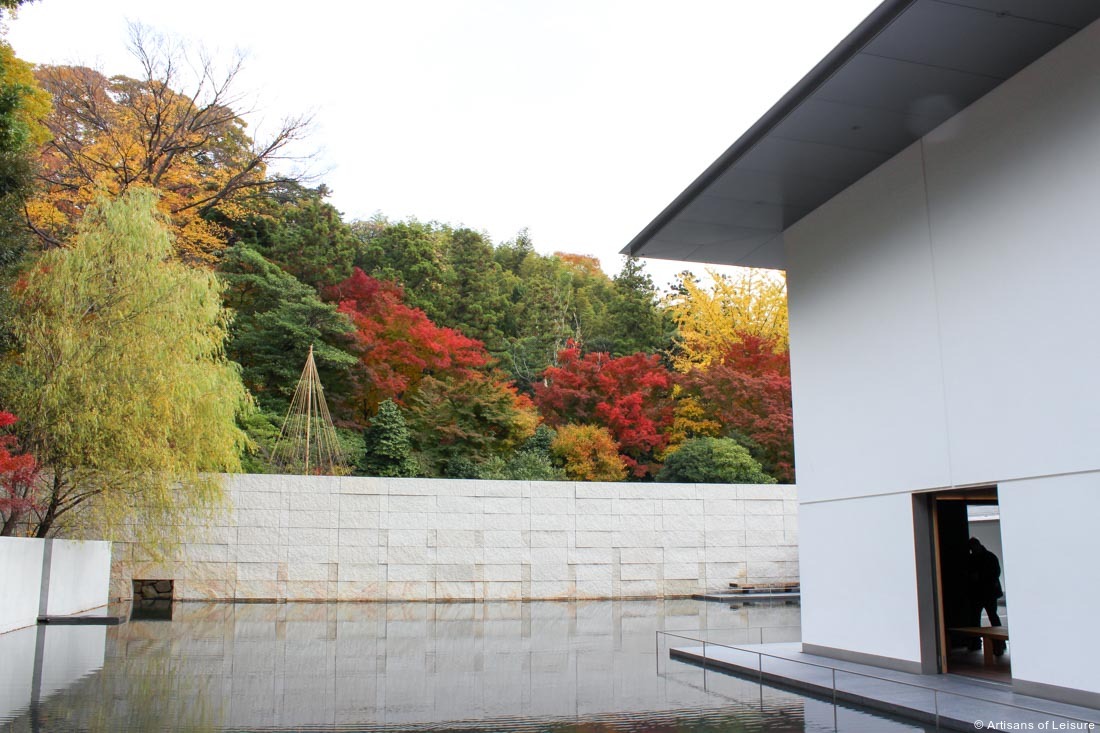 North of Kanazawa, the Noto Peninsula is a great day excursion. The principal town is Wajima, which is known for lacquerware, seafood and a large morning market.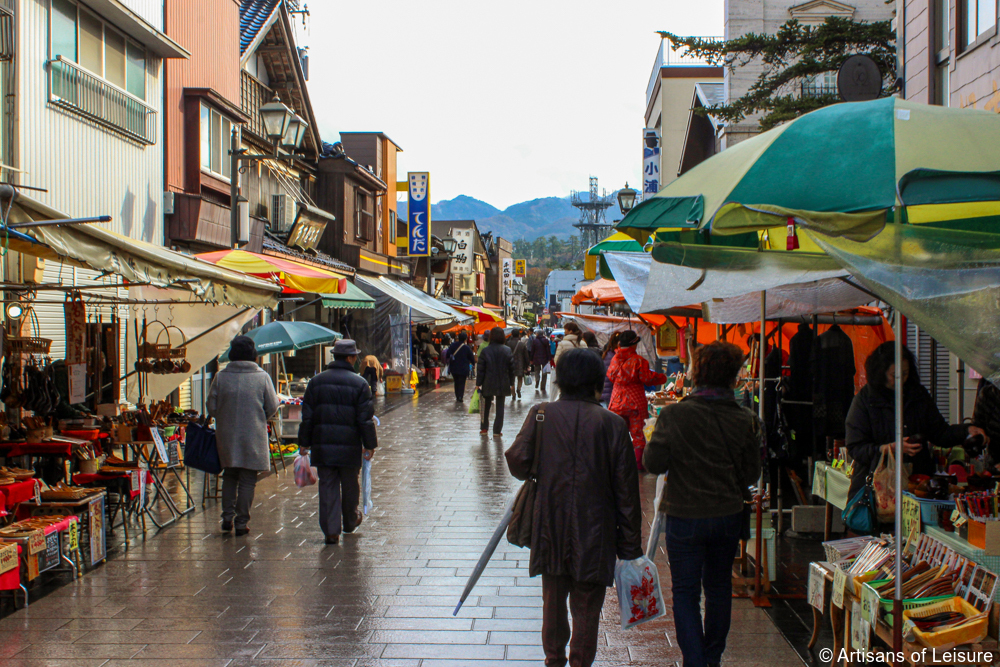 This confectionary shop in Wajima makes delicious yubeshi, a traditional sweet made of yuzu citrus peel that's stuffed with seasoned mochi (pounded rice), then steamed and aged until the flavors meld. The cafe upstairs is a pleasant place to sample the delicacies.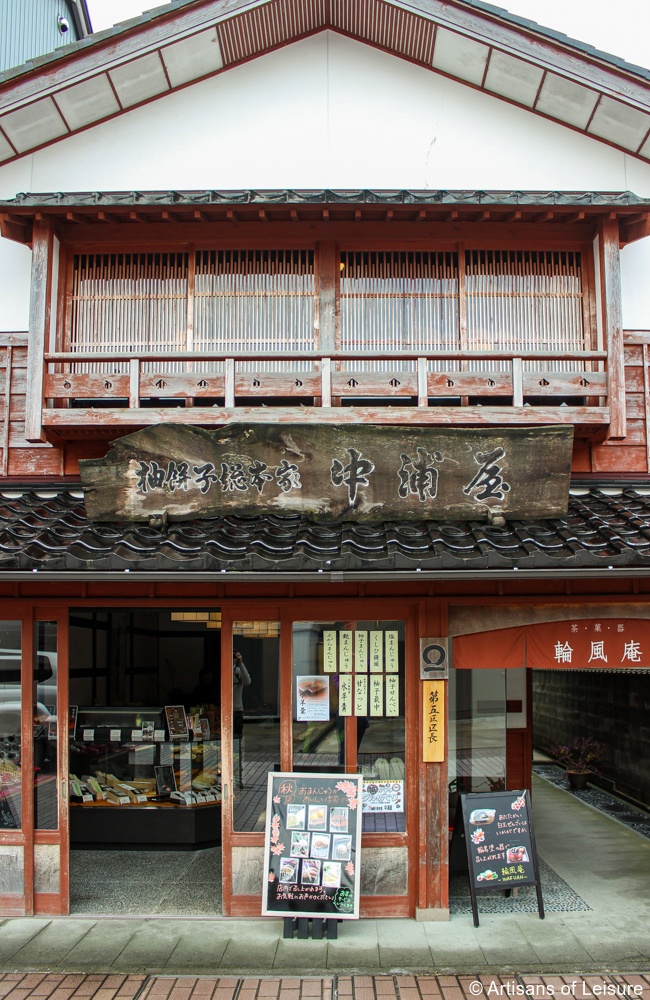 Also in Wajima are a lacquerware museum and several lacquerware studios. At one of the studios, travelers can create their own chinkin (engraved) souvenirs by scratching designs into the lacquer, painting on fresh lacquer to fill in the grooves and sprinkling the design with gold powder.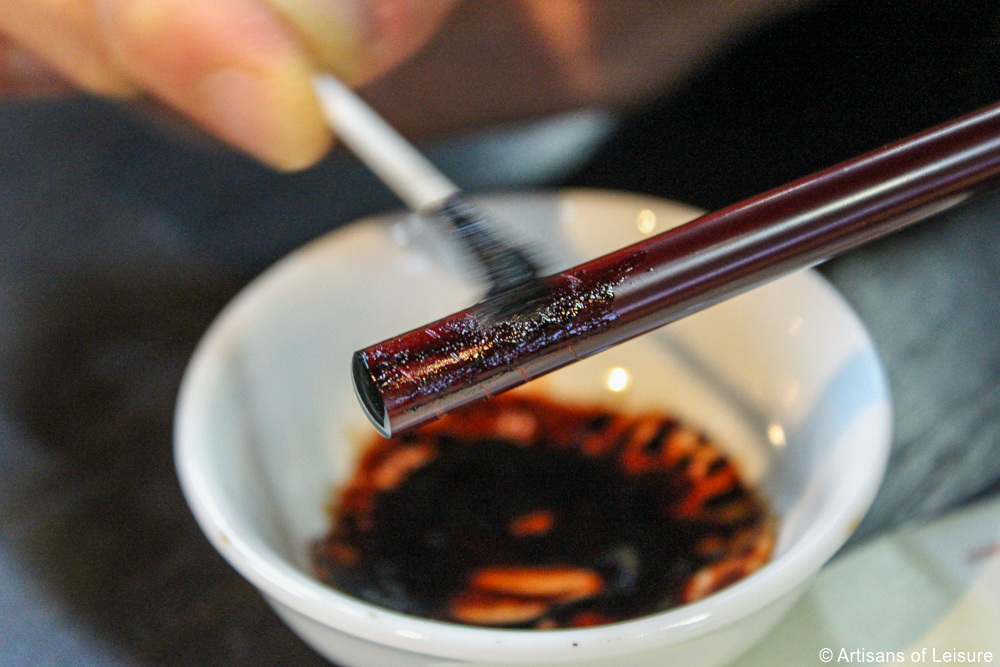 The Noto Peninsula has a rugged coastline.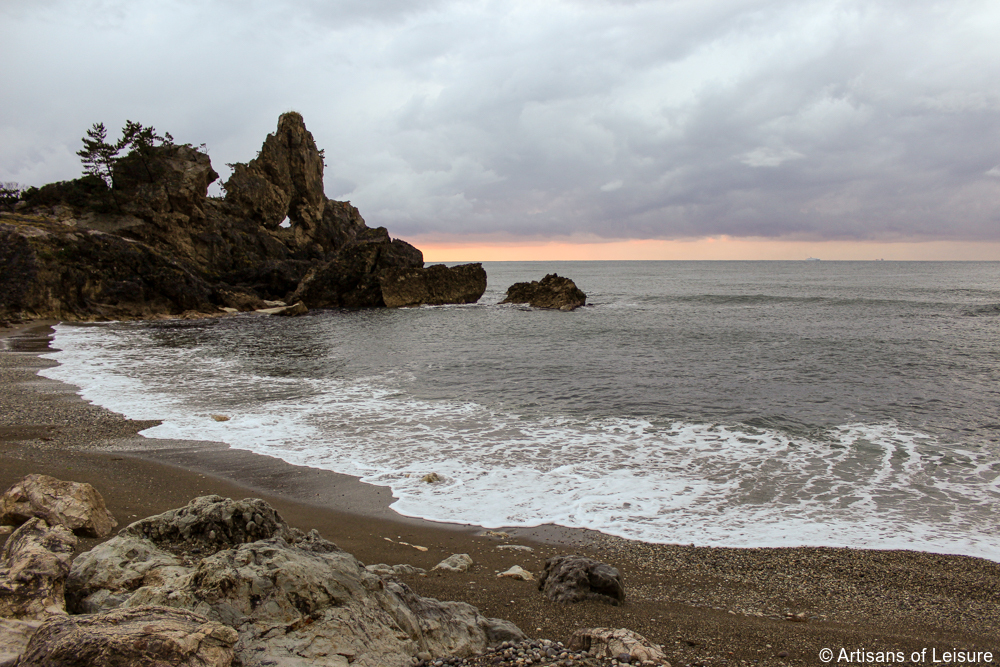 Some of the coastal villages specialize in producing sea salt in the traditional way. Our travelers can learn about the labor-intensive process as well as sample various kinds of sea salt.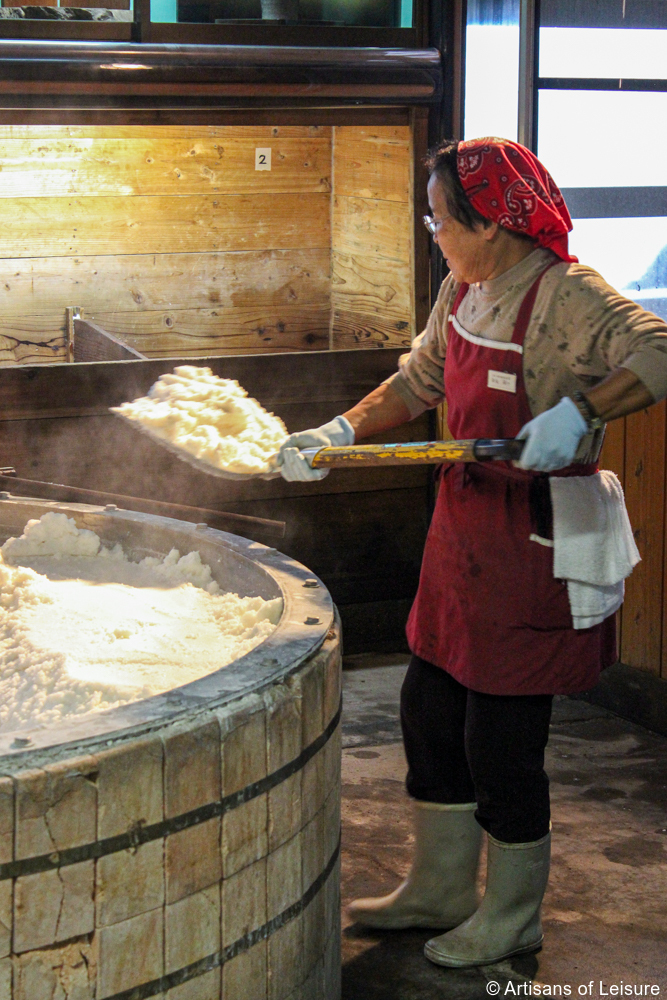 Noto Peninsula also has excellent water and rice, the essential ingredients of great sake. We can arrange for our visitors to tour a local sake brewery and sample some of their award-winning varieties.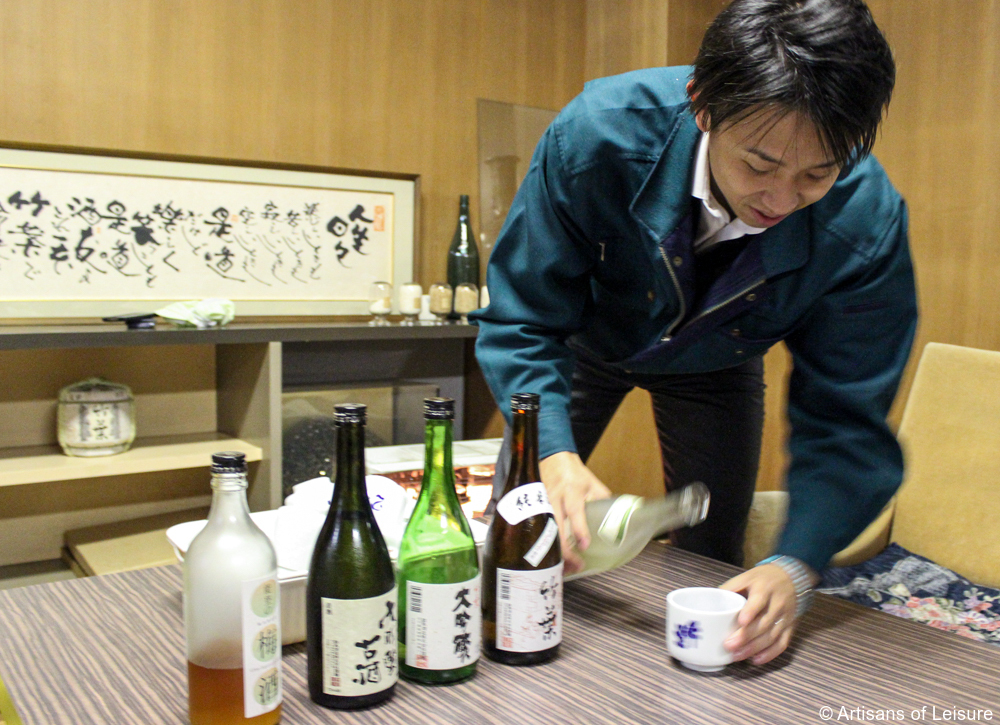 Another wonderful excursion from Kanazawa is southern Ishikawa. This area is famous for hot springs and ceramics, including colorful Kutani-yaki (Kutani-style ceramics). In Kaga City, the Kutaniyaki Art Museum displays different styles of the ceramics and explains the history of the craft.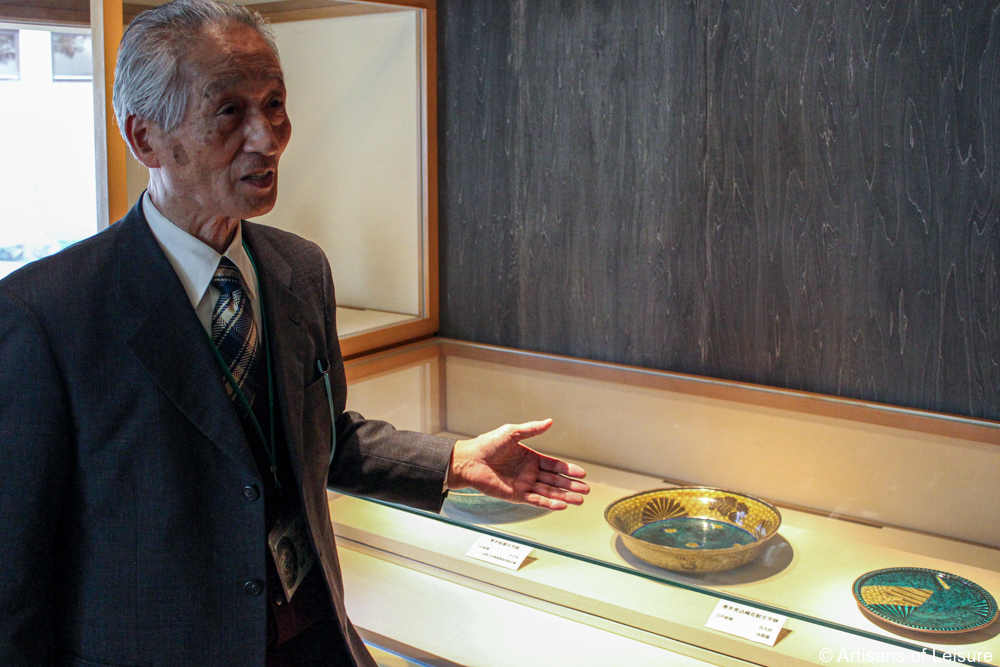 This is a gorgeous piece at the Kutaniyaki Art Museum.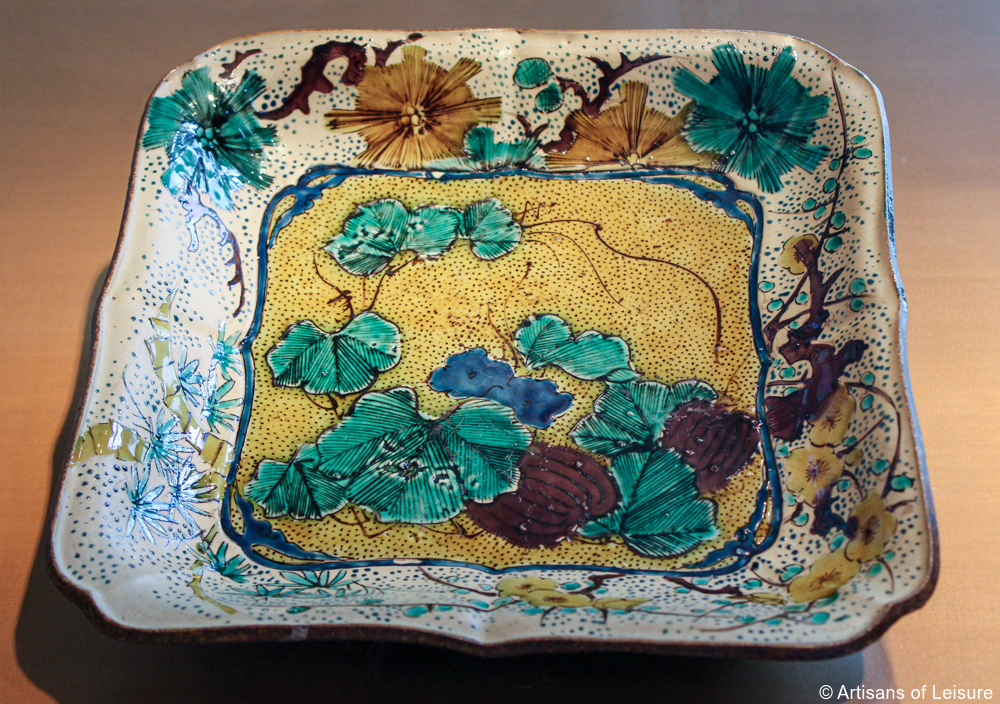 Nearby, interested travelers can tour a taiko (drum) factory to see how the ceremonial drums are made. These wooden drums all have a different pattern carved on the inside, giving each a unique sound. Artisans of Leisure can also arrange taiko drumming lessons.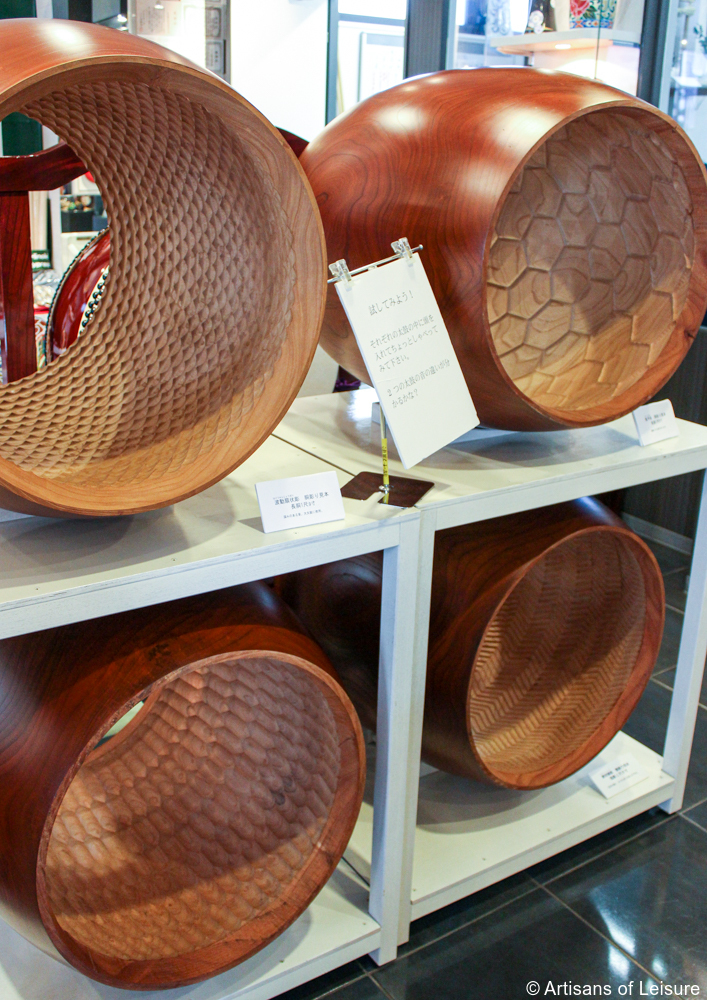 The factory also produces colorful drums for Buddhist temples.
Farther south are several onsen (hot spring) resort towns. The towns are often centered on public onsen baths like this. For travelers with more time, this is a wonderful area to spend a relaxing night at a ryokan with a private bath.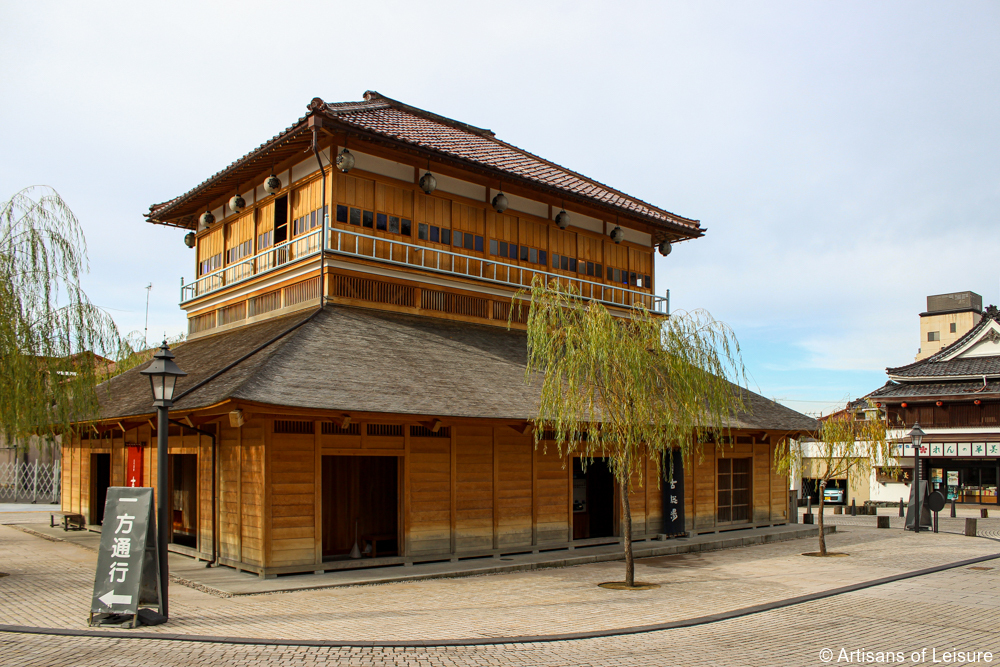 Eggs cooking in natural hot spring water at one of the local ryokan.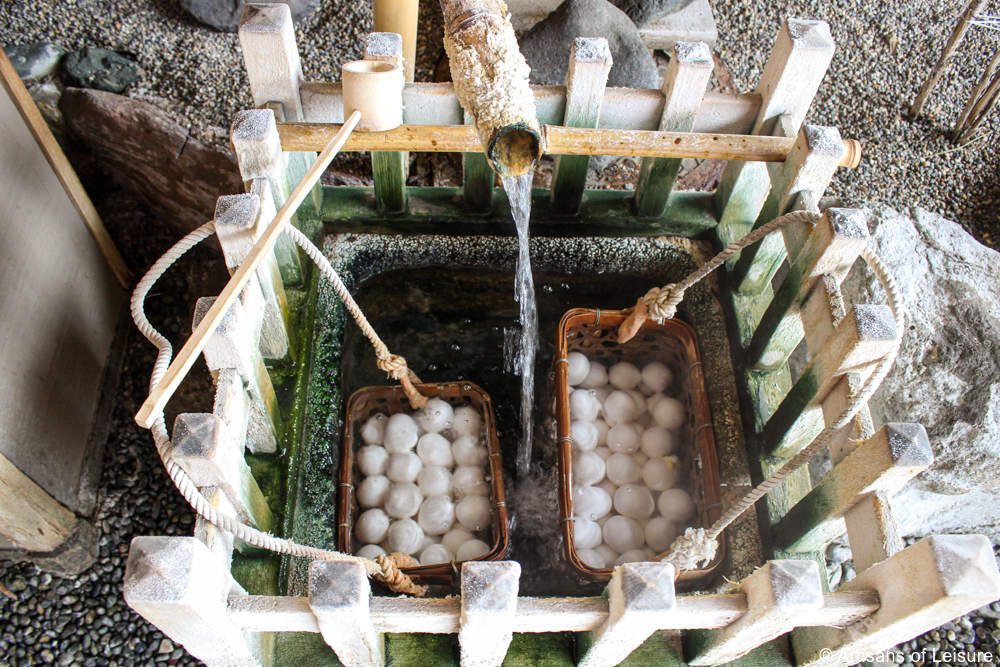 Araya Totoan is one of our preferred ryokan in Yamashiro Onsen. The hotel adeptly blends antiques and modern furnishings, contemporary art and traditional design.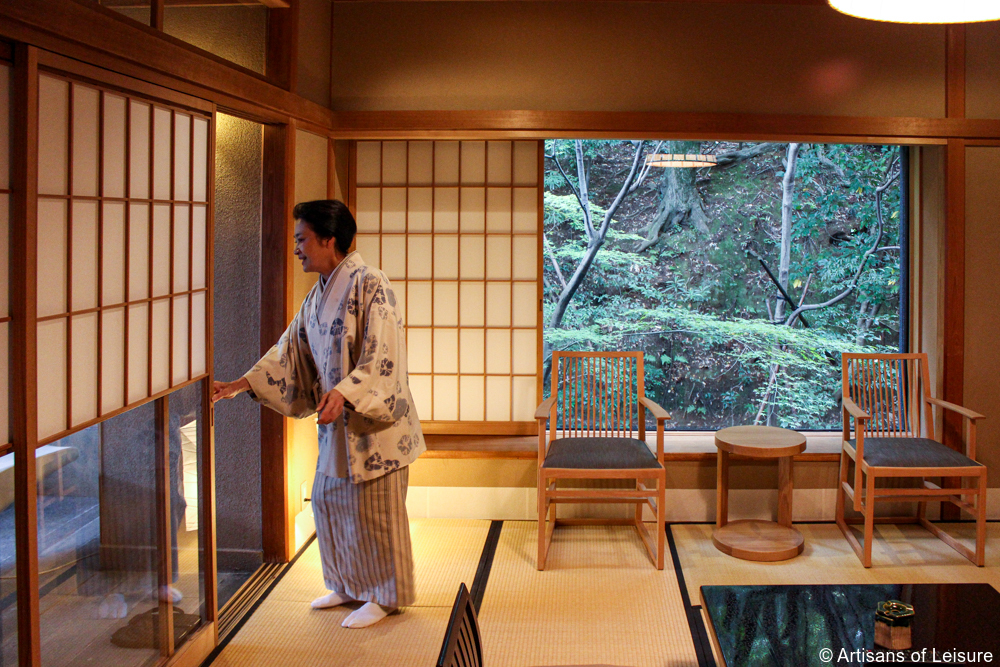 The shared onsen at Araya Totoan. Many of the guest rooms also have private baths.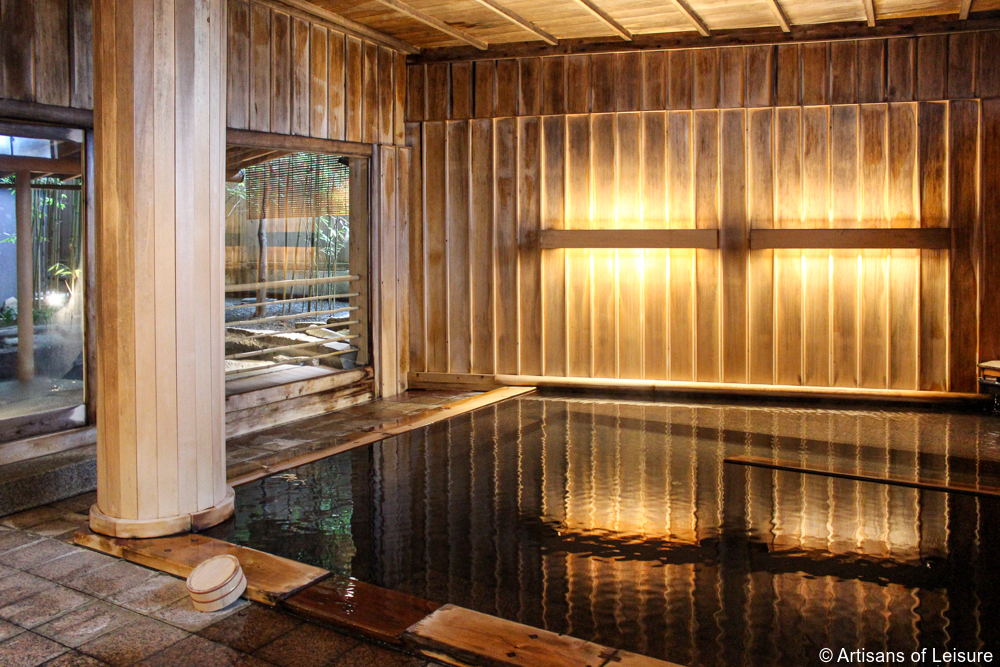 The nearby resort town of Yamanaka Onsen is situated along Kakusenkei Gorge. It's beautiful throughout the year, with cherry blossoms in spring, vibrant greenery in summer, colorful foliage in autumn and sparkling snow in winter.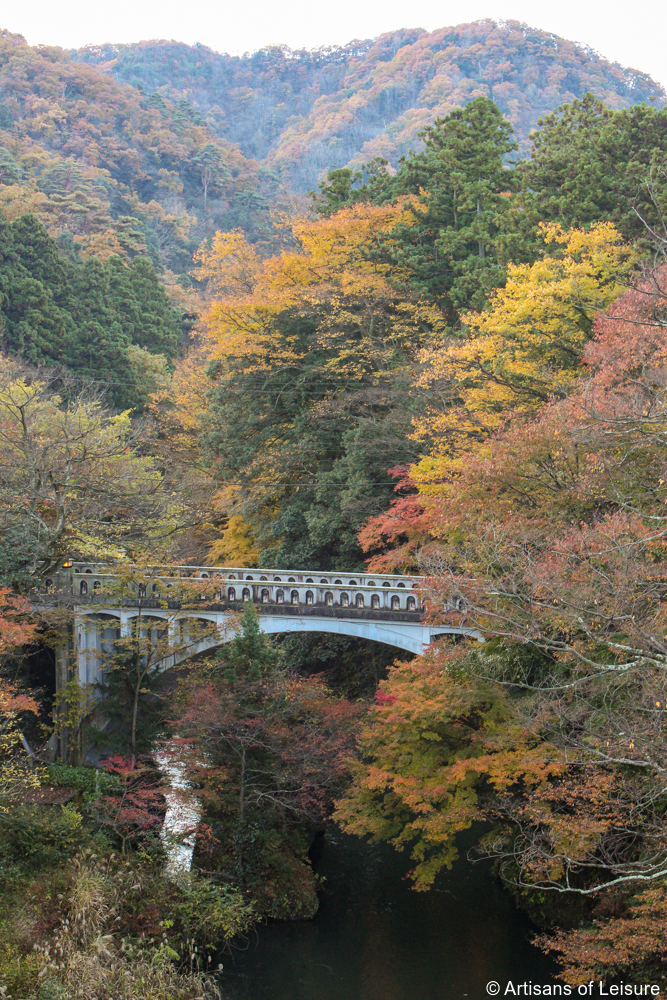 Kayotei, our preferred ryokan in Yamanaka Onsen, overlooks the gorge, giving it a private, exclusive feel and great views.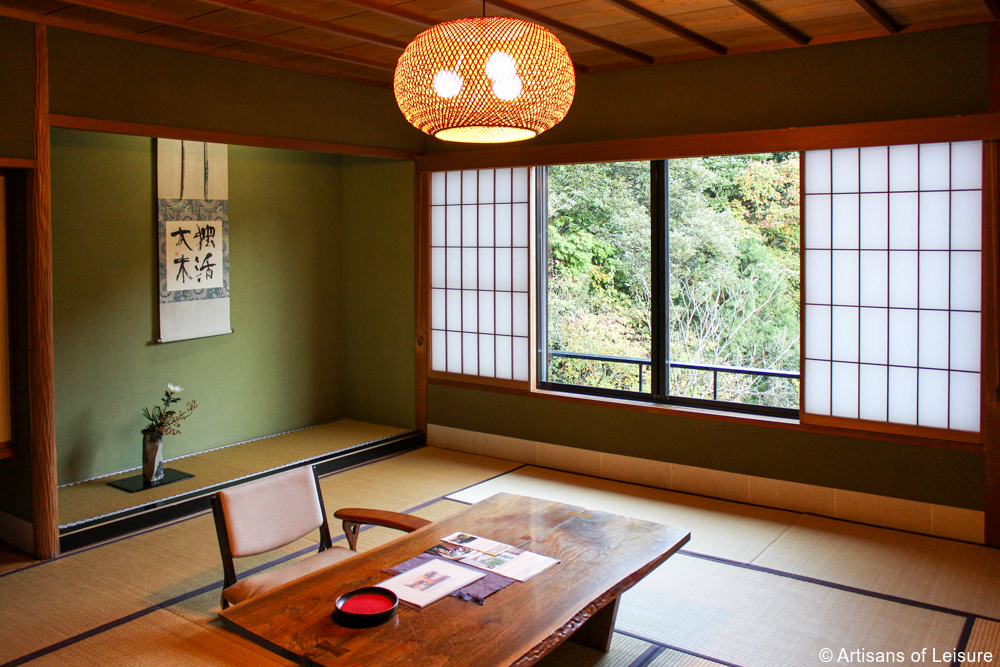 Yamanaka Onsen is a good option for travelers interested in food and crafts as it is home to many food producers and artisans, including this famous woodturner.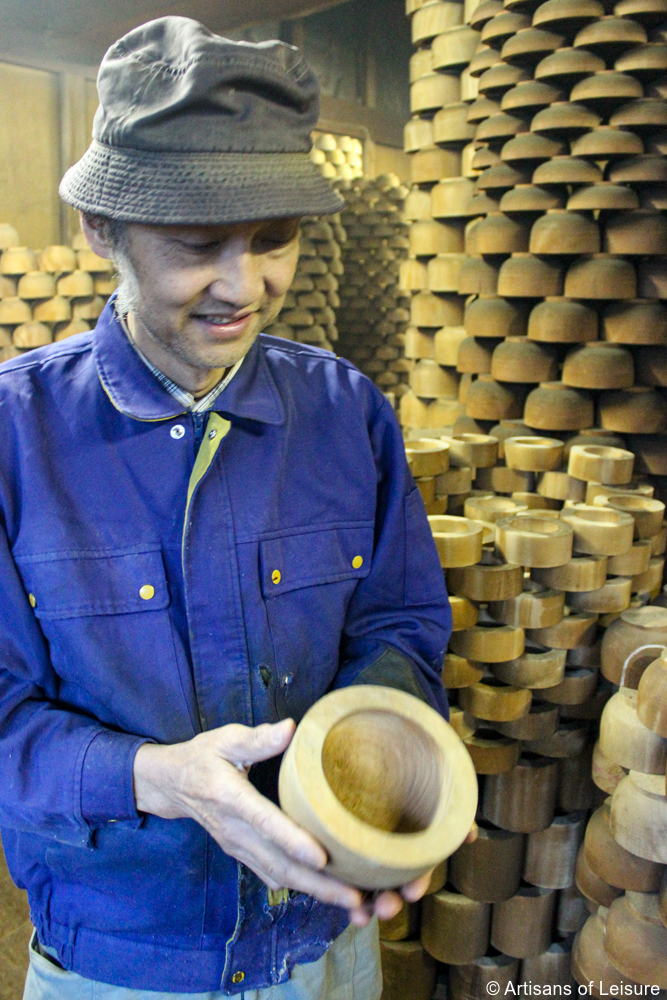 We can arrange for our travelers to tour his workshop, chat with him over a cup of tea, and browse pieces he's produced, such as wooden wine glasses and lacquered nesting tea sets.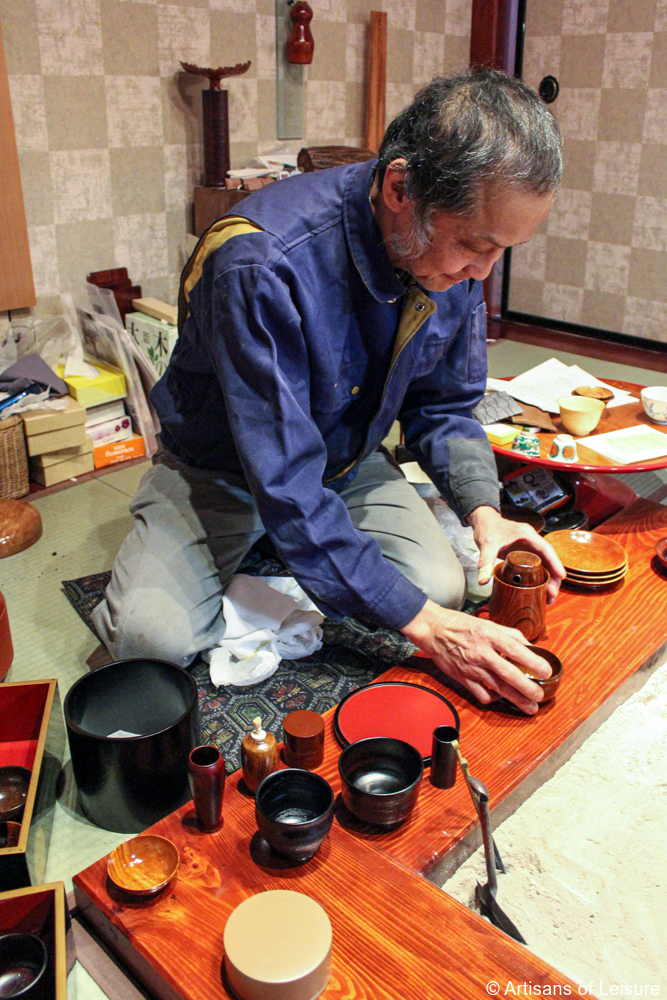 Also working in the area is a young washi (paper) maker. She strips tree bark, pounds it into pulp and then sets the frames in the sun, using pieces of equipment around her farmhouse as drying racks. It's fascinating to learn how her craft is inspired and influenced by the surrounding landscape.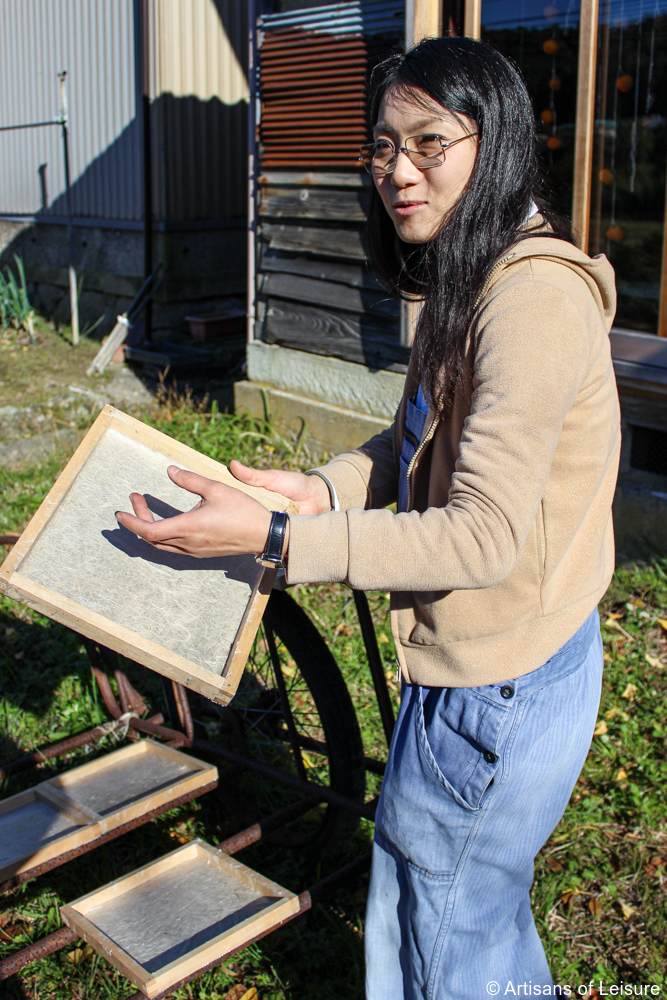 Another interesting visit is to a small-scale soy sauce maker. In this image, he's pouring fermented soybeans into a filter to be pressed. The resulting liquid will be soy sauce. Artisans of Leisure can also arrange soba- and wagashi (sweets)-making lessons and visits to other local food producers like an organic rice farmer.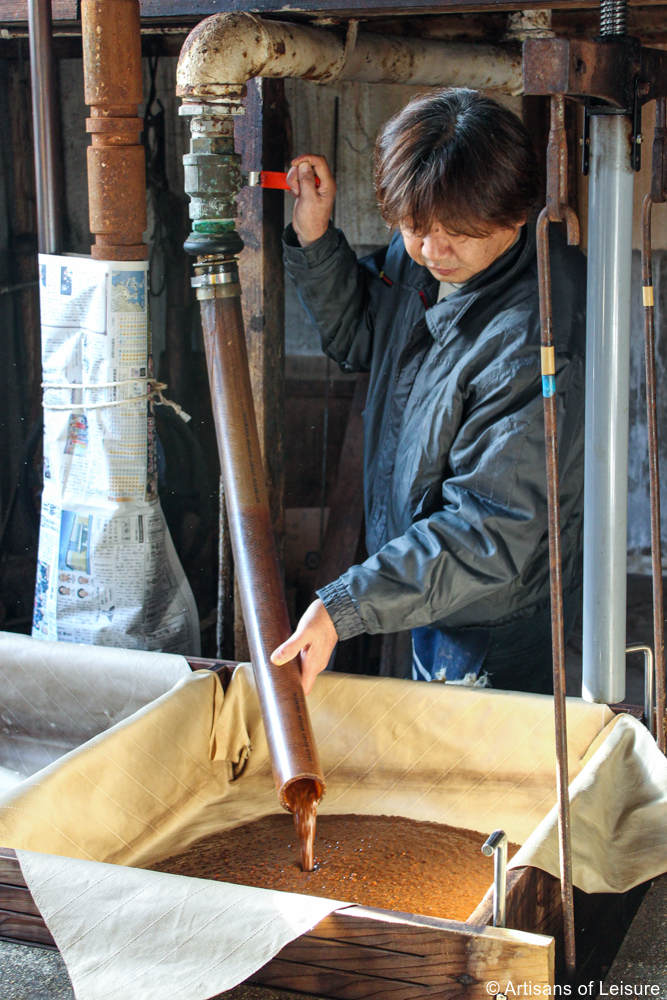 At the end of the day, guests at Kayotei can enjoy a relaxing soak in a private, open-air onsen, followed by an exquisite kaiseki dinner.
Contact us to begin planning a private Japan tour that includes wonderful and multifaceted Ishikawa Prefecture.
Tags: ceramics tours, cooking class, craft tours, geisha, insider Japan, Ishikawa Prefecture, Japan, Japan crafts tours, Japan culinary tours, Japan food tours, Japanese artisans, Japanese ceramics, Japanese culture, Japanese food, Japanese gardens, kaiseki, Kanazawa, Kayotei, lacquerware, luxury ryokan, luxury ryokans, mingei, Noto Peninsula, onsen, ryokan, washi, Yamanaka Onsen, Yamashiro Onsen