January 6, 2015
Just Back: Luxury, Culture, Adventure, Jewish History, Design & More in Morocco
Morocco is one of our most popular tour destinations. It offers very luxurious resorts, fascinating and varied cultural touring, and excellent dining and shopping. On our recent trip through the country, we visited some of our favorite places, including Marrakesh, Essaouira, Casablanca, the Atlas Mountains, the Sahara Desert, Fez and Chefchaouen.
We began in enchanting Marrakesh, an ancient capital and UNESCO World Heritage Site. We enjoyed staying at the exclusive Amanjena, one of our favorite resorts in a city full of wonderful luxury hotel options.
The Amanjena guest pavilions include private courtyards (some with private pools), a perfect place to relax after private touring in the Marrakesh medina (old city).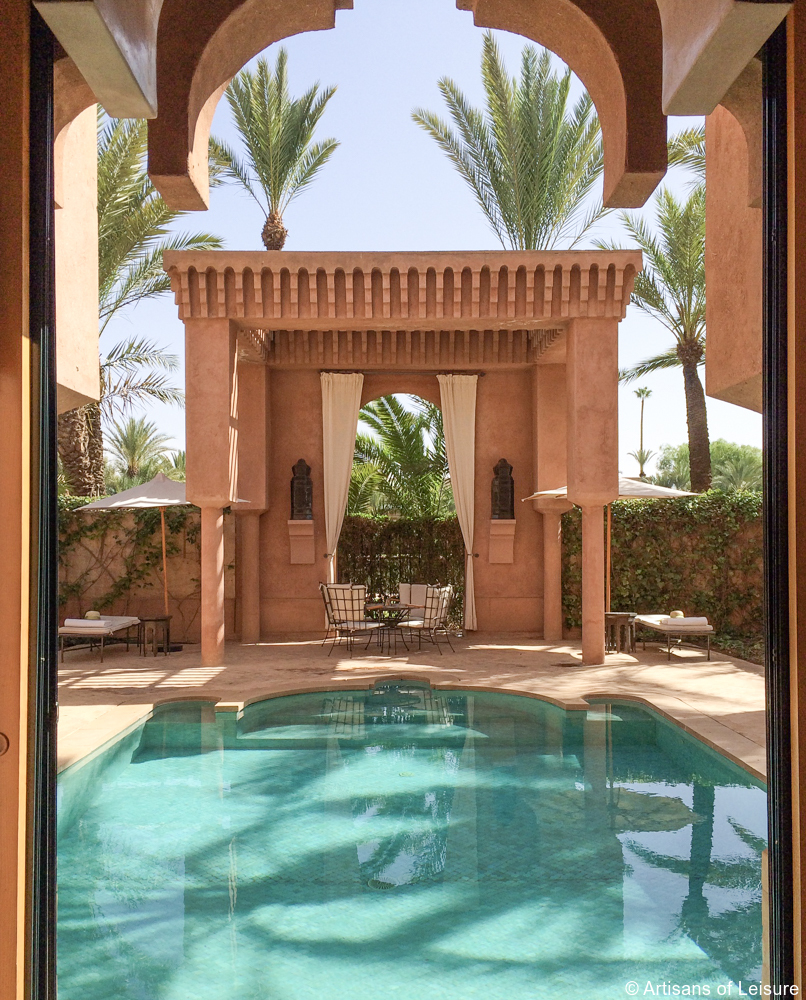 One of our favorite places in Marrakesh is Jardin Majorelle, a beautiful garden created in the 1920s by French painter Jacques Majorelle. The garden eventually fell into neglect, but it was restored to its splendor by designer Yves Saint Laurent and his partner Pierre Berge.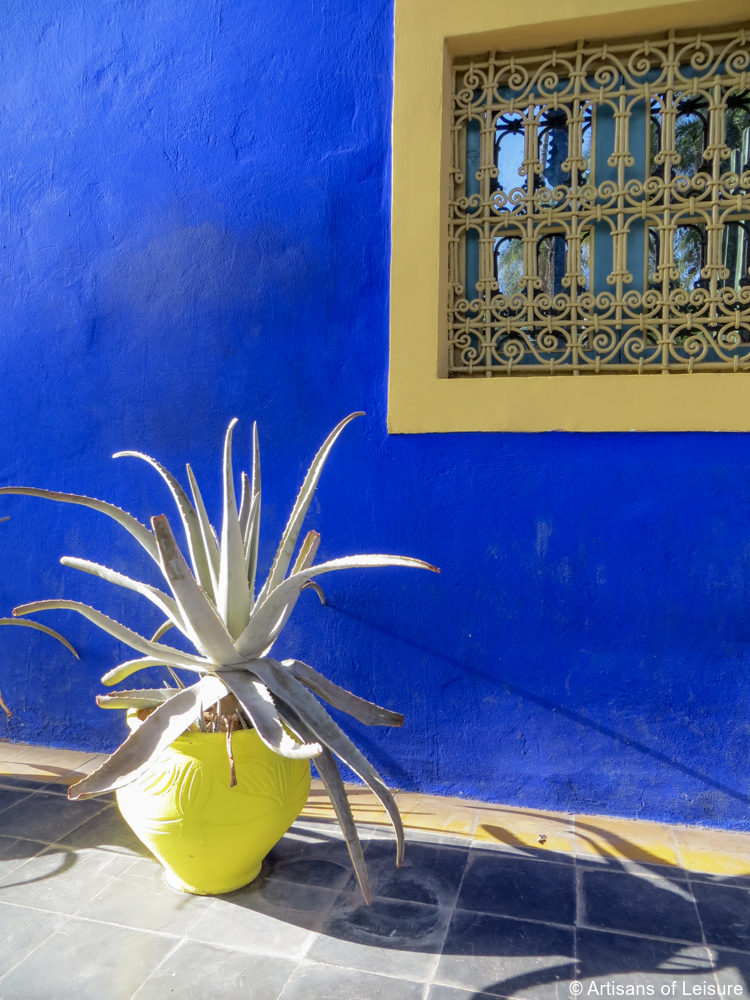 The garden has been cultivated over the years with hundreds of varieties of plants from around the world.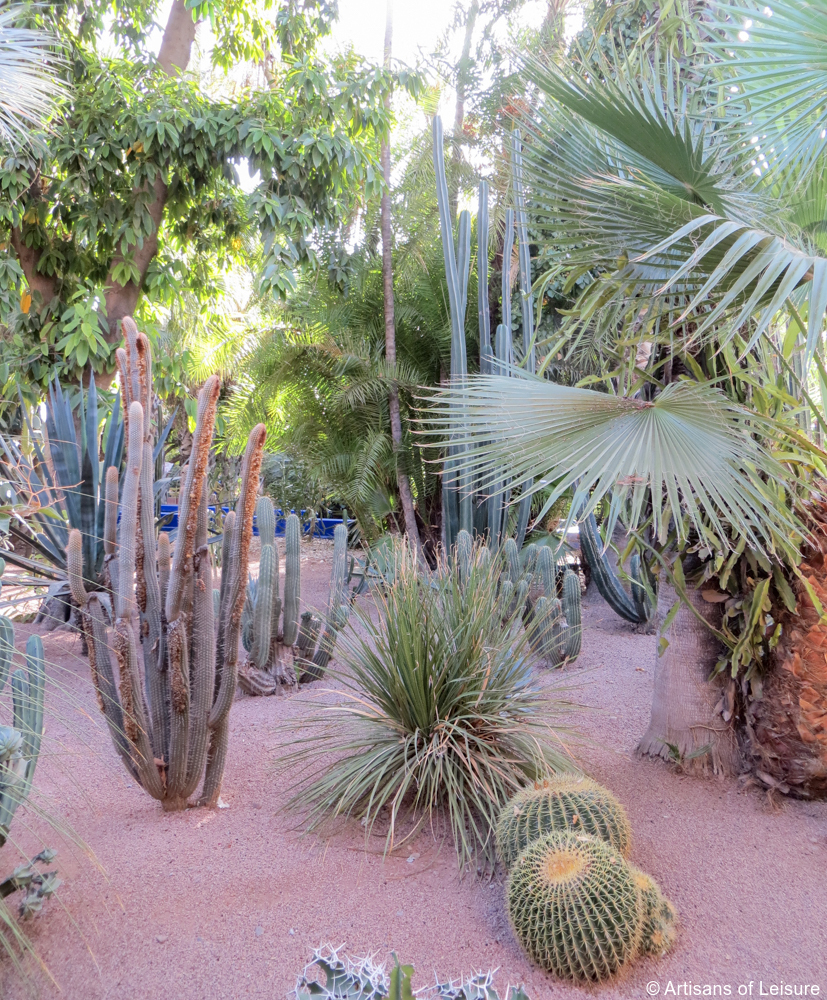 Also in Marrakesh, we take our travelers to see the ruins of El Badi Palace, which was commissioned by Sultan Ahmad al-Mansur in the 16th century.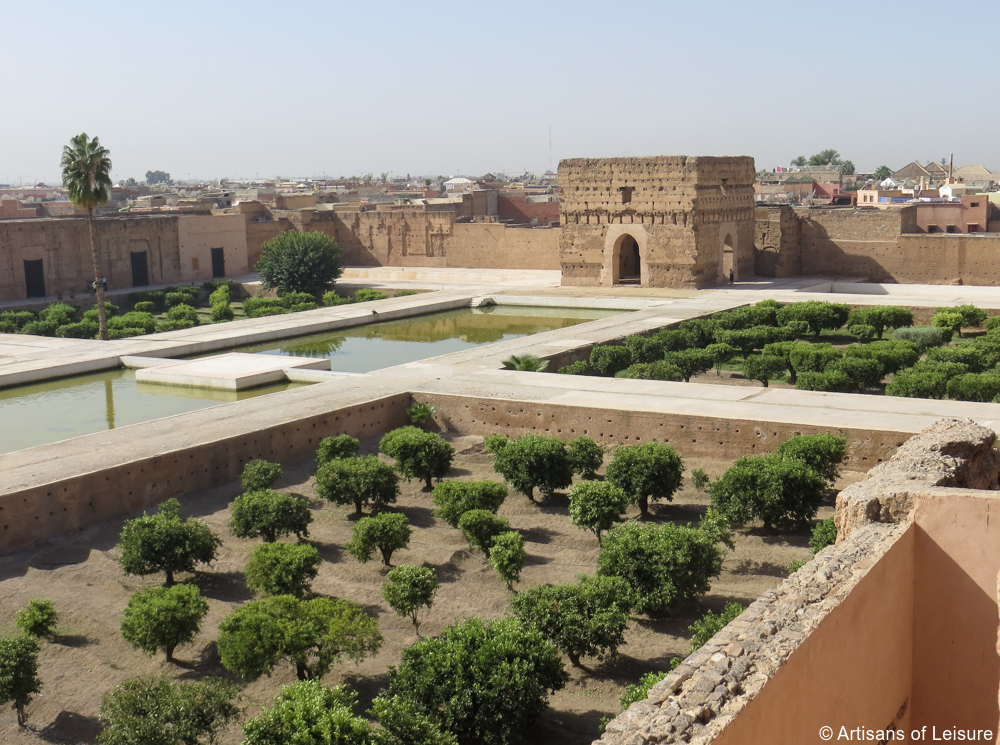 Our private guides bring the history of the palace alive and explain its former splendor, which is hinted at in these tile-covered floors and walls.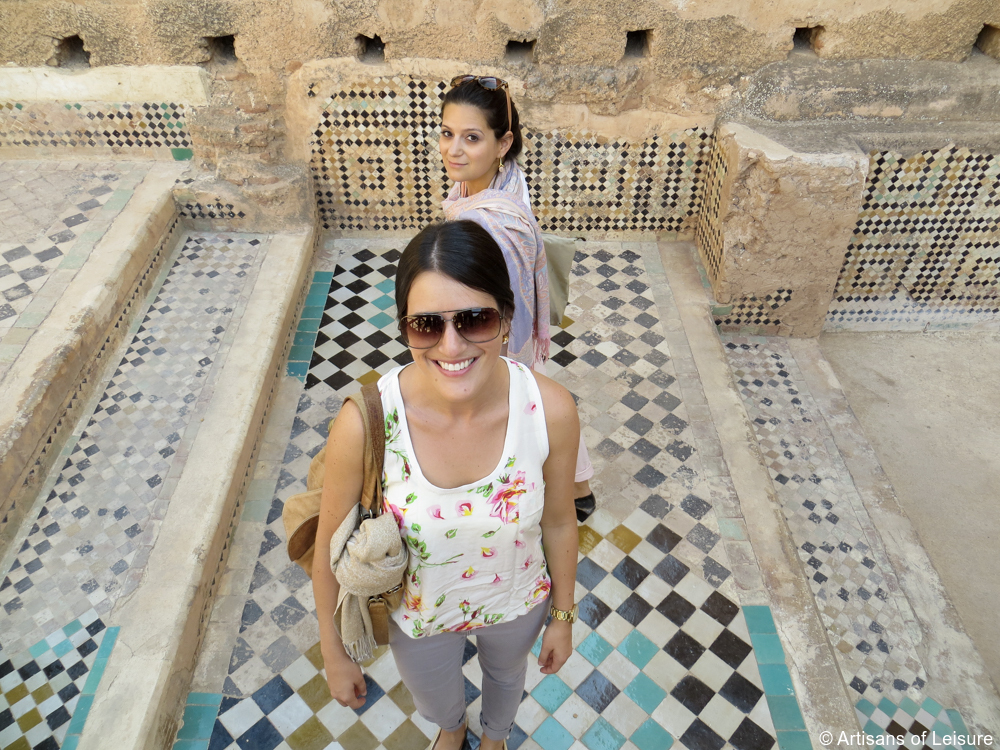 The Four Seasons Resort Marrakech is a great option for families because it offers a luxurious atmosphere coupled with family-friendly facilities and lots of activities for children.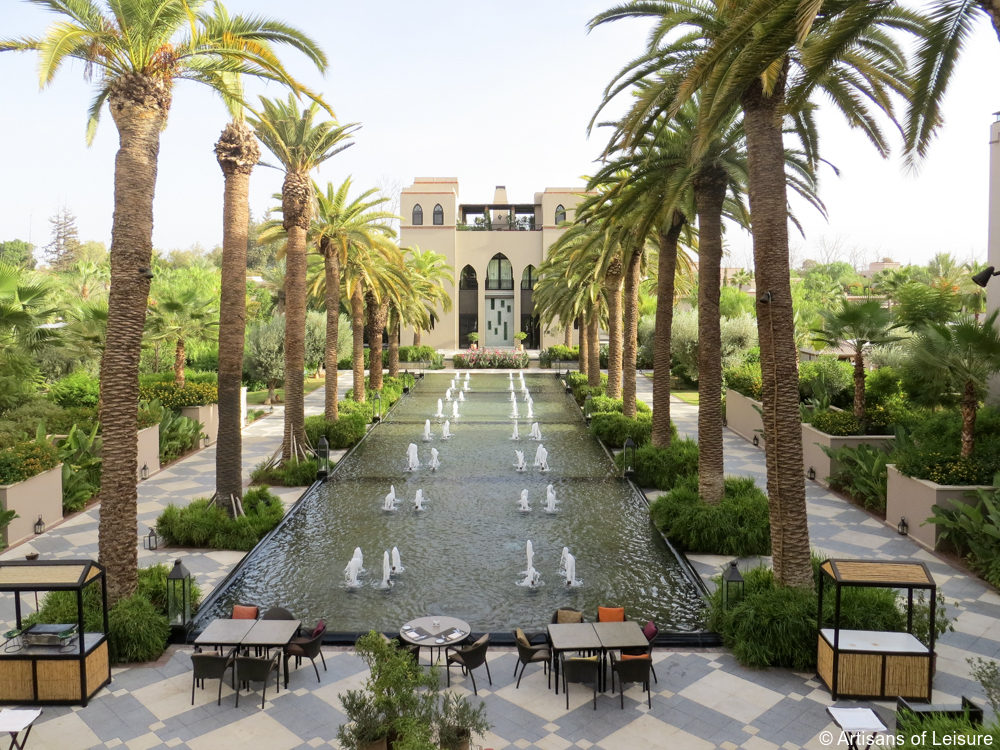 During touring, we recommend visiting one of Marrakesh's herbalist shops to learn about the hundreds of different herbs, oils and spices common in Moroccan culture and how they are used in Moroccan cuisine and beauty and health regimens.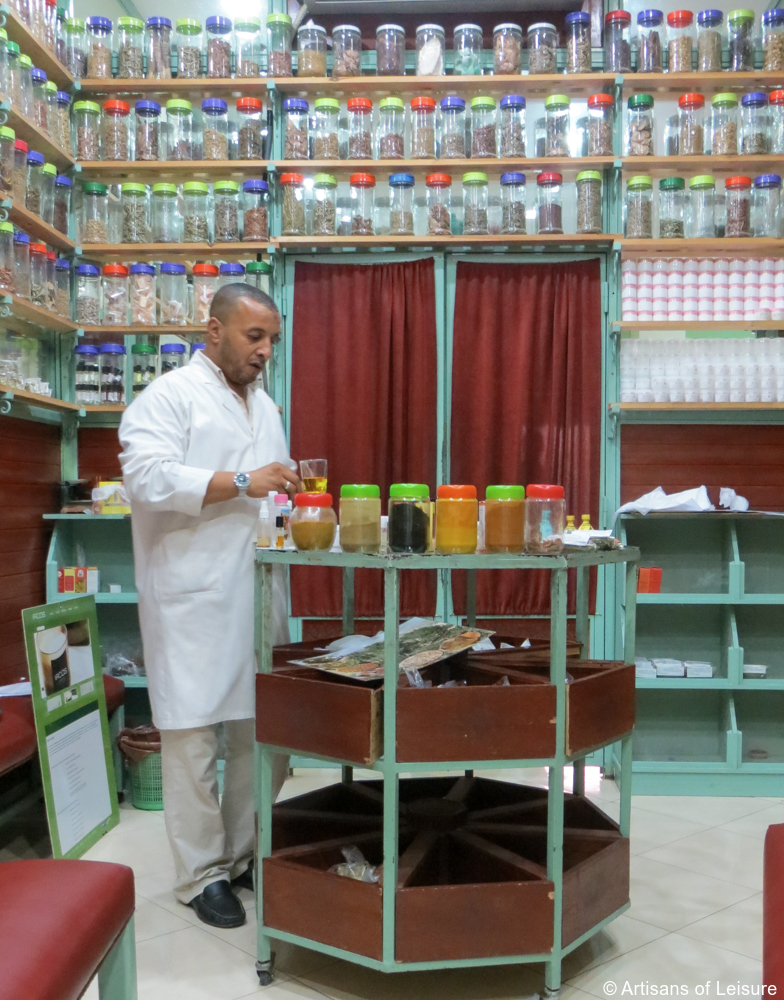 A highlight of any visit to Marrakesh is visiting Djemaa el-Fna, the carnivalesque public square where snake charmers, magicians and storytellers entertain. The best time of day to visit the square is the late afternoon, when it transforms from a calm and open space into a lively array of performers and food stalls.
A mix of locals and tourists come together to enjoy the evening and dine at the stands. We can recommend our favorite food stalls for Moroccan street food.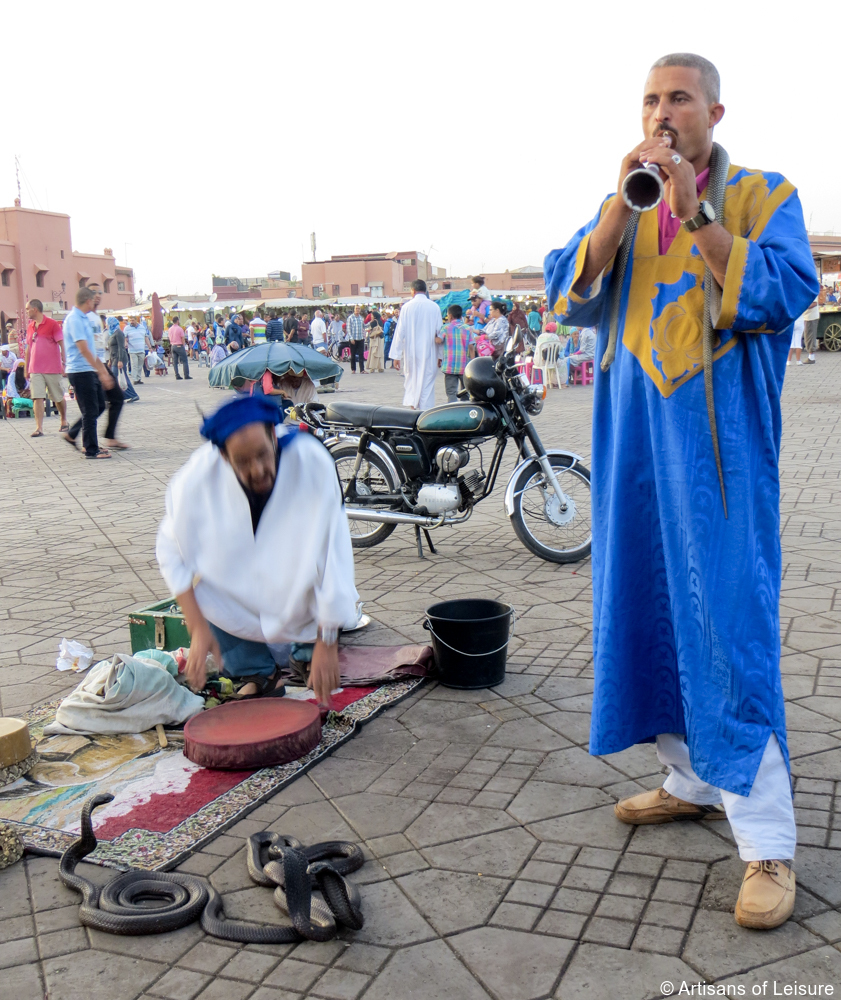 Fresh fruit is abundant in Morocco. Cactus fruit is a refreshing snack during a hot day of touring.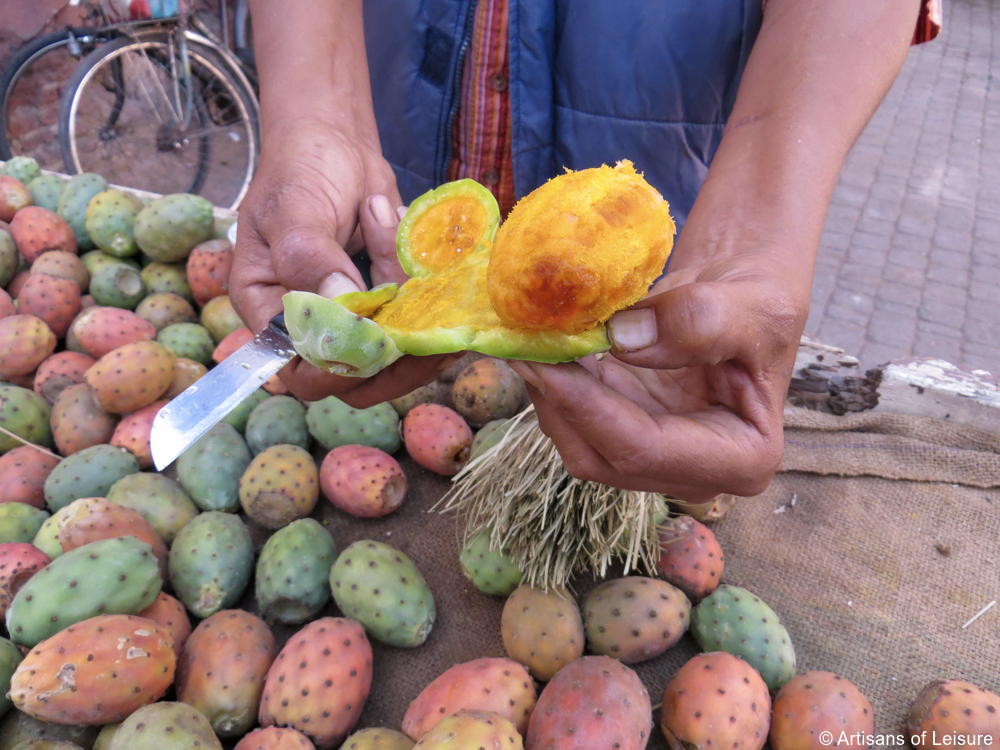 Marrakesh has many excellent and upscale shops and crafts cooperatives, including this rug cooperative where you can learn how Berber carpets are woven, as well as the origins of the different types.
Many of our travelers love to buy high-quality Moroccan rugs, which last generations, add beautiful color to a room, and are a great reminder of their time in Morocco.
Jewish history is an important part of Morocco's heritage.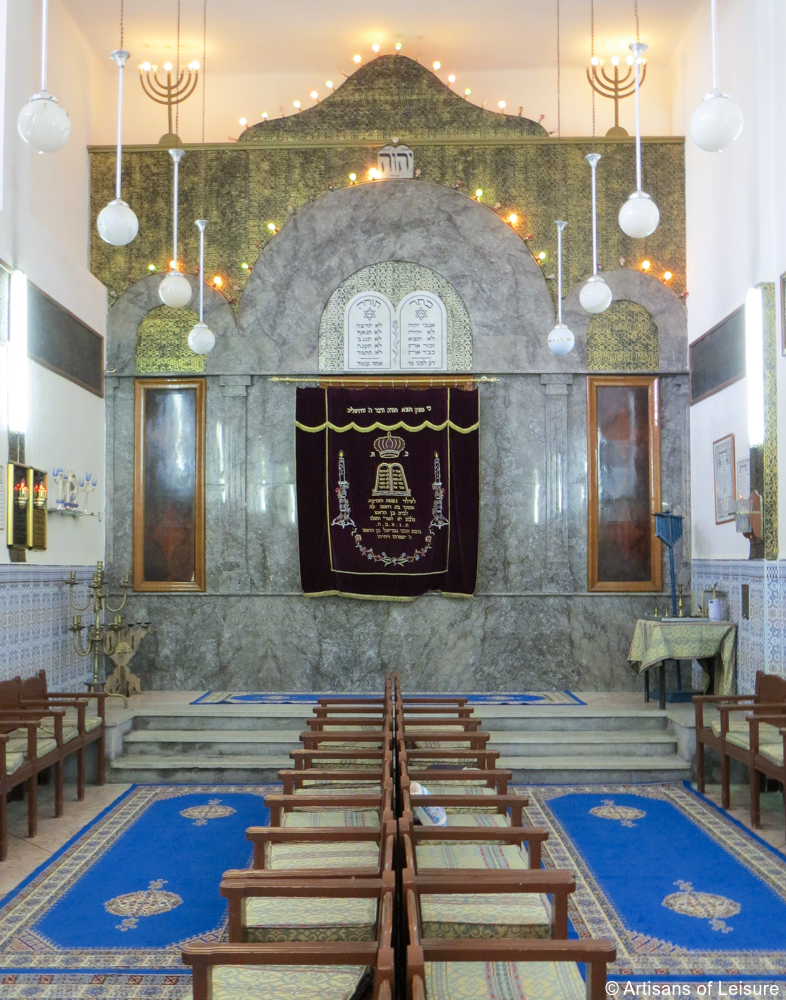 Artisans of Leisure can arrange visits to synagogues and meetings with local Jewish leaders in the mellahs (Jewish quarters) of Marrakesh and Fez.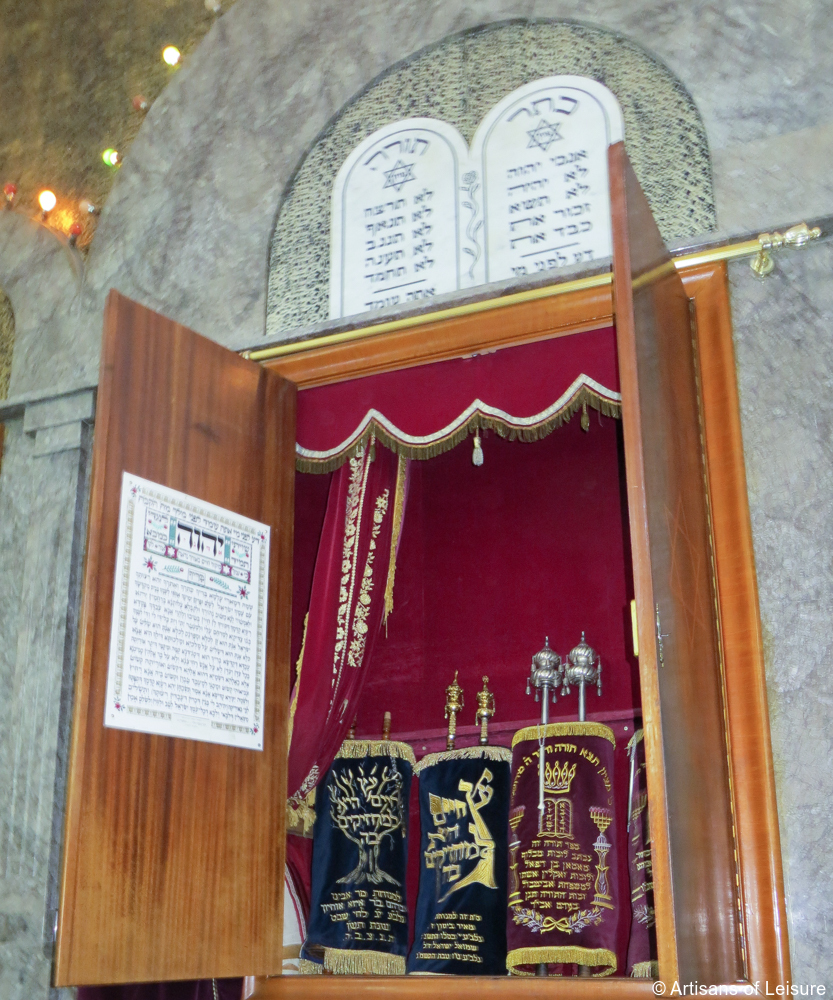 The legendary La Mamounia is another of our preferred luxury hotels in Marrakesh. The hotel incorporates exquisite Moorish architecture and design elements throughout.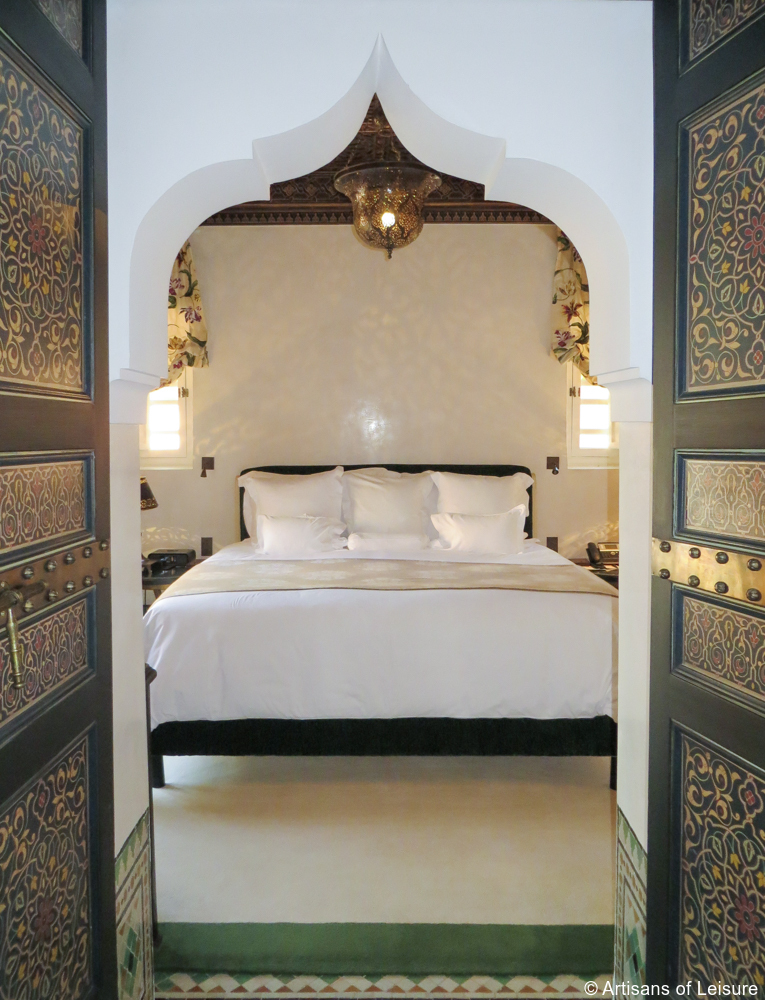 After a busy day of touring in Marrakesh, we love to indulge at the spa at La Mamounia and enjoy a traditional hammam session or one of the many other treatments they offer.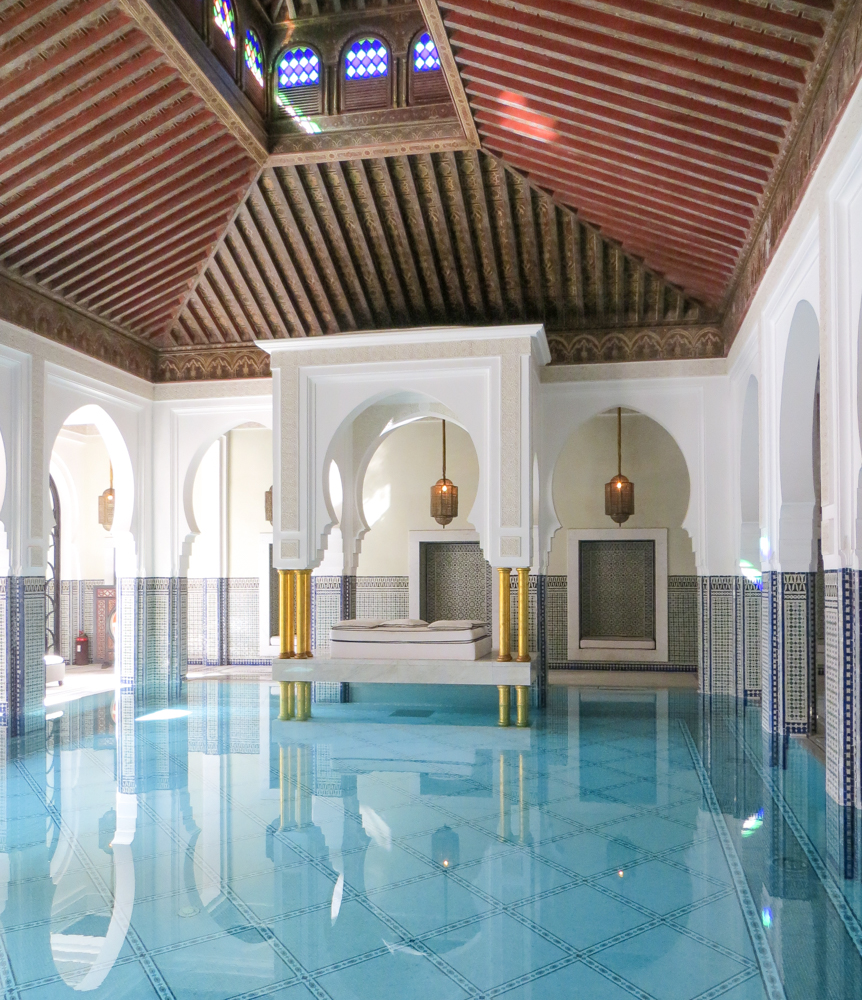 We also visited Essaouira, a UNESCO World Heritage Site that was a prominent port on the Atlantic Ocean in the 18th century and is now known for its whitewashed streets, sandy beaches and relaxed atmosphere. We can arrange an overnight stay in Essaouira or a visit to the town during a full-day excursion from Marrakesh.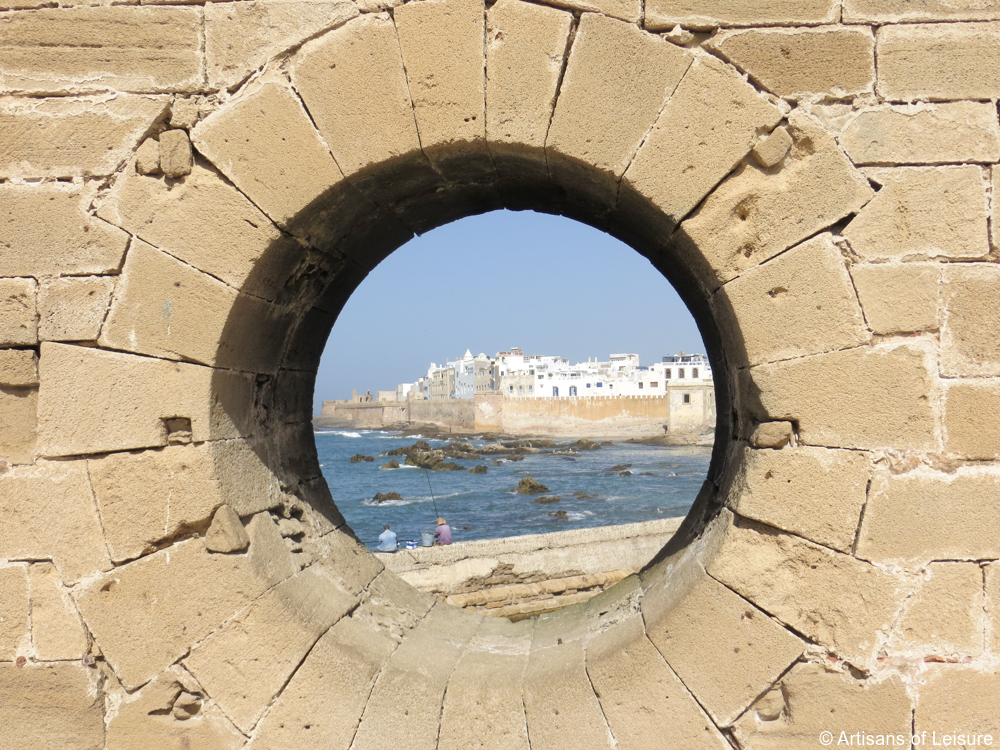 Travelers can often see goats grazing in the argan trees that grow in abundance around Essaouira. Local women's cooperatives grind the argan nuts to produce a high-quality oil used for beauty and culinary purposes.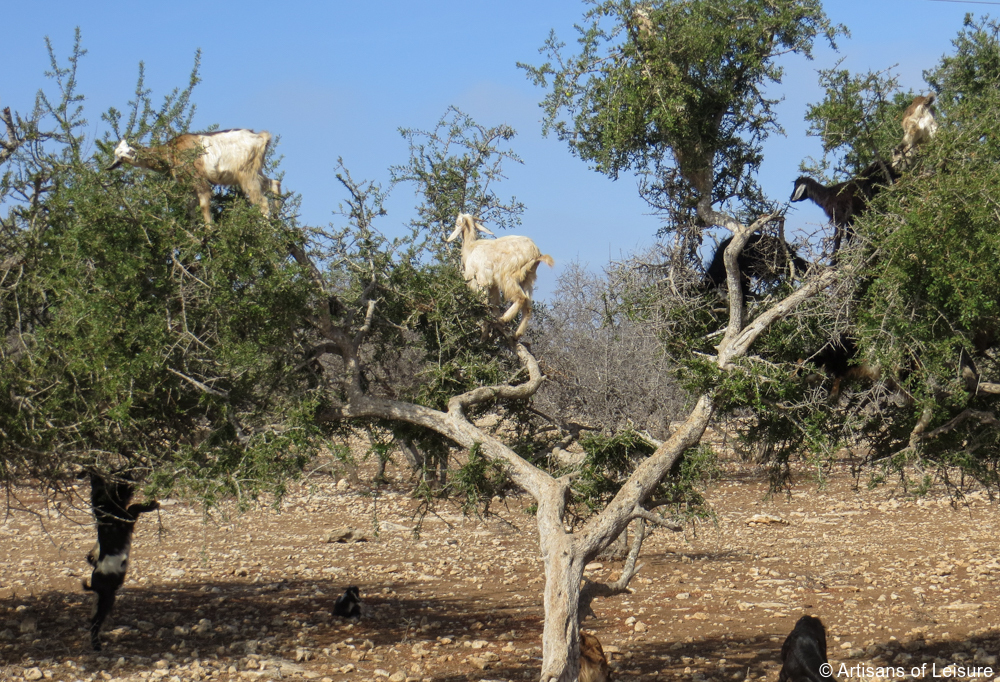 Farther up the Atlantic coast in Casablanca is the Hassan II Mosque, one of the few mosques in Morocco open to non-Muslims. Artisans of Leisure can arrange visits inside the mosque to admire the magnificence of this revered religious building.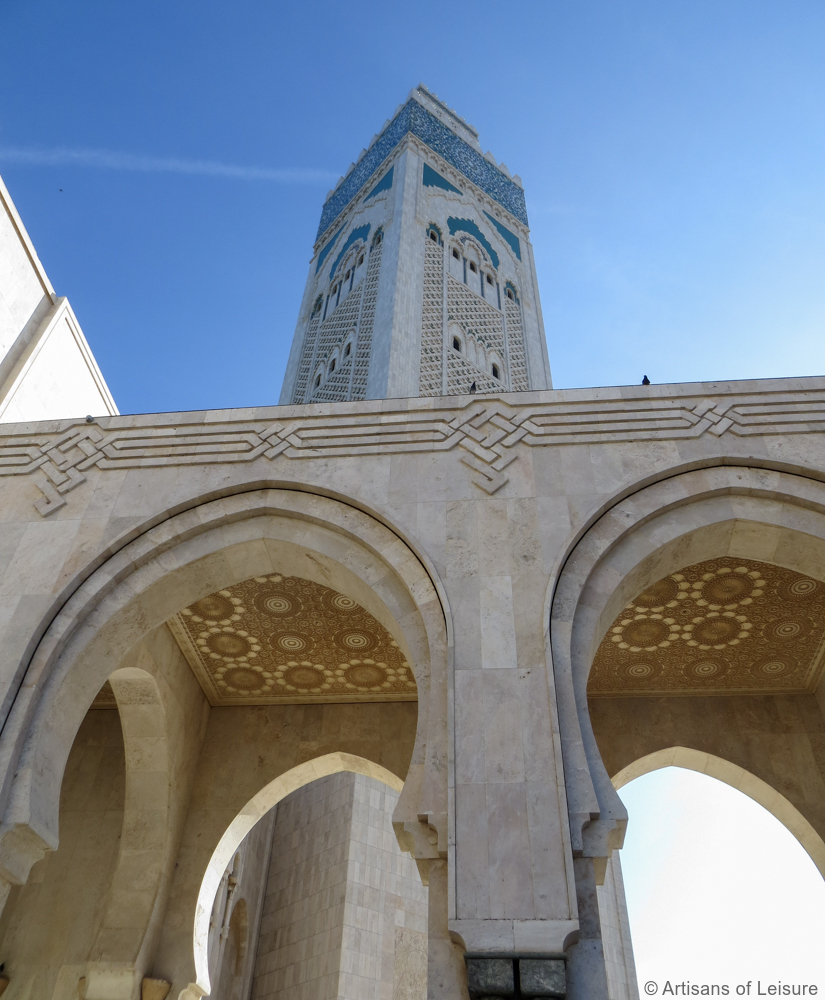 The mosque sits on the waterfront of Casablanca. The doors of the mosque are made of titanium, which stands up to the wet and corrosive sea air.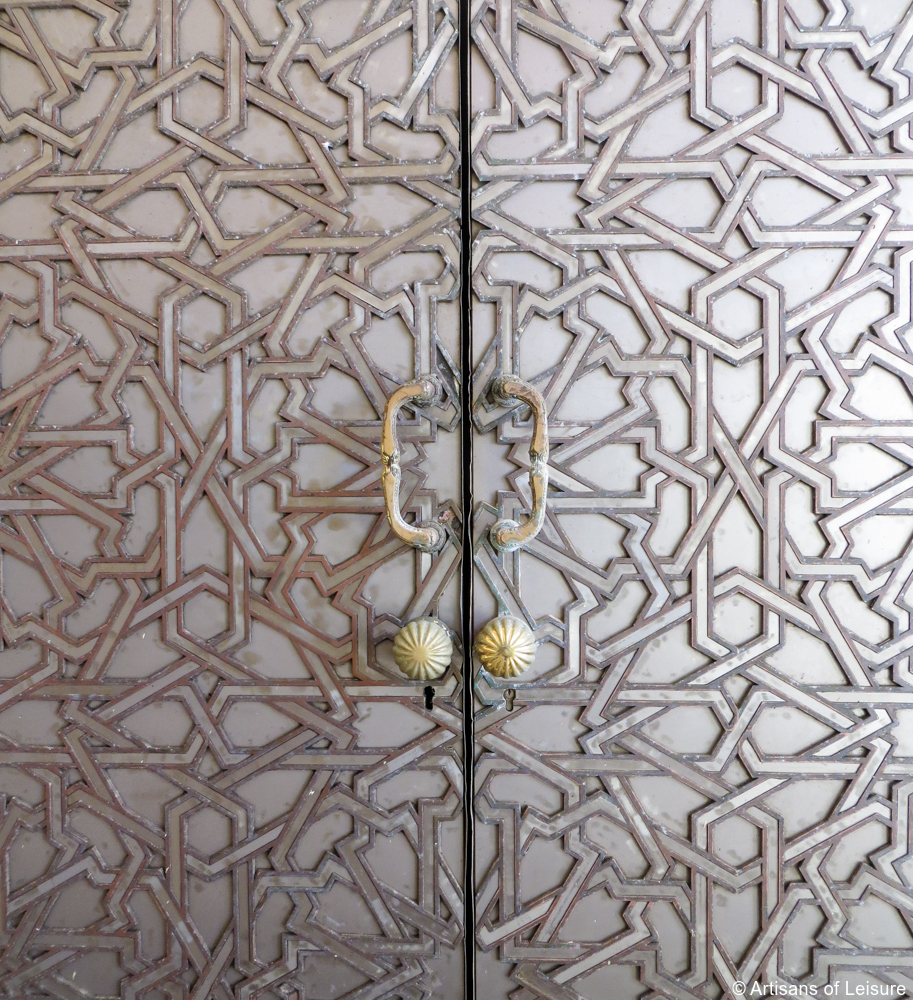 Kasbah Tamadot, a luxurious Moroccan-style retreat in the foothills of the High Atlas Mountains near Marrakesh, is a great base for exploring the area and local Berber culture.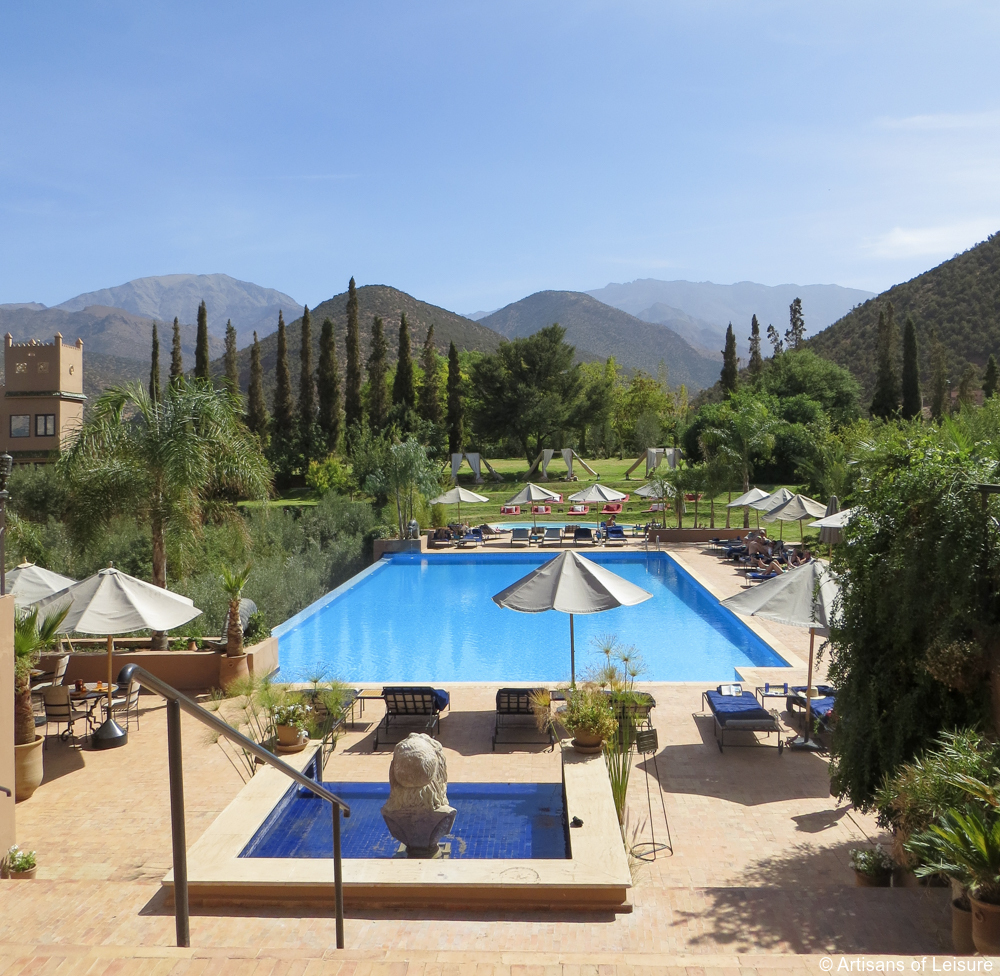 Kasbah Tamadot has beautiful Moroccan design and architecture.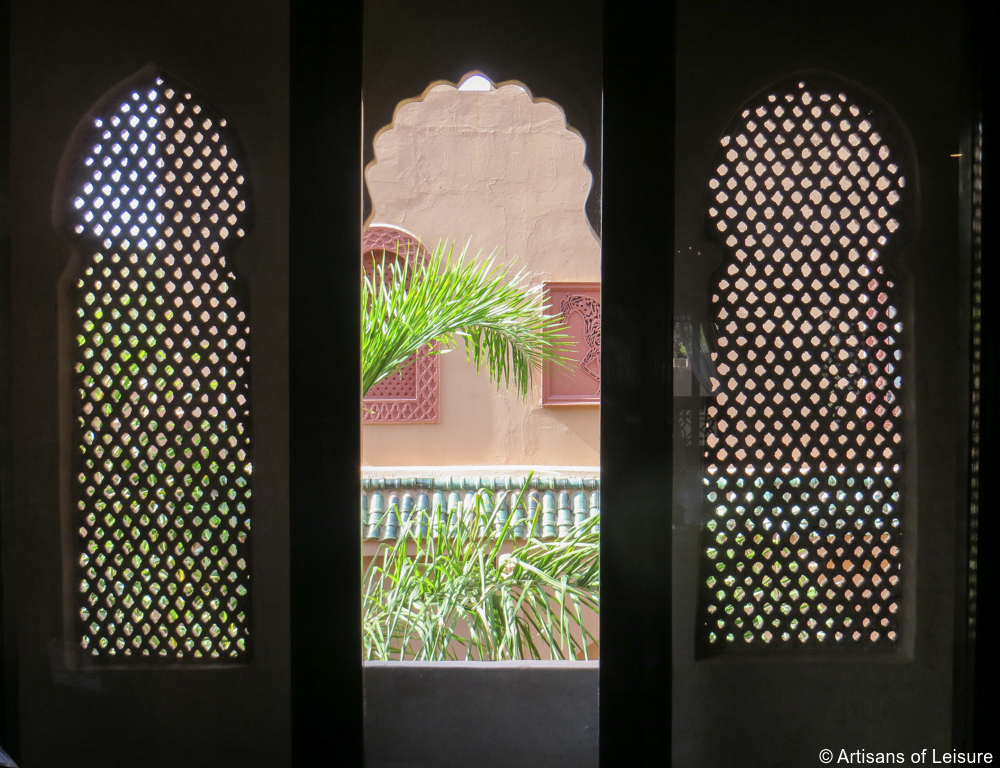 A visit to a Berber market is a great way to see local life. The markets are held in different locations in the region each day of the week. Locals come to buy everyday goods, including clay water jugs, donkeys, clothes, spices, construction items and more.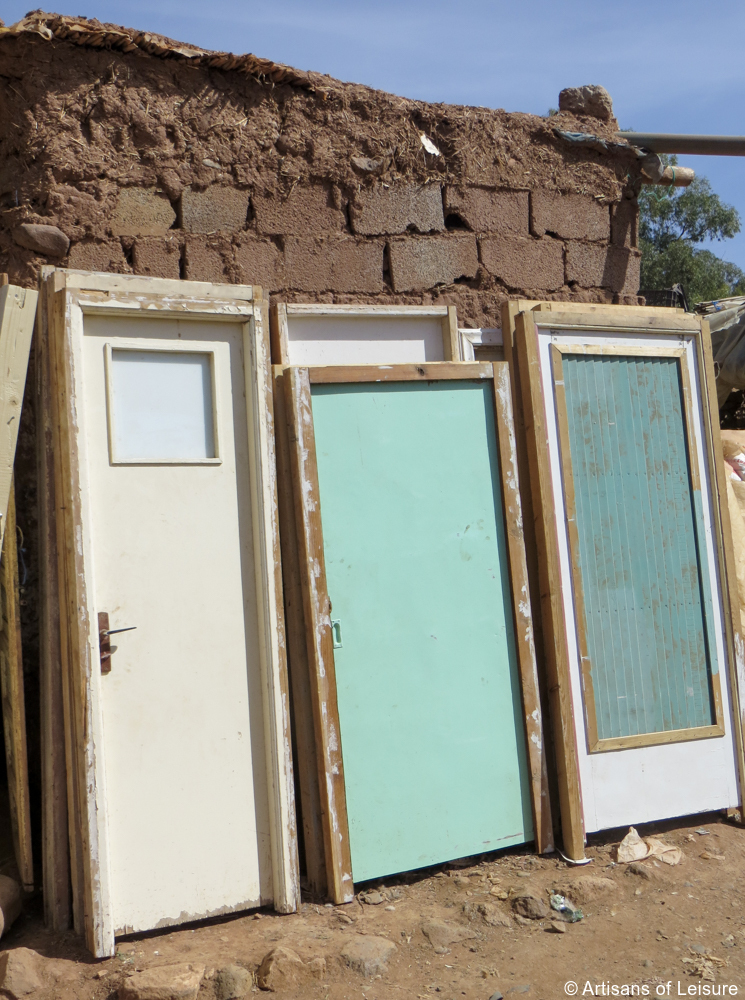 Another of our favorite hotels in Morocco is Dar Ahlam, an exclusive kasbah-style luxury hotel located in a palm grove between Marrakesh and the Sahara Desert.
The hotel offers exquisite service in a relaxed atmosphere and the grounds and spa are great for relaxing before or after visiting the desert. It also offers numerous activities, including ATV rides.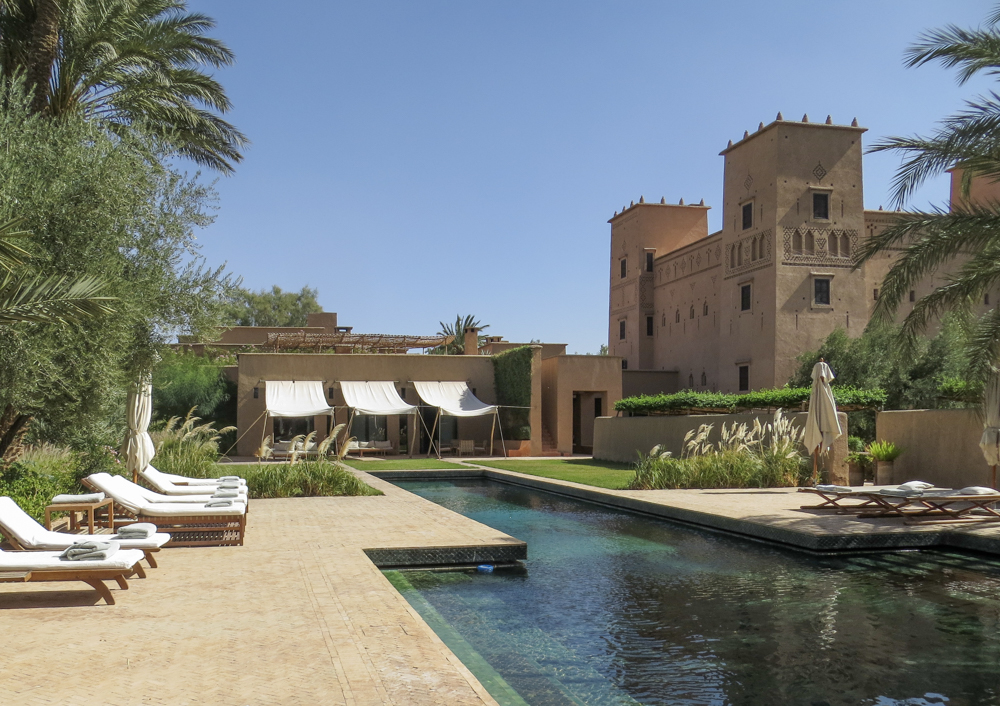 The beautiful interiors at Dar Ahlam feature traditional Moroccan textiles and other decorative items.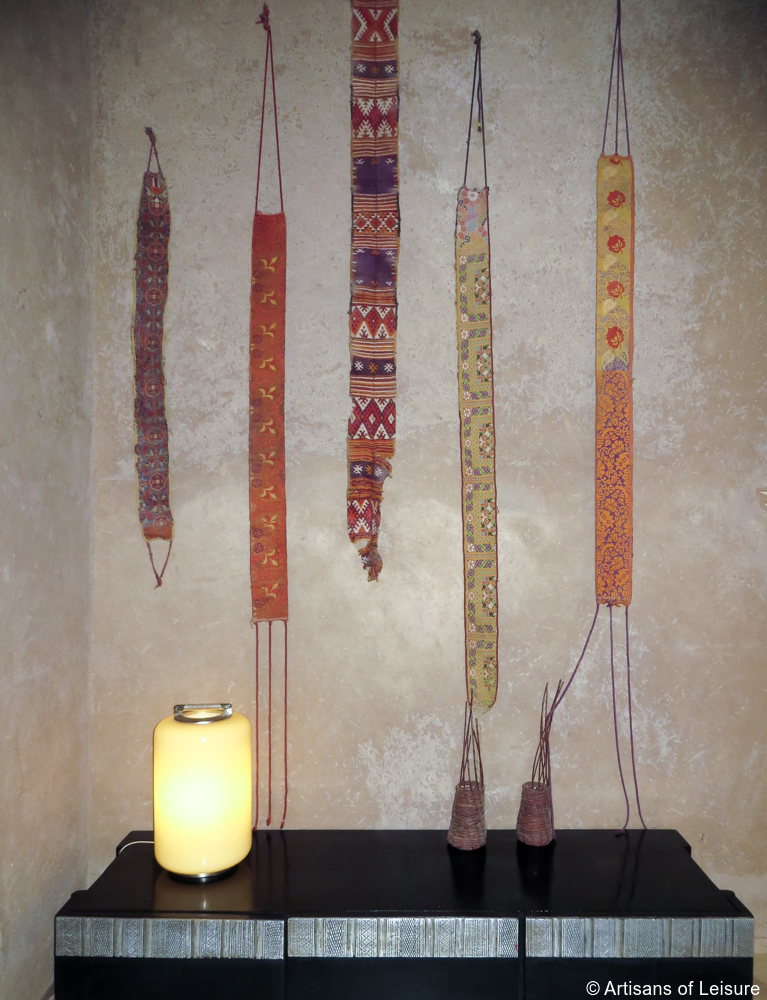 Culinary experiences are a highlight of a stay at Dar Ahlam, like this private meal in a garden on the grounds. Dining at Dar Ahlam indulges all of the senses!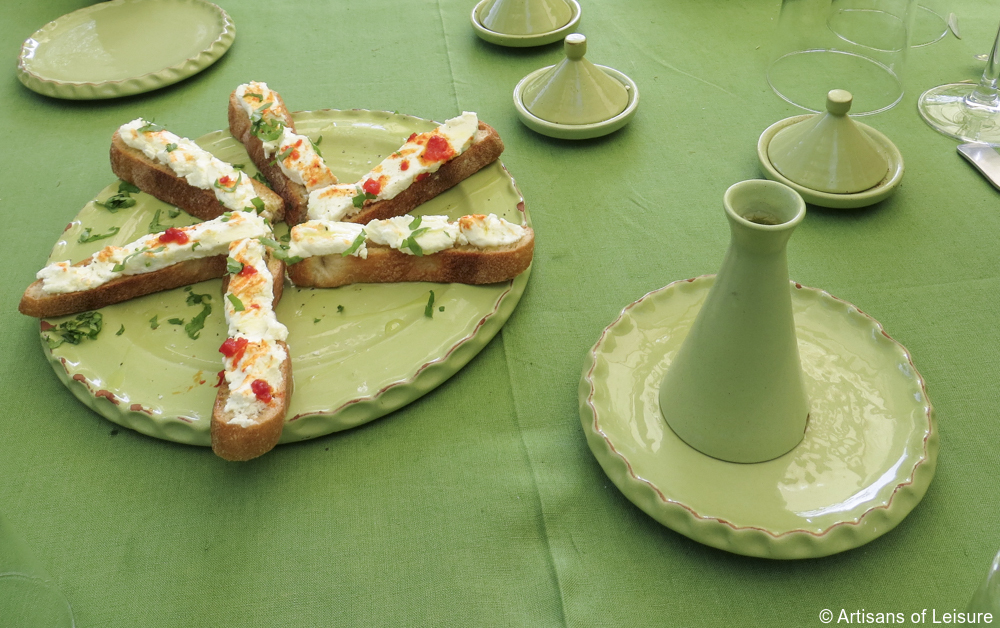 We continued to the Sahara Desert. En route, we visited Ait Benhaddou, a picture-perfect ksar (fortified village).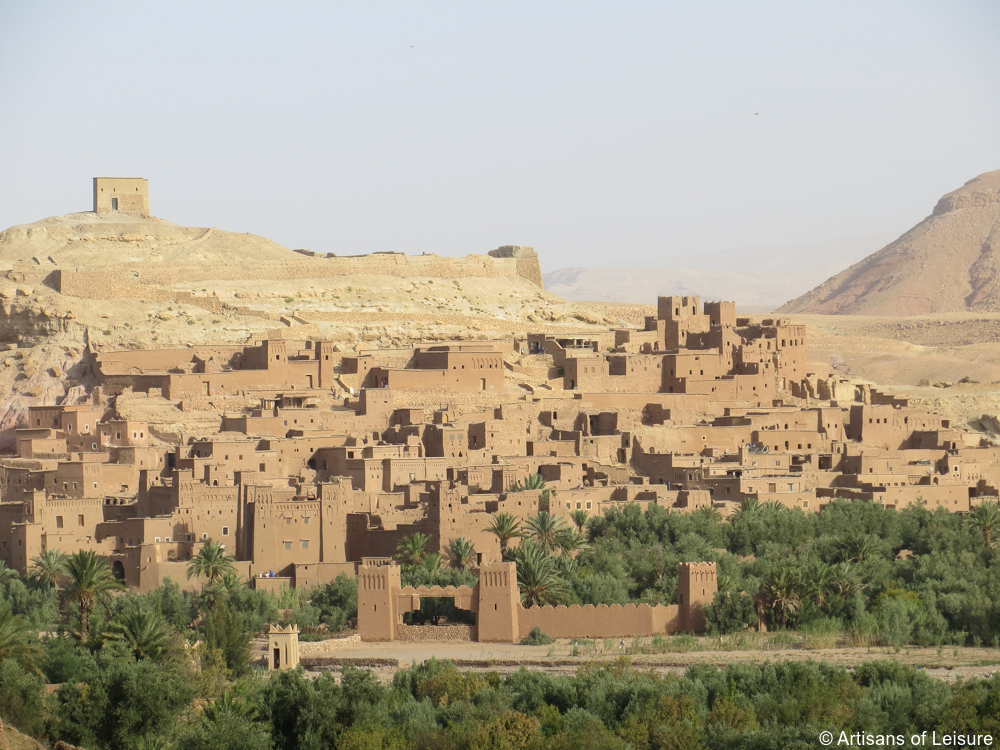 We then ventured into the Sahara Desert for an overnight in a private Bedouin-style tented camp. For adventure seekers, Artisans of Leisure can arrange sandboarding down the dunes of the Sahara.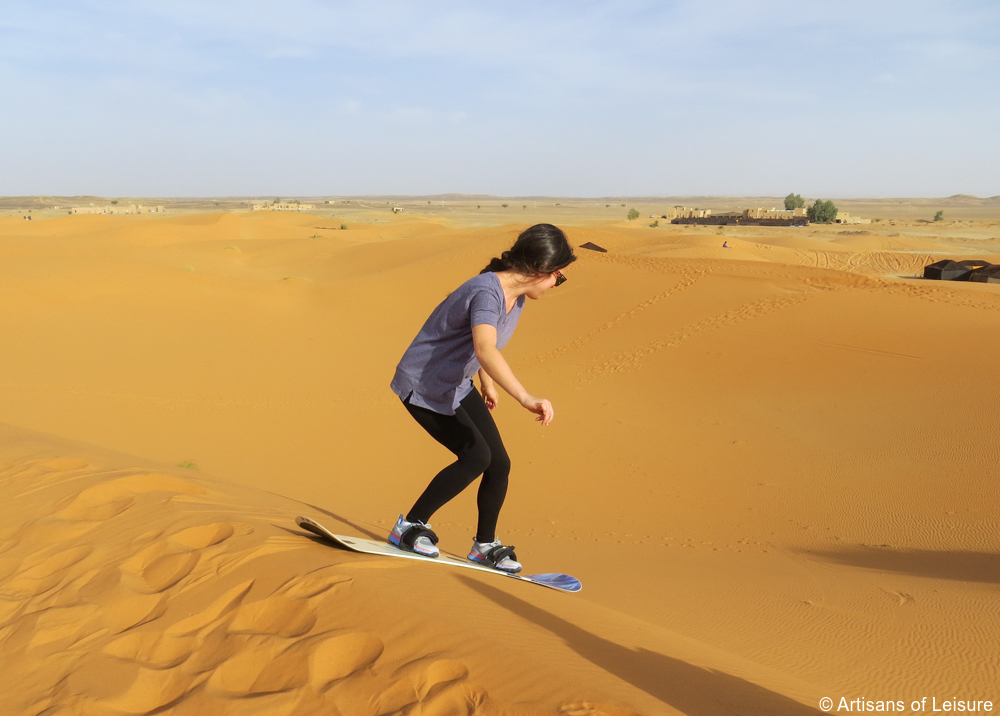 It was fun to wear traditional dress at sunset.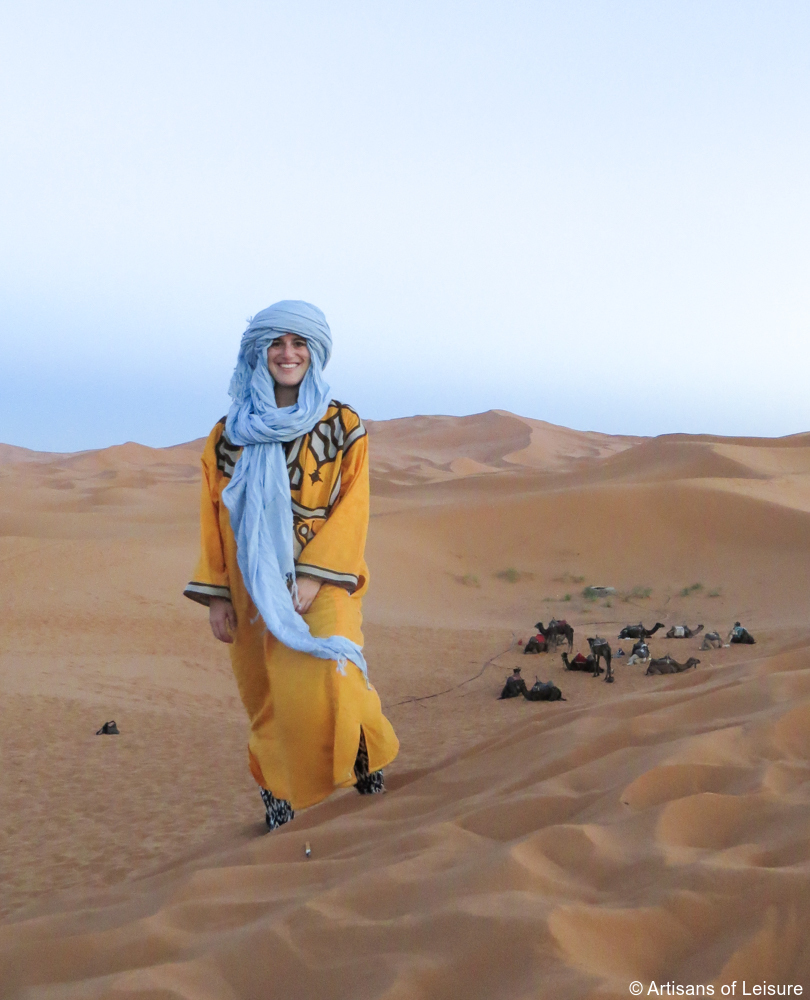 The Sahara was breathtaking as the light changed. No two pictures of the dunes are alike.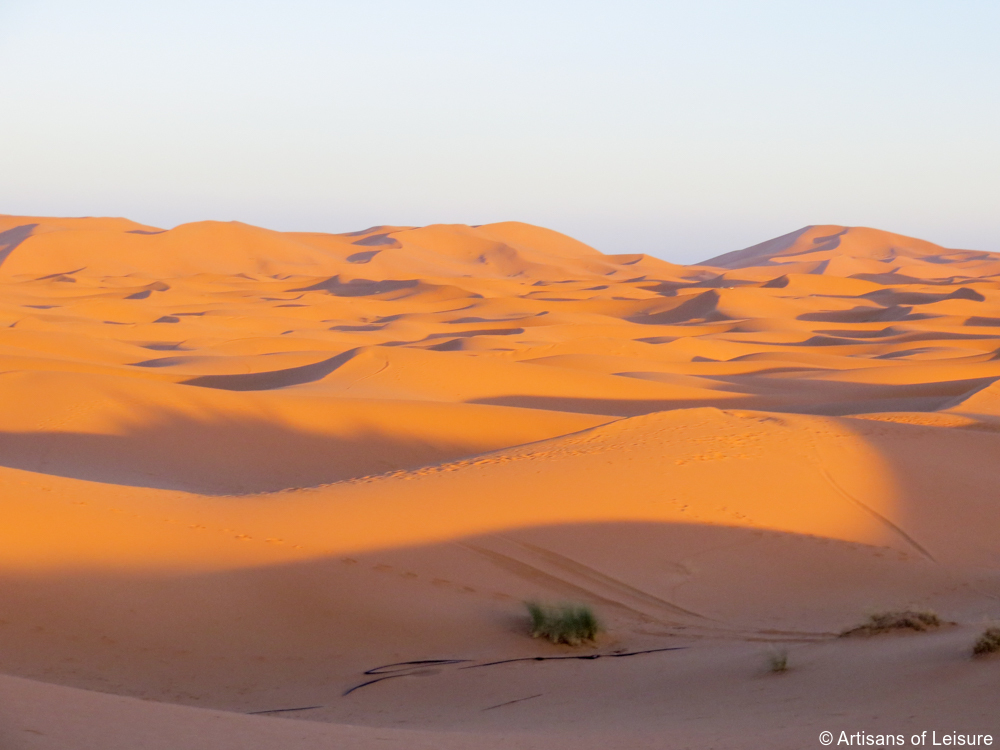 We arrange private desert tours in the Sahara, including camel rides into the dunes.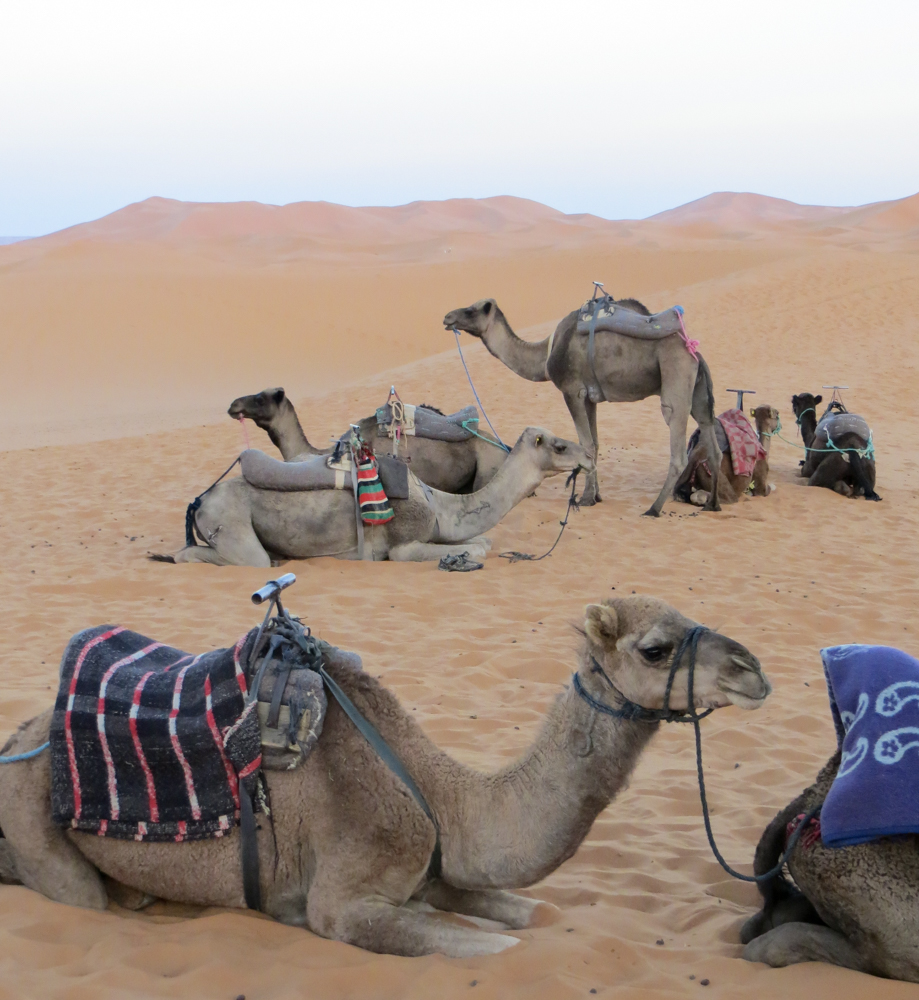 Shadows of our camel caravan at sunset.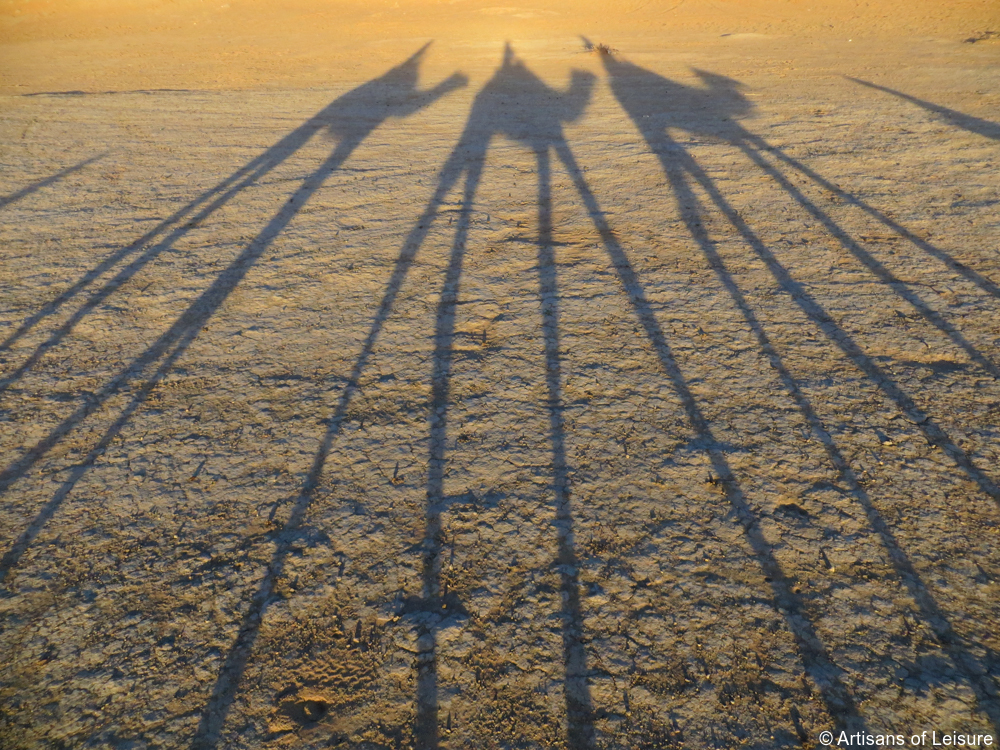 Our guide drew a picture and wrote Arabic script in the sand.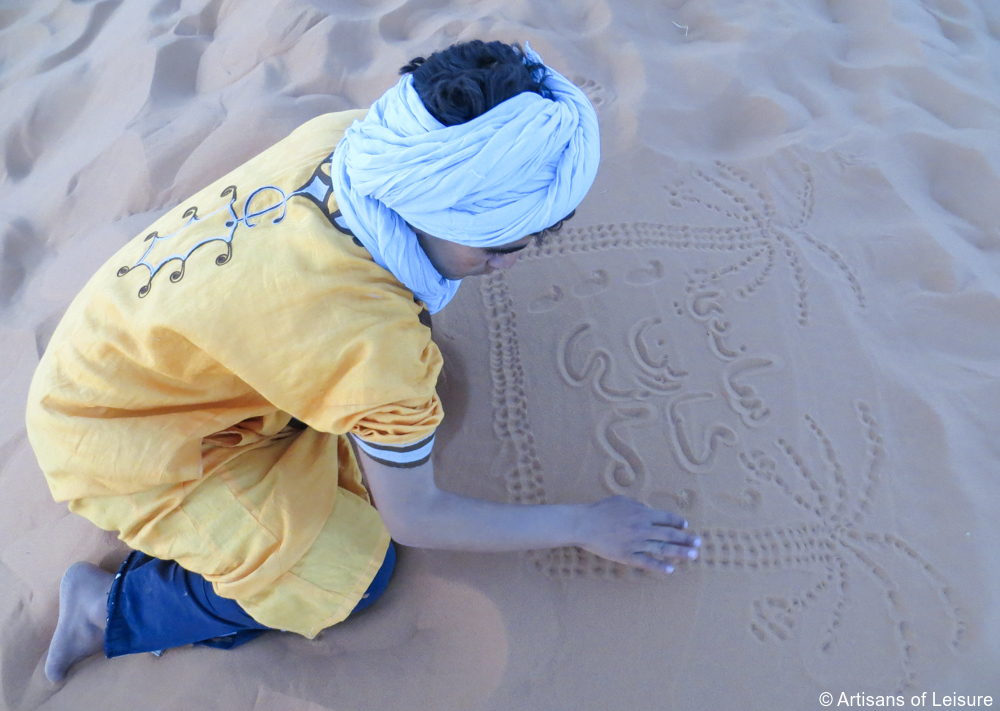 Approaching our private tented camp on the back of a camel was a memorable way to start off a night in the Sahara Desert.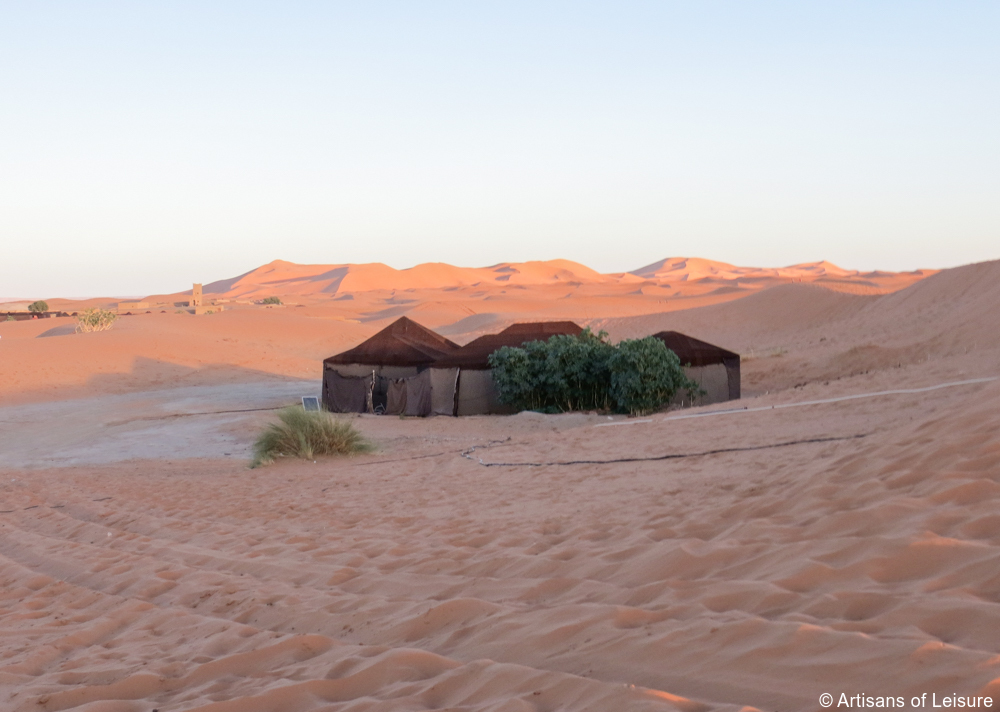 After a night of stargazing in the clear sky of the Sahara, it was great to have breakfast in our private tent.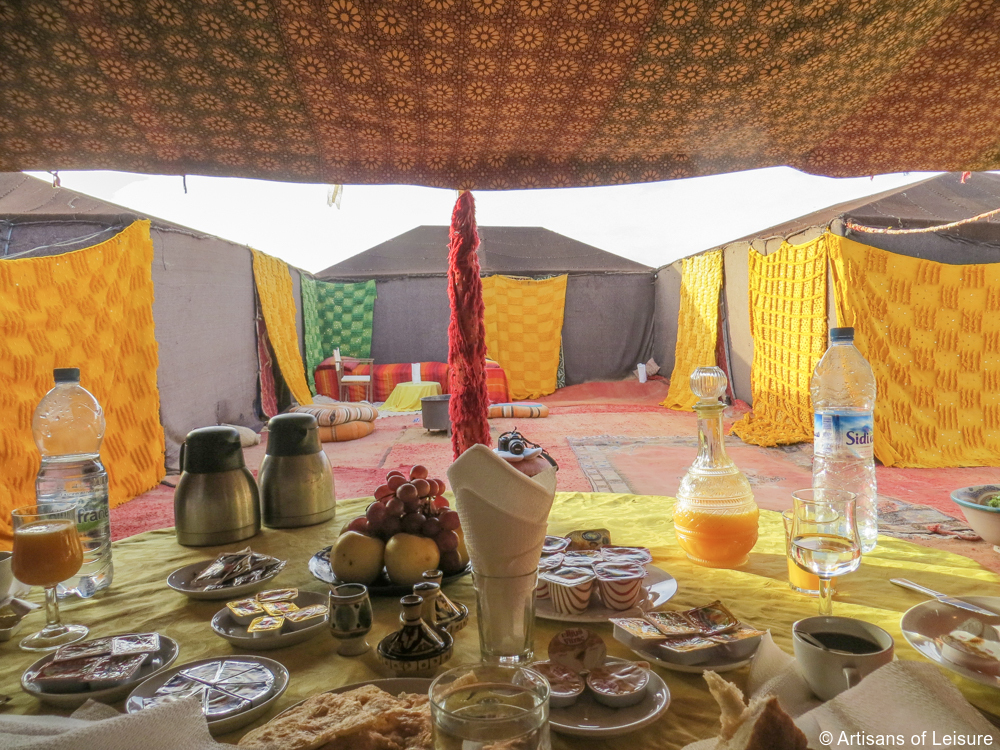 We then drove to Fez. Morocco is full of varied landscapes that transform before your eyes as you pass through them.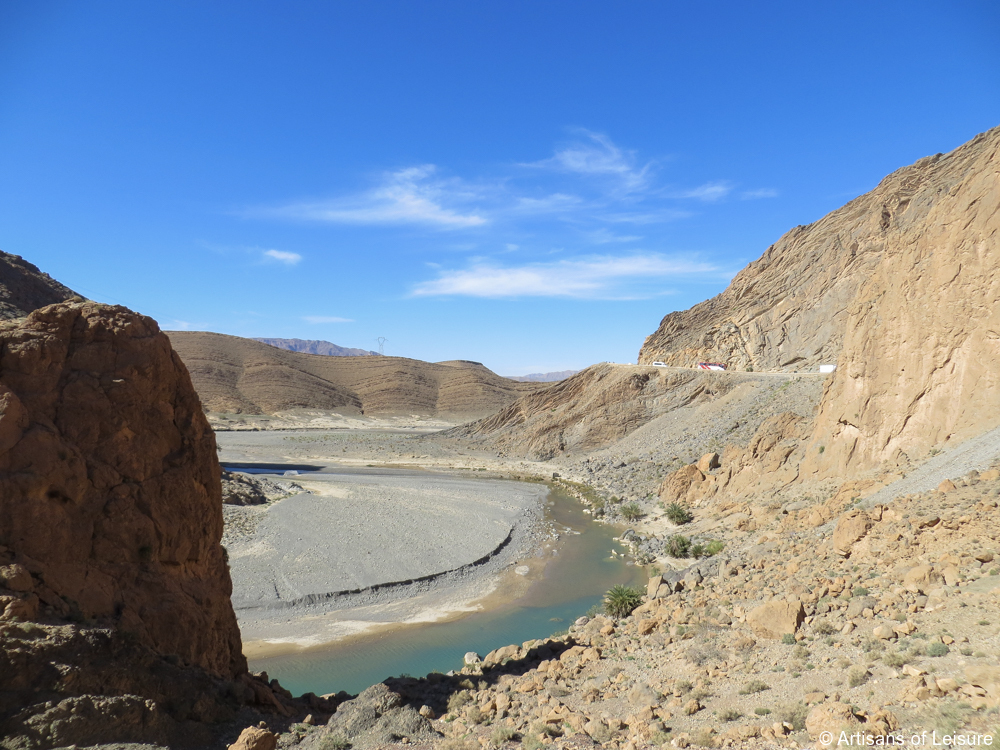 The medina (old town) in Fez—one of the world's oldest medieval cities—is quite a sight. It's an unforgettable experience to see it from a distance before venturing into its narrow alleys.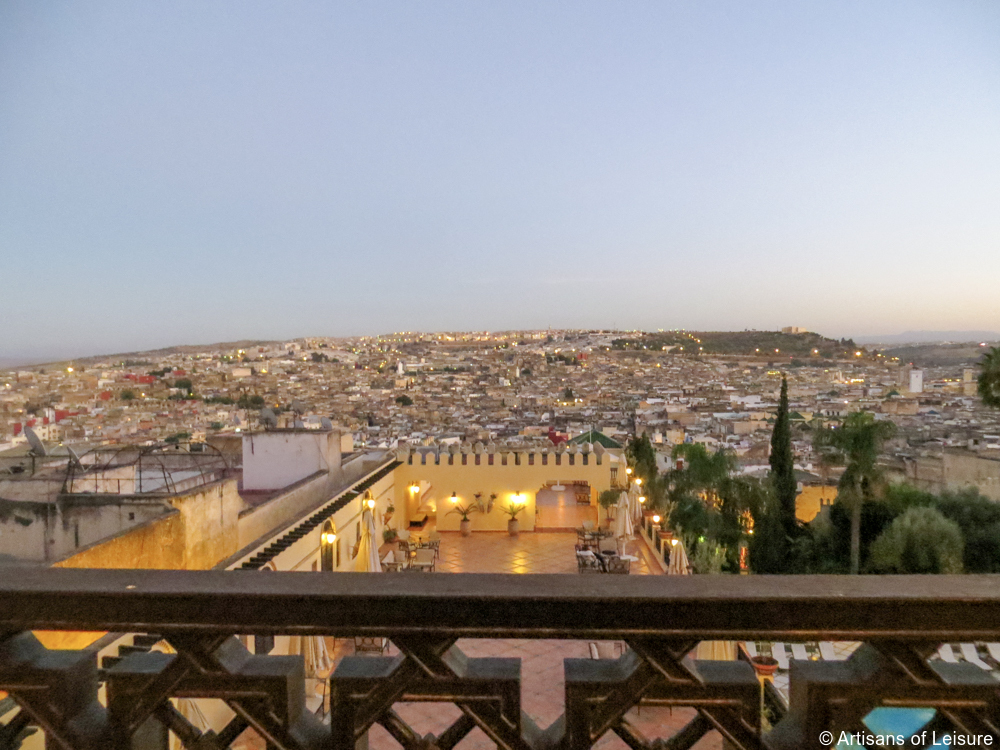 Just outside the mellah (Jewish quarter) in Fez el-Djedid (Fez the New) are the ornate gates of the Royal Palace. The craftsmanship of these exquisite gates is amazing.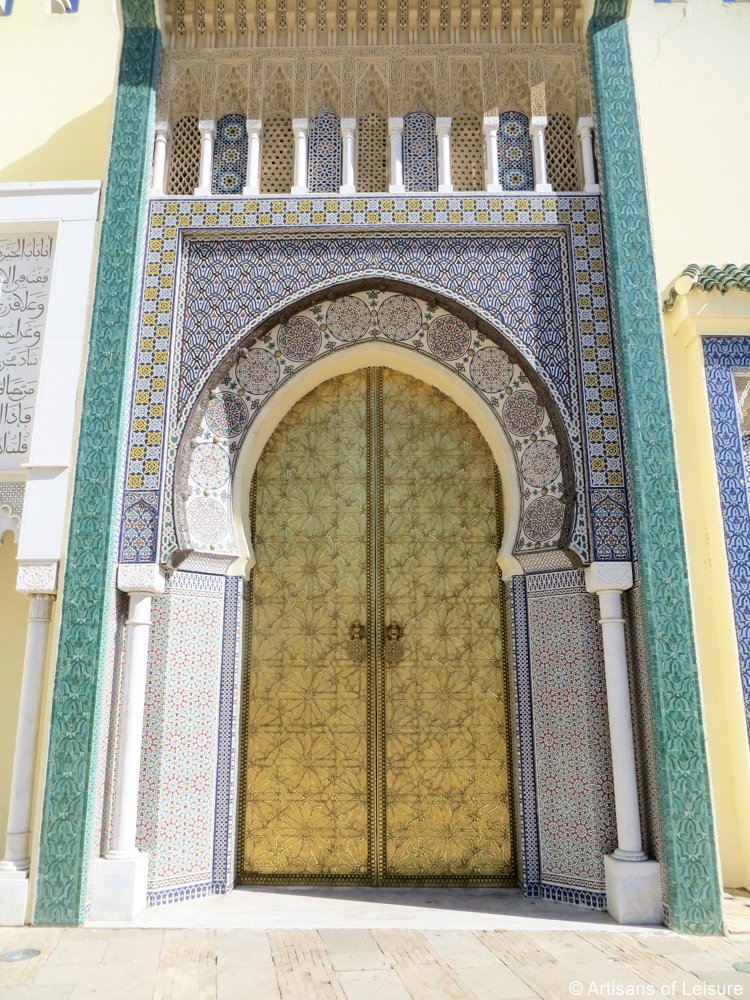 Intricate tilework adorns the gates.
Ryads, or traditional Moroccan homes, are nondescript on the exterior, but open up to warm and often ornate interiors and courtyards featuring colorful tiles, stained glass, and carved plaster and wood.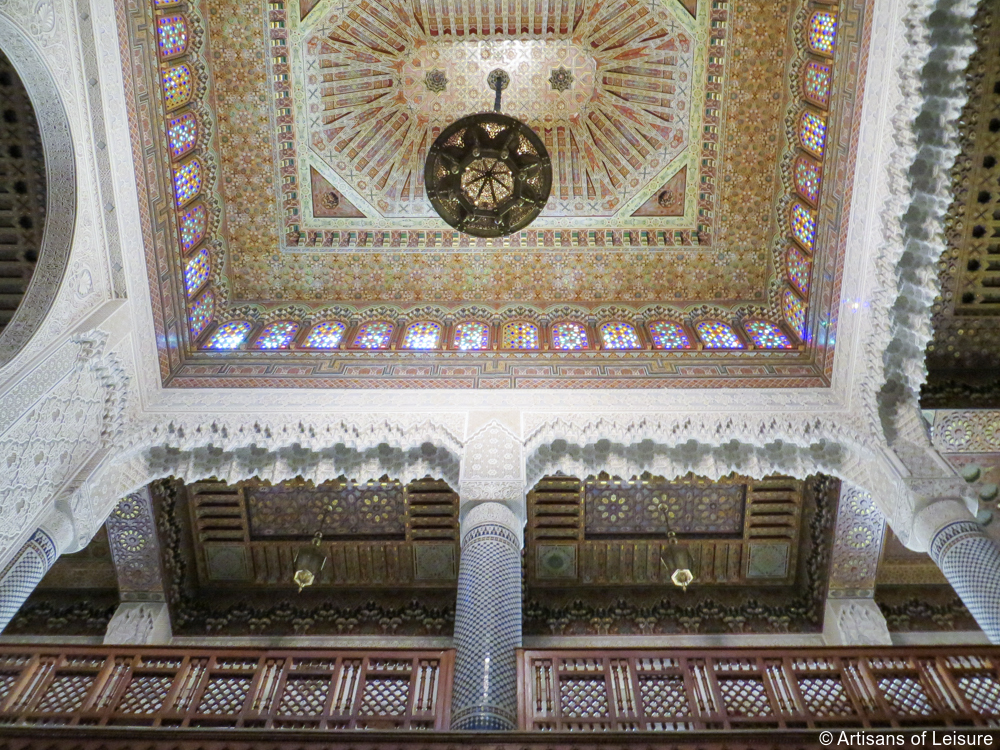 While in Fez, we can arrange for travelers to visit a zellij (mosaic tiles) studio and/or a ceramics studio. Both crafts are important in the city's architecture.
Each glazed tile is cut by hand and then assembled into precise geometric patterns.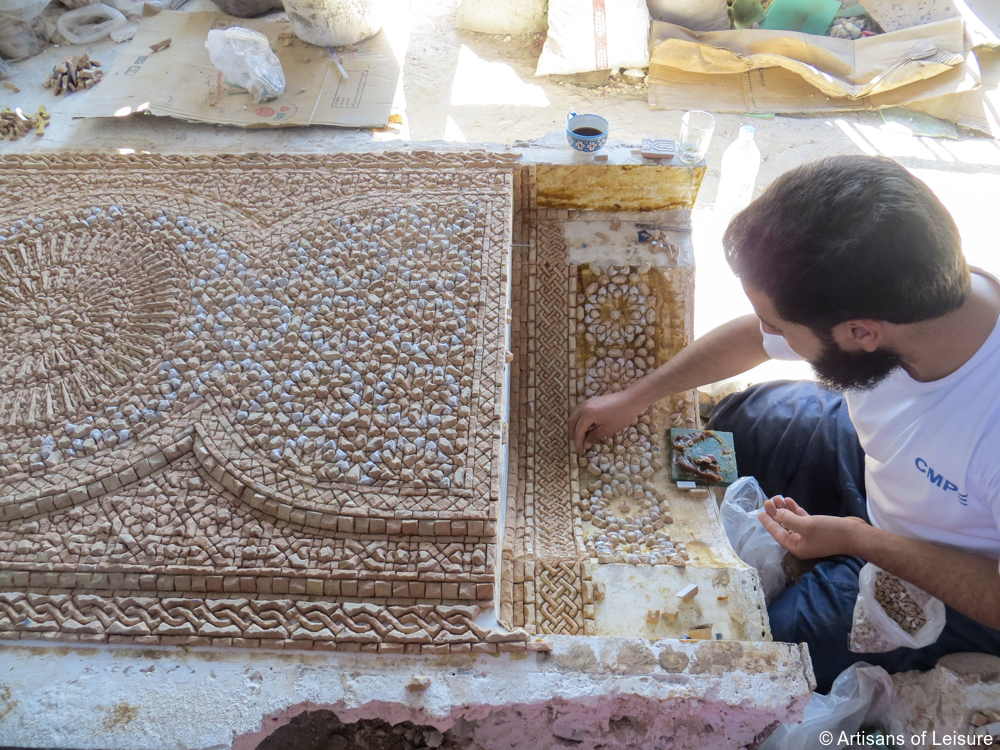 Large mosaic pieces such as fountains and furniture can be commissioned and shipped back to your home.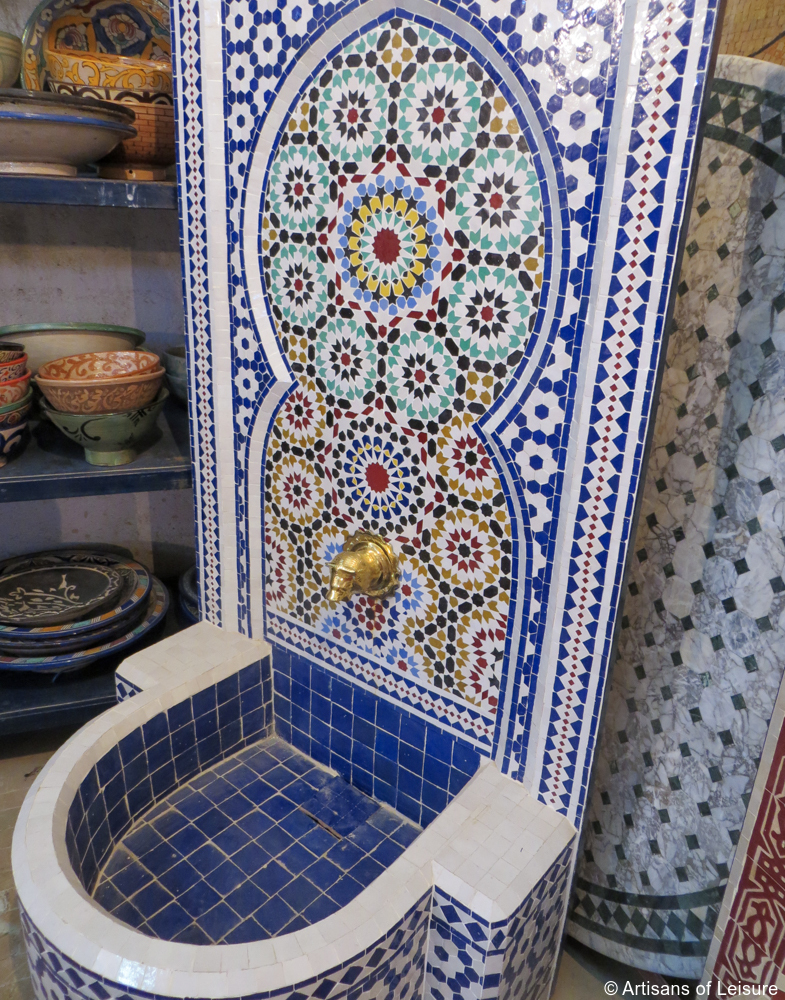 The ancient medina in Fez has various sections dedicated to the production and sale of different everyday goods, such as copper cooking utensils, musical instruments, leather goods and much more. It's essential to have a sophisticated and expert private guide to help you navigate the narrow alleys of the souks (markets) in cities around Morocco.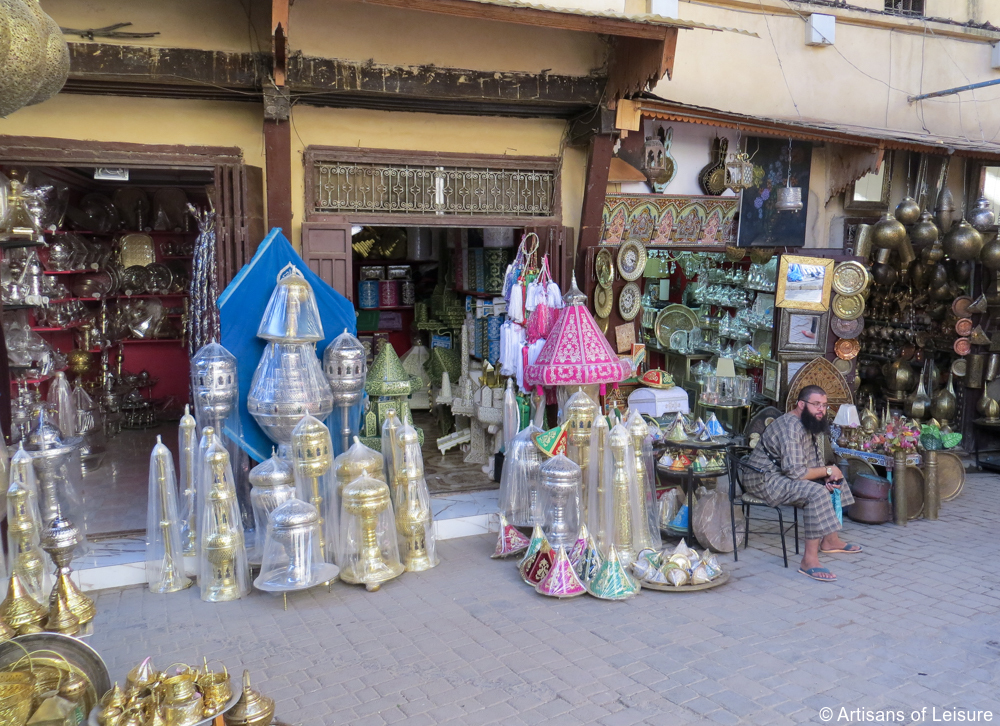 Door knockers for sale in the souks of Fez.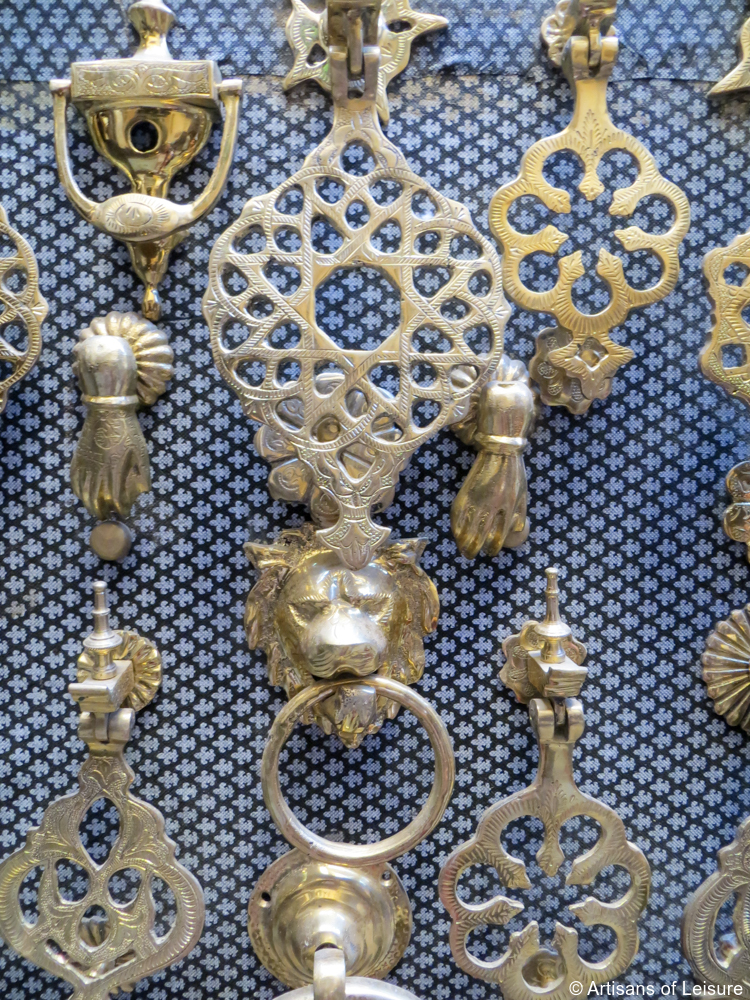 The Museum of Wooden Arts and Crafts in Fez el-Bali (Fez the Old) is located in Foundouk Nejjarine, a 12th-century inn.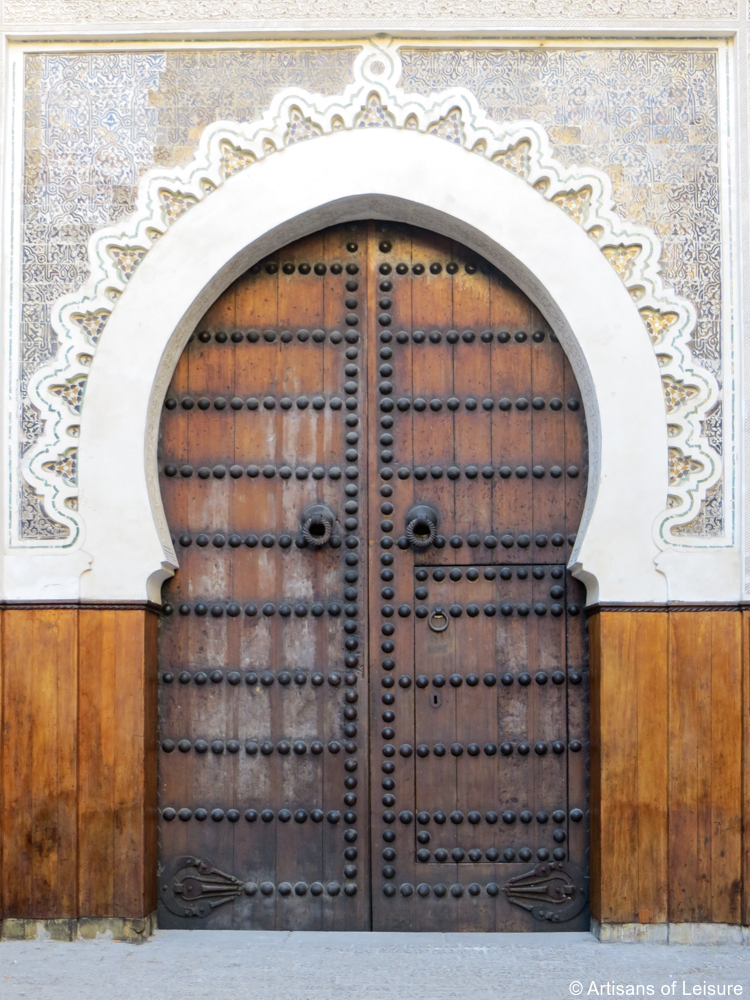 Stars of David adorn a door in the Jewish quarter.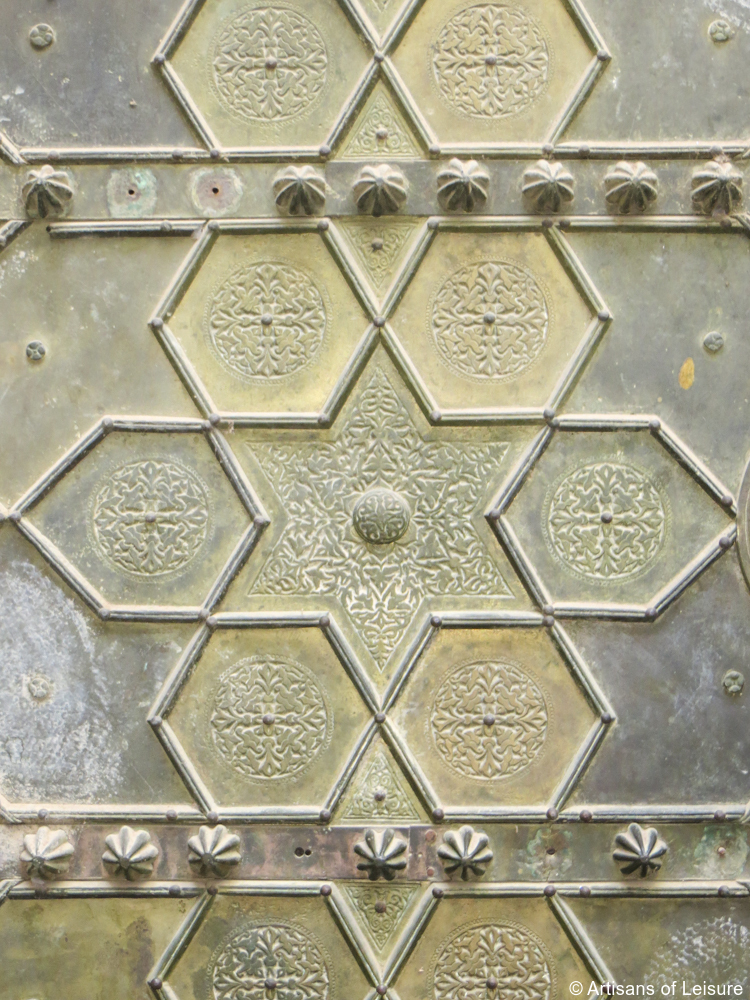 At the open-air tanneries in Fez, leather and wool is dyed in vats of natural dyes.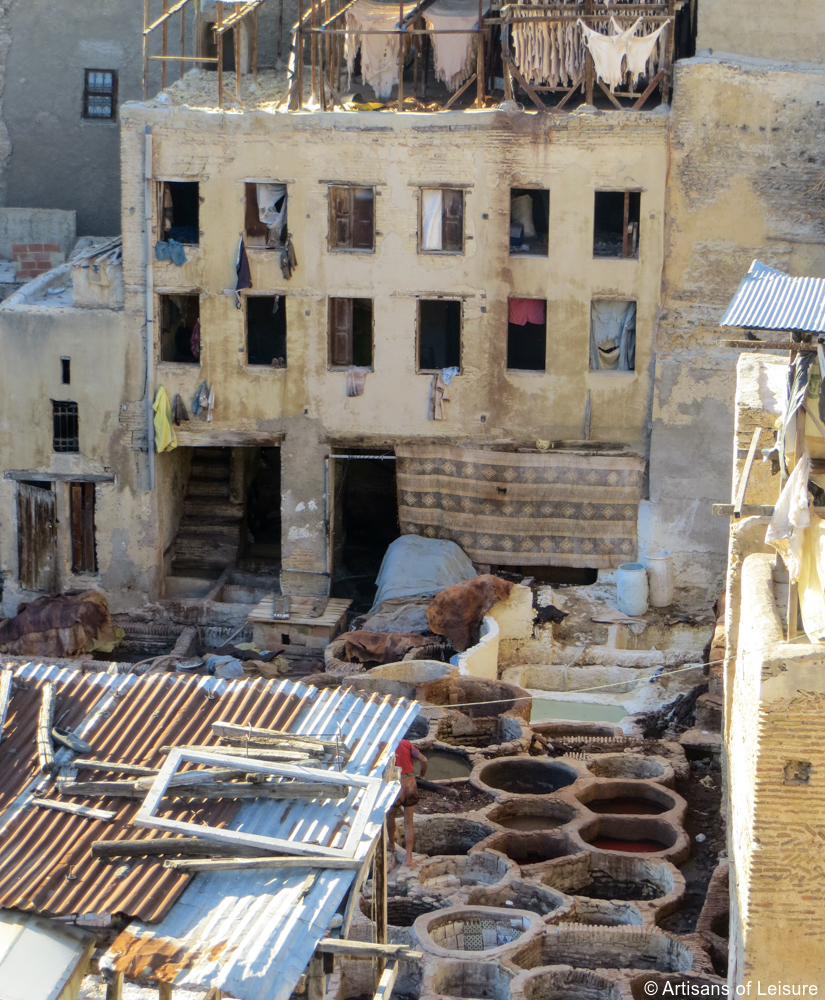 The elegant courtyard of Riad Fes.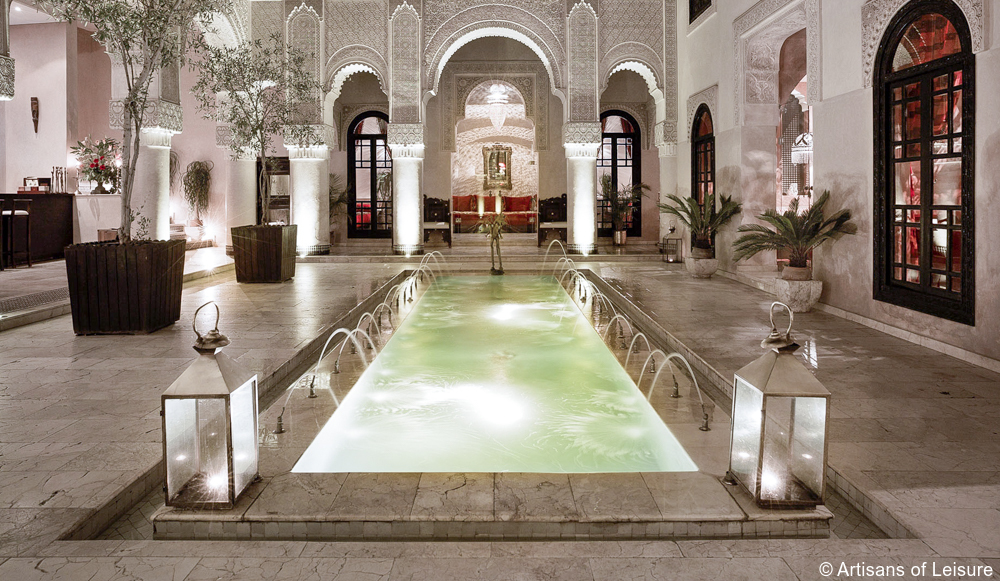 We continued to Chefchaouen, a town in the Rif Mountains of northern Morocco. Chefchaouen is best known for its medina, which is painted in vibrant shades of blue.
We can incorporate an excursion to the town into an Artisans of Leisure private Morocco tour upon request.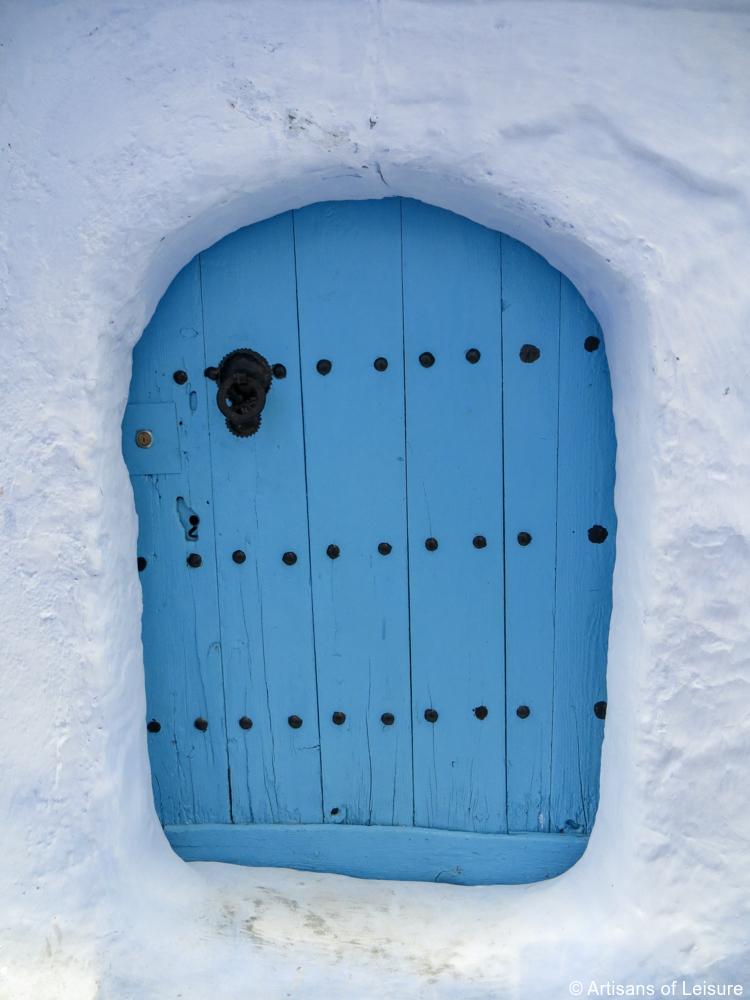 Chefchaouen is a dream for photographers!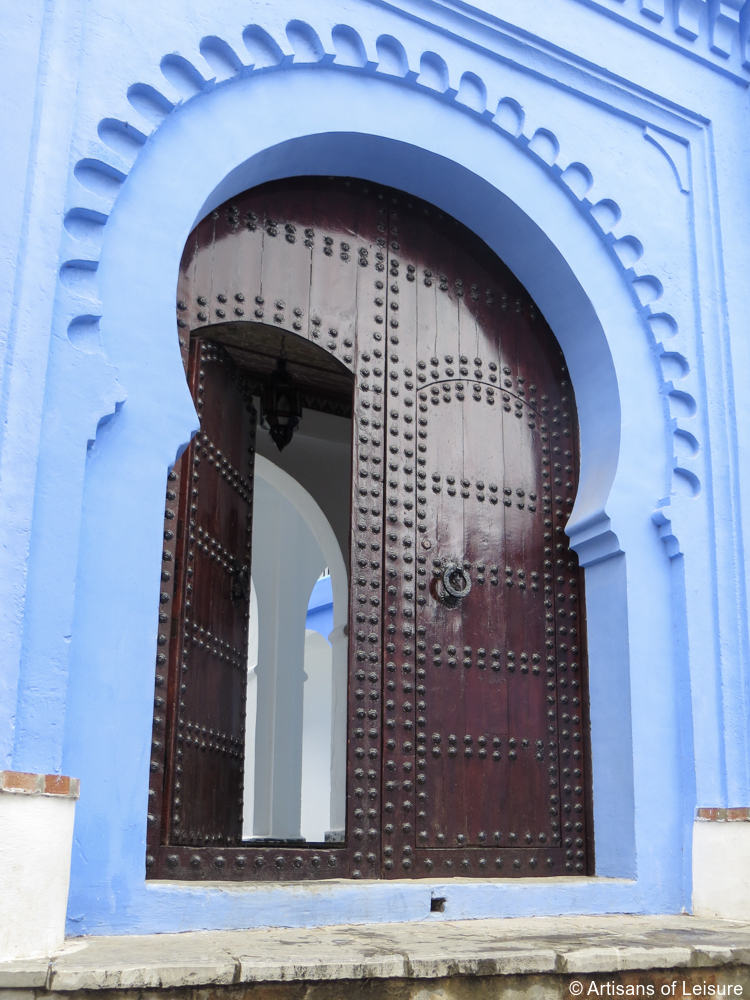 Wandering the alleys of the medina with a camera in hand is our favorite way to pass the time in this slow-paced and relaxing town.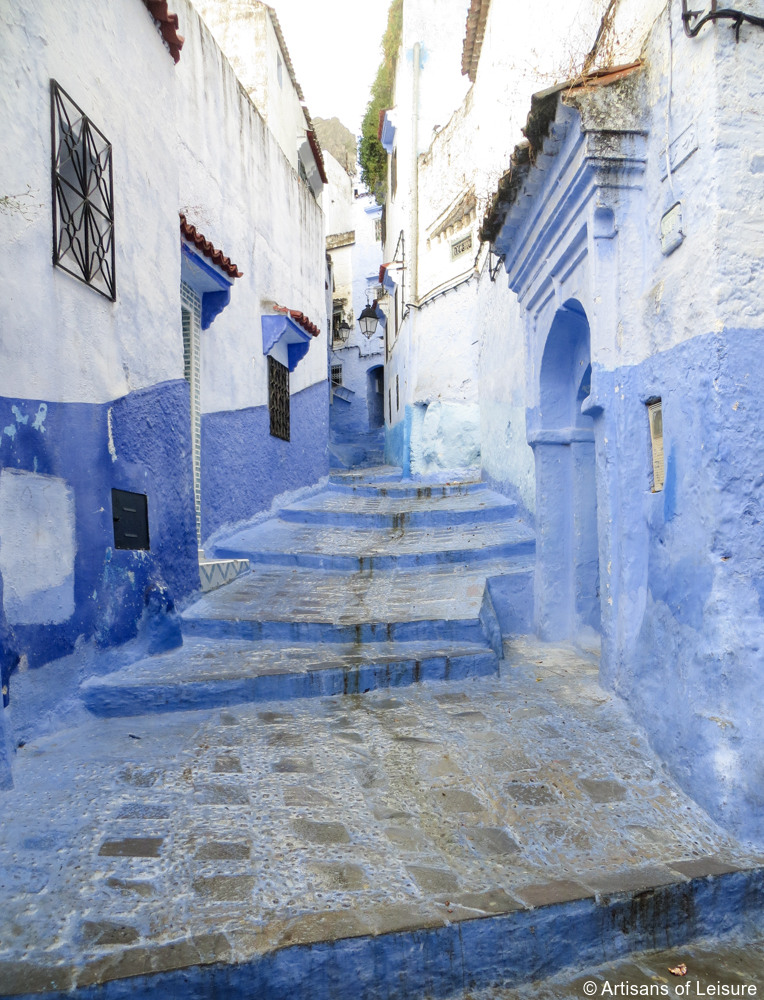 Color permeates the streets of Chefchaouen.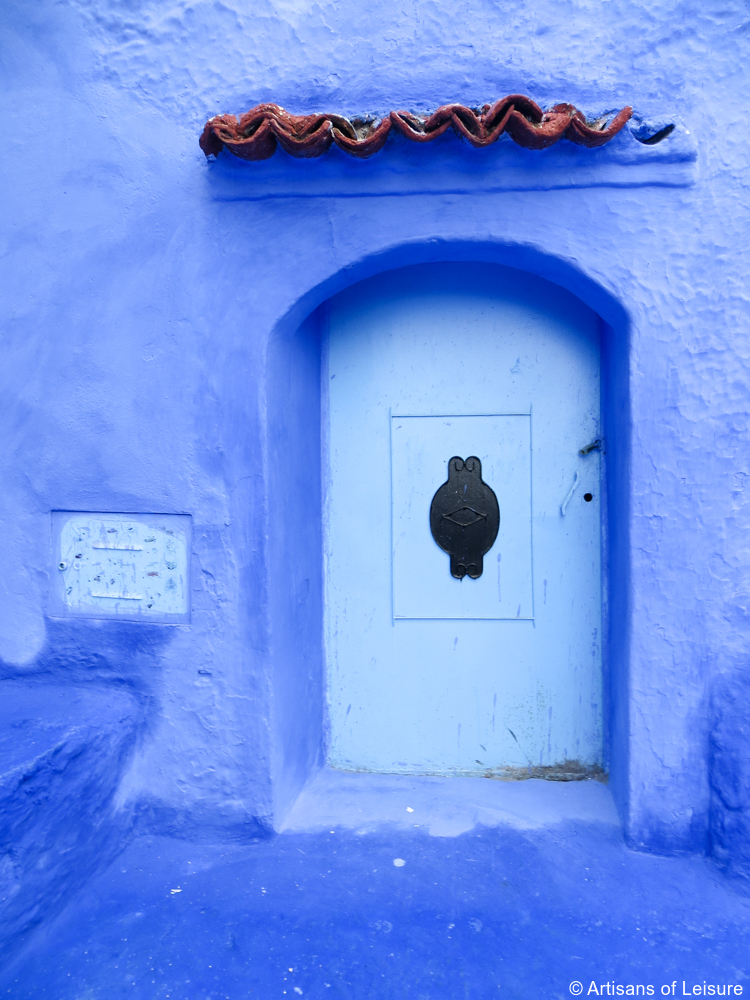 Every turn brings another amazing sight.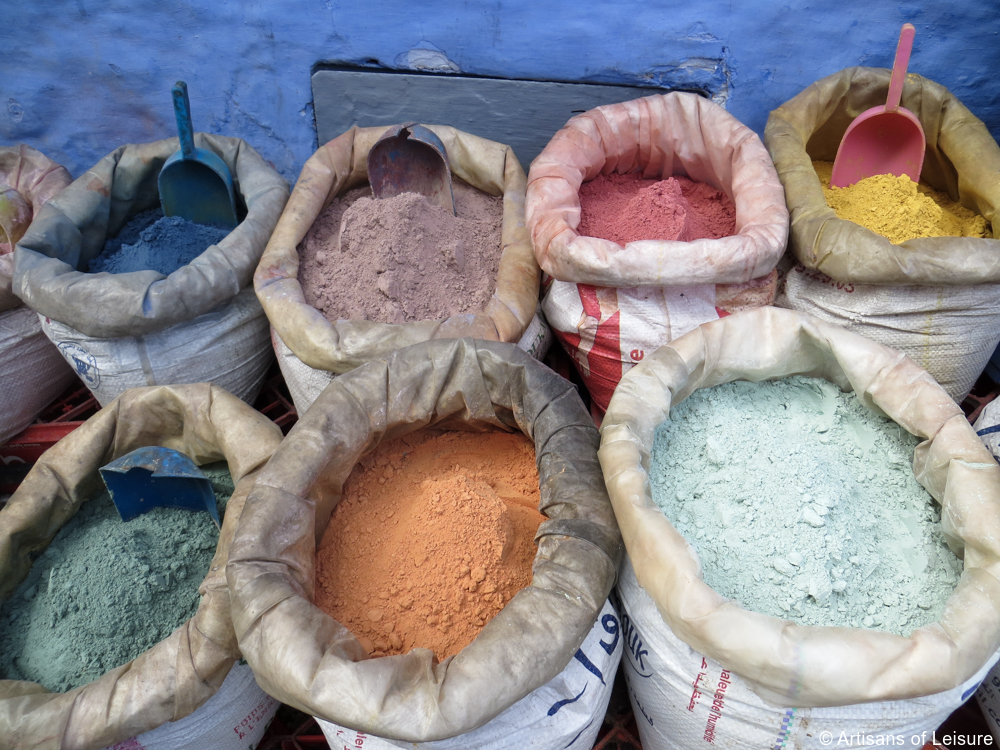 Artisans of Leisure can arrange hiking in the area around Chefchaouen to take in great views of the painted buildings against the backdrop of the mountains.
Contact Artisans of Leisure to start planning a private, customized luxury Morocco tour.
Tags: Ait Benhaddou, Amanjena, Atlas Mountains, Berber market, Berber villages, Casablanca, Chefchaouen, Dar Ahlam, Essaouira, exclusive Morocco, Fez, Jewish Morocco tour, Jewish tour, Kasbah Tamadot, La Mamounia, local markets, Majorelle Gardens, Marrakesh, medina, Moroccan crafts, Moroccan cuisine, Morocco, Morocco active tours, Morocco desert safari, Morocco shopping tours, Morocco tours, Riad Fes, Sahara Desert, souks, UNESCO World Heritage Site