August 21, 2012
Five Favorite Basque Country Experiences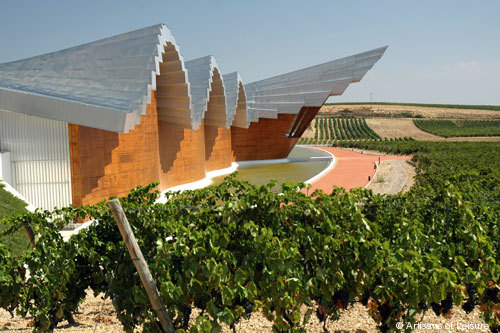 Comprising four provinces in northern Spain and three provinces in southern France, the Basque Country packs a lot into an area about the size of New Jersey. The region has its own language and a rich cultural heritage that make it a surprising change from the flamenco-tinged pueblos of Andalusia and the big-city bustle of Paris. In addition, it offers to-die-for food, verdant landscapes, and fabulous art and architecture.
Here are five experiences that make the Basque Country one of our favorite destinations.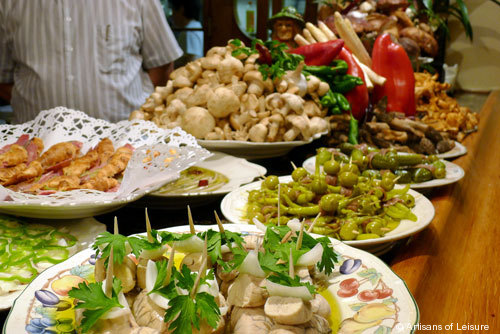 1.    Eating in and around San Sebastian
With more Michelin stars per capita than any other city in the world, San Sebastian is a foodie's paradise. Some of our favorite culinary experiences include:
Enjoying a meal and good conversation at a private dining club
Wandering through La Bretxa Market with a local chef, then heading to the kitchen for a private cooking lesson
Tasting local cider and trying to finish an enormous steak at a traditional sidreria (cider house)
Savoring some of the world's best restaurants, such as Arzak, Mugaritz, Akelarre and Martin Berasategui
Sampling both classic and creative bites, washed down with sparkling txakoli wine, on a pintxo tour of San Sebastian's old town
San Sebastian is also more than just food. La Concha Bay and the beautiful fin-de-siecle architecture highlight the city's former status as a favorite resort town. We love shopping in the new town and strolling along the Paseo de la Concha, stopping in the 100-year-old Spa La Perla for seaside treatments. Kids will also love the excellent aquarium at the end of the port.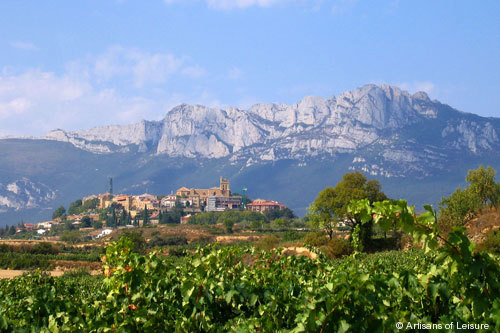 2.    Taking in wine country
The southern Basque Country produces some of Spain's best wines. It also offers avant-garde architecture, spectacular landscapes and intriguing medieval towns. We love touring the area around Laguardia, a walled hilltop village surrounded by vineyards and backed by the jagged Cantabrian Mountains. Nearby, the undulating roof of the Ysios bodega, designed by Santiago Calatrava, echoes the rolling hills, while the Frank Gehry-designed hotel at the Marques de Riscal bodega is home to one of the area's best spas.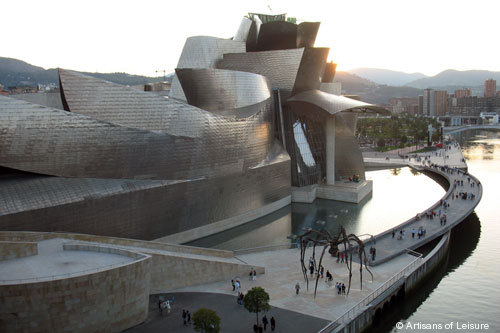 3.    Appreciating art and architecture in Bilbao
Frank Gehry's Guggenheim Museum may be the Basque Country's most famous building, but it's just the tip of Bilbao's architectural iceberg. That building triggered what has become known as the "Bilbao effect," and the city is now a hub of modern and avant-garde architecture, including Norman Foster-designed metro stations, the Santiago Calatrava-designed airport, and unusual buildings such as Osakidetza  and Alhondiga.
Bilbao's other architectural gems signal past growth spurts, as seen in the Gothic Cathedral of Santiago, the FEVE train station, city hall, and the UNESCO-listed Vizcaya Bridge. To chart the city's growth and expansion, we like riding the funicular up the hill to Artxanda for a panorama of the city, which is also great fun for kids.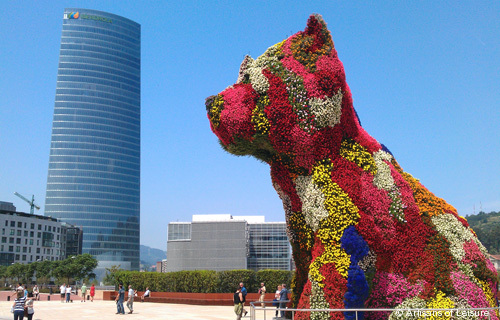 For art, we recommend the excellent Museum of Fine Arts. This museum houses an extensive collection of works by Spanish and international artists, such as Francisco de Zurbaran, Eduardo Chillida, Mary Cassat and Francis Bacon.
Of course, that's not to downplay the Guggenheim, which is not to be missed. Almost all of the art on display is part of temporary exhibitions, though there are a few permanent pieces, including the disorienting Richard Serra sculpture series "The Matter of Time" and Jenny Holzer's mesmerizing electronic installation. The museum's grounds are just as intriguing, with a Louise Bourgeois spider called "Mommy" ("Maman"), Yves Klein's "Fire Fountain," and a giant flower-covered West Highland Terrier called "Puppy" (created by Jeff Koons). Even the bridge over the Nervion estuary has been incorporated, with Daniel Buren's "Red Arches" specially commissioned for the site.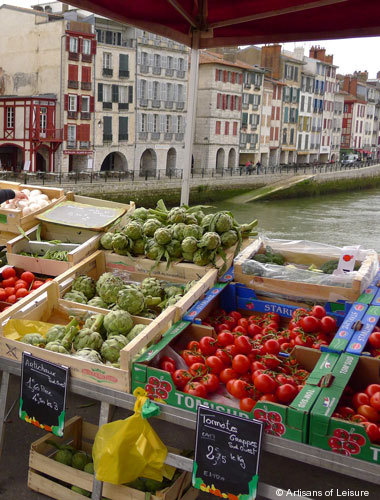 4.    Exploring the Pays Basque
The French Pays Basque has a flavor all its own. We especially love exploring the cities and villages of the Labourd region. Biarritz combines the glamour of its casinos and seaside resorts with a laid-back attitude, as seen in the surfers, sidewalk cafes, and beachfront promenades. Bayonne is a must-visit, with its delicious chocolate, entrancing market, river lined with half-timbered houses, and fascinating Museum of Basque Culture.  For shopping, we like the seaside resort of St-Jean-de-Luz, where a stroll along Rue Gambetta allows us to get our hands on linens, espadrilles, almond cookies and gourmet local products, including Bayonne ham and Ossau-Iraty cheese. Inland, tiny mountain villages beckon with their traditional Basque architecture, always clustered around the church and fronton, or Basque ball court. We like driving through Sare and Ainhoa, and stopping in Espelette to sample its famous spicy peppers.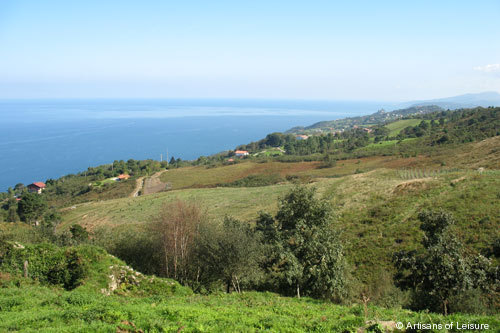 5.    Driving along the coast
We highly recommend driving through the Basque countryside to take in the landscapes from the rolling Pyrenees foothills to the rugged coastline dotted with fishing villages. There are lots of little towns to explore, but one of our favorites is Getaria, just half an hour west of San Sebastian.  The ancient fishing village is the birthplace of Juan Sebastian Elcano, the only captain on Ferdinand Magellan's round-the-world expedition to successfully complete the circumnavigation. (Despite his legend, Magellan died in the Philippines before reaching the end of the journey.) Fashion designer Cristobal Balenciaga, another native son, has a new museum dedicated to his stunning coats, gowns, dresses and accessories. In addition, Getaria offers txakoli vineyards; an unusual sloping church, built into the city walls; and some of the best seafood on the coast, especially at Elkano Restaurant.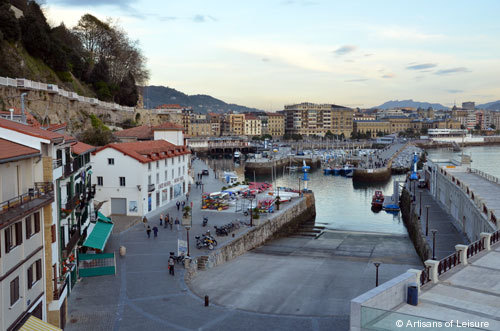 Artisans of Leisure arranges private, customized tours in the Basque Region in Spain and France. Please contact us for more information, or refer to our website for recommended itineraries, such as our Bordeaux to the Basque Region tour.
Destinations: Europe, France, Spain
Tags: architecture, art, Basque, Basque Country, beach, Biarritz, Bilbao, cuisine, culinary, culinary experiences, culinary tours, dining, food, France tours, Guggenheim Museum, kids, luxury tours, luxury travel, markets, Michelin restaurants, museums, Pays Basque, private, private dining societies, restaurants, San Sebastian, sightseeing, Spain tours, spas, tours, travel, UNESCO, villages, wine, wine country