December 29, 2011
Eating Our Way Through Israel
We love eating as the locals do when we travel, and we find that food often inspires some of our best travel memories.
Artisans of Leisure recently traveled across Israel and we particularly loved visiting the open-air markets, sampling street food, and dining where the locals like to eat. Here are a few of the culinary highlights from the trip.
JERUSALEM
Jerusalem has such an incredible history that the city easily warrants several days of touring just to see all of the main highlights. A walking tour of the four quarters of the Old City is a must, as is a visit to the impressive Israel Museum and Yad Vashem (Holocaust Museum).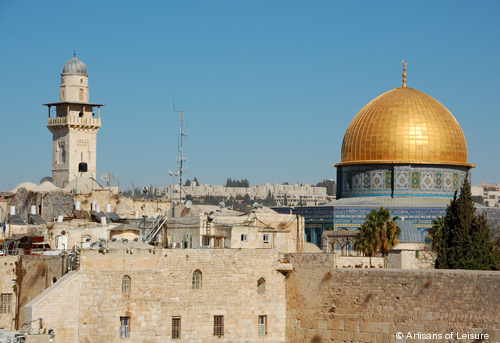 To experience the flavors of Jerusalem, Artisans of Leisure can arrange a tasting tour at Mahane Yehuda market, known by Jerusalemites as "The Shuk." This bustling and colorful market has over 250 vendors selling a wide variety of produce and specialties from across Israel, such as Safed cheese (a white cheese from the Galilee, similar to feta), olive oils, dates and nuts, halva, and burekas (savory, flaky pastries stuffed with cheese or meat).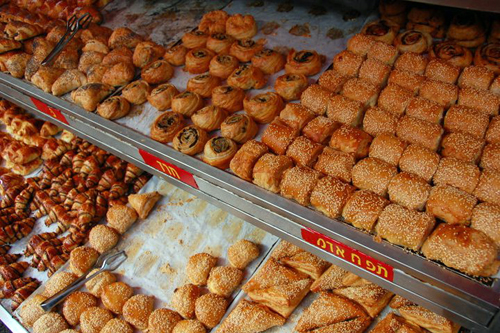 After exploring The Shuk, we recommend having a meal at Machneyuda. Located just outside the market, this popular restaurant is run by three chefs from Jerusalem and has a Mediterranean-inspired menu that changes daily according to the seasonal produce available at the market. Reservations are essential and Artisans of Leisure can make arrangements in advance for those interested.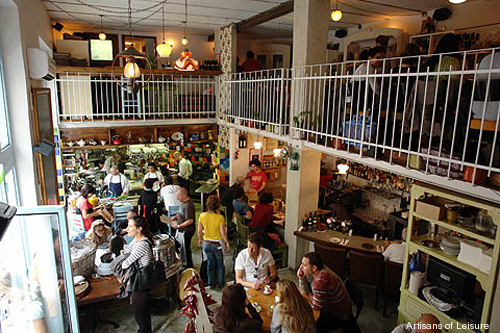 Don't forget to try a Jerusalem bagel while touring the city. Unlike traditional bagels, the Jerusalem Bagel is not boiled before baking and has a lighter consistency. These bagels come in a large oval shape–big enough to share–and are topped with sesame seeds. You might also like to try dipping your bread in za'atar, a blend of spices and salt.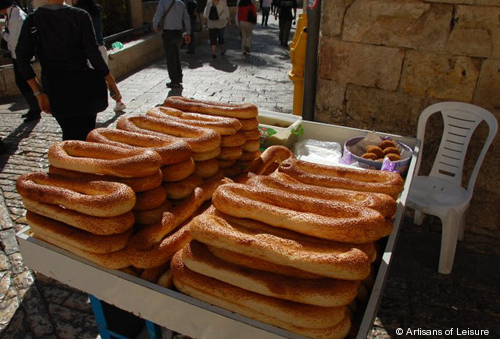 ACRE (AKKO)
Just north of Haifa, the city of Acre (Akko) has a rich history as a strategic port dating back to Phoenician times, earning it the title of the oldest continuously-inhabited city in the country. Those interested in history and archaeology will enjoy seeing evidence of Acre's past revealed in the architectural layers around the city–including Muslim, Crusader, Ottoman and British influences–both above and below street level. A private tour of the Templar's tunnel is a highlight. Discovered in 1994, this secret underground tunnel built by Crusaders in the 12th century runs from the Templar Fortress to the sea.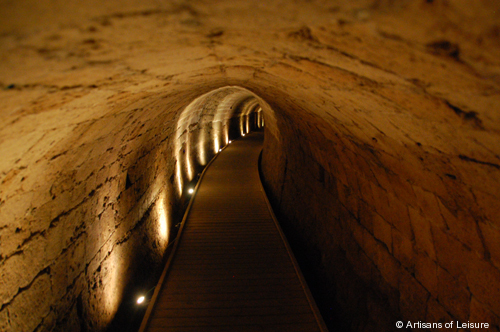 After returning to the surface, stroll through the old city for a taste of Acre. The fortified city, a UNESCO World Heritage site, is characterized by its narrow and winding streets, courtyards, mosques, khans (inns), baths, and residential areas, such as the Muslim Quarter, where you might come across the delicious smells of grilled kebabs. We also recommend a visit to a local favorite, Humus Sa'id. Located at Acre's old city market, this popular restaurant often has a line outside the door and is considered by many Israelis to have the best hummus in the Middle East.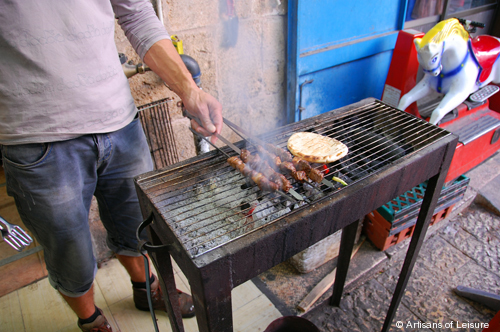 Try a fresh-squeezed pomegranate juice from one of the local vendors by the harbor–a great way to end the day.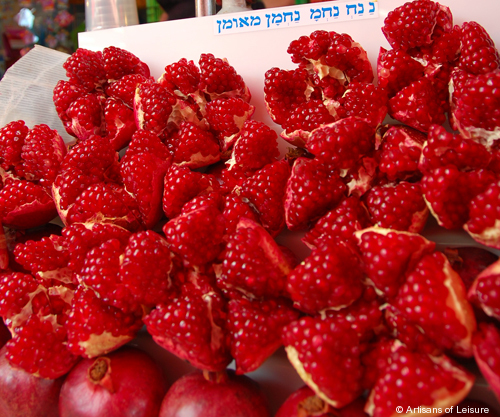 THE NEGEV DESERT & MITZPE RAMON
Those travelers with time might like to consider an overnight in Mitzpe Ramon in the heart of The Negev, a large desert of rugged gorges, saw-toothed mountains and colorful desert landscapes. A drive through the desert can include touring at sites such as the desert home of Israel's first Prime Minister, Ben Gurion, at the Kibbutz Sde Boker or the ruins of the ancient Nabatean city of Avdat, a caravan stop on the spice route between Petra and Gaza. Artisans of Leisure can also arrange a private helicopter for the transfer from Tel Aviv or for a scenic flight over this incredible landscape.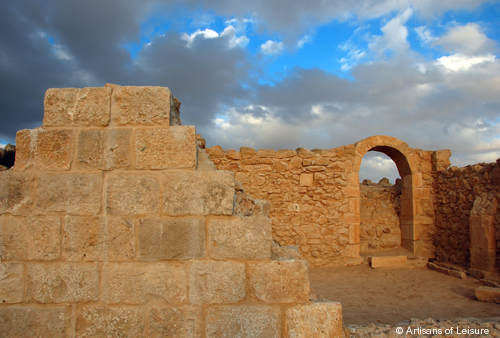 A delicious Israeli breakfast is our favorite way to start the day before a privately guided morning hike or 4WD excursion to the Ramon Crater (Machtesh Ramon), a spectacular naturally-formed geological depression and one of the highlights of The Negev. Breakfast in Israel typically consists of fresh baked bread, eggs, Israeli salad (tomatoes, cucumbers and onion), local cheeses, labneh (a homemade yogurt cheese), sliced vegetables, and a variety of dips, such as hummus, tehina (a thick sesame seed based dip), or baba ghanoush (roasted, pureed eggplant).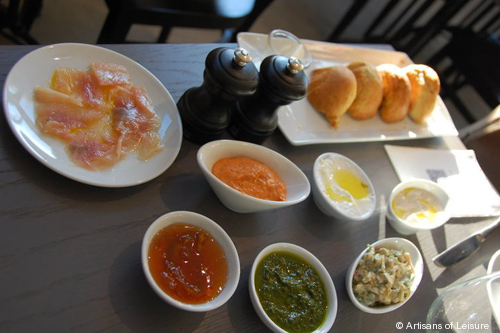 EILAT
Located on the Red Sea between the borders of Egypt and Jordan, the resort town of Eilat is the southernmost town in Israel and the place to go to enjoy the sun and beach. It's also a great base for travelers wishing to take a day trip to the impressive archeological site of Petra in Jordan or for those interested in adventure activities, such as camel rides or 4WD excursions in the desert, hiking at Timna National Park, snorkeling in the reef, or swimming with dolphins. Eilat is also a great destination for families.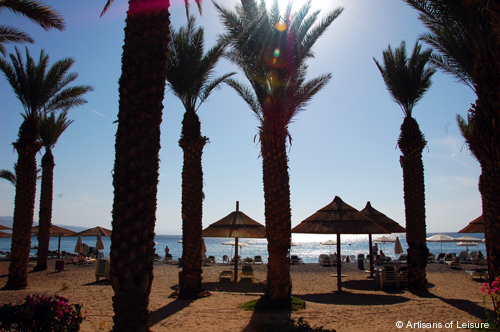 One of our favorite things to do in Eilat after a day of adventure is to stroll along the promenade with an ice cream, relax at an outdoor café, or have a delicious shawarma sandwich by the beach. Shawarma is a classic Israeli street food made with thinly-sliced grilled marinated meats stuffed in a fresh pita or lafa (large pita). Toppings often include salad, eggplant, pickles, and a variety of sauces, such as tahina, hummus, mango or chili sauce. In Israel, shawarma is typically accompanied by a side of French fries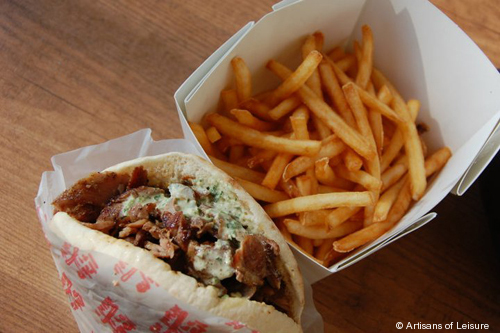 TEL AVIV
Tel Aviv has it all: the buzz of a cosmopolitan city, the café culture of Europe, and white sandy beaches on the Mediterranean Sea. Tel Aviv also has a thriving culinary scene, with everything from upscale dining in the trendy Tel Aviv Port and Neve Tzedek neighborhoods to traditional kosher Jewish-Yemenite cuisine in the old Yemenite Quarter. A highlight is exploring the stalls at the Carmel Market, Tel Aviv's largest open-air market. For an insider's tour of the best of the market, Artisans of Leisure can arrange a private Israeli cooking lesson and market visit with a local Tel Aviv chef.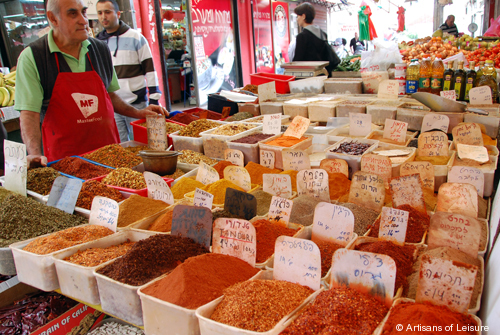 At the Carmel Market, enjoy sampling local treats. From sweet, Middle Eastern pastries…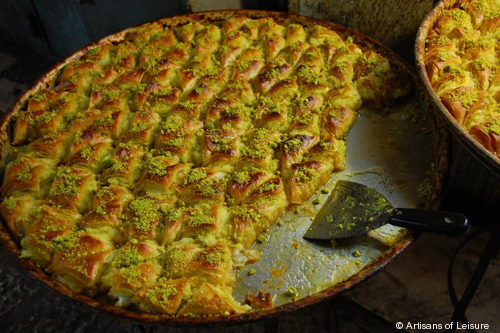 …to fresh olives.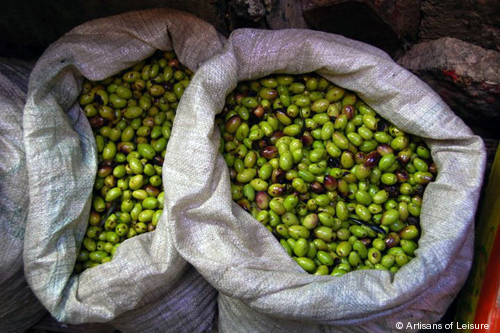 Old Jaffa, the ancient port of Tel Aviv, is a wonderful place to spend an afternoon browsing galleries and antique shops, strolling along the maze-like streets of the old city, or haggling your way your way through the famous Old Jaffa Flea Market.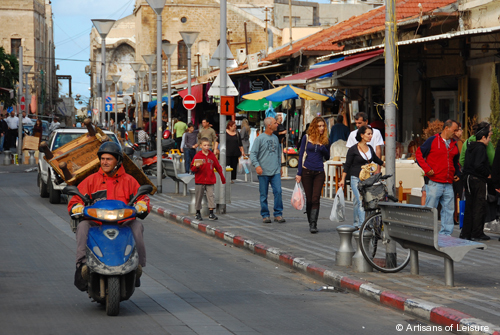 And when in Jaffa, do as the locals do and eat at Dr. Shakshuka's, a legendary, no-frills restaurant that specializes in home-style Jewish cuisine from Tripoli and Morocco. The "doctor's" most famous dish is his namesake: shakshuka–an egg poached in a delicious stew of tomatoes, onions and spices and served right in the frying pan with a side of bread.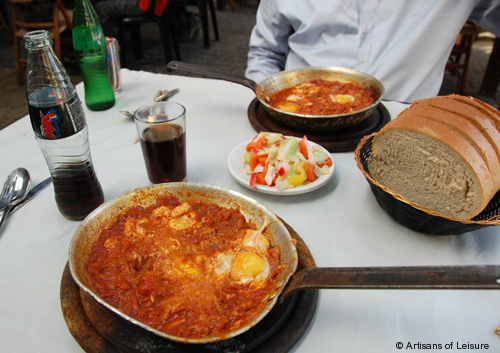 Contact us to learn more about our private Israel tours and our other favorite destinations in Israel, including the Dead Sea and Masada, Haifa and the Galilee, and the Golan Heights.
In addition to experiencing the history, culture and landscapes of Israel, Artisans of Leisure can also arrange private Israeli cooking classes with local chefs, market tours with culinary experts, shopping tours for ingredients and ceramics and housewares, special meals (Druze, kosher, Yemenite, and more), visits to wineries, cheese farms, chocolate factories and much more. All Artisans of Leisure tours in Israel can be customized to accommodate for kosher diets or other dietary restrictions.
See more foodie-inspired photos of Israel on our Facebook page.
Destinations: Israel, Middle East
Tags: cooking classes, culinary, culinary tours, family, food, Israel tours, luxury tours, markets, private tours, restaurants, shopping