September 12, 2011
A Perfect Day in Buenos Aires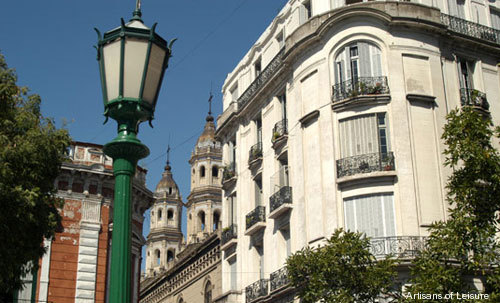 One of the Southern Hemisphere's most sophisticated and dynamic cities, Buenos Aires is the perfect year-round destination. Nicknamed "The Paris of South America," the Argentine capital possesses a compelling combination of beauty and culture. That's part of the reason Artisans of Leisure offers so many private and customizable tours that include Buenos Aires.
Our private Buenos Aires tours feature the best of the capital, including the top five-star hotels; private touring of interesting neighborhoods, fascinating art and architecture, local markets, and Jewish heritage sites (if desired); tango performances in upscale venues or historic milongas (salons); polo tournaments or lessons (upon request); specialized shopping and more.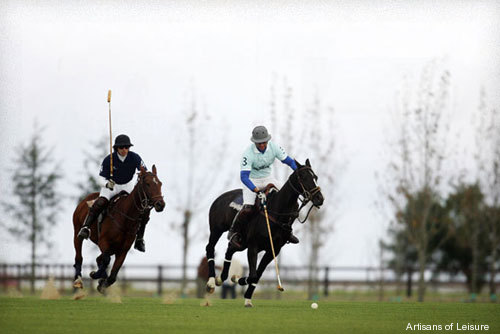 With so much to offer, it's easy to spend several days in Buenos Aires, also known as BA. But with your own expert Artisans of Leisure guide and driver, you can enjoy the city's best sights and neighborhoods in a single, perfect day of flexible touring customized to your interests.
Perhaps spend the morning in the historic San Telmo district, the well-preserved 19th-century neighborhood where tango was invented. A leisurely walk among the Italianate town houses and Spanish-style mansions of San Telmo offers a glimpse into the storied past of Buenos Aires. A great place to find a piece of that past to take home with you is San Telmo's iconic Antiques Fair. Set around leafy Plaza Dorrego, the market features dealers selling a wide range of collectibles, such as antique furniture and lighting, brass and copperware, hand-painted signs, and gaucho specialties such as the facon (knife) and boleadora.  Dozens of additional antiques shops fill historic buildings along side streets throughout San Telmo.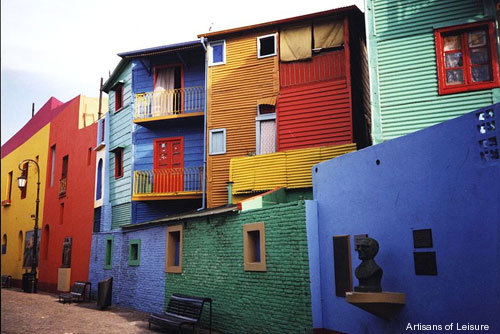 The architecture is significantly less upscale but still impressive in nearby La Boca, a neighborhood settled by working-class Italian immigrants in the late 19th-century. Once the city's main port, La Boca's rusted-out industrial ambience has been buffed a bit over the past decade as its trademark houses–built of brightly painted corrugated metal from the shipyards–in the Caminito area have been transformed into a touristy arcade of souvenir shops. Still, La Boca's unique architecture is worth a quick look (and a few photographs) as it stands in contrast to BA's more refined neighborhoods.
In and around El Centro are more of BA's most notable sights and experiences. Recoleta, an elegant residential and shopping district, has leafy boulevards and Parisian-style buildings, many of them now upscale shops and luxury hotels (including those used by Artisans of Leisure). Highlights of private touring in Recoleta include the neighborhood's most famous landmarks: the towering white 18th-century Basilica de Nuestra Senora del Pilar and the adjacent Cementerio de la Recoleta. The oldest cemetery in BA (it dates to 1822) covers 13 acres and is filled with more than 6,400 elaborate stone mausoleums, 70 of which have been declared historic monuments. It's a jumble of lavish architectural styles, from Greek temples to mini-mansions, and a who's who of Argentina's wealthiest and most famous denizens, including former First Lady Eva Peron.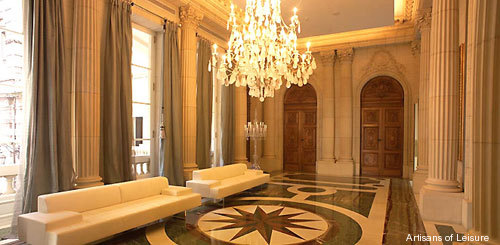 Other touring highlights in El Centro include walking through the historic Plaza de Mayo. Named for the May Revolution of 1810, the plaza has long been a gathering point during important moments in Argentine history. Bordering the plaza is the Casa de Gobierno (Government House), better known as the Casa Rosada or Pink House because of its salmon-hued facade.
Perhaps drive one of BA's most famous streets: Avenida 9 de Julio. The world's widest avenue, it has up to 14 lanes and bisects central BA. In the middle of the avenue is the Obelisk, a 221-foot-tall city landmark built in 1936. Also along the thoroughfare is Teatro Colon, an elaborate, century-old opera house that took 18 years to build. It's known for its beautiful interiors, excellent acoustics and roster of legendary performers (including Enrico Caruso and Luciano Pavarotti). Upon request, Artisans of Leisure can arrange tours of the theater and tickets to performances.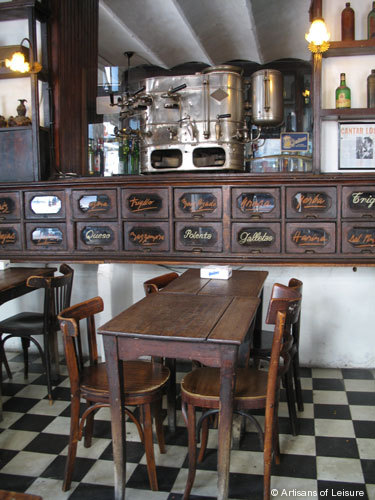 In trendy Palermo—BA's epicenter of design—we take our travelers to the best boutiques for local specialties such as high-quality leather goods, fashions by young Argentine designers, one-of-a-kind housewares, and folk art from around Argentina.
Other options include touring one of BA's best museums, such as the Museo de Arte Latinoamericano de Buenos Aires (MALBA), which presents one of the world's largest collections of  19th- and 20th-century Latin American art in a stunning, modern setting; the Museo Nacional de Bellas Artes, which has the most comprehensive collection of Argentine art; or the Fundacion Proa, which offers cutting-edge exhibitions of modern and contemporary art.
In the evening, Artisans of Leisure will arrange for you to enjoy the best upscale tango dinner show in Buenos Aires. It's an exemplary performance accompanied by an excellent menu based on local food products and wine. (If so inspired, tango lessons will await you the next day.) Alternatively, we will make reservations for you at one of our most recommended restaurants in Buenos Aires, where you can enjoy Argentine wine and perhaps a superb, grass-fed steak.
Buenos Aires is also the gateway to Argentina's incredibly diverse attractions, including awe-inspiring Iguazu Falls and the glaciers and lakes of Patagonia. Visit our website to learn more about our private Argentina tours, or contact us to begin planning your private tour to Buenos Aires and other destinations in amazing Argentina.