March 2, 2009
A conversation with Chef David Sterling of Los Dos, Mexico's acclaimed cooking school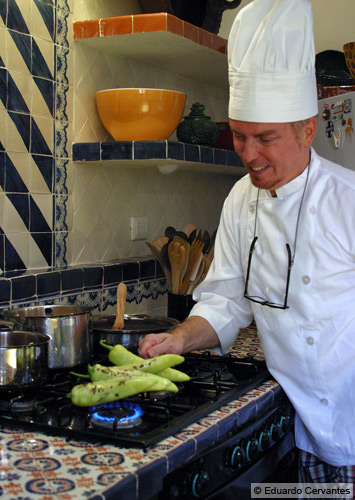 We recently enjoyed speaking with renowned Yucatecan chef David Sterling, the founder of Los Dos Cooking School in the charming colonial city of Merida, Mexico.
Q: Your cooking school in Merida, Los Dos, is one of the leading culinary schools in Mexico. You were instrumental in making Yucatan cuisine more internationally known and regarded. How did you get started and why did you decide to open a cooking school?
A: I started traveling to Mexico in the early 1970s to fulfill a longtime passion for and curiosity about the country. I was pretty much immersed in French culinary techniques at the time, but my travels gradually inspired me to include the foods of Mexico in my studies. However, during the '70s, "Mexican food" in the public mind consisted only of Taco Bell and fast-food enchiladas stuffed with chili and drowning in gooey melted cheddar cheese. Only a handful of people outside Mexico realized that the country has many different regions, each one unique in terms of its culture and its cuisine. I confess I was part of the unwashed masses! It took a trip to Yucatan in the mid-'80s for me to realize that here was a completely different cuisine. Some ingredients are shared (like maize, squash, chiles and tomatoes) but the way those ingredients come together in Yucatan are really quite distinct from the rest of Mexico. It was an awakening for me, and I began to play around with a few Yucatecan dishes. But I didn't really fully immerse myself in the cuisine until 2002 when I purchased a house in Merida and began to plan my new life in Mexico. I wasn't sure what I was going to do with my culinary knowledge nor my newfound passion for the food of Yucatan. Then one day—I suppose in one of those wonderful moments of insight that occur only when you aren't looking for them—I realized that, while there are "culinary adventure destinations" and cooking schools for tourists in France, Italy and even several other regions of Mexico, there was no such option in Yucatan. It seemed an obvious gap that was begging to be filled, and I stepped in! I started Los Dos only 6 months after moving here, and from the first class the school was a hit. We instruct more than 400 students per year.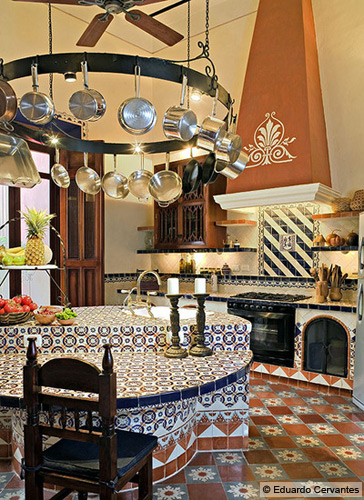 Q: You are originally from the United States and once lived in New York City for 25 years. What first attracted you to Merida?
A: I vividly remember my first visit to Merida: moments spent sitting in the Plaza Principal and other smaller parks like Santiago, and thinking what a quaint little place it seemed. Looking back I have to chuckle at myself, because Merida has grown to be quite a metropolis of close to one million people. Even at the time of my first visit, I was naive to think that the historic center where I spent a lot of time was the only Merida—it is actually two cities, one ancient, the other as modern as the 21st century. But the quaintness that I saw on my first visit is still here. Merida is real—it is one of the most authentic cities I have ever visited in Mexico, and most of my students comment on that fact. Many folks still dress in traditional clothing; the active market is bustling 365 days a year; festivals, dance and music are made by the people, for the people—not for tourists. Yucatecans have spent centuries maintaining their identity, their culture, language and of course their cuisine. It is this realness that first attracted me and continues to do so every day I live here.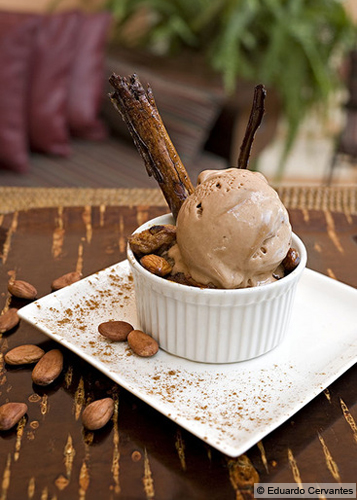 Q: How is Yucatan cuisine different from cuisine in other areas of Mexico?
A: The Yucatecan table absolutely and unquestionably represents the first meeting of Old and New World cuisines. As only one example, the first chocolate tasted by Europeans came from the Maya of Yucatan. Chocolate at that time was consumed strictly as a beverage; it wasn't until the 18th century in France that people started confecting chocolate into sweet treats. So here we have a Maya ingredient in a French chocolate shop! In Yucatan, there is a solid base of Maya foods, techniques and ingredients, atop which rests a layer of European influences. Perhaps because of our pride (which sometimes results in a kind of isolationism) we have kept a distinct line between "them" and "us," "theirs" and "ours." That is why it is easy to parse your plate at a Yucatecan restaurant, like an archaeologist: this layer is Portuguese, that is Spanish, this is Maya. Unlike the rest of Mexico, we never really mixed the influences together. In Mexico they speak of a "mestizo" cuisine that evolved as a mix of indigenous ingredients and techniques with European ingredients and techniques. We don't really speak of "mestizo" cuisine here. Things remain pretty much separate and distinct. You can spot that Dutch Edam cheese, that Portuguese longaniza sausage, the Lebanese kibis very easily. Another interesting difference is that Maya cuisine features some of the most ancient recipes in the country—pure, unelaborated dishes of corn, beans and squash and not much else. Go to any restaurant here, or cocktail party, and you will see the European kibis, longaniza and hummus sitting side by side with the pure Maya tamalitos de chaya, papadzules and polkanes. Finally, we also have several ingredients that are unique to the region and that define our cuisine: chaya (a leafy green vegetable), allspice and cacao, to name just a few. And Yucatan is the world's largest producer and exporter of the infamous and fiery habanero chile, which is our heart, soul and pride!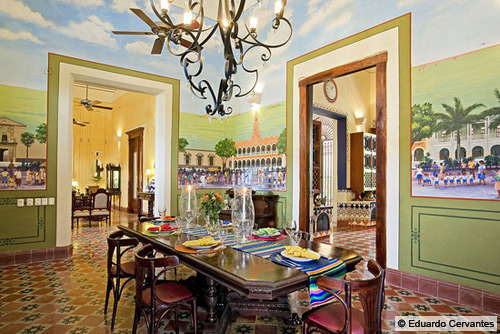 Q: What local dish or ingredient do you consider a "must try" while in Merida?
A: Do I just get to choose one? Not fair! Go to La Pigua and order their seafood salad called Sir Frances Drake (La Pigua is representative of the influence of Campeche, where this restaurant originated). I dream of this salad daily! I don't know what they do to it but suffice it to say that it is a kind of seafood ambrosia. Octopus. Squid. Shrimp. Conch. A delectable sauce that I eat with a spoon. Try the Filete en Mojo de Ajo at the very humble El Marlin Azul in the historic district. Their rich dark green garlic mojo is spectacular and it is something I intend to try to copy one of these days, but it might be difficult since theirs is so perfect. Or if you prefer some hearty meat instead of fish, try the tacos de castacan at the little taqueria, Wayan'e. Castacan is fried pork belly; it is lightened by serving it with a salpicon (chopped salad) of cabbage, radish, onion, cilantro and sour orange juice. At Hacienda Teya be sure to try their perfect Queso Relleno (the Dutch Edam cheese stuffed with an Andalusian meatloaf mixture) and the Longaniza (Portuguese smoked sausage). And while in Merida's Plaza Principal on Sunday, try a typical Maya tamal—the Tamal Colado—a creamy, pudding-like strained tamal with chicken or pork and a rich achiote sauce. A tamal that you will not find elsewhere in Mexico, the tamal colado is Yucatecan comfort food. How can it be that I eat these foods all the time and still drool just now as I write about them???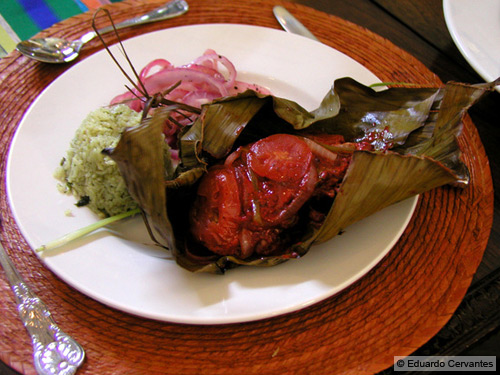 Q: Besides Mexico, which international cuisines are you particularly drawn to?
A: Some Yucatecan dishes—like poc chuc—are fresh, light and a la minute. Others are more elaborated. But the simplest ones are my favorites. Outside of Yucatan, to me some of the simplest, healthiest and easiest to prepare foods are what gourmands have come to call "Mediterranean." Anything with garlic and olive oil and pasta is fine with me! I also am addicted to Thai and Indian foods, which we can't get here, so I have to make my own. Friends who come to visit know they will be bringing in their suitcases loads of curry powder and green curry paste. I keep buckets of homemade tropical fruit chutneys in my freezer. And then anything French still thrills me—and everything I cook is infused by that influence.
Q: What is your favorite restaurant in the world? Why?
A: The ghost of Lespinasse in the St. Regis Hotel in New York. I still weep when I realize it is closed. (I am actually not exaggerating. Well, at the very least I get a hollow feeling in the pit of my stomach when I think about it. It is so sad! Such a loss!) I enjoyed the two most memorable dinners of my life there: one a six-course vegetarian tasting menu, and one a six-course menu featuring white truffles. There is simply no way to describe the nuance, the perfection, the intelligence and thought, and not to mention the skill and training (and money!) that went into creating those two meals. On the lower end of the spectrum (only with regard to price) is a restaurant thankfully still in existence, that I recommend regularly to anyone who will listen: Mexicana Mama on Hudson Street in Greenwich Village. Everything is so perfectly conceived yet simple. Only four or five tables. I had there what I would call the pinnacle or defining moment of Chiles en Nogada. No version of that dish that I have had before or since has come close in quality—even here in Mexico. How did she do it?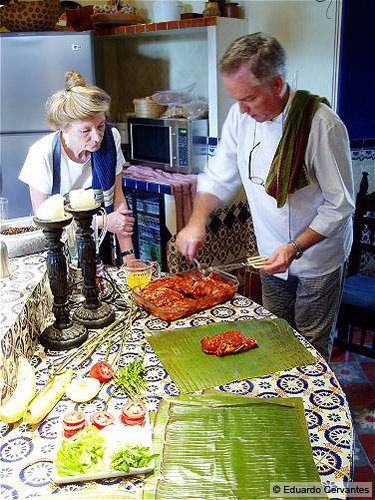 Q: What do you like to do on your days off?
A: Fortunately for me, my work is my hobby! So when I have days in which I don't have to be in class, I go on food-related excursions. Citrus orchards, pork producers, cacao plantations, liqueur distilleries. I also book time with Maya women who give me classes either in their kitchens or in mine. That is how I have built my repertoire of authentic Maya dishes, many of which can't be found in local restaurants or even in regional cookbooks.
Q: Tell us about your kitchen at home. What utensils do you use the most? What do you consider essential?
A: Of course I use all the traditional Mexican and Maya utensils, such as the tamul (molcajete or mortar and pestle), the comal (a round iron griddle) and the ubiquitous Mexican citrus juicer. But let's face it: the work of today's cooks has been greatly aided by modern conveniences and my kitchen is full of them! I could not live without my immersion blender, nor my six external-read thermometers. In almost every class I also use one of my three 9-quart cast iron Lodge Dutch ovens, in which we create pibil-type dishes. I have three Cuisinart food processors, three blenders and a couple of mandolines. (By the way, I am not obsessed by quantity. It's just that, living here, I am neurotic about having something break or go out of order and not being able to replace it quickly, so I stock up on multiples.)  Oddly, I have only one Henckels Santoku knife which I jealously guard and don't let anyone else touch. It is hidden in a special place behind the stove. Don't try to find it.
Q: When you travel, is there something in particular you always like to buy in each place?
A: Only cooking utensils and folk art. The most difficult thing to find in any new place is authentic work—not tourist junk. So I put quite a bit of effort into that search. I find that cooking utensils that are unique to a place tend to be some of the most "real" artifacts you can find since they are put to practical use by local people.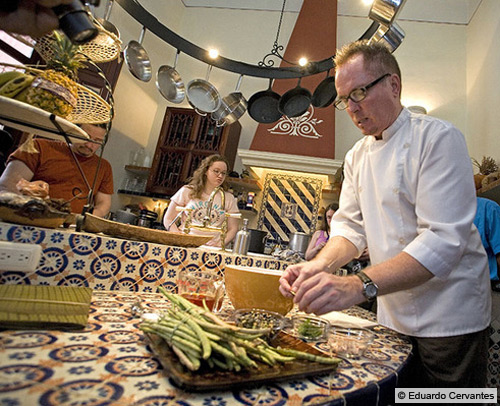 Q: Where do you want to vacation next?
A: I haven't gotten tired of Mexico yet! In fact my next trip is to Morelia, Michoacan. In nearby Zitacuaro I will visit the doyenne of Mexican food—Diana Kennedy. And afterward I'll go to a butterfly sanctuary to see the famous flight of the monarchs. The only other place I must see before I die is India. I have wanted to go there for years but—well, I've been a bit busy! The truth: I must eat Indian food in India before I croak!
Q: Besides Merida, what are your favorite destinations in Mexico? Why?
A: I adore Mexico City—it is so cosmopolitan and has marvelous food, both "street" varieties and haute cuisine. I remember last year eating sweet corn cakes on Sunday morning outside a church in Coyoacan, then fabulous epazote foam on a Quesadilla Capuccino at Pujol on the same trip! I also love the colonial town of Guanajuato. There really is no place on earth quite like it. And it has one of the loveliest markets I have ever seen—anywhere.  Gustav Eiffel (who designed the eponymous tower in Paris) designed a pre-fabricated iron building that was to have been put to use in several different applications. If memory serves there are four that still exist throughout Mexico—one I believe is a train station, and one houses the market in Guanajuato. It is spectacular, with all that frilly iron tracery contrasting to the gritty riot of colors that can only be found in a Mexican market.
Q: What's your favorite cookbook?
A: Of course I love all of Diana Kennedy's travelogue recipe books. But my all-time favorite cookbook has always been and will always be Mastering the Art of French Cooking by Julia Child, Simone Beck and Louisette Bertholle. It is my bible and my constant source of inspiration. I want to marry it. I would venture to say that, for sheer information, clarity, quality of recipes and explanation of techniques, there is no better cookbook in the world.
Q: What are you making for dinner tonight?
A: I was planning on eating leftovers from my class today: Crema de Cilantro and Pollo Pibil. But as it turned out I had a seafood medley of fried Maryland crab cakes and shrimp. All from Costco. Call me crazy.
Private cooking classes at Los Dos are included in our Culinary Tour of Mexico and can be incorporated into any of our customized luxury tours of Mexico that visit Merida and the Yucatan. Our travelers stay at the most acclaimed luxury hacienda properties and enjoy private touring of the region's fascinating food markets, ancient ruins, and local Mayan villages.
Destinations: Latin America, Mexico
Tags: ancient ruins, chef David Sterling, chocolate, classes, cooking, cooking tours, cooking utensils, cuisine, culinary, culinary blog, culinary destinations, culinary schools, culinary techniques, culinary tours, culinary travel, culture, culture blog, dance, Diana Kennedy, European, excursions, festivals, folk art, food, food blog, foodie, French chocolate, gourmet, Guanajuato, Gustav Eiffel, haute cuisine, hotels, Los Dos Cooking School, luxury, luxury haciendas, market, Mayan cuisine, Mayan villages, Merida, mestizo cuisine, Mexican food, Mexican kitchen, Mexico City, Mexico tours, Michoacan, Morelia, music, Portuguese, recipes, s cookbooks, Spanish, street food, tours, traditional, travel, trips, Yucatan, Yucatan cuisine, Yucatecan, Yuecatecan, Zitacuaro