August 22, 2018
The Best of the Galapagos & Ecuador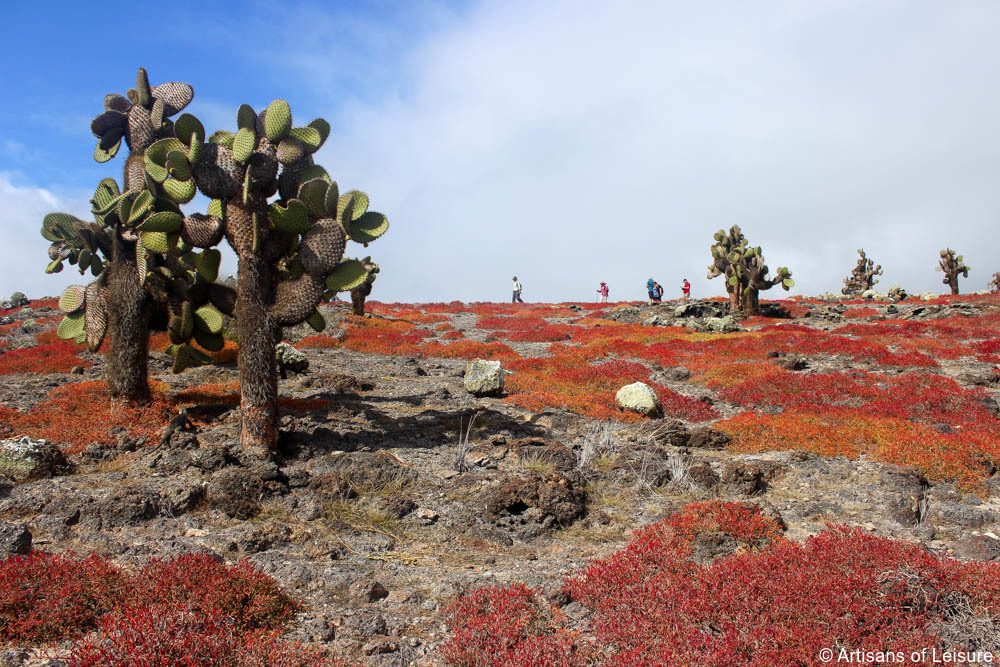 Ecuador is one of our most popular destinations for travelers interested in nature and wildlife. Artisans of Leisure arranges tours for travelers to experience the very best of the Galapagos Islands and the cultural highlights of mainland Ecuador. Enjoy these images of the best of Ecuador from recent trips made in the country by Artisans of Leisure travel specialists.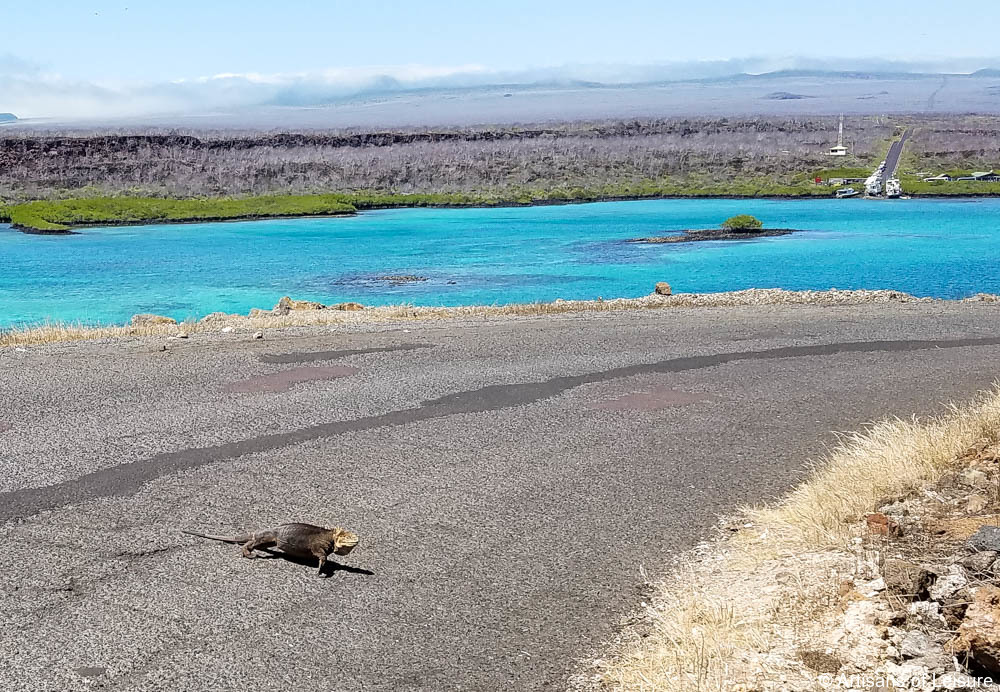 For many travelers, wildlife spotting in the Galapagos begins as soon as they step off the plane. This land iguana is crossing the road that leads from the airport on Baltra Island.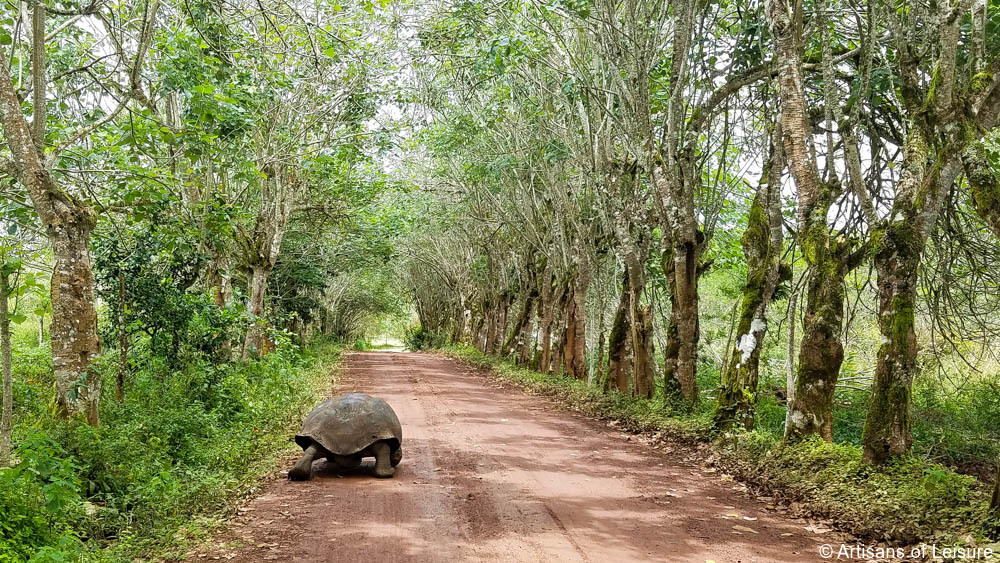 Santa Cruz, the most developed island in the Galapagos archipelago, is known for its population of giant tortoises.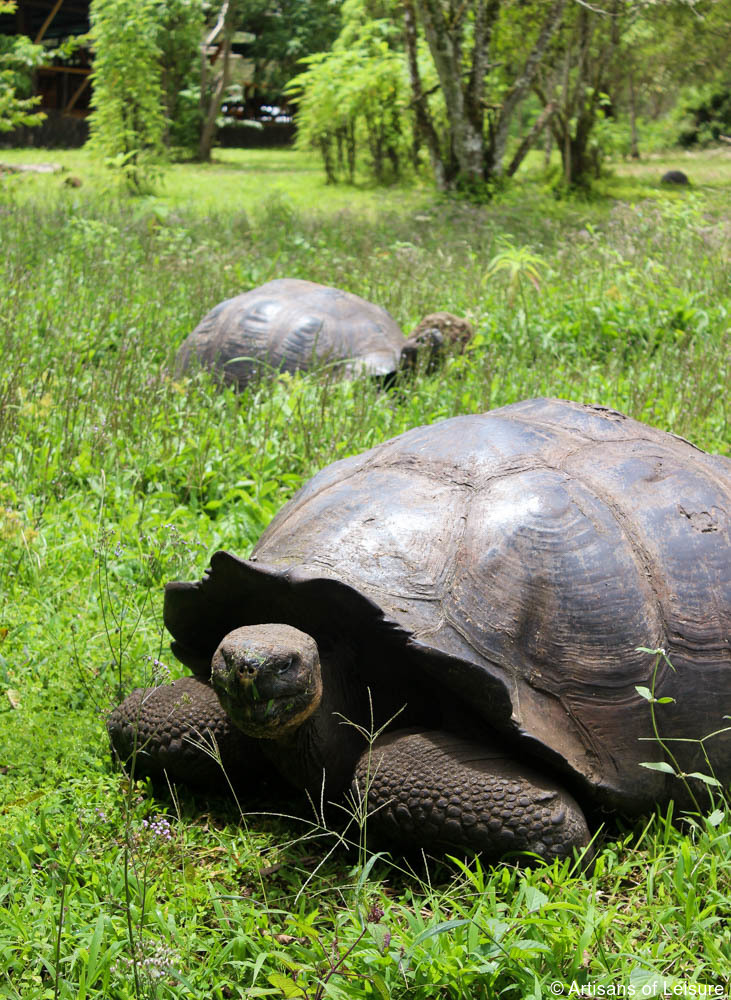 Artisans of Leisure takes travelers to a reserve where they can get up close to these fascinating animals.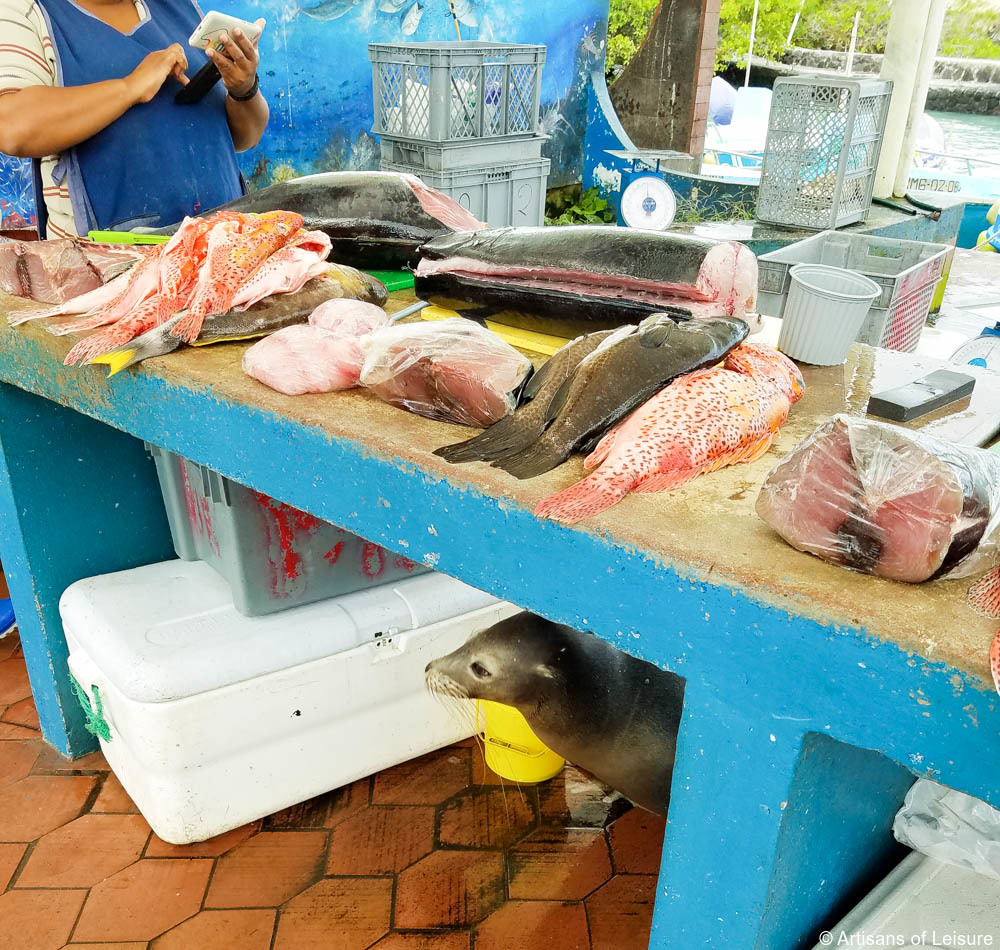 In Puerto Ayora, the largest town on Santa Cruz, a stop at the fish market is a lot of fun. Visitors can often see Selena, the resident sea lion, as well as pelicans and marine iguanas.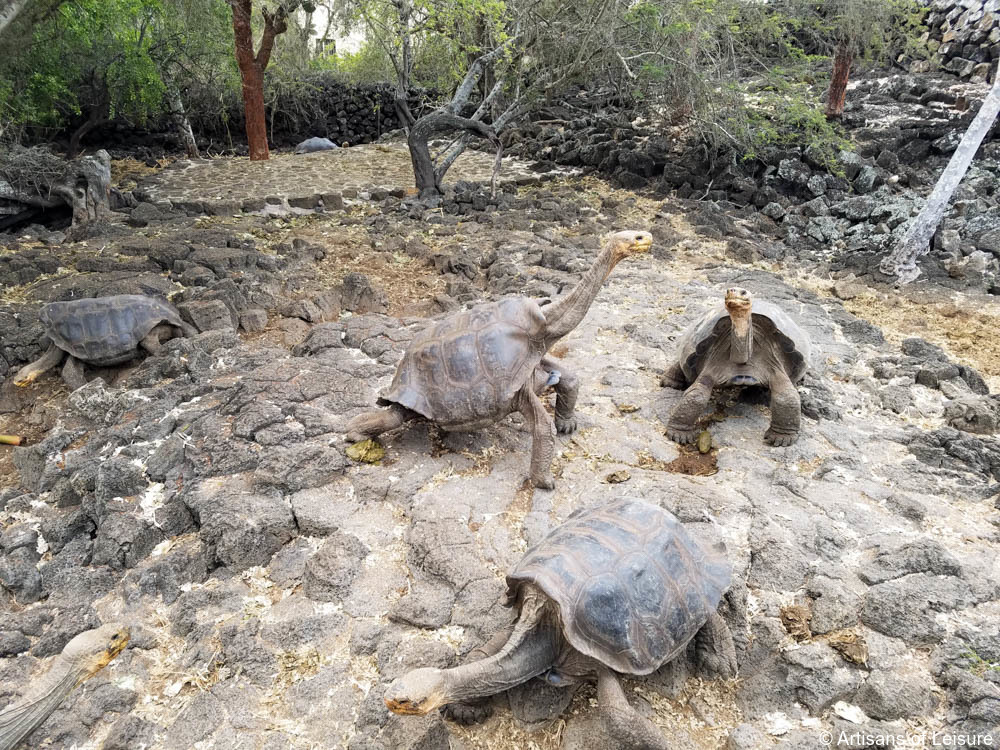 Of course, no visit to Santa Cruz is complete without a visit to the Charles Darwin Research Station, a breeding center dedicated to conserving the various species of tortoises found in the islands.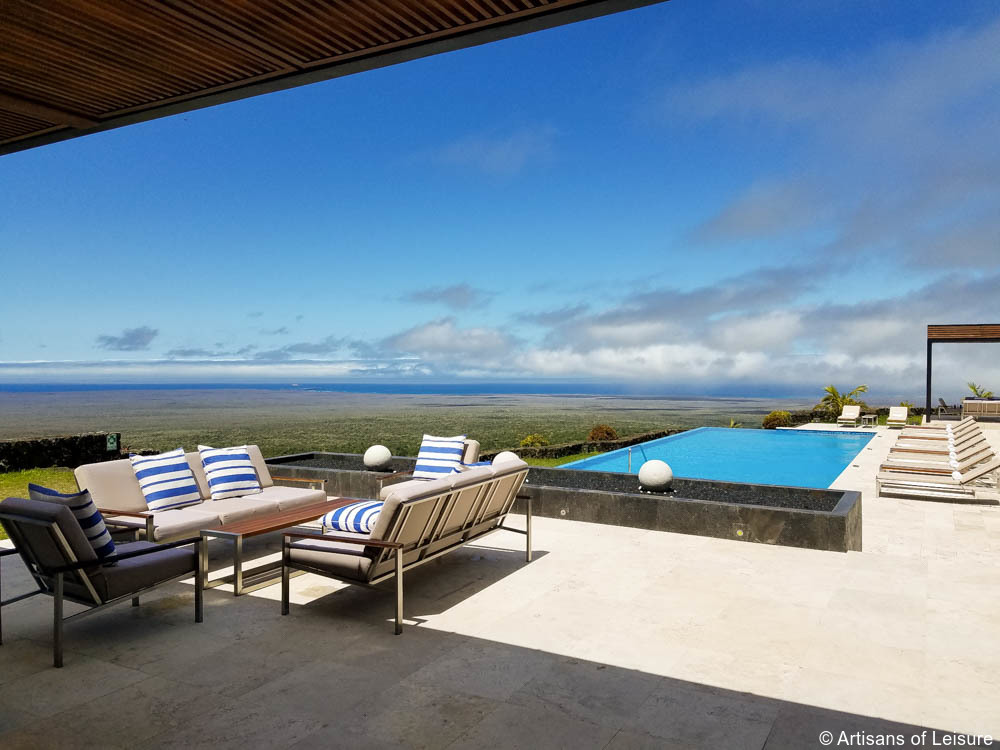 For clients preferring a land-based tour of the islands, we book Pikaia Lodge, a luxurious small hotel in the Santa Cruz highlands.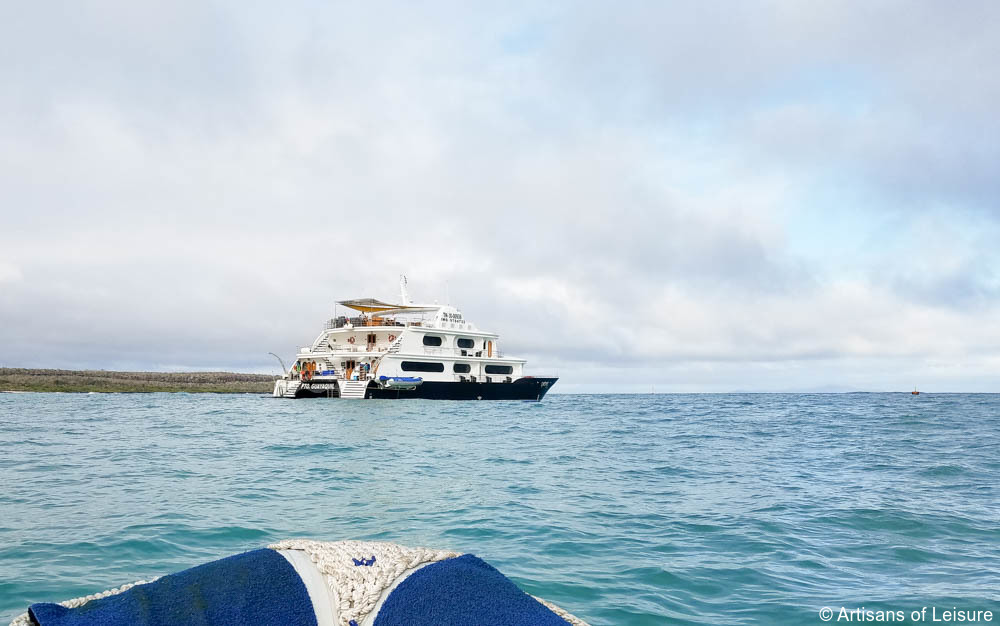 A cruise is the best way to see the greatest variety of islands and animals in the Galapagos. Artisans of Leisure books only the finest boats operating in the archipelago.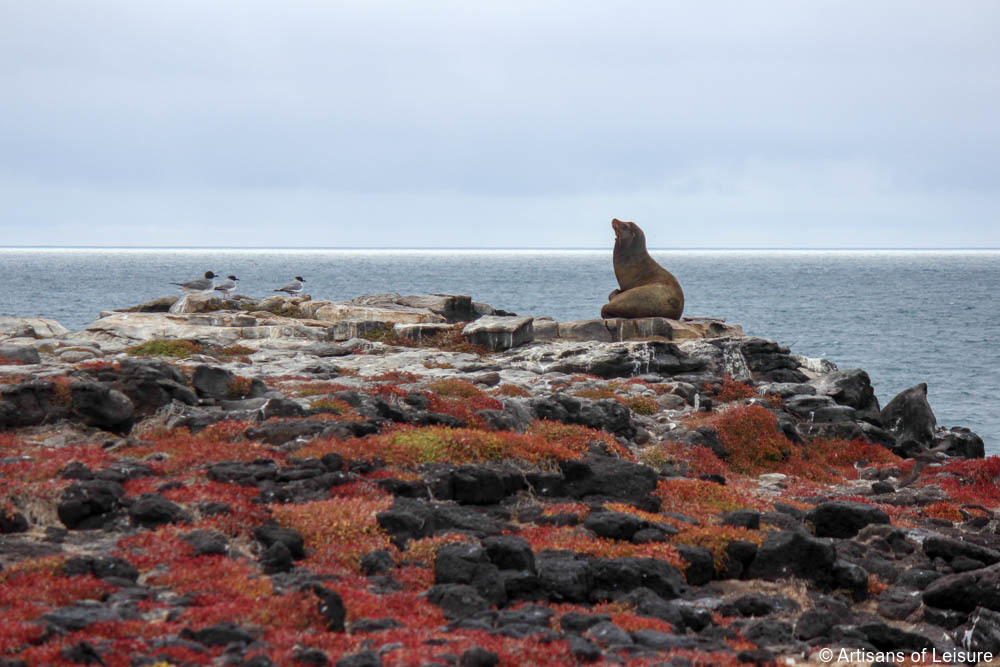 South Plaza Island is known for its otherworldly scenery and colorful flora, such as red-orange Galapagos carpetweed and tree-like opuntia cacti. It's also a great place to see land iguanas, seabirds such as shearwaters and frigatebirds, Sally Lightfoot crabs and sea lions.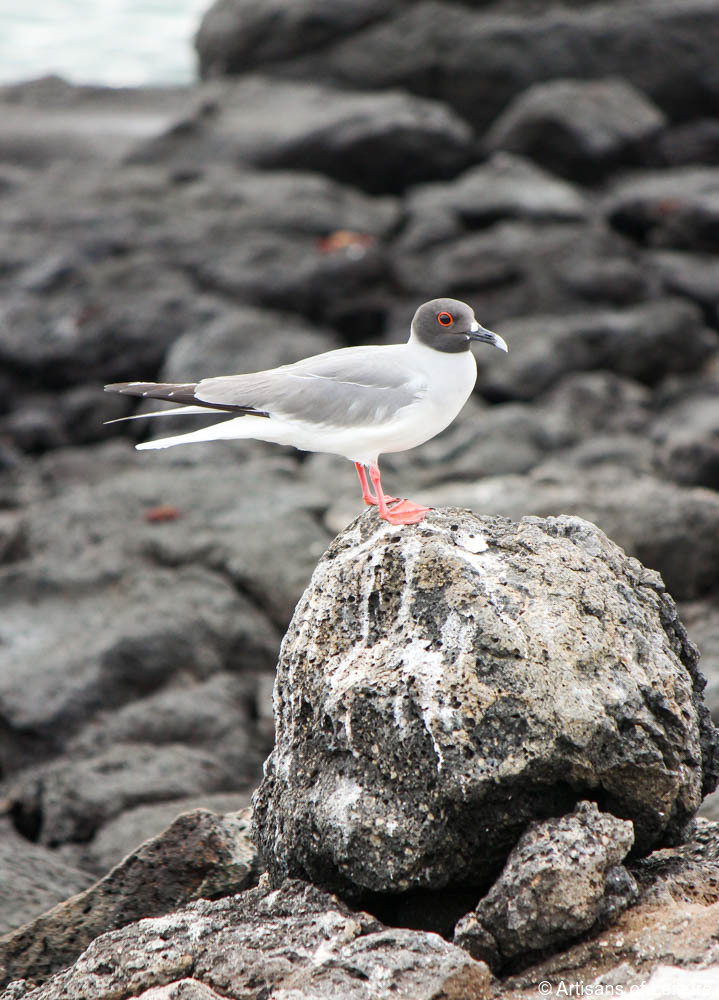 A swallow-tailed gull on South Plaza Island.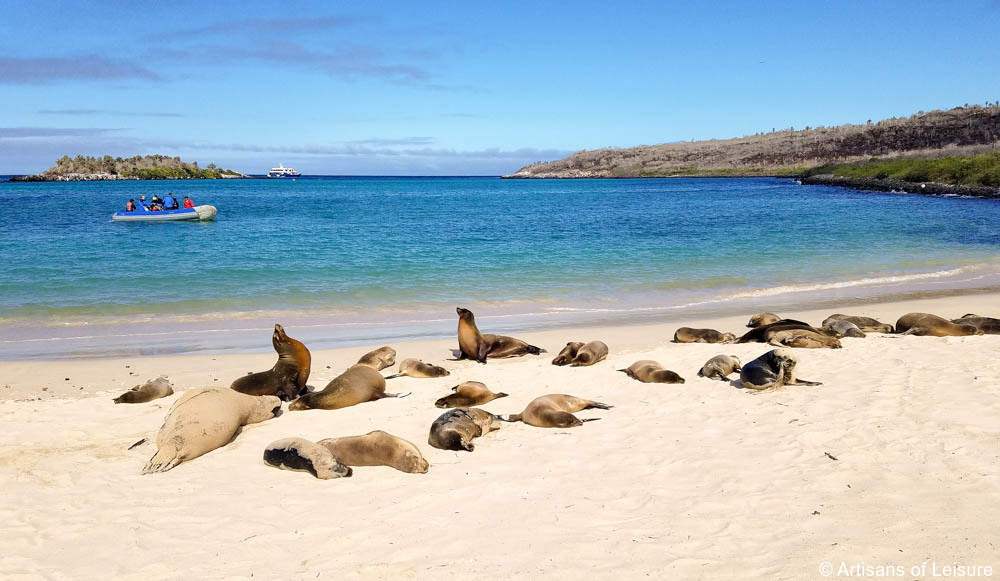 On Santa Fe Island, visitors can enjoy beautiful sandy beaches and an entertaining colony of sea lions.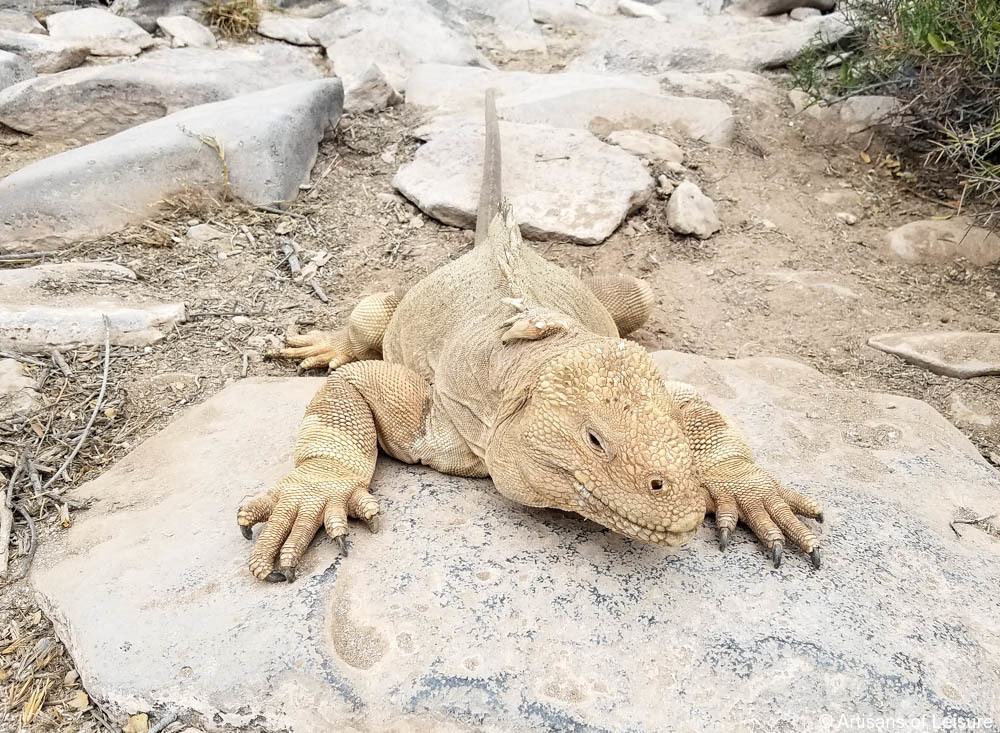 The island is also home to reptiles such as land iguanas and central Galapagos racers.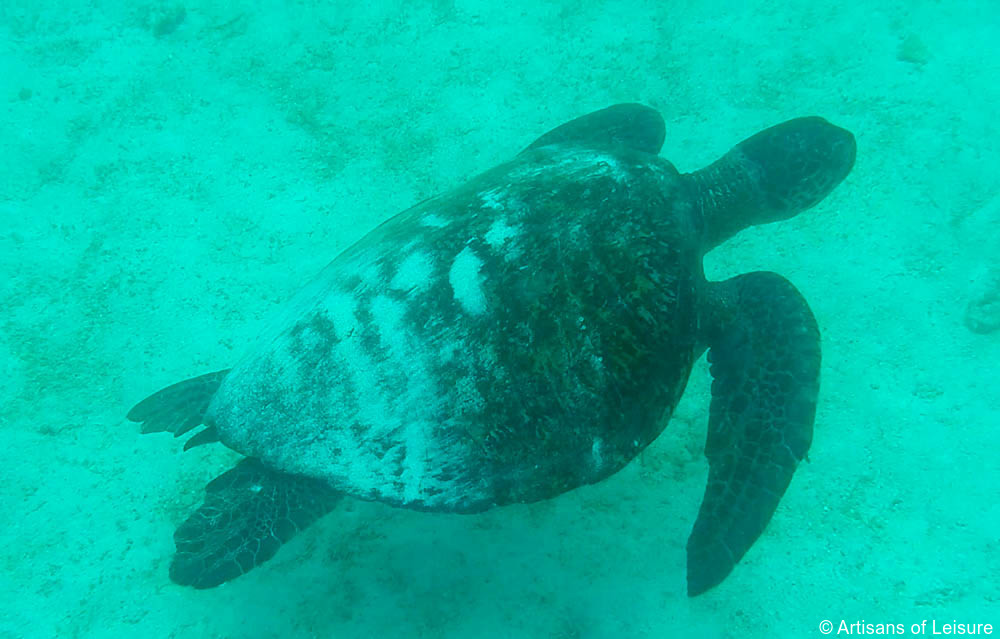 It's also a fantastic place for snorkeling with sea turtles, sea lions, colorful fish and even sharks.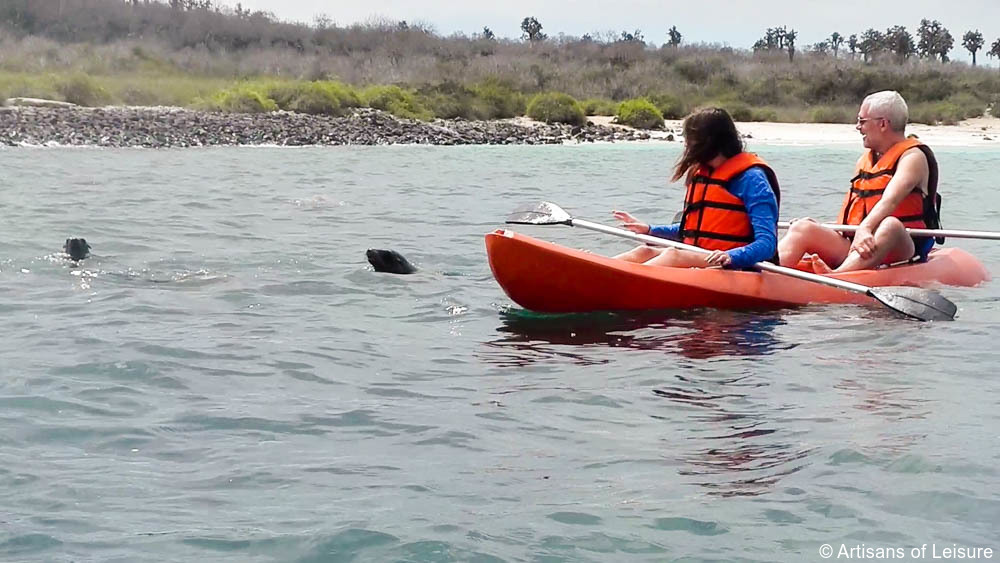 Visitors to Santa Fe also have the opportunity to kayak with sea lions.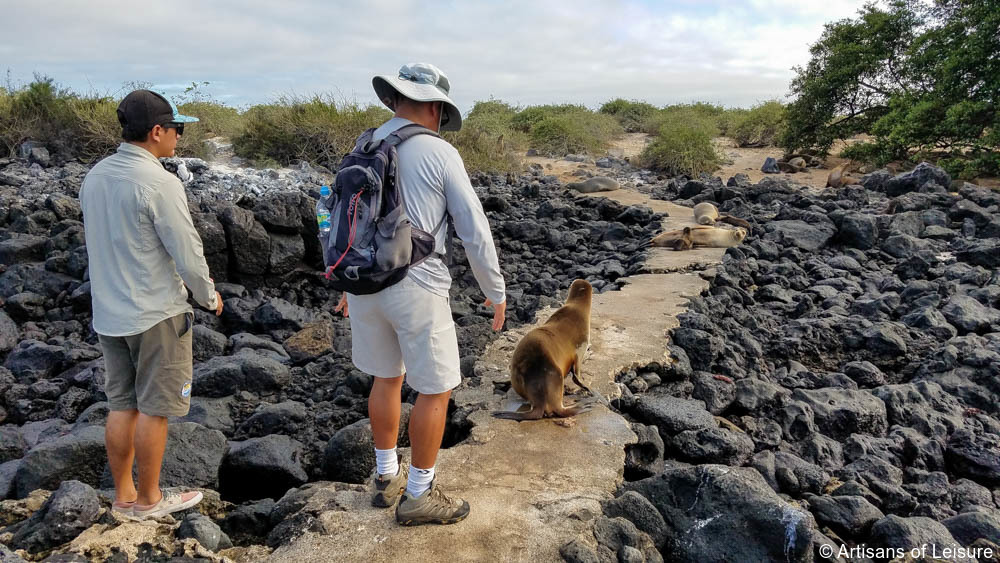 Isla Lobos, just off San Cristobal Island, is named for its large sea lion colony. They often block the paths and need to be shooed away by the guides.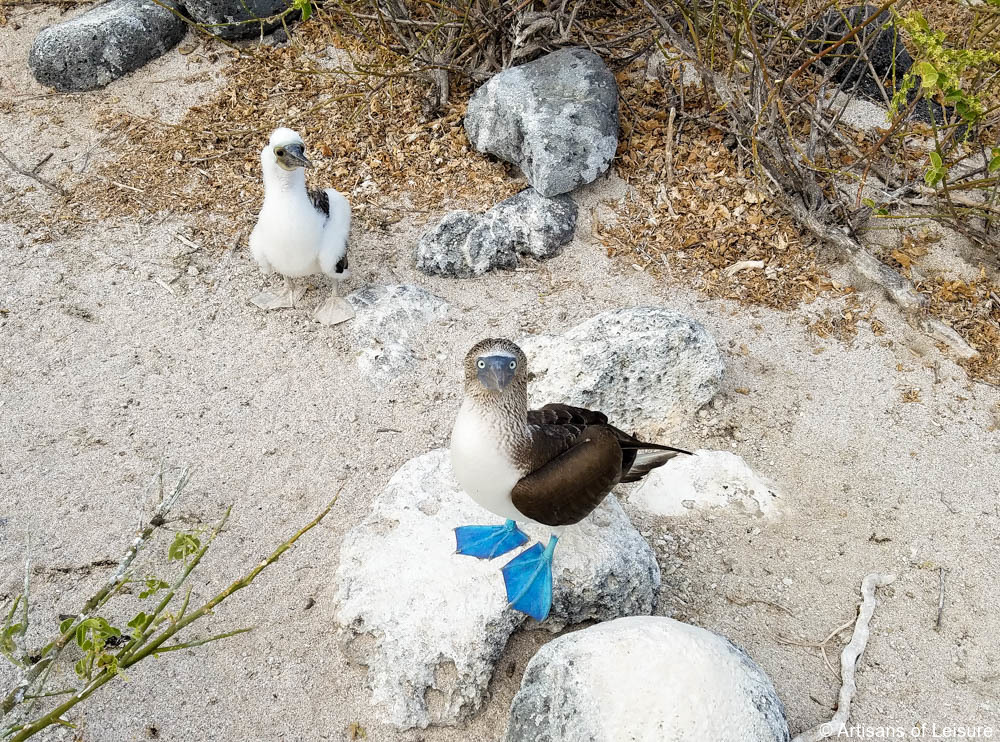 Visitors to Isla Lobos can also get close to blue-footed boobies…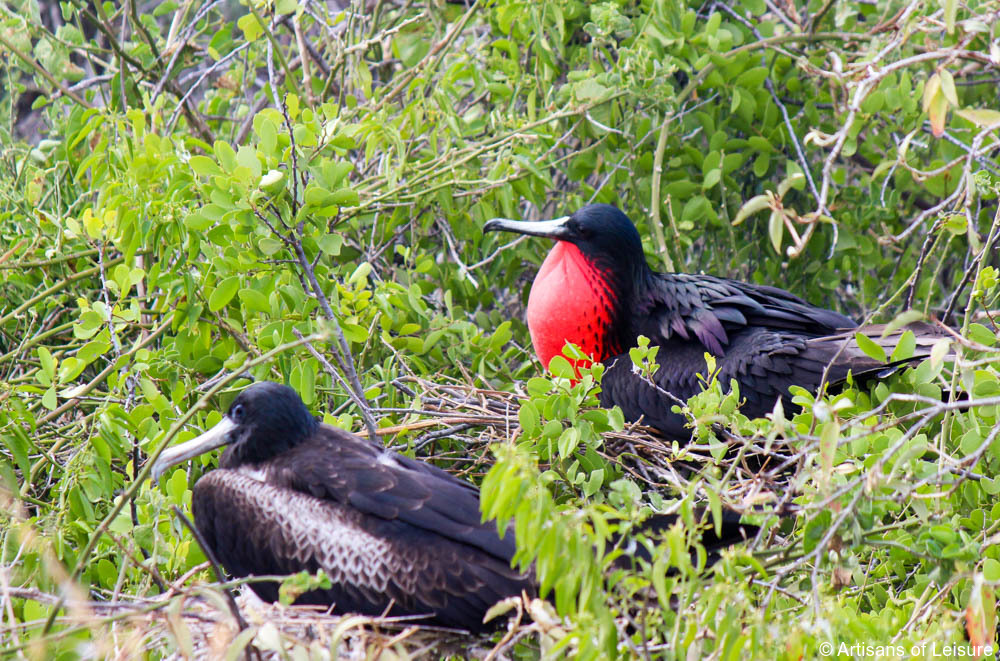 …magnificent frigatebirds…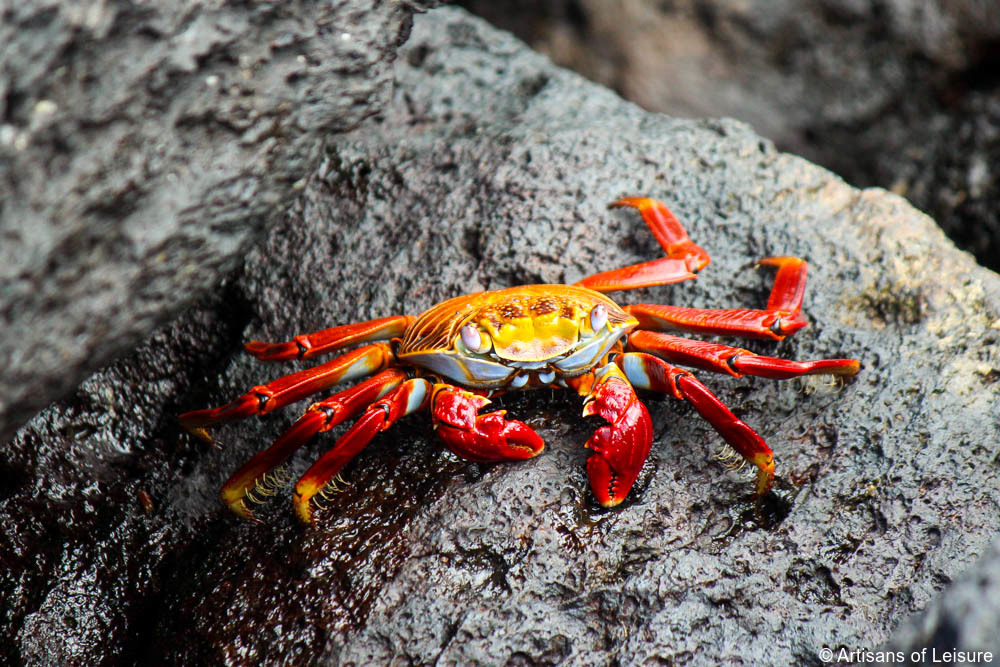 …and Sally Lightfoot crabs.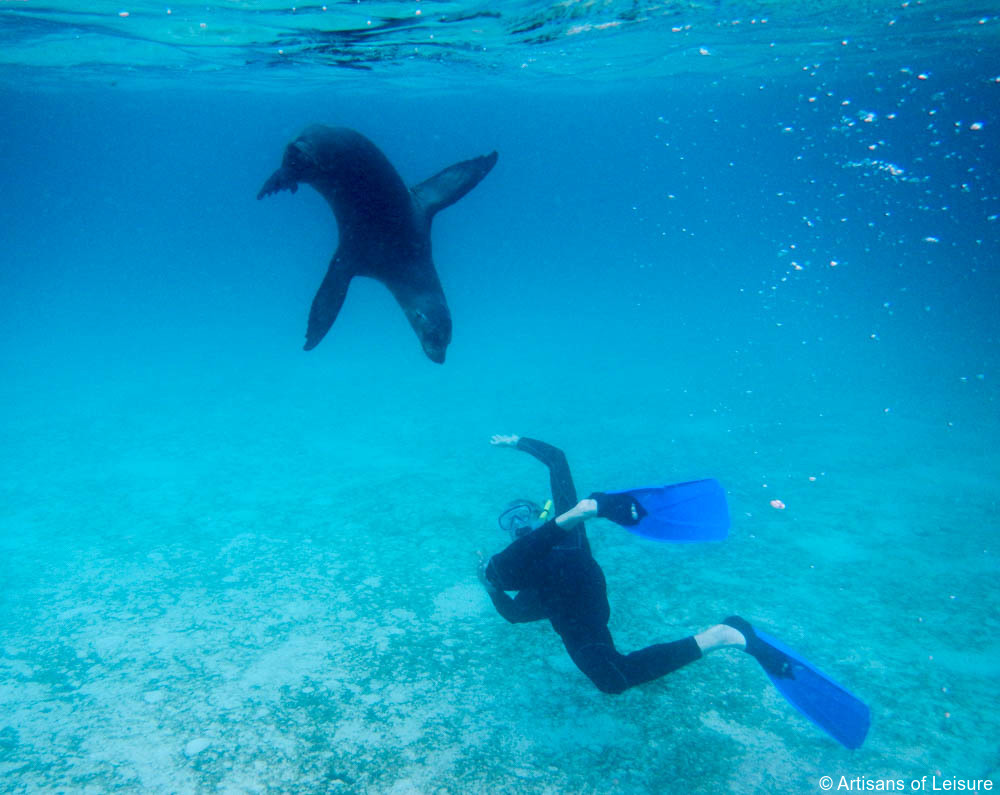 Isla Lobos is, as might be expected, also a great place to experience snorkeling with playful and curious sea lions.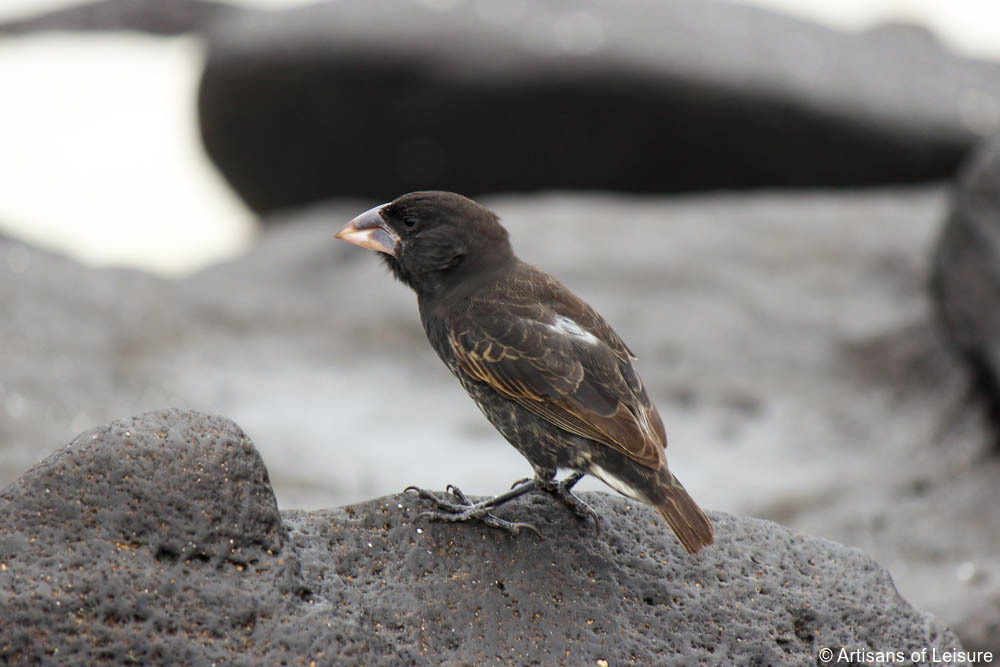 Many travelers want to see the famous finches that inspired Charles Darwin's theory of natural selection.  Each island has different finch species. For example, this large cactus finch was on Española Island.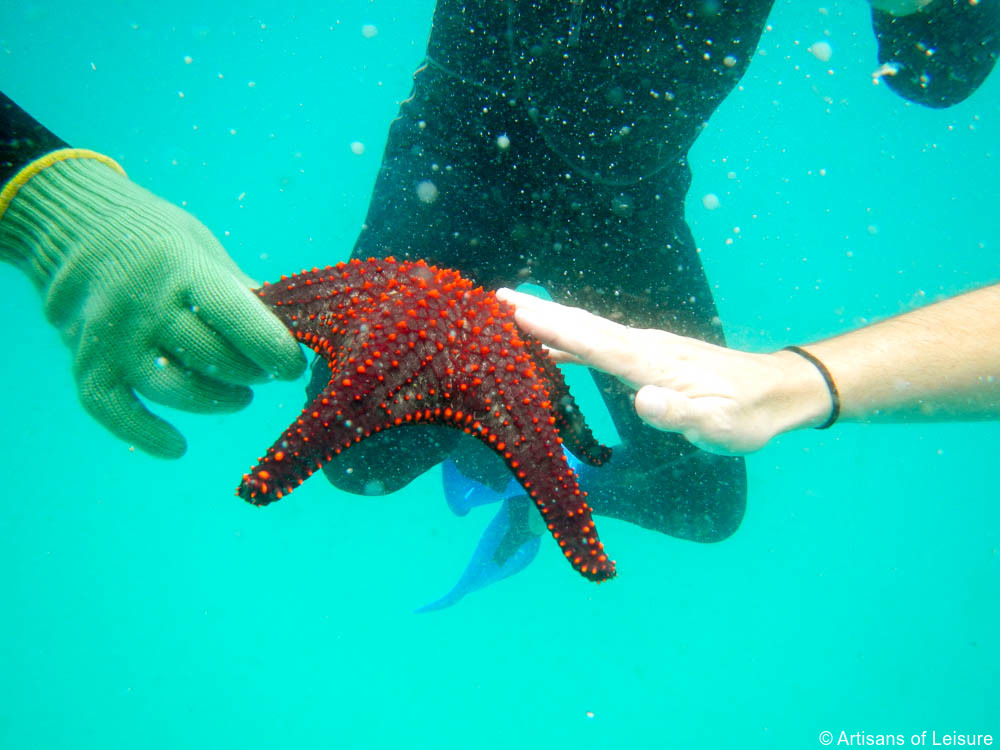 Guides in the Galapagos are expert naturalists with an incredible knowledge of the unique flora, fauna, ecology and marine biology of the islands. These sea stars look brown on the ocean floor but are actually an intense red when seen close to the surface of the water.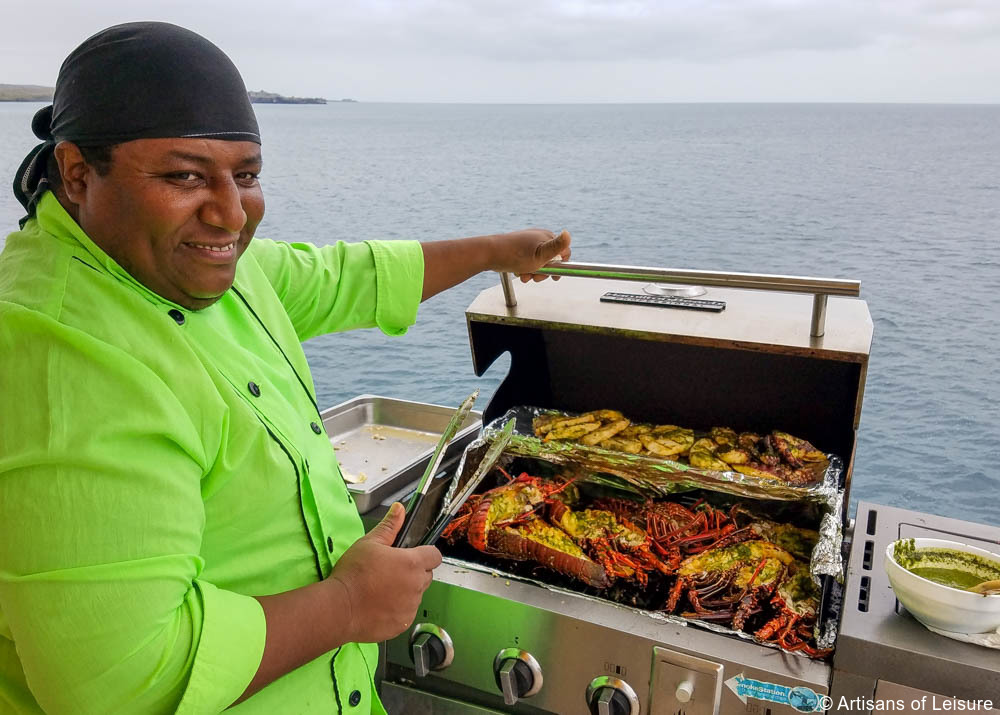 A delicious, alfresco barbecue lunch of lobster and fish on the cruise.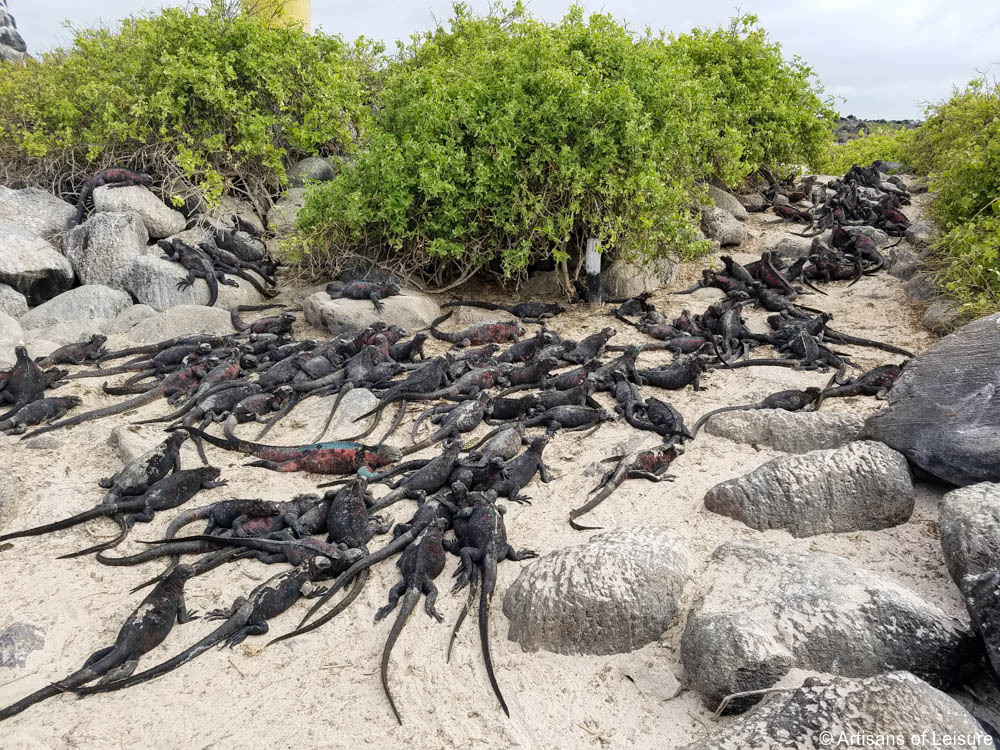 Española Island is a highlight of many Galapagos itineraries. At the Punta Suarez landing site, the trail is often crowded with sea lions and marine iguanas.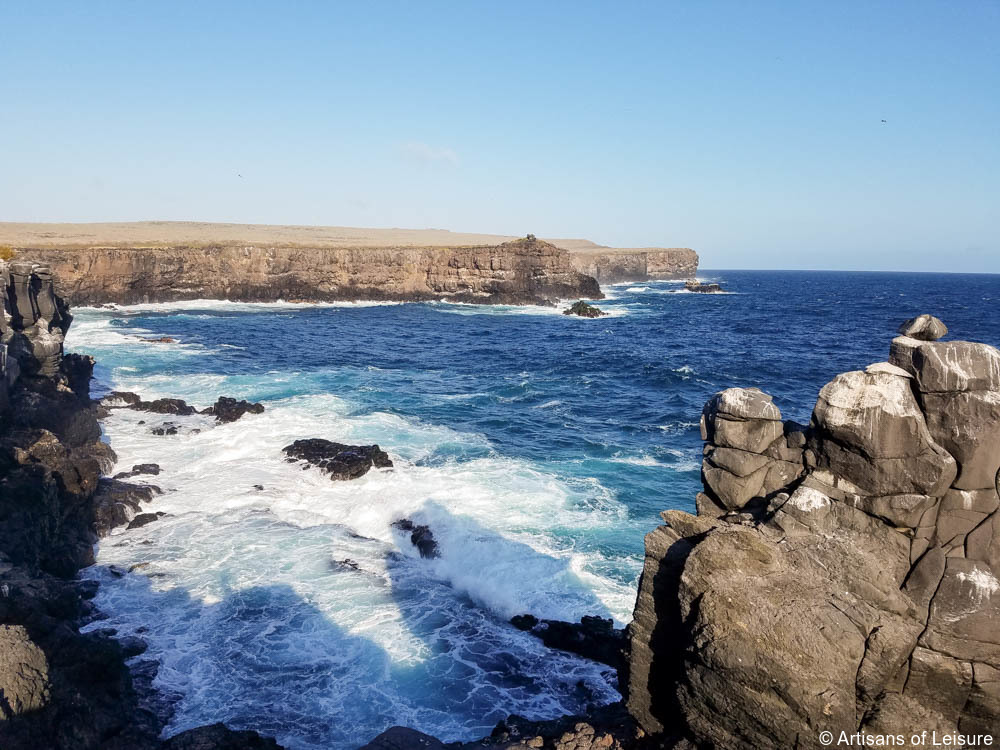 The beautiful cliffs at Punta Suarez.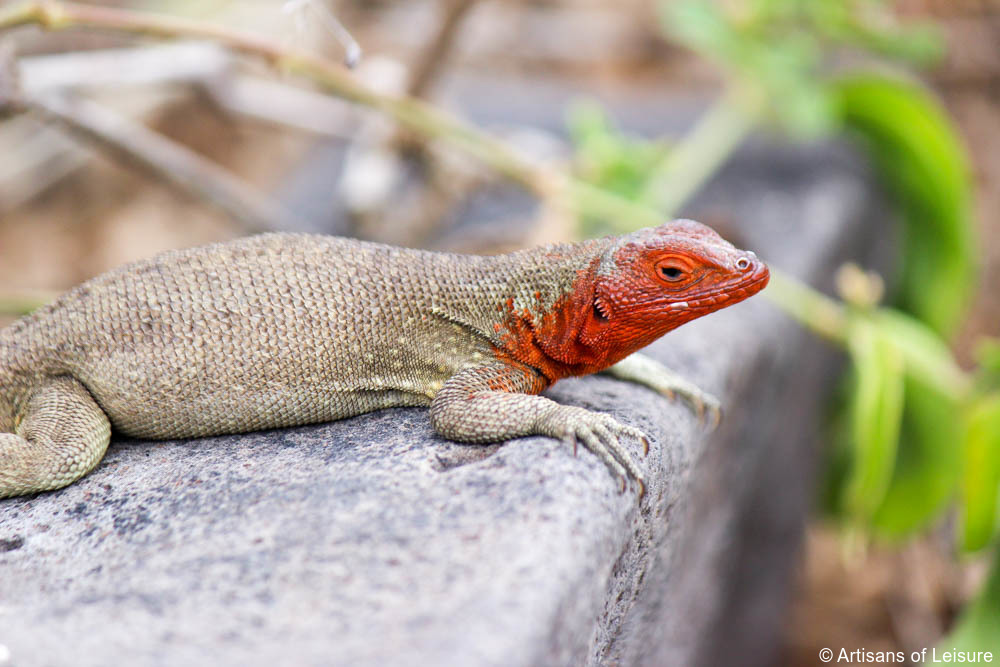 Among the many animals that live here are hood lava lizards…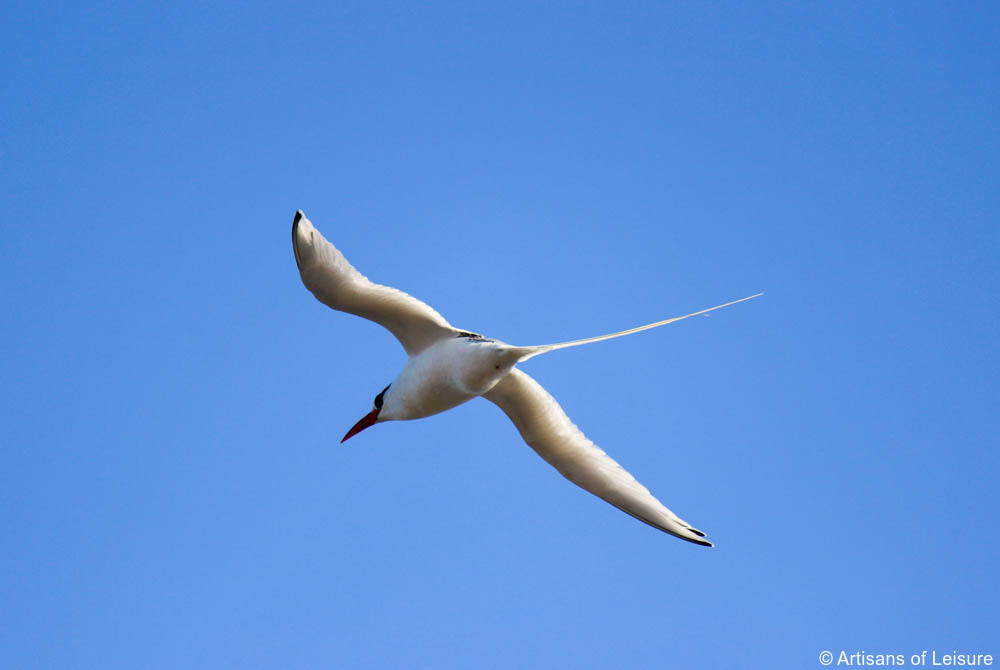 …red-billed tropicbirds…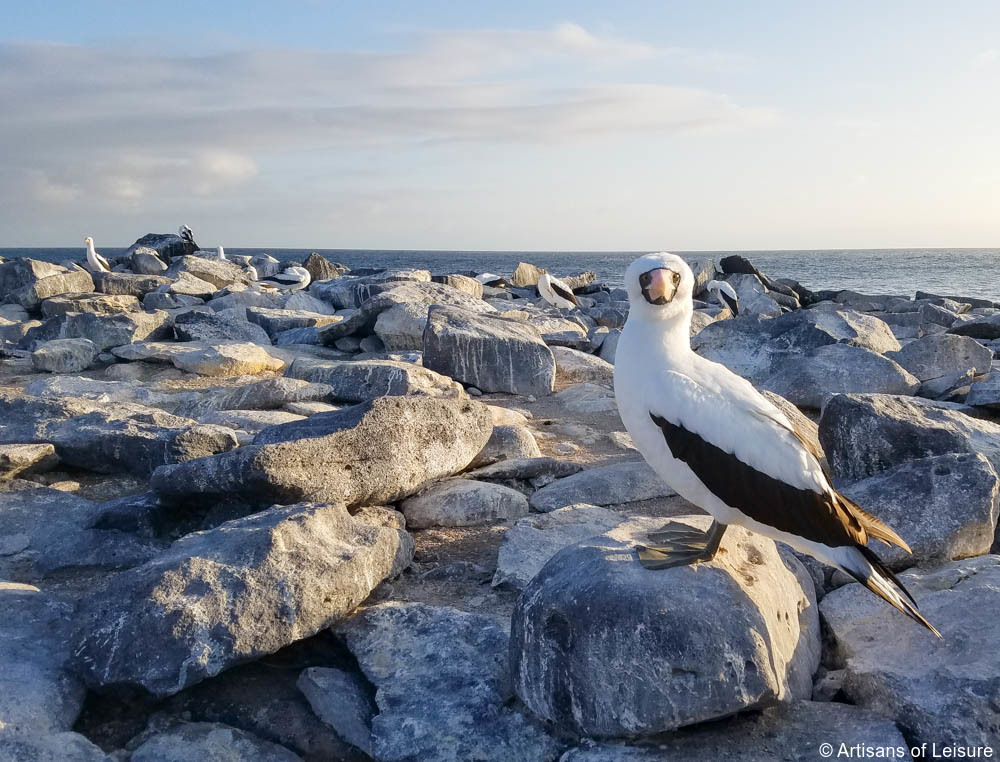 …Nazca boobies…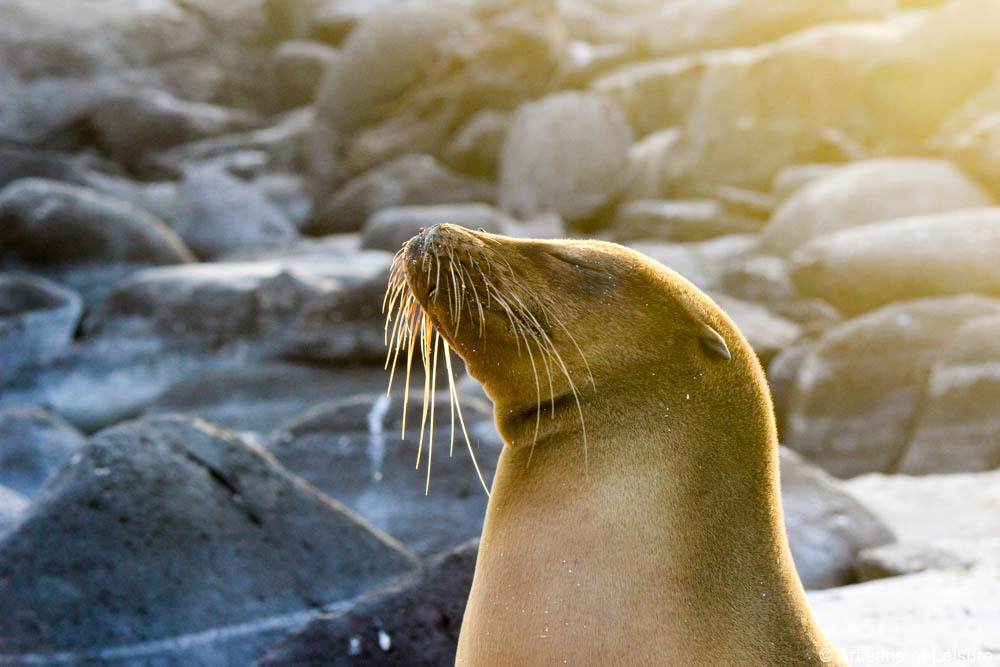 …and, of course, sea lions.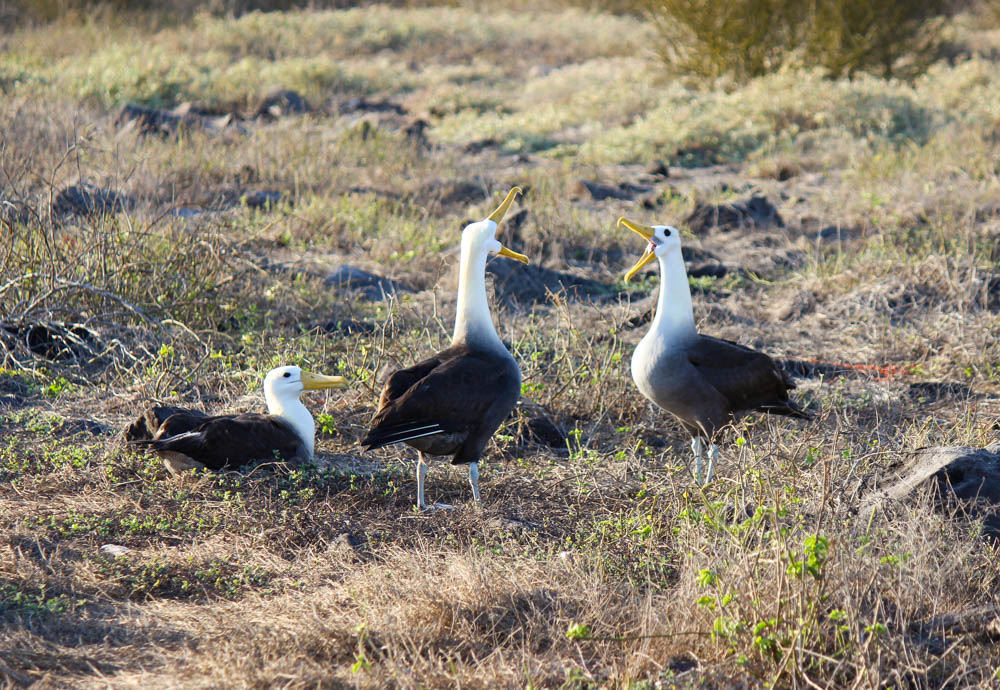 Waved albatrosses also nest here and can often be seen doing their mating dances.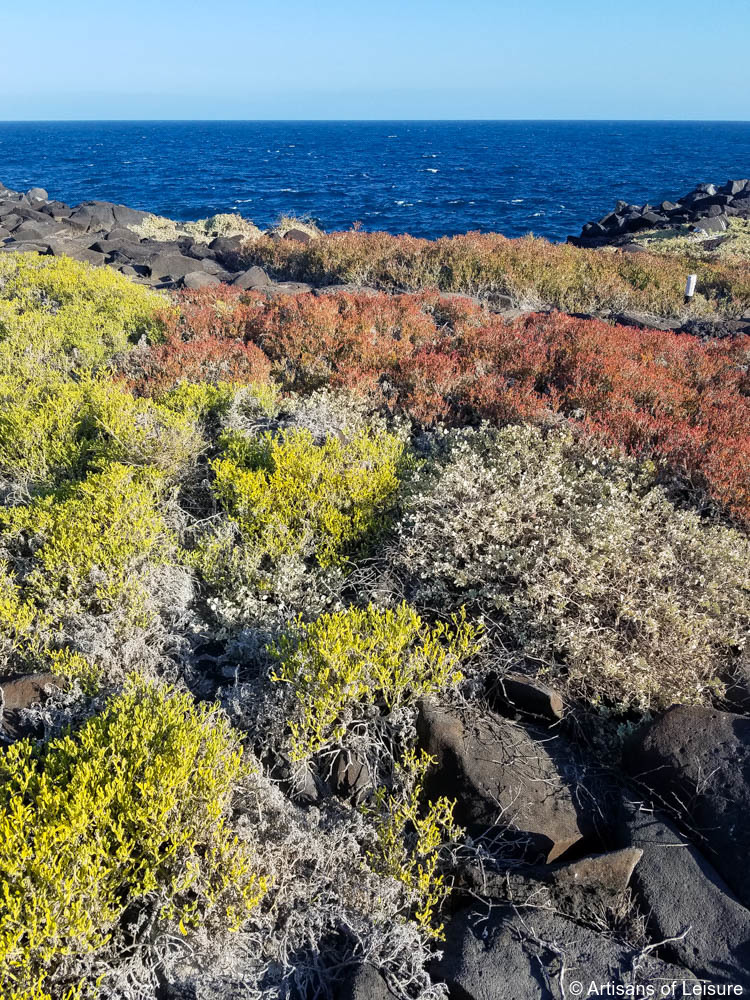 Colorful plants at Punta Suarez.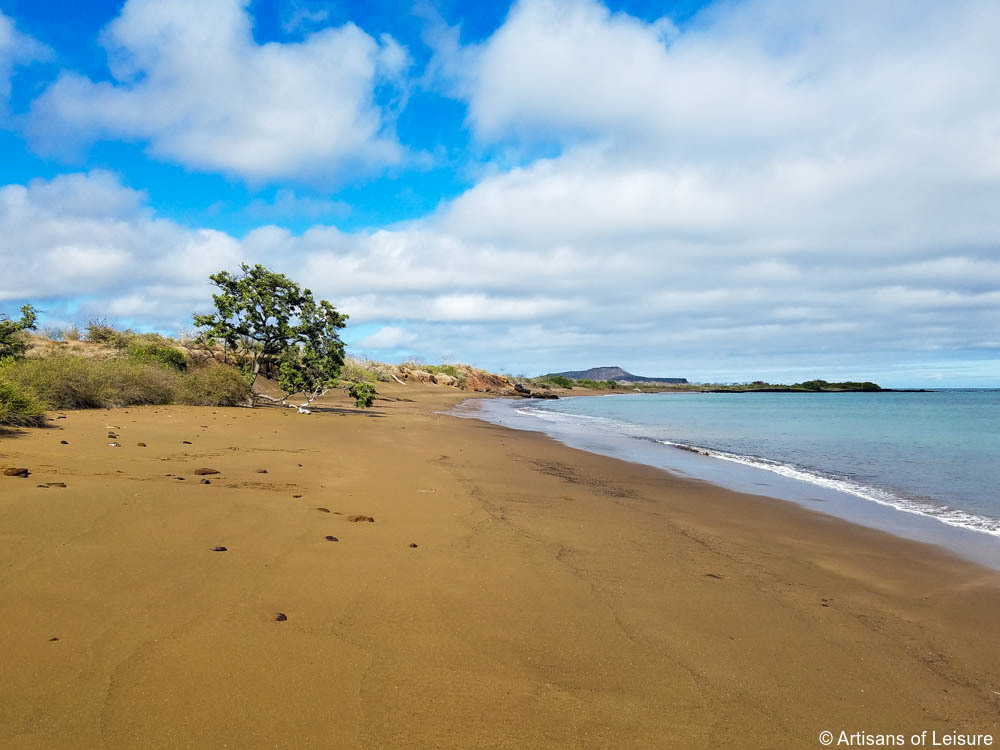 On Floreana Island, Punta Cormorant has a long and beautiful green sand beach.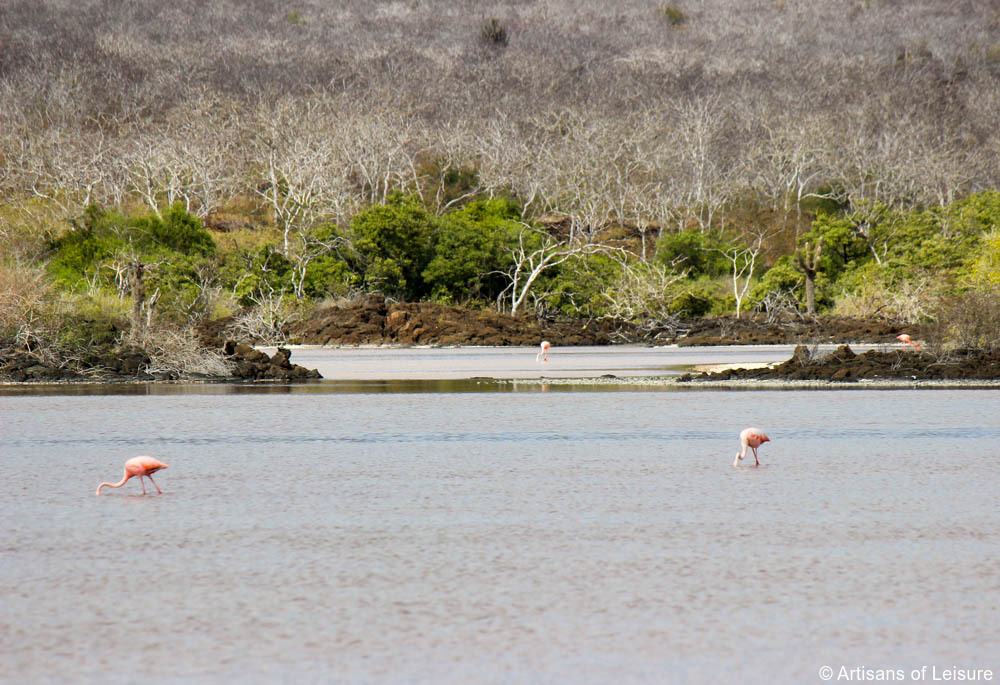 The flamingo lagoon at Punta Cormorant.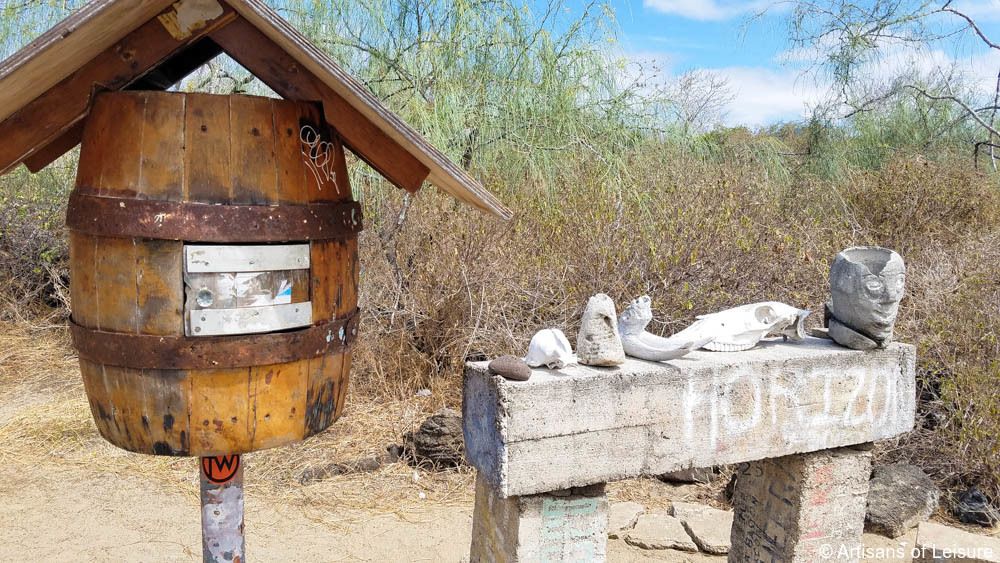 Post Office Bay is also on Floreana Island. For centuries, people have left their mail here, relying on other travelers to take it to their desired destination.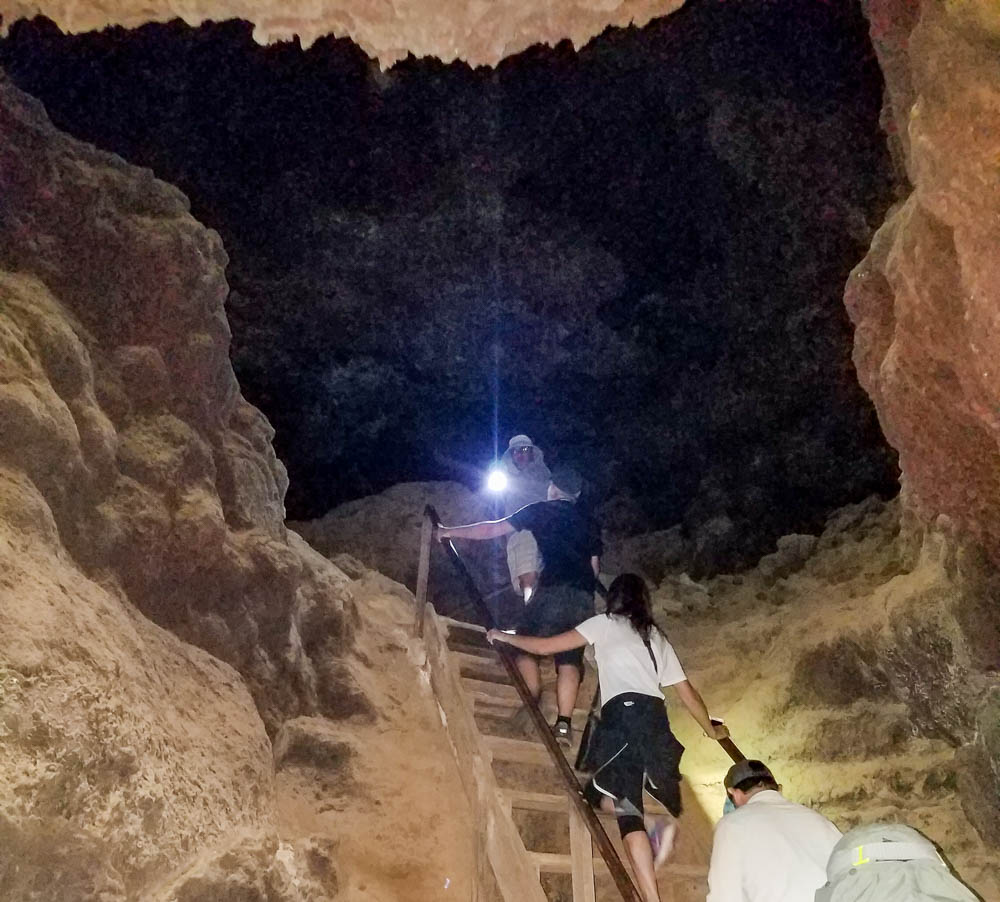 Not far from the post box is a cave-like lava tube that reveals the volcanic origins of the islands.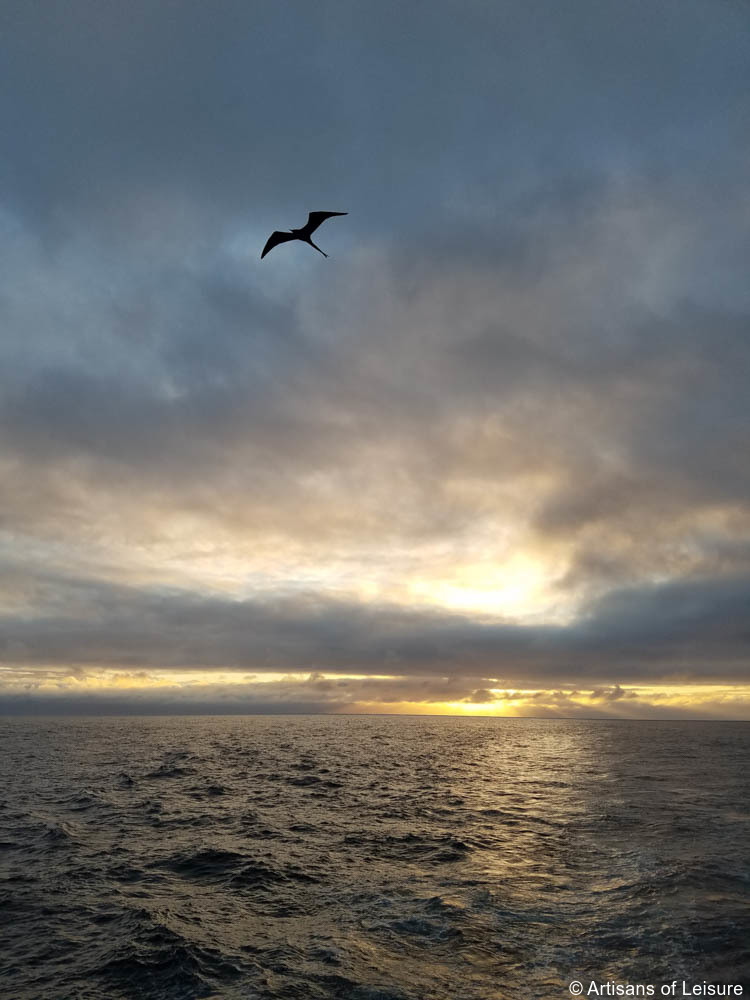 A beautiful sunset in the Galapagos.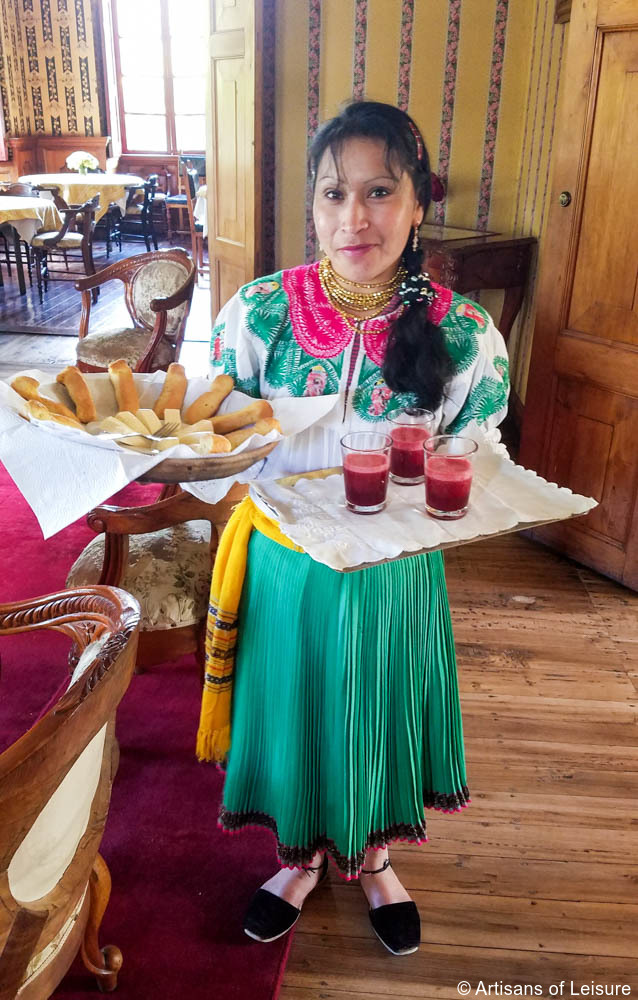 For visitors with enough time, we highly recommend spending time in mainland Ecuador to experience the warm and welcoming local culture, such as at historic haciendas in the Otavalo region.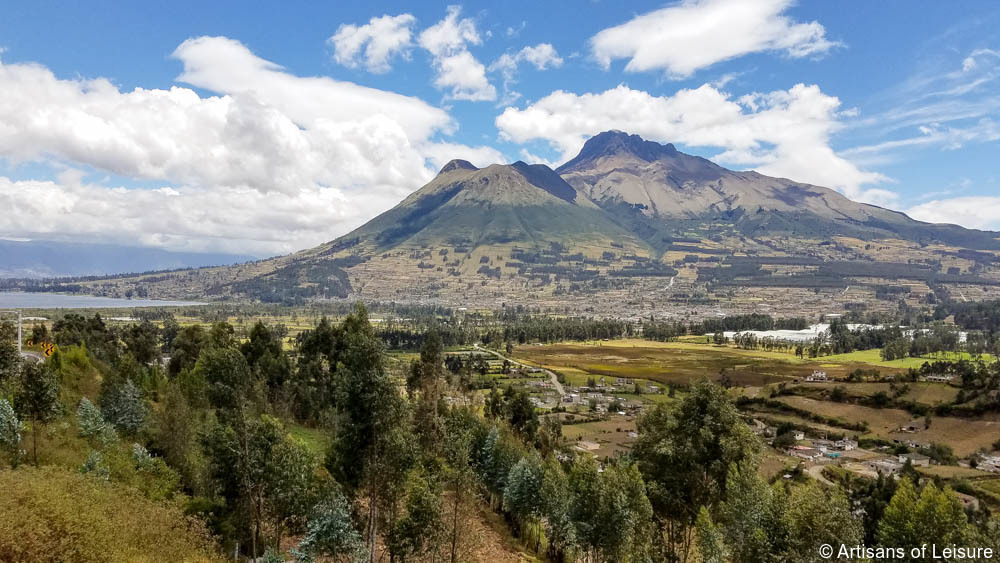 The beautiful landscapes, quaint villages and haciendas around the Otavalo region make it an ideal getaway from Quito.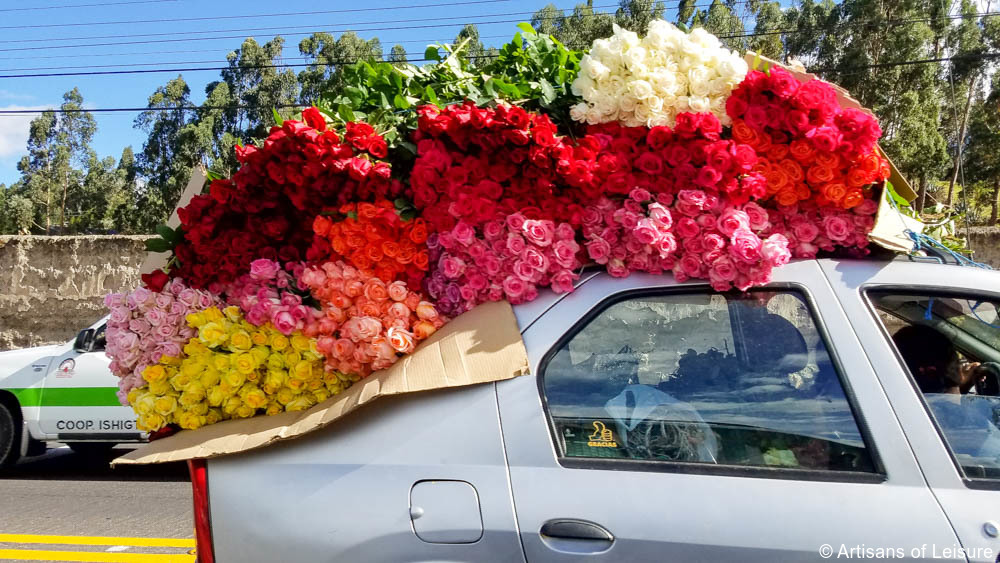 We can arrange a stop at a rose plantation in the area to learn about one of Ecuador's biggest exports. This is one of the more creative methods for transporting the finished products.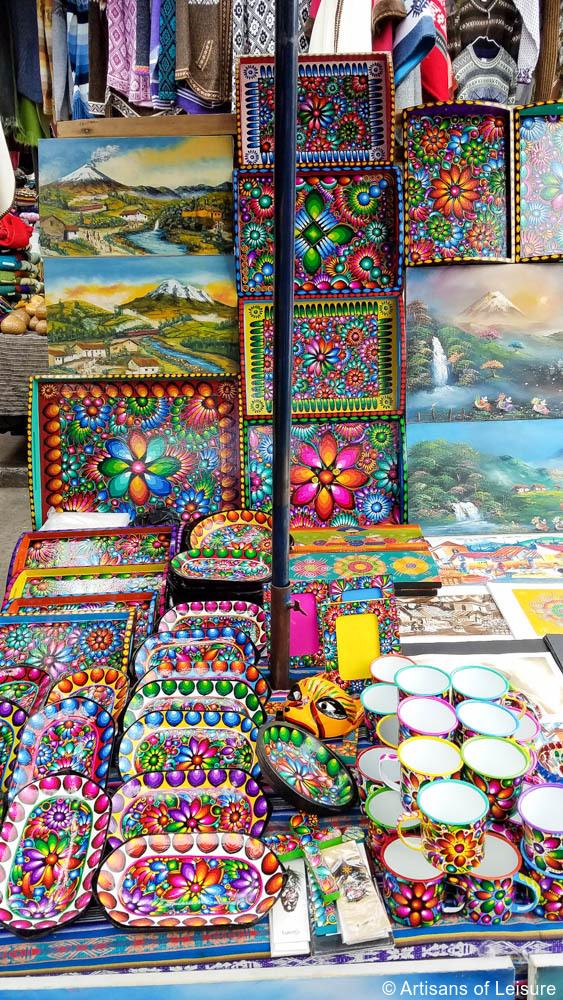 The market in Otavalo is renowned for local crafts. We can also arrange visits to villages throughout the region to meet artisans who specialize in weaving, woodcarving, leatherwork and other crafts.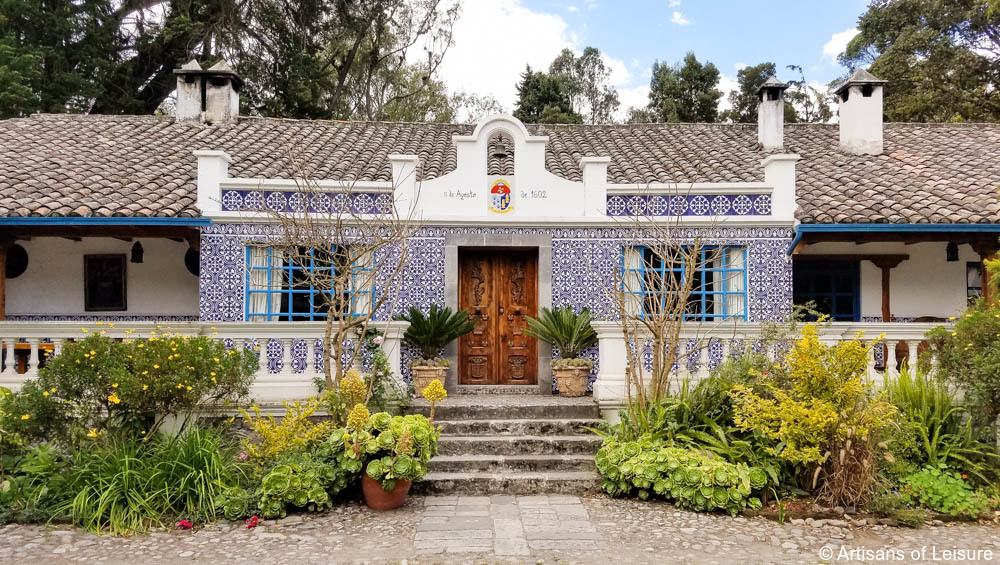 We frequently arrange lunch at one of the beautiful, centuries-old haciendas in the Otavalo region.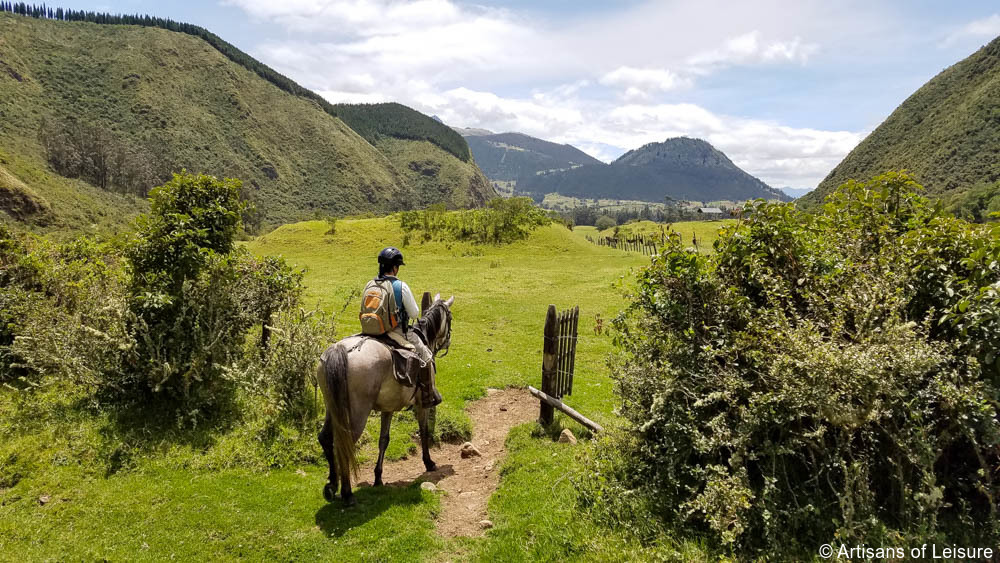 Our preferred hotel in the area is Hacienda Zuleta, a family-run historic estate on expansive grounds. Guests at the estate can enjoy activities such as hiking, browsing for locally made embroidery, bird watching, visiting the hacienda's cheese factory, learning about conservation efforts at a condor sanctuary and horseback riding past unexcavated pre-Colombian ruins.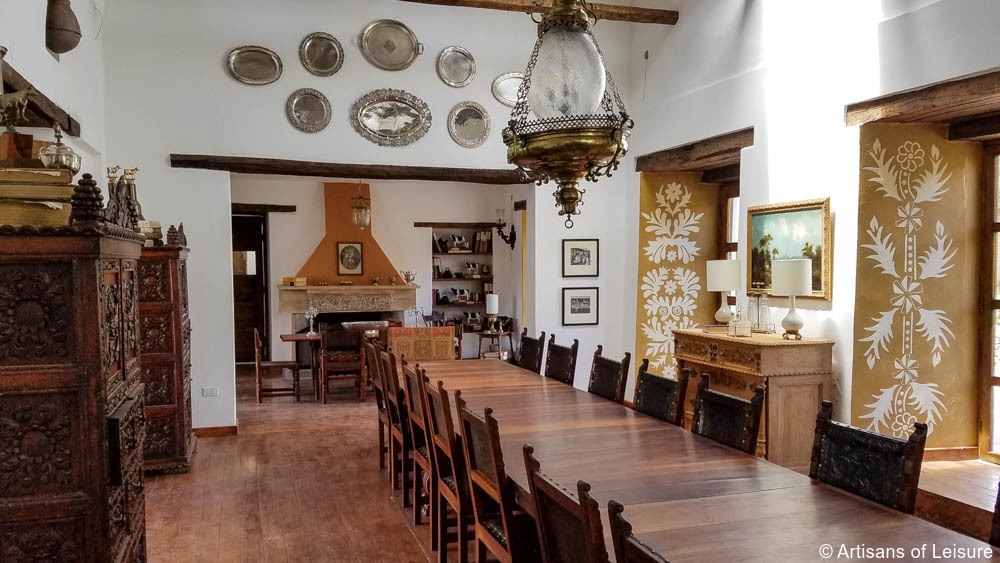 The beautiful dining room at Hacienda Zuleta.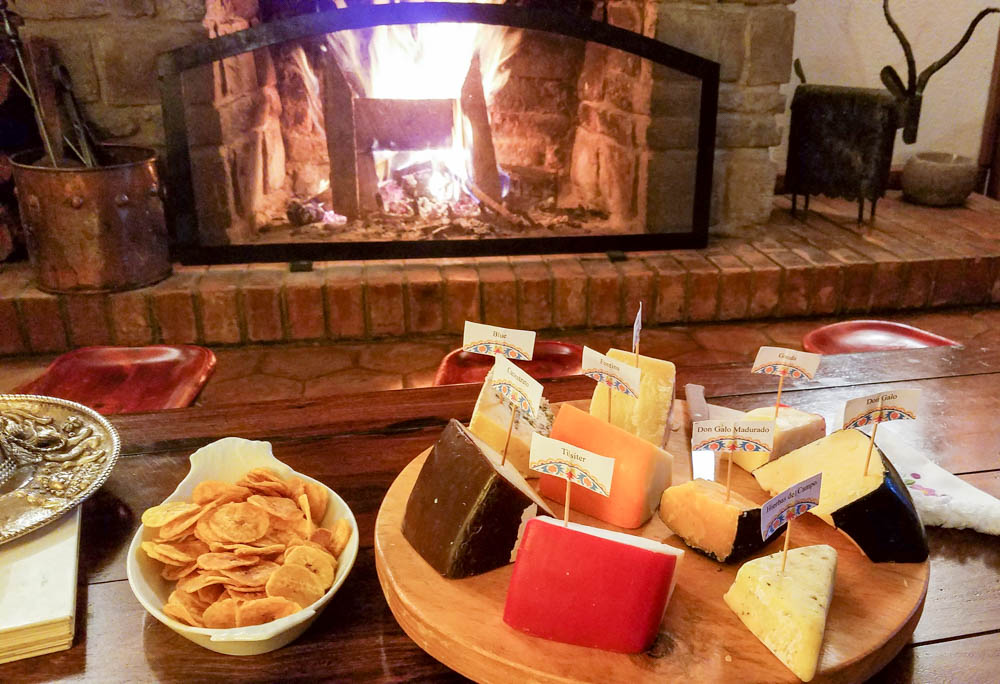 Every night, guests are invited to sample some of the different types of cheese produced at the hacienda before dinner.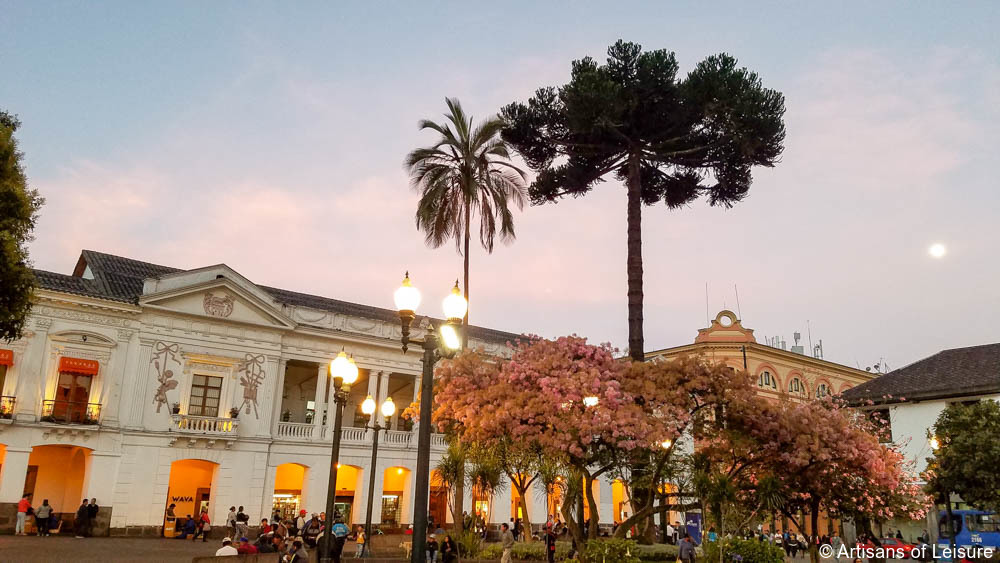 Quito is a highlight of any Ecuador itinerary. A fun place for people watching is Plaza Grande (also known as Plaza de la Independencia), a square in the historic center that's surrounded by important buildings, including the presidential palace.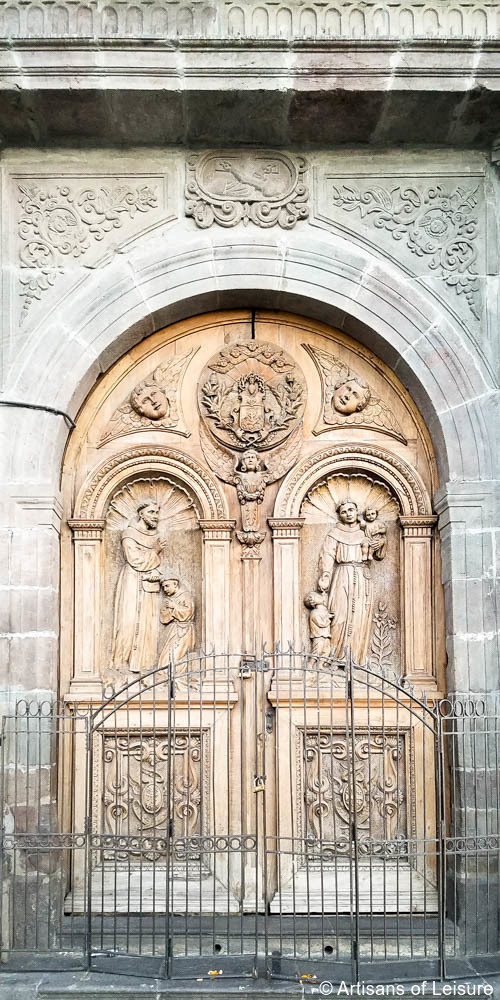 Quito's UNESCO-listed historic center is perhaps best known for its ornate Spanish-colonial churches. This carved door is at the Church and Monastery of San Francisco, the first church built in Quito and one of the highlights of the historic center.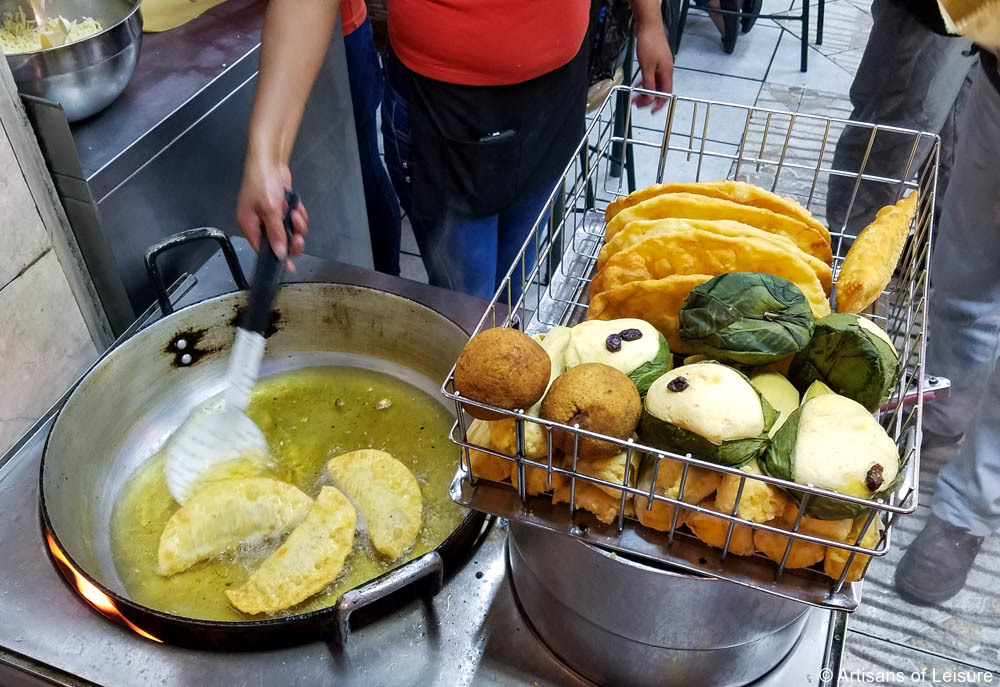 Quito is filled with fascinating local shops. This vendor is frying empanadas and other snacks.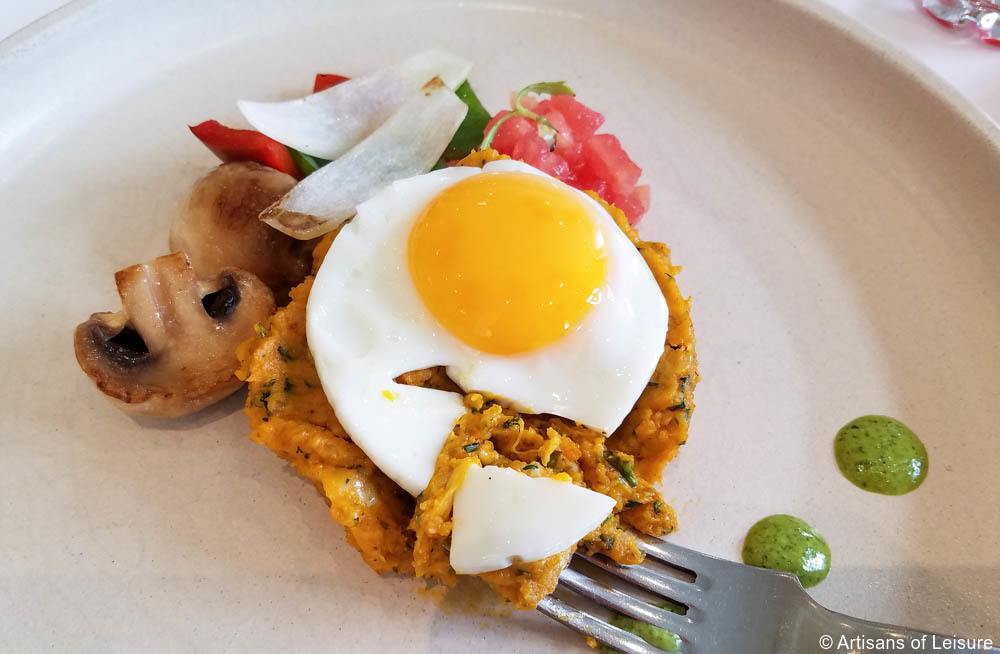 Delicious tigrillo eggs, a local preparation that includes mashed plantains and queso fresco cheese.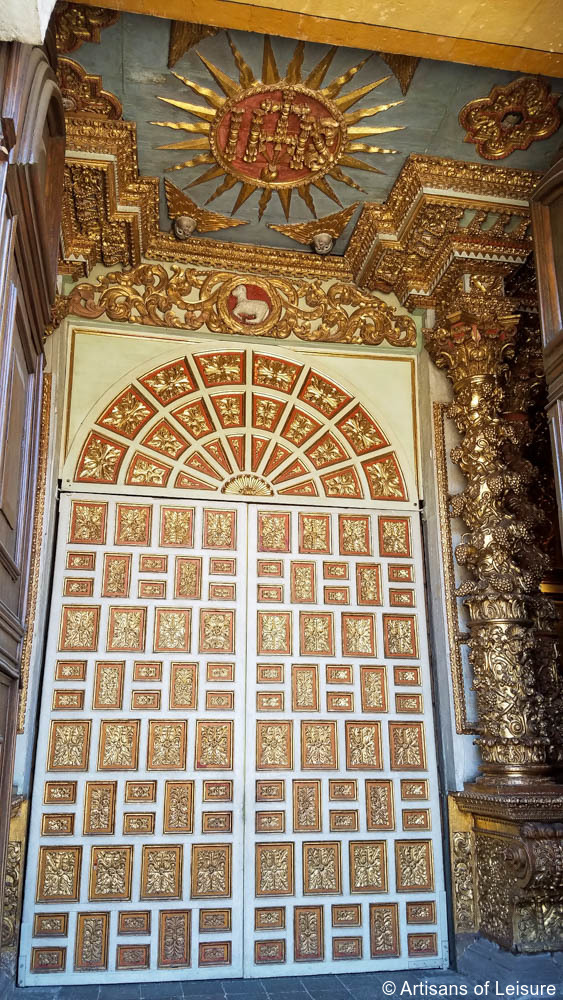 The church known as La Compania de Jesus is filled with spectacular gilded Baroque details.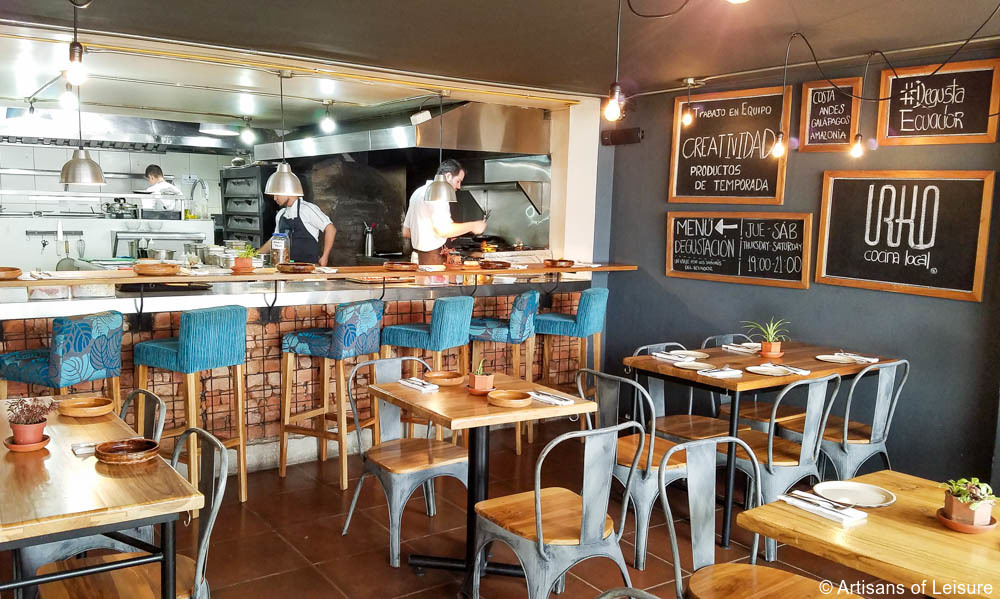 Artisans of Leisure can assist with making reservations at Quito's top restaurants.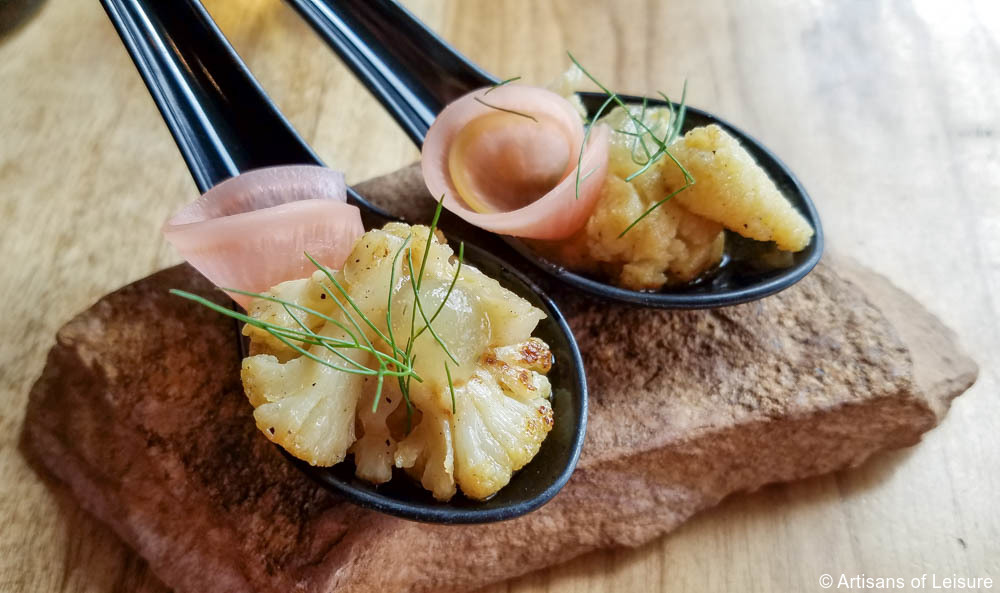 Creative cuisine at an upscale restaurant in Quito.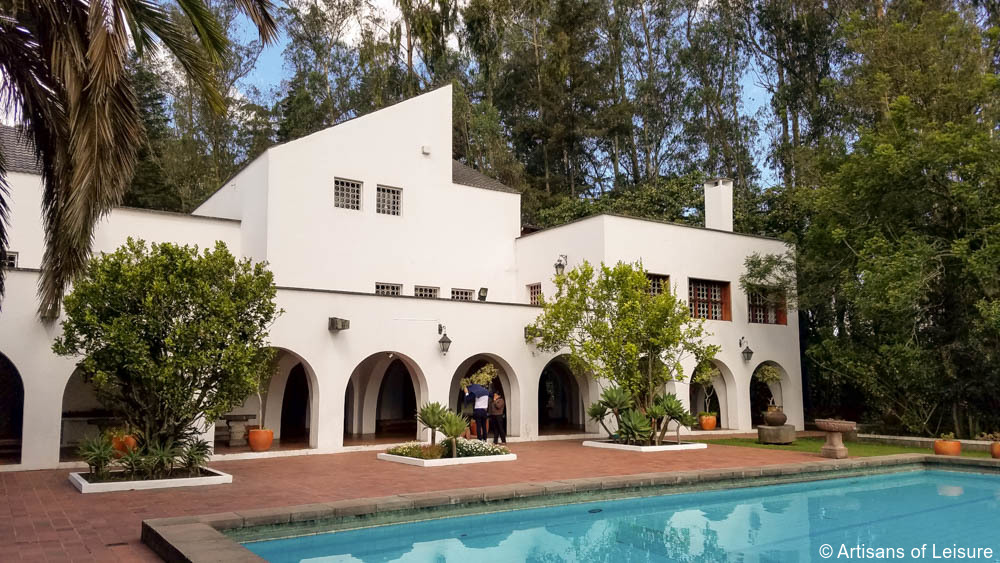 For interested travelers, we can also arrange a guided tour of Oswaldo Guayasamin's house. The renowned painter designed it to accommodate his studio and his incredible collection of art and antiques. Many of Guayasamin's most important works are displayed at the Capilla del Hombre next door. Set in the hills, the whole complex has spectacular views of the city and the surrounding volcanic peaks and countryside.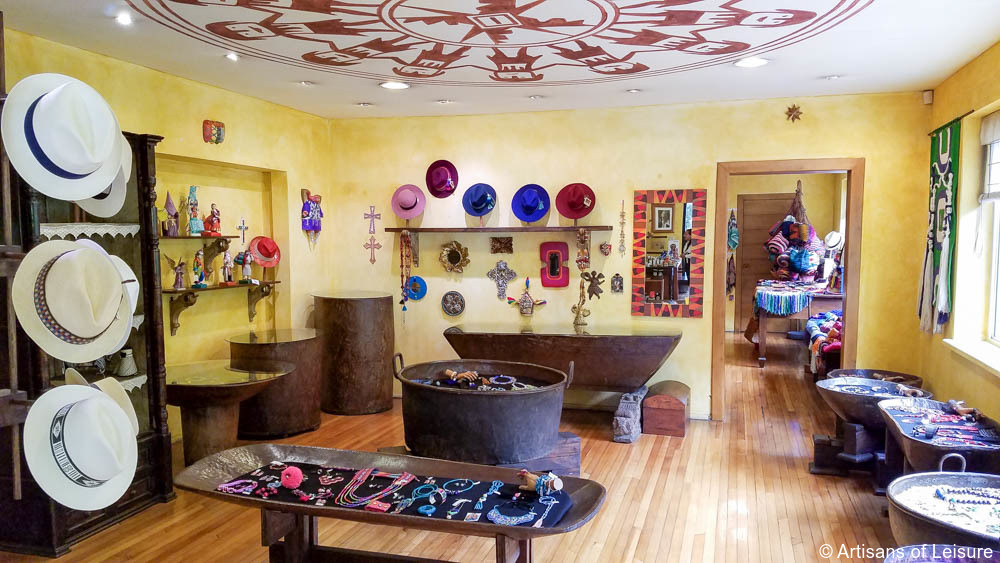 Quito's upscale residential neighborhoods also have great boutiques selling local crafts, jewelry, housewares, famous Panama hats (which are handmade in Ecuador)…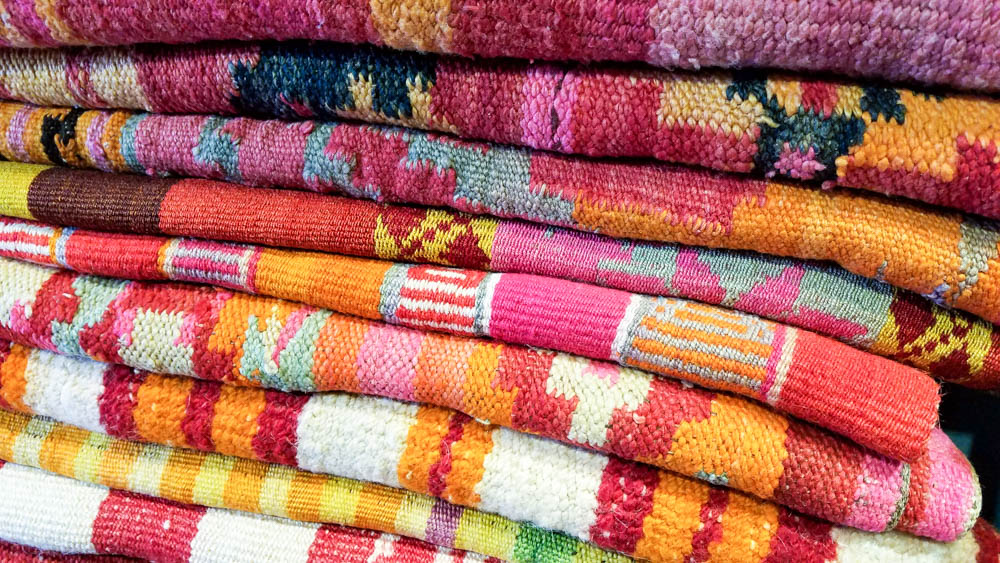 …antique textiles and other items.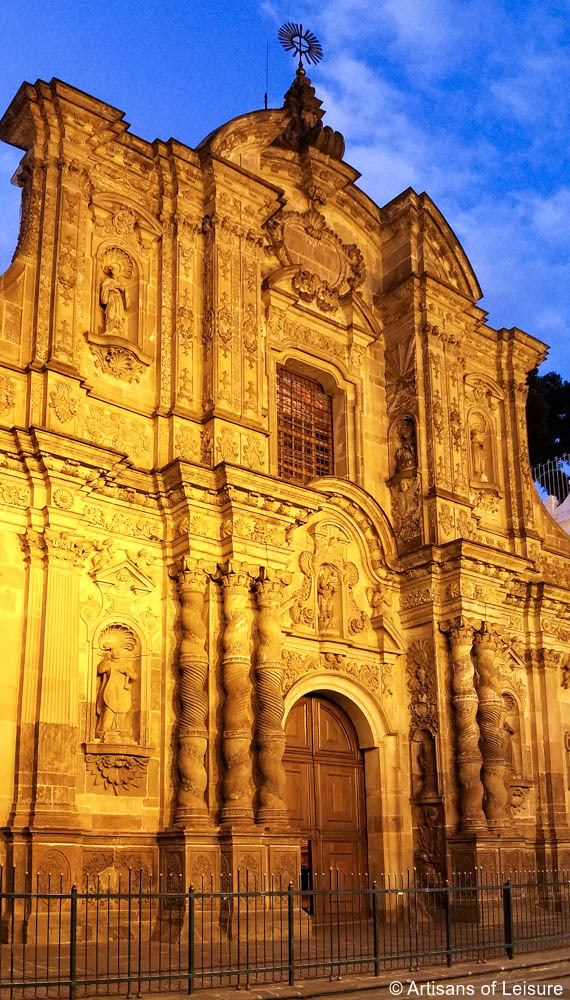 Contact one of our Ecuador specialists to start planning an incredible tour.
Destinations: Ecuador, Galapagos, South America
Tags: birds, cruise, Ecuador, Ecuador tours, family travel, fauna, flora, flowers, Galapagos cruises, Galapagos Islands, Galapagos lodges, Galapagos tours, hacienda, luxury cruise, luxury Ecuador tours, nature, South America tours, wildlife