December 31, 2015
Delicious and Hearty Winter Food in Central Europe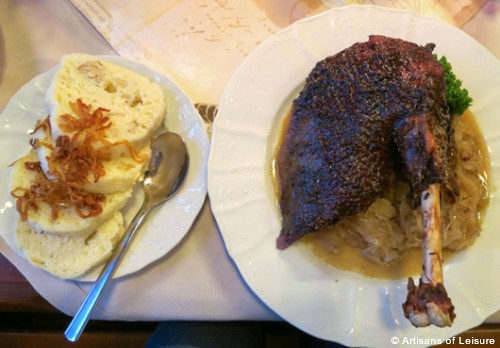 Woodsy foraged mushrooms, roast goose with dumplings (above), foie gras, grilled sausages, braised cabbage, dill, sour cream, paprika—these are some of the things that make Central Europe such a satisfying place to eat, particularly over the winter months.
Though not always thought of as leading food and drink destinations, cities such as Budapest, Prague, Krakow and Warsaw are emerging as centers of modern fine dining while preserving the traditional full-flavored fare that characterizes their region's culinary canon.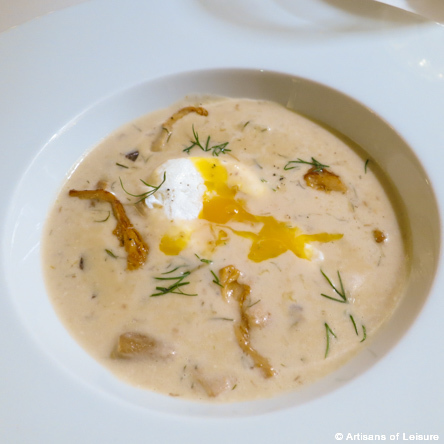 One of our favorite dishes is kulajda (above), a Czech soup featuring wild mushrooms, sour cream, potatoes, dill and a runny poached egg—it's the perfect marriage of rustic and refined, and encapsulates what we love most about Central European gastronomy. Add a local beer, wine, or spirit, and you have a perfect winter meal.
Artisans of Leisure can incorporate culinary-focused activities such as private wine tours, cooking classes, market tours and tasting tours into any of our  tours in Hungary, the Czech Republic, Austria and Poland. Our tours  include stops at the most atmospheric and treasured cafes, coffeehouses and patisseries in Central Europe. Artisans of Leisure can also assist with advance reservations at top restaurants throughout Central Europe, from traditional and cozy to avant-garde.
View our sample Central Europe itineraries for inspiration, or contact an Artisans of Leisure travel specialist to start planning.
Destinations: Central Europe, Czech Republic, Europe, Hungary, Poland
Tags: Budapest, cafes, Central Europe, culinary travel, food, Krakow, Prague, restaurants, Warsaw, winter, winter food