December 4, 2014
The Ultimate Gift: One-of-a-kind Tours for Everyone on Your List
This holiday season, spoil family members and friends with the ultimate gift of an Artisans of Leisure tour.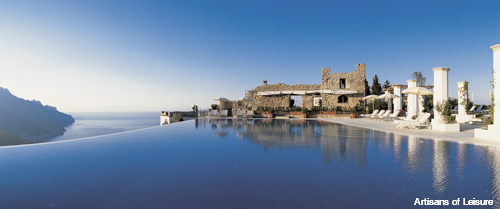 Here's a selection of new tours and perennial favorites that are sure to inspire and delight every sophisticated traveler on your list:
• For foodies…
Who wouldn't want to eat their way through a Vietnam for Foodies tour, sample Australia's best wines at the source on a Food & Wine of Australia tour, or learn to make cheese and tour Port wine cellars on a Food & Wine of Portugal tour?
• For the entire family…
Family members can create memories together by seeing pandas and walking on the Great Wall during a Family Tour of China, hiking around Machu Picchu and cruising the Amazon River Basin on a Family Tour of Peru, or seeing iconic cities of Europe on a Family Tour of London, Paris & Rome.
• For art buffs…
Art and design fans will love touring top museums and architectural sites on an Art Tour of Berlin, Prague & Vienna; delving into Scandinavian design in Copenhagen, Stockholm & Helsinki; or shopping for amazing lacquerware, textiles and more on an Arts & Crafts of Burma tour
• For a significant other…
Couples can recharge together during a Best of the Yucatan: Merida & Riviera Maya tour, enjoy a luxurious island getaway on a Romantic Cambodia tour, or combine an ultra-luxury safari with an ultra-luxury beach resort on Romantic South Africa & Seychelles.
• For grandparents…
Multiple generations can trace their roots together on a Jewish Tour of Central Europe, Highlights of Sicily tour or Essence of Ireland tour.
• For animal lovers…
A once-in-a-lifetime safari that features the Highlights of Kenya & Tanzania or learning to train an elephant on an Essence of Northern Thailand tour will be unforgettable experiences for animal lovers.
• For thrill seekers…
Adventure travelers will be excited to get off the beaten track while exploring the Highlights of Bhutan or on a Peru Luxury Adventure Tour.
• For garden lovers…
In-depth touring of private gardens—whether Tuscany's finest gardens on a Gardens of Italy tour or Arts and Crafts gardens on a Garden Tour of England—is sure to inspire garden lovers.
• For tech fans…
Techies can plug into the latest ideas in Three Capitals: Tokyo, Seoul & Beijing.
• The ultimate gift…
A customized, private, around-the-world tour. Contact Artisans of Leisure for more information.
• For someone who has everything…
Give an Artisans of Leisure luxury travel gift certificate in any denomination.

For more information, contact us.
Tags: adventure tours, Africa, art tours, Artisans of Leisure, Asia, cooks, crafts, design, family tours, family travel, foodies, garden tours, gift cards, holidays, Jewish touring, Latin America, luxury tours, luxury travel, luxury travel companies, luxury travel experts, one-of-a-kind gift ideas, presents, romantic getaways, safaris, South America, South Pacific, techies, travel gift certificates, travel gifts, traveling with friends, ultimate gifts, vacations, wildlife tours