March 14, 2014
Cherry Blossom Season in Japan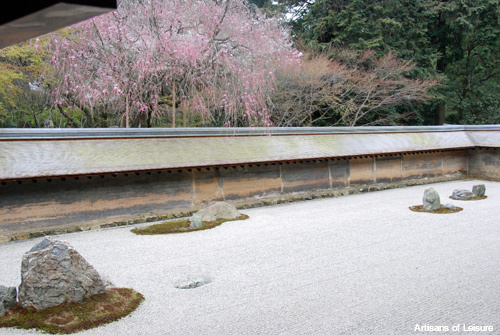 Cherry blossom season is a wonderful time to be in Japan. Starting around mid-March in most of the country, the pale pink sakura flowers burst open in a shock of color that signals the end of winter and the start of spring.
It can be surprising how widespread cherry trees are in Japan until you witness firsthand the great expanses of pink flowers lining boulevards, carpeting parks, and punctuating the grounds of temples and shrines at this time of year. Japanese come together in many of these places for ohanami (cherry blossom viewing) parties with friends, eating and drinking while sitting under a canopy of the five-petaled flowers.
Cherry blossoms last only a couple of weeks. Over time, the wind loosens the petals, which drift to the ground like a light pink snowfall, a romantic display the Japanese call hanafubuki (flower snowstorm).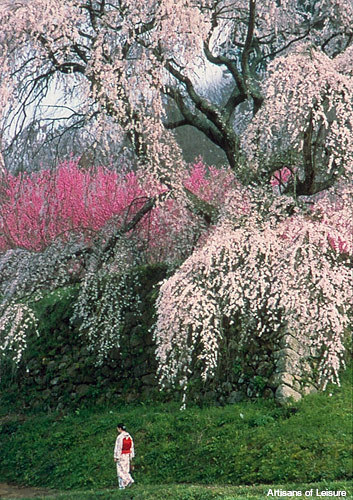 The ephemeral beauty of cherry blossoms has been celebrated in traditional Japanese culture for centuries, inspiring countless songs and works of art. This time limit also means that many Japanese eagerly anticipate the arrival of cherry blossoms each year. In fact, the Japanese news media follow the "cherry blossom front" as it moves across the country from the warmer south to the cooler north, making sure that viewers are aware of when the sakura will be at their peak in each region.
Many of our clients travel on our private Japan tours at this time of year to experience the festive cherry blossom season in Kyoto, Tokyo, Kanazawa, Nara, Miyajima, Hakone and other popular destinations. It's a very busy travel time in Japan, so it's best to book your tour as early as possible if you want to experience one of Japan's most wonderful annual traditions.