September 24, 2013
Thanksgiving Abroad: Unique Trips Families Will Love
The Thanksgiving holiday is an ideal time for a quick overseas getaway with family or friends. It's also a great way to celebrate the tradition in a creative way.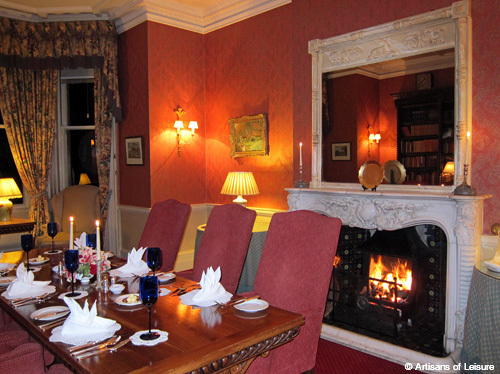 Artisans of Leisure's private, customized Thanksgiving tours combine in-depth cultural touring with the best of the season, such as fall foliage, special cultural performances and holiday markets.
Travelers don't have to worry about missing their Thanksgiving feast. We arrange for them to enjoy the harvest feast tradition with options such as a traditional turkey dinner at a top restaurant in London or Paris or an elaborate meal of local dishes in Kyoto.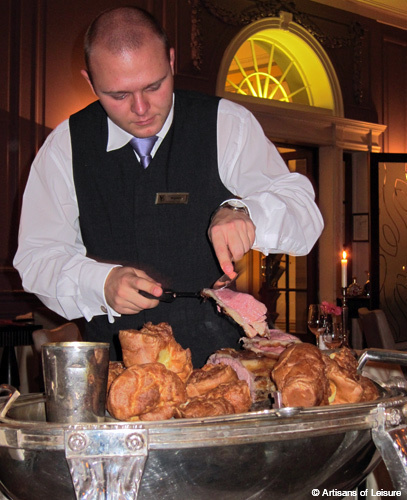 Here are a few of Artisans of Leisure's most popular international tour destinations for the Thanksgiving holiday:
1.    London: Families can spend quality time together during private cultural touring, high-end shopping and fine dining in London. They can even enjoy a traditional Thanksgiving dinner at Bar Boulud, the Franco-American bistro inside the Mandarin Oriental Hyde Park. Family-friendly activities in and around London include visiting Harry Potter locations, touring top museums large and small, and enjoying premium tickets to performances in West End theaters.
2.    Scotland: Like London, Scotland is convenient from the United States and offers crisp fall weather. Artisans of Leisure's preferred luxury properties, such as The Gleneagles Hotel, host Thanksgiving dinners and offer cozy fires to gather around during afternoon tea or whisky tasting sessions. Artisans of Leisure also arranges family activities such as clay pigeon shooting, falconry, golf, excursions to Stirling Castle or St. Andrews, and cruises on Loch Ness.
3.    Mexico: With easy and short, non-stop flights from much of the U.S., Mexico offers great food, family-friendly cultural attractions and a warmer climate. Families can relax at a beach resort on the Riviera Maya, sip margaritas by the pool, bond over a round of golf at an award-winning course, swim in cenotes or visit Mayan ruins.
4.    Buenos Aires: The weather is perfect this time of year in Buenos Aires, Argentina, and the north-south flight means little or no jet lag for travelers from the U.S. Spending Thanksgiving at an estancia (ranch) promises a leisurely Argentine barbecue with steak as the main course.
5.    Paris: The City of Light comes alive for family members of all ages through private touring of iconic sites such as the Louvre, sampling fresh pastries and aged cheese in the finest gourmet shops, browsing in upscale boutiques, and taking private day trips to Versailles Palace or Monet's house and garden at Giverny. Artisans of Leisure also arranges for their travelers to dine at top restaurants, including celebrating Thanksgiving with a gourmet dinner cruise on the Seine River or in a restaurant high up the Eiffel Tower.
6.    Tuscany: Artisans of Leisure travelers enjoy celebrating autumn in the beautiful Italian countryside with private visits to Tuscan villages, in-depth cultural touring in Florence, and maybe even a private cooking class to learn to prepare Tuscan specialties such as ribollita or pappardelle with porcini for a special Thanksgiving meal.
7.    Vienna: One of Europe's great cultural capitals is in full swing this time of year, with performances at the Vienna State Opera and Christmas markets bringing a festive spirit to city squares. Cool air is perfect for a private tour of major Vienna institutions such as the Kunsthistorisches Museum or for a walk in the Vienna Woods. And what better substitute for Thanksgiving pumpkin pie than a delicious Sacher torte at the Hotel Sacher Wien?
8.    Madrid: A mild climate plus great food and culture make Madrid a wonderful fall getaway. Families can enjoy a private art tour of the Prado Museum, private excursions to nearby historic cities such as Toledo and Segovia, or guided hiking in the Sierra mountains. Hearty Castilian roasted meats and stews, accompanied by excellent local wines, complete a memorable Spanish-style Thanksgiving meal.
9.    Japan: For travelers who want to take the whole week off, Japan is a perfect option. Autumn is one of the most beautiful times of year in Japan, as red and gold leaves fringe temples and parks through the beginning of December. Japan's seasonal cuisine peaks in autumn, with ingredients such as chestnuts, kabocha squash and matsutake mushrooms, making a Japanese Thanksgiving unforgettable.
10.    Holland & Belgium: The Pilgrims lived in Leiden, the Netherlands, before sailing for the New World in 1620. Artisans of Leisure can arrange a Thanksgiving tour that's a unique exploration of American history, including private touring of Pilgrim-related sites in Leiden and Rotterdam, as well as a visit to the new Red Star Line Museum in Antwerp, Belgium (opening September 28), from which millions immigrants sailed to the United States. For Thanksgiving Day, how about a beer tasting tour and a rijsttafel meal of many small, Indonesian-flavored dishes in Amsterdam?
Contact Artisans of Leisure to start planning an unforgettable international tour during Thanksgiving.
Destinations: Asia, Europe, Latin America, South America, UK
Tags: Artisans of Leisure, beach, Buenos Aires, celebrations, cities, exclusive travel, family travel, family vacations, food, food travel, getaways, holiday getaways, holiday travel, holiday travel ideas, London, luxury tours, luxury travel, Paris, Thanksgiving, top picks, tours, travel, travel with friends, Tuscany, unique trips, vacations