February 22, 2013
Kenya & Tanzania: Insight and Recommendations from Our African Safari Experts
We recently returned from an extensive safari tour through Kenya and Tanzania. We covered quite a lot of Kenya: Nairobi, Amboseli, Maasai Mara, Ol Pejeta, Lewa, Meru, Samburu, Shaba, Loisaba, Mathews Mountain Range, and the southern coast. In Tanzania, we stayed in Tarangire, Ngorongoro, northern and southern Serengeti, and Singita Grumeti Reserves.  It was quite a trip!
Considering a safari? Here are some of our recommendations and top picks.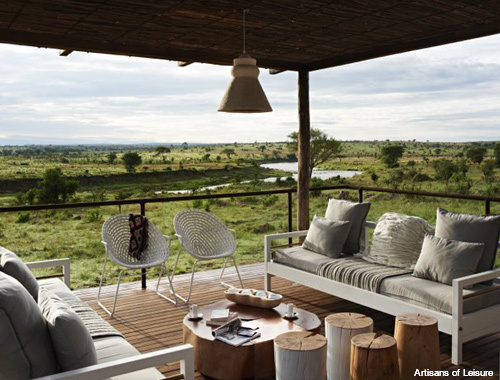 Q: In a sentence (or two), why go to Kenya and Tanzania?
Going on safari in Africa is an unparalleled experience, and the wildlife, landscapes and culture are incredible in both Kenya and Tanzania.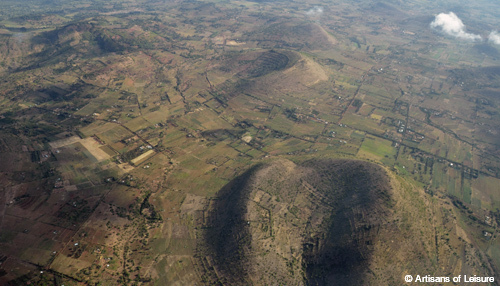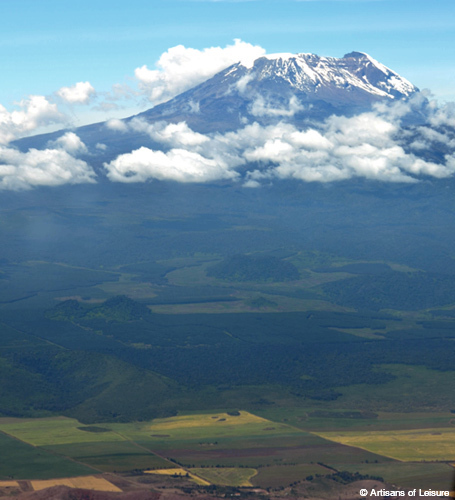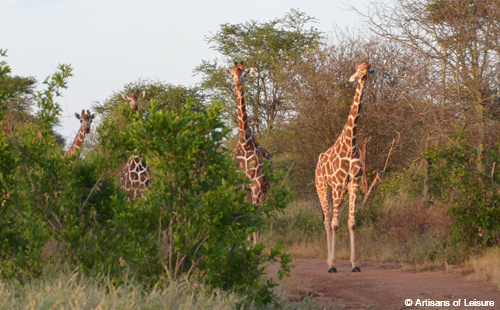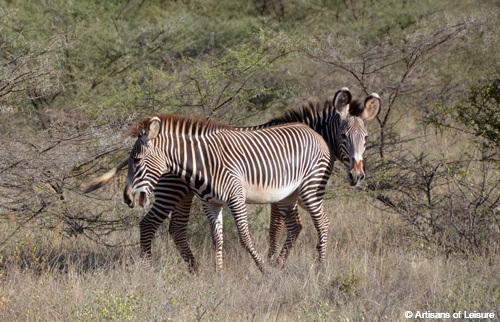 Q: How do Kenya and Tanzania compare?
Even though Kenya and Tanzania are right next to each other and share many cultural and topographical traits, they feel like quite different places. This undoubtedly has a great deal to do with the fact that Kenya is a former English colony and Tanzania is not. Overall, Tanzania has the more luxurious accommodations on offer, with its five incomparably deluxe Singita properties; but Kenya also has excellent safari guides and exemplary service. There is also a greater variety of wildlife to see in Kenya, as northern Kenya is home to several species that are not found in Tanzania.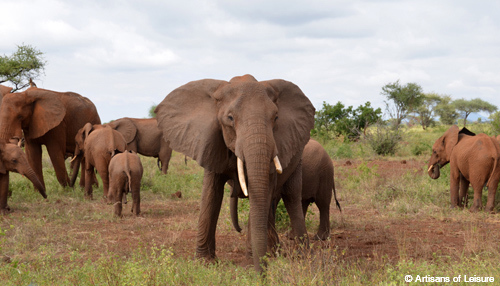 Q: A few memorable moments while on safari…
While on a game drive in Meru National Park, in Kenya, watching as the sun rose on the most beautiful, peaceful morning. We never saw another vehicle the whole time – it was like the morning belonged to us. Every time we turned a corner we would discover another fantastically colored bird in the road; vervet monkeys playing in a tree; a herd of shy but curious giraffe tentatively approaching us; a hippo pool hidden among the lush greenery; or a more rarely seen species, such as the striped lesser kudu or the blue-hued Somalian ostrich. On our way back to the lodge we suddenly came across a huge pod of elephants – there must have been 200 of them, of varying sizes and ages. We just sat there and watched as they ate, played and otherwise interacted with each other, right in front of us. It was truly magical.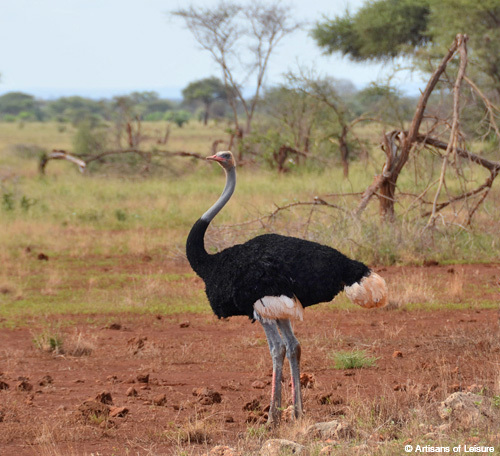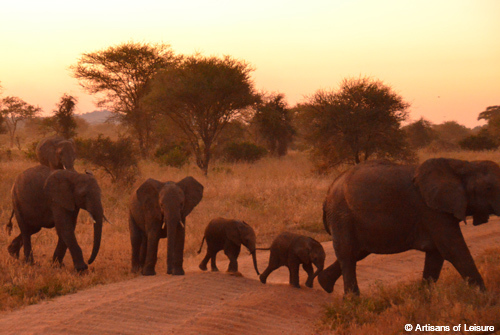 Q: Favorite lodges…
There are many. Cottar's 1920s Safari Camp in Maasai Mara (Kenya)  is a wonderfully evocative, historic tented camp. Elsa's Kopje in Meru National Park (Kenya) is beautiful, cozy and romantic, and located in such a dramatic setting. We love the luxury coffee plantation lodges in the Ngorongoro area in Tanzania, such as The Manor. And the Singita properties in Tanzania are simply gorgeous and have great service and every amenity you could hope for. Their newest property, Singita Mara River Tented Camp, is stunning.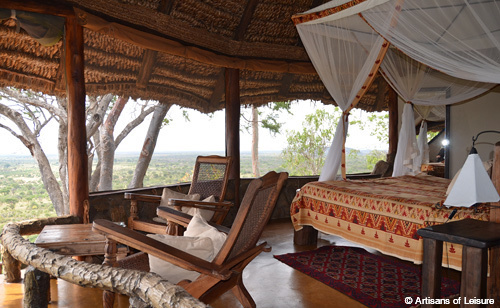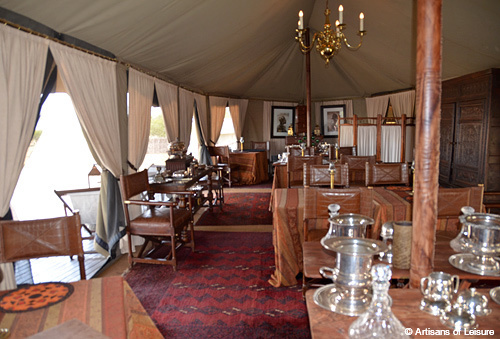 Q:  Favorite wildlife reserves or parks…
They're all so great for different reasons, it's hard to pick…including Tarangire National Park and Ngorongoro Crater in Tanzania, and Ol Pejeta Conservancy and Meru National Park in Kenya. Tarangire has such diverse landscapes within the park, lots of baobab trees and elephants, and fantastic birdwatching opportunities. The Ngorongoro Crater is filled with animals who are accustomed to humans' presence, so they come quite close to the safari vehicles without fear. The saline lake in the Crater also attracts huge flocks of bright pink flamingos, an amazing sight. Ol Pejeta has a very high animal-to-area ratio, so visitors to the area are likely to see quite a lot of game on safari drives, including both black and northern white rhinos (Ol Pejeta is the largest black rhino sanctuary in East Africa). Meru National Park is lush and diverse. Animals tend to be shy here due to heavy poaching in decades past, so it may take a little longer to find them, but patience is highly rewarded – Meru is home to a wide array of species, including rare ones such as black rhino, Somalian ostrich and lesser kudu.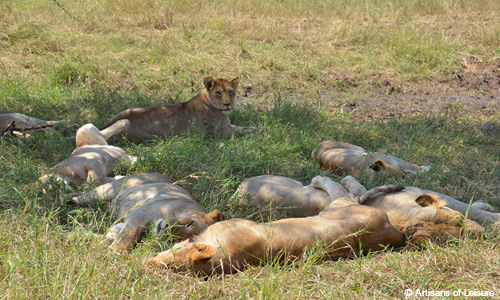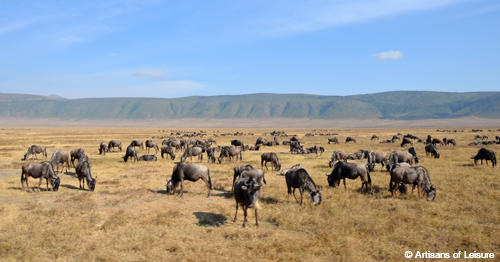 Q: Other than wildlife, what are other touring highlights?
There are plenty. Visiting a local Maasai or Samburu village or market while in Tanzania or Kenya adds another layer of appreciation to a safari tour that I think is indispensable. It is not just the animals and the landscapes, but also the people that make these countries so beautiful. For adventurous travelers who have the time, we can arrange multi-day treks on Mt. Kilimanjaro. Time at a beach resort on the Kenyan coast or Zanzibar is a lovely way to end a safari vacation. The beaches are beautiful – white sand and turquoise waters – and there is excellent snorkeling and diving nearby. The Swahili culture of this area is quite different from the Maasai and other tribe cultures one encounters while on safari, which makes for an interesting juxtaposition. Nairobi has good touring options, such as the Sheldrick elephant orphanage, and Nairobi National Park is actually great for game viewing as well.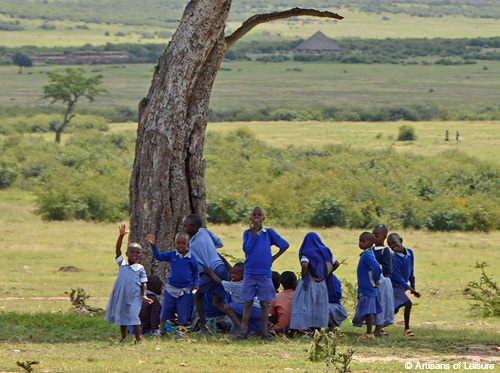 Q: When is the best time to go?
There are good reasons to visit Kenya and Tanzania throughout the entire year. The migration is always a huge draw and is a spectacular sight, but of course the exact dates of the migration can never be guaranteed so we would urge travelers to these countries to think of encountering the migration as a bonus, rather than the main focus of their visit. The rainy season can also be a lovely time to visit, as the wildflowers are in bloom and many animals have had their babies, which is always adorable to see.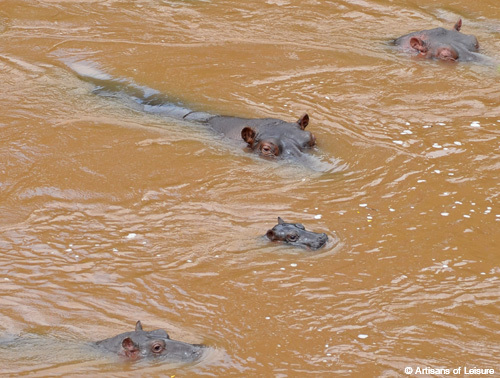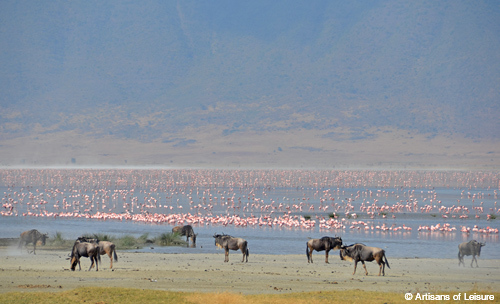 Q: Are Kenya and Tanzania recommended for travelers taking their first African safari?
Yes, absolutely. Most of our tours are great for first-time travelers, though we would recommend our "Kenya in Depth" tour for second- or third-time travelers to the region, who want to experience more off-the-beaten track destinations and are fine with slightly more rustic accommodations.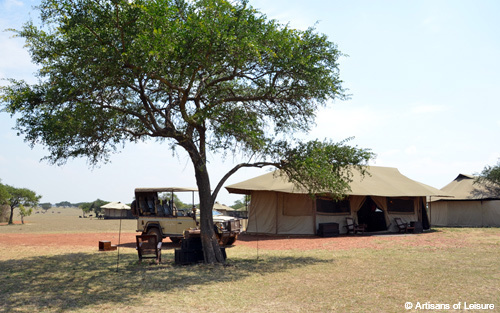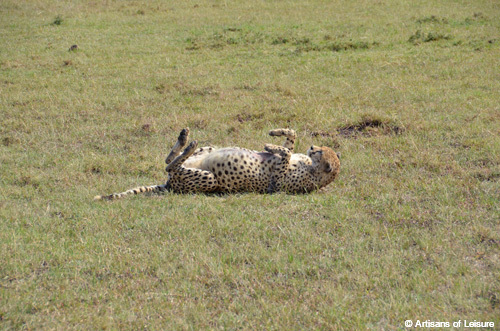 Q: What is there to do while at the lodges when you weren't doing game drives?
Swim in the pools, shop in the boutiques, write in your journal, exercise at the gym, read a book, get spa treatments, take a nap, edit  photos, and eat – A LOT.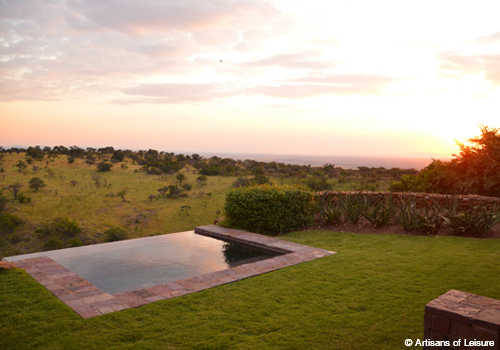 Learn more about Artisans of Leisure's Africa tours and luxury safaris: www.artisansofleisure.com
Destinations: Africa, Kenya, Tanzania
Tags: adventure, adventure travel, Africa experts, Africa travel, African safari, Artisans of Leisure, beach resorts, best safari lodges, Big Five, birdwatching, cultural touring, exclusive, exclusive safaris, exclusive tours, family travel, hiking. Rwanda, luxury Africa tours, luxury lodges, luxury safaris, luxury travel, migration, Mt. Kilimanjaro, private, safari, safari operators, Singita, tours, villages, wildlife, Zanzibar