March 6, 2012
An Interview with an Artisans of Leisure Portugal Guide
Portugal is a cultural and culinary gem still waiting to be discovered by many travelers. Our carefully planned Portugal tours and excellent local guides give access to iconic Portugal experiences such as touring the atmospheric back streets of Lisbon, attending a fado performance, private wine and port wine tastings at local vineyards, and tracing echoes of Roman, Moorish and Jewish influences.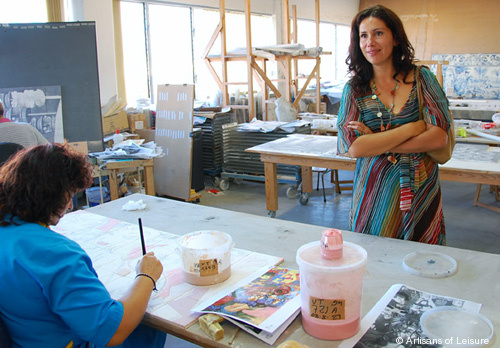 We recently spoke with one of our favorite guides in Portugal and asked her to share what she loves showing our travelers when they visit her country.
Q: Where did you grow up?
A: In Lisboa.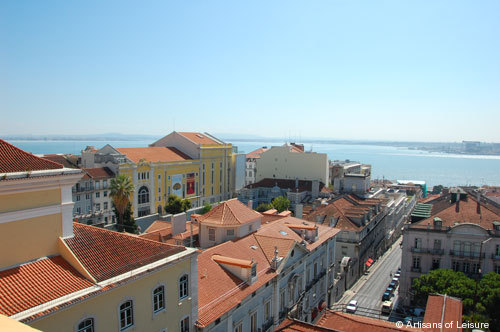 Q: Why did you decide to become a guide?
A: When someone offered me a National Geographic magazine when I was a child, I found the world to be so interesting and beautiful that I told my father I wanted to explore the world.
Q: What did you study?
A: My university degree was in tourism, which includes geography, ethnology, political science, literature of the world, languages, world history, history of Portugal, history of art, and tour guide practice.
Q: What are your personal interests?
A: My personal interests are quite broad: sports, yoga, music, dance, theater, cinema, science, alternative healing, books, writing, flowers, architecture, travel and the arts.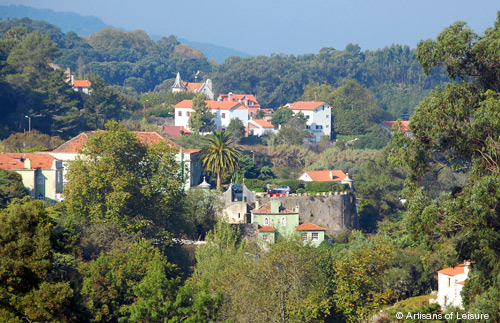 Q: What always surprises travelers when they visit Portugal?
A: Travelers are always surprised by the fact that Portugal is such a varied and beautiful, unexplored country and nobody advertises it…and after all they think it was a great hidden secret.
Q: Tell us about Portuguese cuisine…what are some of your favorite dishes?
A: Portuguese food is based on a Mediterranean diet. Products like olive oil, bread , wine and cheese are fiercely contested as top products in Portuguese culture. Much of the country is surrounded by the Atlantic Ocean, and therefore a great variety of fish and seafood are available, even inland. But the king of fish is cod, which is dried and then soaked to be cooked in such a wide range of traditional recipes throughout the country. And for a sweet tooth, we have a great variety of old recipes invented centuries ago in the convents and monasteries to serve at royal feasts. Must try dishes in Portugal: bacalhau á brás (shredded salt cod with eggs, onions, potatoes and olives), wild boar fillets, seafood risotto, pudim Abade de Priscos (pudding made with eggs, lard, cinnamon, port wine and caramel), and pastel de nata (egg tart).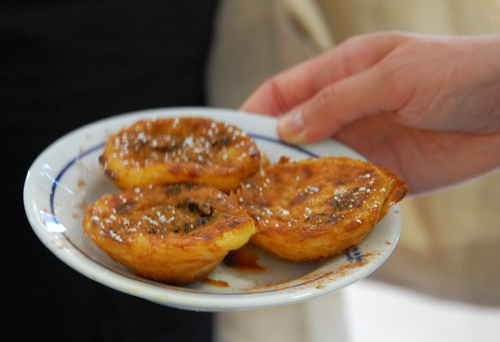 Q: What are some special places or experiences that you like to incorporate into touring?
A: There are many spectacular places off the beaten path, from beautiful medieval towns such as Viana do Castelo at the top edge of Portugal to Monsaraz and Castelo de Vide on the Spanish border that are literally museum towns. Here are some of my favorites:
The pre-historic site of Almendres near Évora, where one can see dolmens, mehnirs and funeral pyres.
The magical site of Sintra and its various luxurious palaces, which Lord Byron called "paradise on earth" as well as the hiking experiences through its vast woods.
The wild beauty of Serra da Arrabida and its coastline, which is good for dolphin watching.
The great Arab legacy of Mertola and Silves.
The Knights Templar convent in Tomar.
The waterfalls and Roman roads in the mountain range of Peneda-Gerês.
And the Douro Valley as the most hidden treasure where port wine is produced.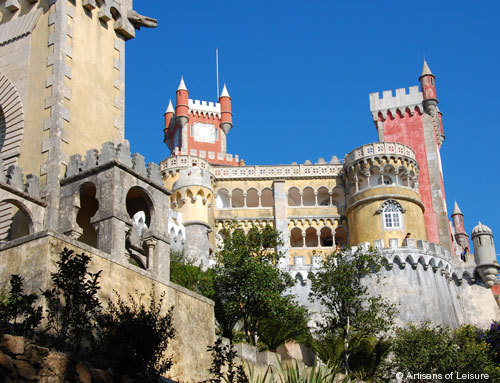 Q: What are a few "must" experiences or places in Lisbon?
A: The "must" experiences in Lisbon are for sure the various esplanades on the top floors of hotels or belvederes where cozy and relaxed bars offer various snacks, salads and cocktails always with a view over the Tagus River; the river-side restaurants during the day and the night life in the bohemian district Bairro Alto; the ultra trendy district of Alcantara, where art galleries and workshops are a hidden surprise in the old industrial town.
Q: What are your favorite museums in Portugal?
A: Museu Calouste Gulbenkian, Orient Museum, National Museum of Ancient Art, National Tile Museum, National Coach Museum, Pharmacy Museum, Decorative Arts School and Museum, Stock Exchange Palace in Porto, Serralves Museum in Porto, Conímbriga Roman Ruins and Museum, and Casa de Mateus.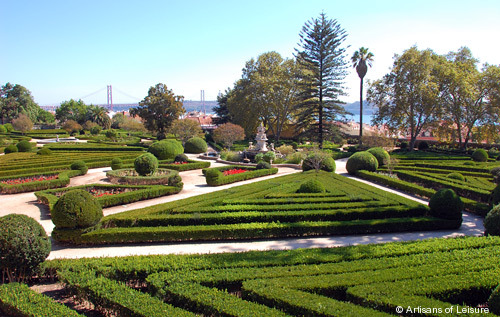 Q: What are your favorite Portuguese gardens?
A: Estrela Garden in Lisbon, especially during the weekends when an arts and crafts market is held. The Botanical Garden of Lisbon. Monserrate Park in Sintra. Pena Park in Sintra. Casa de Mateus Garden. Quinta da Regaleira in Sintra. Serralves Park in Porto. Santa Barbara's Garden at the Archbishop's Palace in Braga. Bom Jesus do Monte gardens. Queluz National Palace gardens.
Q: Your favorite restaurants at the moment?
A: Darwin's is my favorite place to have a nice, relaxed meal by the water. Or, A Travessa in a cozy, romantic old convent.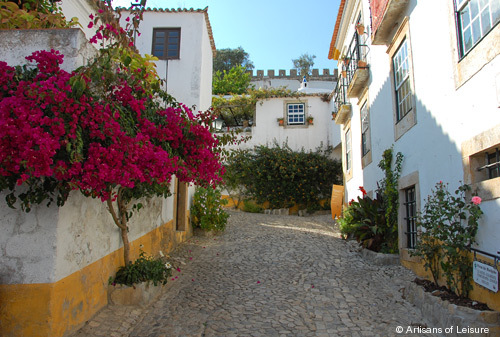 Q: Do you collect anything?
A: I only collect good moments :-)
Q: What are you reading at the moment?
A: The Element by Ken Robinson and Le Coeur Cousu by Carole Martinez.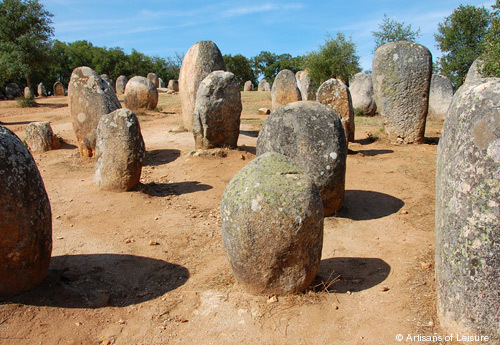 Q: What do you like about Artisans of Leisure clients?
A: They are always one of a kind. :-)
Q: What are some interesting shopping purchases in Portugal?
A: Linen, ceramic tiles, wine and port wine, leather gloves, various items made of cork, bespoke shoes, umbrellas, leather goods, fanciful hats, gold jewelry, and antiques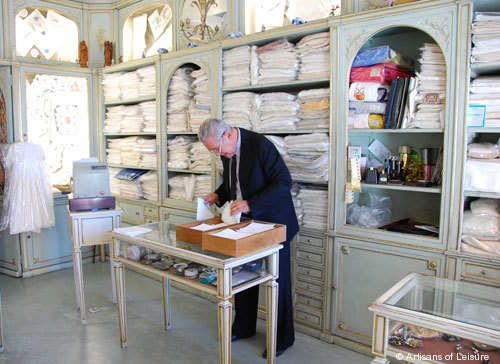 Q: Why visit Portugal?
A: Portugal is a true revelation of different landscapes, culture and history. It's a hidden treasure. A calm and tiny country with welcoming people and wonderful food and wine.

Q: What countries do you recommend combining with Portugal?
A: Countries that best combine with Portugal are Spain, Morocco, Madeira [a part of Portugal but many people forget about it because it's not part of the mainland) and France.

Q: What do you like to do in your free time?
A: Basically…to travel.
Q: If you weren't a guide, what would you do? What other careers interest you?
A: I'll soon be going back to university part-time to study psychology, my other passion.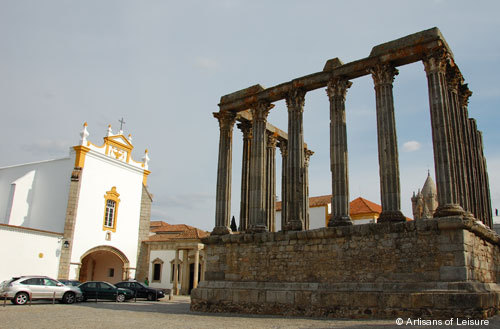 Q: What's your favorite day trip from Lisbon? Why?
A: Évora, because you can feel the real country life in Portugal, and it's so rich in every single sense.
Visit the Artisans of Leisure website to view recommended private tours in Portugal.
Destinations: Europe, Portugal
Tags: alternative healing, antiques, architecture, art, arts, books, cheese, cinema, cuisine, culinary tours, dance, European, Evora, excursions, expert, flowers, food, garden tours, gardens, guides, insider, Jewish heritage, Jewish tours, Lisbon, luxury hotels, luxury travel, Madeira, Moorish, museums, music, palaces, Porto, Portugal luxury tours, Portugal tours, Portugalbespoke, Portuguese, private guide, private tours, psychology, Roman, ruins, science, shopping, Sintra, sports, theater, tiles, travel, UNESCO, wine, writing, yoga