May 12, 2011
Must Stay: Wolgan Valley Resort & Spa in the Blue Mountains, Australia
Wolgan Valley Resort & Spa, a three-hour drive (or short helicopter transfer) from Sydney, is a must-stay for those who wish to experience one of the very best resorts in Australia.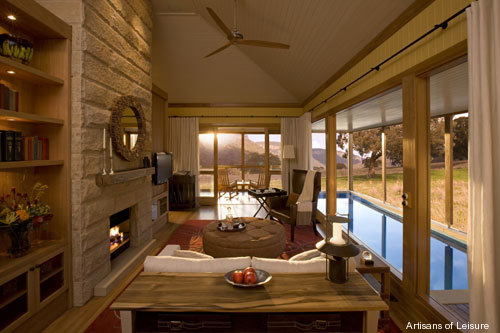 The valley setting is magnificent, surrounded by sandstone escarpments and thickly forested hills.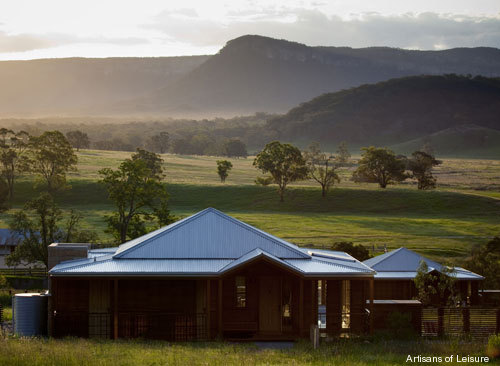 The resort is made up of approximately 40 stand-alone suites, furnished in a cozy yet elegant manner and equipped with such niceties as your own mountain bikes; private indoor/outdoor pool; complimentary movies on demand; a screened-in sitting area from which one may enjoy the fresh mountain air and the sounds of nature; an extremely comfortable bed; and a working fireplace.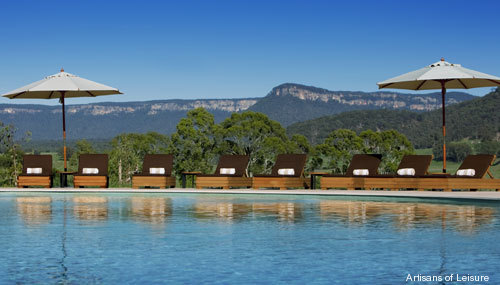 Wolgan Valley is a great place for 4WD wildlife-spotting safaris both in the late afternoon when kangaroos, wallaroos and wallabies are most likely to be seen, and at night, when wombats, owls, possums and other nocturnal creatures can be viewed. (Recently, a platypus was discovered in one of the reserve's creeks, which was cause for much excitement!)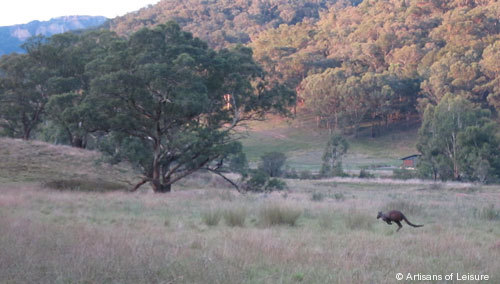 The resort offers an array of daily activities to choose from, such as guided mountain bike tours, horseback riding, hiking to suit all levels of difficulty, and cultural touring. The star-gazing at Wolgan Valley is also excellent – there are no other resorts or villages nearby, so on a clear night the star-filled sky is breathtaking. There is also an excellent spa on the premises, as well as a larger communal pool and well-equipped fitness facilities.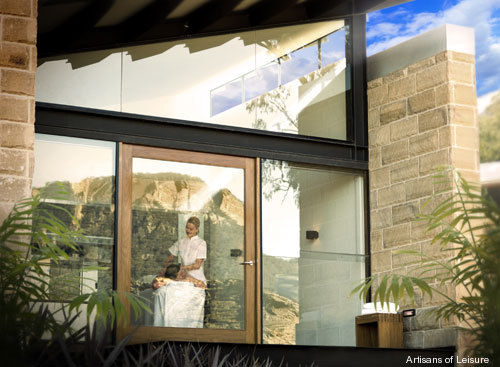 Besides the spectacular natural setting , luxurious accommodations and five-star service, the cuisine is one of the top reasons to visit the resort. On our most recent stay breakfast consisted of a large array of goodies such as various croissants; freshly baked banana bread; muesli; fresh fruit; thick, creamy yogurt; French-pressed coffee (the resort roasts its own beans); fresh-squeezed orange juice; and a variety of delicious hot menu items such as smoked trout over spinach and potato rösti topped with a perfectly poached egg and hollandaise sauce. Dinner is a five-course à la carte menu showcasing the best in local, seasonal produce, paired with excellent wines. The experience is memorable not just for the attentive service, but for the exquisite fare: standouts from one of our dinners included a starter of roasted quail over potato foam with purple shallots, Brussels sprouts and pancetta; and a main dish of Tasmanian salmon, prawn and mussels over a mussel bisque with leeks, fennel and potato, served with a side of roasted zucchini and tomato and tempura zucchini spears. Beautiful to look at, and absolutely delicious!
This luxury resort is great for anyone—including couples and families—seeking an authentically Australian experience.
Destinations: Australia, South America
Tags: active travel, Australia tours, Blue Mountains, cuisine, nature, spa, Sydney, wilderness, wildlife, Wolgan Valley Resort