June 9, 2009
The Best of Normandy: Food, History, Villages, Gardens and Art
Normandy is one of our favorite travel destinations in France. It's just a few hours by private car and driver from Paris, and there are endless touring options.
One of the highlights of traveling in Normandy is the food, which we feel is among the best in France. Normandy is the home of many of France's best-known cheeses, including creamy Camembert, pungent Livarot and ancient Pont l'Eveque.
Normandy is also known for cider, and a private day tour along the Cider Route in the Pays d'Auge is the perfect way to taste the local specialties (Calvados and Pommeau) and see rural villages with their timbered architecture. Calvados is traditionally drunk between courses of an extended meal to aid digestion, and is sometimes mixed with apple sorbet. Pommeau is Calvados mixed with apple cider and then aged in oak barrels.
Our private tours of Normandy feature the most famous attractions in the region, including Mont St. Michel, a UNESCO World Heritage Site. Rising from the tides at the mouth of the Couesnon River, the ancient abbey creates a spectacular backdrop to the region, where thousands of sheep roam vast green fields.
We also book Normandy's most knowledgeable guides for touring D-Day sites such as the landing beaches, the American Cemetery and the artificial harbors.
Other favorite locations that are included in our private tours of Normandy include the beautiful port town of Honfleur, the subject of many impressionist painters, and the glamorous beach town of Deauville, with its racetrack, upscale shops, incredible seafood restaurants and outdoor cafes, and the beautiful beach and long boardwalk lined with bathing cabins featuring the names of American actors who have attended the town's film festival.
Normandy is also an incredible destination for garden lovers. The region is home to famous gardens, such as Monet's garden in Giverny, as well as many other impressive gardens in various styles. One of the best reasons to visit Monet's country home in Giverny is the chance to see his kitchen.
We particularly love traveling in Normandy during the summer months, when hydrangea can be seen exploding with color everywhere.
Normandy is dotted with charming small villages, such as Villedieu-les-Poeles, a medieval town that has been renowned for handmade copper since the 12th century—many of France's most famous copper cookware companies are based there.
There are plenty of other historic highlights in Normandy, including the city of Rouen, with its antique shops, decorative arts museums, and fascinating architecture. Joan of Arc was burned at the stake in Rouen in 1431. Also, we love visiting Bayeux to explore its backstreets, visit its specialty shops (one of our favorite porcelain shops in France is located in town), and, of course, to see the famous Bayeux Tapestry, a 230-foot long tapestry that depicts the history of the Norman invasion of England.
Normandy has wonderful luxury hotels, including exclusive chateau accommodations and traditional thatched cottages turned into elegant retreats.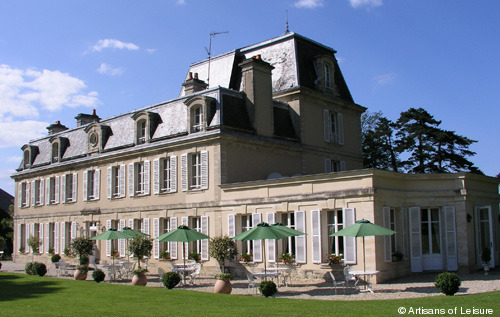 Contact us to start planning a private France tour.
Tags: architecture, art, Bayeux, cheese, cooking, culinary, D-Day beaches, Deauville, decorative arts, excursions, food, food tours, France tours, garden tours, gardens, Giverny, history, Honfleur, luxury hotels, Mont St. Michel, Normandy, Normandy gardens, Paris, Rouen, UNESCO, villages