April 10, 2009
A conversation with Asian food expert Corinne Trang
The founder of Artisans of Leisure, Ashley Isaacs Ganz, recently met up with cookbook writer and Asian food expert Corinne Trang. Ashley assisted Corinne with her extensive travels and culinary arrangements in Asia when Corinne was doing research for her acclaimed cookbook Essentials of Asian Cuisine.
Q: You started your food career at Saveur Magazine as their test kitchen editor and producing editor. Saveur is one of my favorite magazines (I have kept every issue!). What was it like working there (15+ years ago) in the magazine's early days? What did you enjoy most about that position and the magazine's approach to food?
A: Working at Saveur was fun. It wasn't just about getting recipes, but the right recipes that told the story. It was about getting to the core of every–and any–food culture. To achieve this, we were always on location in any number of places: Morocco, Vietnam, Cambodia, Corsica, Turkey, China, Italy, and so on. We focused on the home cooks, the grandmothers, and went out of our way to find the old hands that would tell the story. Unlike many magazines, we were not interested in interviewing celebrity chefs and their restaurants, unless it was an establishment passed down from generation to generation. Saveur wasn't just a food magazine, it was also a travel log supported by very enticing photographic essays. Every time you flipped though the pages, you were transported to the place. You could visualize sitting and perhaps having a conversation with the people who were photographed. You could taste the food off the pages, it looked so good. It was an exciting moment for me because it was the start of my career as a food stylist, writer, and professional chef. I've always cooked, but until my stint at Saveur, I swore I would never do it professionally.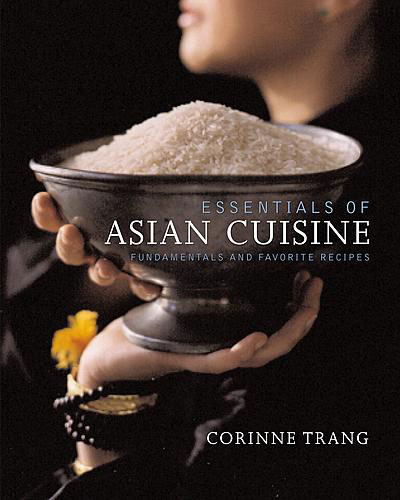 Q: Tell us about your cookbooks.
A: My cookbooks focus on Asian food cultures. They're very thorough and offer historical and personal anecdotes, giving the reader a window into the various Asian food cultures I write about. The recipes are user-friendly, with step-by-step instructions, often times exploring a familiar cooking technique or ingredients, and introducing new ones in the process.
In my first book, Authentic Vietnamese Cooking: Food From a Family Table (Simon & Schuster, 1999) I included the foods that I grew up eating. We ate a lot of Vietnamese food, and at the time the book came out, Vietnamese cuisine was very popular. It was also an interesting way to tell my story. The Chinese ruled Vietnam for 1000 years, and then the French for another 100 years. Being half-French and half-Chinese, I thought it would be a perfect way to introduce myself as a newcomer on the scene. In this book I focused on how the French and Chinese influenced Vietnam cuisine, but how ultimately that very cuisine evolved into something quite unique.
Essentials of Asian Cuisine: Fundamentals and Favorite Recipes (Simon & Schuster 2003), my second book, is written like a reference book. It takes eight major cuisines and traces them back to their ancient Chinese roots. It is full of historical anecdotes. I wanted to demystify Asian cuisines, and the best way to do that was to explain how they evolved by occasionally cross-comparing recipes to demonstrate how similar yet different they all are. So, for example, you'll see three different recipes for peanut sauce. It's been referred to as the "bible of Asian cuisine," and compared to The Joy of Cooking because it is very thorough. I am particularly proud of this book.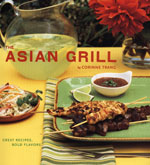 The Asian Grill: Great Flavors, Bold Recipes(Chronicle Books, 2006) is about taking a popular and familiar cooking technique–grilling–and applying Asian ingredients, therefore giving the reader a comfort zone in which to explore new flavor profiles.
Noodles Every Day: Delicious Asian Recipes From Ramen to Rice Sticks (Chronicle Books, 2009) is the new one. Again, my goal was to take a popular and familiar food, the noodle, and offering the reader easy-to-understand ways to explore Asian ingredients, allowing them to expand their cooking repertoire.
I have written another Vietnamese cookbook and have contributed to many more cookbooks. My goal, when writing my own books or contributing to others is to relax the reader into trying new things. Most so-called "exotic" ingredients are now readily available and have been for quite a few years now. Also people travel a lot. As a result their palates become more sophisticated and they expect more.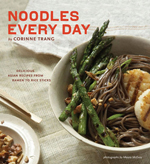 Q: Which cookbooks (other than your own) do you enjoy and use the most?
A: Marcella Hazan's Essentials of Italian Cooking, The Joy of Cooking, the works of Auguste Escoffier, and many more. My cookbook library is quite extensive and I refer to most of the books I have at one point or another.
Q: Anywhere in the world–what are some of your favorite food markets?
A: I love outdoor markets, especially in Asia. They are so colorful–the produce, the meat, the seafood, even the people. I love the idea of shopping three times a day and cooking the food immediately upon returning home because there is no refrigeration. You can't get any fresher than that. When I travel, whether I'm in Asia or Europe, or somewhere in the US, I tend to seek out these types of markets. They all have something to offer.
Q: OK, the deserted island question…if you could have one meal, what would it be?
A: That's tough, but I'd have to say wonton soup…but make sure there are lots, like a triple order, of wontons, if it's to be my last!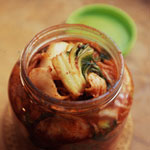 Q: What's always in your refrigerator?
A: Ginger, scallion, garlic, lemongrass.
Q: What's your favorite holiday and what is eaten?
A: Chinese New Year because it's an excuse to have da bin low, or Chinese steamboat (fondue). It's a cook-it-yourself meal where all sorts of sliced raw meats and seafood, along with tons of vegetables, are set around a vessel containing a delicious broth. You get to cook the ingredients in the broth. At the end, noodles are added to the broth. It's the grand finale. Noodles in broth symbolize longevity.
Q: Do you have any favorite dishes your grandmother(s) always make/made?
A: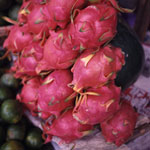 My Asian grandmother was a wonderful cook, who fortunately passed her recipes down to her daughters and my mother. Her rice noodle and beef soup, pho, was absolutely delicious. To this day I still make my stock using oxtail and beef tendon with cloves, cinnamon, and star anise. I also love a simple steamed fish with scallions, ginger, and shiitake mushrooms, or wontons, for example. I loved all the foods I grew up eating. I wasn't complicated as a kid. I ate what was put in front of me, and I owe a lot of my deep appreciation for and understanding of Asian food cultures to that simple fact.
Q: What are some of your favorite destinations for culinary travel?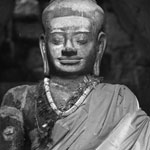 A: Hong Kong, Chiang Mai (Thailand), Bali (Indonesia), Cebu (Philippines), Kyoto (Japan), Pusan (Korea), France, Corsica, Italy…the list could go on. Every culture has something to offer.
Q: Most memorable food experience(s) when traveling overseas?
A: One of my most memorable food experiences is Balinese duck marinated in a spice paste overnight, wrapped in banana leaves, and smoked in the rice husk for 12 hours, until the meat fell off the bones. It was succulent, smoky, spicy, and just plain delicious. Another one is the poached three-pound fish head served in Chinese Superior Stock (chicken and Hunan ham-based) with a whole shark's fin. I can't say the rice paddy crickets stir-fried with onions, garlic, and chilies was my favorite by any means, but it was memorable.
Q: Most memorable meal overseas?
A: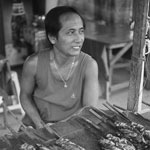 The midnight bazaar in Chiang Mai, going from one food cart to the next, trying a bunch of different things including meat and seafood sates, pad Thai, sweet coconut rice, and much more.
Q: Favorite purchases during your world travels?
A: Beef Jerky from Hong Kong. The vacuum-sealed package got confiscated at JFK. I did manage to have one piece, but the customs officer ate the rest.
Q: You currently teach food writing at New York University (NYU) and other universities. What advice do you give your students?
A: Approach things with an open mind, allowing yourself to explore as much as you can while trying everything at least once. Ask a lot of questions, be in the moment, and connect with the local people of any travel destination in order to better understand their culture. Food evolves all the time, so it's up to you to keep up with the changes, the trends. Finally, write because you love it.
Q: Do you have any favorite food blogs?
A: seriouseats.com and thegirlwhoateeverything.com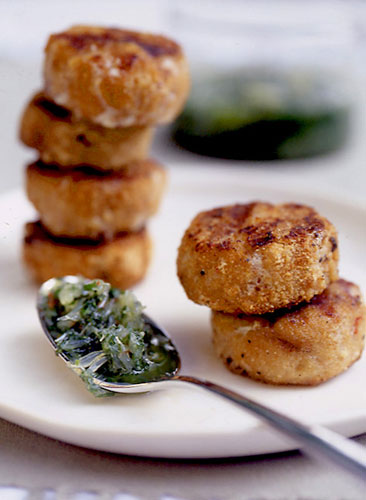 Q: What's an international destination you hope to visit someday? Why?
A: Morocco because I love the cuisine and would probably love the place–at least from the photos I've seen–which to me looks magical.
Artisans of Leisure customizes private culinary tours around the world, including Asia, Europe, South America, Mexico, the Middle East and the Mediterranean. Please contact us for more information about our private international culinary tours, or view recommended luxury tours on our website: www.artisansofleisure.com.
Destinations: Asia, Bali, China, Hong Kong, Indonesia, Japan, Southeast Asia, Thailand, Vietnam
Tags: Artisans of Leisure, Ashley Isaacs Ganz, Asian, Asian cuisine, chefs, cookbooks, cooking classes, Corinne Trang, cuisine, culinary tours, culinary travel, culture, customized, food, food blog, food markets, food writing, foodies, gourmet travels, Indonesia, ingredients, international, luxury tours, luxury travel, recipes, shopping, techniques, travel, world travels