September 2, 2008
The Best of Bhutan
We recently returned from a private tour through Bhutan, the Himalayan kingdom known for its traditional Buddhist culture and beautiful landscapes. Highlights of our trip included in-depth cultural touring in Paro, Thimphu and Punakha.
We began our tour in Paro. The Paro Valley is a lush landscape of farms and forest.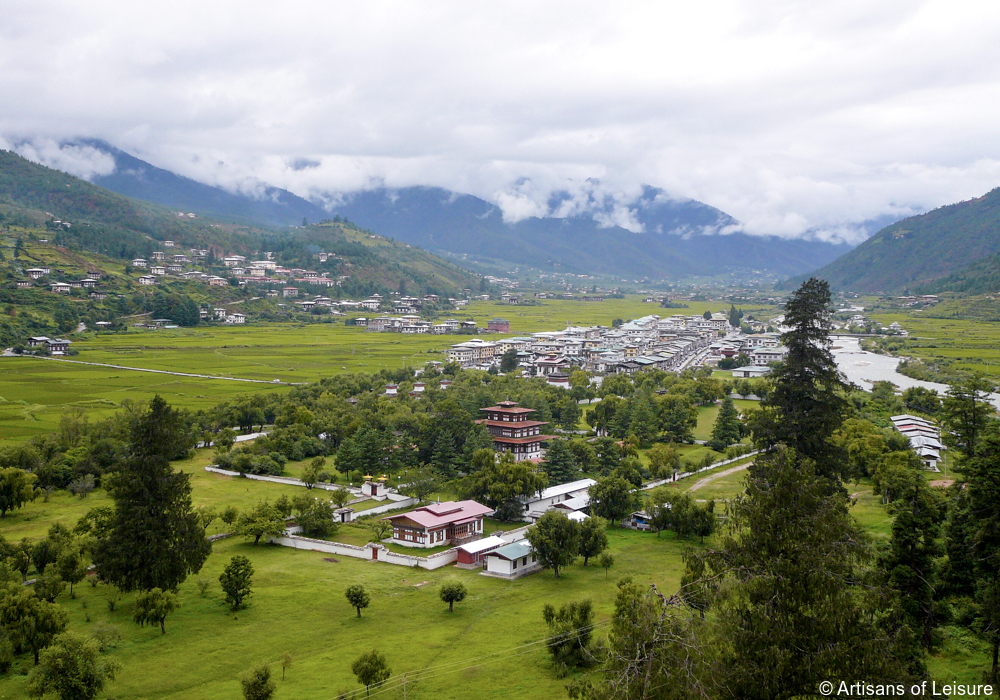 Our guide in Paro was such a kind person and one of the best guides we have ever had.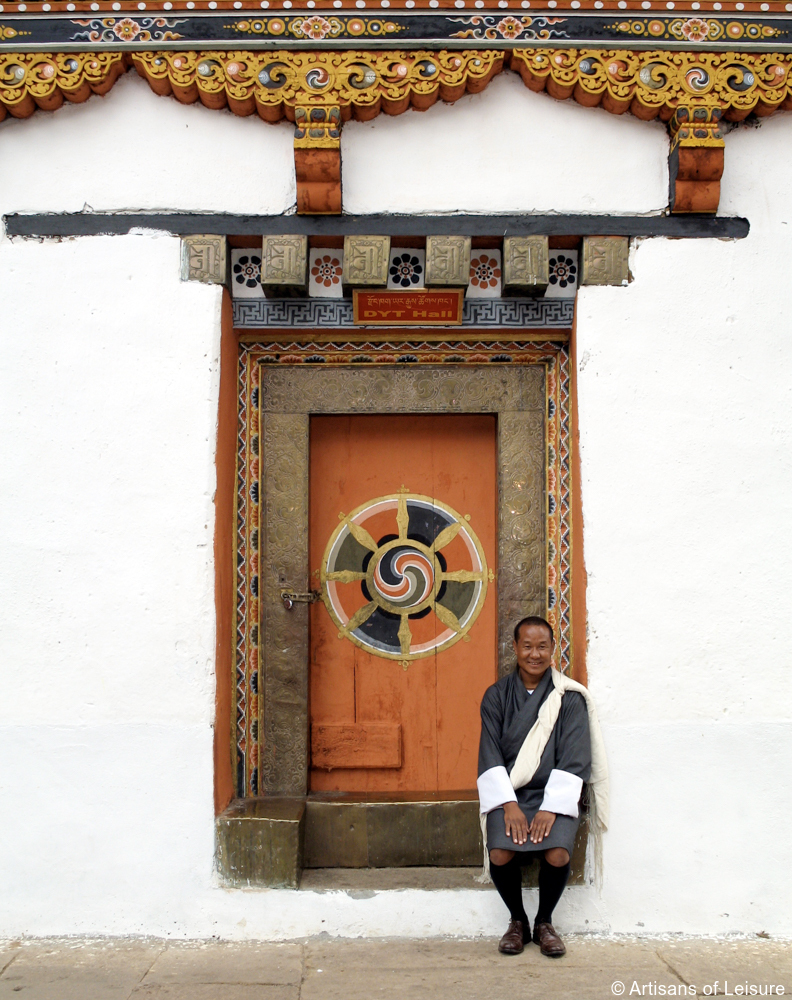 Buddhism is an important part of Bhutanese culture. We enjoyed learning more about it at a monastery.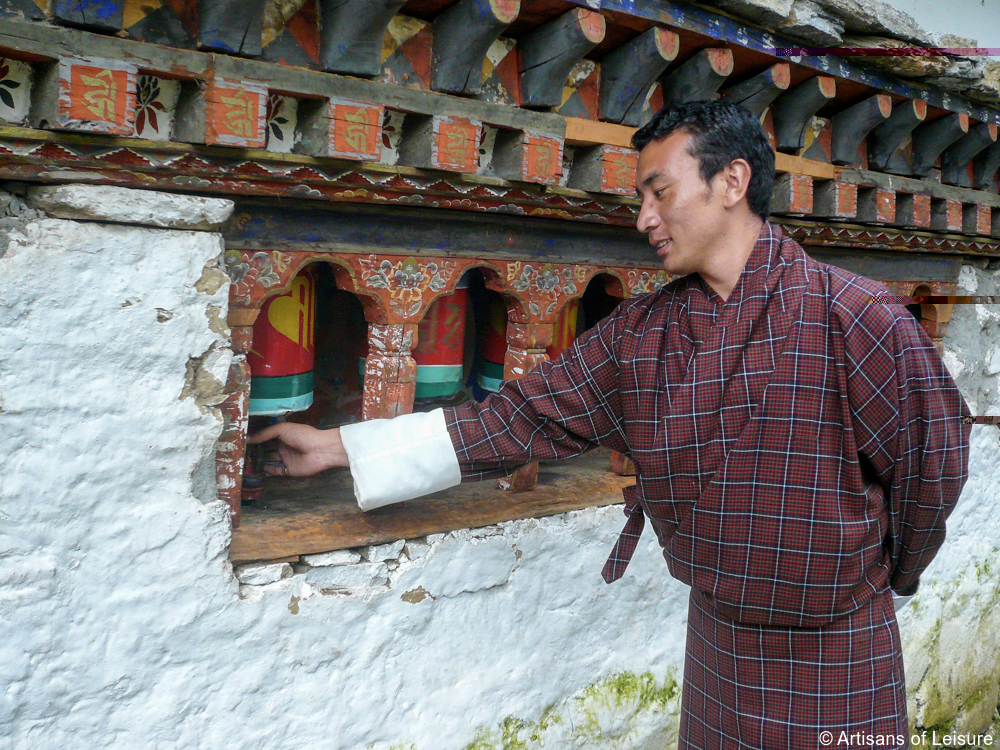 We enjoyed meeting these two monks living at the dzong (a dzong is a fortress that serves as the religious and administrative center of a Bhutanese community).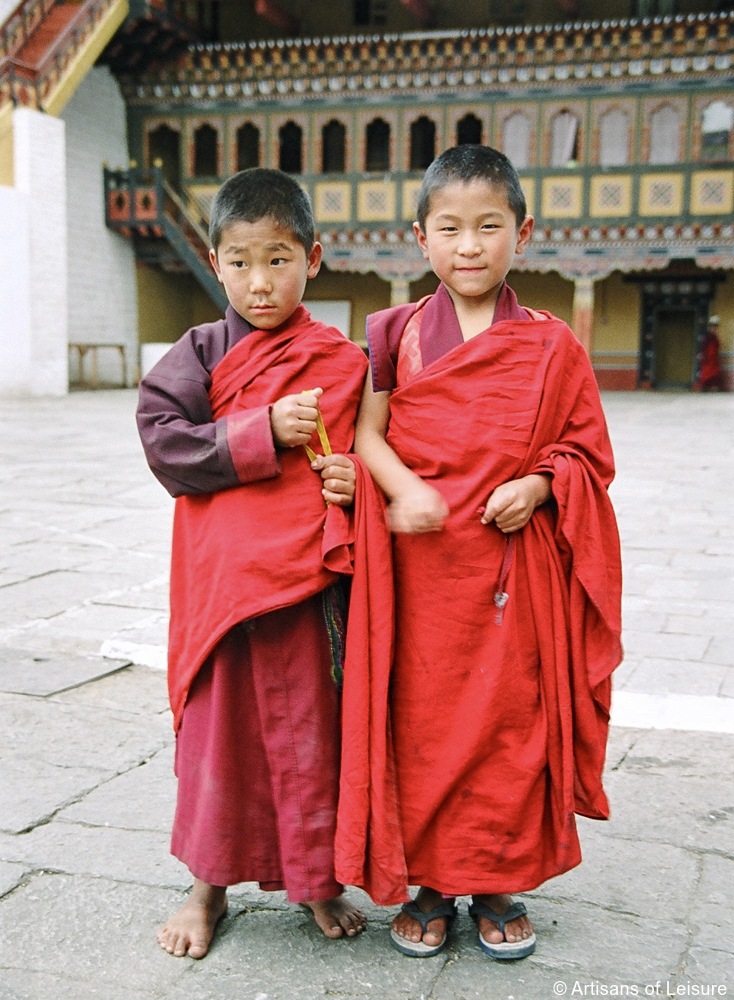 One day, we hiked to the iconic Tiger's Nest Monastery, which perches high on a cliff.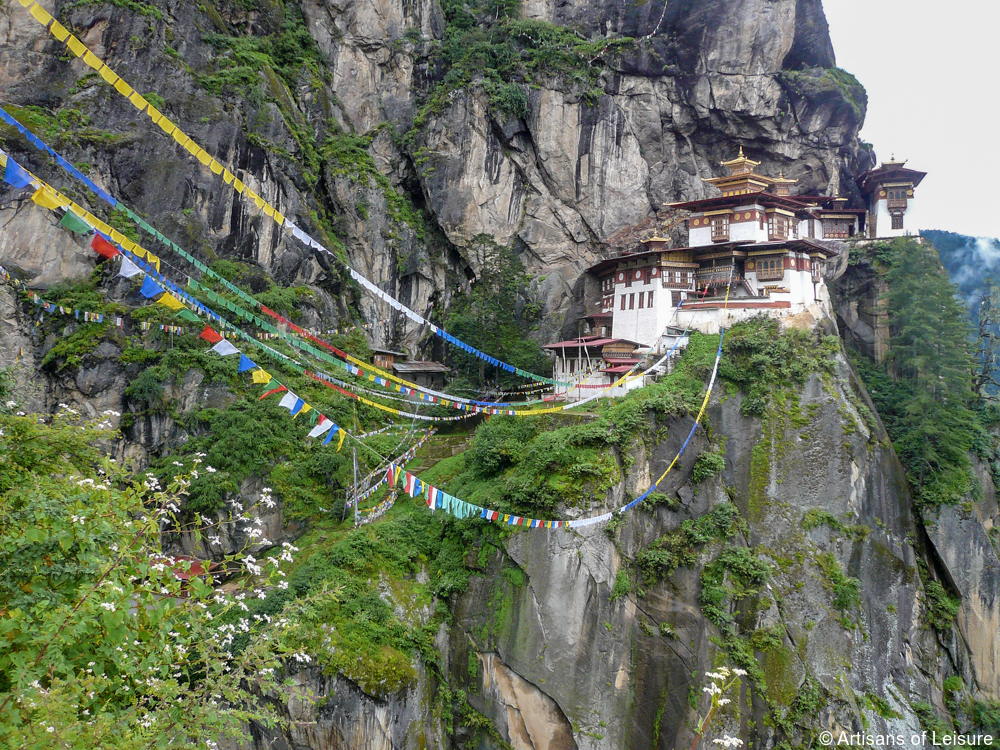 The exclusive Uma Paro is one of our favorite resorts in the area.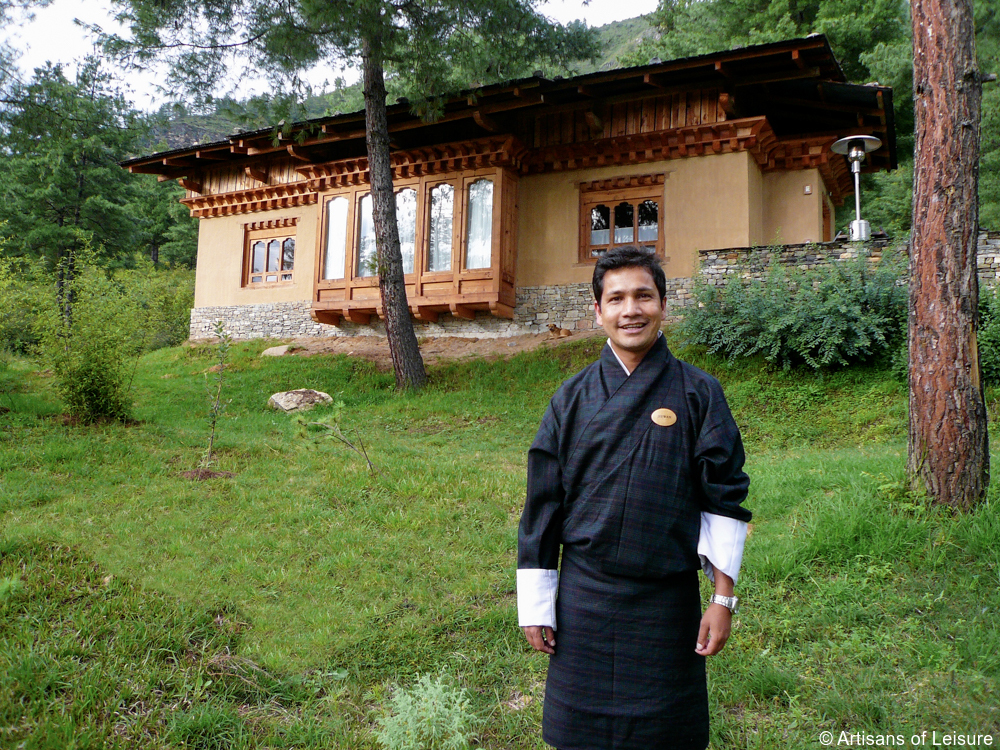 It's a great place to come home to at the end of a day of touring.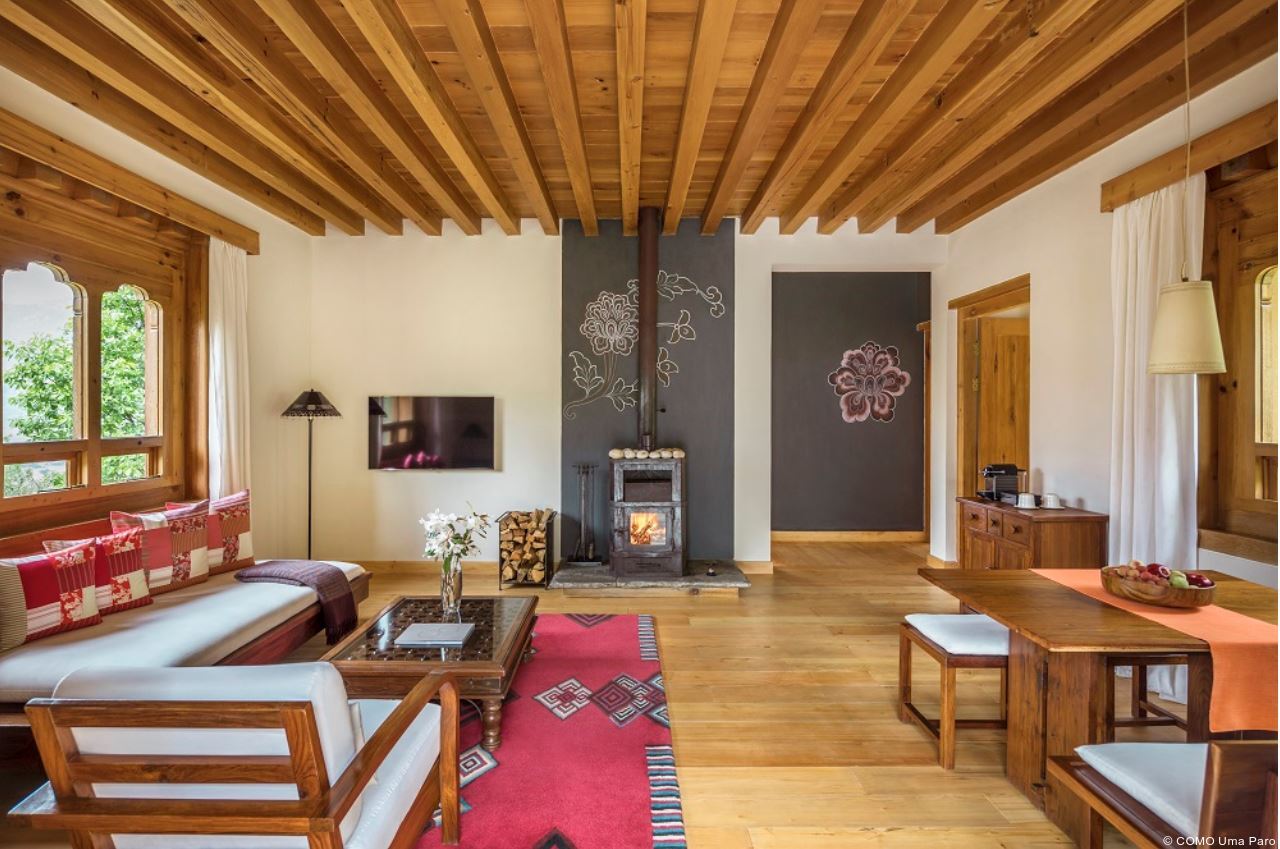 Next, we traveled to Thimphu, the capital of Bhutan. One day, we watched students training in Bhutanese traditional arts.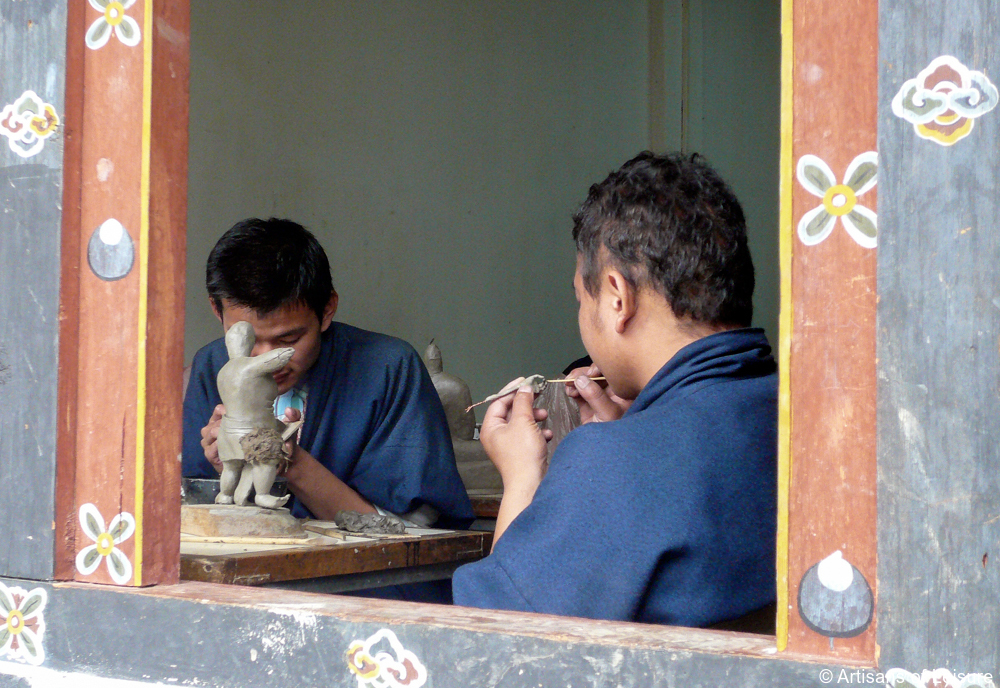 Bhutanese cuisine is delicious. No meal is complete without some tasty red rice.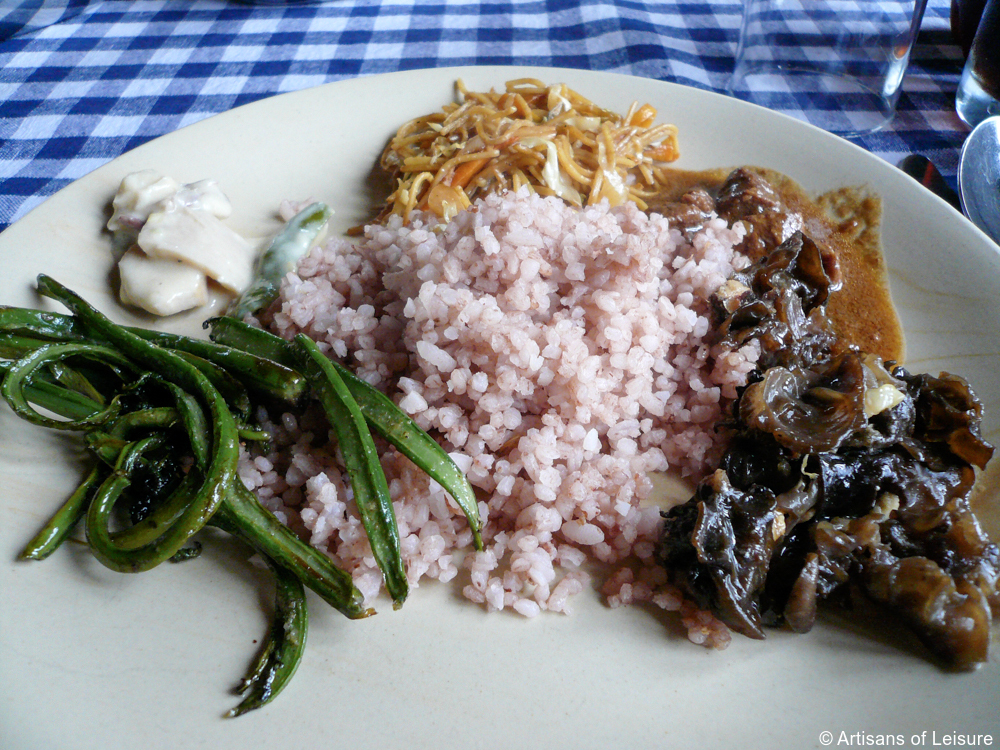 Meeting the locals was a highlight!
The beautiful Thimphu Tashichho Dzong is a great example of traditional Bhutanese architecture.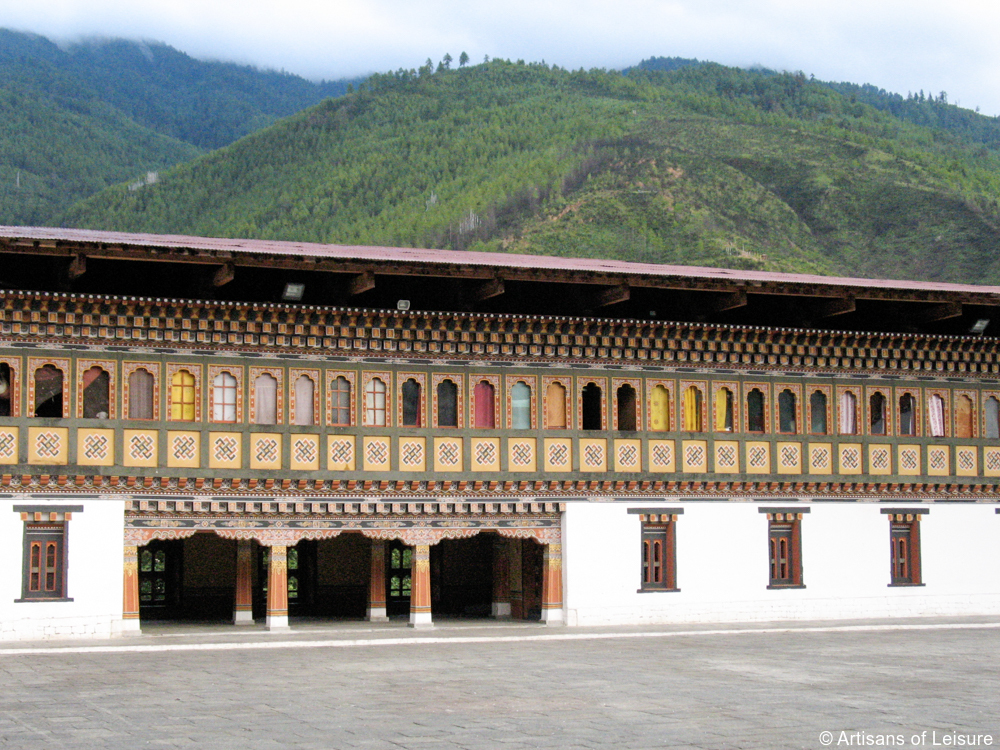 Even the doorways are elaborately painted with beautiful designs.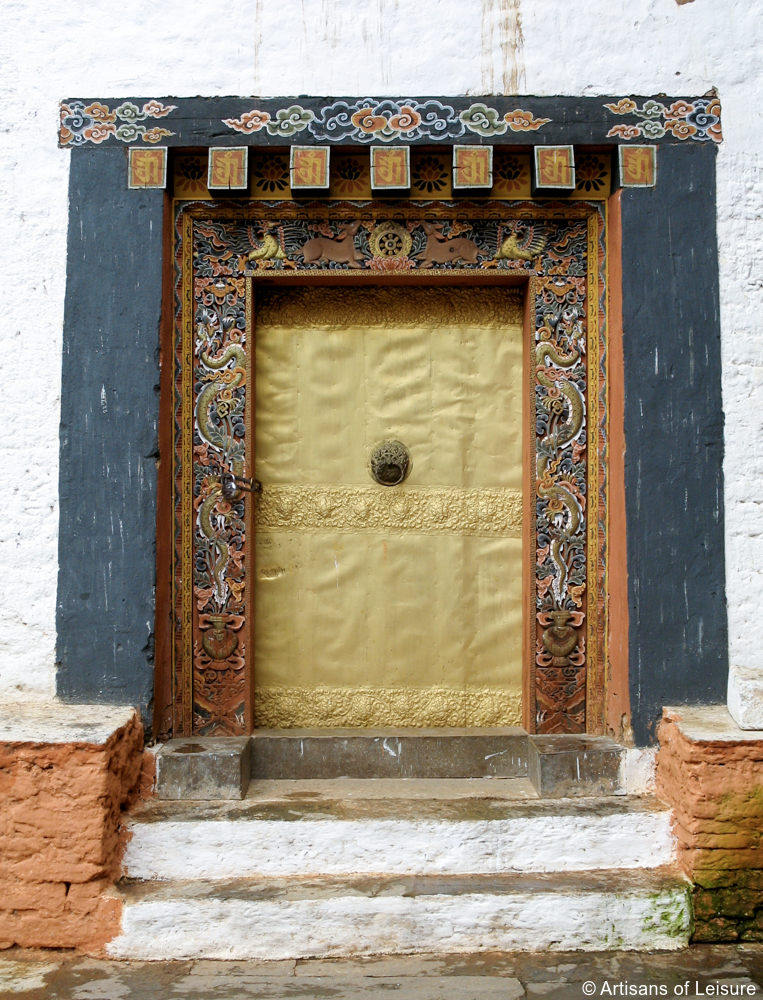 These Bhutanese women are walking around the temple and spinning prayer wheels to gain merits.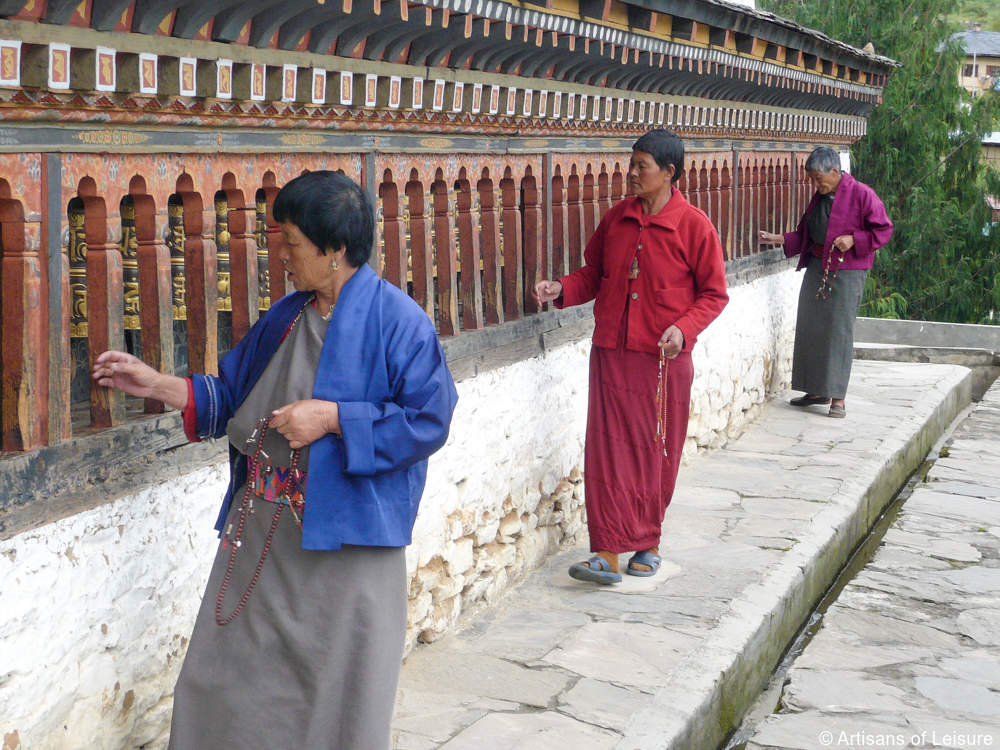 On the way to Punakha, we stopped to chat with a family selling corn along the roadside.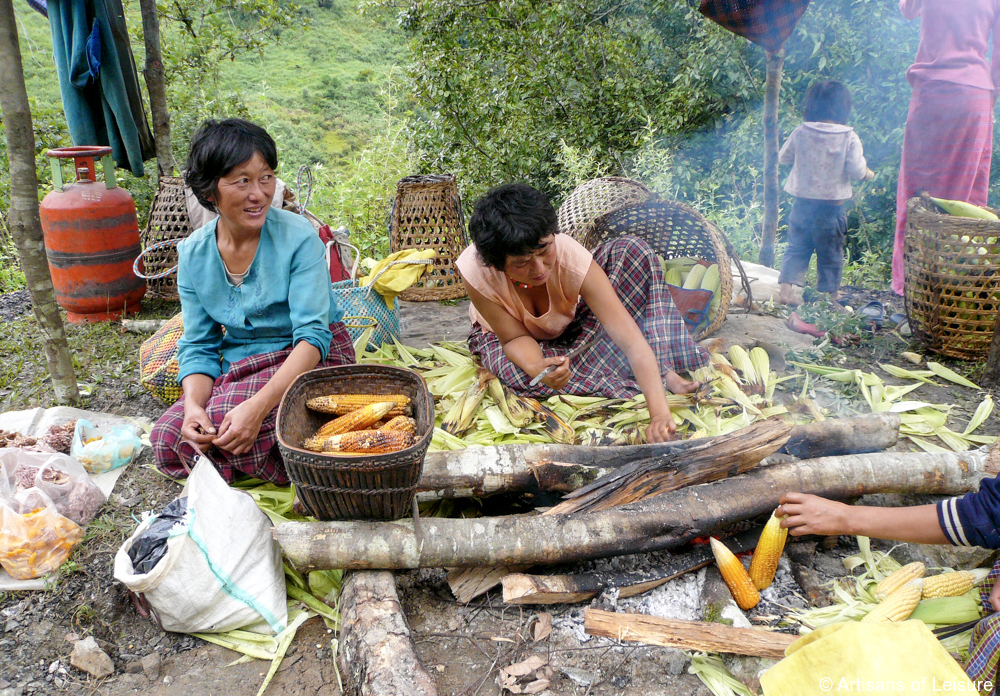 Our guide took us to the Saturday market in Punakha. People come from miles around to sell their produce such as peppers, potatoes, betel nut and fiddleheads.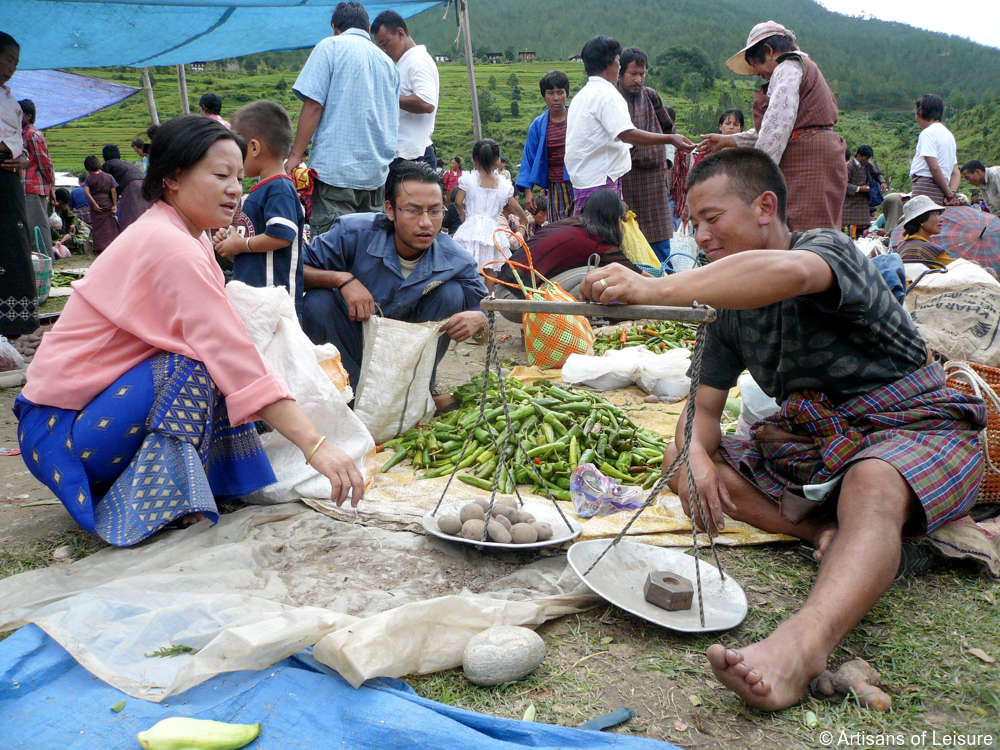 One afternoon, we visited Chimi Lhakhang Temple, a fertility temple dedicated to Drukpa Kunley, also known as the Divine Mad Monk.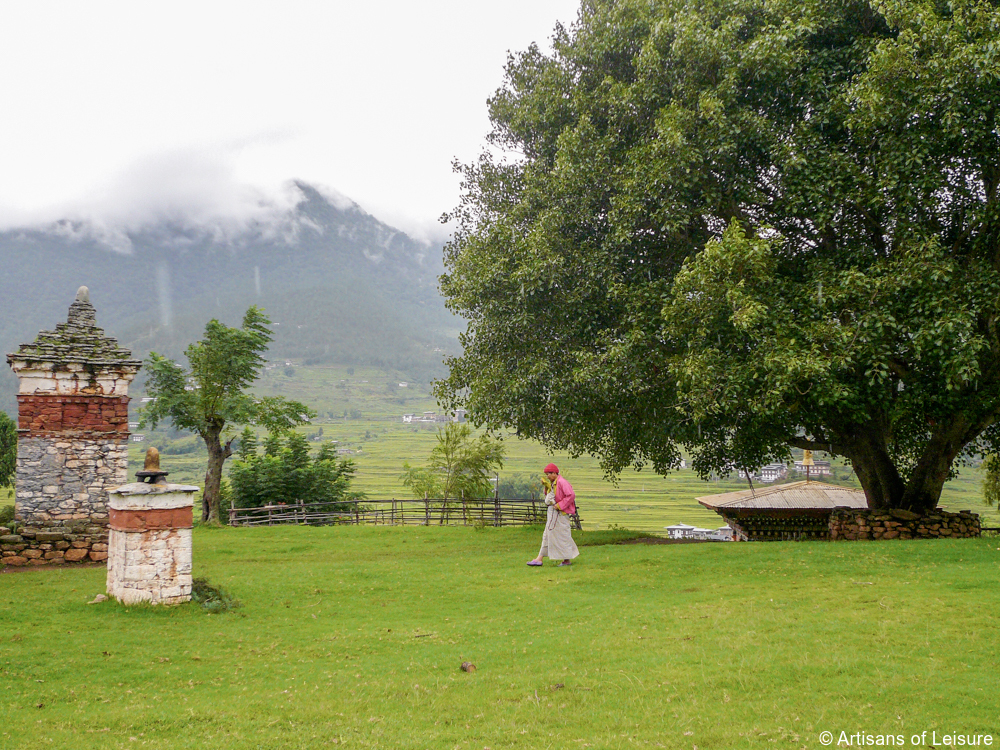 To get to the Amankora resort in Punakha, we crossed a suspension bridge over the Mo Chhu River.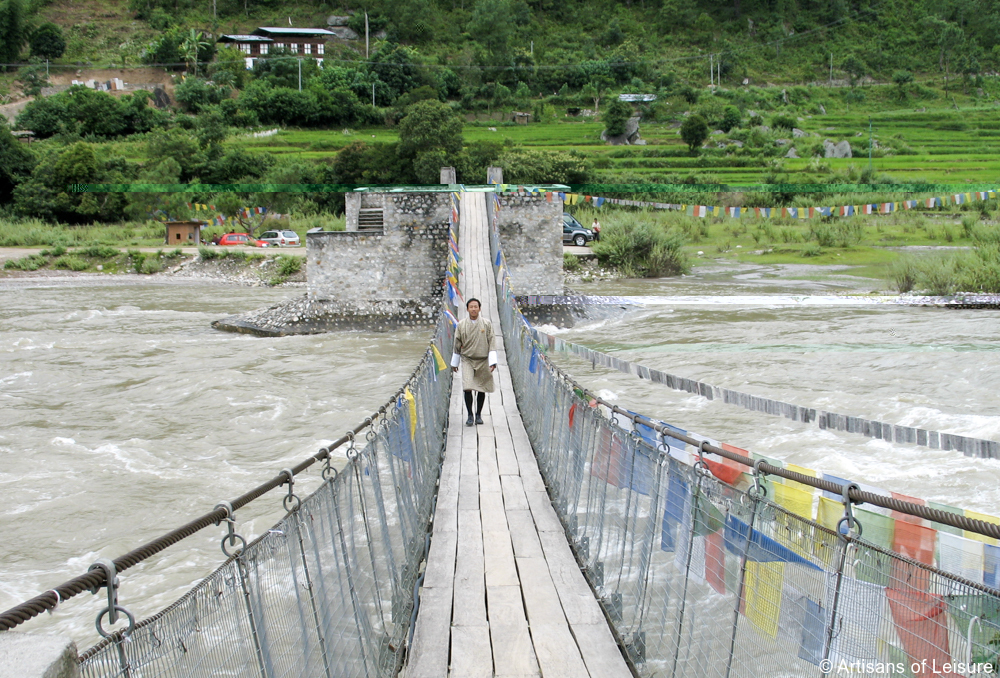 The spa at the Amankora has an outdoor Bhutanese hot stone bath that's ideal for relaxing at the end of the day.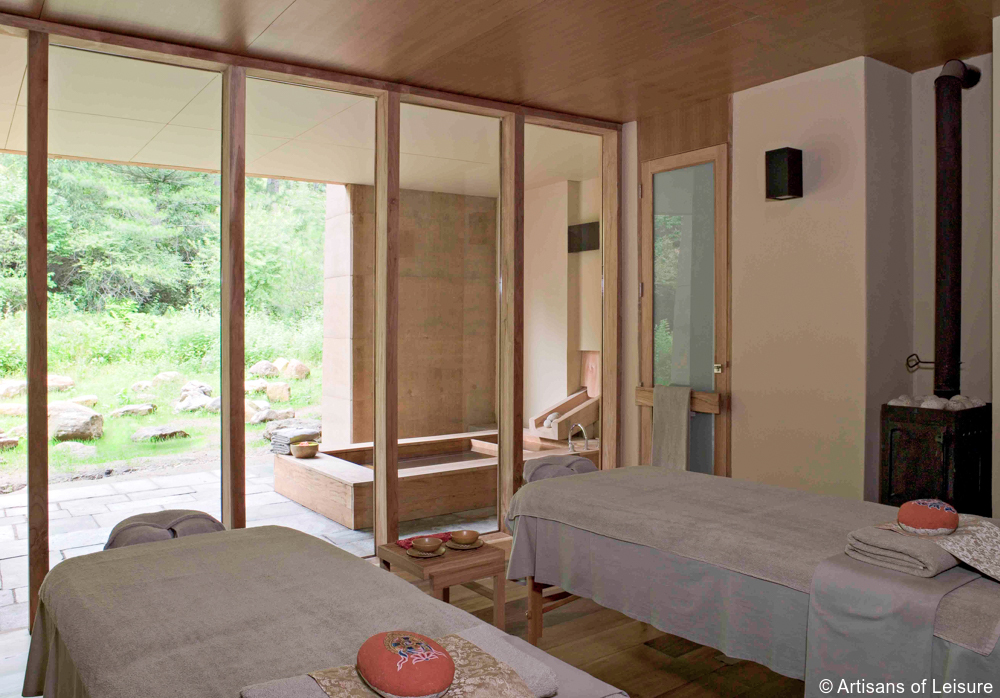 Archery is the national sport of Bhutan. Upon request, Artisans of Leisure can arrange attendance at archery competitions and private archery lessons.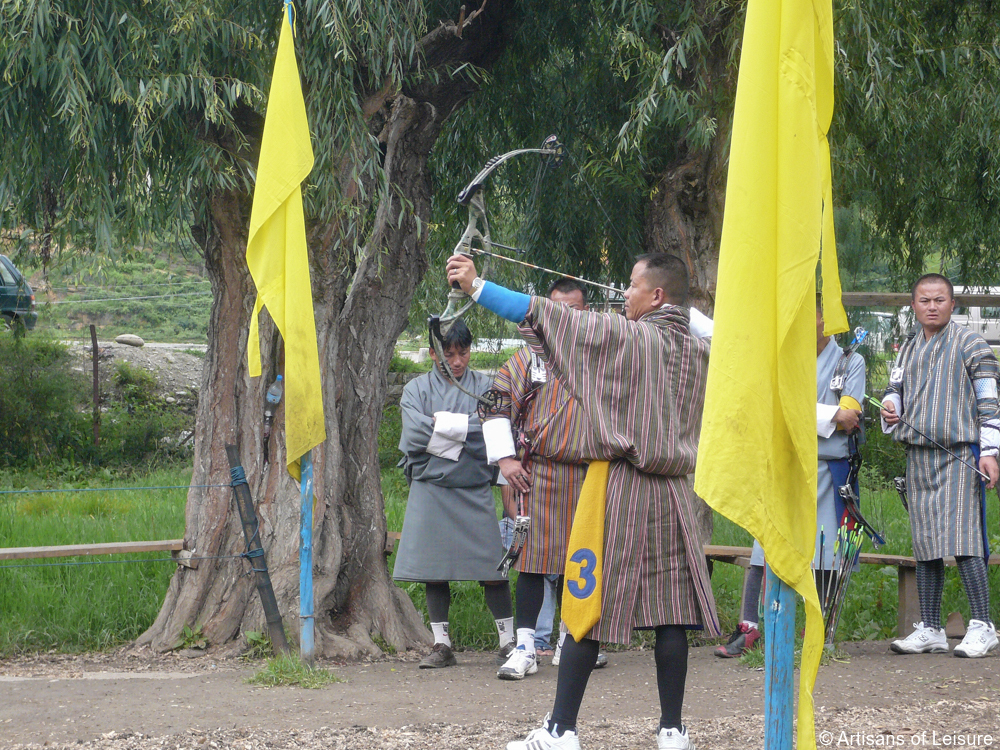 Artisans of Leisure arranges guided walks through rice paddies and villages.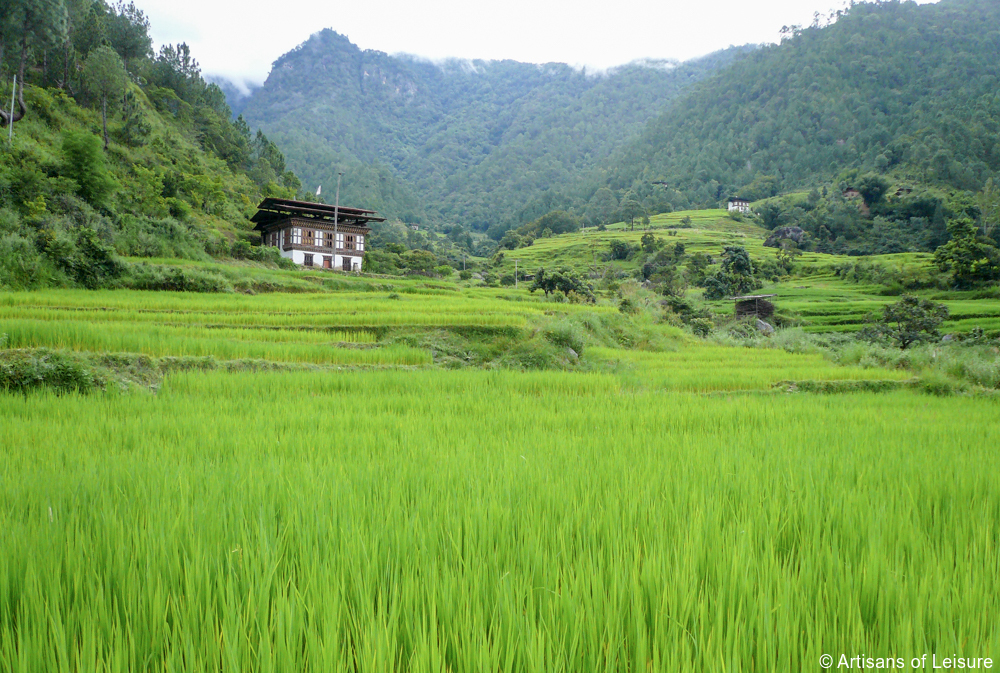 On a walk one morning, we met a young couple on their way to a baby-naming ceremony at a monastery.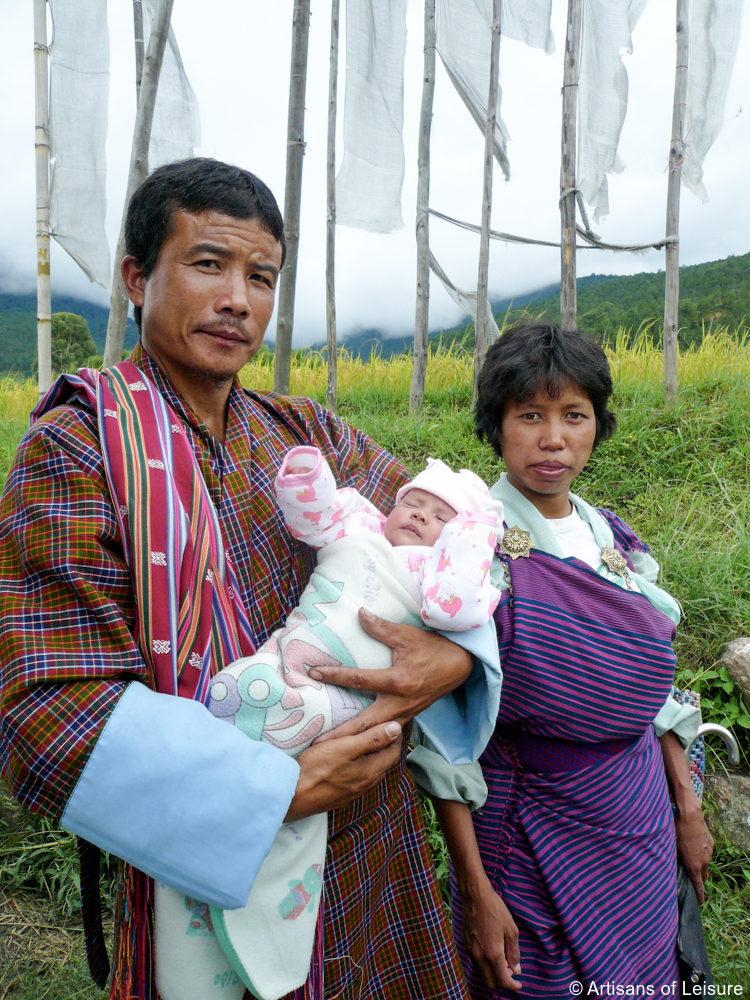 We could see the Himalayas peeking through the clouds on the flight home. It was a perfect trip!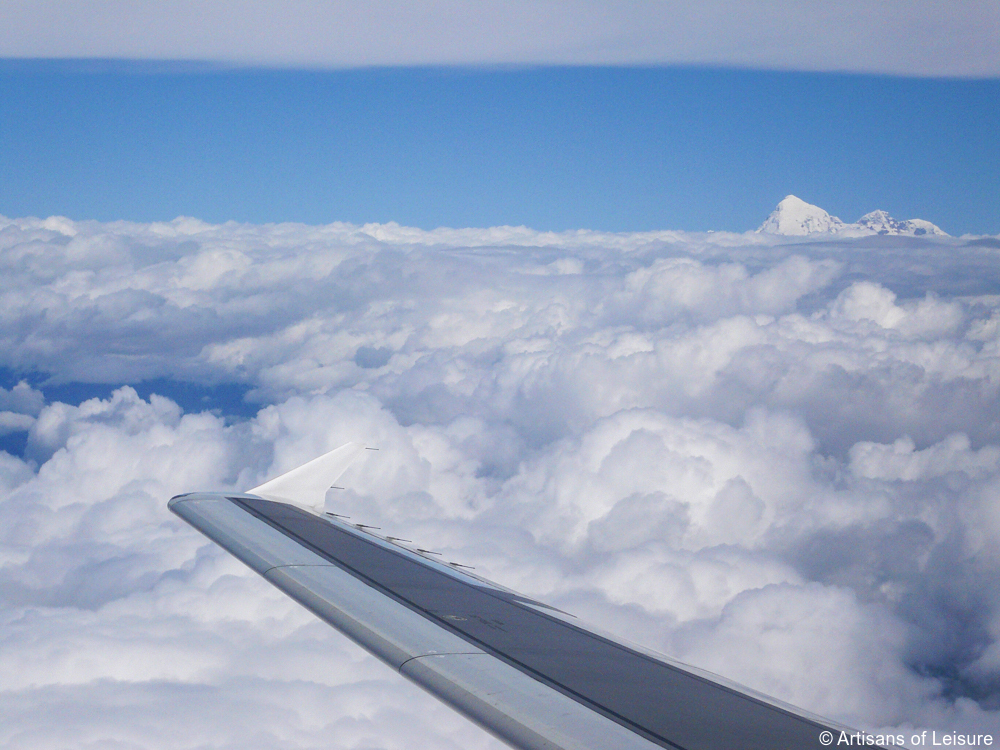 Contact Artisans of Leisure to begin planning a customized luxury tour of Bhutan.
Tags: Aman resorts, Amankora, archery, Asia, Asia tours, Bhutan, Bhutan tours, Bhutanese, Buddhism, Buddhist monasteries, crafts tours, dzongs, Himalayas, Paro, Paro Valley, prayer wheels, Punakha, Thimphu, Uma Paro