June 2, 2007
Just Back: India in Photos
We recently returned from an extraordinary private tour of India that included the best of Agra, the Taj Mahal, Varanasi, Delhi, Kerala, Mumbai and Udaipur.
We started in Agra, the home of the Taj Mahal. It's really true what they say—you have to see the Taj Mahal up close to appreciate how beautiful it is. The marble tomb is inlaid with precious and semi-precious stones arranged in intricate floral patterns. It is absolutely stunning, and seeing it at sunrise is magical. Visiting it with an expert local guide is a highlight of our private tours of India.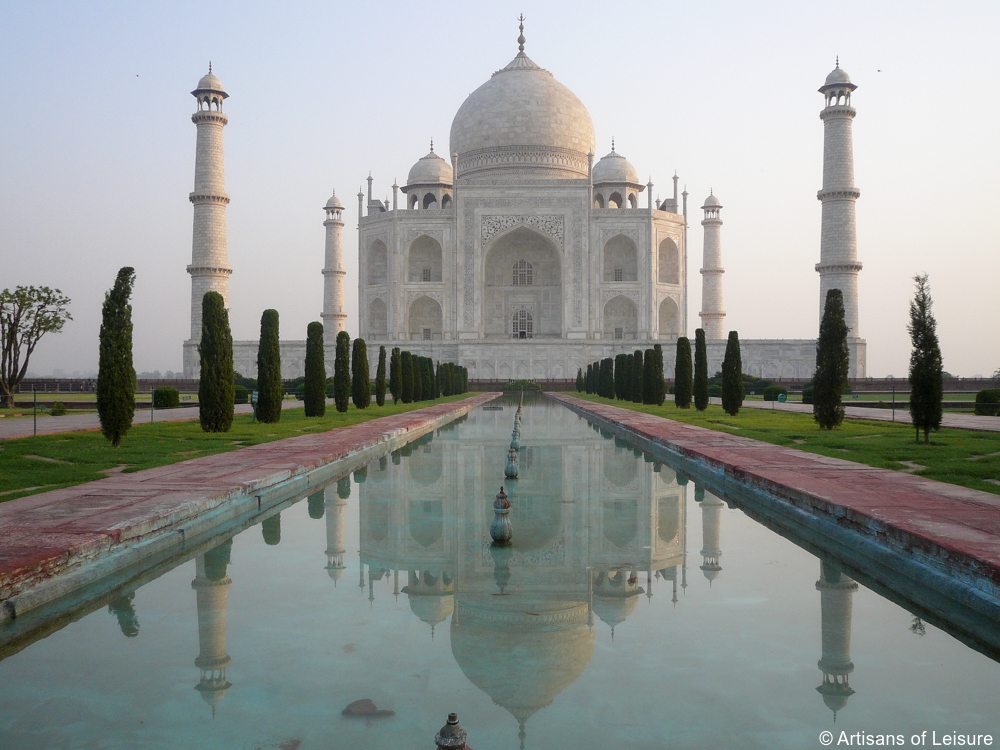 In Agra, we stayed at the incredible Oberoi Amarvilas. Our hotel room overlooked the pool, immaculate grounds and the Taj Mahal in the distance.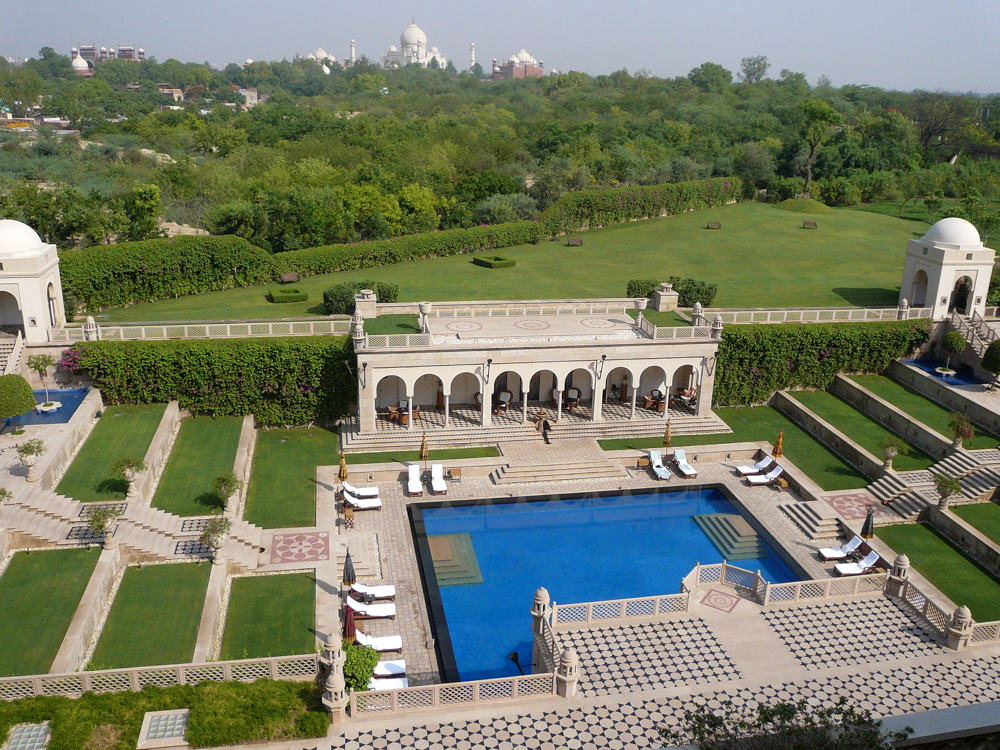 The city of Agra has long been known for marble inlay work. At a local studio, we watched an artisan etch a design into marble in preparation for the inlay.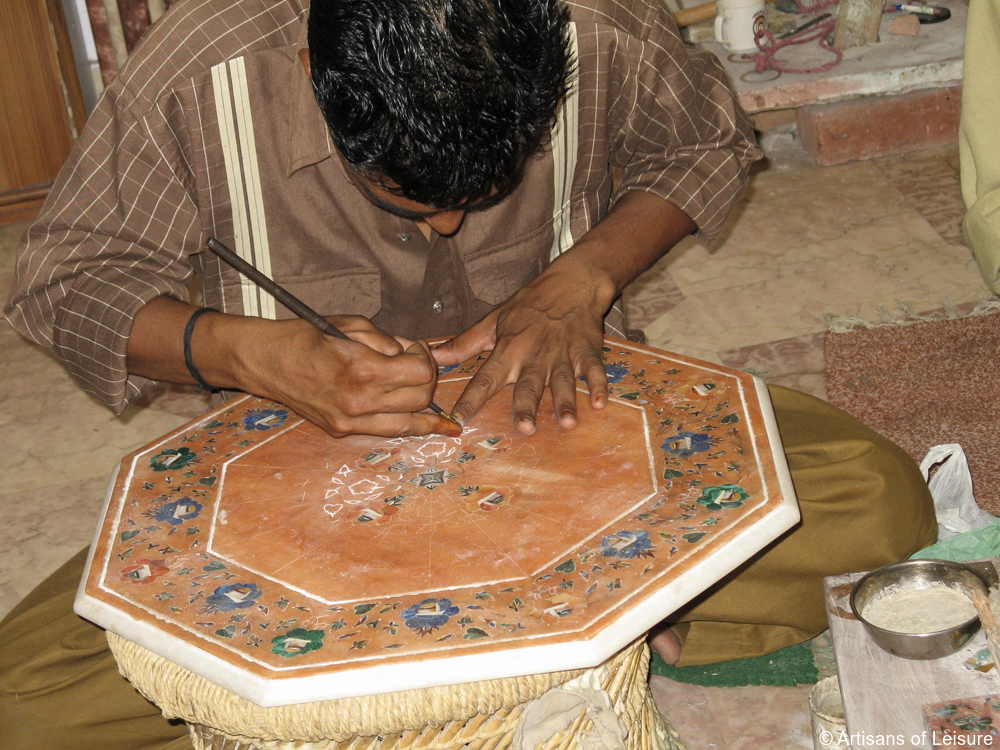 Our guide showed us semi-precious stones, perfectly carved and inlaid in white marble in intricate mosaic patterns.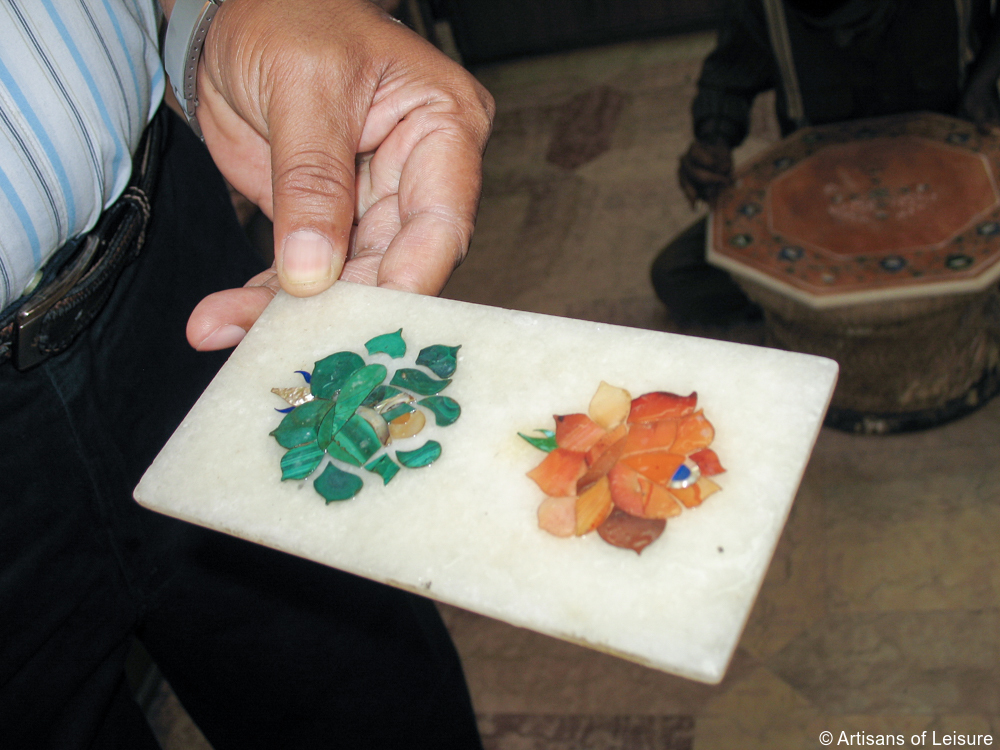 This beautiful marble table had a flower and bird design inlaid with mother of pearl, jade, lapis lazuli, coral, carnelian and agate.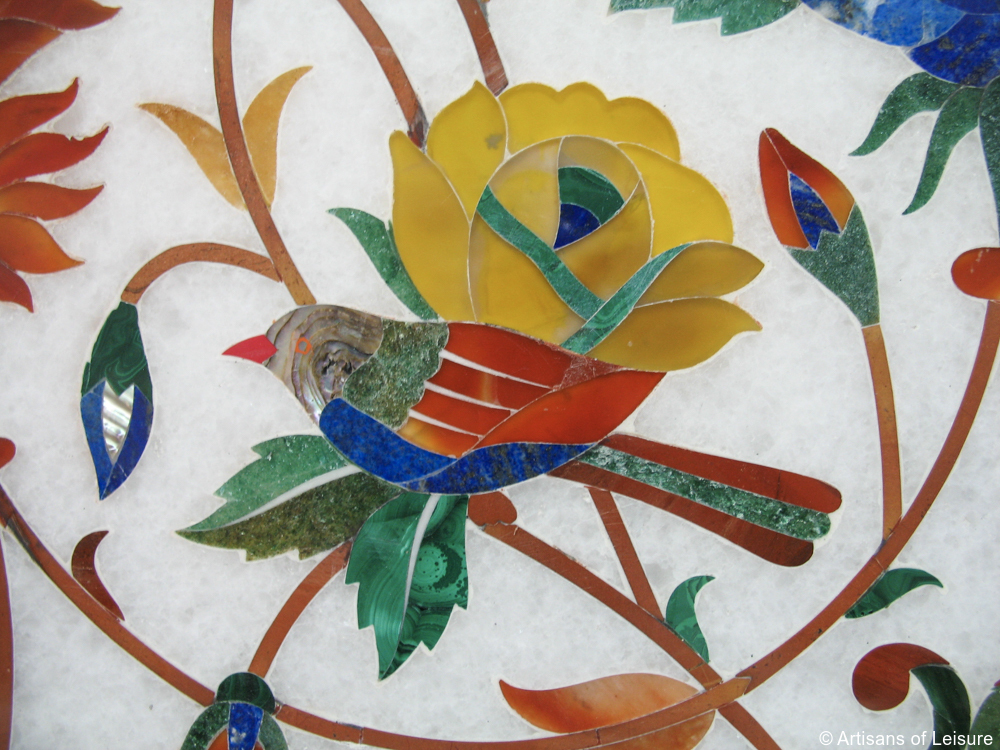 Next, we visited the holy city of Varanasi (also known as Benares). During an evening boat ride on the Ganges River, a boy prepared prayer candles for us to set afloat on the water.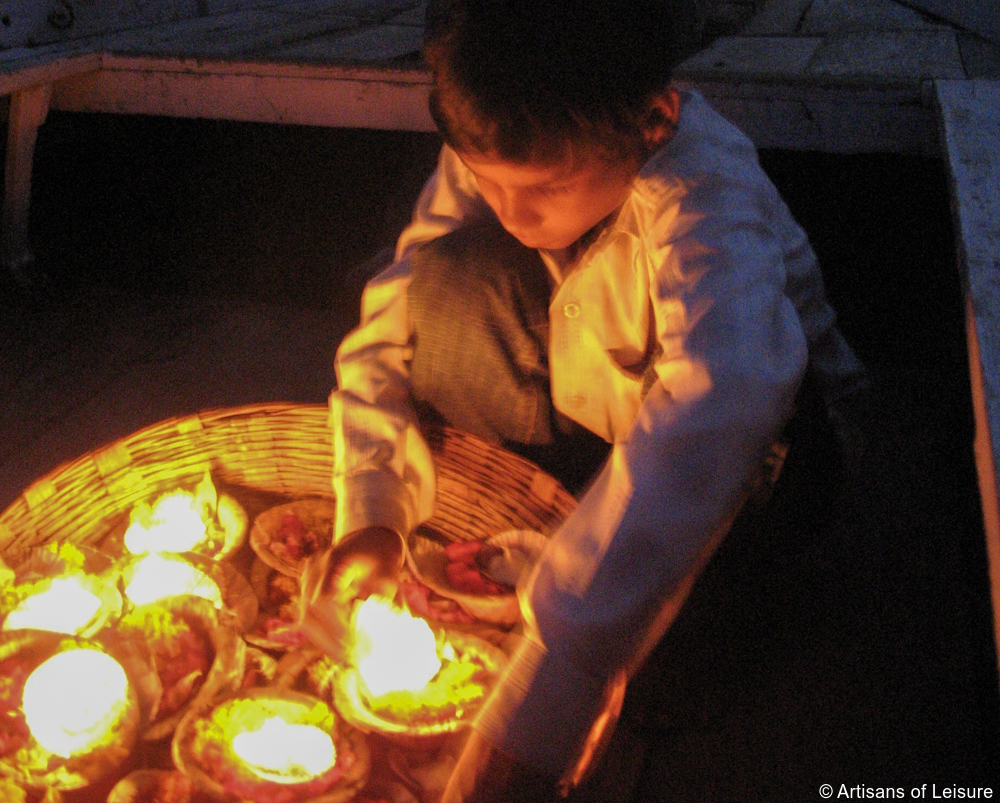 We also took a private boat ride on the Ganges at sunrise and watched as hundreds of pilgrims came to the ghats (riverfront steps) to pray to the rising sun and bathe in the holy river. It's a beautiful daily ritual.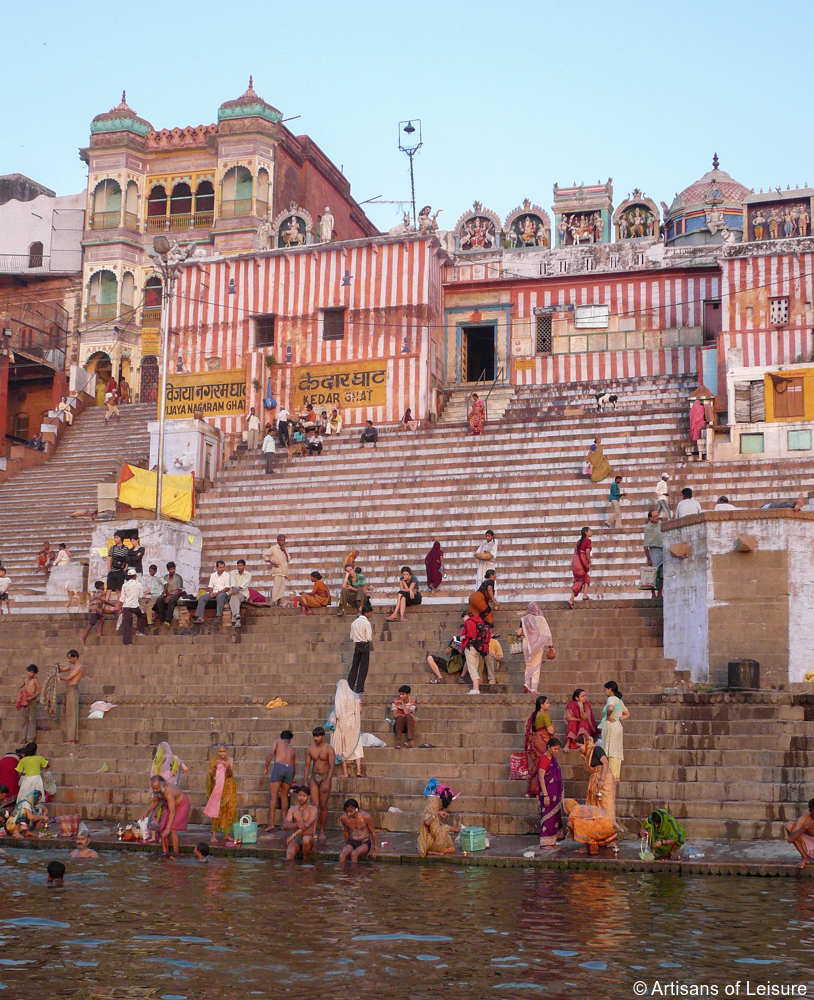 In the morning, the pilgrims washed their laundry in the Ganges and dried their brightly colored saris on the ghats.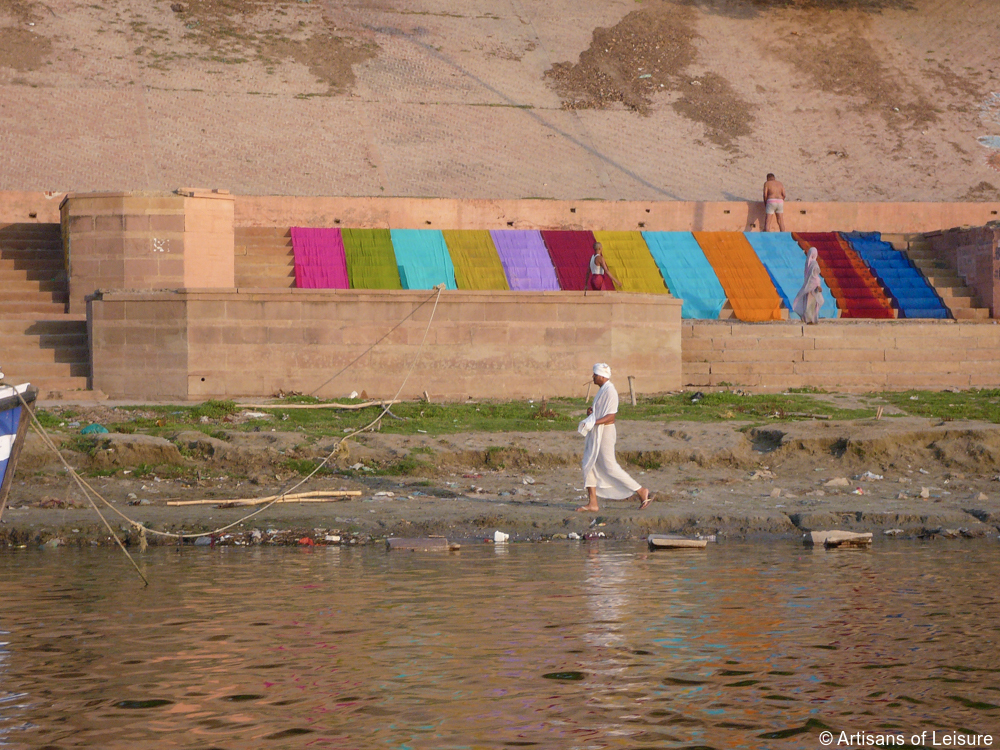 Varanasi is also famous for silk. We had the opportunity to meet the owner of a renowned silk workshop (which has been in his family since the 16th century) and see his master weavers in practice. The Smithsonian Institution in Washington D.C. has pieces created by the workshop in its collection.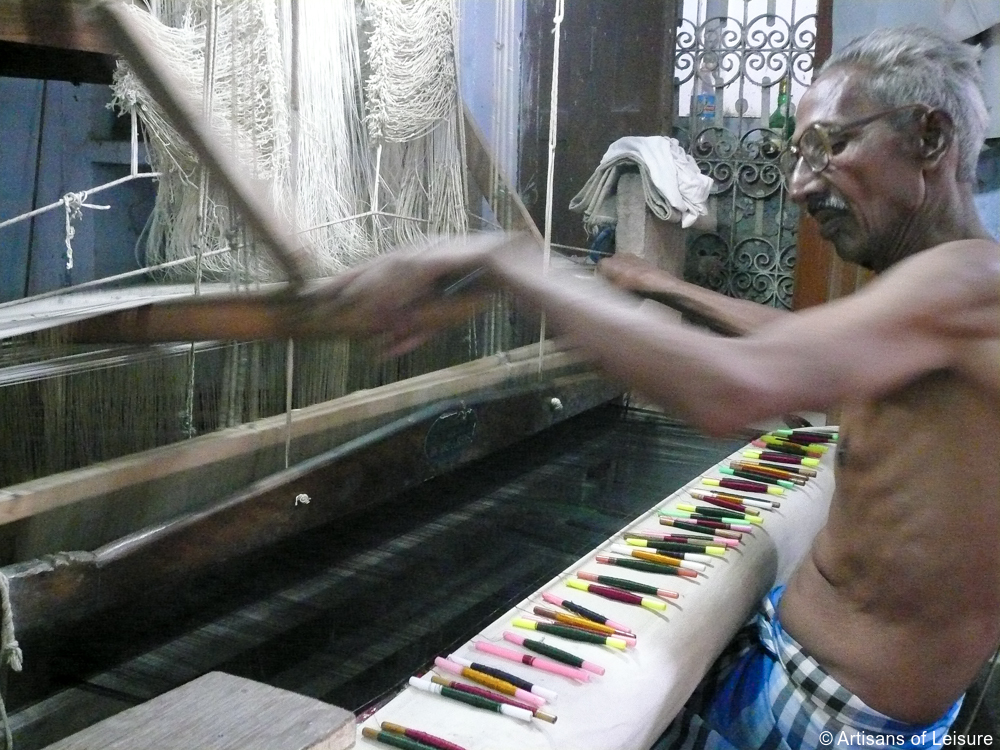 Next, we visited Delhi. The Qutb Minar complex in Delhi is a UNESCO World Heritage Site with a famous sandstone tower and two mosques built of parts recycled from Hindu temples.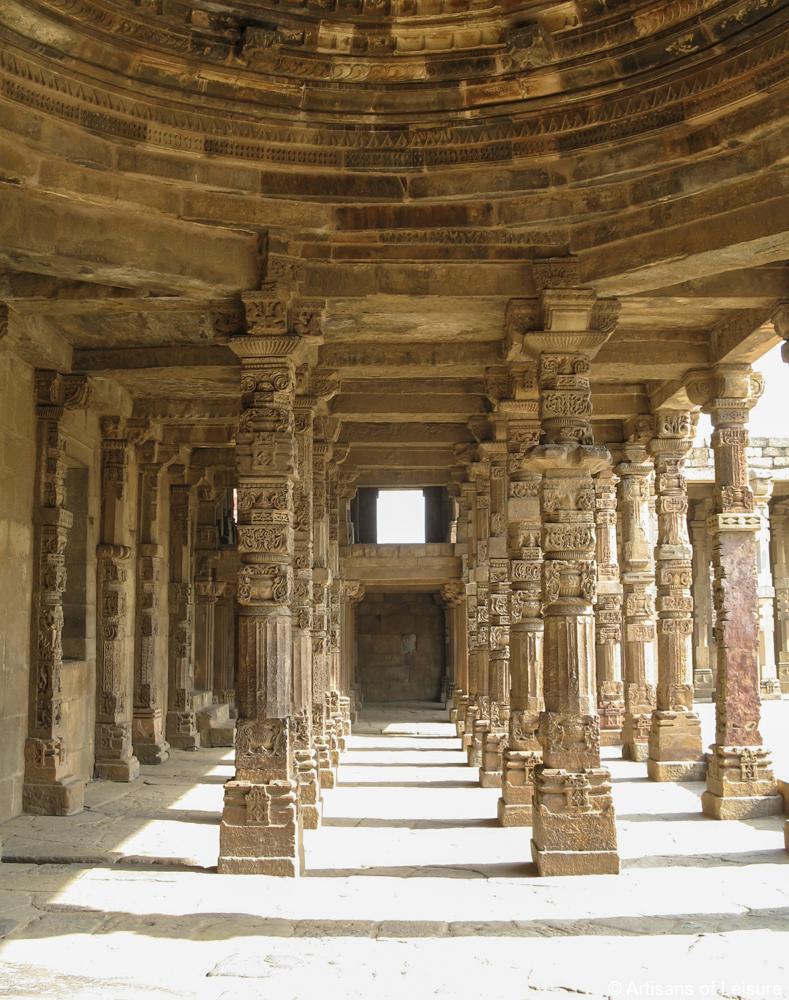 Our guide in Delhi was wonderful. He speaks five languages fluently and was a wealth of information. When he is not in Delhi, he leads treks into the Himalayas near the town where he was born.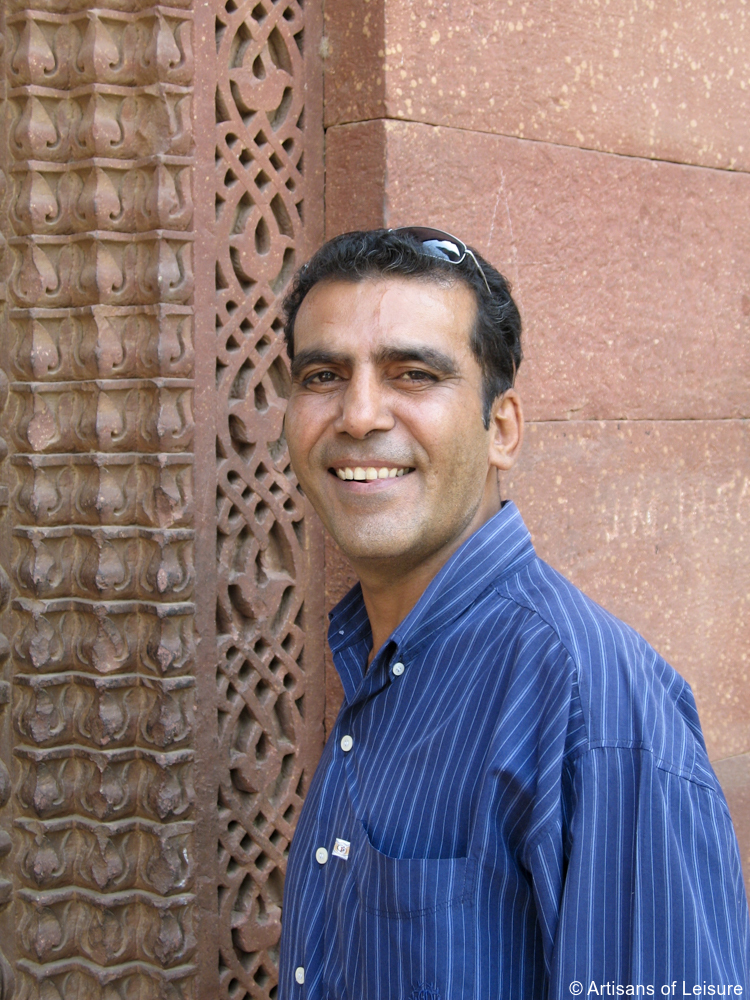 We had a great time at the dinner arranged for us at a local family's house in Delhi. They taught us some delicious recipes, including this dish of prawns in a mustard sauce.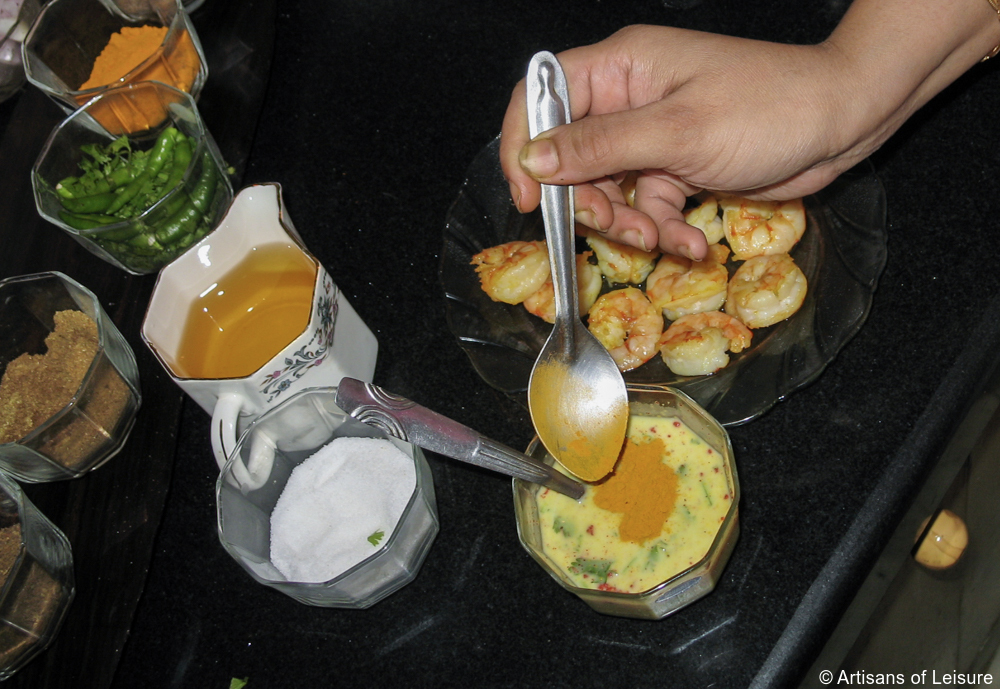 Everywhere you look in India, there are beautiful colors. Here, women are buying fabric at a street market.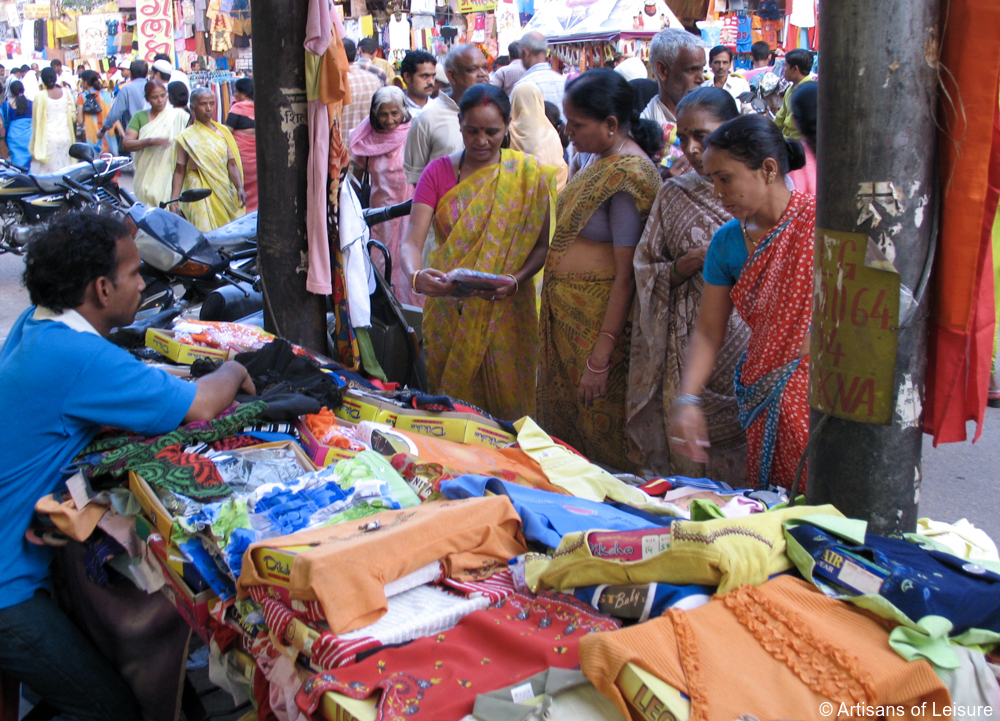 We then went to the state of Kerala in southern India to Kerala. The landscapes, food and culture were quite different.
As we cruised on the rural waterways known as the Backwaters of Kerala, we caught glimpses of the locals going about their daily lives. These men were returning home after a long day of farming cockle shells.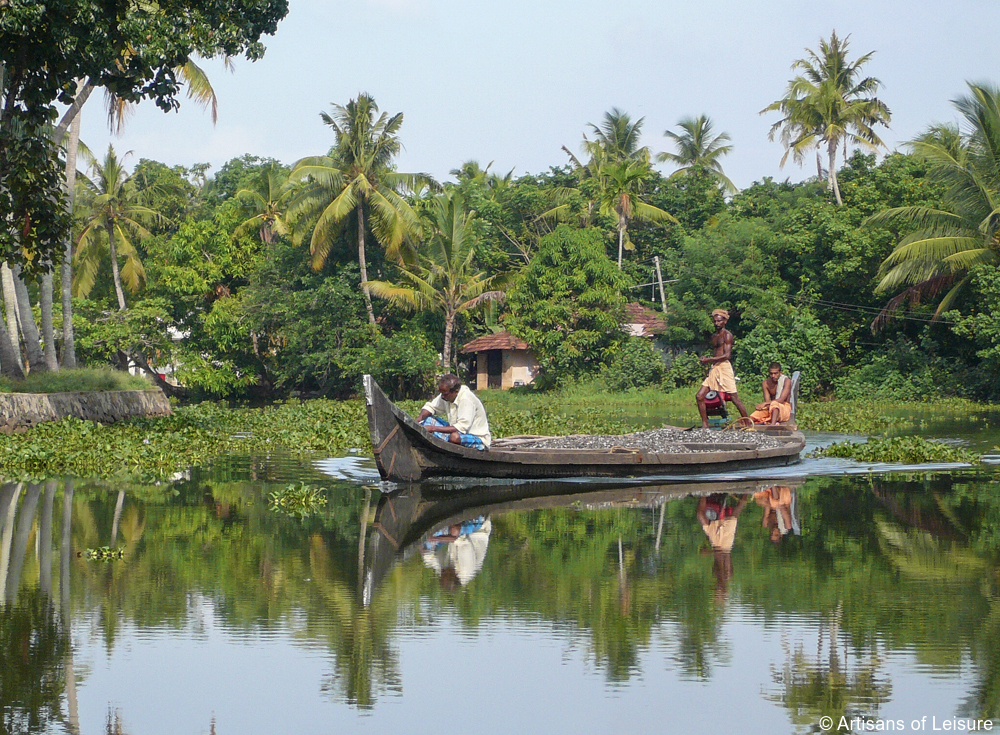 I'll never forget the amazing massages and beautiful spas at each hotel in India. In Kerala, I tried an Ayurvedic treatment, which was wonderful.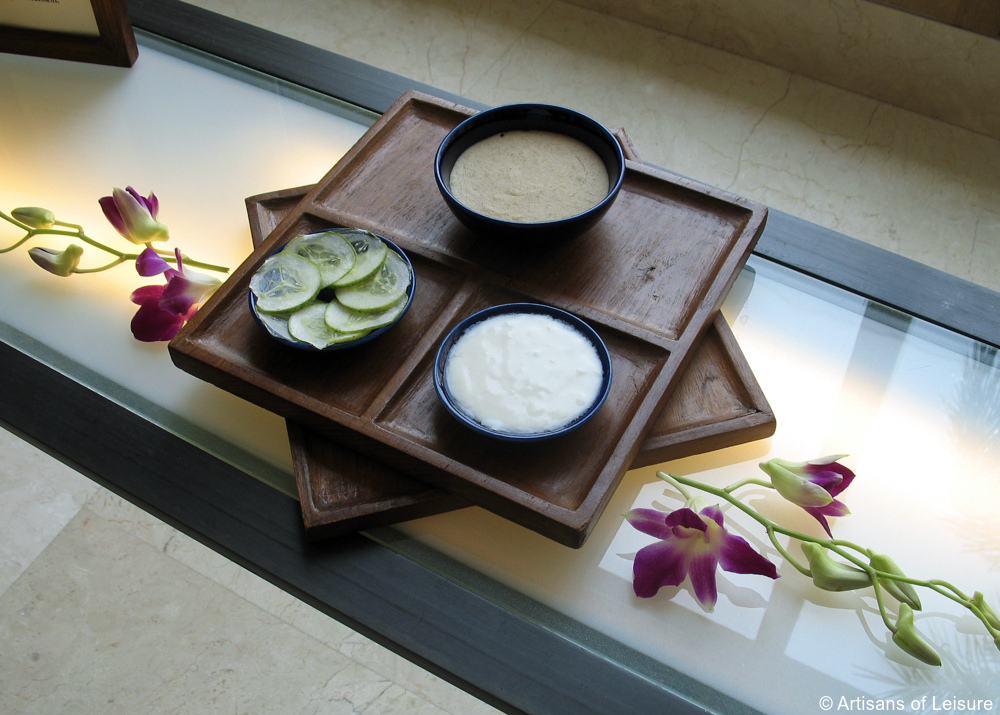 We took a great cooking class in southern India. Our instructor taught us some wonderful dishes. In this photo, she's adding fresh curry leaves to a green mango curry.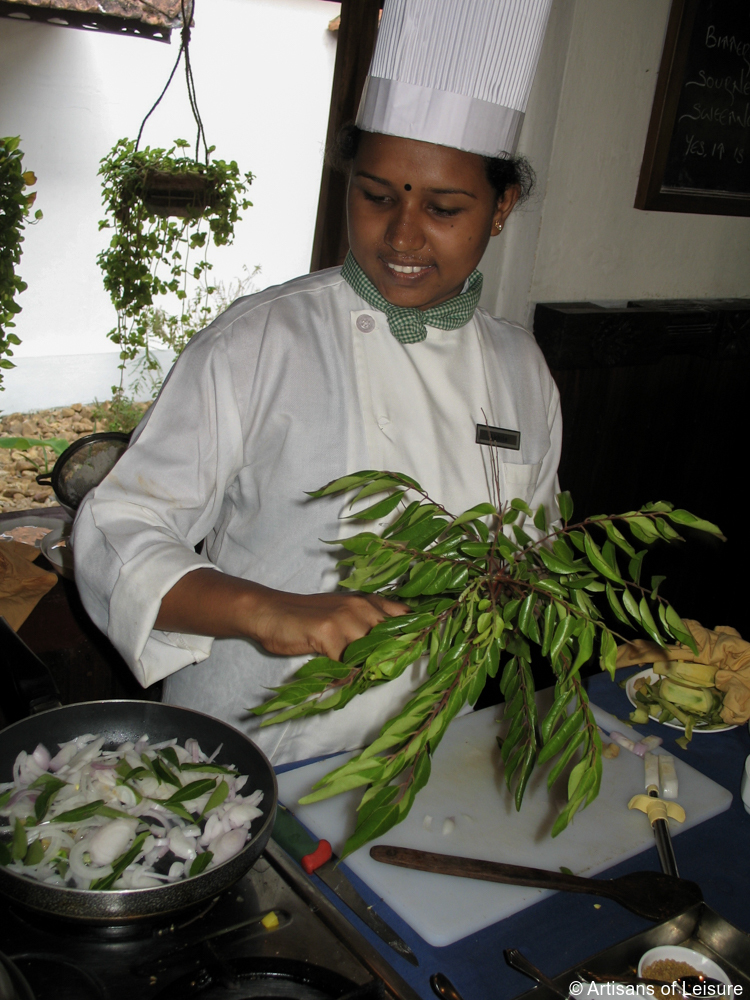 I was always amazed to see how the women could balance so many jugs of water on their heads!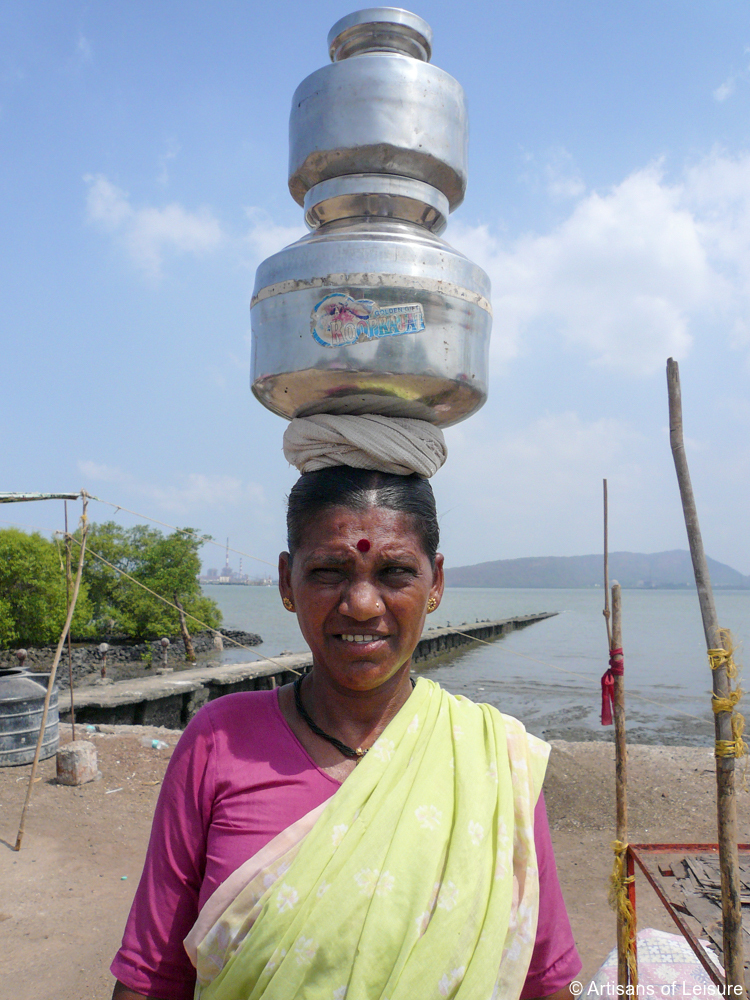 Our next stop was Mumbai (also known as Bombay). We were so grateful that we had the opportunity to slow down and explore in each location. It was amazing to see the Dhobi Ghat, a huge outdoor public laundry in Mumbai. The dhobis are the people who wash everything by hand, soaking each piece of clothing in soapy water and then flogging it on a stone. They line dry and then iron each piece before returning the load to the customer.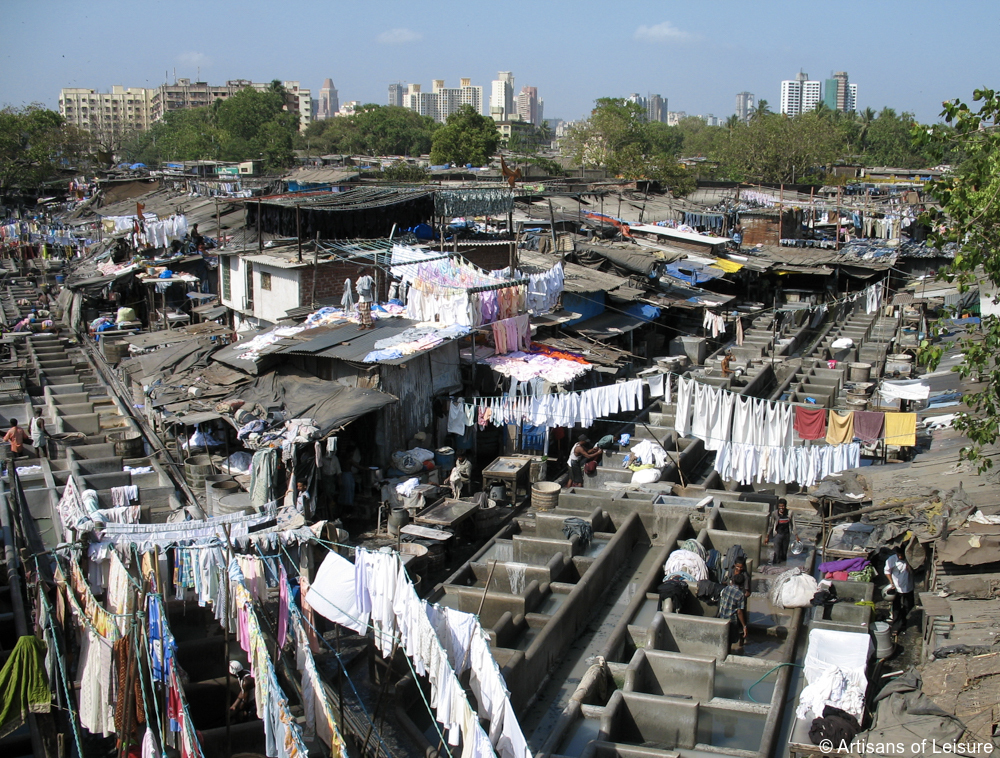 Our guide in Mumbai was a real foodie and took us to a great restaurant for a lunch of vegetarian "fast food."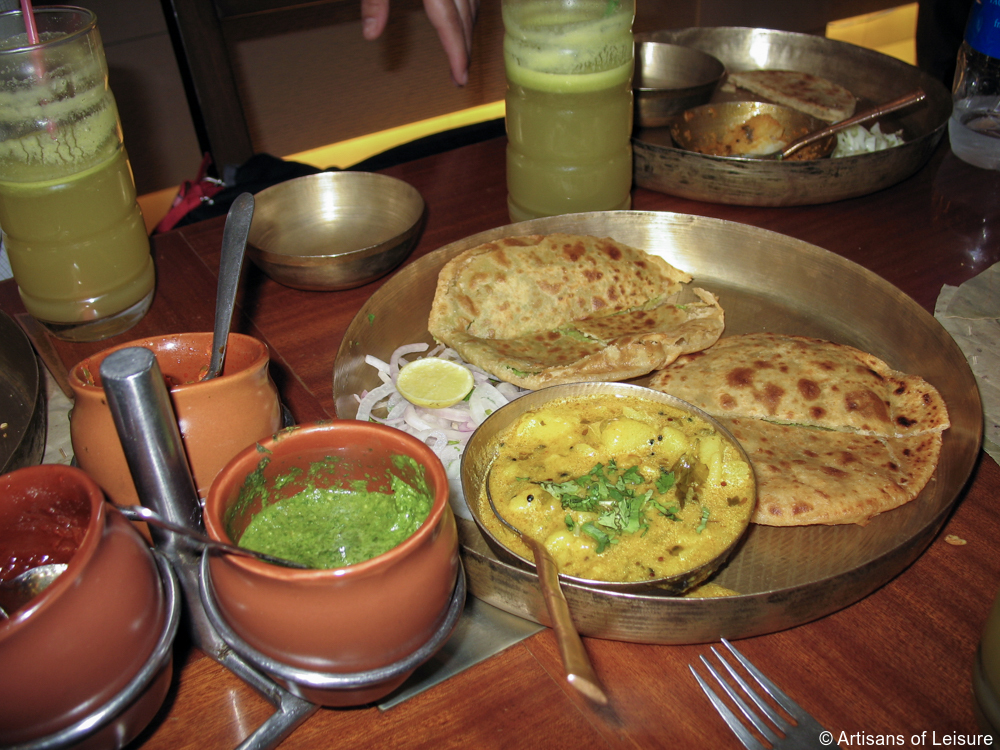 One day, we took an excursion to Elephanta Island, just off the coast of Mumbai. The walls of the caves on the island are covered with beautiful seventh-century carvings dedicated to the Hindu god Shiva.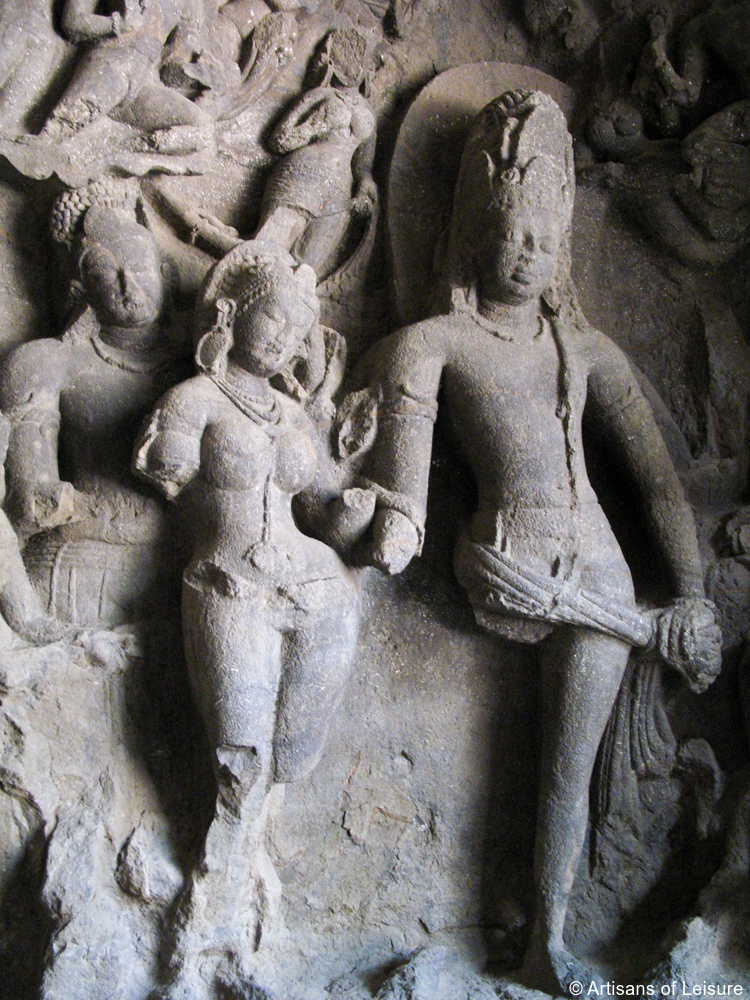 We ended our tour in Rajasthan, a region with an incredible wealth of interesting sites: hill forts, lakeside palaces, crafts studios, villages and more. We mainly visited the cities of Jaipur and Udaipur, plus a few other destinations in between.
Amber Fort outside Jaipur is perched on top of a rugged mountain. The exterior and interior are painted in great detail.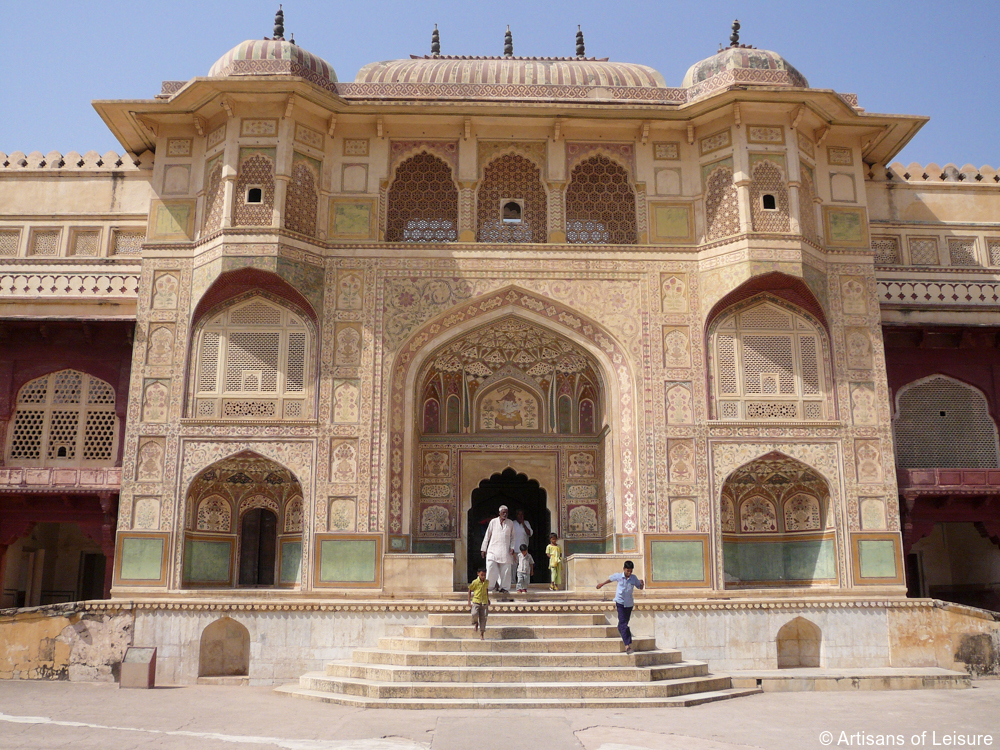 This woman is spinning wool for the production of carpets, a specialty of Rajasthan.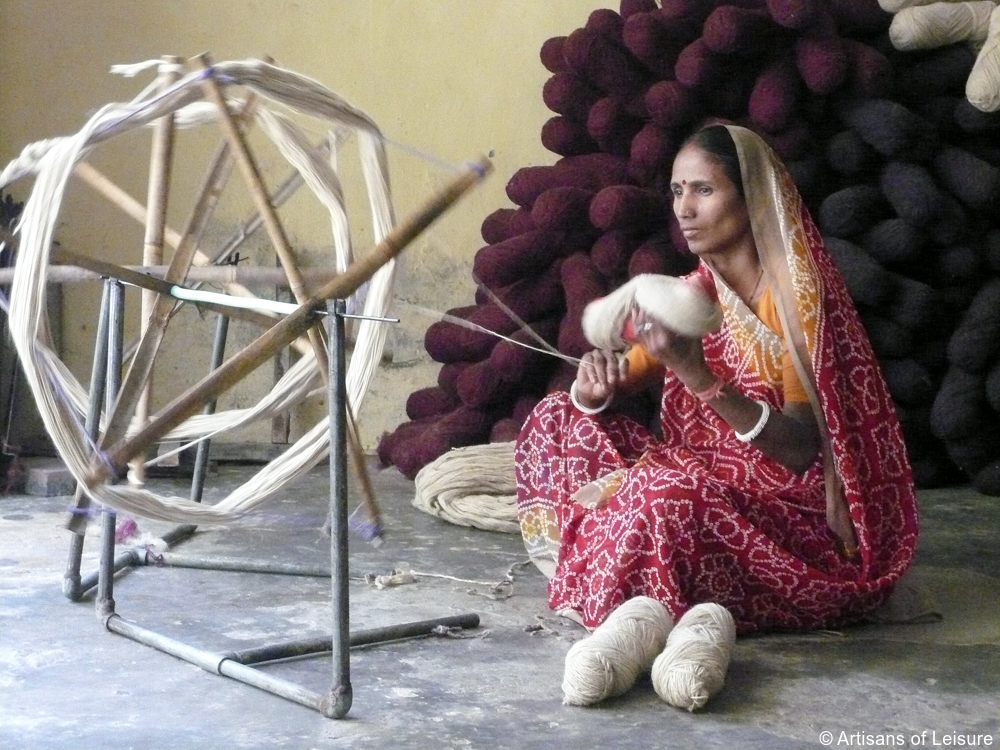 The brilliant colors of a woman's sari really pop against a sandstone wall in the Rajasthani desert.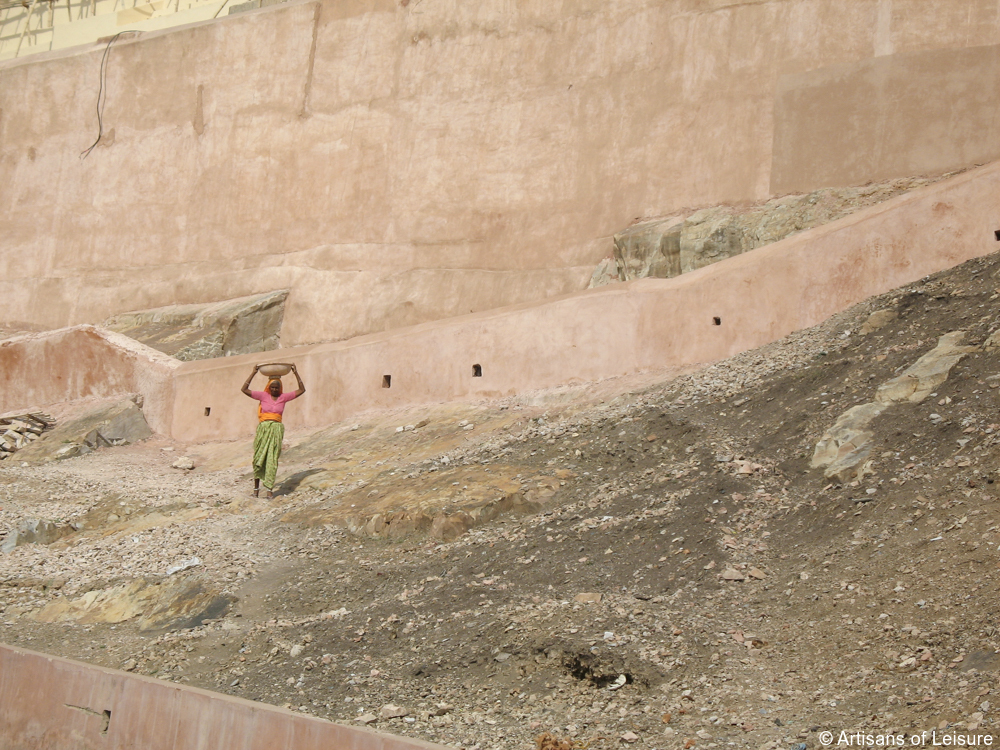 We spent some time at the Oberoi Vanyavilas resort in the Rajasthani countryside. It's a popular place for wildlife safaris in nearby Ranthambore National Park in search of Bengal tigers and other animals and birds.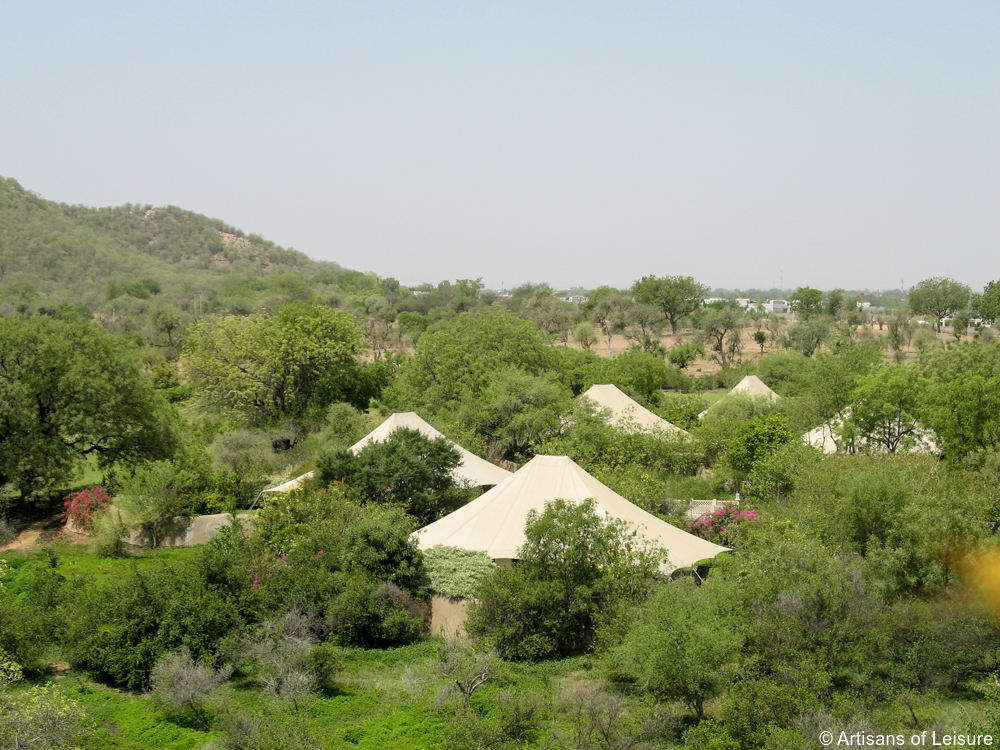 The tented suites had upscale yet nostalgic decor.
A highlight of our time in Rajasthan was meeting the Maharana of Udaipur! Generations of maharanas (kings) built beautiful palaces right in the middle of Lake Pichola. This photo depicts Jagmandir Palace, which predates and purportedly inspired the Taj Mahal. Inside the palace is a hotel with a bar where we enjoyed sipping cocktails and watching the sun set behind the mountains.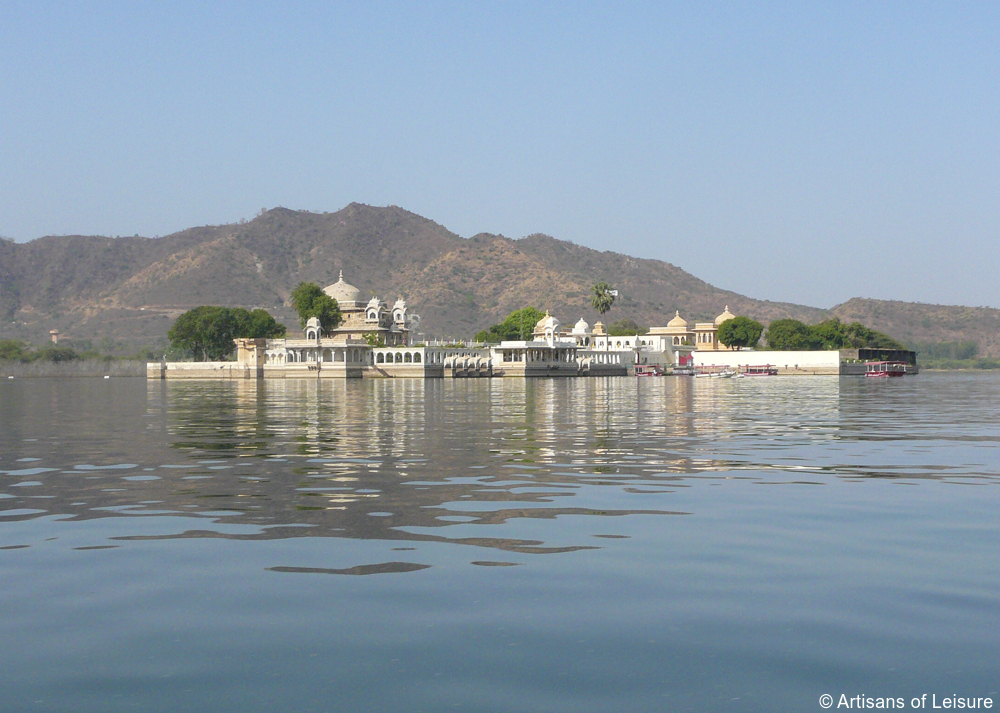 One of the many places we visited in during private touring in Udaipur was the City Palace.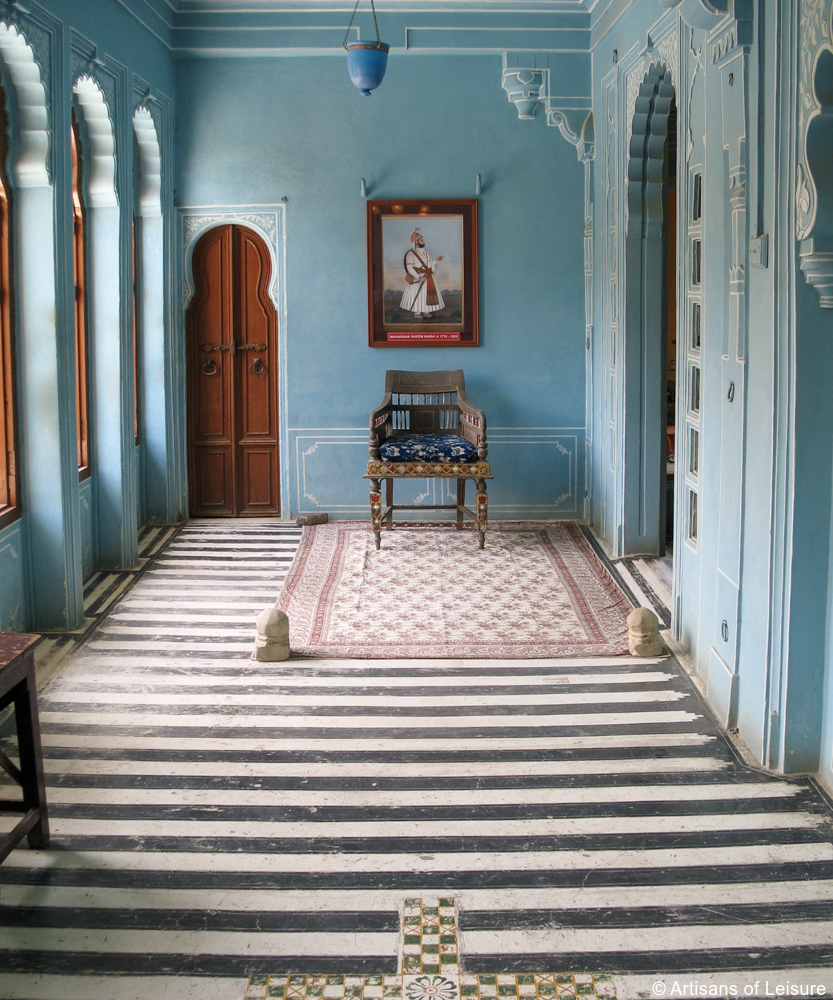 We stayed at the luxurious Oberoi Udaivilas in a room with views of Lake Pichola and the City Palace. The pool was just steps from our back door.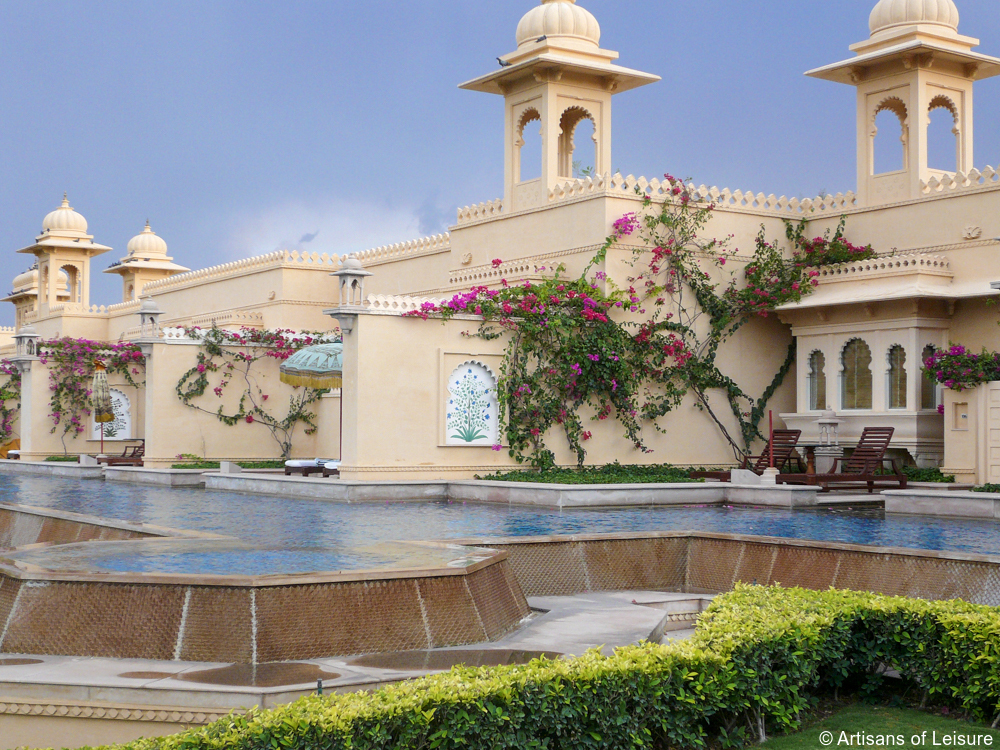 We loved our room, so tastefully decorated with Indian textiles and furniture. It was a nice place to end the day after touring around the city and lake. Our guide later brought me to the textile shop that supplies the hotel with their fabrics, and I was in absolute heaven!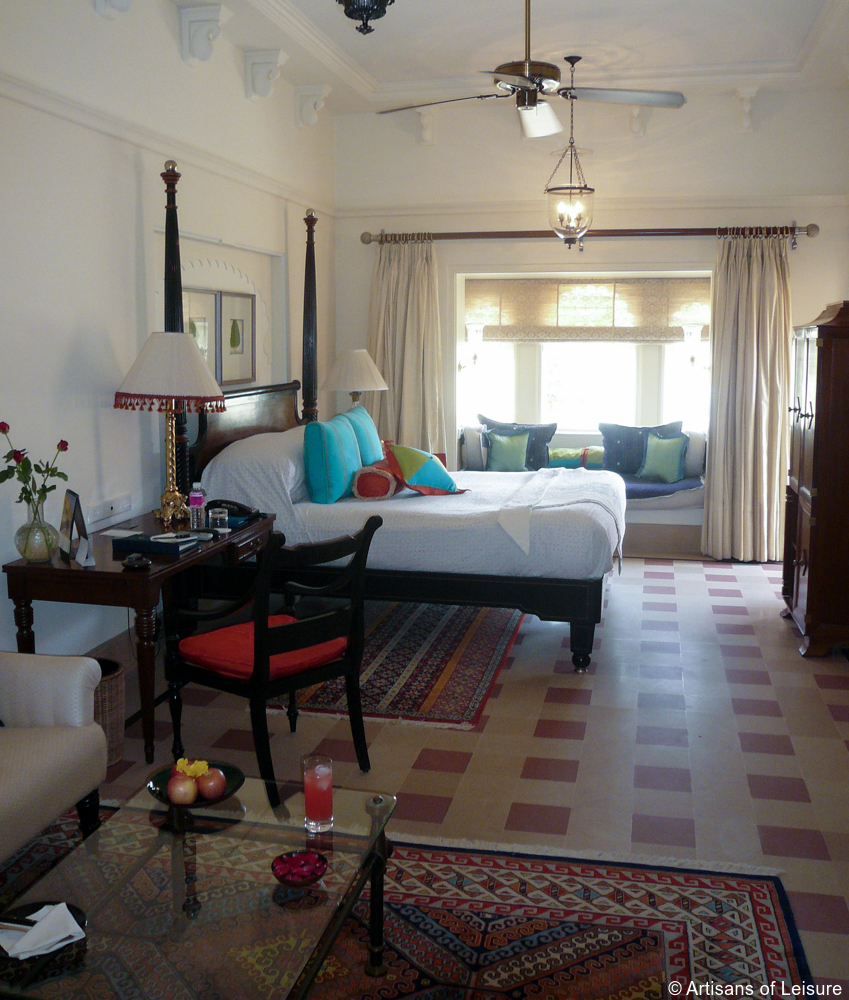 The hotel was even gorgeous at night.
We also visited a few villages in Rajasthan and stopped by the home of a local family for a cup of masala chai.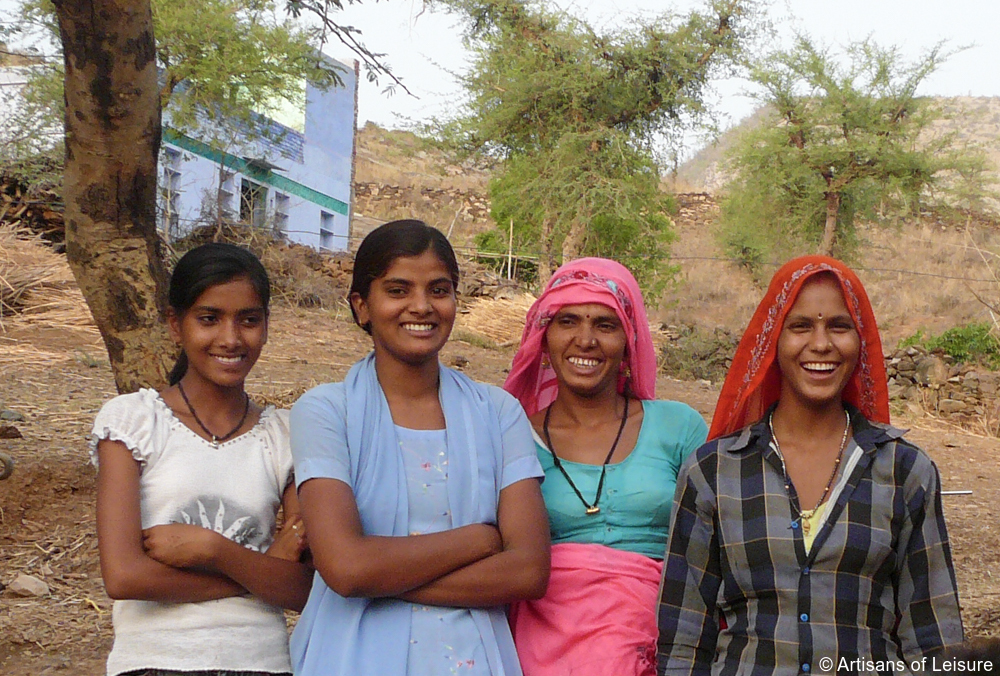 One of the sons in the family was a real character and loved being the center of attention. He had fun teaching us the names of all of his cows and goats.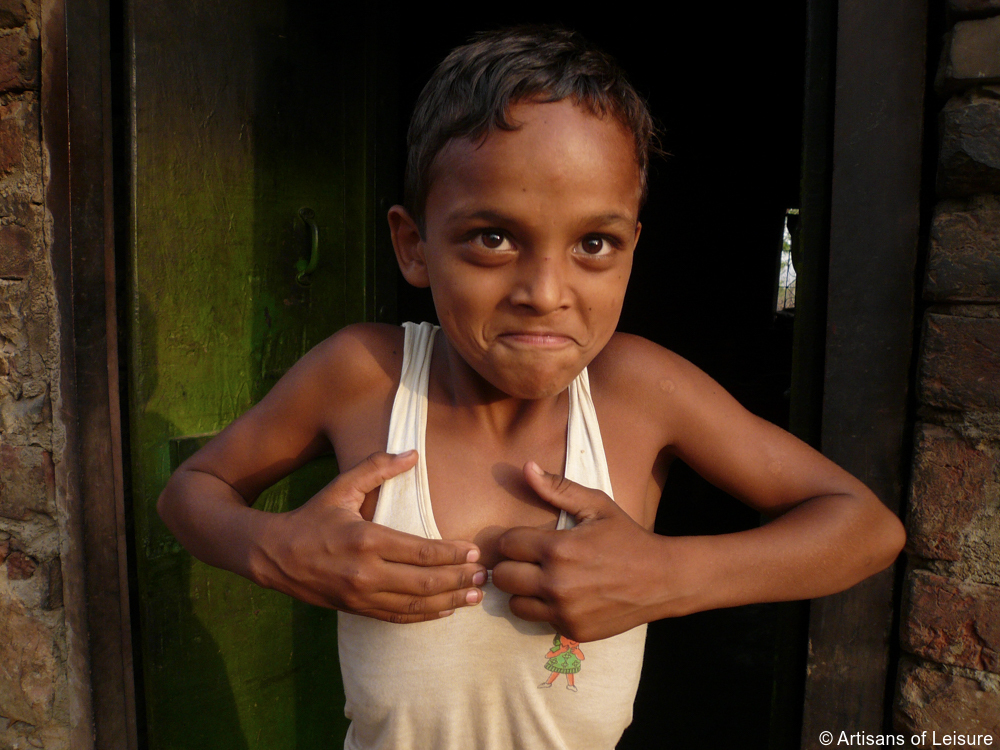 We loved meeting the local people and seeing how they lived.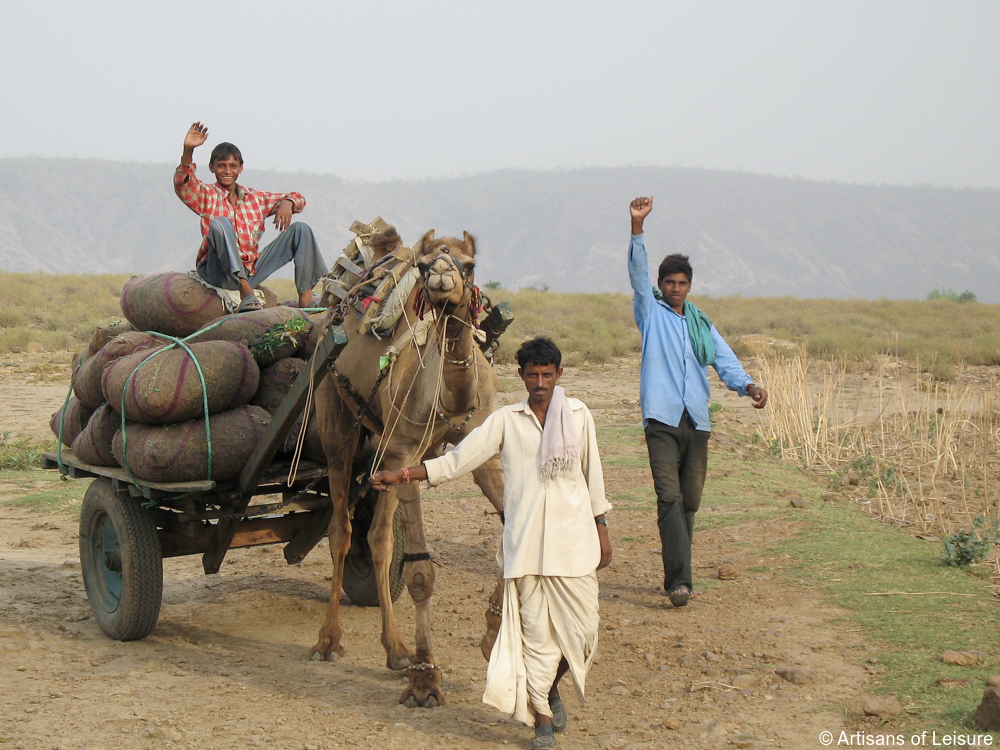 The children in the village would wave as we went by, and their huge smiles completely melted our hearts.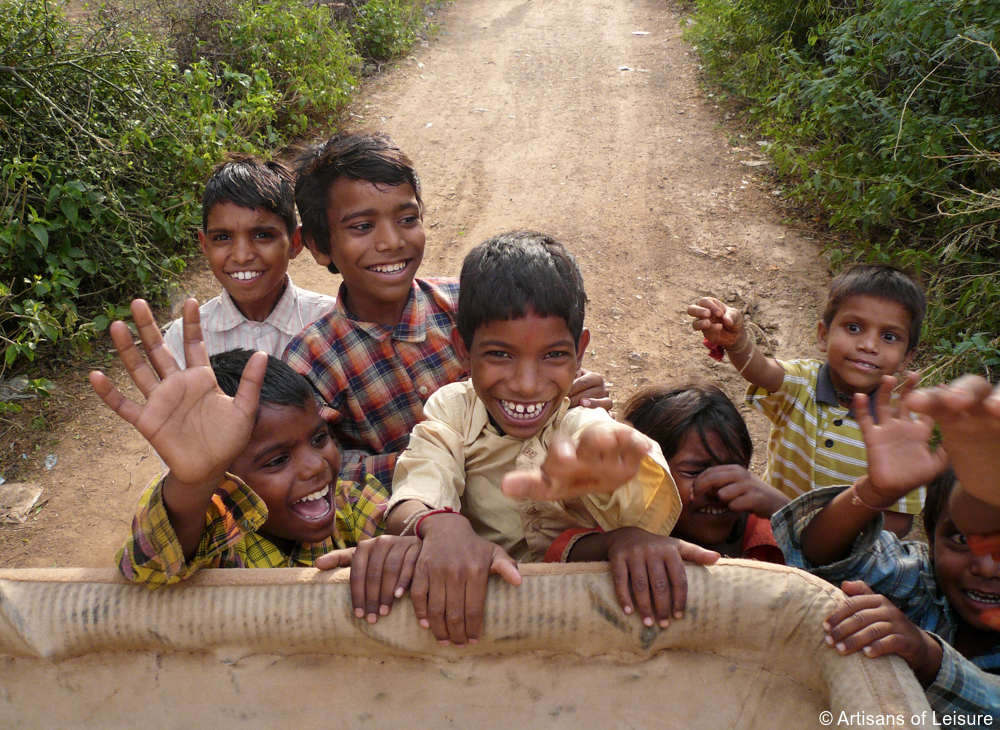 Contact Artisans of Leisure to begin planning a luxurious private tour of India.
Tags: Agra, Amber Fort, cooking class, crafts, Delhi, Ganges River, India, India tours, Kerala, local markets, luxury India tours, marble inlay, Mumbai, Oberoi Amarvilas, Oberoi Udaivilas, Oberoi Vanyavilas, Qutb Minar, Rajasthan, shopping, silk, spiritual, Taj Mahal, textiles, Udaipur, Udaipur City Palace, Varanasi