November 9, 2012
Beyond Angkor Wat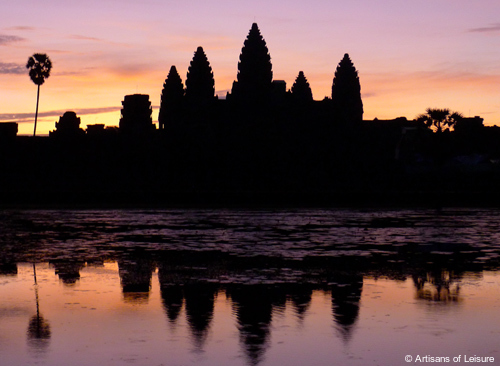 Angkor Wat in Cambodia is a spectacular temple that should be on every cultural traveler's must-see list. However, many travelers don't realize that Angkor Wat is just one part of the vast ruins of the ancient Khmer civilization.
Covering 77 square miles of the jungle and plains around the town of Siem Reap, the Angkor archaeological complex includes dozens of beautiful temples, monasteries, reservoirs, and other religious and royal structures.
Here are a few of our favorite places and experiences around Angkor, all of which are (or can be) included in our private Cambodia tours.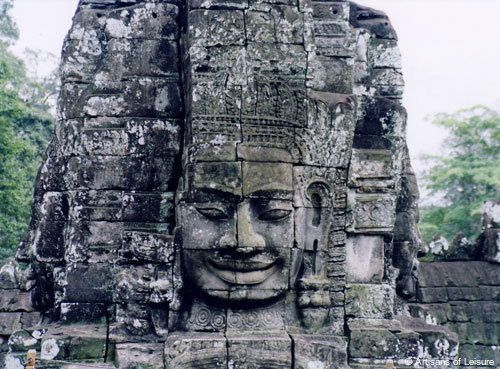 Angkor Thom
The ancient capital of the Khmer empire, this walled city was established in the 12th century. Stone sculptures of demons and gods flank the road leading to Angkor Thom's imposing entrance gate. The monumental faces carved into the stone towers of the Bayon, a Buddhist temple, are undoubtedly the most indelible image of Angkor Thom. Scholars speculate that they represent the king who built the complex, a boddhisattva or a combination of the two. Other highlights of Angkor Thom are the many impressive bas-reliefs, which include images of ancient battles and daily life depicted on the walls of the Bayon; a long relief of pachyderms, garudas and warriors on the Terrace of the Elephants; and the ornate Terrace of the Leper King.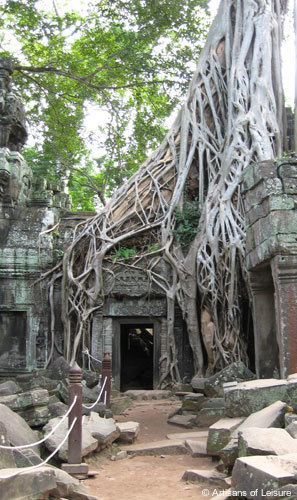 Ta Prohm
Ta Prohm is perhaps Angkor's most atmospheric temple. Though the jungle has been cut away from most of the other structures at Angkor, Ta Prohm's stone buildings have been left to the elements, and trees and vines are slowly engulfing them.
Trees grow out of courtyards. Tangles of roots drape over doorways and galleries. Layers of moss and lichen cover carved gods, apsaras and mythical creatures.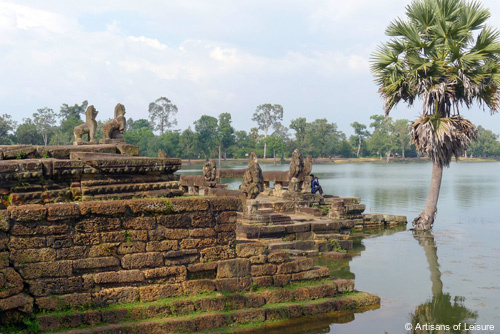 Srah Srang
Another favorite spot is Srah Srang (the "royal bath"). At one end of this rectangular reservoir is a multi-level stone platform decorated with naga and lion sculptures. It's a great place to look out over the water, especially early in the morning or late in the afternoon. Upon request, Artisans of Leisure can arrange a romantic sunset dinner at Srah Srang.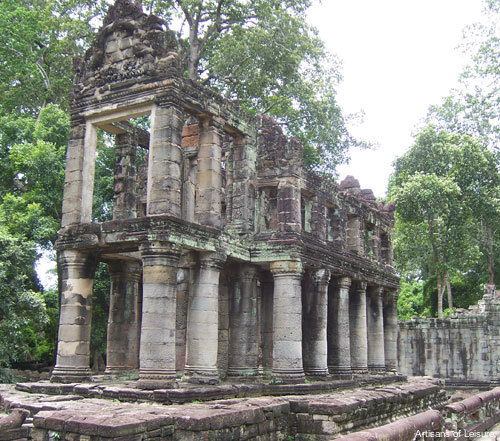 Preah Khan
Sprawling and labyrinthine, Preah Khan is a temple complex that covers nearly 140 acres. Behind its moat and walls are galleries, courtyards, towers and pavilions decorated with Buddhist and Hindu imagery. Depending on the interests of our travelers, we often arrange biking around Preah Khan.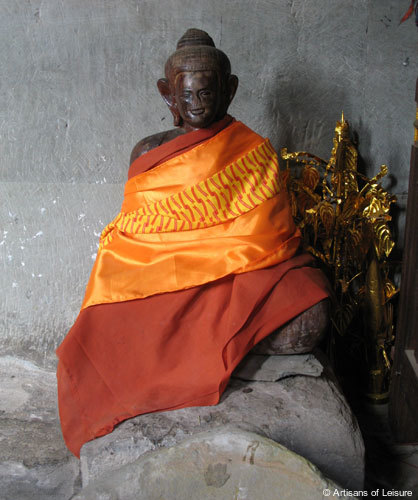 Farther Afield
We like to take adventurous travelers or those with a little more time to unusual and less-visited Angkor sites such as Banteay Srei, Kbal Spean and Beng Melea.
Banteay Srei is a complex of small-scale structures made of pink sandstone. Their intricately carved facades are among the most delicate and most beautiful in Angkor.
At the unique Kbal Spean site, linga and other sacred images have been carved in stone along the banks of a stream and even in rocks under the flowing water.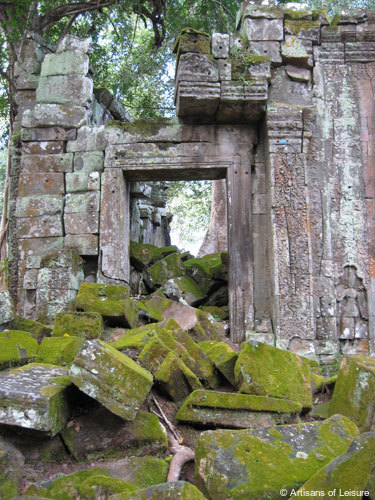 A jungle-bound ruin of jumbled stones, hanging vines and moss-covered carvings, Beng Melea is similar to Ta Prohm but even more likely to make you feel like an archaeologist stumbling on a lost city.
In addition to customized touring of Angkor's most interesting sites, we also arrange a wide variety of activities around Siem Reap: biking tours, private Khmer cooking classes, romantic meals at secluded temple ruins, visiting local food markets, private Khmer dance lessons, attending evening cultural performances, riding all-terrain vehicles (ATVs), visiting artisan workshops, visits to the best upscale shops in Siem Reap, meetings with local archaeologists, philanthropic activities, visiting local orphanages and children's centers, biking through tours, and more.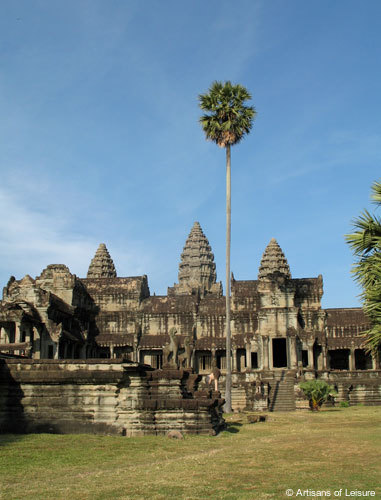 These are just a few of the cultural touring options we offer on our private Cambodia tours, all of which feature Siem Reap and Angkor. Touring around Angkor can also easily be combined with our other private tours in Southeast Asia, especially Thailand, Vietnam and Laos.